We are eager to share our healthy take on a childhood favorite of many Americans—chicken and sausage. 
A blend of garlic powder, Italian seasoning, Cajun seasoning, salt, pepper, and dried oregano is hand-massaged onto the chicken thighs to build up the dish's flavor profile. We bake the chicken with baby potatoes, radishes, and carrots to introduce more flavor, texture, and nutrients to your meal.
Requiring minimal knife skills and cooking experience, our chicken and sausage is truly an anyone-can-follow recipe.
It's time to try out this recipe and treat your family to a wholesome chicken specialty.
Is Chicken and Sausage Healthy?
Our chicken and sausage recipe is a nutrient-dense dinner that will boost your energy level instantly after a full day's hard work.
We picked chicken drumsticks for this recipe, as this cut is high in lean protein and low in calories.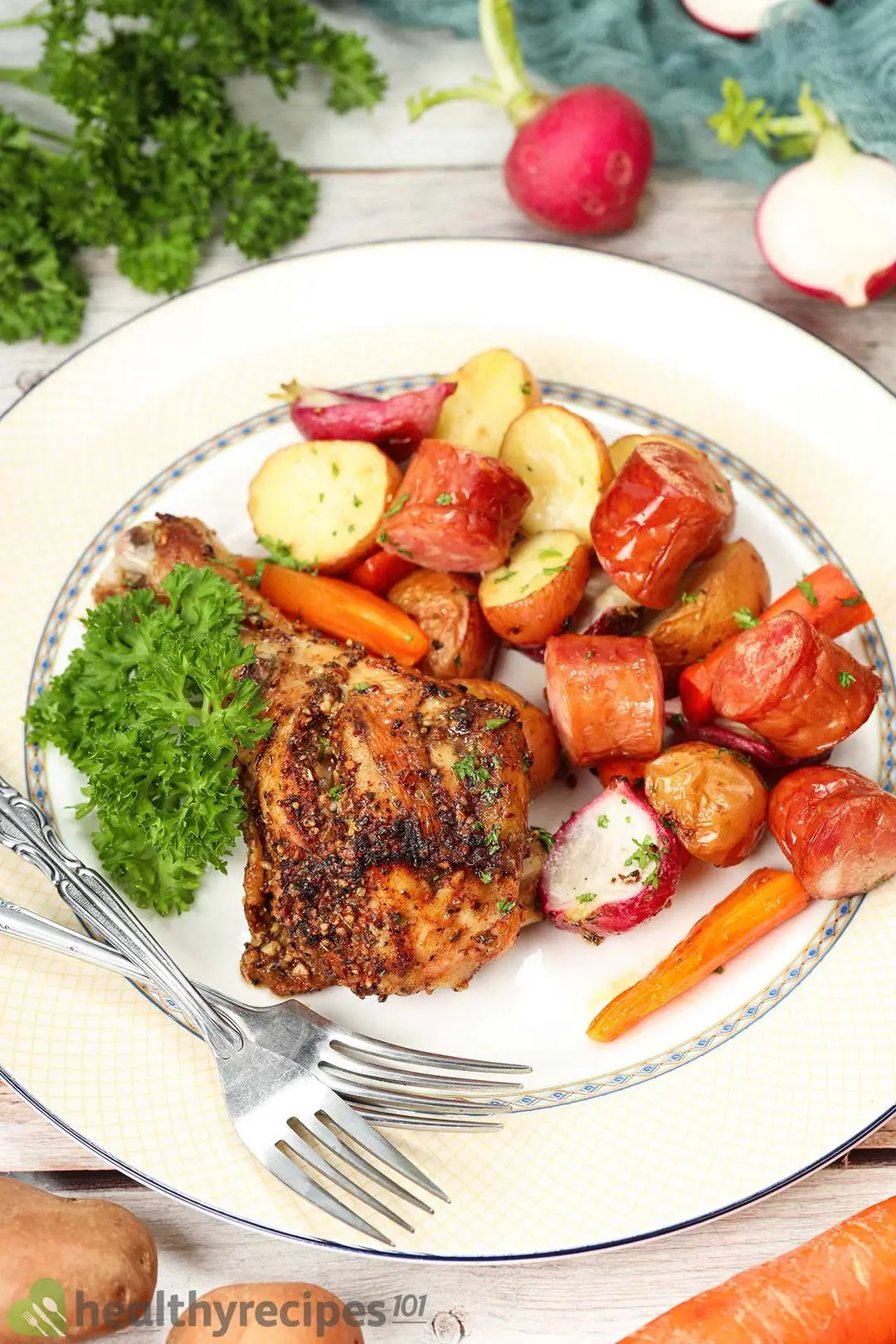 Each serving of chicken and sausage yields 452 calories with 7.2 g saturated fat and around 605 mg sodium and provides up to 23.8 g high-quality lean protein.
This recipe features smoked sausage, which can be quite high in sodium content. However, our chefs have reduced the amount of added salt (using only 1/8 teaspoon per serving) to ensure the dish adheres to our nutrition guidelines.
To introduce a diversity of nutrients to your diet, we pair a veggie mix of skin-on baby potatoes, radishes, and carrots with the protein. These vegetable options are rich in dietary fiber, vitamins, and minerals.
Ingredients for Chicken and Sausage
The recipe title reveals the simplicity of the ingredients list, with chicken drumsticks and sausage being two crucial sources of protein, along with a combination of fibrous vegetables, spices, and herbs to spruce up the dish.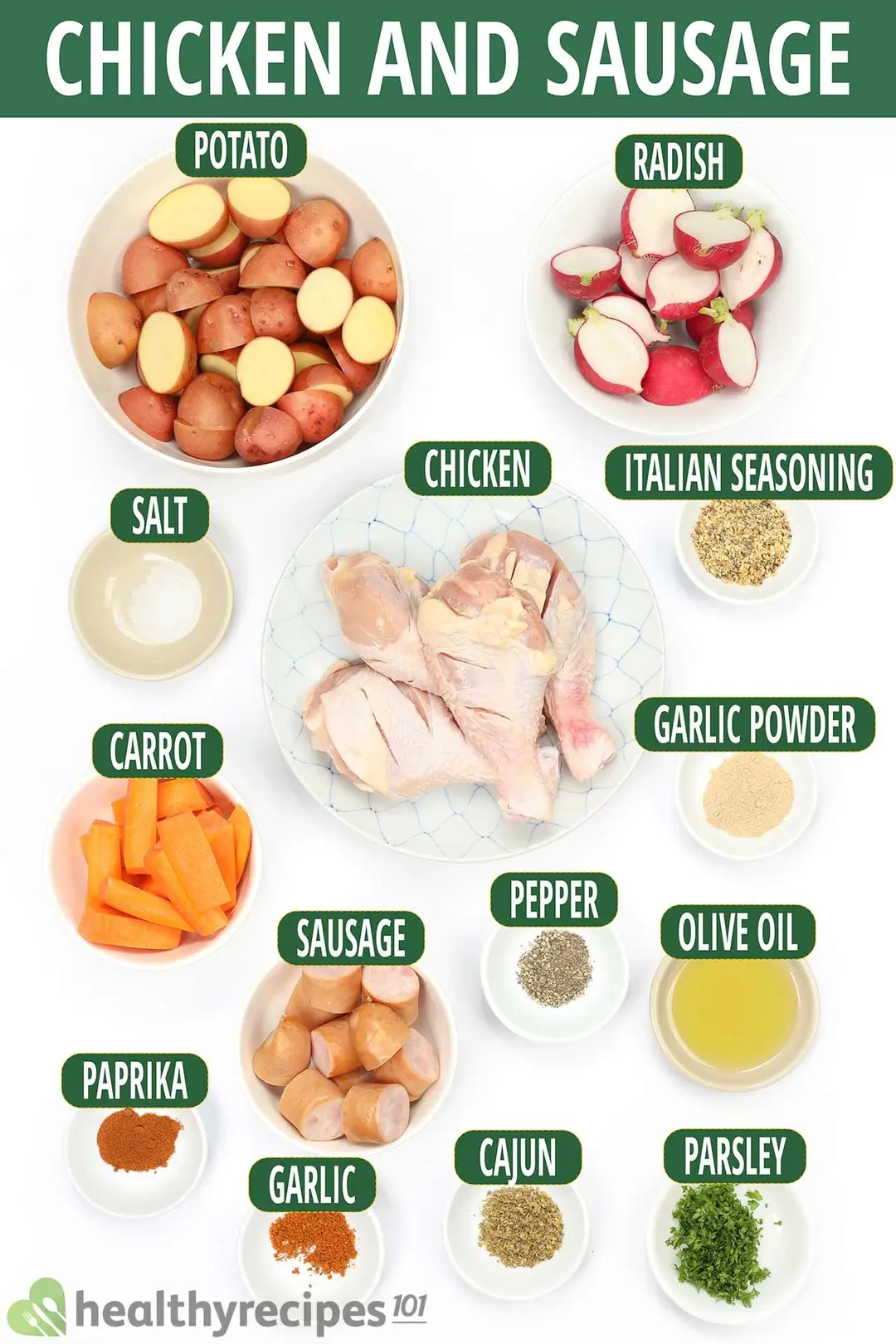 Our chicken and sausage also give you the chance to clear out your freezer and use up the stocked frozen chicken and sausages.
Chicken: Our chefs aim for skin-on, bone-in chicken drumsticks, as they have the perfect balance of lean muscles and fat content and are less likely to dry out when baked at high temperatures. However, you can opt for other chicken cuts, too, such as thighs or chicken wings. 
Sausage: Smoked sausage makes an excellent pairing with baked chicken and veggies. The baking process gives the sausage its deep red hue, slightly burnt edges, and a noticeable savory taste.
Potatoes: We cut the baby potatoes in half to ensure all the vegetables are uniform in shape and size, and get evenly cooked. Moreover, the rainbow of veggies helps enhance the visual presentation of the chicken and sausage dish.
Radish: Tossed raw in salads, radishes possess a spicy and assertive flavor; our chefs usually cut them into paper-thin slices. However, when roasted in an oven, their pungency starts to mellow, turning into a palatable sweetness. 
Carrots: Regular carrots are good to use in this recipe. However, if you want to add more color to the dish, replace them with rainbow carrots.
Seasonings: The subtle flavor of chicken allows it to pair excellently with tons of spices and herbs. Our chefs combine Italian seasoning, Cajun seasoning, garlic powder, paprika, salt, and pepper with earthy oregano to spice up the chicken drumsticks.
How to Store and Reheat Leftovers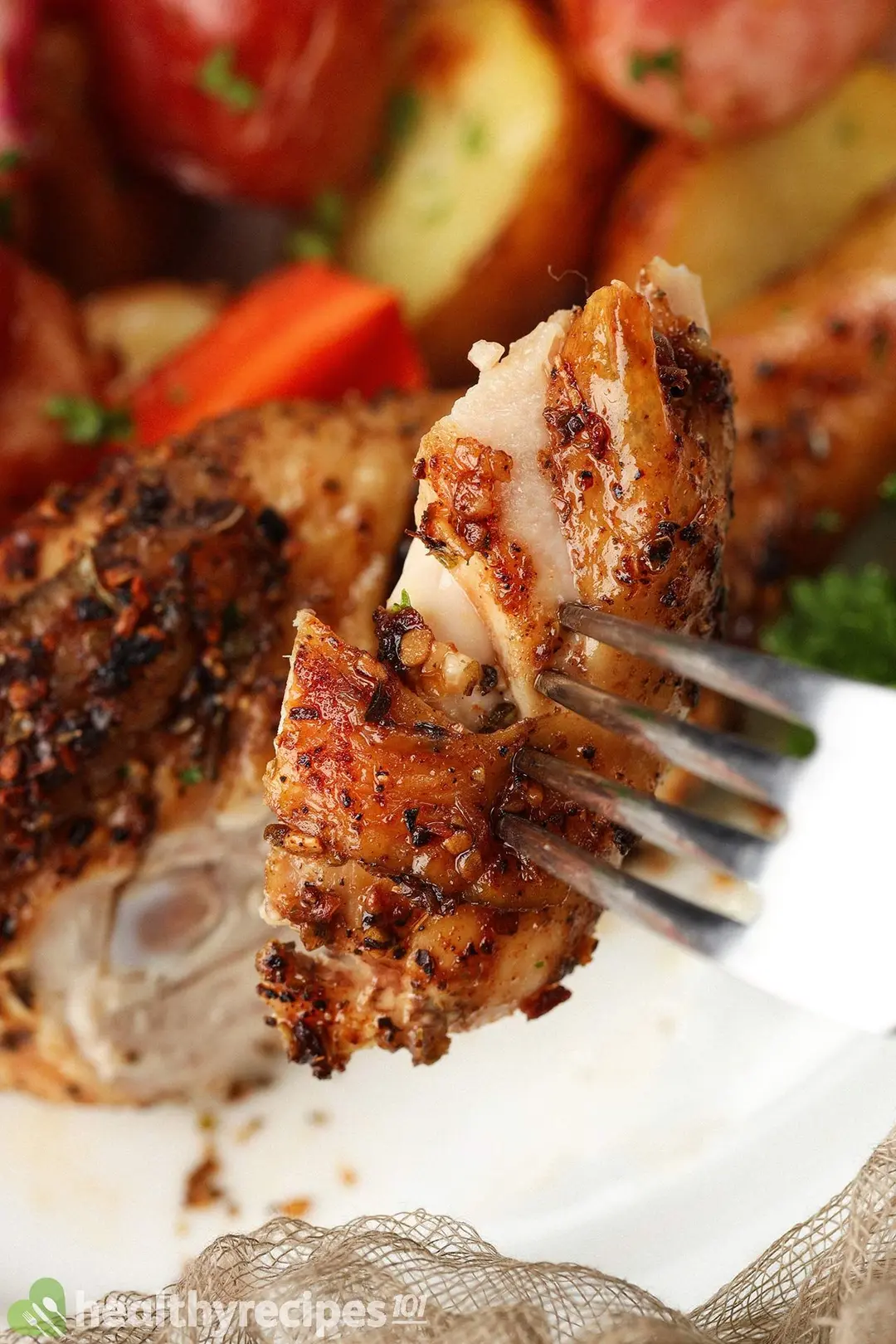 1. How to Store
This chicken and sausage dish requires little effort to store.
If you plan to save the leftovers for a few days, portion them into separate airtight containers or Ziploc bags, label the storing date, and place them in the fridge. They will last for 2-3 days if stored properly.
If you want to use them at a later date, freezing is an excellent option. Place your chicken and sausage dish into a freezer bag, and store it in the freezer for up to 2 months.
Before refrigerating or freezing your food, ensure it has cooled down completely to prevent bacterial growth. 
2. How to Reheat
To retain the moisture better, add a tablespoon of olive oil to your leftovers, place them on a baking tray, and reheat in the oven at 400℉ for 10-12 minutes.
Reheating your leftover chicken and sausage in a microwave is a quicker option for those who don't have much time to spare. Transfer your food onto a microwave-safe dish covered with plastic wrap and microwave it at 'high' for 2 minutes or until hot.
What to Serve With Chicken and Sausage
A bowl of summer salad with a bulk of crunchy greens, juicy fruit, and flavorsome dressing will help cleanse your palate after enjoying today's hearty main dish.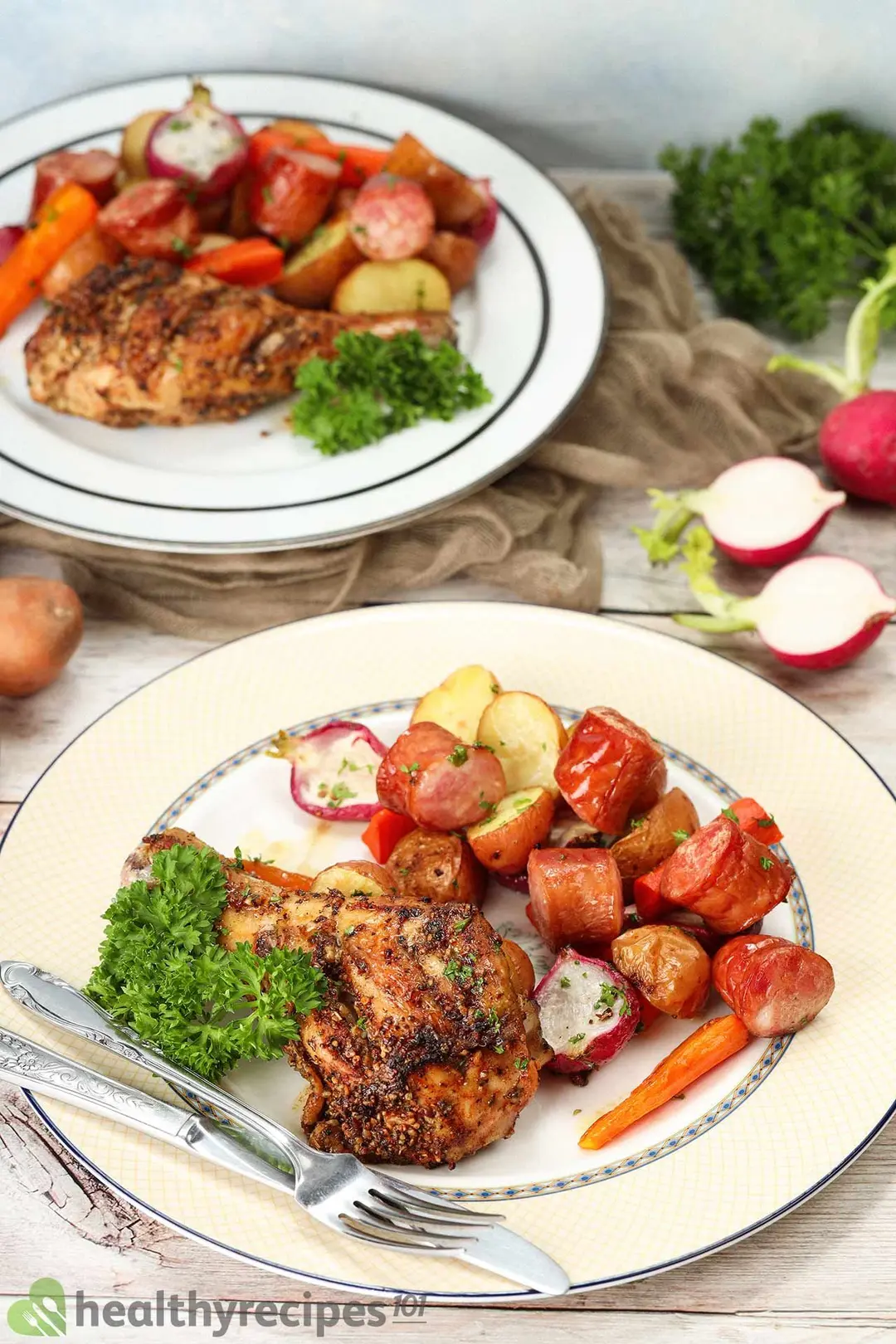 Chicken and Sausage Recipe
Our chicken and sausage recipe delivers a healthy interpretation of your favorite oven-baked chicken goodness. Get ready to indulge in the deliciousness of succulent chicken drumsticks, paired with fork-tender vegetables.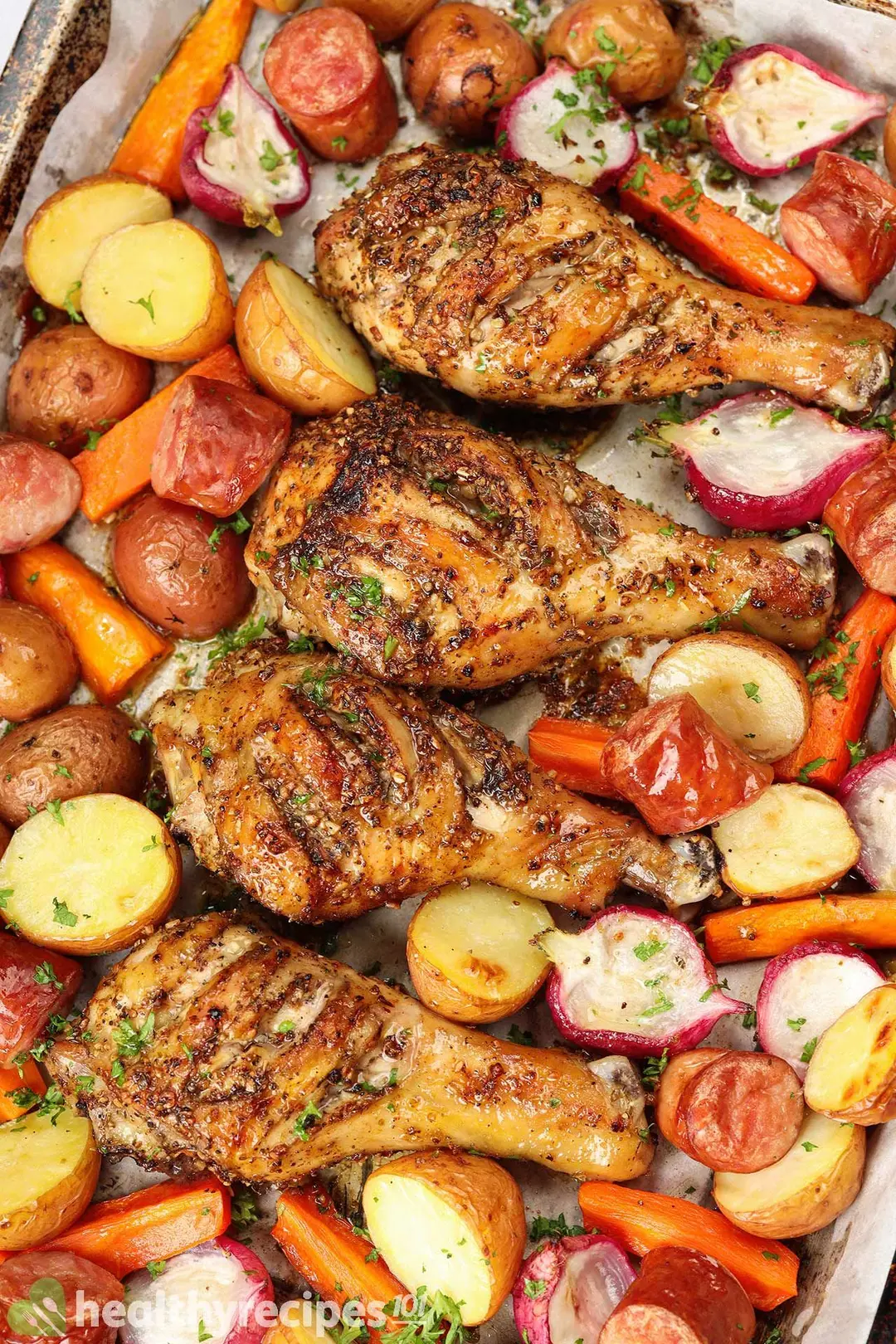 cook TIME

45 mins

prep TIME

10 mins

total TIME

55 mins
COURSE

Main

CUISINE

American

SERVINGS

servings
INGREDIENTS
20 oz

skin-on bone-in chicken drumsticks

6 oz

smoked sausage cut into chunks

20 oz

baby potatoes halved, skin-on

6 oz

radish halved

4 oz

carrots peeled, cut into 2-inch segments

2 tbsp

olive oil

0.5 tsp

garlic powder

1 tbsp

Italian seasoning

0.5 tsp

Cajun seasoning

0.5 tsp

paprika

0.1 tsp

salt

0.5 tsp

ground black pepper

1 tsp

oregano

2 tbsp

parsley chopped
INSTRUCTIONS
Prep:
1
Make a few cuts into the flesh of the chicken drumsticks, so the seasonings can get better absorbed.
2
Use a large, sharpened knife to cut the sausage into 1-inch chunks.
3
Remove the carrot tops and roots, then peel away the skin with a peeler. Cut the peeled carrot in half crosswise. Split in half lengthwise.
4
Halve the radish lengthwise.
Cook:
1
Microwave the vegetables: In a large microwave-safe bowl, add 20 oz skin-on halved baby potatoes, 6 oz halved radish, and 4 oz carrots. Microwave at 'high' for 7 minutes. Remove the vegetables from the microwave.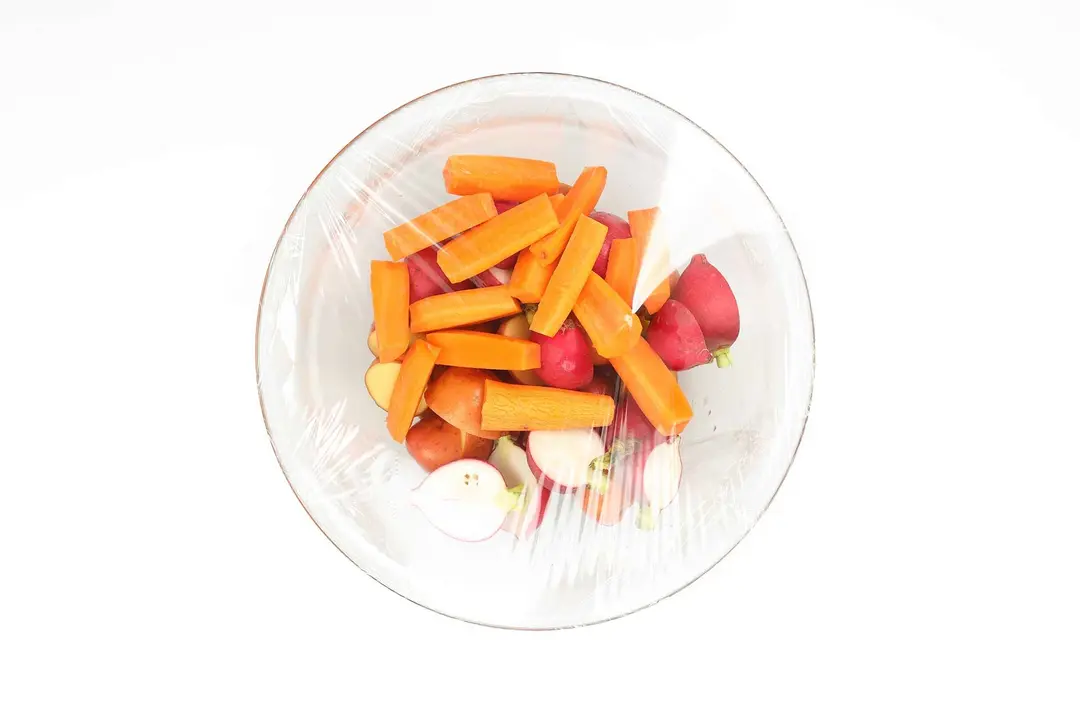 2
Marinate the chicken drumsticks: Line a baking tray with parchment paper. Place 20 oz skin-on, bone-in chicken drumsticks on the tray. Season the drumsticks with 1/2 tsp garlic powder, 1 tbsp Italian seasoning, 1/2 tsp Cajun seasoning, 1/2 tsp paprika, 1/8 tsp salt, 1/2 tsp pepper, and 1 tsp oregano. Gently massage the seasonings on all sides of the drumsticks.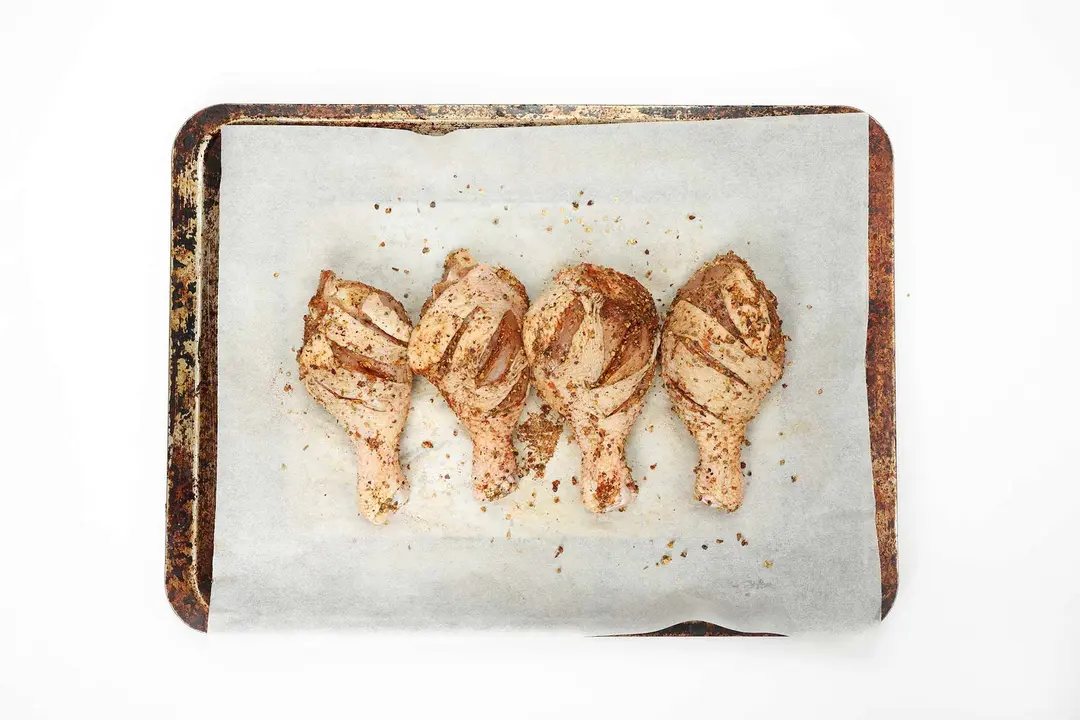 3
Add the vegetables: On the same baking tray, add the microwaved baby potatoes, radish, carrots, and 6 oz smoked sausages. With a cooking brush, evenly distribute 2 tbsp olive oil on all the ingredients.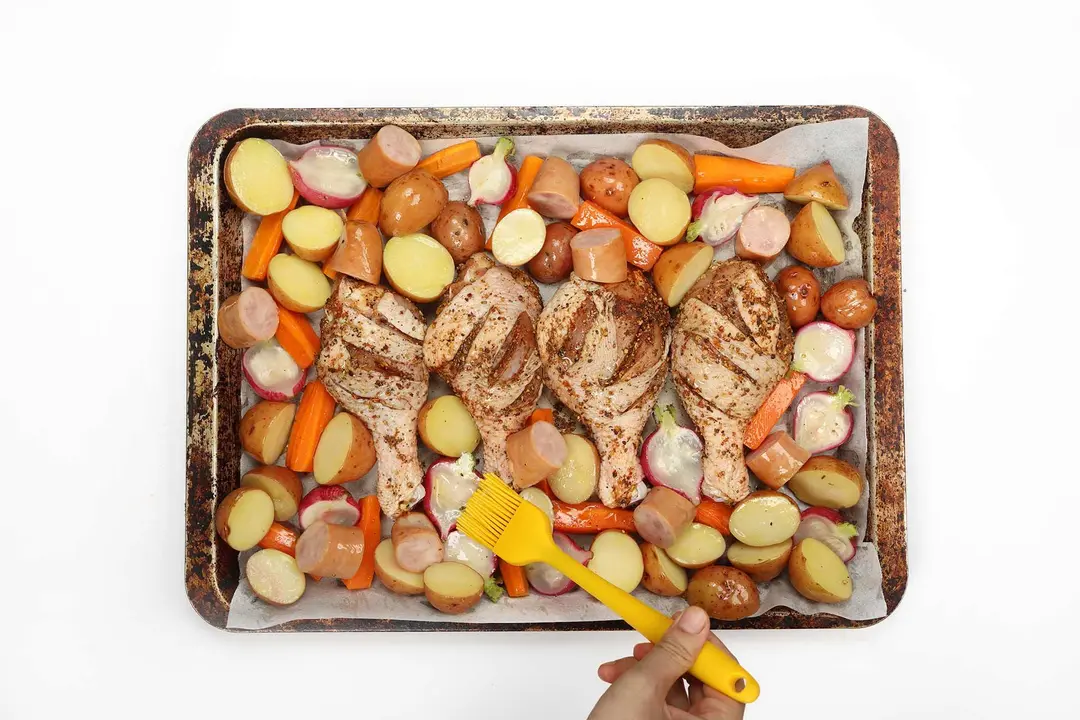 4
Bake all the ingredients: Place the baking tray in a preheated oven. Bake the chicken and sausage dish at 482° F for 35 minutes. Turn off the heat.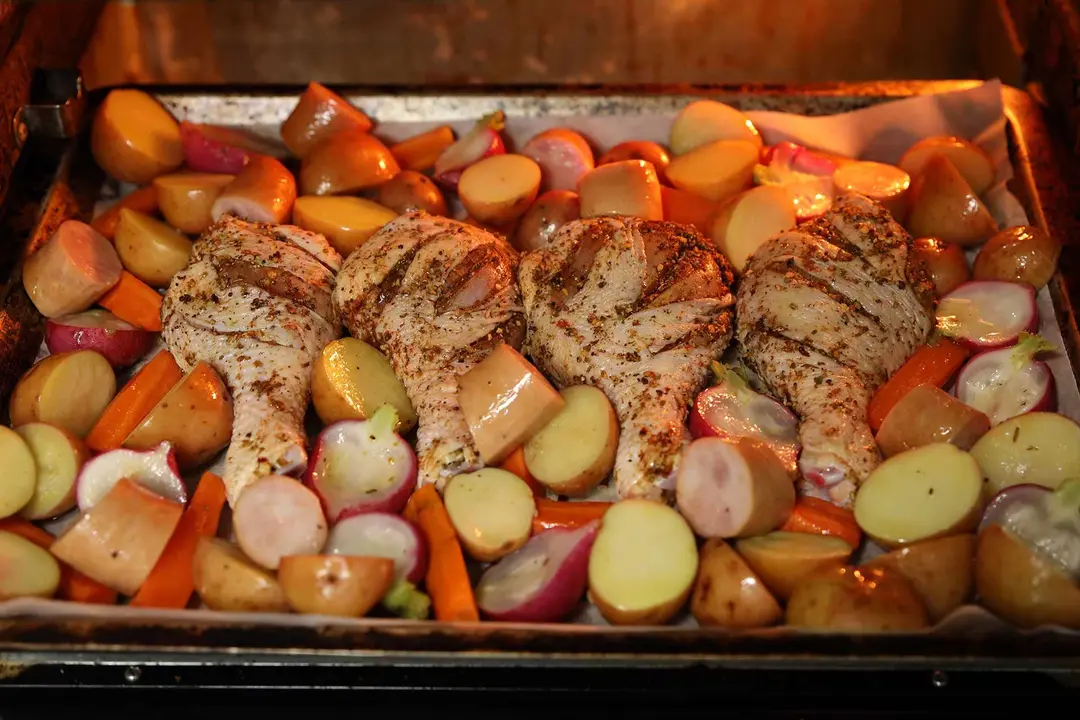 5
Garnish and serve: Transfer each chicken drumstick on a serving plate. Arrange the sausage and vegetables on the side of the chicken. Garnish the dish with 2 tbsp chopped parsley. Enjoy!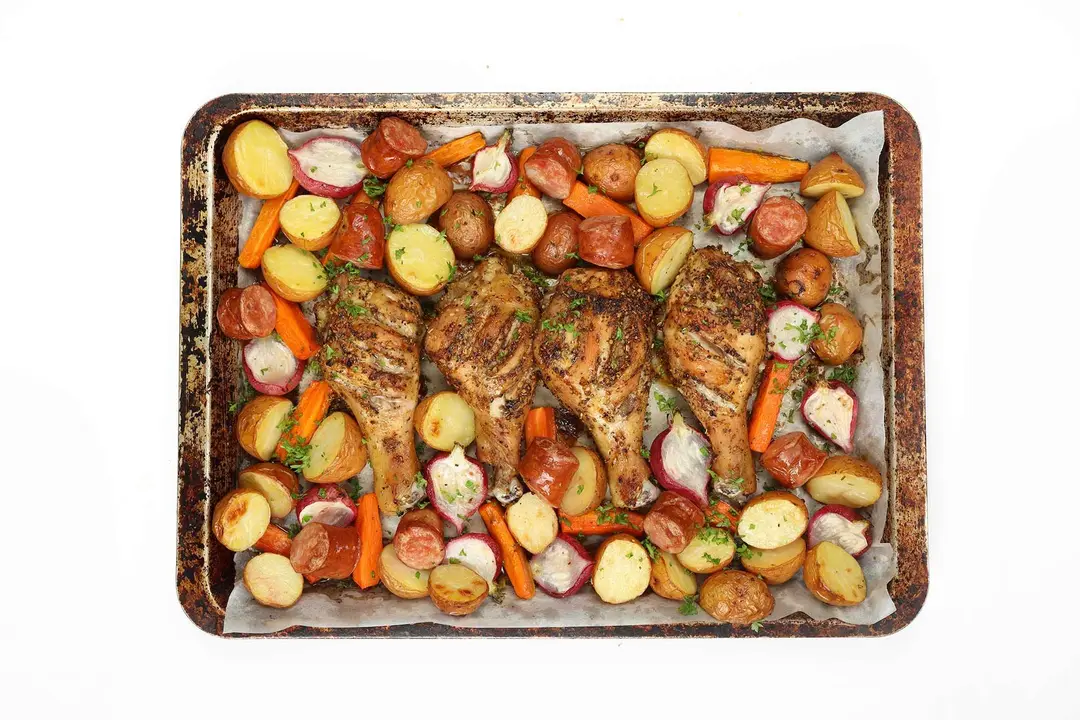 NUTRITION
Nutrition Facts
Chicken and Sausage Recipe
Amount Per Serving (1 serving)
Calories
Calories from FDA
% Daily Value*
Monounsaturated Fat 13g
NaN%
Polyunsaturated Fat 4g
NaN%
* Percent Daily Values are based on a 2000 calorie diet.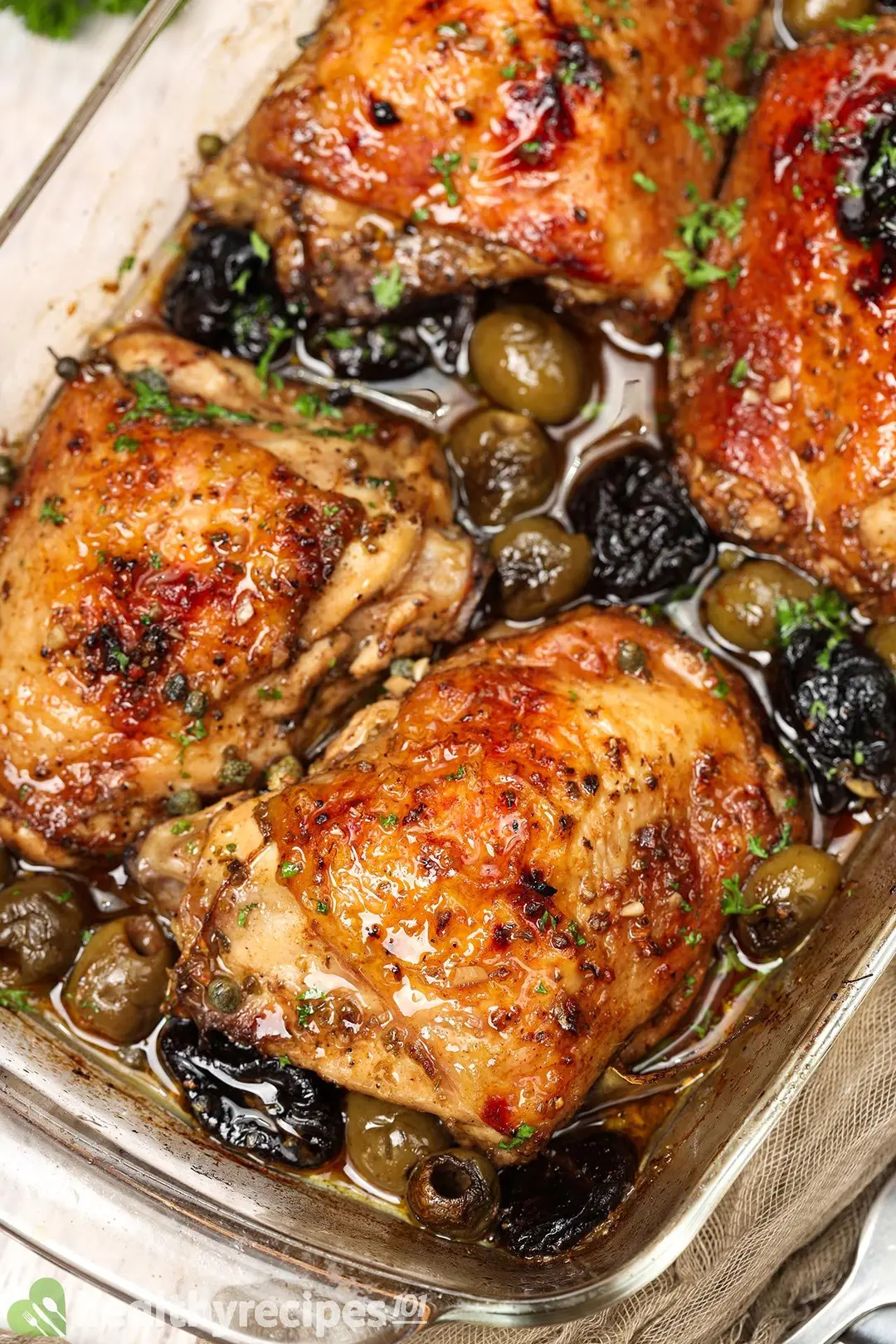 Previous Recipe
Chicken Marbella
Chicken Marbella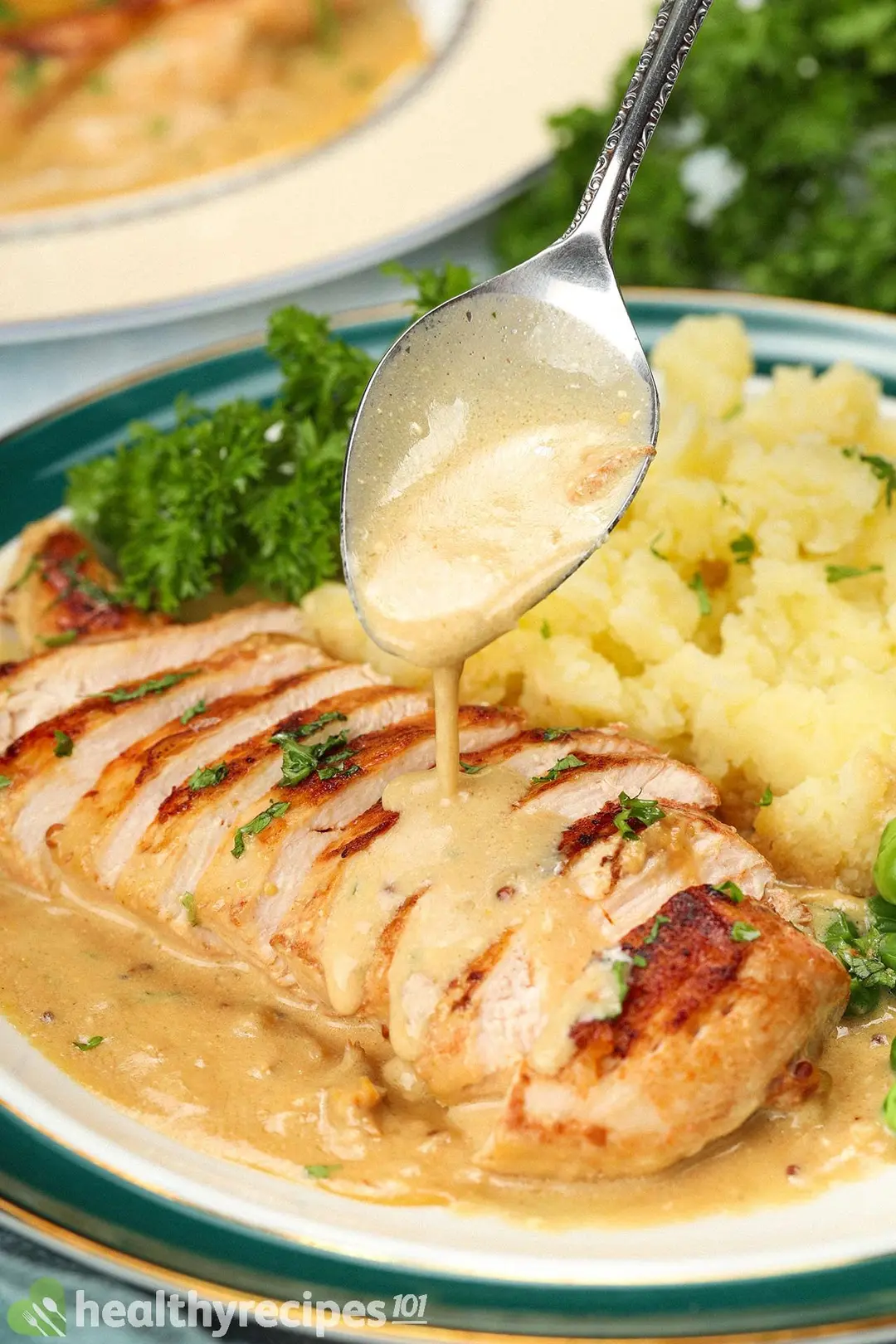 Next Recipe
Honey Mustard Chicken
Honey Mustard Chicken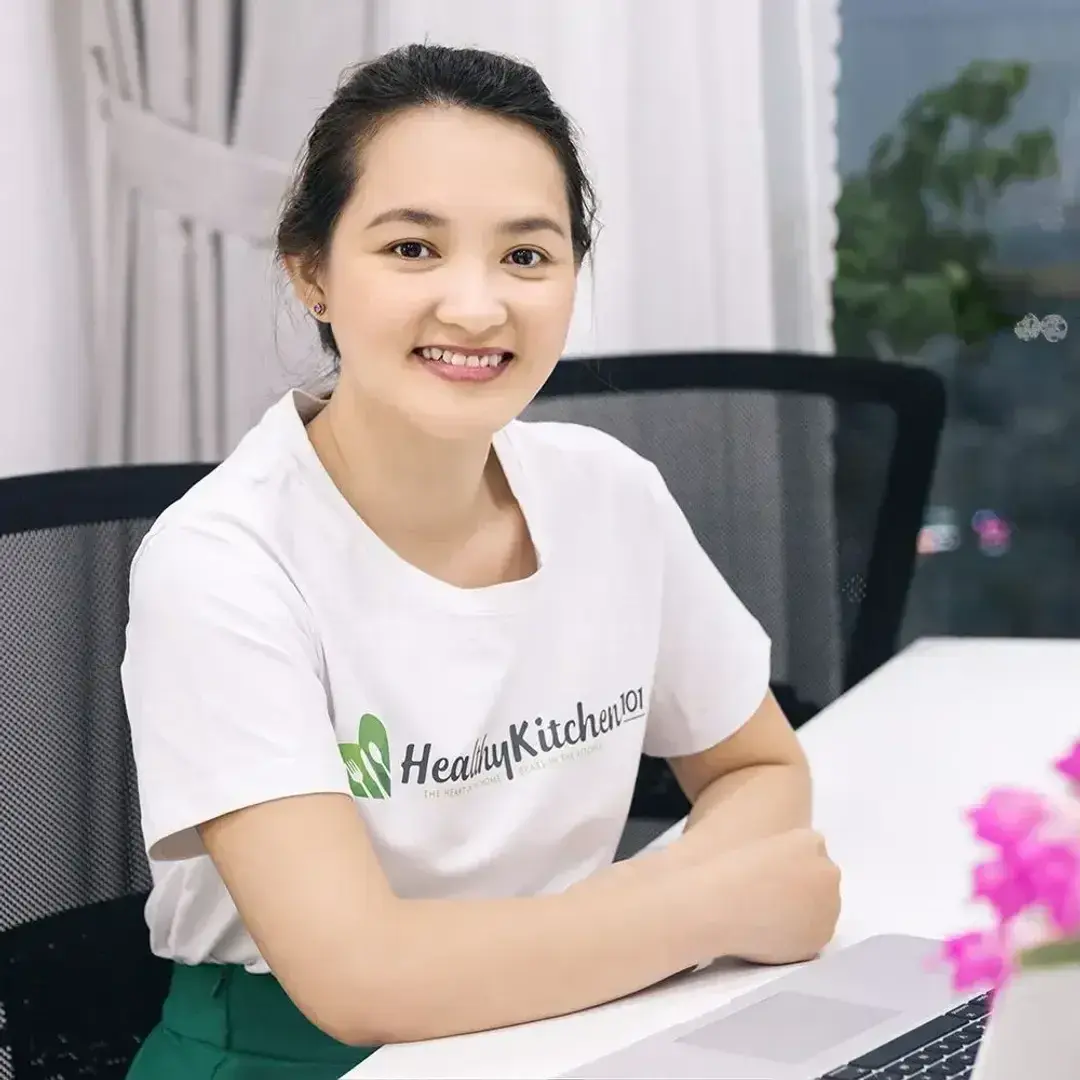 Luna Regina
Luna is the founder and chief recipe developer of Healthy Recipes 101. Apart from cooking, she also loves reading, programming, exploring the outdoors, and collecting useless facts about everything.