Today's honey mustard chicken recipe is a true crowd-pleaser that takes no time to pull together.
Sweet honey, tangy traditional Dijon mustard, creamy dairy, and other spices blend harmoniously to enhance the chicken breasts and vegetables. As for the chicken breasts, we pan-sear them to create a golden-brown outer coat before smothering them in the luscious honey mustard sauce.
Let's find out how to make this delectable dish!
Is This Dish Healthy?
Featuring three out of five food groups (protein foods, vegetables, and dairy), our honey mustard chicken offers tons of nutrients.
Skinless, boneless chicken breast champions an impressive amount of high-quality lean protein. Each serving of 5 oz chicken breast provides around 32.5 g of protein to your diet.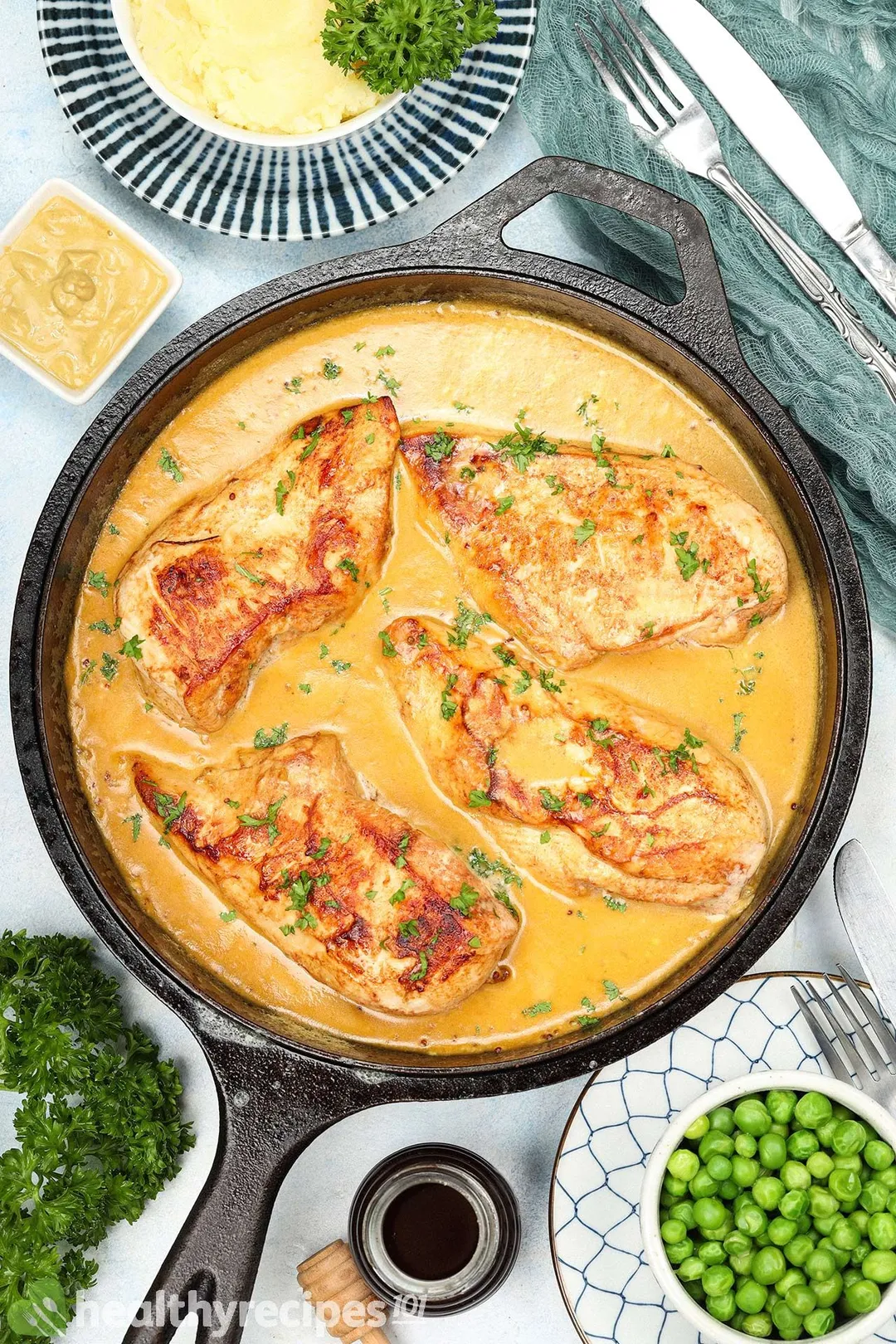 The considerable amount of vitamins, minerals, and dietary fiber from potatoes, green peas, whole milk, and heavy cream creates a diverse nutritional profile. Specifically, green peas are a great source of protein, fiber, and vitamins C & K, whereas dairy products help boost your daily calcium & vitamin D intake.
Overall, this meal has 491 calories, 5.9 g of saturated fat, and 578 mg of sodium—your stomach will still have room for a light-hearted salad.
Ingredients
You might be expecting a complicated list of cooking ingredients for this wholesome chicken mustard dish. 
However, this is not the case with our version since it only calls for some pantry-ready items that are a constant presence at your local grocery store.
1. The Main Ingredients
Chicken: The protein-to-fat ratio of skinless, boneless chicken breast is 80% versus 20%, making it prone to drying out when cooked at high temperatures. However, our chefs have solved this tricky problem by butterflying the breasts before pan-searing, then simmering them in an acidic cream sauce. These techniques will ensure your chicken cooks evenly and ends up with a golden-brown exterior and juicy interior.
Potatoes: Baby potatoes are our hands-down favorite for roasting, Yukon Gold and russet potatoes with their higher starch content are two top choices for a bed of fluffy mashed potatoes. You can keep the skin of the potatoes for more texture or remove it to have a perfectly smooth consistency. 
Green peas: Since the flavor of green peas is quite subtle, they won't overpower your chicken—an excellent add-in for baked, air-fried, or pan-seared dishes.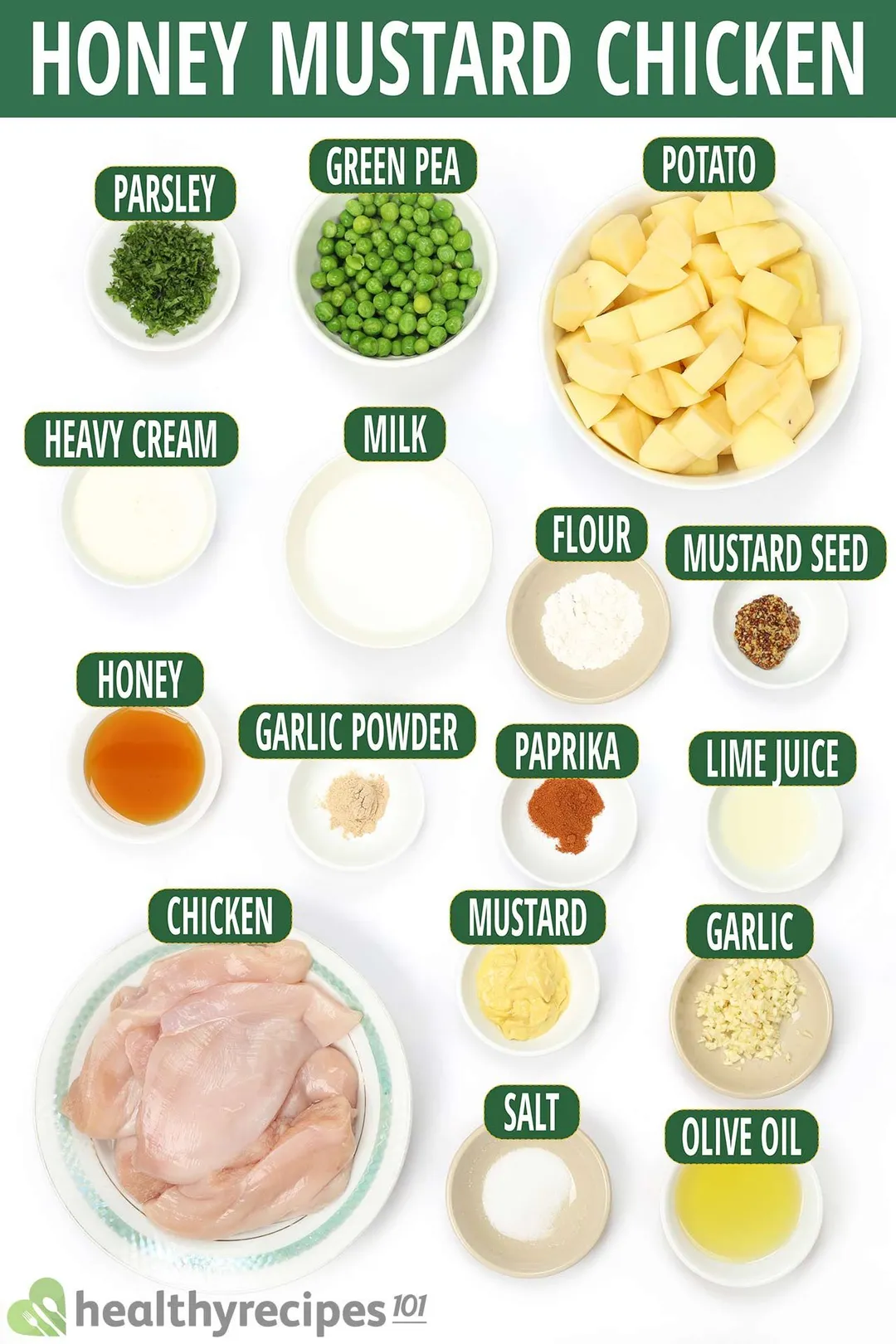 2. The Honey Mustard Sauce for Chicken
Honey: Two tablespoons of regular honey is enough to give your sauce the right natural sweetness and floral notes. Still, you can experiment using other types (Wildflower, Alfalfa, Palmetto, or Buckwheat honey) for different aftertastes and find one that speaks to your heart.
Lime juice: A splash of citrus juice helps accentuate the signature zestiness and tartness of the honey mustard sauce. If you prefer a more pronounced sour note, you can sprinkle some lemon zest on the chicken near the end of the cooking process. 
Dijon mustard and Dijon mustard seeds: We prefer the sharpness and intense flavor of traditional Dijon mustard over the regular kinds, which leans on the milder side. We also include Dijon mustard seeds to highlight the dish's tanginess.
Dairy: The combination of whole milk and heavy cream adds richness and creaminess to your honey mustard sauce.
All-purpose flour: You can use all-purpose flour and cornstarch interchangeably to thicken your sauce.
How to Store and Reheat Leftovers
1. How to Store
Due to its high acidity and dairy content, we don't recommend freezing the leftovers—the sauce will separate once thawed.
Instead, refrigerating your honey mustard chicken to prolong its shelf-life is a more appropriate option. Place your cooled leftovers in an airtight container or a Ziploc bag and store them in the fridge. Your dish should stay edible for 3-4 days.
2. How to Reheat
You can either reheat your leftovers by stirring them on a medium-low heat skillet or microwaving them at 'high' until warm.
If you use the microwave, remember to place your food in a microwave-safe bowl covered with plastic wrap and add a tablespoon of olive oil before reheating for the best result.
What to Serve With
Here are some quick and easy pairings for honey mustard chicken: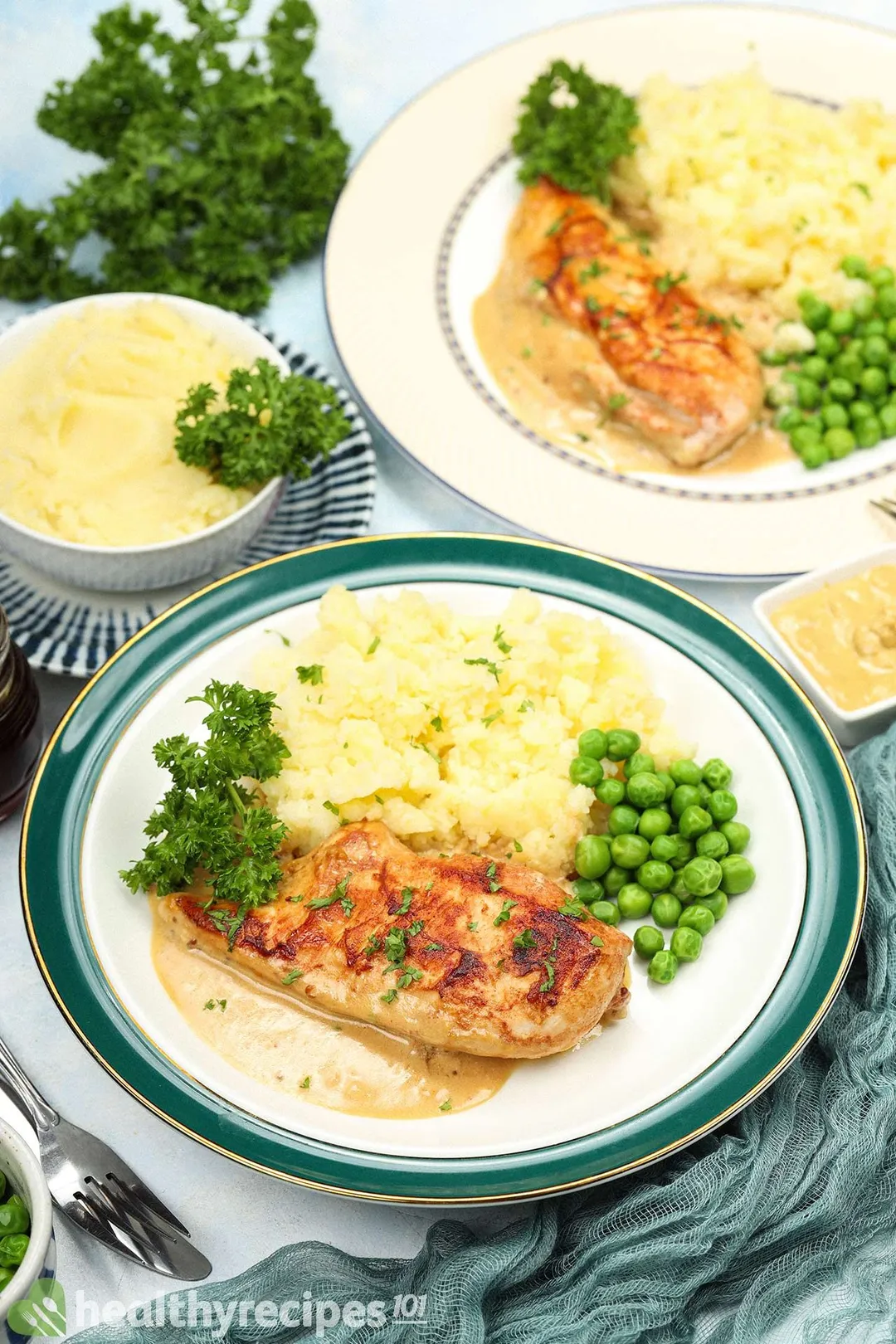 Tasty Ways to Cook Chicken Breasts
Our garlic chicken recipe turns simple cooking ingredients into an irresistible main course: succulent chicken breast, buttery mash, and crunchy green beans in a rich sauce the chicken's cooked with. This epic chicken specialty promises to be a showstopper for any occasion.
This chicken Francese recipe is ideal for weeknight dinners, but the gorgeous chicken breasts and exquisite lemon-butter sauce make it super appropriate for a special occasion, too. Serve it with crisp green beans and creamy mashed potatoes for a complete meal.
Honey Mustard Chicken
With the perfect balance of sweetness, sourness, and creaminess, our honey mustard chicken makes a mouth-watering dish that will satisfy even those pickiest eaters.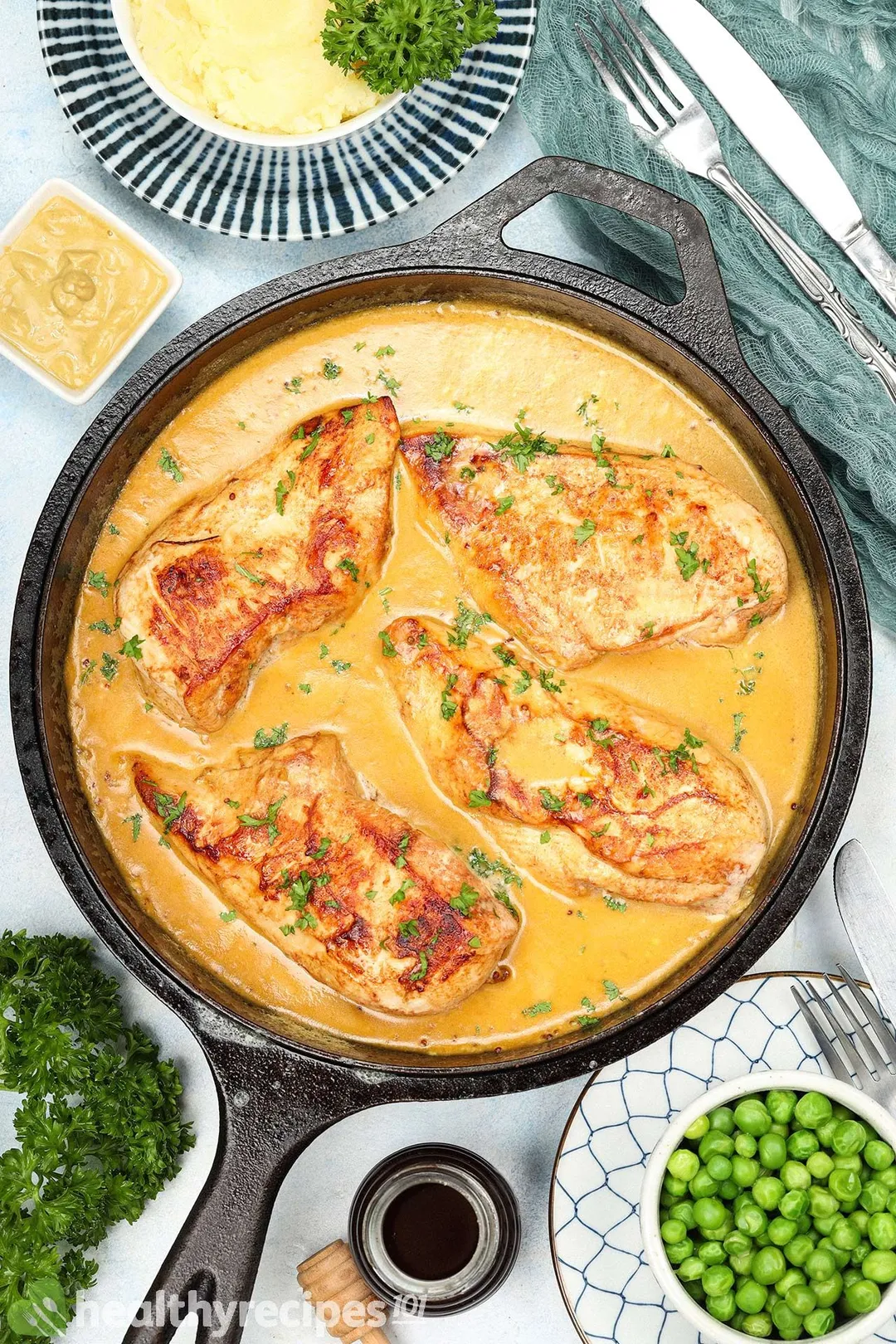 cook TIME

30 mins

prep TIME

10 mins

total TIME

40 mins
COURSE

Main Dish

CUISINE

American, Global

SERVINGS

CALORIES

491 kcal
INGREDIENTS
20 oz

skinless boneless chicken breast

1 tbsp

traditional Dijon mustard

1/2 tbsp

whole grain mustard

24 oz

potatoes

(peeled and cut into 1-inch cubes)
INSTRUCTIONS
Prep:
1
Place the chicken breast on a chopping board. Lay one hand flat on top of the chicken breast to stabilize it. From the long side of the chicken breast, slice the meat in half in a sawing motion, but leave about 1/4 inch so that the two pieces are still intact. Set it aside and repeat with the remaining pieces.
2
From the long side of the chicken breast, slice the meat in half in a sawing motion, but leave about 1/4 inch so that the two pieces are still intact. Set it aside and repeat with the remaining pieces.
3
Carefully rinse the potatoes under the faucet to remove any dirt left on the skin. Use a peeler to peel off the skin and discard it. Cut the peeled potatoes into 1-inch chunks.
4
Finely mince the peeled garlic.
Cook:
1
Cook the potatoes and green peas: Place 24 oz peeled, cubed potatoes in a large microwave-safe bowl. Microwave them at 'high' for 12 minutes. Then microwave 4 oz green peas at 'high' for 3 minutes, then give them a quick rinse under running water.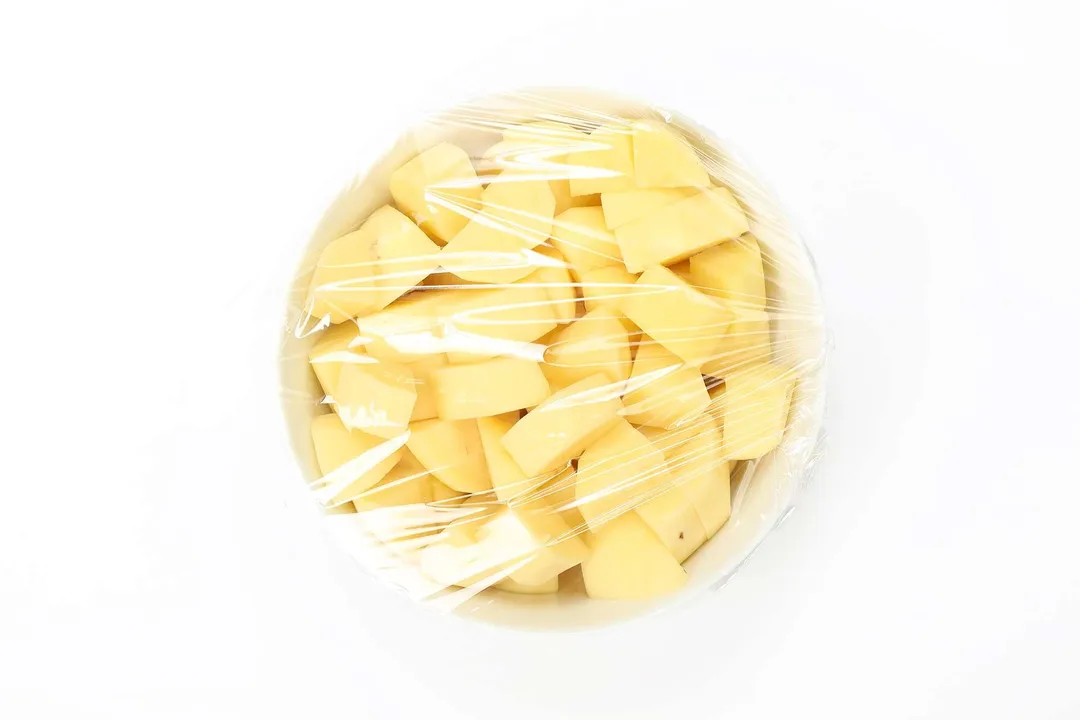 2
Mash the cooked potatoes: Add a small portion of cooked potatoes at a time into the vegetable mill to mash. Repeat this process with the rest of the potatoes.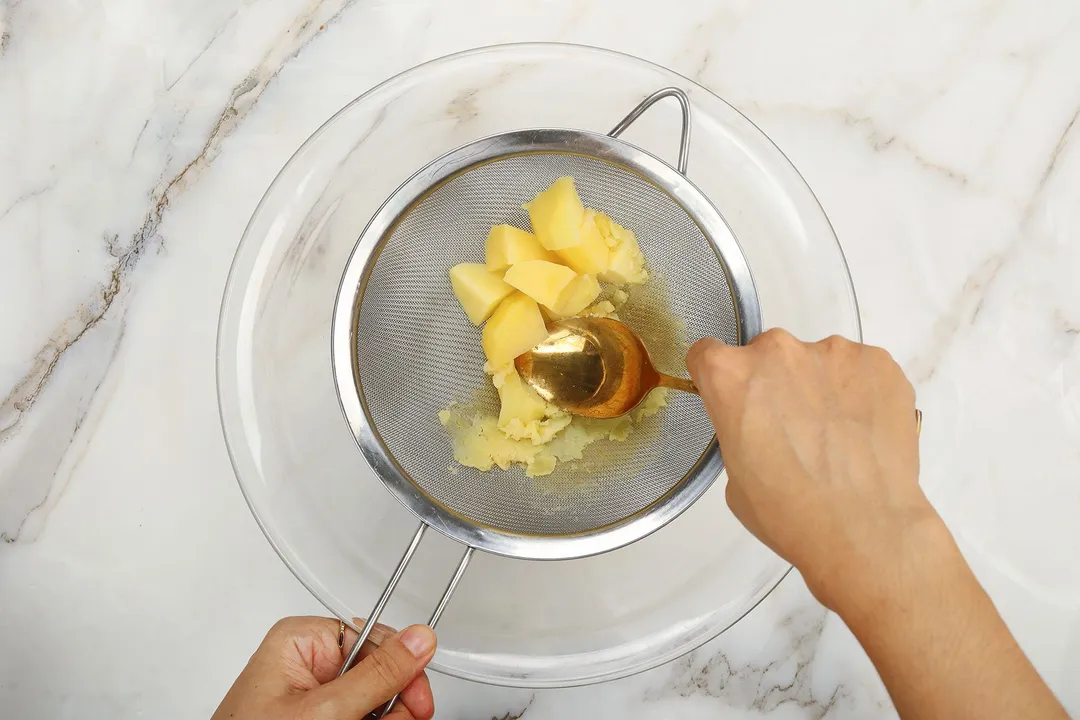 3
Marinate the chicken breasts: On a large platter, add 20 oz skinless, boneless chicken breast, 1/2 tsp paprika, and 1/2 tsp garlic powder. Gently rub the seasoning onto both sides of the chicken breasts.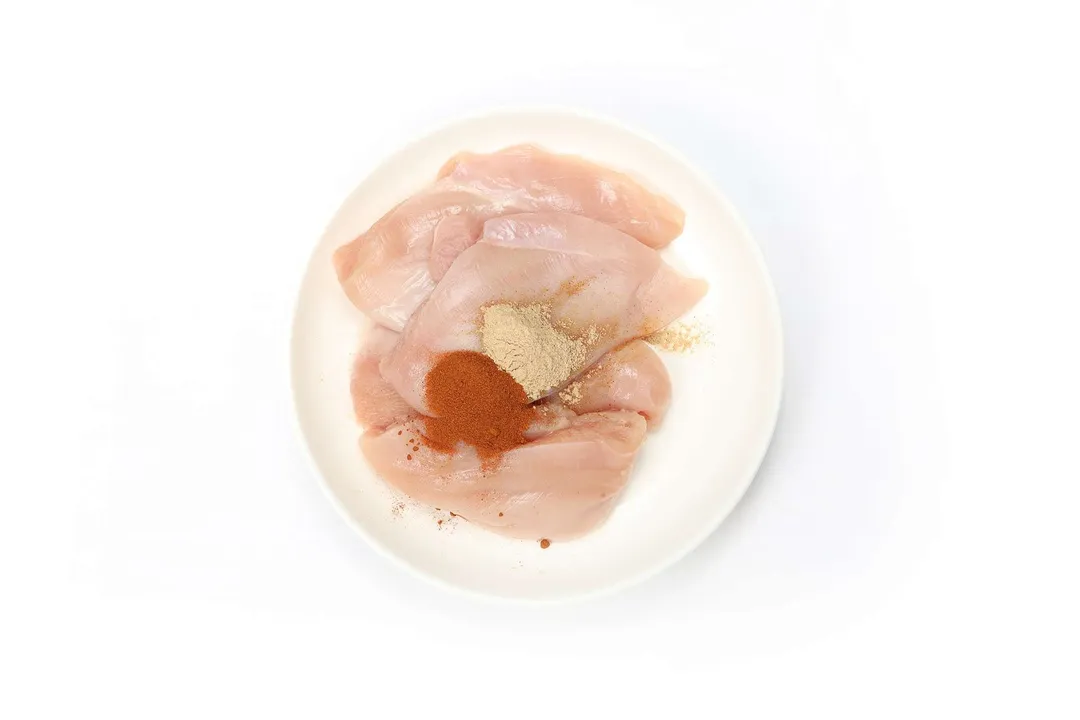 4
Pan-sear the well-seasoned chicken breasts: Place a large skillet over medium heat and heat 1 tbsp olive oil. Pan-sear each side of the chicken breasts for 3 minutes and 30 seconds (7 minutes in total). Remove the chicken breasts from the heat.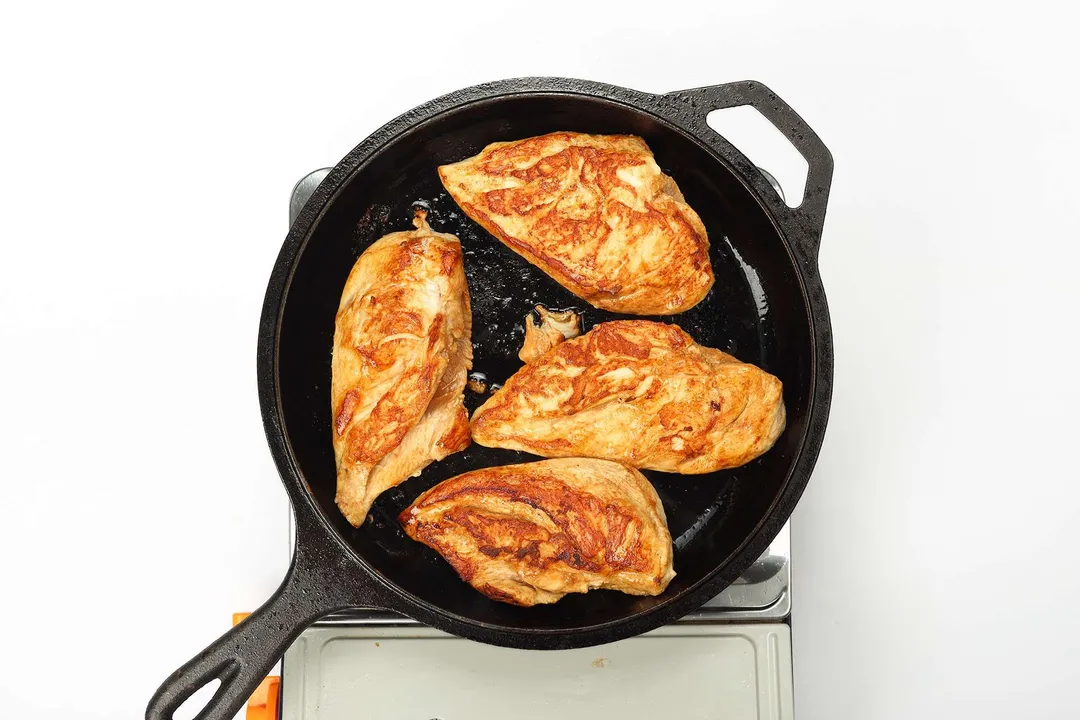 5
Sauté the garlic: In the same skillet, add the remaining olive oil and 1 tbsp minced garlic. Stir well for 30 seconds. Add 1 tsp all-purpose flour to the skillet and mix for another 30 seconds.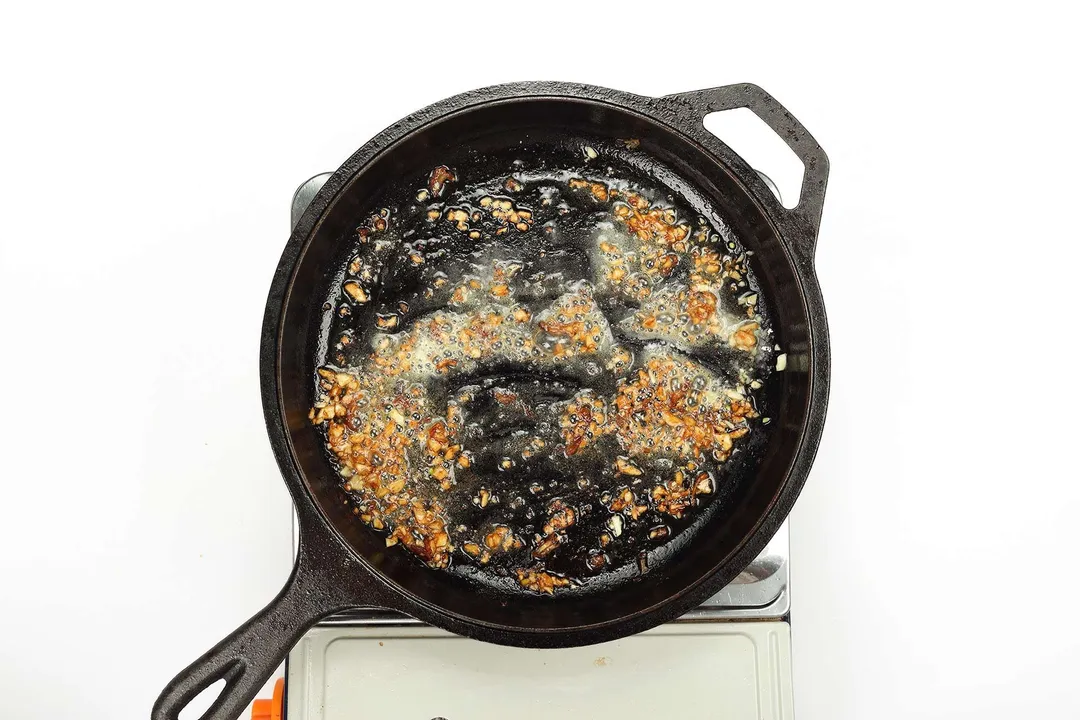 6
Add the rest of the sauce ingredients: Pour 1/2 cup whole milk, 4 tbsp heavy cream, 2 tbsp honey, 1 tbsp traditional Dijon mustard, 1/2 tbsp whole grain mustard, 1/2 tbsp lime juice, and 1/2 tsp salt into the skillet. Stir until all the ingredients are well-combined.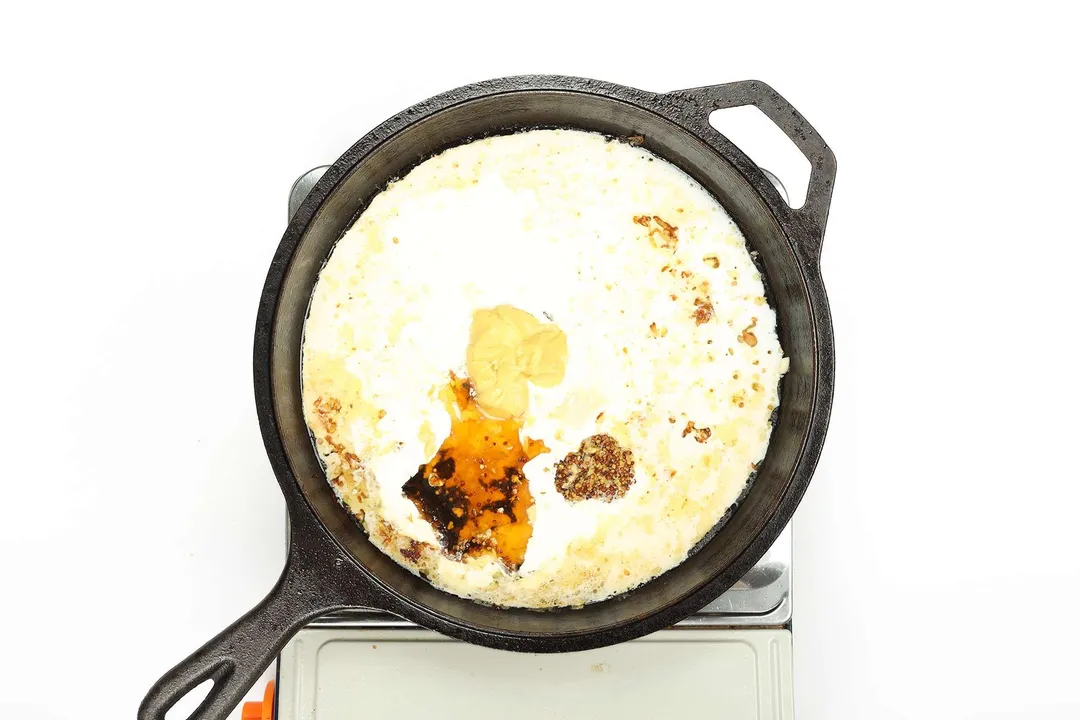 7
Incorporate the pan-seared chicken breasts: Turn to low heat, then add the chicken breasts to the skillet. Let them simmer for 5 more minutes. Turn off the heat.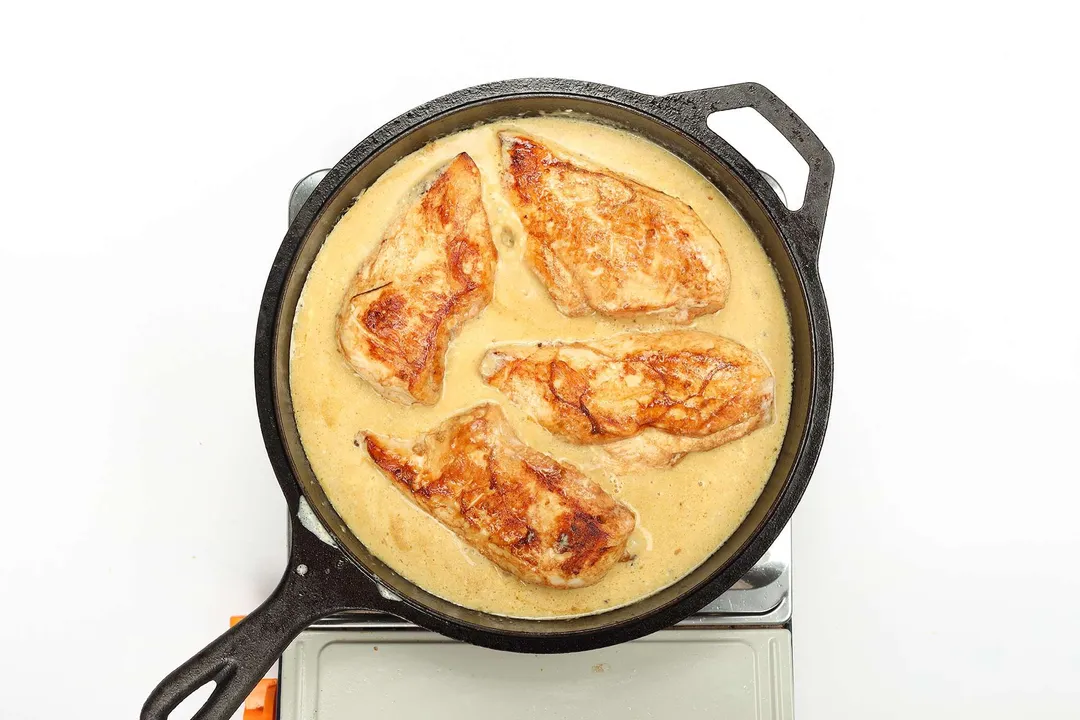 8
Garnish and serve: Transfer your desired portion onto a platter and garnish with 2 tbsp chopped parsley. Enjoy your honey mustard chicken with mashed potatoes and green peas on the side.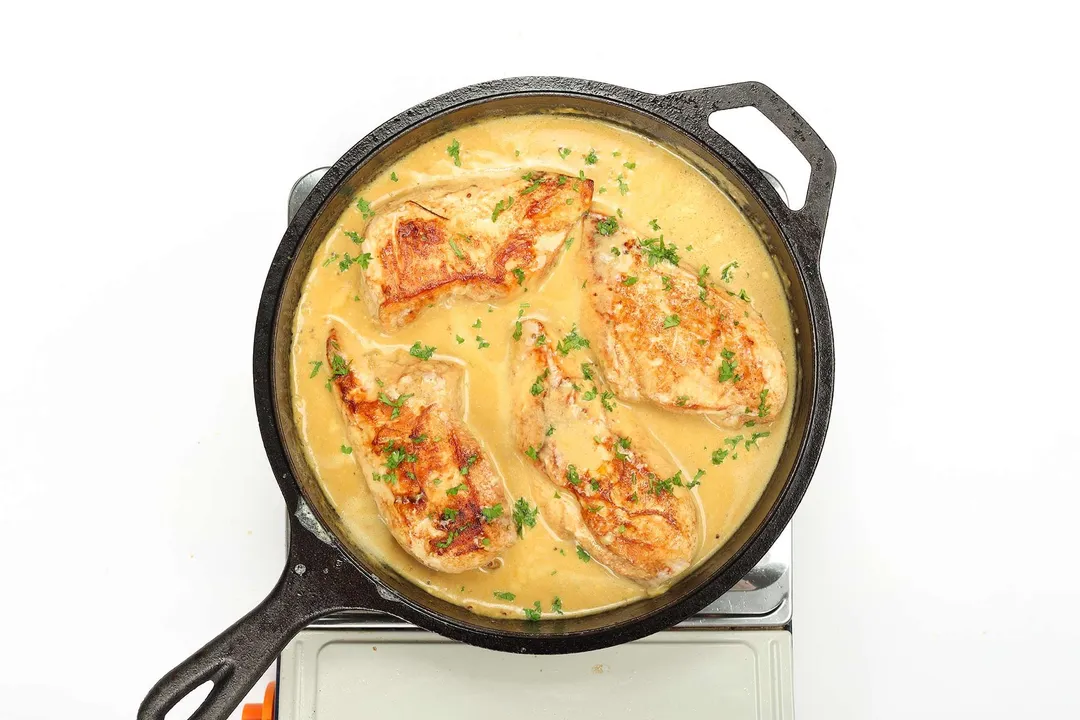 NUTRITION
Nutrition Facts
Honey Mustard Chicken
Amount Per Serving (1 serving)
Calories 491
Calories from Fat 162
% Daily Value*
* Percent Daily Values are based on a 2000 calorie diet.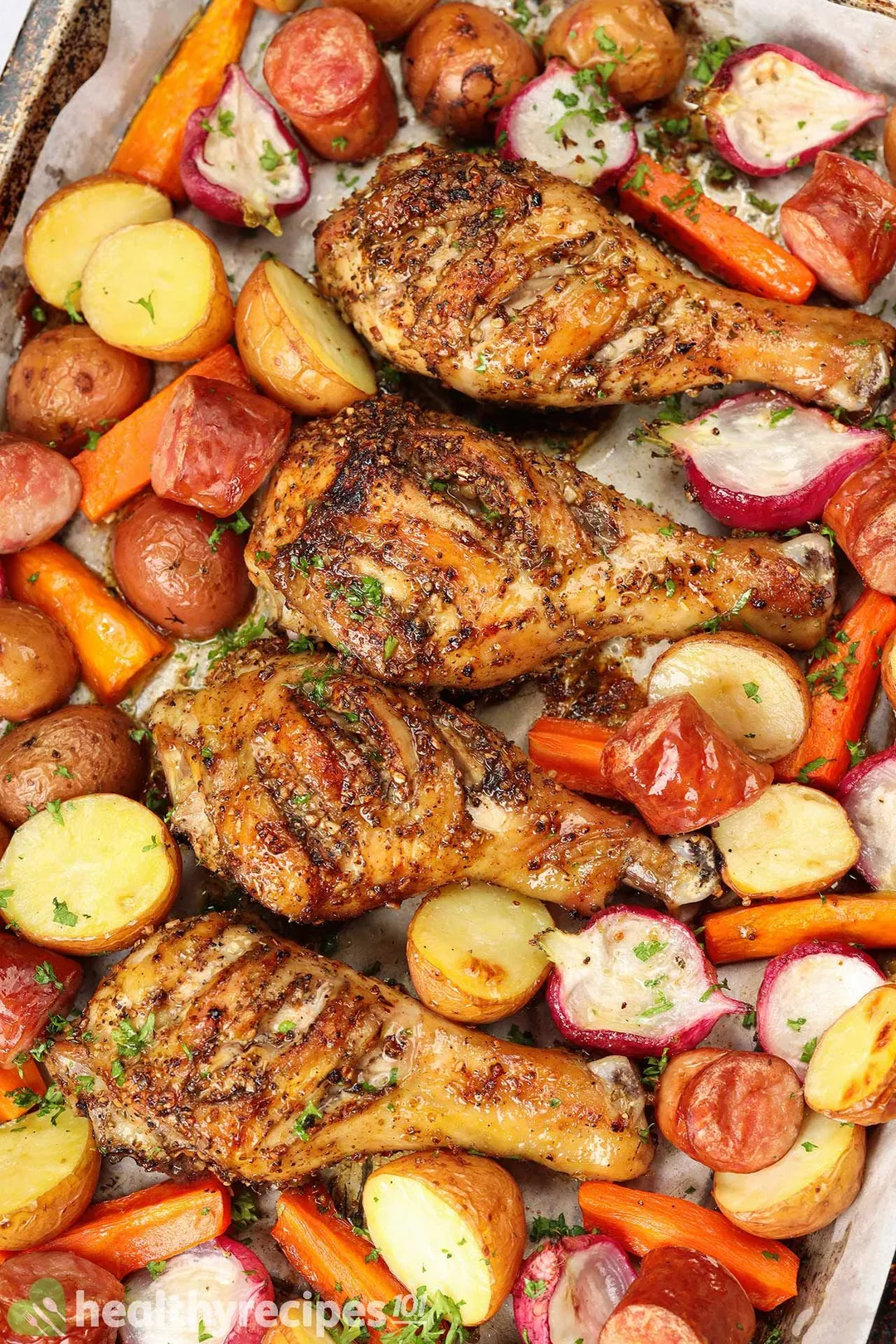 Previous Recipe
Chicken and Sausage
Chicken and Sausage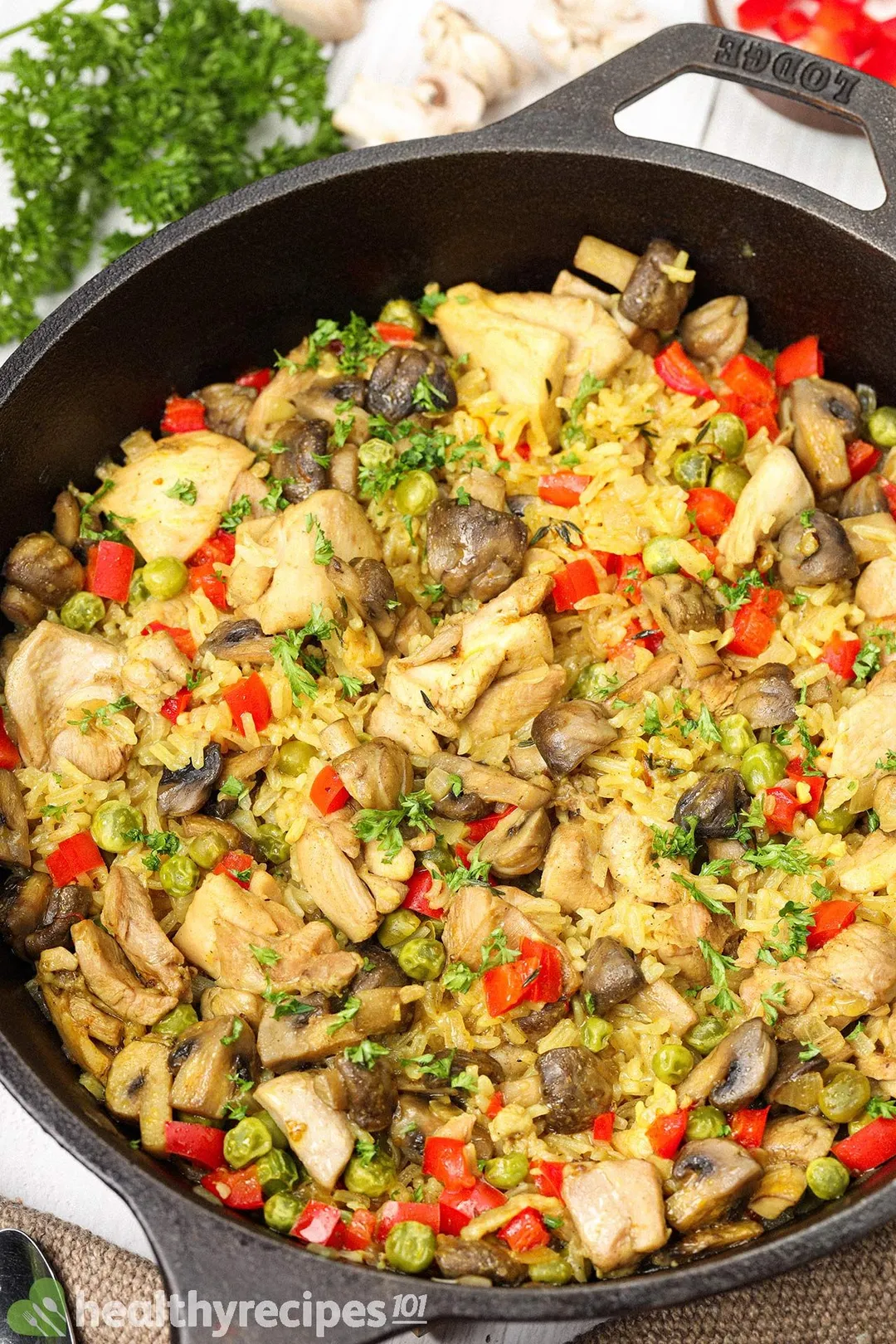 Next Recipe
Chicken Paella
Chicken Paella
Head Chef, Culinary Consultant
Tuyet Pham is an award-winning Saigonese chef who believes that joy is the secret ingredient to delicious food. At Healthy Recipes 101, Tuyet personally tests and simplifies every recipe, ensuring maximum flavor with minimal effort. With a background at prestigious French restaurants P'TI Saigon and Le Corto, Tuyet knows how to make every dish exceptional.
Writer, Author
Luna Regina is an accomplished writer and author who dedicates her career to empowering home cooks and making cooking effortless for everyone. She is the founder of HealthyKitchen101.com and HealthyRecipes101.com, where she works with her team to develop easy, nutritious recipes and help aspiring cooks choose the right kitchen appliances.
Very good and so easy! Sweet and tangy honey mustard chicken.

This was so tasty! I will never buy them again.