A golden plate of noodles dotted with colorful veggies and delectable chicken pieces might be exactly what your dinner nights need. With the sweet and savory tones of various Asian staples, this chicken chow mein recipe gives you a dish filled with harmonious flavors and the comforting warmth of homemade food.
Moreover, with this dish you can also use up any veggies you might have sitting around in the fridge. Everything is stir-fried and enjoyed alongside one another, so even with leftover ingredients, the flavors are still just as irresistible and heavenly.
What Is Chow Mein?
Chow mein is a Chinese dish made by stir-frying egg noodles with vegetables and meat or tofu in a sweet-savory sauce. The simple yet diverse ingredient combination gives the dish a balanced blend of sweet and savory flavors, accompanied by the exciting mouthfeel of various textures. In places such as the US and the UK, you can find chow mein as a staple in many restaurants and diners.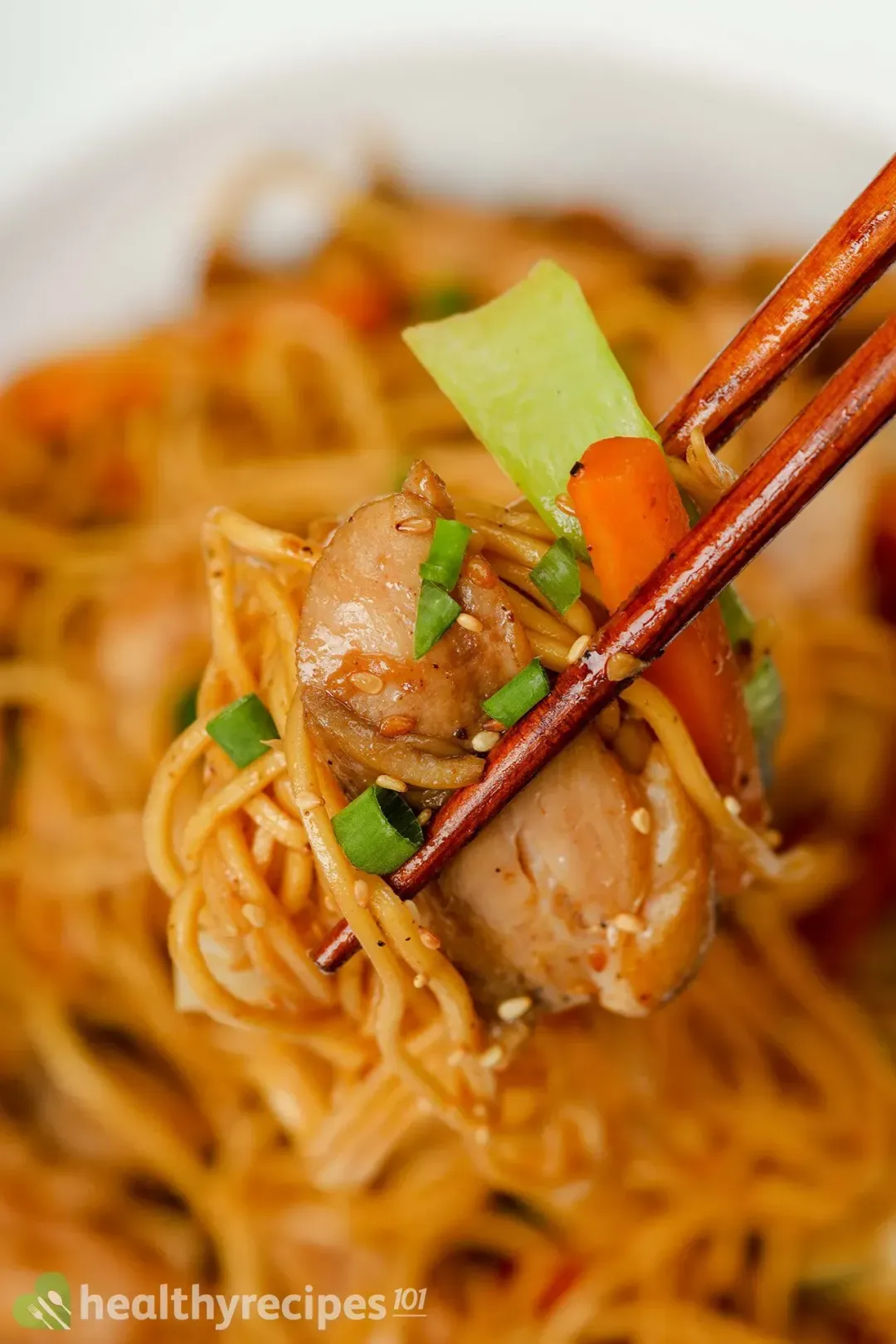 What's the Difference Between Chow Mein and Lo Mein?
It's no surprise that chow mein and lo mein are often mistaken for one another since they are both traditional Chinese dishes that feature egg noodles, various veggies, and meat. To tell these two dishes apart, here are some fundamental differences:
Despite their similar appearances, chow mein and lo mein are cooked very differently. Chow mein requires stir-frying while lo mein often only needs to be mixed thoroughly and tossed.
The difference in cooking methods results in these dishes having subtle differences in textures. Chow mein noodles are slightly crispier and chewier while lo mein noodles are softer with a more tender bite.
Ingredients for This Recipe
Our recipe uses the bare essentials, such as meat, veggies, and a few staple condiments to make the sauce. However, chow mein is pretty flexible and customizable, so you can freely mix and match the ingredients to your liking and convenience. Note that any changes could affect the overall nutritional value of the dish.
Chicken: Since this dish requires stir-frying, we went with boneless skinless chicken thighs. You can also use chicken breasts but we prefer this dark meat cut because it will remain succulent and tender, even when slightly overcooked. Breasts, on the other hand, dry out more easily and may not have as much flavor.
Noodles: Chow mein dishes often use Chinese egg noodles, which have a similar shape to spaghetti. However, they're much chewier in texture and carry a slightly salty and savory taste with a distinct eggy undertone. You can use either the dry or fresh noodle variety. Either way, check the package for specific instructions on how to prepare them prior to cooking. Make sure to drain them well and gently pat them with paper towels so the strands don't turn mushy when stir-fried.
Vegetables: The great thing about chow mein is how customizable it is. You can use any veggies available at your disposal and the taste will still be incredible. Our recipe includes onions, cabbages, bok choy, carrots, mushrooms, and red bell peppers to color the dish with various tastes and textures.
Aromatics: We stir-fried minced garlic at the beginning to lay a fragrant base for the remaining ingredients. Scallions were added later both to garnish and add a subtle peppery finishing touch to the dish.
Condiments: In order to give the sauce an authentic chow mein flavor, we used a handful of staple Asian condiments such as sriracha, soy sauce, hoisin sauce, sesame seeds, and sesame oil. As for the spices, we used a small amount of paprika and brown sugar to intensify the dish with a sweet and spicy undertone.
Cornstarch:This is added to the sauce to thicken up the texture and give it a slightly syrupy consistency.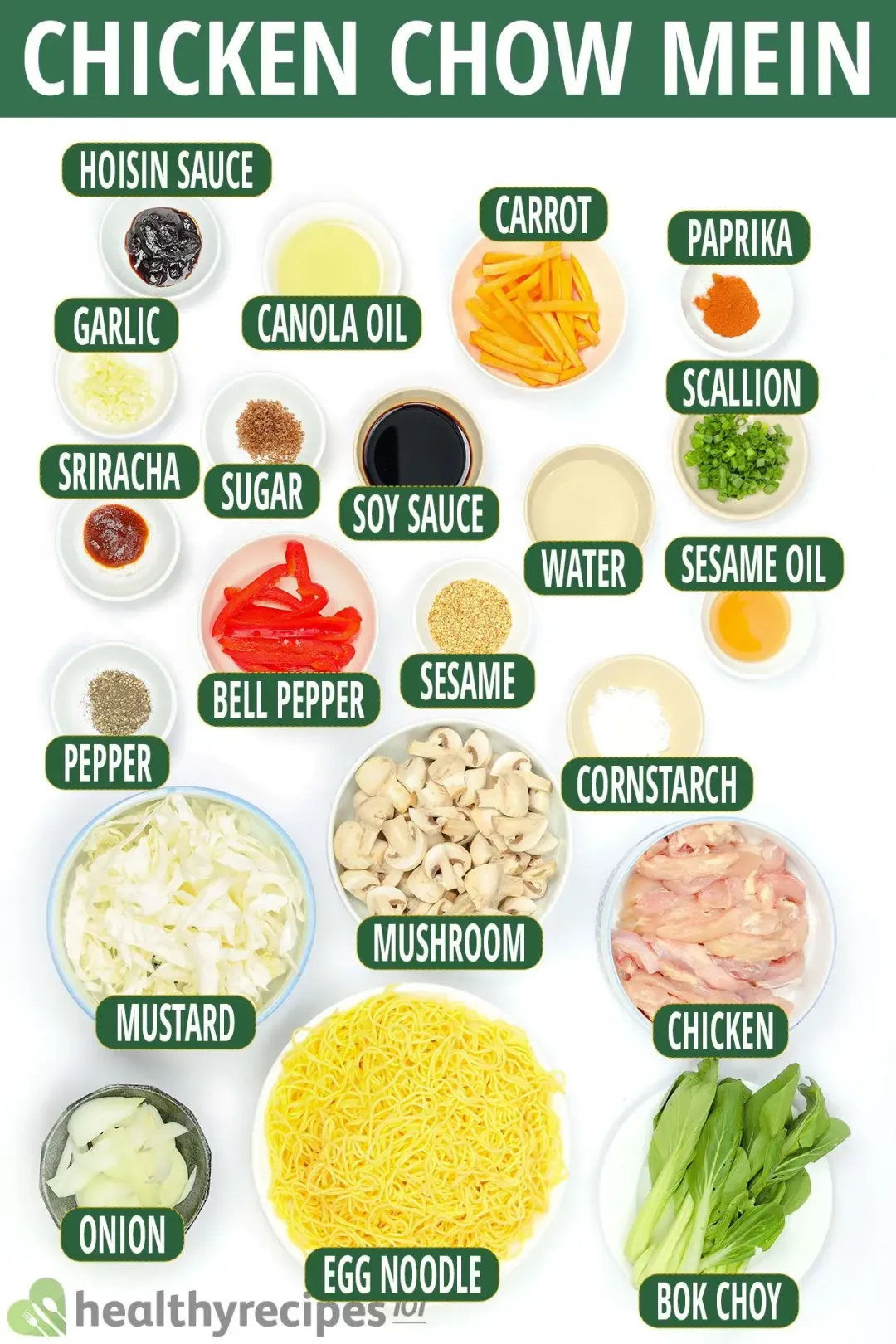 Is This Recipe Healthy?
Given the carefully selected ingredients and their standard-adhering amounts, the answer is yes. Each serving contains approximately:
461 calories
2.7 g saturated fat
566 g sodium
Moreover, with chicken as the main ingredient, this dish is loaded with complete protein. Chicken is also a good source of other nutrients like vitamins B6 and B12, selenium, zinc, potassium, and phosphorus.
To keep things balanced, we also added loads of veggies like bok choy, mushrooms, cabbage, carrots, and red bell peppers. They bring a hefty amount of fiber, vitamins A, B6, and C, and minerals like potassium, magnesium, and selenium to the dish.
How to Store and Reheat the Leftovers
When kept in airtight containers in the fridge, this chicken chow mein should last for up to 2 days. To reheat, give it a quick stir on the stovetop or simply use the microwave. It might dry out a little, so add a small amount of water to loosen the texture.
What to Serve With
Chicken chow mein is a classic main dish for a casual weeknight dinner. If you want to make a complete meal with it, here are some of our side dishes suggestions: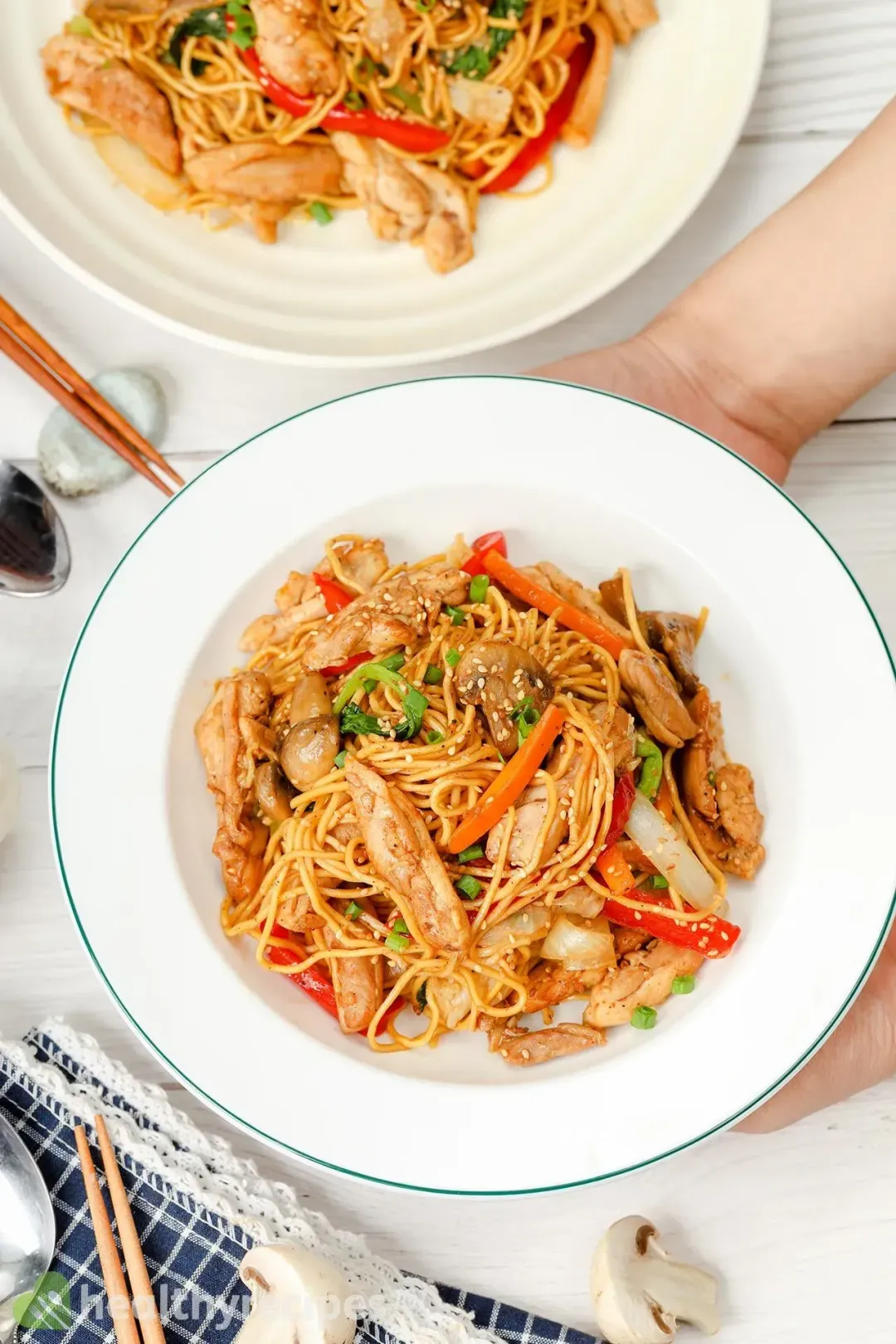 Chicken and Noodle Skillets to Make This Week
Stir-fried chicken and rice noodles are iconic items in Cantonese cuisine. They are packed with flavors, easy to make, and customizable. Try make one with our chicken Chow Fun recipe.
If you're looking for new ways to enjoy pasta, try this Rasta pasta recipe as well. It uses penne, chicken breast, and all three types of bell peppers to make a colorful and delish main course.
How to Make Chicken Chow Mein
A golden plate of noodles dotted with colorful veggies and delectable chicken pieces might be exactly what your next dinner needs. With the sweet and savory tones of various Asian staples, this chicken chow mein recipe gives you a dish filled with harmonious flavors and comforting homemade warmth.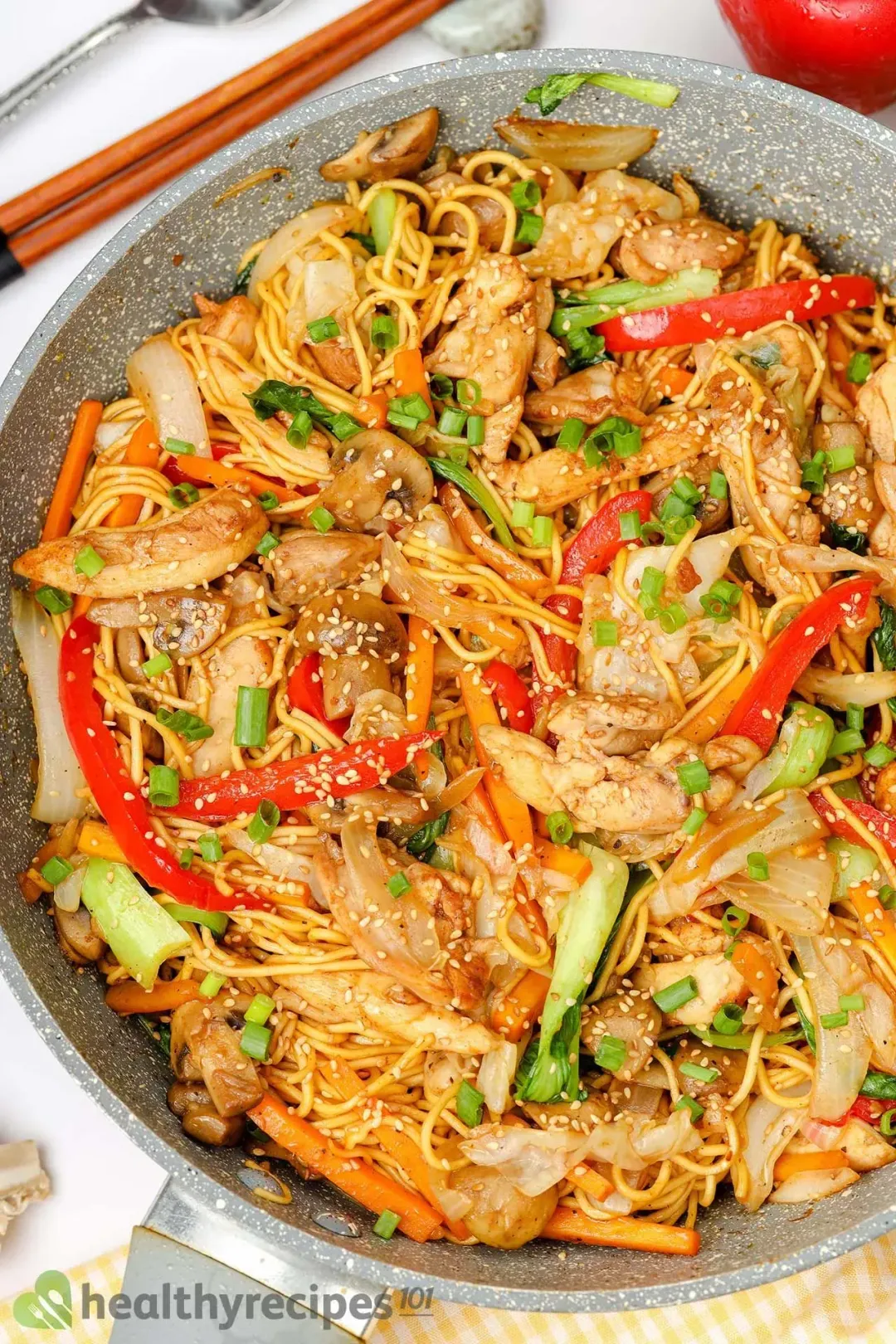 cook TIME

15 mins

prep TIME

10 mins

total TIME

25 mins
COURSE

Main Course

CUISINE

Chinese

SERVINGS

CALORIES

461 kcal
INGREDIENTS
12 oz

skinless boneless chicken thigh

(sliced into bite-sized pieces)

14 oz

cooked egg noodles

(from 7 oz dry noodles)

2 oz

bok choy

(leaves separated)

4 oz

cabbage

(sliced into strips)

2 oz

red bell pepper

(julienned)

1/4 cup

scallion

(chopped)

2 1/2 tbsp

reduced-sodium soy sauce

1 tbsp

unsalted roasted sesame seeds

1/2 tsp

ground black pepper
INSTRUCTIONS
Prep:
1
Cook the Noodles: Bring a large pot of water to a boil then drop the dry noodles in and lightly stir. Check the package for specific time instructions.
2
Slice the Chicken: Slice the chicken thighs crosswise into bite-sized pieces.
3
Slice the Bok Choy: Cut off the hard roots then stack the leaves and lengthwise slice them in half.
4
Slice the Cabbage: Cut the cabbage in half then hold it up with the inside facing upward and thinly slice one of the halves into thin ribbons.
5
Slice the Onion: Cut off the roots and remove the peel. Slice the onion in half then lay each half vertically flat and thinly slice.
6
Julienne the Bell Pepper: Lengthwise slice the bell pepper into large pieces then thinly slice each piece into thin strips.
7
Julienne the Carrots: Use a peeler to remove the outer skin, then cut the carrot crosswise into thirds. Lay each piece vertically flat then thinly slice downward. Stack the sliced pieces then repeat the downward slicing motions to make thin matchsticks.
8
Mince the Garlic: Bash the garlic with the side of your knife and remove the garlic's papery skin, separate the cloves then thinly slice them. Chop over the sliced pile with a rocking motion a few times until there are finely minced pieces.
9
Chop the Scallions: Cut off the white roots and the first 1-2 inches at the top. Bunch the scallions with one hand and with a sharp knife in the other, thinly slice the bundle into small pieces.
10
Slice the Mushrooms: Slice the mushrooms lengthwise into preferred-sized pieces.
Cook:
1
Make the Sauce: In a small bowl, mix 2 tsp cornstarch, 1 tbsp sesame oil, 1 tsp sriracha, 2 1/2 tbsp reduced-sodium soy sauce, 1/2 tbsp hoisin sauce, 1 tsp brown sugar, 1 tbsp unsalted roasted sesame seeds, 1/2 tsp ground black pepper, and 2 fl oz water until well-combined.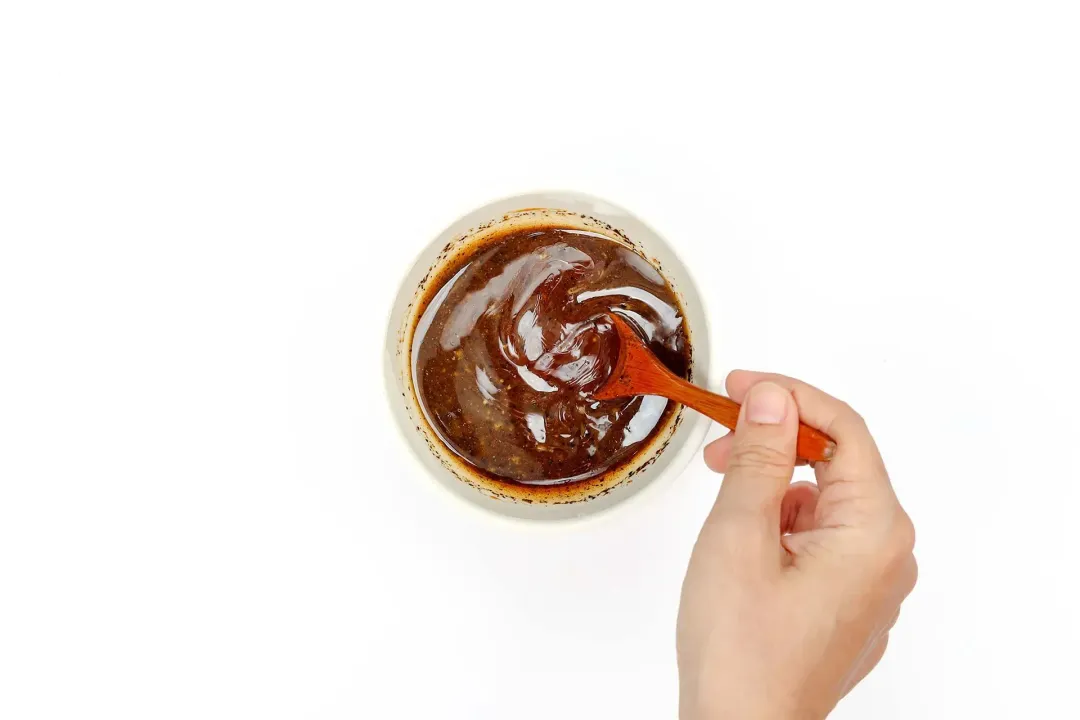 2
Stir-fry the Chicken: In a pan over medium heat, stir-fry 12 oz skinless boneless chicken thigh with 1 tbsp canola oil and 1/2 tsp paprika for 5 minutes then remove.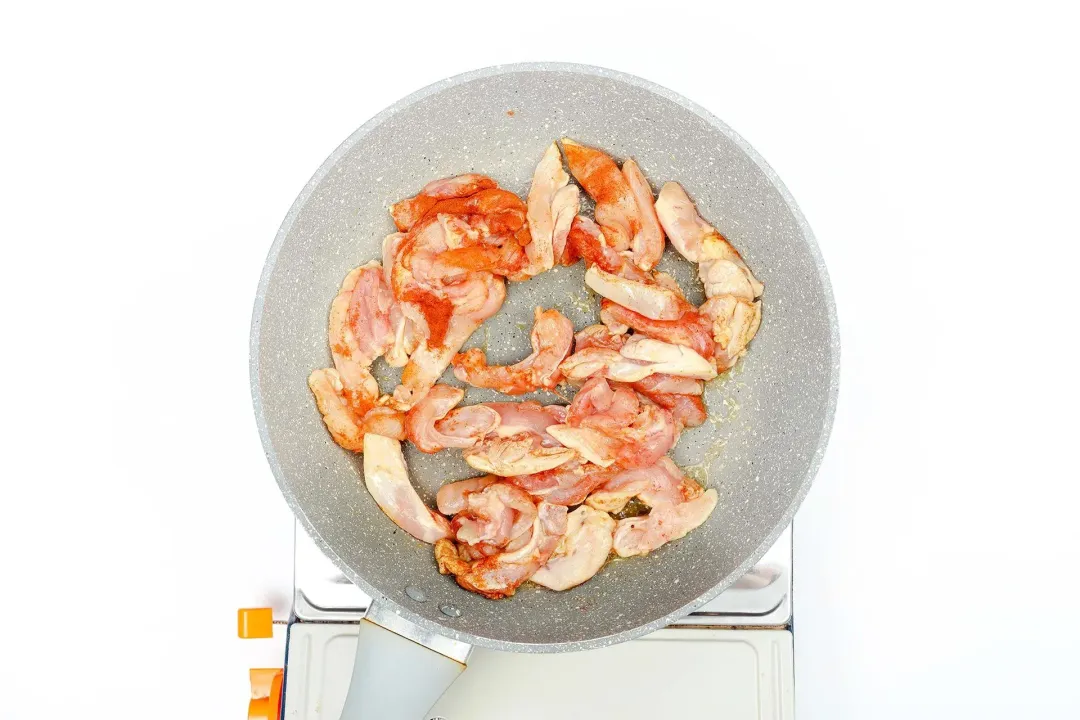 3
Stir-fry the Garlic: Continue stir-frying 1 tbsp garlic with 1 tbsp canola oil for 30 seconds until fragrant.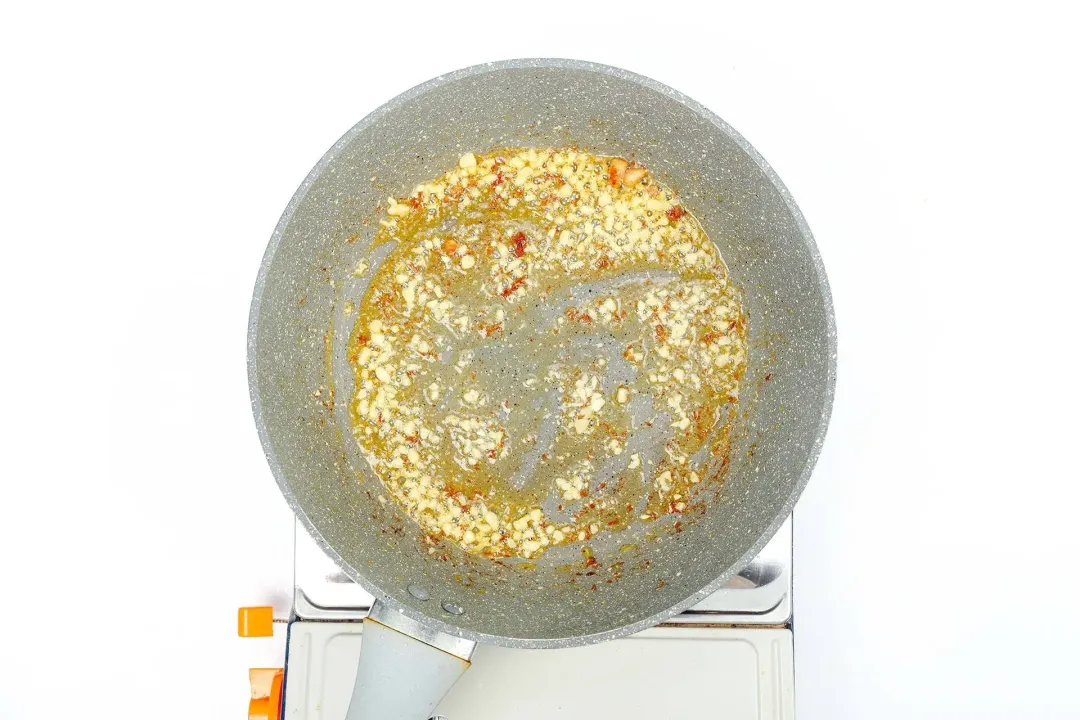 4
Add the Mushrooms: Add 6 oz mushroom then stir-fry for another 3 minutes until evenly browned.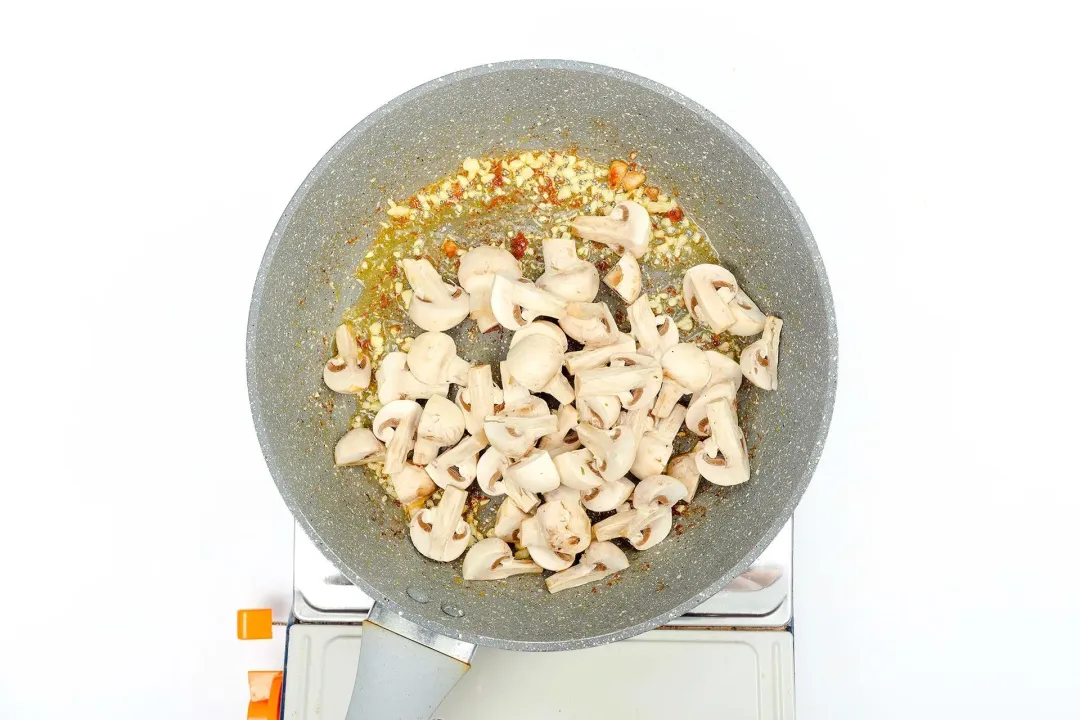 5
Add the Veggies: Stir-fry 4 oz cabbage, 2 oz onion, 2 oz red bell pepper, and 2 oz carrot for another 2 minutes.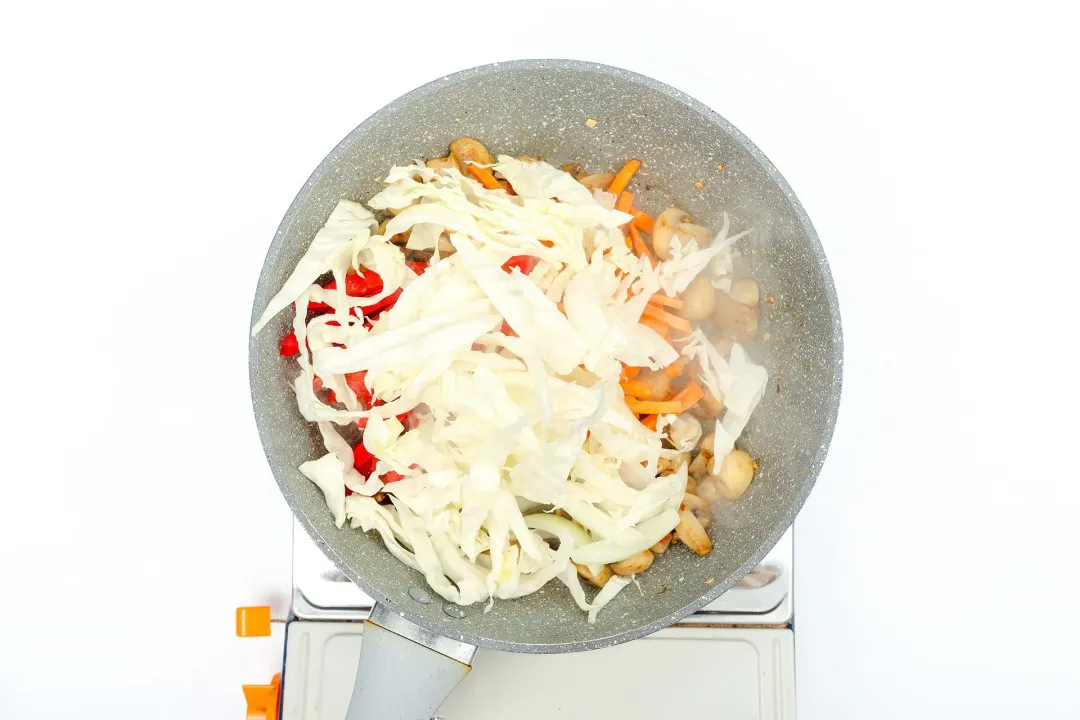 6
Add the Bok Choy: Add 2 oz bok choy then stir-fry for an extra 1 minute.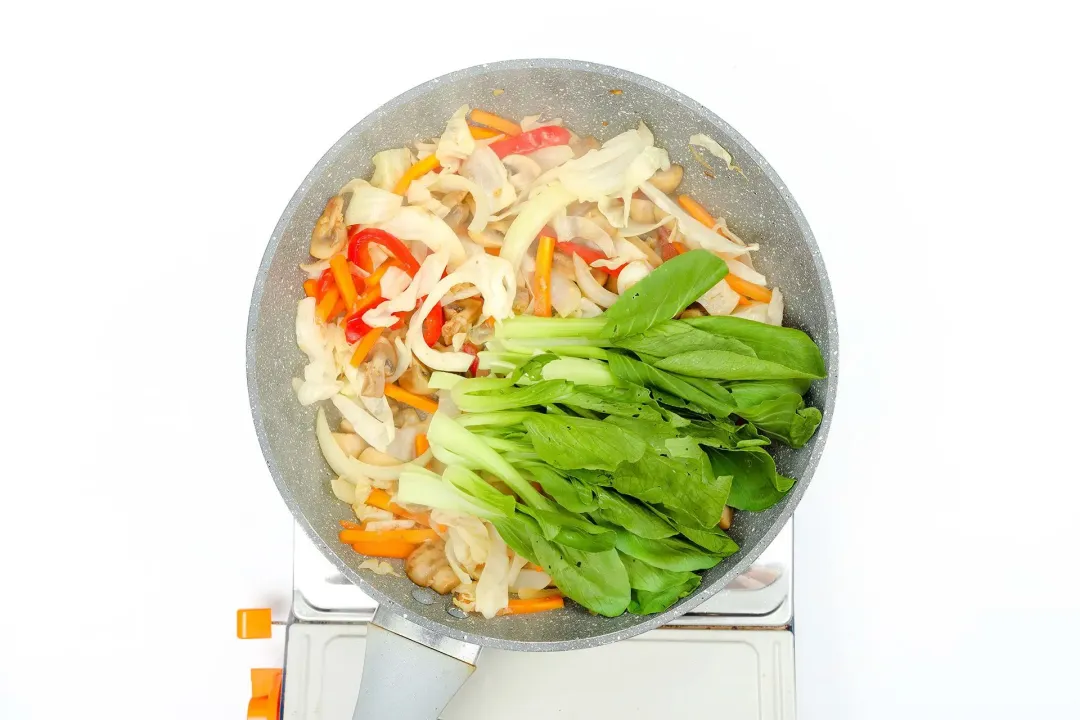 7
Add the Noodles and Chicken: Add 14 oz cooked egg noodles and the stir-fried chicken then stir-fry with the sauce for 4 minutes.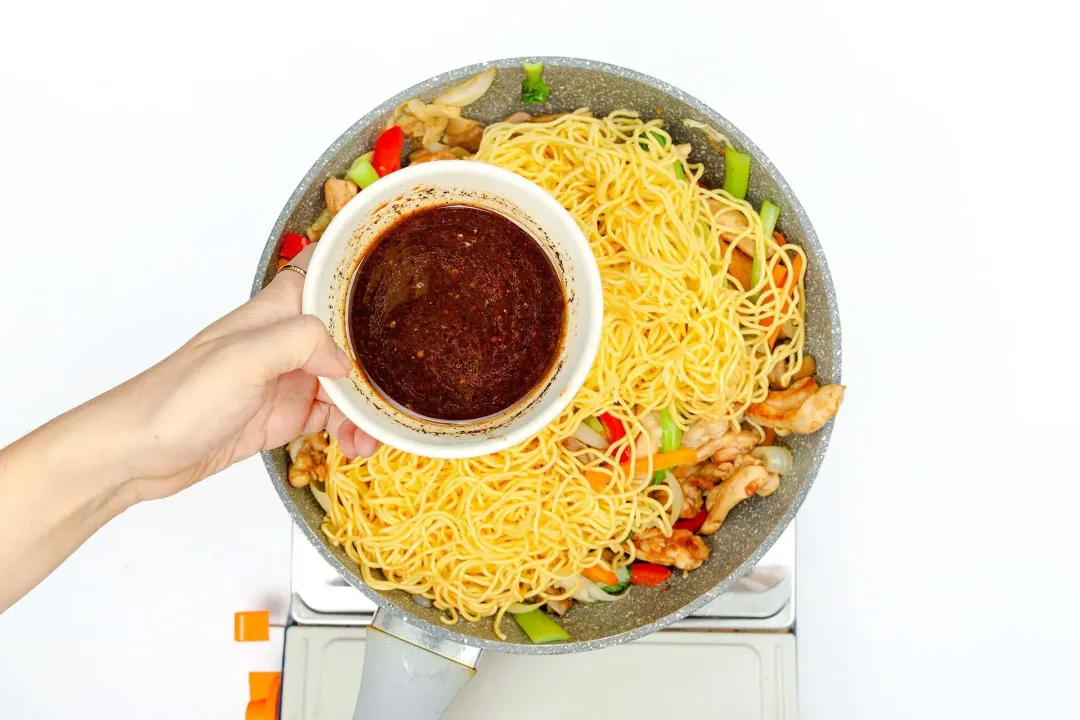 8
Garnish and Serve: Take the food off the heat then garnish with 1 tbsp unsalted roasted sesame seeds and 1/4 cup scallion. Serve hot.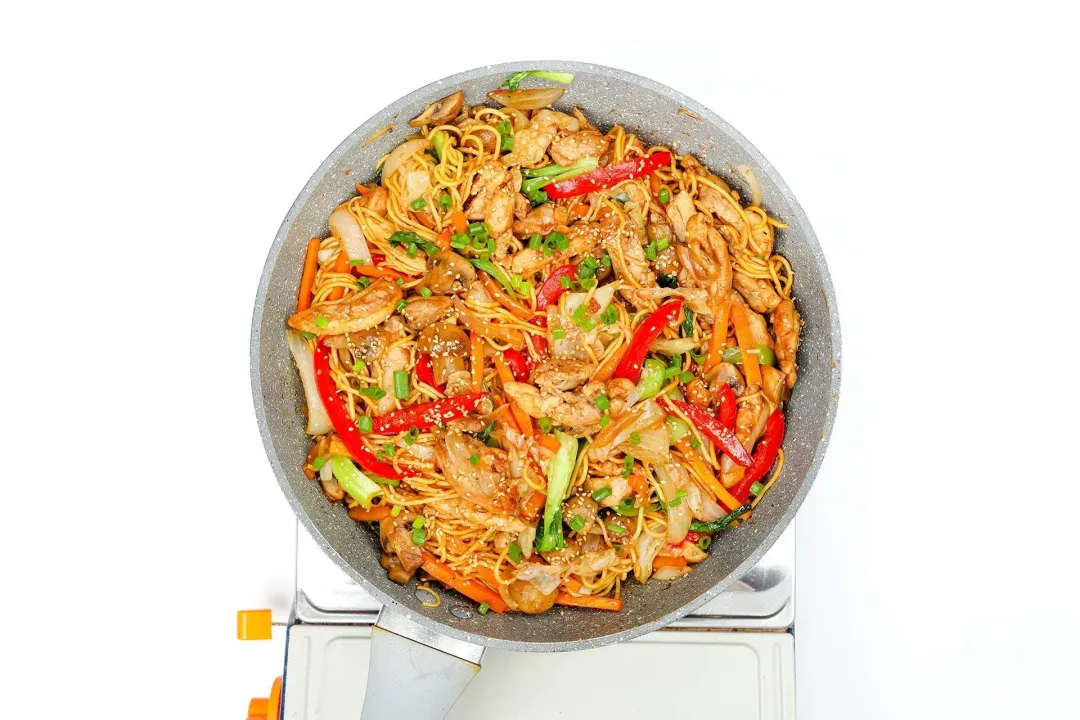 NUTRITION
Nutrition Facts
How to Make Chicken Chow Mein
Amount Per Serving (1 serving)
Calories 461
Calories from Fat 159
% Daily Value*
* Percent Daily Values are based on a 2000 calorie diet.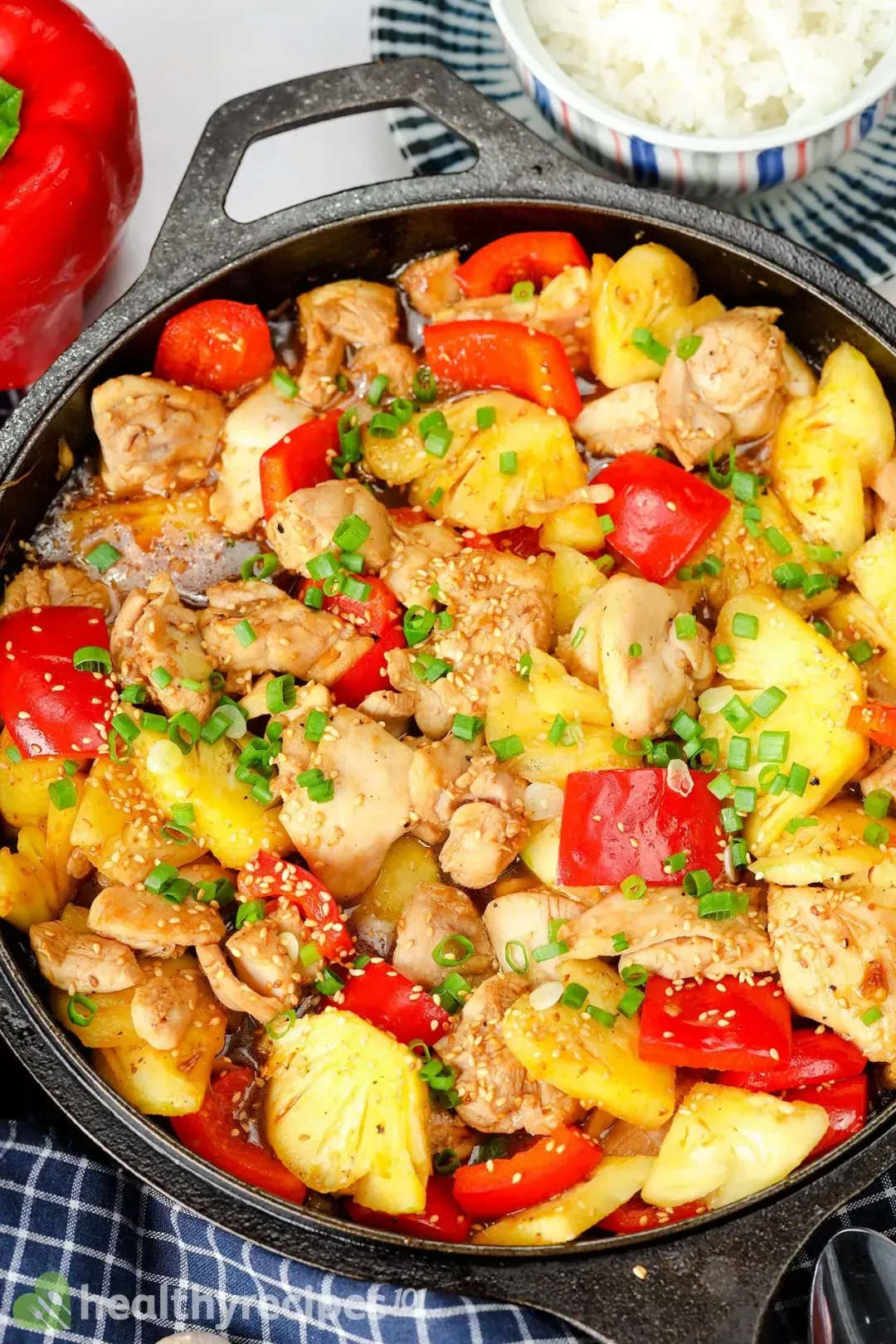 Previous Recipe
Pineapple Chicken
Pineapple Chicken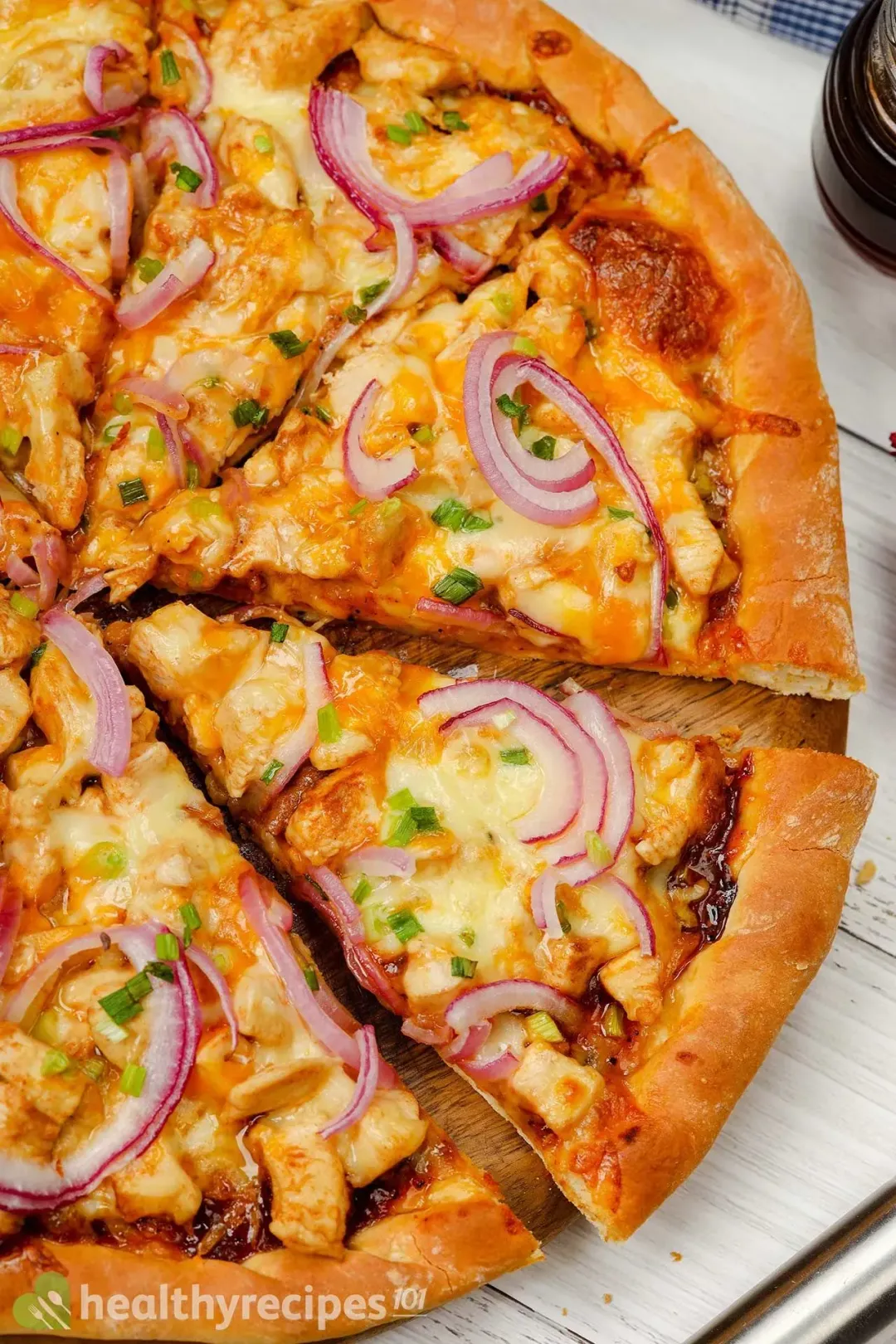 Next Recipe
Buffalo Chicken Pizza
Buffalo Chicken Pizza
Head Chef, Culinary Consultant
Tuyet Pham is an award-winning Saigonese chef who believes that joy is the secret ingredient to delicious food. At Healthy Recipes 101, Tuyet personally tests and simplifies every recipe, ensuring maximum flavor with minimal effort. With a background at prestigious French restaurants P'TI Saigon and Le Corto, Tuyet knows how to make every dish exceptional.
Writer, Author
Luna Regina is an accomplished writer and author who dedicates her career to empowering home cooks and making cooking effortless for everyone. She is the founder of HealthyKitchen101.com and HealthyRecipes101.com, where she works with her team to develop easy, nutritious recipes and help aspiring cooks choose the right kitchen appliances.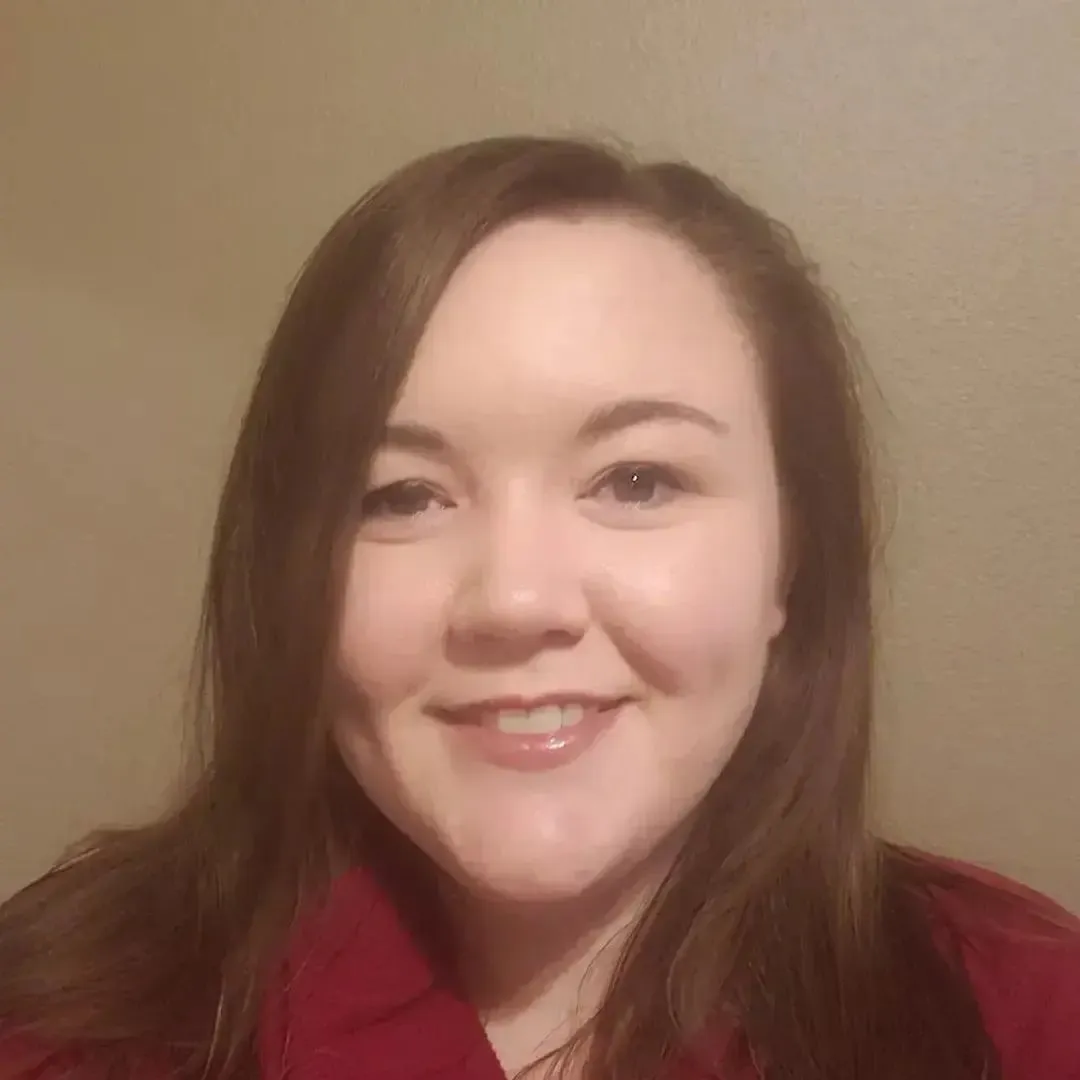 Nutrition Reviewer
SaVanna Shoemaker is a registered dietitian and freelance health and wellness writer. She's passionate about whole food-based eating and holistic nutrition, and uses her platform to help people embrace real food and reduce their sugar and processed food intake. Her work has appeared on Healthline, Greatist, Livestrong, Verywell Health, and more. In her free time, she enjoys gardening, reading, cooking, and weight lifting.
Wow, the chow mein was amazing - a burst of amazing flavor in every bite! Absolutely loved it.