This chicken jalfrezi recipe is a good choice if your palate is craving spices. It's a popular Indian quick stir-fry dish that packs a punch of big and bold flavors.
You'll have chicken and vegetables that have been stir-fried separately and then cooked together in a thick gravy flavored with Indian spices and fresh tomatoes. A must-try for curry lovers!
What Is Jalfrezi?
Chicken jalfrezi is a thick and spicy curry originating in Bengal, India. It got the name from the Bengali word "jhal", which can be loosely translated to "intense" or "fiery".
Authentic jalfrezi usually involves chicken being marinated with an Indian spice blend, then stir-fried with peppers and onions in a chili-tomato sauce.
Including unique Indian spices, it also adopted the Chinese stir-frying techniques. So basically, we can call it a special mashup of Indian and Chinese cuisines.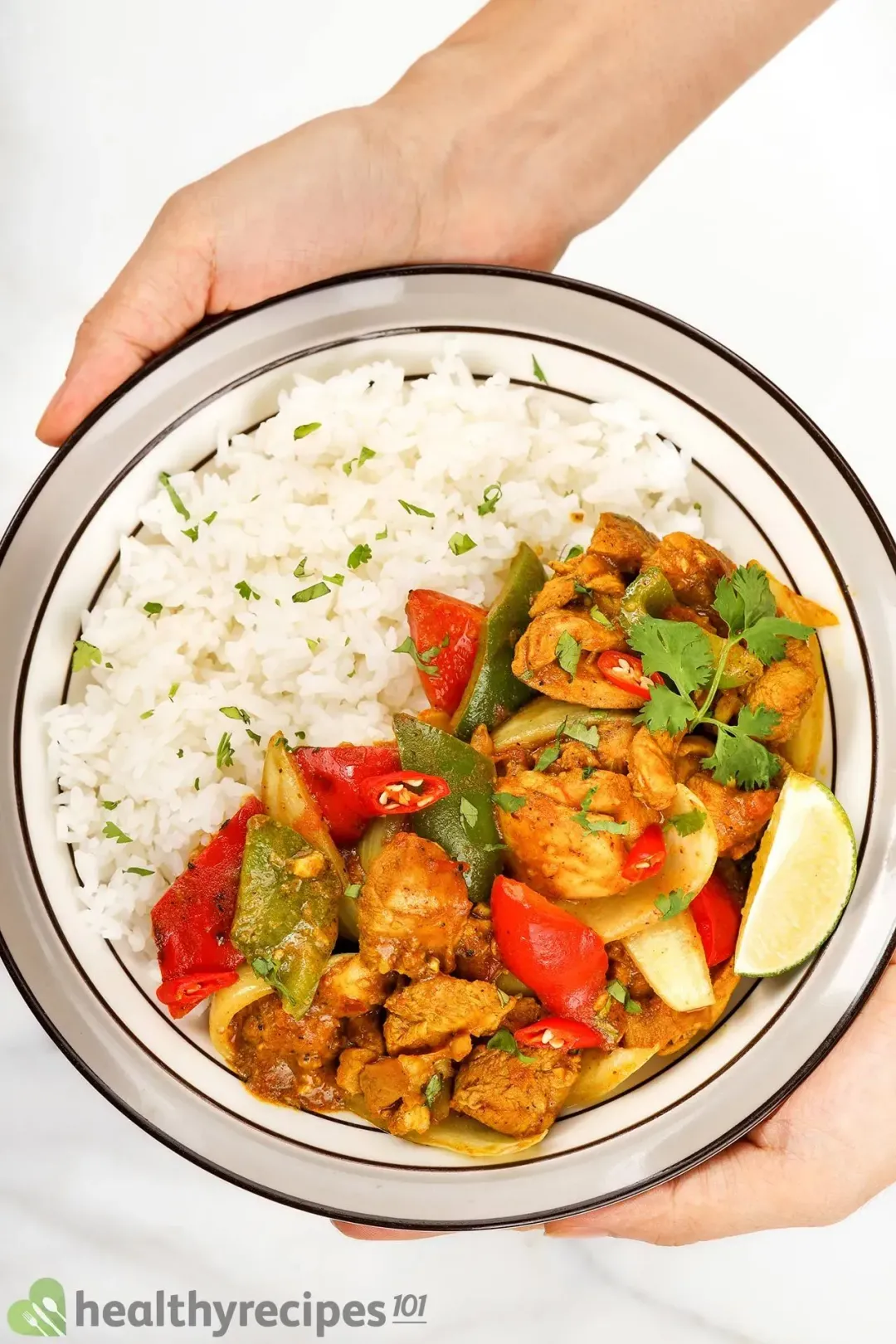 Difference Between Jalfrezi and Vindaloo
Both jalfrezi and vindaloo are thick, spicy curries made of marinated meat, vegetables, and aromatic Indian spices. Their spice ranges are pretty similar — you'll usually find a common blend of paprika, cumin, red chili, garam masala, turmeric, ginger, and garlic, etc. in both dishes.
Vindaloo was developed by Portuguese explorers in the early 15th century in Goa, Western India. Vindaloo is traditionally made by simmering chicken in the sauce; while in jalfrezi, everything is stir-fried before combining with the sauce.
Vindaloo is relatively spicier, while jalfrezi often calls for green peppers and/or bell peppers for some extra, mild sweetness.
The spiciness of either of these curries could range from mild to eye-wateringly hot. It depends on many factors, including the cook's preference, the spice blend, and also the presence of yogurt or cream.
Is This Chicken Recipe Healthy?
Yes, it is.
With 496 calories per serving, we believe our chicken jalfrezi is much healthier than the take-out variety. We've added just enough oil and butter to grease the frying skillet and prevent burning.
If you still want to cut back a bit more on the fat, be careful. Too little fat can cause the spices to clot, and the chicken and veggies won't be able to cook through properly.
The Marinade
Our marinade for today's chicken jalfrezi includes common Indian spices: garam masala, turmeric powder, fresh lime juice, salt, cumin, all-purpose flour, red pepper flakes, ground black pepper, and mustard. After searing the chicken, the marinade will slowly release its fragrance into the broth as it thickens.
In this spice blend, you'll get nice kicks of mild heat and tanginess from the red pepper flakes, black pepper, and mustard. Turmeric gives the curry a gorgeous golden look, and the garam masala-cumin combo adds a unique Indian flavor profile.
The smoky fragrance of this curry comes from the caramelization of ginger, garlic, and chopped fresh tomatoes in olive oil. Of course, you have full control over the amount used of each ingredient, so don't hesitate to tweak to your taste.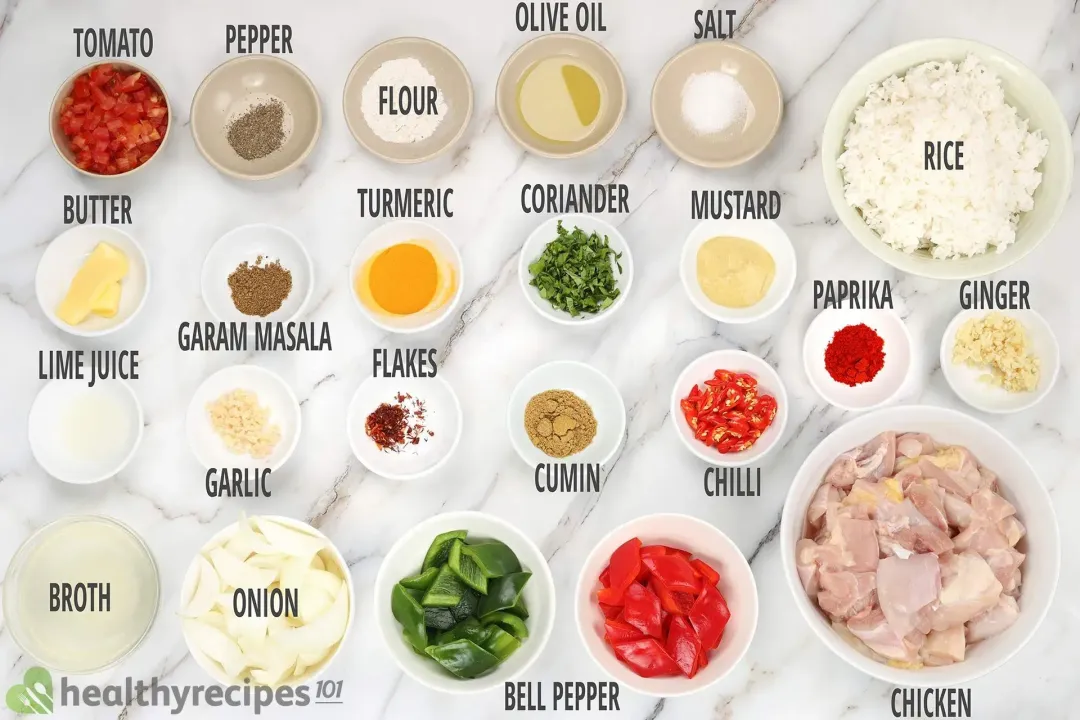 Cooking Tips
Making a chicken jalfrezi that perfectly conforms to your taste isn't that big of a deal. Just a few notes to keep in mind before we get to the practice part:
Stir-frying is a non-stop process, so it's best to have all your ingredients prepped ahead and ready to combine by the time you start cooking.
You should stir fry the bell peppers and onions separately to crisp them first, then remove them into a bowl and leave the skillet for searing the chicken. Don't try to combine the different stages for the veggies, the chicken, and the sauce together.
We prefer keeping chicken jalfrezi true to its popularity as a fiercely spicy curry, so red chili is our initial choice. To amp up the bright red color and reduce the spiciness, we'd suggest swapping red chili for Kashmiri red chili powder.
How to Store and Reheat
Chicken jalfrezi is an easy make-ahead meal. You can put the leftovers in an airtight container and store them in the fridge for a whole week.
If you can't finish the leftovers anytime soon, it's good to know that chicken jalfrezi will last for 2-3 months in the freezer. When reheating, you'll probably need to stir a little bit of broth into the curry to wake up its original flavor and texture.
Side Dishes
Chicken jalfrezi is commonly served with naan, chapattis, or hot steamed rice. Either of those choices is perfect for soaking up the spicy sauce.
For a nutritious and fulfilling meal, we've also added two more side dishes to the table: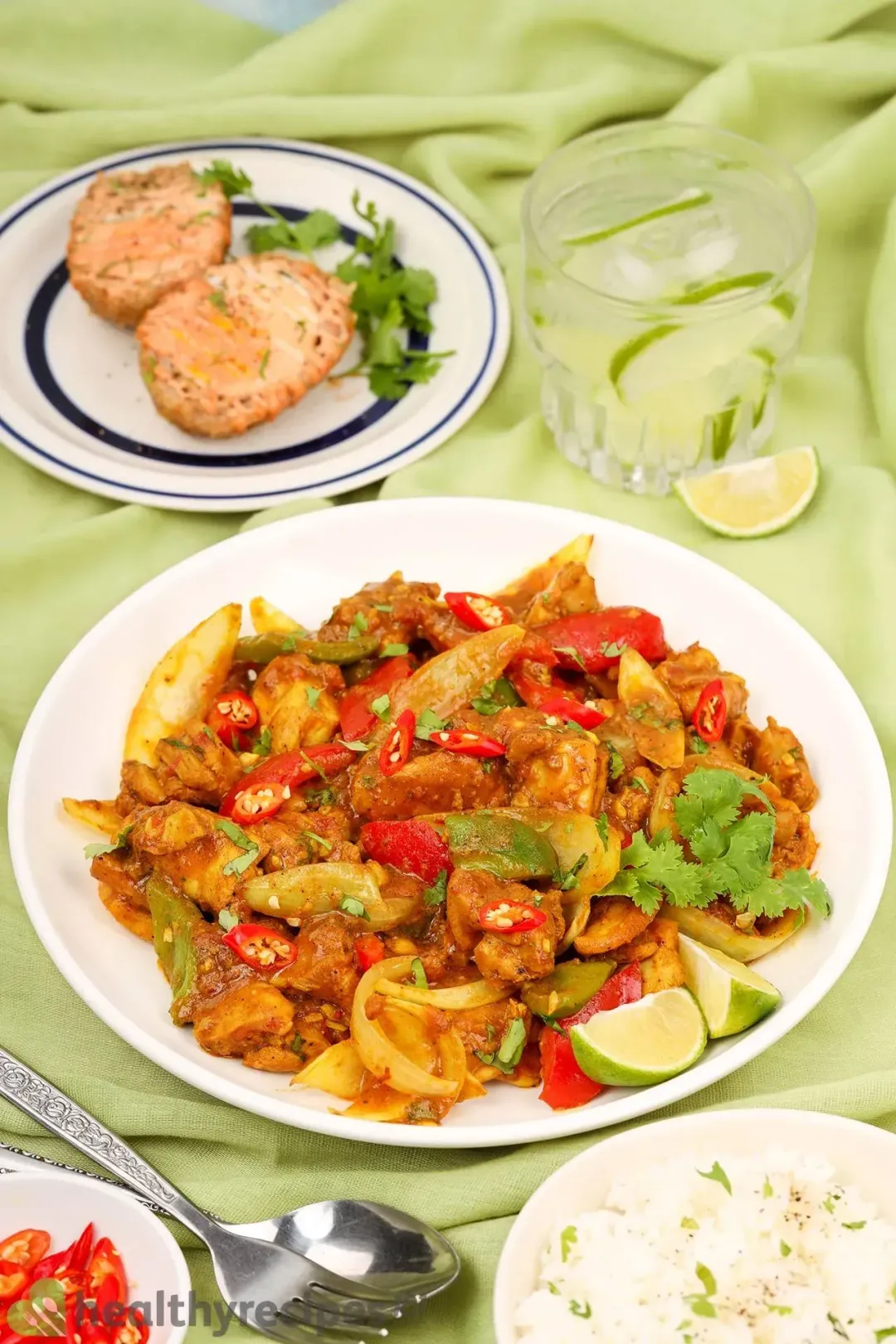 Scotch eggs: Our scotch egg is a 20-minute healthy take on the British's beloved snack. You'll discover different textures and flavors in each layer — from the crispy exterior to the savory sausage, and then the creamy soft egg yolk.
Fresh lime juice: A pleasantly refreshing cup of lime juice brings a lovely ending to today's meal. This nutritional punch excellently compliments our spicy rich jalfrezi and at the same time, helps you meet your daily quota of essential vitamins.
Some More Saucy, Sticky, Flavorful Chicken Skillets to Serve With Rice
Have you ever wondered how to get chicken nuggets that are still somewhat crispy even when coated in glaze? This orange chicken recipe will show you our secret, bonus a sticky sweet orange glaze that glistens the crispy treat. The whole skillet comes together in 35 minutes.
This chicken vindaloo recipe is an excellent addition to your curry repertoire. It's bursting with fiery spices and chunks of juicy tender chicken thighs — a must-try for spicy food fans.
Chicken Jalfrezi
This chicken jalfrezi recipe is a good choice if your palate is craving spices. It's a popular Indian quick stir-fry dish that packs a punch of big and bold flavors.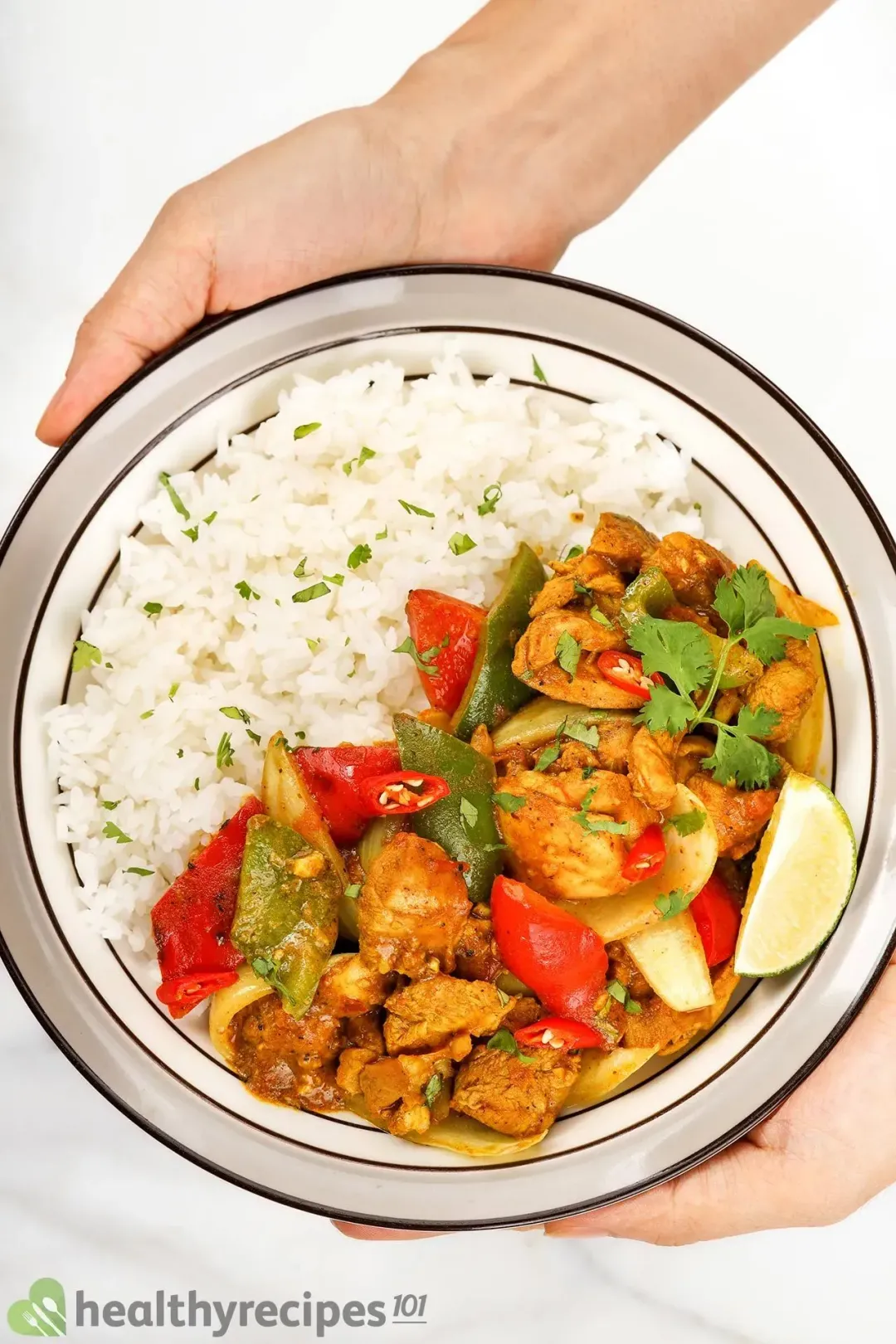 cook TIME

20 mins

prep TIME

10 mins

total TIME

30 mins
COURSE

Main Course

CUISINE

Chinese, Indian

SERVINGS

CALORIES

497 kcal
INGREDIENTS
20 oz

skinless boneless chicken thigh

1 cup

tomatoes

(finely diced)

1/2 cup

unsalted chicken broth

1/2 tbsp

all-purpose flour

1/2 tsp

red pepper flakes

1/2 tsp

ground black pepper

1 tbsp

traditional Dijon mustard

2 tbsp

coriander

(chopped)

0.5 oz

red chili

(chopped)

3 1/2 cups

cooked medium-grain rice
INSTRUCTIONS
1
Coat the chicken thighs in 1 tsp garam masala, 1 tsp turmeric powder, 1 tsp lime juice, 1/2 tsp salt, 1 tsp cumin, 1/2 tbsp all-purpose flour, 1/2 tsp red pepper flakes, 1/2 tsp ground black pepper, 1 tbsp Dijon mustard. Toss to coat evenly. Leave to marinade while moving on to the next step.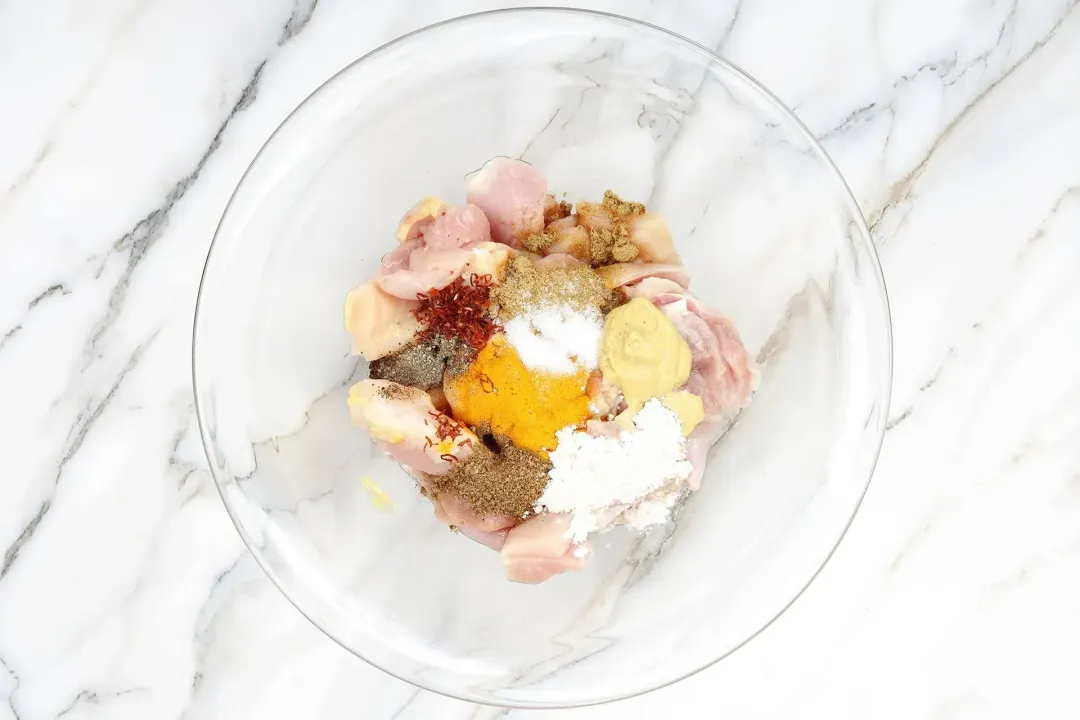 2
In a cast-iron skillet, heat 1 tbsp unsalted butter on medium heat. Sauté 3 oz red bell pepper, 3 oz green bell pepper, and 4 oz sliced onions for 3 minutes. Remove to a bowl and set aside.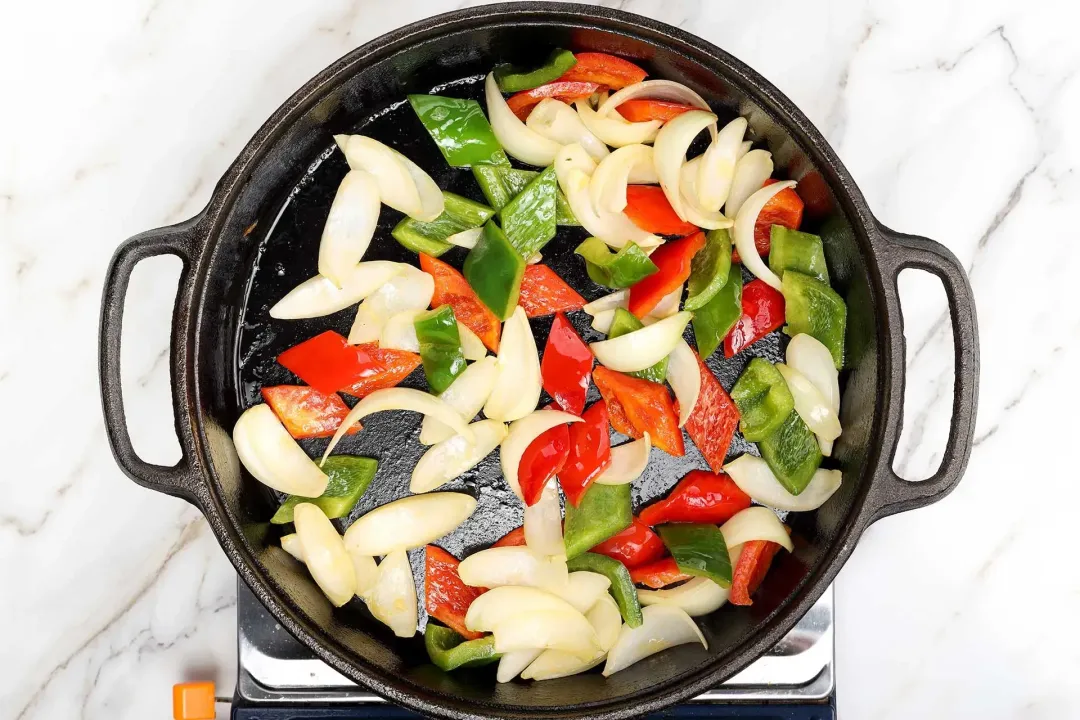 3
Add 1 tbsp olive oil, 2 tsp grated ginger, and 1 tbsp minced garlic to the skillet to sauté for 30 seconds. Then, add 1 cup diced tomatoes and sauté for 2 minutes.
4
Add the marinated chicken to the skillet. Sauté for 5 minutes.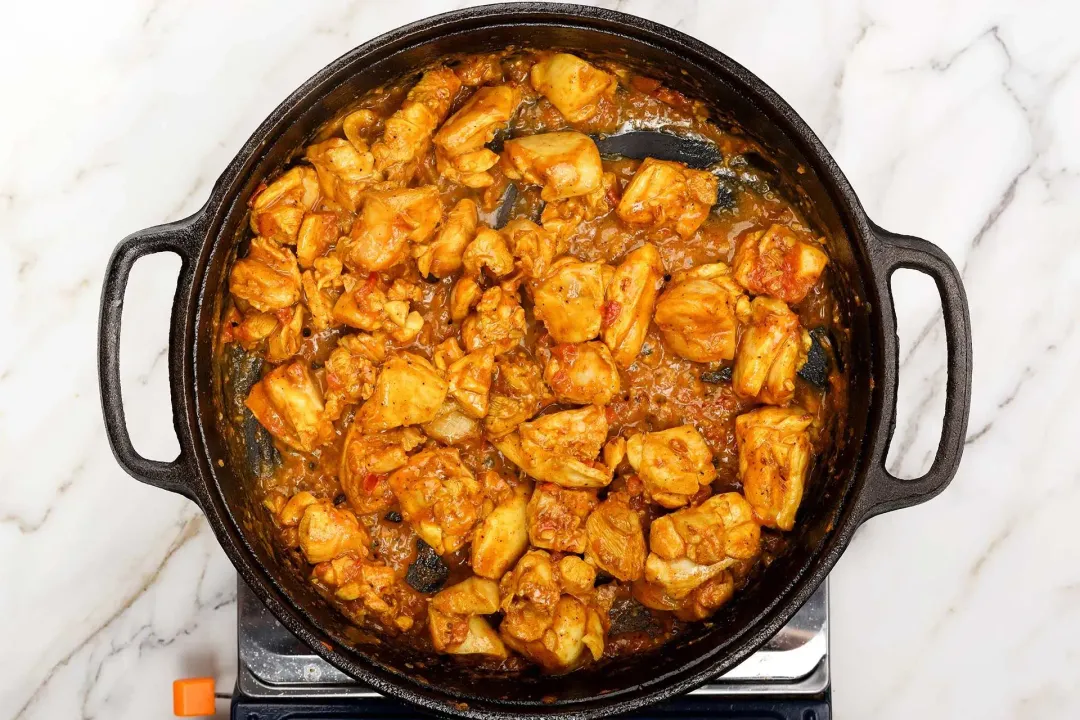 5
Add 1/2 cup unsalted chicken broth and stir for 5 more minutes until it slightly thickens.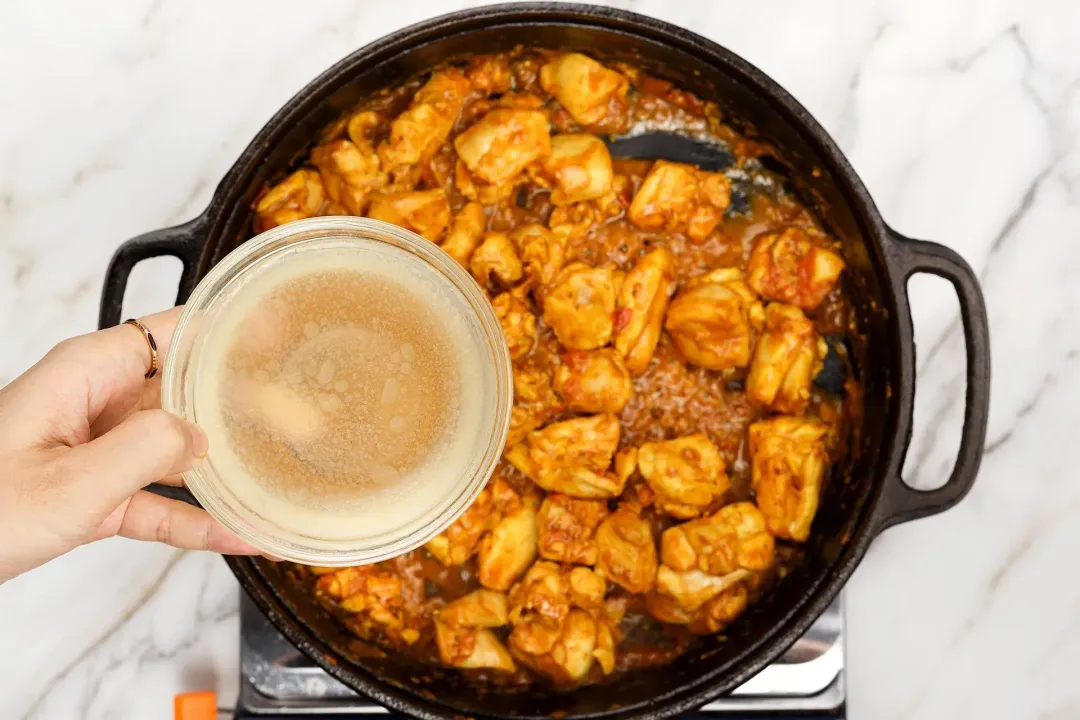 6
Return the sautéed veggies to the skillet (done in step 2). Stir for another minute.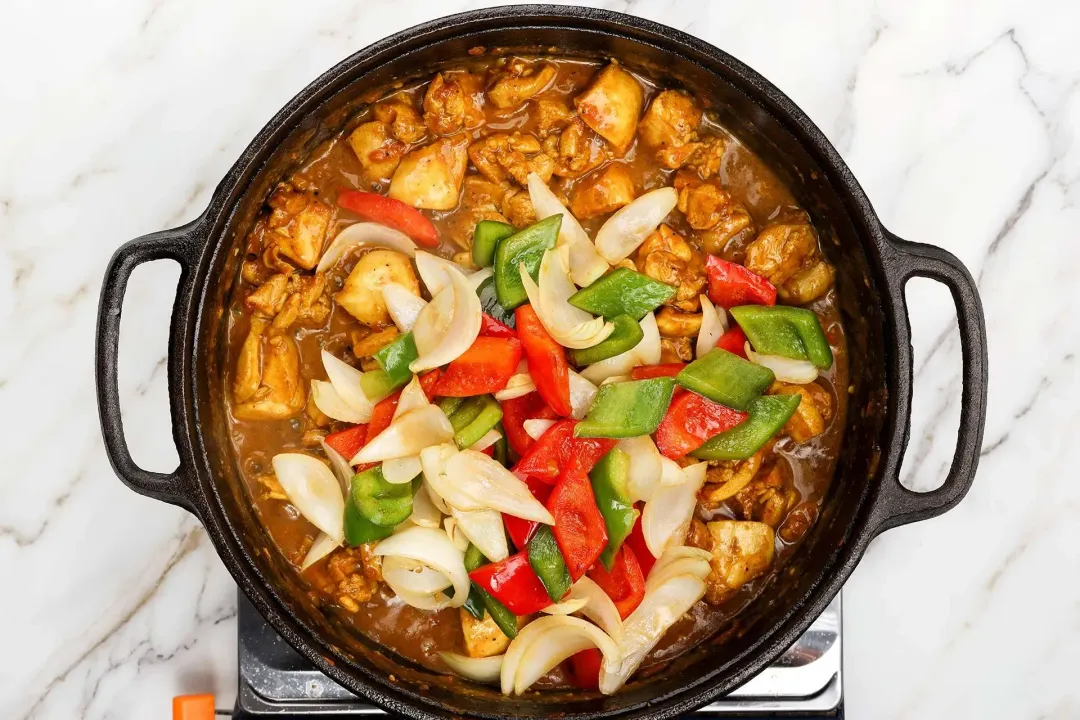 7
Turn off the heat. Top with 2 tbsp chopped coriander and 0.5 oz chopped red chili.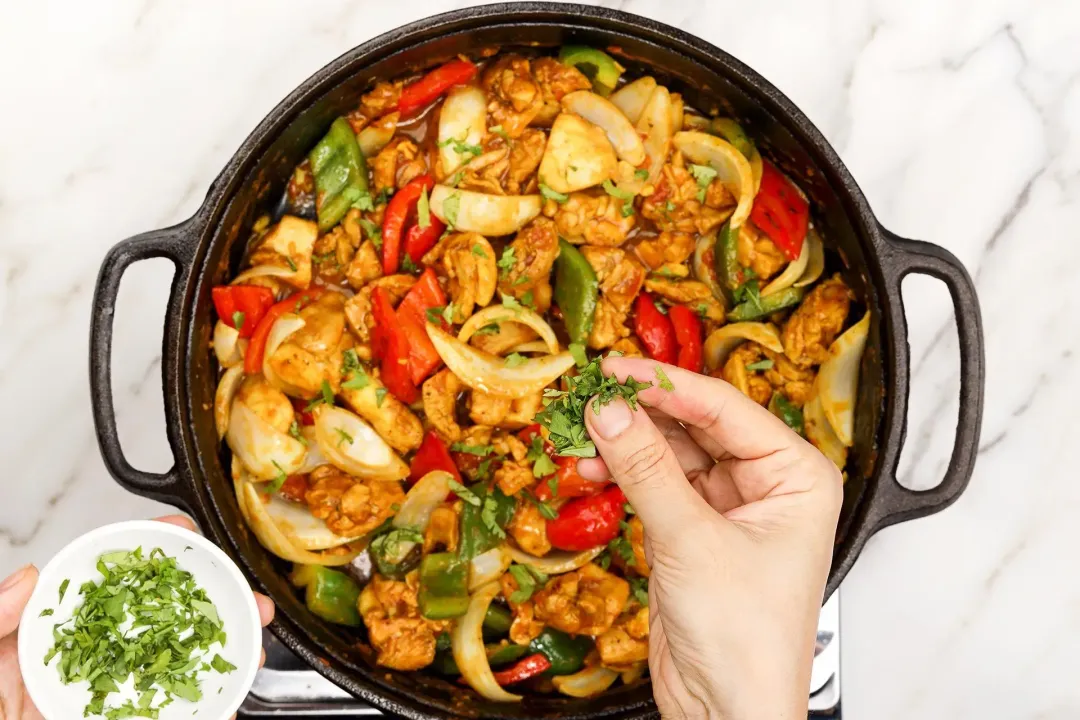 8
Serve hot on a bed of 3 1/2 cups cooked medium-grain rice.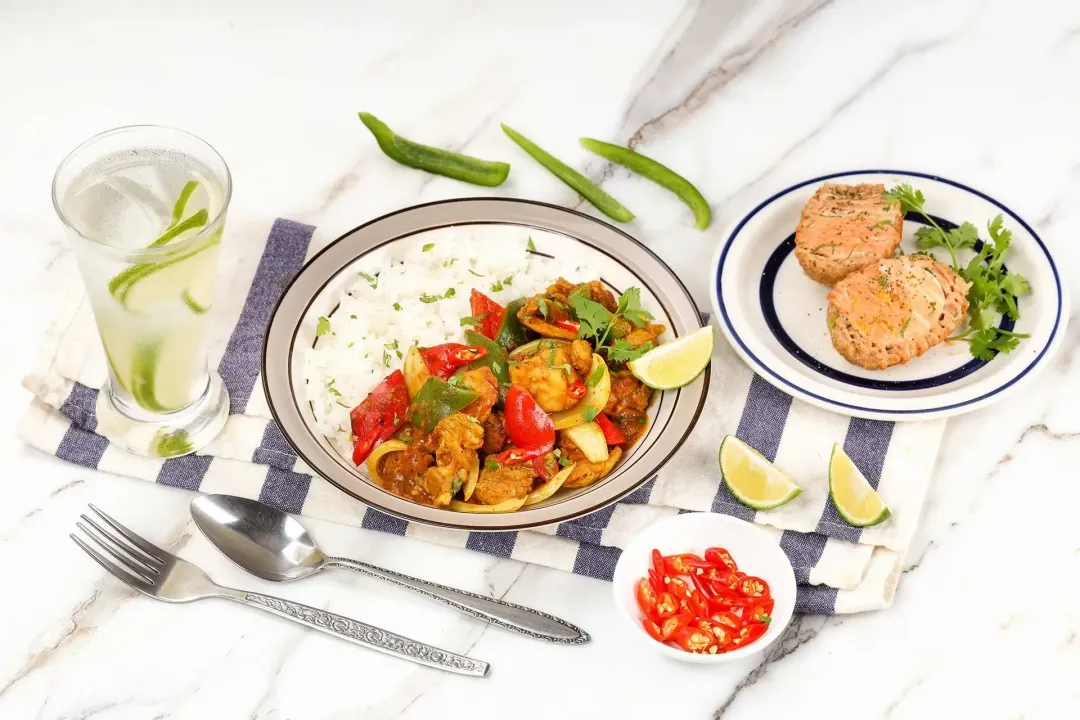 NUTRITION
Nutrition Facts
Chicken Jalfrezi
Amount Per Serving (1 serving)
Calories 497
Calories from Fat 117
% Daily Value*
* Percent Daily Values are based on a 2000 calorie diet.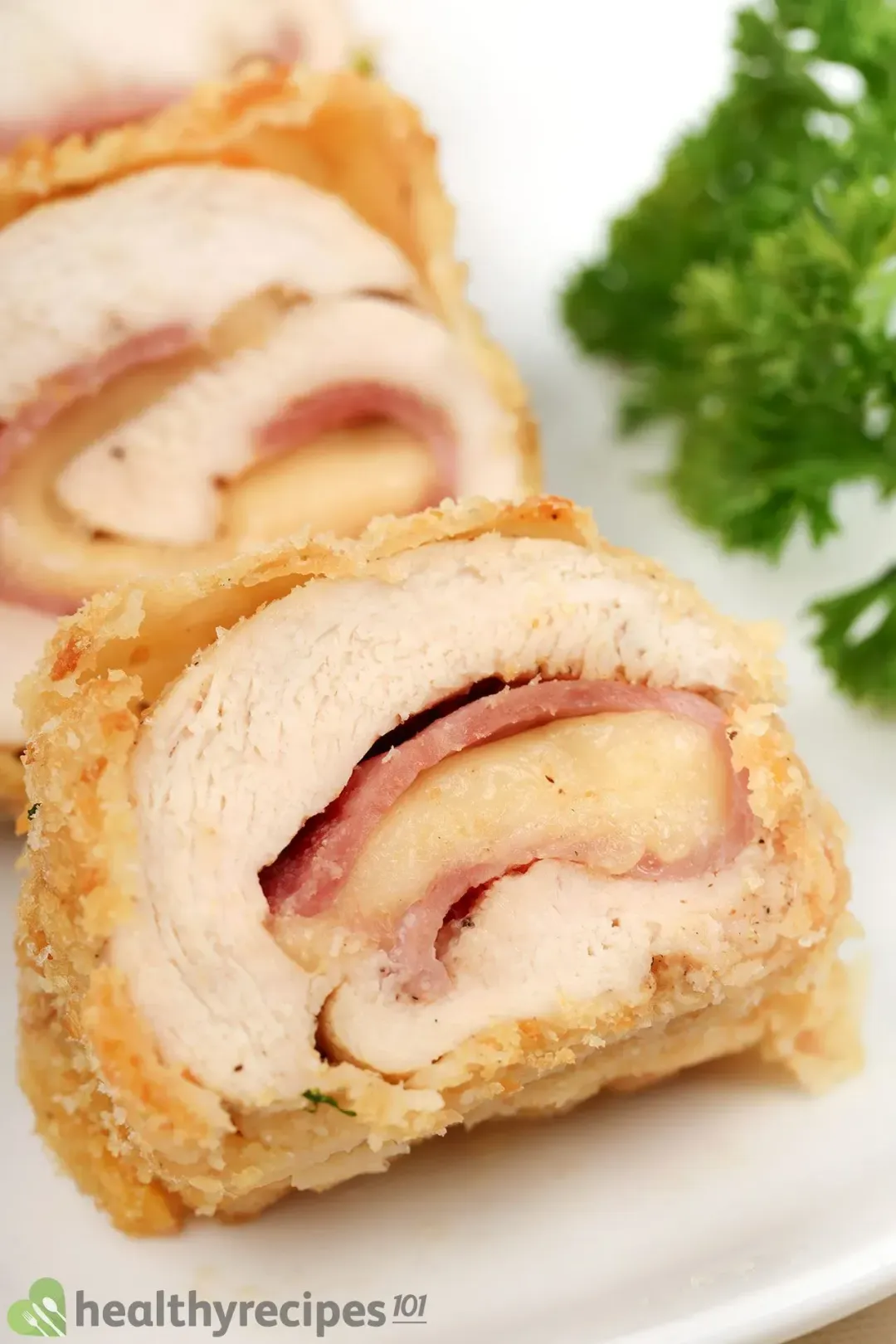 Previous Recipe
Air Fryer Chicken Cordon Bleu
Air Fryer Chicken Cordon Bleu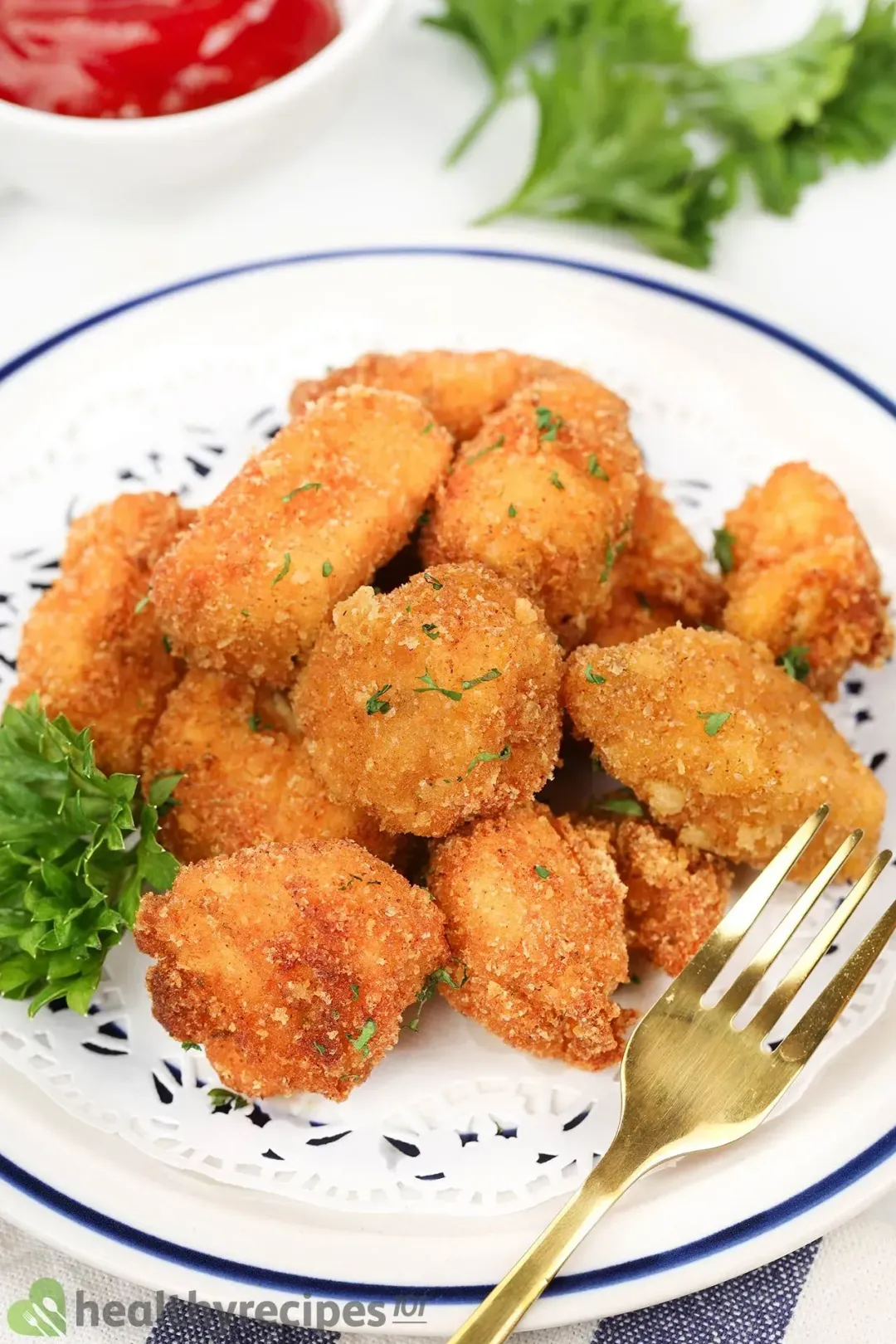 Next Recipe
Popcorn Chicken
Popcorn Chicken
Head Chef, Culinary Consultant
Tuyet Pham is an award-winning Saigonese chef who believes that joy is the secret ingredient to delicious food. At Healthy Recipes 101, Tuyet personally tests and simplifies every recipe, ensuring maximum flavor with minimal effort. With a background at prestigious French restaurants P'TI Saigon and Le Corto, Tuyet knows how to make every dish exceptional.
Writer, Author
Luna Regina is an accomplished writer and author who dedicates her career to empowering home cooks and making cooking effortless for everyone. She is the founder of HealthyKitchen101.com and HealthyRecipes101.com, where she works with her team to develop easy, nutritious recipes and help aspiring cooks choose the right kitchen appliances.
Nutrition Reviewer
Lizzie Streit is a Minneapolis-based dietitian and founder of It's a Veg World After All. She completed her MS in Human Nutrition from Drexel University, and is an expert in culinary nutrition, recipe development, and nutrition communications. Lizzie's philosophy is centered around making nutrition recommendations, and especially the advice to eat more vegetables, approachable and realistic. She is excited to be working with the team at Healthy Recipes 101 to ensure that their recipes are both nutritious and delicious.
It's definitely going on my weeknight dinner menu! The flavors in this dish look so vibrant and flavorful.