Today's popcorn chicken recipe is beloved worldwide and can be found on fast food and restaurant menus alike.
The chicken is marinated in yogurt, so it becomes amazingly tender and juicy before being breaded and deep-fried for incredibly light and crisp bites. Dip these little pieces into ketchup or mayonnaise sauce and enjoy the crunch!
What Is Popcorn Chicken?
Popcorn chicken or chicken popcorn are small chunks of chicken evenly coated in batter and deep-fried until crispy and golden brown. The idea was initially created by the Kentucky Fried Chicken chain and has remained a staple on their menu even as it spread worldwide. In different regions, the dish also is customized for different cultures and flavors.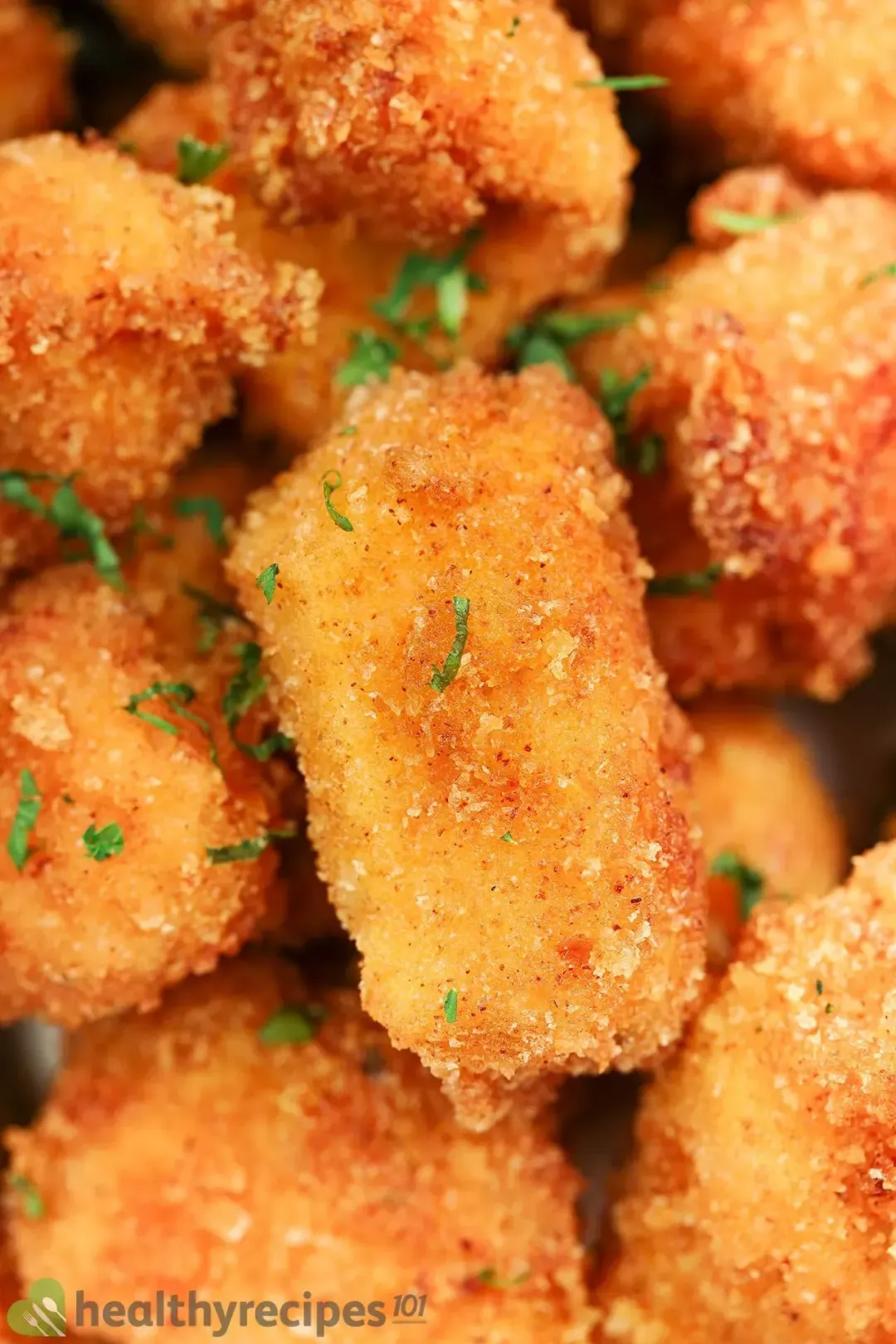 Is Our Recipe Healthy?
Since it started out as fast food, popcorn chicken often gets the bad rap, but our version is healthy.
To be precise, each serving of our popcorn chicken recipe contains only 227 calories, making it an ideal snack to munch on without feeling guilty.
Besides, we nutritionally crafted the recipe so that the dish ends up having the right amount of sodium and saturated fat — 262 mg and 1.9 g, respectively. Since the undesirable content is kept within recommended limits, our version of popcorn chicken is one of the healthiest out there.
Types of Chicken for This Recipe
White meat like chicken breast has the benefit of being lean — it's low in fat and rich in protein. Readily available at stores in skinless, boneless form, chicken breasts are easy to chop into uniform pieces, making the cooking process quick and effortless.
Dark meat such as chicken thighs can be a delicious substitute if you prefer. Due to the higher fat content, this chicken cut is softer and results in juicer fried bites.
Dark and white meat both work equally well, so use what you have on hand.
Ingredients You Will Need
Chicken: We used boneless skinless chicken breasts for simple prepping, but you can also try this recipe with chicken thighs or chicken tenderloins.
Yogurt: Greek yogurt's acidic enzymes break down the protein in the meat, thus tenderizing your chicken. You may also use buttermilk or sour milk for this recipe.
Breading: To replicate the crunch of popcorn chicken from KFC, we substitute the all-purpose flour in regular fried chicken recipes with breadcrumbs. It sticks nicely on the meat, achieving the irresistibly flaky, crisp finish.
Baking powder: Baking powder gives the coat extra crispiness. It reacts with the hot oil, creating tiny air bubbles for an airy, crunchy crust.
Seasoning and Spices: Salt, pepper, garlic, and onion powder infuse the meat with flavors. The combination of cayenne and smoked paprika injects gorgeous color and also adds a touch of heat into popcorn chicken bites. We shared the most basic spices in this recipe, but you are welcome to use your favorite spices and herbs to suit your taste buds.
Sauce: Popcorn chicken goes well with most dipping sauces, including barbeque, honey mustard, mayonnaise, and ranch. We enjoy having it with ketchup for the tangy note, balancing the rich fried flavor.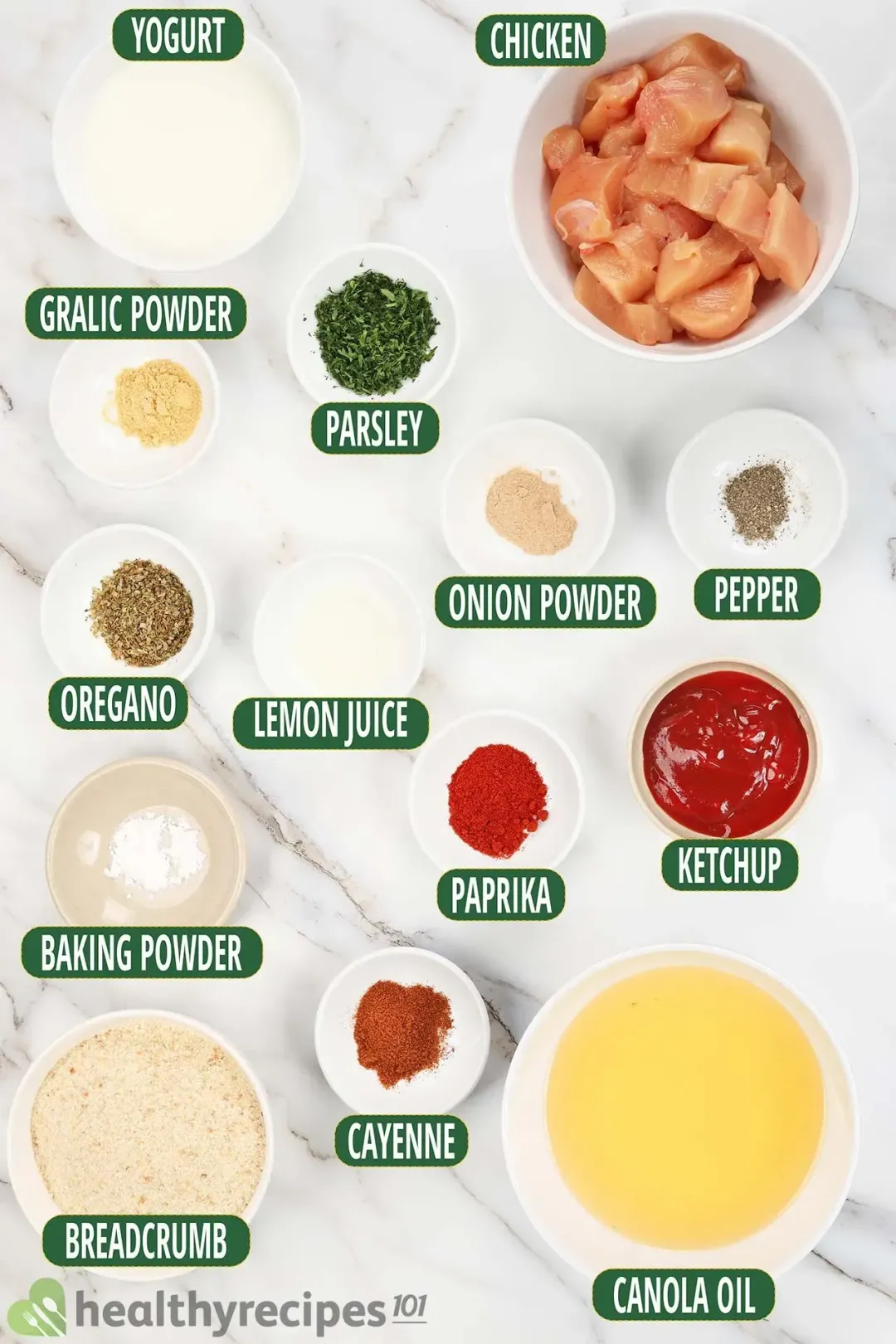 Tips for Making
Bite Size: The chicken should be cut into bite-size chunks about 1-inch thick. If they're significantly larger or smaller, you may wind up with overcooked or dried-out chicken bites.
Marinade: The absolute key to super tender fried chicken is the yogurt. Marinating in yogurt-based sauce makes the meat soft and juicy. 
The step also makes the chicken flakier once it's coated in batter. The flakier the popcorn chicken, the crisper and tastier it is.
Oil Temperature: It's crucial to ensure the frying oil is at the right temperature before adding your chicken to the pan. If it's too hot, the outside will burn before the inside cooks. If the temperature is too low, on the other hand, you'll be left with soggy, greasy batter that falls off the chicken.
From our experience, the oil should be around 356 ℉/180 ℃. We highly recommend using a kitchen thermometer to ensure you have the correct temperature. Check it repeatedly during the frying process.
Multiple Batches: Fry popcorn chicken in 2 – 4 batches, depending on your pan size. This ensures the chicken chunks can cook evenly without sticking to each other.
Store and Reheat
After the chicken has been cooked, allow the pieces to cool and place uneaten ones in an airtight container. Refrigerated popcorn chicken can last 3 – 5 days, or you can freeze it for up to 4 months.
Frozen cooked chicken should be placed in the fridge the night before you plan on eating it. You can either fry or bake the chicken to reheat it.
If you want to use the oven or air fryer, spray the bottom of the baking sheet with nonstick cooking spray and arrange the chicken pieces in a single layer. This step helps yield the most delicious crunchy bites of chicken.
What to Serve With
You can make popcorn chicken into a filling meal by pairing it with carbohydrate dishes like rice, noodles, or pasta. Or alter the classic for a slightly lighter but still delicious meal by tossing your popcorn into a green salad with seasonal vegetables and fruits.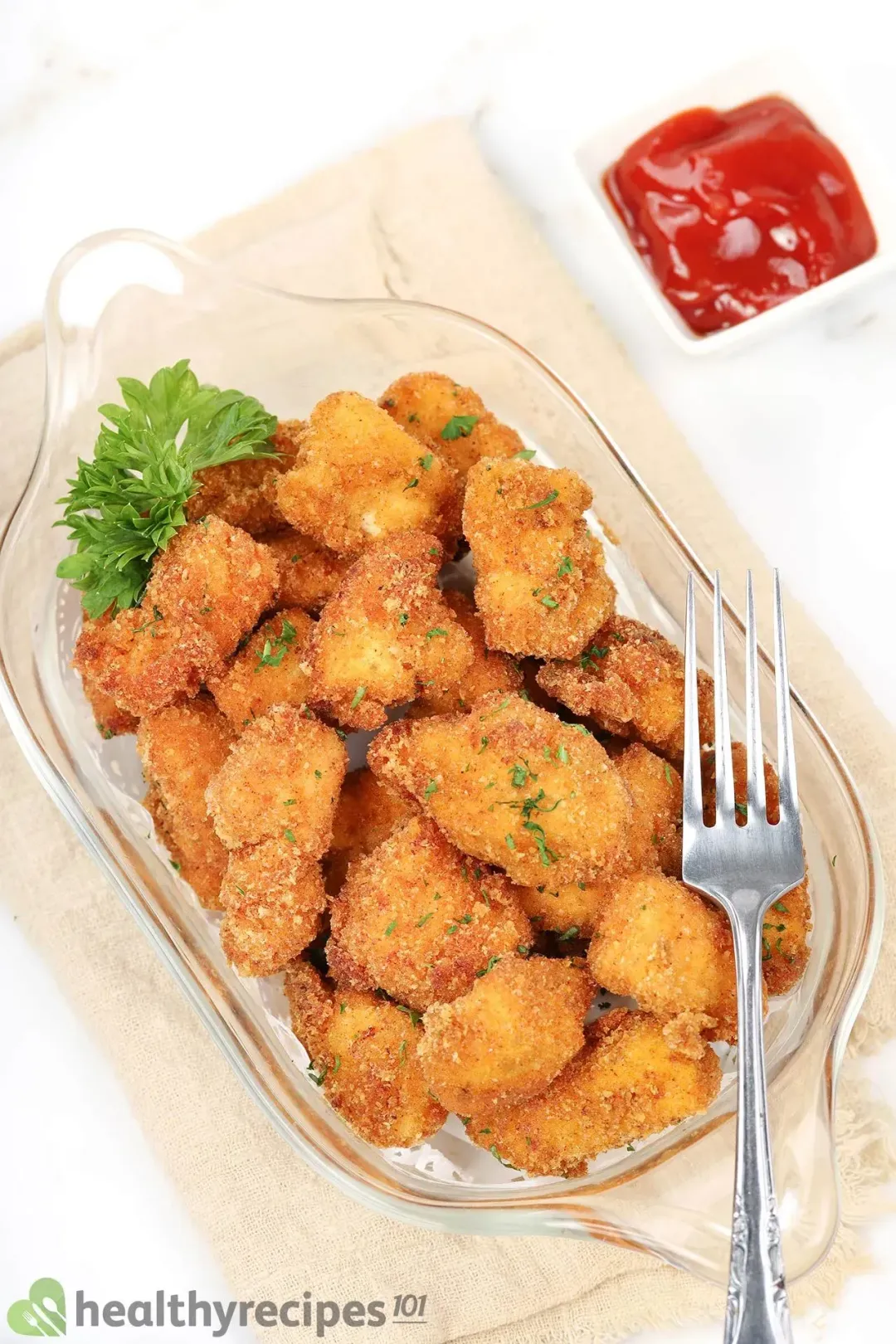 Tasty Fingerfoods Everyone Loves
Love crispy rolls but afraid of splashing? With our baked chicken taquitos you'll be making a fingerlicious treat in a great number. It also air-fries and takes less of your time.
In this Chicken Larb recipe, the chicken is ground, sauteed with plenty of seasonings, and cocooned inside lettuce wraps that look so fresh and crunchy. It's a glimpse of Lao cuisine in its finest.
Popcorn Chicken
Our popcorn chicken recipe sates your fast food cravings with tender-yet-crispy chicken bites. These ones are also healthier than the store-bought version.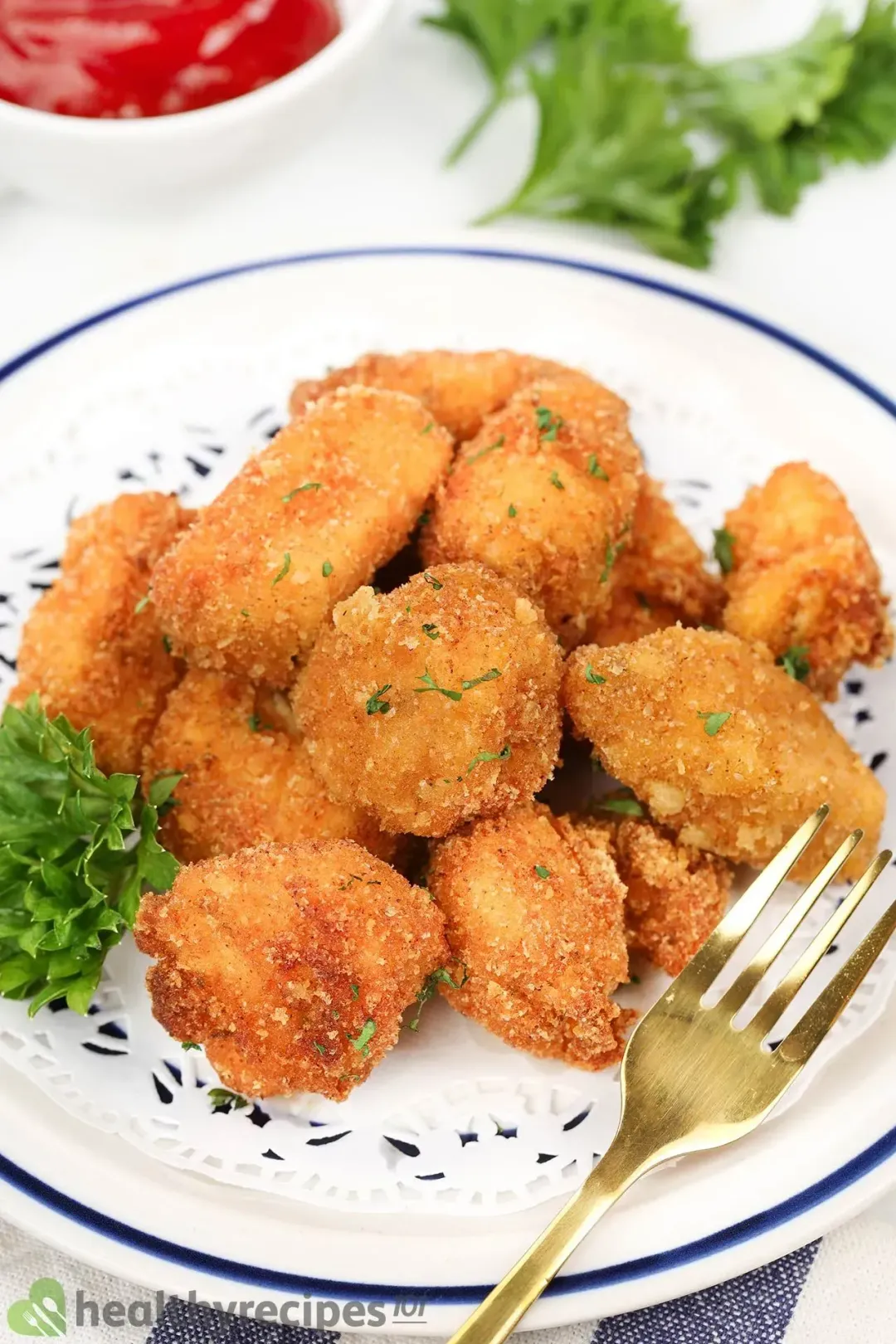 cook TIME

10 mins

prep TIME

10 mins

total TIME

20 mins
COURSE

Side Dish

CUISINE

American

SERVINGS

CALORIES

227 kcal
INGREDIENTS
12 oz

skinless boneless chicken breasts

(cut into 1-inch cubes)

3/4 cup

plain Panko breadcrumbs

1 cup

canola oil

(for frying *)

1/2 cup

plain Greek yogurt
INSTRUCTIONS
1
Season 12 oz chicken breast cubes with 1/2 tsp garlic powder, 1/2 tsp onion powder, 1/2 tsp oregano, 1/4 tsp ground pepper, 1/2 tsp lemon juice, 1/4 tsp baking powder, and 1/2 cup Greek yogurt. Mix together and marinate for 10 minutes.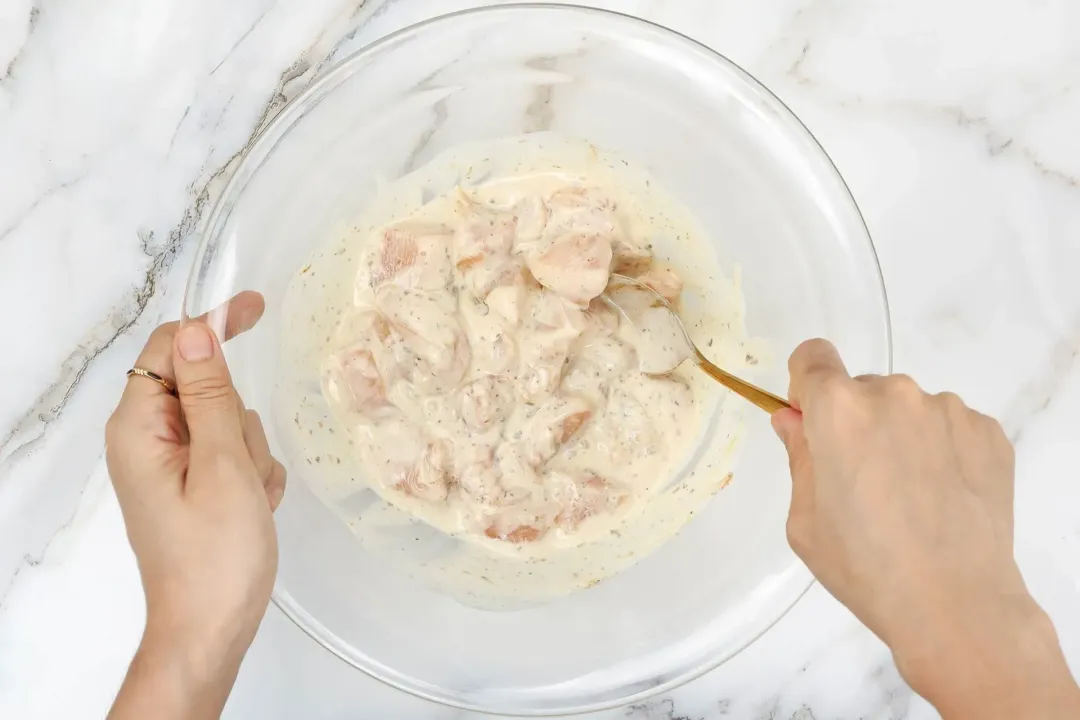 2
In a small bowl, whisk together 3/4 cup breadcrumbs, 1 tsp smoked paprika, and 1/2 tsp cayenne pepper. Roll each piece of chicken in breadcrumbs mixture. Place them on a wide plate. Repeat until all the chicken bites are breaded.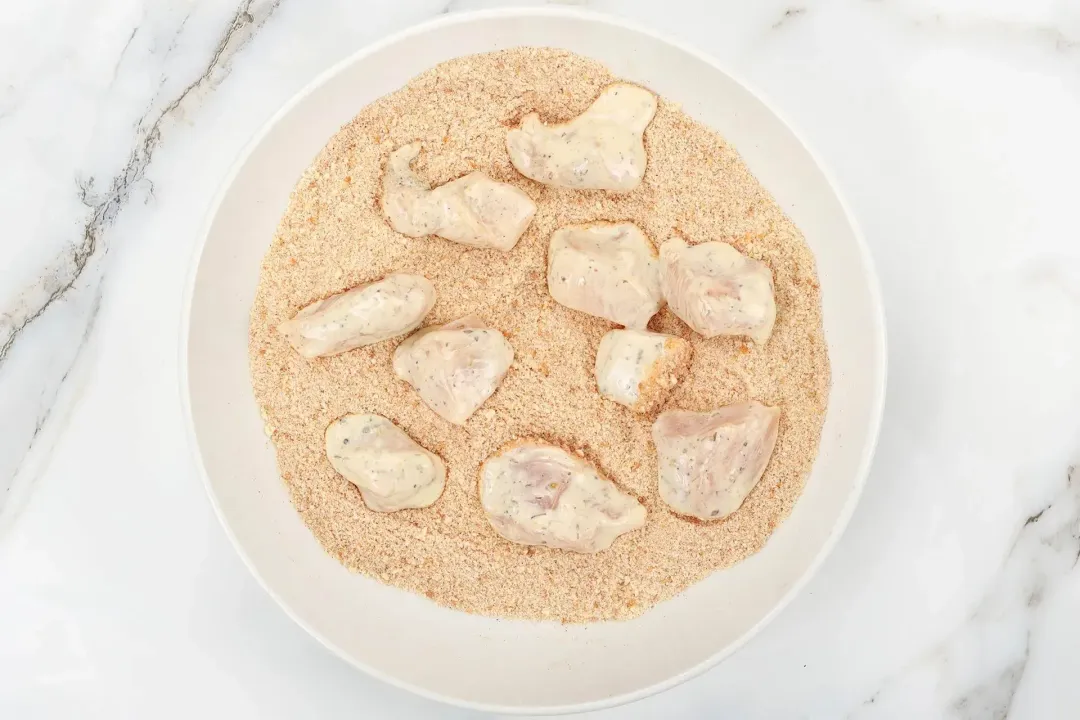 3
Heat 1 cup oil over a medium flame. When the oil is hot enough, gently slide the pieces of breaded chicken into the oil and fry for about 3 minutes. Do not crowd the pan; divide and fry the chicken pieces into several batches if necessary.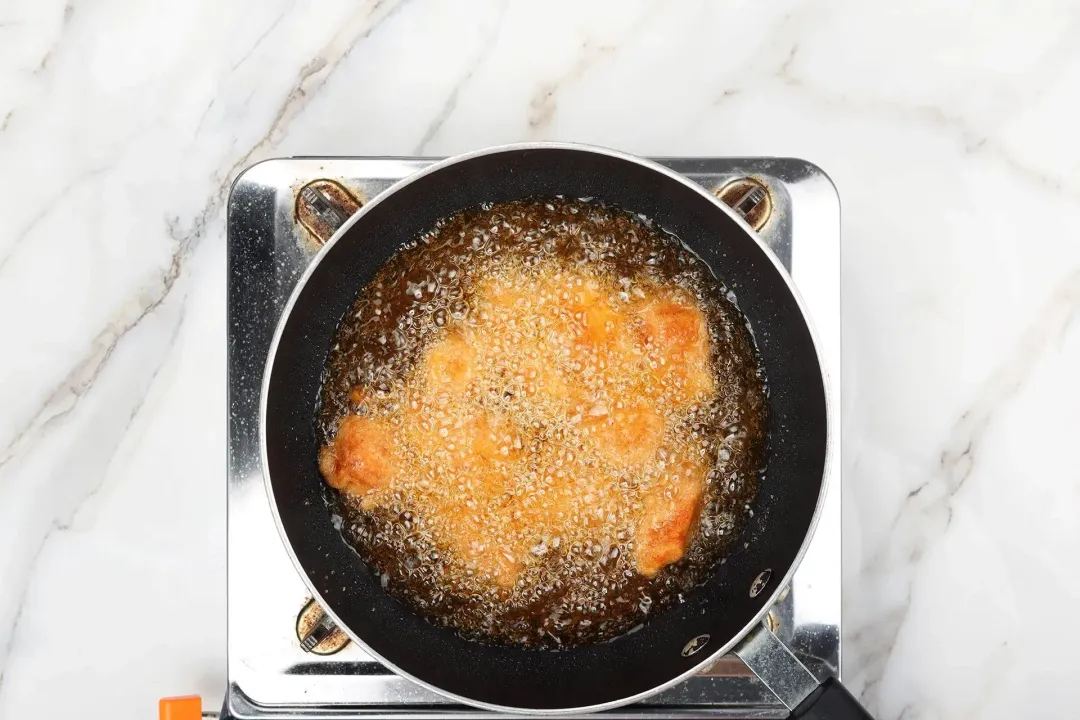 4
Drain the popcorn chicken on a paper towel. Sprinkle 2 tbsp chopped parsley for garnish and serve hot with ketchup.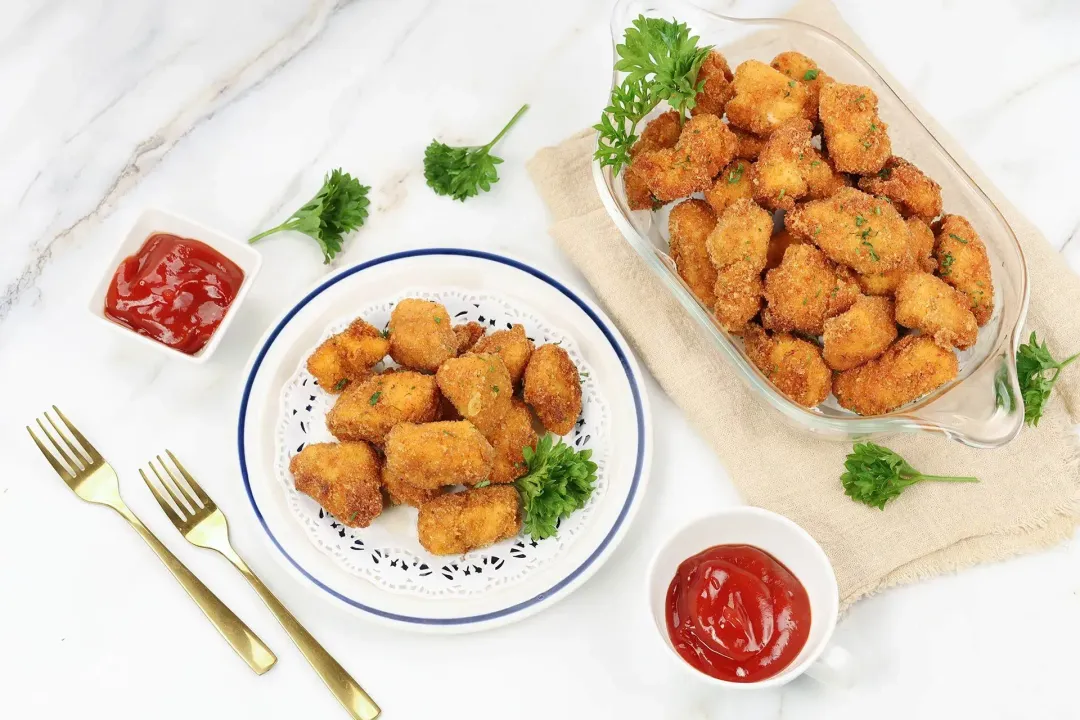 (*) Only part of the oil will end up in the final product, and we have calculated nutritional values based on that amount. One full cup is needed for frying, but the amount of oil that actually ends up being consumed across the four servings is roughly 1 tbsp.
NUTRITION
Nutrition Facts
Popcorn Chicken
Amount Per Serving (1 serving)
Calories 227
Calories from Fat 72
% Daily Value*
* Percent Daily Values are based on a 2000 calorie diet.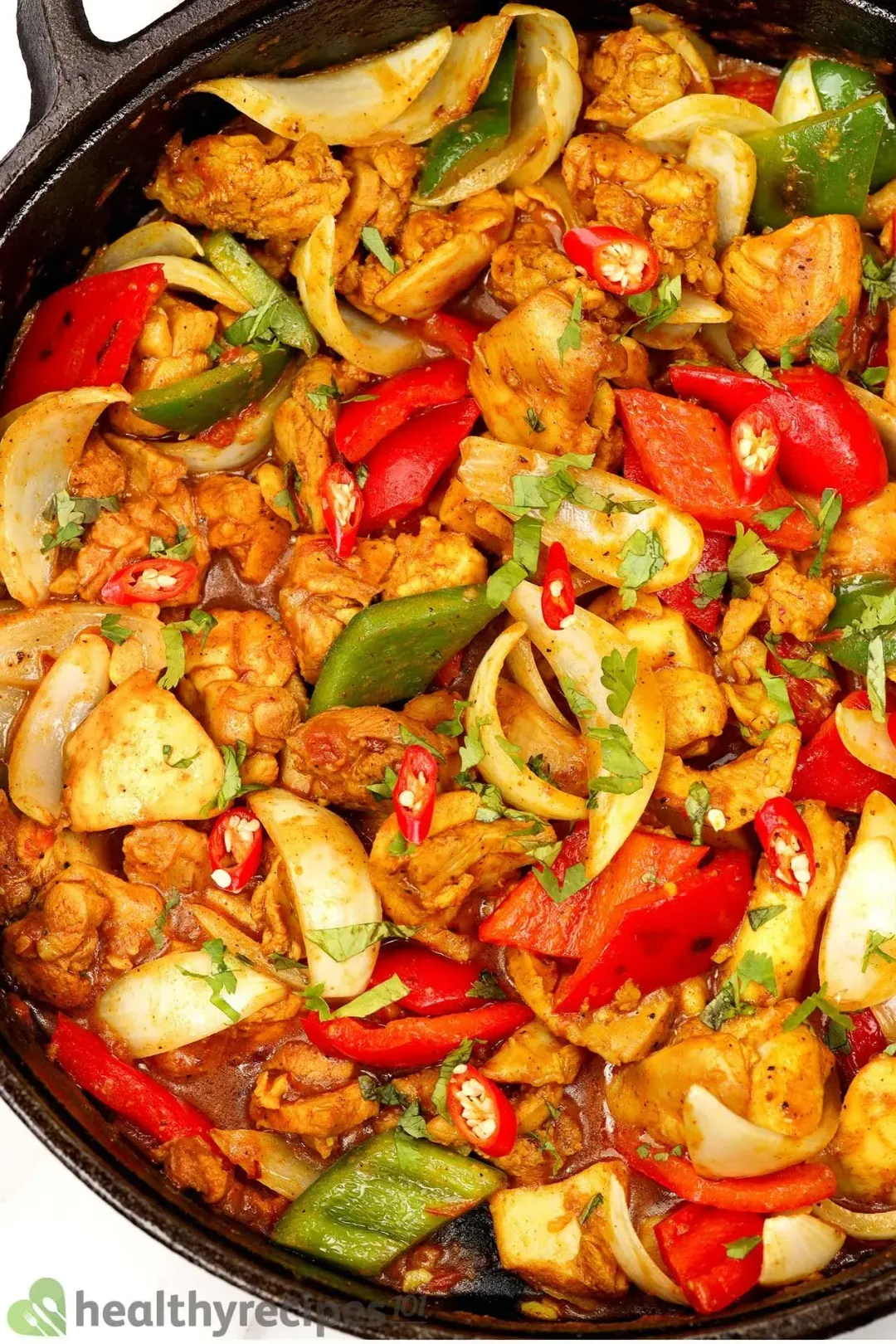 Previous Recipe
Chicken Jalfrezi
Chicken Jalfrezi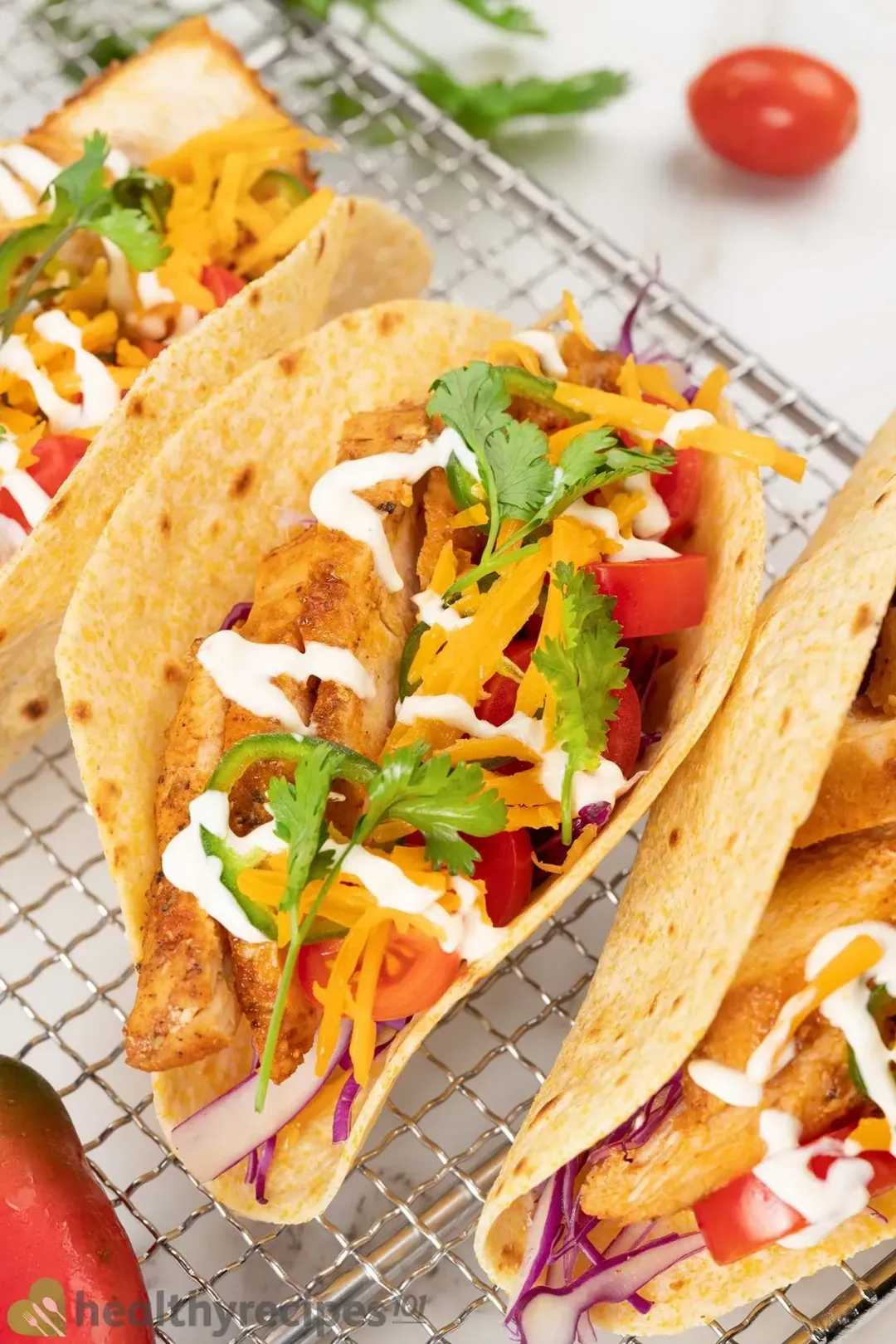 Next Recipe
Instant Pot Chicken Tacos
Instant Pot Chicken Tacos
Head Chef, Culinary Consultant
Tuyet Pham is an award-winning Saigonese chef who believes that joy is the secret ingredient to delicious food. At Healthy Recipes 101, Tuyet personally tests and simplifies every recipe, ensuring maximum flavor with minimal effort. With a background at prestigious French restaurants P'TI Saigon and Le Corto, Tuyet knows how to make every dish exceptional.
Writer, Author
Luna Regina is an accomplished writer and author who dedicates her career to empowering home cooks and making cooking effortless for everyone. She is the founder of HealthyKitchen101.com and HealthyRecipes101.com, where she works with her team to develop easy, nutritious recipes and help aspiring cooks choose the right kitchen appliances.
Nutrition Reviewer
Lizzie Streit is a Minneapolis-based dietitian and founder of It's a Veg World After All. She completed her MS in Human Nutrition from Drexel University, and is an expert in culinary nutrition, recipe development, and nutrition communications. Lizzie's philosophy is centered around making nutrition recommendations, and especially the advice to eat more vegetables, approachable and realistic. She is excited to be working with the team at Healthy Recipes 101 to ensure that their recipes are both nutritious and delicious.
This popcorn chicken recipe was so easy to make and super delicious! I made it in one pan and had dinner ready in no time.