Today's orange chicken recipe will introduce you to a well-known dish that has been a part of many Chinese banquets.
In this recipe, you'll have bite-sized chicken chunks tossed with a sweet, sticky, and glossy orange marmalade. Together, they make a super tasty staple that's done in 35 minutes.
What Is Orange Chicken?
Orange chicken is a popular Chinese-American dish that consists of fried chicken chunks coated in a sweet, glossy orange-based sauce. Nowadays, this recipe is commonly found in North America, and is considered a variation of General Tso's chicken.
Is Our Recipe Healthy?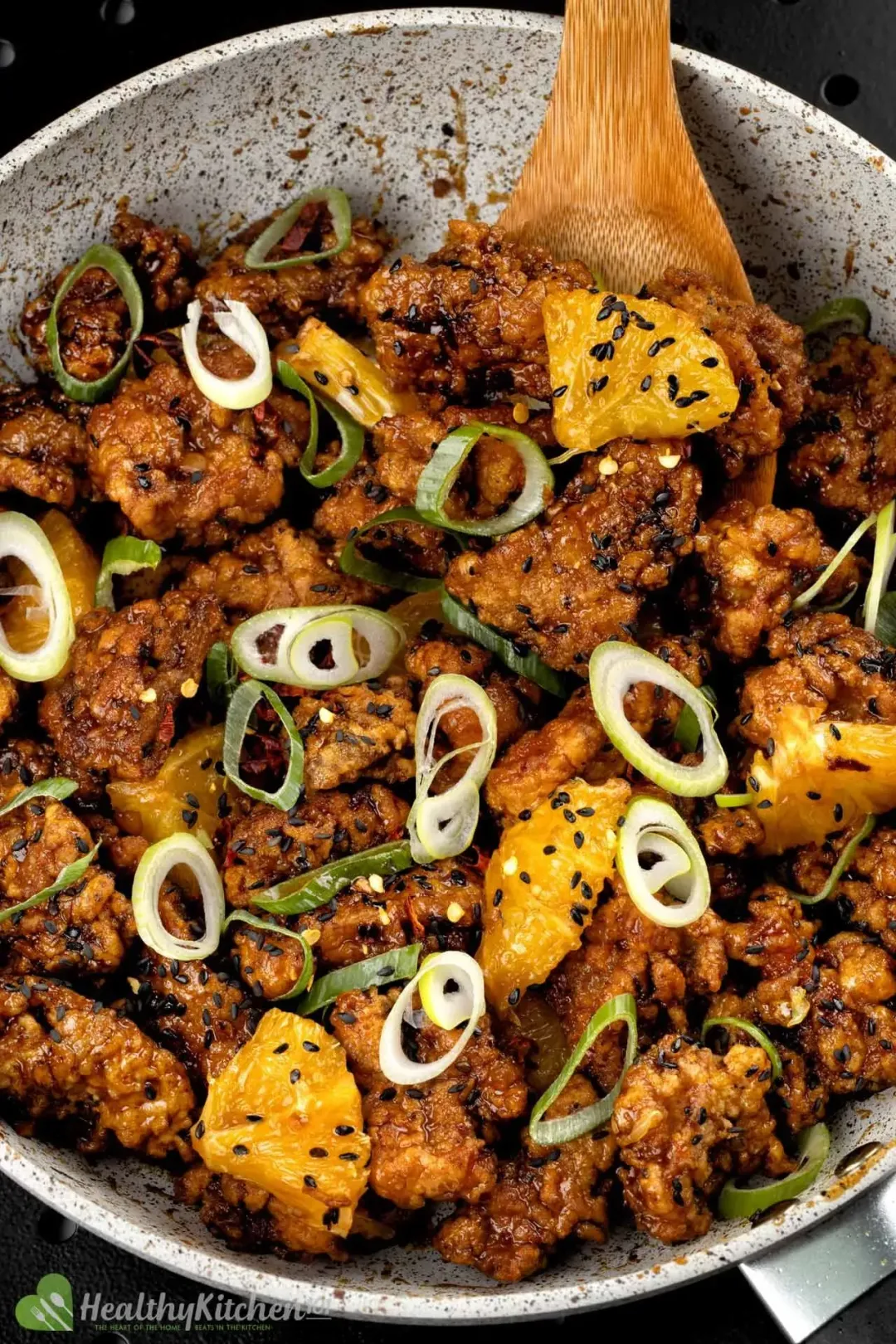 With 66.4 grams of carbohydrates per serving, orange chicken might not be the right choice for low-carb dieters.
However, as we've carefully tested and calculated all the nutritional values, this recipe still satisfies our healthy requirements. Accordingly, you're safe with a total fat of 2.6 grams of fat and less than 600mg of sodium.
Sauce
The sweet orange chicken sauce lends a tangy and zesty touch to this dish and is super easy to make. It's a combination of ginger, garlic, pepper flakes, orange juice, soy sauce, apple cider vinegar, brown sugar, and oyster sauce.
The mixture is cooked until it thickens and caramelizes into a glaze. It's then tossed together with the crispy fried chicken, resulting in a sweet and sour orange-flavored dish.
Spicy
In this recipe, it's easy to kick up the heat. You can either mix Sriracha into the sauce, or sprinkle some red pepper flakes on top before serving.
Please make sure you go easy with these spicy ingredients. Try adding just a little of them at a time until you get the best taste.
Other Variations
1. Orange Beef
In addition to chicken, you also have beef as another choice of meat, known as orange beef. Although orange beef is less popular, it's no less savory in comparison to orange chicken.
For orange beef, instead of cutting the meat into chunks, you'll have to slice against the grain. Cook the beef together with the orange-based sauce just like you do with orange chicken.
2. Sesame Chicken
Little did you know, besides orange chicken, there's another dish that's often mistaken for General Tso's chicken. It's sesame chicken.
This misconception owes to a similar cooking method that requires tossing pan-seared chicken chunks in a sweet and sour glaze. In sesame chicken, the meat takes center stage while a spicy-sweet glaze works in the background to compliment the flavors.
Sesame chicken, much like orange chicken, is quick and straightforward with basic methods and ingredients. It makes both plating and cleaning convenient.
Feel free to take a look at both of our recipes to spot their differences!
What Goes with This Recipe?
As chicken thighs cook better over high heat, we believe they're the best choice for this orange chicken. However, battered chicken alone can hardly make it a complete dish without the help of extra ingredients.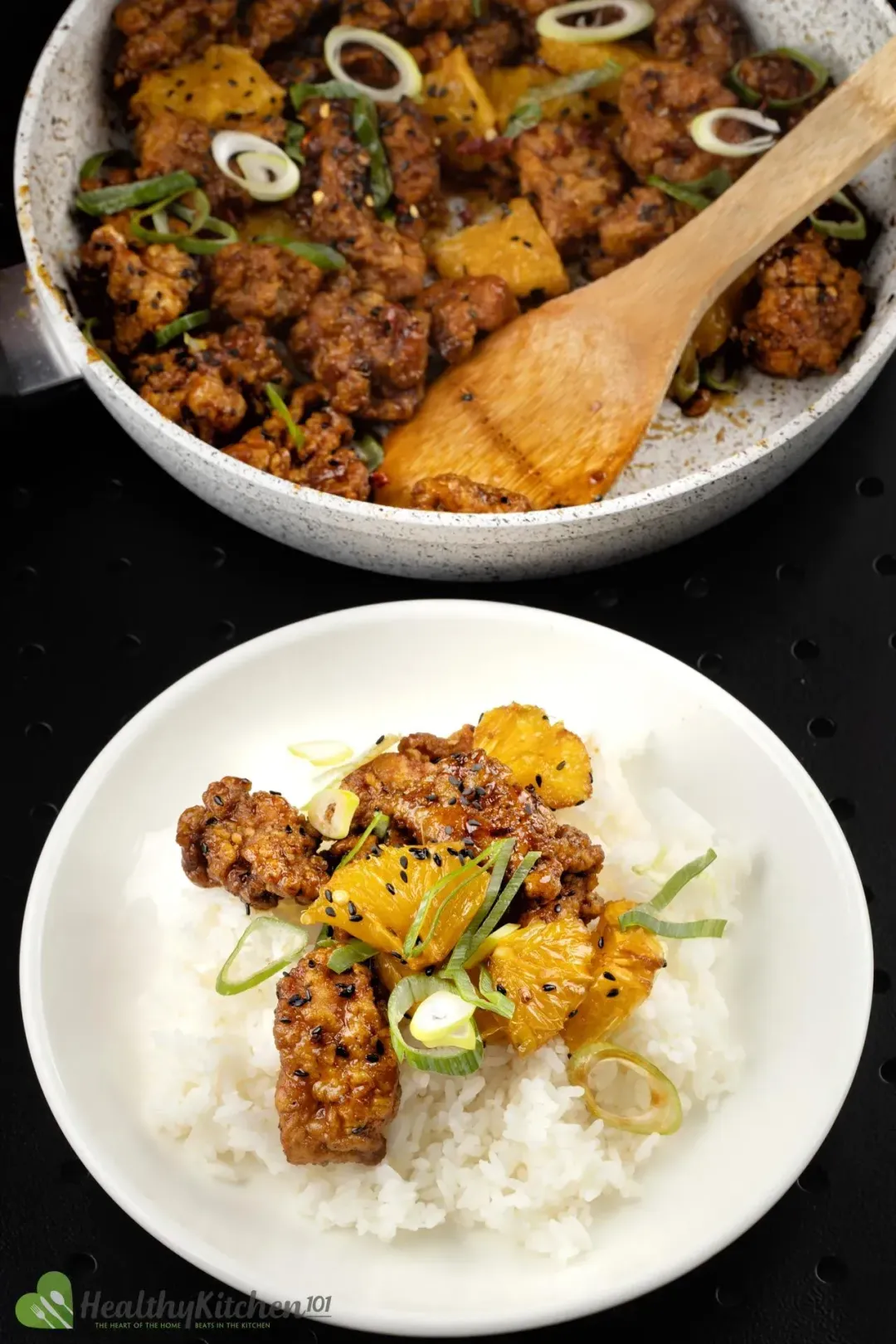 1. Rice
Orange chicken is always delicious on a bed of steamed white rice. This is pretty much the most basic combo in Chinese cuisine— serving a protein-rich dish on white rice.
If you're trying to cut down on carbohydrates, simply swap regular white rice with cauliflower rice for a similar mouthfeel.
2. Noodles
Aside from white rice, noodles are the second best choice to side along with orange chicken. In that case, this dish should be called "orange chicken lo mein."
Fresh egg noodles with a stretchy texture will be what you need for lo mein. They break down into three common types: thin and chewy yi mein, flat noodles, and wonton noodles.
3. Honey
In this recipe, we replaced honey with brown sugar and orange juice.
We think honey might be too bold and could overshadow the orange flavor. However, please feel free to alter the sauce to your taste, or try adding honey during an attempt.
4. Broccoli
A hearty chicken salad with crisp broccoli really sounds like a powerhouse of protein. With just a few pantry ingredients, you have plenty of room for creativity in cooking.
You might want to mix some extra fruits and nuts in, then toss them together with the flavor-packed orange dressing. There you have an easy and comforting salad, done in a blink.
Calories
As displayed in the images, one serving of this dish includes both battered chicken and a portion of white rice.
Accordingly, you'll get 497 calories from consuming a single serving of this recipe as mentioned.
How Long Does It Last?
If staying on the counter, orange chicken is edible and safe within the same day it's cooked. When stored in the fridge, it can last up to 2 days, as orange juice goes bad pretty quickly.
We honestly don't recommend freezing fried chicken that's already coated with the orange sauce, though. Both the flavor and the sauce consistency would be lost after reheating, so why take the chance?
What to Serve with
Served with white rice and topped with orange slices, this orange chicken makes a lovely dinner with delightful flavors. The following recommendations will give you more ideas to wrap it up as a complete meal.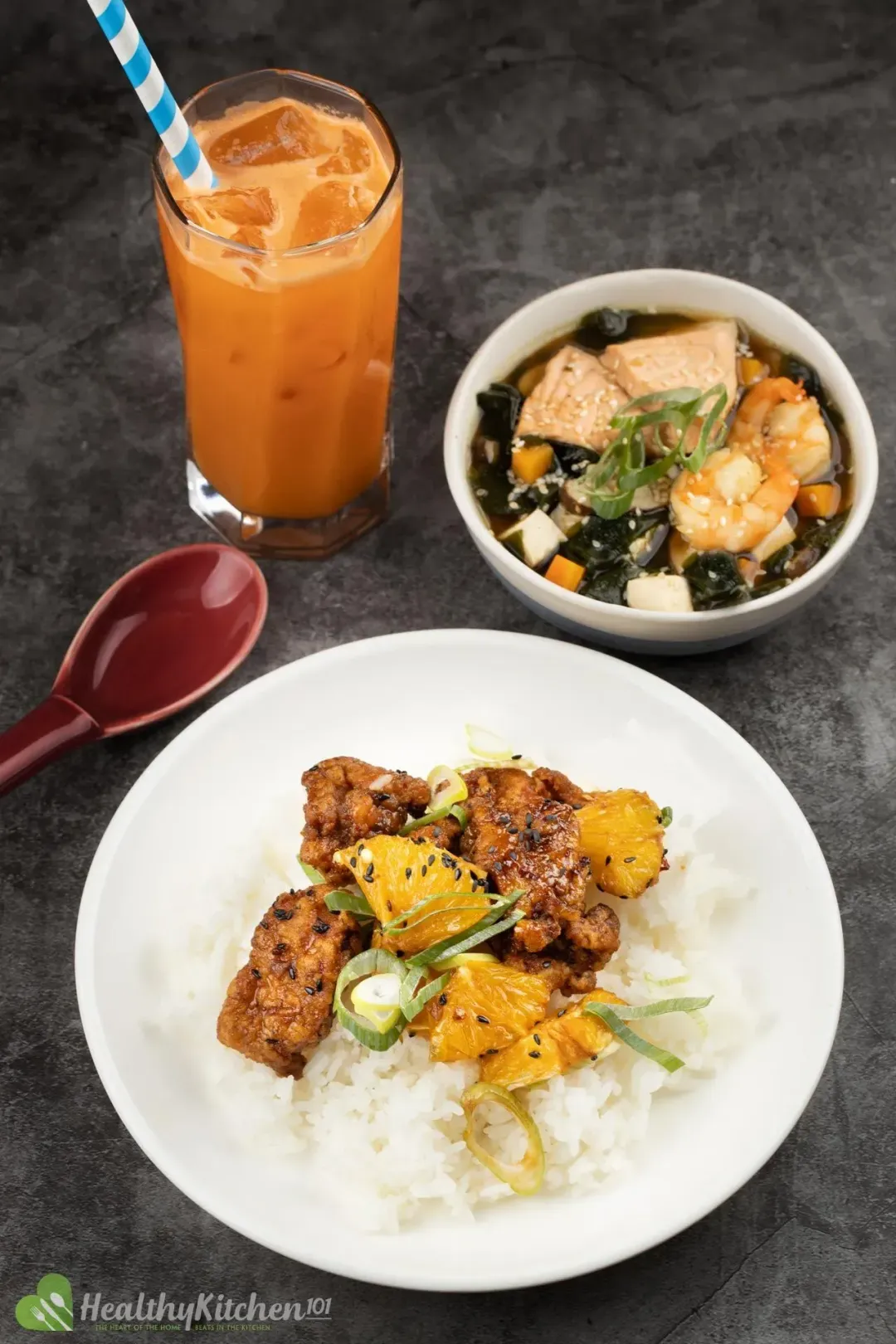 1. Salad
Leftover orange chicken can be tossed with nuts and leafy greens to make a homemade veggie-based salad.
In the same vein, dried fruits or feta cheese could also be added. Drizzle over some oil-free salad dressing, and there you have a light and fulfilling salad.
2. Miso Soup
Miso soup is a comforting and quick-to-make Japanese soup that we believe is a wonderful pairing with orange chicken.
Miso soup comes with soft tofu and savory salmon and shrimp in every scoop. Together with orange chicken, it creates an easy and delicious homemade meal.
3. Carrot Orange Pineapple Juice
Finally, this carrot orange pineapple juice will be the last thing you need to create a complete meal with orange chicken.
With fresh carrots, oranges, and pineapple, this refreshing three-ingredient drink is a nutritional powerhouse. It makes for a fantastic antioxidant boost at the end of the day!
For more healthy chicken recipe ideas, have a look at our top chicken roundup.
Other Chicken Skillets Served With Cooked Rice
First, we'd like you to try a curry. Not from India, but from Thai. The ingredients list is pretty long, but that's how we know there's a plethora of flavors in each spoonful. It's rich, it's tangy, it's savory, and it has all the fresh aromas in the world.
If you prefer to stick your cooking regime to basic and simple recipes, check out this Kung Pao chicken. It has crisp peppers, crunchy peanuts, tender chicken chunks all coated in the classic Kung Pao sauce. It takes some time to cook, but with a timer on hand you won't be bothered at all.
The Chinese cuisine is famous for such easy skillets. We have a collection of the most popular Chinese chicken recipes if you want to have a look.
Orange Chicken
In this orange chicken recipe, skinless boneless chicken thighs are cut into bite-sized pieces, dredged in flour, deep-fried until crispy, and tossed with a savory sauce. Succulent, sweet, and tangy all at the same time!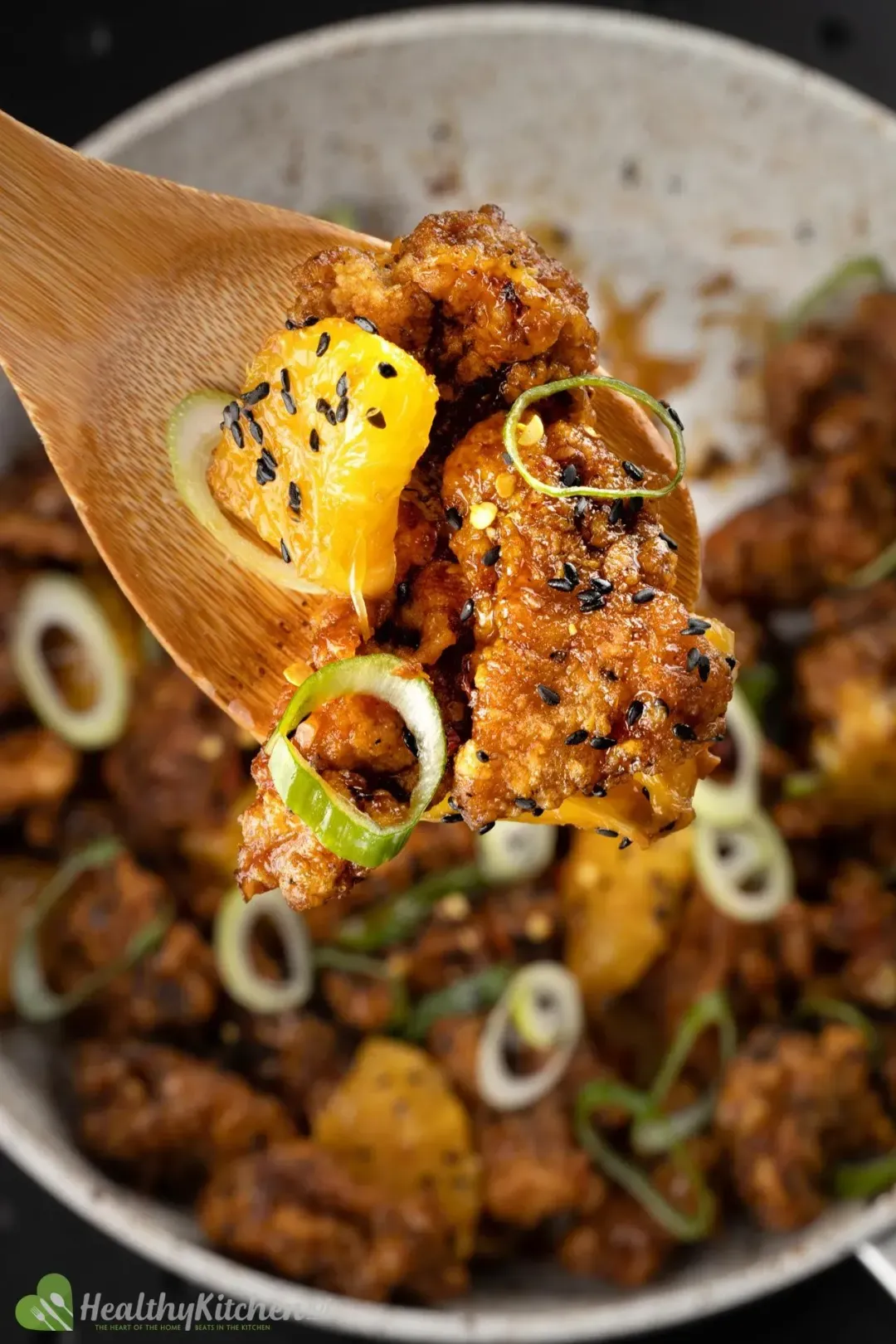 cook TIME

25 mins

prep TIME

10 mins

total TIME

35 mins
COURSE

Main Course

CUISINE

Asian

SERVINGS

CALORIES

499 kcal
INGREDIENTS
14 oz

skinless boneless chicken thigh

(chunked)

1/3 cup

fresh orange juice

1/4 cup

all-purpose flour

1/2 tbsp

apple cider vinegar

2 tbsp

reduced-sodium soy sauce

1/2 tsp

ground black pepper

1/2 tsp

red pepper flakes

1/2 tsp

black sesame seeds

3 cups

cooked medium-grain rice

(equal to 1 cup uncooked)
INSTRUCTIONS
Coat the chicken
1
Prepare two shallow plates, the first one with 2 beaten egg, and the second one with a mixture of 1/3 cup cornstarch, 1/4 cup flour, 1/4 tsp salt, and 1/2 tsp ground black pepper.
2
Coat 14 oz chicken pieces successively with the egg, and then with the cornstarch mixture. It is advised that you coat every chicken piece separately rather than pour the egg and cornstarch mixture into the chicken bowl and toss to coat. This way, the coating will be able to cover all the pieces evenly and won't get crumbled.
3
Cover the coated chicken with cling film and refrigerate for 10 minutes.
Deep-fry the chicken
1
Remove the chicken from the fridge.
2
Heat 1 cup of olive oil over medium heat. Deep-fry the coated chicken for 5 minutes. Be careful not to overcrowd the pan, otherwise, the chicken pieces might be glued together. If your pan is not large enough, divide the chicken into small batches (the cooking time for each batch is still 5 minutes).
Make the sauce
1
Heat 1 tbsp of olive oil over medium heat. Add 1/2 tsp ginger, 2 tsp garlic, and 1/2 tsp red pepper flakes. Stir.
2
Continue to add 1/3 cup orange juice, 2 tbsp soy sauce, 1/2 tbsp apple cider vinegar, 1 tbsp brown sugar, and 1 tsp oyster sauce to the pan. Stir frequently until the mixture thickens.
3
Transfer the fried chicken back to the pan, toss to coat with the sauce. Add 5 oz fresh orange slices to the pan, then turn off the heat. Stir.
4
Sprinkle some 1/2 tbsp black sesame seeds and 2 tbsp chopped leeks. Serve with hot steamed rice.
(*) Only part of these ingredients will end up in the final product, and we have calculated nutritional values based on those amounts. The whole amount is needed for the coating and cooking process, but what actually ends up being consumed is 1 medium egg and 2 tablespoons of olive oil.
NUTRITION
Nutrition Facts
Orange Chicken
Amount Per Serving (1 serving)
Calories 499
Calories from Fat 117
% Daily Value*
* Percent Daily Values are based on a 2000 calorie diet.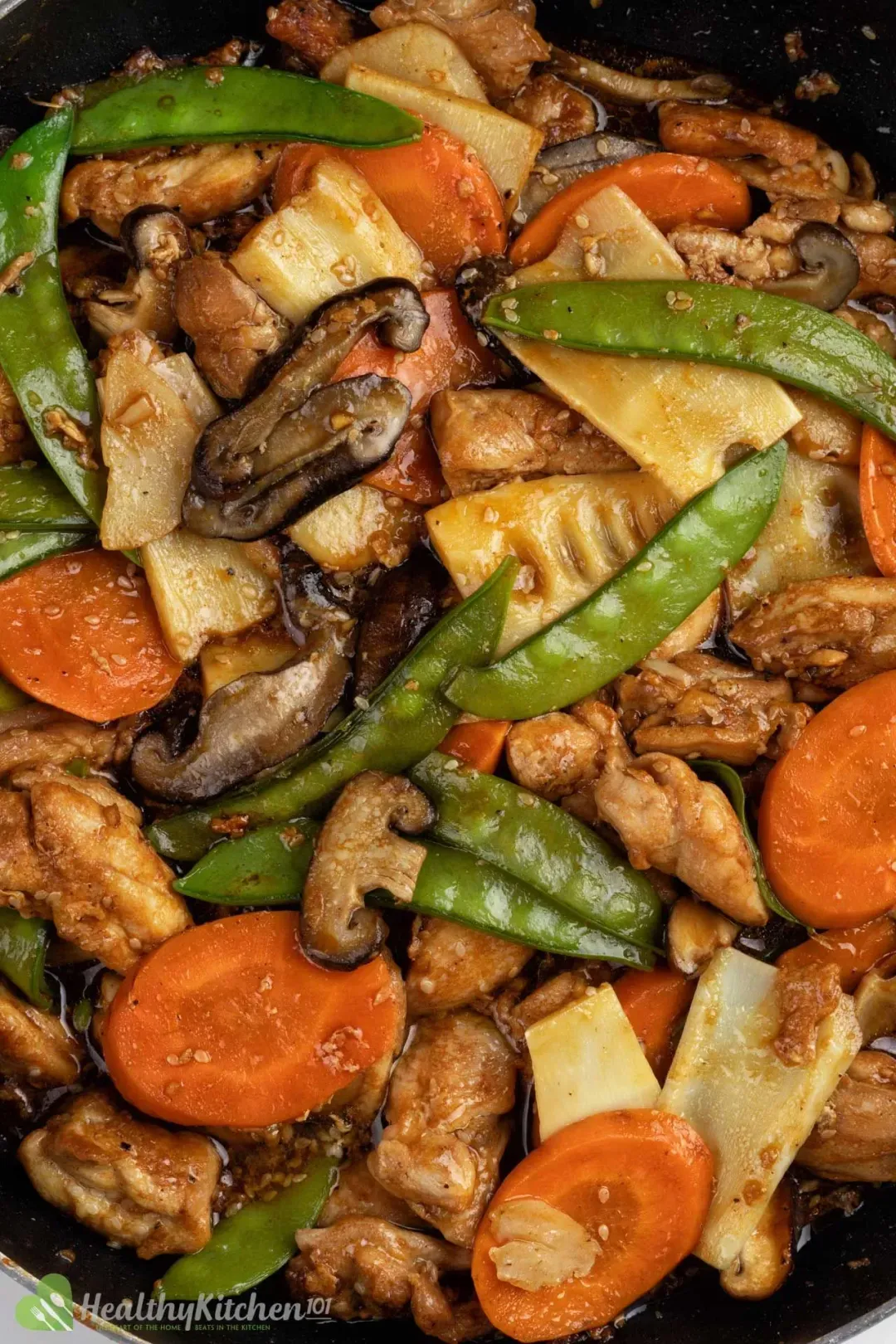 Previous Recipe
Moo Goo Gai Pan
Moo Goo Gai Pan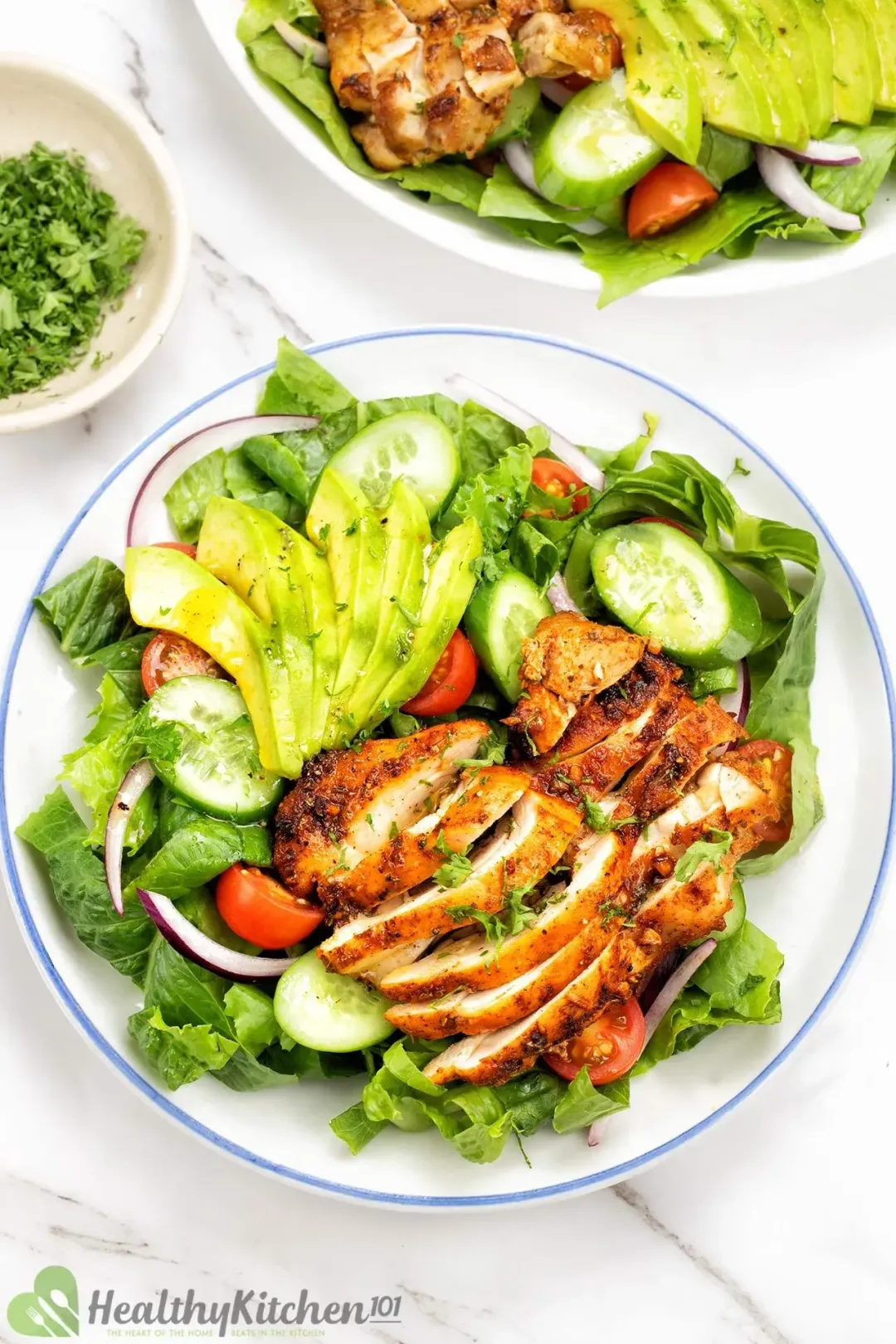 Next Recipe
Grilled Chicken Salad
Grilled Chicken Salad
Head Chef, Culinary Consultant
Tuyet Pham is an award-winning Saigonese chef who believes that joy is the secret ingredient to delicious food. At Healthy Recipes 101, Tuyet personally tests and simplifies every recipe, ensuring maximum flavor with minimal effort. With a background at prestigious French restaurants P'TI Saigon and Le Corto, Tuyet knows how to make every dish exceptional.
Writer, Author
Luna Regina is an accomplished writer and author who dedicates her career to empowering home cooks and making cooking effortless for everyone. She is the founder of HealthyKitchen101.com and HealthyRecipes101.com, where she works with her team to develop easy, nutritious recipes and help aspiring cooks choose the right kitchen appliances.
Nutrition Reviewer
Lizzie Streit is a Minneapolis-based dietitian and founder of It's a Veg World After All. She completed her MS in Human Nutrition from Drexel University, and is an expert in culinary nutrition, recipe development, and nutrition communications. Lizzie's philosophy is centered around making nutrition recommendations, and especially the advice to eat more vegetables, approachable and realistic. She is excited to be working with the team at Healthy Recipes 101 to ensure that their recipes are both nutritious and delicious.