If honey and garlic are your favorite ingredients, you'll probably love today's Instant Pot honey garlic chicken recipe and this honey butter chicken. They both feature juicy chicken cooked in a lip-smacking, fragrant glaze.
Is Our Instant Pot Honey Garlic Chicken Healthy?
When served with cooked rice, this honey garlic chicken becomes a decent main course with calories from the lean proteins and carbs, all parts of a healthy diet.
Healthy eating also requires a moderate daily intake of calories, sodium, saturated fats, and through sweet dishes, sugar as well. Carefully crafting the recipe, we kept each of these at 506, 548 mg, 5.8 g, and 5 g respectively.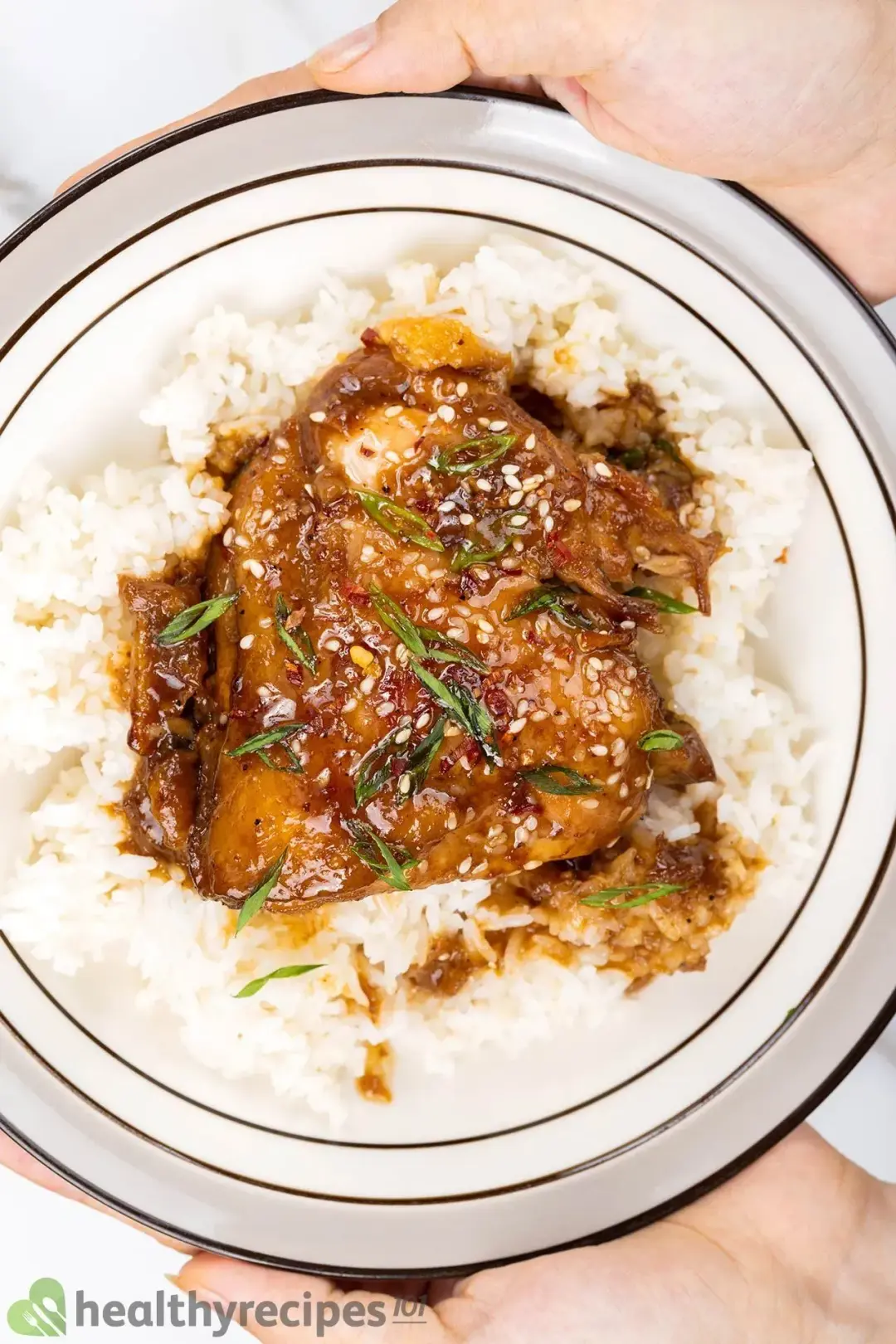 Once strictly following our recipe(s), you should easily fit your other 3-a-days into your daily meal plan while still complying with our nutritional guidelines.
What's the Best Chicken to Use?
The best cut for this Instant Pot honey garlic chicken recipe is thighs. Drumsticks are just as juicy but don't come boneless, wings have too many bones, and the breasts are simply dryer — all making them second bests.
Still, beauty lies in the eye of its beholder. The best cut is the one you love most; this recipe welcomes alternatives.
The Honey Garlic Sauce for Chicken
Here are the ingredients you need to make the garlicky, sweet, salty, and fragrant glaze:
Garlic: minced and sautéd until fragrant. Consider our suggested amount as a reference — feel free to add more, to your liking.
Honey: the sweet part. You can use corn syrup or maple syrup instead; they're just a little different in aroma.
Brown sugar: for extra sweetness and a subtle hint of molasses.
Soy sauce: to give the sauce a delicious saltiness.
Sesame oil: adding healthy fats and a pleasing aroma to the sauce. We suggest the regular sesame oil over the toasted one, which looks darker and smells far more intense.
Mustard: intensifying the flavor profile. Skipping it and the glaze will lack a pungent hint that we think really ties it all together.
Cornstarch slurry: the thickening agent that brings a glossy surface to the meat when reduced. It's just a mixture of cornstarch and water.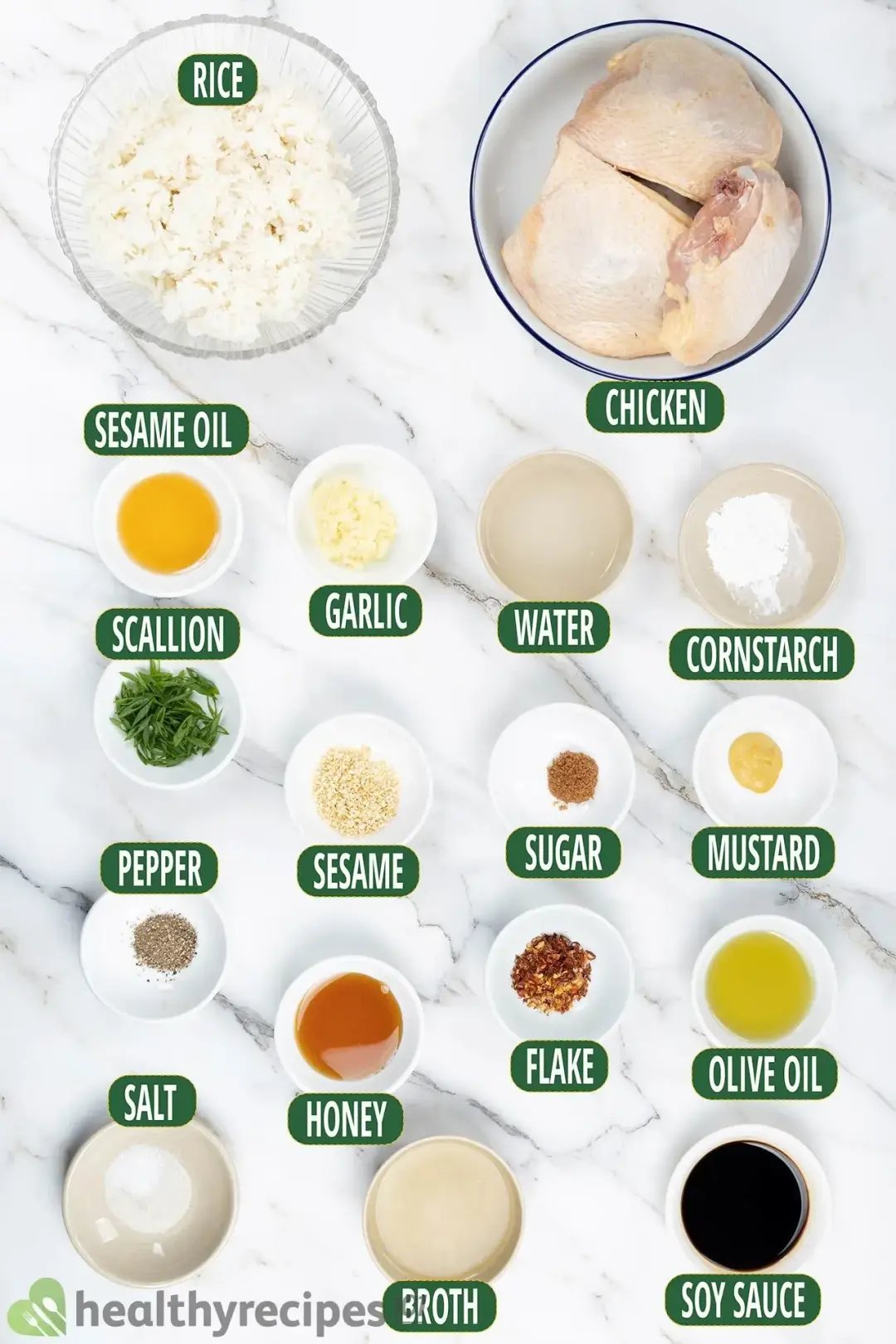 Once you've gathered the ingredients, let's cook.
How to Make Honey Garlic Chicken in an Instant Pot
Here is a brief guide to our Instant Pot honey garlic chicken recipe with step-by-step photos: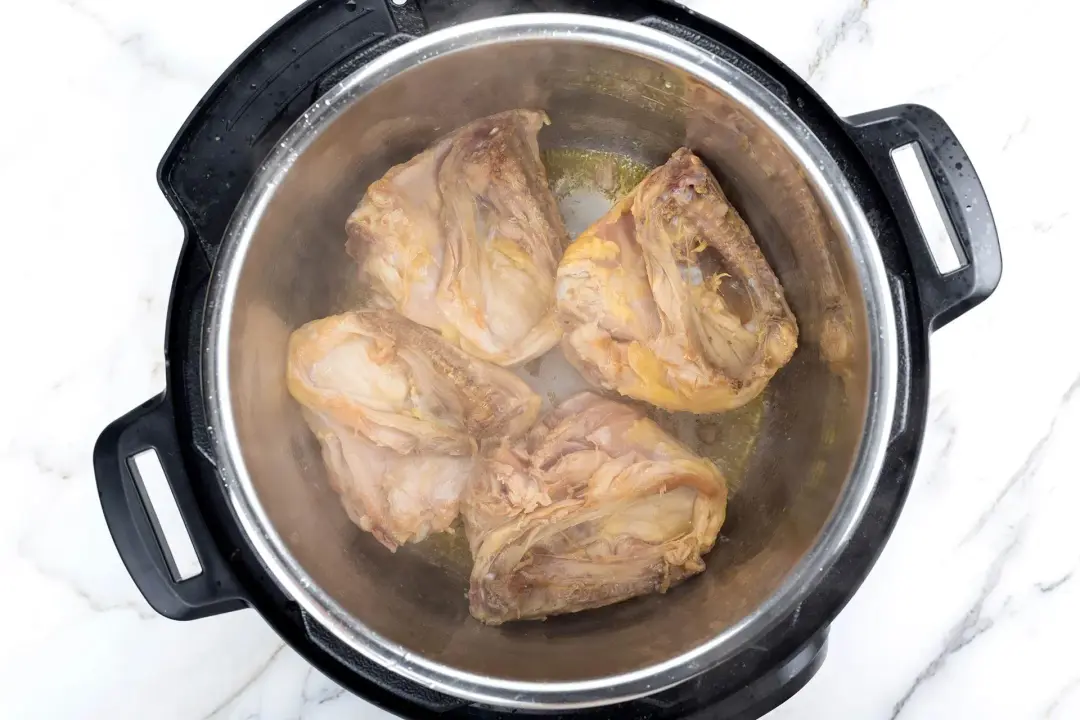 Sear the chicken until golden, then set aside.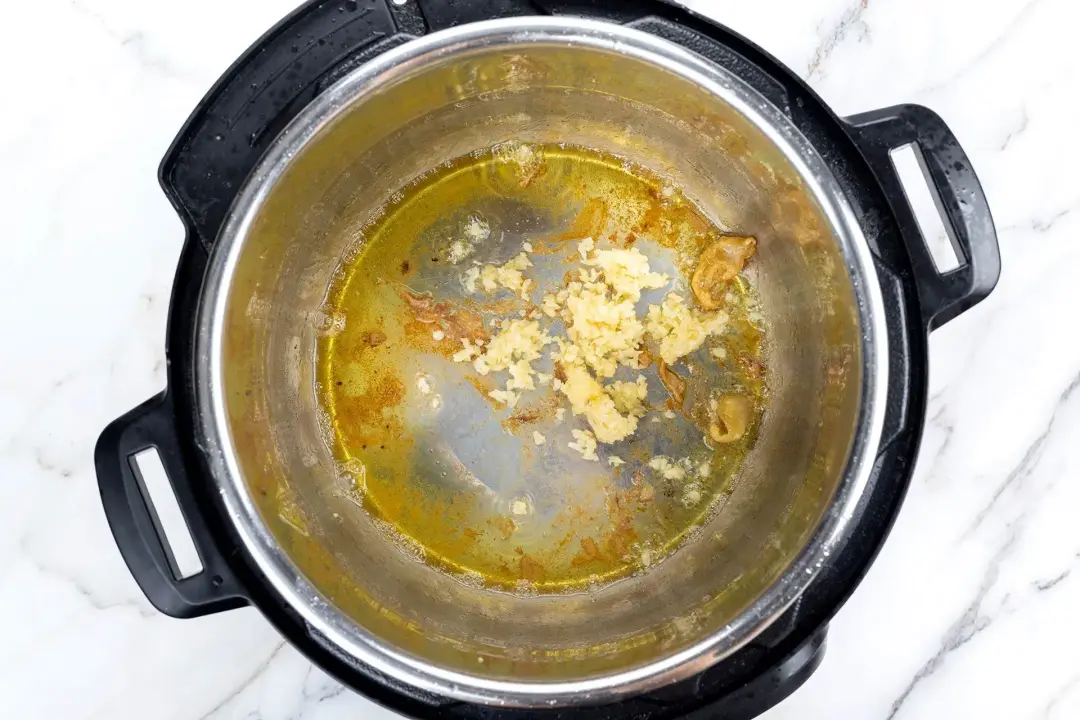 Sauté the garlic until fragrant.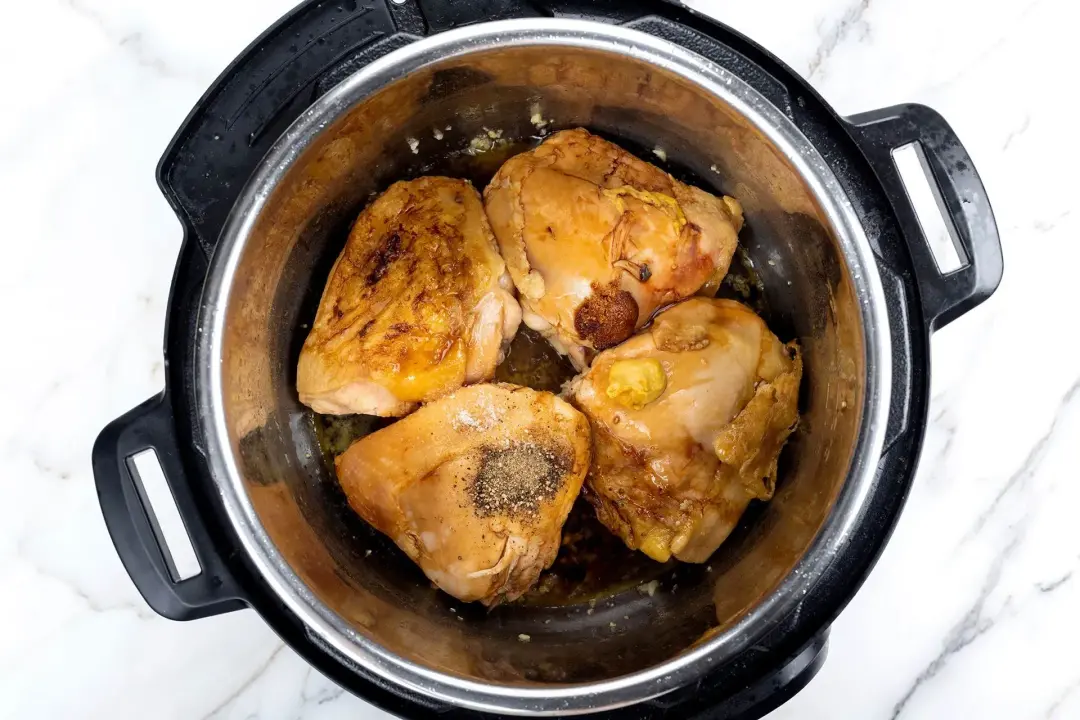 Add the chicken with seasoning, and pressure-cook.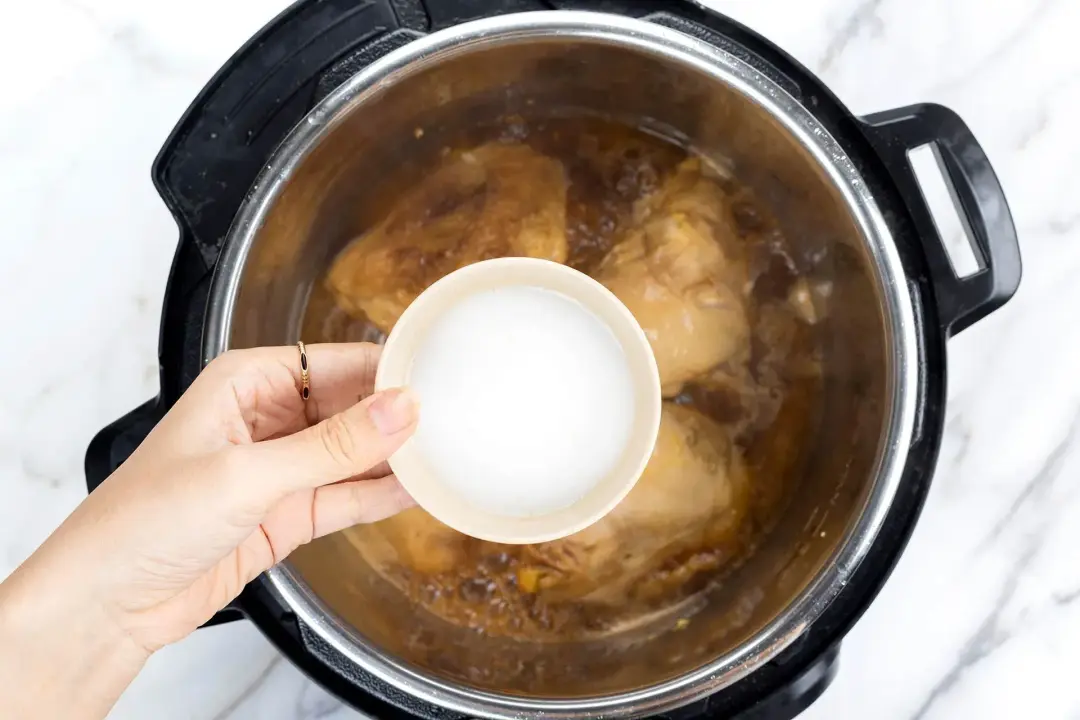 Thicken the sauce with the cornstarch slurry.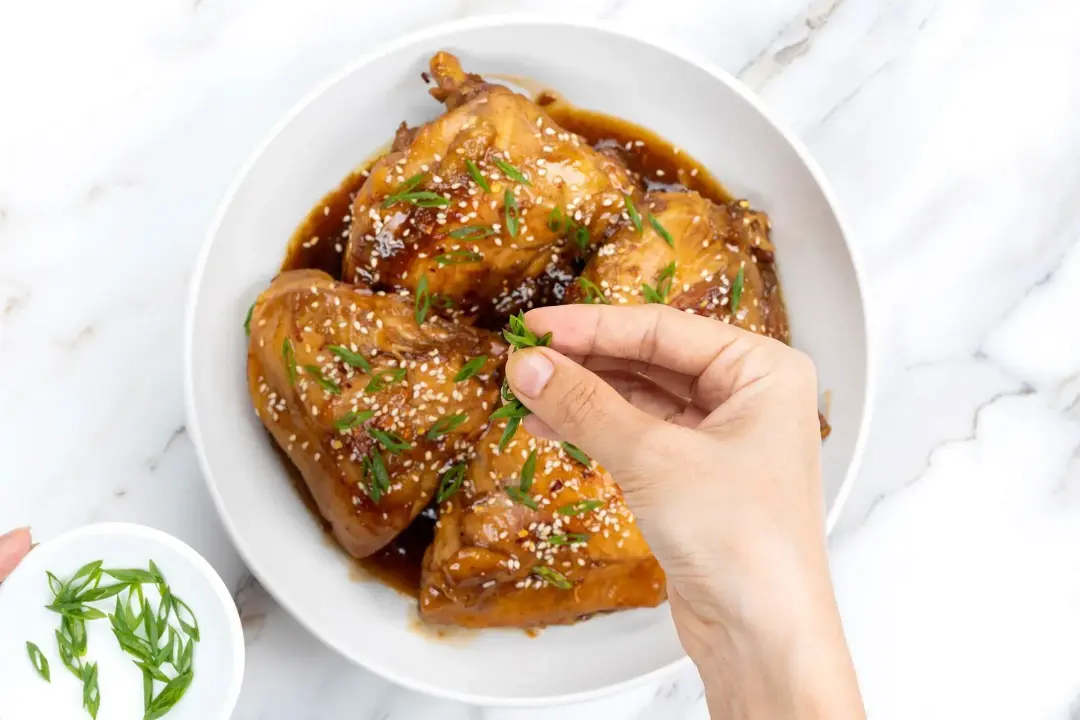 Sprinkle toppings on top and enjoy with rice.
Keep in mind that:
The ingredients should be strictly measured to assure a healthy nutritional profile. The amounts are available in our Instant Pot honey garlic chicken recipe at the bottom.
You need cooked rice on hand as soon as the chicken's ready to serve it hot. Before engaging in step 1, have either the rice cooker running or leftover rice reheating.
The chicken shouldn't be cooked fully in step 1, or you'll end up with overcooked meat. You want the skin seared and golden, so if it takes less than our suggested time, remove it and move on.
Some recipes choose to fry the garlic until it's crunchy so it develops a nutty flavor rather than a mildly sweet one. You can also do this by leaving the garlic to cook for about 2 minutes, or until they turn from light yellow to golden.
Rather than allowing the steam to naturally release, you can push the process by manual release. Place a kitchen rag on the steam handle, switch it from 'sealed' to 'venting', and do so with a spoon for safety.
The toppings are chopped scallions, toasted sesame seeds, and chili flakes, which you can prep during pressure cooking to save time.
Once cooked, the chicken and sauce should be transferred to a large serving dish, for convenience. You will find it impossible to spoon the sauce when there's only a thin layer at the bottom of the pot.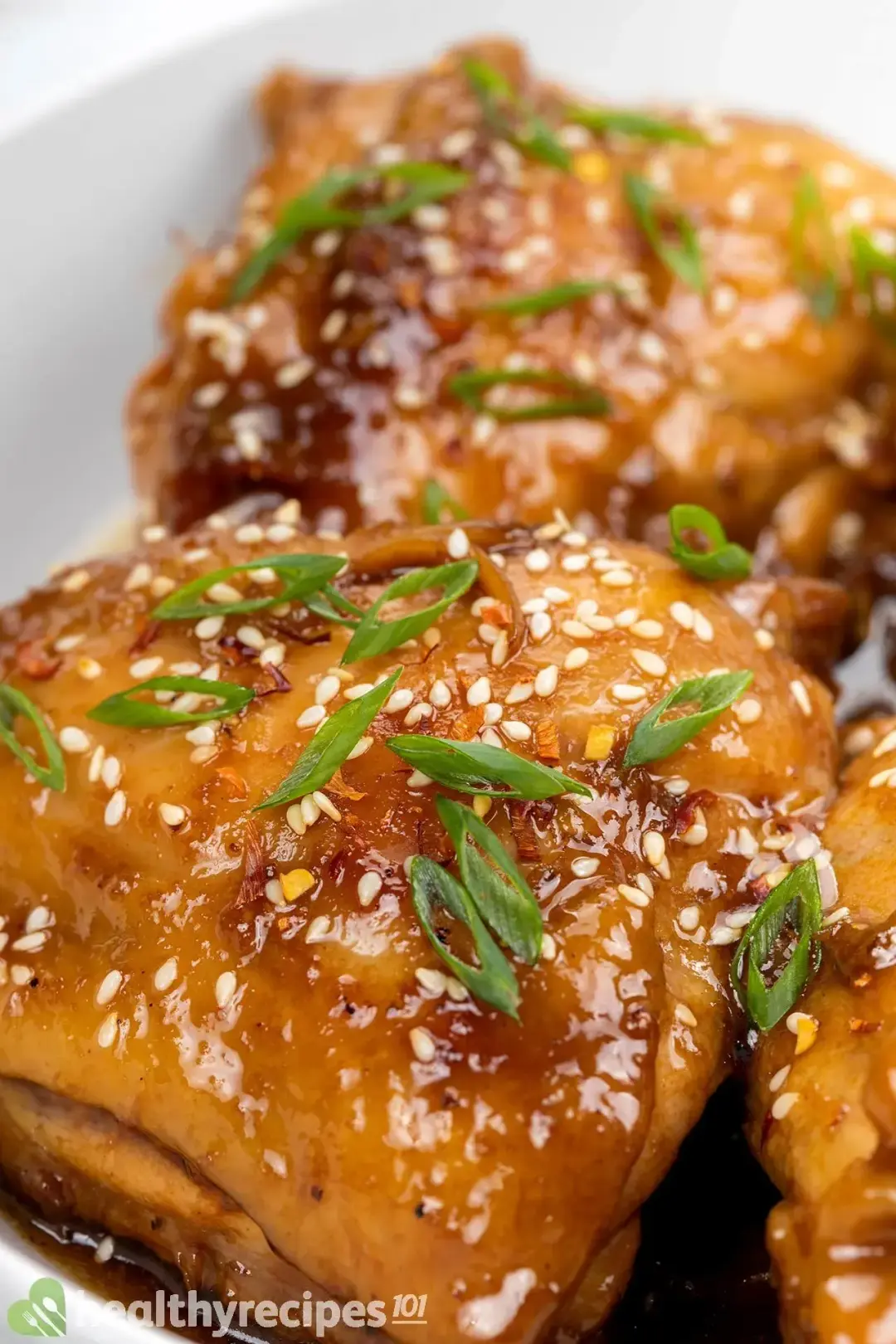 How to Store and Reheat
Place the leftovers in an airtight container and either store it in the fridge (for 4 days) or freezer (for 3 months). We encourage storing separate servings in separate containers when freezing, for convenient reheating.
To reheat, simmer the chicken and sauce with 1-2 tbsp of water for about 4-7 minutes depending on whether it's refrigerated or frozen. For bone-in cuts, either make slits to expose the bone to the bubbling sauce, increase the simmer time, or use a microwave.
What to Serve With Instant Pot Honey Garlic Chicken
This carb-and-protein-rich dish needs some veggies, and our top suggestion is a bowl of winter melon soup. It's warm, soft, and cleans out the meat's strong flavors, freshening your palate.
Round it off with a chilled glass of lemon watermelon juice. It's a refreshing, nutritious way to end a meal.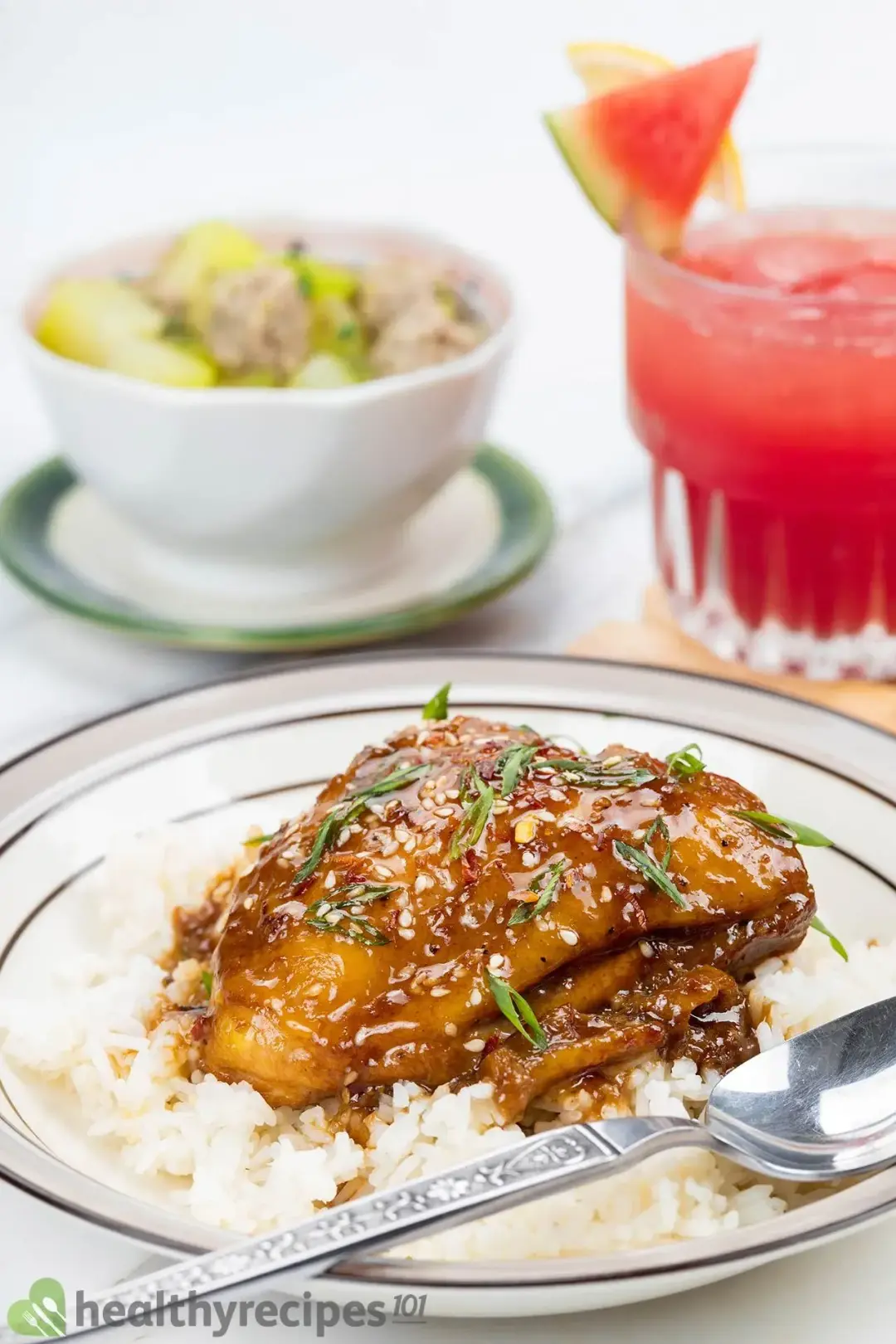 Love This Recipe? There's More!
Chicken can be a real craving sometimes. Check out these 5 Instant Pot chicken recipes to plan your next days' menu with ease: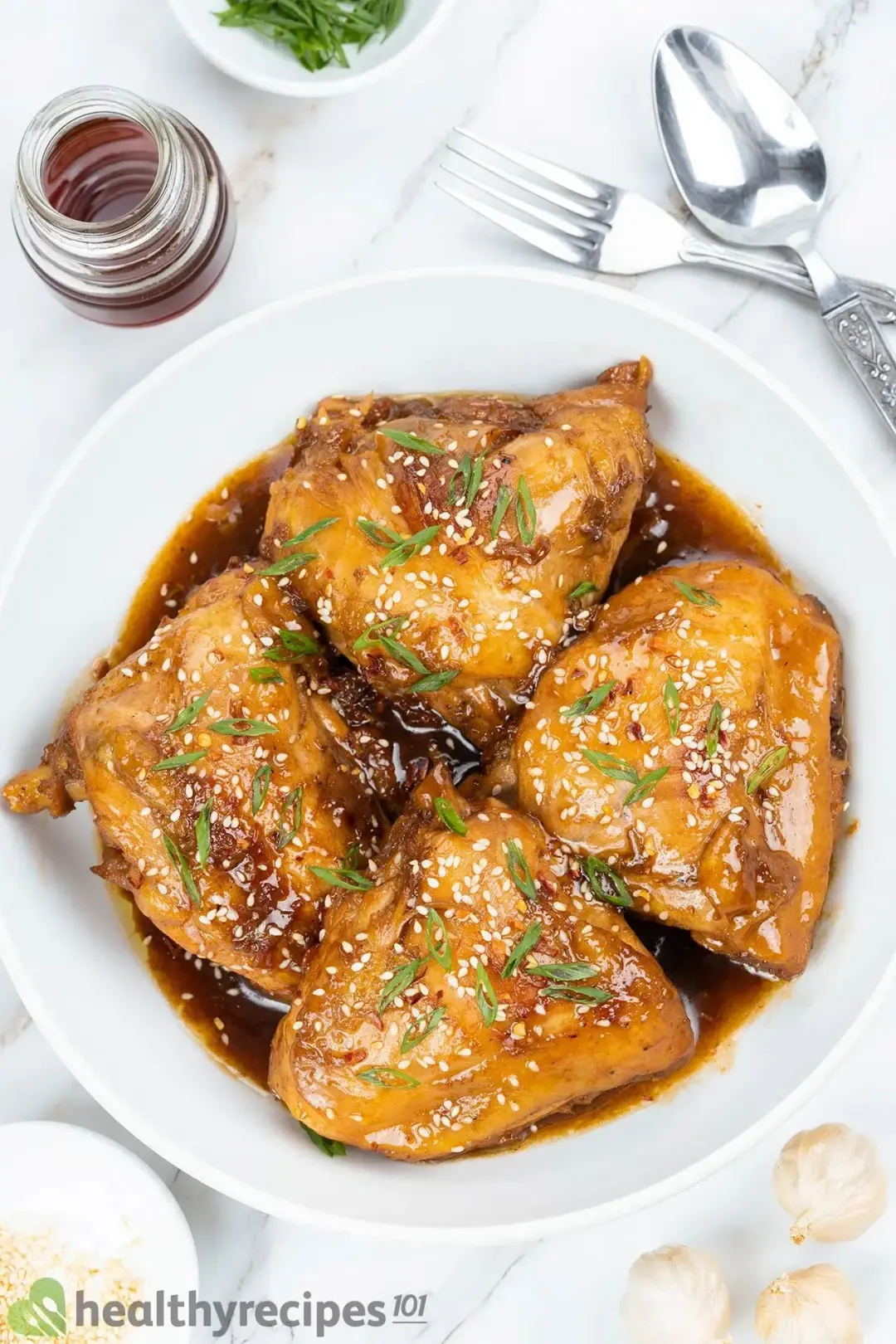 Instant Pot Honey Garlic Chicken Recipe
This Instant Pot honey garlic chicken recipe is easy and makes an affordable and delicious rice dish. The garlicky, salty-sweet glaze will leave you coming back for more.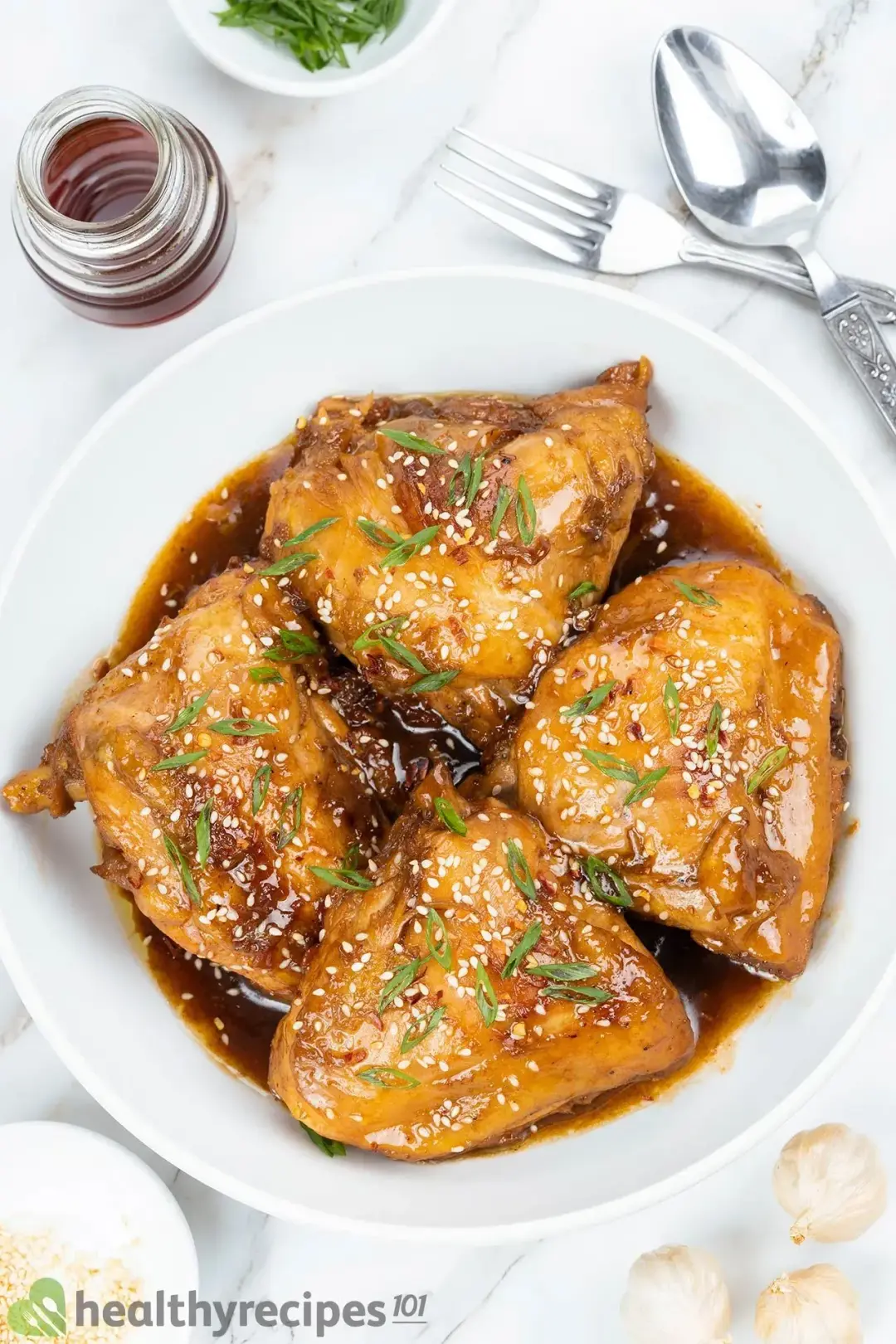 cook TIME

30 mins

prep TIME

5 mins

total TIME

35 mins
COURSE

Main Course

CUISINE

Global

SERVINGS

servings

CALORIES

506 kcal
INGREDIENTS
16 oz

boneless chicken thigh from about 30 oz bone-in thighs

0.5 tbsp

olive oil

2 tbsp

garlic about 5-6 cloves, minced

0.5 cup

unsalted chicken broth

2 tbsp

reduced-sodium soy sauce

1 tbsp

honey

0.5 tbsp

sesame oil

1 tsp

brown sugar

0.5 tsp

traditional Dijon mustard

0.3 tsp

ground black pepper

0.3 tsp

salt

1 tsp

cornstarch

2 tbsp

water

1 tsp

chili pepper flakes

0.5 tbsp

white sesame seeds toasted

1 tbsp

scallions chopped

3 cups

cooked medium-grain rice
INSTRUCTIONS
1
Select the 'sauté' mode and heat 1/2 tbsp olive oil. Add one piece of garlic to test the heat; when it sizzles, add 16 oz worth of boneless, skin-on chicken thigh, skin-side down, to sear for about 5 minutes. Place the seared meat in a bowl and set aside.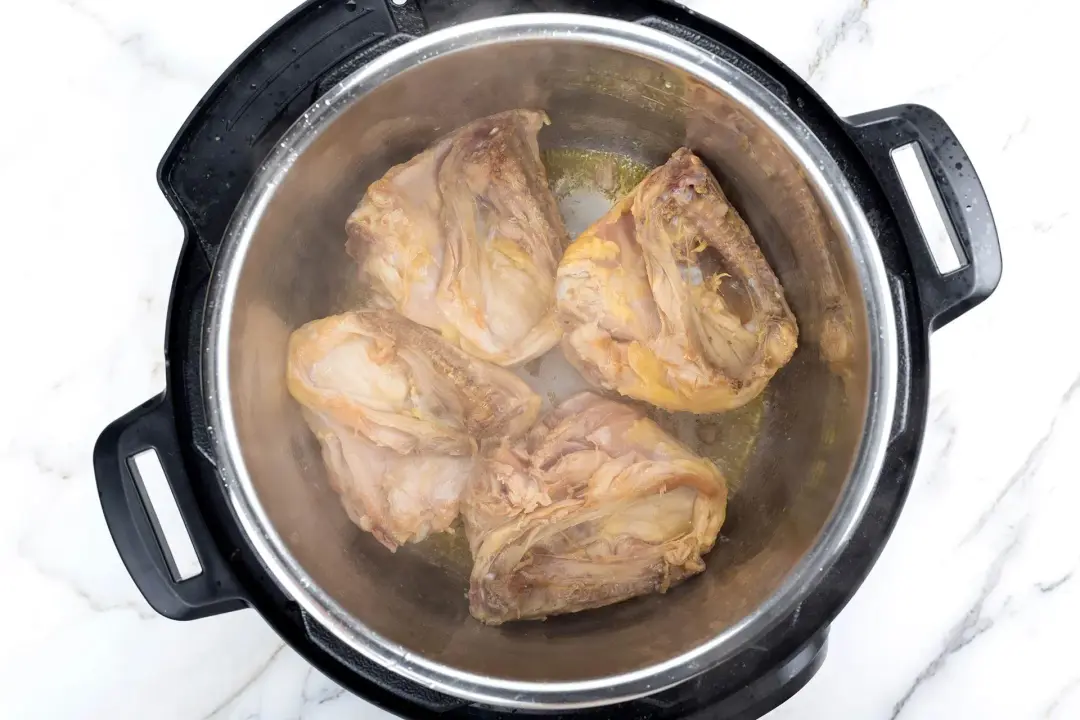 2
Add 2 tbsp minced garlic and sauté for about a minute or until it gets fragrant.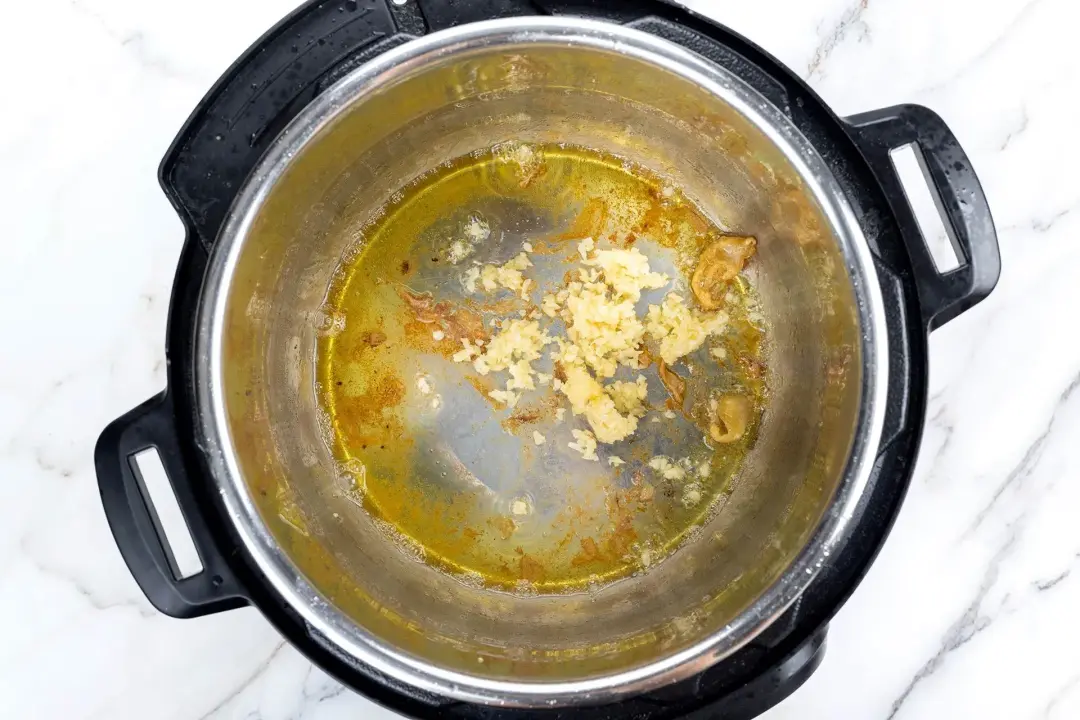 3
Add the chicken back along with 1/2 cup unsalted chicken broth, 2 tbsp reduced-sodium soy sauce, 1 tbsp honey, 1/2 tbsp sesame oil, 1 tsp brown sugar, 1/2 tsp traditional Dijon mustard, 1/4 tsp black pepper, and 1/4 tsp salt. Stir everything well. Close the lid, turn the steam handle to 'sealed', select 'stew/meat' mode, adjust the time to 7 minutes, and allow the machine to pressure-cook.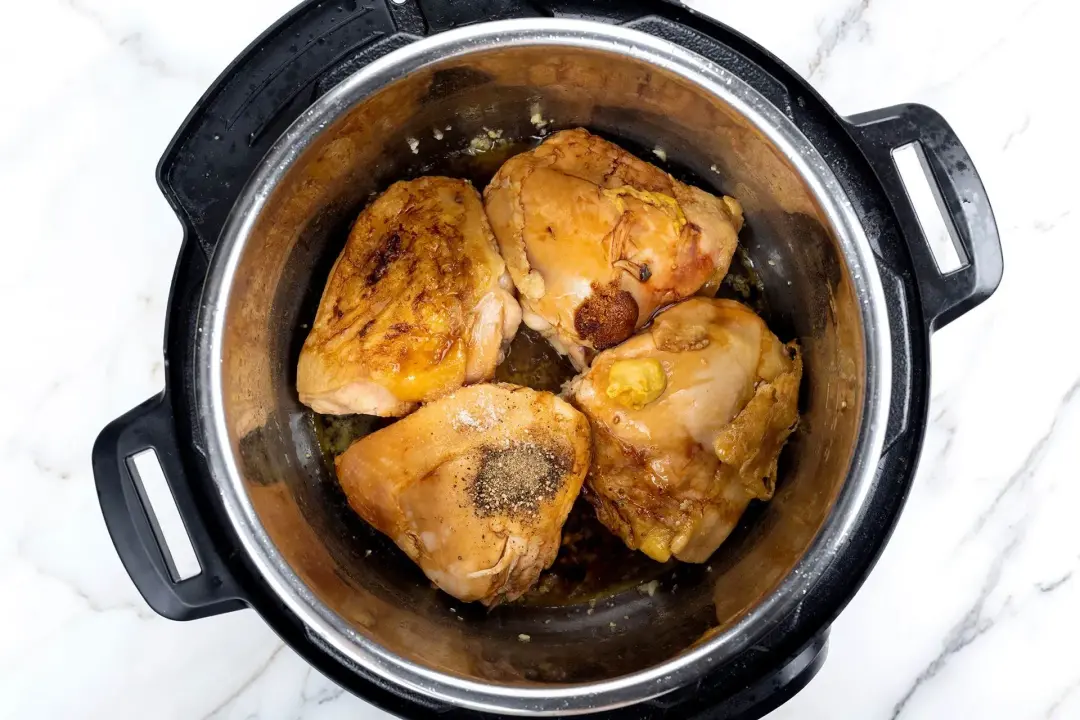 4
Once finished, place a kitchen rag onto the steam, turn it to 'venting' with a spoon, then open it up when the steam completely escapes. Mix 2 tbsp water and 1 tsp cornstarch (using the chicken bowl that's now empty to clean one less item), and stir it in the pot. Select 'sauté' and leave to simmer for 10 minutes.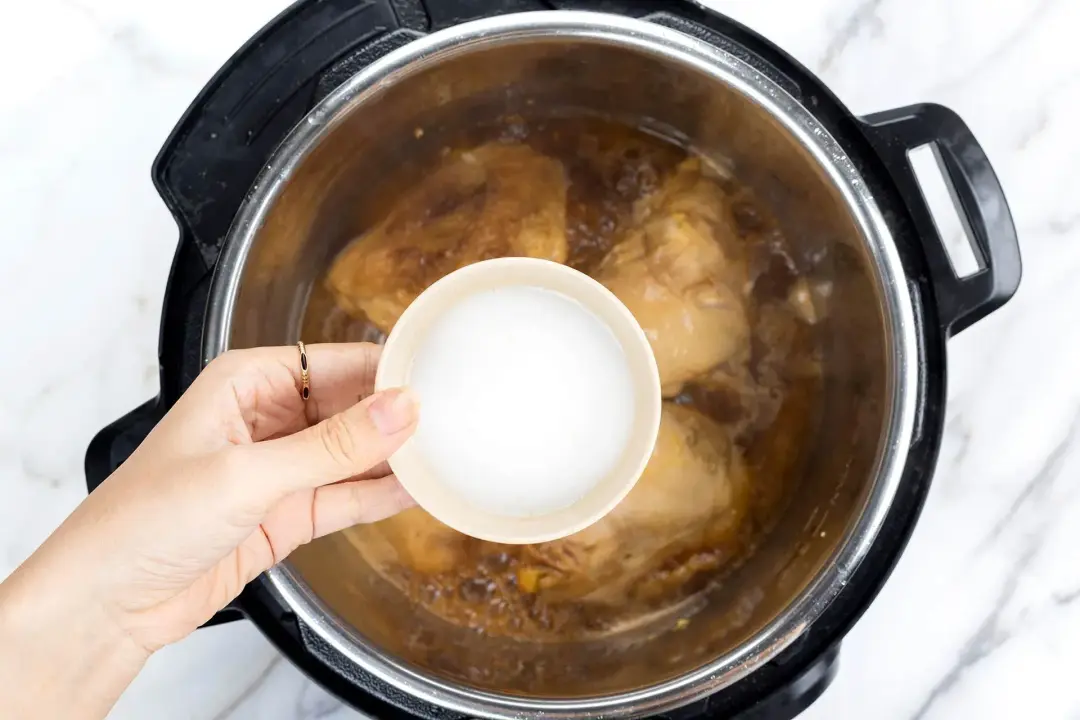 5
Turn the machine off and carefully place the saucy meat into a deep dish for convenient serving. Sprinkle on top 1 tbsp chopped scallions, 1/2 tbsp toasted sesame seeds, and 1 tsp chili pepper flakes. Enjoy with 3 cups cooked rice.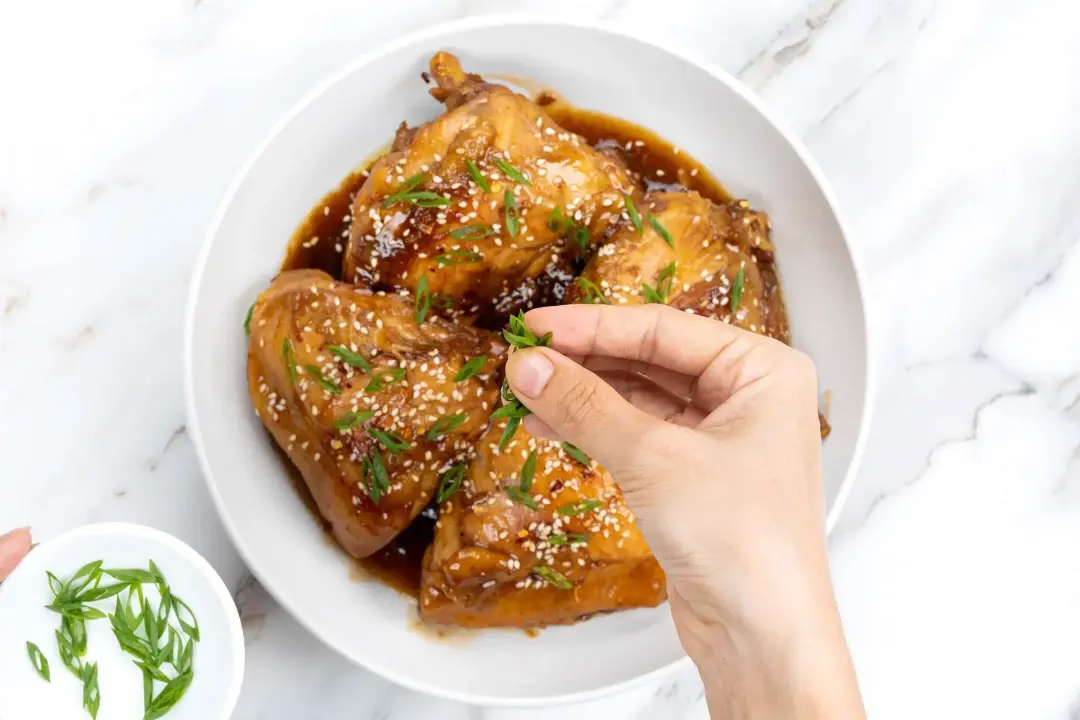 NUTRITION
Nutrition Facts
Instant Pot Honey Garlic Chicken Recipe
Amount Per Serving (1 serving)
Calories 506
Calories from FDA
% Daily Value*
* Percent Daily Values are based on a 2000 calorie diet.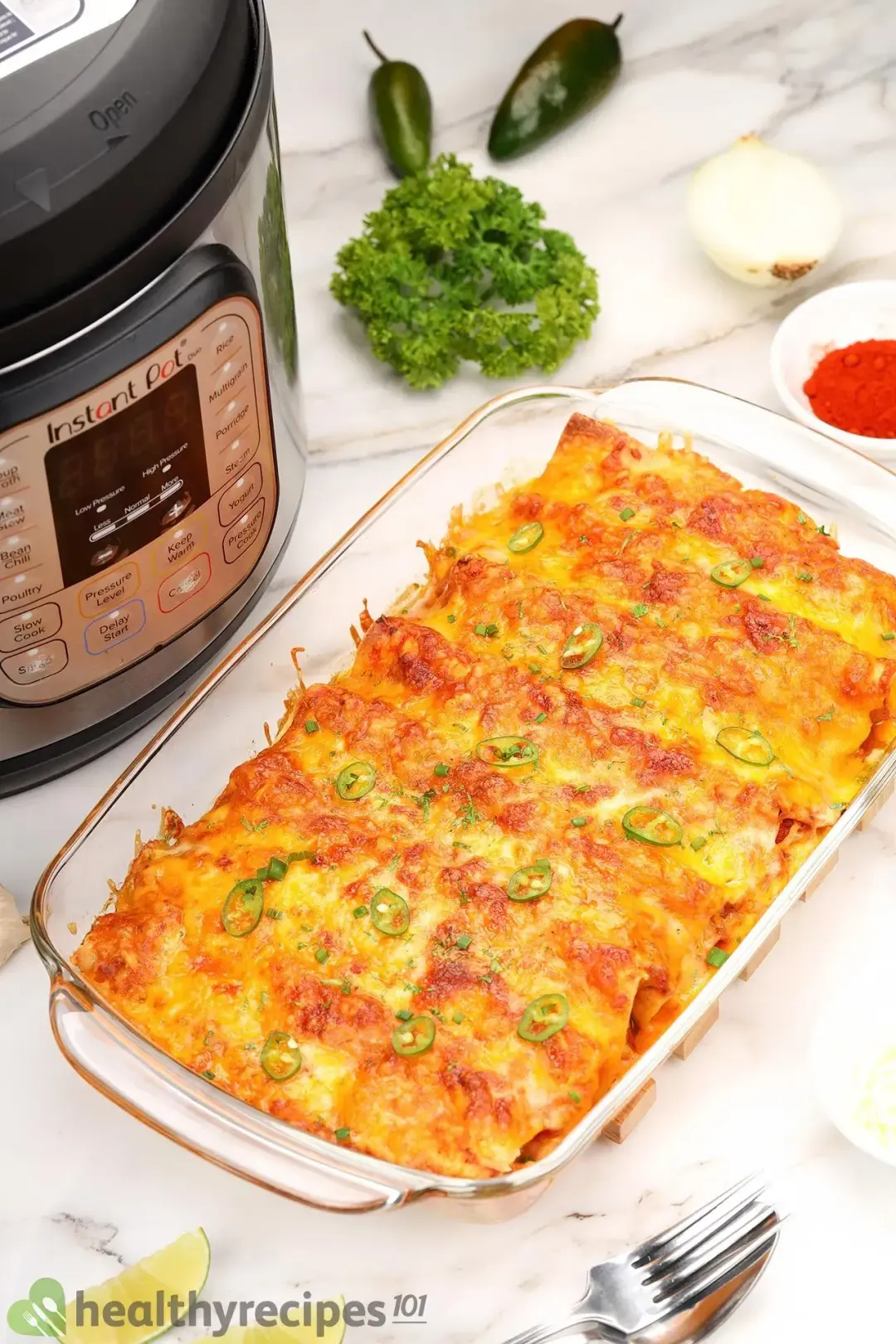 Previous Recipe
Instant Pot Chicken Enchiladas
Instant Pot Chicken Enchiladas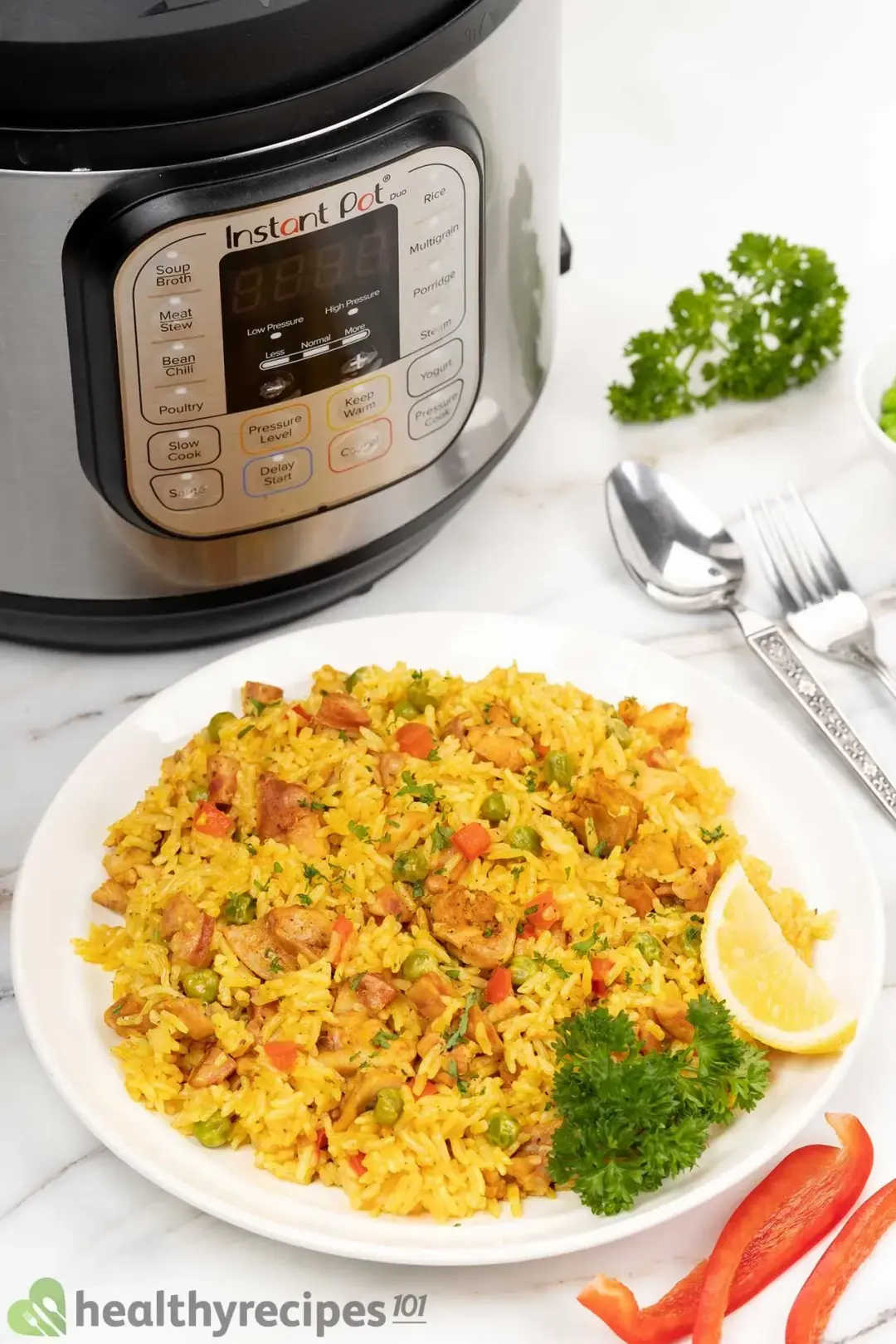 Next Recipe
Instant Pot Paella
Instant Pot Paella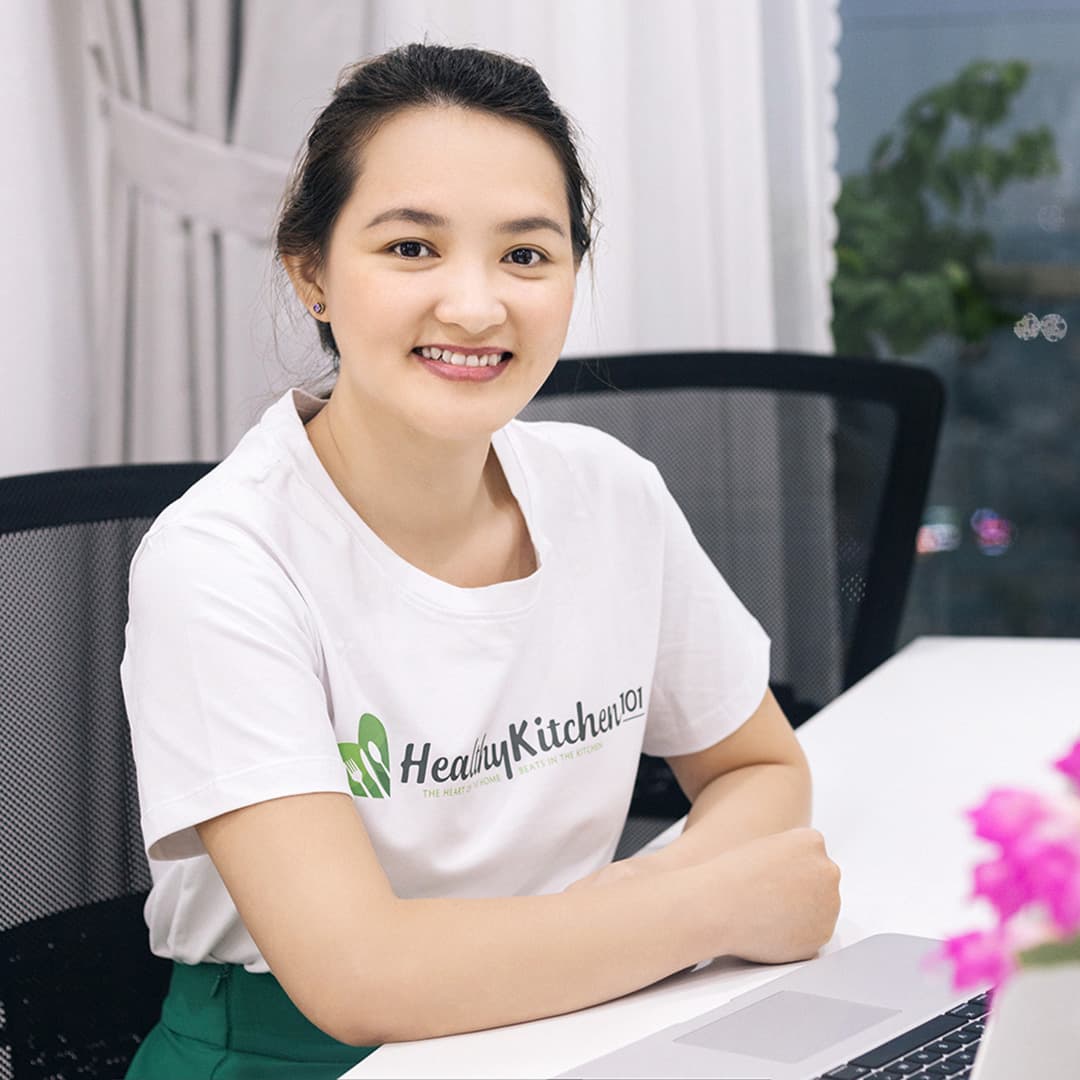 Luna Regina
A writer and entrepreneur, Luna's day doesn't start at the computer keyboard, but in the kitchen.
Half of her working hours are spent on mixing ingredients for her recipes. The other half involve working with the tech team to research and test the tools and appliances that promise to make kitchen work effortless and mess-free. From a kitchen knife or water filter to the Instant Pot, if it can help save time and effort for the home cook, Luna and her team are on it.
Luna's extracurricular pastimes include camping, travel, and photography.
Comments/ Reviews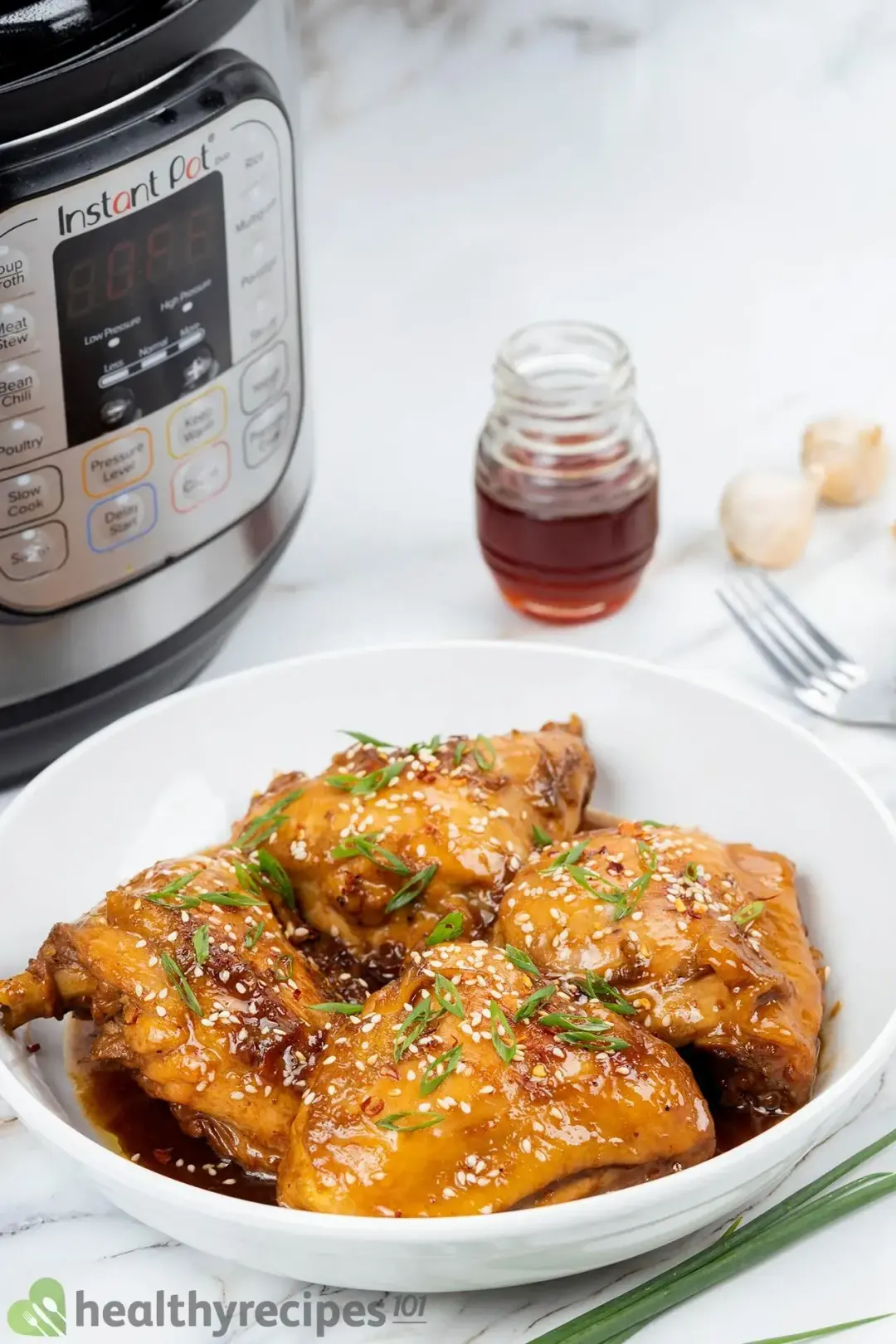 Instant Pot Honey Garlic Chicken Recipe