Today we're keeping it simple with an easy recipe for healthy pan seared chicken breasts. Simple, however, does not mean boring.
This homemade delicacy delivers rich, royal flavors using a peasant's most prized ingredient — the chicken breast. It's great for all sorts of meals, including family feasts, quick dinners, make-ahead freezer meals, or low-carb lunches.
Pan seared chicken breast is a buttery sear of chicken seasoned with garlic and paprika. Once done, it comes out golden, glossy, and picture-perfect "for the gram."
If that's not convincing, wait until you bite into it — you'll love it! But first, let's dive into the know-hows for this dish.
Is Pan Seared Chicken Breast Healthy?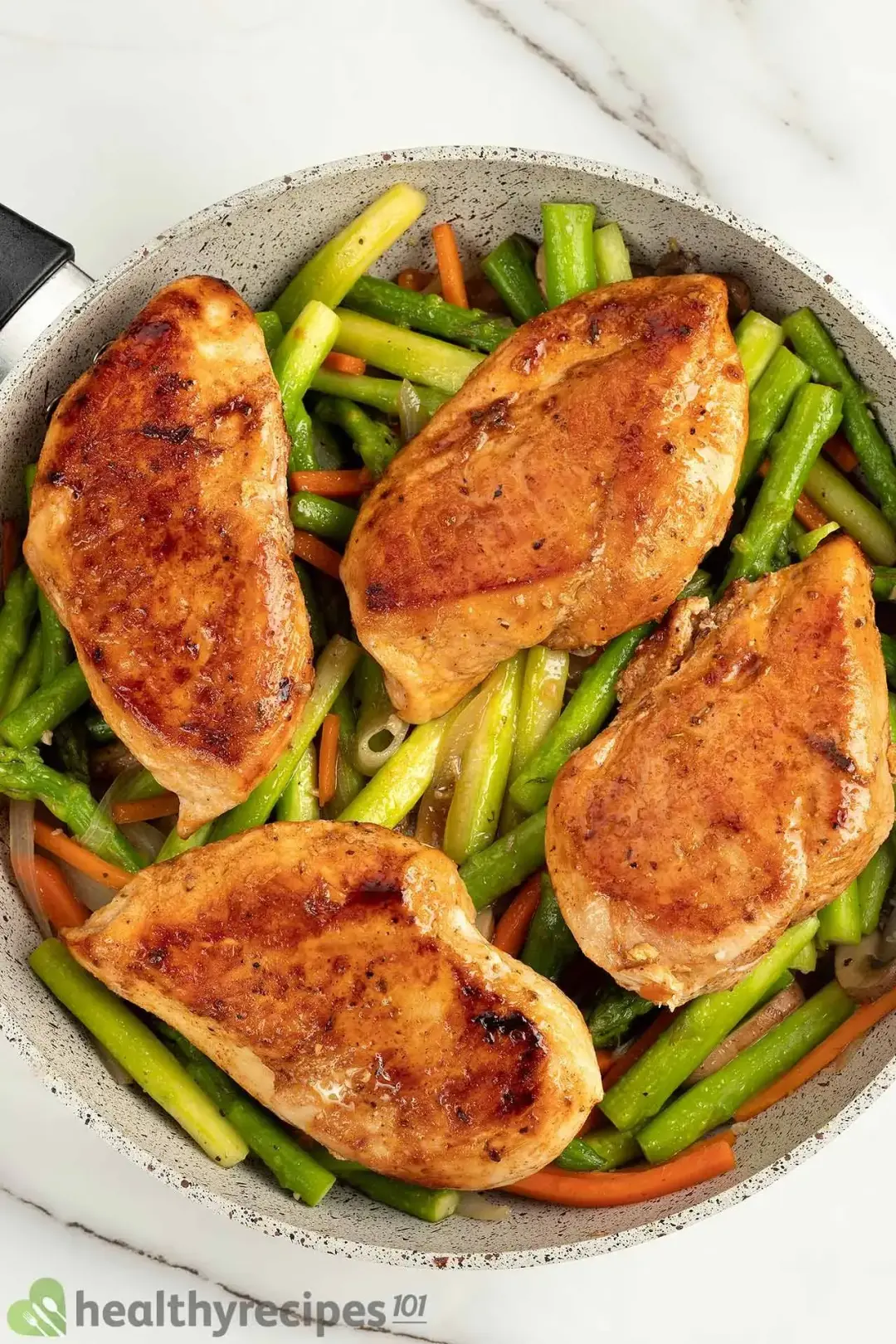 Absolutely!
Our pan seared chicken breasts are as healthy as meat gets. The recipe centers around chicken breast — a holy grail for every bodybuilder.
You can hop onto it too. Every 4-ounce  serving of chicken breast contains 25 grams of protein, which equates to 14%-50% of the required protein on a 2000-calorie diet.
Served with vegetables, as we did in this meal, it's enough to keep you feeling full until dinner. So no more between-meal snacks and no sugar-laden munchies. This dish delivers both flavor and that full feeling.
As far as nutrients go, chicken breasts come with plenty, some in the form of vitamins B6 and B12.
Vitamins B6 and B12 are essential for providing you with energy to fuel your workouts and regulating fuel (glucose) for your brain, thereby preserving your health.
We also kept a strict eye on the amount of sodium. The total amount in this recipe takes up 21% of your daily sodium intake.
One of the pillars of a healthy diet is well-regulated dietary sodium. Otherwise, you may end up facing adverse health issues such as high blood pressure, cardiovascular diseases, and even stroke.
As a precaution, you may want to avoid pre-packaged foods that sneak in excess amounts of salt and sugar. We encourage you to stick to healthier, homemade meals, and this recipe is a great place to start!
How to Prepare Chicken Breast for This Recipe
Step 1: Select fresh chicken breasts and use a sharp knife to create vertical incisions along the belly of each breast.
Step 2: Mix the spices and oil.
Step 3: Pour the marinade onto the chicken before cooking.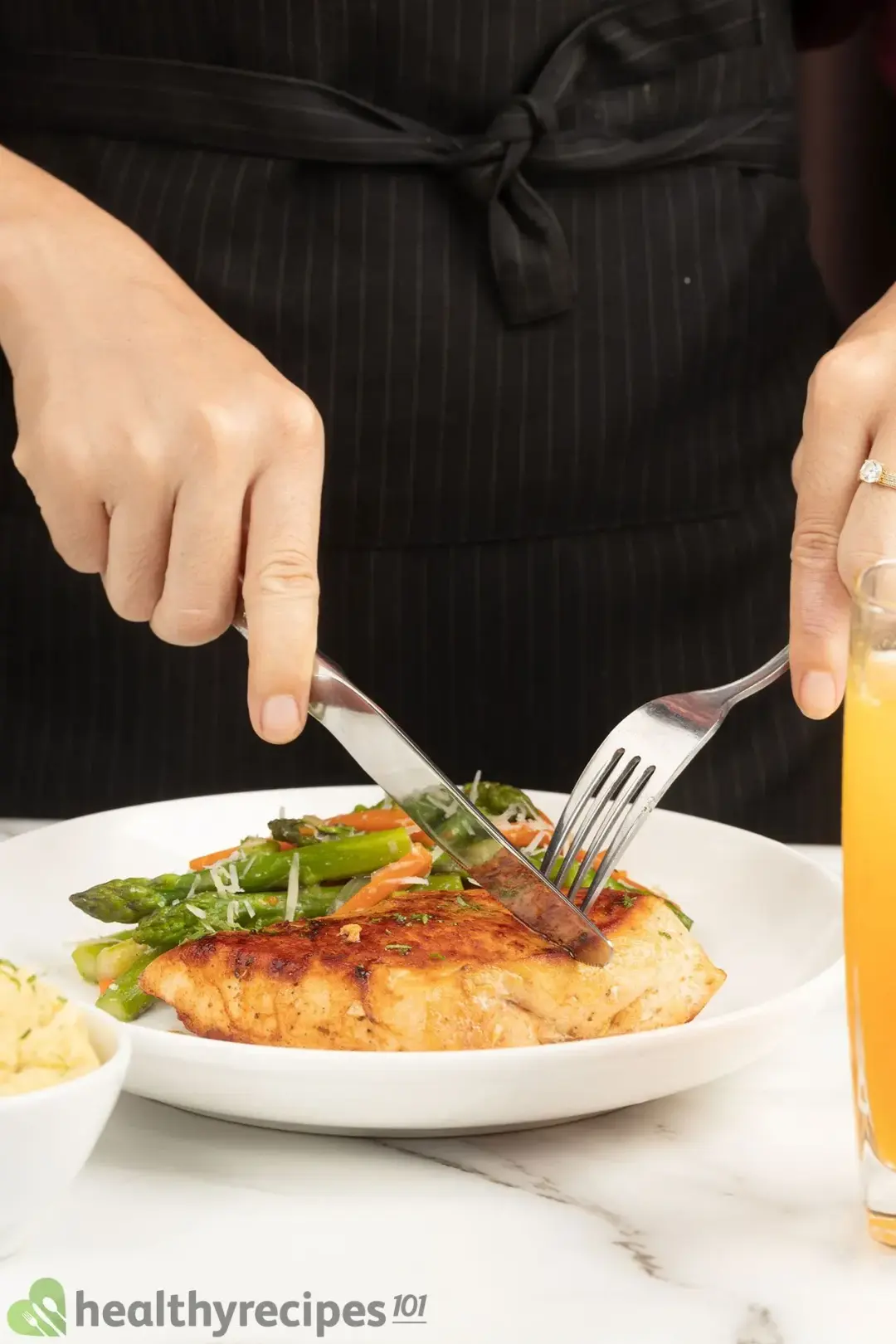 Marinade for Pan Seared Chicken Breast
The marinade is a blend of readily available spices like oregano, pepper, paprika, garlic powder, and salt. It's a basic mix that carries our favorite flavors.
What's even better is you can use it over and over again with excellent results. The spicy herbs and pleasant hints of paprika will keep you coming back for more!
Garlic and olive oil also make a perfect combo to elevate the taste of chicken breast and any meat in general. Mix the two with the rest of the spices in a bowl and stir until you've formed a paste you can easily slather onto the chicken.
Once fully coated, the chicken breasts are ready for the next step.
How to Pan Sear Chicken
In this recipe for pan seared chicken breast, we use searing and sautéing techniques for a crispy touch and buttery finish.
Tips for Cooking Chicken Breast
In some instances, you may end up with a dark, near-black sear. This is fine if using blackening spices like Cajun and Creole seasoning.
If not, however, ensure that a black crust is not just the chicken burning during the searing process.
You can slice the chicken breast lengthwise for easy and quick cooking. It also helps to prevent the exterior from drying out before the center cooks.
To ensure the chicken is ready, check that the internal temperature is at 165 F. Or that the juices run clear (not pink) before removing it from the heat.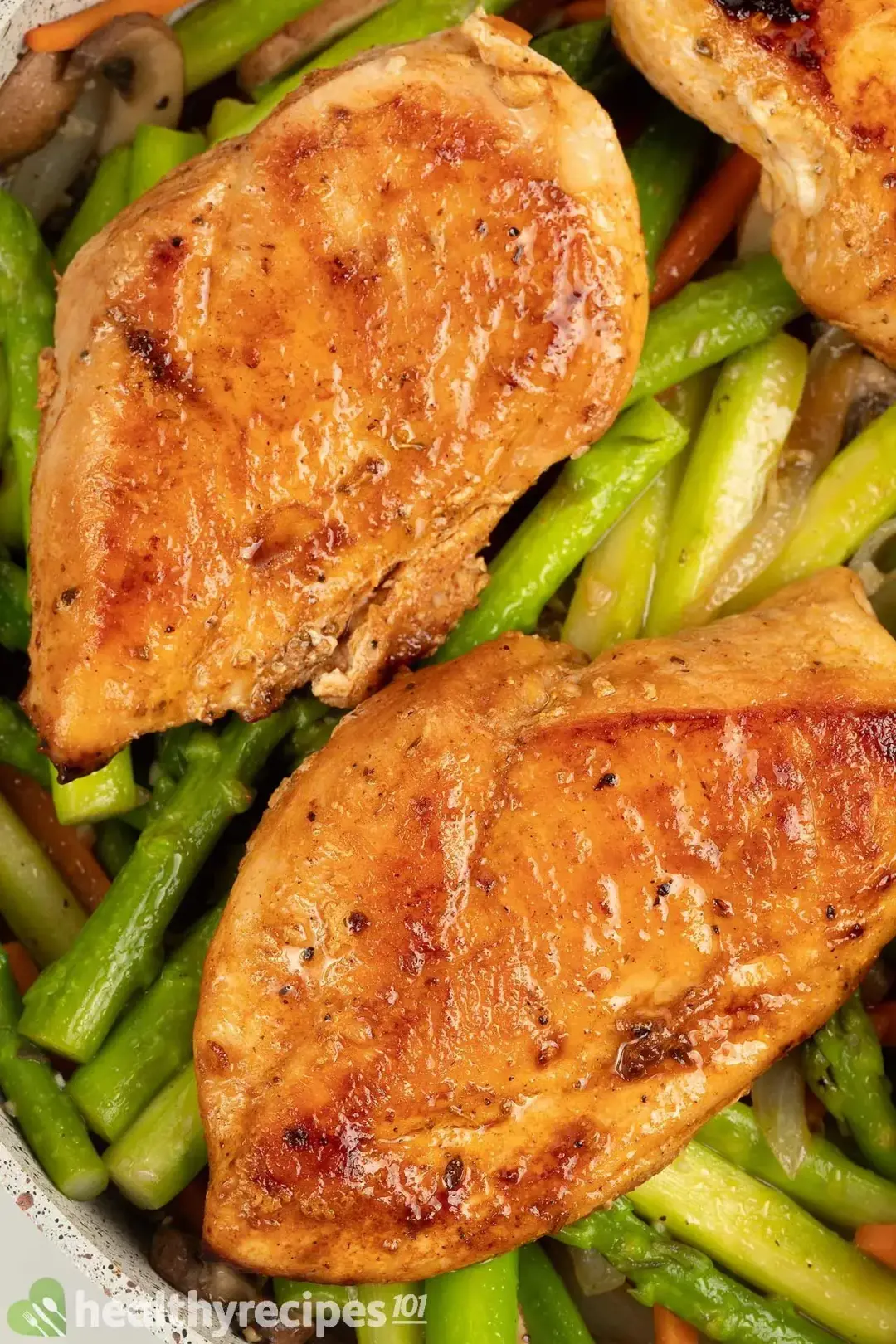 Can You Freeze Cooked Chicken Breasts?
Yes, you can freeze cooked chicken breasts with no problems. It's a genius way to work in those freezer meals, make-ahead meals, and meal preps.
To store it, leave it to cool to room temperature after cooking and then transfer it into a freezer-safe container. Tupperware and Ziploc bags are perfect for this as they keep the air out and prevent the meat from contamination.
After tightly sealing shut, you can safely store cooked chicken breast in the freezer for 2-6 months.
When you're ready to use it, leave the chicken to thaw in the refrigerator until fully defrosted. Then reheat it again; you can microwave it for a few minutes or bake it until hot before serving.
How Long Do Cooked Chicken Breasts Last in the Fridge?
Cooked chicken breasts can be stored in the fridge for 2-3 days in an airtight container.
Again, Ziploc bags or any Tupperware containers are A-okay. Just avoid keeping the chicken breasts for more than three days.
Longer storage time starts to see the chicken turn greyish while giving off a foul odor accompanied by a slimy texture.
Ensure that the lid is tightly sealed shut and the chicken is always in the fridge, and avoid keeping it at room temperature for over an hour.
When ready to consume it, check that the chicken is still in good condition before reheating again.
What to Serve With Pan Seared Chicken Breast
Plain chicken breasts cooked well can make a great meal. But they're even better with complements to make them a more rounded dish.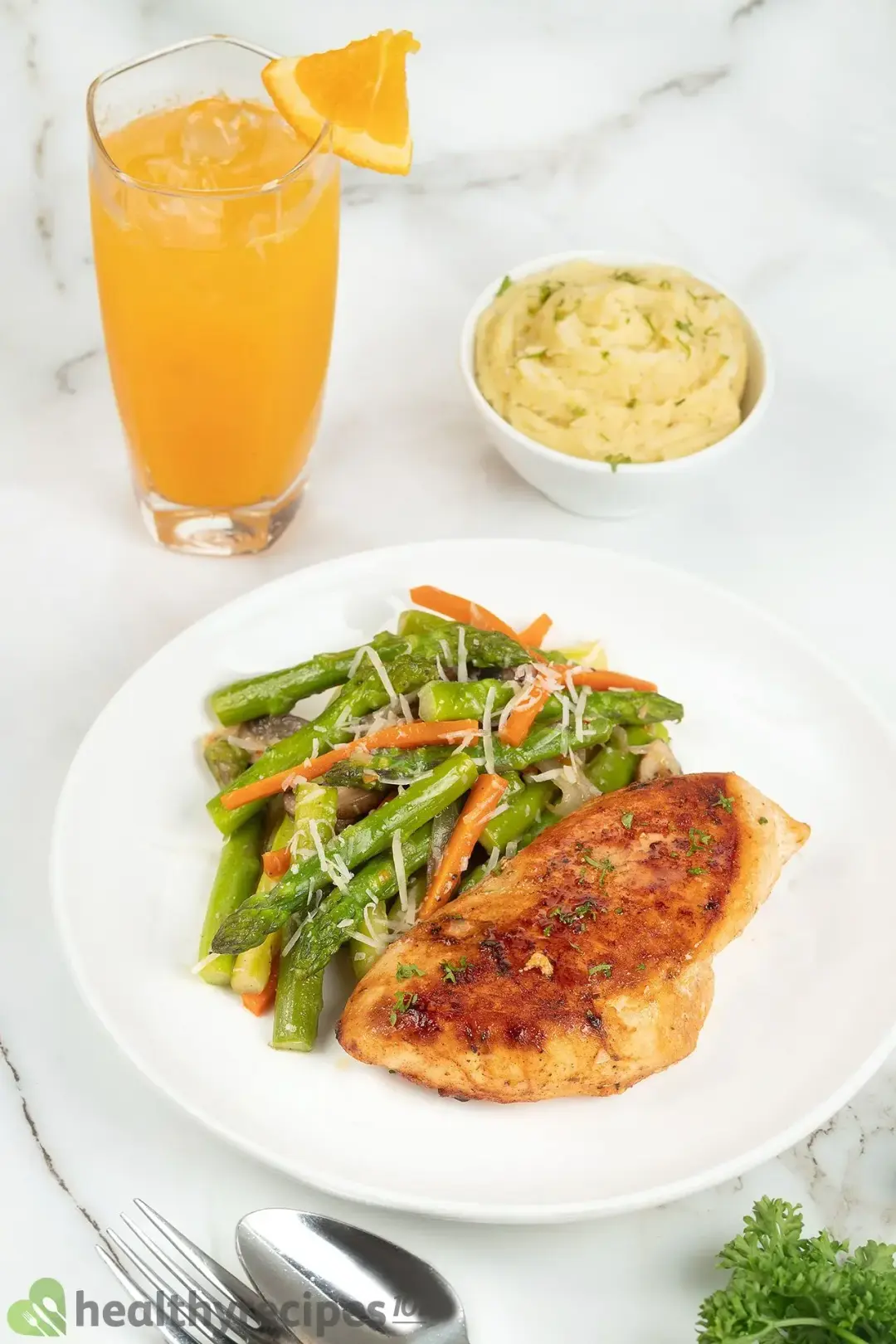 Here are a few pairings:
1. Mashed Potatoes
Add a little milk and cheese to your potatoes to end up with silky-textured mashed potatoes. Mashed potatoes pair incredibly well with cooked chicken breasts because of their creamy texture.
They help make the firmer chicken breast more pleasant to chew. Plus, they add healthy carbs that chicken breast lacks, helping to balance out the meal.
2. Baked Vegetables
Baked vegetables are even more fun to add as a side. Think of broccoli, carrots, mushrooms, and onion; a variety of textures in one cook.
As we did with this recipe, you can sauté some veggies and add them to the cooked chicken breasts. They not only add versatility to the dish but nutrients too.
Besides, chicken breasts are mostly protein and could do with some veggies to accompany them. Try adding your favorite ones and let us know how you enjoy them!
For other ideas on serving cooked chicken breasts, you can check out our collection of 50 healthy chicken recipes. We guarantee that there's a little something for everyone who enjoys the beauty that is chicken. Enjoy!
Similarly Tasty Chicken Breast Recipes
Besides this tasty chicken breast, we also have several amazing others that we would like you to try. They're easy to follow and strictly comply with our guidelines: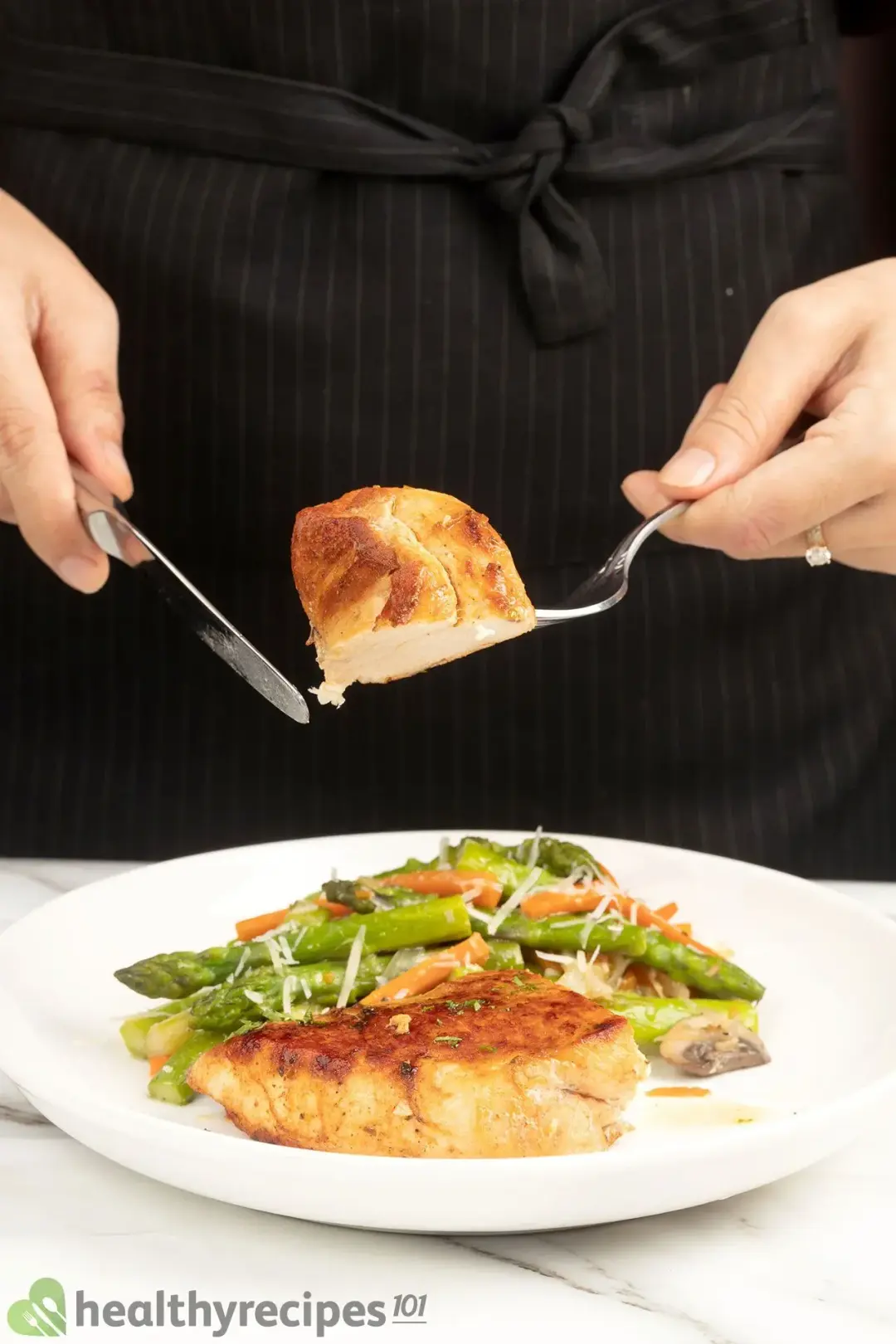 Healthy Pan Seared Chicken Breast
This healthy pan seared chicken breast features mushrooms, carrots, and asparagus to make a well-rounded meal. Serve plain, as a Keto dish, or with mashed potatoes.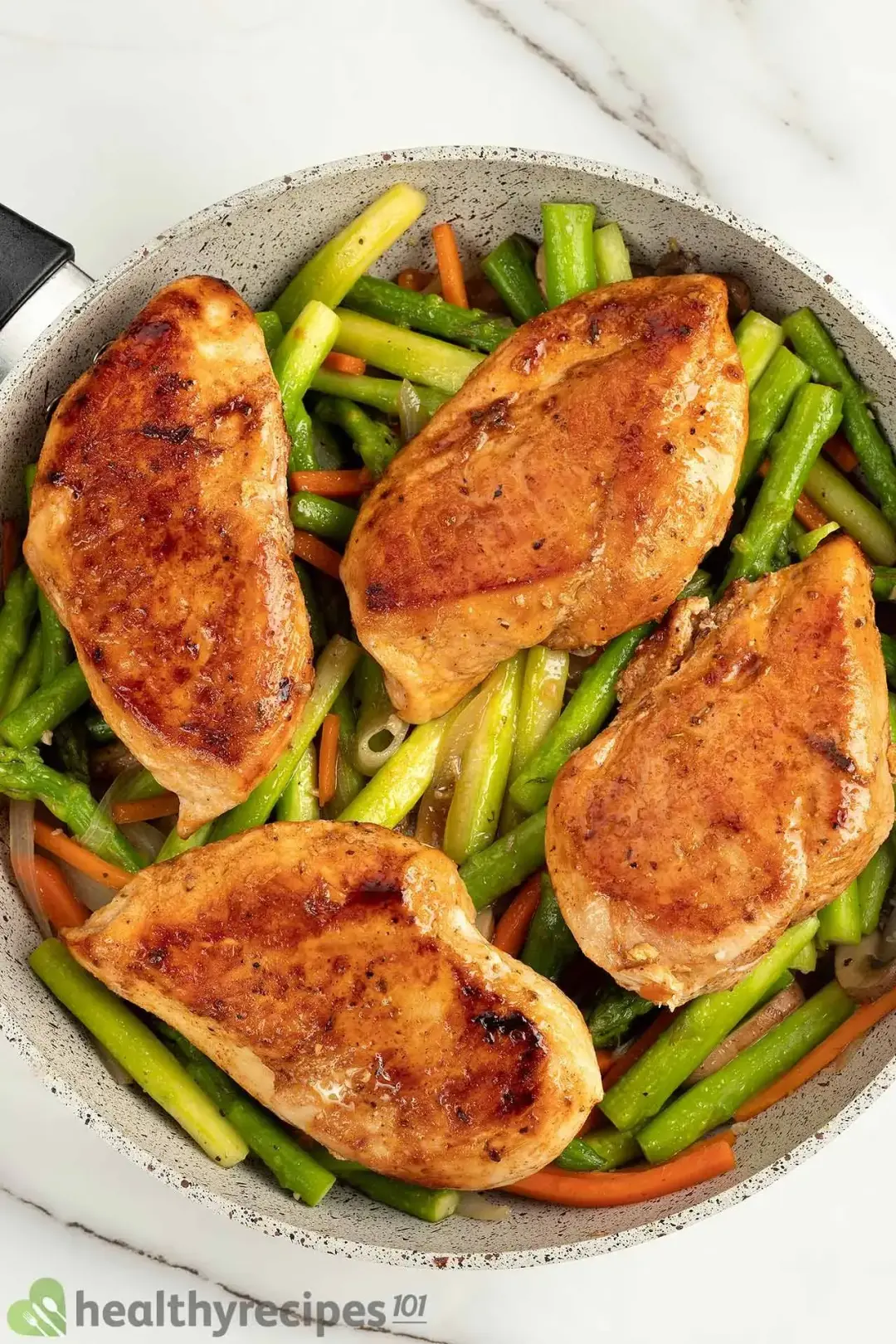 cook TIME

22 mins

prep TIME

10 mins

total TIME

32 mins
COURSE

Dinner, Lunch, Main Course

CUISINE

American

SERVINGS

servings

CALORIES

478 kcal
INGREDIENTS
28 oz

skinless boneless chicken breast

0.3 tsp

black pepper (divided)

0.5 tsp

salt (divided)

0.3 tsp

paprika

0.3 tsp

oregano

0.3 tsp

garlic powder

3 tbsp

olive oil (divided)

2.8 tbsp

unsalted butter

16 oz

asparagus (sliced)

8 oz

cremini mushrooms (brown, medium-sliced)

4 oz

onion (sliced)

1 tsp

garlic (chopped)

5 oz

carrot

0.5 tsp

Italian Seasoning

0.5 oz

grated parmesan cheese

2 tbsp

parsley (fresh)
INSTRUCTIONS
1
Using a sharp knife, make vertical incisions along the surface of the chicken breast.
2
In a small bowl, mix oregano, 1/8 tsp pepper, 1/4 teaspoon salt, paprika, and garlic powder. Then, add in 1 tbsp olive oil.
3
Marinate chicken breasts with the spice-oil mixture.
4
Heat a non-stick skillet over medium heat and add in 1 tbsp olive oil.
5
Add in chicken breasts and sauté on both sides for about 8 minutes until they turn golden brown. Remove from the heat.
6
Clean the pan before heating it again over medium heat. Add 1 tbsp olive oil. Stir-fry mushrooms for 2 minutes until golden brown.
7
Add in chopped garlic, onions, and carrots. Stir fry for 2 minutes before adding asparagus.
8
Season with the remaining 1/4 teaspoon salt, 1/8 teaspoon pepper, and Italian seasoning. Finally, add butter to the vegetables, cook for about 6 minutes, and then turn off the heat.
9
Sprinkle parmesan cheese and parsley, and serve.
NUTRITION
Nutrition Facts
Healthy Pan Seared Chicken Breast
Amount Per Serving (1 serving)
Calories 478
Calories from FDA
% Daily Value*
* Percent Daily Values are based on a 2000 calorie diet.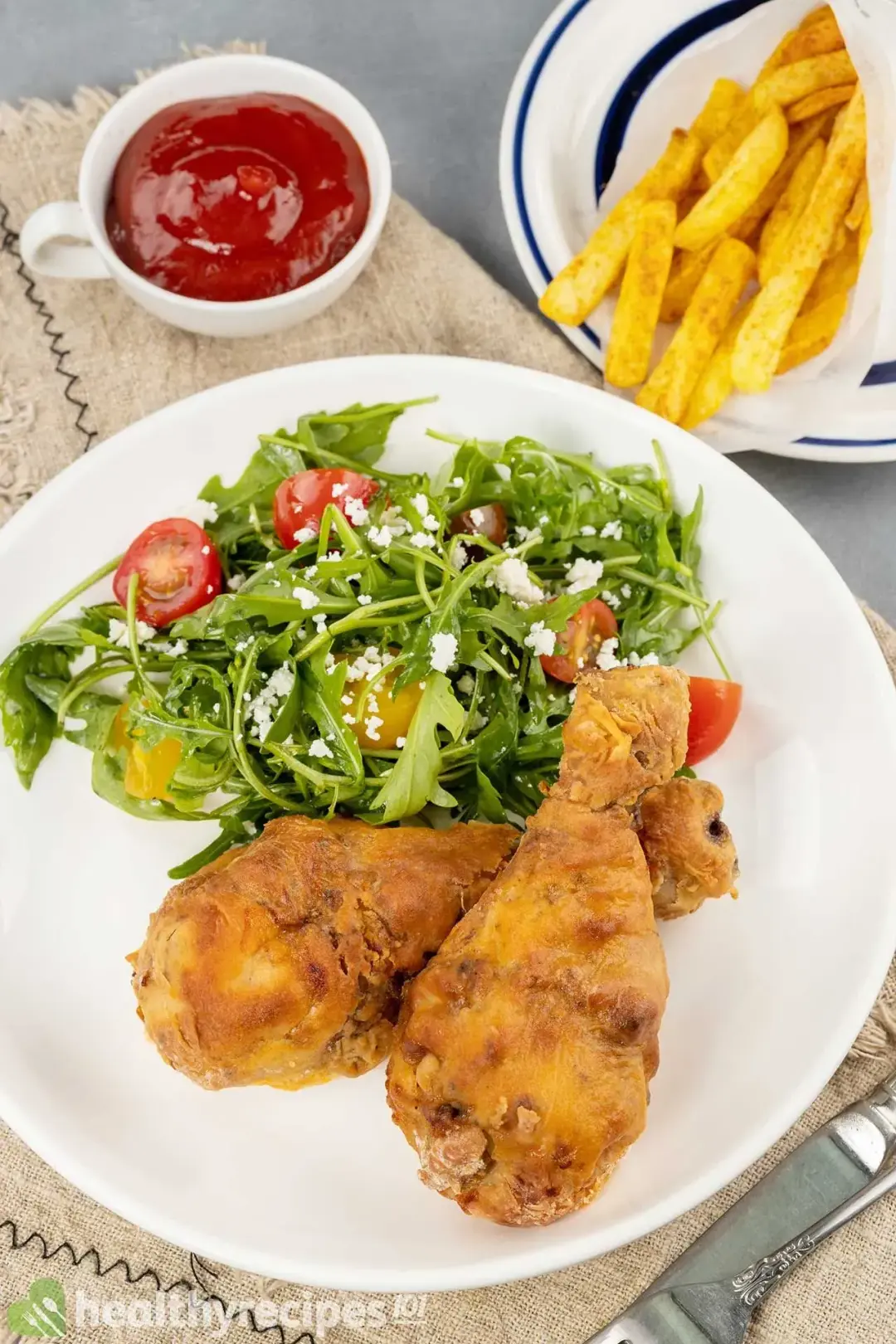 Previous Recipe
Air Fryer Fried Chicken
Air Fryer Fried Chicken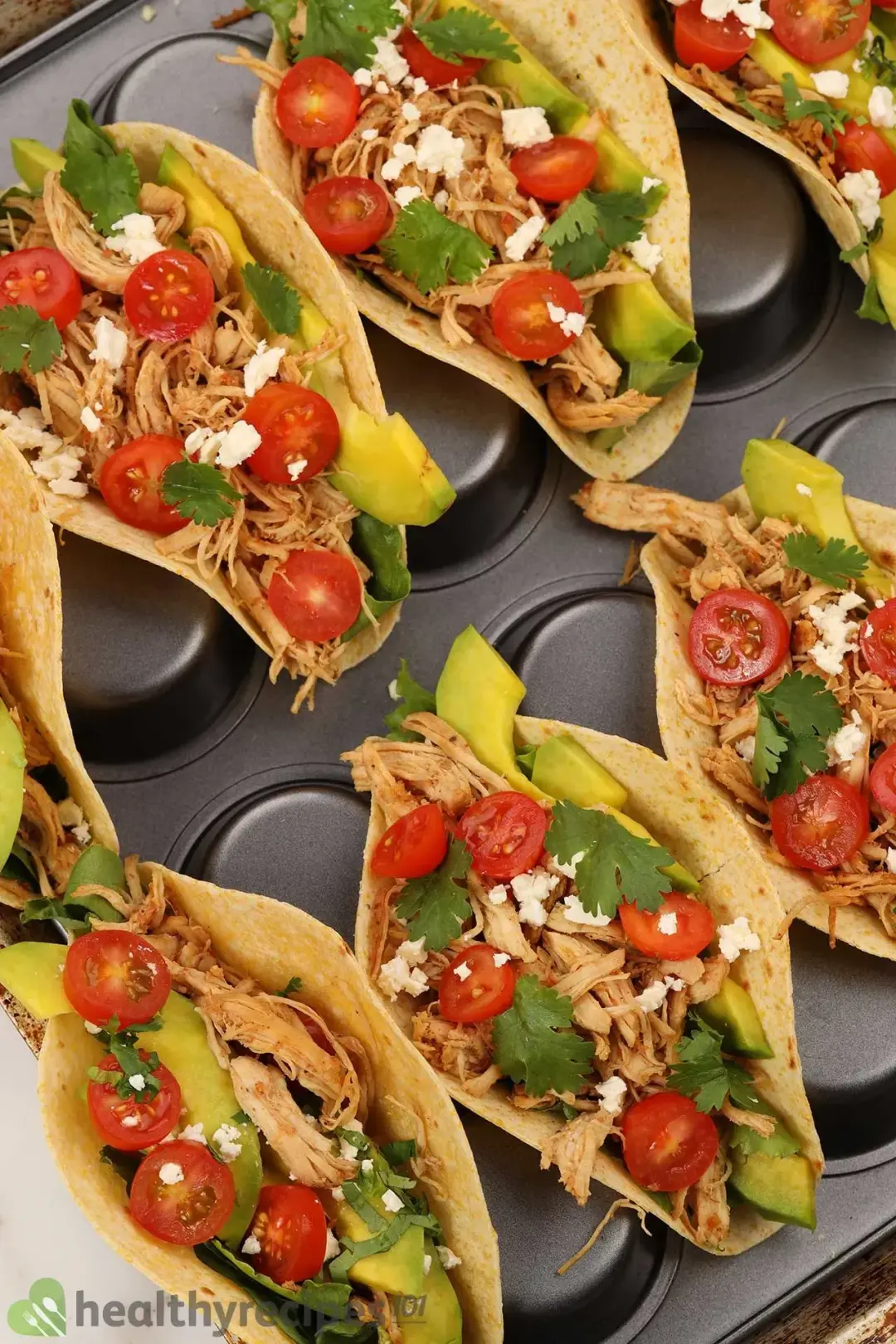 Next Recipe
Instant Pot Shredded Chicken
Instant Pot Shredded Chicken
Comments/ Reviews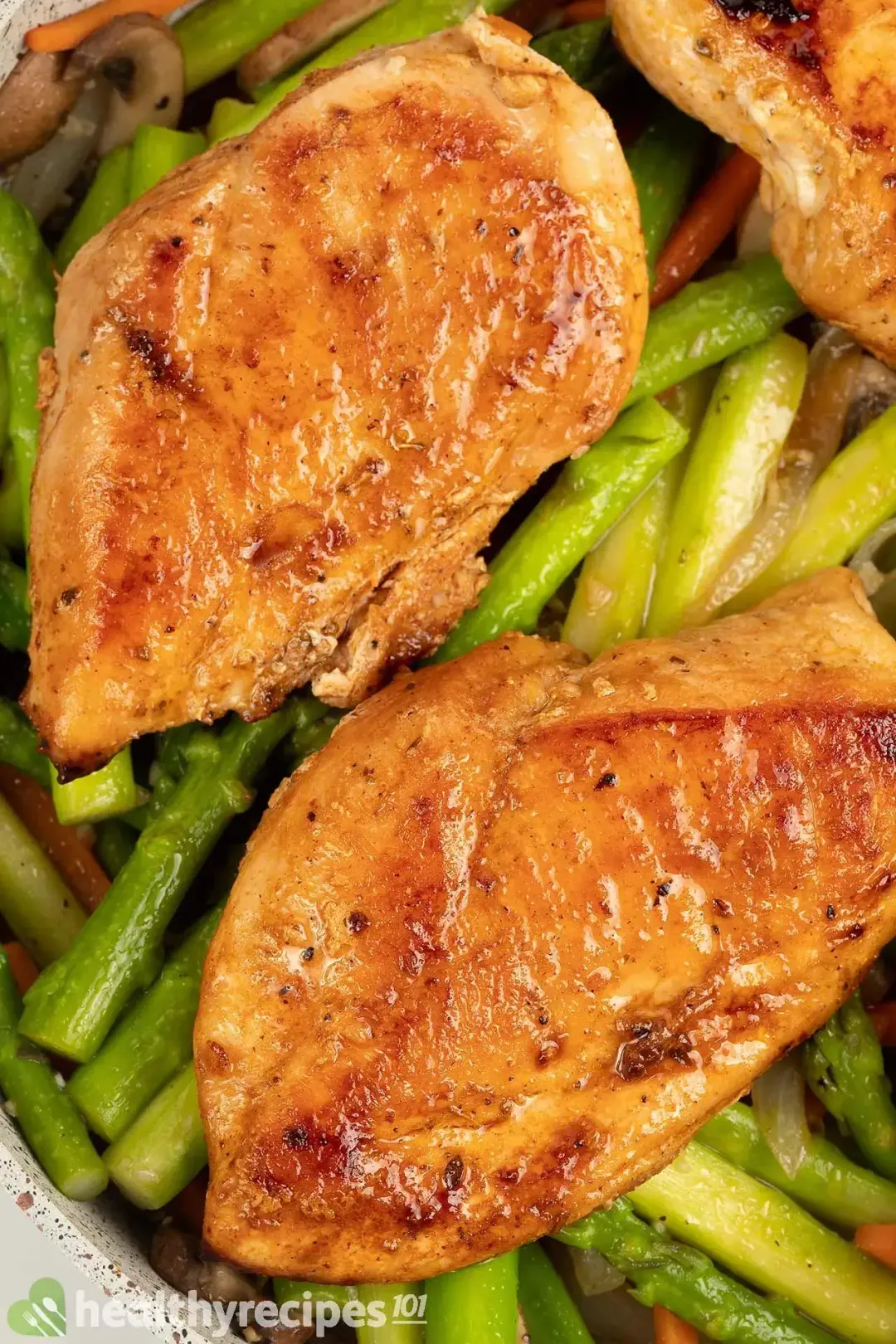 Pan Seared Chicken Breast Recipe