Our air fryer fried chicken recipe will help you make the perfect crispy-on-the-outside, juicy-on-the-inside chicken drumsticks. All you need to do is coat them nicely and cook them in the air fryer for 30 minutes.
Even better, we'll show you how to store chicken drumsticks in the freezer so you can cook them whenever you want. They're just the answer for "What to cook today?" and "What to make on National Fast Food Day (November 16)?" especially if you're busy and want a low-fat take on fried food.
Is Air-Fried Chicken Healthy?
Compared to deep-fried chicken, air-fried chicken is far better for your health.
Deep-frying means submerging the food in hot oil for a long time until it's cooked. This adds plenty of fat (and thus, calories) to your food, and also creates the cancer-promoting substance, acrylamide.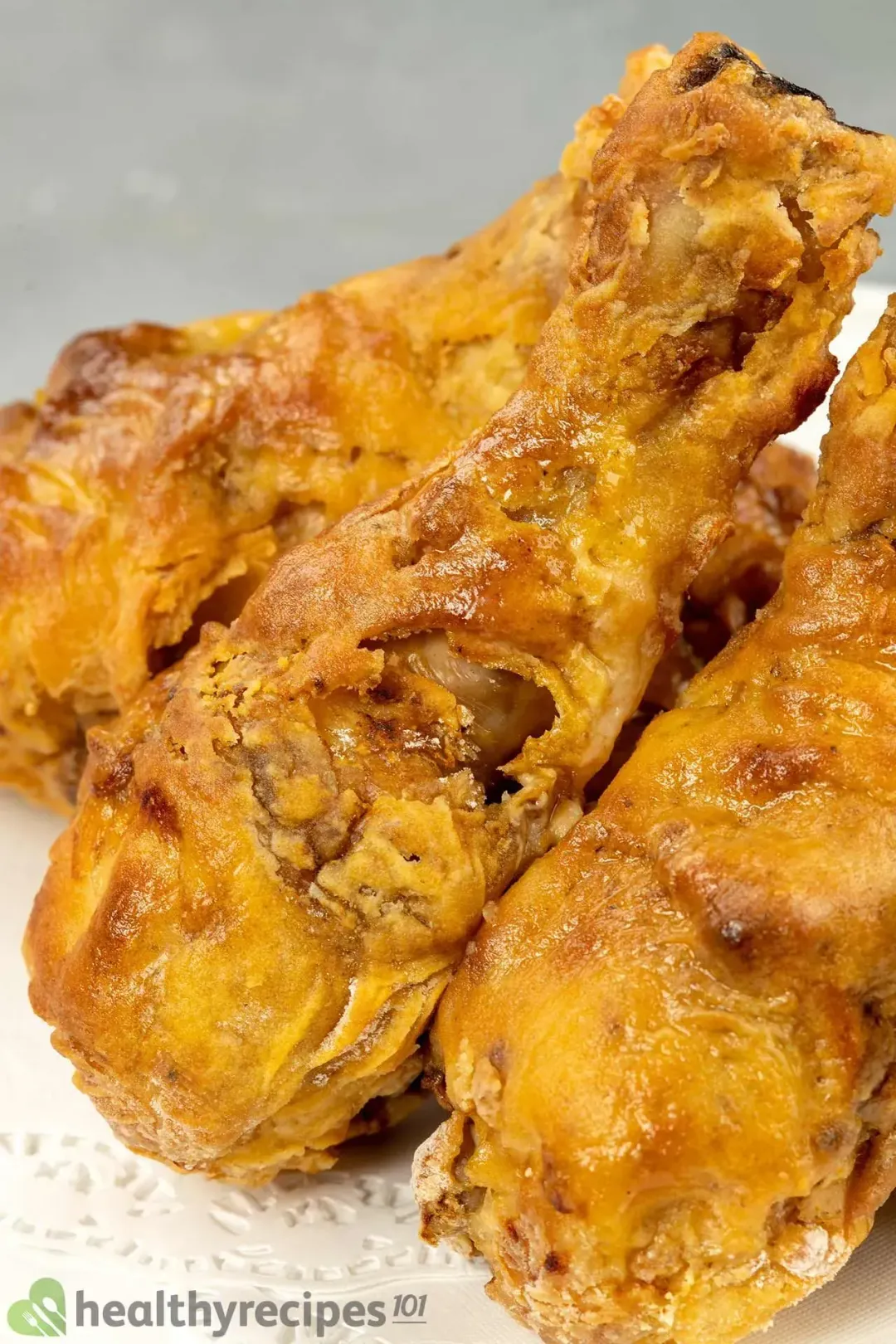 With an air fryer, you don't need to use a lot of oil, yet you'll still end up with similar results. Your crunchy, juicy chickens now don't come with excess fat or calories, and little to no acrylamide.
If you want to cook chicken in your air fryer (without any batter), have a look at our how to cook chicken in an air fryer. We'll show you how to properly cook all parts of the chicken, with crispy skin and everything.
How Our Recipe Is Made Better
According to the USDA, we should all try to limit our saturated fats, sodium, and processed sugar intake. This is the key to healthy eating and the base of our healthy eating guidelines.
Since fried chicken is often high in saturated fat and sodium, we had to make several adjustments:
We made a coating with fewer eggs to lower the saturated fat content.
We went easy on the salt and then gradually increased the amount until the flavor was right but the sodium level was still acceptable.
We served them with the right amount of ketchup, to keep the sodium within the limit.
As a result, one serving of this air fryer fried chicken recipe contains 4.3 g saturated fats and 525.2 mg sodium. These are the sorts of levels a main dish should contain (click here to learn more).
The USDA also defines healthy eating as including a variety of fruits and vegetables in one's diet. Embracing this, we mixed a colorful salad to serve with the chicken, upping your day's micronutrient intake.
What You Will Need to Make
Make sure that you've read this section before running your errands:
1. Chicken
For this recipe, we picked the drumsticks. They're juicy and easy to grab to take a large bite.
If you prefer chicken breasts or wings, feel free to use them in place of the drumsticks. You might want to cut the breasts into bite-sized pieces to make things easy.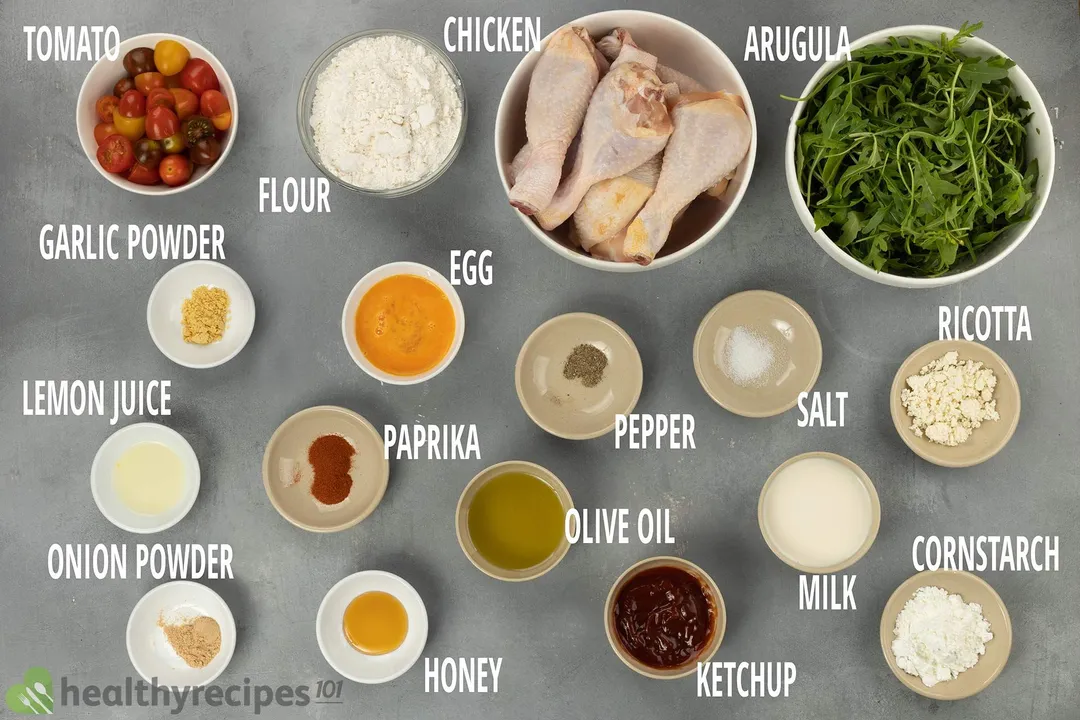 2. Seasoning for Chicken
Powdered seasonings are the norm for fried foods. Unlike the fresh ones, they stick to whatever you're cooking and have concentrated flavors.
For chickens, you can go for this fail-proof blend: garlic powder, onion powder, salt, pepper, paprika, and dried thyme. Since there are already plenty of aromas, we decided to cut out the thyme this time.
3. The Coating
The coating for fried foods is often made with two components: the dry and the wet (the batter). 
The dry coating is simply all-purpose flour, and it acts as a medium to help the batter stick to your food. Sometimes the seasonings are added to the dry powder and sometimes they are put directly on the food, as we do in this recipe.
For the wet batter, we used eggs, milk, and flour instead of just eggs like most recipes would. This batter sticks better and is crispier when fried.
For more air fryer recipe ideas, have a look at our delicious air fryer dinner roundup.
Tips for Making Crispy Fried Chicken in an Air Fryer
Fried foods can be tricky if you're not used to making them. Here are some tricks that experience has put up our sleeves:
First, the drumsticks must be thawed out or they'll be pink in the center. If you haven't thawed them, we suggest purchasing new chicken at room temperature or having fried chicken on another day after your meat has thawed.
Next, it's important to clean your drumsticks well with water and then pat them dry. If you don't, the excess moisture will cause the dry flour to clump up — definitely not what you want.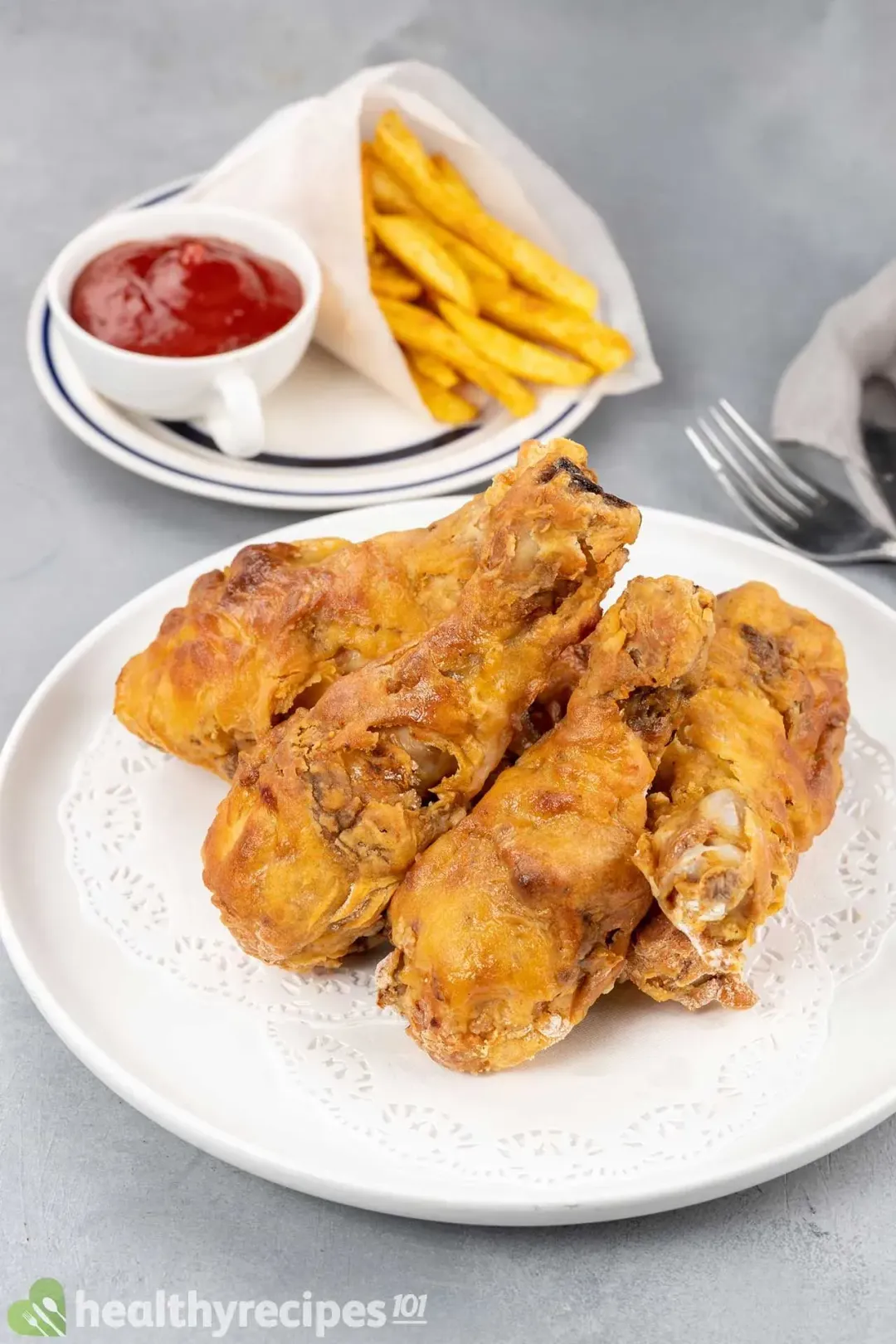 To achieve a crispy crust, you need to coat the chicken in two layers of flour. Dip them in the flour first, then in the batter, then the flour one more time.
Lastly, spray some oil over the top of the chicken because the crust won't be crispy without a little grease. Halfway through cooking, flip them and spray some oil again to make the other side crispy as well.
While the air fryer is working, any excess oil will drip down to the bottom, leaving you with satisfying, guilt-free eats.
Can You Cook Frozen Chicken in an Air Fryer?
For bone-in thick cuts like drumsticks, cooking them while they're still frozen is a no-no. There's a strong chance the outside will be overcooked while the inside is still raw.
If you often forget to thaw foods before cooking, here is what you can do.
After purchasing the drumsticks, coat them and cook them (without oil) in the air fryer at 350°F for about 15 minutes. What we want to do is cook the chicken thoroughly and firm the coating up.
Then, allow them to cool down to room temperature and pop them in your freezer.
When you want fried chicken, simply spray some oil over this frozen poultry and cook them at 350°F for 10 minutes. There is no raw center to watch out for because they're already cooked.
In this case, it's important not to use oil the first time — only the second time. We want them to be crispy when we eat them, but not when we store them.
How Long Does Fried Chicken Last?
Fried chicken is fast food, meaning it's best to make just enough and leave no leftovers.
Still, if you happen to have leftovers, you can store them in the refrigerator for 5 days. Be sure to wrap them up with cling wrap, or place them in an airtight container before storing.
When you want to reheat, allow the chicken bits to warm up to room temperature first. Then, place them into your air fryer and cook at 400°F for 10 minutes.
Making frozen fried chicken using our method above, however, can keep the chicken good for months. Ziploc bags are the perfect containers to keep plenty of them.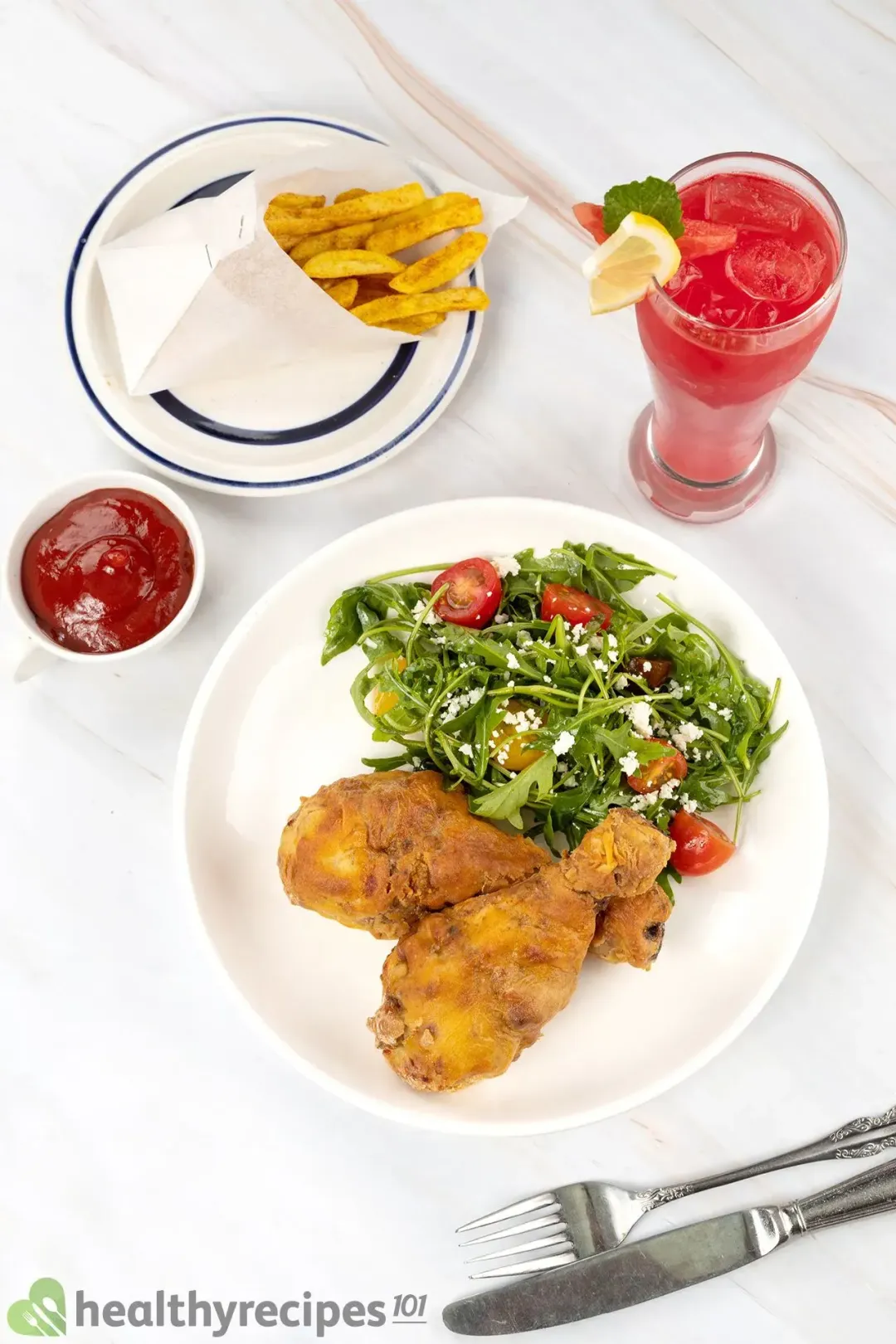 Try These Other Air-Fried Dishes
This almond chicken recipe is a healthier way to crisp up your almond-crusted chicken with the assistance of the air-fryer. It's as flaky, crispy as your regular eats, with a super juicy interior.
With a popular grilled chicken dish, this Air Fryer Chicken Shawarma will transport you to the heart of Middle Eastern cuisine. The skin is so well-grilled that it's chewy and almost crispy, the seasonings are spot-on, and everything is served with rice and vegetables.
Air Fryer Fried Chicken
This air fryer fried chicken recipe is easy to follow and yields the best fried chicken — moist on the inside, crisp on the outside.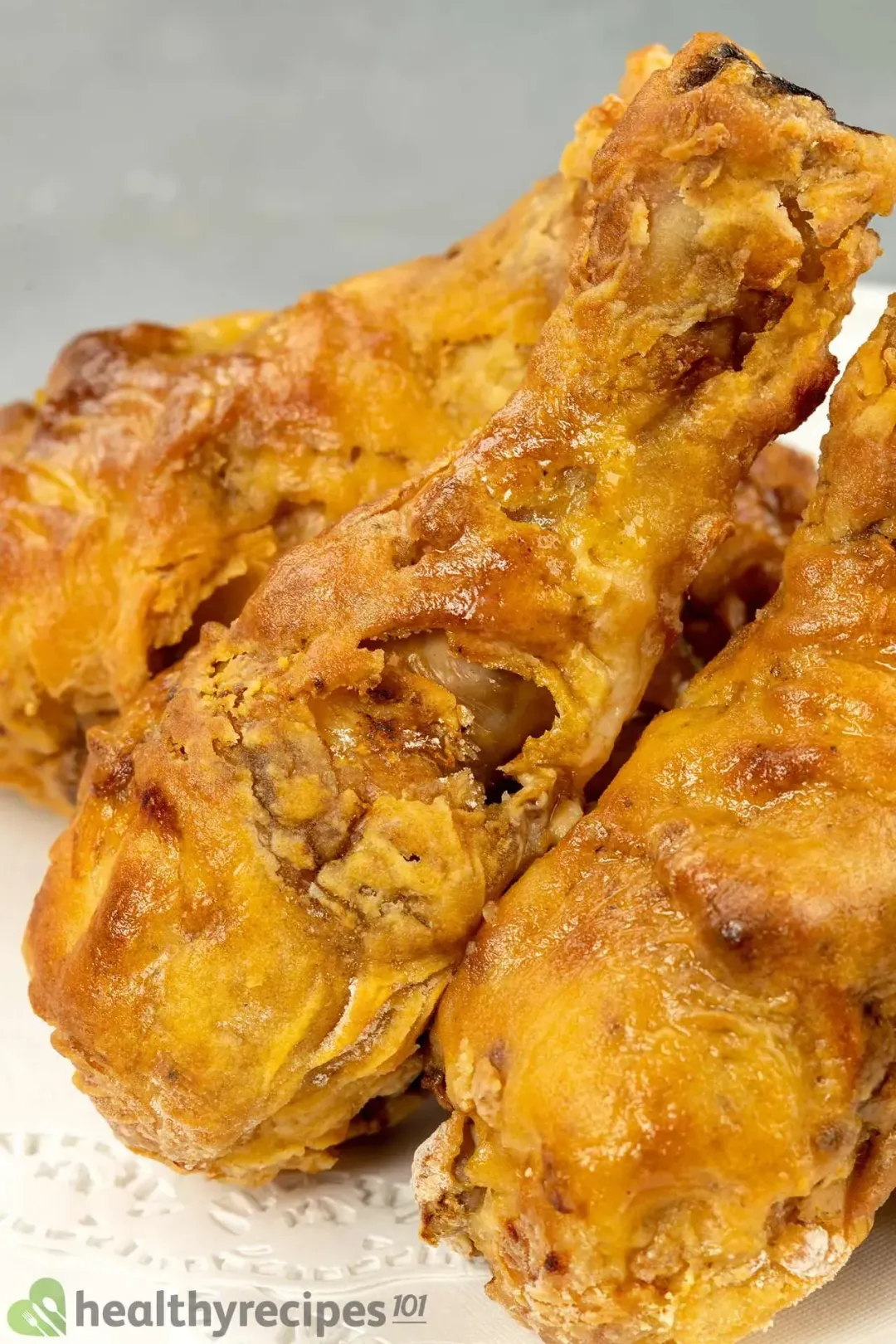 cook TIME

25 mins

prep TIME

5 mins

total TIME

30 mins
COURSE

Main Course

CUISINE

American

SERVINGS

CALORIES

505 kcal
INGREDIENTS
40 oz

bone-in chicken drumsticks

(which contain approximately 26 oz meat)

1 cup

all-purpose flour

(divided)

3 tbsp

olive oil

(divided into 3 parts)

4 oz

arugula

(washed thoroughly)

6 oz

cherry tomatoes

(halved)

0.5 oz

ricotta cheese

(broken into pieces)
INSTRUCTIONS
1
Preheat the air fryer to 350°F.
2
Wash the 40 oz drumsticks and pat them dry with paper towels. Season them with 1/4 tsp salt, 1 tsp black pepper, 1/2 tsp garlic powder, 1/2 tsp onion powder, and 1/2 tsp paprika.
3
In a bowl, whisk together 1 egg, 1/4 cup milk, 2 tbsp cornstarch, 1/2 tsp paprika, and 1/2 cup all-purpose flour. Place the remaining flour into another bowl/dish.
4
Dip each drumstick into the 1/2 cup flour, then the wet batter, and finally the flour one more time. Shake off excess flour and set aside.
5
Place the coated drumsticks into the air fryer. Spray them with 1 tbsp oil and cook for 10 minutes. Flip, spray them again with 1 tbsp oil, and cook for another 10 minutes.
6
Meanwhile, in a salad bowl, whisk together 1 tbsp olive oil, 2 tsp lemon juice, and 1/2 tsp honey. Add 4 oz arugula, 6 oz halved cherry tomatoes, and 0.5 o ricotta, and toss to coat well.
NUTRITION
Nutrition Facts
Air Fryer Fried Chicken
Amount Per Serving (1 serving)
Calories 505
Calories from Fat 180
% Daily Value*
* Percent Daily Values are based on a 2000 calorie diet.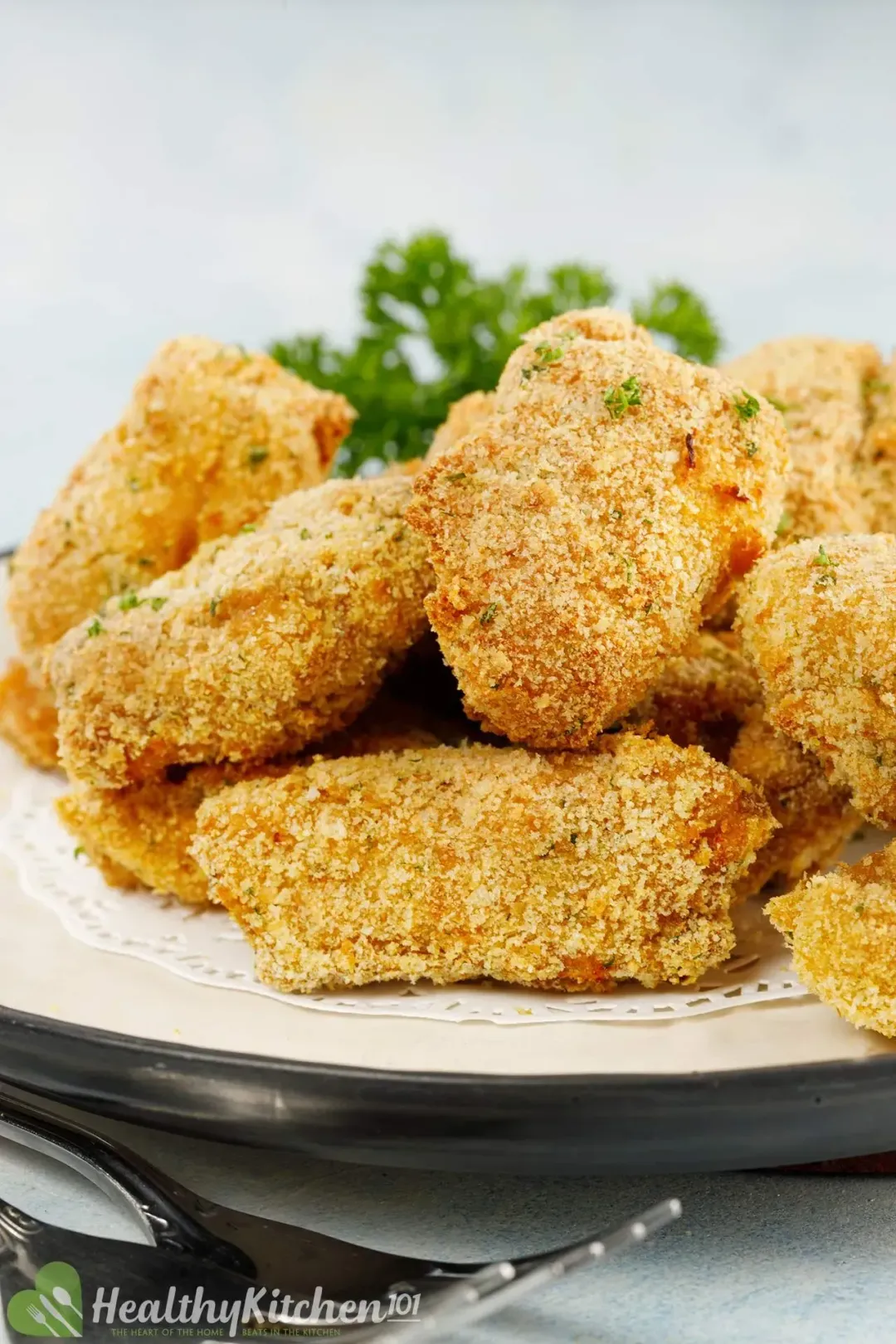 Previous Recipe
Air Fryer Chicken Nuggets
Air Fryer Chicken Nuggets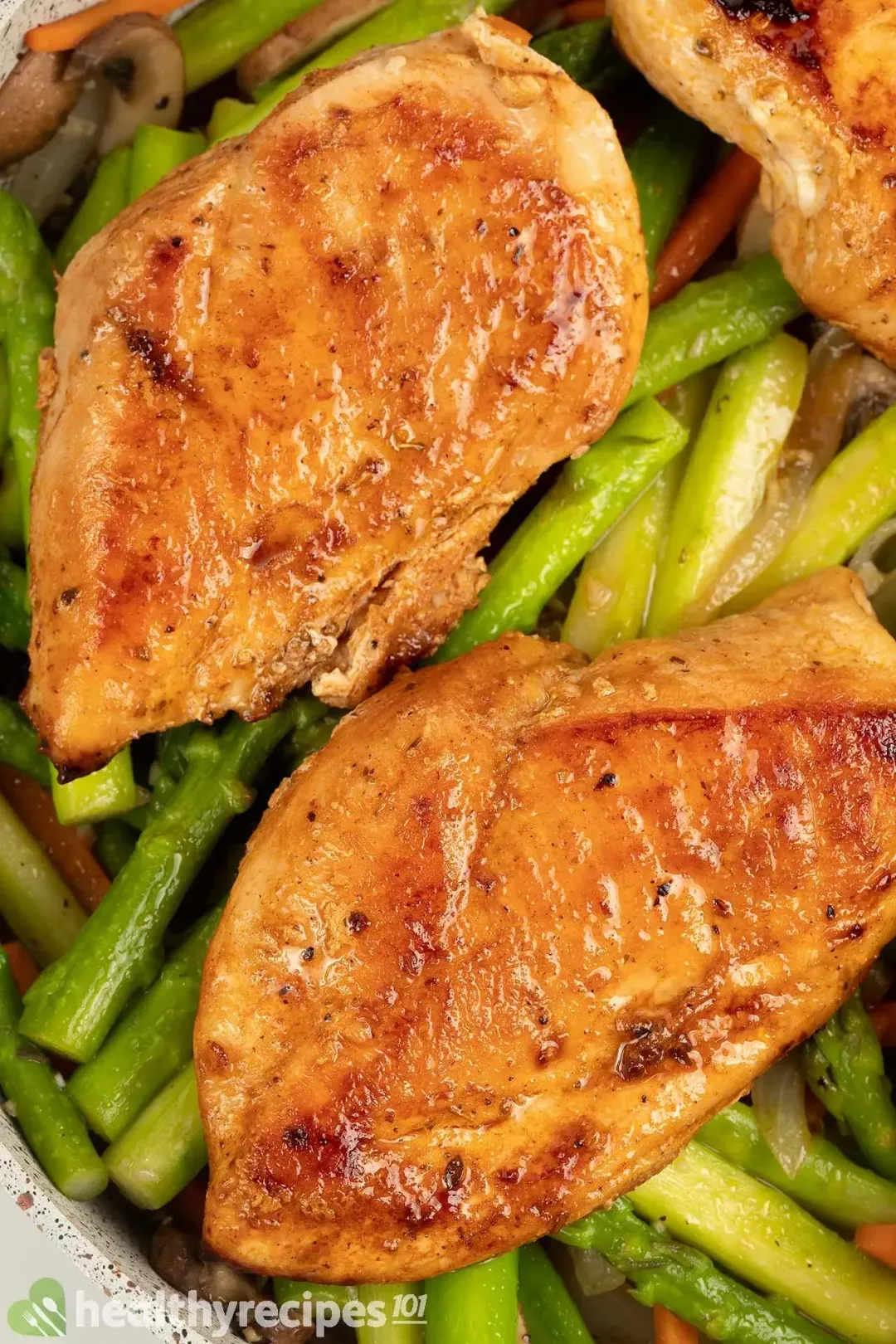 Next Recipe
Pan Seared Chicken Breast
Pan Seared Chicken Breast
Head Chef, Culinary Consultant
Tuyet Pham is an award-winning Saigonese chef who believes that joy is the secret ingredient to delicious food. At Healthy Recipes 101, Tuyet personally tests and simplifies every recipe, ensuring maximum flavor with minimal effort. With a background at prestigious French restaurants P'TI Saigon and Le Corto, Tuyet knows how to make every dish exceptional.
Writer, Author
Luna Regina is an accomplished writer and author who dedicates her career to empowering home cooks and making cooking effortless for everyone. She is the founder of HealthyKitchen101.com and HealthyRecipes101.com, where she works with her team to develop easy, nutritious recipes and help aspiring cooks choose the right kitchen appliances.
Nutrition Reviewer
Lizzie Streit is a Minneapolis-based dietitian and founder of It's a Veg World After All. She completed her MS in Human Nutrition from Drexel University, and is an expert in culinary nutrition, recipe development, and nutrition communications. Lizzie's philosophy is centered around making nutrition recommendations, and especially the advice to eat more vegetables, approachable and realistic. She is excited to be working with the team at Healthy Recipes 101 to ensure that their recipes are both nutritious and delicious.