If you're wondering how long to bake chicken, you're in the right place. Sometimes you can forget whether to cook chicken at 300°F or 400°F, and if chicken breast takes longer to cook than legs.
Or, you might wonder how long before chicken wings are ready to remove from the oven, and how to remember all this!
The following article aims to give quick answers to most of these questions. Keep in mind that cooking times vary depending on the size of the cut; the larger the chicken pieces, the longer the baking time.
How Long to Bake Chicken at 350, 400, 450 Degrees F
To help you set your cooking times, assume that these pieces are medium-sized— from 4 to 9 ounces. Reduce the time for smaller cuts and increase for larger ones.
Here's a summary of how long to bake chicken at various temperatures:
| | 300°F | 350°F | 375°F | 400°F | 425°F | 450°F |
| --- | --- | --- | --- | --- | --- | --- |
| Chicken Breast (8 oz) | 40 min | 30 min | 25-30 min | 25 min | 18-22 min | 15 min |
| Chicken Wings (5 oz) | 35 min | 30 min | 27-30 min | 27 min | 25-27 min | 25 min |
| Chicken Thighs (bone-in, 9 oz) | 45 min | 40 min | 35-39 min | 35 min | 31-33 min | 30 min |
| Chicken Legs (9 oz) | 50 min | 40 min | 35-40 min | 35 min | 20-25min | 20 min |
| Chicken Tenderloins (1.5 oz) | 15 min | 12 min | 10 min | 7 min | 6 min | 5 min |
The result is different for each cut, so keep the following in mind when you start your cook.
How Long to Bake Chicken Breast
Chicken breast is the most popular cut you can find, and takes 15-40 minutes to bake an 8-ounce breast.
It has low fat content, making it an excellent source of protein and a favorite for bodybuilders. Being low in fat, however, makes it the trickiest chicken cut to cook.
Don't overcook it, as it's more prone to drying than its counterparts. The last thing you want is to end up with chicken cuts that are like cardboard.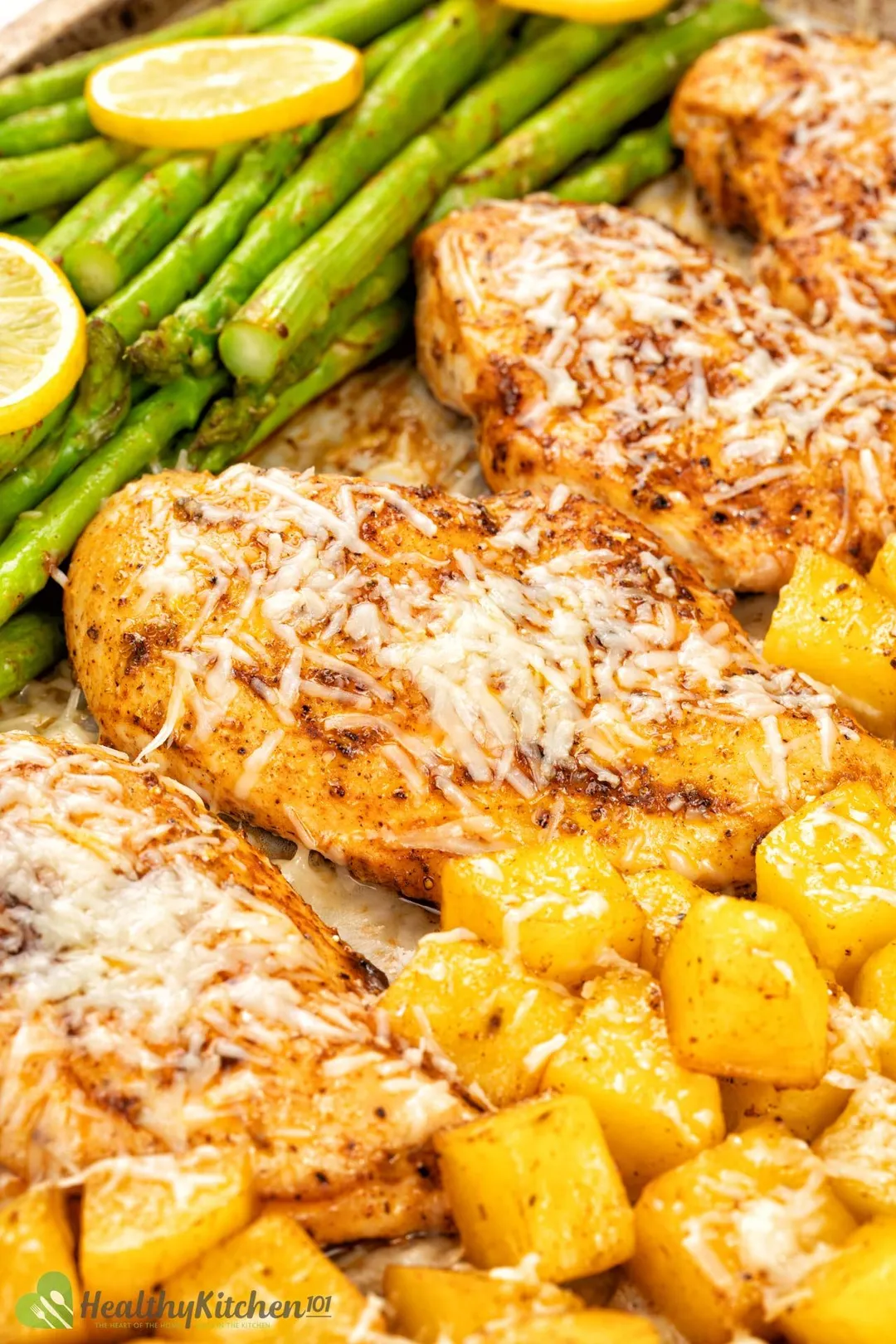 How Long to Bake Chicken Wings
Chicken wings LOVE to be cooked at high temperatures. But lower temperatures also help to render down their fat.
How to achieve the perfect cook? Start at a relatively low temperature, then crank it up at the end to give it that crispy finish.
A 5-ounce chicken wing takes 25-35 minutes to cook in the oven. You can increase the temperature during the last 5-7 minutes to help its texture crisp.
How Long to Bake Chicken Thighs
When it comes to baking chicken thighs, you'll find they're more forgiving than some cuts. Chicken thighs are tender and juicy.
They usually get away with a lenient cook of anywhere from 30-45 minutes for a 9-ounce cut.
The only downside— if you can call it that— is they have more fat than their counterparts. But the fat only makes the chicken tastier and juicier as it's released throughout the cook.
That said, remember that chicken thighs are a lean cut; if overcooked, they turn dry and lose that suppleness we all love.
How Long to Bake Chicken Legs
Chicken legs— along with the thighs and wings— are considered dark meat and tend to be juicier than other parts, like the breast. Bake 9-ounce chicken quarters for 20-50 minutes, depending on the temperature.
While doing so, keep them tender by letting their fat plump them up naturally, making them even more delicious!
How Long to Bake Chicken Tenderloins
Chicken tenderloins, also known as chicken tenders, are true to their name. They're a small cut found right between the chicken bone and breast.
They have a tender texture that's juicier than chicken breast if not overcooked. Simultaneously, their soft flesh makes chicken tenders a prime choice for making chicken fingers, strips, and fillets.
It takes 5-15 minutes to bake 1.5-ounce pieces while keeping them tender throughout the cook.
All that plump juiciness, however, comes with extra calories and fewer nutrients. But we bet you'll love it— everybody enjoys a hearty, dig-in meal, and chicken tenderloins are excellent for just that.
How Long to Bake a Whole Chicken
Baking a 2-pound chicken can seem daunting. But you'd be surprised how much easier it can be compared to chicken breasts (and those are easy-peasy themselves!).
A whole chicken takes 1-2 hours to bake at 425°F until the juices run clear when you cut through its flesh. After that, leave it to rest for about 10 minutes before serving.
What's the Best Way to Cook Chicken Breast in the Oven?
The most efficient way to master the chicken breast is to preserve its moisture using one piece of stationery— foil paper! That's right, covering the chicken cut will help you get a tender, irresistible chicken breast on the table within a few minutes.
The secret behind using foil paper is that it prevents moisture loss, keeping all the juices intact and guaranteeing a moist piece of chicken. Here's how you can achieve this:
Step 1: Preheat the oven and choose your best chicken seasonings. Set the oven temperature to 375°F, and mix a spice rub for the chicken breast.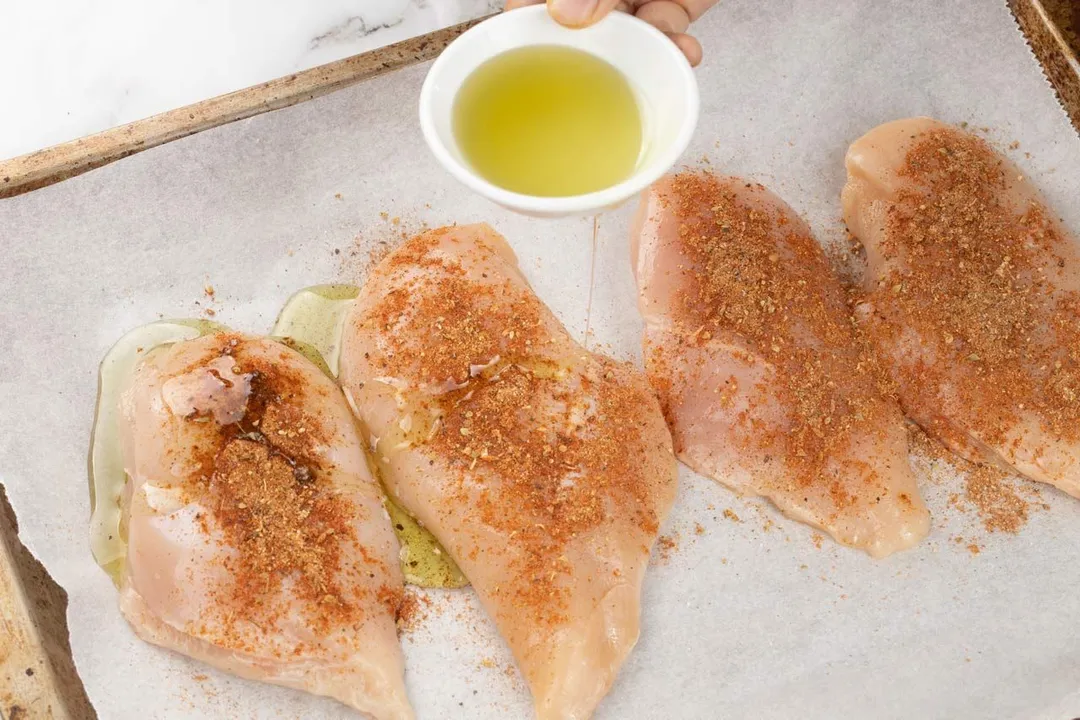 Step 2: Prepare the chicken. Coat the chicken with oil or butter and rub the spice mix onto the pieces evenly. Place the chicken breasts onto a piece of foil paper and bring the edges together to crimp them closed, leaving a bit of space to allow for heat expansion.
Step 3: Bake the chicken so it's juicy. Bake until it's cooked through, about 25 minutes, before removing it from the oven. Leave the chicken to rest for 5 minutes, then serve.
Healthy Oven-Baked Chicken Recipes
1. Chicken Shawarma
Chicken shawarma is one of our favorite Middle-Eastern cuisines. The chicken is typically marinated with traditional spices like turmeric and coriander, then cooked on a revolving spit.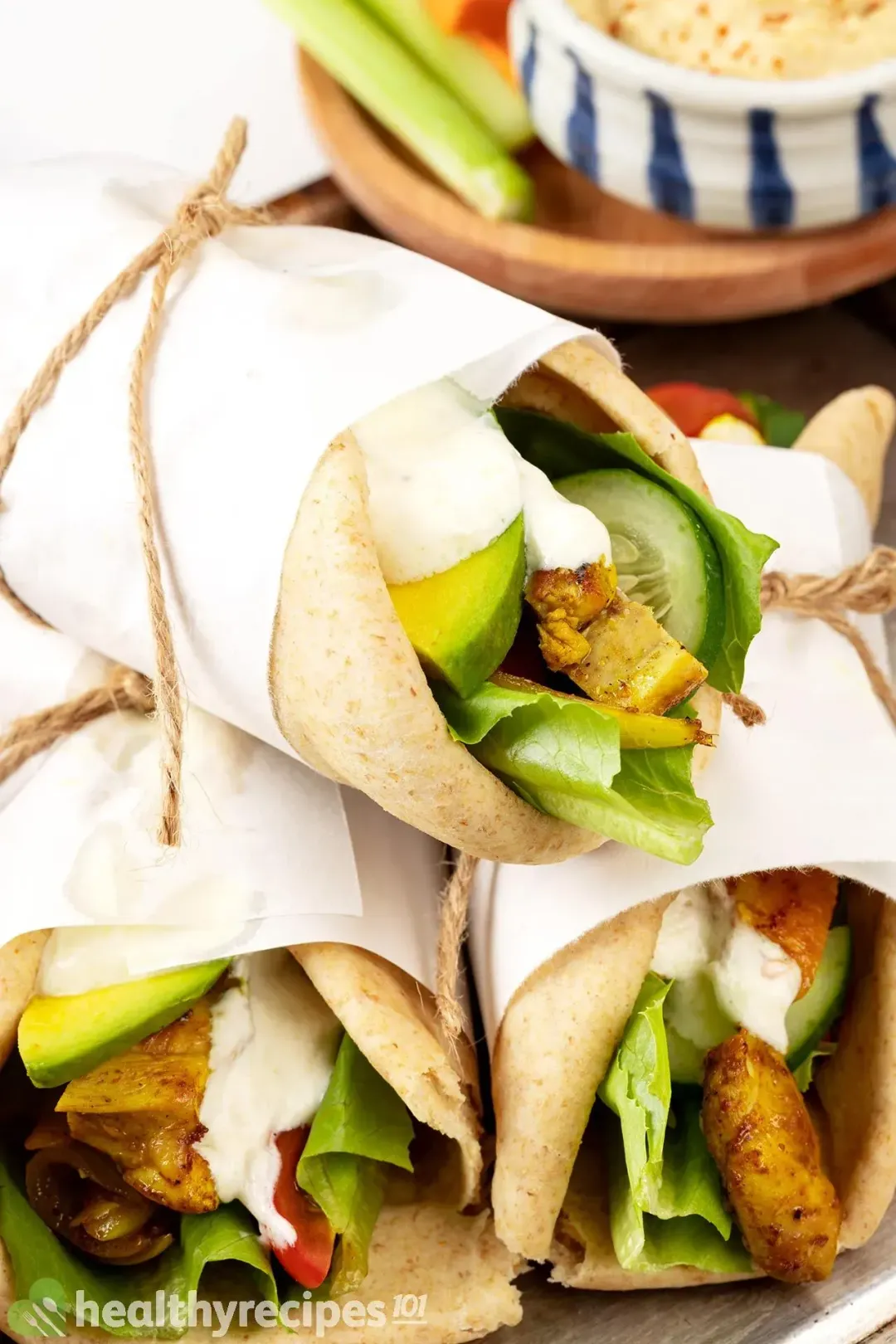 In this recipe, we simply marinate the chicken breast, quickly sear it, then bake it before serving with a slice of pita bread—yum!
2. Chicken and Rice Casserole
If a comfort dish is what you're looking for, here's where to find it. This chicken and rice casserole dish is excellent for digging into without much cooking effort.
It's even better when you can make batches to freeze for later. Try it!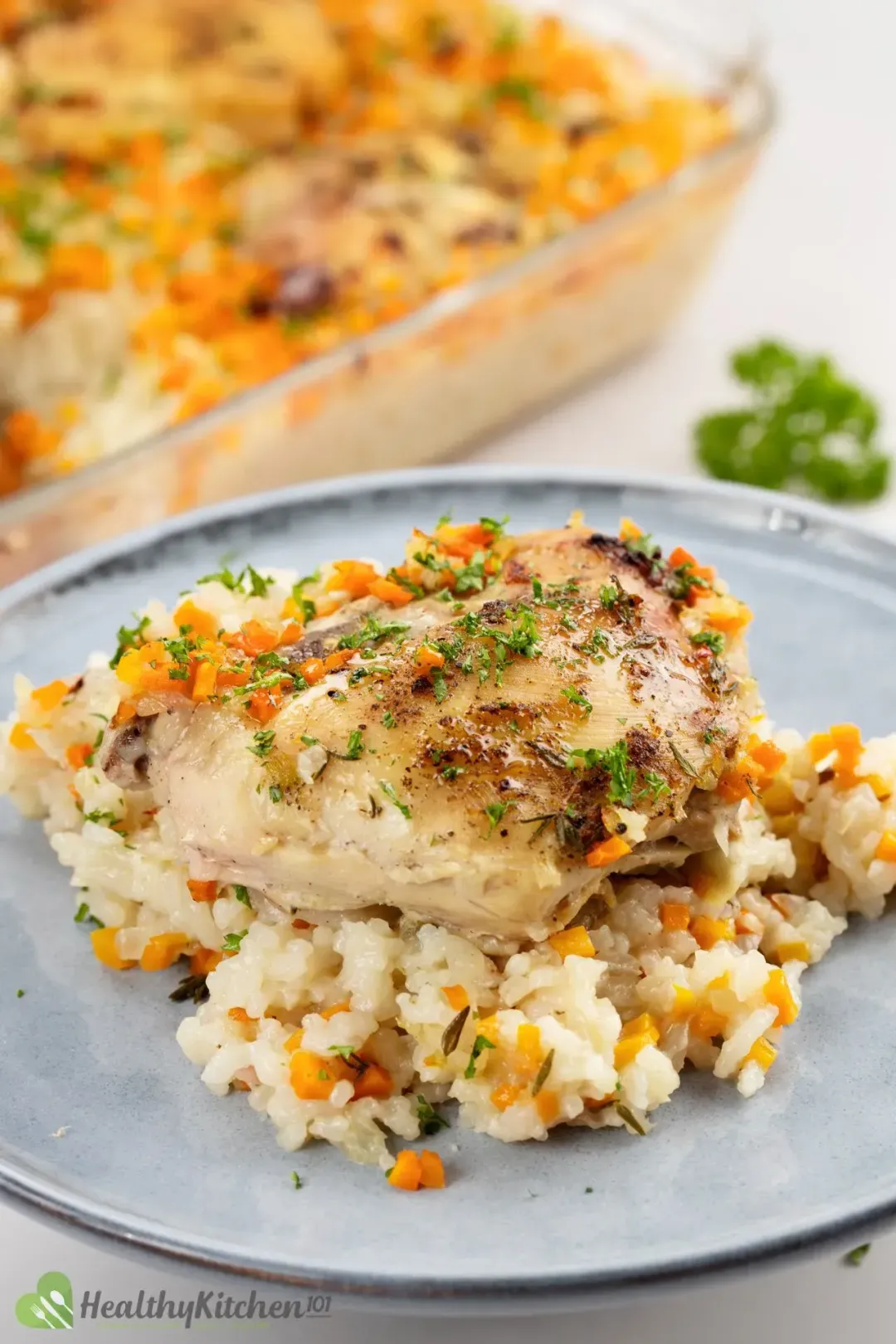 3. Healthy Baked Chicken Breast
Calling for simple ingredients you can find at any local grocery store, this oven-baked chicken breast is a breeze to prepare. Not to mention, you can serve it in just 30 minutes.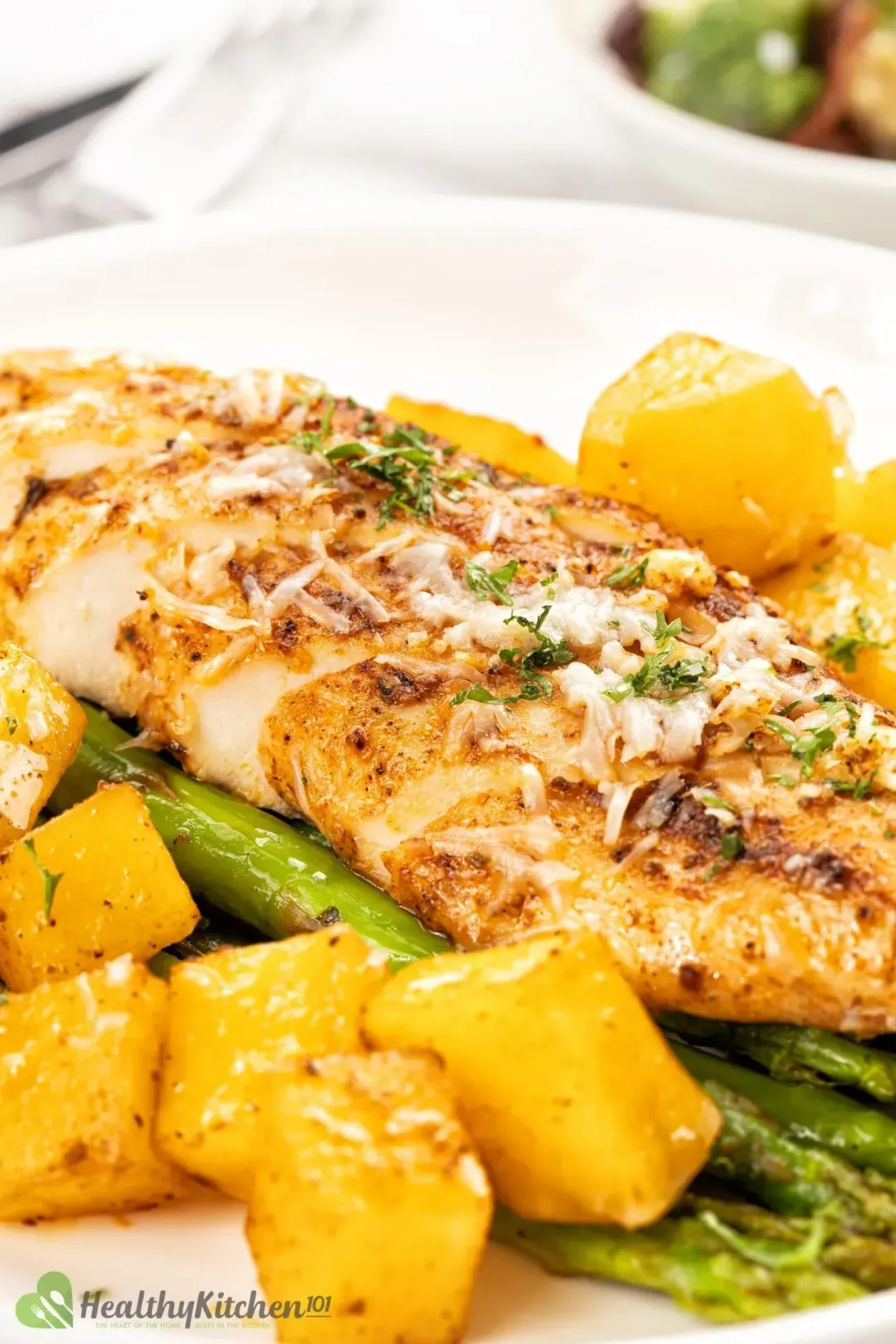 4. Spinach Stuffed Chicken Breast
Clean and healthy come easily with this spinach stuffed chicken breast recipe. Plus, it's low-carb, with only 1.3 grams of carbs!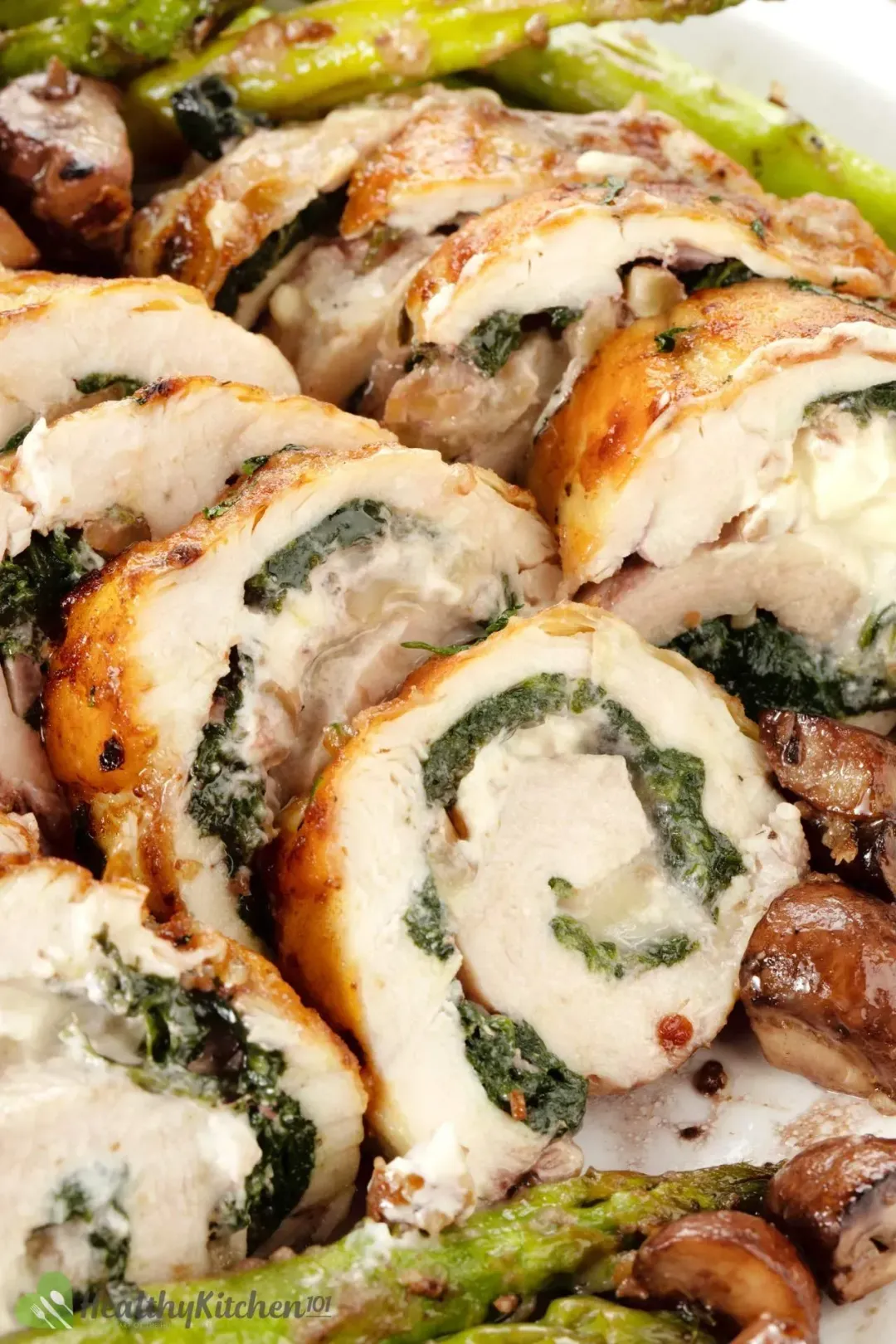 5. Chicken Enchiladas
You can upgrade from restaurant chicken enchiladas to this cozy, homemade version. It's jam-packed with tender chicken strips dying to be relished.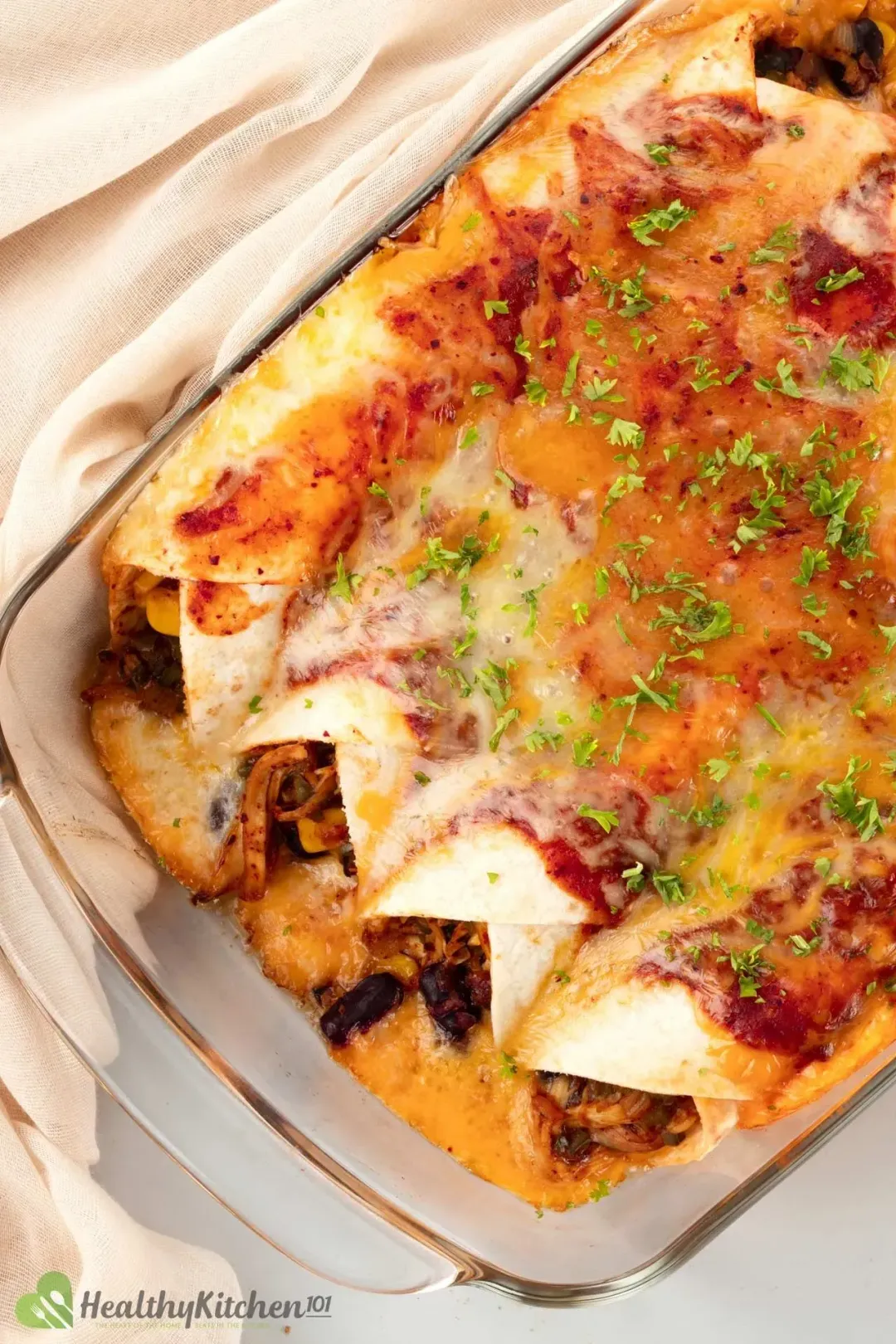 6. Chicken Pot Pie
The winning combination of shredded chicken and mixed vegetables makes this chicken pot pie a family favorite. To top it off, the flaky pie crust effortlessly melts in your mouth, adding a layer of deliciousness to this experience.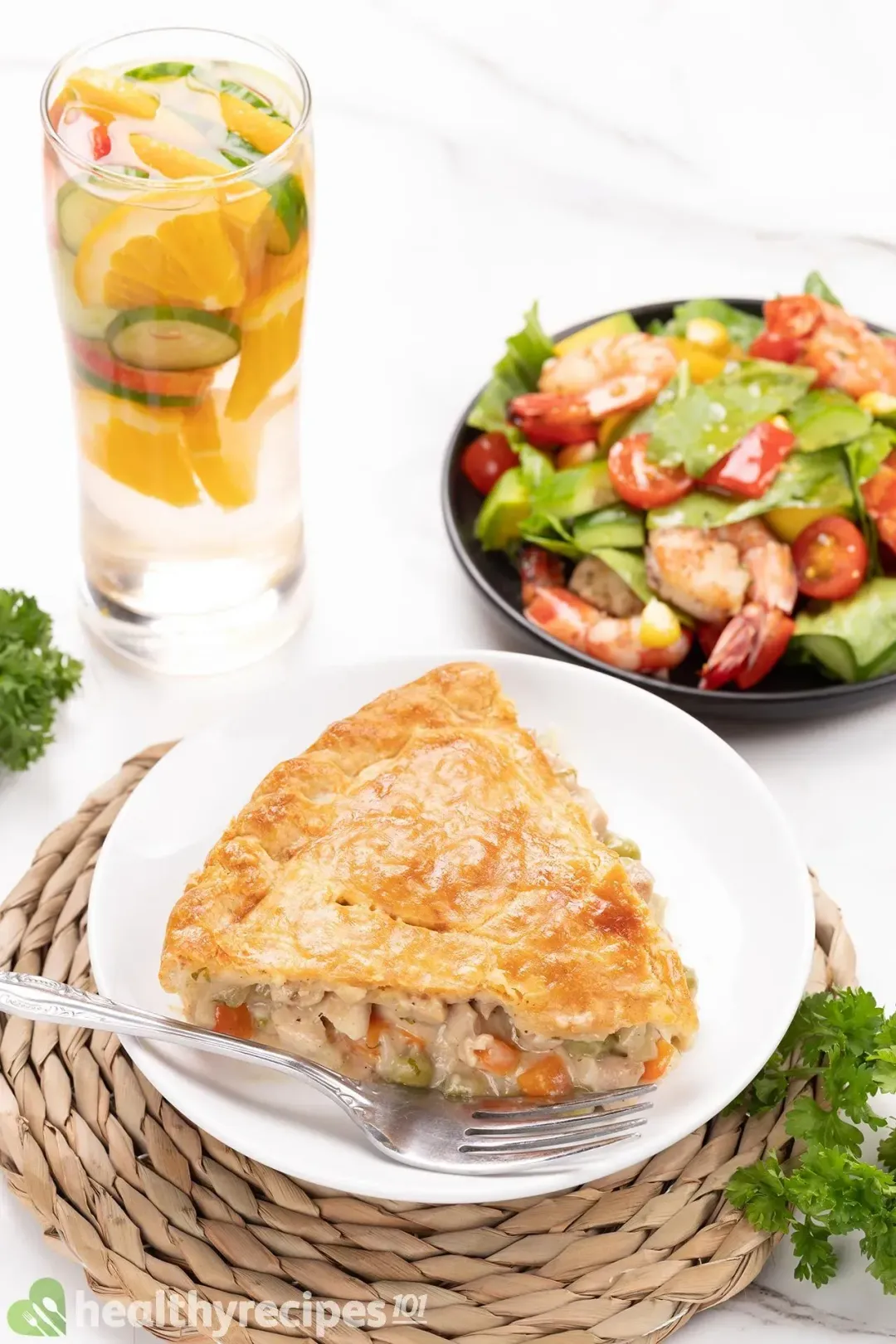 How Long Does Cooked Chicken Last in the Fridge?
Cooked chicken can last for 3-4 days in the fridge. Just store it in an airtight container after it has cooled to room temperature.
When you're ready to consume it again, make sure it's still edible before reheating and serving.
You can even cook chicken in batches and store them in the freezer for up to 3 months! It makes everything much easier for weekly meal preps or for storing leftovers.
There are many other precautions you can take to store chicken (and meat in general) safely. The most important thing to remember is to use an airtight, freezer-safe container or Ziploc bag.
Also, ensure you avoid exposing the chicken to warm temperatures until you're ready to consume it, which brings us to the following section.
How to Defrost Chicken
There are a couple of ways to defrost chicken.
The first is to remove it from the freezer and place it in the refrigerator for roughly 24 hours. It takes almost a day to thaw completely; from there, you can reheat or cook it.
The great part about this is, as long as it's in the fridge, the chicken will not reach above 40°F, where bacteria rapidly grows.
Other ways to defrost chicken include placing it in cold water or using a microwave. This is more efficient with raw than cooked chicken.
Defrosting with cold water takes about 1-3 hours, but be sure to swap out the water every 30 minutes. With a microwave, it takes only 10 minutes tops.
However, it depends on the microwave power setting; the higher the wattage, the shorter the time. The most important thing to keep in mind with a microwave is that you must cook the chicken immediately after defrosting, as it will already be at a very low temperature.
How Can You Tell If Chicken Is Bad?
You don't have to be a professional chef to tell when your piece of chicken leg has gone bad. The signs stand out so much you can smell them a mile away.
When chicken goes bad, it stinks like rotten eggs.
You can pick up the strong smell easily with one whiff. This is usually due to spoilage, where bacteria rapidly grows, triggering a series of unfavorable conditions.
Some of these affect the appearance and feel of the chicken.
Spoiled chicken may start to take on a dull color: if raw, it turns from pink to pale. If cooked, it changes from white to gray.
This is accompanied by a slimy texture that you can rinse off— that is, if you plan on eating it! We, however, advise against this, as it may cause you to get sick.
How Long to Marinate Chicken
Marinating is a foolproof way to flavor chicken. We love that it's an easy way to pack your meat with explosive tastes.
It can take from 1-24 hours to marinate chicken. The longer you leave it, the better— it gives the meat more time to soak up those delicious flavors.
The best part is, you can leave it marinating overnight or while you go to work. By the time you return, it's ready to put straight into the oven.
It's possible to over-marinate meat, though, so don't go overboard with it. If you leave it for too long (longer than 24 hours), it may cause the protein to break down, leading to a mushy texture.
This may not always be the case, however. So, make sure you check the chicken before cooking to make sure it's still intact.
To discover other delicious chicken dishes, check out our collection of 50+ healthy chicken recipes. We promise they're just as easy to follow!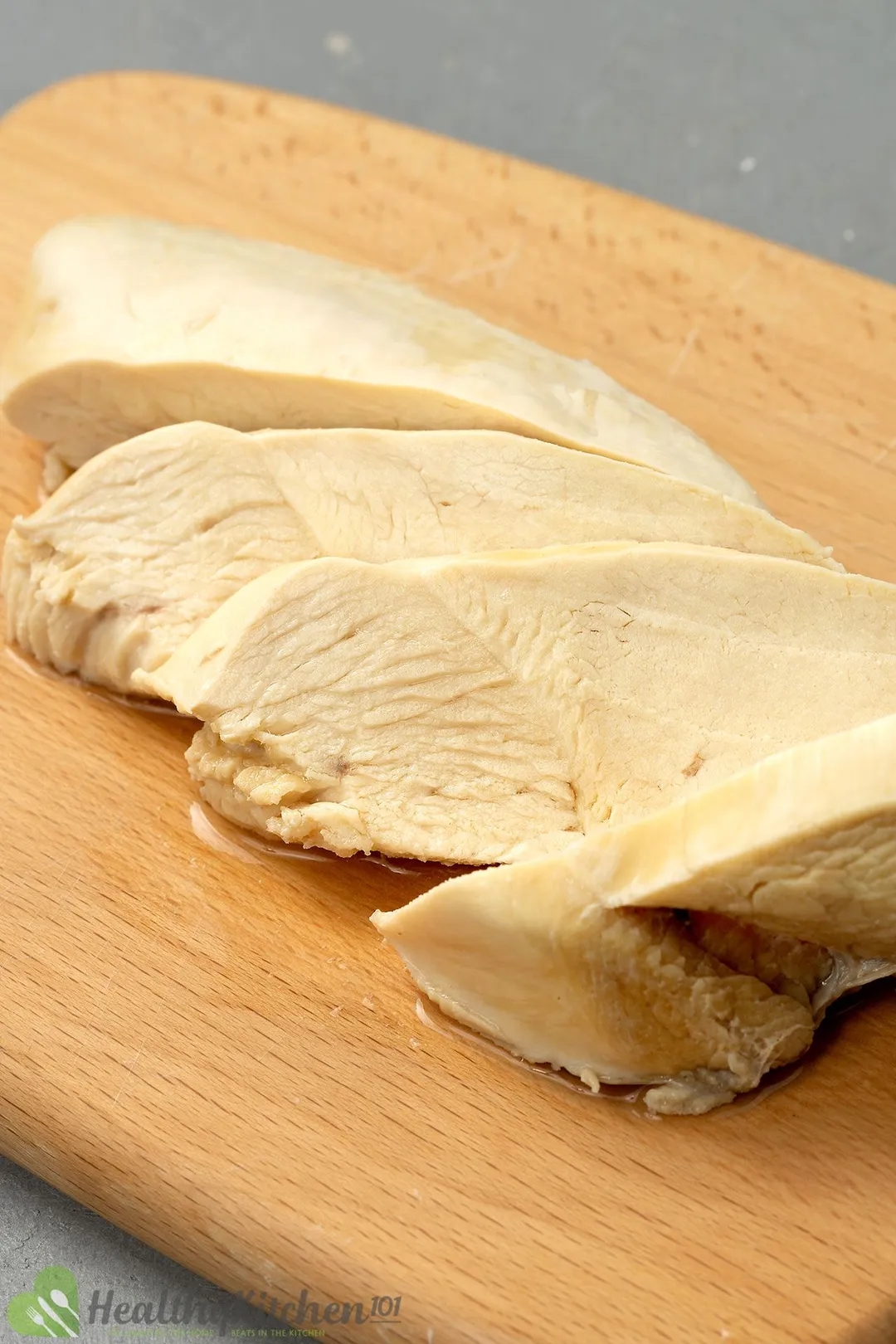 Previous Recipe
How Long to Boil Chicken
How Long to Boil Chicken
Writer, SEO Specialist
Neola Muhambi is a food and travel writer and SEO outreach specialist. Her African heritage and travels across various countries in Asia have given her a keen appreciation for cultural diversity and a sensitivity to the unique characteristics of various cuisines. Her experiences also sharpened her communication skills, which are helpful in her tasks to establish organic connections among websites.
Head Chef, Culinary Consultant
Tuyet Pham is an award-winning Saigonese chef who believes that joy is the secret ingredient to delicious food. At Healthy Recipes 101, Tuyet personally tests and simplifies every recipe, ensuring maximum flavor with minimal effort. With a background at prestigious French restaurants P'TI Saigon and Le Corto, Tuyet knows how to make every dish exceptional.
Writer, Author
Luna Regina is an accomplished writer and author who dedicates her career to empowering home cooks and making cooking effortless for everyone. She is the founder of HealthyKitchen101.com and HealthyRecipes101.com, where she works with her team to develop easy, nutritious recipes and help aspiring cooks choose the right kitchen appliances.
Comments/ Reviews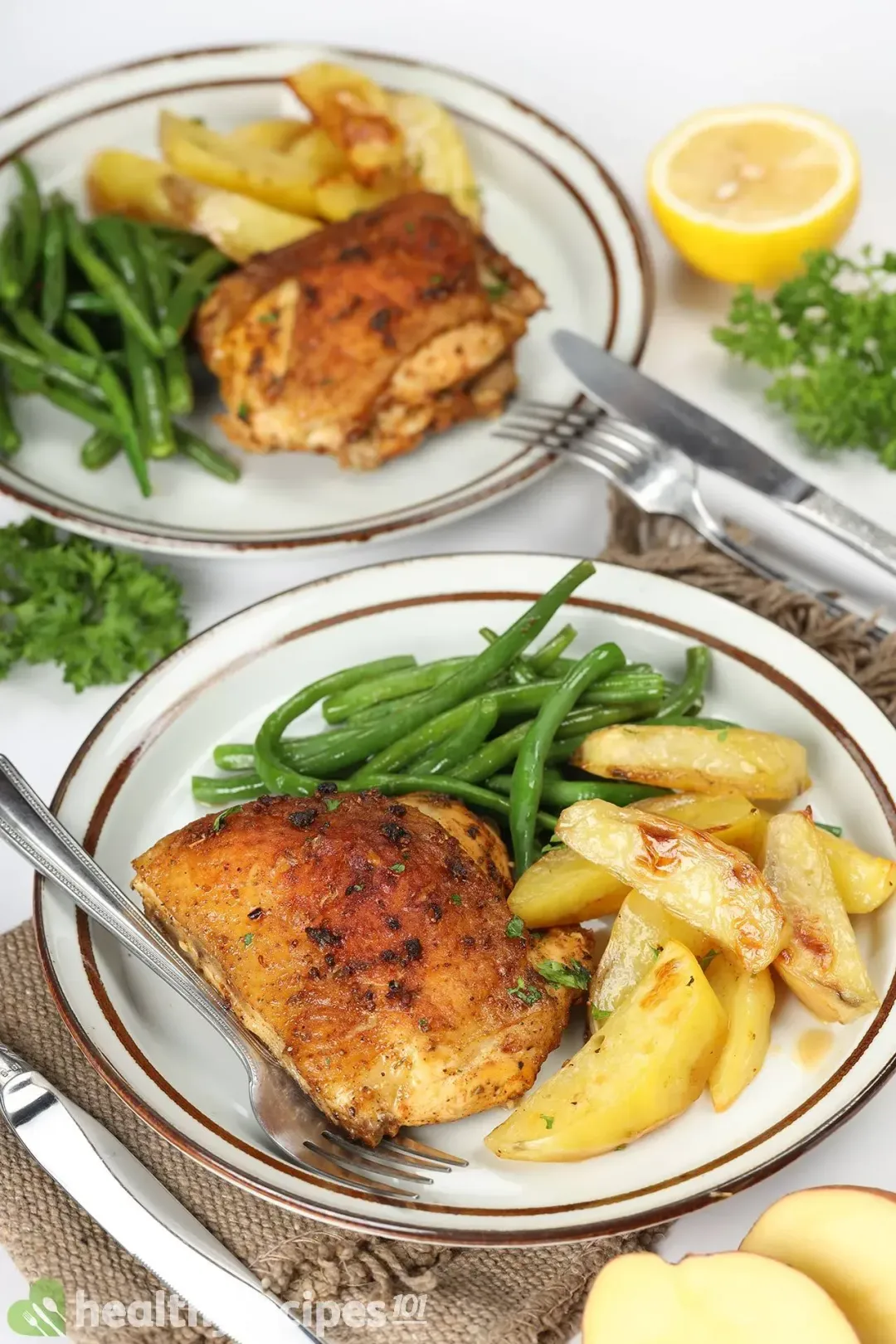 I just cooked chicken following the instructions, and it came out perfectly juicy and tender! This tips article is a great source for anyone wanting to learn how to cook chicken correctly.