What could be better than celebrating National Meatball Day (March 9) with a classic childhood favorite – Spaghetti and meatballs. In today's recipe, pasta and air-fried meatballs are tossed in homemade tomato sauce.
It's healthy and tasty. So, why not dive in and try our recipe for a trip down memory lane.
Is Spaghetti and Meatballs Healthy?
Absolutely. Our spaghetti and meatballs dish is jam-packed with nutrients, keeping your energy levels up for the whole day.
In our recipe, ground beef, which is a great source of complete protein, is one of the main ingredients. Beef is also rich in vitamins, including E, K, B-complex, and minerals such as phosphorus and potassium.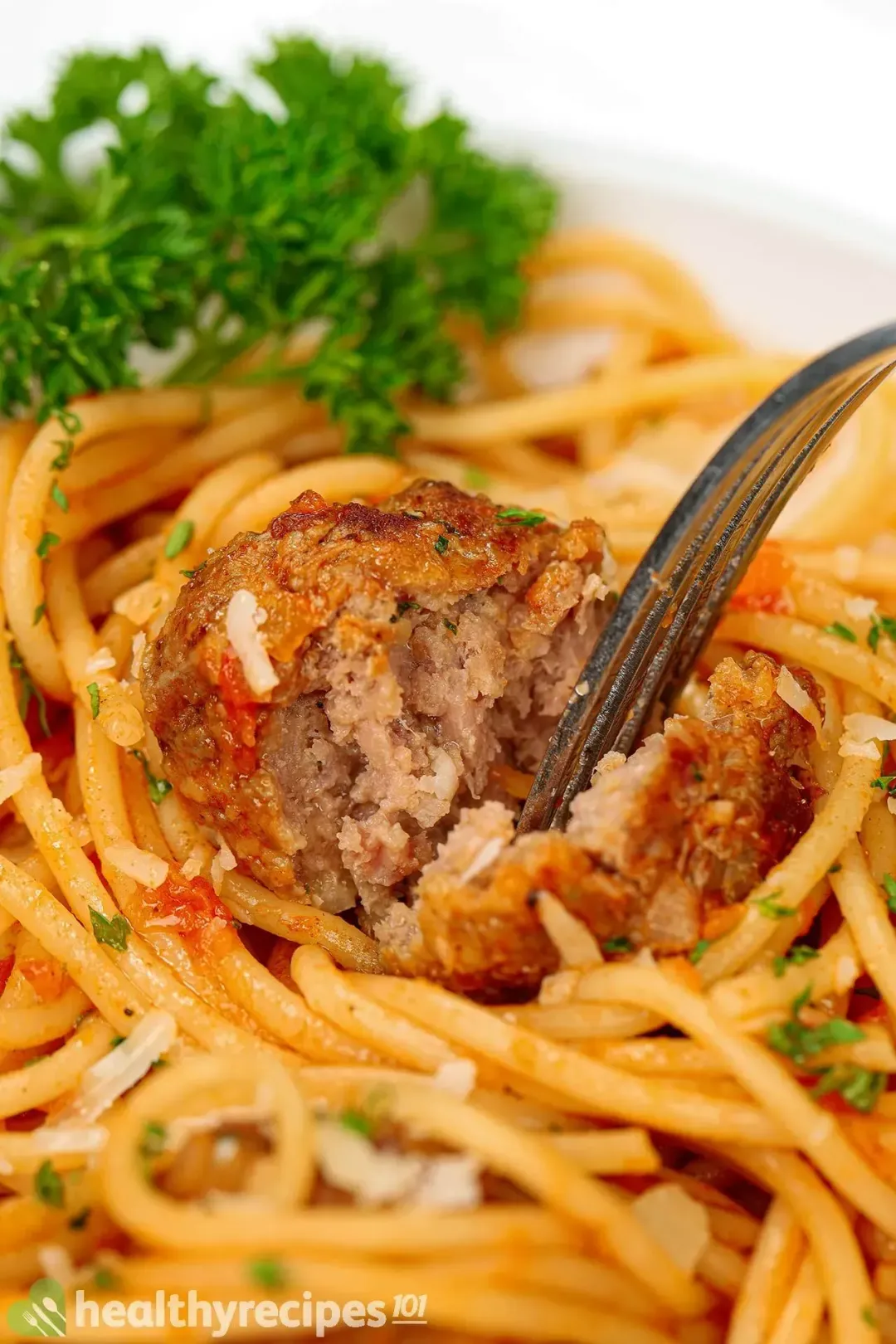 Our chefs use homemade tomato sauce for both flavor and nutrients. Lycopene found in fresh tomatoes is a powerful antioxidant. It helps our body fight against free radicals and prevent chronic diseases. 
Although this spaghetti and meatballs dish takes up 502 calories, it's still reasonable for a main course. Moreover, the amount of sodium and saturated fat are also kept within healthy limits, at 560.8 mg and 25.8 g, respectively.
Now, let's move on to our ingredient list.
Ingredients You'll Need
The required ingredients, if not already in your kitchen, are easy to find in your local grocery stores. Despite being basic, the main ingredients bring character to your dinner table once they are combined with herbs and spices.
Pasta: In this recipe, our chefs opt for spaghetti as it's not only easy to cook but also performs well with any sauces on top.
Ground beef: We call for the 85% lean option to deliver a healthier dish for you. Compared to regular ground beef, the beef used in our recipe contains less fat yet it remains succulent after being cooked. However, the beef shouldn't go leaner than that, or else the sauce may taste less flavorful.
Breadcrumbs: Breadcrumbs are a great bonding ingredient for our meatballs. They maintain the shape of meatballs perfectly without changing the flavor.
Egg: Together with breadcrumbs, the egg will support the texture and enhance the juiciness of our meatballs.
Cheese: Cheese is mixed with ground beef to add an extra layer of richness.
Garlic:Garlic is an essential ingredient to bring an inviting fragrance to our spaghetti. It needs to be cooked until the smell hits, about 30 seconds.
Herbs: The combination of oregano, parsley, and paprika awakens our senses with its distinct aroma.
Seasoning: A pinch of salt and pepper will balance out the flavor of our sauce. The final dish shouldn't be too sharp, but umami and slightly savory.
Homemade tomato sauce: One of the secrets to a healthier version of spaghetti and meatballs is homemade tomato sauce. Store-bought sauce may taste too artificial, while a homemade one possesses a natural flavor.
We prepare a tomato sauce recipe to make your cooking journey less bumpy and more enjoyable.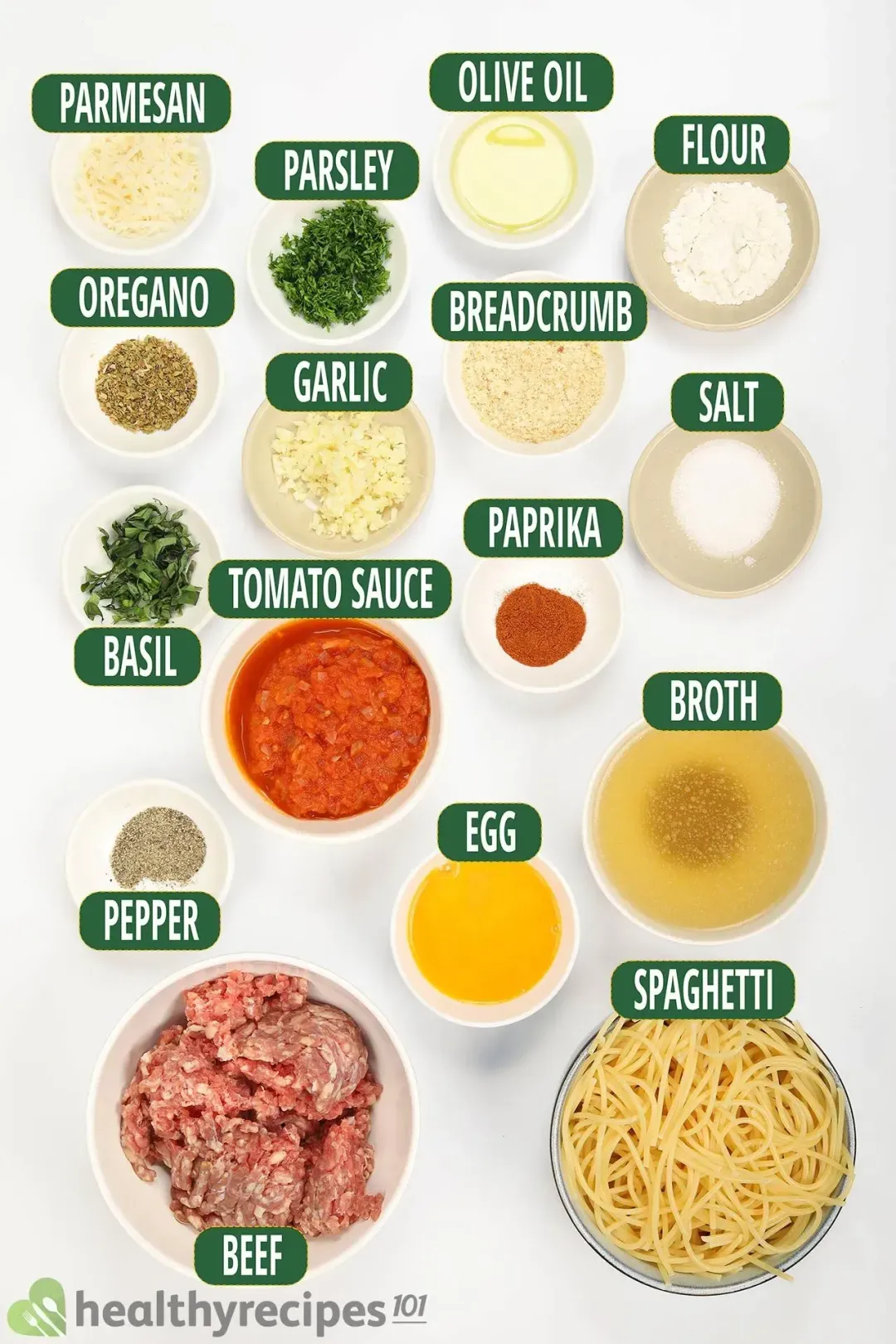 How to Cook the Perfect Pasta
Should you rinse pasta?
The answer: It depends.
For a chilled dish like chicken pasta salad, running pasta under the faucet actually helps prevent stickiness when tossed. Once rinsed, the starchy outer coat will be removed. Hence, we don't have to worry about the pasta clumping up with other ingredients.
For your spaghetti and meatballs recipe, you shouldn't rinse the pasta after cooking it. We want to preserve the lingering film for a thick sauce consistency. Moreover, the spaghetti tends to be coated more evenly without an extra rinsing step.
How to Store and Reheat Leftovers
1. To store
For convenience, we suggest dividing the leftovers into airtight containers, labeling, and dating them. If stored properly, leftover spaghetti and meatballs can last for 3 to 4 days in the fridge.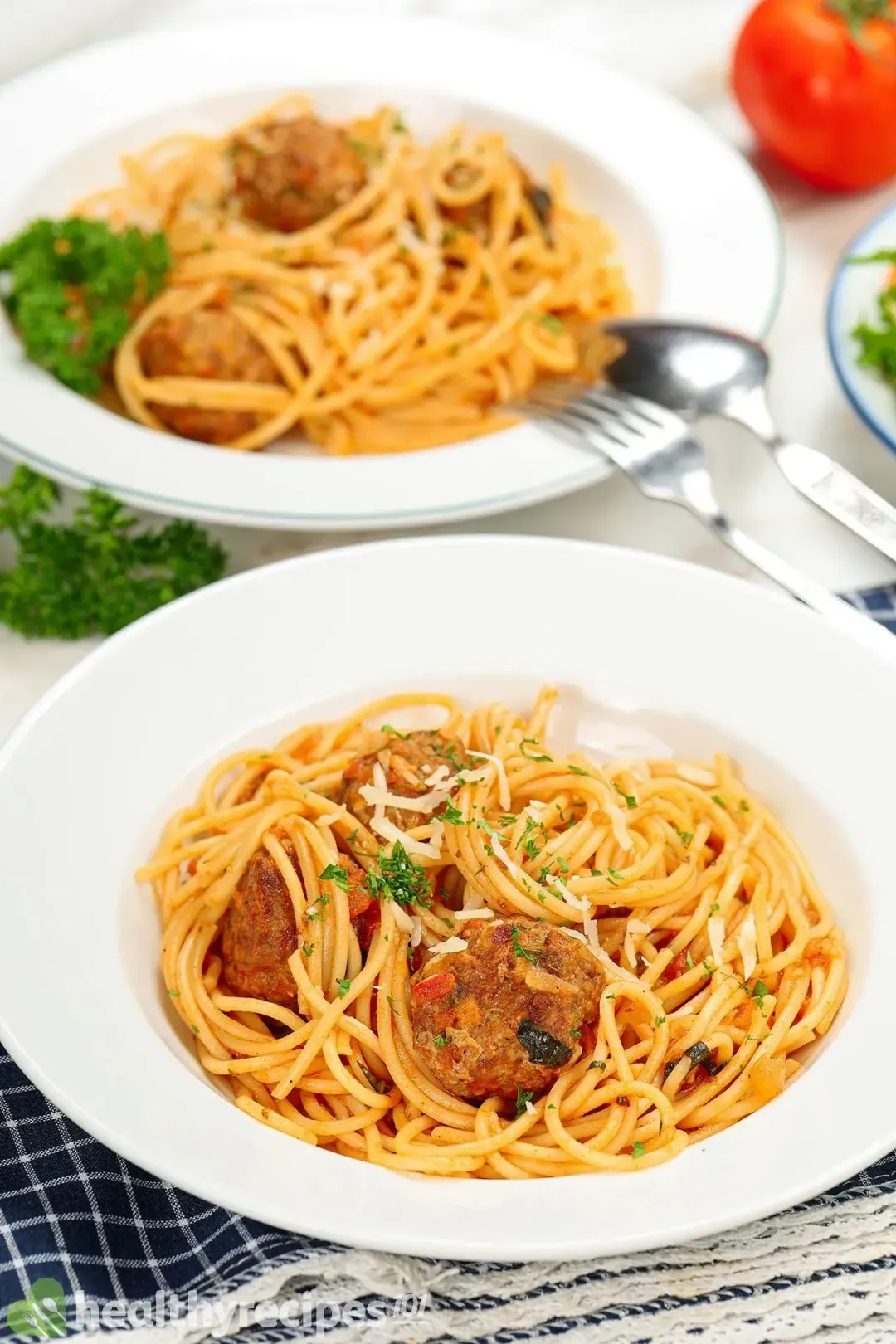 2. Can You Freeze Spaghetti and Meatballs?
The answer is yes.
Unlike cream sauce pasta, frozen tomato-based spaghetti still tastes divine after being thawed and reheated. Keep the leftovers in freezer bags for zero red stains on your containers and up to 6 months in the freezer.
However, we strongly suggest you finish them long before this time is up since the quality deteriorates over time.
3. To reheat
If your leftovers have just been in the fridge for a day or two, you can reheat them in a microwave or skillet.
Microwave: Put the pasta and meatballs on a microwave-safe dish and cover the top with a pierced microwave-safe plastic wrap. Microwave for 2 minutes and the dish is ready to serve.
Skillet: On a medium heat skillet, add a bit of olive oil or water. Stir in your leftover pasta, cover the lid, and cook until it is heated through.
If the pasta dish is frozen, you should let it thaw for 3-4 hours in the fridge beforehand, if not overnight.
What to Serve With Spaghetti and Meatballs
If you want more vitamins in your diet to start off your day, we recommend two recipes to pair with your spaghetti and meatballs:
Kale Salad: A big bowl of kale salad is like a colorful painting for your palate: A green canvas made of kale, with color contrasts from fruits, nuts, and cheese. All ingredients together create a snappy appetizer that is hard to resist!
Fresh Lime Juice: The acidity of freshly squeezed lime juice will be a nutritious punch for your diet.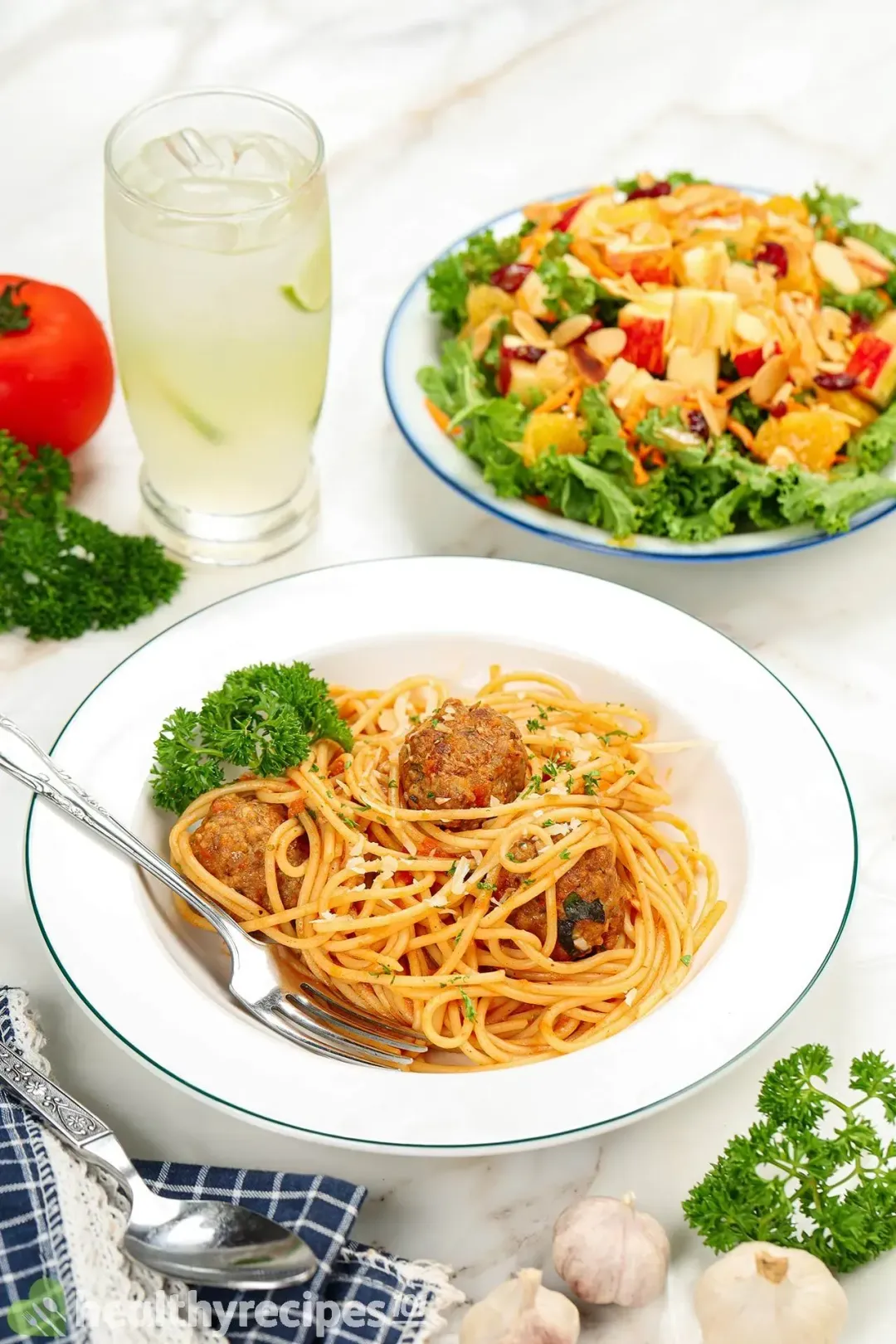 Impress Your Guests with These Gourmet Beef and Pasta Recipes
Chili Spaghetti is a unique twist on traditional spaghetti that combines the flavors of chili with pasta. This recipe from Healthy Recipes 101 features ground beef cooked in a spicy tomato sauce, served over spaghetti noodles and topped with cheddar cheese.
This unique pasta dish combines the sweetness of butternut squash with the savory flavors of ground beef and herbs. The sauce is made with pureed roasted squash, beef broth, garlic, and seasonings like sage and thyme. Toss with your favorite pasta for a delicious fall-inspired meal.
Craving some comfort food? Our roundup of beefy pasta dishes is sure to hit the spot.
How to Make Spaghetti and Meatballs
Today's 30-minute spaghetti and meatballs recipe will satisfy your spaghetti cravings to the fullest.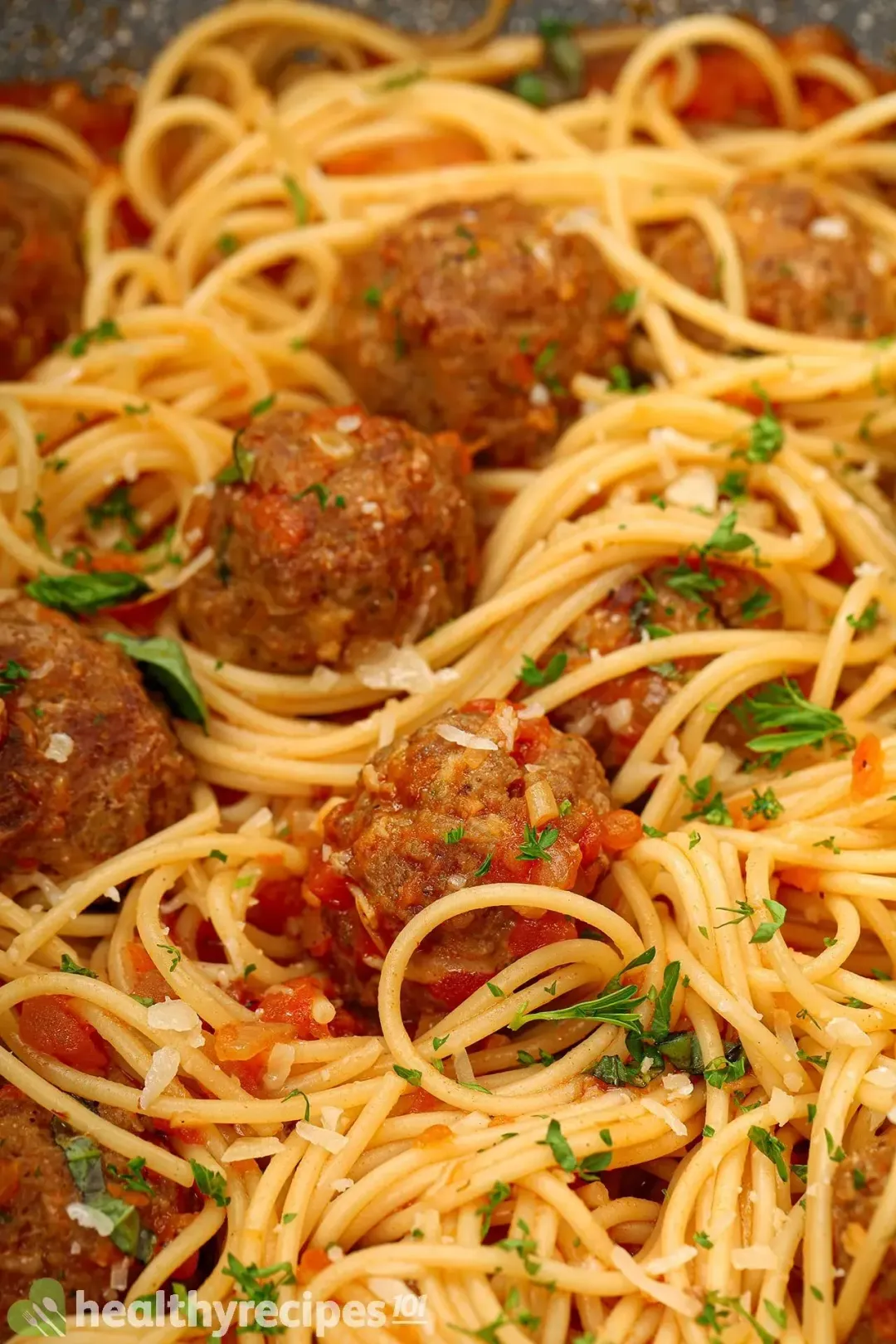 cook TIME

20 mins

prep TIME

10 mins

total TIME

30 mins
COURSE

Main Course

CUISINE

American, Italian

SERVINGS

CALORIES

502 kcal
INGREDIENTS
10 oz

85% lean ground beef

1 cup

unsalted chicken broth

1 cup

homemade tomato sauce

0.25 oz

grated Parmesan cheese

1/4 cup

plain panko breadcrumbs
INSTRUCTIONS
1
In a big bowl, add 10 oz 85% lean ground beef, 1 medium egg, 0.125 oz grated Parmesan cheese, 1/2 tbsp all-purpose flour, 1/4 cup plain panko breadcrumbs, 1 tbsp minced garlic, 1/4 tsp salt, 1 tbsp chopped parsley, 1/4 tsp pepper, and 1 tsp chopped oregano. Mix well.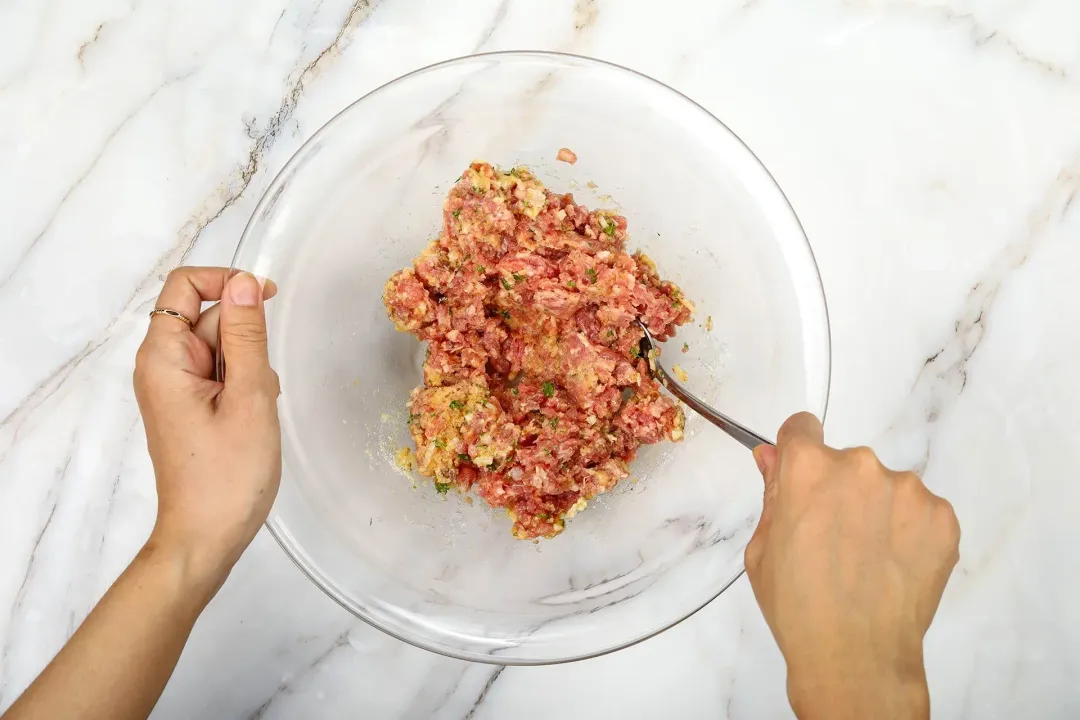 2
Divide the meat mixture evenly, using a tablespoon (optional). Shape into meatballs.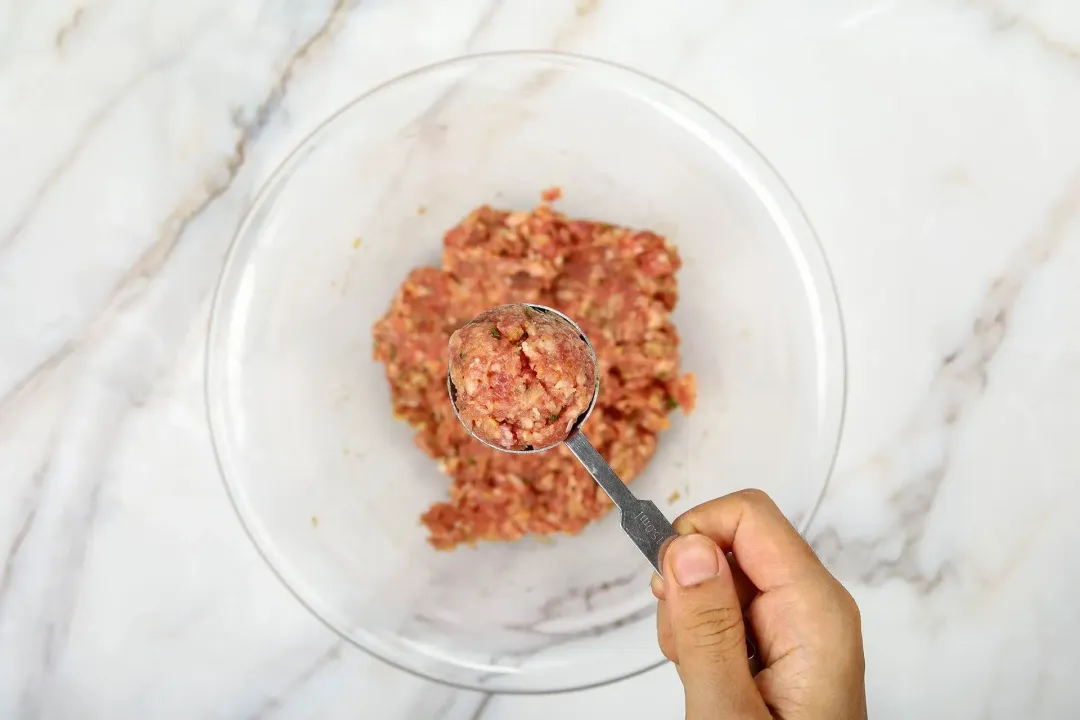 3
In an air fryer, cook the meatballs at 401°F for 10 minutes.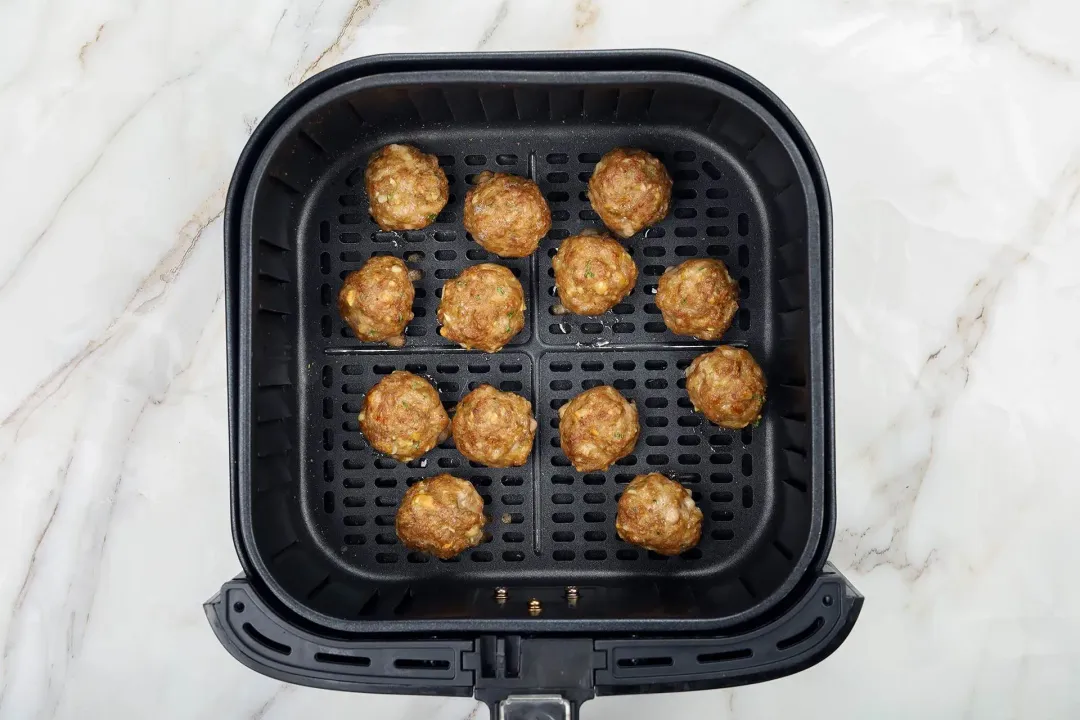 4
On a medium heat pan, add 2 tbsp olive oil and 1 tbsp minced garlic. Sauté until the garlic is fragrant, about 30 seconds.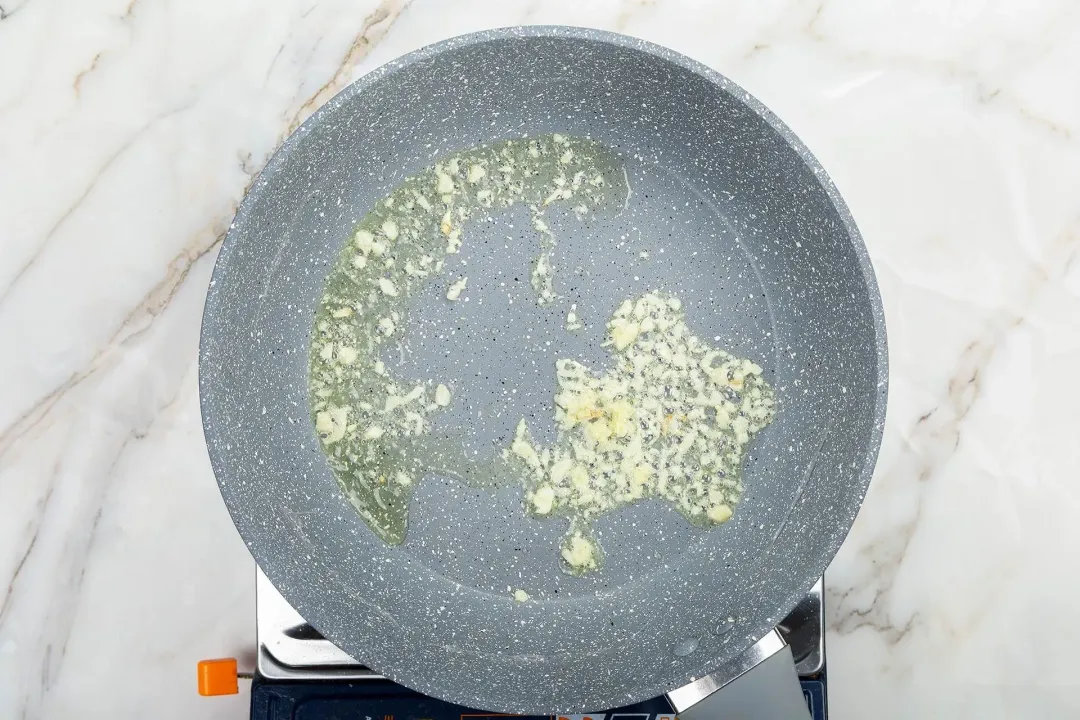 5
In the same pan, add 1 cup homemade tomato sauce, 1/2 tsp salt, 1/4 tsp pepper, 1/2 tbsp flour, and 1 tsp paprika. Stir well for 30 seconds.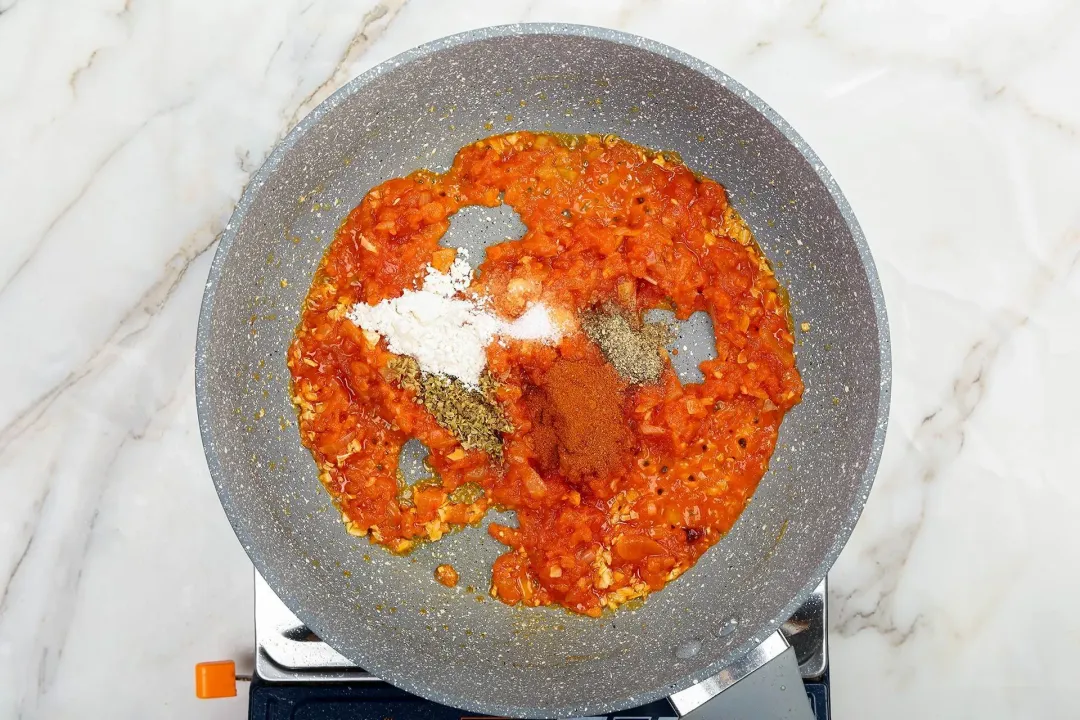 6
Stir in 1 cup unsalted chicken broth. Next, add air-fried meatballs to the pan. Mix well. Let them simmer for another 2 minutes.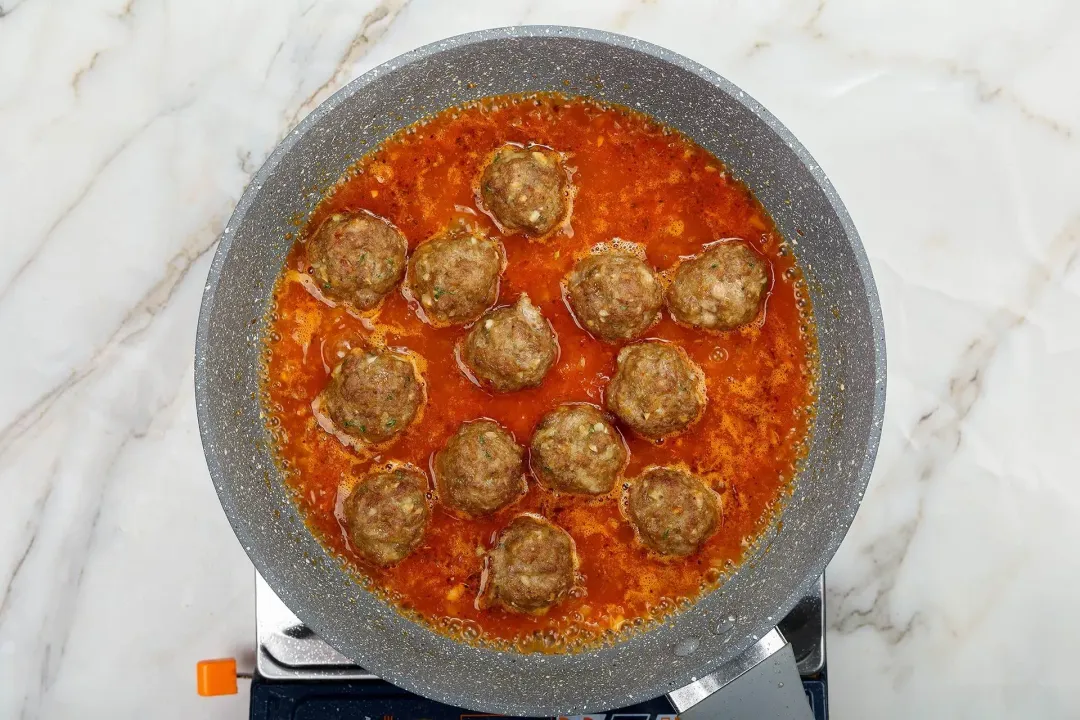 7
Add 14 oz cooked spaghetti, 1 tsp chopped basil, and toss for1 minute until everything is evenly coated in the tomato sauce.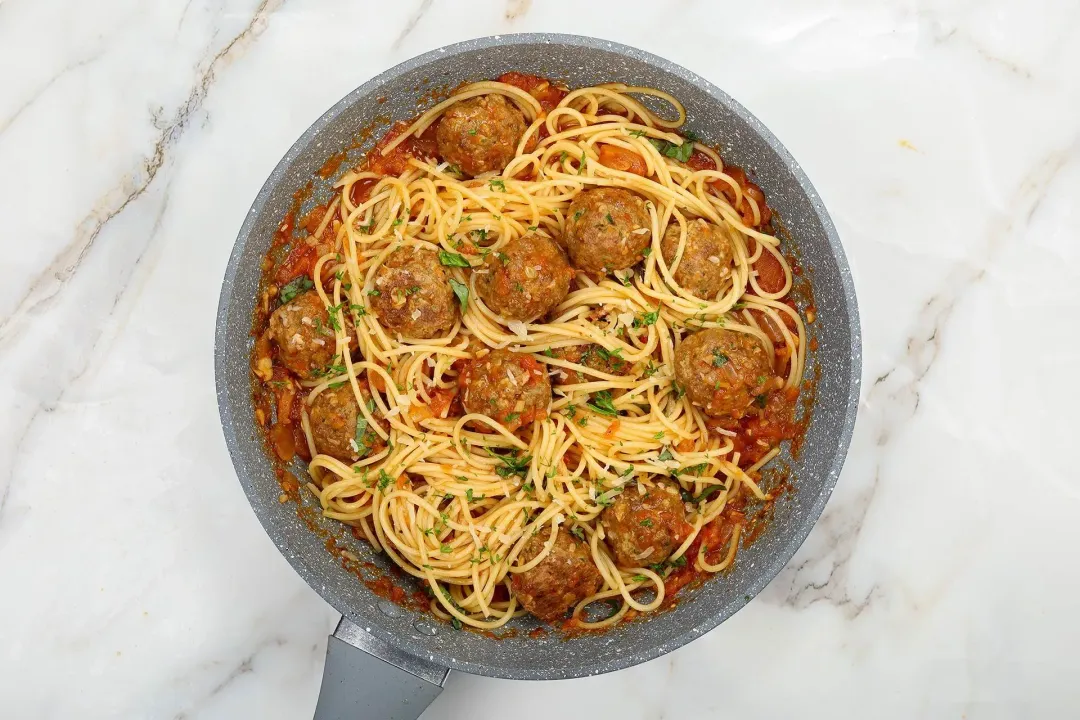 8
Remove the pan from heat. Garnish with the remaining 0.125 oz grated Parmesan cheese and 1 tbsp chopped parsley. Enjoy.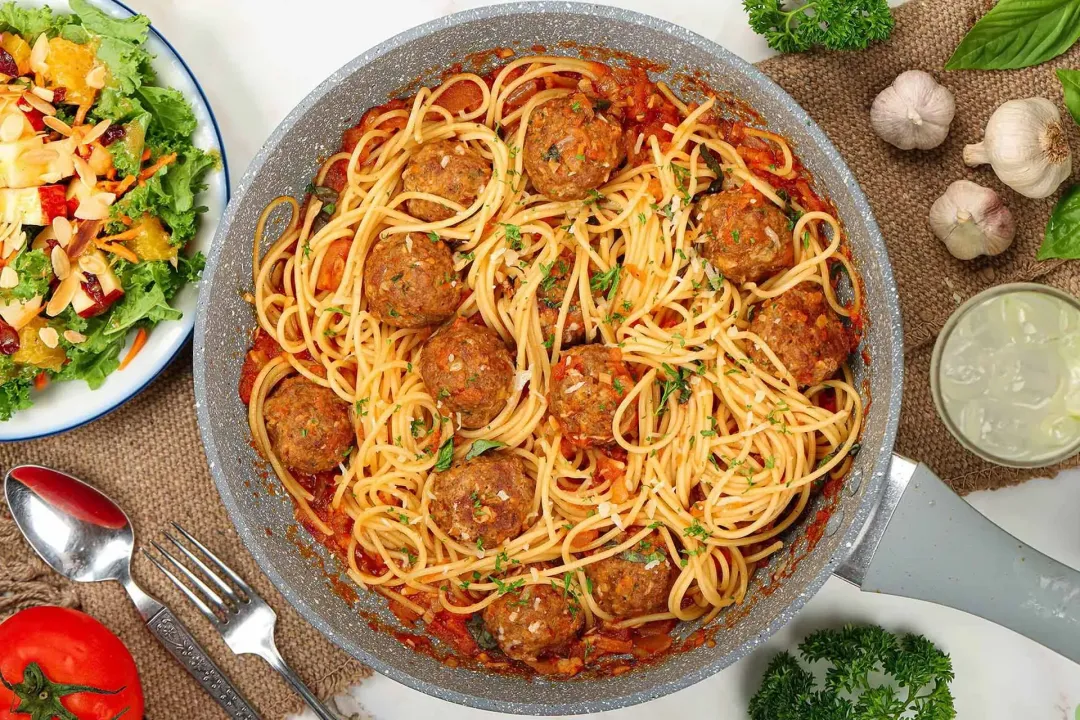 NUTRITION
Nutrition Facts
How to Make Spaghetti and Meatballs
Amount Per Serving (1 serving)
Calories 502
Calories from Fat 234
% Daily Value*
* Percent Daily Values are based on a 2000 calorie diet.
Keywords: how to make spaghetti and meatballs, spaghetti and meatballs, spaghetti and meatballs recipe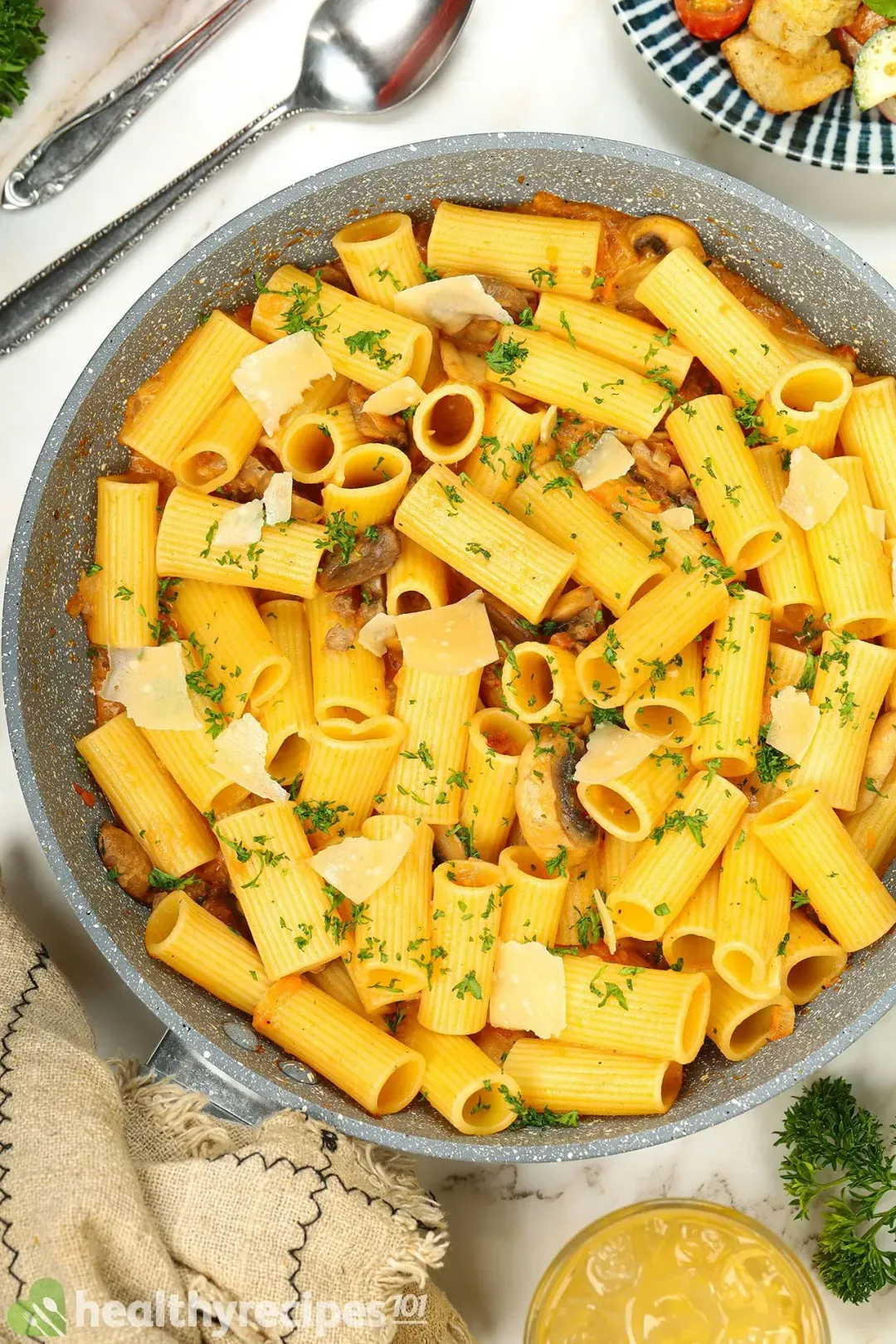 Previous Recipe
Creamy Tomato Rigatoni Pasta
Creamy Tomato Rigatoni Pasta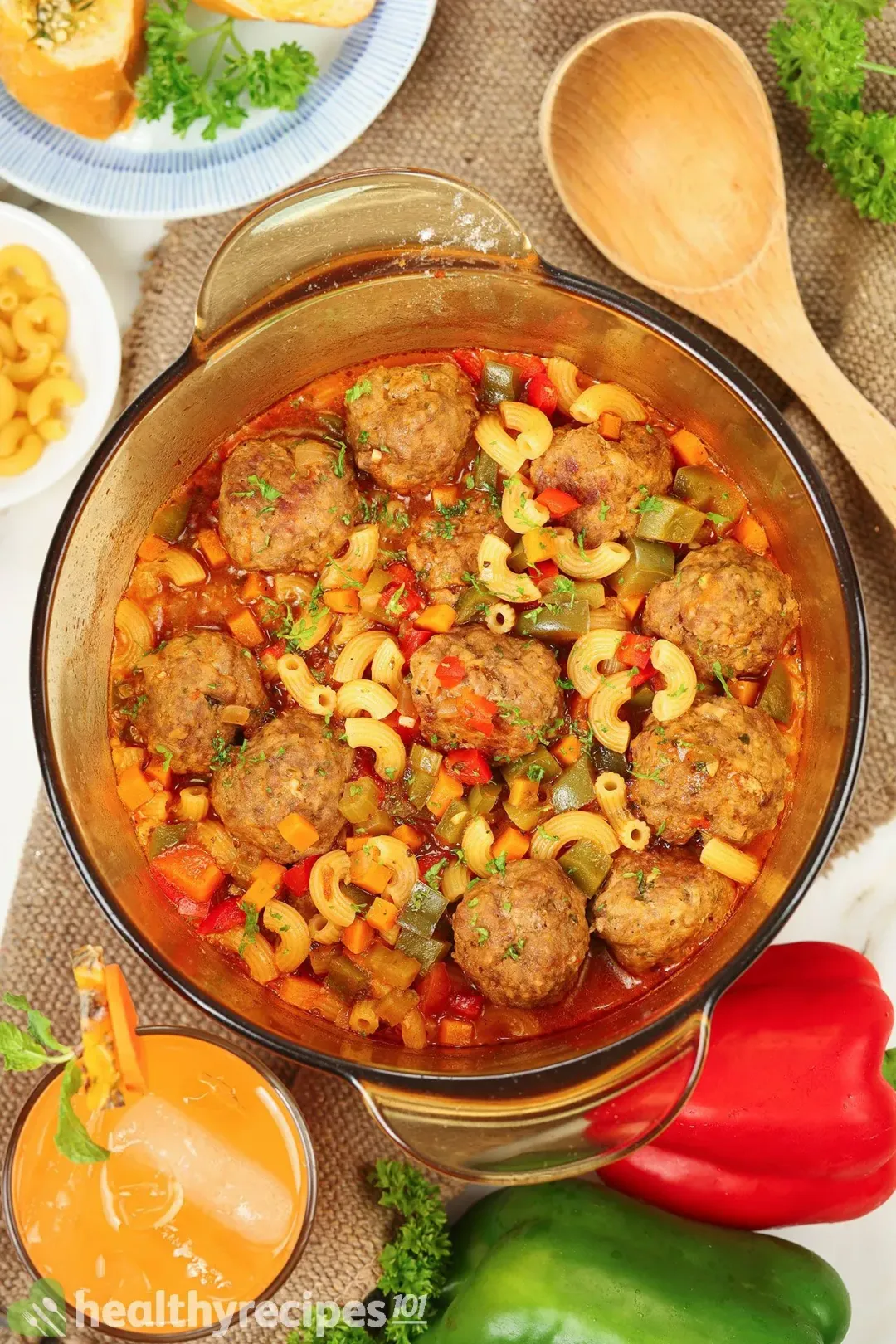 Meatball Soup
Head Chef, Culinary Consultant
Tuyet Pham is an award-winning Saigonese chef who believes that joy is the secret ingredient to delicious food. At Healthy Recipes 101, Tuyet personally tests and simplifies every recipe, ensuring maximum flavor with minimal effort. With a background at prestigious French restaurants P'TI Saigon and Le Corto, Tuyet knows how to make every dish exceptional.
Writer, Author
Luna Regina is an accomplished writer and author who dedicates her career to empowering home cooks and making cooking effortless for everyone. She is the founder of HealthyKitchen101.com and HealthyRecipes101.com, where she works with her team to develop easy, nutritious recipes and help aspiring cooks choose the right kitchen appliances.
Nutrition Reviewer
Natalie Butler is a registered dietitian nutritionist with a passion to help others live their best life through food, fitness, safer beauty and a healthy lifestyle. She has expertise with a variety of diets and diseases and believes that there is no one-size-fits-all approach for health.
A classic dish that is easy to make and full of flavor.

Spaghetti meatballs are a classic comfort food that's easy to make and always delicious.