Tacos became a widely known street food phenomenon thanks to their versatility and simplicity. Our chickpea tacos recipe embraces those traits to make a fun, easy, and tasty meal.
This recipe shines the spotlight on canned chickpeas, a convenient and delicious ingredient. We elevate them to main ingredient status by pairing them with tomatoes, red onions, and mashed avocados.
Reasons to Love Chickpea Tacos
Chickpea tacos are incredibly easy to put together. As the remaining ingredients are served fresh, you will only need to sauté the chickpeas and toast the corn tortillas. This recipe is a great opportunity for new home cooks to practice their knife skills and make a beautiful dish along the way.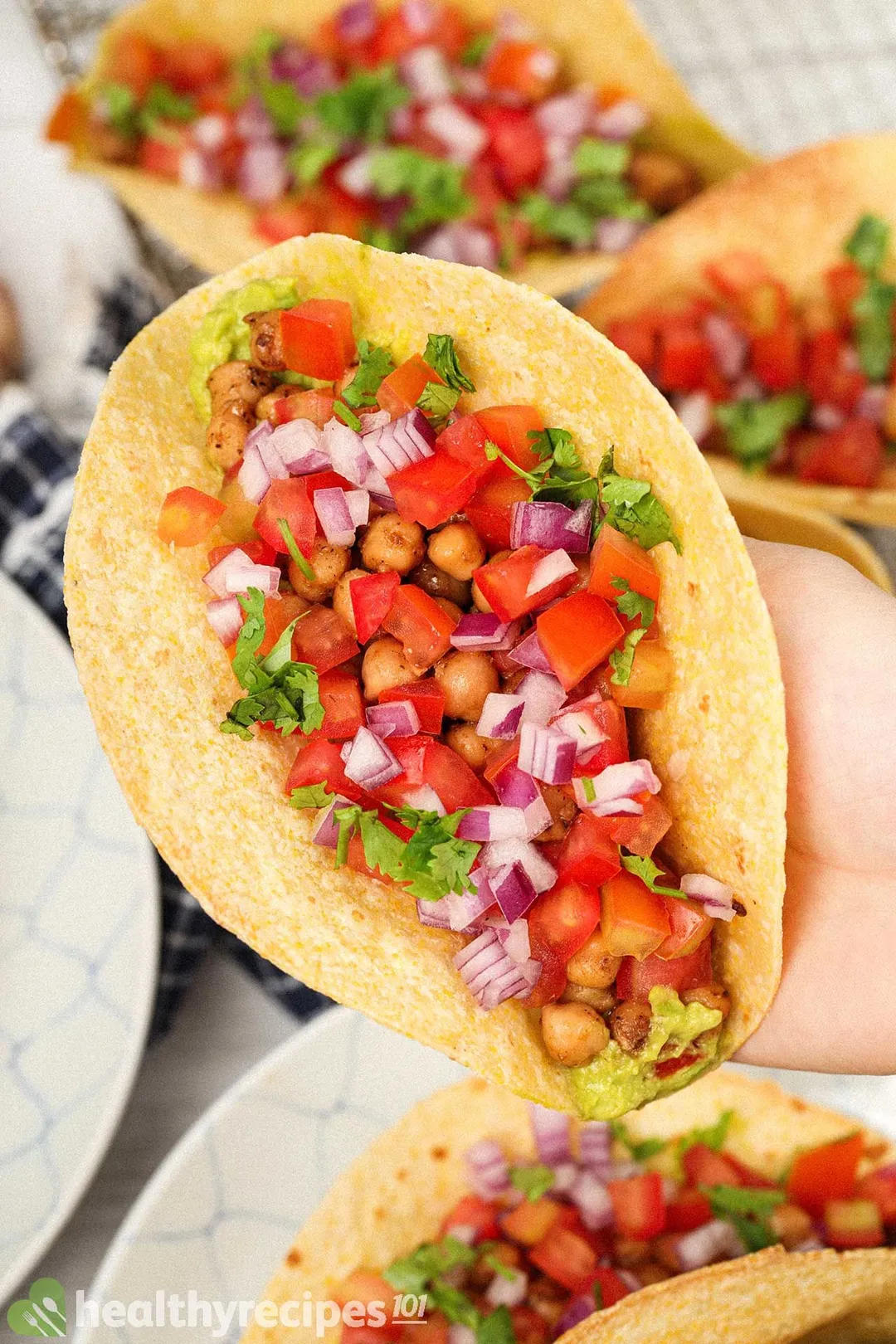 The best news is you can multitask with this recipe. While the tortillas are in the oven, you can get to sautéeing the chickpeas and preparing the other ingredients. On busy days, these chickpea tacos are a lifesaver.
Much like our Ground Beef Taco, Steak Taco, and Blackened Salmon Taco, each bite of these tacos will let you experience a harmonious barrage of different flavors and textures. Their versatility is also a plus. You can have these tacos for breakfast, brunch, lunch, or dinner, or serve them to your house guests.
And lastly, these chickpea tacos are perfect for a healthy diet.
Is Chickpea Tacos Healthy?
Each serving has two tacos, which add up to 471 calories, enough for a fulfilling main course.
We use a moderate amount of oil and seasonings to keep the level of saturated fat and sodium within the limits of our nutrition guidelines. They come out at 6.1 g and 416 mg per serving, respectively.
Chickpeas prove themselves to be a decent source of protein, adding 9.7 g to each serving. Aside from protein, it also contains dietary fiber, minerals, and vitamins.
Other ingredients in these tacos also provide you with valuable nutrients. Avocado, tomatoes, and red onions are all rich sources of minerals and antioxidants, especially vitamins C and K.
Ingredients for Chickpea Tacos
1. Taco shells
We opt for hard shell tacos for this recipe. Toasting the corn tortillas will make them crispier and bring out their signature corn flavor. All you need to do is slightly fold the tortillas and toast them in the oven or stovetop.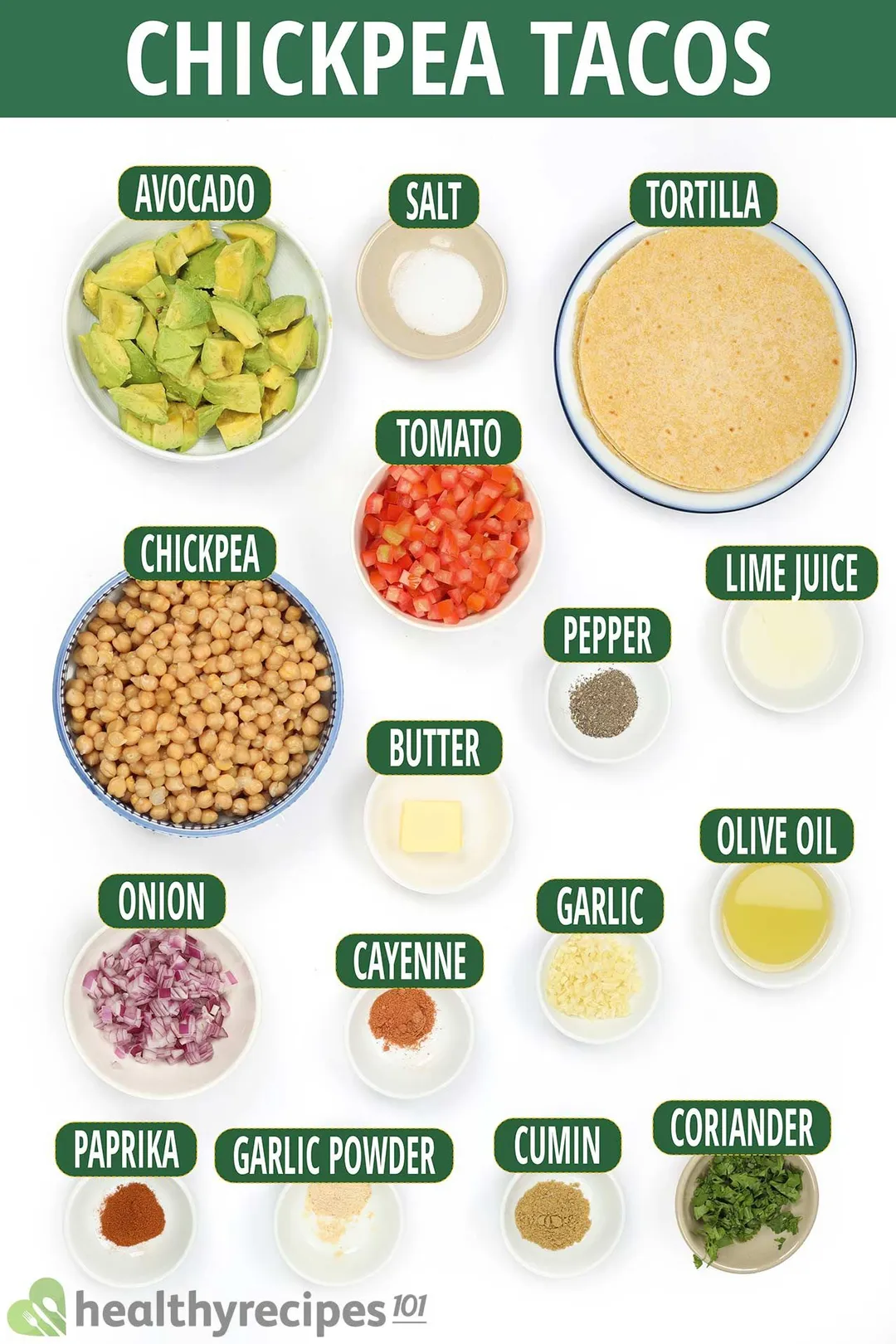 2. Filling
Chickpeas: We lightly sauté the canned chickpeas with some seasonings to enhance their flavors. Its buttery texture and earthy taste complements the crispy taco shell nicely.
Avocado: Mashed avocado plays the role of the taco's sauce. Its signature creaminess and subtle earthy taste complement the chickpeas.
Tomatoes: Juicy and vibrant diced tomatoes can light up any dish. They will give you a nice burst of flavor in every bite.
Red onion: The pungency of red onion makes it stand out from the other ingredients and brings a unique layer of flavor to the dish.
Coriander: It adds a hint of freshness to these stacked tacos.
3. Seasoning
Lime juice: We add this to the mashed avocado for some acidity that lights up the creamy mixture.
Olive oil: It helps enhance the smooth consistency of avocado mash and adds a distinct fragrance.
Garlic powder: This versatile and garlicky seasoning subtly elevates the natural flavor of chickpeas.
Paprika: It adds bright color and a hint of smokiness to the chickpeas.
Cayenne: An optional spice in this recipe, but it adds a kick to the overall flavor profile.
Cumin: It adds some warmth, earthiness, and a mild citrusy note to the tacos.
Other: We sauté the chickpeas with unsalted butter and caramelized garlic to make this legume even richer. The spice blend also includes salt and ground black pepper to round out the flavor.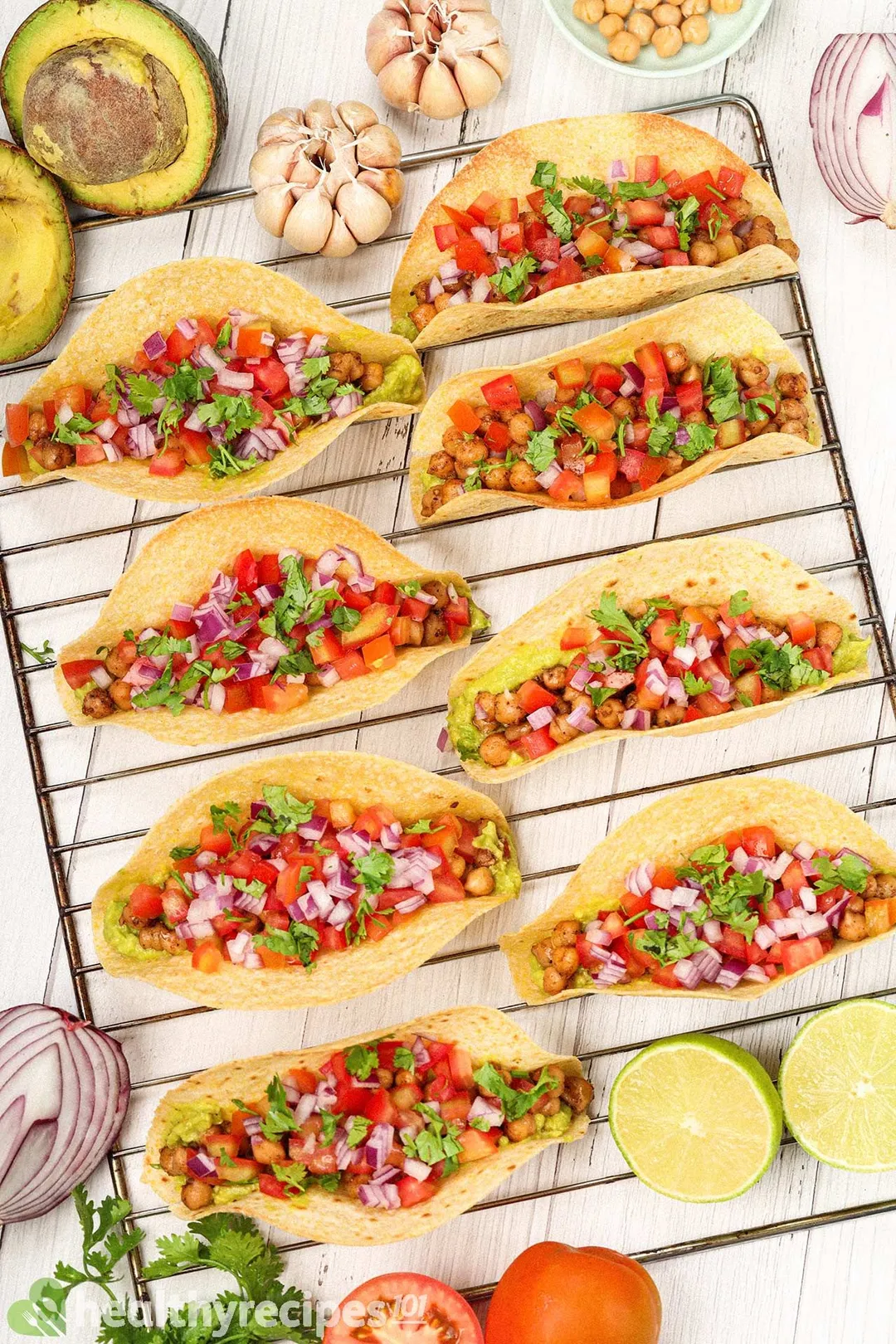 FAQ
1. Can I Use Chickpeas Instead of Meat?
Sure. This recipe attempts to introduce an alternative to the familiar ground beef or shredded chicken tacos. Give it a shot and you may find chickpeas aren't any less delicious than proteins.
2. Do I Need to Remove the Skins From Canned Chickpeas?
You can, but it's optional. Removing the skin will help the chickpeas get more crispy when cooking. However, it is a rather tedious process, and the chickpeas will taste the same anyway.
3. Can I Make This Taco Vegan?
For this recipe, you need to find vegan alternatives for butter. This should be easy, as we only use it to sauté the chickpeas. You can use olive oil or any other vegetable oil.
How to Store and Reheat Leftovers
Be sure to store the ingredients separately and only assemble the tacos when you're ready to serve. Most of the ingredients are served fresh, so we will only show you how to store the chickpeas.
Leftover chickpeas can last for 3 days in the fridge and up to 4 to 5 months in the freezer. Transfer them to airtight containers or resealable freezer bags for proper storage.
It's easy to reheat the sautéed chickpeas. Give them a quick toss over medium heat with oil until warm and they're ready to serve.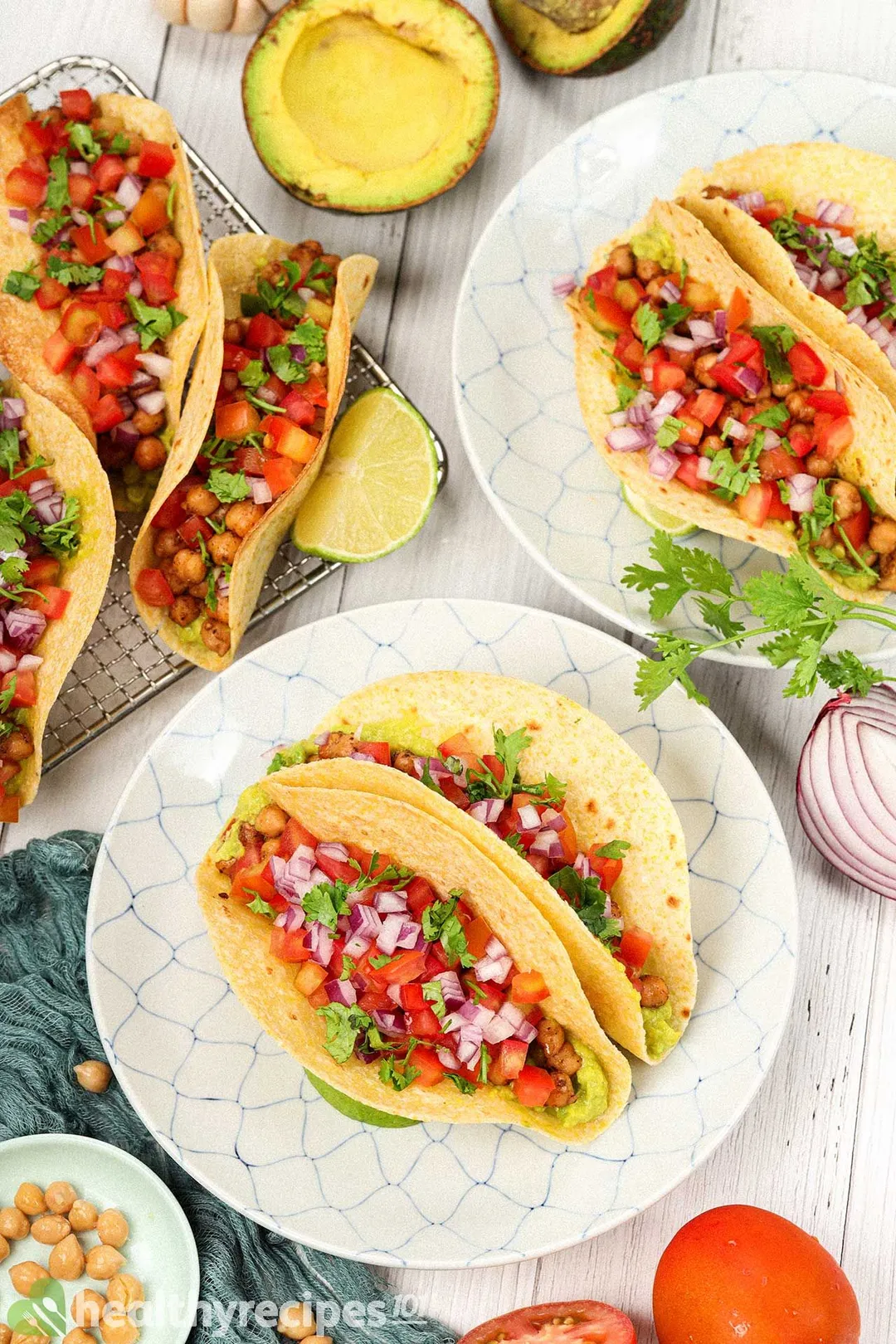 What to Serve With Chickpea Tacos
Serve these chickpea tacos with a tasty vegetable dip or a refreshing salad to complete your meal.
Chickpea Tacos
This chickpea tacos recipe showcases how to make delectable tacos with familiar ingredients in about 30 minutes.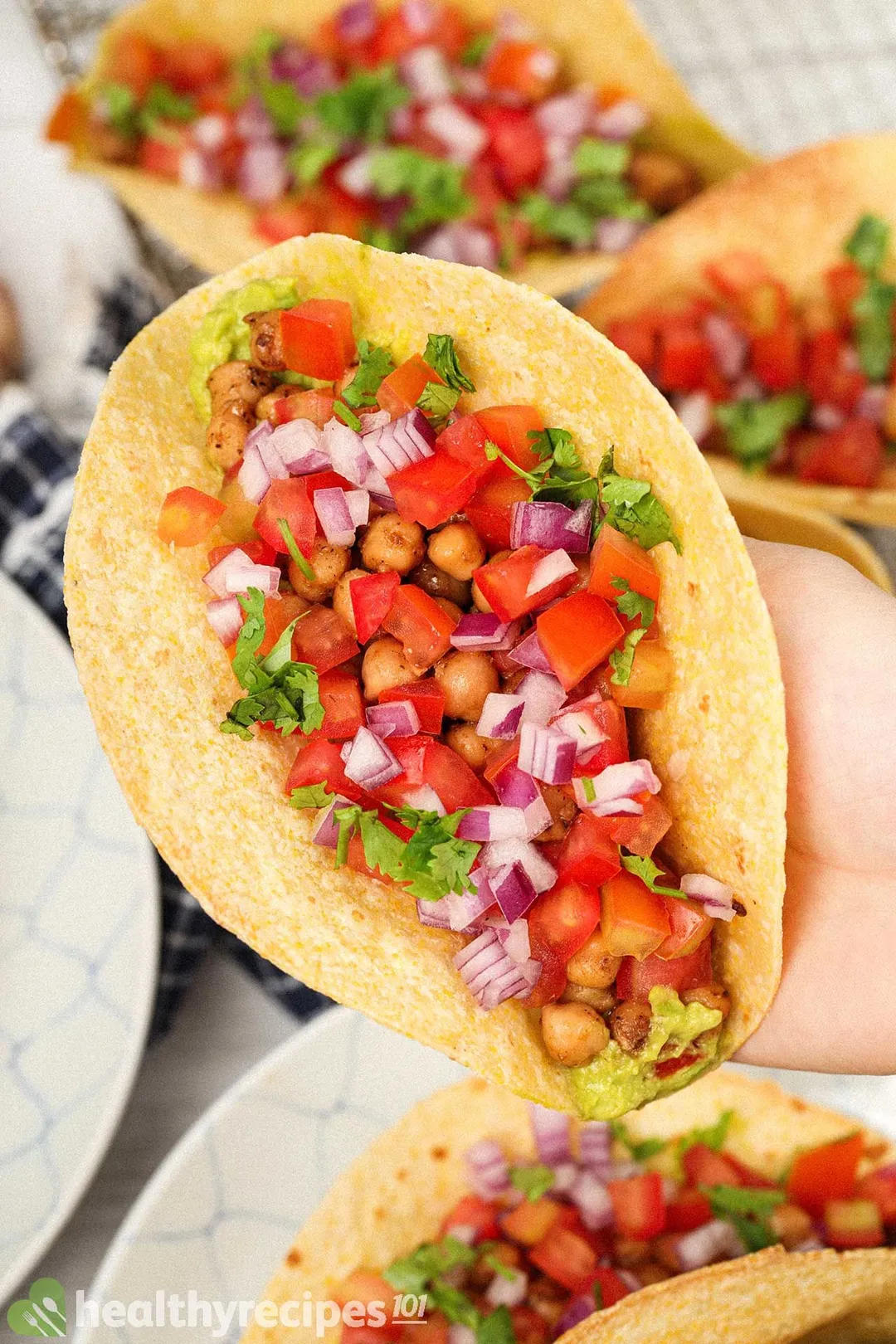 cook TIME

20 mins

prep TIME

10 mins

total TIME

30 mins
COURSE

Main Dish

CUISINE

American

SERVINGS

CALORIES

471 kcal
INGREDIENTS
10 oz

avocado

(cut into chunks)

1/2 tsp

ground black pepper

1/4 cup

coriander

(finely chopped)
INSTRUCTIONS
Prep:
1
Prepare the chickpeas: Drain the canned chickpeas thoroughly. Rinse them with water and pat them dry.
2
Cut the avocados: Run the knife around the avocado lengthwise and twist the avocado halves to separate them. Tap the knife into the seed to remove it. Peel the skin from the pointy end of the avocado half. Cut the avocado into large chunks.
3
Dice the tomatoes: Cut the tomatoes in half and cut off the stem. Scoop out the seeds and cut the tomato flesh into 1/4-inch strips. Cut the strips into small cubes.
4
Chop the red onion: Half the onion lengthwise and peel the skin. Keeping the root intact, make vertical cuts 1/8-inch apart from each other. Turn the onion half 90 degrees, grip the root, and make horizontal cuts 1/8-inch apart from each other. Slice the onion to get small cubes.
5
Mince the garlic: Slice off the root and peel the skin. Mince the garlic cloves with a knife or mincer.
6
Chop the coriander: Bunch the coriander together and chop it finely.
Cook:
1
Mash the avocados: Prepare a large bowl. Add 10 oz avocado, 2 tbsp olive oil, 1 tbsp lime juice, and 1/4 tsp salt. Mash the mixture until smooth and thoroughly combined.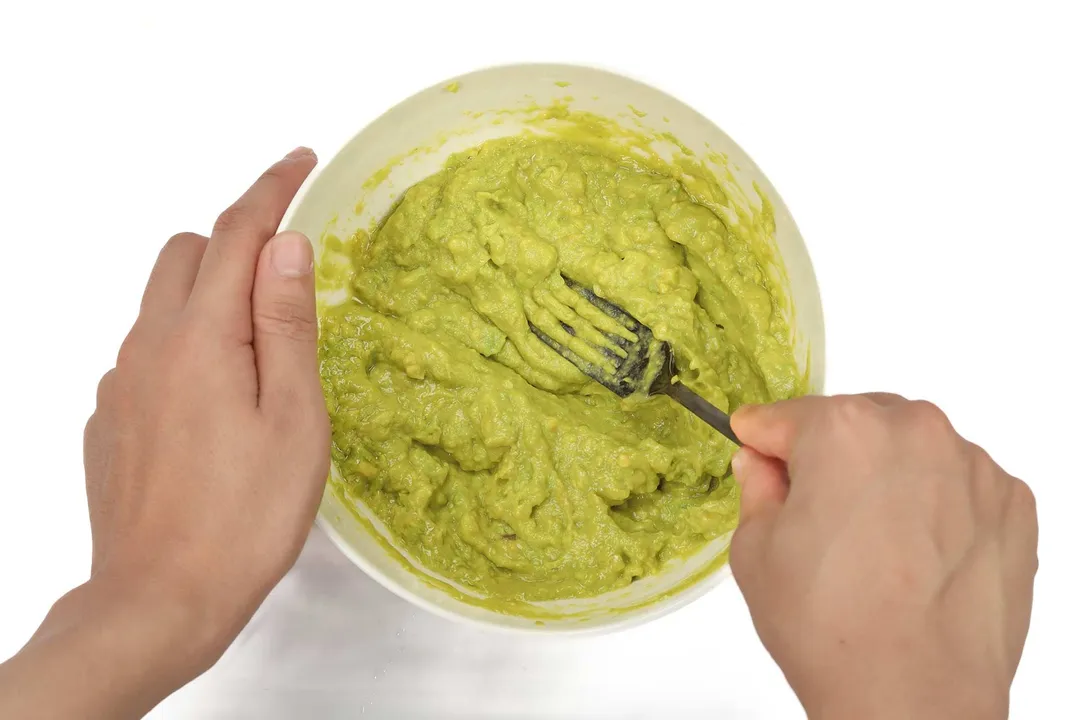 2
Caramelize the garlic: Prepare a pan over medium heat. When the pan's hot, add 2 tbsp unsalted butter and 2 tbsp garlic. Stir for 30 seconds to caramelize.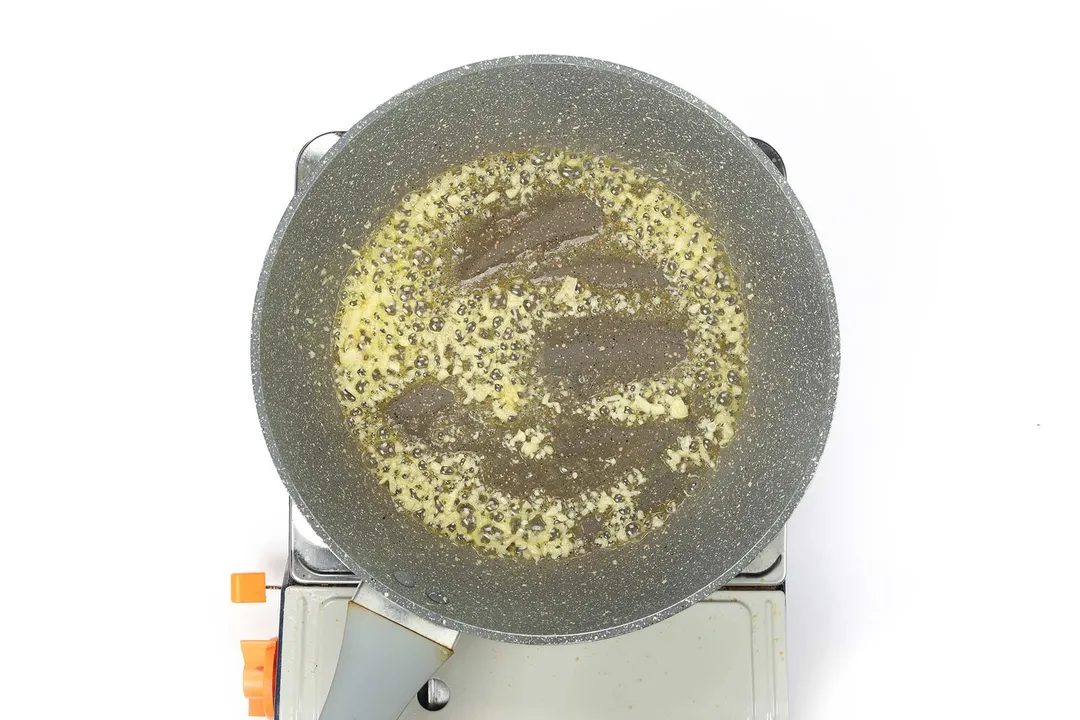 3
Sauté the chickpeas: Add 16 oz canned chickpeas to the pan. Season them with 1/2 tsp ground black pepper, 1/2 tsp garlic powder, 1/2 tsp paprika, 1/2 tsp cayenne, 1/2 tsp cumin, and 1/4 tsp salt. Stir for 5 minutes then turn off the heat.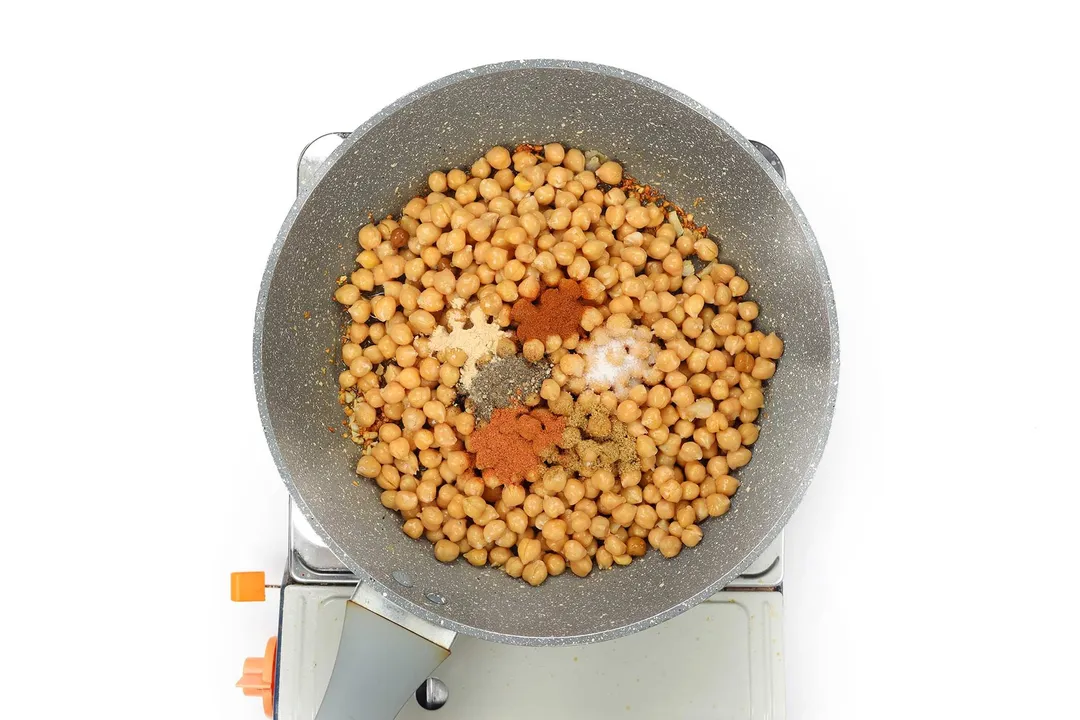 4
Arrange and toast the tortillas: We use a cupcake pan and place it upside down. Place 8 6-inch corn tortillas in between the molds to form them into taco shells. Then place the corn tortillas in the oven and bake at 350 °F for 5 minutes.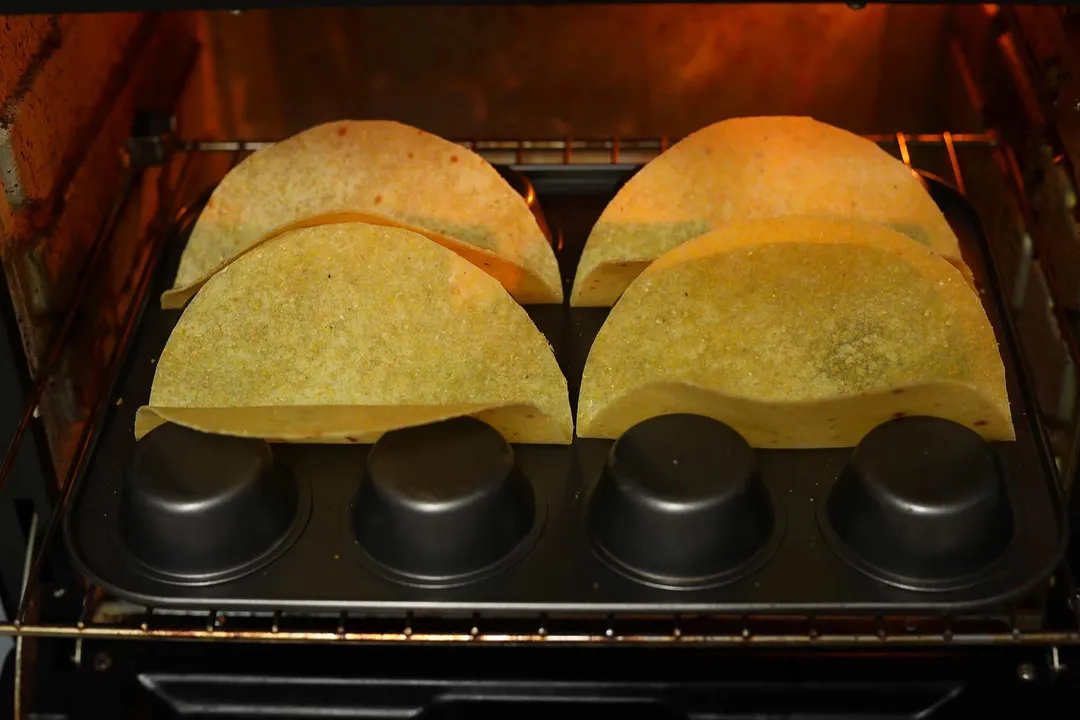 5
Build the tacos: Remove the taco shells from the oven. Start with the mashed avocados at the bottom, add the sautéed chickpeas, sprinkle 6 oz tomatoes, 2 oz red onion, and 1/4 cup coriander.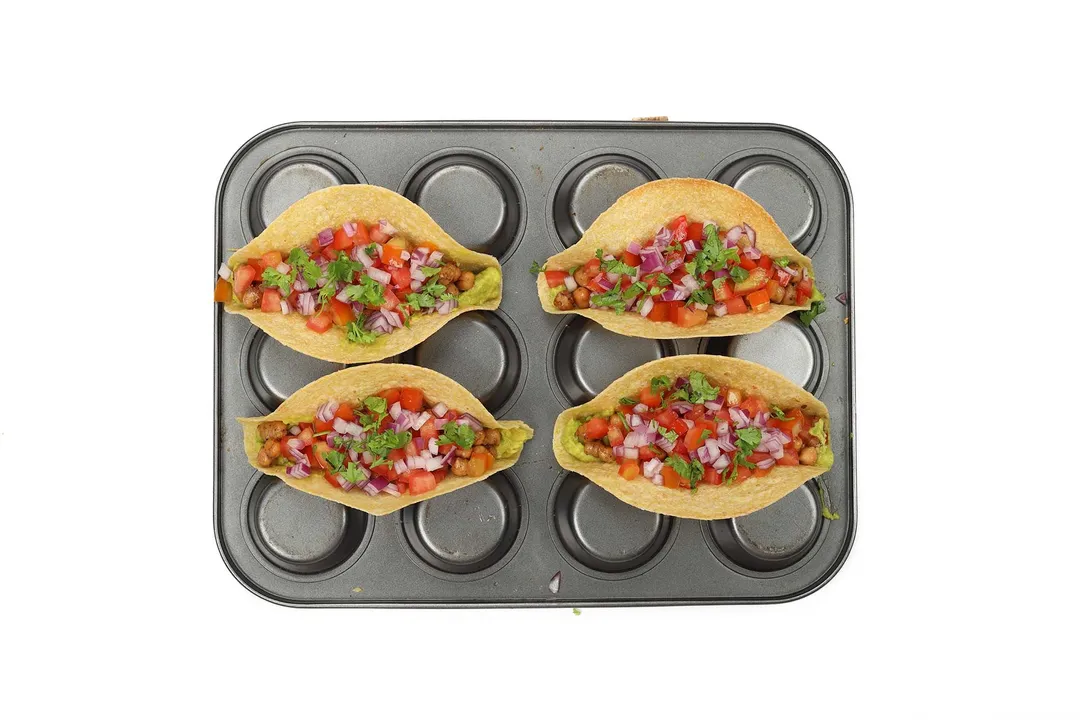 NUTRITION
Nutrition Facts
Chickpea Tacos
Amount Per Serving (1 serving)
Calories 471
Calories from Fat 249
% Daily Value*
Monounsaturated Fat 13.6g
* Percent Daily Values are based on a 2000 calorie diet.
Keywords: chickpea tacos, chickpea tacos recipe, how to make chickpea tacos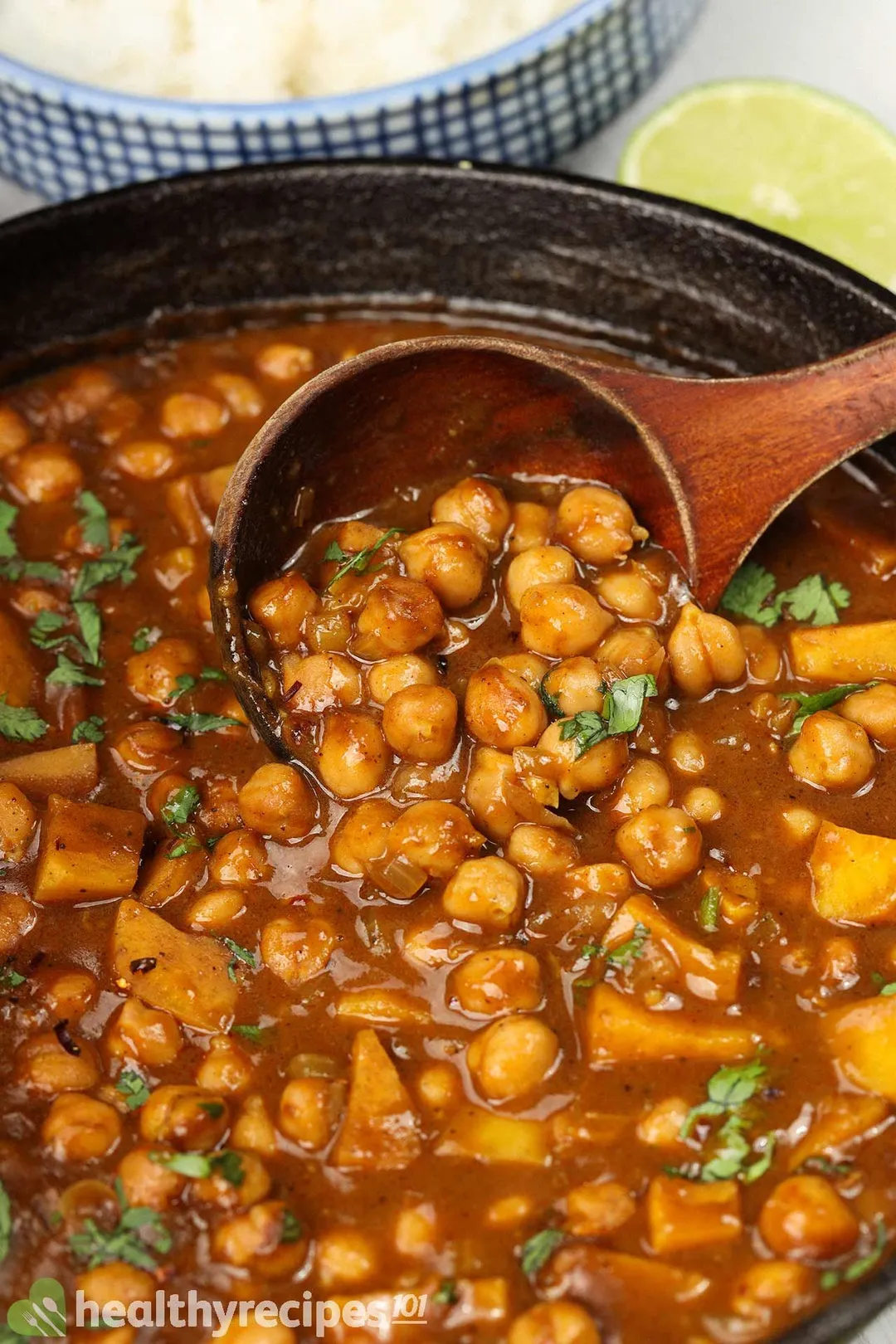 Previous Recipe
Chickpea Curry
Chickpea Curry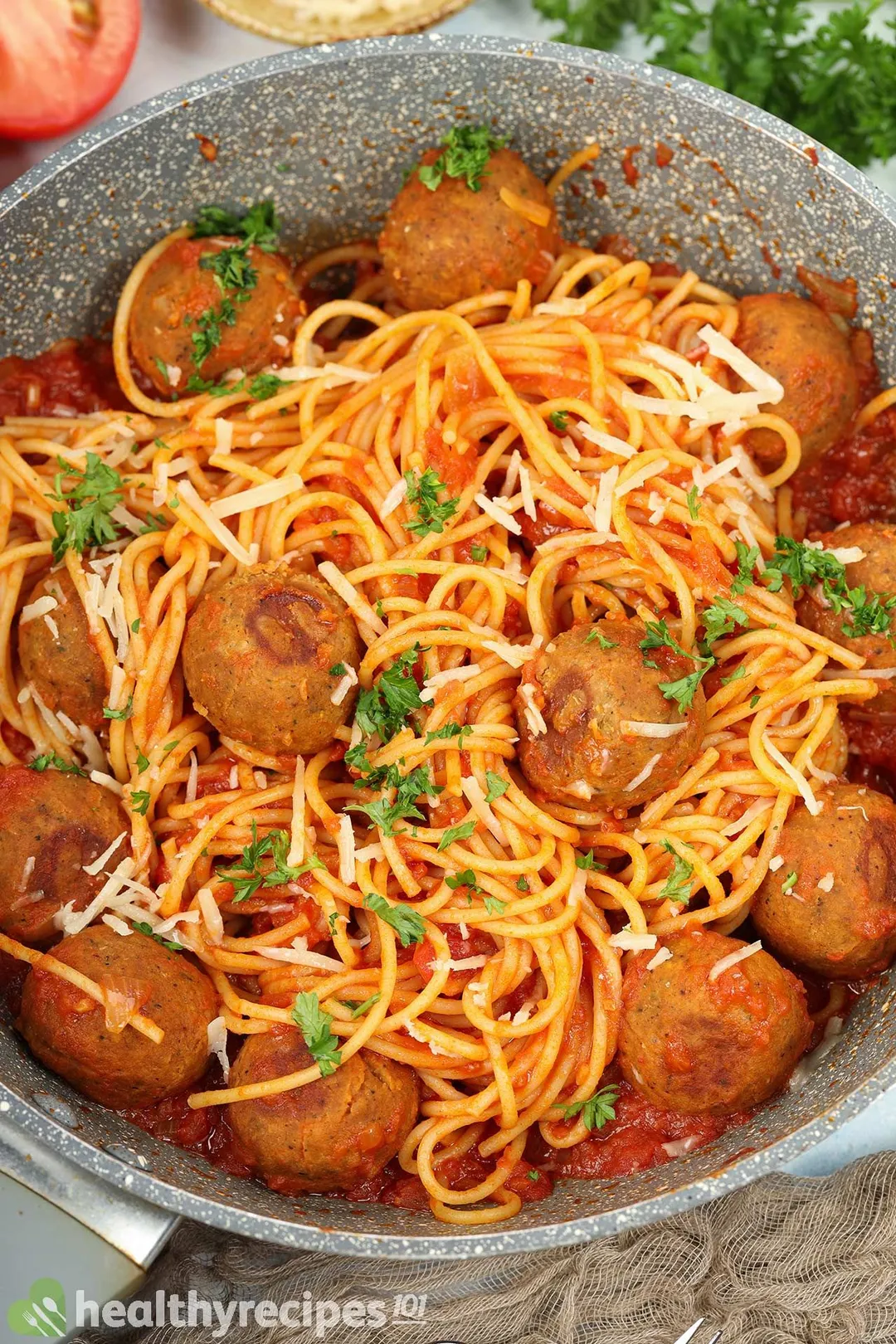 Next Recipe
Chickpea Meatballs
Chickpea Meatballs
Head Chef, Culinary Consultant
Tuyet Pham is an award-winning Saigonese chef who believes that joy is the secret ingredient to delicious food. At Healthy Recipes 101, Tuyet personally tests and simplifies every recipe, ensuring maximum flavor with minimal effort. With a background at prestigious French restaurants P'TI Saigon and Le Corto, Tuyet knows how to make every dish exceptional.
Writer, Author
Luna Regina is an accomplished writer and author who dedicates her career to empowering home cooks and making cooking effortless for everyone. She is the founder of HealthyKitchen101.com and HealthyRecipes101.com, where she works with her team to develop easy, nutritious recipes and help aspiring cooks choose the right kitchen appliances.
The chickpea was so amazing.