If you enjoy tacos, you should definitely have a taco salad recipe on hand! It's a salad, but it's fulfilling. It's got all the flavors of a taco, but is less messy and more convenient. Above all, it's delicious and healthy.
Is Taco Salad Healthy?
First off, this taco salad complies with our healthy eating guideline, inspired by the USDA's dietary guidelines:
Calories: the salad yields around 508 calories each serving. Men (18-45) are advised to consume 2700 calories per day, whereas in the case of women (18-45), it is 2100.
Saturated fat: it is a controversial type of fat, and is advised to be moderately consumed by nutritionists. This taco salad has 9 grams of saturated fat per serving, exactly what we recommend per meal— 4-11 grams.
Sodium: the USDA recommends individuals (18-45) should restrain sodium consumption to 2300 milligrams per day. Our taco salad only has 565 milligrams of sodium, less than 30% the recommended amount.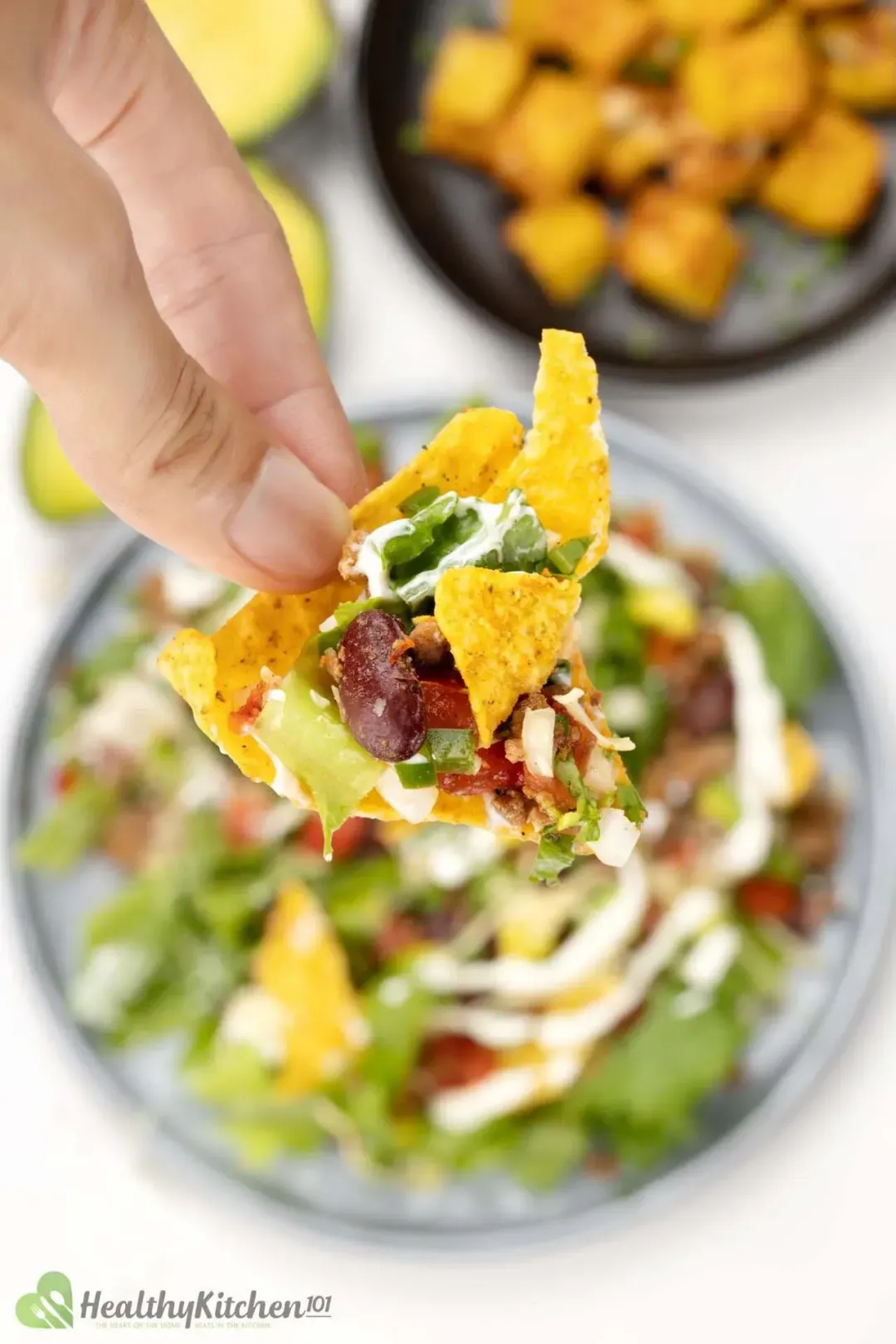 Apart from that, this taco salad recipe has lots of fresh ingredients, which help provide a decent amount of micronutrients. Among the many nutrients, these are the most significant:
| Significant Nutrients | RDI (% per day) for men | RDI (% per day) for women | Main source |
| --- | --- | --- | --- |
| Vitamin A | 26% | 33% | |
| Vitamin C | 25% | 30% | |
| Vitamin B9 (Folate) | 25% | 25% | Lettuce, avocado |
| Vitamin K | 56% | 75% | Lettuce |
*The micronutrients are retrieved from the USDA's food data collection. The percentages are calculated referencing RDI tables on vitamins and minerals, for men and women aged 19-30.
Taco Salad Ingredients
Similar to a taco, taco salad often has crisp and flavorful tortillas, well-seasoned sauteed minced beef, and a tangy salsa mix.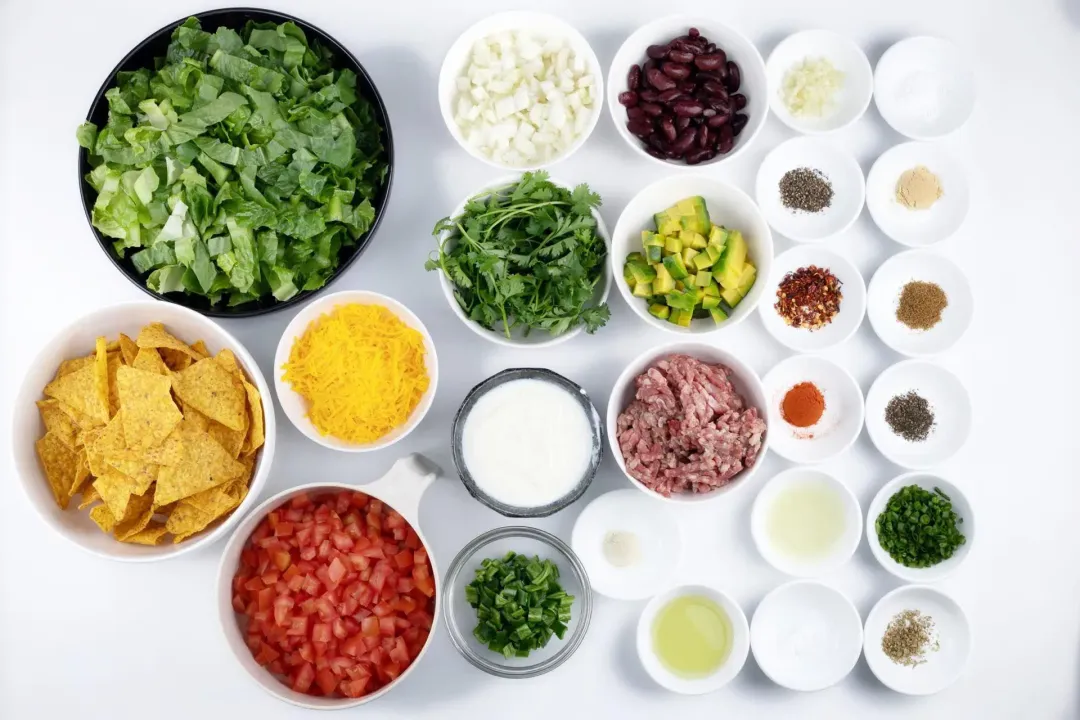 1. Doritos or Fritos
For convenience, we recommend a packaged product. Although making the tortilla chips yourself is the healthiest option, the process is pretty time-consuming.
If you're still afraid of chips, it's not like you're going to use up the whole bag of chips. One serving only needs 1 ounce of chips, about 5-6 medium pieces.
In this taco salad recipe, we used Doritos. We find that their seasoning really brings out the flavors of the salad.
If you have been craving that snack, this is the chance to "cheat" a little.
You can use Fritos if you want. Their seasonings may be different, but we don't see any reason for not trying. Let us know in the comments if you choose to do this!
2. Beef Seasoning
To keep things traditional, we're using the good ol' taco seasoning. There is garlic powder, onion powder, paprika, cumin, oregano, pepper flakes, salt, and pepper.
Feel free to add more seasoning if you need your beef to be bolder. Some people add chili powder/ jalapeño to crank up the spiciness.
However, because of the sodium daily recommendation intake, we don't recommend adding more salt or similar seasonings.
3. Salsa Mix
The most common salsa mix is pico de gallo. It's made by mixing finely diced tomatoes, onions, and Serrano peppers with lime juice and seasonings.
You can blend the mix to make salsa in liquid form. We think keeping them as chunks is better— more stuff to nibble on and fancier presentation.
How to Make Taco Salad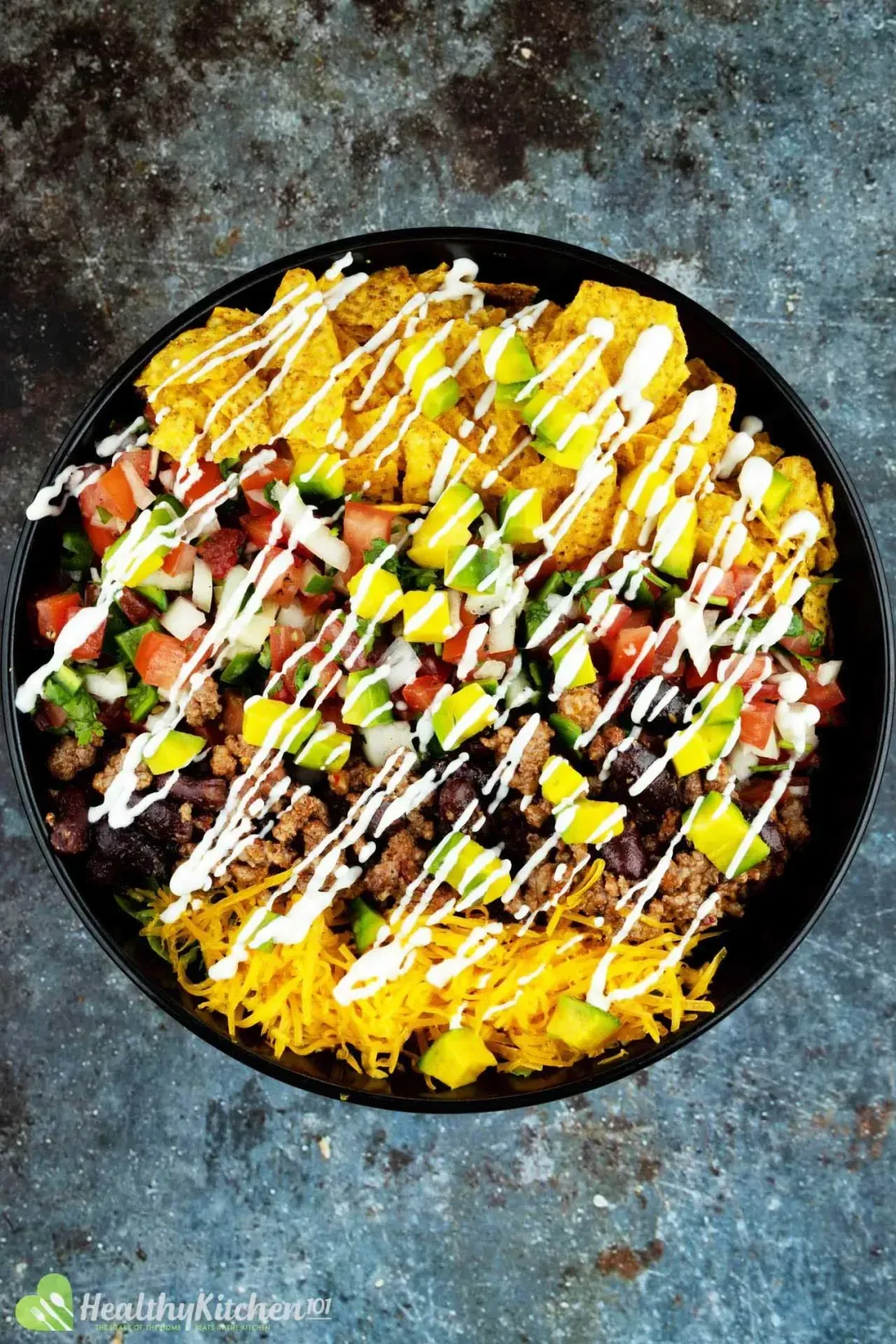 Step 1: Make the salsa
Mix all salsa ingredients in a large bowl. Refrigerate.
Step 2: Cook the beef and beans
Heat a skillet over medium-high heat and add olive oil, beef and spices. Cook for 5 minutes, then add the rinsed beans. Stir for another minute and then turn off the stove.
Step 3: Crush the chips
Put the Doritos chips in a bowl, then smash them using a large spoon (using a ladle works best.) Set aside.
Step 4: Assemble the salad
In a large mixing bowl, layer in lettuce, meat, salsa, and other toppings. Place Greek yogurt in a piping bag/Ziploc bag. Snip off the end and squeeze it onto the salad in zigzags.
Dressing for Taco Salad Recipe
In this taco salad recipe, we dress our taco salad in a simple Greek yogurt dressing. Below are other dressing options you can give a try: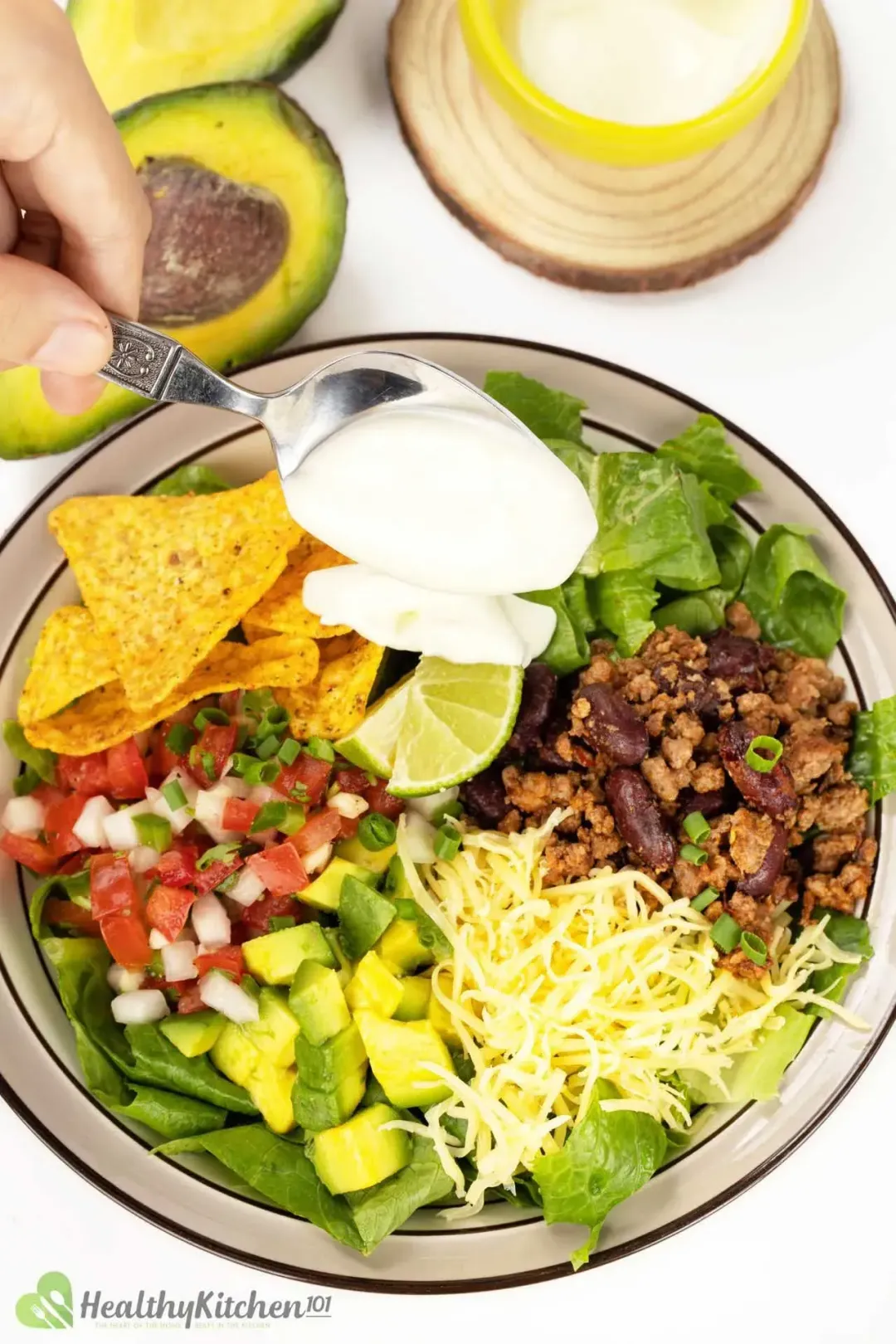 1. Catalina Dressing
The main components to make this dressing are olive oil, red wine vinegar, honey, and salt, really similar to a basic vinaigrette. The difference is that we add ketchup, Worcestershire sauce, paprika, and garlic/onion powder for a tangy, smoky flavor.
To make the sauce, first blitz ½ cup red wine vinegar, ½ cup olive oil, ⅓ cup ketchup, ⅓ cup honey in a food processor. Then add Worcestershire, soy sauce, smoked paprika, onion and garlic powder, 1 teaspoon of each.
This dressing also goes well with burgers.
2. Western Dressing
The western dressing is similar to the Catalina dressing, but without red wine vinegar. It is also made thicker, with a deep red hue instead of slight orange like Catalina dressing.
To make the dressing, follow our previous instruction to make Catalina dressing, but make a few changes. Use ⅔ cup of ketchup instead of ⅓, skip the red wine vinegar, and use only half of the spices.
3. French Dressing
This dressing has an olive oil and vinegar base. Then Dijon mustard and sugar are gradually whisked in until combined. It's a pretty quick and simple dressing to make.
French dressing for 4: 1 tsp Dijon mustard, 2 tbsp white wine vinegar, 6 tbsp extra virgin olive oil, 1 tsp sugar.
How Many Calories in a Taco Salad
Our taco salad yields 508 calories per serving. Up to 75% of the calories are from good fats and proteins.
This amount, although a lot, doesn't actually fully meet the caloric intake of a whole meal. Check out our recommendations in the below section for 750-calorie meal ideas.
Tips for Making a Perfect Taco Salad
Shred the lettuce finely to fit everything better onto your fork. In fact, this is a must to make any salad better.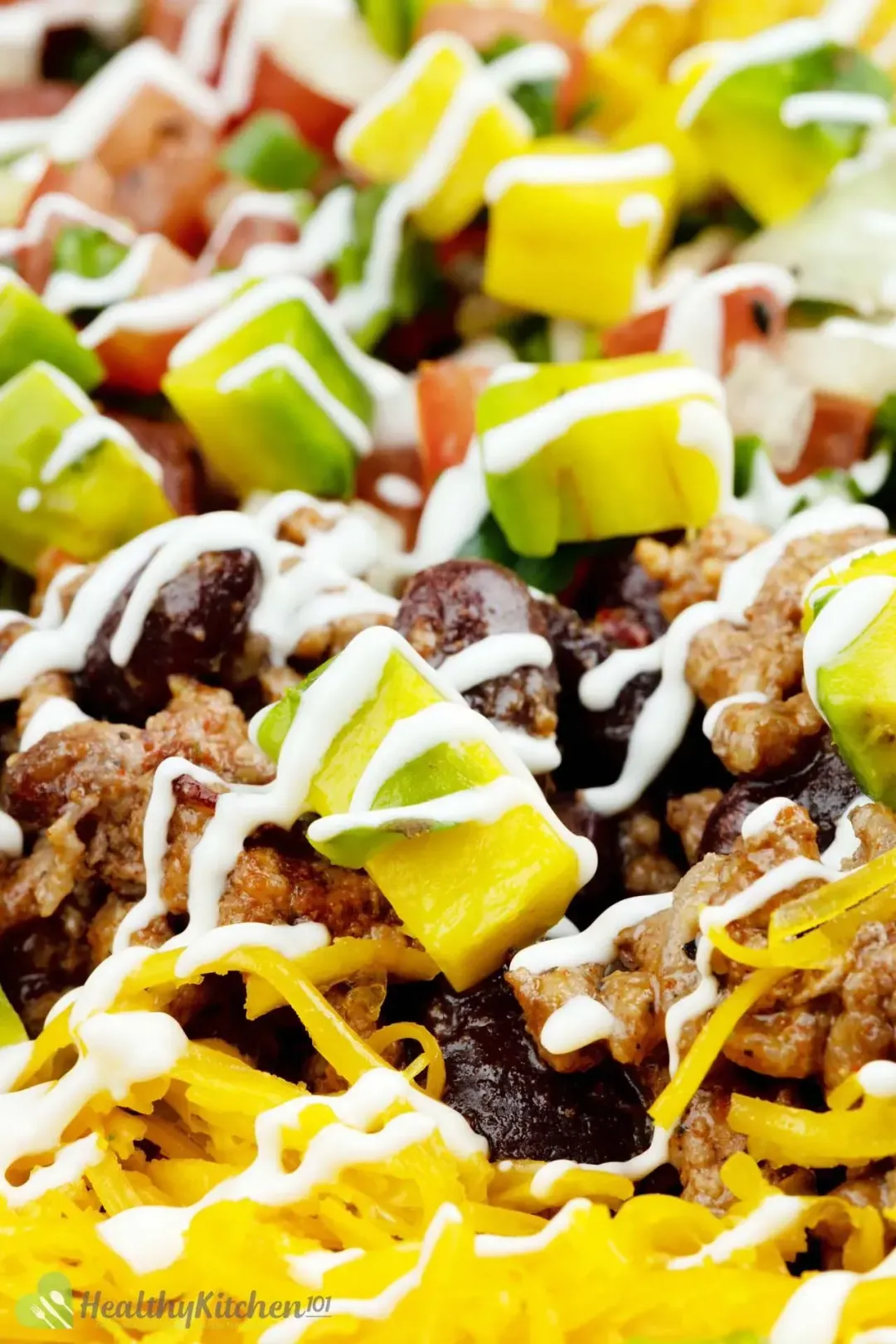 Cook the meat and leave it to cool down a bit before plating. Hot meat will make the veggies wilt quicker.
After plating your ingredients, add your dressing to a piping bag and make zig-zag stripes on the surface. The sauce will be distributed more evenly, and it simply looks more restaurant-ish.
Do You Eat Taco Salad Cold?
Although "salad" is in the name, this taco salad recipe isn't meant to be eaten cold. If you're considering serving this salad cold because it's more convenient, here's a better way:
Cook the meat, but store it, the toppings, and the yogurt separately in the fridge. When it's time to serve, reheat the meat, mix everything in a large bowl and sprinkle Dorito crumbles on top.
It may not taste as good as a freshly made taco salad, but it's definitely better than eating it cold.
There are many options for taco salad sides, but the two that immediately came to mind for us were:
1. Guacamole
The first time we had this taco salad together, we put it with guacamole. The crunchy salad with smooth, creamy guacamole made a perfect pair. Together, they were a classic Mexican combo meal.
Thing is, both recipes included Doritos, and it's not so healthy having a lot of Doritos. It's still a deep-fried snack after all.
If you're going to go for guacamole, skip the Doritos from the guacamole recipe. Instead, have a glass of cold lemonade on the side. It has the calories you need, but cuts the sodium and fat, and is oh so refreshing.
2. Home Fries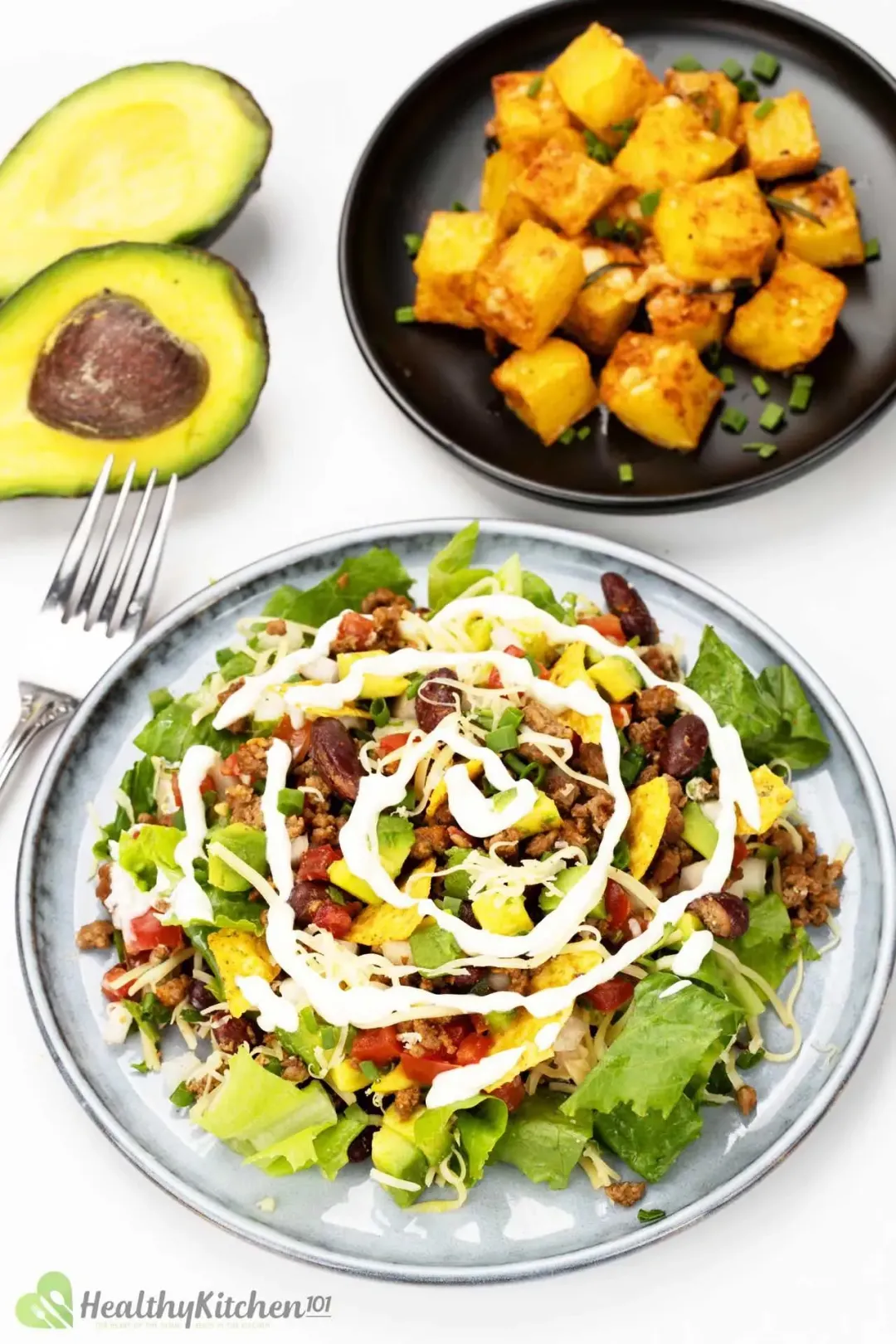 As mentioned before, what's missing in this salad is some carbs. Among our various recipes, home fries stood out as a great partner. They're easy to make, quick, and full of flavor (not to mention, they're baked, not fried!)
Check out this healthy barbacoa recipe for a Mexican treat that's just as tasty!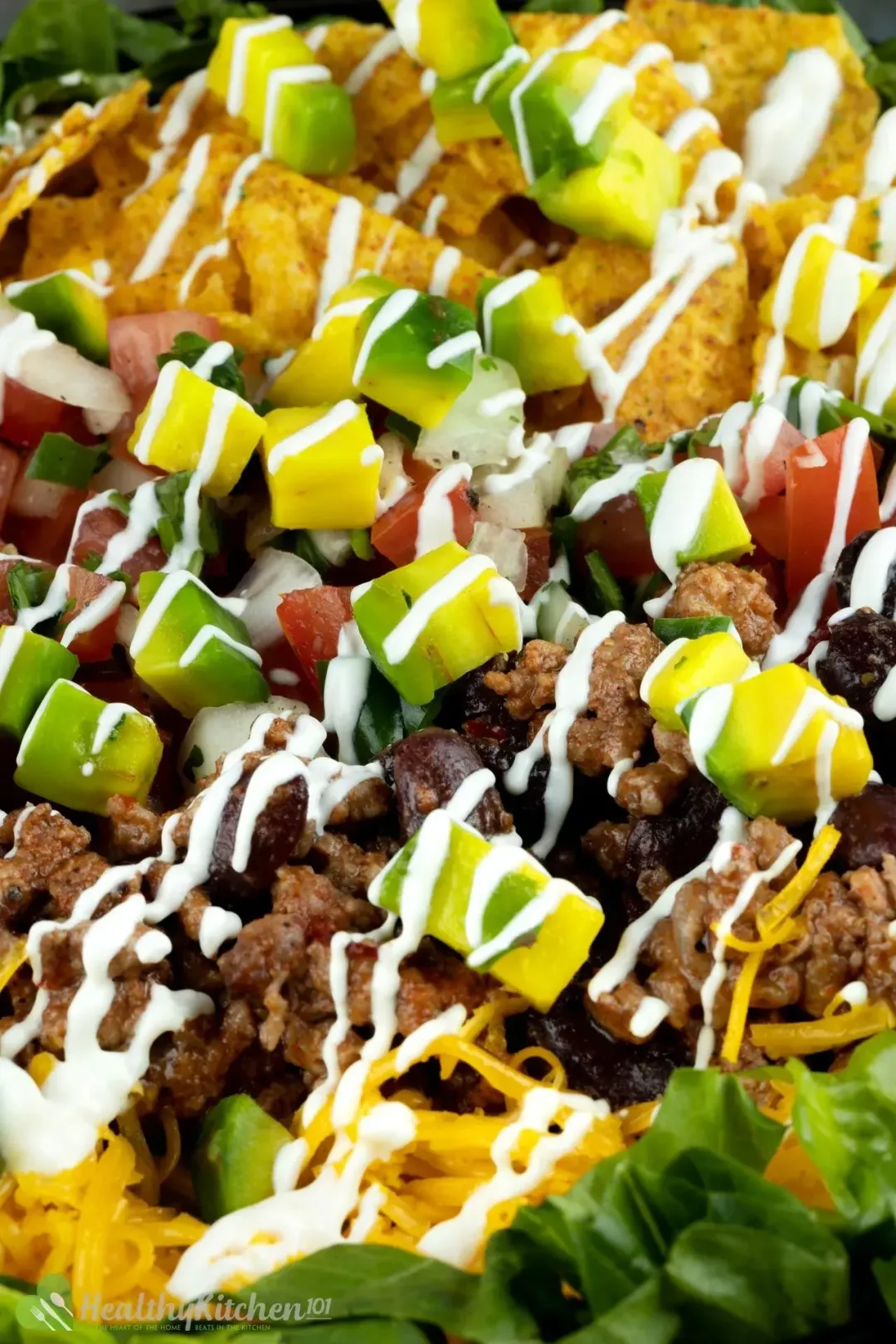 Healthy Taco Salad Recipe
Healthy taco salad recipe is a great recipe for when you crave Mexican tacos but don't want to deal with the inevitable mess. This way you get all the flavor, even more freshness and a cleaner table!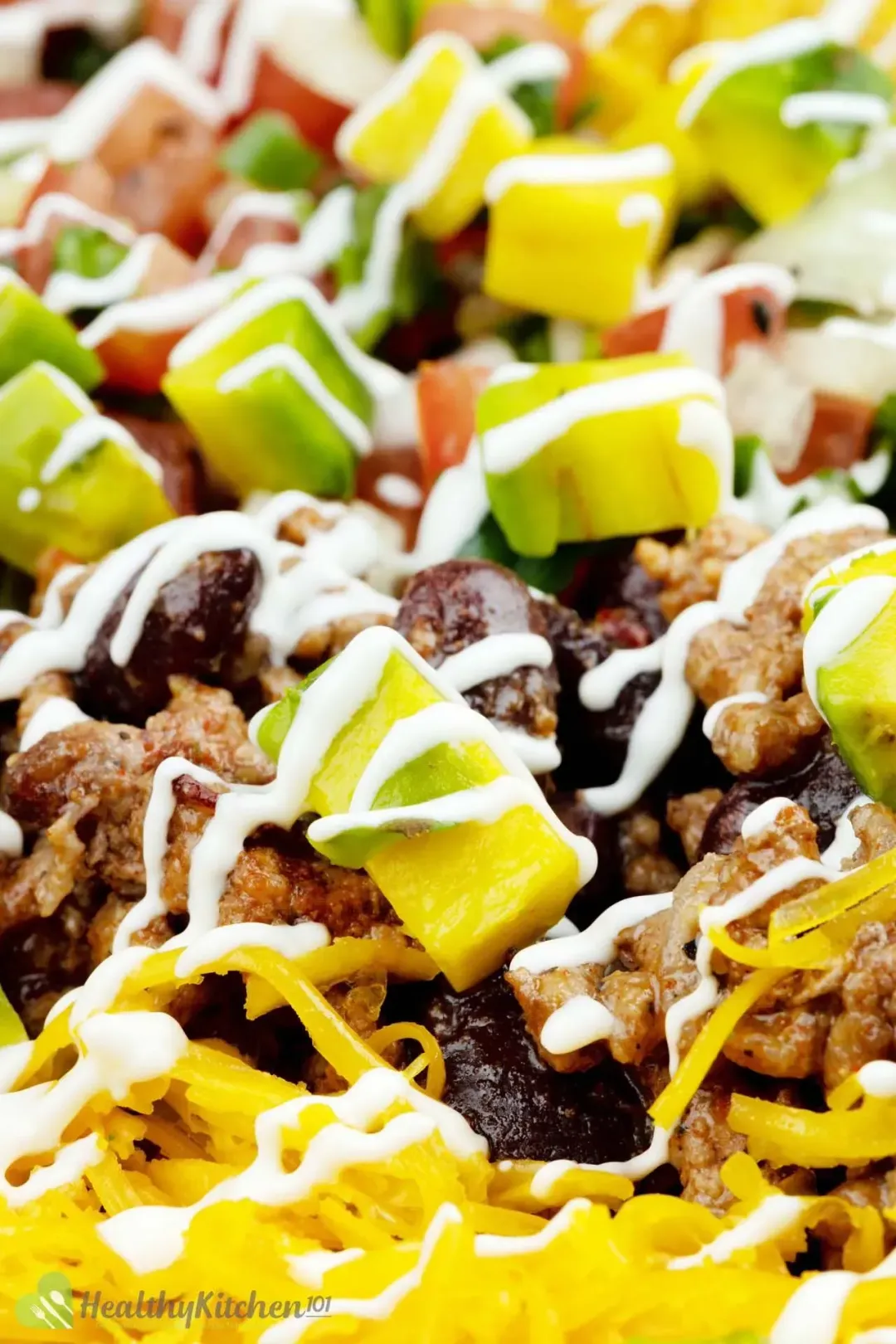 cook TIME

5 mins

prep TIME

10 mins

total TIME

15 mins
COURSE

Main Course

CUISINE

Mexican

SERVINGS

servings

CALORIES

508 kcal
INGREDIENTS
Meat filling:

8 oz

85% lean ground beef

4 oz

unsalted dark red kidney beans

Toppings:

6 oz

romaine lettuce

(chopped)

2 oz

cheddar cheese

(shredded)

1/4 cup

green onions

(finely chopped)

1/2 cup

plain Greek yogurt

4 oz

tortilla chips

(crumbled)

Salsa:

4 oz

white onions

(diced)

1 oz

jalapeno pepper

(diced)

0.5 oz

cilantro

(chopped)
INSTRUCTIONS
1
Mix all salsa ingredients in a large bowl. Refrigerate.
2
In a medium-high heated skillet, add olive oil, beef and spices. Cook for 5 minutes, then add the rinsed beans. Stir for another minute and then turn off the stove.
3
Put the Doritos chips in a bowl, then smash them using a large spoon (using a ladle works best.) Set aside.
4
In a large mixing bowl, layer in lettuce, meat, salsa, and other toppings. To decorate, place Greek yogurt in a piping bag/Ziploc bag with a little corner snipped off, and start making streaks on the salad.
NUTRITION
Nutrition Facts
Healthy Taco Salad Recipe
Amount Per Serving (1 serving)
Calories 508
Calories from FDA
% Daily Value*
* Percent Daily Values are based on a 2000 calorie diet.
Keywords: Taco Salad, Taco Salad Recipe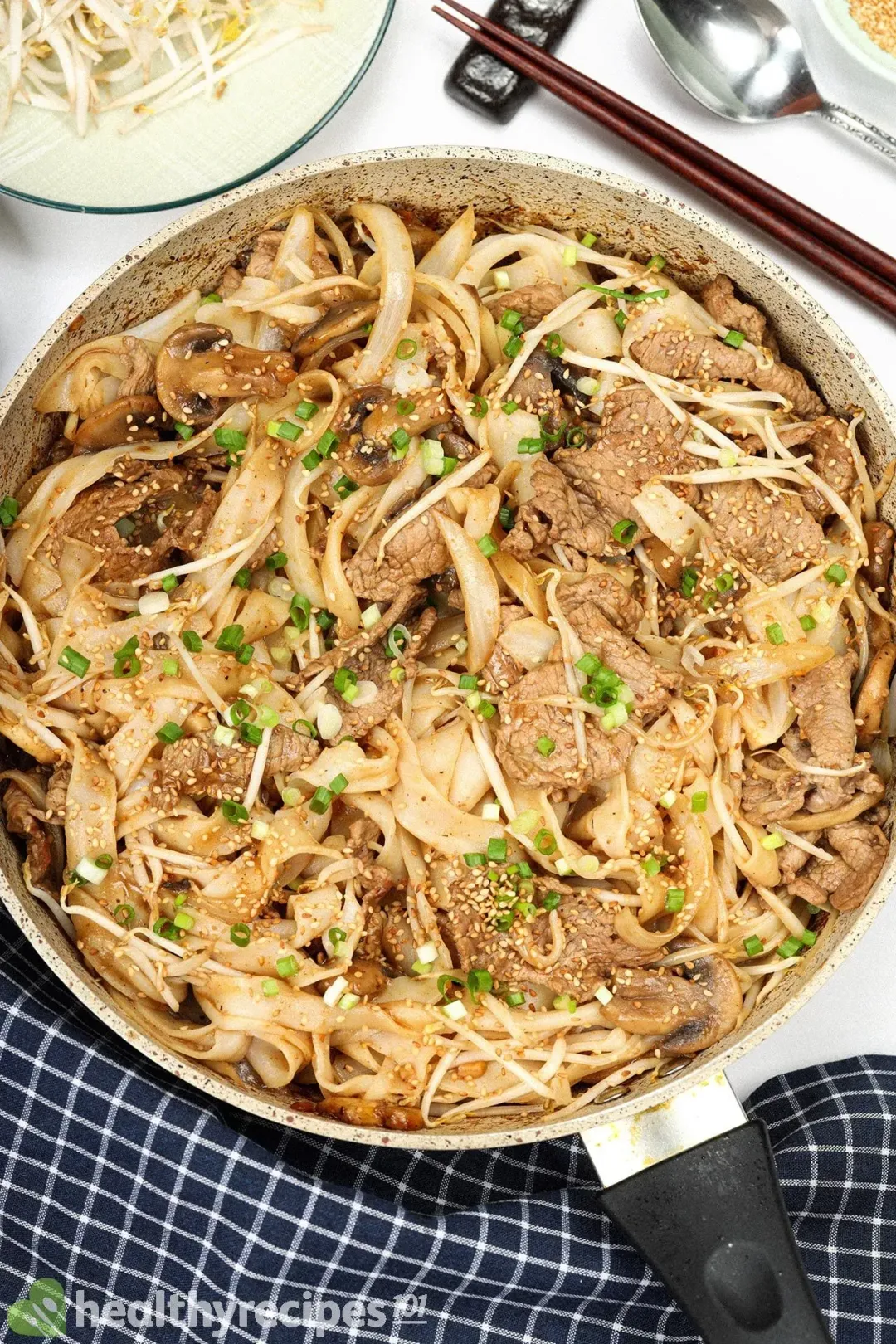 Previous Recipe
Beef Chow Fun
Beef Chow Fun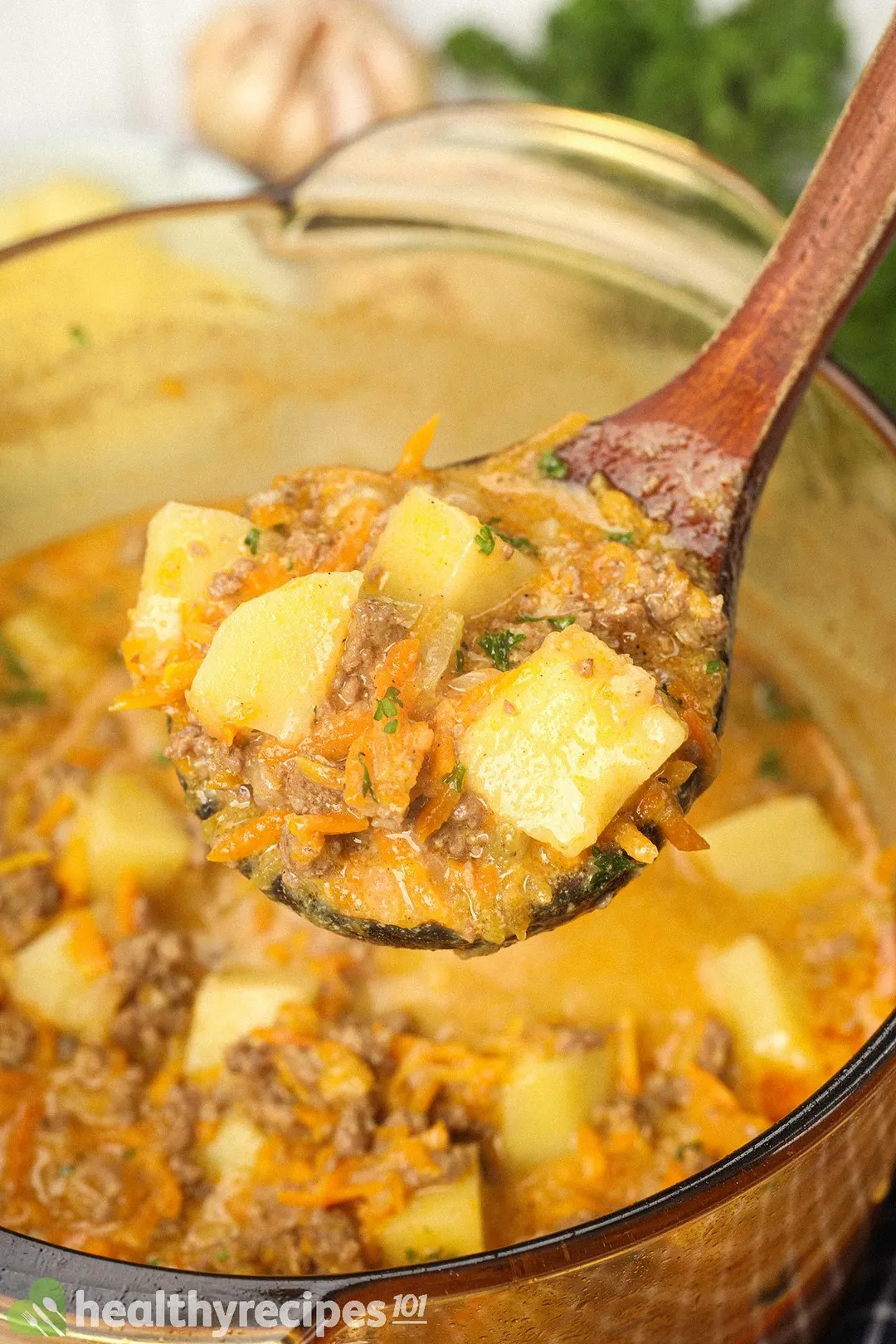 Next Recipe
Cheeseburger Soup
Cheeseburger Soup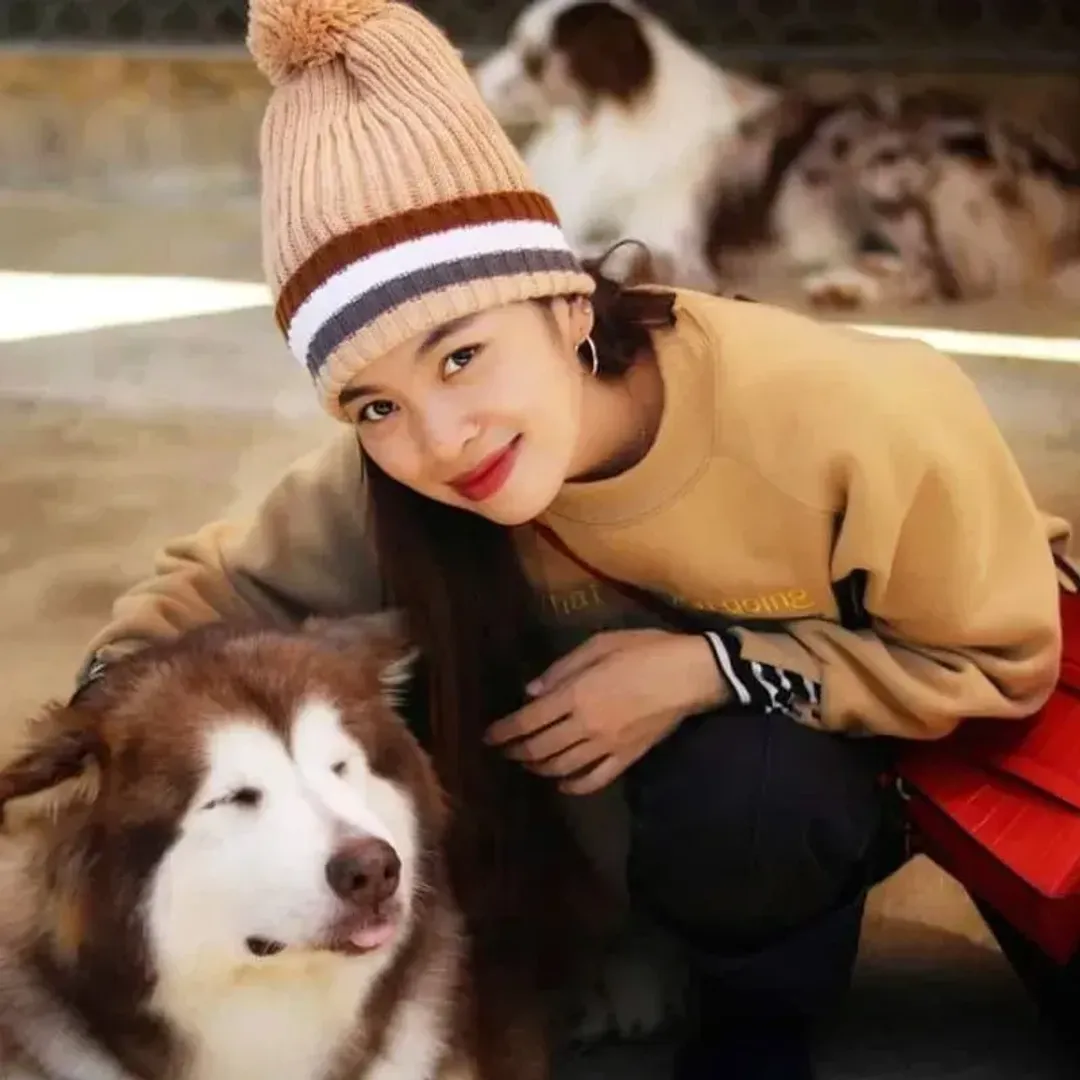 Chef, Culinary Consultant
Tuyet Pham is an award-winning Saigonese chef who believes that joy is the secret ingredient to delicious food. At Healthy Recipes 101, Tuyet personally tests and simplifies every recipe, ensuring maximum flavor with minimal effort. With a background at prestigious French restaurants P'TI Saigon and Le Corto, Tuyet knows how to make every dish exceptional.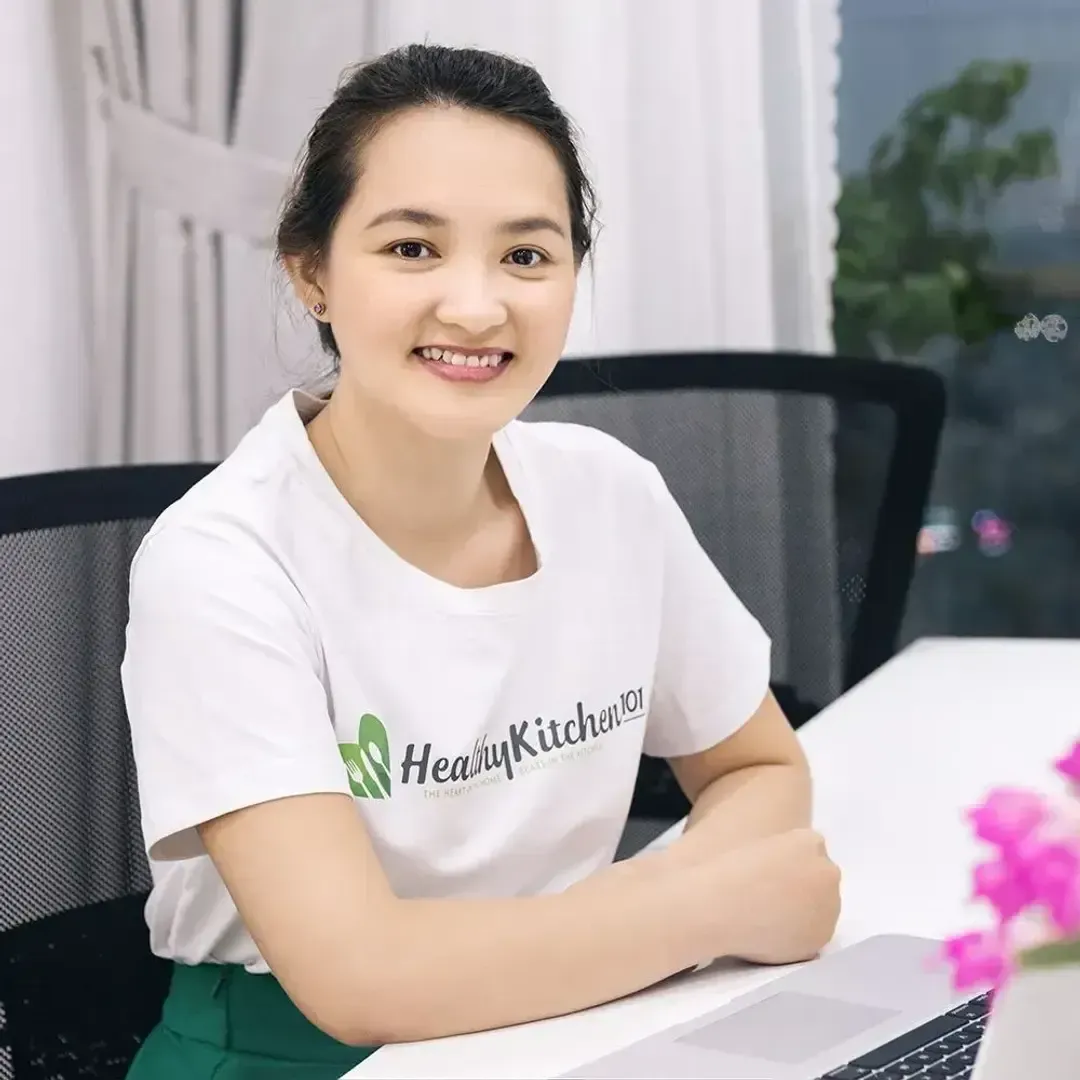 Writer, Author
Luna Regina is an accomplished writer and author who dedicates her career to empowering home cooks and making cooking effortless for everyone. She is the founder of HealthyKitchen101.com and HealthyRecipes101.com, where she works with her team to develop easy, nutritious recipes and help aspiring cooks choose the right kitchen appliances.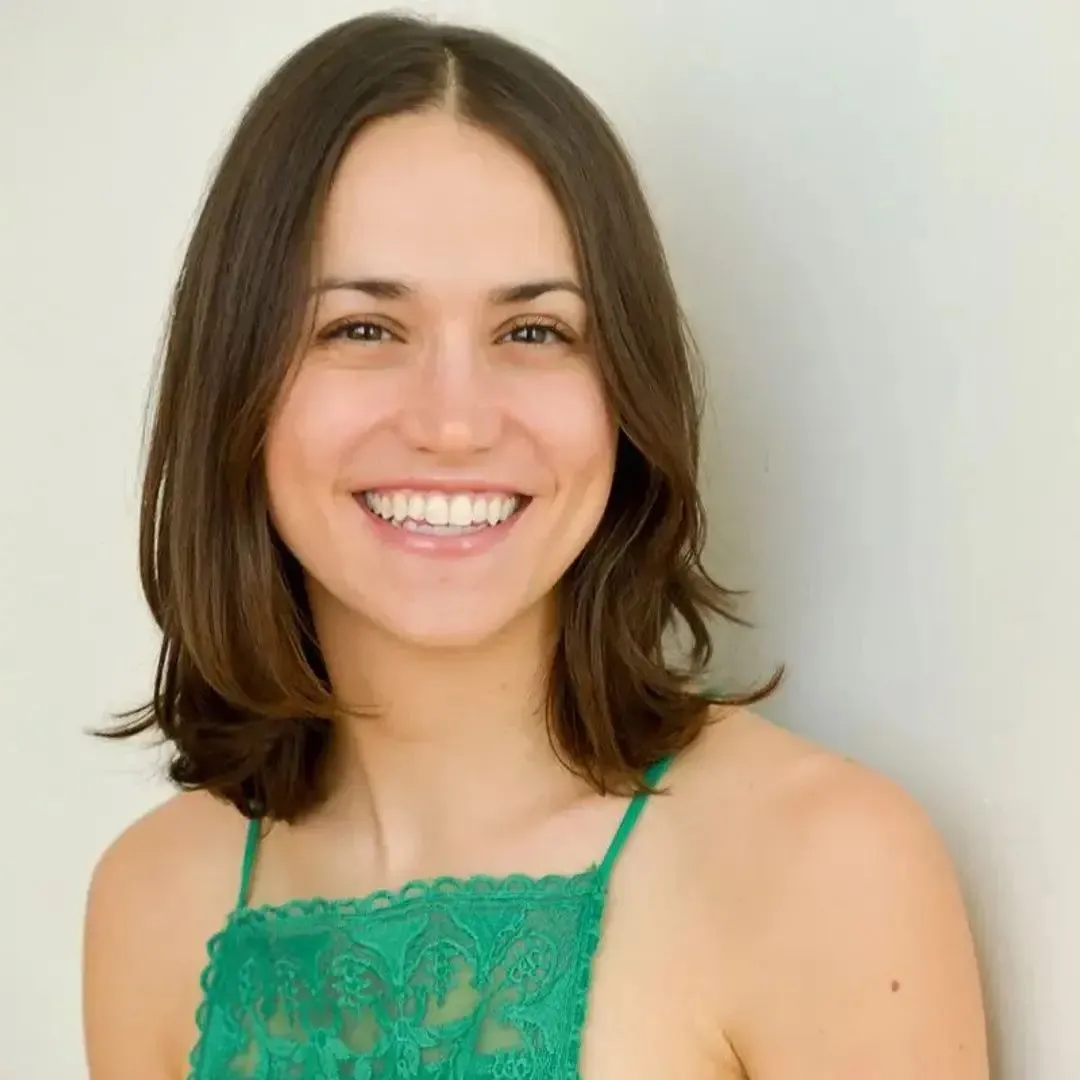 Nutrition Reviewer
Lizzie is a Minneapolis-based dietitian and founder of It's a Veg World After All. She completed her MS in Human Nutrition from Drexel University, and is an expert in culinary nutrition, recipe development, and nutrition communications.
Comments/ Reviews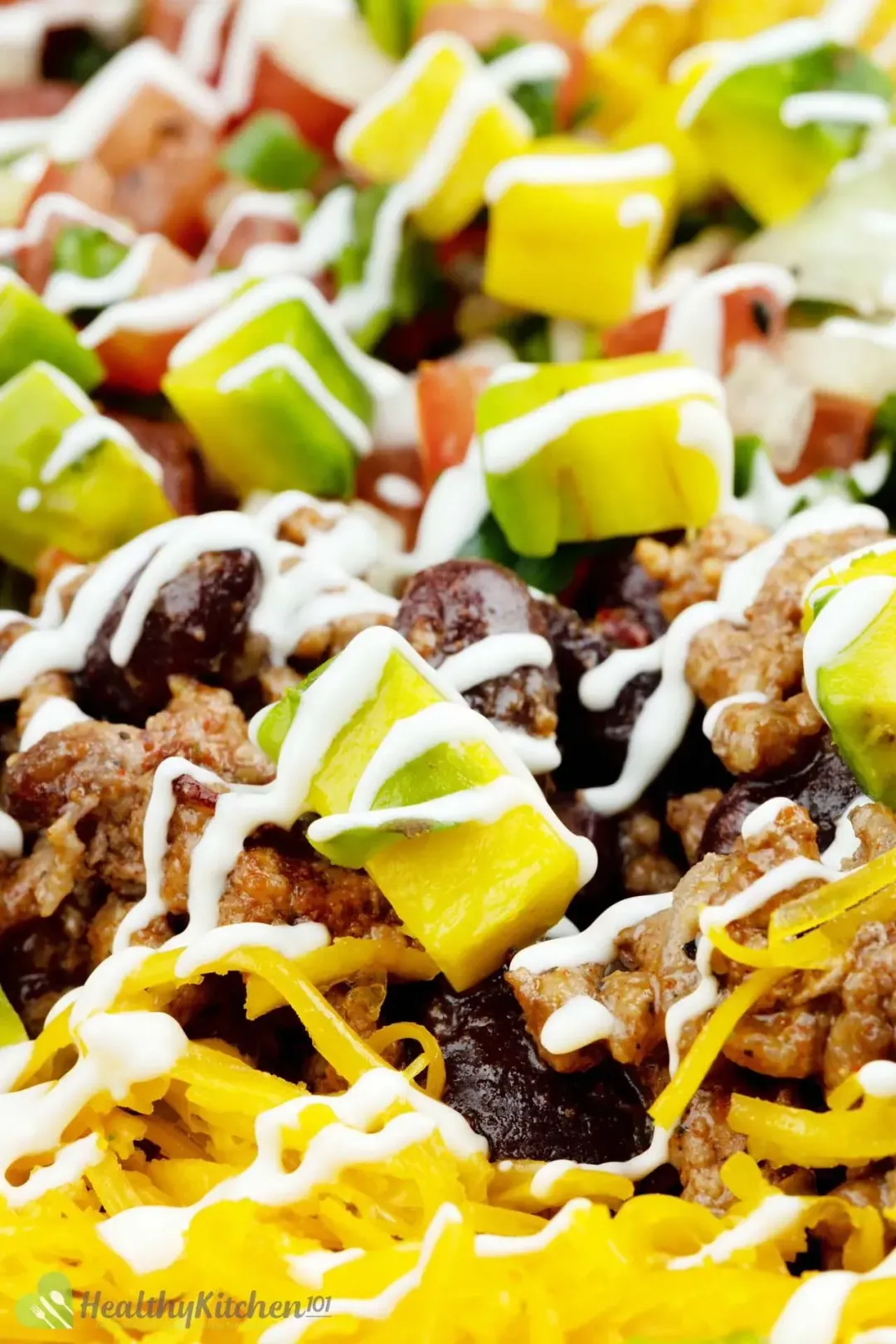 Nicole Gid

February 28, 2023 at 4:37 AM

I really like this salad. It was very good and easy to make.