When you're trying to eat healthy, but those cravings just won't leave you be, try this potato skins recipe.
What Is a Potato Skins Recipe?
For certain, it's not about cooking up just the outer skin of potatoes. It's roasting medium potatoes, cutting them in half, hollowing out each half, and filling them with delicious toppings: melted cheddar, crispy bacon, and sour cream. Basically, these potato skins are soft potato pouches that hold tons of flavors.
Most recipes don't leave much flesh on the skin, but we like the pouches thick. Each bite is equally soft, warm, and tender—like hugs— making this the ultimate comfort snack.
Make these at your next gathering and your friends will be thankful.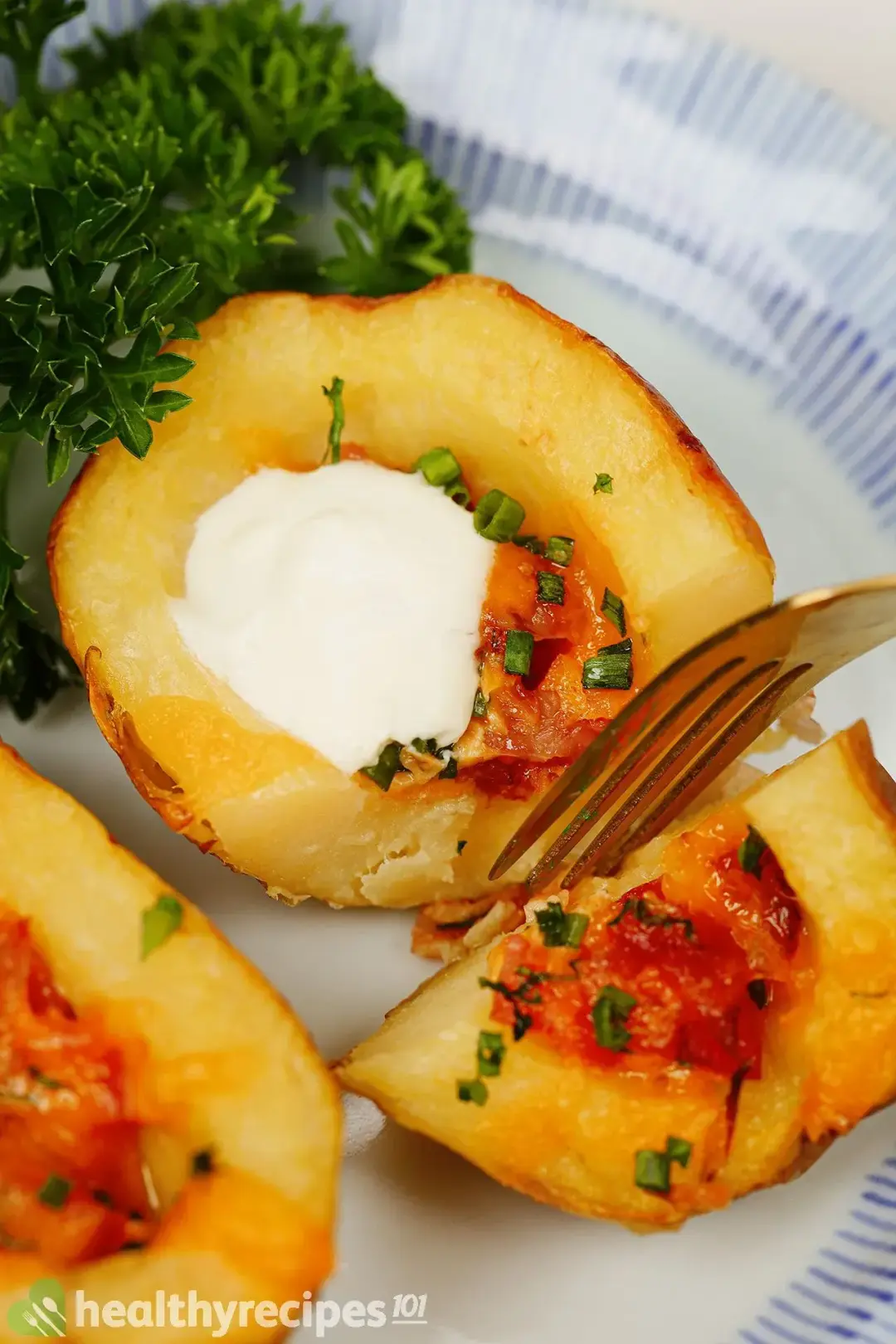 Are They Healthy?
There are nuances to this question.
Listed as one of the foods that are high in carcinogens, bacon can't ever be labeled 'healthy'. But considering how it's America's most favorite food, the need for bacon is a long way from being removed from menus.. As long as this need exists, we will still use bacon in our dishes, but in a moderate amount. Apparently, this is also many other experts' take on consuming bacon.
Although this snack isn't the healthiest of all, it's not exactly unhealthy, either.
Apart from being carcinogenic, bacon is also rich in saturated fat and sodium, along with the cheese, so we were more careful in using these ingredients. We also swap sour cream for Greek yogurt, as it tastes similar to sour cream yet lower in saturated fat. 
Now each serving comes with around 200 calories, 4 g saturated fat, and 213 mg sodium, acceptable amounts for a snack.

Ingredients for This Potato Skins Recipe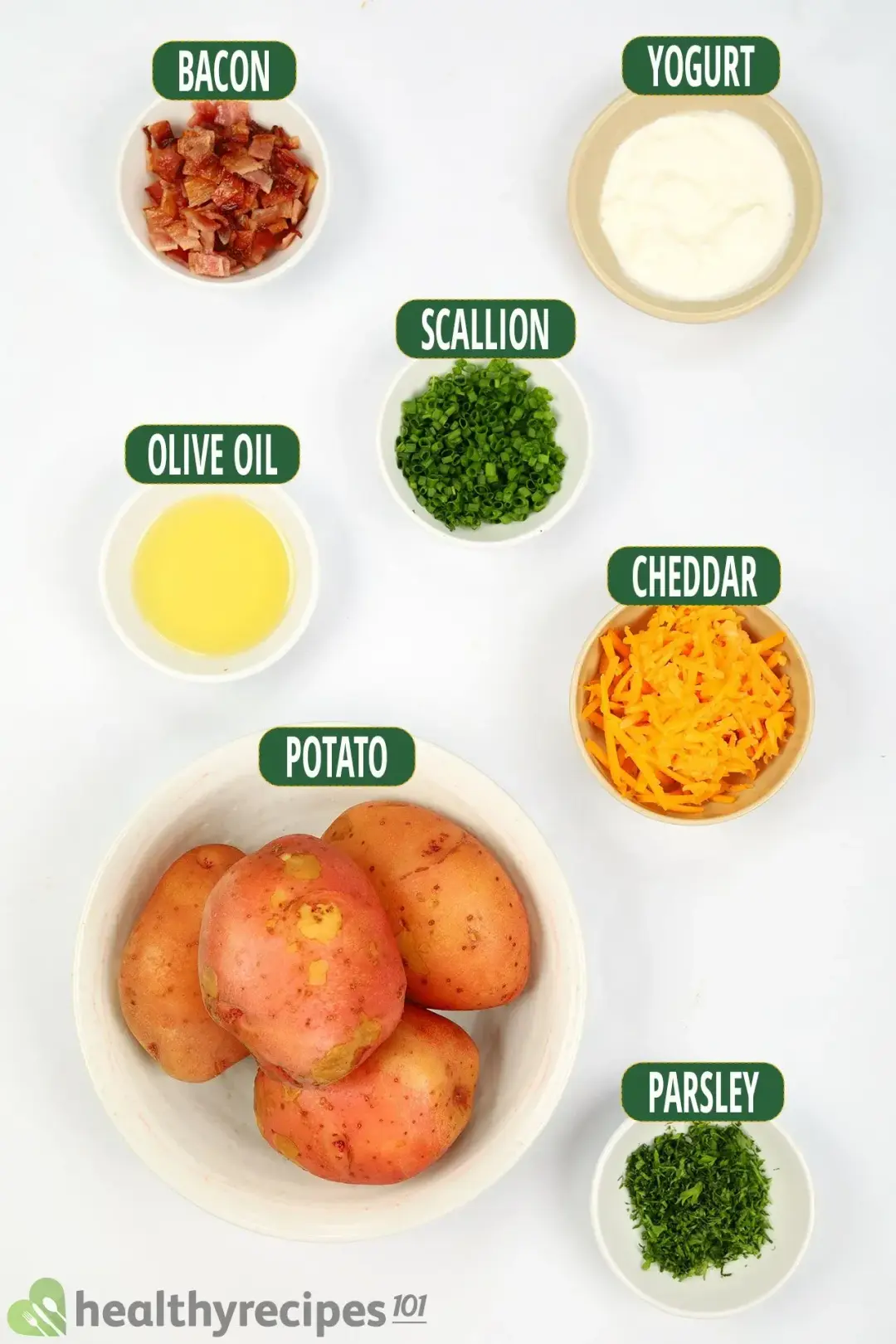 Potatoes: we used the classic red skin; a starchy one, basically. Waxy ones like New Potatoes, French fingerling, or Red Bliss also work well, giving a nice chewy texture to the snack. The leftover cooked potatoes can be repurposed as a soup thickener or used for mashed potatoes.
Bacon: our recipe uses pre-cooked bacon, so you should make some while the potatoes are cooking. Pan-frying is the quickest way; air-frying and baking take more time, but you don't have to supervise.
Cheese: preferably cheddar, but any type of cheese that melts, like mozzarella, will work fine.
Greek yogurt.
Salt, pepper, chopped parsley, and some olive oil.
Details on how to make are listed in our 'Potato Skins Recipe' card at the bottom.
Store and Reheat
This snack is preferably eaten straight away, but can also be kept in the fridge for about four days. Freezing is not recommended.
To reheat, bake or air-fry them at 400 degrees Fahrenheit for 10 minutes.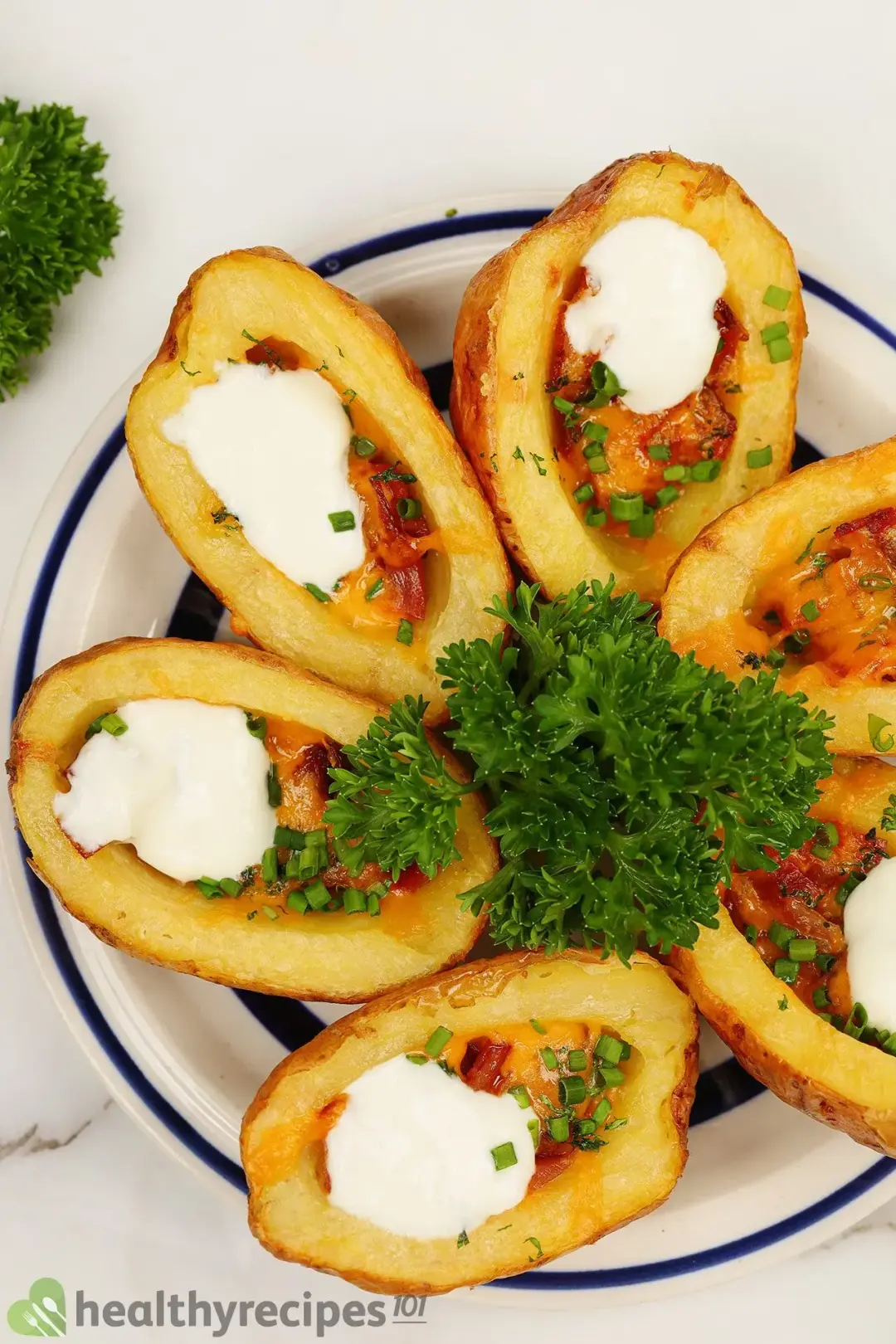 How to Make Potato Skins
If you're craving a salty, rich, and tender snack, we have just the thing for you. This potato skins recipe makes four servings, and it's super easy.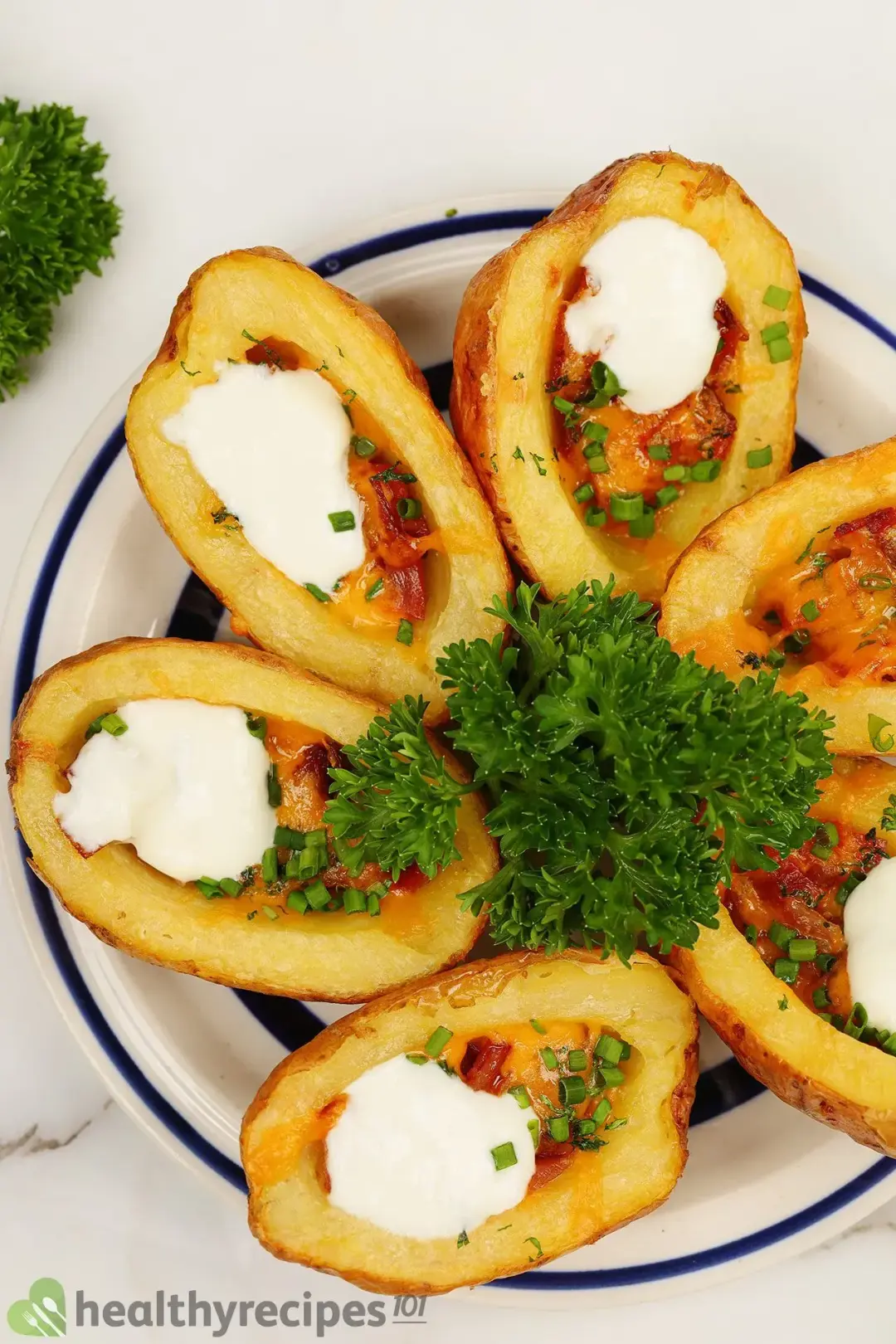 cook TIME

50 mins

prep TIME

5 mins

total TIME

55 mins
COURSE

Appetizer, Side Dish, Snack

CUISINE

Global

SERVINGS

servings

CALORIES

208 kcal
INGREDIENTS
4

whole potatoes 4 oz each

1.5 oz

cheddar cheese shredded

1 oz

pan-fried bacon crumbled

2 tbsp

plain Greek yogurt

1.5 tbsp

olive oil

2 tbsp

scallion chopped

2 tbsp

parsley finely chopped
INSTRUCTIONS
Prep:
1
Wash 16 oz potatoes very well (scrub if necessary).
3
Pan-fry 1 oz bacon until crispy, then chop it into fine bits.
Cook:
1
Air-fry the potatoes: Wrap 4 (4-oz) potatoes in foil, then air-fry at 400 degrees Fahrenheit for 40 minutes.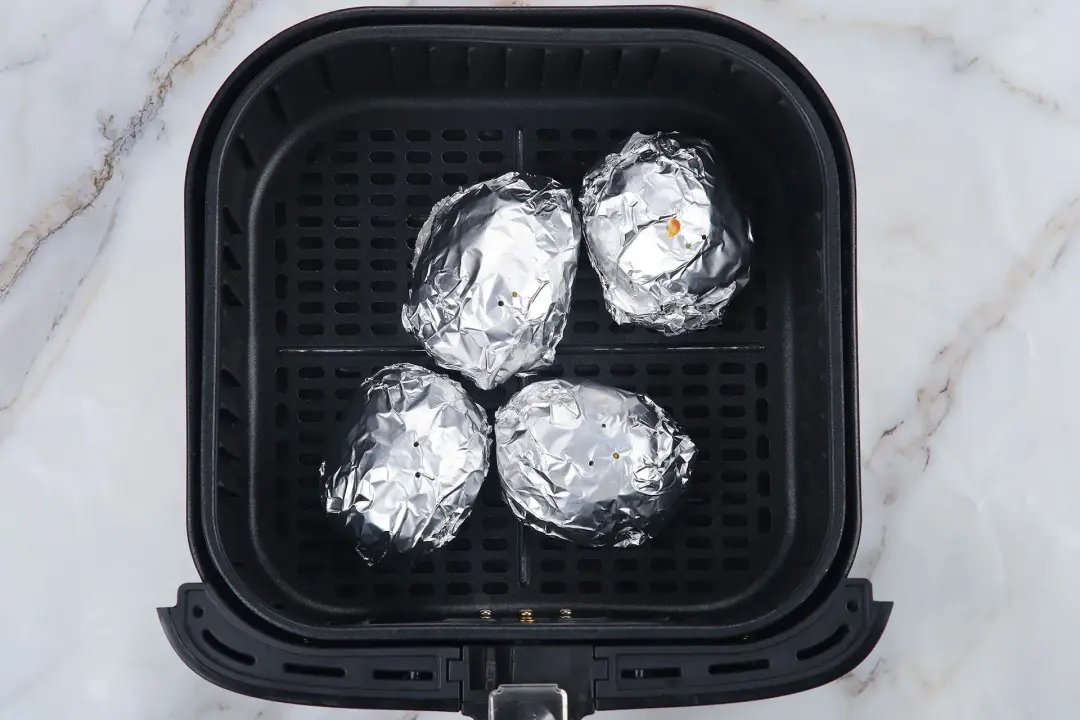 2
Half and hollow the potatoes: Carefully remove the foil from each potato, then cut them in half lengthwise. Use a spoon to scoop out the middle so that the potato pouches are 1" in thickness.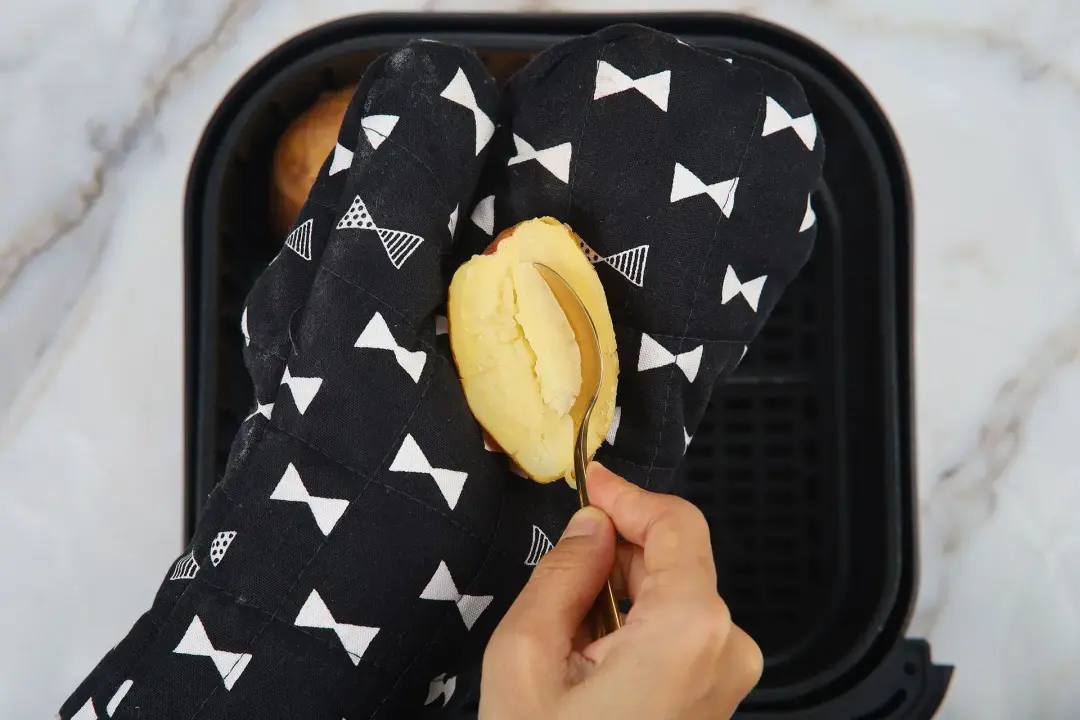 3
Brush with oil, then air-fry: Brush the potato pouches with 1 1/2 tbsp olive oil, then air-fry them at 400 degrees Fahrenheit for another 7 minutes.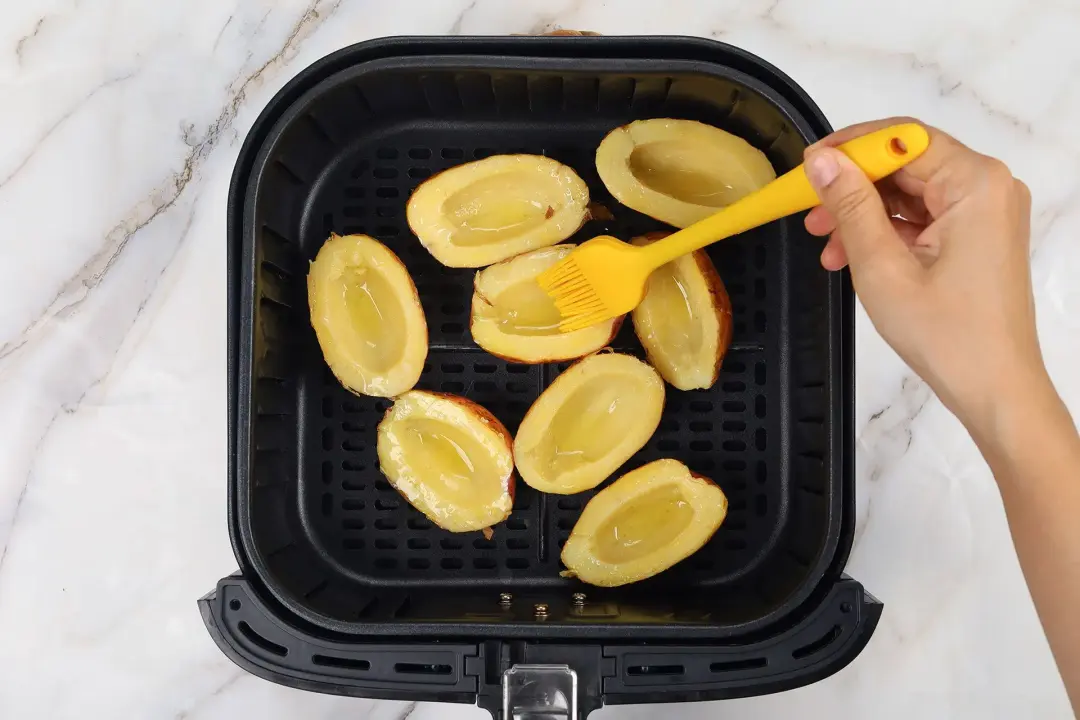 4
Add the filling, then air-fry for the final time: Fill the potato pouches with 1.5 oz cheddar cheese, 1 oz crumbled bacon, and 2 tbsp Greek yogurt. Air-fry them at 400 degrees Fahrenheit for another 3 minutes.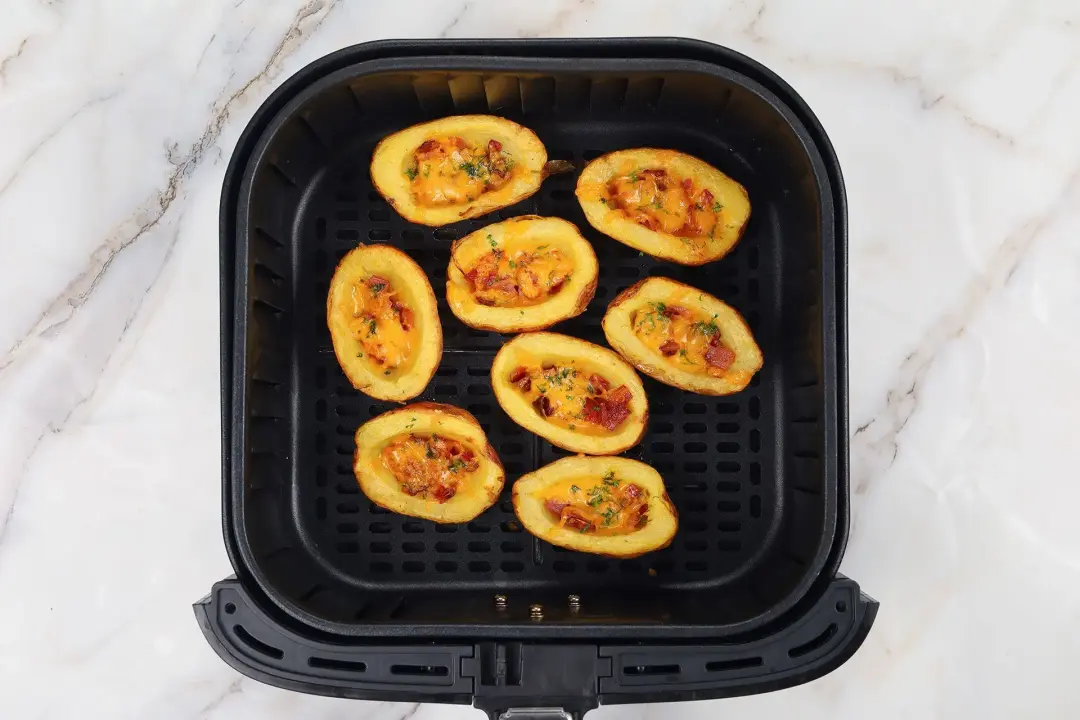 5
Serve: Top with 2 tbsp chopped scallion and 2 tbsp chopped parsley. Keep warm in the air fryer until serving.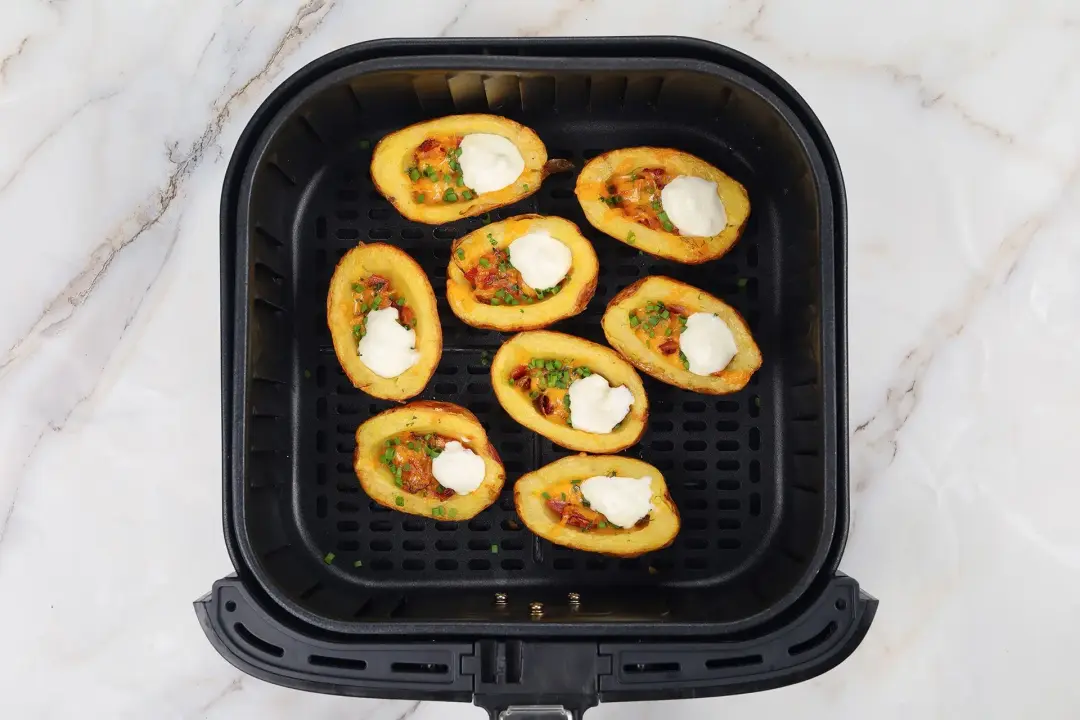 NUTRITION
Nutrition Facts
How to Make Potato Skins
Amount Per Serving (1 serving)
Calories 208
Calories from FDA
% Daily Value*
* Percent Daily Values are based on a 2000 calorie diet.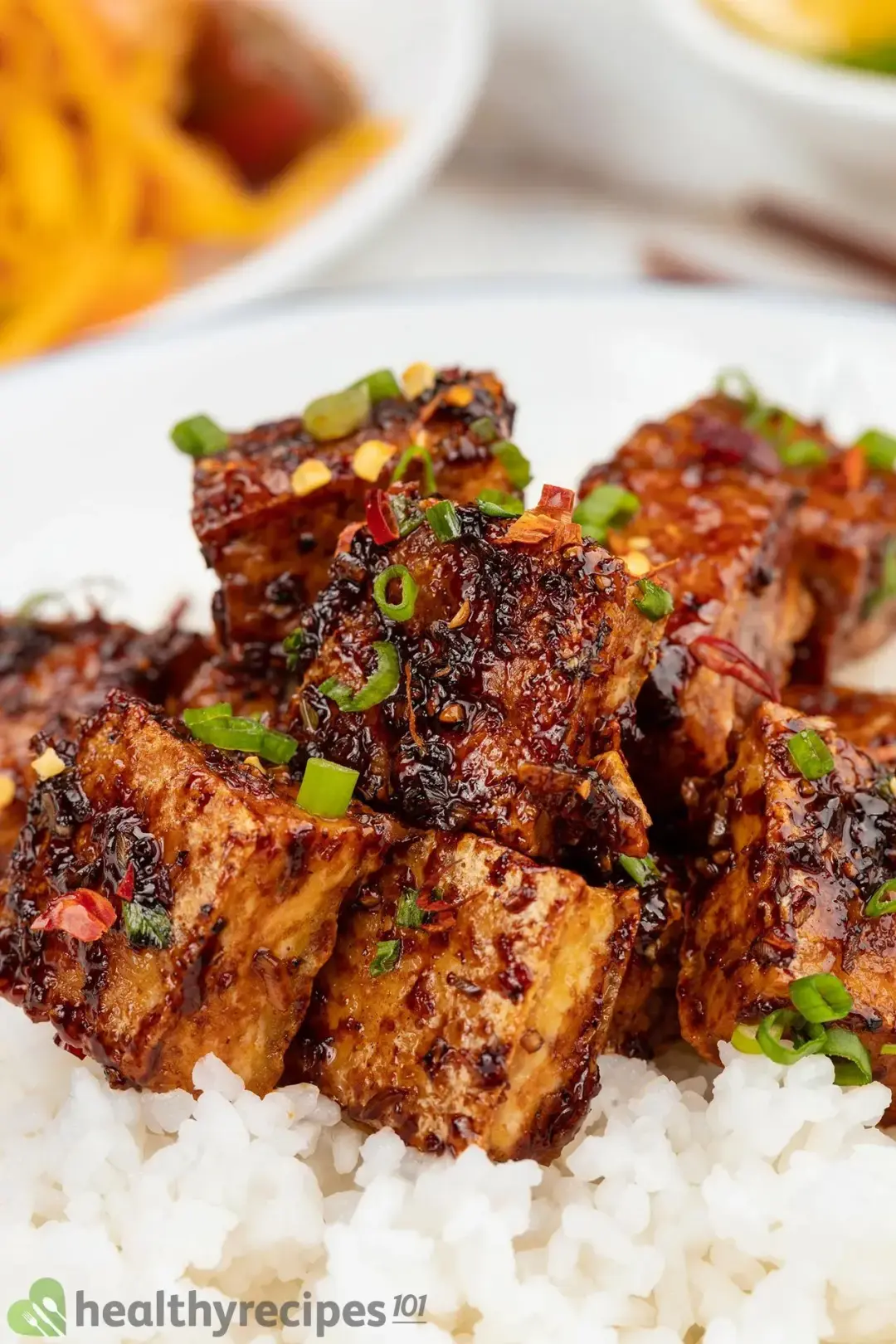 Previous Recipe
Spicy Tofu
Spicy Tofu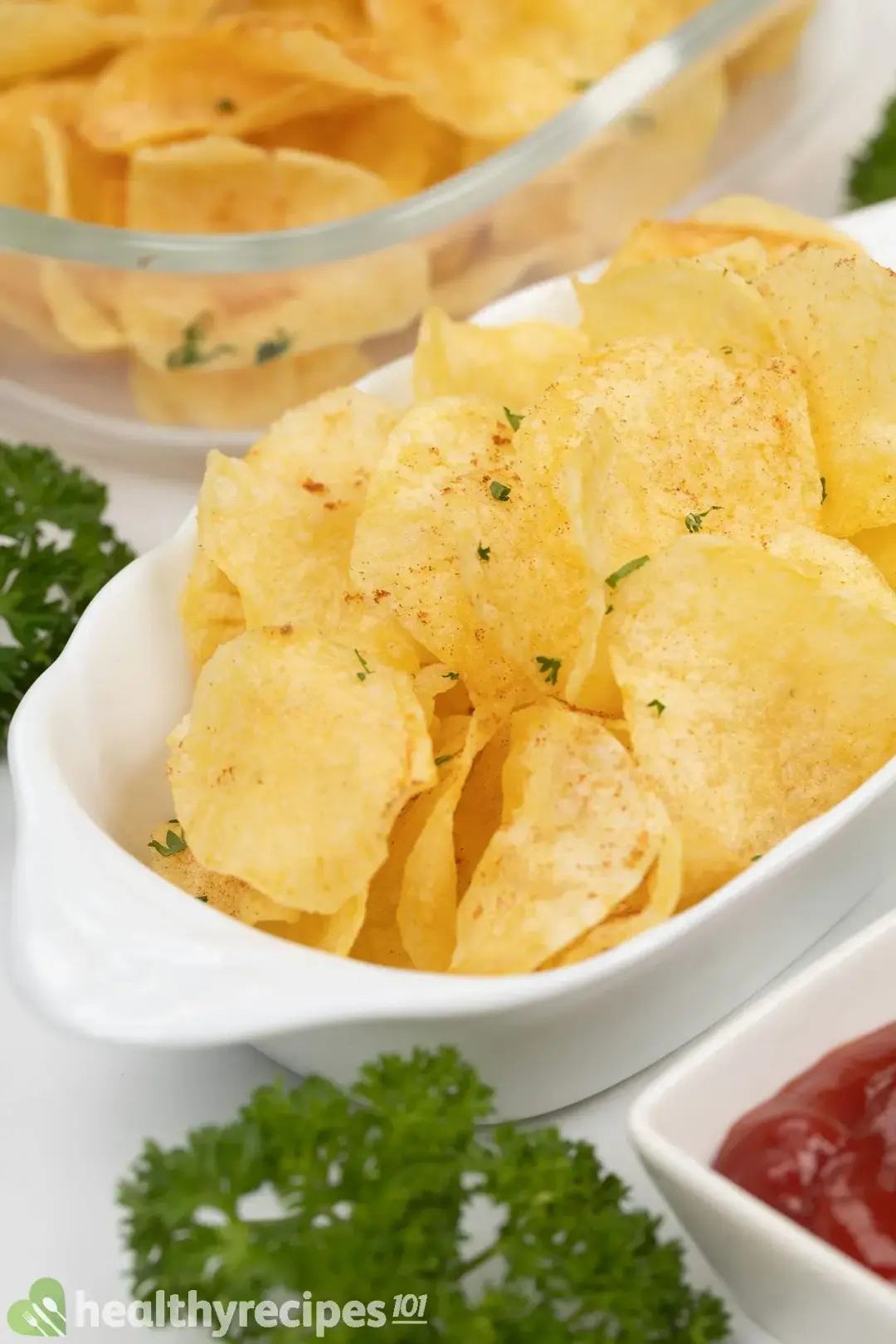 Next Recipe
Potato Chips
Potato Chips
Luna Regina
A writer and entrepreneur, Luna's day doesn't start at the computer keyboard, but in the kitchen.
Half of her working hours are spent on mixing ingredients for her recipes. The other half involve working with the tech team to research and test the tools and appliances that promise to make kitchen work effortless and mess-free. From a kitchen knife or water filter to the Instant Pot, if it can help save time and effort for the home cook, Luna and her team are on it.
Luna's extracurricular pastimes include camping, travel, and photography.