This buffalo chicken dip recipe might be the next thing you want to add to your recipe book. With chicken bits smothered in the spicy buffalo sauce, cream, and cheese, this dip is simple with unique flavors.
If you fancy buffalo chicken wings, chances are you'll love this dip, especially when it's much quicker to make. It's even more amazing— though piled up with cheese, the total fat is still kept under control.
Is This Recipe Healthy?
This recipe is not only quick to make but can also be adaptable to many dietary styles. For those who are following Keto, buffalo chicken dip is totally safe for you to include in your daily consumption.
To make it even more appealing or diet compatible, simply adjust the proportions to your liking. For example, you can add more chicken chunks while cutting down on the sour cream.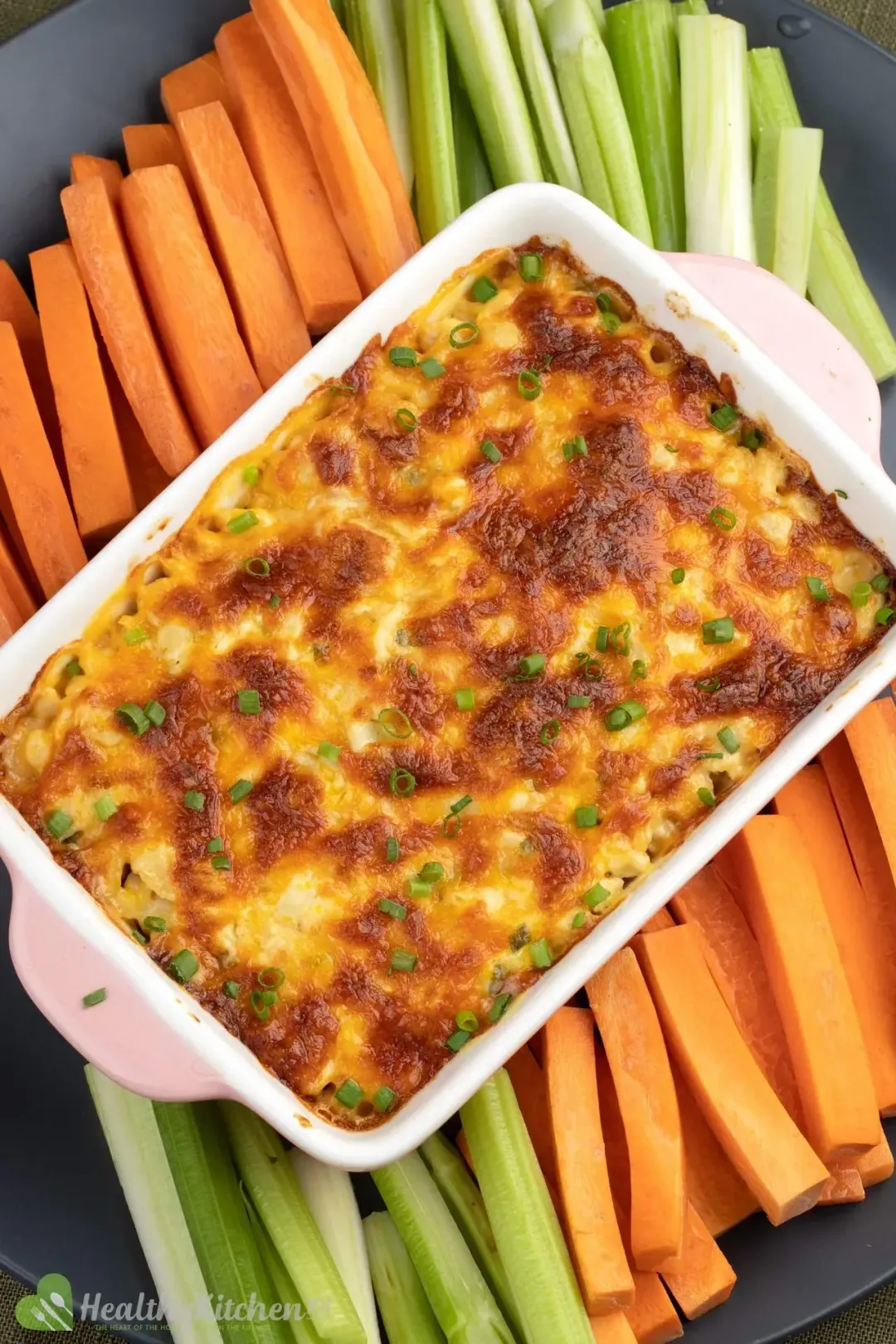 Calories?
This buffalo chicken dip provides 196 calories per one serving. In which, 90 calories are from 90 grams of fat— taking up almost half of the amount.
You'll also get 17 grams of protein from this dish. These explain how buffalo chicken dip is beneficial for low-carb and Keto diets, as said above.
Ingredients
This buffalo chicken dip recipe is a combination of tender chicken, Buffalo sauce, cream cheese, mozzarella cheese, and cheddar cheese. They're all mixed in to create a fluffy dip that your chips won't break in when scooping it up.
1. Chicken Thighs
For this recipe, we opted for chicken thighs chunked small so it's easier to scoop. Skinless boneless thighs are our top choice, we'll get no extra fat from the skin and spend less time cooking.
Poached chicken or rotisserie chicken can also work fabulously for buffalo chicken dip. To make the best use of types of chicken, these healthy chicken recipes will give you reliable and tasty options.
In case you're running out of time to prep, this dish won't say no to leftover chicken or canned chicken. But as ever, if possible, home-cooked wins over-processed every time.
2. Cream Cheese
The cream cheese base is second to none when it comes to making the dip fluffy and scoopable. Make sure the cream cheese is soft as possible (microwave it beforehand or use a hand mixer to crumble it).
However, buffalo chicken dip can still be made without cream cheese— every ingredient has its lighter substitution.
You can swap the regular full-fat cream cheese with Greek yogurt or light mayonnaise (preferably Hellmann's of Kraft). You can also use Ranch dressing if desired.
3. Celery
In this recipe, celery isn't added to the filling. Instead, it's used as a vessel to scoop and eat together with the buffalo chicken dip.
Other veggie vessel options are carrots, cucumbers, and bell peppers. If you don't find yourself enjoying celery, there are lots of alternatives for it, which we'll go into details later.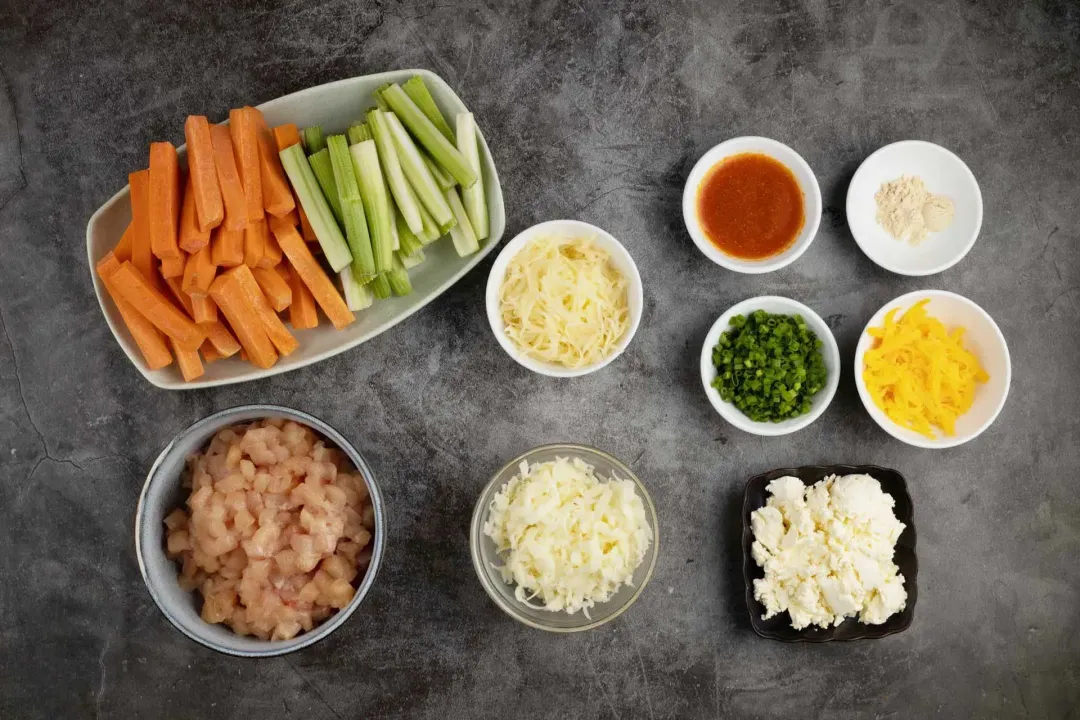 Is This Recipe Spicy?
This recipe is mildly spicy as there's only 2-3 tablespoons of homemade buffalo sauce added to the filling. Additionally, scallions and garlic powder also add a tad of tang for the dip.
What Goes with This Recipe?
You know what momma said, "The secret ingredient is always love". This recipe will tell you exactly the same— feel free to have your food served with your favorite ingredients!
1. Mozzarella Cheese
This soft white cheese is the key for the creamy and gooey texture in this buffalo chicken dip recipe. Besides, mozzarella cheese is pretty low in sodium and calories, when compared to most other cheeses.
Thanks to the high moisture content of mozzarella cheese, the dip won't get too dry or muddy. You can shovel into it with ease and see this easy, baked quiche recipe for another creamy, mozzarella-based dish
2. Blue Cheese
If you are out of mozzarella cheese, we strongly suggest blue cheese as a replacement.
Blue cheese is rich in calcium and has been found to have anti-inflammatory properties. It's often served alongside regular buffalo wings.
However, the distinctively bold and sharp flavor of blue cheese might overshadow other ingredients. Therefore, you'll need to watch the amount that's going in carefully.
3. Sour Cream
We didn't have sour cream for this buffalo chicken dip. However, you cannot deny the fact that sour cream always works amazingly in dips.
For the present case, sour cream can be a wonderful substitution for cream cheese as it's so rich and thick. If added, sour cream will double the tanginess and sourness of the dish while cutting down on the fat content.
4. Greek Yogurt
We didn't have any Greek yogurt in this recipe. However, it can still be a great choice as a substitution for sour cream.
Of course, cooking is a journey of tried-and-true experiences. All we can say is let's just listen to your taste buds and please it any way you can.
Add that Greek yogurt if you feel like it, it'd be fine.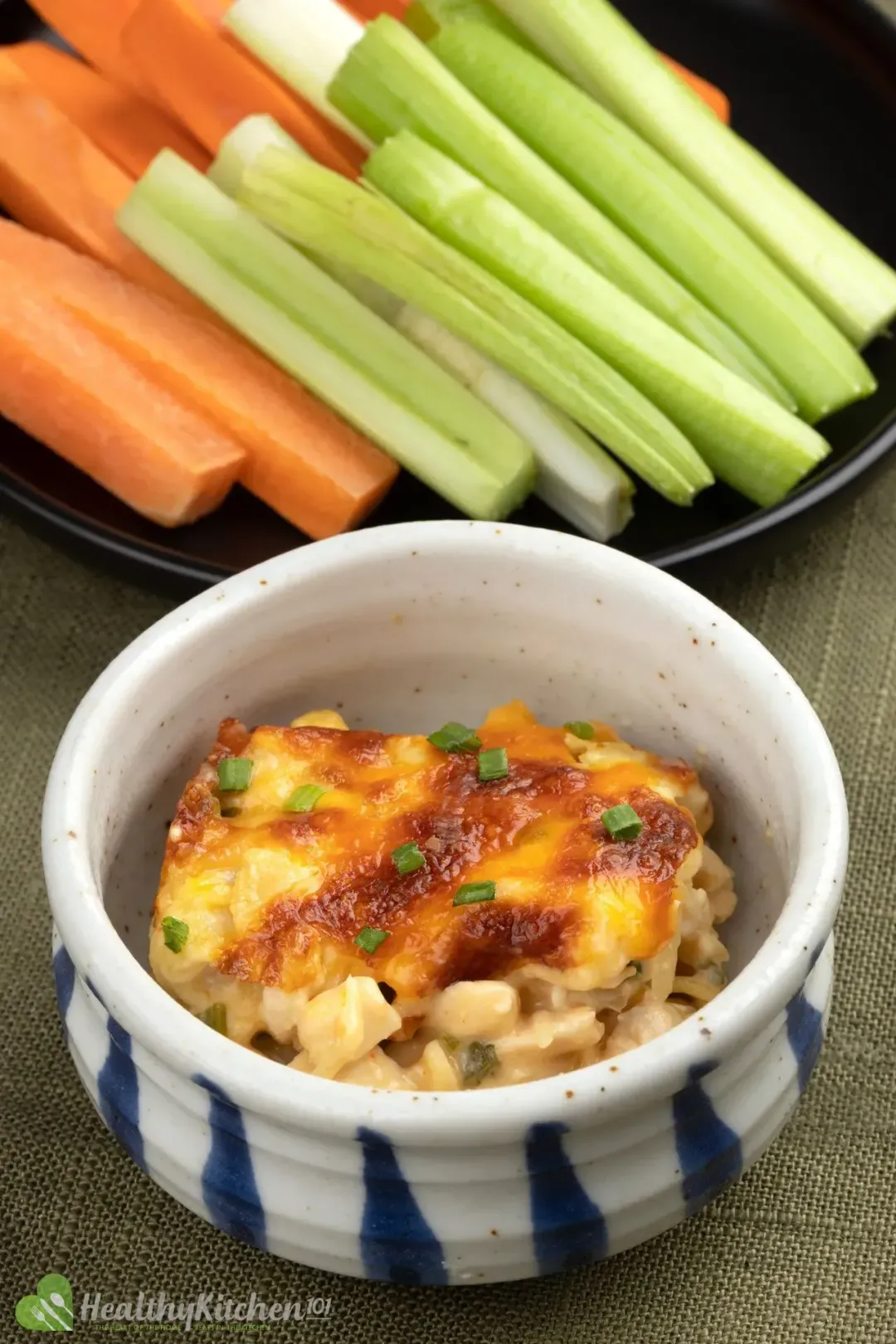 How Long Does It Last?
Leftover buffalo chicken dip will stay safe and fresh under refrigeration in an airtight container for 3-4 days. However, if you've already combined leftover chicken in the dip, then it should be stored and used within 2 days.
Make sure that you secure the container lid when leaving it overnight; otherwise, simply cover it with plastic wrap. They all help preserve the best quality in taste.
Can You Freeze It?
Yes, you can.
Same as overnight storing, you'll have to transfer the buffalo chicken dip into a container with a lid. Put it in the freezer so it can last up to 2-3 months.
Reheating frozen buffalo chicken dip is also simple. All you need to do is pop the whole container in the microwave and warm it up for 5 minutes.
What to Serve with
This buffalo chicken dip recipe promises a basic dip with complex flavors. There are also many options for vessels available as seen below:
1. Tortilla Chips
Tortilla chips are the most popular go-to option when it comes to buffalo chicken dip. They balance the whole serving perfectly as they lend saltiness and crunchy texture to the dip.
2. Bread
Besides tortilla chips, crackers, breadsticks, or small pita pockets are not any less ideal for a side. Bread makes a wonderful companion as it can make up for the carbohydrates that buffalo chicken dip is missing out.
3. Tacos
If you're thinking of wrapping this recipe in tacos but are afraid of contrasting flavors, don't be hesitant. Take a bite of it and see for yourself— we guarantee it will be worth the try.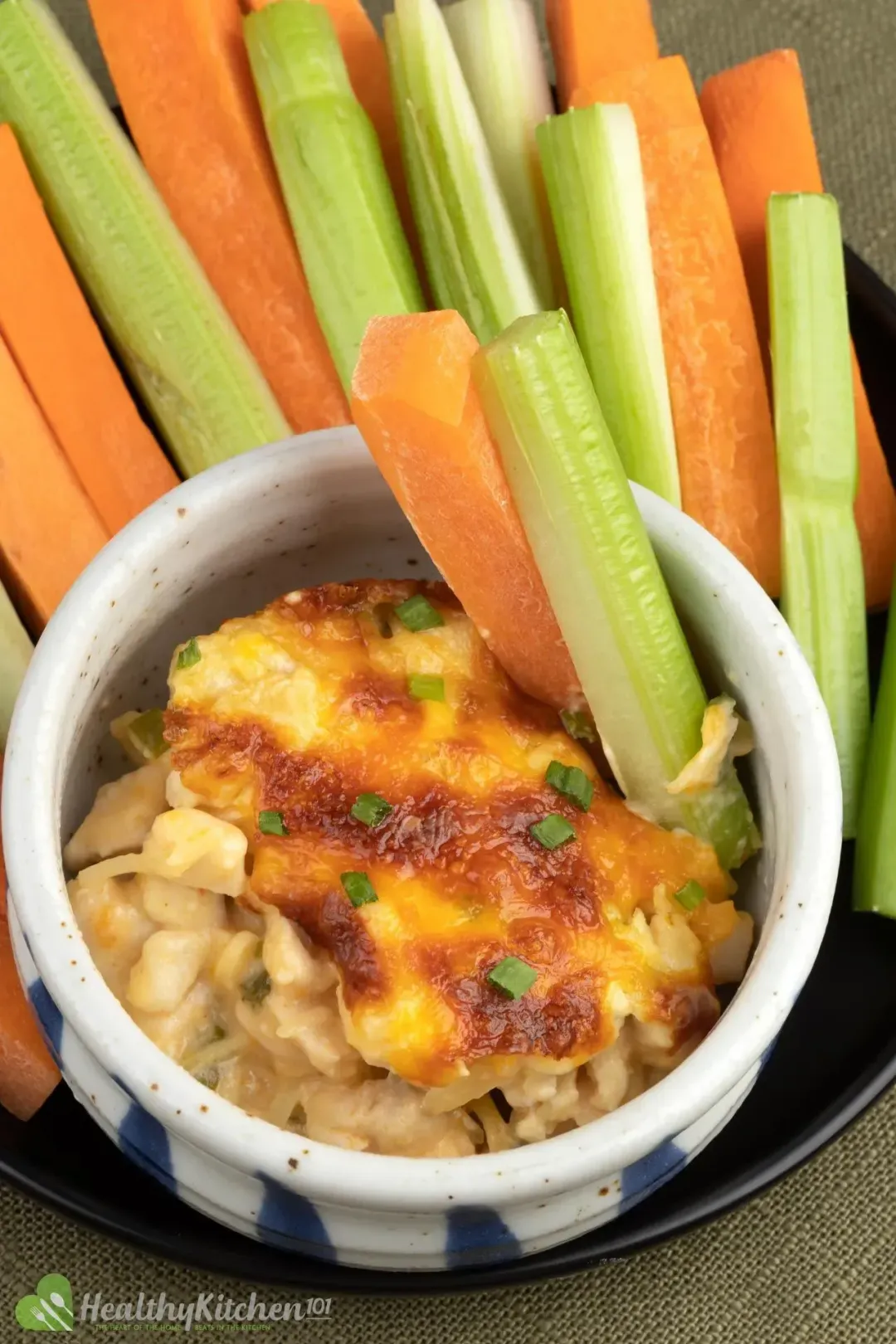 Chicken Dishes You Can Make for Dinner
In theme with the chicken dip, these BBQ chicken tacos are also the finger food that keep your tummy warm. Inside each crispy shell sit a colorful mix of crisp veggies on top of smoky, spicy chicken shreds. We keep everything moist and rich with the white sauce we whip up from scratch, and don't worry—they all come together in 30 minutes.
This skillet of balsamic chicken takes a wee bit more time, but is it to die for or what? The chicken is both golden and moist, the cheese balls are plenty, and the sauce is on point. It sides with air-fried potato wedges for a wholesome weeknight meal.
For more dinner ideas, you can check out this collection of ours. It has up to 40 recipes, cooked in pots and pans.
Buffalo Chicken Dip
Every time we use this buffalo chicken dip recipe, we always have to double up the serving size. People request it all the time! Buffalo chicken dip can also be stored in the fridge and reheated in the microwave later with ease. Convenience at its best!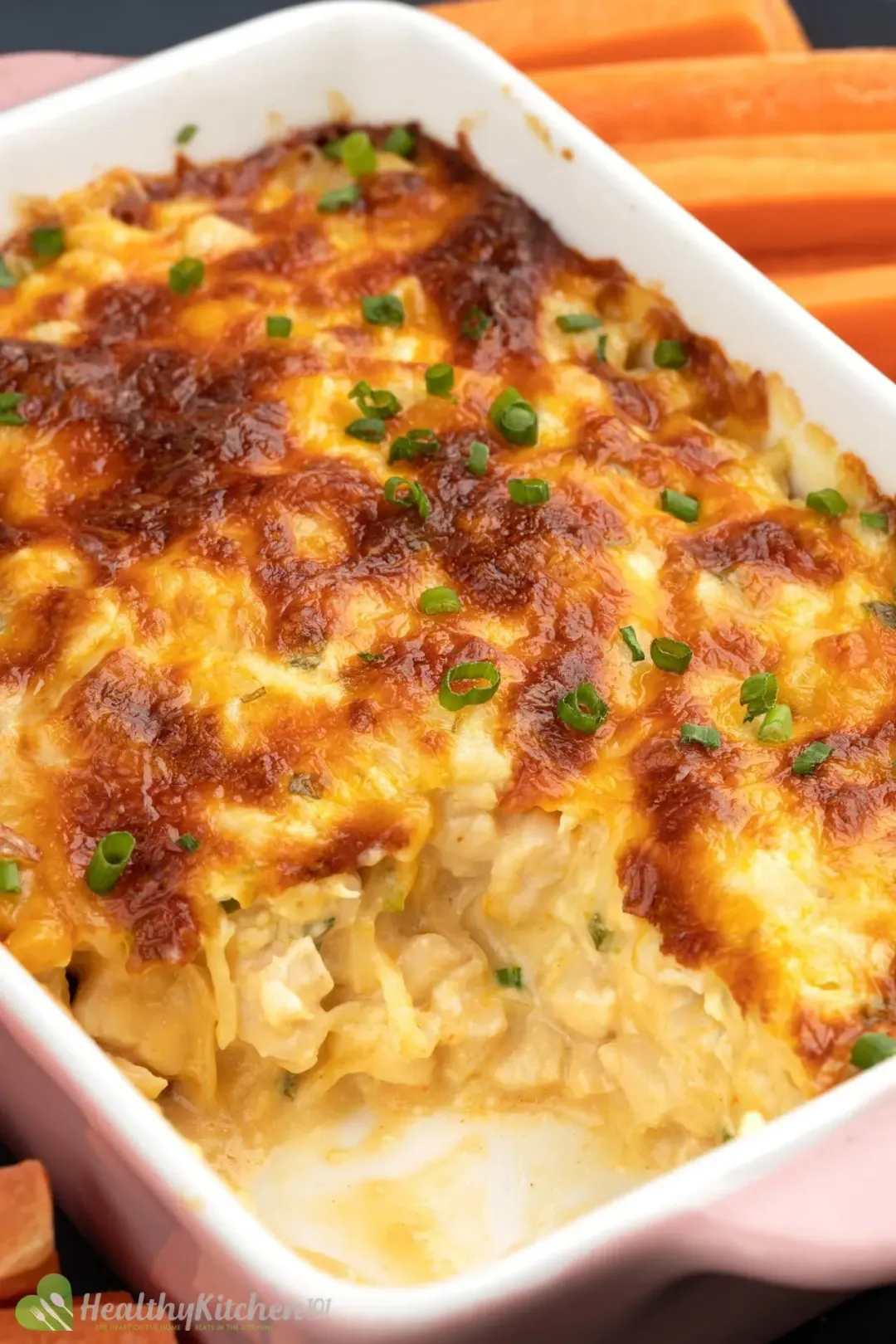 cook TIME

25 mins

prep TIME

10 mins

total TIME

35 mins
COURSE

Dip, Side Dish

CUISINE

American

SERVINGS

CALORIES

196 kcal
INGREDIENTS
14 oz

skinless boneless chicken thighs

(chunked)

2 oz

mozzarella cheese

(divided)

0.5 oz

cheddar cheese

(divided)

4 tbsp

scallions

(divided)

2/3 tbsp

homemade buffalo sauce
INSTRUCTIONS
1
Preheat the oven to 350°F.
2
Stir-fry 14 oz chicken over medium heat for 3 minutes (without oil). Drain well.
3
Mix the fried chicken together with 2/3 tbsp buffalo sauce, 5 tbsp cream cheese, 3/4 tsp garlic powder, 2 oz shredded potato, 1 oz of mozzarella cheese, 0.25 oz of cheddar cheese, and 2 tbsp of scallions in a large bowl until well combined. Set aside.
4
Spread the mixture into a baking dish (ours is a 5x7x2-inch casserole dish), top with the remaining 1 oz mozzarella and 0.25 oz cheddar cheese. Bake for 20 minutes or until the cheese on top is bubbly.
5
Remove from the oven and sprinkle the 2 tbsp remaining scallions on top. Serve as a dip with the carrot and celery sticks.
NUTRITION
Nutrition Facts
Buffalo Chicken Dip
Amount Per Serving (1 serving)
Calories 196
Calories from Fat 90
% Daily Value*
* Percent Daily Values are based on a 2000 calorie diet.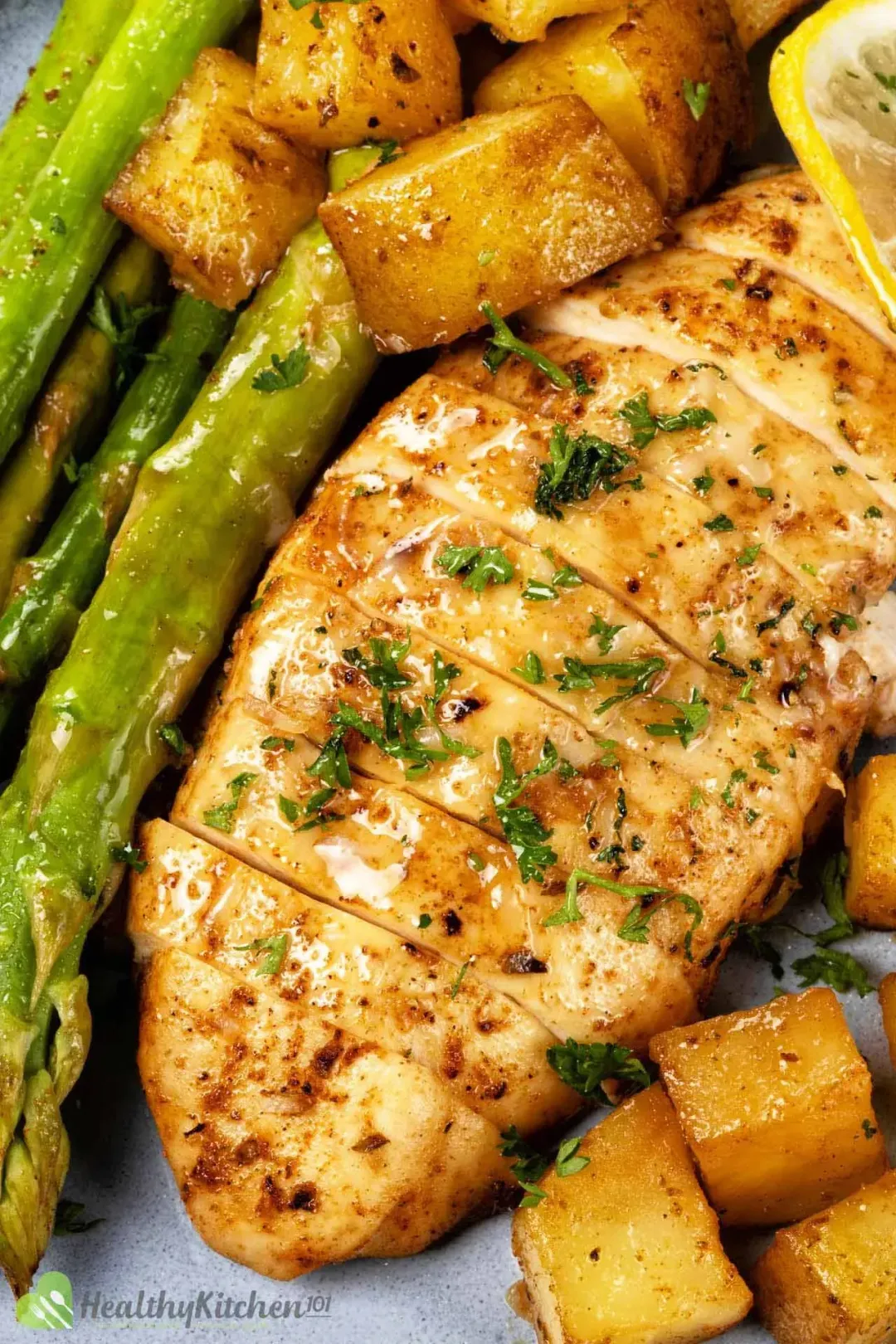 Previous Recipe
Healthy Baked Chicken Breast
Healthy Baked Chicken Breast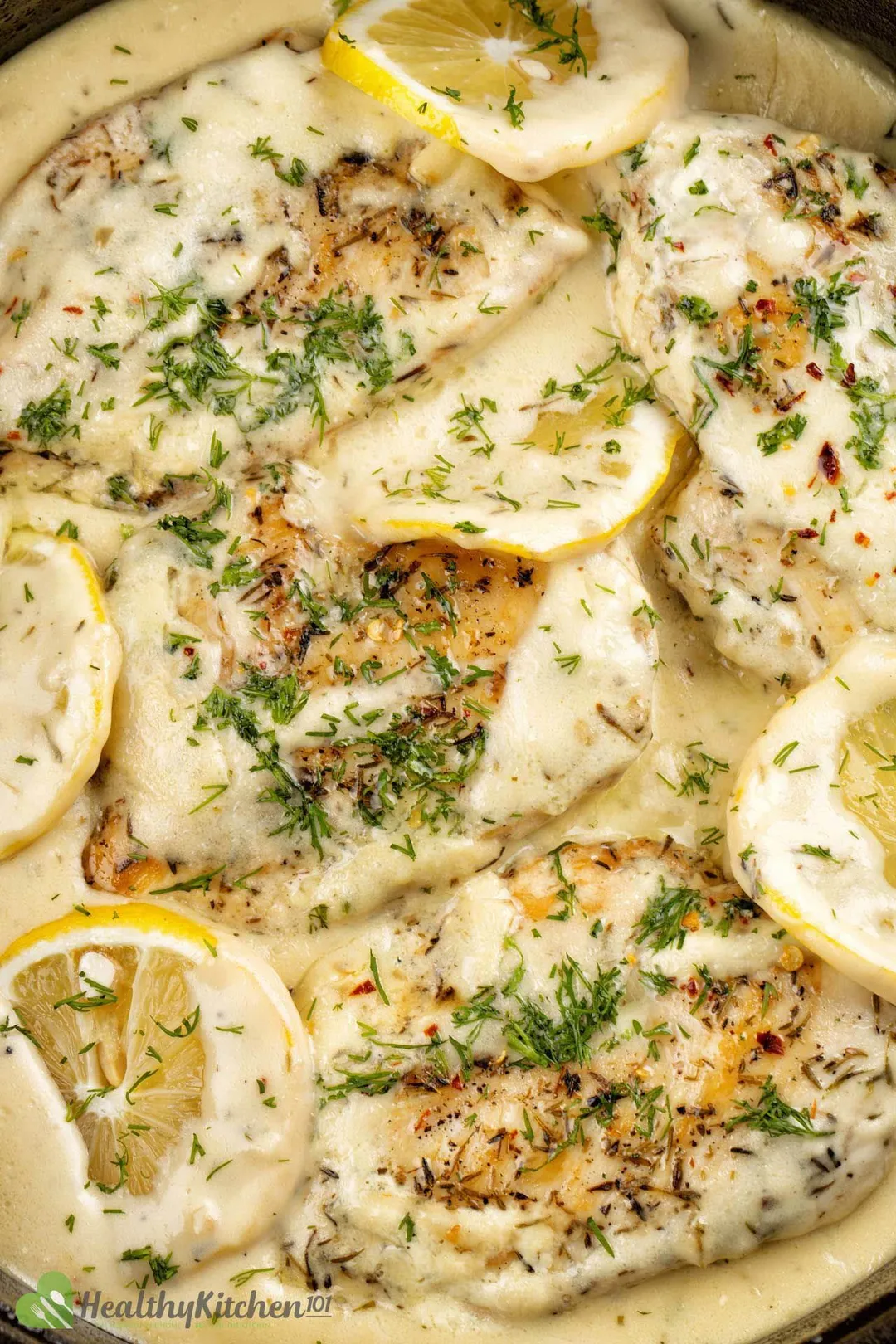 Next Recipe
Healthy Lemon Chicken
Healthy Lemon Chicken
Head Chef, Culinary Consultant
Tuyet Pham is an award-winning Saigonese chef who believes that joy is the secret ingredient to delicious food. At Healthy Recipes 101, Tuyet personally tests and simplifies every recipe, ensuring maximum flavor with minimal effort. With a background at prestigious French restaurants P'TI Saigon and Le Corto, Tuyet knows how to make every dish exceptional.
Writer, Author
Luna Regina is an accomplished writer and author who dedicates her career to empowering home cooks and making cooking effortless for everyone. She is the founder of HealthyKitchen101.com and HealthyRecipes101.com, where she works with her team to develop easy, nutritious recipes and help aspiring cooks choose the right kitchen appliances.
Nutrition Reviewer
Lizzie Streit is a Minneapolis-based dietitian and founder of It's a Veg World After All. She completed her MS in Human Nutrition from Drexel University, and is an expert in culinary nutrition, recipe development, and nutrition communications. Lizzie's philosophy is centered around making nutrition recommendations, and especially the advice to eat more vegetables, approachable and realistic. She is excited to be working with the team at Healthy Recipes 101 to ensure that their recipes are both nutritious and delicious.
It is in the list of my fave dips to try. It is easy to prepare and I am sure quite comforting!

Oh Denise it's my pleasure having you interested in the dip. Let me know when you finally give a try 😀

Oh, yeah! This is one irresistible dip!! Perfect for game day munching.

Yes, isn't it? Hope you have your game day covered Liz!

This sounds delicious – so packed with flavor! Such a comfort food snack, that I would devour!

Oh yes, it's a burst in flavor, really hope you'll devour it just like I did 😀