Healthy, easy, and absolutely delicious, this chicken zucchini recipe checks all the boxes for a satisfying dinner. As the name suggests, it's a straightforward pairing of chicken and zucchini, with some mashed chickpeas on the side. The chicken is seasoned with a myriad of spices, creating a mixture of delicate and sunny flavors that instantly brighten the taste buds.
Is This Recipe Healthy?
With a reasonable amount of chicken, chickpeas, and zucchini, this dish is quite healthy.
The chicken loads it up with an abundance of protein—approximately 46 g per serving. In addition to protein, chicken is also a good source of vitamins B6 and B12, heme iron, zinc, phosphorus, and various other nutrients.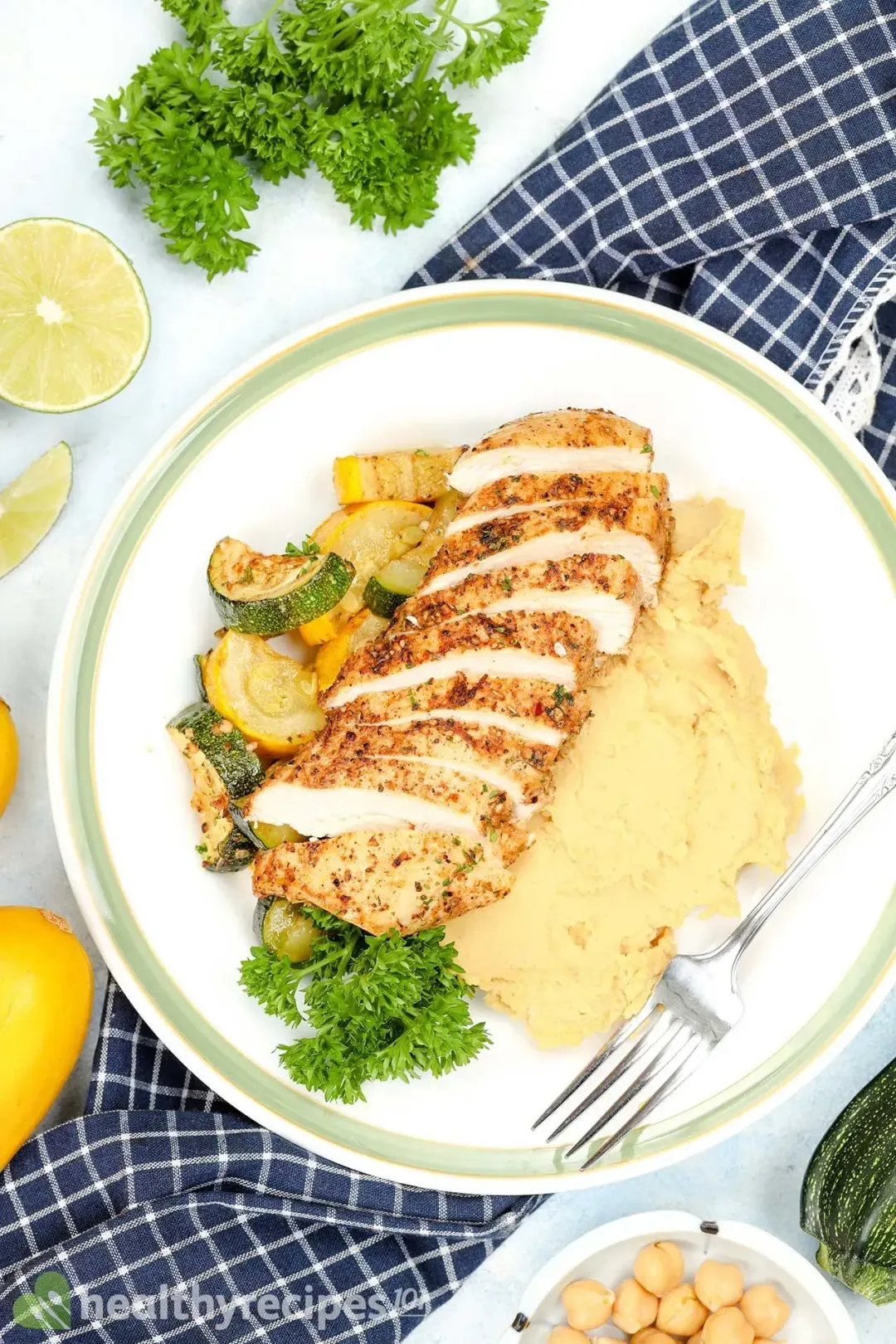 Furthermore, with calculated adjustments to the ingredient portions, we also managed to limit the saturated fat to 5.7 g and the sodium to 583 mg for a 455-calorie serving. These amounts perfectly adhere to the standards set by our nutrition guidelines.
Ingredients for This Recipe
This dish is pretty straightforward, with the main ingredients being chicken and zucchini. You'll only be needing a handful of other additional ingredients to successfully bring everything together. Here are the specifics:
Chicken: We went with the classic chicken breast for this recipe. This boneless and skinless cut requires minimum preparation, so you don't have to do much besides patting it dry and pounding it flat.
Zucchini: We went with an even mixture of Gourmet Gold and Black Beauty to give the dish bright pops of colors. They both have a subtle sweetness and fresh taste that instantly lift the dish's flavors. Make sure you pick out ones that are still slightly firm so they don't lose their texture and become soggy during the cooking process.
Chickpeas: Chickpeas are often eaten as they are, but for this recipe, we switched things up a bit and blended them into a creamy mixture instead. It requires a few extra steps but it'll be worth it once you see how well it highlights the legume's naturally starchy texture and nutty taste.
Milk & Butter: Prior to blending, we microwaved the chickpeas with some milk and butter. This helps to thicken the texture as well as enhance the chickpeas' flavor with a creamy, sweet taste.
Lemon Juice: The lemon's acidity helps to partially tenderize the chicken giving it a gorgeous light texture. Furthermore, it also infuses the meat with a bright and citrusy undertone.
Spices: Since the main ingredients are quite mild-flavored, we went with a variety of intense spices like paprika, garlic powder, Italian seasoning, and Cajun seasoning.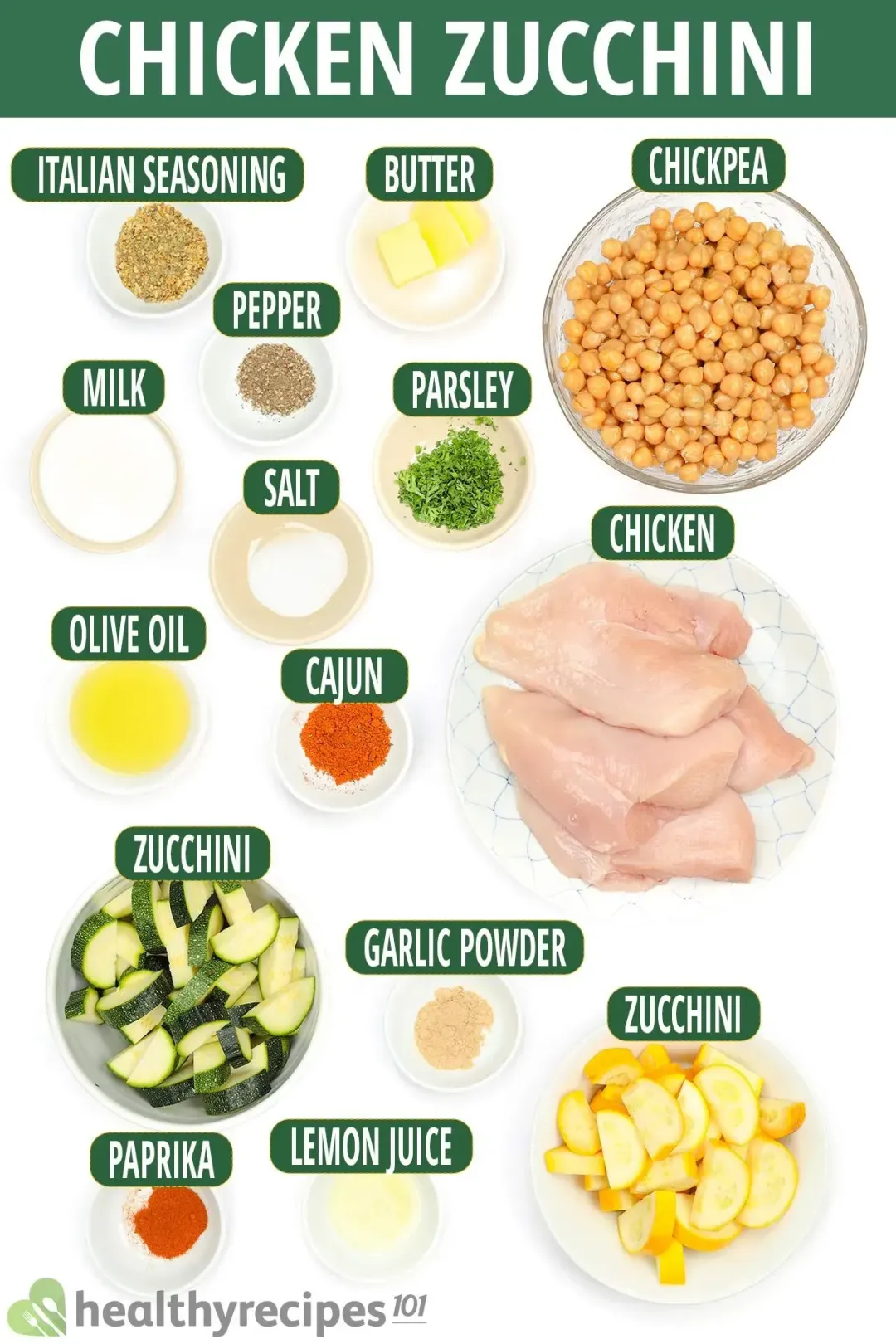 Variations and Add-ins for This Dish
Being as simple as it is, this dish leaves a lot of room for adjustment and experimentation. If you want to customize this dish, start with some of the following elements. Note that these changes might affect the dish's nutritional value:
If you want something other than the breasts, other meaty parts of the chicken like the thighs, legs, and drumsticks also work for this recipe.
For a more colorful and versatile dish, take a peek inside your fridge and see what other veggies you can add. Tomatoes, broccoli, mushrooms, carrots, bell peppers, corn, and anything else you have will work just fine.
We scattered the zucchini all around the chicken, but you can stuff them inside the butterflied meat for a simple yet unexpected twist.
If you don't like baking, consider stir-frying the chicken and zucchini with various chopped veggies for a quick, easy, and hearty dinner to enjoy on casual weeknights.
The mashed chickpeas make a delectable side for this dish in our opinion, but you can also go with mashed potatoes, rice, lentils, or pasta for something more conventional.
How to Store The Leftovers
When kept in airtight containers, this chicken zucchini should last for up to 2 days. You can reheat the dish by putting it in the oven to bake at 350 °F for 5-7 minutes or microwave it for 1 minute. 
What to Serve With
Served with a filling side of chickpeas, this dish doesn't need any elaborate or complicated companion. We recommend one of the following salads to round out the meal: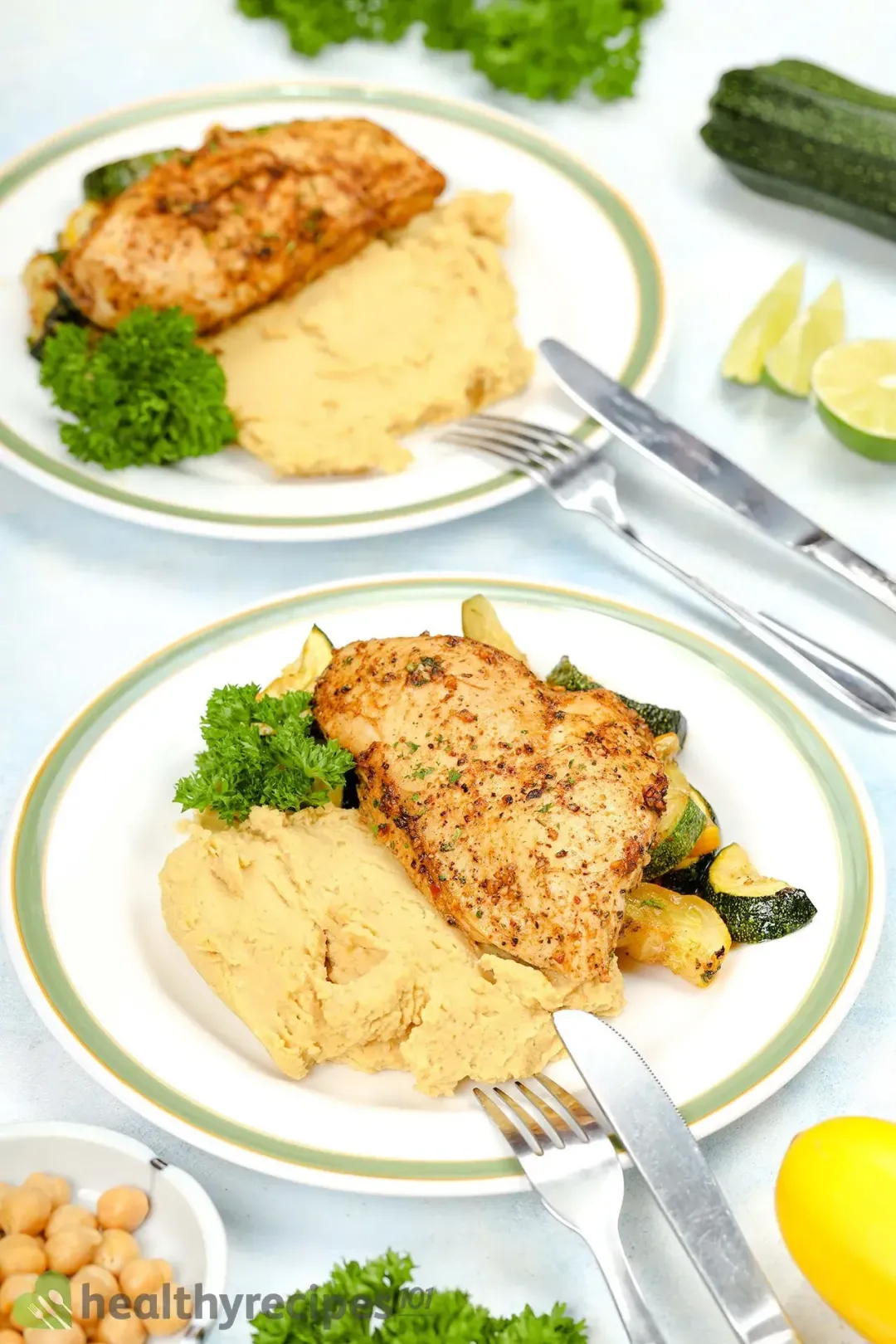 Chicken Recipes to Liven Up Your Week
This enticing sheet pan of ours is filled with golden meat and roasted fingers of sweet potato. One serving plates up nicely with all food groups: chicken for proteins, sweet potatoes for carbs, and green peas for the "greens" in your five-a-days.
Baked chicken breasts are served with ricotta-spinach stuffing, cherry tomatoes, and smoky bacon in this Hasselback Chicken recipe. The finished product is golden brown perfection on the outside and evenly cooked through on the inside. They also appear to 'bloom' during the process, giving them a delicate appearance.
How to Make Chicken Zucchini
Healthy, easy, and absolutely delicious, this chicken zucchini recipe checks all the boxes for a satisfying dinner. It's a delectable pairing of chicken and zucchini, with some mashed chickpeas on the side. The chicken is seasoned with a myriad of robust spices, creating a mixture of delicate and bright flavors.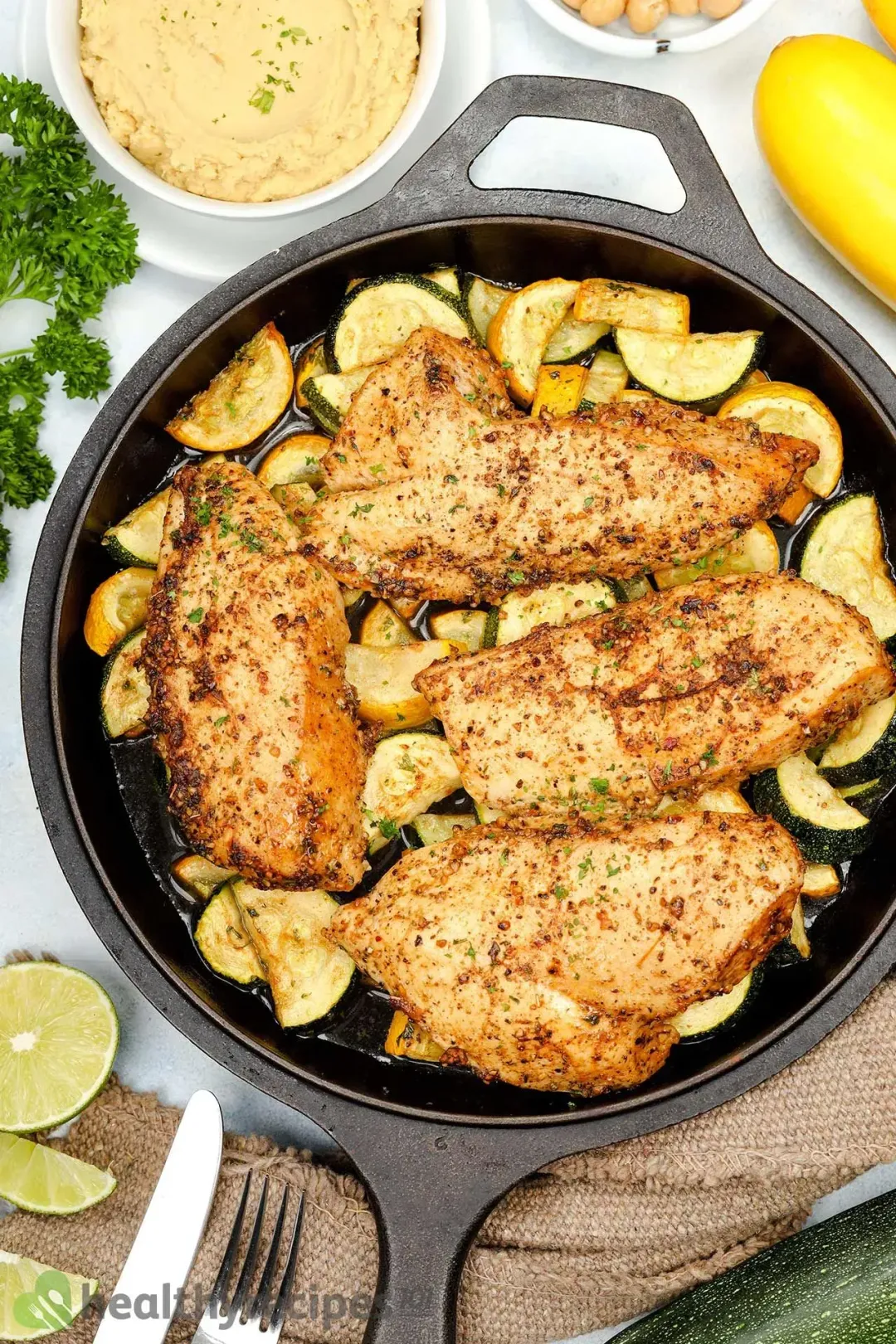 cook TIME

25 mins

prep TIME

7 mins

total TIME

32 mins
COURSE

Main Course

CUISINE

American

SERVINGS

CALORIES

455 kcal
INGREDIENTS
24 oz

skinless boneless chicken breast

8 oz

yellow zucchini

(half-moon sliced)

8 oz

green zucchini

(half-moon sliced)

18 oz

canned chickpeas

(drained)

1/2 tsp

ground black pepper
INSTRUCTIONS
Prep:
1
Prepare the Chicken: Gently pat the chicken dry with paper towels. Slice a knife through the side of the chicken using a sawing motion to nearly the end, but not all the way through so that the meat isn't cut in half.
2
Slice the Yellow Zucchini: Slice off the top and the end then lay the zucchini horizontally. Slice it in half lengthwise then crosswise slice the halves into half-moon pieces.
3
Slice the Green Zucchini: Repeat the same steps as the yellow zucchini.
4
Chop the Parsley: Slice off the stems then bunch the leaves together and thinly slice. Rock the knife over the sliced pile a few times until finely chopped.
Cook:
1
Season the Zucchini: In a large bowl, fill with 8 oz yellow zucchini and 8 oz green zucchini then add 1 tbsp olive oil, 1/4 tsp paprika, and 1 tbsp parsley. Gently toss until well mixed.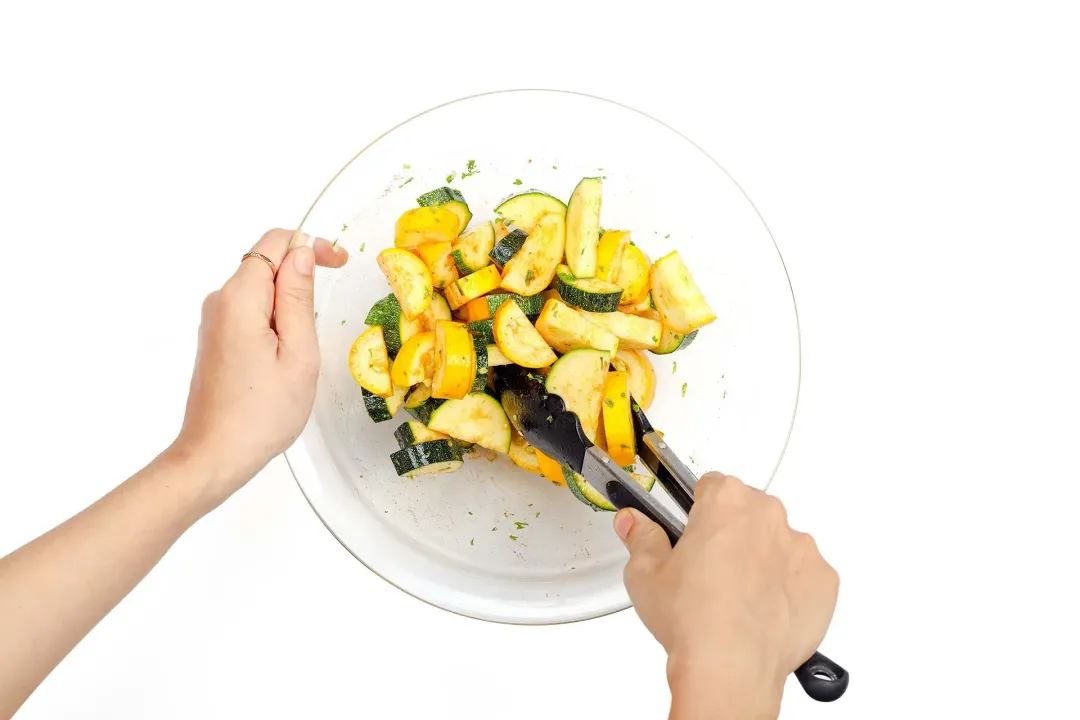 2
Lay the Zucchini: Lay the seasoned zucchini onto a skillet and evenly spread them out.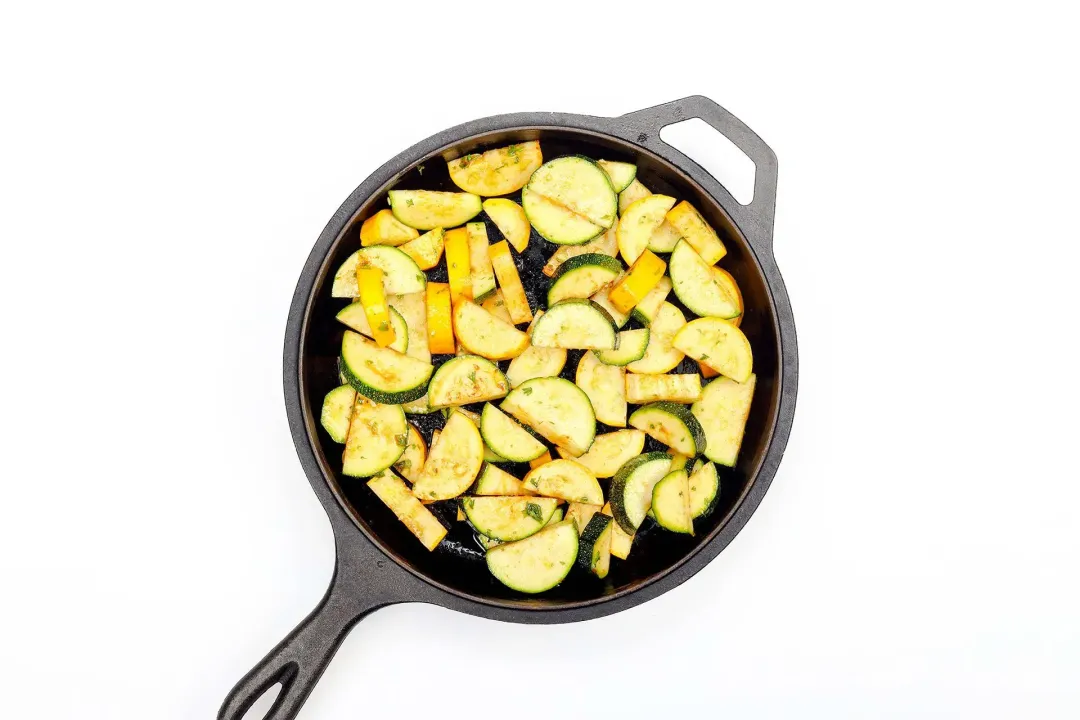 3
Roast the Zucchini: Put the skillet on the middle rack of the oven to roast at 425 °F for 10 minutes. Remove when done.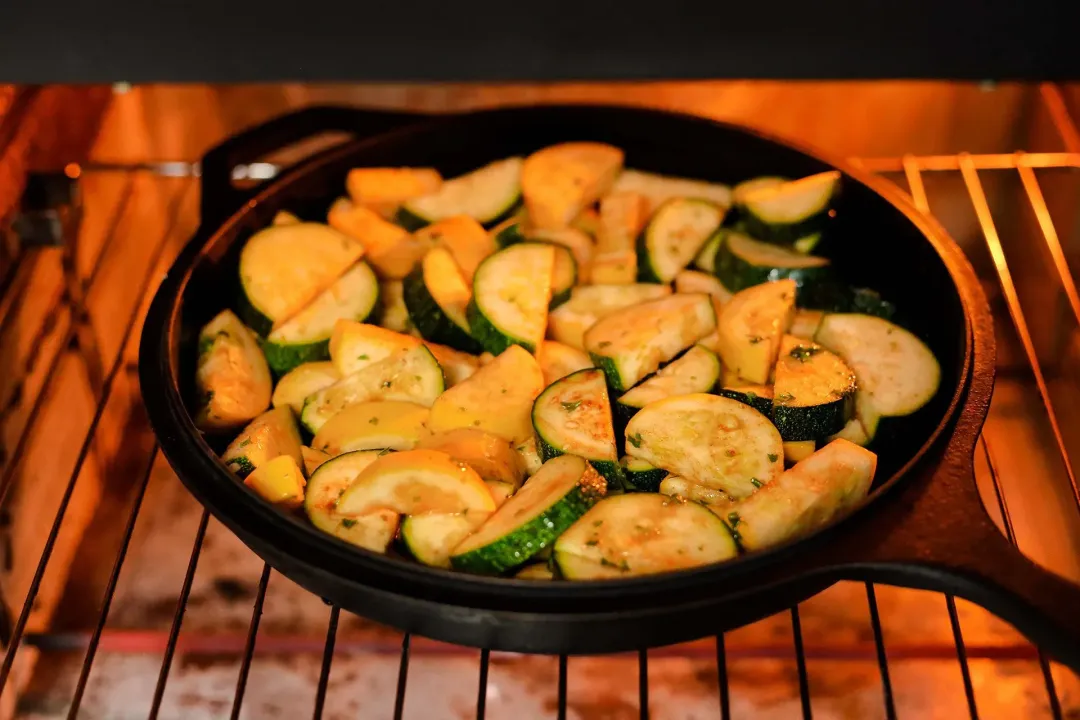 4
Season the Chicken: In the same bowl used for seasoning the zucchini, add 24 oz skinless boneless chicken breast then add 1 tbsp olive oil, 1/2 tbsp lemon juice, 1/4 tsp salt, 1/2 tsp pepper, 1/4 tsp paprika, 1 tbsp Italian seasoning, 1 tsp Cajun seasoning, and 1/2 tsp garlic powder. Gently toss to evenly coat the meat.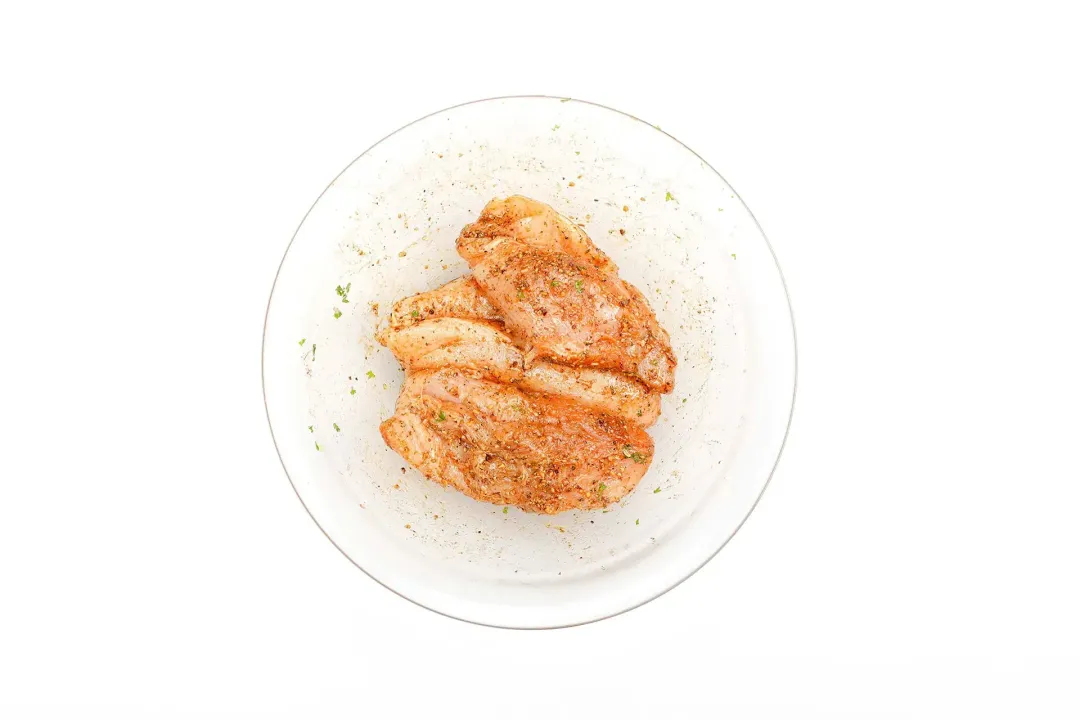 5
Microwave the Chickpeas: In a microwave-safe bowl, add 18 oz canned chickpeas, 1/4 cup milk, 2 tbsp unsalted butter, and 1/4 tsp salt. Cover with plastic wrap then microwave at full power for 7 minutes.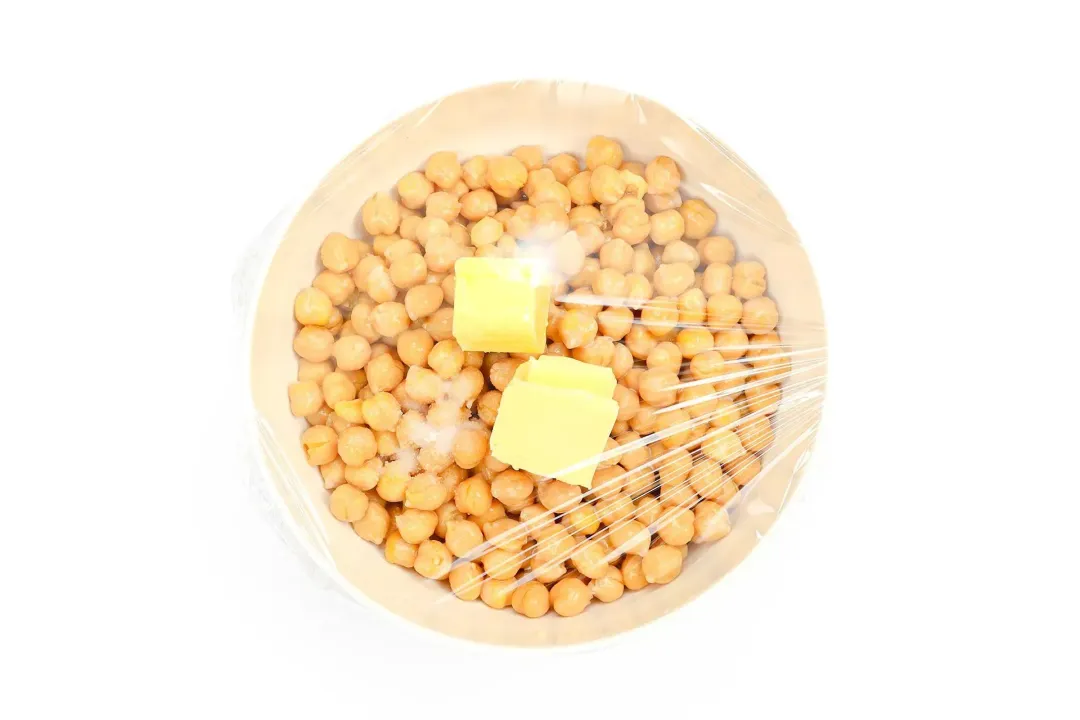 6
Transfer the Chicken: Lay the seasoned chicken onto the baked zucchini.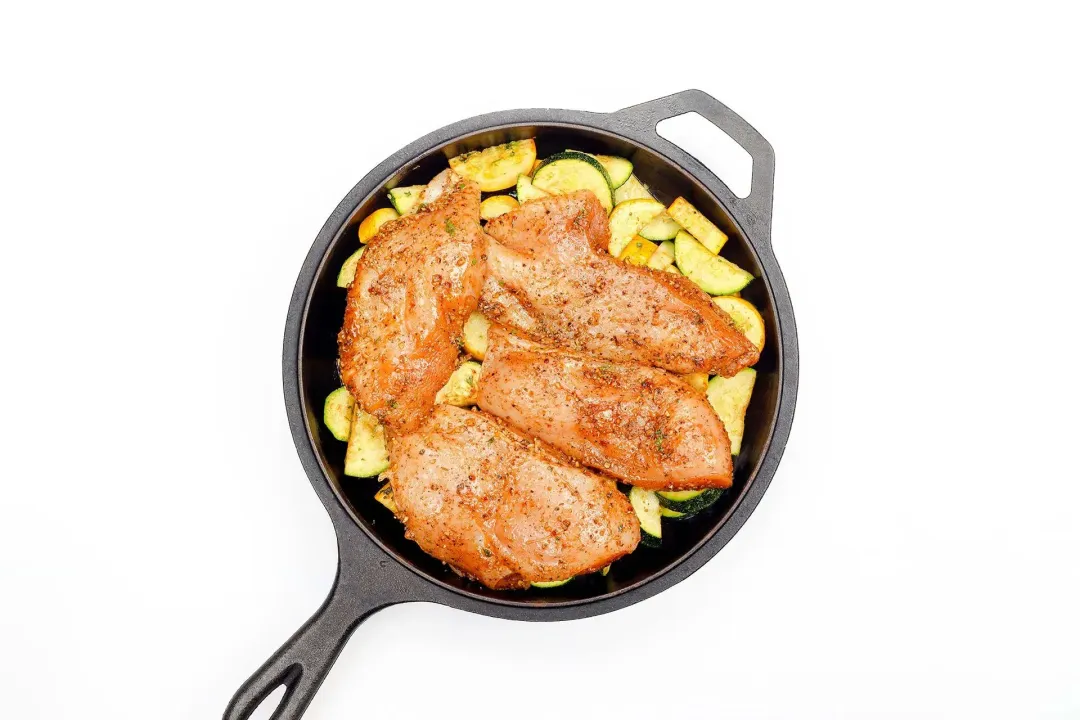 7
Bake the Chicken: Put the skillet on the middle rack of the oven to bake at 425 °F for 15 minutes until the meat is golden and tender.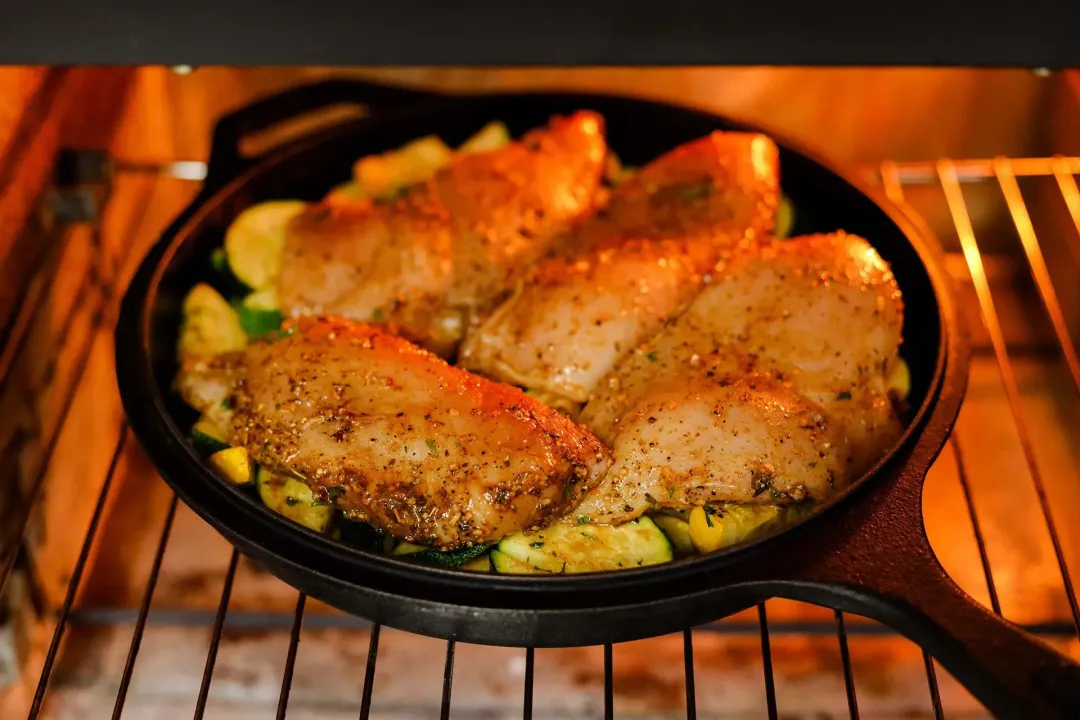 8
Mash the Chickpeas: Take the chickpeas from the microwave and use an electric masher or any available appliance to mash the chickpeas until creamy.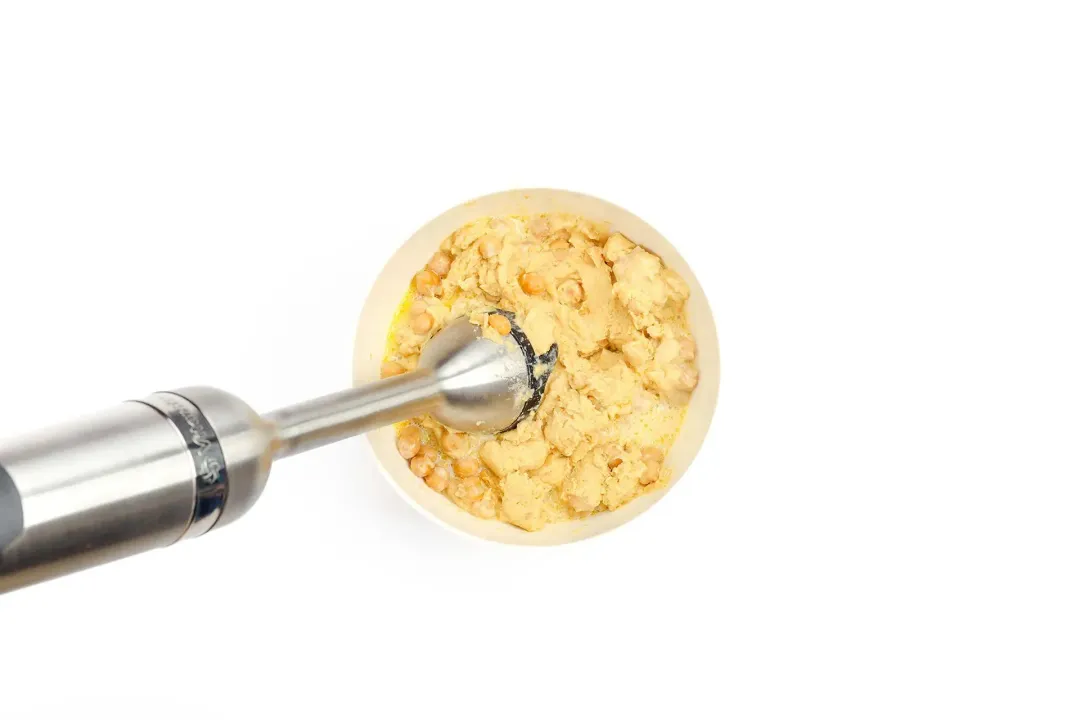 9
Serve: Remove the chicken from the oven, garnish with 1 tbsp parsley, then transfer onto serving plates and lay over the bed of mashed chickpeas.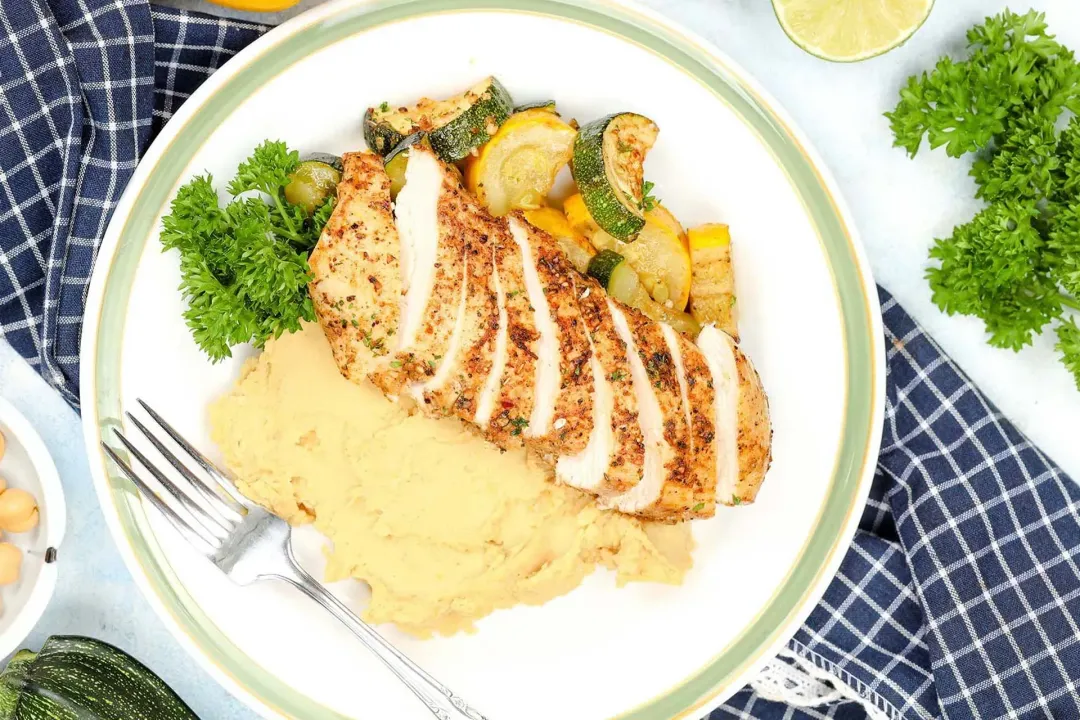 NUTRITION
Nutrition Facts
How to Make Chicken Zucchini
Amount Per Serving (1 serving)
Calories 455
Calories from Fat 177
% Daily Value*
* Percent Daily Values are based on a 2000 calorie diet.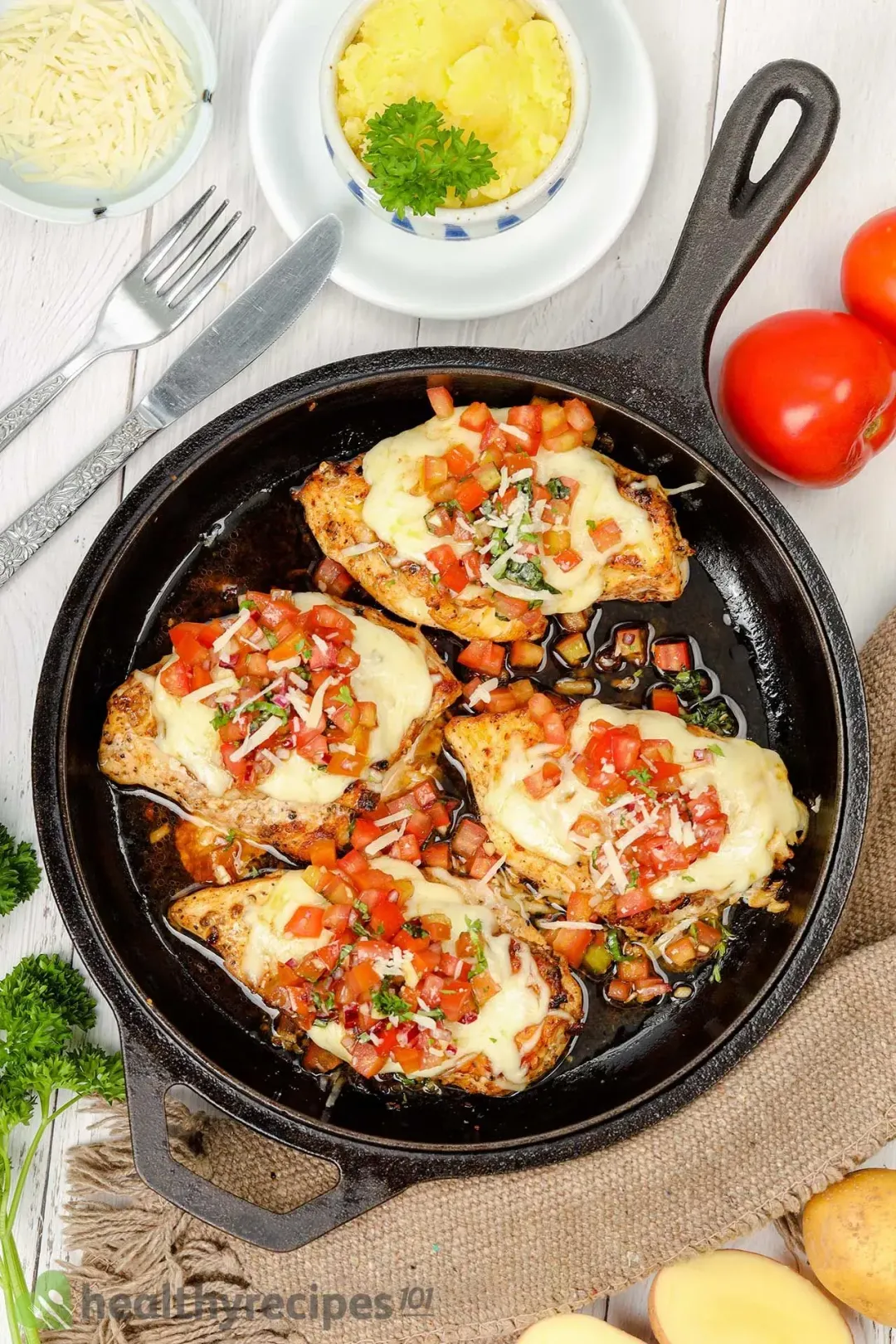 Previous Recipe
Bruschetta Chicken
Bruschetta Chicken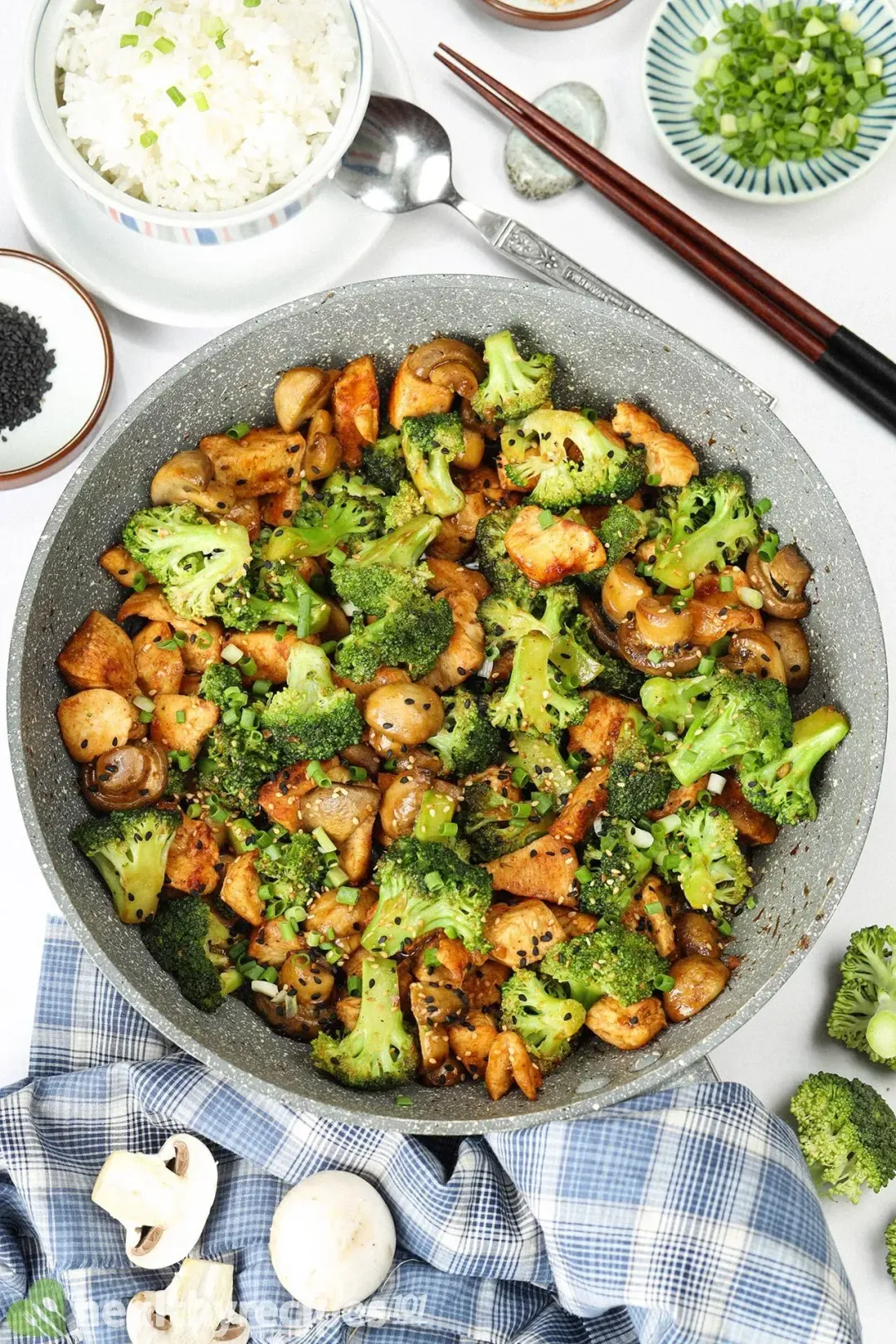 Next Recipe
Stir-fried Chicken And Broccoli
Stir-fried Chicken And Broccoli
Head Chef, Culinary Consultant
Tuyet Pham is an award-winning Saigonese chef who believes that joy is the secret ingredient to delicious food. At Healthy Recipes 101, Tuyet personally tests and simplifies every recipe, ensuring maximum flavor with minimal effort. With a background at prestigious French restaurants P'TI Saigon and Le Corto, Tuyet knows how to make every dish exceptional.
Writer, Author
Luna Regina is an accomplished writer and author who dedicates her career to empowering home cooks and making cooking effortless for everyone. She is the founder of HealthyKitchen101.com and HealthyRecipes101.com, where she works with her team to develop easy, nutritious recipes and help aspiring cooks choose the right kitchen appliances.
Nutrition Reviewer
Natalie Butler is a registered dietitian nutritionist with a passion to help others live their best life through food, fitness, safer beauty and a healthy lifestyle. She has expertise with a variety of diets and diseases and believes that there is no one-size-fits-all approach for health.
a healthy and flavorful dish that's perfect for a quick and easy weeknight dinner.