For the love of traditional mojitos, we decided to combine a few delectable ingredients into a refreshing green mojito smoothie. The drink is packed with fruits and vegetables, bringing a wealth of minty and citrusy freshness.
It is a healthy, reviving drink with all of the delicious flavors of a mojito cocktail, minus the sugar and alcohol.
Is Our Green Mojito Smoothie Healthy?
Incorporating pineapple, coconut water, lime, and kale into a mojito gives it not just a zesty, refreshing flavor but also health benefits.
This low-calorie smoothie (98 calories per serving) is packed with fiber, antioxidants, vitamins A, C, and K, and minerals including magnesium, potassium, zinc, and many more. All are essential for correct bodily function.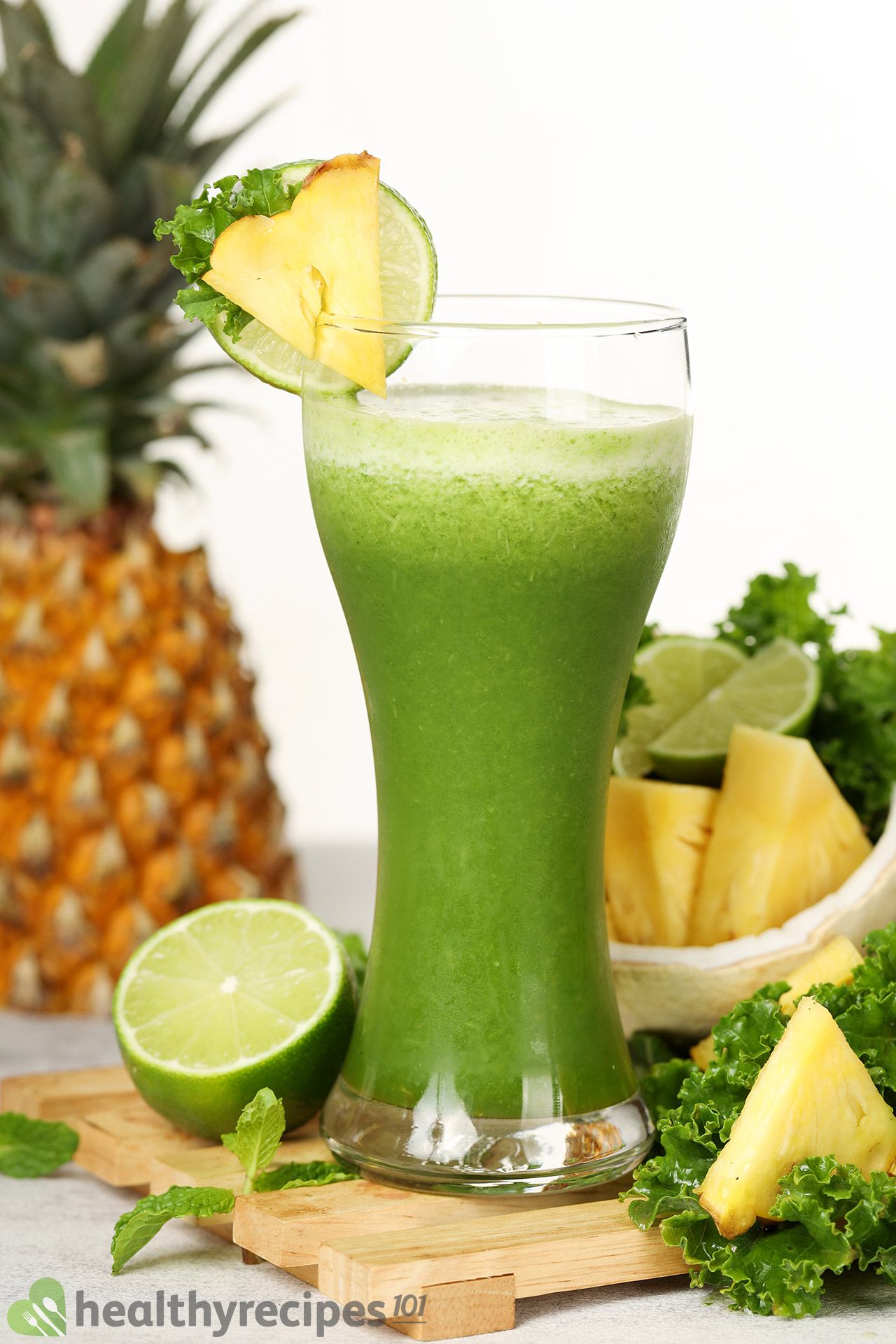 Pineapple and kale, the two main ingredients in the drink, are packed with nutrients. One cup of pineapple contains up to one-third of your daily value of vitamin C (79 mg of vitamin C) while kale adds an abundance of antioxidants and fiber to this smoothie (4.1 g of fiber in 100-gram raw kale).
Green Mojito Smoothie Ingredients
Our non-alcoholic mojito smoothie will permanently change your perception of green smoothies. Its base, just like any delicious smoothie, is made of fresh fruits and vegetables.
The main ingredient, pineapple, produces an incredibly sweet and fruity juice that pairs well with numerous fruits, including strawberries, bananas, mangos, and watermelons.
For this green smoothie, we used a blend of pineapple and kale. Though it comes with a little sharp and earthy taste, kale is not overbearing but rather complementary to the pineapple. We also added coconut water to smooth out the texture while highlighting the tropical flavors of the drink.
The recipe calls for two tablespoons of honey, but if your pineapple is sweet enough, omit it. Alternatively, add ginger if you desire a hotter flavor, or wheatgrass powder if you prefer a more earthy taste.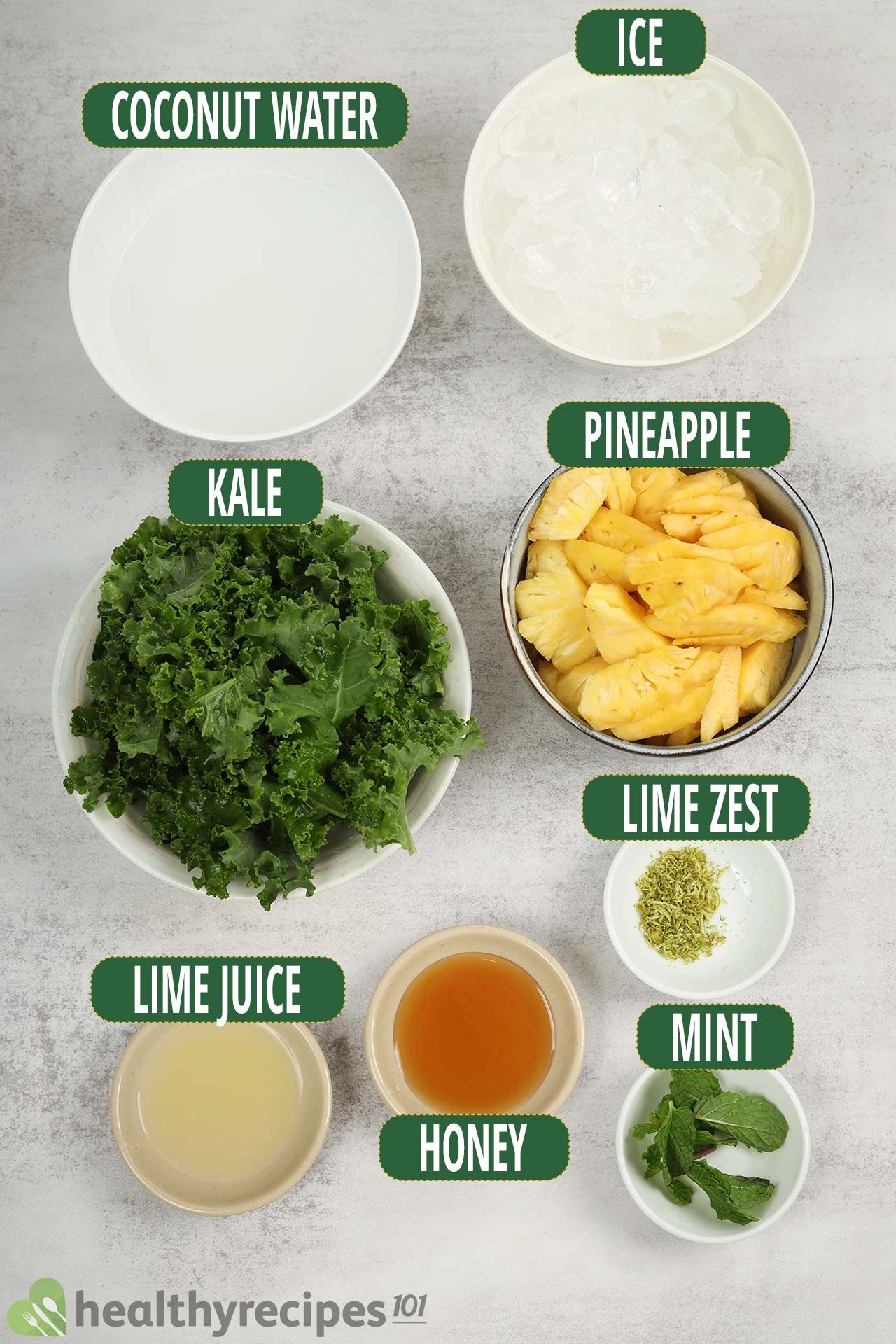 In addition to frozen fruits and ice cubes, the fresh lime juice, lime zest, and mint leaves impart that essential mojito feature — the cooling sensation.
The resulting smoothie is bright and crisp, slightly sour, and a little sweet. Beyond its claims of healthfulness, this smoothie is the ideal summertime refreshment.
If you're searching for a simple, nutrient-packed green smoothie that tastes as fresh as a tropical cocktail, check out our: X recipe and Y recipe.
How to Make Green Mojito Smoothie
This green mojito smoothie's bright and pleasant flavor combination will remind you of beverages you would enjoy by the pool or on the beach. Even better, our smoothie is healthier and easy to make.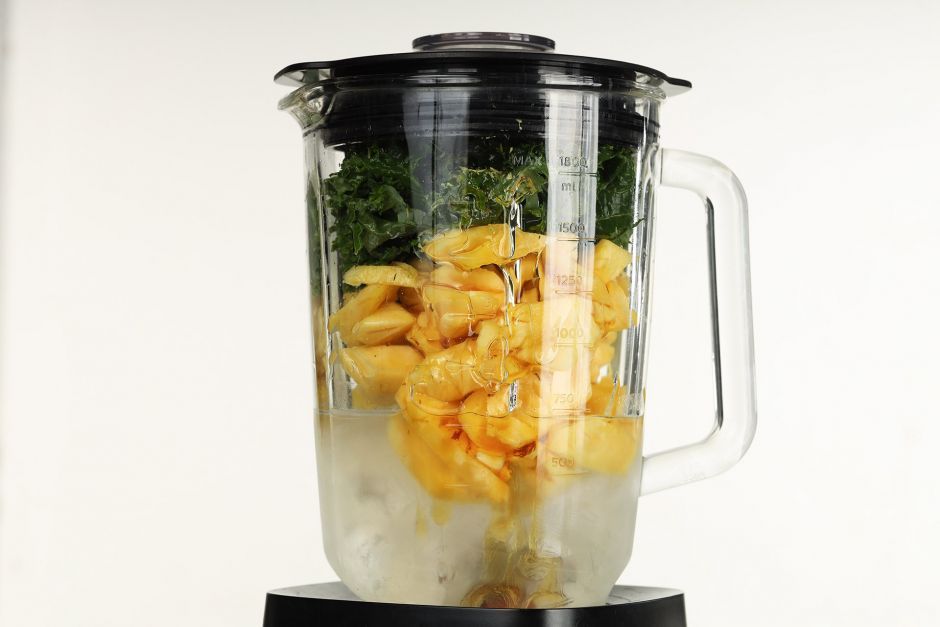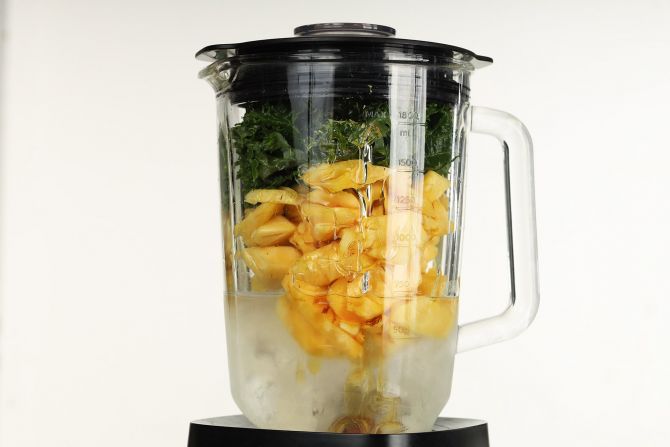 Combine all the ingredients in a blender. Blend until smooth.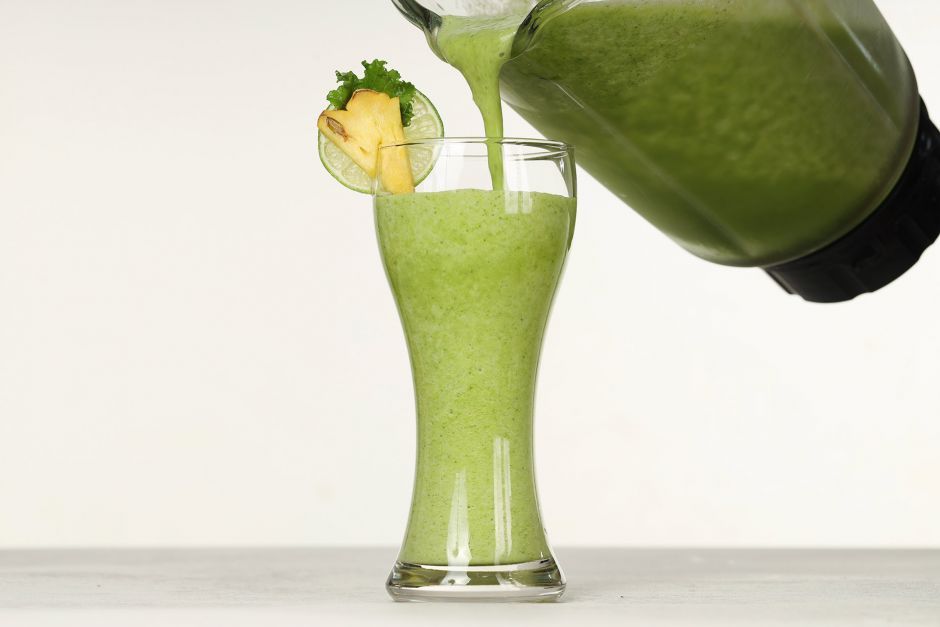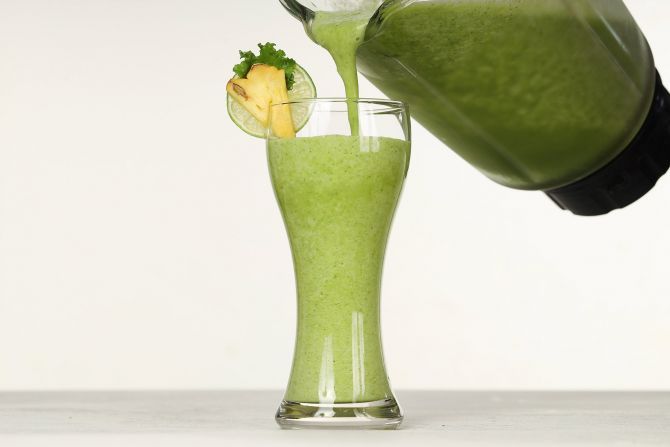 Pour into glasses.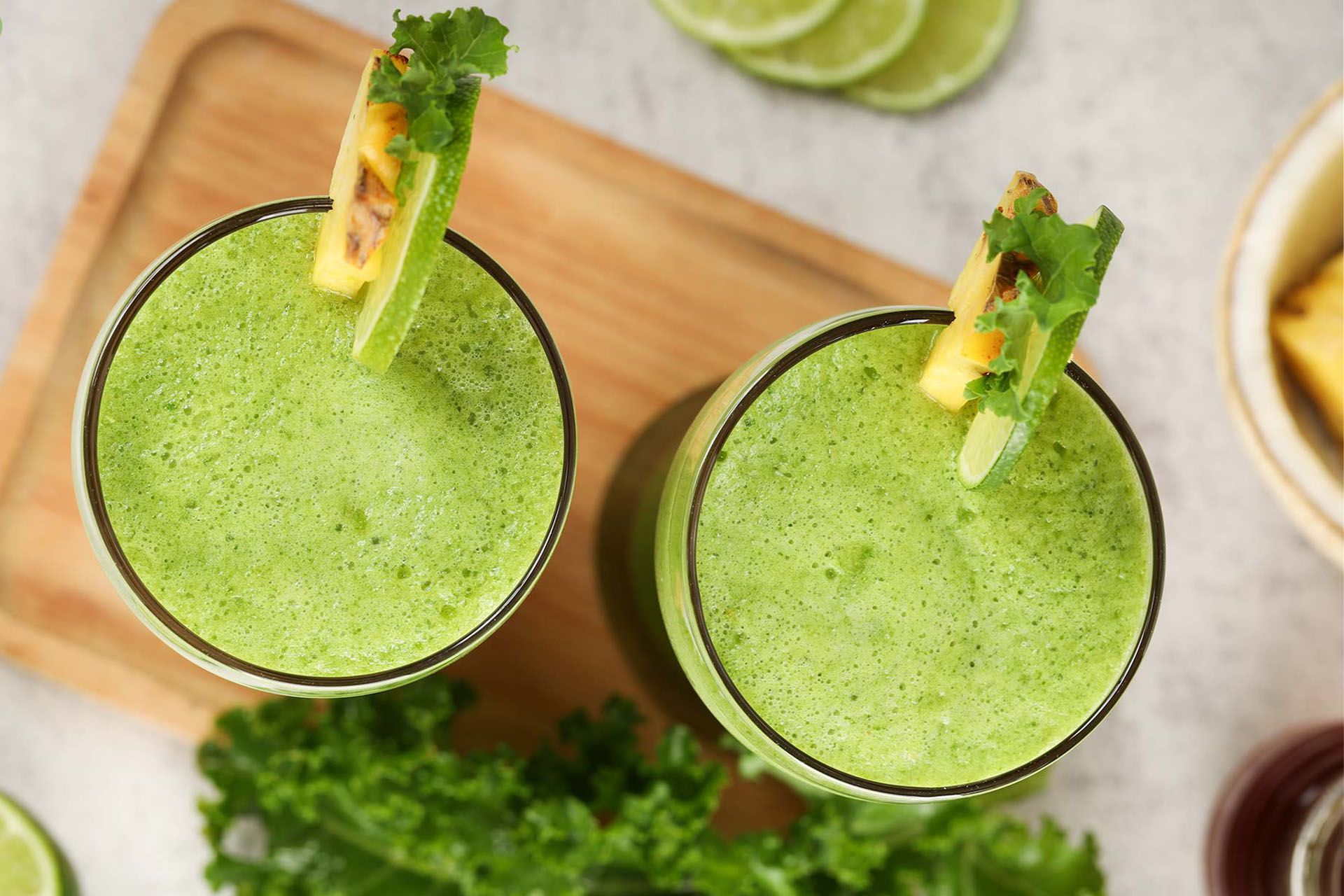 Serve right away.
This bright mojito smoothie is an invigorating blend of sweet and zesty flavors that will give you a morning energy kick. Additionally, it can be prepared in advance and refrigerated for easy consumption late in the day.
Storage and Freezing
The green mojito smoothie can be refrigerated for 1 – 2 days after blending. The best way to preserve its freshness is by storing it in an airtight jar as soon as possible.
To prepare in advance, mix all the ingredients (except for the coconut water and ice) in a container or Ziplock bag and freeze them for up to 3 months. Then, combine it with coconut water and blend until smooth.
How to Zest a Lime
From our experience, using a zester or the fine holes of a box grater often produces the best results while using a microplane is faster and more consistent (as it is for all food).
If you don't have any of these specialized tools, use a standard peeler to peel the lime like you would a potato. First, peel long, broad strips of lime skin, then slice them into very thin strips with a knife or chop into small zest-like pieces.
The other easy way is to use a sharp knife. Simply remove thin layers of the lime peel, slice into thin strips, and finely cut into small pieces.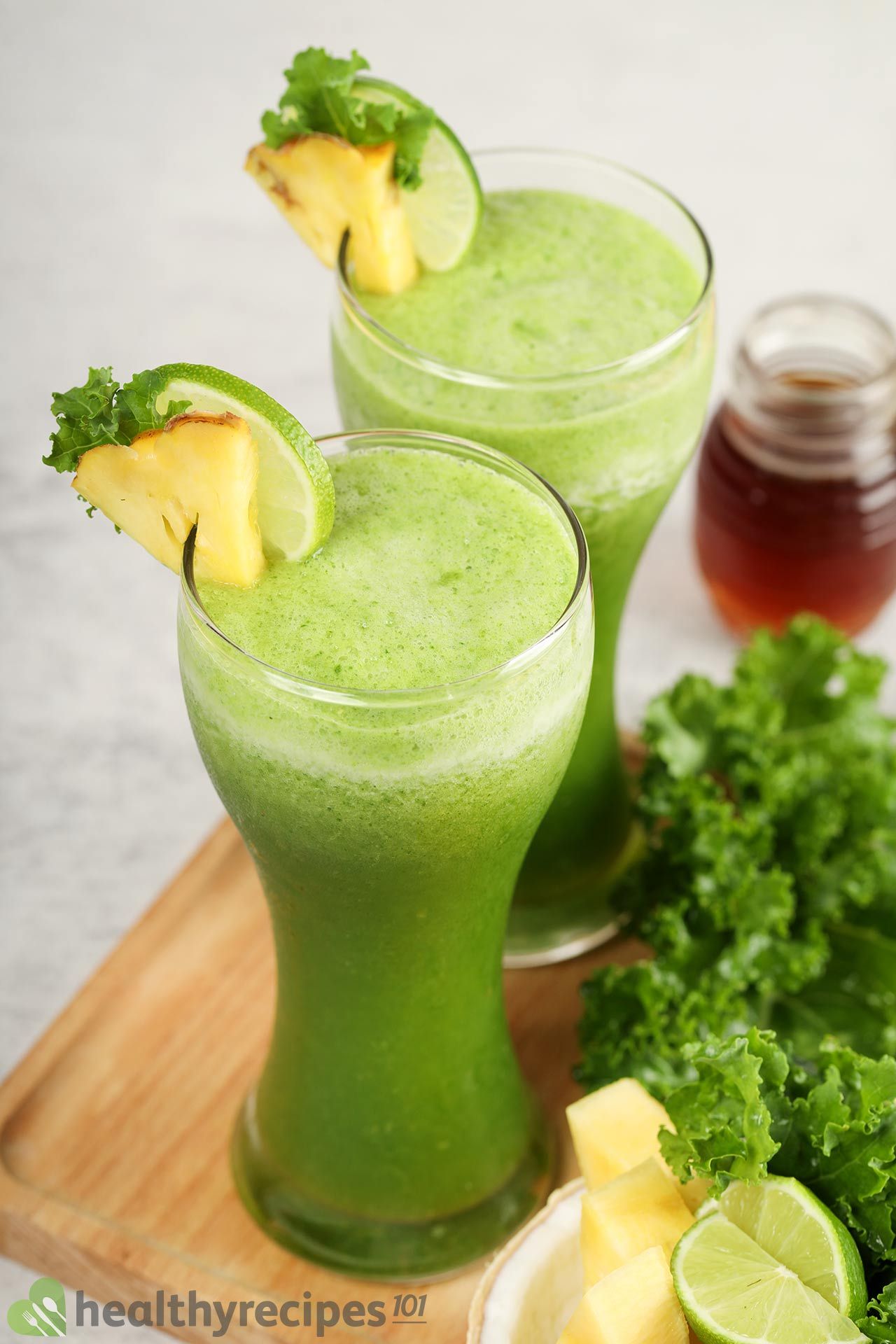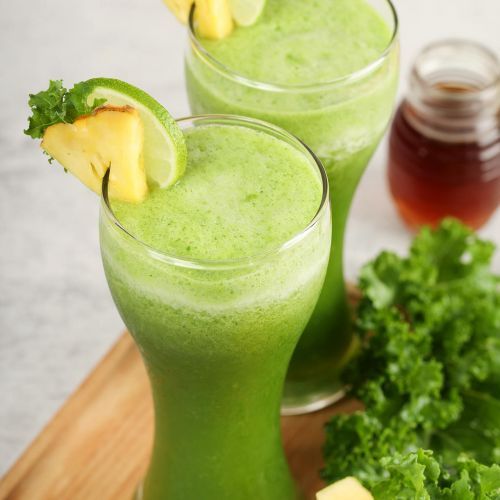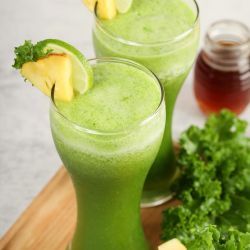 Green Mojito Smoothie Recipe
This green mojito smoothie recipe is a tropical take on the classic mojito, packed with fresh fruits and vegetables, minus the alcohol.
Ingredients
12

oz

pineapple

1

oz

kale

2

cups

ice

1 1/2

cup

coconut water

2

tbsp

lime juice

2

tbsp

honey

1

tsp

lime zest

8

leaves

mint
Instructions
Place 2 cups ice, 12 oz pineapple, 1 oz kale, 1 1/2 cup coconut water, 2 tbsp lime juice, 2 tbsp honey, and 1 tsp lime zest into a blender. Blend until smooth.

Pour the smoothie into serving glasses.

Garnish with a few mint leaves. Serve the drink immediately.
Nutrition
Nutrition Facts
Green Mojito Smoothie Recipe
Amount Per Serving (1 serving)
Calories 98
Calories from Fat 4
% Daily Value*
Fat 0.4g1%
Sodium 103.5mg5%
Potassium 358mg10%
Carbohydrates 24g8%
Protein 1g2%
Vitamin A 766IU15%
Vitamin C 52mg63%
Calcium 56mg6%
Iron 1mg6%
* Percent Daily Values are based on a 2000 calorie diet.