Our green smoothie recipe is easy, healthy, and beginner-friendly. Were it not for the green color, you might forget that it has leafy greens in it.
What Is a Green Smoothie?
Green smoothies are drinks made by blending vegetables, especially greens, along with a selection of fruits. It's a great way to include more fiber and micronutrients into your diet.
The amount of vegetables added should be moderate. Too much of them can make the smoothie bitter, yet too little doesn't add a lot of nutrients.
Worry not about such details, because we have a lot of balanced green smoothie ideas down below.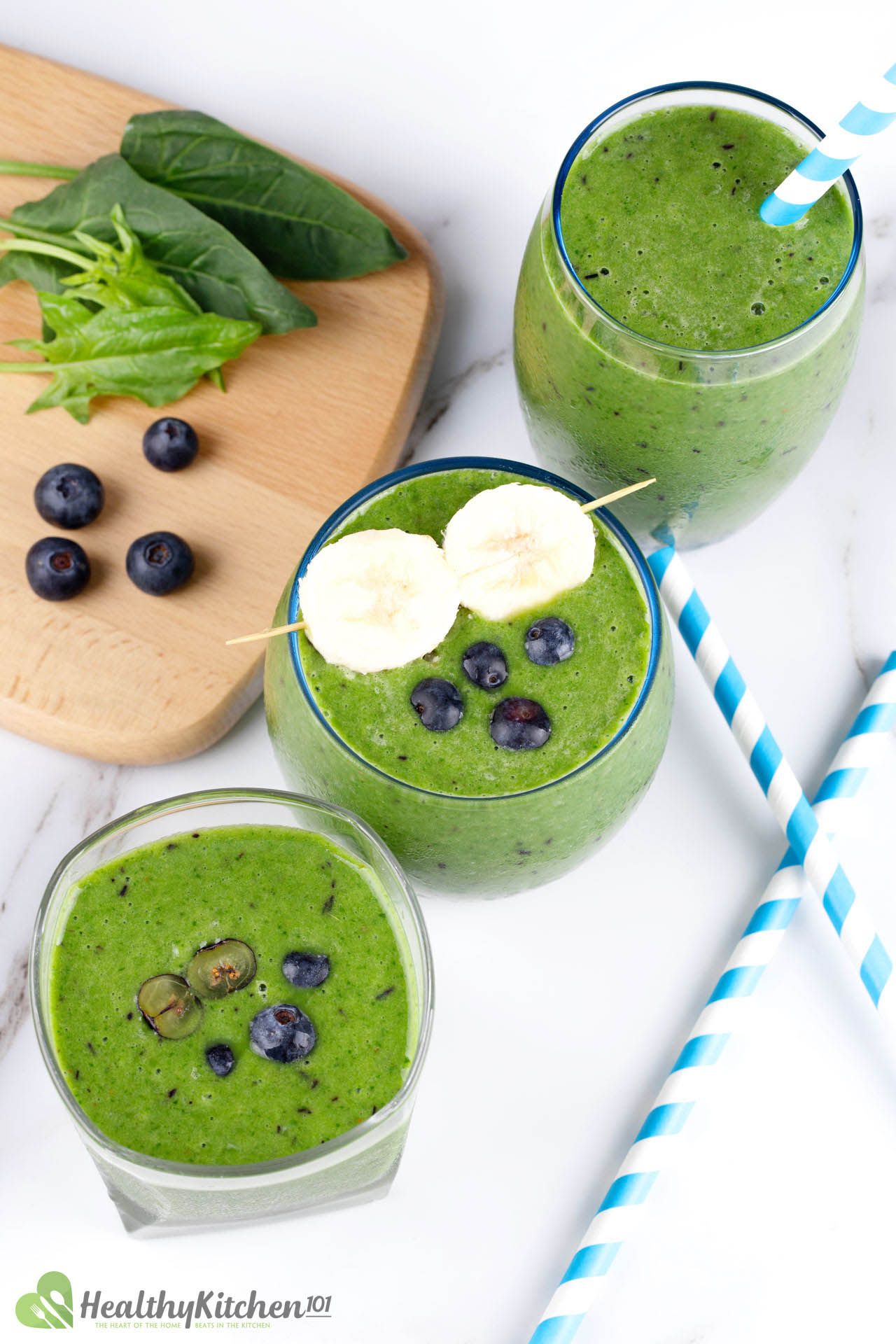 Benefits of Green Smoothies
1. Is This Smoothie Healthy?
Despite the fact that vegetables are packed with nutrients and fiber, eating meals without them has become a habit for many. Chewing salads is something extra, and to some, it may even decrease their appetite.
Thanks to green smoothies, getting a sufficient amount of fiber and micronutrients is no longer a difficult thing. All you have to do is have your regular meal, then make a green smoothie and enjoy it.
2. Vitamins and Minerals
While meat in general does contain vitamins and minerals, vegetables are a better source. It's safe to say that green smoothies are packed with these nutrients.
Our green smoothie recipe specifically, has:
Nutrients
Amount
Daily DRI for men aged 19-30*
Daily DRI for women aged 19-30*
Vitamin A
217.5µg
900µg
700µg
Vitamin C
30mg
90mg
75mg
Folic Acid (Vitamin B9)
109µg
400µg
400µg
Vitamin K1
212.6µg
120µg
90µg
Vitamin B6
0.25mg
1.3mg
1.3mg
Others
Varying from 0-16% of the daily DRI
*DRI tables for vitamins and minerals
Vitamins A and C are considered antioxidants, substances that can neutralize free radicals. Research says antioxidants can reduce the risks of many severe health conditions, including cardiovascular diseases, and even cancer.
Folate (Vitamin B9) is an essential nutrient in the body. Especially for women during pregnancy and lactation, when folate is needed in larger quantities.
Vitamin K1 has been known to regulate insulin levels, aid in bone formation, and have anticalcification properties.
Green Smoothie Ingredients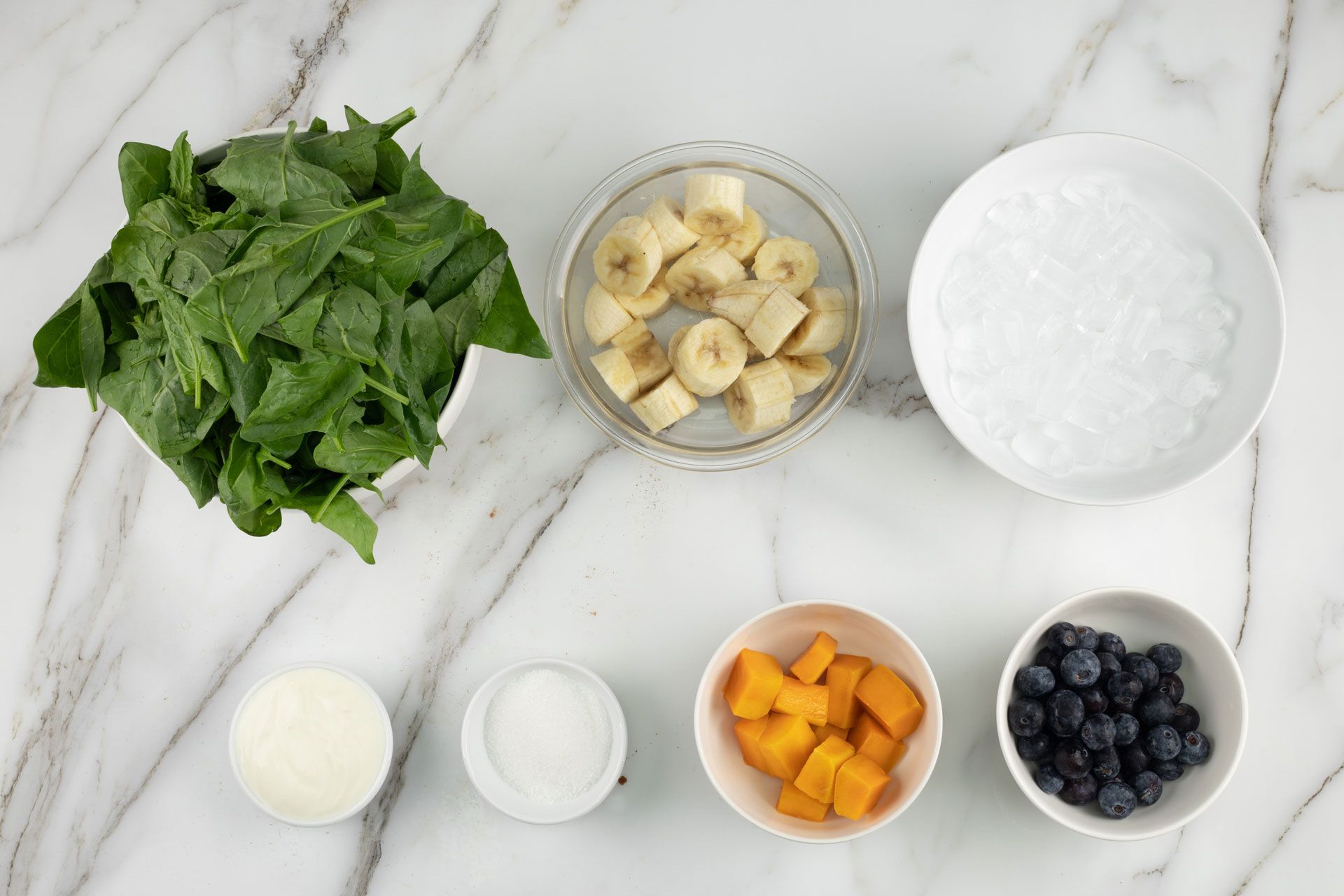 Besides our green smoothie recipe, you can also make a green smoothie by combining your favorite fruits and vegetables. Here's how we did ours:
The most popular vegetable base for a green smoothie is either spinach or kale. If you're a newbie to green smoothies, spinach would be the better one for you.
Then, choose your favorite fruits. Banana and avocado tend to be used, as they help make a creamy base for smoothies.
In case you don't have anything in mind, here are some popular green smoothie recipes:
Green Smoothie Recipes for Weight Loss
A good green smoothie recipe can help you lose weight, and here's how:
1. How Losing Weight Works
Doing exercises helps us lose weight, but in reality, a lot of us are too busy to maintain a regular workout schedule.
Good news is when it comes to weight loss, calories watch is a lot more important.
As mentioned before, green smoothies are packed with fiber, moderation consumption of which is linked to increased satiety. If you feel more full after meals, you may not feel the need to reach for extra snacks and consume less calories as a result.
By including one in your diet, you're one step closer to losing weight.
2. Low-calorie Recipes
In case you don't have anything in mind, here are some popular green smoothie recipes:
Banana, mangoes, green tea, spinach: If a cup of tea in the morning is your daily to-do, adding stuff to it can make a healthy morning drink. It is cool, refreshing, sweet, and packed with fiber.
Green apple, pineapple, spinach: for you non-sweet tooths, this tangy green smoothie can be your new favorite routine. Green apple and pineapple aren't overly sweet, meaning the smoothie doesn't yield much calories.
Apple, pineapple, kale: this kale smoothie is more of an "advanced" version of green smoothies, as the kale can leave a strong hint of aroma. These ingredients make a good combo— lightly sweet, aromatic, tangy, and healthy.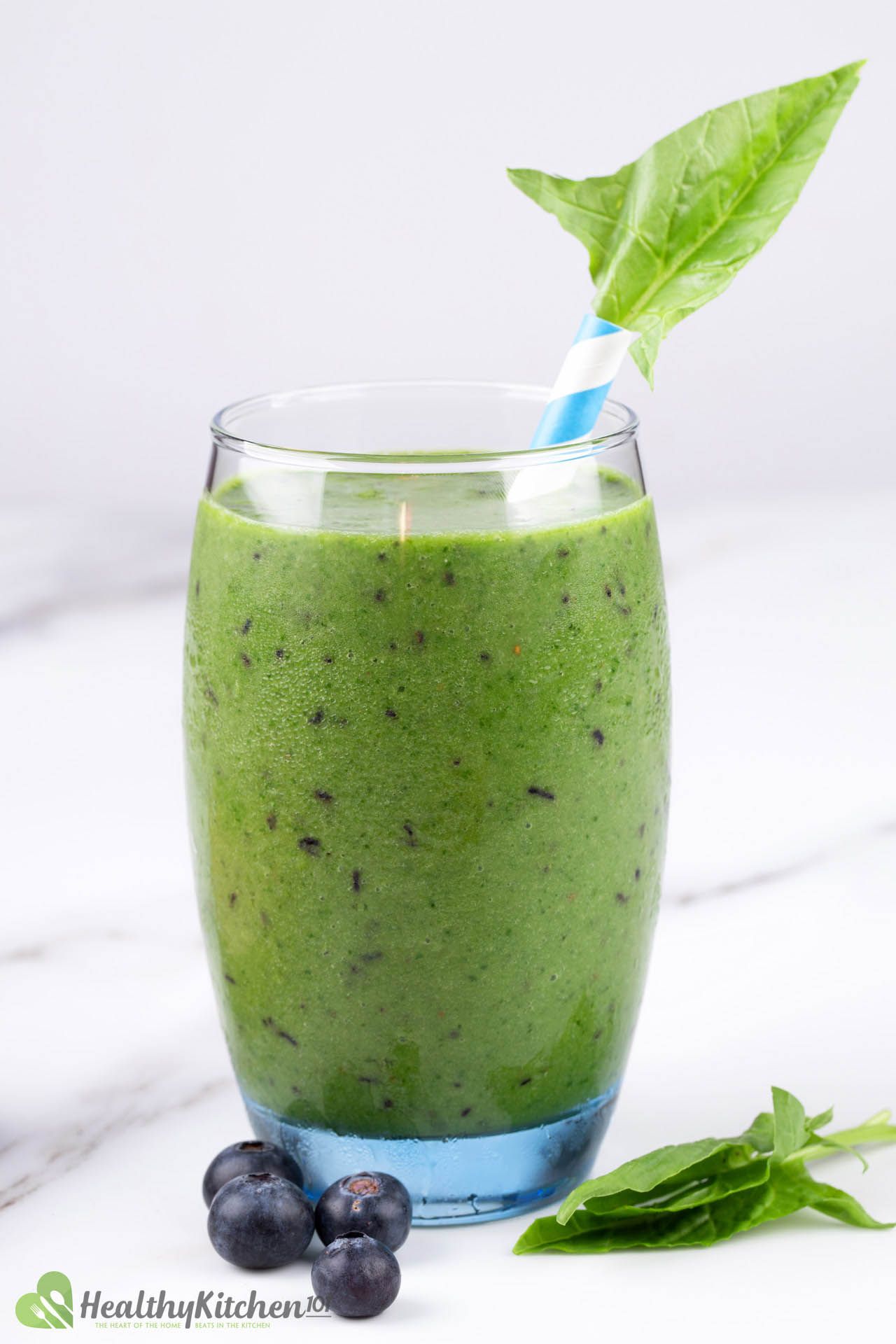 How to Make a Green Smoothie
In this smoothie recipe, along with the veg and fruits, we added Greek yogurt to make the smoothie creamier. It also adds a good amount of probiotic cultures that strengthen digestive tract health.
For a similar creamy effect and none of the tanginess, you can use milk and heavy cream instead. Specifically, 4 tablespoons of milk and 1 tablespoon of heavy cream.
How Many Calories Does This Recipe Have?
Each serving of our smoothie recipe gives 141 calories. 82% of the calories are from the fruits, spinach, and Greek yogurt.
Unlike other smoothies, green smoothies have a lot of fiber that prevents all of the sugar from absorbing too quickly. This means you won't experience a sugar rush, but will feel full for longer while drinking less than 1 cup of smoothie.
If you prefer a green smoothie with fewer calories, feel free to omit the 2 tablespoons of sugar. Your drink should be less sweet, more natural, and yield only 115 calories.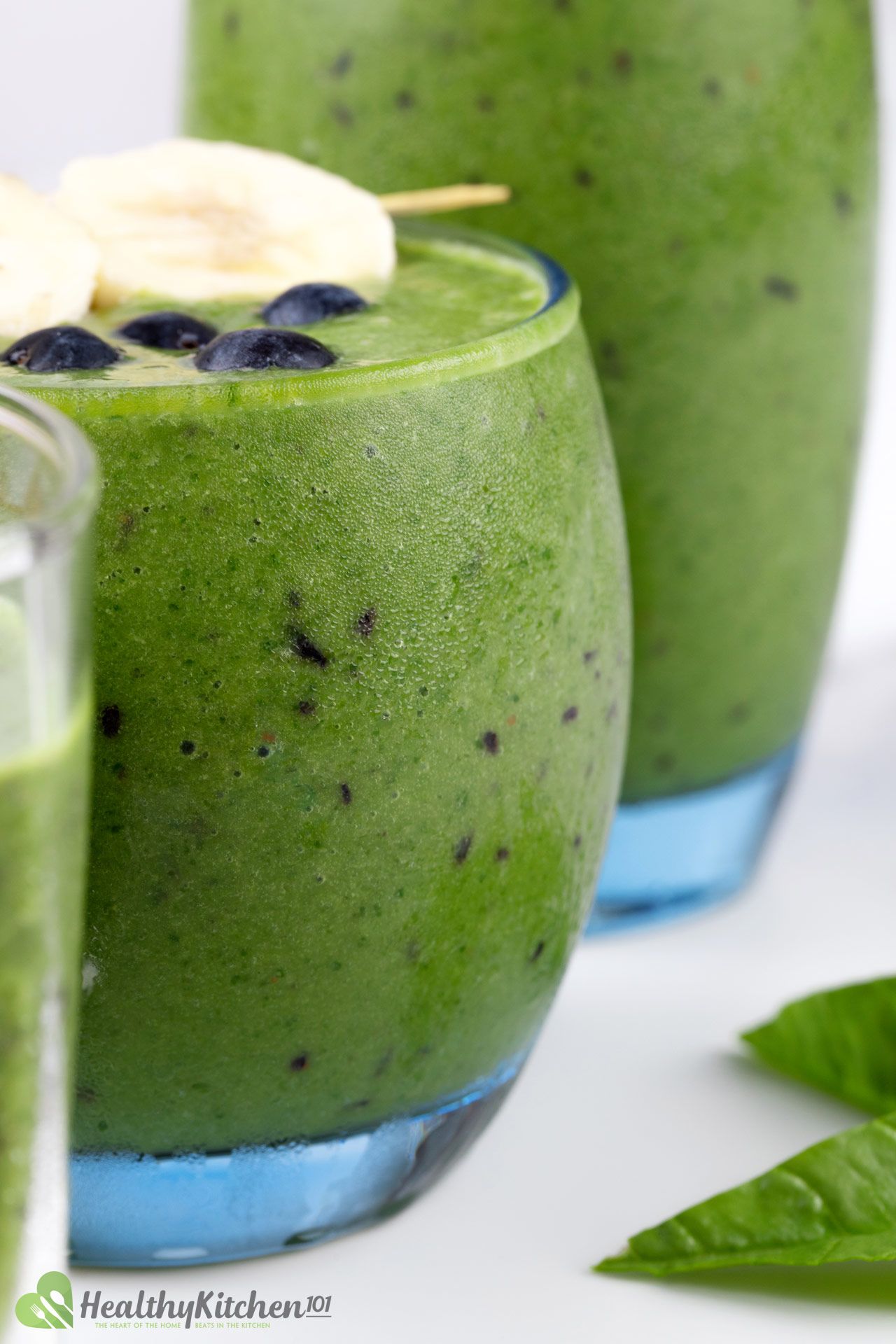 When Is the Best Time to Drink Green Smoothie?
You can have a green smoothie at any time of the day. However, for the best result, here are a few things we recommend:
1. In The Morning
Sometimes, making breakfast can be a hassle for so many reasons, including being late for work. During those times, a green smoothie and a few slices of toasted bread make a quick, energy-packed breakfast.
Remember to measure and place your ingredients in the freezer the night before. Then, all you have to do in the morning is load them into the blender, and blitz for 5 minutes.
2. Before/After Workout
Protein shakes are the most popular drink for workouts. They give a lot of protein, and energy needed for your muscles.
However, not enjoying your protein shakes is really common, because the texture is interesting and you can't really tell how it tastes by the look. If this predicament has happened to you, there is a way to improve the taste instead of enduring it: add it to a smoothie.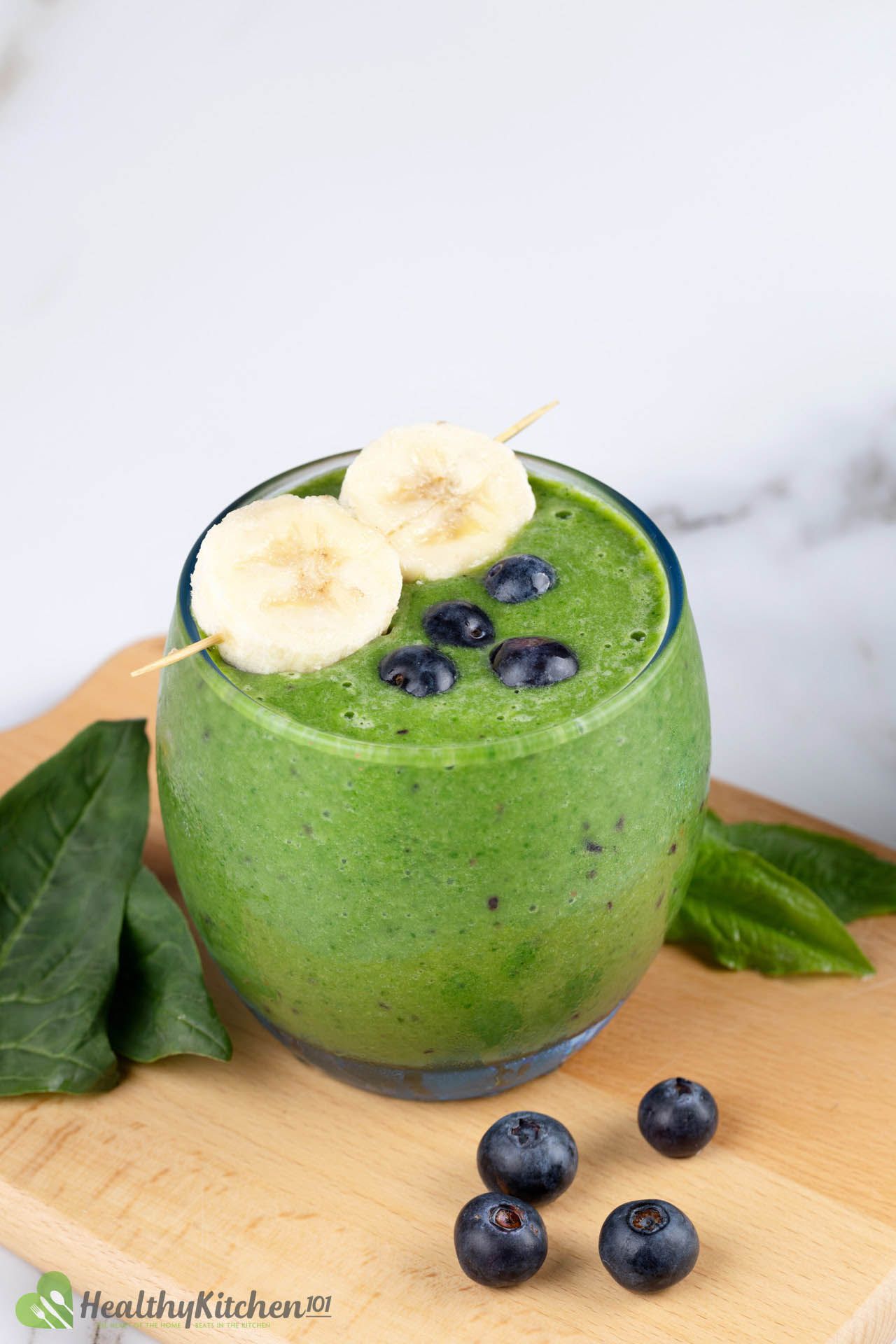 Adding protein shakes to any smoothies would work, but we recommend a green smoothie. It has the nutrients, the fiber, and the great taste that can mask your protein's less desirable flavorings.
Since our recipe makes 4 servings, you might want to adjust the amount of stuff you put in your blender. Then, for each serving, add 1 scoop of your protein powder, and blend away for a delicious energy boost.
Is It OK to Drink Green Smoothies Everyday?
Green smoothie is a healthy drink, but only so with moderation.
We do not encourage you to take on a diet that only includes green smoothies. Such a diet is definitely poor in healthy fats, proteins, and other micronutrients, and therefore not healthy at all.
It's best to have a green smoothie after meals, with 1-2 glasses everyday. It provides a healthy amount of fiber, carbs, and micronutrients.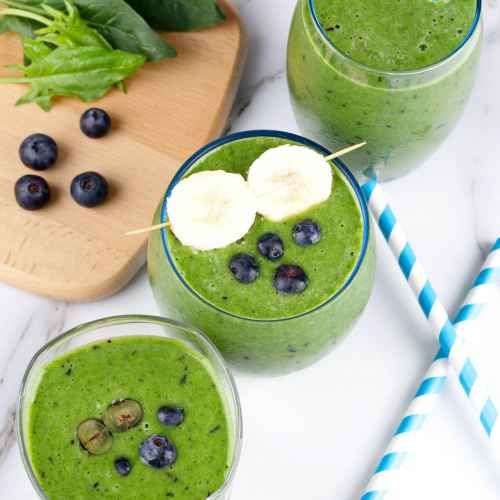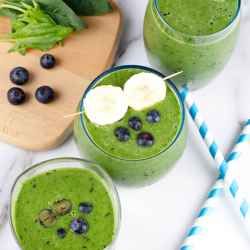 Healthy Green Smoothie Recipe
This healthy green smoothie recipe is easy to do, and is a great way to sneak veggies into your diet without you noticing it. It's perfect for both kids and adults who dislike vegetables! And those who want a nutrition boost but have limited time.
Ingredients
8

oz

bananas

4

oz

blueberries

4

oz

mangoes

6

oz

spinach

2

cups

ice

2

tbsp

sugar

1/3

cup

plain Greek yogurt
Instructions
Add everything to a blender and press the start button. If your blender isn't strong enough, hit pulse and stop every second or two until it all looks kind of combined. Then start blending until the texture becomes smooth.

Serve and enjoy!
Nutrition
Nutrition Facts
Healthy Green Smoothie Recipe
Amount Per Serving (1 serving)
Calories 141
Calories from Fat 15
% Daily Value*
Fat 1.7g3%
Cholesterol 3mg1%
Sodium 49mg2%
Potassium 543mg16%
Carbohydrates 30g10%
Protein 4g8%
Vitamin A 4346IU87%
Vitamin C 30mg36%
Calcium 75mg8%
Iron 1mg6%
* Percent Daily Values are based on a 2000 calorie diet.