This grilled shrimp salad recipe is a treat for all senses. Tasty grilled shrimp and fresh fruits and vegetables make an excellent combination, creating a colorful and healthy dish.
Is Grilled Shrimp Salad Healthy?
Certainly.
This grilled shrimp salad recipe is a great healthy option for its nutrition values. Each serving contains 217 calories and only 2.1 grams of saturated fat, well within the limit in our nutrition guidelines.
The addition of shrimp brings 19.3 grams protein to this salad, which makes up 39% of the recommended daily protein intake. This salad also has many vital micronutrients like vitamins and minerals from fruits and vegetables.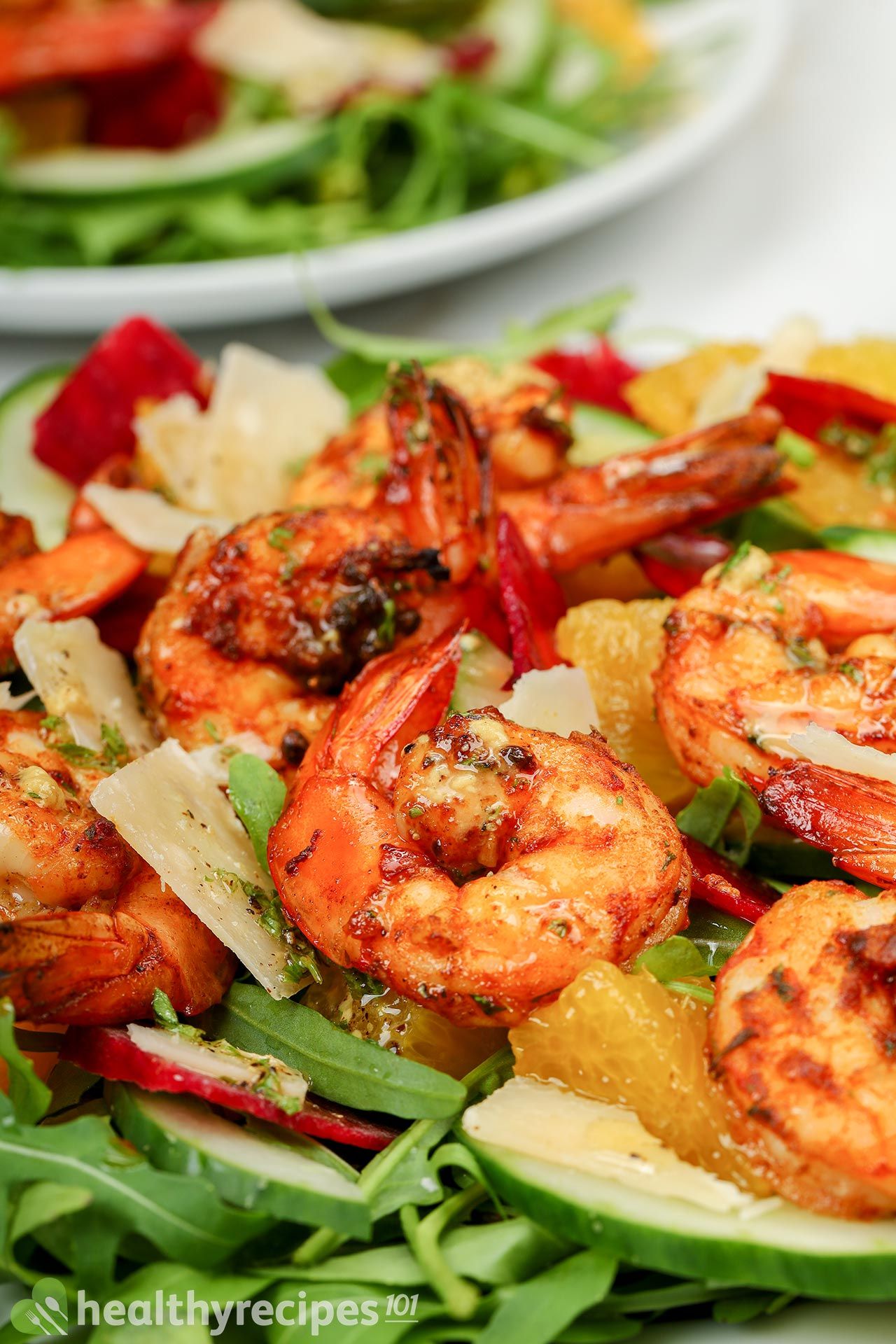 Ingredients for the Recipe
The ingredients for this dish are easy to get and prepare.
As the star of the dish, grilled shrimp contains a lot of flavors. We marinate the shrimp with pepper, paprika, olive oil, Cajun seasoning, and parsley. The grilling process also adds a hint of smokiness to the shrimp.
We suggest keeping the tail on for an authentic shrimp flavor.
We use a mixture of arugula, cucumber, beet, and orange for this salad.
The base of the salad is arugula, which has unique flavors. You can choose more familiar options like lettuce.
Orange and beet provide sweetness and earthiness that perfectly balance the tangy taste of arugula.
Lastly, don't forget to add some crunch with cucumber.
The dressing of choice is a honey mustard sauce.
This classic condiment is a mixture of honey, mustard, white wine vinegar, and lemon juice.
White wine vinegar and lemon juice brighten the flavors of honey and mustard. The dressing is smooth and creamy, giving you a wholesome mouthfeel.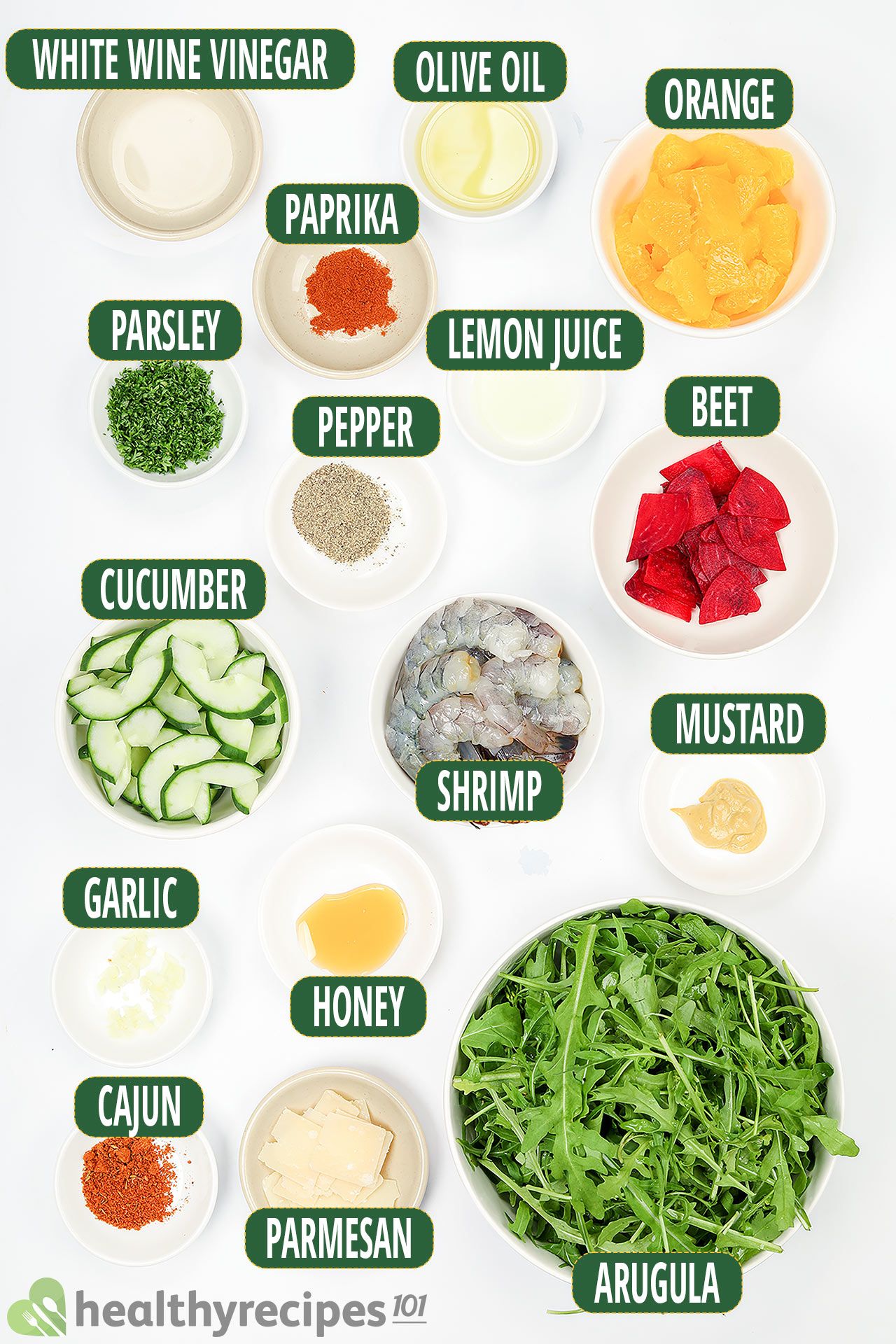 How to Prepare the Ingredients
Shrimp should be prepared carefully before cooking. You can buy frozen shrimp to save time, but here are some things to keep in mind if you use fresh shrimp:
You may remove the head of the shrimp since we don't use that part in this recipe. Trim off the legs and peel the shrimp thoroughly.
Pay attention to the vein along the back. You should cut along the back and use a toothpick to remove the sand tract.
It takes practice to perfectly peel a shrimp, so take it slow and steady.
First and foremost, we are serving these fruits and vegetables raw. It's important that we wash and dry them thoroughly to ensure safety.
To maintain the consistency of the whole dish, we recommend slicing all these fruits and vegetables.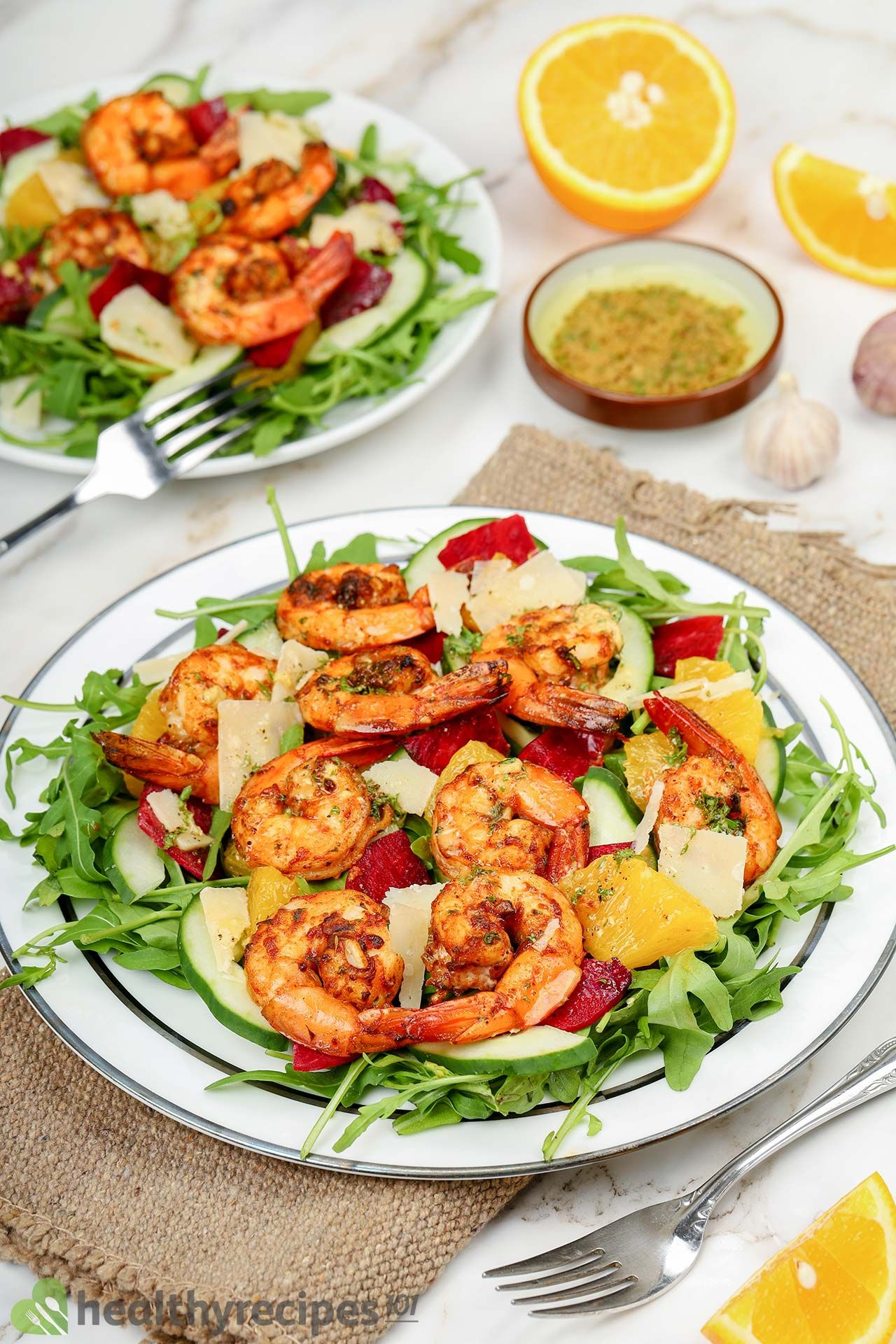 How to Serve Grilled Shrimp Salad
Grilled shrimp is the main attraction of this dish, so we would like to highlight it on the plate.
When you assemble the salad, the arugula should be at the base of the dish, followed by slices of orange, beet, cucumber, and cheese. The shrimp should be placed front and center on the plate.
Also, we advise you to dress the salad moderately because dressed salad is more difficult to refrigerate.
The portion of this grilled shrimp salad is suitable for a side dish or a standalone snack.
You may also switch it up and serve this grilled shrimp salad as a main dish.
How to Store Leftovers
Similar to other salads, we recommend storing the components separately.
Honey mustard dressing will last up to three weeks in the fridge if you keep it covered tightly.
You can store cooked shrimp in airtight containers or wrap them tightly in heavy-duty aluminum foil. Cooked shrimp can last 3-4 days in the fridge and 2-3 months in the freezer.
Reheating shrimp is also simple. You can use the oven, microwave, or a pan. Be sure to check the shrimp while it's reheating so that it doesn't overcook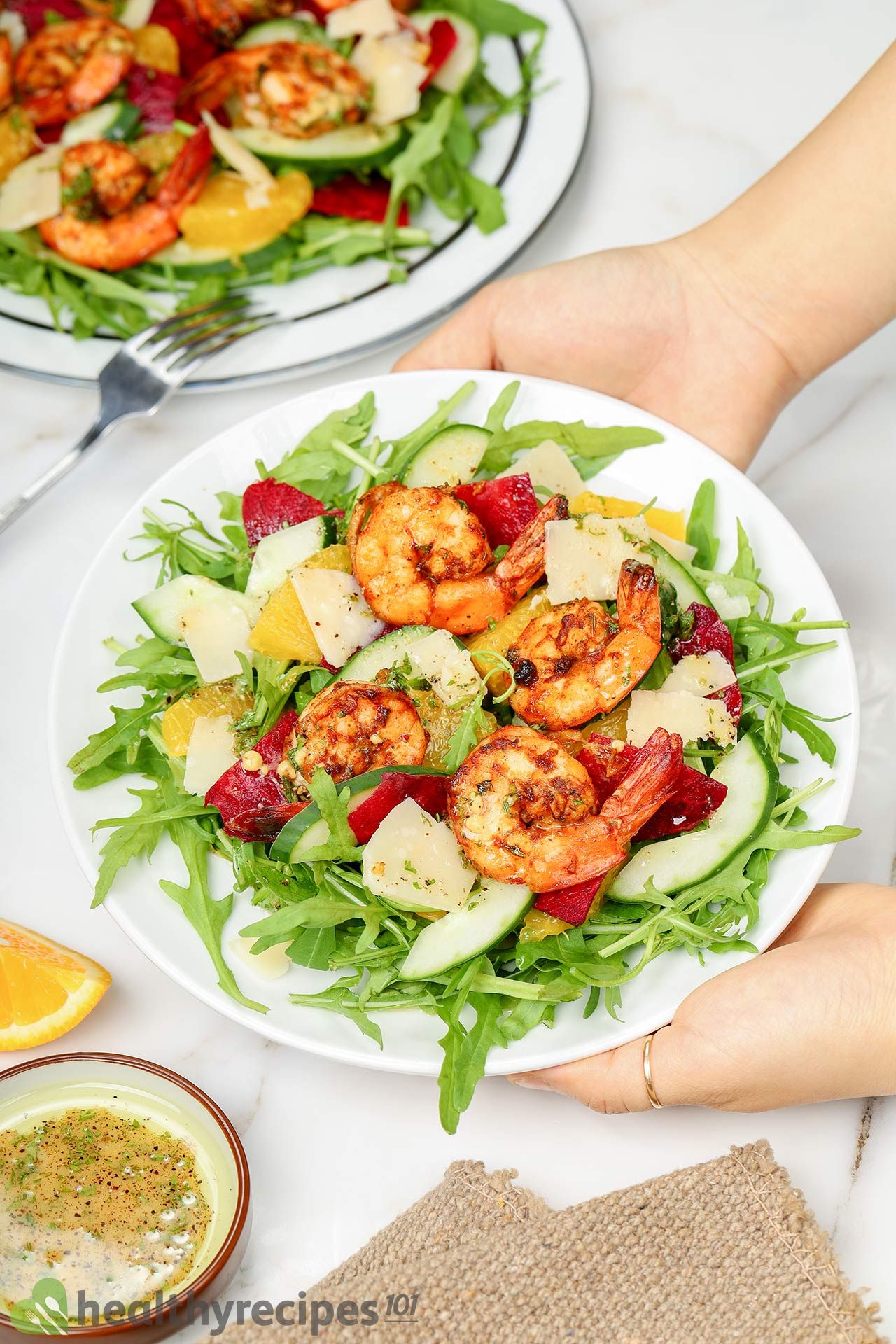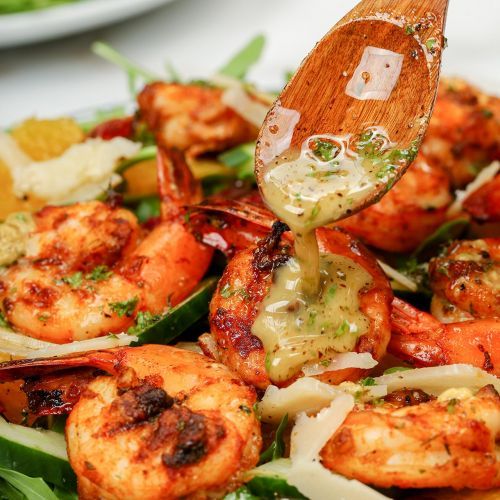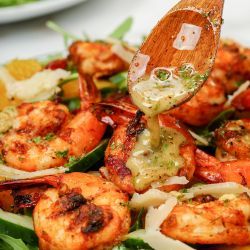 Grilled Shrimp Salad Recipe
Today's grilled shrimp salad is a feast for your eyes and tastebuds. The flavors and textures of grilled shrimp work harmoniously with fruits and vegetables, creating a diverse and balanced dish.
Ingredients
6

oz

peeled shrimp

from 12 oz whole

4

oz

arugula

1

oz

beet

sliced

2

oz

cucumber

halved, sliced

6

oz

orange

peeled, sliced

1

tsp

honey

1/2

tsp

pepper

1/2

tsp

paprika

3

tbsp

olive oil

1

tbsp

lemon juice

0.5

oz

shredded parmesan cheese

1

tbsp

white wine vinegar

2

tbsp

parsley

chopped

1/2

tsp

garlic

minced

1

tsp

Cajun seasoning
Instructions
Marinate the shrimp with 1/4 tsp pepper, 1/2 tsp paprika, 1 tbsp olive oil, 1/2 tsp garlic, 1 tsp Cajun seasoning, and 1 tbsp parsley.

Place the shrimp on a baking tray. Bake for 10 minutes at 250 Celsius.

Make the dressing: Mix 2 tbsp olive oil, 1/4 tsp pepper, 1 tbsp parsley, mustard, 1 tbsp white wine vinegar, 1 tbsp lemon juice, and 1 tsp honey.

Take the shrimp out and let them rest. Serve with arugula, cucumber, beet, orange, and parmesan. Dress the salad and enjoy.
Nutrition
Nutrition Facts
Grilled Shrimp Salad Recipe
Amount Per Serving (1 serving)
Calories 217
Calories from Fat 108
% Daily Value*
Fat 12g18%
Cholesterol 140mg47%
Sodium 282mg12%
Potassium 479mg14%
Carbohydrates 10g3%
Protein 20g40%
Vitamin A 1087IU22%
Vitamin C 32mg39%
Calcium 170mg17%
Iron 1mg6%
* Percent Daily Values are based on a 2000 calorie diet.