Our Instant Pot chicken marsala recipe makes a main dish in roughly half an hour, thanks to the pressure- cooking method.
The dish is equally as flavorful and glamorous as what you would order in an Italian restaurant: the tender, perfectly -seared chicken, and sweet, earthy, brown mushrooms. They're all smothered in a creamy wine sauce and served over a bed of pasta.
Today's chicken marsala, with a glamorous look and distinctively comforting taste, is lavish enough for a weekend party and easy enough for a regular weeknight dinner. Before we get to the recipe card, here're a few interesting things about this Italian-inspired recipe.
What Is Chicken Marsala?
Chicken Marsala is a popular Italian-style dish found in any Italian restaurant here in the US. Chicken is seasoned in condiments and spices, briefly browned, and returned to the wine-base marsala sauce.
This signature sauce is made by reducing the wine and liquid to a syrup-like consistency. The sauce is then poured over the chicken and pasta and served hot.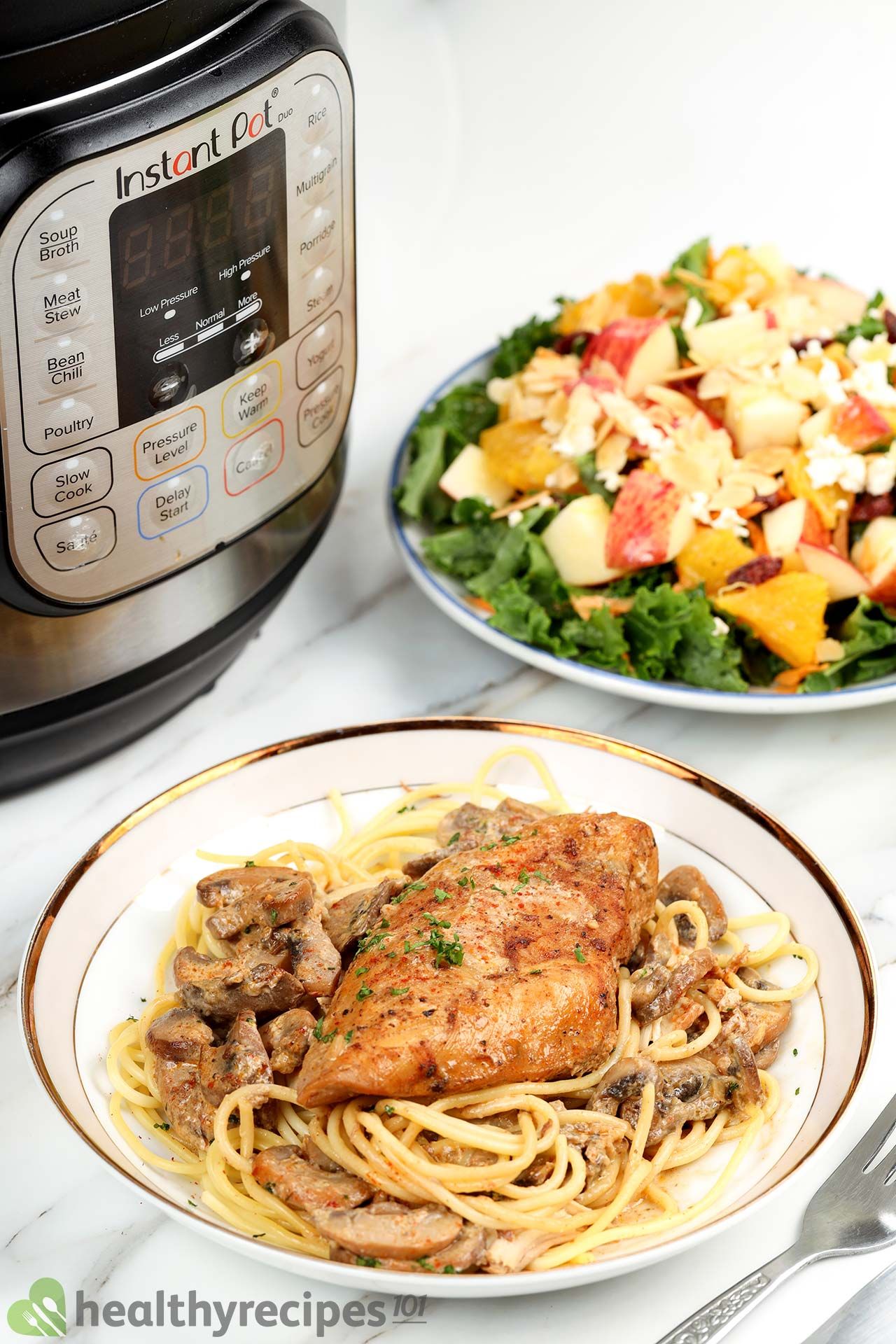 Is This Instant Pot Chicken Marsala Healthy?
The short answer is yes; our Instant Pot Chicken Marsala recipe is healthy.
To start with, unlike other marsala pasta recipes online, we keep a strict eye on the amount of added milk and cream. Each serving ends up containing approximately 7 g of saturated fat, which is relatively low for a portion of creamy pasta.
Moreover, the recipe contains a limited amount of calories (approximately 500 calories) with pasta included. Our chicken marsala leaves decent calorie room to combine a green side dish and vitamin-rich juice drink for a more balanced meal.
Plus, by using lean meat like chicken breast, our chicken marsala provides up to 46 g of protein per serving. That is roughly 90% of the recommended daily intake from the USDA's Dietary Guidelines. In other words, the dish is an excellent source of protein.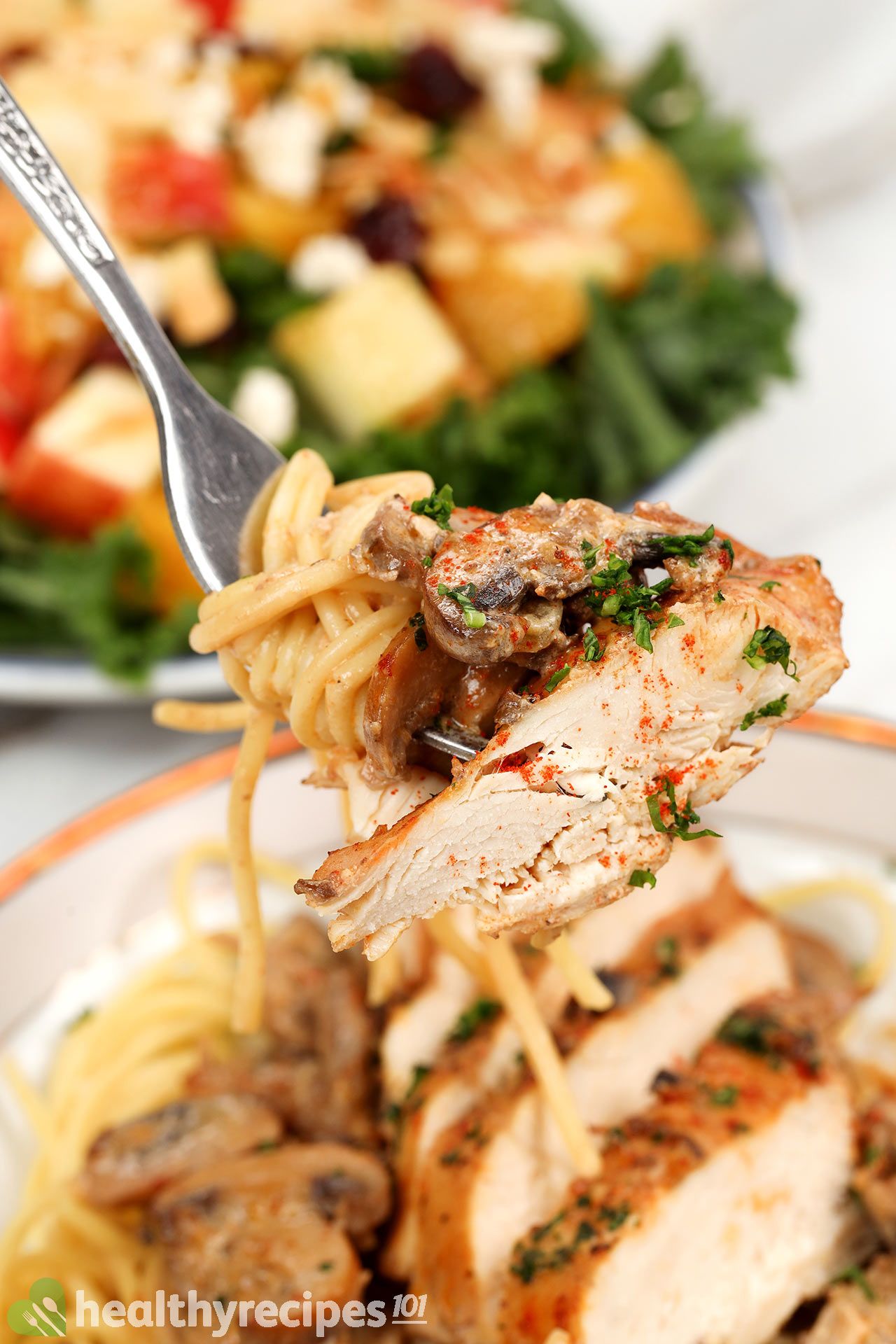 Instant Pot Chicken Marsala Ingredients
To make this fork-tender chicken in creamy marsala sauce, you'll need these ingredients:
1. Chicken
We used skinless, boneless chicken breasts since they're easy to buy and labor-saving. You also want to look for cuts of a similar size (6 – 8 ounces); so every piece will take the same cooking time.
Opt for other variants like skin-on, bone-in breasts, or thighs if you want. They also work beautifully in this recipe.
2. Mushrooms
Brown mushrooms with their signature earthy notes are cooked in the wine and cream sauce to compliment the chicken's flavor.
3. Dairy
The addition of dairies like milk and heavy cream is a genuine game-changer in thick-sauce pasta dishes like this chicken marsala. As well as improving the overall consistency, dairy products lend a pleasant richness and balance out the acidity of the wine.
4. Seasoning
Our recipe features a flavor-packed sauce with a simple blend of salt, pepper, and paprika.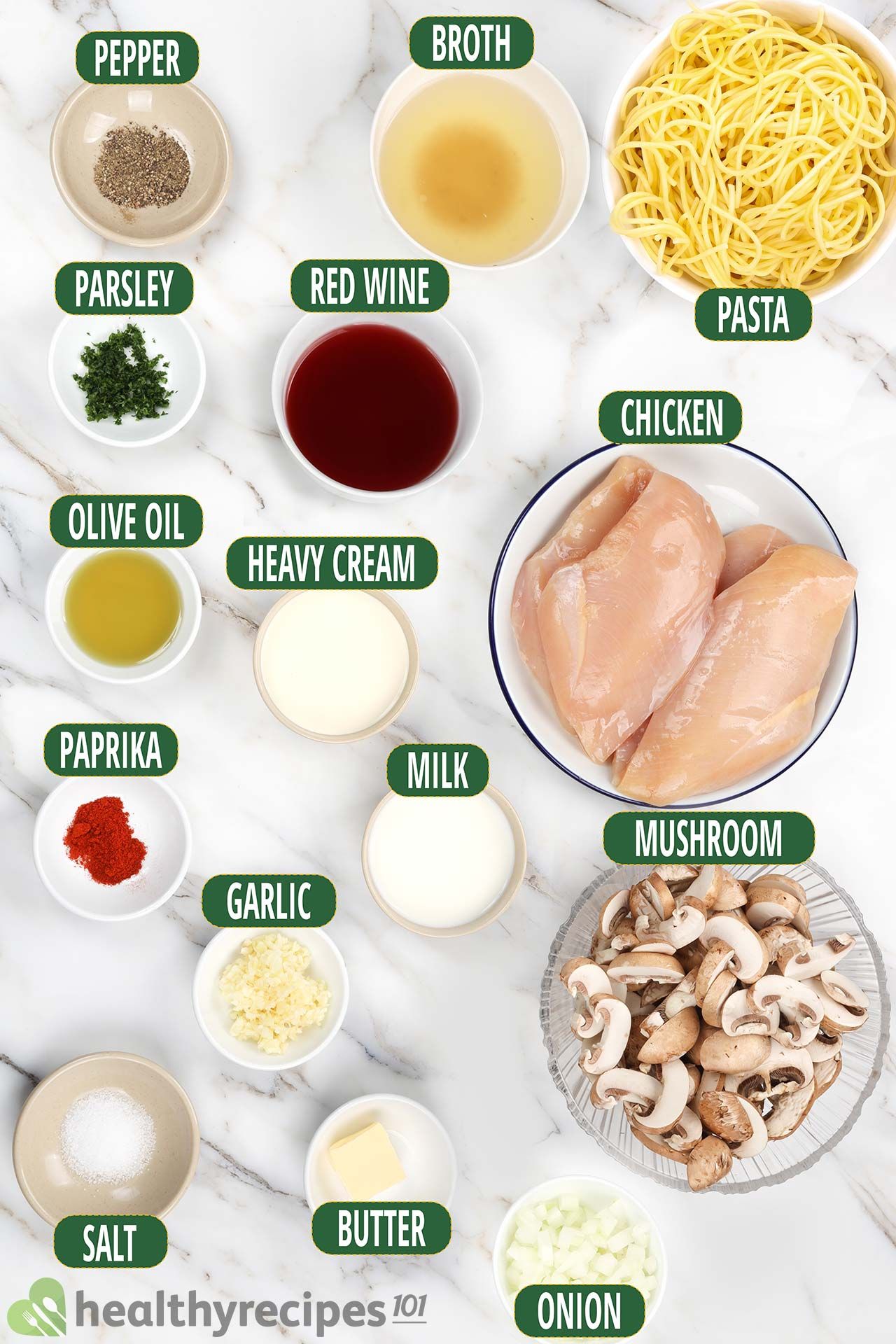 Marsala Sauce for Chicken
The marsala sauce starts by browning the onion and garlic in melted butter. Then browned mushrooms are added and caramelized for their umami flavor.
Then deglaze the pan with wine and let the alcohol evaporate for a few minutes. This step helps concentrate the sweetness and adds a hint of aged grape. The last ingredient to stir in is dairy — usually milk and heavy cream, which adds a luxurious richness to the sauce.
We used a Pinot Noir red wine for today's recipe with its deep nutty flavors to create a rich caramelized sauce. If you're unable to find red wine, you could use more broth and boil it down, but also note that the flavor profile won't be the same.
When cooking the sauce, the acidity and alcohol from the wine combined with the cream may cause the sauce to clump or separate. To prevent this from happening to your sauce, follow these tips:
Older milk and heavy cream will curdle easier; it's best to use cream purchased within only a few days of using.
Gently stir the sauce while adding cream.
Keep the sauce at a simmer after adding the dairy; avoid a rapid boil.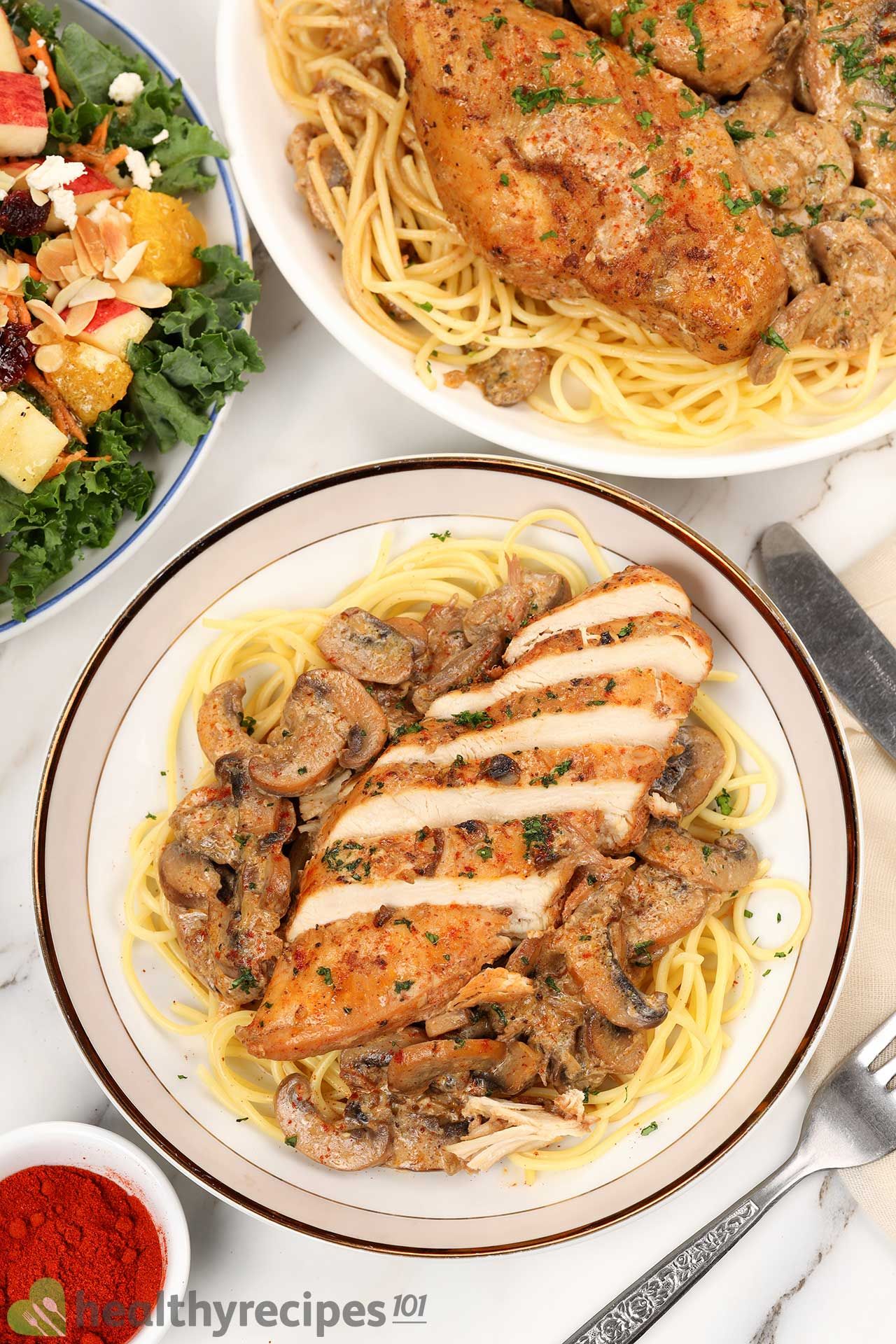 How to Make Chicken Marsala in the Instant Pot
Our Instant Pot version includes everything you love in the original stovetop cousin but is cooked up quicker and mess-free. There is only one pot left to clean up after all.
Here is how we make the dish: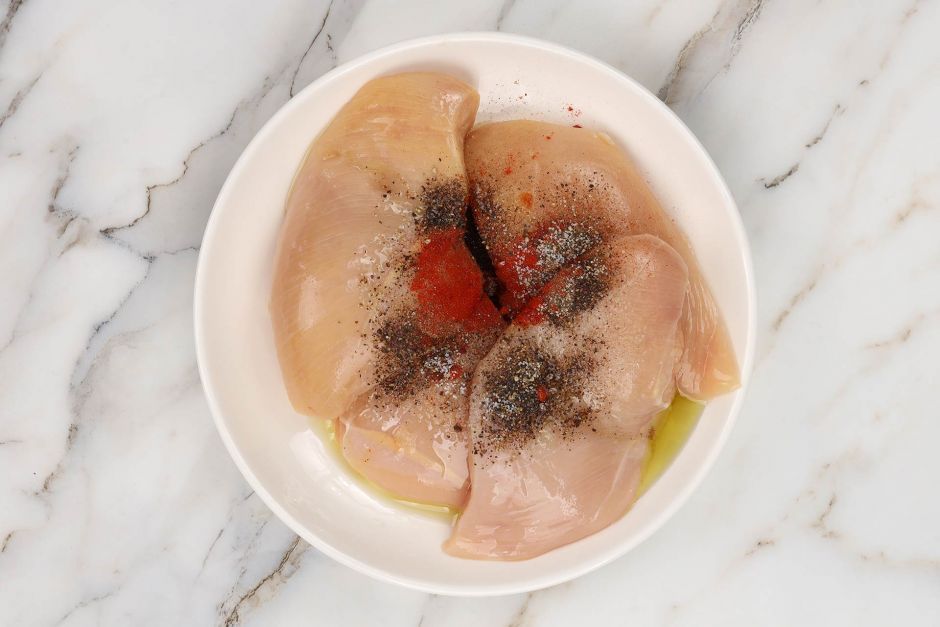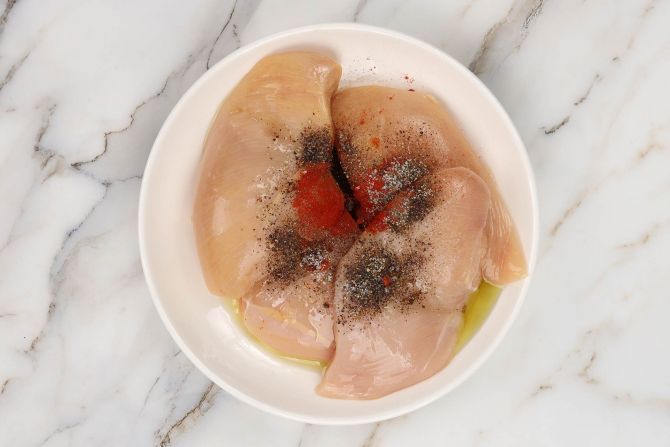 Season the chicken.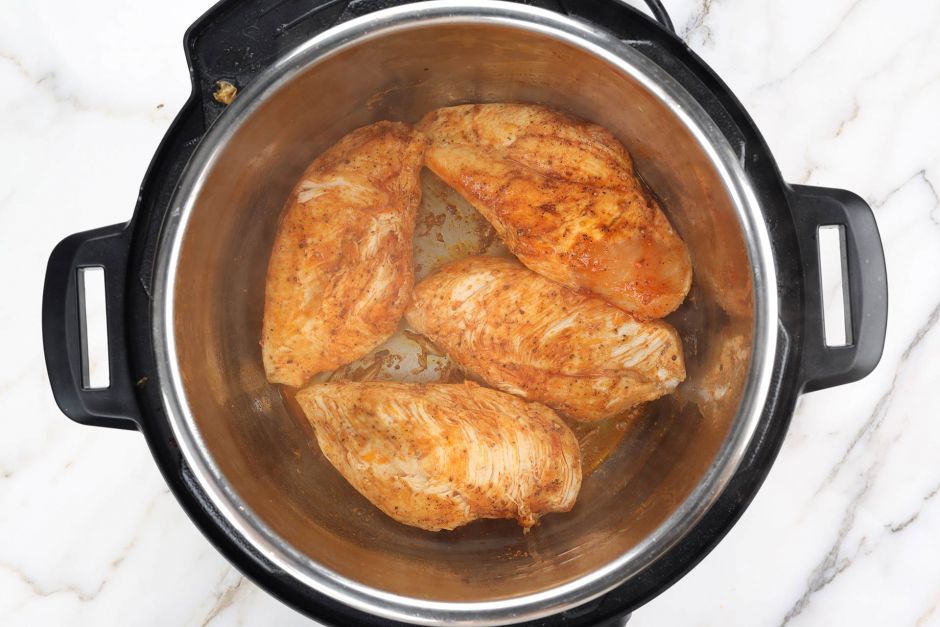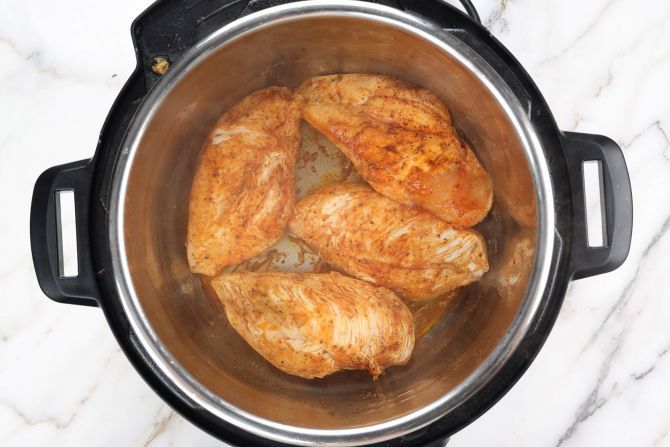 Sear the chicken. Set aside.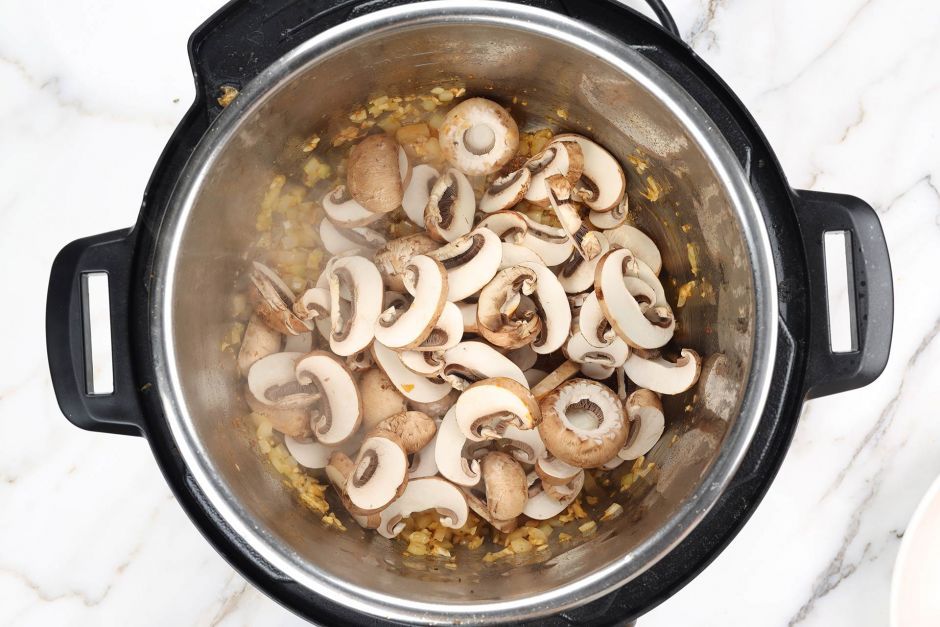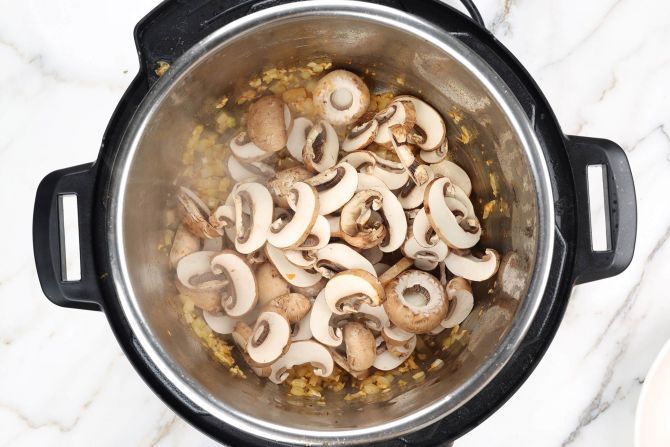 Sauté the spices and brown mushrooms.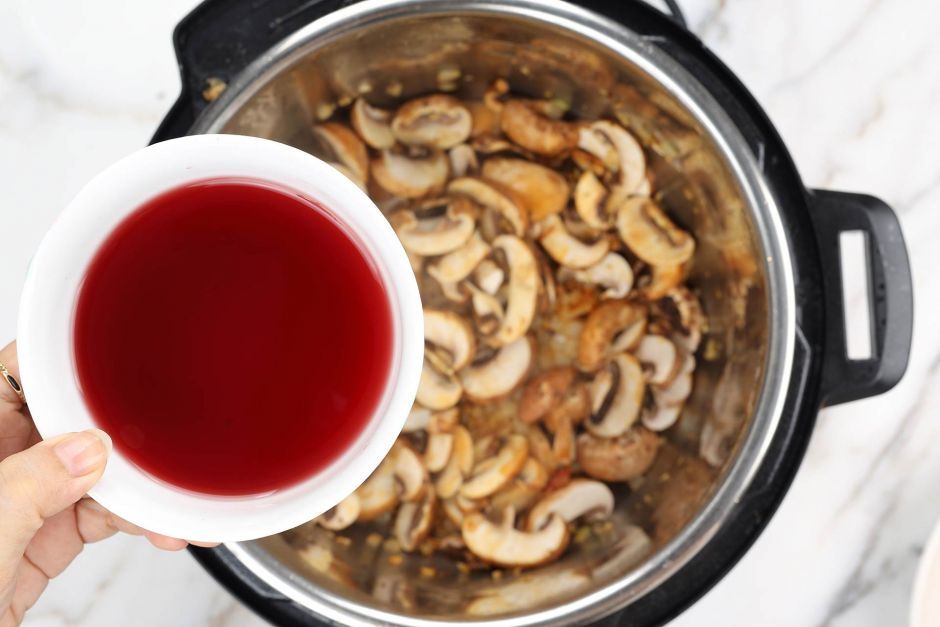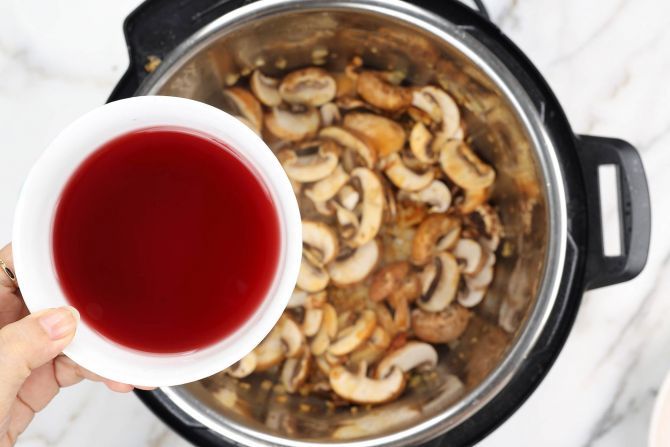 Add the red wine.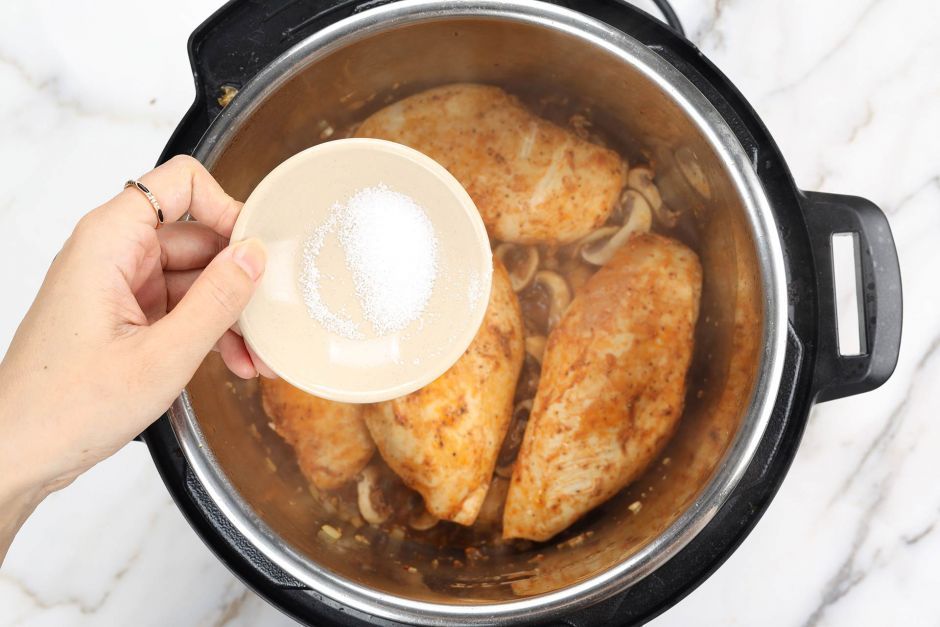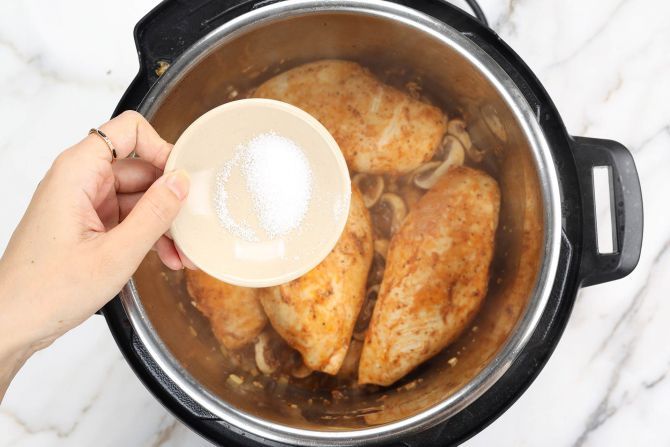 Return the chicken to the pot.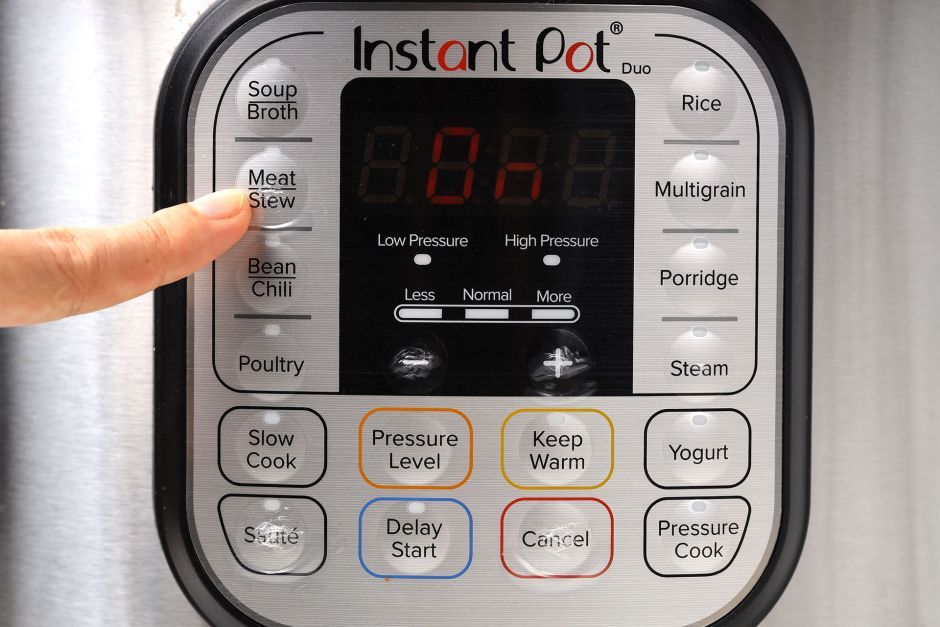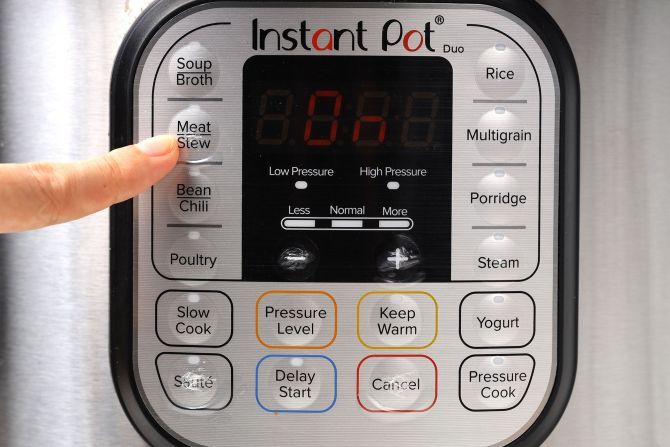 Set the pot to the 'Stew Meat'. Cook the chicken.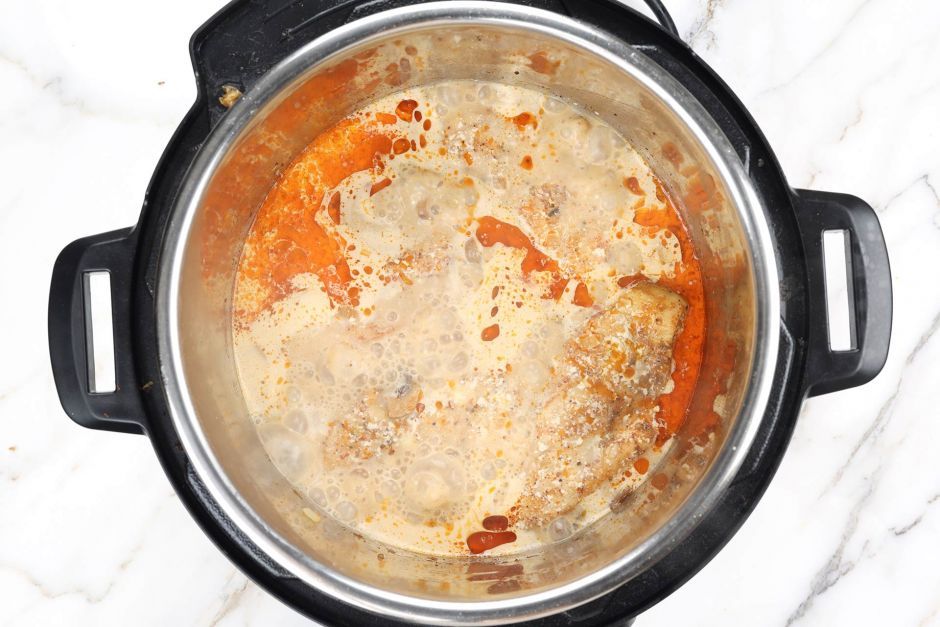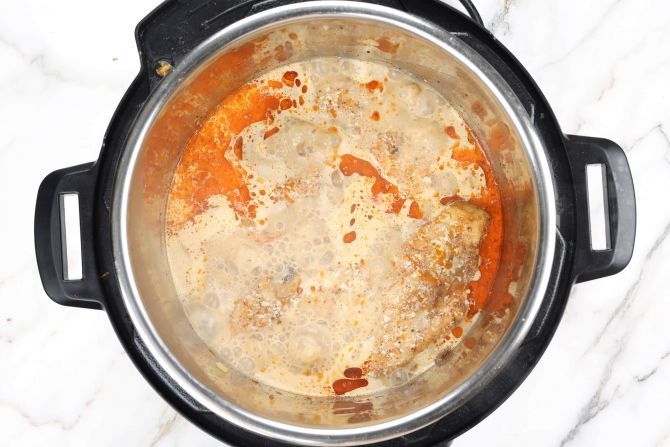 Stir in the dairy.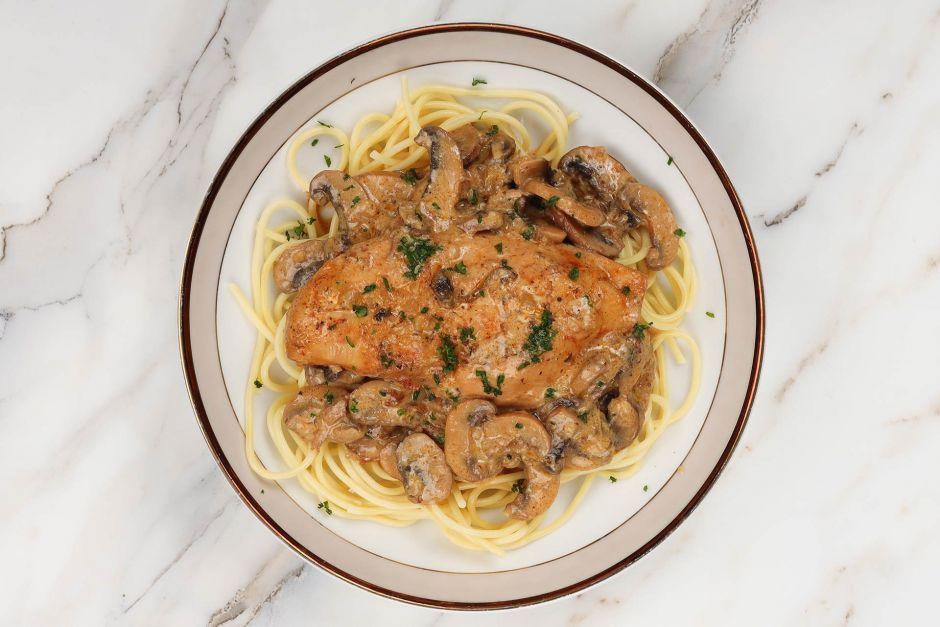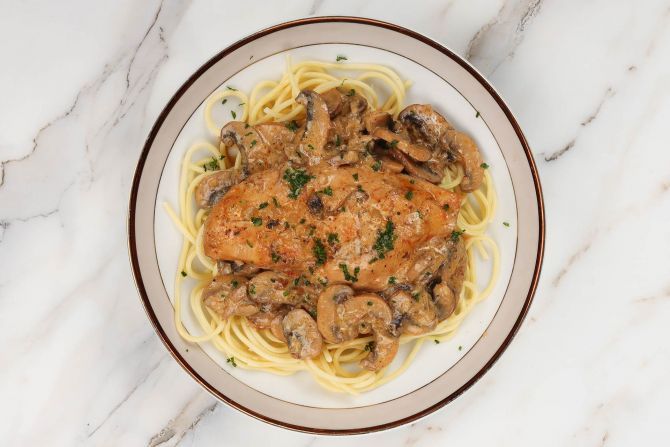 Garnish with fresh herbs. Serve over pasta.
Full ingredient measurements and detailed instructions are available on the recipe card below.
Jump to Recipe
How to Store and Reheat Leftovers
Chicken Marsala is one of those dishes that tastes even better after the flavors have been absorbed for one or two days. However, the pasta will lose its original texture and become mushy if covered in liquid for too long. It's best to keep the pasta and sauce in separate airtight containers.
Refrigerated chicken marsala will last for 3 days, and you can keep it in the freezer for up to 2 months.
Whenever ready to use, reheat the pasta and sauce on the stovetop using a non-skillet pan. Also, add one or two tablespoons of broth to deglaze the pan. Another quick way is to microwave it for a few minutes until heated through; you'll have quick, healthy, comfort food for dinner.
What to Serve With Instant Pot Chicken Marsala
This chicken marsala is perfect for pairing with a carb-rich accompaniment such as pasta, rice, or mashed potatoes. You can also transform this comforting pasta into a full meal; we served it with kale salad and cucumber lime juice. These sides give the creamy pasta a refreshing contrast in flavor and texture, balancing the overall taste.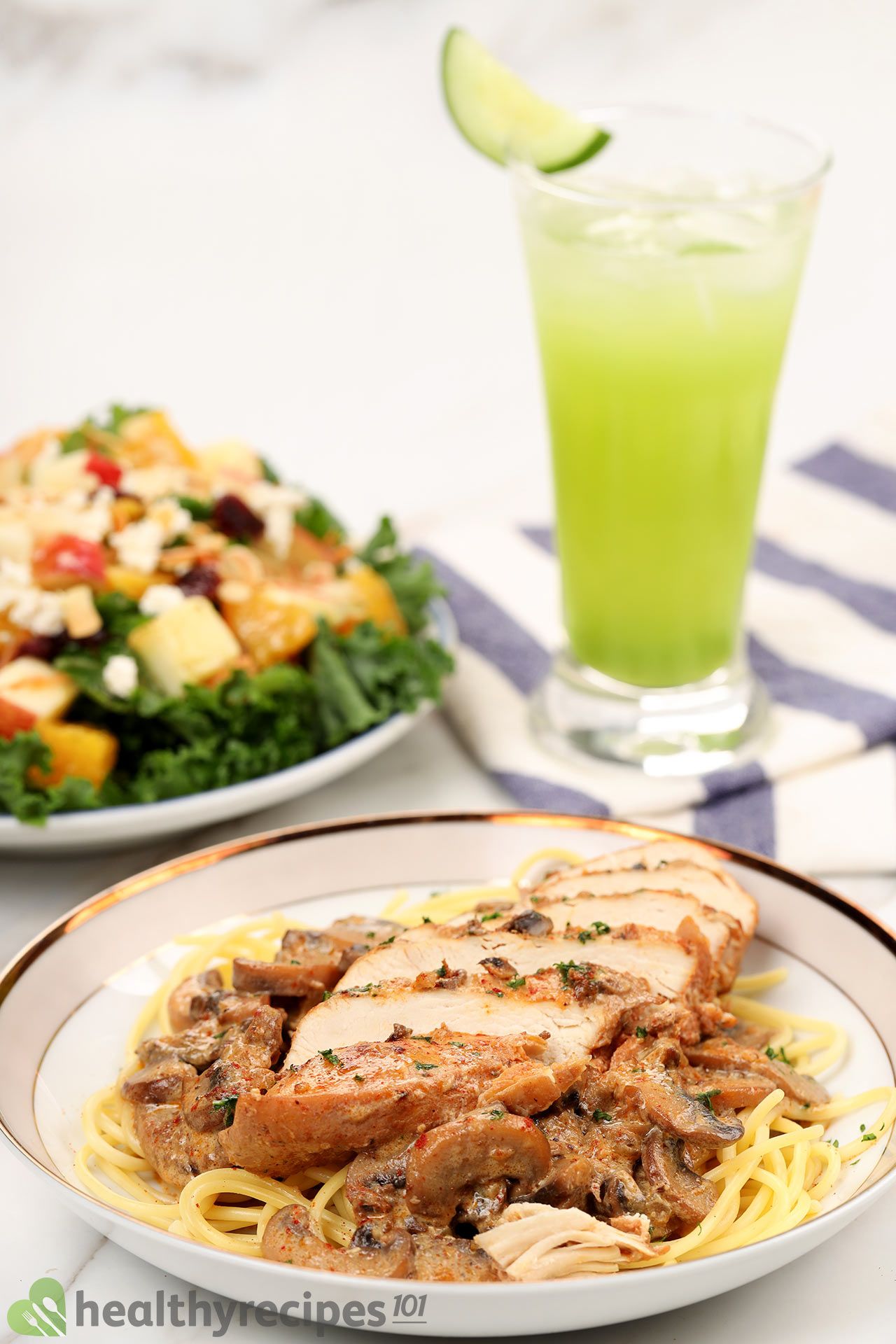 More Easy Instant Pot Chicken Recipes To Try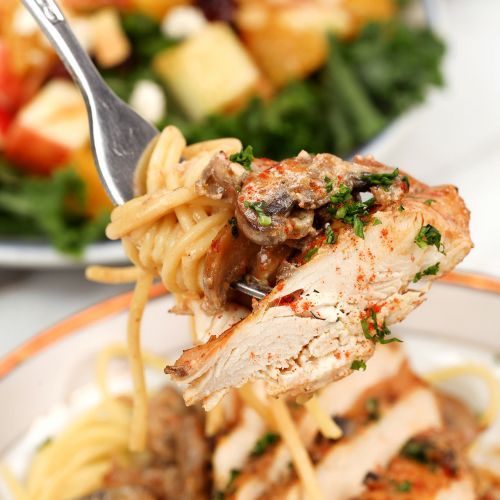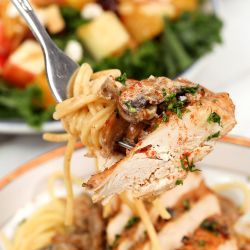 Instant Pot Chicken Marsala Recipe
Featuring Italian cuisine, our Instant Pot chicken marsala recipe makes a delicious dinner that is sure to impress even the pickiest eaters.
Ingredients
24

oz

skinless boneless chicken breast

1

tbsp

olive oil

divided

3/4

tsp

salt

divided

1/2

tbsp

black pepper

1

tbsp

unsalted butter

2

tbsp

garlic

chopped

2

oz

onions

chopped

8

oz

brown mushrooms

sliced

2

fl oz

Pinot Noir red wine

1/2

cup

unsalted chicken broth

1/4

cup

milk

4

tbsp

heavy cream

12

oz

cooked pasta
Instructions
Season 24 oz chicken breast with 1/2 tbsp olive oil, 1/4 tsp salt, 1/2 tbsp black pepper, and 1/2 tsp paprika. Set aside.

Turn the Instant Pot to the 'Sauté' mode and heat 1/2 tbsp olive oil. Add the seasoned chicken cubes to the pot and sear both sides of the meat for about 5 minutes.

Transfer the chicken to a plate. Melt 1 tbsp butter and add 2 tbsp garlic and 2 oz onions to the pot. Sauté the spices for 1 minute or until the onions are translucent and the garlic is fragrant. Add 8 oz brown mushrooms and stir fry for another 3 minutes.

Pour in 2 fl oz Pinot Noir red wine and continue cooking for 2 minutes until the wine has evaporated.

Return the chicken to the Instant Pot. Season the mixture with the remaining 1/2 tsp salt.

Close the lid and set the pot to the 'Stew Meat' mode for 7 minutes.

Naturally release the pressure before opening the lid. Stir in 1/2 cup chicken broth, 1/4 cup milk, and 4 tbsp heavy cream. Set the 'Sauté' mode and cook to thicken the sauce for about 5 minutes.

Garnish with 2 tbsp chopped parsley. Serve hot over boiled pasta.
Nutrition
Nutrition Facts
Instant Pot Chicken Marsala Recipe
Amount Per Serving (1 serving)
Calories 494
Calories from Fat 153
% Daily Value*
Fat 17g26%
Cholesterol 150mg50%
Sodium 534mg23%
Potassium 971mg28%
Carbohydrates 33g11%
Protein 46g92%
Vitamin A 81IU2%
Vitamin C 2mg2%
Calcium 71mg7%
Iron 2mg11%
* Percent Daily Values are based on a 2000 calorie diet.