This air fryer Greek chicken recipe features grilled chicken and a tangy, creamy salad. Everything comes together in 30 minutes and tastes delicious.
Is Air Fryer Greek Chicken Healthy?
Air-frying is an excellent method of removing fat from fatty meat cuts such as chicken thighs. Plus, it gives you some of that great fried flavor without all the added oil.
In addition, we chose to serve our air-fried Greek chicken thighs with some avocado, corn, lettuce, cucumber, and tomato on the side. They create a well-rounded dish that packs in plenty of nutrients. The entire plate contains only 482 calories and less than 8.3 g saturated fat per serving.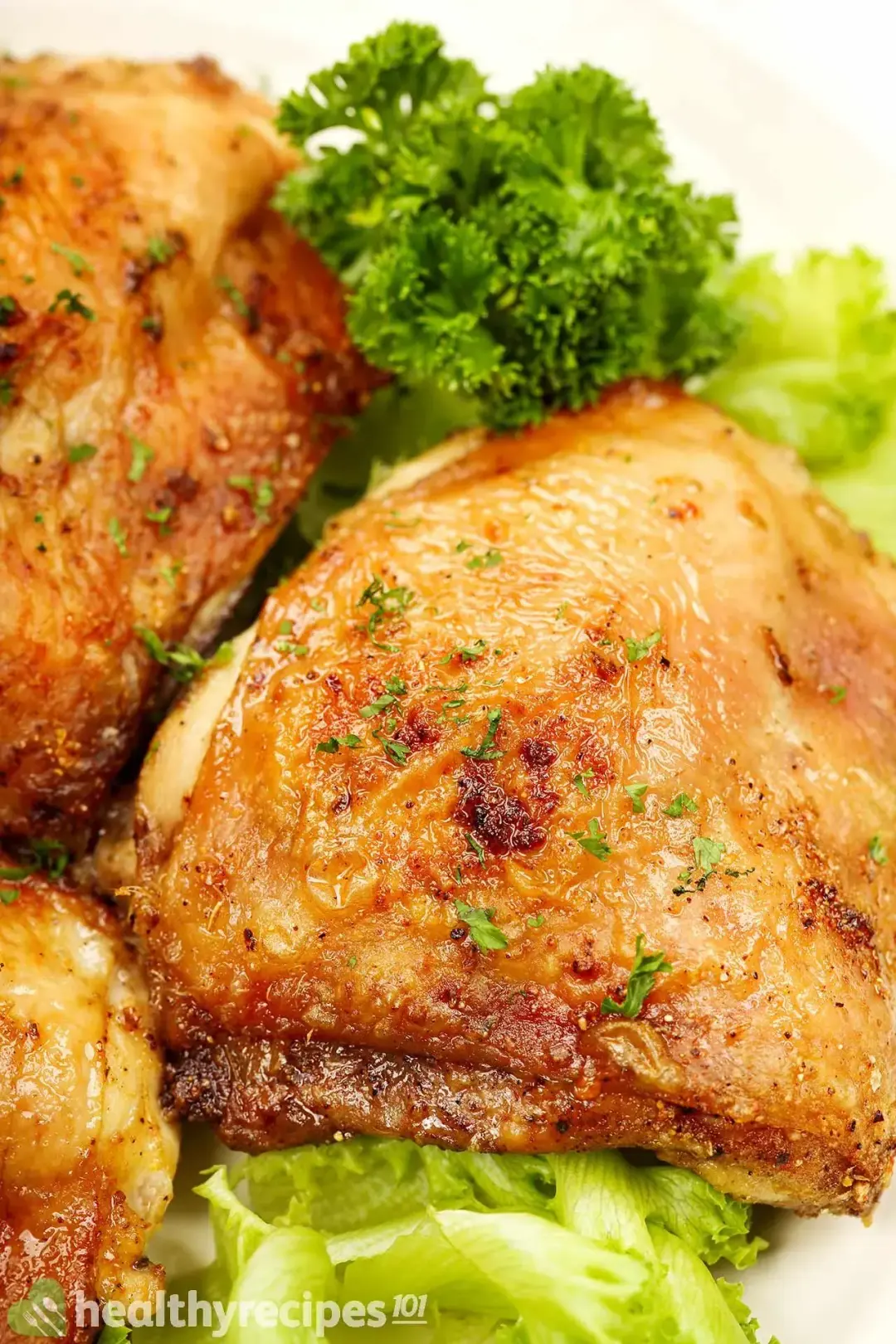 If chicken dishes are your favorites, check out these other healthy recipes:
Main Ingredients for Air Fryer Greek Chicken
Our air fryer Greek chicken recipe calls for chicken thighs, olive oil, simple seasonings, and some vegetables.
1. Chicken
The cut we're working with is the thigh; it's juicy and has an excellent chewy texture. If you prefer a leaner, more protein-dense meat cut, chicken breast works as well but has a different texture.
Choosing boneless thighs also allows us to season all sides of the meat and eat with cleaner hands, but this is merely our preference. If you prefer your meat bone-in, we have precise measurements down in the recipe card.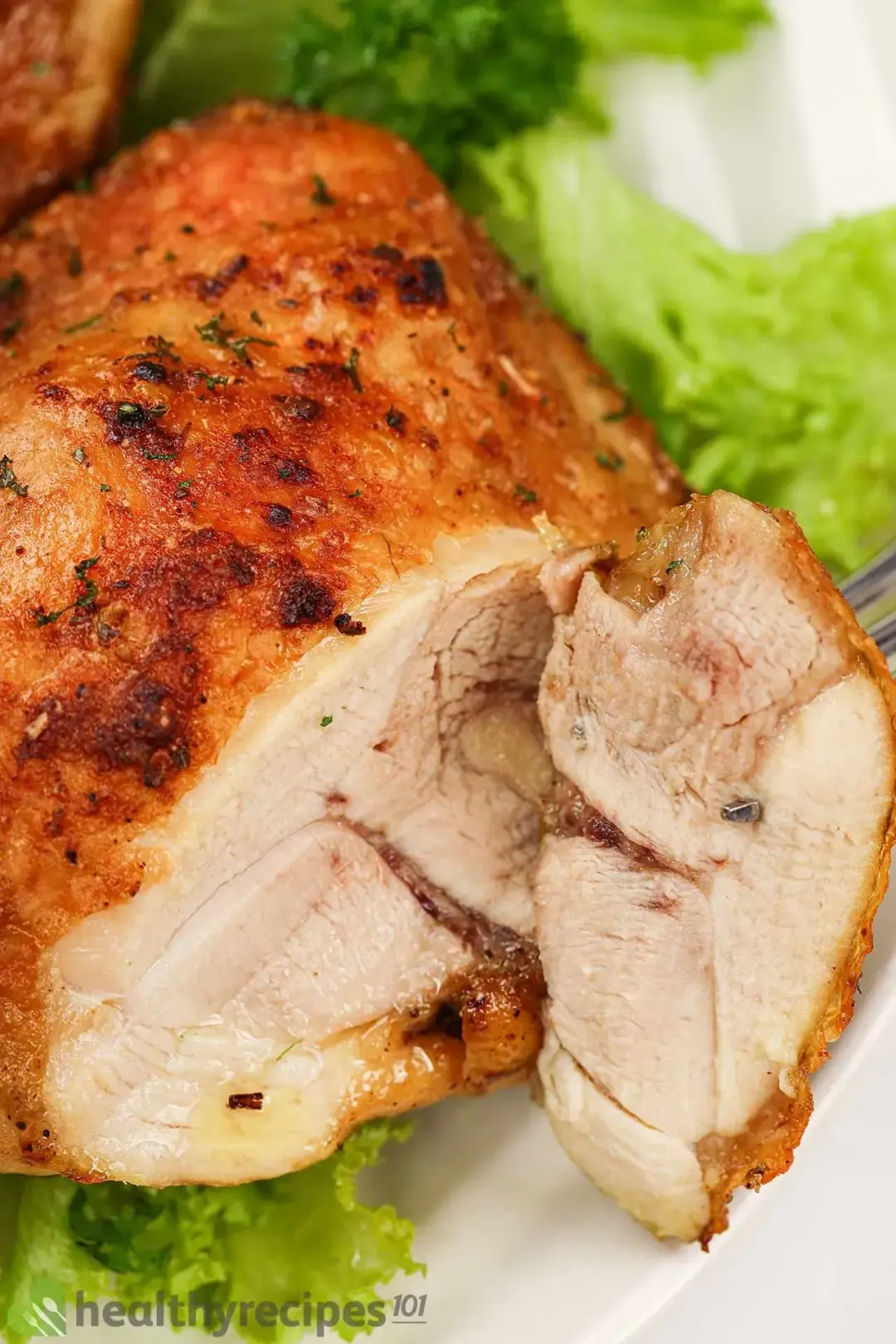 2. Greek Marinade for Chicken
A typical Greek marinade contains olive oil, seasonings, and fresh herbs. The oil not only tenderizes the meat, but also adds flavor and some healthy fats.
The herb we're using today is oregano. Some people use both oregano and thyme, but we think either is sufficient.
In terms of seasonings, you'll only need onion powder, garlic powder, salt, and pepper. This blend is probably already in your pantry and gives the meat all the flavor it needs.
If you enjoy spicy foods, we recommend adding a little cayenne pepper. Or, if you like the aroma of chilis but not the heat, try paprika.
3. Vegetables
While chicken is the main course, it's the side vegetables that keep the dish interesting. Sweet corn naturally balances out the tart lemon dressing and creamy avocado, complementing the other crisp, juicy components.
The lettuce we selected is a rather regional style called crystal lettuce. If it's not available in your area, iceberg lettuce is a great substitute.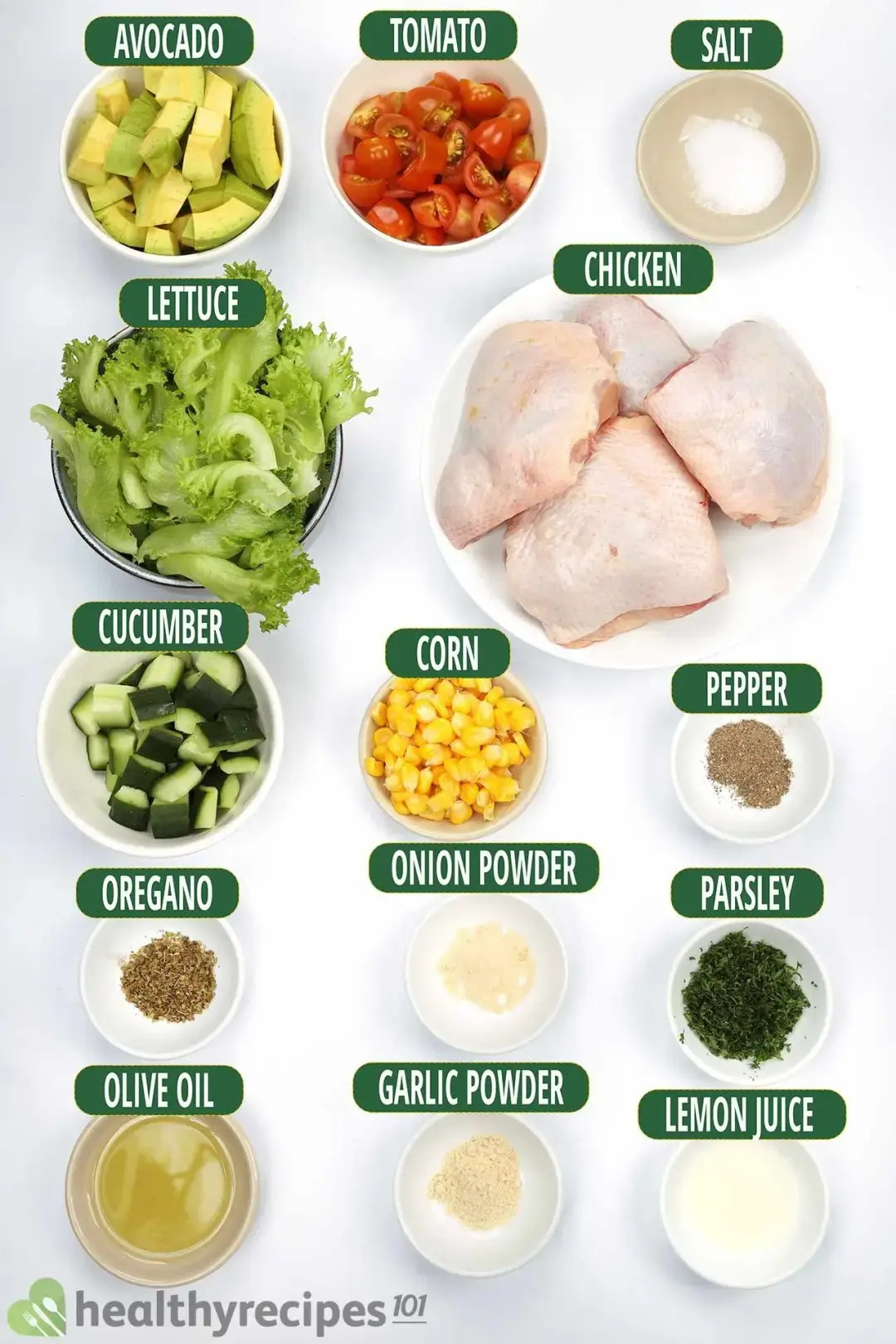 How to Make Greek Chicken in an Air Fryer
Here's a quick summary of our air fryer Greek chicken recipe: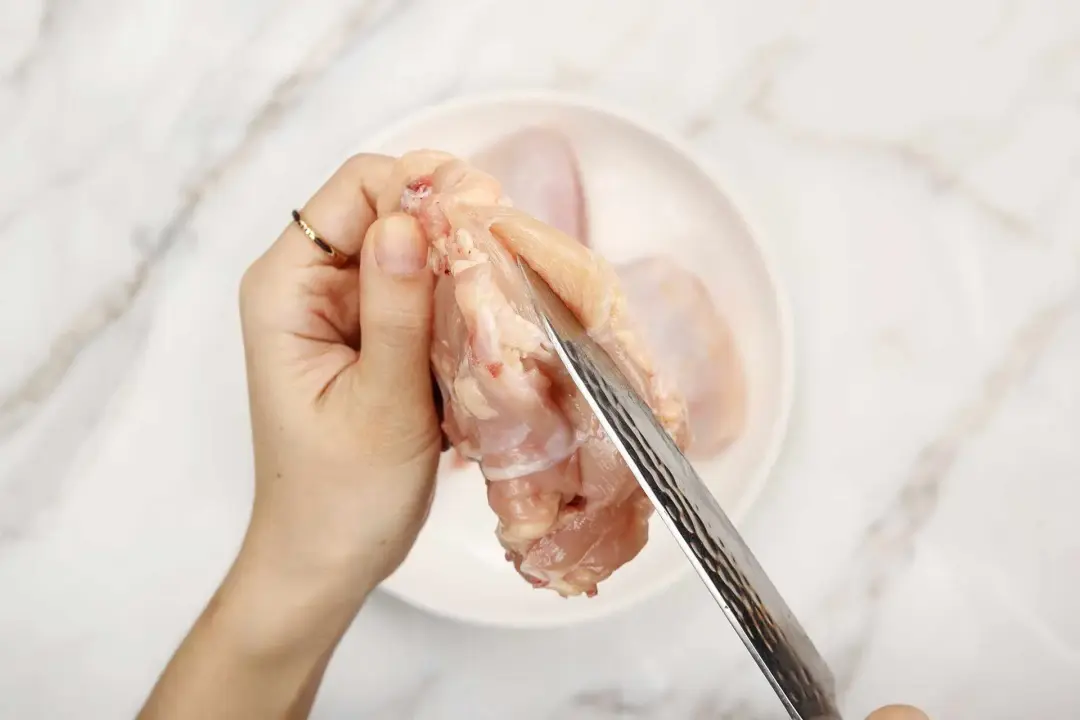 Score the meat so it absorbs flavors better.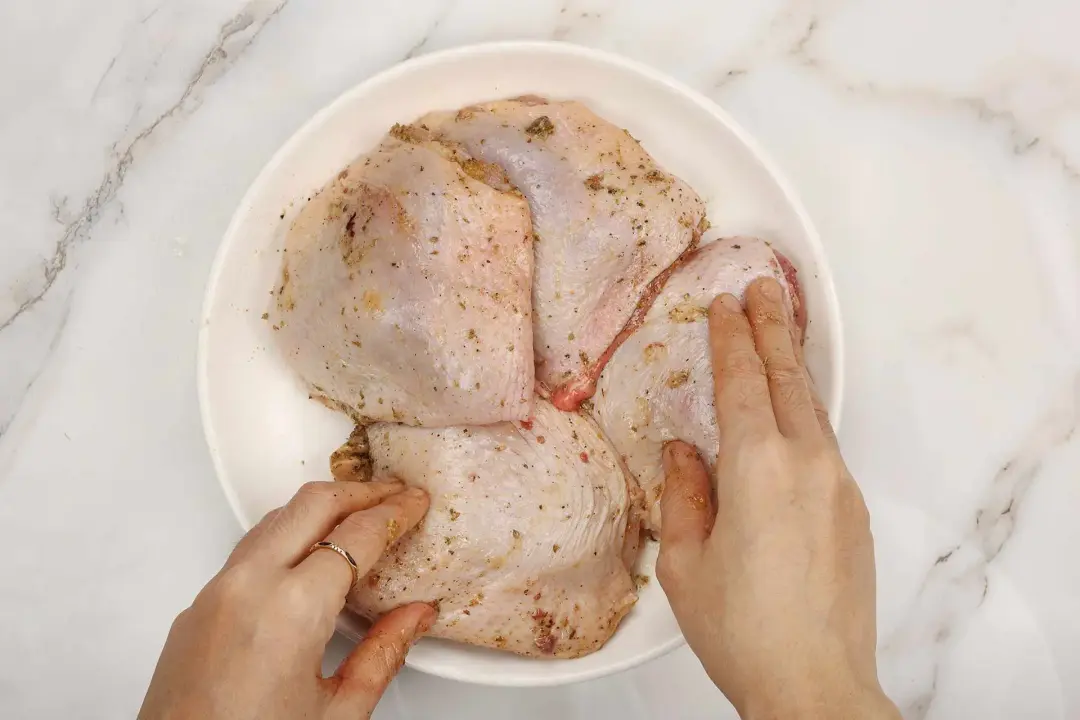 Marinate the meat.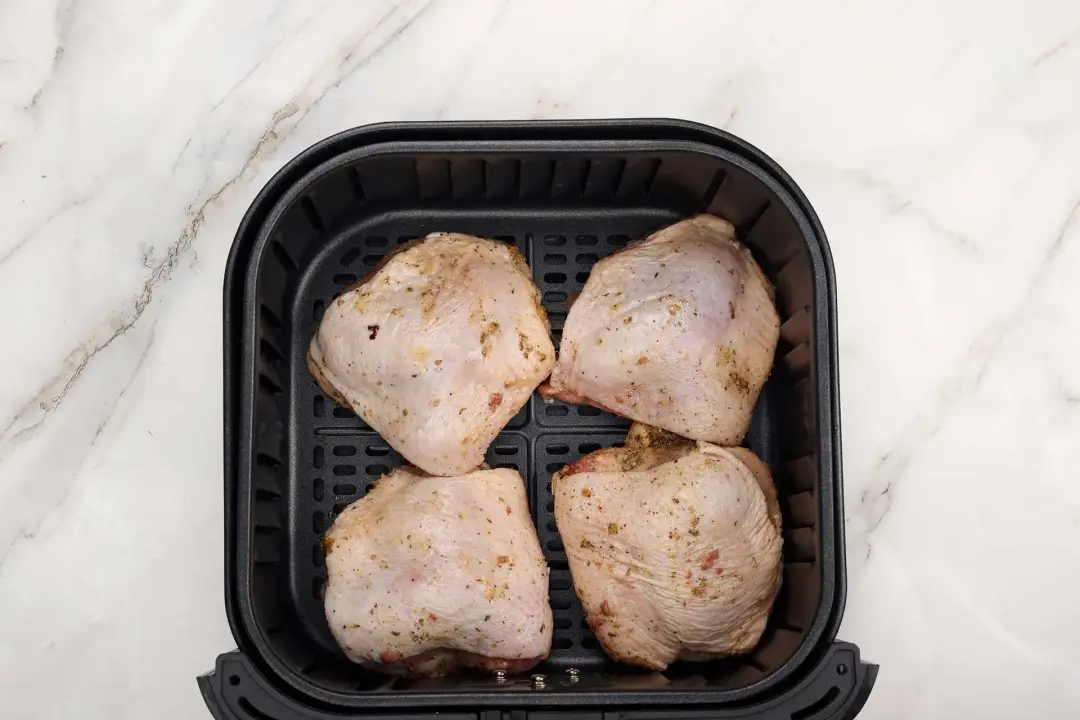 Air-fry the meat.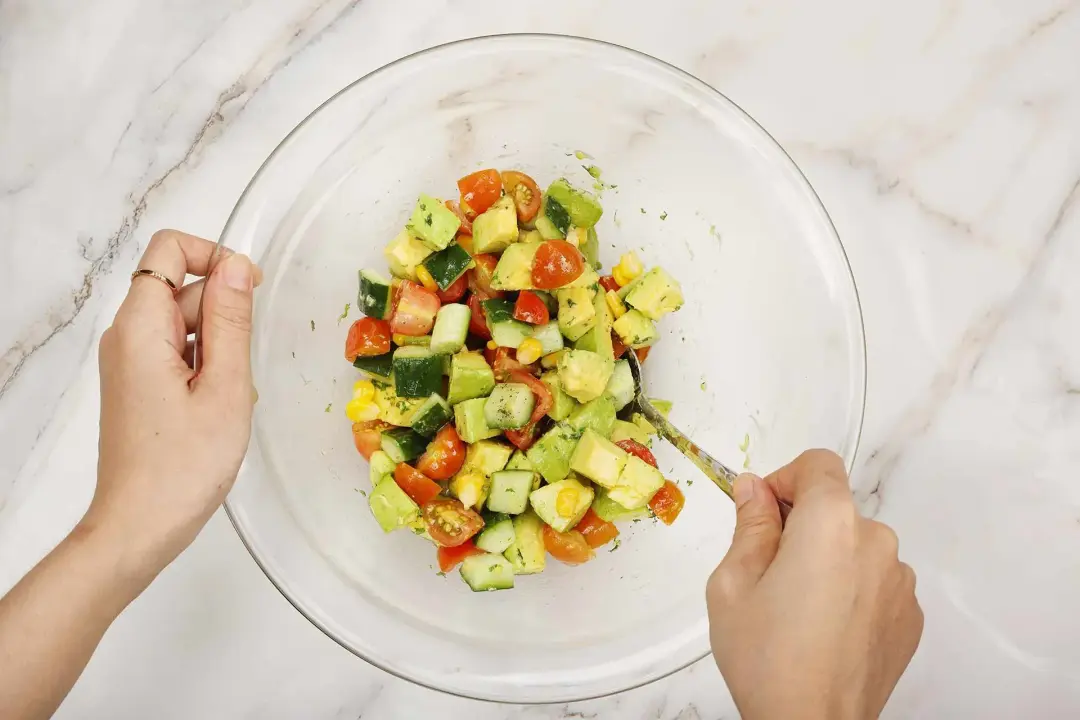 Make the salad while it's cooking.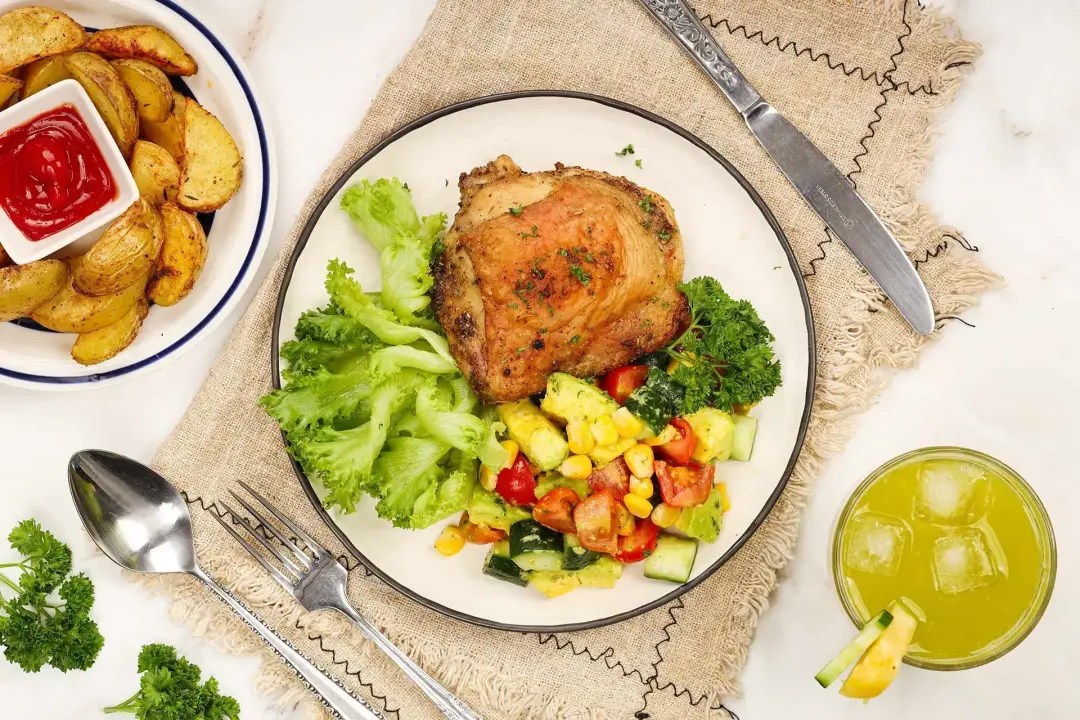 Enjoy.
How to Store and Reheat Greek Chicken
Place the cooked meat in a container of your choice, then keep it in the fridge for up to a week or the freezer for 3 months. Because the veggies are not freezer-friendly, they should only be refrigerated. 
To reheat, air-fry the meat for 5 minutes if refrigerated or 8-10 minutes if frozen. Or use a microwave and you'll need just 1-3 minutes.
If you would like to see more healthy air fryer options, see our collection of air fryer dinner recipes.
What to Serve With Greek Chicken
What this dish is missing are some potatoes, and our potato wedges recipe is one way to treat them right. They're tossed with salt, pepper, garlic, and onion powders before being air-fried and served with a generous helping of ketchup.
This meal can be dry, so we serve it with our pineapple cucumber juice to help it go down. It's delicious and loaded with vitamins.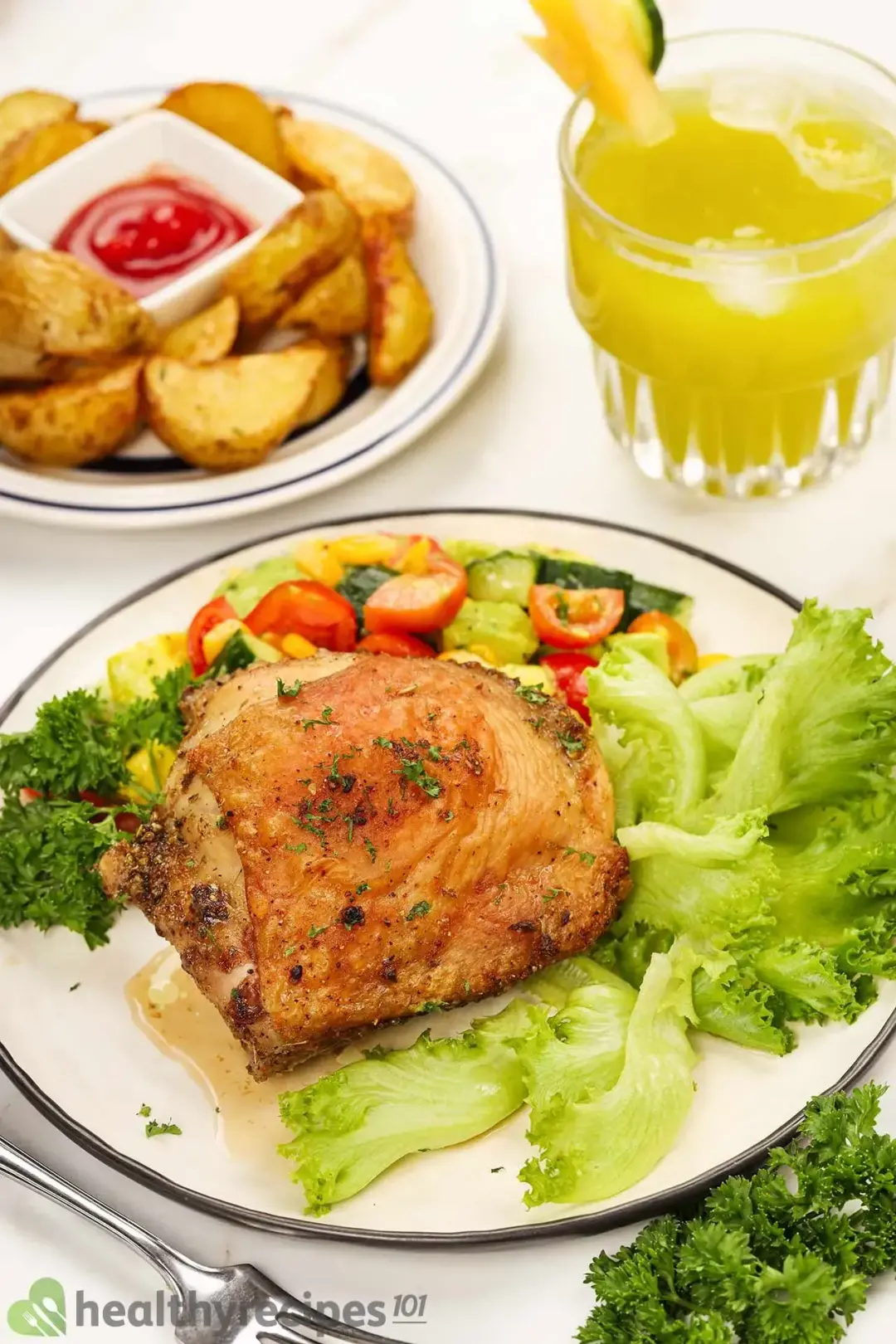 To reveal the recipes for these sides, scroll past the 'air fryer Greek chicken recipe' card below.
These are just a few of our choices. Feel free to use our guidelines and meticulously calculated recipes to generate your own healthy meal plans.
More Fast, Easy Air Fryer Chicken Recipes
If you're interested in other air fryer chicken recipes as healthy as this one, we've got some seriously delectable ones: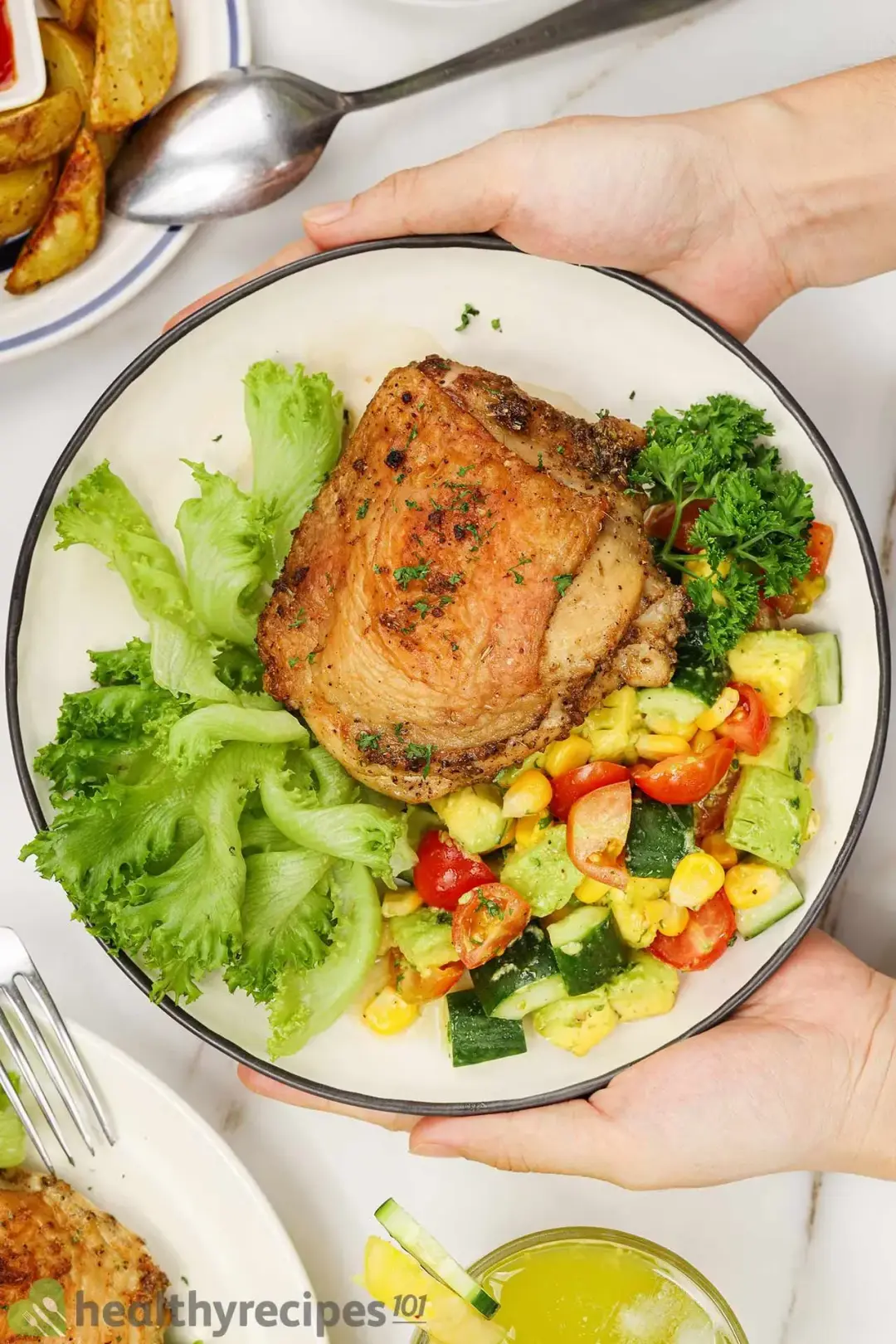 Air Fryer Greek Chicken Recipe
Our 30-minute air fryer Greek chicken recipe provides a hearty meal of flavorful chicken and salad. It's simple and only requires a few ingredients.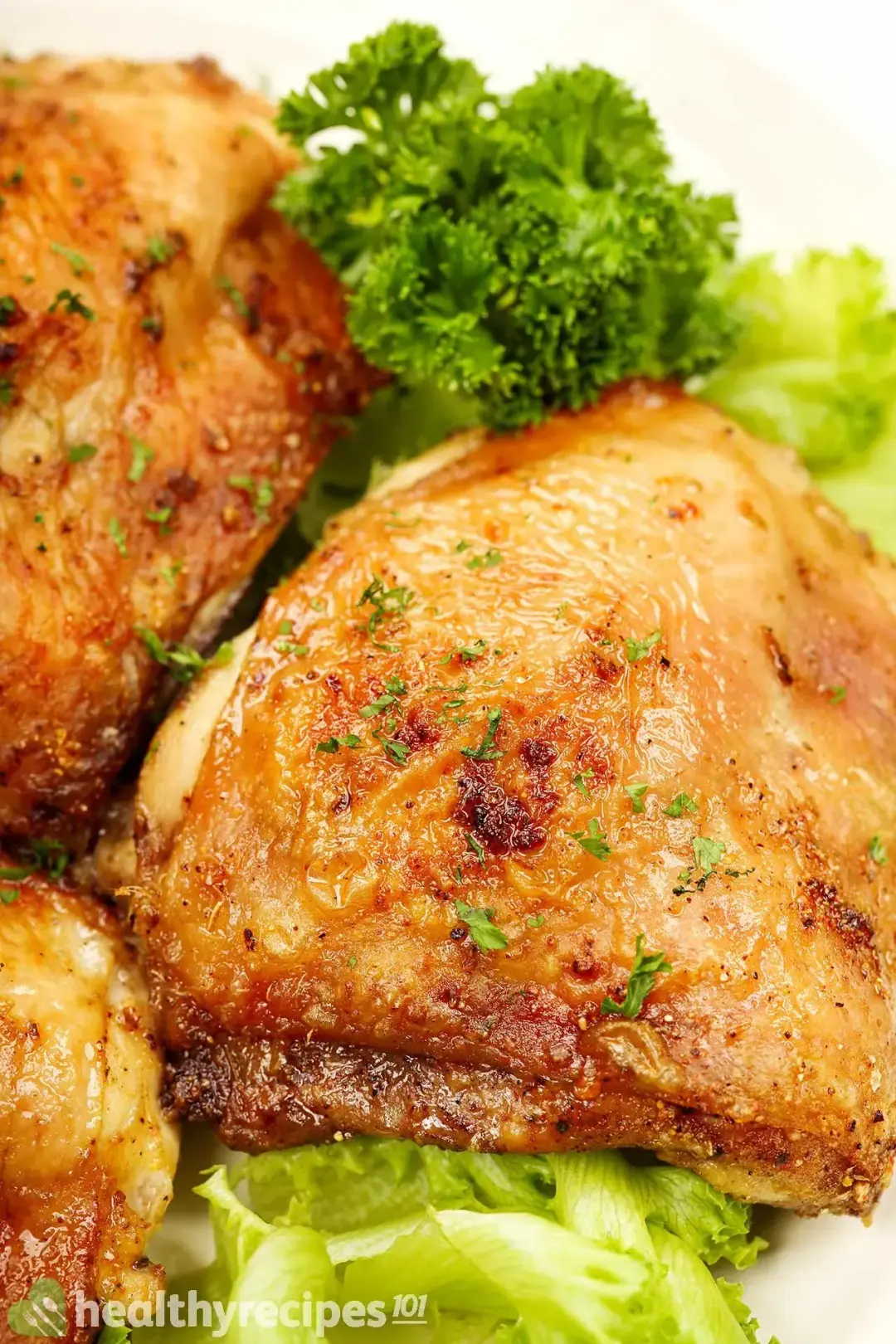 cook TIME

25 mins

prep TIME

5 mins

total TIME

30 mins
COURSE

Main Course

CUISINE

Greek

SERVINGS

servings

CALORIES

482 kcal
INGREDIENTS
18 oz

boneless chicken thighs (30 oz bone-in thighs)

2.5 tbsp

olive oil (divided into 1 and 1 1/2 tbsp)

0.8 tsp

salt (divided into 1/2 and 1/4 tsp)

0.5 tsp

ground black pepper (divided in half)

1 tbsp

oregano (dried)

0.5 tsp

onion powder

0.5 tsp

garlic powder

8 oz

avocado (cubed)

4 oz

cucumber (seeded and cubed)

4 oz

cherry tomatoes (quartered)

2 oz

corn (fresh or frozen)

2 oz

crystal lettuce (or iceberg lettuce)

2 tsp

lemon juice

2 tbsp

parsley (finely chopped)
INSTRUCTIONS
1
Score the skinless side of your 18 oz of boneless chicken thighs.
2
Rub the meat with 1 tbsp olive oil, 1/2 tsp salt, 1/4 tsp pepper, 1 tbsp oregano, 1/2 tsp onion powder, and 1/2 tsp garlic powder. Marinate for 5 minutes.
3
Place the marinated thighs into the air fryer. Cook at 370°F for 25 minutes.
4
While it's cooking, cut the vegetables into cubes. When the meat is 5 minutes away from finishing, gently toss all of your salad ingredients (8 oz avocado, 4 oz cucumber, 4 oz cherry tomatoes, 2 oz corn, and 2 oz lettuce) with 1 1/2 tbsp olive oil, 1/4 tsp salt, 1/4 tsp pepper, and 2 tsp lemon juice.
5
Garnish your grilled chicken with 2 tbsp parsley and serve with the veggie salad.
NUTRITION
Nutrition Facts
Air Fryer Greek Chicken Recipe
Amount Per Serving (1 serving)
Calories 482
Calories from FDA
% Daily Value*
* Percent Daily Values are based on a 2000 calorie diet.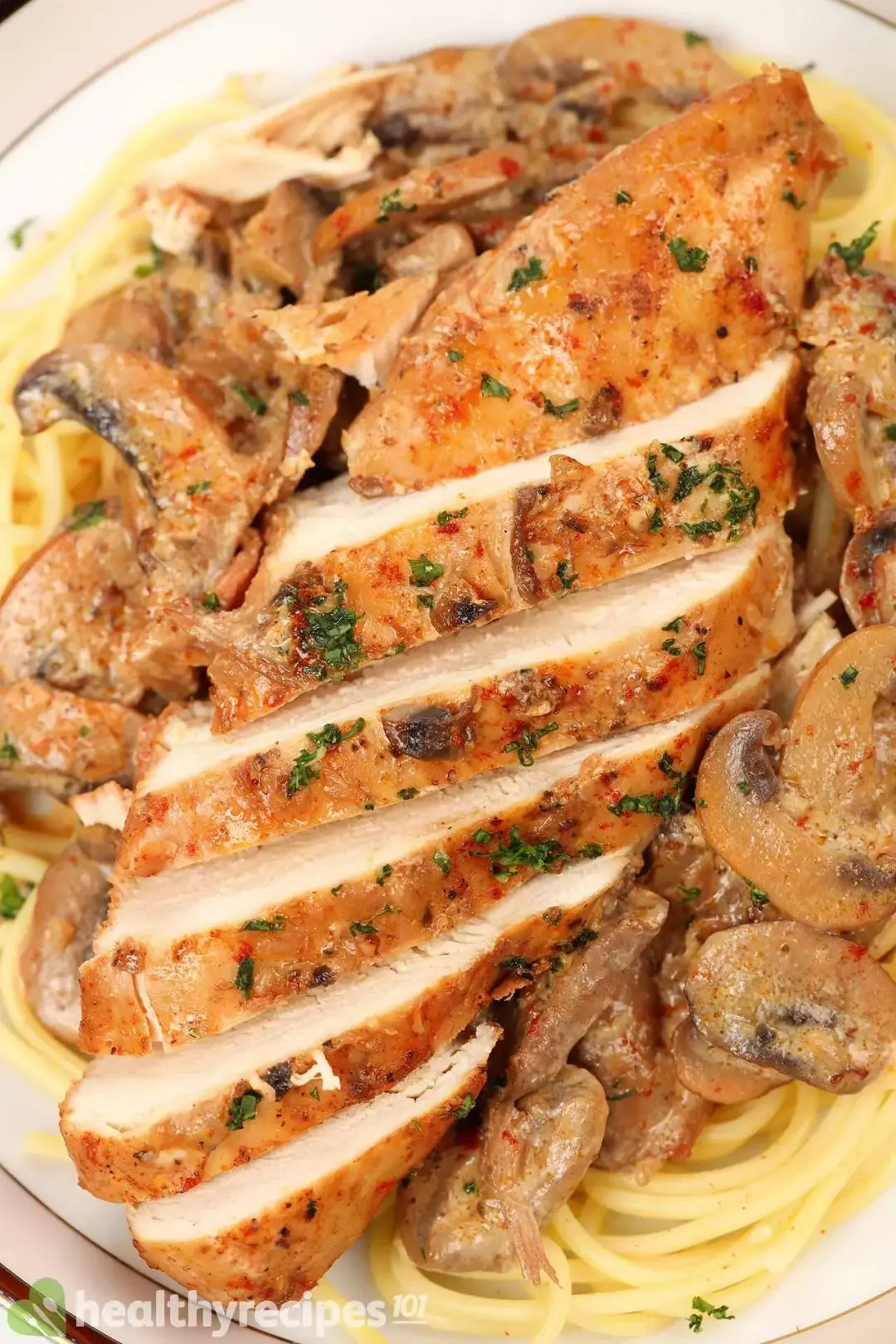 Previous Recipe
Instant Pot Chicken Marsala
Instant Pot Chicken Marsala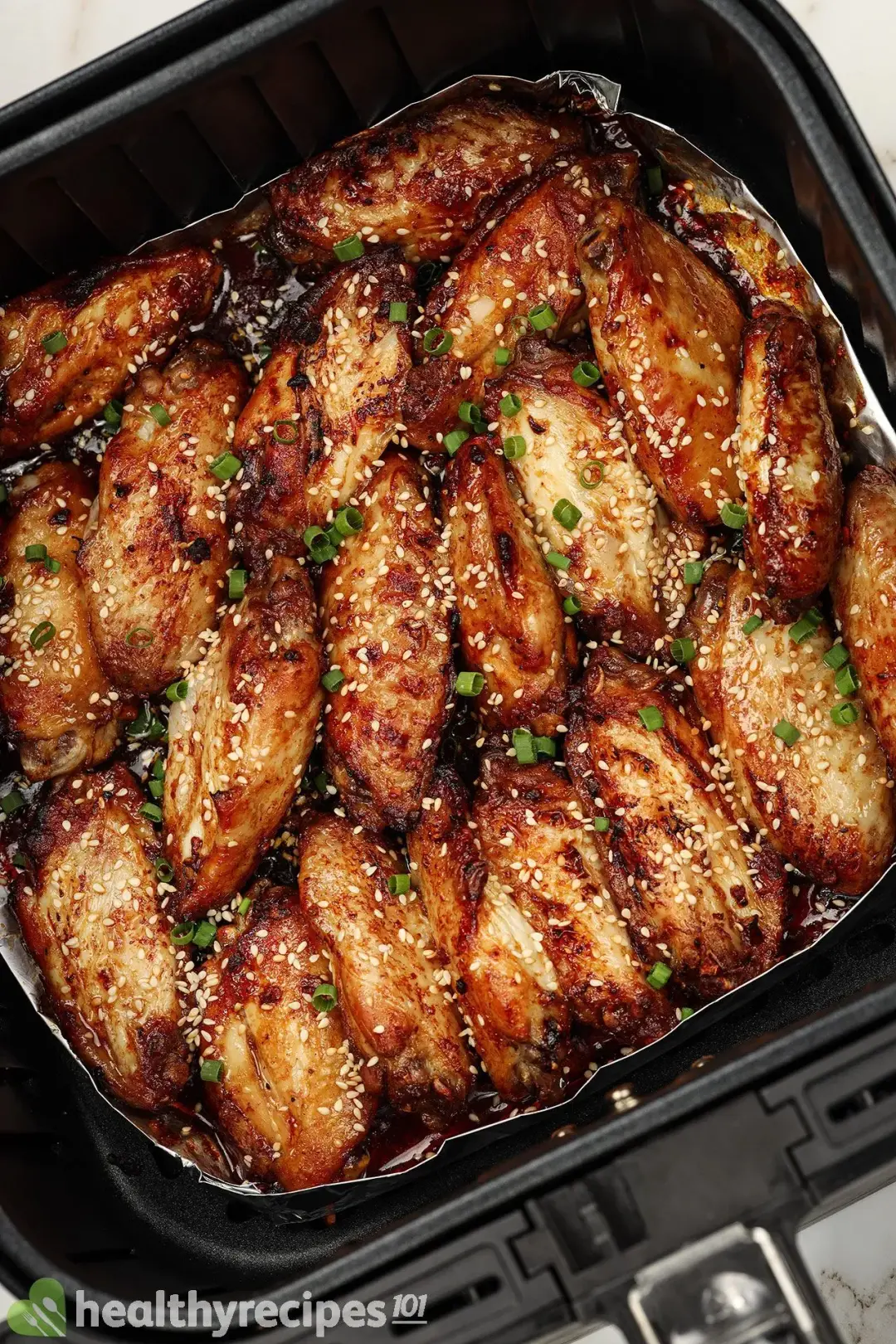 Next Recipe
Air Fryer Honey Garlic Chicken
Air Fryer Honey Garlic Chicken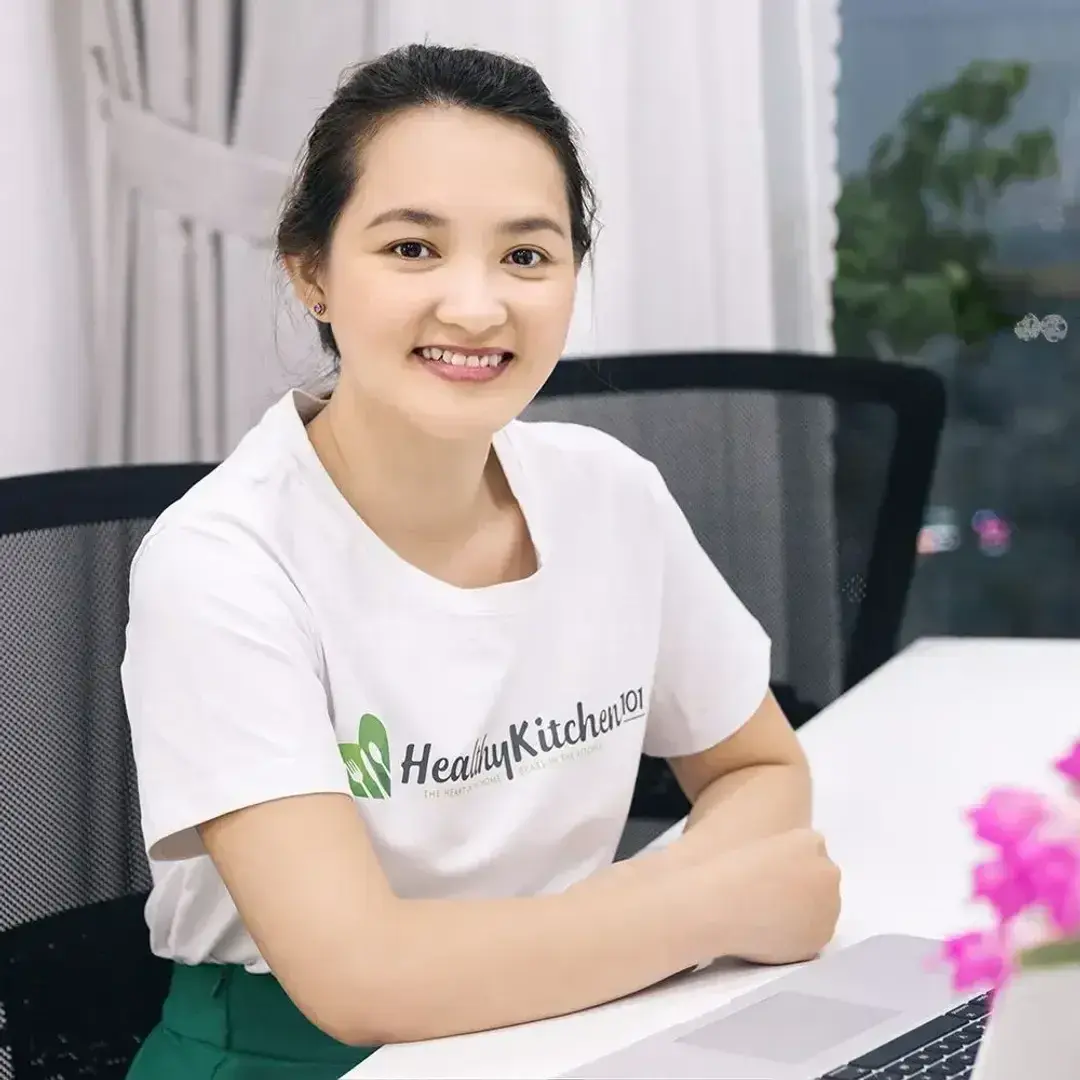 Founder
Luna Regina is an accomplished writer and author who dedicates her career to empowering home cooks and making cooking effortless for everyone. She is the founder of HealthyKitchen101.com and HealthyRecipes101.com, where she works with her team to develop easy, nutritious recipes and help aspiring cooks choose the right kitchen appliances.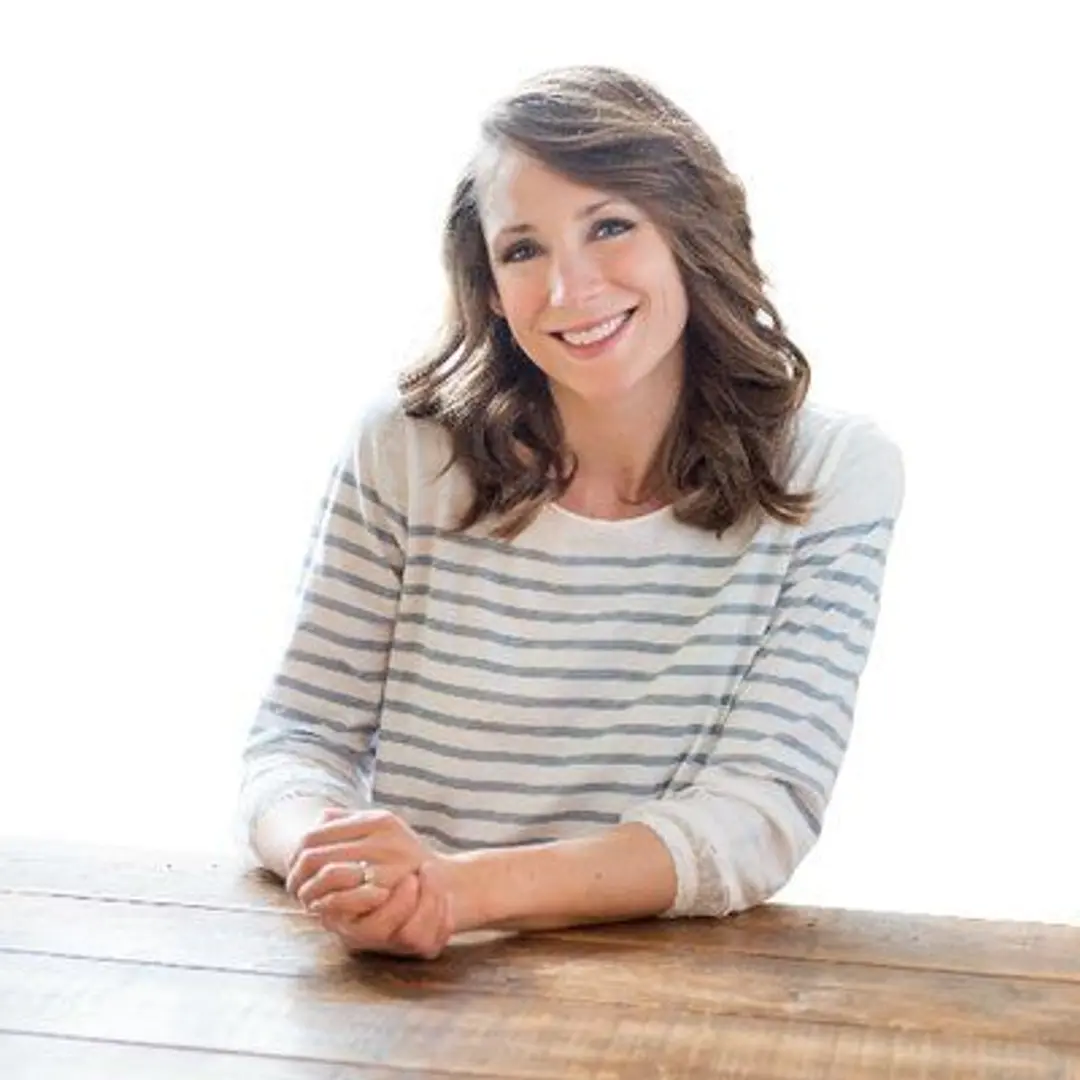 Nutrition Reviewer
Natalie is a registered dietitian nutritionist with a passion to help others live their best life through food, fitness, safer beauty and a healthy lifestyle. She has expertise with a variety of diets and diseases and believes that there is no one-size-fits-all approach for health.
Comments/ Reviews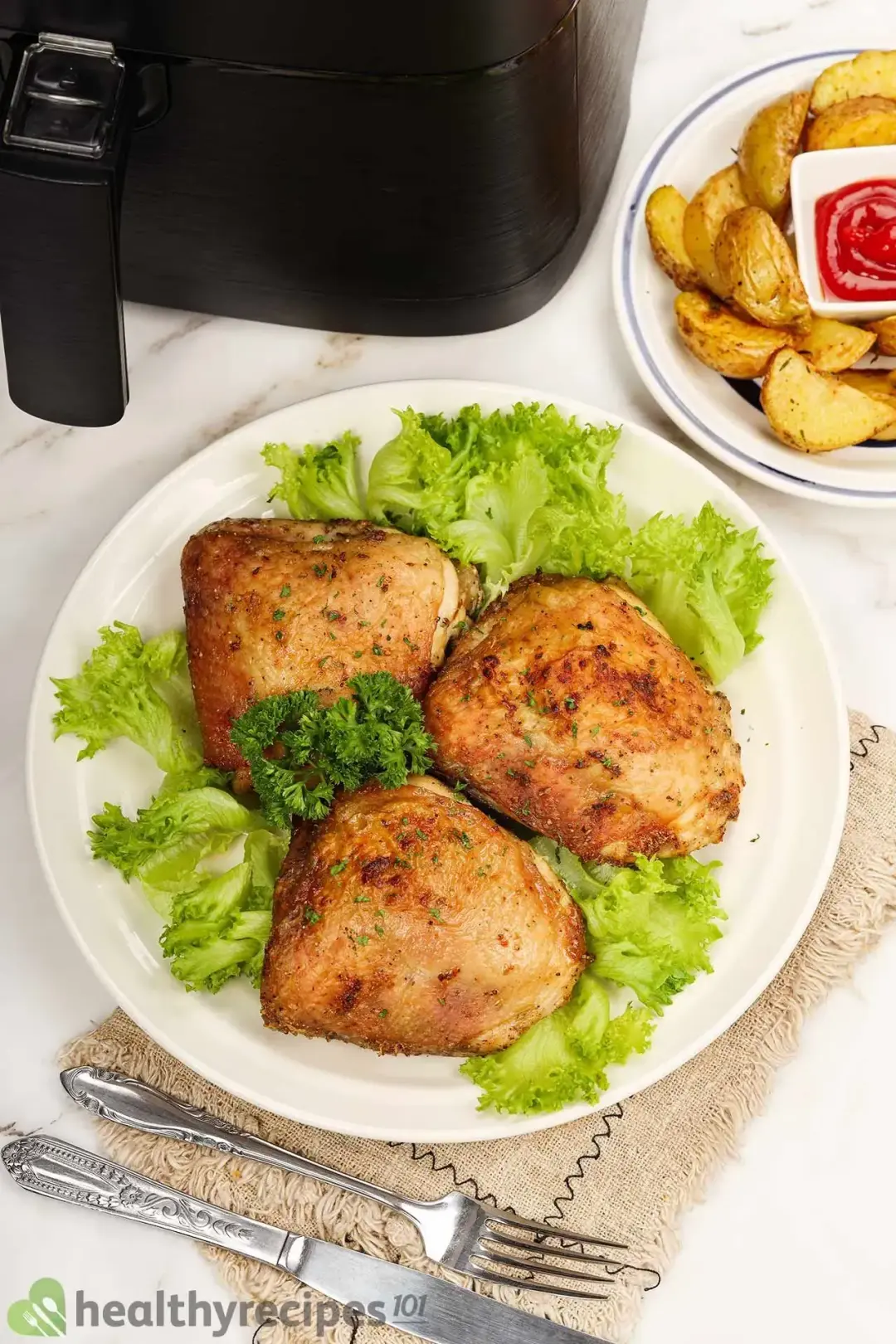 Air Fryer Greek Chicken Recipe