One of the best things to cook in the Instant Pot is stew. In this Instant Pot chicken stew recipe, the food that requires hours of simmering on the stove can now be done effortlessly in a matter of minutes.
The tender, juicy chicken chunks and soft vegetables are simmered in the umami, gravy-like sauce with a boost of flavor from dried herbs. The dish is made for those cold days when you need a hearty spoon to warm you up from the inside.
Is Chicken Stew Healthy?
With fresh ingredients included and the nutritional value calculated, our Instant Pot chicken stew is healthy.
Each serving of our chicken stew contains only 457 calories, impressively low for a comfort stew dish.
Sodium content is around 562 mg. It's recommended to consume less than 2300 mg per day.
There are 6.3 grams of fiber — up to 22% of the suggested daily intake from the USDA's Dietary Guidelines.
We also paired this chicken stew with a green salad and fresh fruit juice, which is lighter and healthier than bread or a muffin. This delectable combination brings the total calories to around 750 calories, ensuring you have enough energy until the next meal.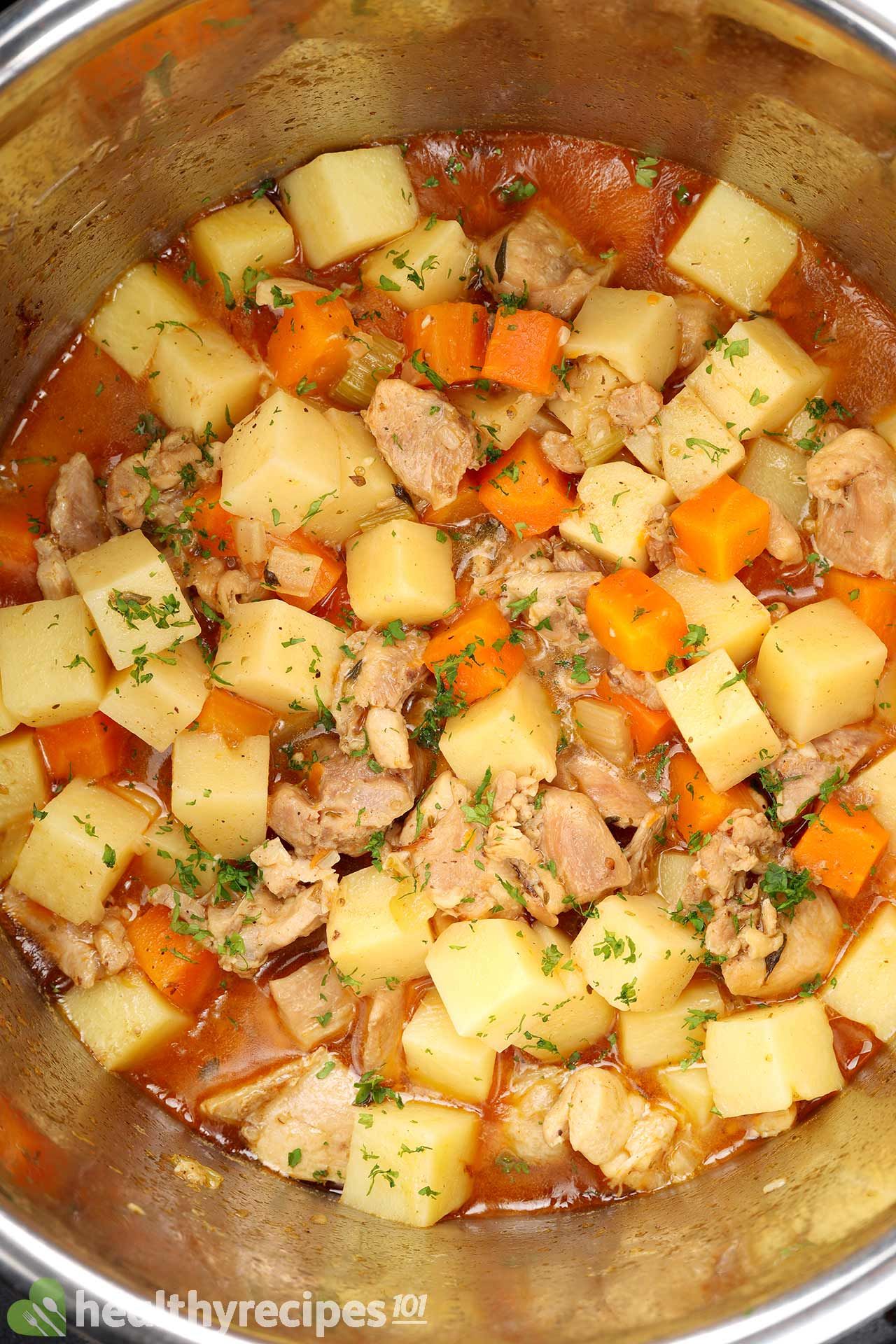 Ingredients for Chicken Stew
Here is all you need to make an Instant Pot chicken stew at home:
Chicken: Dark meat cuts like chicken thighs are beloved for their juiciness and fat. If you want to go with leaner meat, please feel free to use chicken breast in this recipe.
Potatoes: For stew dishes, we prefer waxy potatoes like French fingerling, Red Bliss, or baby potatoes since they are less likely to fall apart and become mushy during pressure cooking.
Carrots: You can either cube the carrots into bite-size pieces as per the photos or slice them into 2-inch pieces. Use baby carrots to reduce the prepping time.
Broth: Use low-sodium or unsalted broth so that it's easier to monitor your intake of salt in every meal.
Seasoning: The seasoning blend with salt, pepper, thyme, and mustard works best in this recipe. It is quick to combine and simple enough to preserve the natural goodness of all components in your Instant Pot.
Herbs: For an aromatic enhancer, we used dried herbs for this chicken stew. Bay leaf and thyme enhance the other elements in the pot and complete the flavor profile of the dish.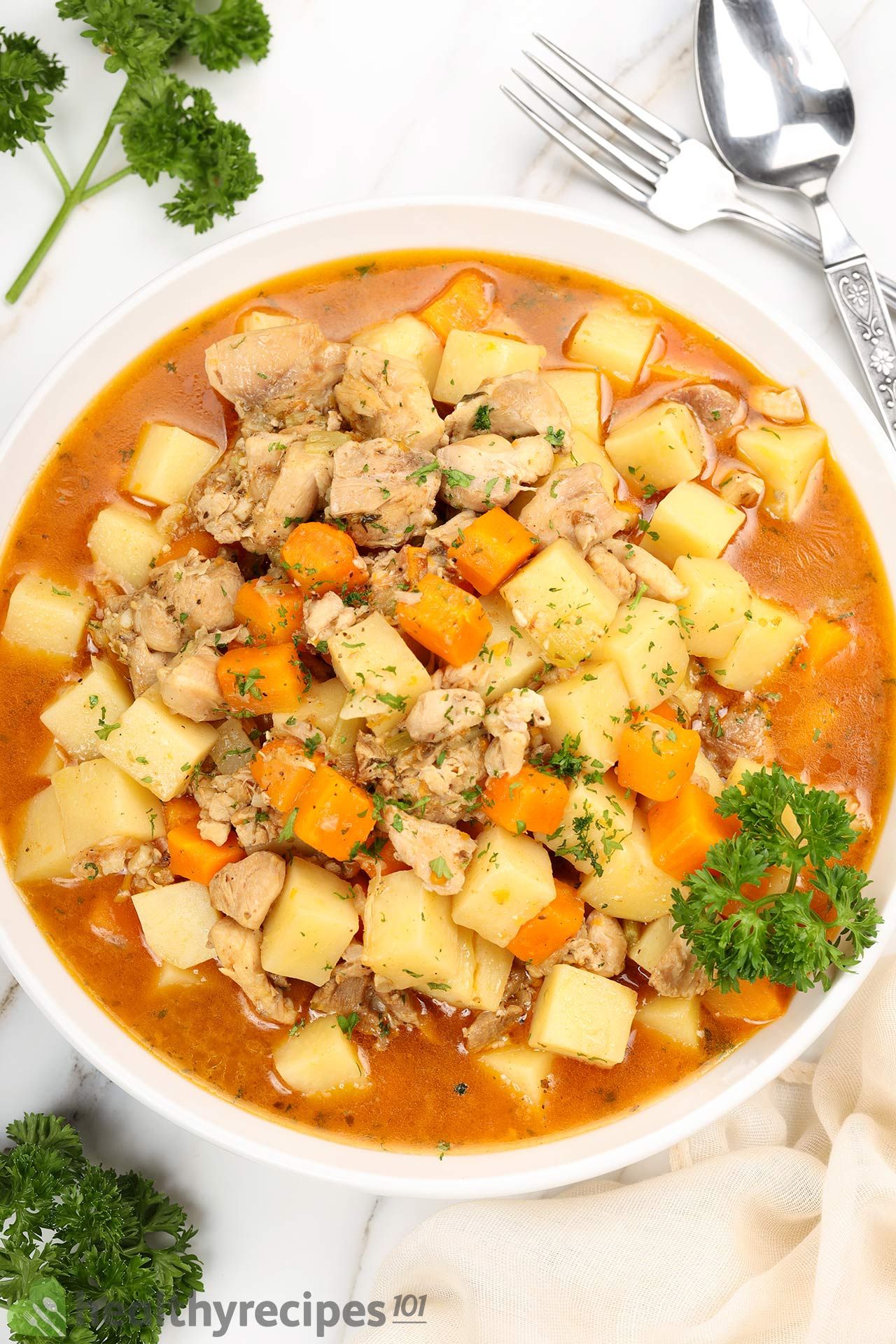 Loaded with protein from chicken, plus fiber and vitamins from vegetables, the chicken stew makes a delicious and healthy dinner.
How to Make Stew Chicken in the Instant Pot
The chicken stew takes much less time and labor of active cooking than the stove method. That gives you all the more reason to include this easy-to-make recipe in your weekly dinner rotation.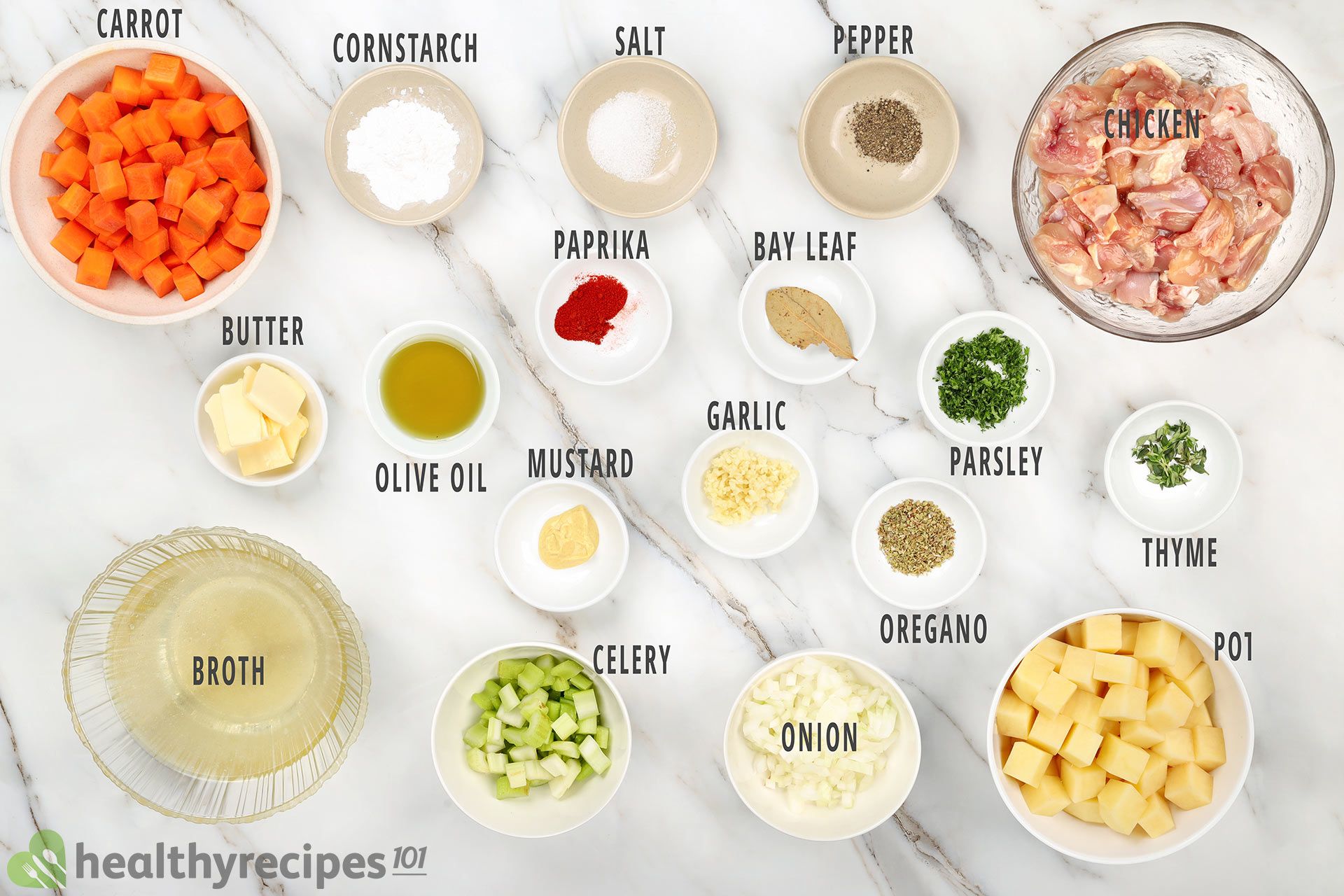 This is how we made the chicken stew in the Instant Pot: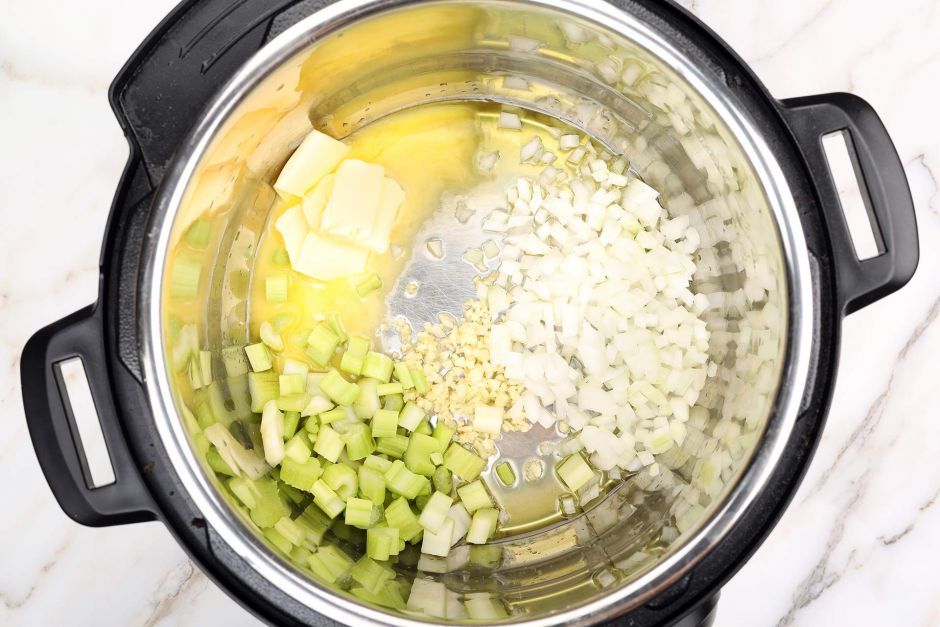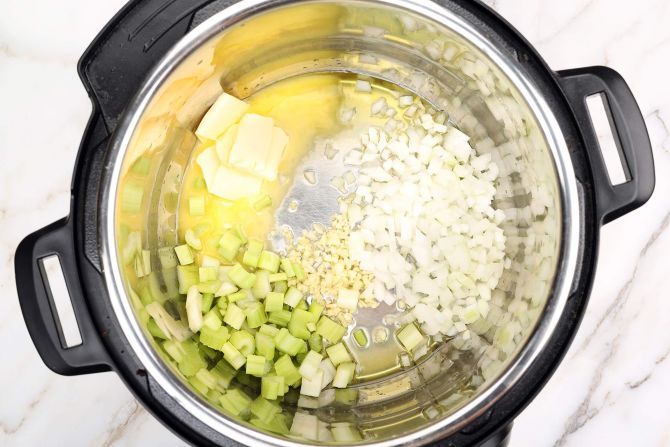 Sauté the vegetables.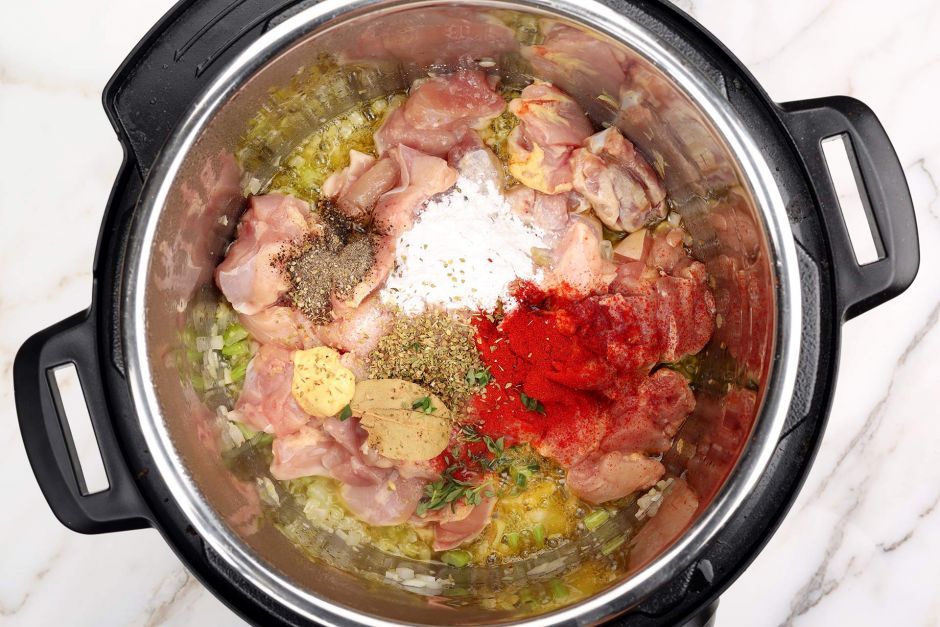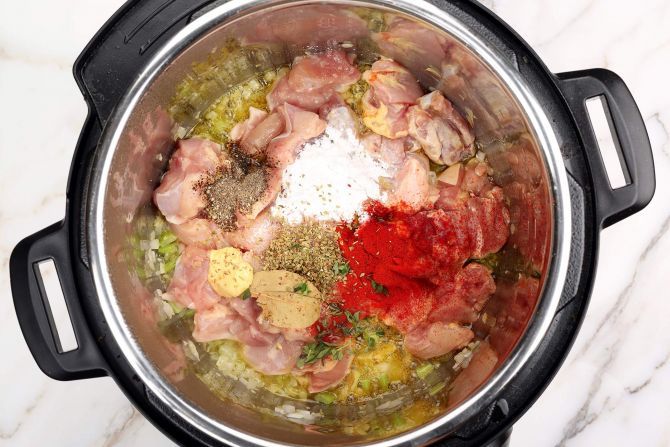 Stir fry chicken with herbs and spices.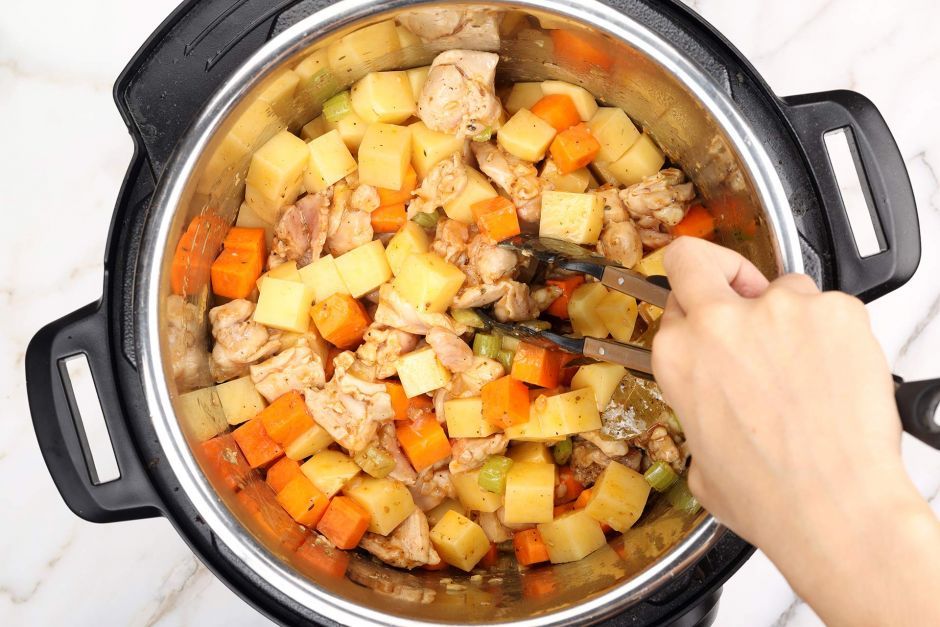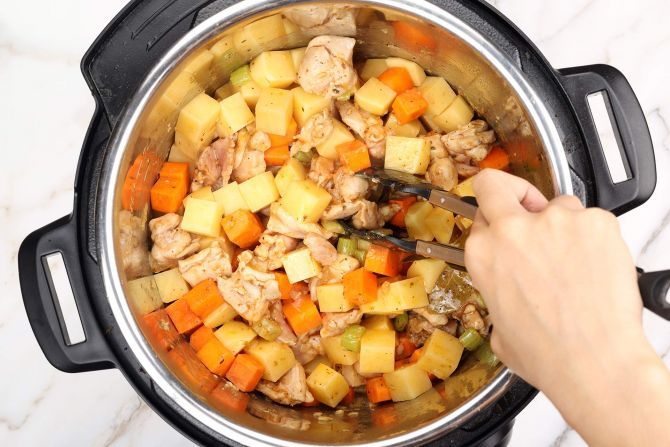 Add cubed vegetables.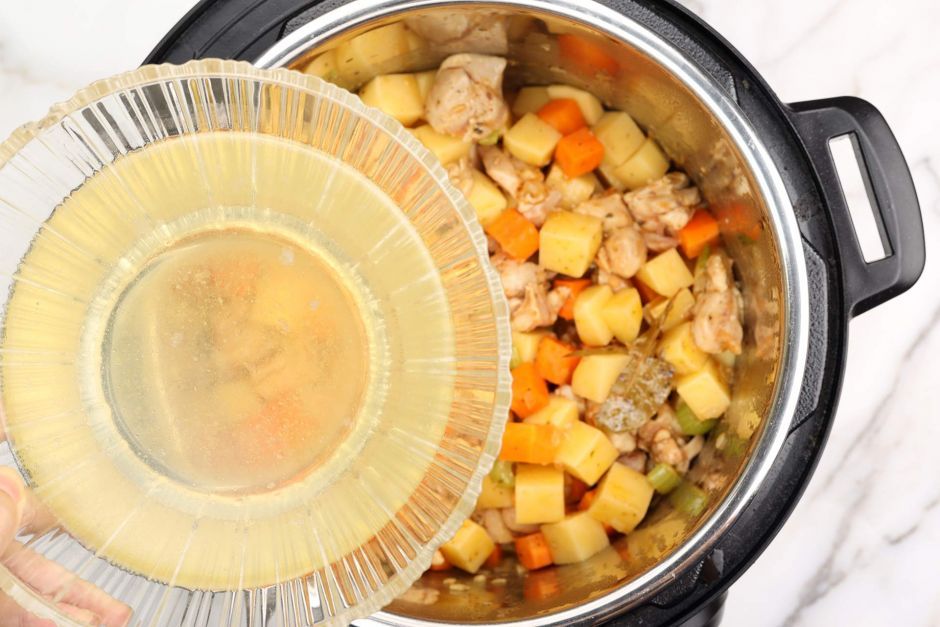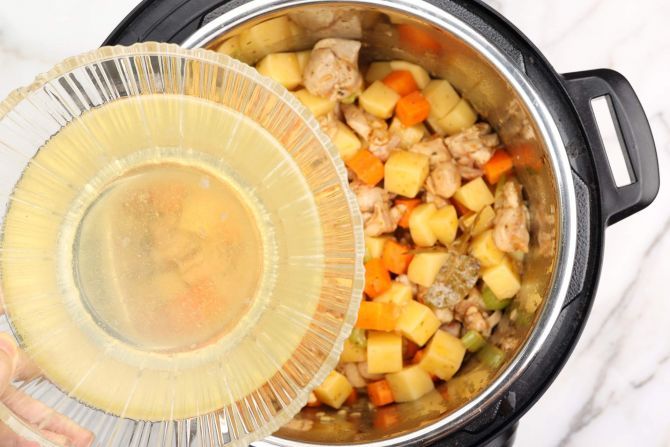 Pour in the chicken broth. Cook in the "stew meat" mode.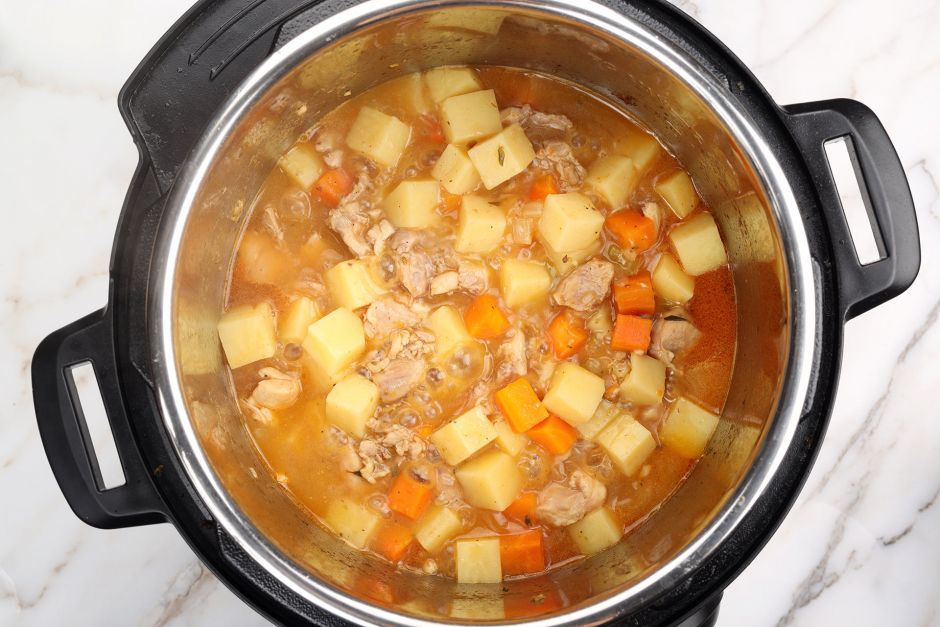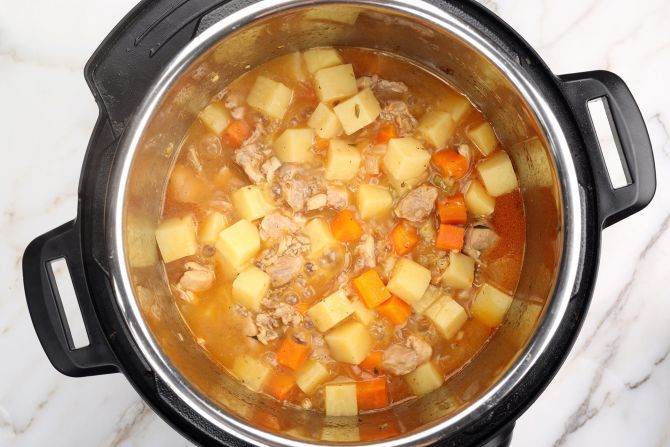 Open the lid and cook in the "sauté" mode.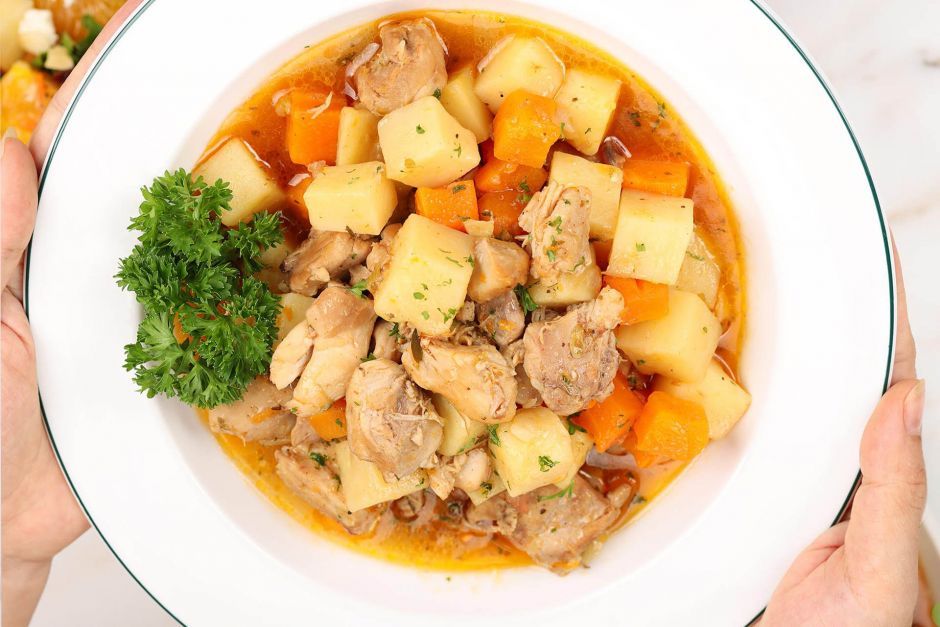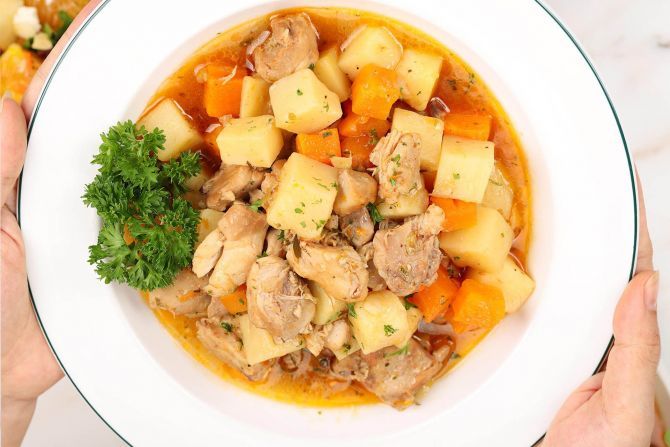 Garnish. Serve.
Tips for Cooking Chicken Stew
Cleaning and chopping your ingredients in advance or even the night before is always a good idea to save time. Whenever you're craving a quick and comforting dinner, all you have to do is to throw your prepared ingredients in the Instant Pot, press the button, and get ready to set the table.
The beauty of stew food is that there is no strict rule for seasoning. You can add as much or as little seasoning to fit your taste buds. A fresh squeeze of lemon at the end will elevate the finishing flavor, or perhaps add a handful of shredded cheese if you are a big fan of creamy sauce.
Cooked chicken stew could be watery and dilute if there are just meat and vegetables in the pot. A simple tip is to add a tablespoon of cornstarch mixed in water in the end or simply add the flour directly while stirring the chicken.
Once the cornstarch is added, let the stew simmer for a few minutes until you get the desired consistency.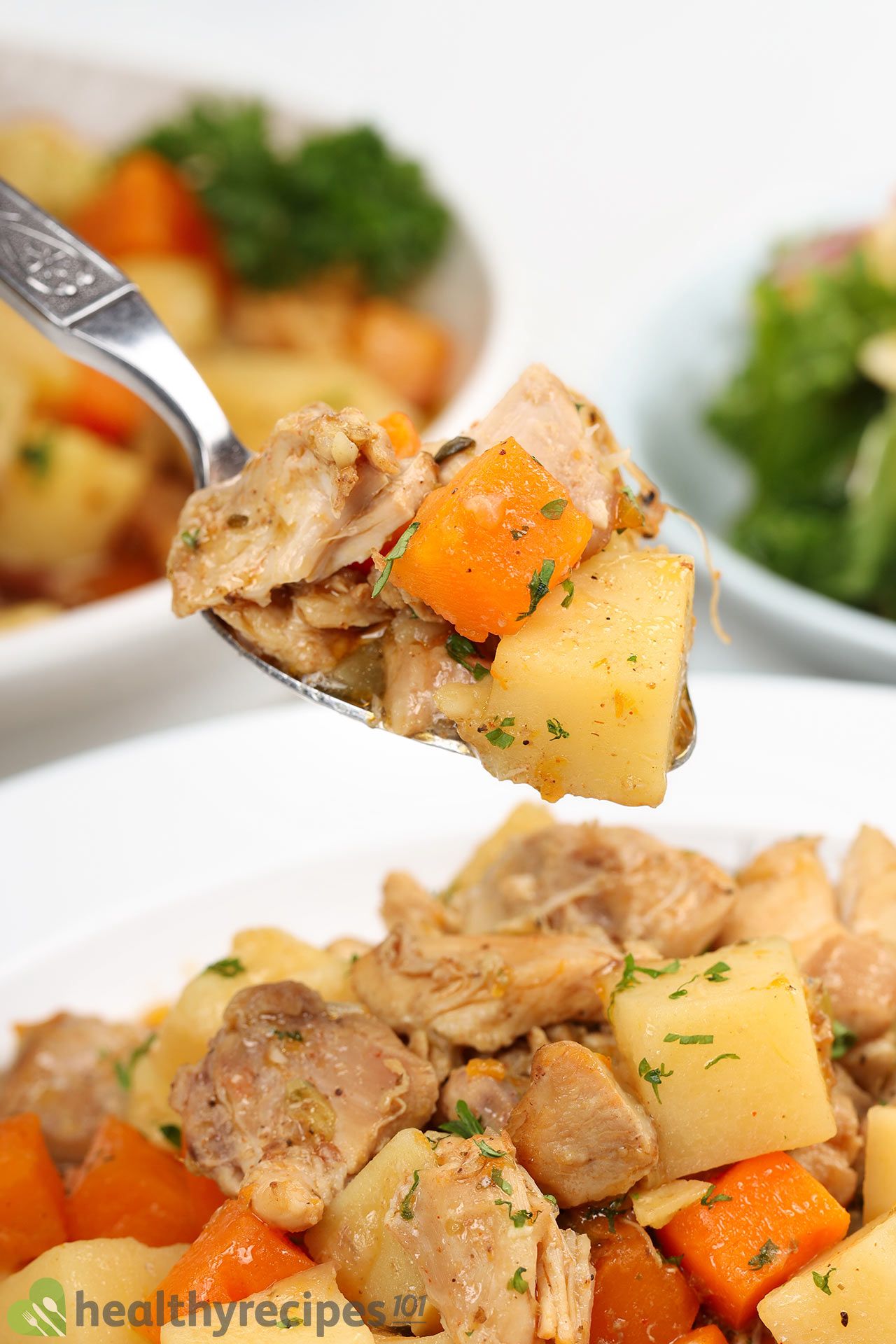 Store and Reheat
The chicken stew should be placed in an airtight container within 2 hours of making. If you know you want to eat the leftovers within 4 days, keep them in the fridge.
For more extended storage, we encourage you to place the stew in the freezer. Though freezing may change the texture of vegetables a bit, the dish can last for up to 4 months in the freezer.
When it comes to reheating the leftovers, it's best to thaw them completely in the refrigerator the night before.
If you're using the microwave, take the food out and give it a stir halfway through cooking time. This will ensure the food is heated evenly.
If you prefer reheating in the skillet, cover with a lid so that the stew won't end up drying out.
What to Serve With Instant Pot Chicken Stew
It's easier than ever to turn your warm soup into a feast by pairing it with one of our side dishes below.
Salad: When it comes to texture, tender chicken stew loves a fresh and crunchy side dish, and salad wonderfully fits that description. Our kale salad is light and full of healthy tropical flavor, making it a perfect accompaniment for stew.
Rice: A bowl of warm and chewy steamed rice is all you need to round out the comforting stew. It's a humble side that will let the star of the meal shine.
Baguette: Whenever a stew is involved on the table, there is always a place for crispy and flavorful bread. It also works as a sponge that will soak up all the delicious goodness in your soup bowl.
Nutritional values in this table vary somewhat to those below due to different app calculations. Read more...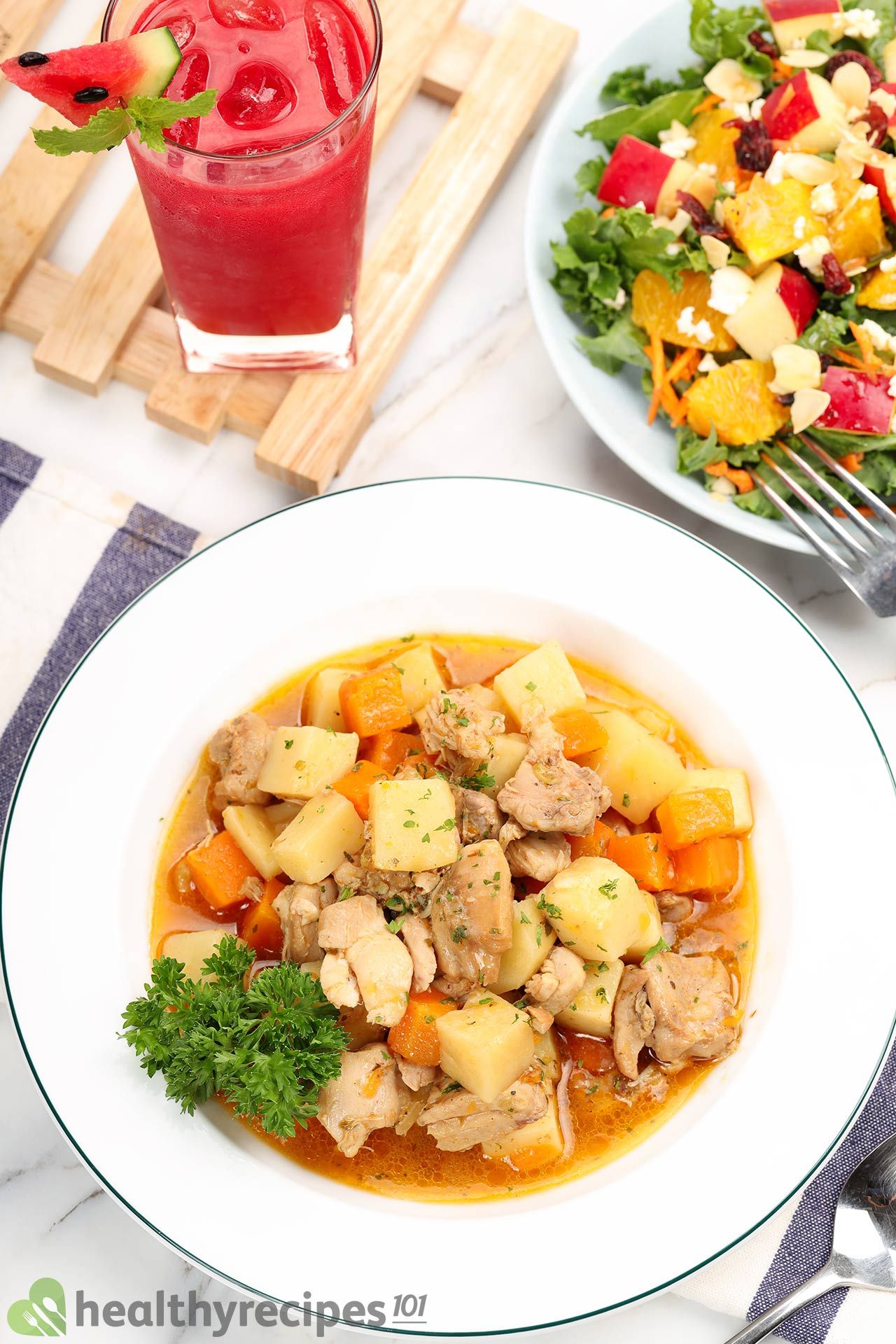 More Tasty Instant Pot Chicken Recipes You'll Love:
Here are some tasty, healthy Instant Pot chicken meals that we just couldn't help but fall in love with: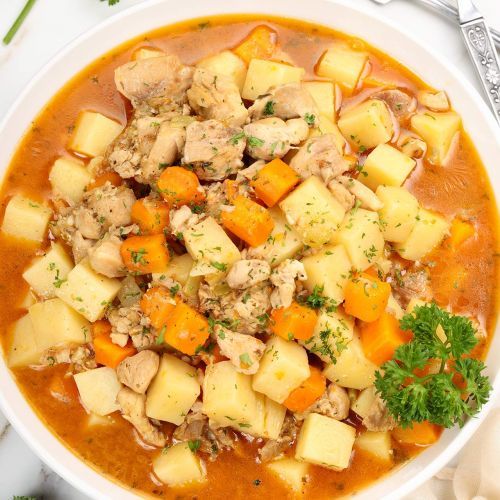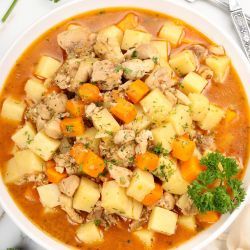 Instant Pot Chicken Stew Recipe
Today's Instant Pot chicken stew recipe makes a satisfying-yet-healthy dinner from scratch in just 40 minutes.
Ingredients
20

oz

skinless boneless chicken thighs

cubed

2

tbsp

olive oil

3

tbsp

unsalted butter

2

oz

onions

chopped

1

tbsp

garlic

chopped

2

oz

celery

chopped

1

tsp

paprika

1

bay leaf

1

tsp

thyme

1/2

tsp

ground pepper

1/2

tsp

salt

1

tbsp

oregano

1

tbsp

cornstarch

18

oz

potatoes

cubed

10

oz

carrots

cubed

2

cup

unsalted chicken broth

2

tbsp

parsley

chopped
Instructions
Heat your Instant Pot by using the "sauté" function. Add 2 tbsp olive oil, 3 tbsp butter, 2 oz onion, 1 tbsp garlic, and 2 oz celery to the pot. Stir fry for 2 minutes.

Add 20 oz chicken, 1 tsp paprika, 1 bay leaf, 1 tsp thyme, 1/2 tsp pepper, 1/2 tsp salt, 1 tbsp oregano, 1 tsp mustard, and 1 tbsp cornstarch and stir every couple minutes until the onions become translucent, about 2 – 3 minutes.

Add 18 oz potatoes and 10 oz carrots and give everything a stir.

Pour 2 cups of chicken broth into the pot. Secure the lid. Set the "stew meat" mode for 12 minutes.

When the time is up, release the pressure naturally. Open the lid and cook for another 10 minutes at "sauté" mode until thickened.

Transfer the chicken stew to serving plates. Garnish with parsley. Serve hot.
Nutrition
Nutrition Facts
Instant Pot Chicken Stew Recipe
Amount Per Serving (1 serving)
Calories 457
Calories from Fat 198
% Daily Value*
Fat 22g34%
Cholesterol 155mg52%
Sodium 562mg24%
Potassium 1235mg35%
Carbohydrates 33g11%
Protein 32g64%
Vitamin A 12385IU248%
Vitamin C 21mg25%
Calcium 92mg9%
Iron 3mg17%
* Percent Daily Values are based on a 2000 calorie diet.