Our Instant Pot chicken biryani recipe can cook you a homey meal in less than 30 minutes.
Chicken biryani really deserves more attention. Each golden basmati grain and the caramelized chicken are bursting with flavors and smell wonderful. For those who live and work far from home, this easy meal can certainly be a homesickness remedy.
Rice recipes like this one often require more than half an hour, but thanks to the Instant Pot, you only need 25 minutes. It's also freeze-able, making it convenient to prepare large quantities ahead.
How Healthy Is Our Chicken Biryani Recipe?
Chicken biryani is a generally healthy dish.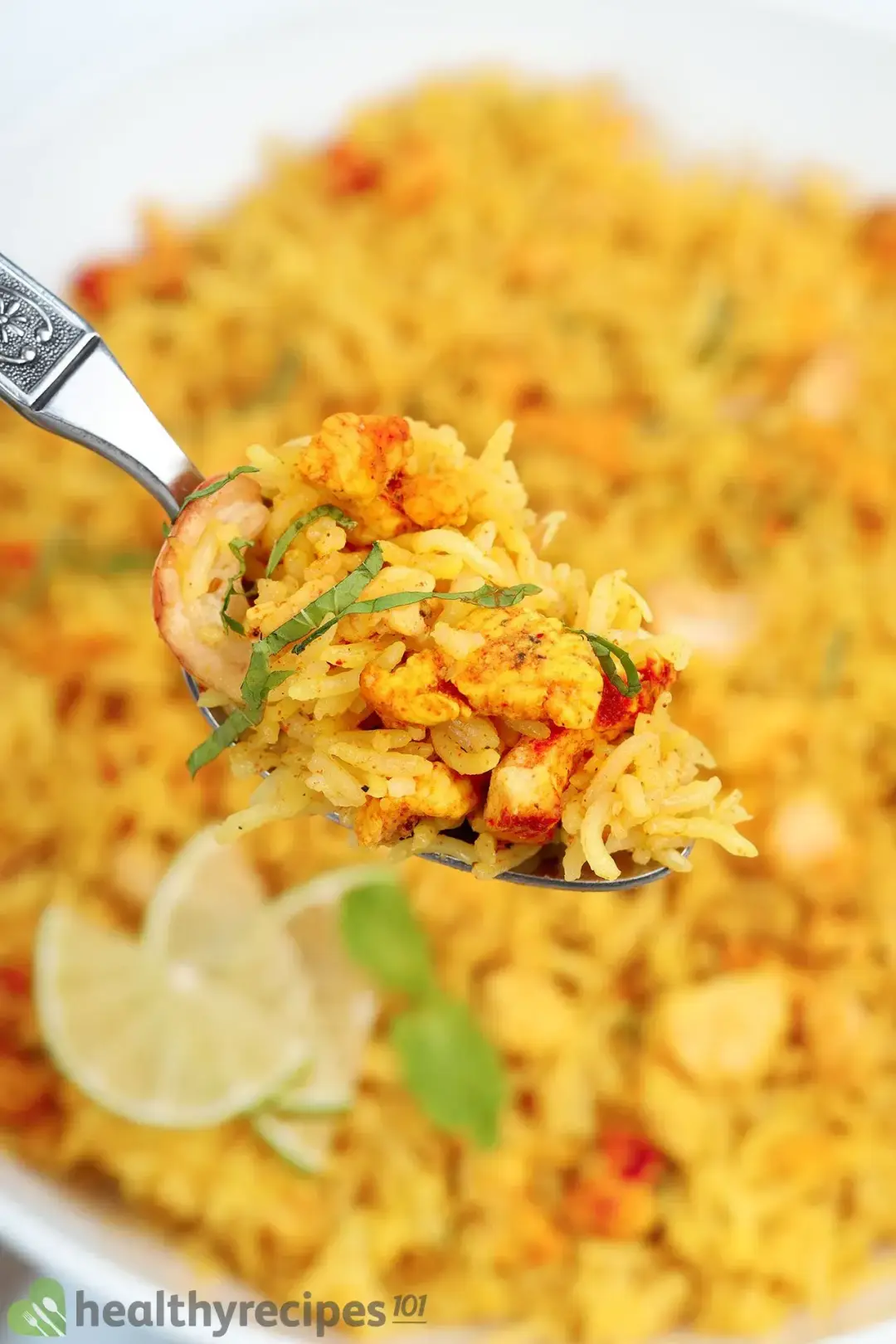 The Indian staple is a nice blend of carbohydrates from rice and lean proteins from chicken breasts. It needs fiber, vitamins, and fats, but we enhanced it by pairing it with delicious complementing sides (more details later).
As with many Indian recipes, this one calls for many spices, including turmeric. Plenty of medicinal and anti-inflammatory compounds are hidden within this golden spice, proving it highly beneficial for the body.
Above all, our chicken biryani's nutritional profile naturally fits into our dietary guidelines. The amounts of sodium, saturated fat, and calories are all within recommended ranges.
Main Ingredients for Instant Pot Chicken Biryani
The ingredients are listed in the order that they're added to the pot.
1. Aromatics
Chicken biryani is already packed with spices, but that doesn't mean aromatics like onions and garlic are any less important. They give the base of flavor that you'll instantly notice if missing.
Begin the cooking by sautéing both of them in olive oil until the onions turn translucent. Then, add the chicken in.
2. Chicken
Some recipes require you to marinate the chicken before cooking, but we don't think it's necessary. Under the machine's pressure, the meat will turn out tender and juicy without any marinade.
We added some chicken breast that we cut earlier into small cubes into the pot and cooked it with the aromatics. We're using breasts, but you can use chicken thighs if you could find boneless thighs or have no trouble removing the bones yourself.
3. Spices for Instant pot chicken biryani
After the chicken, we add plenty of spices.
Our traditional chicken biryani recipe calls for plenty of spices such as cumin, cardamom, nutmeg, mace, and more. Check it out if you have these ingredients. If not, keep reading to see our handy shortcut.
First of all, you need cumin. As it is the strongest spice among the mix, your chicken biryani is already 50% authentic with just cumin.
Next, you want to add the golden color from turmeric powder. Sometimes saffron is used, but considering its price and availability, turmeric is your best option.
The next three are the basic spices that you should be able to find at every corner: cinnamon sticks, bay leaf, and whole star anise. The five combined will give you a delicious chicken biryani.
Although not originally called for, a little mustard gives a unique depth of flavor. If you're not in the mood for creativity, you can skip this ingredient.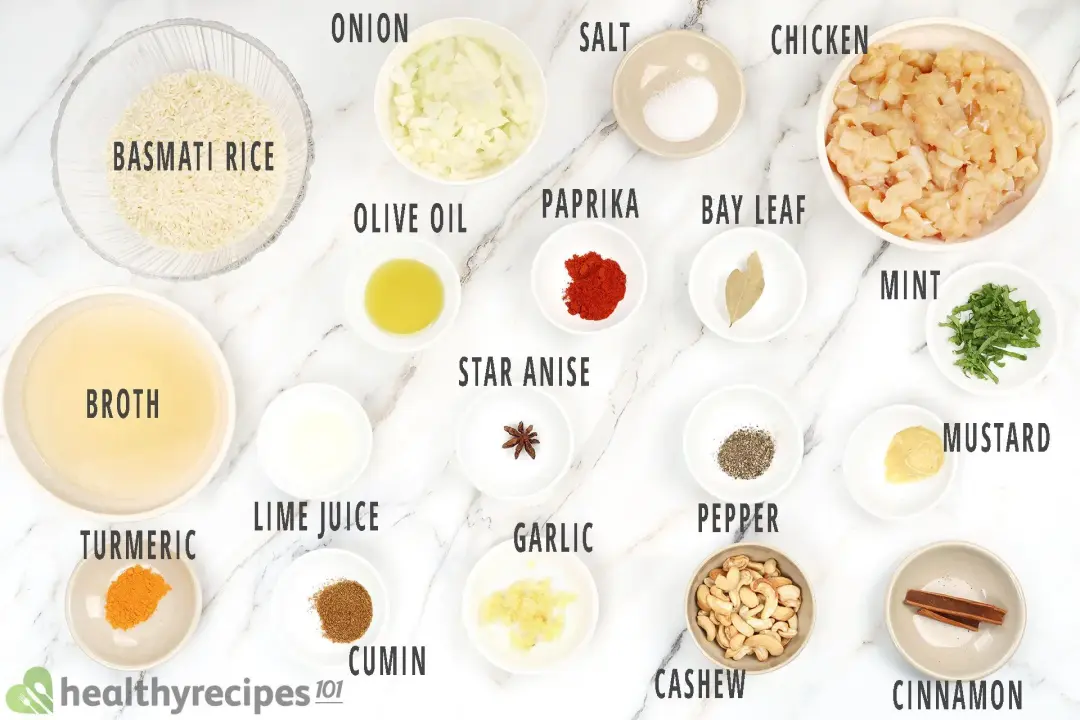 4. Basmati Rice
Any rice would work, but basmati rice is the only choice that can bring you an authentic experience. It's a long-grain rice used in every Indian dish, famous for its unique aroma.
In this Instant Pot chicken biryani recipe, we're cooking the rice a bit differently from the traditional way. Instead of parboiling and 20-30 minutes of simmering, we added it straight to the pot with the chicken broth.
Thanks to the Instant Pot, the result is restaurant-quality: fluffy, tender, flavorful grains of rice.
5. Chicken Broth
We used Swanson's unsalted chicken broth, but for really special occasions, we suggest you make your own stock. It's much cheaper and more flavorful than any commercial product.
Here's how we usually make the broth: first, we broil one part chicken bones at 350 for 30-40 minutes. Then, we chop up one part vegetables (carrots, onions, celery) and simmer it with the bones in two parts water on low for 30 minutes.
Overall the stock can take you an hour, but there's nothing much to do but wait. It's also really cheap and you can make a lot of it.
When the stock's ready, add it to the pot with the rice, select the "rice" mode and let the machine work its magic. Your rice will be ready to eat, but with these finishing touches, it'll be even more delicious.
6. Finishing Touches
First, we stirred in toasted cashews, whose nuttiness balances out the spices and brings the flavors all together. Next, we squeezed in a little lime juice and sprinkled chopped mint on top for freshness.
You can skip these ingredients if you want a simple meal, but we promise that they will make your meal more enjoyable.
How to Make Instant Pot Chicken Biryani
To sum up, here's what you need to do: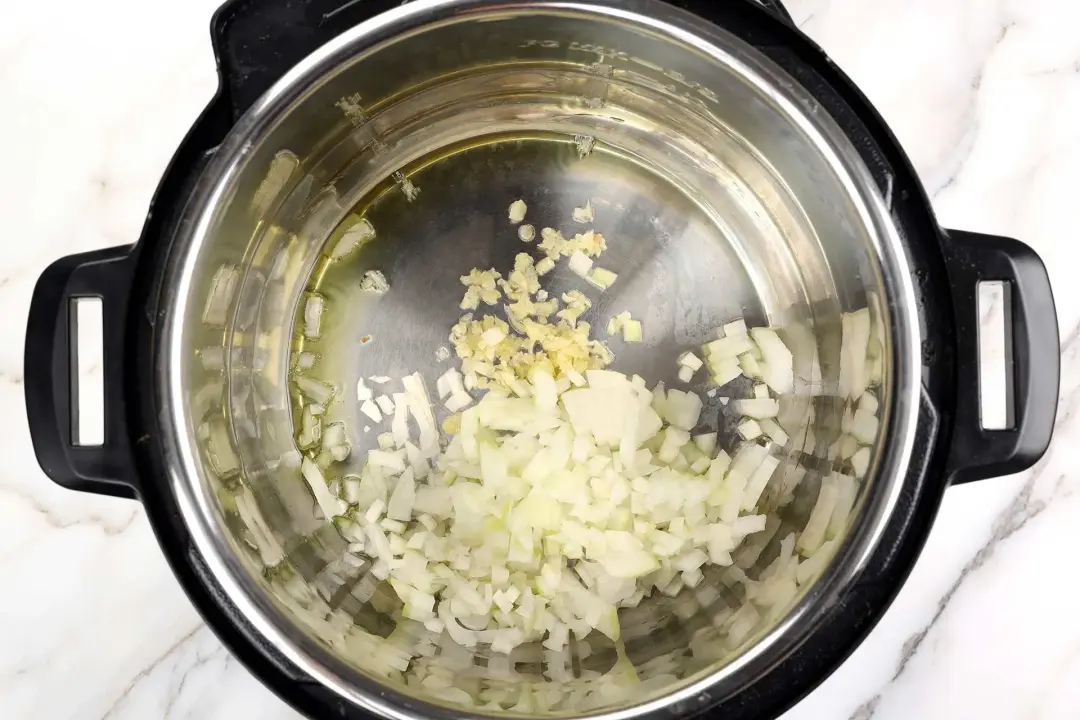 Sauté the aromatics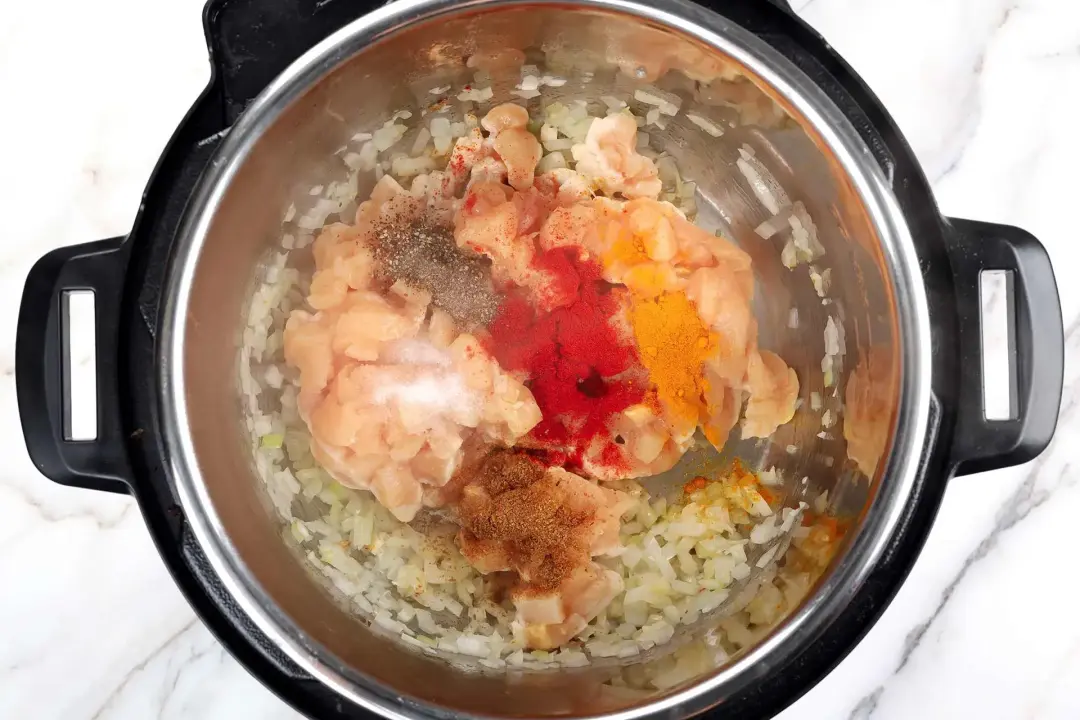 Cook the chicken along with the spices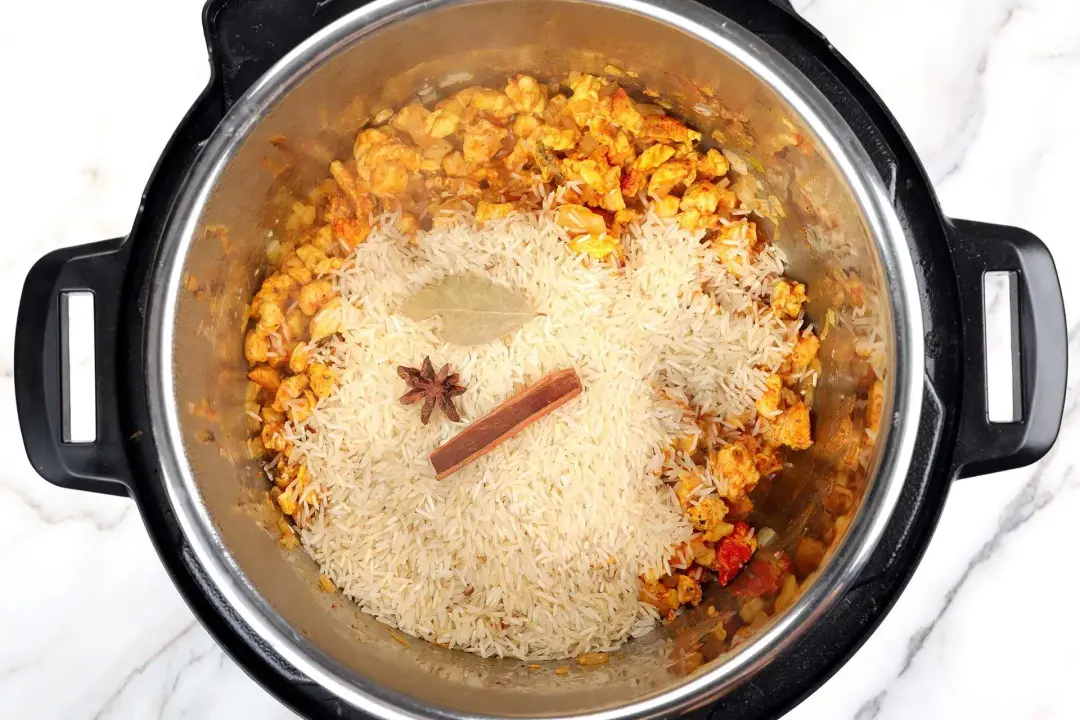 Add raw rice and whole spices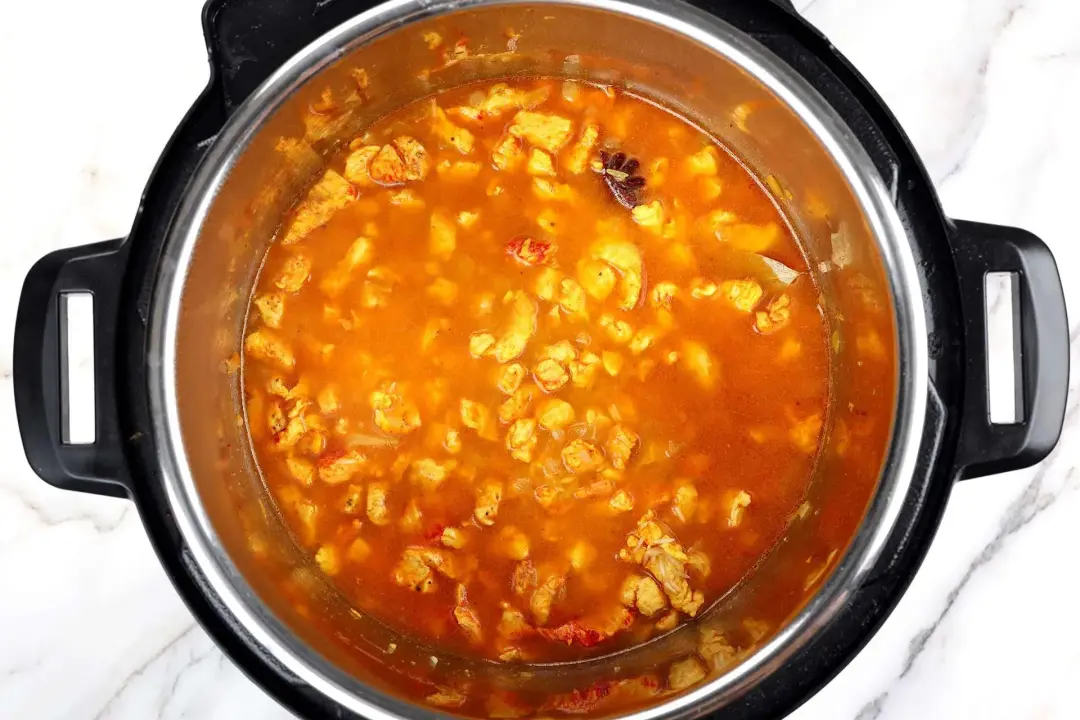 Add chicken broth and pressure-cook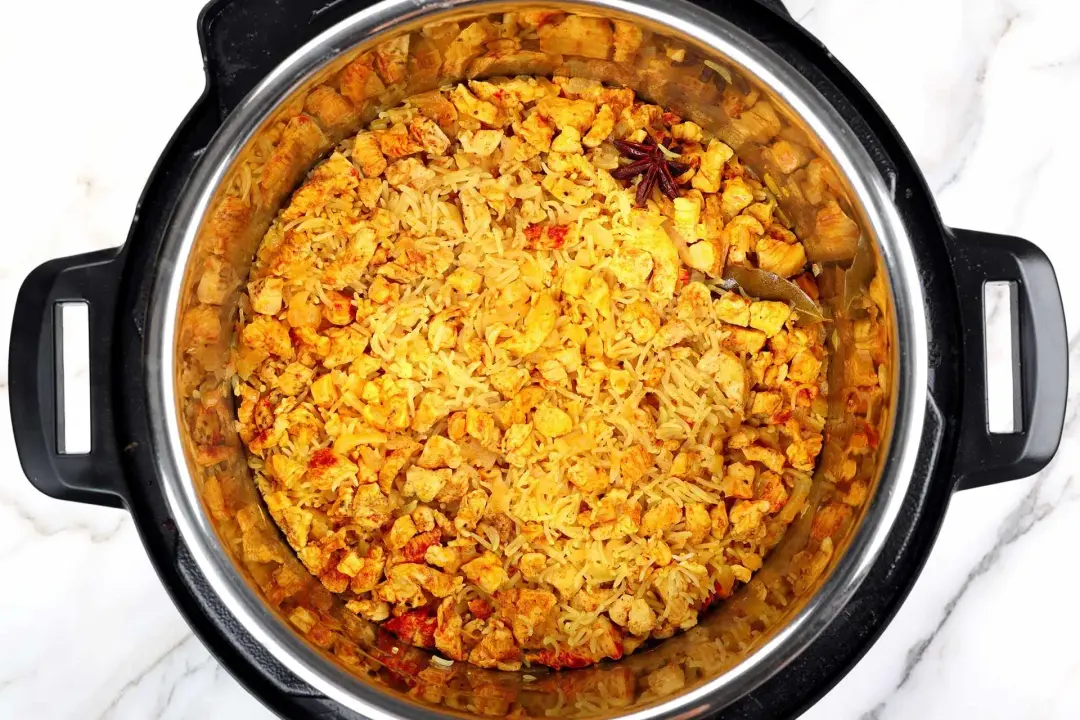 Add finishing touches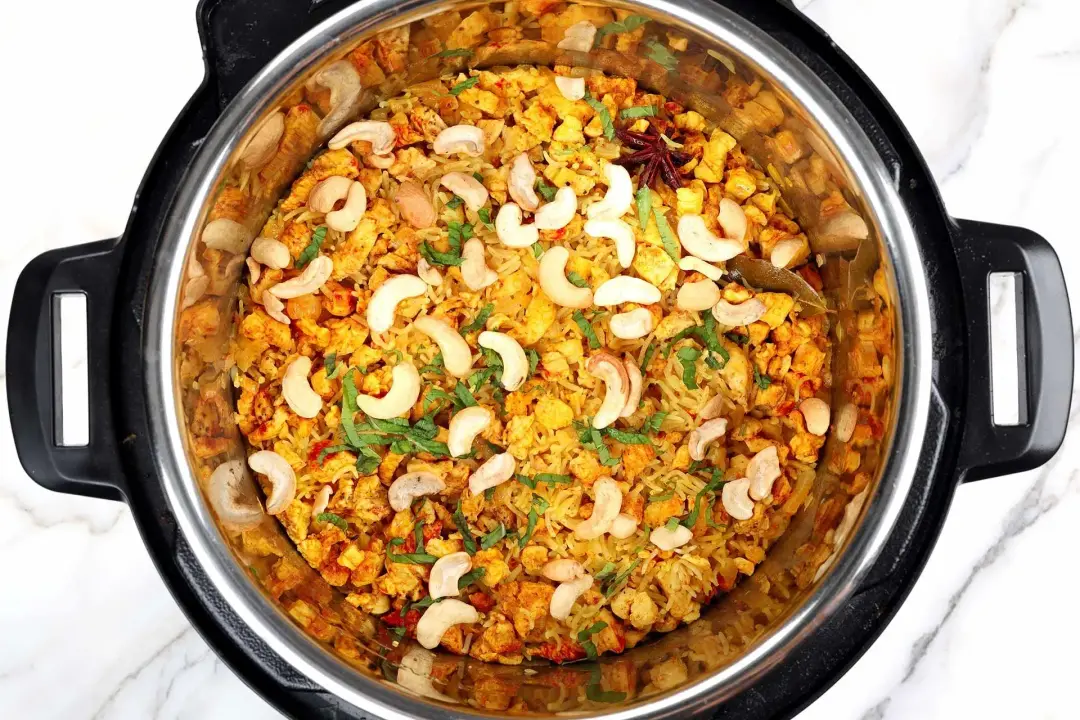 Enjoy!
This "short version" of our Instant Pot chicken biryani recipe gives you an idea of how the dish comes together. The full version with measurements and timing is in the recipe card below.
How to Store and Reheat Chicken Biryani
Chicken biryani lasts for a week in the fridge and for up to three months in the freezer.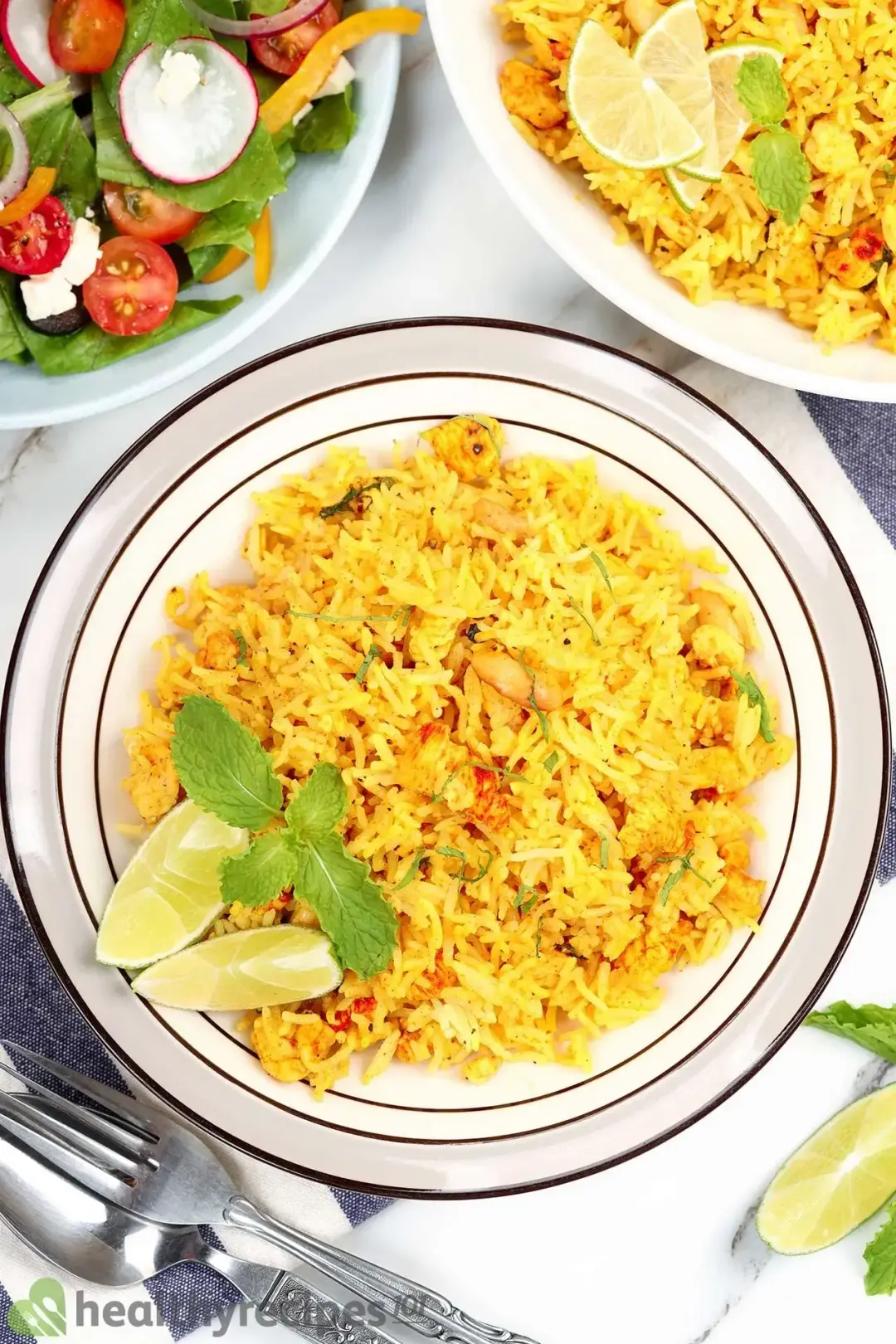 Before storing any dish, you should divide it into small portions so reheating is easier. You can use air-tight containers, Zip-loc bags, or shape the rice into balls and cover them with plastic wrap.
To reheat, place the rice with 1-2 tbsp of water into a pot over medium heat and break the rice apart. Stir the separated rice around for 4-5 minutes or until it's hot and your meal is ready.
To have perfectly cooked salmon every time, have a look at our top delicious chicken roundup or top 20 chicken thigh recipes.
Side Dishes for Instant Pot Chicken Biryani
Chicken biryani is often served with other Indian side dishes. Today, we're going for something a little different:
Greek salad: Whilst it doesn't share the same cuisine with chicken biryani, it brings a new dimension to the rice. Its tanginess, freshness, and crunchy texture refresh the palate and intensify your cravings.
Watermelon juice: its cooling properties ease both the spices from the rice and the tanginess from the salad. It's a nice way to end the meal.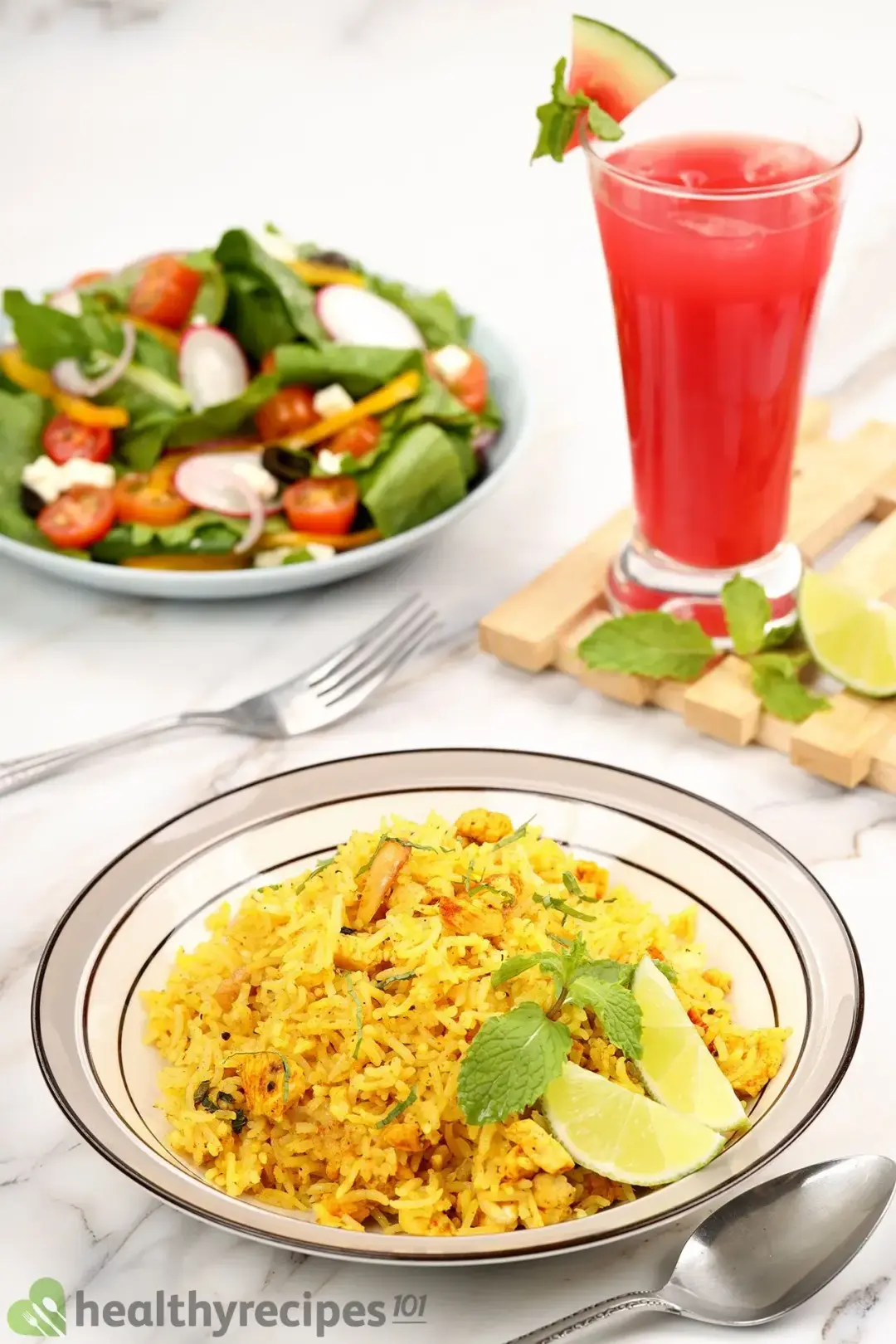 Combining these sides with the rice forms a wholesome meal with a balance of both macro and micro nutrients.
Need more protein in your diet? Check out our best instant pot recipes using chicken breast and make the most of your poultry.
But Wait, There's More!
Here are some tasty & healthy Instant Pot rice meals that we just couldn't help but fall in love with: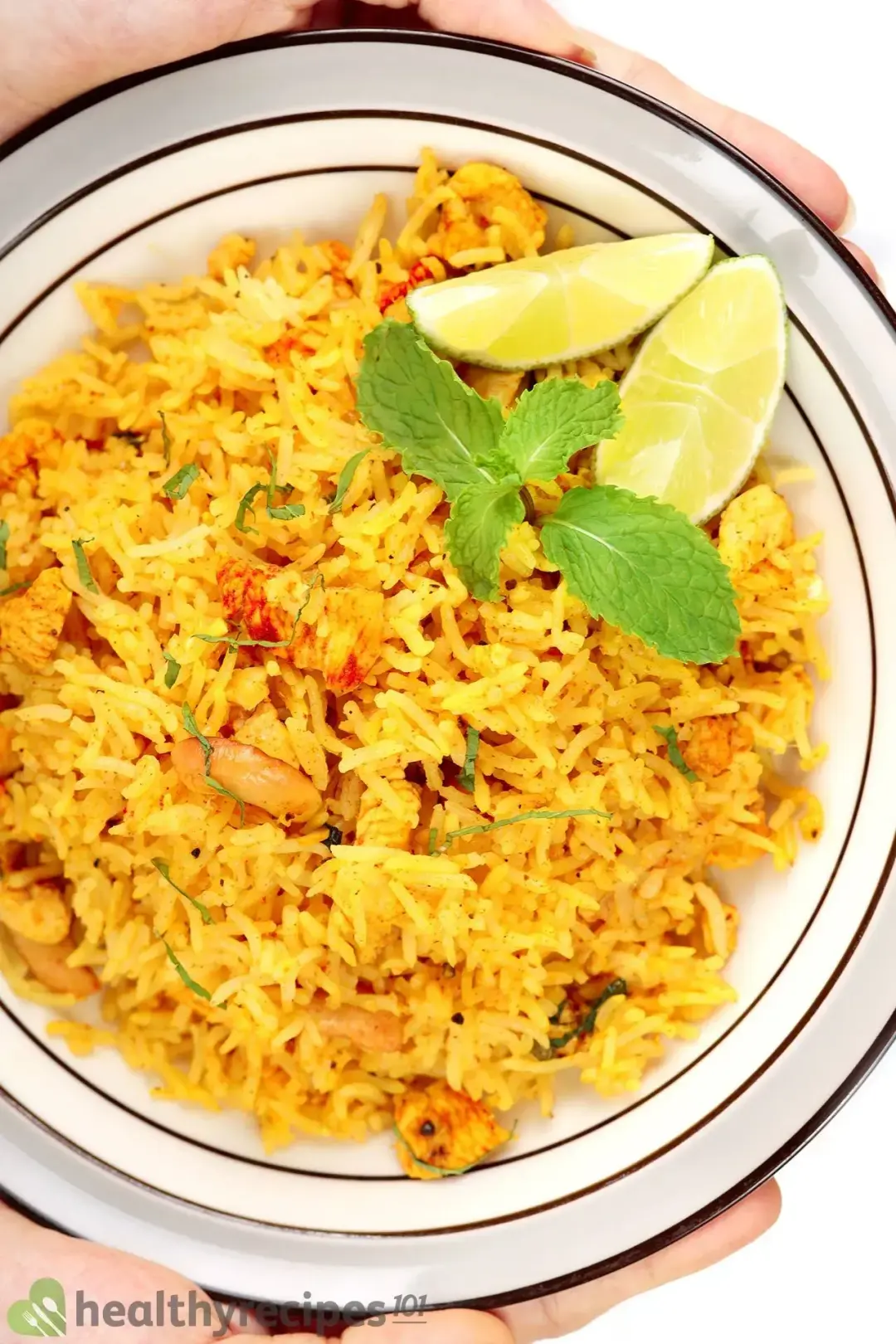 Instant Pot Chicken Biryani Recipe
This Instant Pot chicken biryani recipe takes just 25 minutes and turns out a homey meal. Only simple ingredients are required.
cook TIME

20 mins

prep TIME

5 mins

total TIME

25 mins
COURSE

Main Course

CUISINE

Indian

SERVINGS

servings

CALORIES

491 kcal
INGREDIENTS
18 oz

skinless boneless chicken breast (cut into small cubes)

1 tbsp

olive oil

1 tsp

garlic (minced)

4 oz

onions (chopped)

1 tsp

paprika

0.8 tsp

salt

0.5 tsp

ground black pepper

0.5 tsp

cumin

0.5 tsp

ground turmeric

1 tsp

traditional Dijon mustard

1.5 cup

basmati rice

1

cinnamon stick

1

bay leaf

1

whole star anise

1.5 cup

unsalted chicken broth

1 oz

cashew (toasted)

1 tsp

lime juice

2 tbsp

mint (thinly sliced)
INSTRUCTIONS
1
Press the "sauté" button on the Instant Pot. Add 1 tbsp olive oil, 1 tsp minced garlic, and 4 oz chopped onions to the pot. Stir and cook for about 2 minutes or until the onions become translucent.
2
Add 18 oz cubed chicken breast along with the seasonings: 1 tsp paprika, 3/4 tsp salt, 1/2 tsp pepper, 1/2 tsp cumin, 1/2 tsp turmeric, and 1 tsp mustard. Stir to spread the seasonings out evenly and cook for about 5 minutes.
3
Add 1 1/2 cup raw basmati rice, 1 cinnamon stick, 1 bay leaf, and 1 whole star anise. Stir to incorporate.
4
Gently pour 1 1/2 cup chicken broth into the pot and close the lid. Turn the steam handle to the "sealed" position, select the "rice" mode and adjust the timer to cook for 12 minutes.
5
Place a cloth over the vent and use a spoon to switch the steam handle to the "venting" position. Tip in 1 oz cashews, drizzle 1 tsp lime juice over the top and stir well.
6
Sprinkle 2 tbsp sliced mint on top and spoon the rice into serving dishes. Enjoy!
NUTRITION
Nutrition Facts
Instant Pot Chicken Biryani Recipe
Amount Per Serving (1 serving)
Calories 491
Calories from FDA
% Daily Value*
* Percent Daily Values are based on a 2000 calorie diet.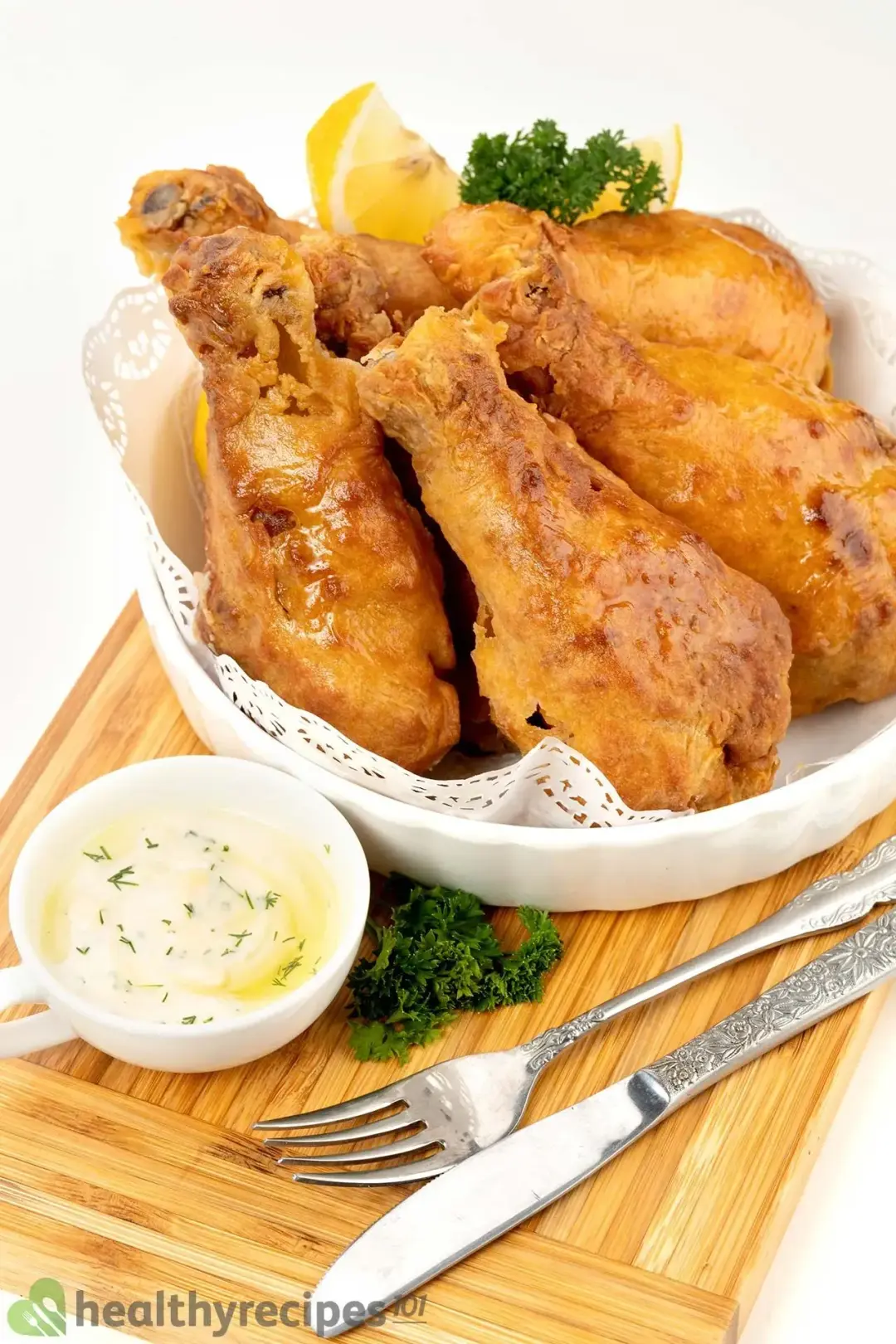 Previous Recipe
Air Fryer Buttermilk Fried Chicken
Air Fryer Buttermilk Fried Chicken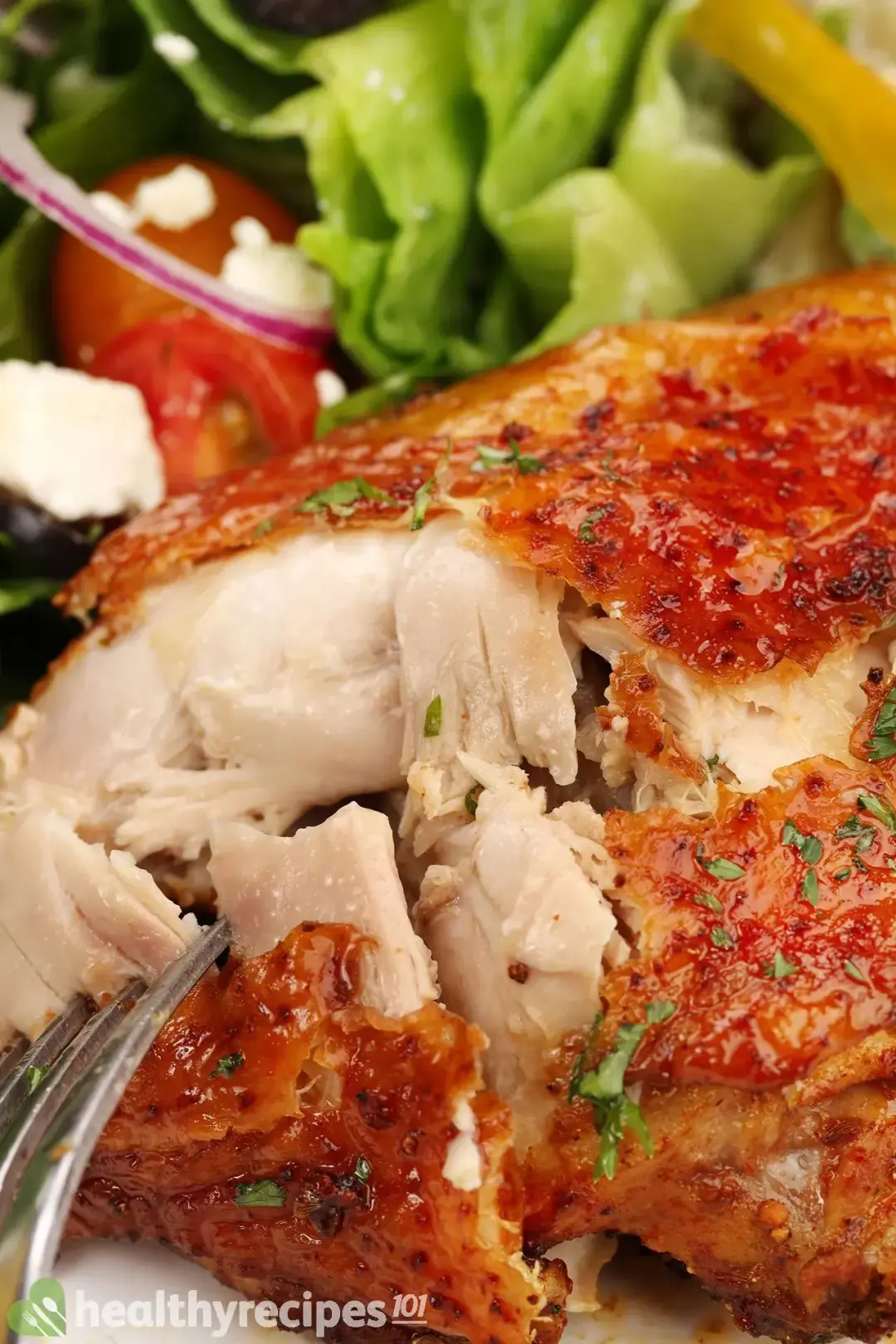 Next Recipe
Air Fryer Chicken Thighs
Air Fryer Chicken Thighs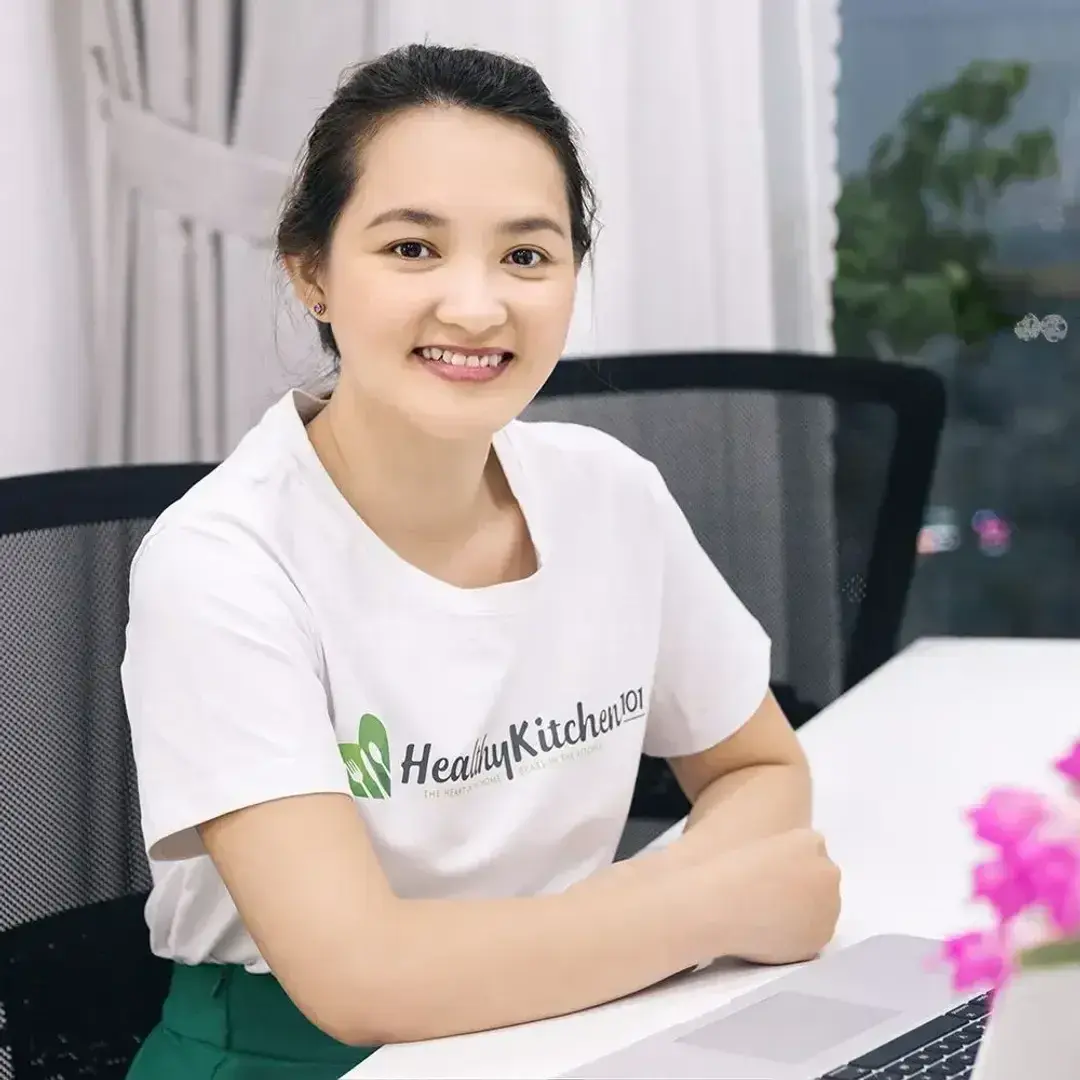 Founder
Luna Regina is an accomplished writer and author who dedicates her career to empowering home cooks and making cooking effortless for everyone. She is the founder of HealthyKitchen101.com and HealthyRecipes101.com, where she works with her team to develop easy, nutritious recipes and help aspiring cooks choose the right kitchen appliances.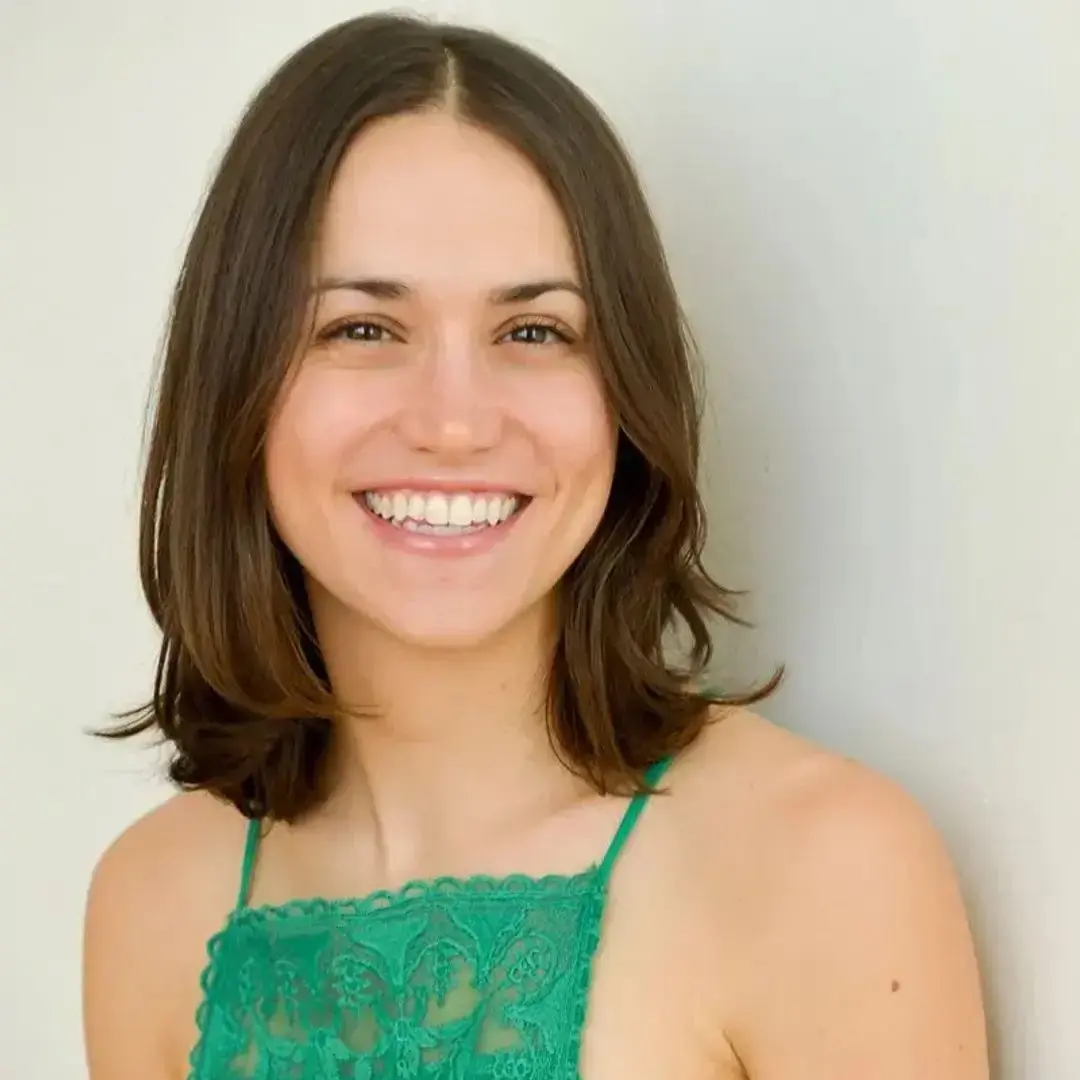 Nutrition Reviewer
Lizzie is a Minneapolis-based dietitian and founder of It's a Veg World After All. She completed her MS in Human Nutrition from Drexel University, and is an expert in culinary nutrition, recipe development, and nutrition communications.
Comments/ Reviews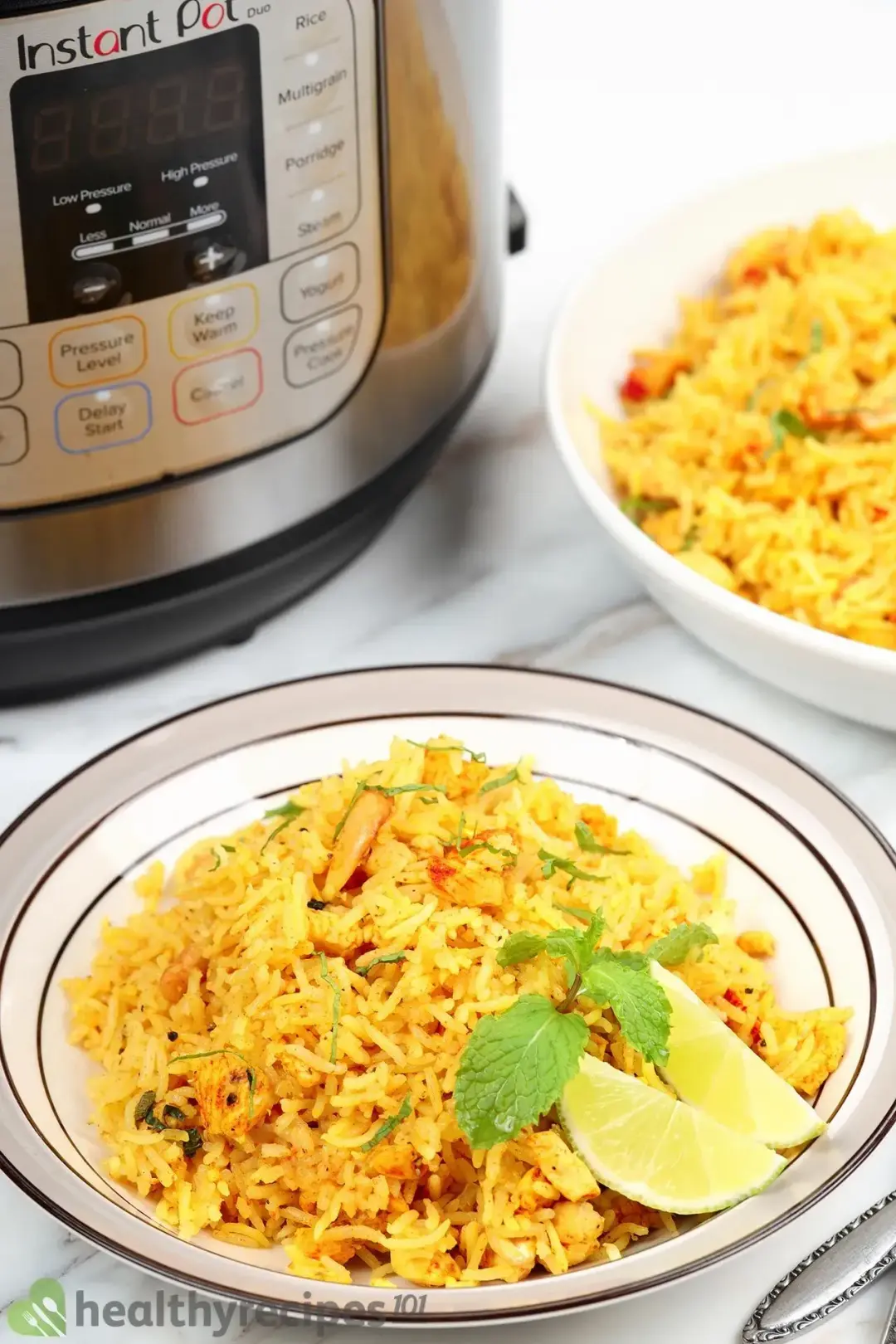 Instant Pot Chicken Biryani Recipe