Our Instant Pot lo mein recipe can help you make a flavorful Chinese staple in less than 25 minutes.
What Is Lo Mein?
Lo mein is a stir-fried dish of noodles, meat (typically beef), and vegetables paired with a savory, glossy sauce. The meal looks colorful and smells super fragrant.
Any type of meat can be used to make lo mein, and sometimes, none is used at all. Known as veggie lo mein, it's just as satisfying as the classic.
Is Lo Mein Healthy?
Lo mein is a healthy meal due to its harmonious blend of many ingredients. It contains carbs, proteins, healthy fats, fibers, and loads of micronutrients.
However, like many Chinese foods, a typical lo mein has plenty of soy sauce that packs tons of sodium. Experts suggest that we lower our sodium intake to reduce the risks of heart diseases and kidney stones.
With this in mind, we used a moderate amount of soy sauce to keep the sodium level within the recommended range. If you wish to learn more about this range, check out our dietary guidelines.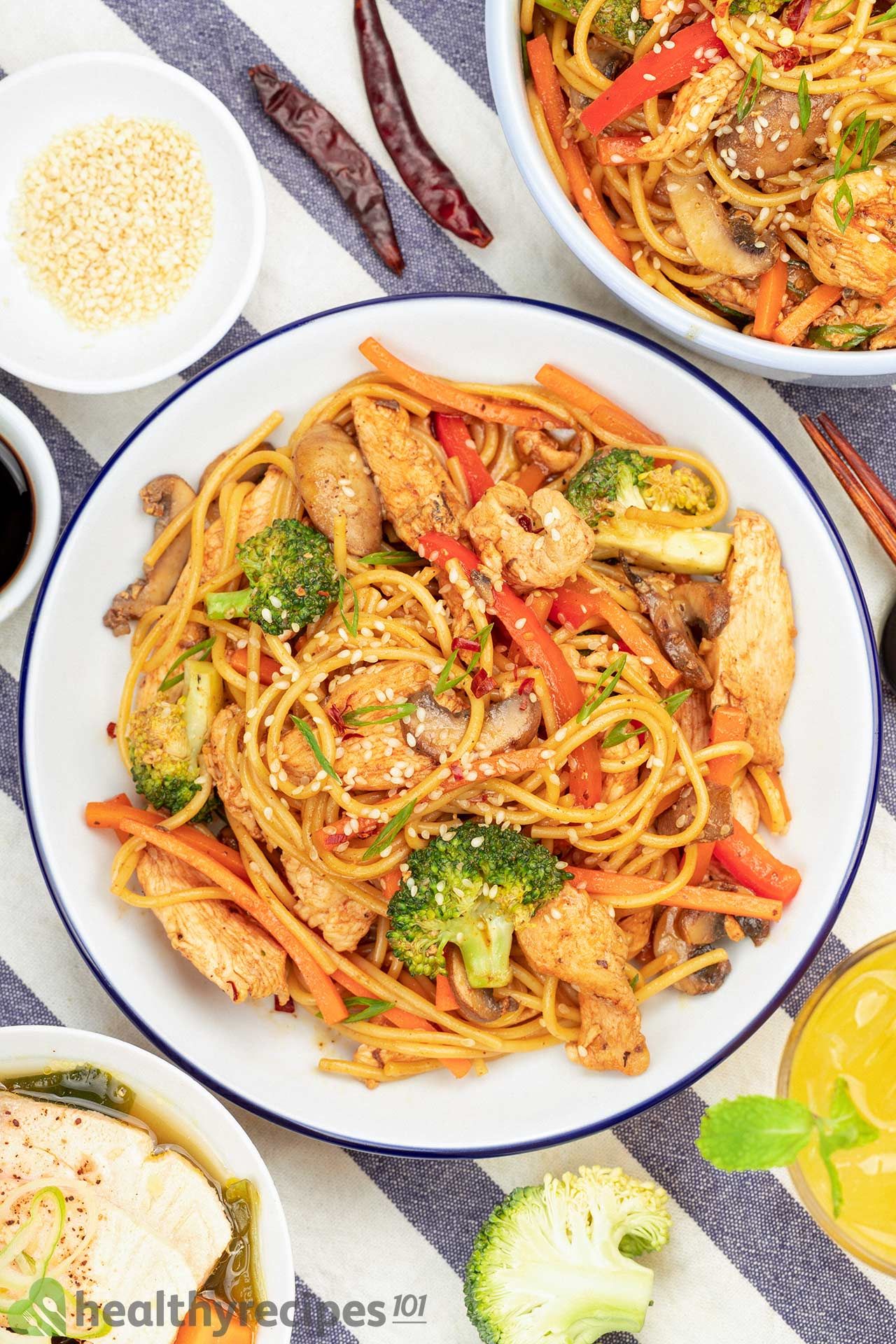 Lo Mein vs Chow Mein
Both of these noodles have similar ingredients but they are made differently. While chow mein noodles are only soaked before stir-frying, lo mein noodles are cooked through, making them not as dry as chow mein noodles.
Lo mein is also coated in a special brown sauce that makes it shiny. This is due to a special ingredient that we'll mention in the next section.
Main Ingredients for Instant Pot Lo Mein
1. Lo Mein Sauce
This sweet, salty, fragrant sauce is made with soy sauce, hoisin, cooking wine, and sesame oil. In the right ratio, they can be really addicting.
For that glossiness, we added a cornstarch slurry of just cornstarch and water. This cheap ingredient adds a luxurious look to the Chinese staple.
Keep in mind that the cornstarch needs to be mixed with plain water first before the other ingredients are added. If you mess with this order, there will be lumps of starch in your sauce.
After the sauce is thoroughly mixed, we set it aside and begin the cooking.
2. Aromatics
Lo mein calls for ginger and garlic, two popular aromatics in Chinese cuisine. Garlic builds the flavor base while ginger gives a compelling and lingering warmth to dishes.
As you turn on the Instant Pot, sauté these aromatics first so that they release their fragrance. After that, add the mushrooms.
3. Vegetables for Instant Pot Lo Mein
Mushrooms should always be the first vegetable to cook. The longer they're seared, the shinier and chewier they become.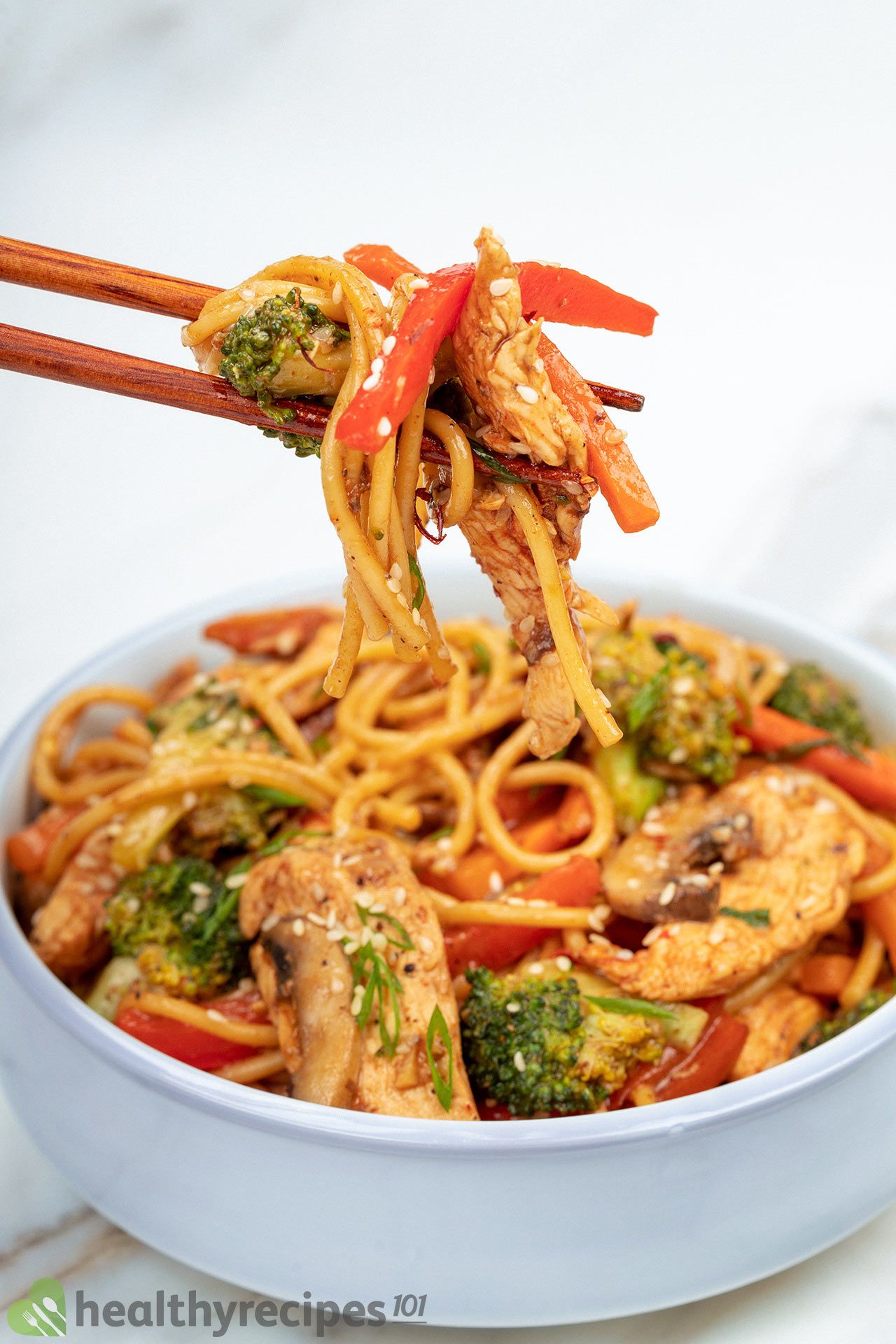 Next is the classic veg trio of lo mein: green bok choy, red bell peppers, and orange carrots. You can swap bok choy with any crunchy green vegetables you love (we used broccoli).
These three vegetables should be cooked briefly to preserve their crunchiness. Instead of adding them after the mushrooms, sear the chicken first.
4. Chicken
When it comes to using chicken, you can go for the easy option (boneless chicken breast) or the one that requires more work (chicken thighs). We went for chicken breast, for said reason. You can find more ways to incorporate it using our perfectly-cooked chicken breasts recipes.
As the sauce is already flavorful, we needn't season our chicken. However, we did want our chicken to have a kick, so we added a flourish of paprika while it's searing.
Once the chicken is cooked and the vegetables are briefly sautéed, we set them aside and moved on to the next step.
5. Noodles
The beauty of our Instant Pot lo mein recipe is that we don't need to cook the noodles in another pot. They get to absorb all of the flavors that have been built inside the Instant Pot.
Authentic lo mein uses lo mein noodles, a type of egg noodle that looks like spaghetti but is softer. You can use spaghetti noodles or any pasta you prefer, but the texture won't be as satisfying.
We added the raw noodles along with some unsalted chicken broth into the pot and scraped the bottom to release the stuck bits of flavors. As the strands didn't fit inside the pot, we had to break them in two.
As they finished cooking, we added the chicken and veg back with the sauce and allowed them to mingle until the sauce thickened.
6. Finishing Touches
On top of the noodles, we sprinkled some chopped scallion for freshness, red pepper flakes to make it spicy, and some nutty sesame seeds. You can skip the pepper flakes, but the other two are a must, especially for a Chinese dish.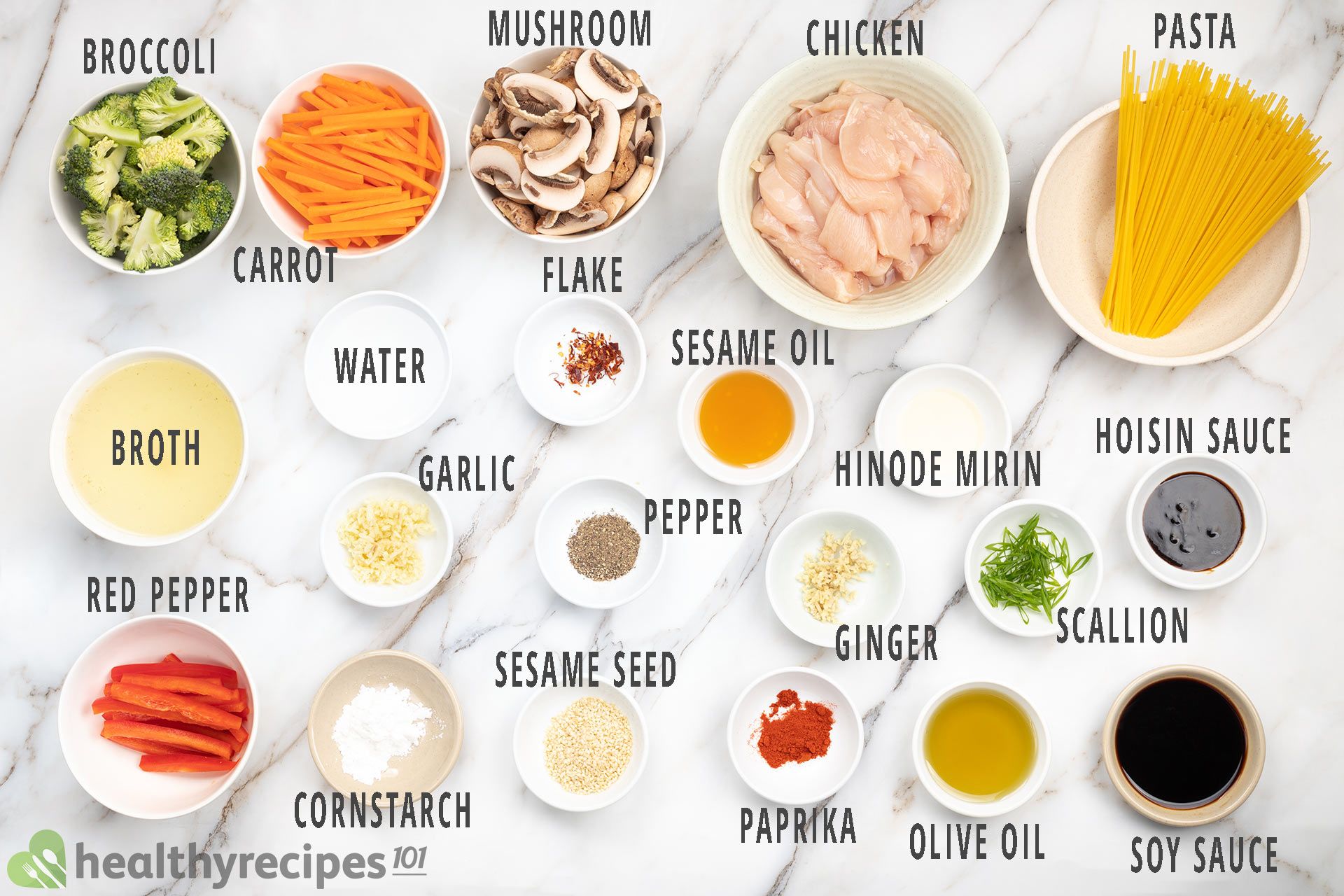 How to Make Lo Mein in the Instant Pot
Here's a summary: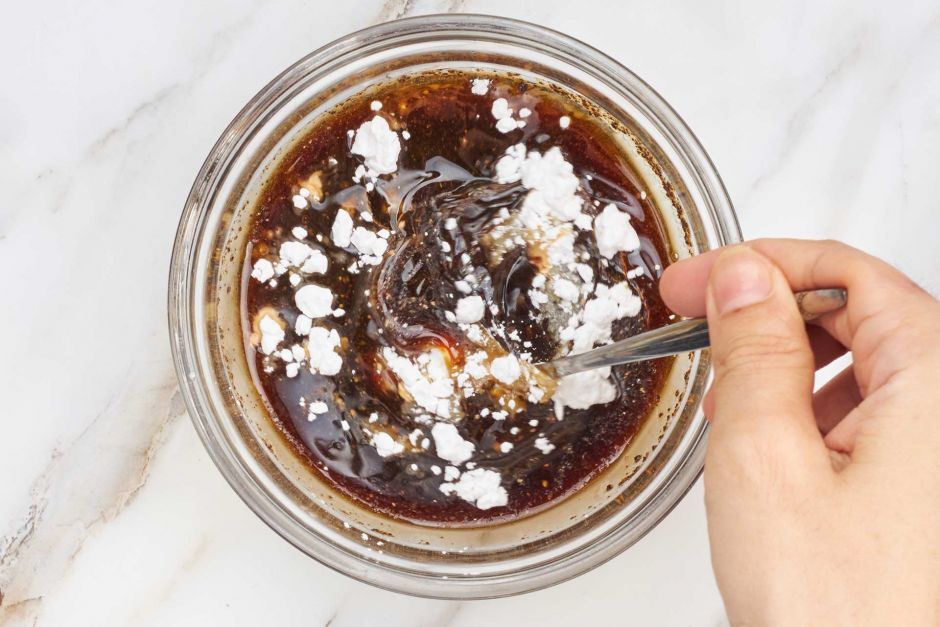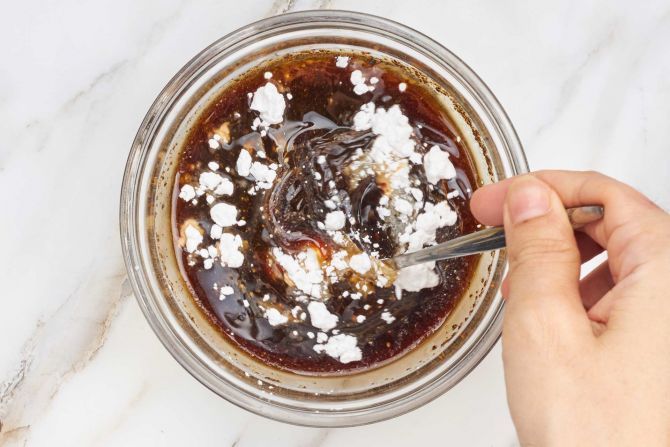 Make the sauce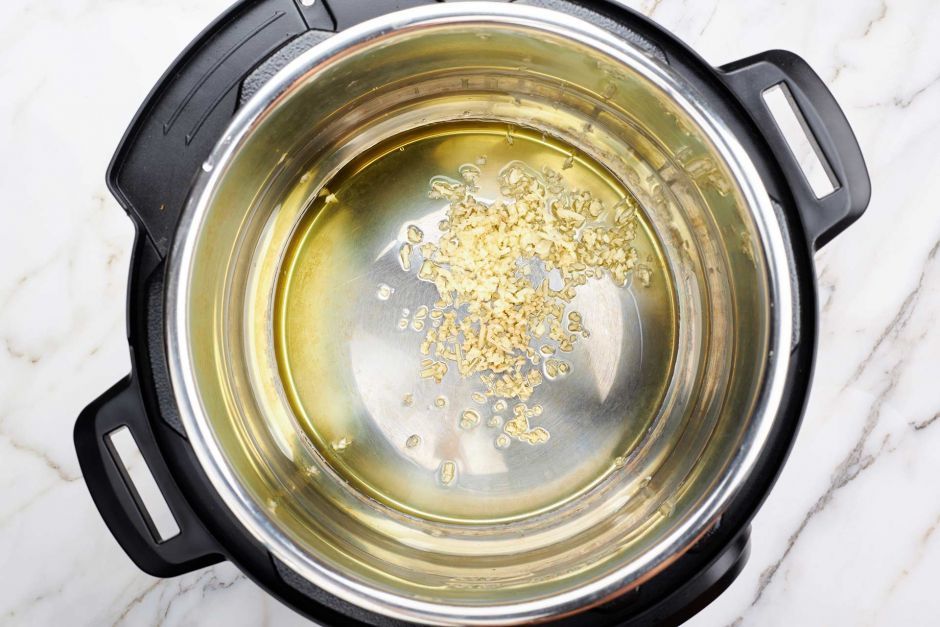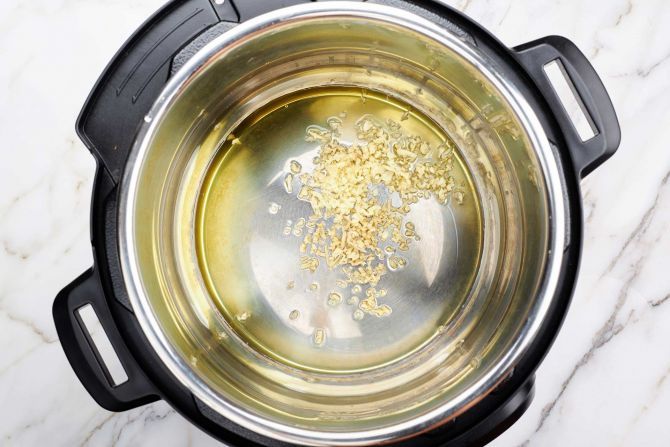 Sauté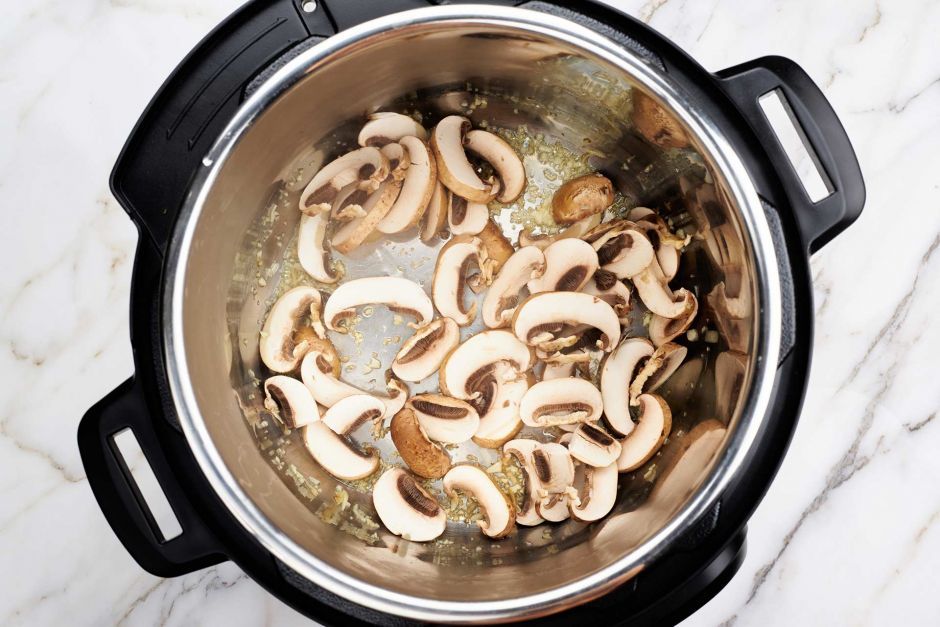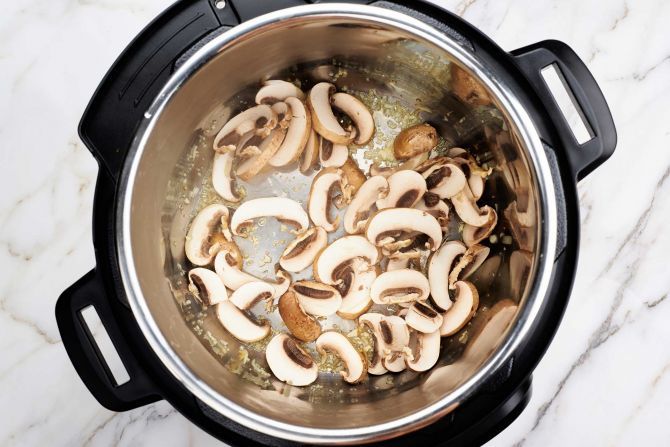 Cook the mushrooms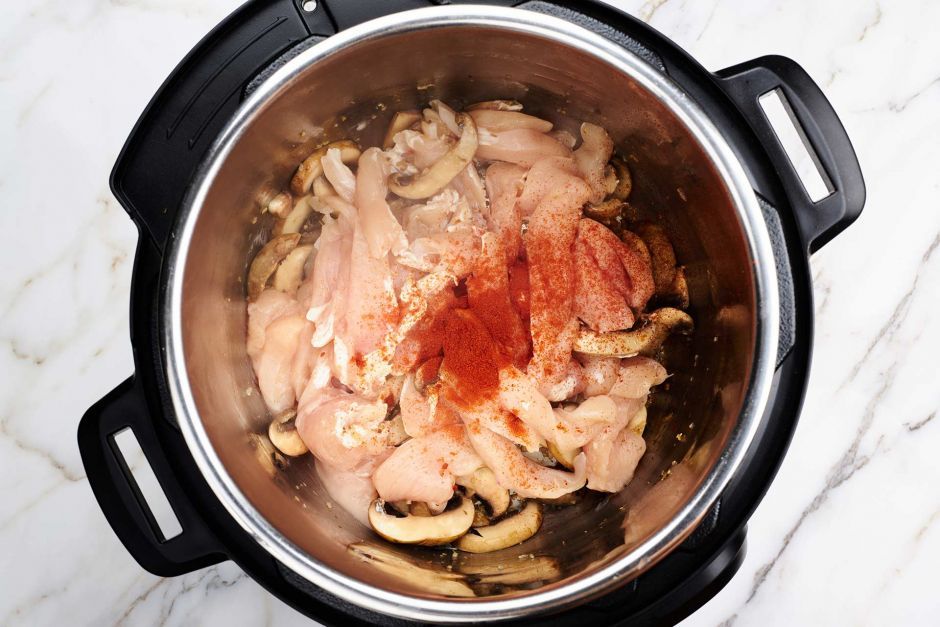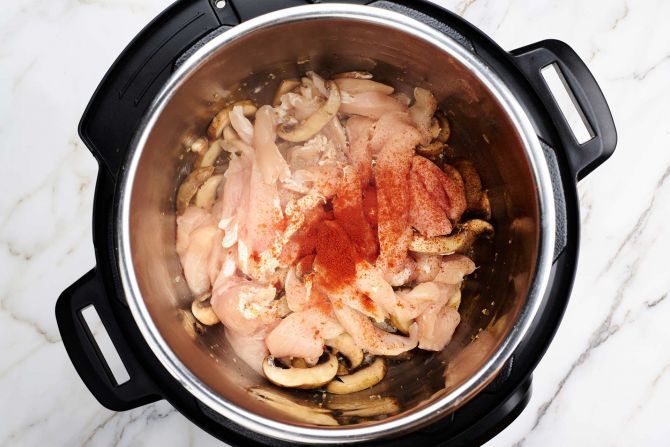 Sear the chicken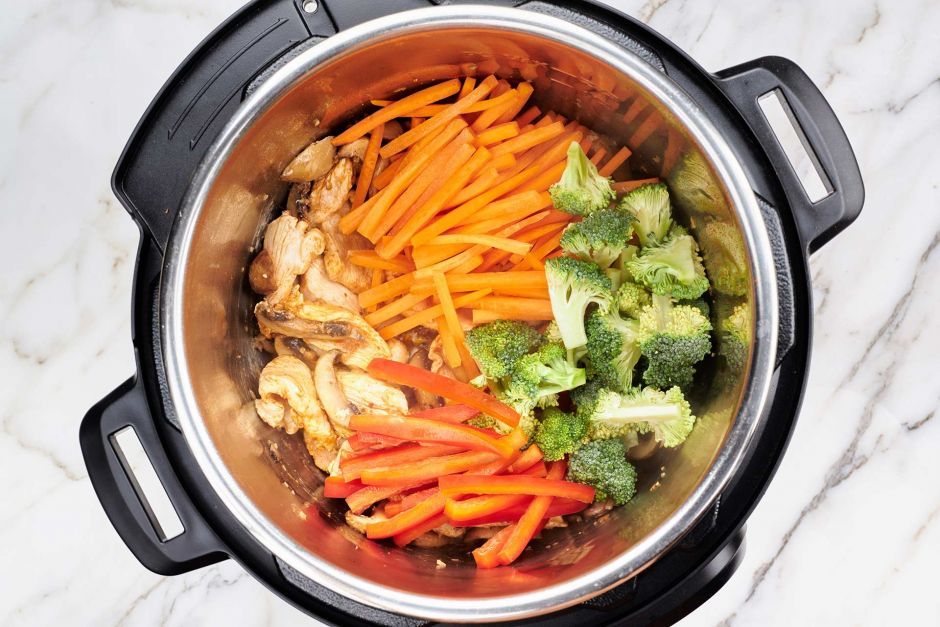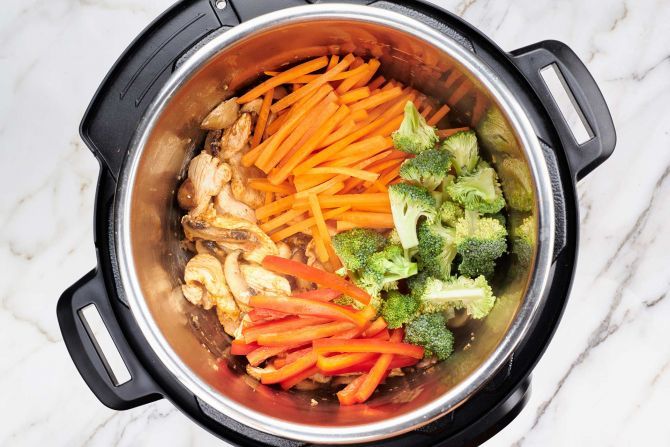 Add the veg trio and set everything aside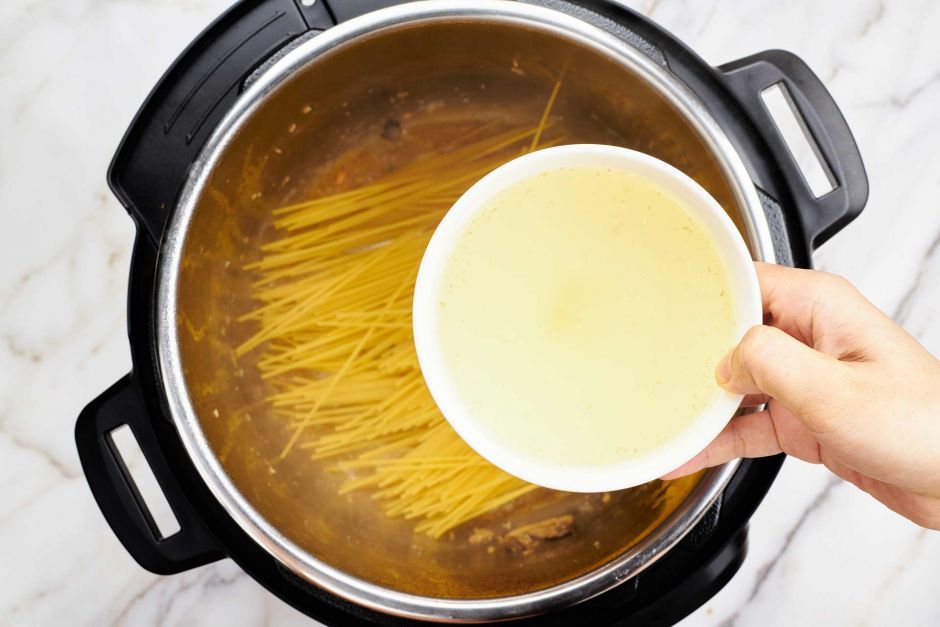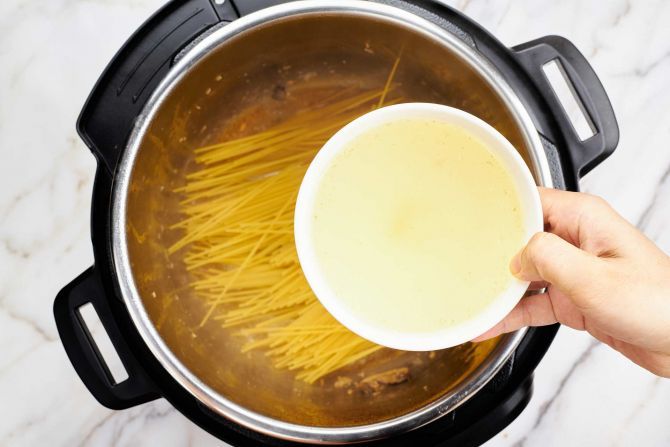 Pressure-cook the noodles with broth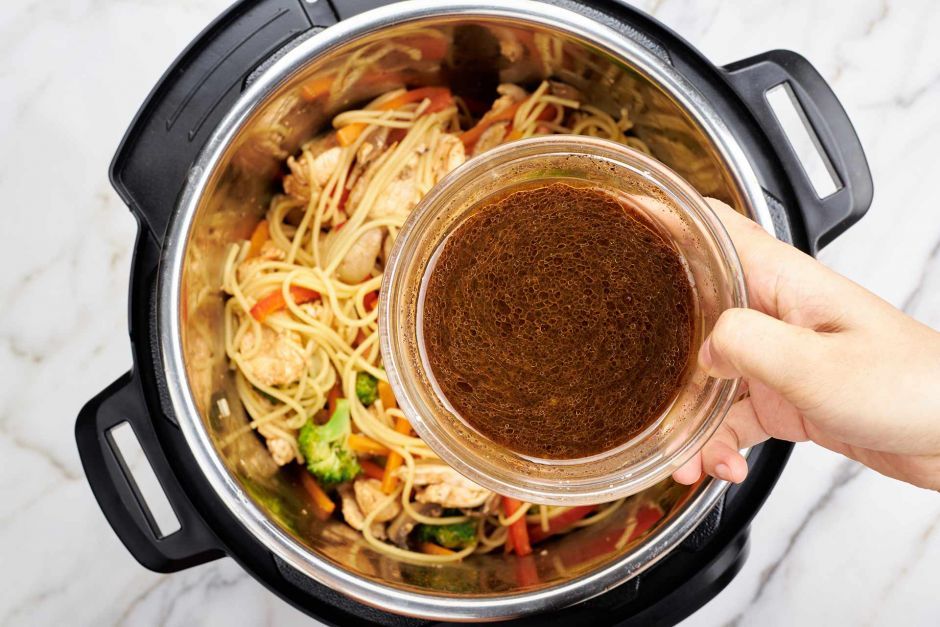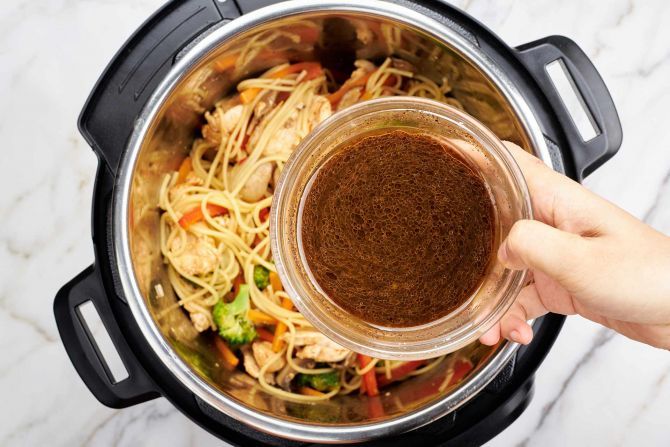 Cook everything together with the sauce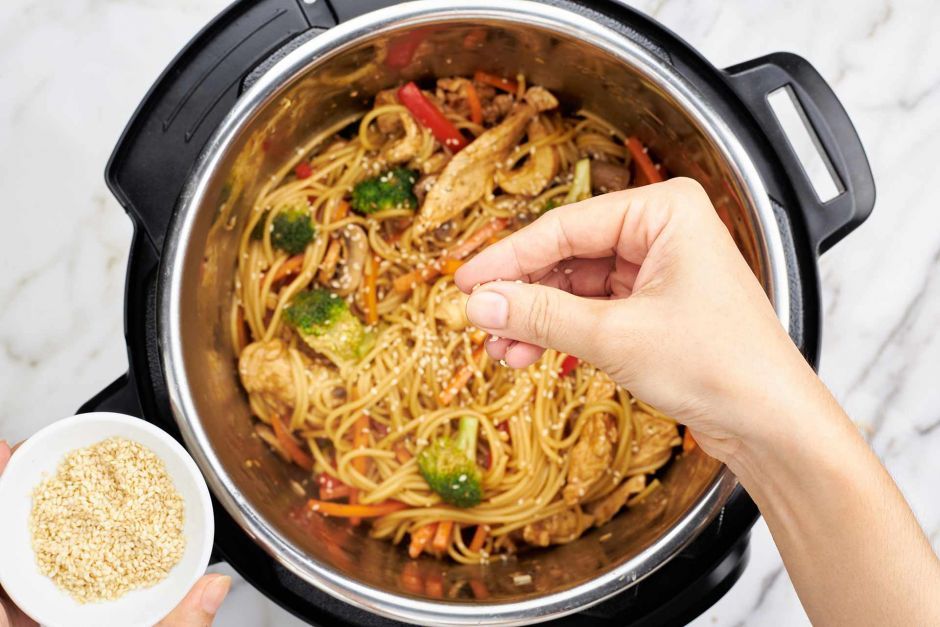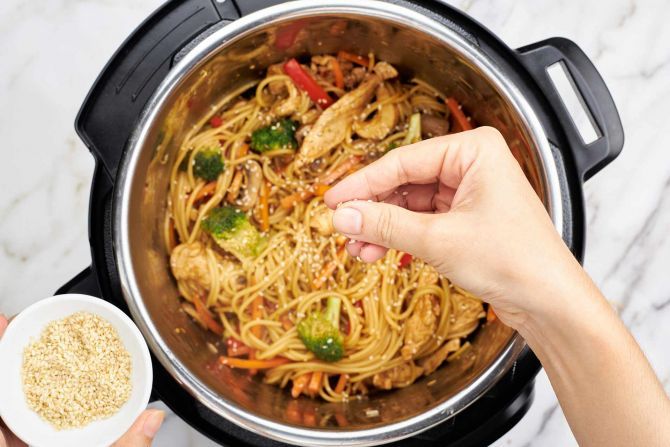 Add finishing touches and enjoy!
Measurements, timings, and more details can be found in the Instant Pot lo mein recipe card below.
Jump to Recipe
How to Store, Freeze, and Reheat Lo Mein Noodles
Keep this dish inside the fridge and it'll stay for only a week. If you wish for it to last for three months, place it in the freezer.
We often divide our foods into small air-tight containers because they're more convenient to reheat. If your fridge is too crowded already, Ziploc bags can work as well.
To reheat, add one portion to a skillet with 1-2 tbsp water, and heat the skillet over medium heat. Stir the noodles around for 5-6 minutes and they're ready to eat.
If you love this recipe, this Beef Lo Mein recipe is a more convenient version.
What to Serve With Instant Pot Lo Mein
Dishes like lo mein have a variety of textures and flavors, so it really doesn't need to be complemented. Well, that's what we thought until we tried the noodles with miso soup — it brings a unique savory note to the meal.
To round off the meal, we picked out this sweet and sour passion fruit juice. It's simply fresh and delicious.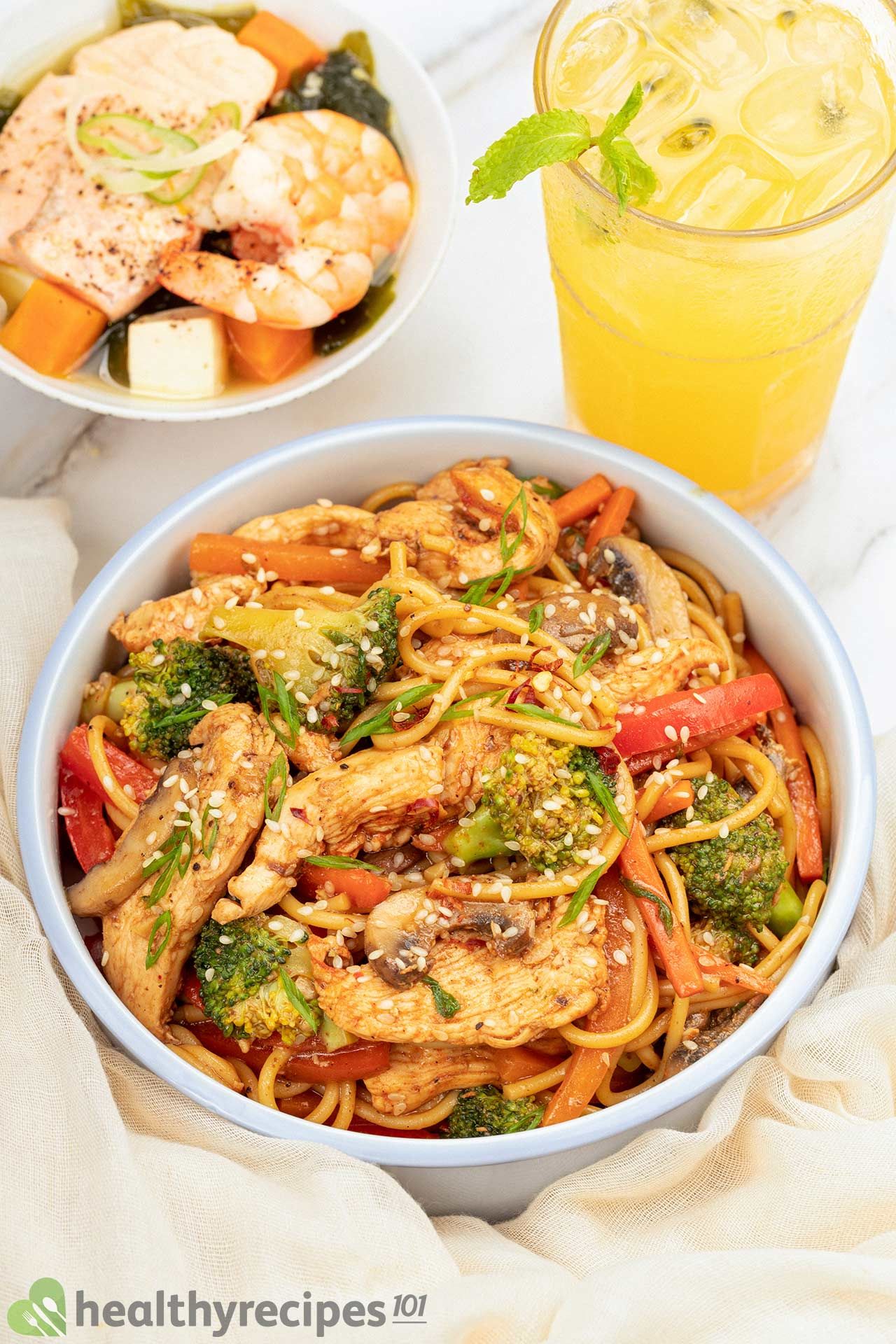 Nutritional values in this table vary somewhat to those below due to different app calculations. Read more...
For a wider selection of chicken dishes, don't miss out this collection on the 20 amazing chicken thigh recipes and the best 50 chicken recipes that we've carefully sorted out for you!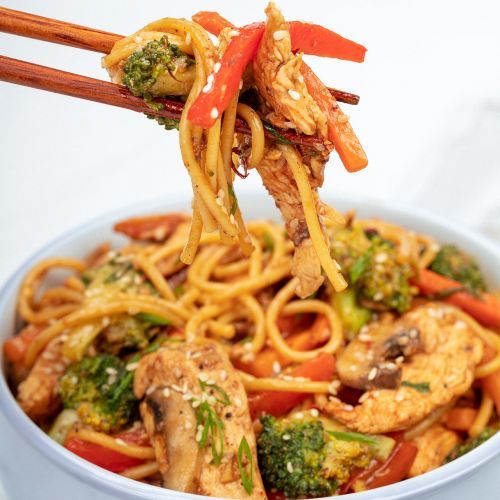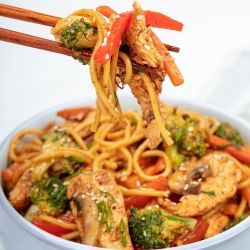 Instant Pot Lo Mein Recipe
You only need this Instant Pot lo mein recipe and about 25 minutes to recreate an awesome takeout at home. It's quick and simple.
Ingredients
7

oz

uncooked pasta

lo mein noodles or spaghetti

16

oz

skinless boneless chicken breasts

sliced

4

tbsp

water

2

tsp

cornstarch

1

tbsp

sesame oil

1/2

tsp

ground black pepper

2 1/2

tbsp

reduced-sodium soy sauce

1

tbsp

hoisin sauce

1/2

tbsp

cooking mirin

2 1/2

tbsp

olive oil

1

tsp

ginger

minced

2

tsp

garlic

minced

4

oz

brown mushrooms

sliced

1/2

tsp

paprika

4

oz

broccoli

cut into florets

4

oz

carrots

julienned (cut into matchsticks)

2

oz

red pepper

julienned

1

cup

unsalted chicken broth

2

tbsp

scallion

thinly sliced on a bias

1/4

tsp

red pepper flakes

1

tbsp

sesame seeds

toasted
Instructions
In a small bowl, stir 4 tbsp water with 2 tsp cornstarch until the cornstarch dissolves, then add 1 tbsp sesame oil, 1/2 tsp black pepper, 2 1/2 tbsp soy sauce, 1 tbsp hoisin, and 1/2 tbsp mirin. Mix well and set aside.

Select "sauté" mode on the Instant Pot. Heat 2 1/2 tbsp olive oil and stir in 1 tsp minced ginger and 2 tsp minced garlic for 1 minute.

Tip 4 oz sliced mushrooms into the pot and stir to cook for 2 minutes.

Add 16 oz sliced chicken along with 1/2 tsp paprika and cook for another 2 minutes.

Add 4 oz broccoli, 4 oz julienned carrots, and 2 oz julienned red peppers. Stir to cook for another 3 minutes. Remove the chicken and vegetables from the pot and set aside.

Add 7 oz uncooked pasta (broken in half if not fitting the pot) along with 1 cup chicken broth. Scrape the bottom with a wooden spoon and close the lid. Turn the steam handle to "sealed", select "meat stew" mode, adjust the timer to 7 minutes, and let the machine automatically cook.

Place a kitchen towel over the vent and with a spoon, turn the steam handle to "venting". Wait for the steam to escape, open the pot, and add the cooked chicken, vegetables, and sauce. Select "sauté" mode again and stir to cook for another 3 minutes.

Sprinkle on top 2 tbsp scallion, 1/4 tsp red pepper flakes, and 1 tbsp toasted sesame seeds. Plate the noodles and enjoy!
Nutrition
Nutrition Facts
Instant Pot Lo Mein Recipe
Amount Per Serving (1 serving)
Calories 505
Calories from Fat 153
% Daily Value*
Fat 17g26%
Cholesterol 83mg28%
Sodium 584mg25%
Potassium 881mg25%
Carbohydrates 51g17%
Protein 36g72%
Vitamin A 5592IU112%
Vitamin C 46mg56%
Calcium 74mg7%
Iron 2mg11%
* Percent Daily Values are based on a 2000 calorie diet.