Today's apple cider vinegar grapefruit juice honey recipe is one of our new favorites! Slightly sweet, tangy, and pleasantly refreshing — it's a juicing masterpiece. Just wait 'till you try it! 
But first, let's pull this recipe apart and discover its potential health effects.
Health Benefits of Apple Cider Vinegar Grapefruit Juice
Most of the health benefits of this drink come from its titular ingredients: apple cider vinegar (ACV) and grapefruit juice.
Given that ACV has been touted as a traditional remedy for weight management and skin-related ills, we want to be up-front about the lack of scientific support for these claims. Clinical studies have shown it's not the cure-all that some people claim.
That said, there's a golden opportunity for weight loss when you replace common high-calorie beverages with this drink. Its unfettered sweetness can make up for the flavor and satisfaction you otherwise crave from a can of cola.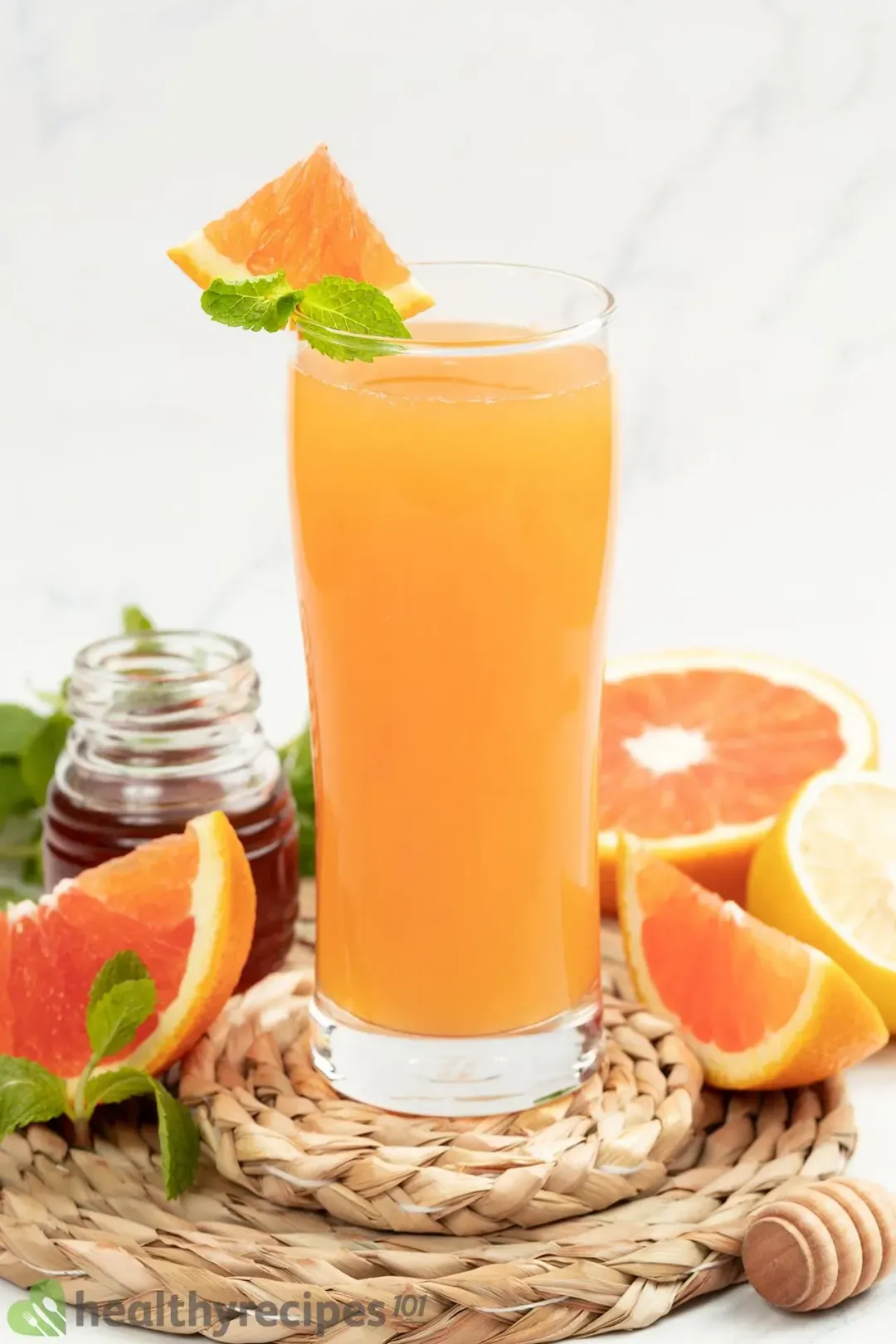 With less sugar and calories, plus a dash of added honey that follows our dietary sugar intake guidelines, you won't pile on excessive calories with this drink. Thus, you'll be that much closer to those weight loss goals.
Check out this sweet and tart fruity beverage with alcohol for another delicious grapefruit twist. Or try our healthy grapefruit juice roundup to see more healthy beverage options.
How to Make Apple Cider Vinegar Grapefruit Juice Honey
Making this apple cider vinegar drink is a super easy, two-step process. Here's what you do: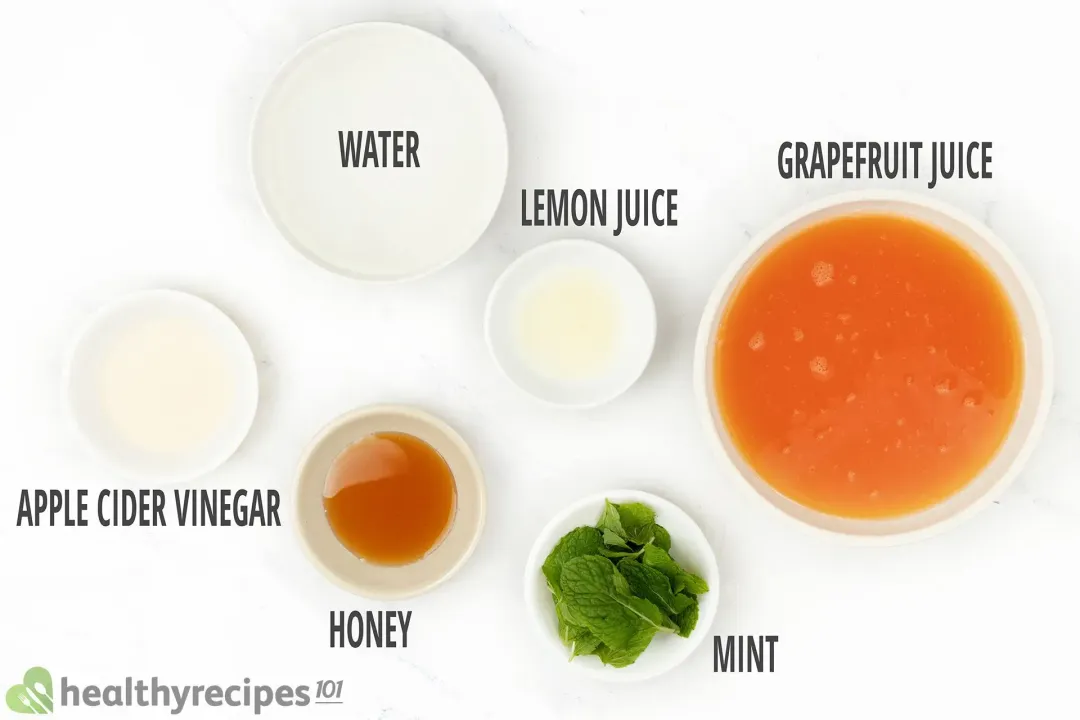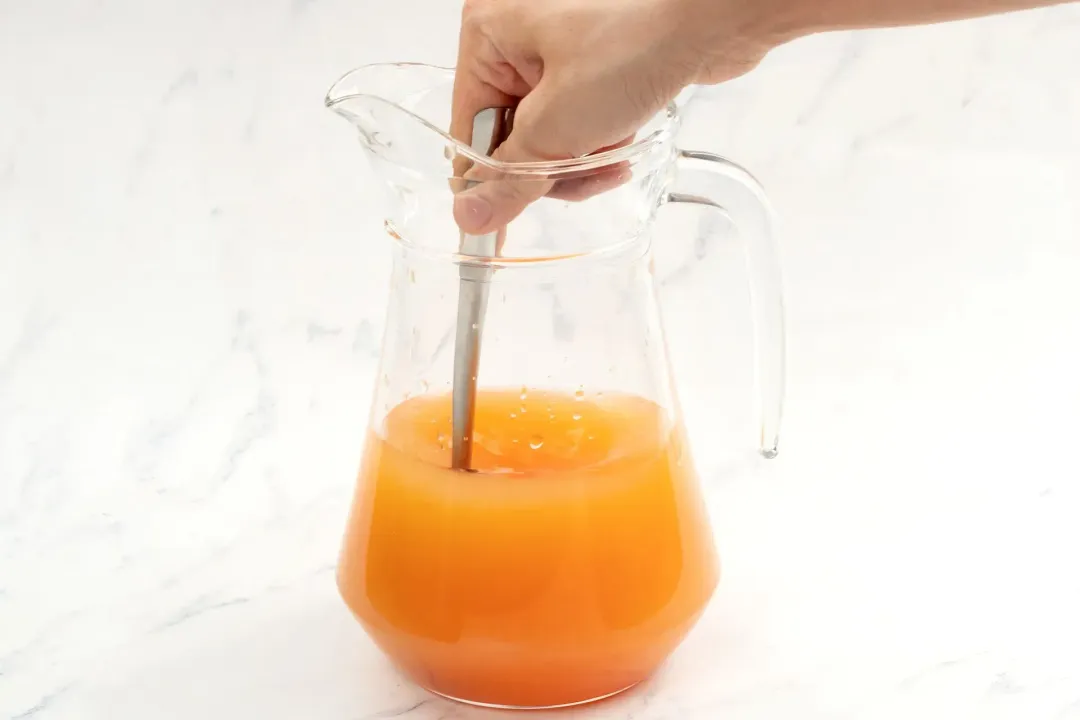 Mix all ingredients except mint in a jar.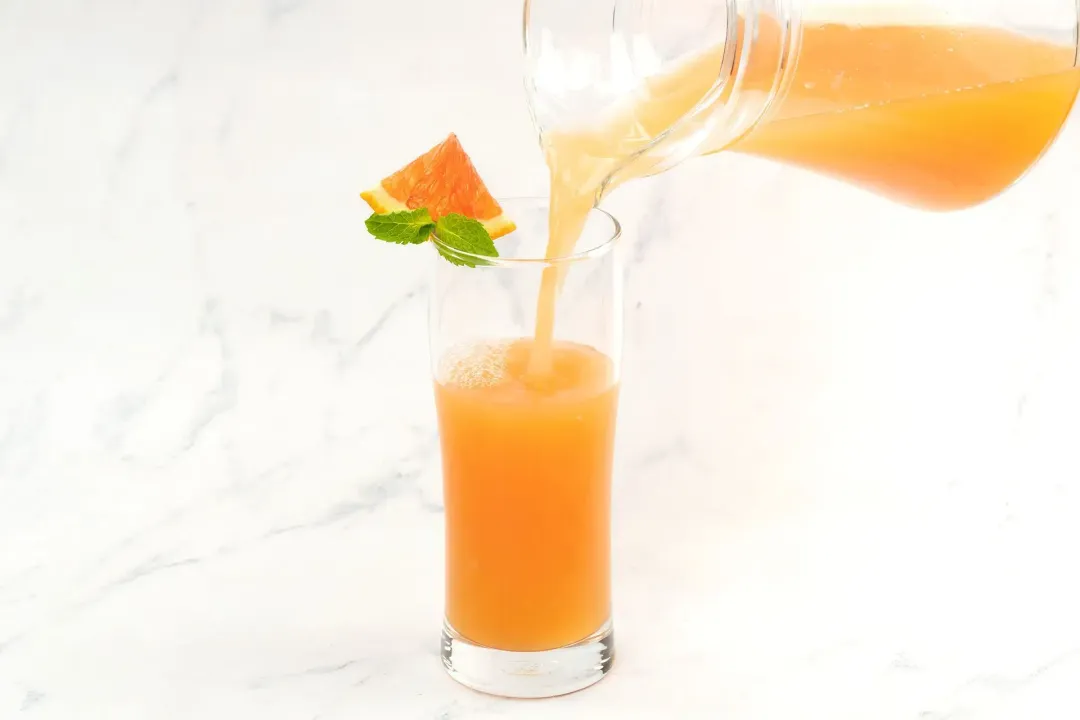 Garnish and serve.
Alternatively, you can follow our version of a grapefruit gimlet recipe or this greyhound drink to wind up with some zesty summer cocktails.
The full ingredient list, measurements, and detailed instructions are available in the recipe section below.
When to Drink Apple Cider Vinegar Grapefruit Juice
Whenever you want quick refreshment, take a five-minute break to mix this beverage and enjoy!
Flavors in this drink give it versatility and flexibility, making it suitable to drink at any time. So, whether for breakfast or dinner, our apple cider vinegar and grapefruit juice with honey makes an excellent meal companion.
It also works perfectly between meals, along with snacks, or as a snack itself! Remember that the honey and grapefruit juice in this drink can help curb sweet cravings and stand in for occasional refreshments.
Grapefruit Juice and Apple Cider Vinegar Side Effects
The many perks of this drink make it easy to overlook its related side effects. One is that ACV may interfere with diabetes medicine.
If you have diabetes-related health issues, it's probably best to avoid drinking large amounts of ACV, so this beverage may not be for you.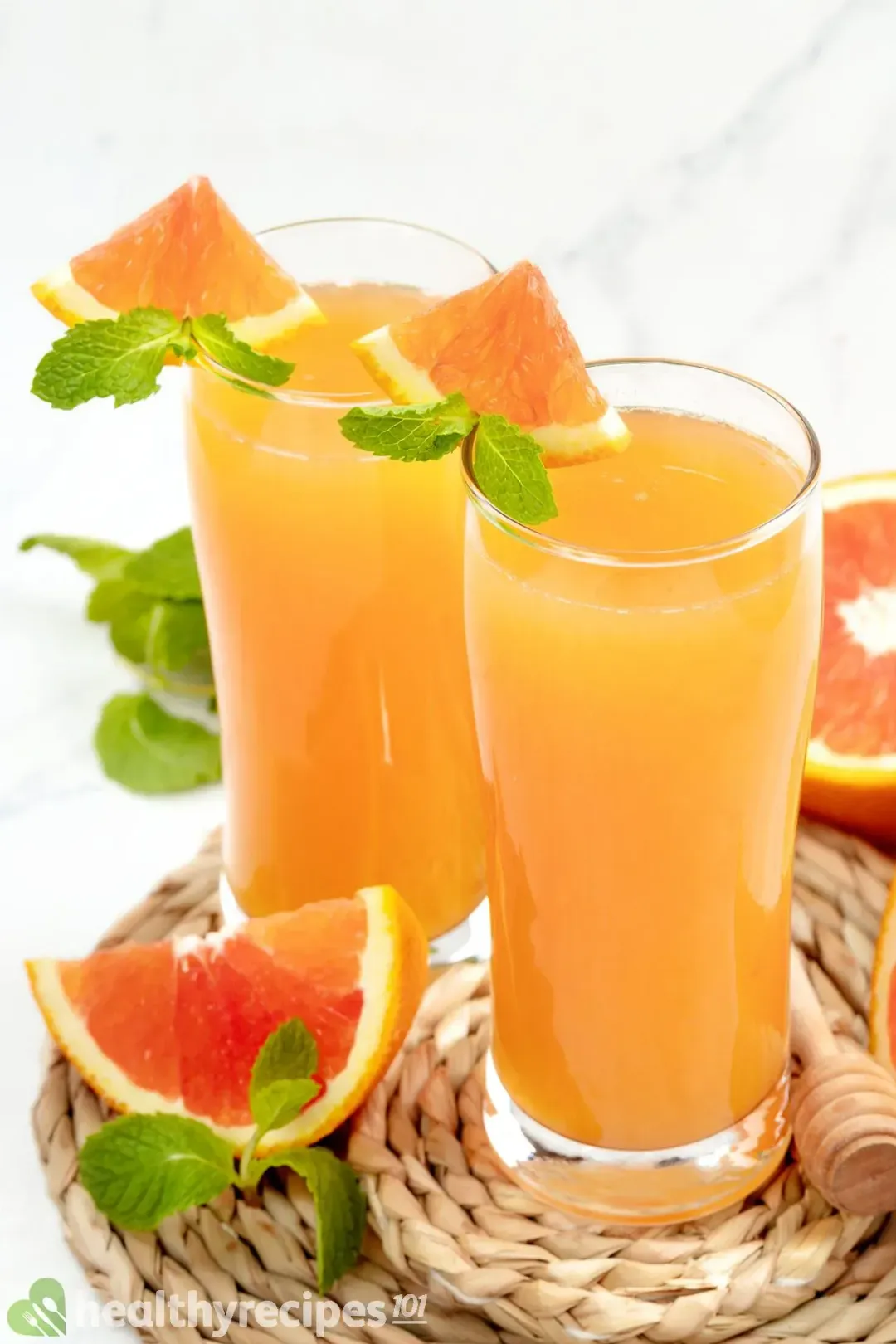 Another concern is that ACV may cause tooth decay. This risk is heightened with direct ACV consumption, so diluting it as we did here reduces the risk.
Consuming ACV may also lower potassium levels.
It's difficult to detect low potassium levels (hypokalemia) via external symptoms. If you're sure you have hypokalemia, then you may want to avoid ACV.
Check out our easy grapefruit juice roundup for more delicious drinks.
How Much Apple Cider Vinegar Should You Drink?
You can add about two tablespoons of ACV to a glass of water to flavor it. Some people like to enjoy this simple concoction twice daily, and you can add or reduce ACV amounts to taste.
Avoid drinking ACV in large quantities as this comes with adverse effects. Research shows how consuming up to 8 ounces of ACV a day led to low bone density in at least one case.
Although details are fuzzy about how much ACV is too much, 8 ounces can probably be considered an extreme upper limit. With that in mind, we advise limiting ACV intake to a few tablespoons a day.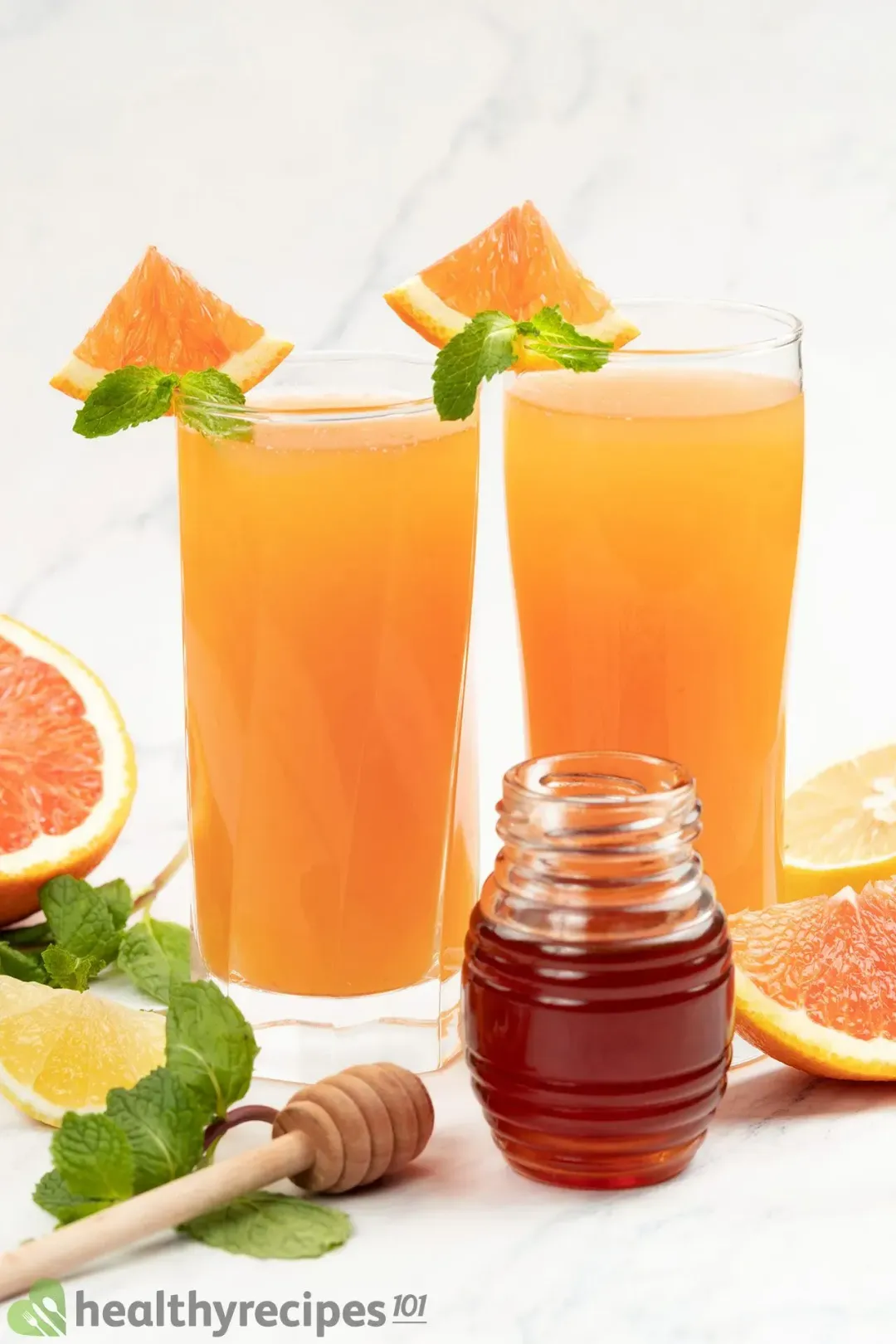 Calories in This Recipe
Our apple cider vinegar and grapefruit juice with honey contains just 43 calories per serving. This means it takes up roughly 2% of your caloric intake on a 2,000 calorie diet. It's easy to seamlessly integrate this beverage into any diet.
For another of our low-calorie ACV drinks, try this simple apple cider vinegar and honey juice.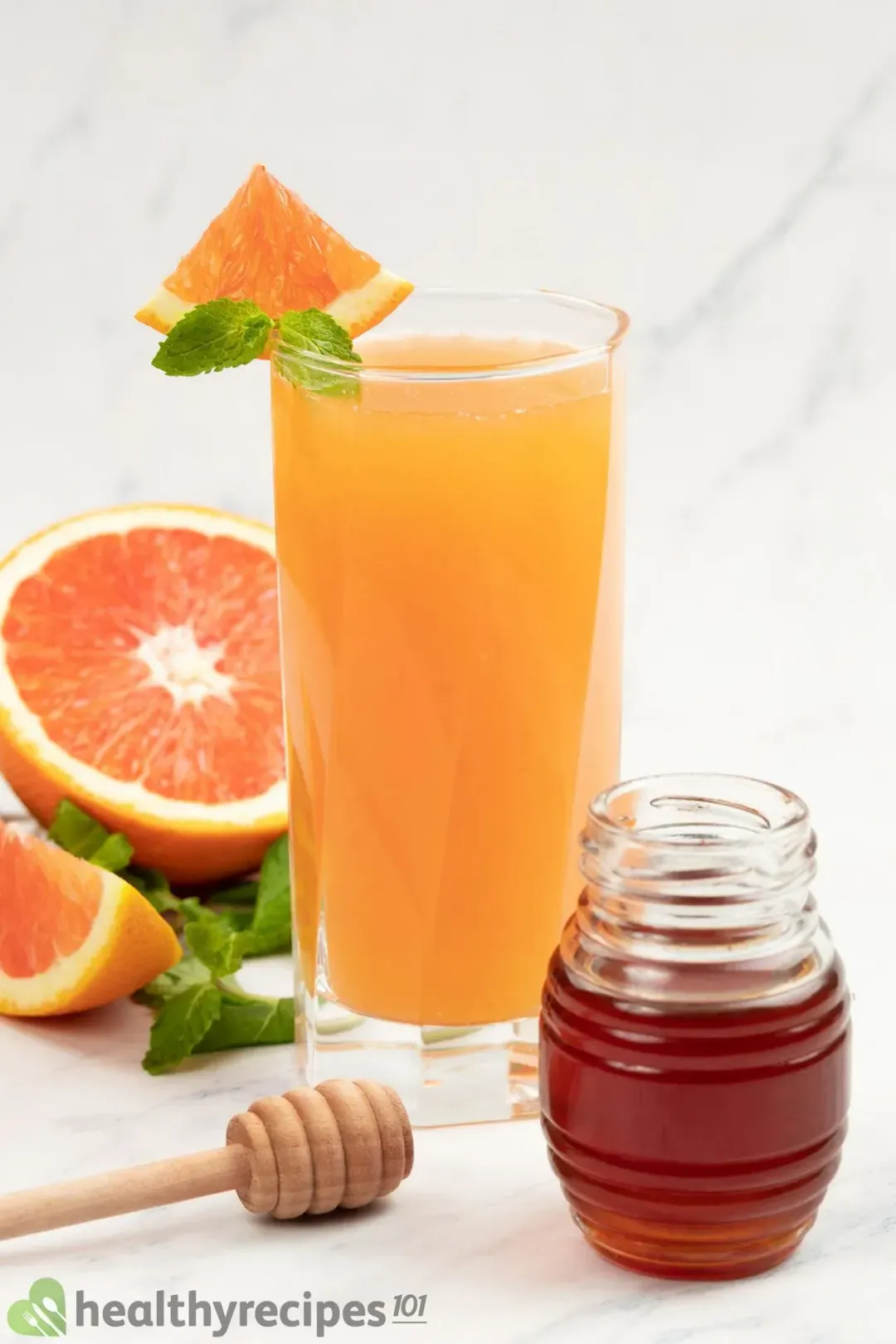 We also have a large collection of healthy juice recipes for your reference. Come check them out.
Apple Cider Vinegar Grapefruit Juice Honey
This apple cider vinegar grapefruit juice with honey recipe makes a simple, light beverage you can thoroughly enjoy — even without ice!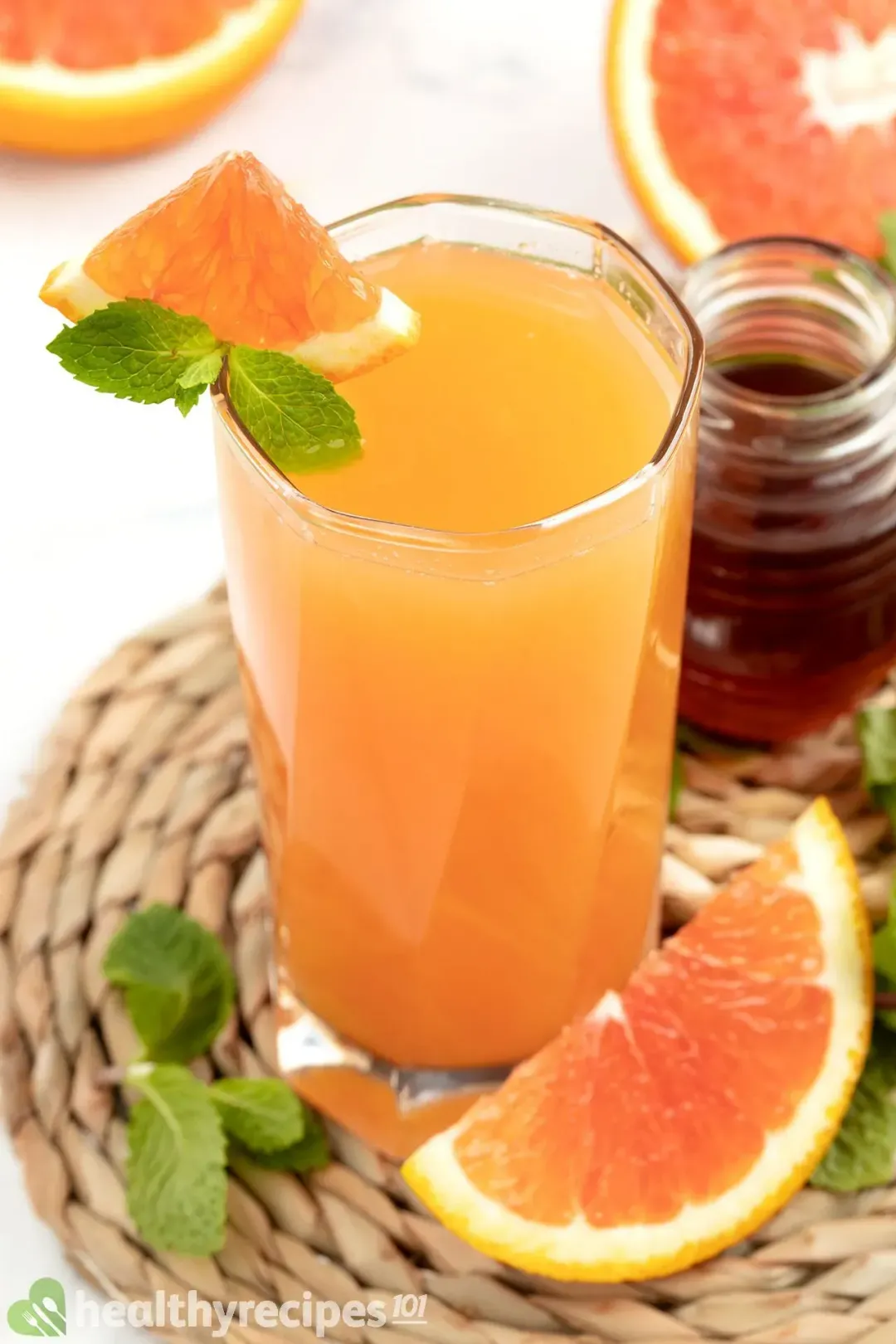 prep TIME

5 mins

total TIME

5 mins
COURSE

Beverage

CUISINE

Global

SERVINGS

CALORIES

55 kcal
INGREDIENTS
1 tbsp

apple cider vinegar

12 fl oz

grapefruit juice

2 tbsp

spearmint leaves

(fresh)
INSTRUCTIONS
1
Use a large wooden spoon to mix 12 fl oz grapefruit juice, 1 tbsp apple cider vinegar, 1 tbsp honey, 1 cup water, and 1/2 tbsp lemon juice in a large jar.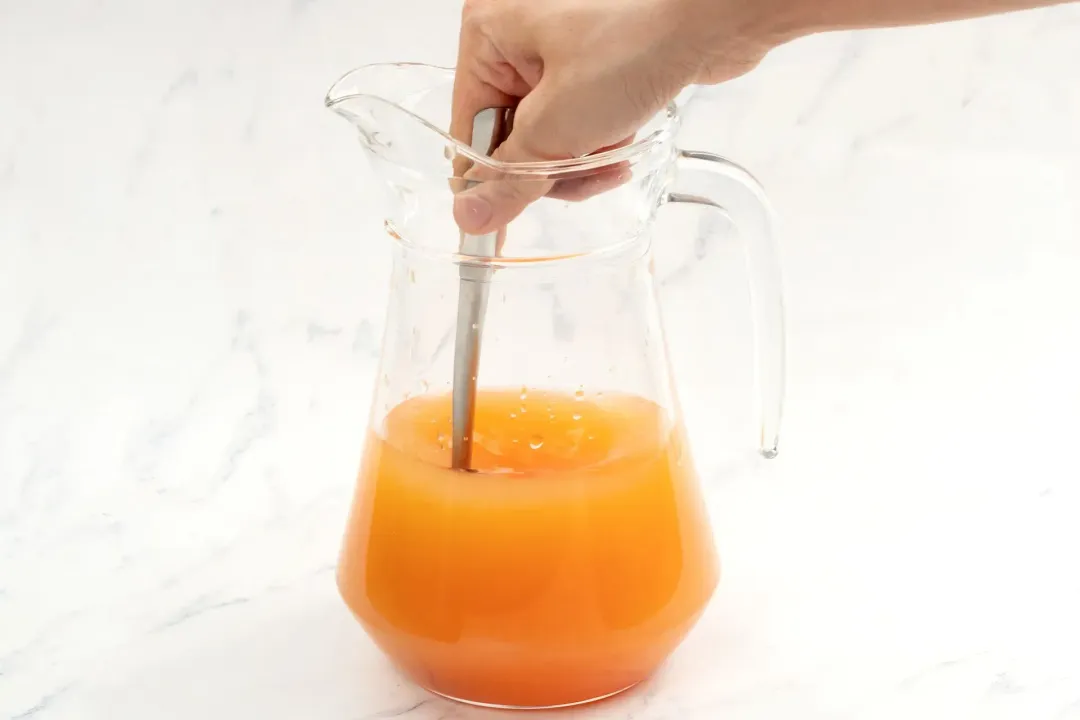 2
Pour into four glasses. Garnish with 2 tbsp spearmint leaves, fresh and serve.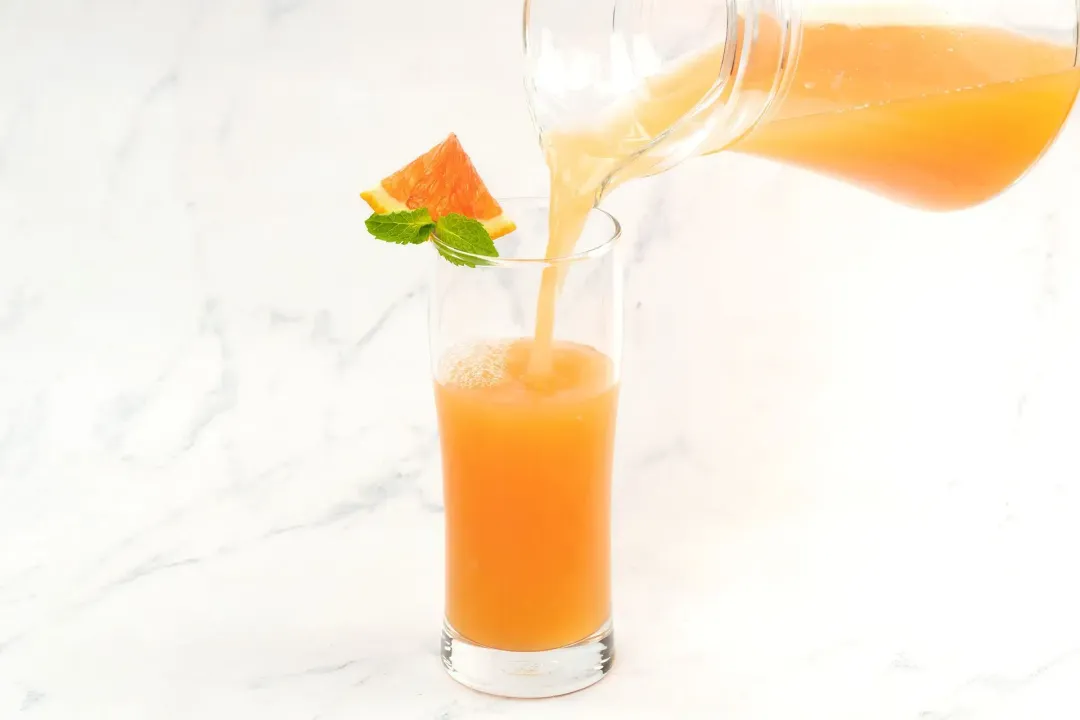 NUTRITION
Nutrition Facts
Apple Cider Vinegar Grapefruit Juice Honey
Amount Per Serving (1 serving)
Calories 55
% Daily Value*
* Percent Daily Values are based on a 2000 calorie diet.
Keywords: apple cider vinegar grapefruit juice and honey, apple cider vinegar grapefruit juice honey, apple cider vinegar grapefruit juice honey recipe, how to make apple cider vinegar grapefruit juice honey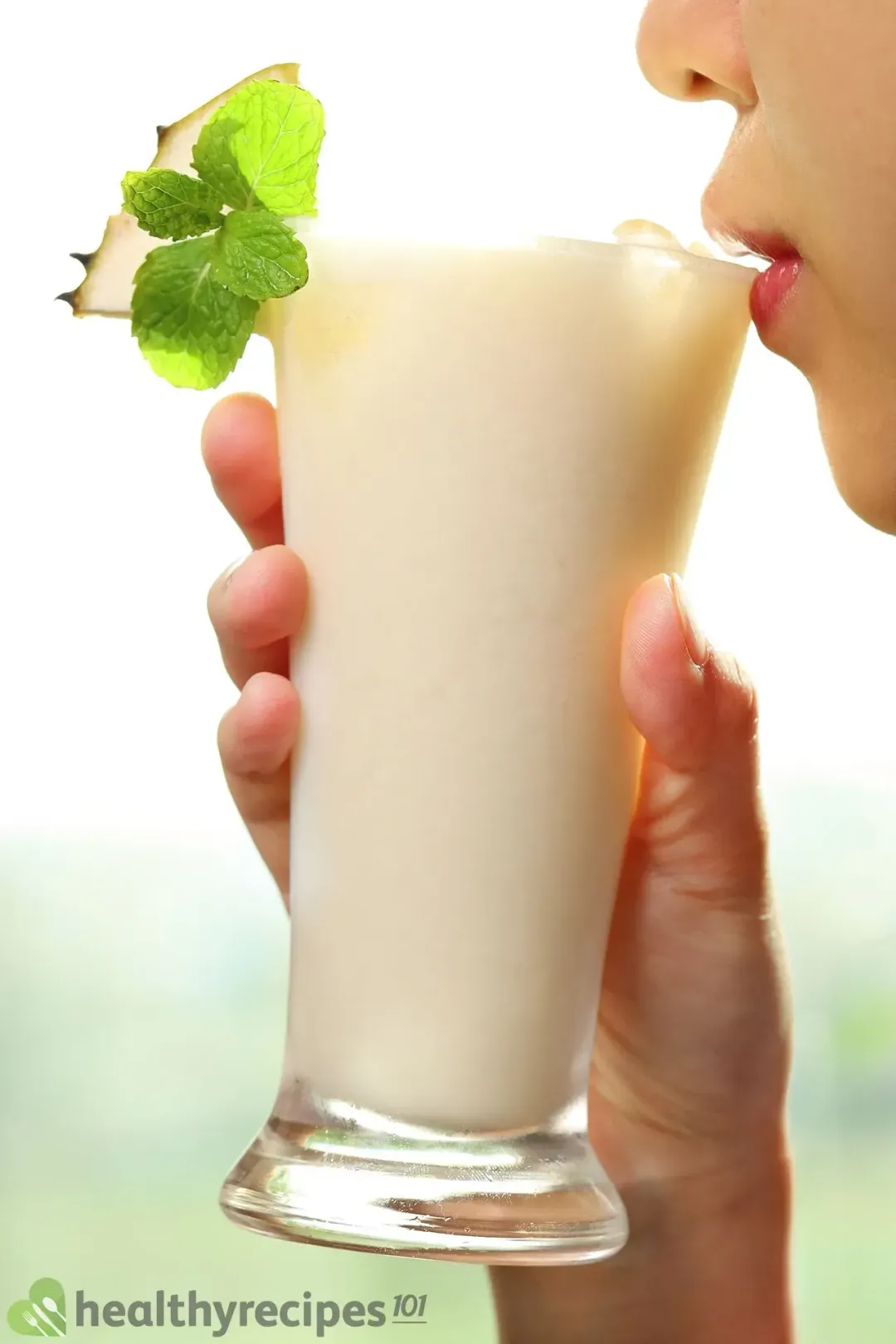 Previous Recipe
Soursop Juice
Soursop Juice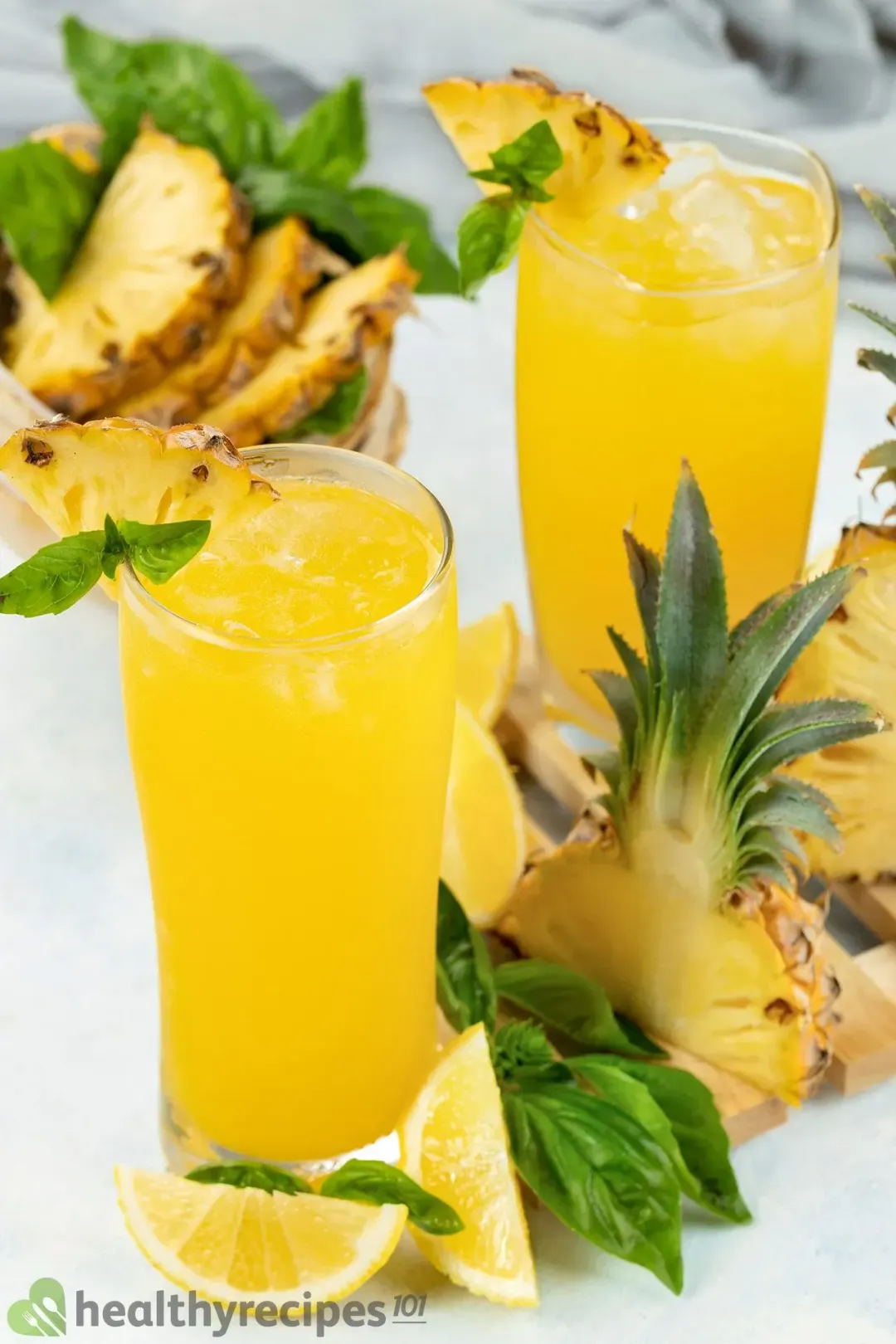 Next Recipe
Pineapple Lemonade
Pineapple Lemonade
I've been drinking this now for three days I've notice it makes me toot a lot is this normal

Vinegar may cause that in some people. So this may also be the case with you 🙂

This avc and grapefruit juice honey is a refreshing and healthy drink.