Trying to get creative with your diet? Our cucumber carrot juice recipe may be your inspiration.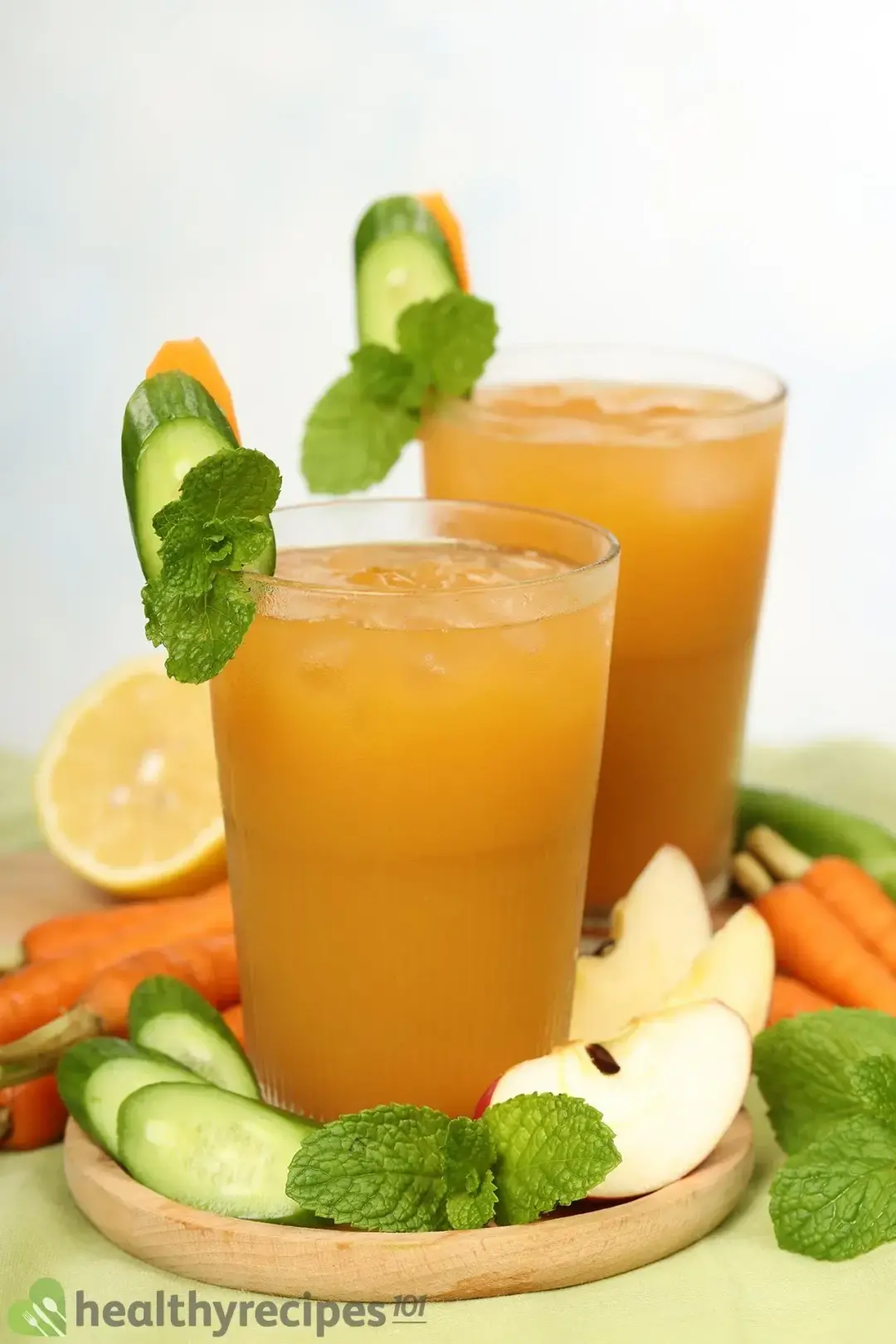 Is This Cucumber Carrot Juice Healthy?
Yes, our cucumber carrot juice is a healthy drink.
First of all, it contains tons of nutrients from not just cucumber and carrot, but also apples, ginger, and lemon juice. There are B vitamins, anti-inflammatory antioxidants (vitamins C & A), calcium, iron, potassium, and magnesium, to name a few.
All of these nutrients come with only 85 calories, 13 of which come from 1 tbsp of granulated sugar. We believe this is a moderate amount, only 7.5% of the USDA's recommended upper limit for a 2000-calorie diet (50 g per day).
If you prefer your drink unsweetened, we have no objection to leaving the sugar out.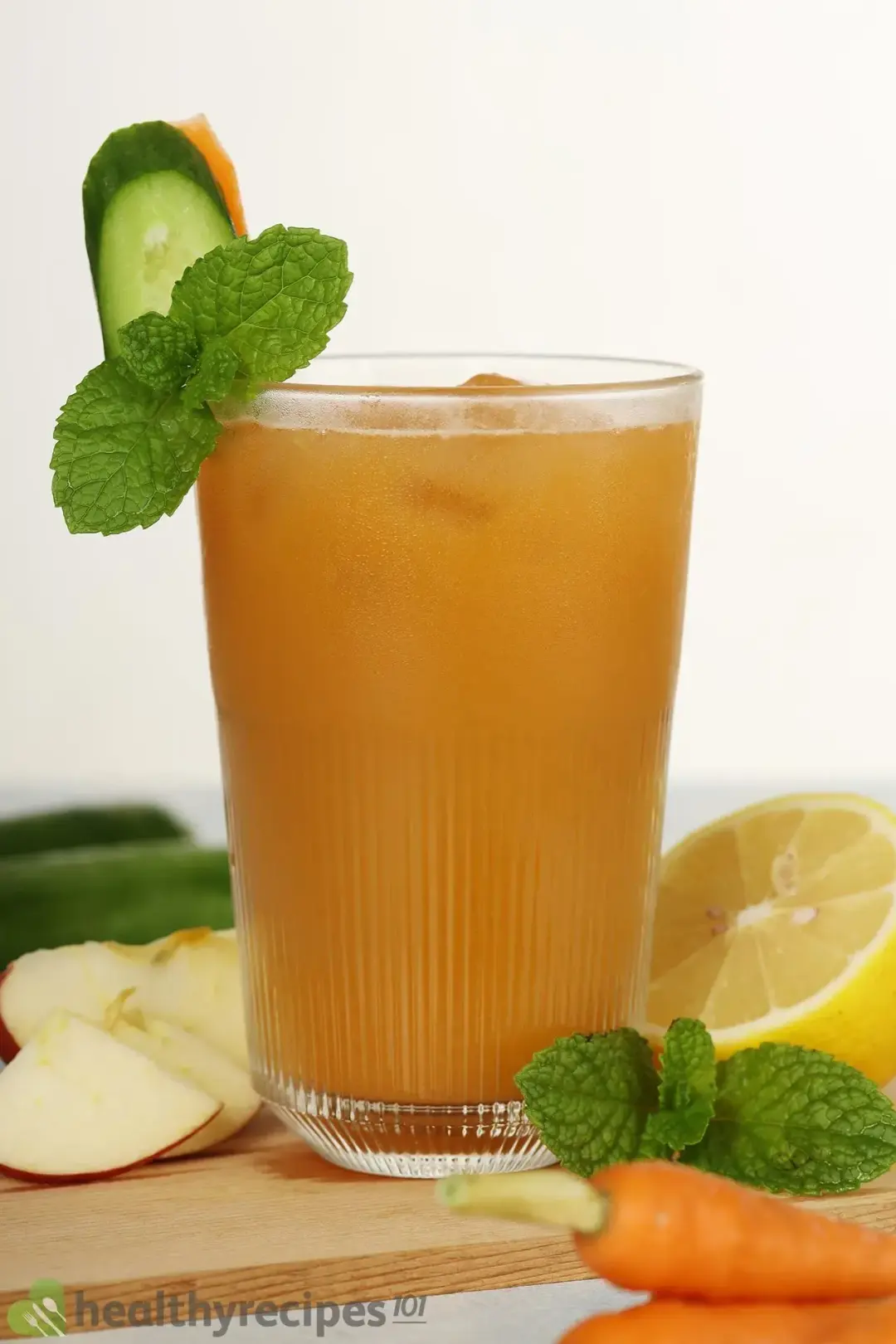 Can I Drink Cucumber Carrot Juice Every Day?
As long as you take calorie and added sugar intake into consideration, we believe it's safe to include this drink every day as part of a healthy diet. Drinking this juice can help you meet your daily intake of fruits and vegetables.
Ingredients for Cucumber Carrot Juice
For this cucumber carrot juice recipe, you'll need said vegetables, apples, lemons, ginger, mint, sugar, and ice, if you wish to serve it cold.
For juice-making, you can use both fresh and frozen produce. Our two main ingredients — carrot and cucumber — may not stay crunchy once thawed, but they will release even more juice than when fresh.
Still, don't force your machine to juice a large chunk of frozen carrot or it will get stuck. Size matters.
To keep things as pure as possible, we use sweet apple breeds to reduce the need for sugar. Fuji, Ambrosia, Kiku, Gala, Honeycrisp, or Red Delicious are among the popular ones.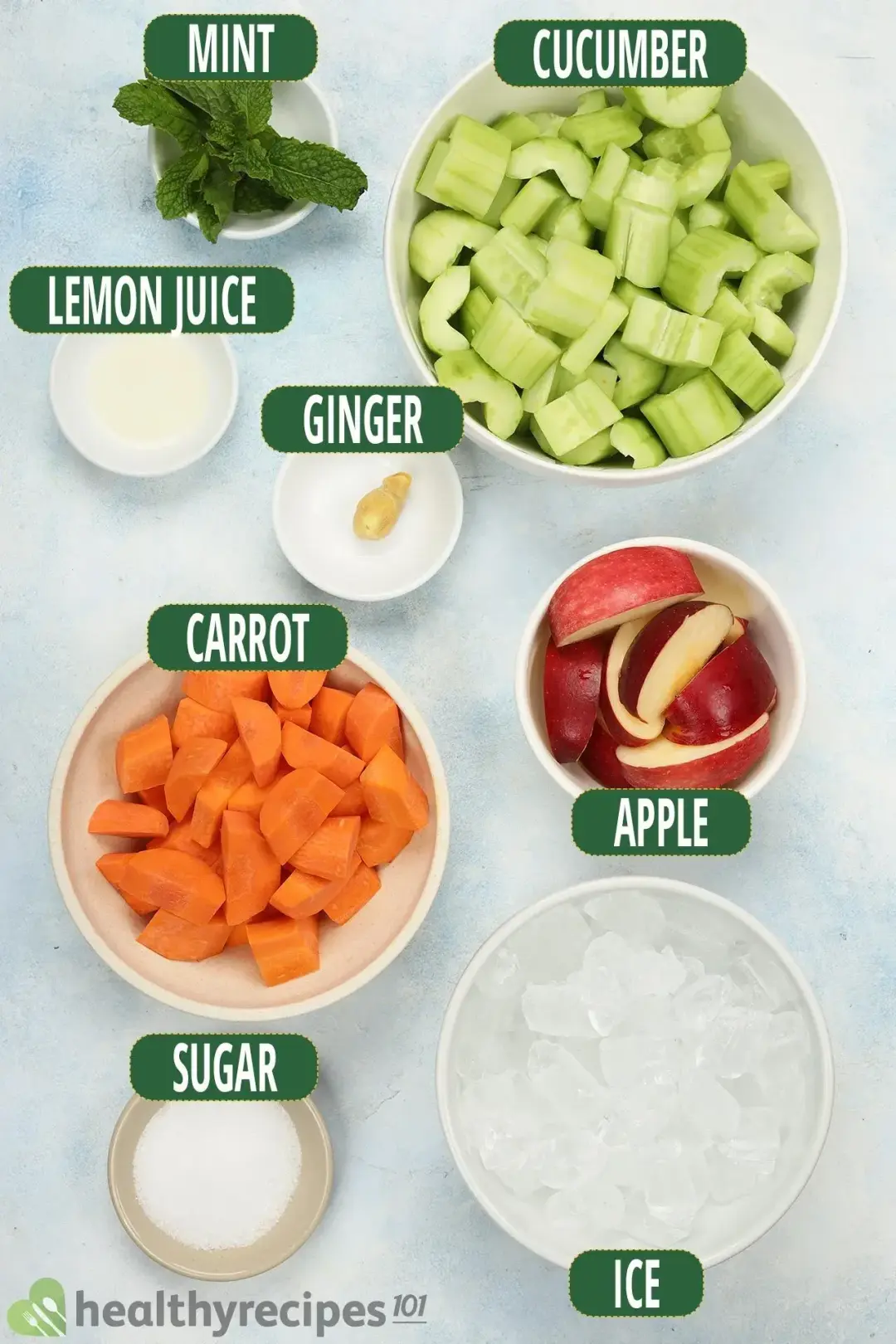 Ginger juices pretty much like all other fruits and veg. Simply scrape its peel away with an eating spoon, cut it into the suggested amount, and run it through the juicer along with other ingredients. This method, however, only applies to juicers with strong motors.
If yours is a masticating juicer, chances are the machine won't be able to handle the tough, fibrous texture of ginger. It's a better idea to grate your ginger separately, measure out the suggested amount, and add it to your drink later.
Mint leaves, when juiced alone, won't release much juice. You may want to add them along with the apples or cucumber, so their essence can dissolve into the liquid from other produce.
Do I Need to Peel Cucumber Before Juicing?
For this cucumber carrot juice recipe, we leave the peel out to keep most of the carrot's vibrant color. We also keep the peel of the Gala apples — they tend to deepen the orange hue.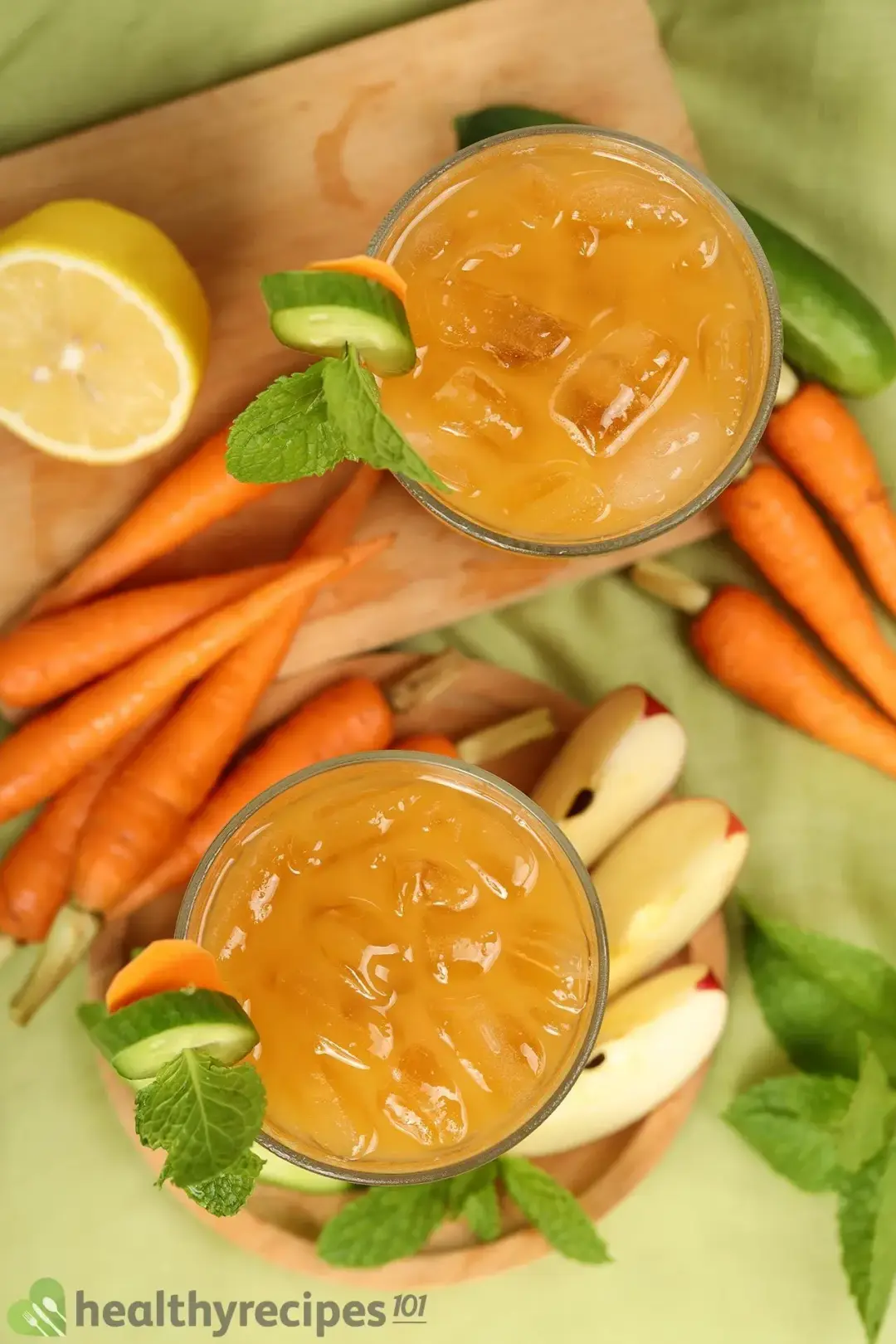 How to Make a Cucumber Carrot Juice
Once you've gathered the cucumber, carrot, apple, ginger, and mint, run all through the juicer. Add the mint leaves in between the other ingredients, and if your machine can't juice ginger, grate it instead. Stir in lemon juice and sugar, and enjoy as-is, chilled, or with ice.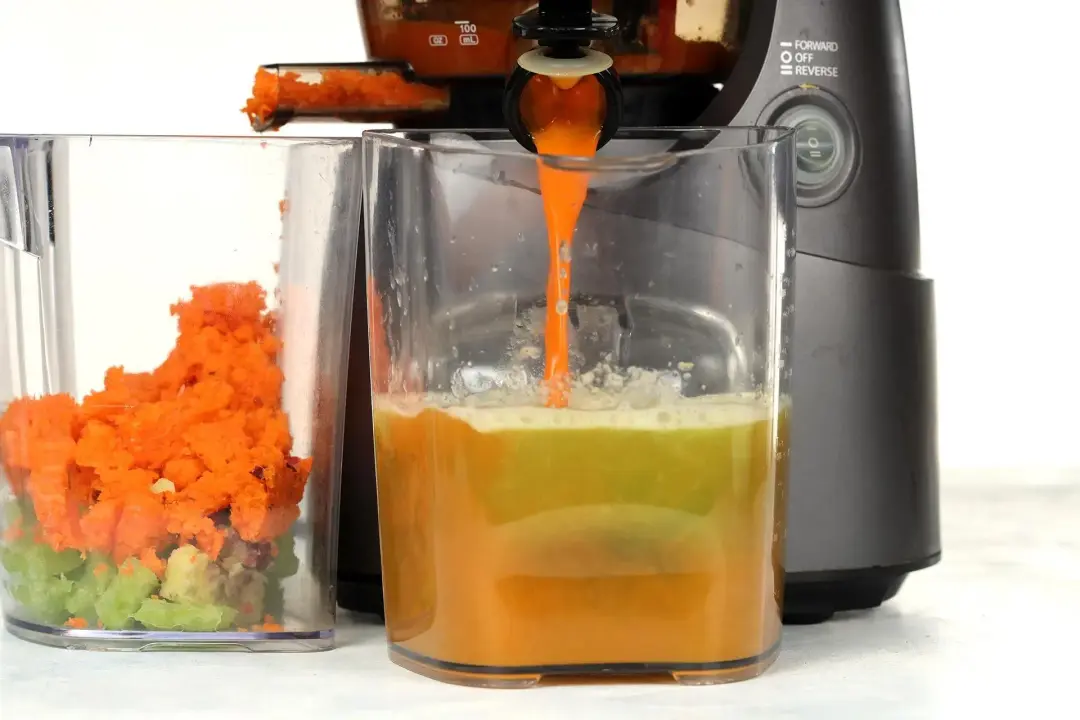 Run all through the juicer.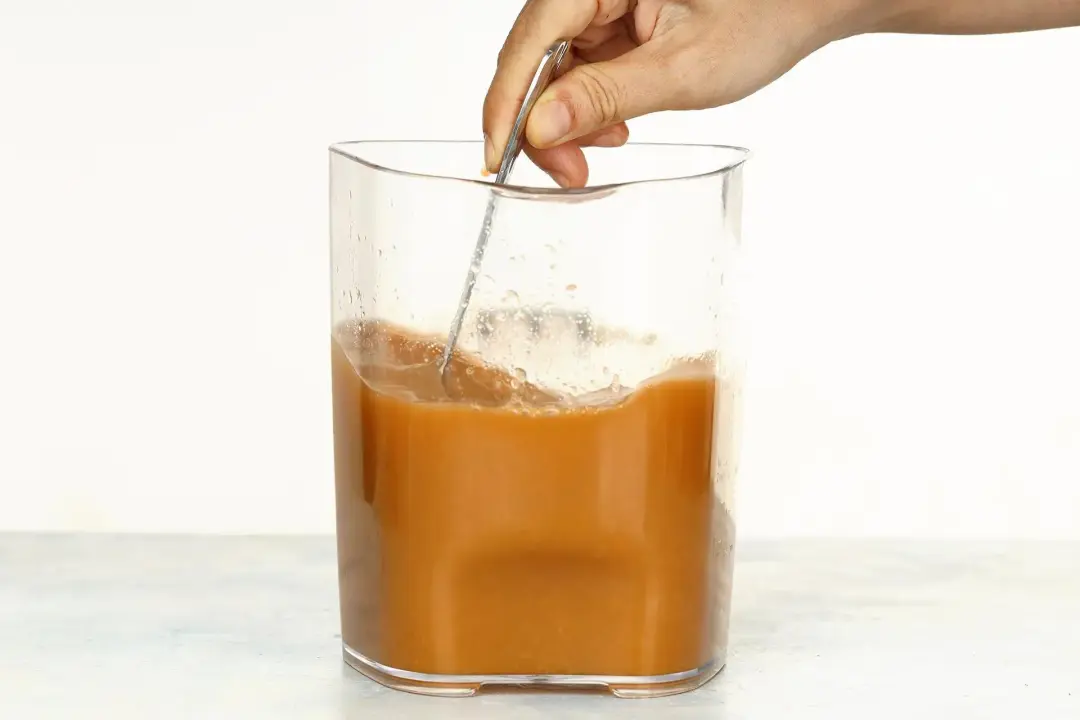 Pour into serving glasses.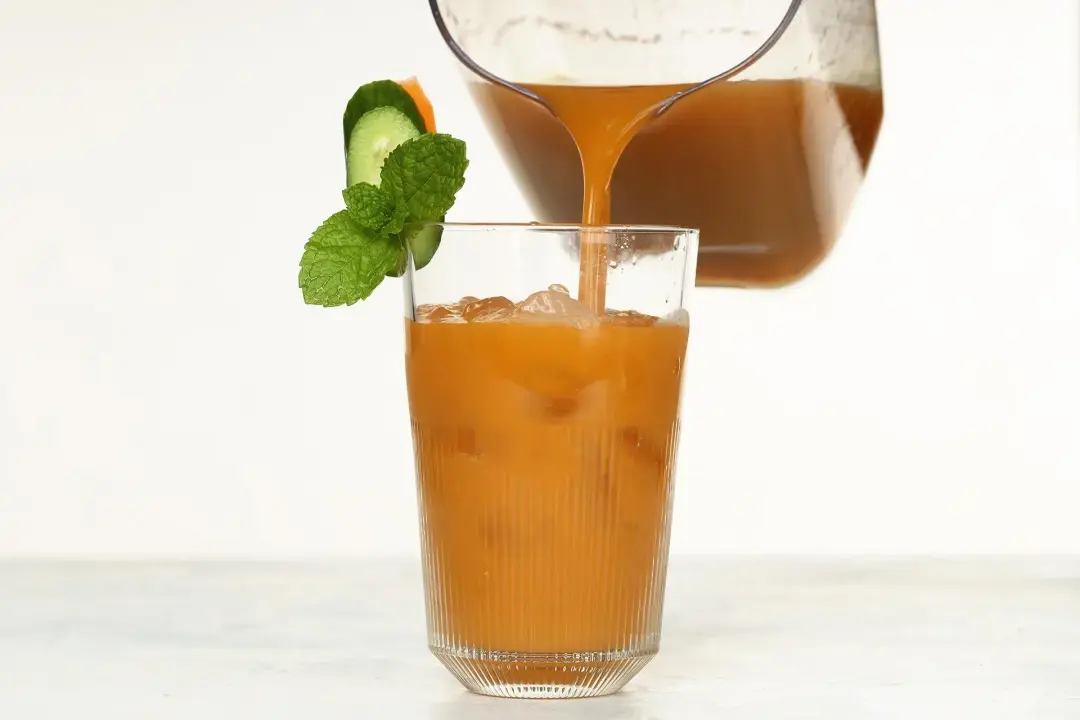 Garnish and serve with ice
Measurements are available in our 'Cucumber Carrot Juice Recipe' card at the end of this article.
Storage and Freezing the Leftover This Juice
You can store this drink in the fridge for up to 2 days, or the freezer for up to 3 months.
For short-term storage, place all into a large pitcher or bottle. When you're thirsty for a refreshing drink, simply pour out the portion you want and be sure to consume all within the suggested time frame.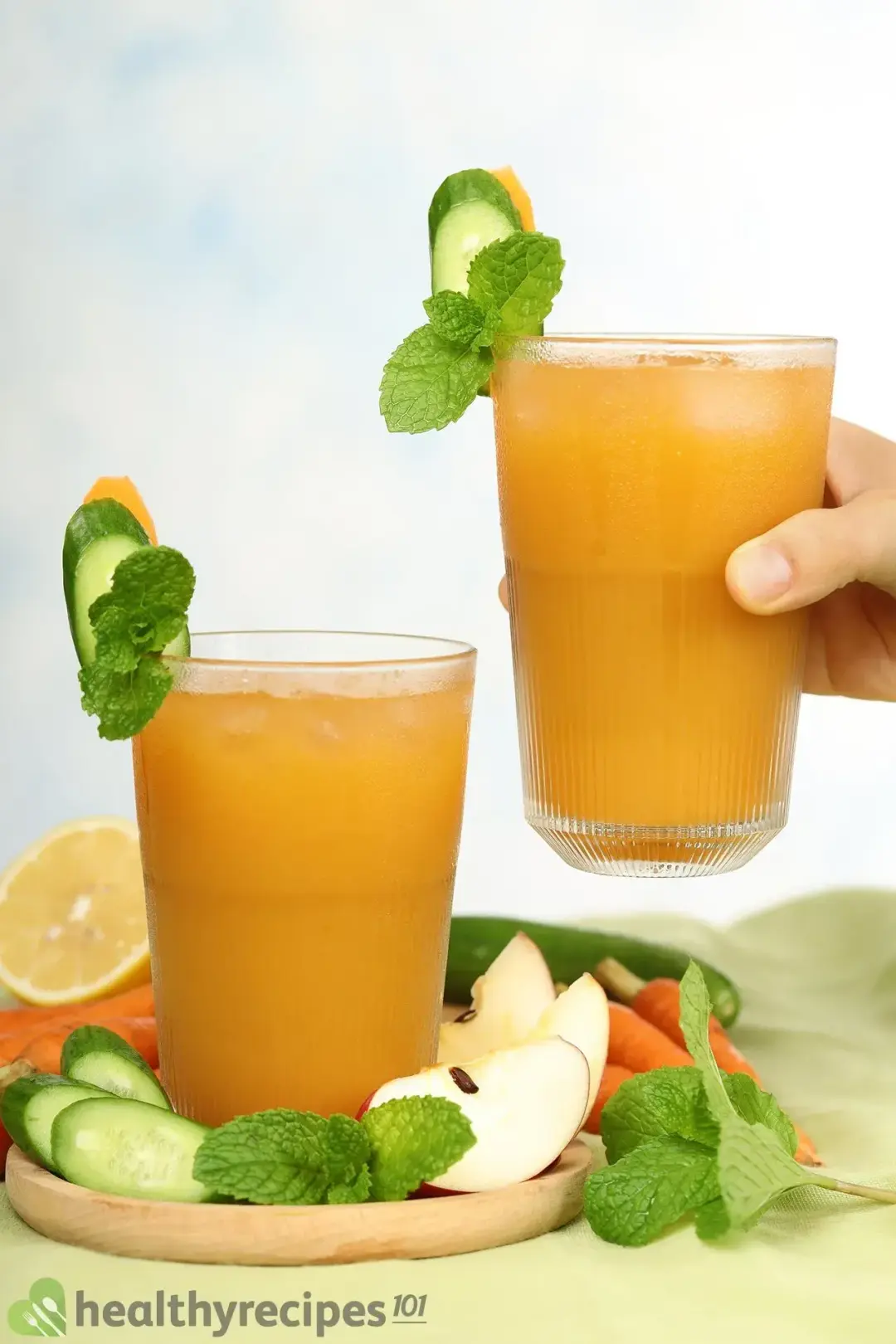 For long-term storage, portion the drink into small Ziploc bags, seal tightly, and stack in the freezer. Move a portion to the fridge to thaw overnight, and you'll have a cool drink in the morning.
Cucumber Carrot Juice Recipe
This cucumber carrot juice recipe takes you only minutes, returning a nutritious, refreshing drink with a handsome flavor profile.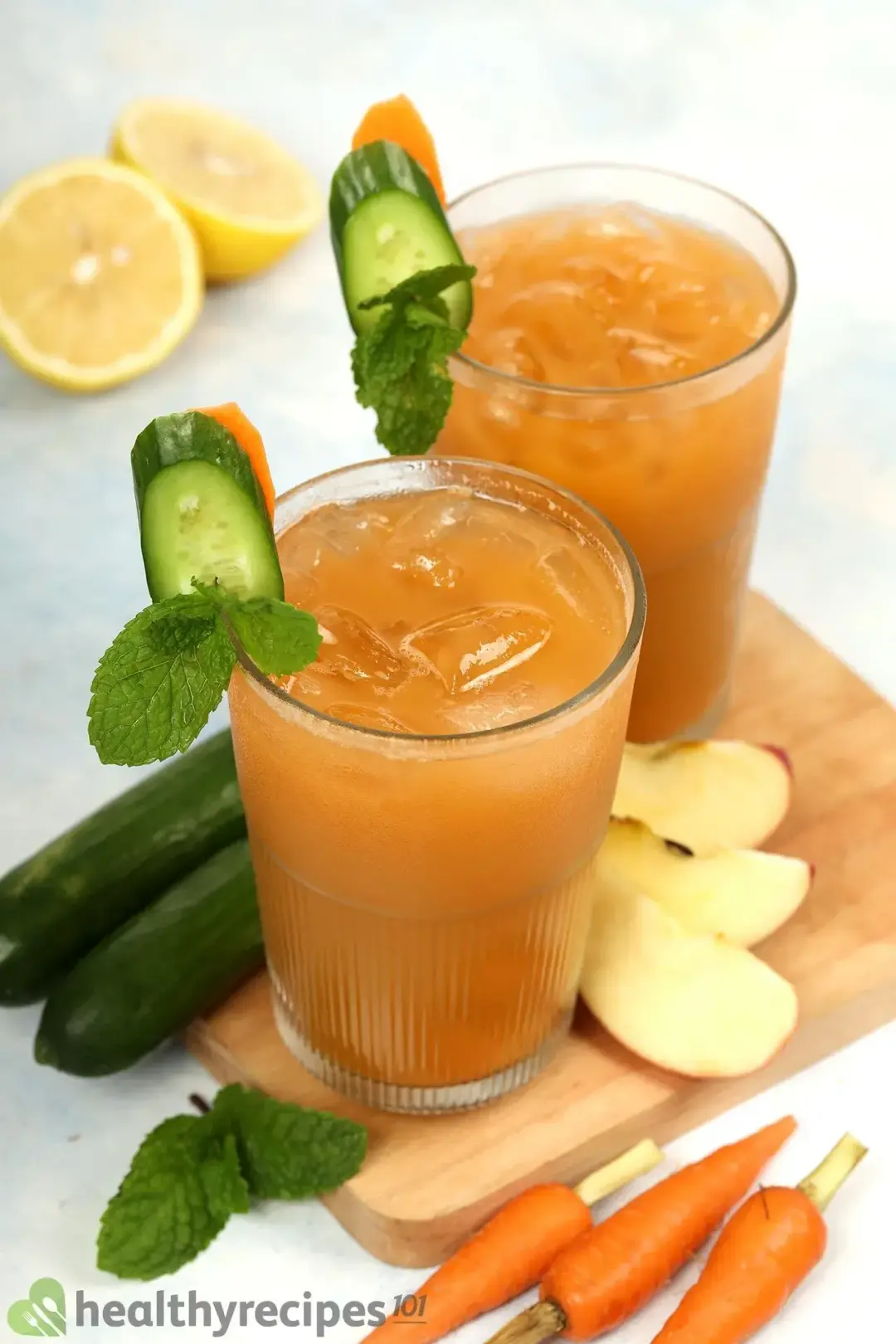 prep TIME

7 mins

total TIME

7 mins
COURSE

Beverage

CUISINE

Global

SERVINGS

servings

CALORIES

85 kcal
INGREDIENTS
20 oz

cucumbers peeled (optional) and cut into chunks

10 oz

carrots peeled and cut into chunks

6 oz

red apples deseeded and cut into wedges

8

mint leaves

1 tsp

ginger from an 0.5-oz knob

1 tsp

lemon juice

1 tbsp

sugar

2 cups

ice
INSTRUCTIONS
1
Run 20 oz cucumbers, 10 oz carrots, 6 oz apples, 8 mint leaves, and 0.5 oz ginger through the juicer. Grate the ginger instead, if your machine can't juice it.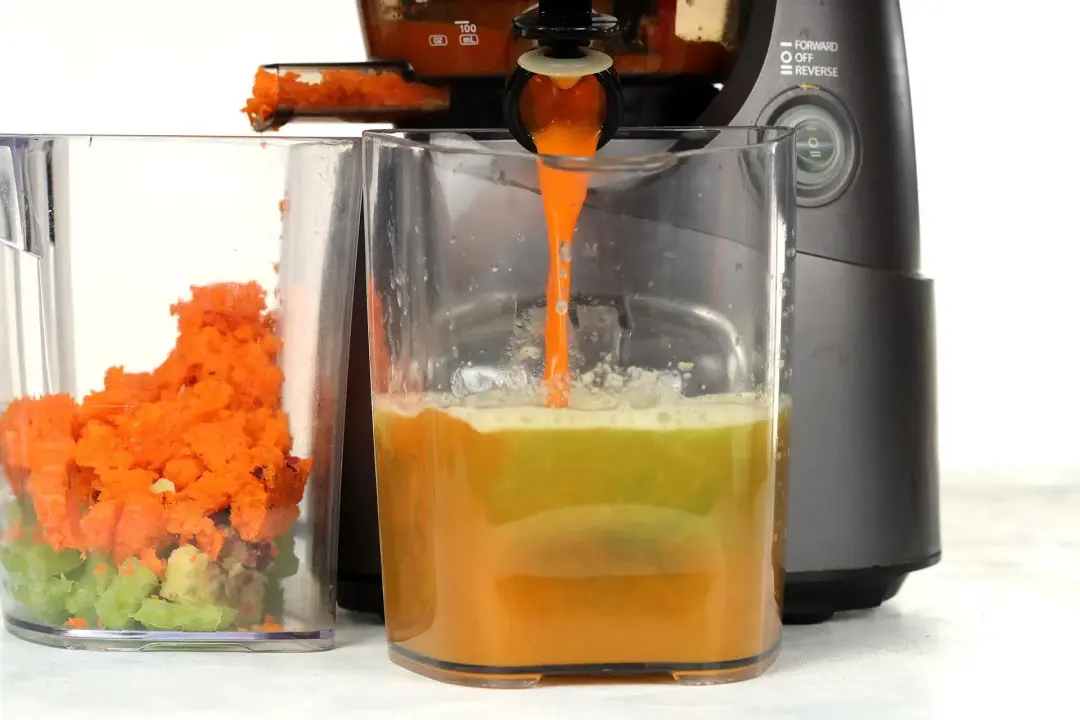 2
Stir in 1 tsp lemon juice and 1 tbsp sugar until all is dissolved.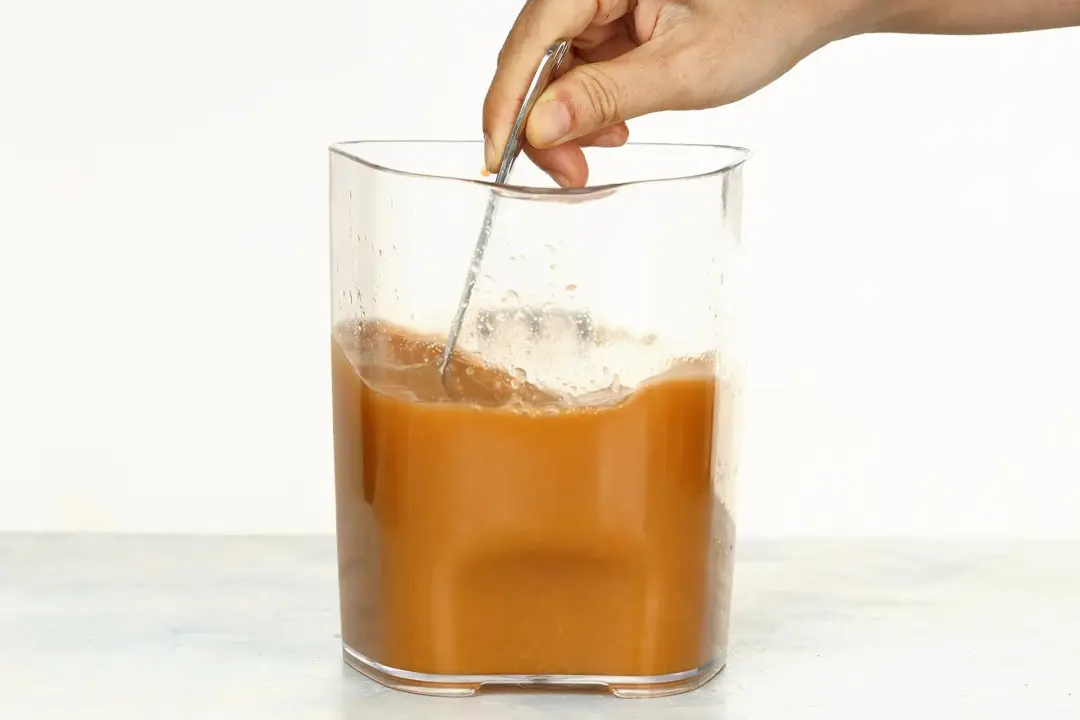 3
Garnish and serve with ice.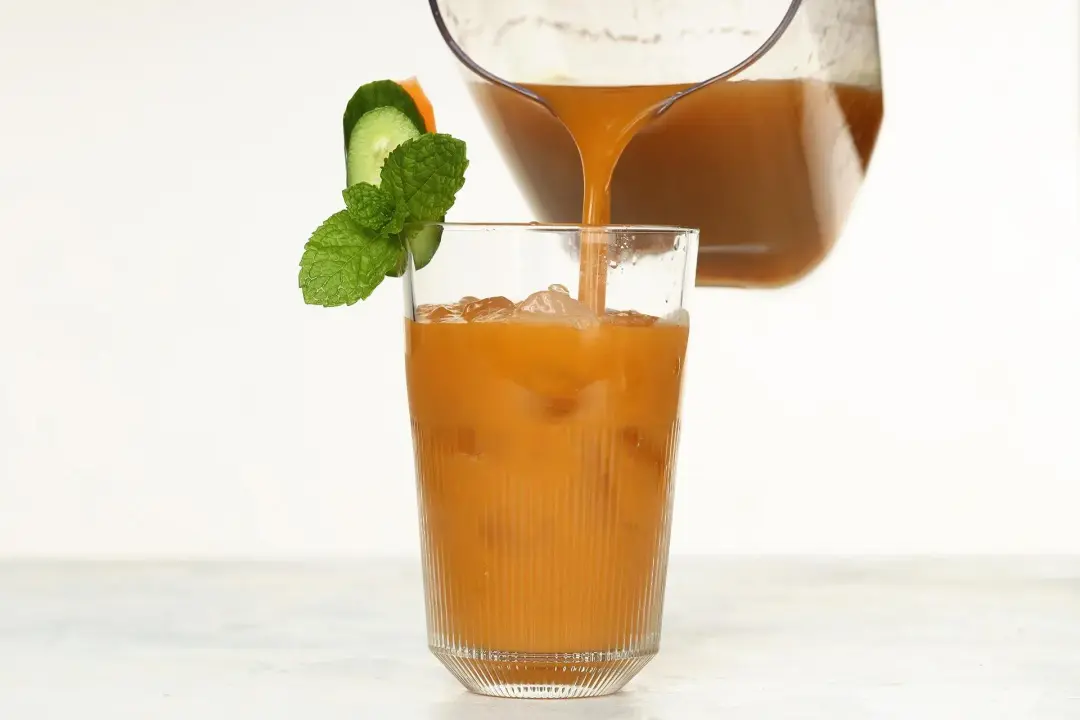 NUTRITION
Nutrition Facts
Cucumber Carrot Juice Recipe
Amount Per Serving (1 serving)
Calories 85
Calories from FDA
% Daily Value*
* Percent Daily Values are based on a 2000 calorie diet.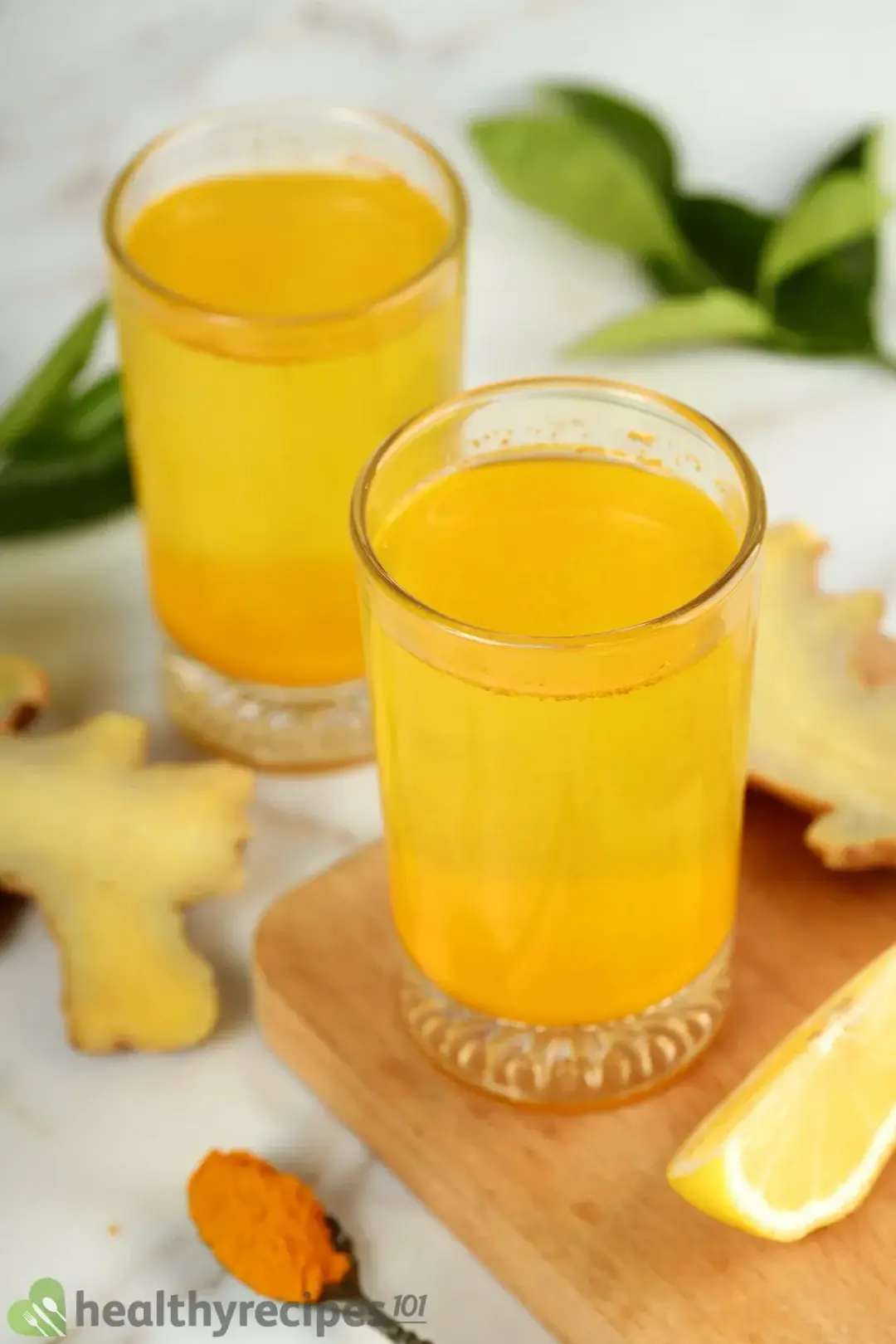 Previous Recipe
Turmeric And Ginger Juice
Turmeric And Ginger Juice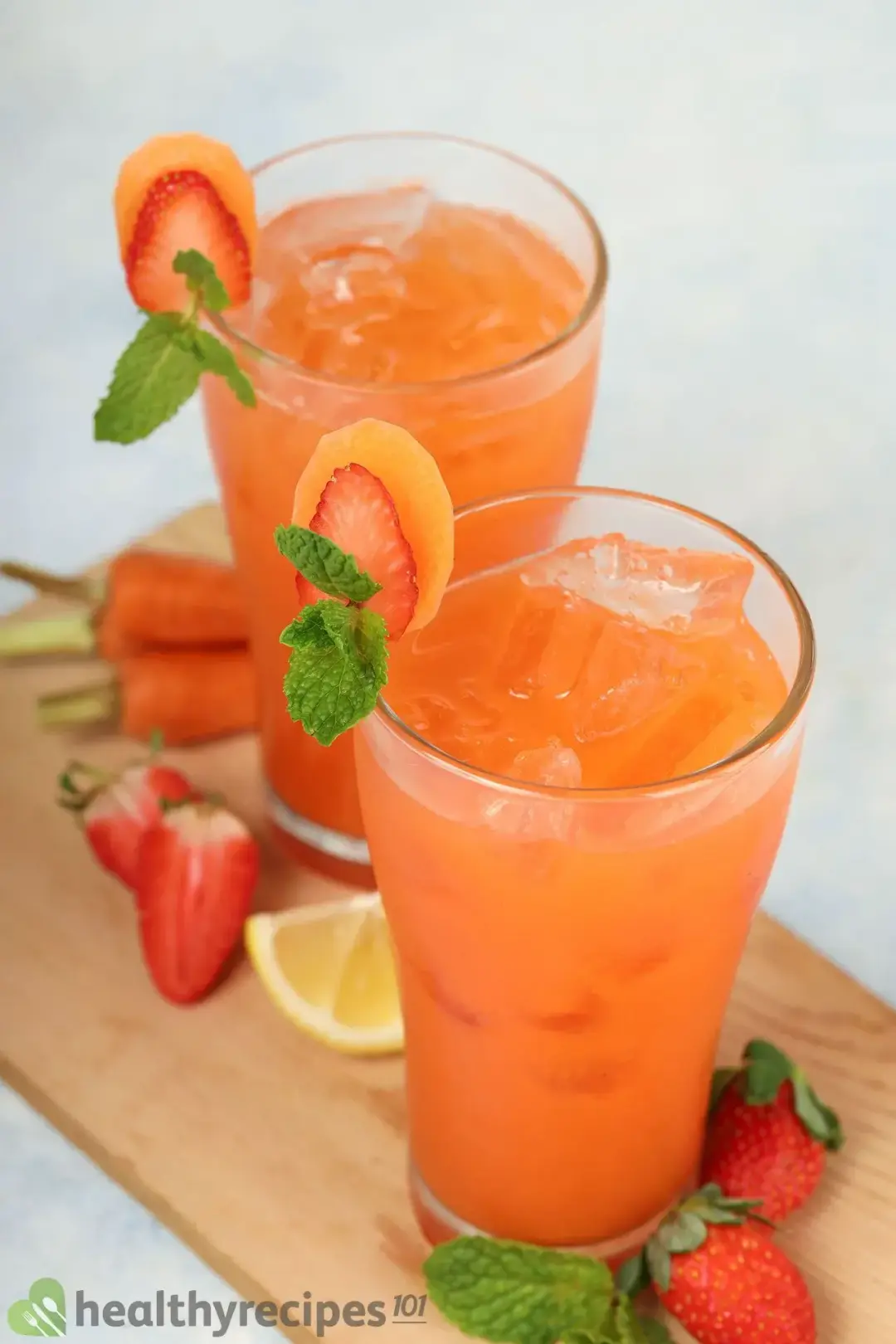 Next Recipe
Strawberry Carrot Juice
Strawberry Carrot Juice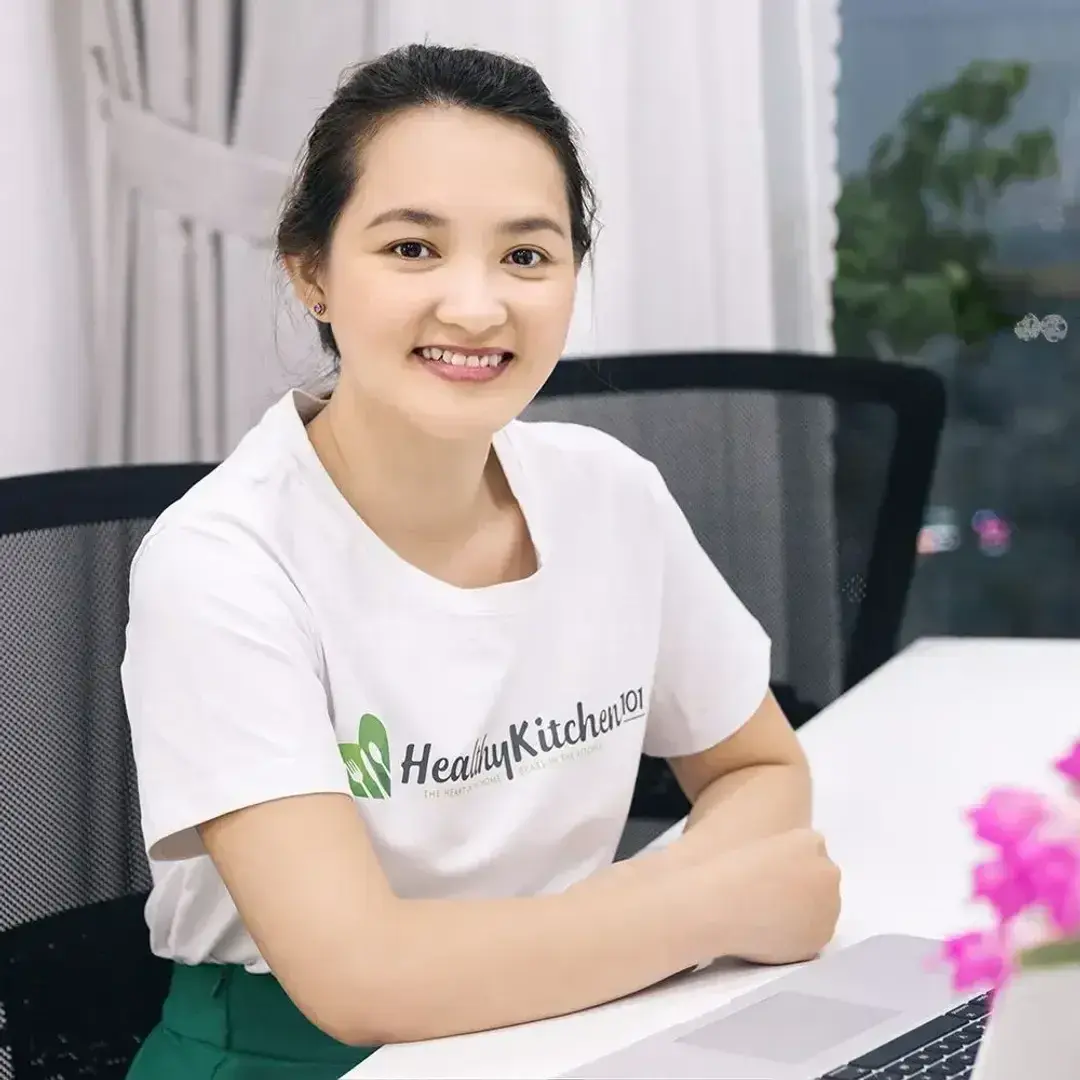 Luna Regina
Luna is the founder and chief recipe developer of Healthy Recipes 101. Apart from cooking, she also loves reading, programming, exploring the outdoors, and collecting useless facts about everything.