Our turmeric and ginger juice recipe is a health boost elixir with potent benefits.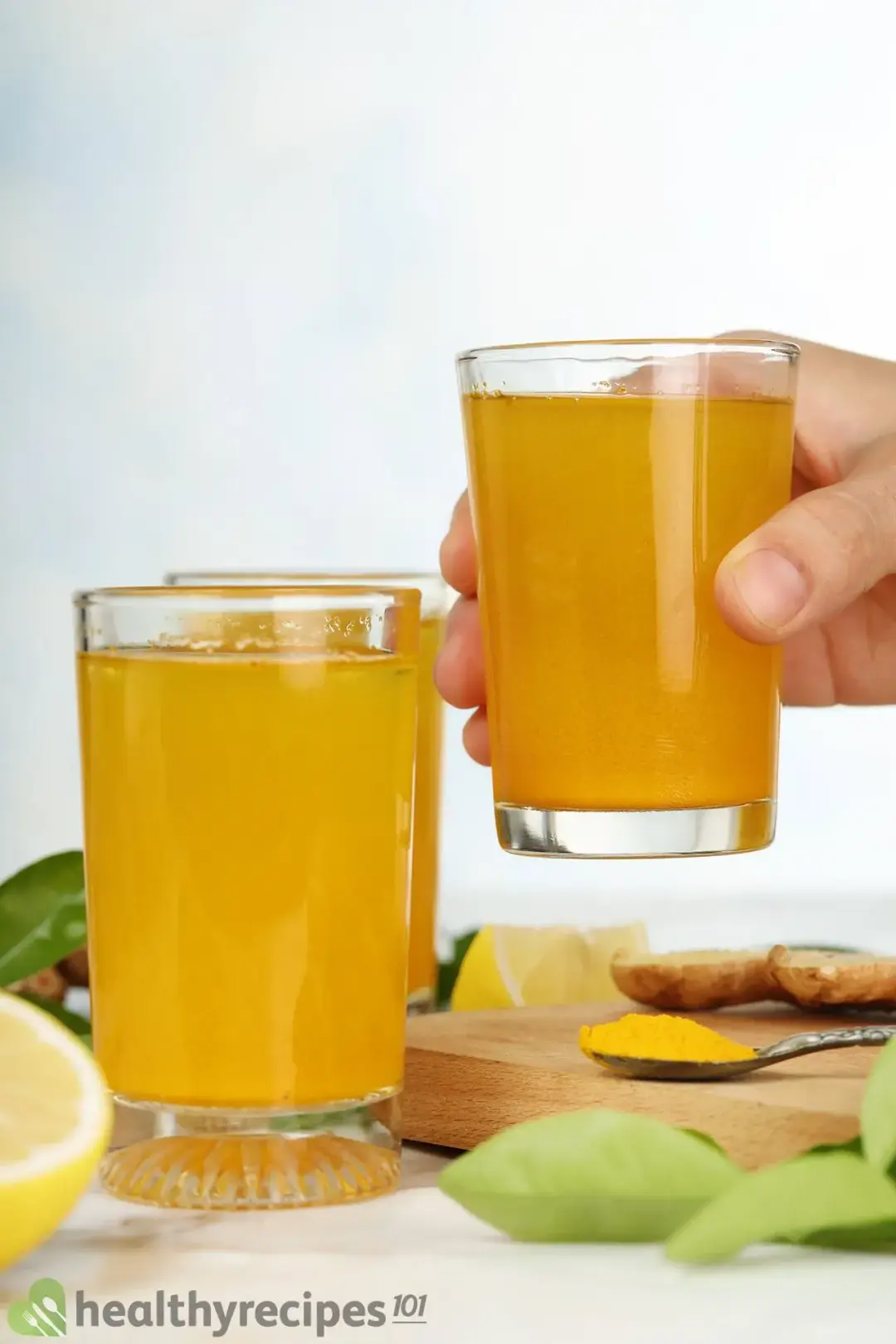 Turmeric and ginger have long been therapeutic ingredients and used in many home remedies. They possess impressive benefits and lower the risk of several diseases, including cardiovascular and even cancer.
Still, besides cooking, there aren't many ways to incorporate these ingredients into your diet. If you simply want a quick, tasty way to harvest their benefits, this recipe of ours may be just what you're looking for.
What Does Turmeric Taste Like?
Fresh turmeric tastes quite citrusy and bitter, but not as bitter as its powdered counterpart. To make it easier to eat or drink, it's often combined with other strong flavors.
Although this root doesn't possess a pleasant taste, people would still drink turmeric juice to harvest its powerful health benefits.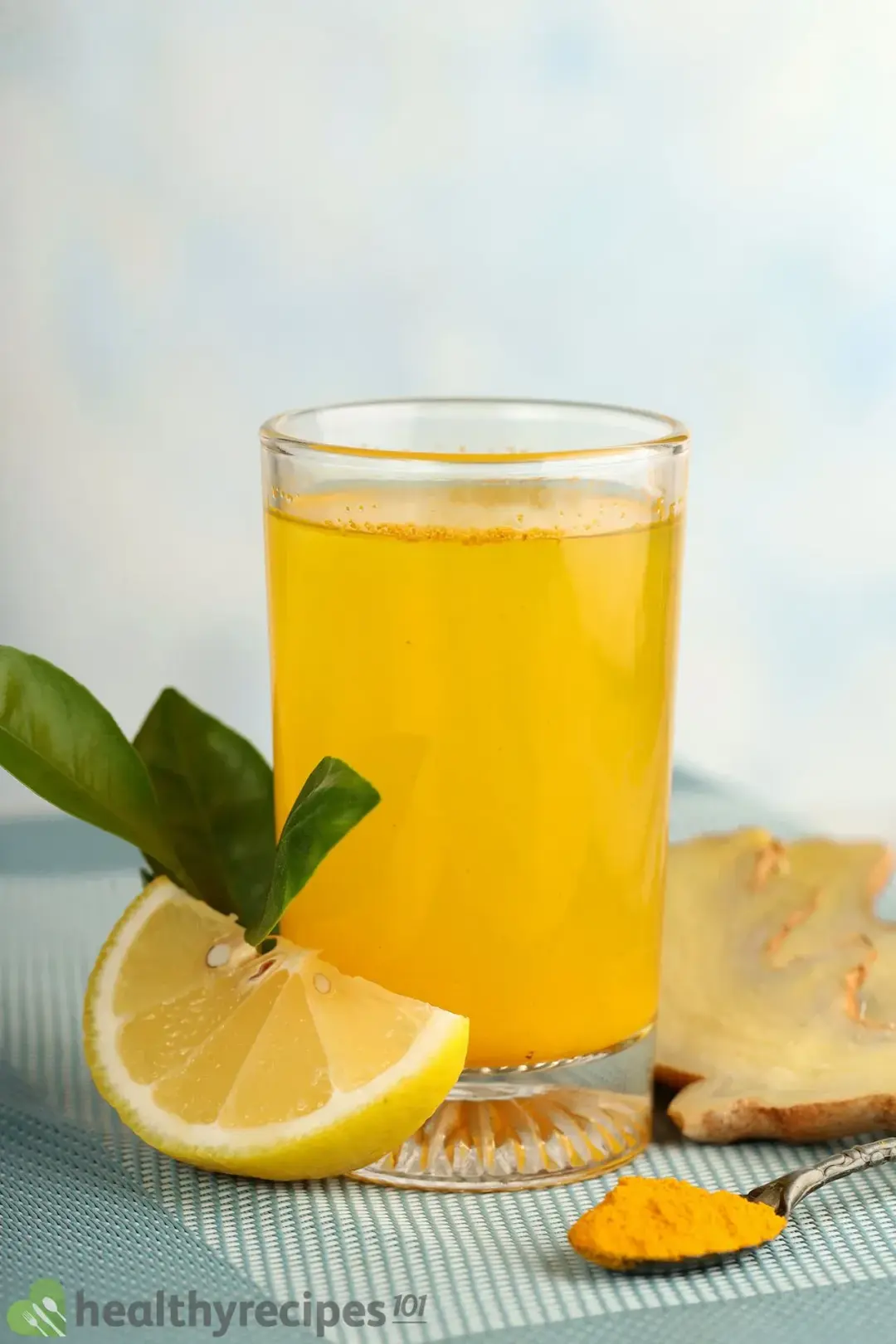 Benefits of Turmeric Ginger Juice
Turmeric's most important constituent is curcumin, a powerful antioxidant that can fight inflammation and reduce oxidative damage. This means that it can reduce the risks of several diseases, such as heart disease, cancer, Alzheimer's disease, and many others. Research also shows that curcumin is beneficial in the treatment of cancer and heart diseases.
Still, the amount of curcumin in fresh turmeric is only 3% by weight, quite insignificant compared to what's used in research. Instead of using fresh or ground turmeric, we use a turmeric concentration that's 95% curcuminoids by weight. This may not mean that the product is 95% curcumin, but it's much higher than fresh or ground turmeric.
Since curcumin is fat-soluble, it's suggested that you take this drink along with meals that contain fat.
Our drink also has plenty of antioxidants from the ginger, especially gingerol. Besides the mentioned benefits of antioxidants, gingerol can calm the body and treat nausea.
For flavor, we mix some lemon juice and honey into this drink. The citrus provides vitamin C and honey contains trace amounts of minerals, such as potassium, phosphorus, magnesium, and many more.
Honey, however, counts as added sugar, and the USDA's recommended upper limit for a 2000-calorie diet is 50g. Each serving of our drink contains just 11g, which is 22% of this limit.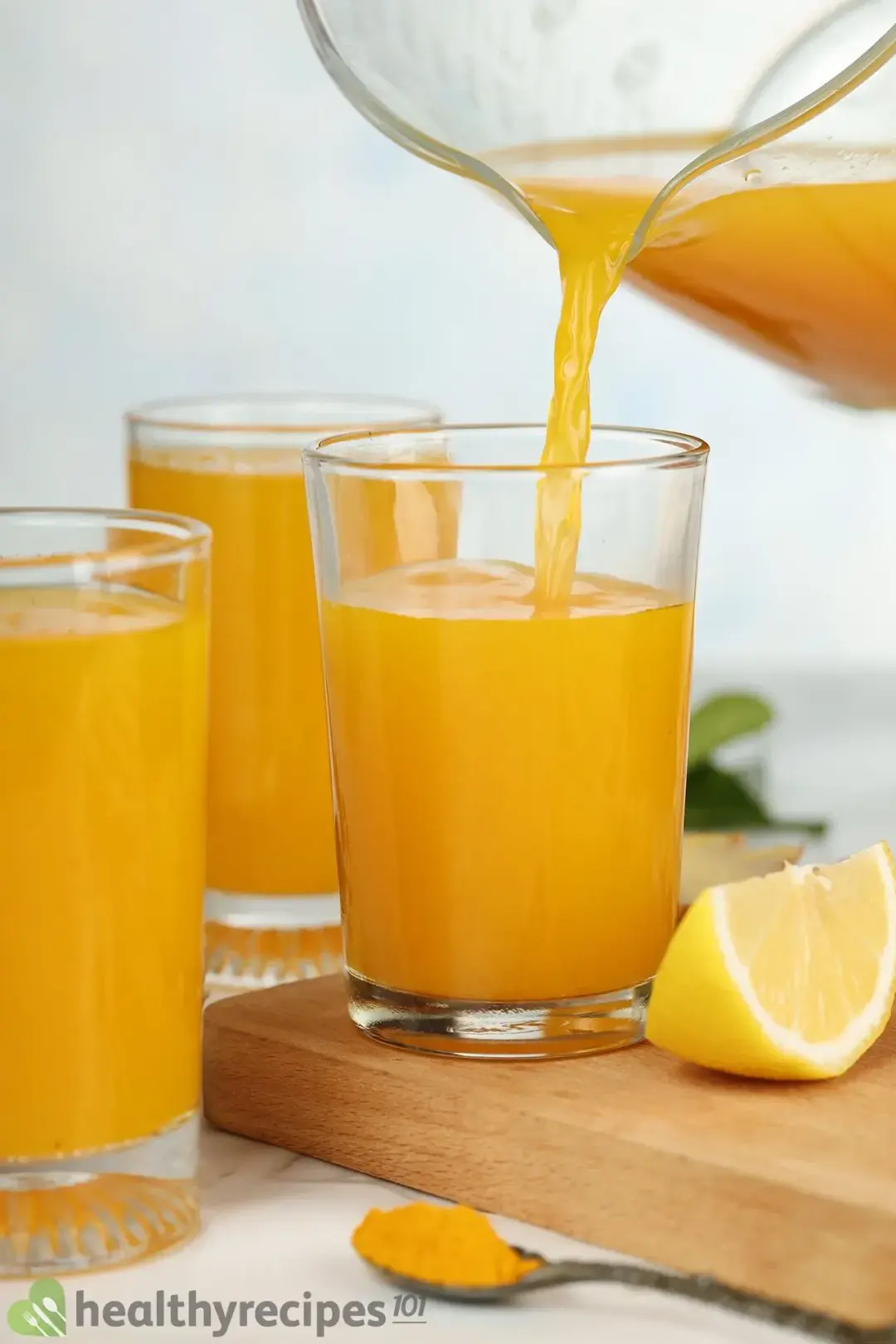 Ingredients for Turmeric Ginger Juice
Our turmeric ginger juice recipe calls for only five ingredients: turmeric concentrate, fresh ginger, warm water, honey, and lemon juice:
We are using this product, which claims to be 95% in curcumin. It is different in nutritional value from ground turmeric used in cooking.
To collect the ginger juice, place a whole knob of ginger in your juicer. If you don't have one, consider blending your ginger with warm water, then run the mixture through a sieve. Or simply, grate your ginger, if you don't mind the texture.
We don't recommend using ground ginger either — it may not taste as good as fresh.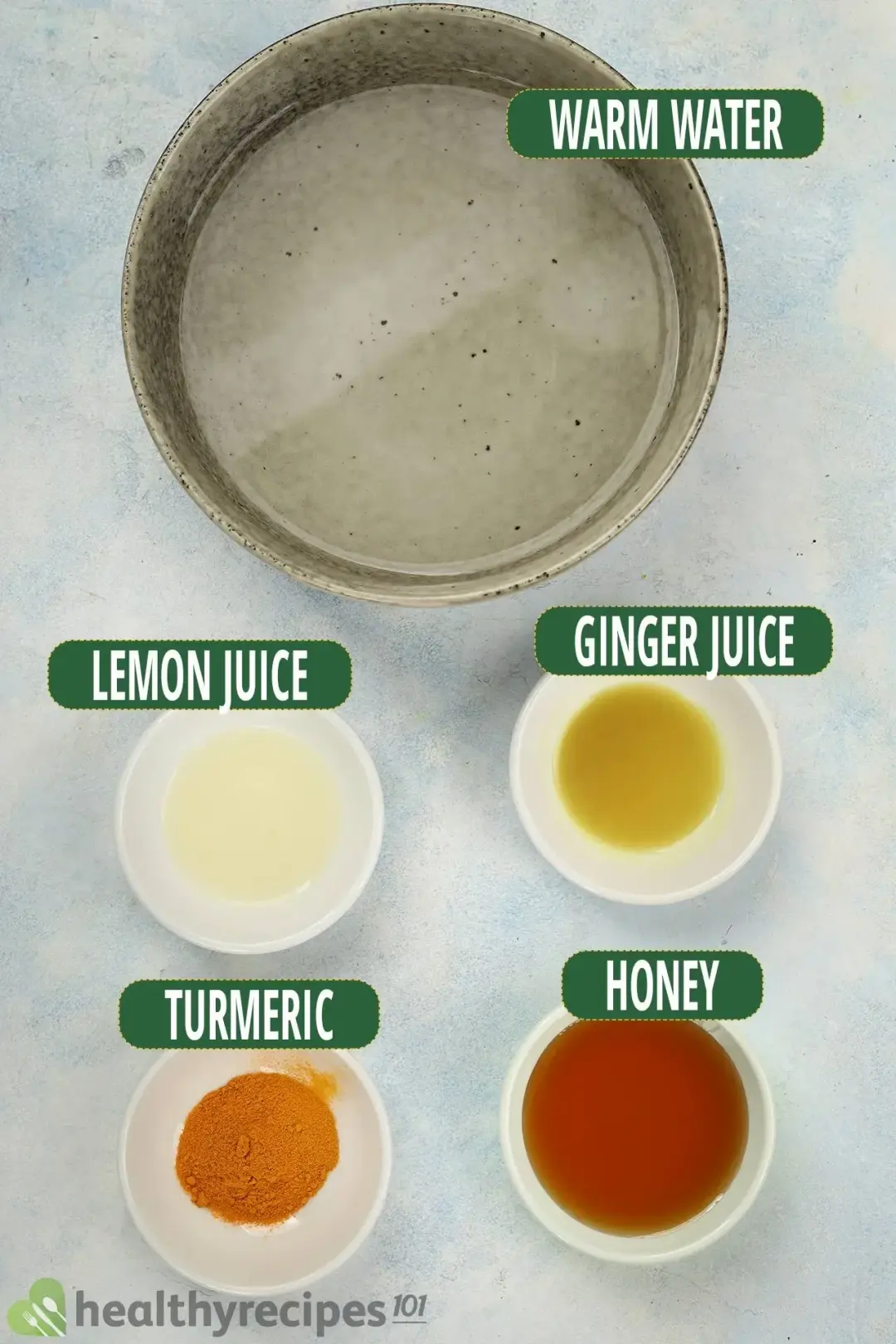 Can I Use Raw Turmeric for This Juice?
Both raw turmeric and ground turmeric are low in curcumin. For the best results, we suggest using any brand of turmeric concentrate.
How to Make Turmeric Ginger Juice
Simply stir all the ingredients together, like so: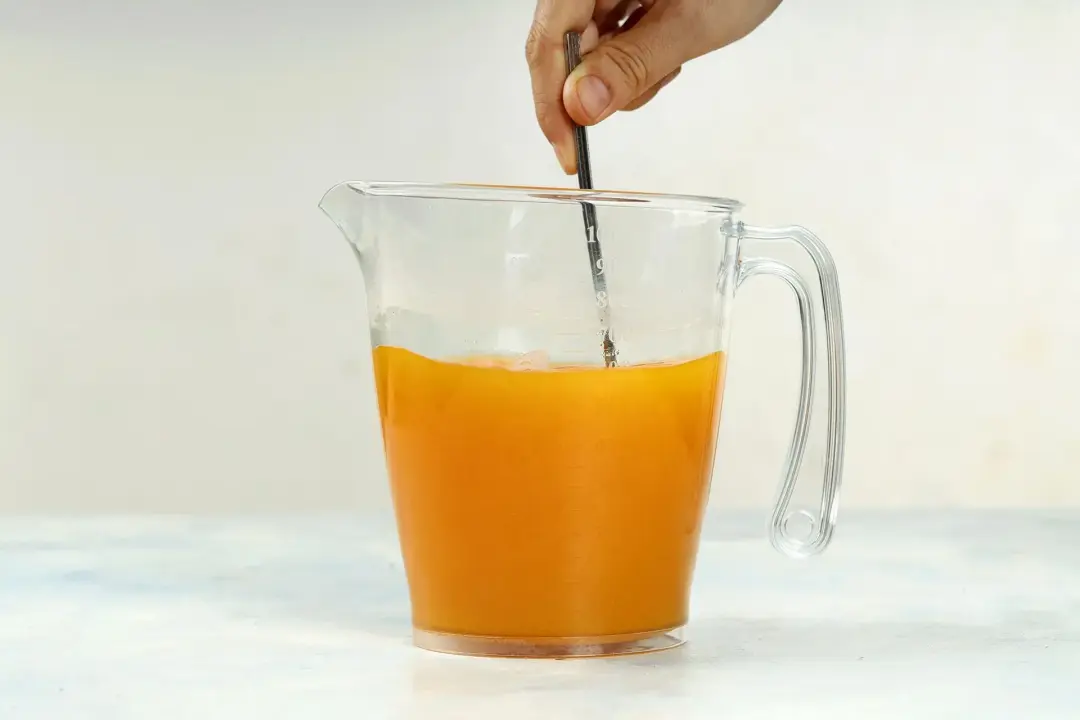 Stir all ingredients together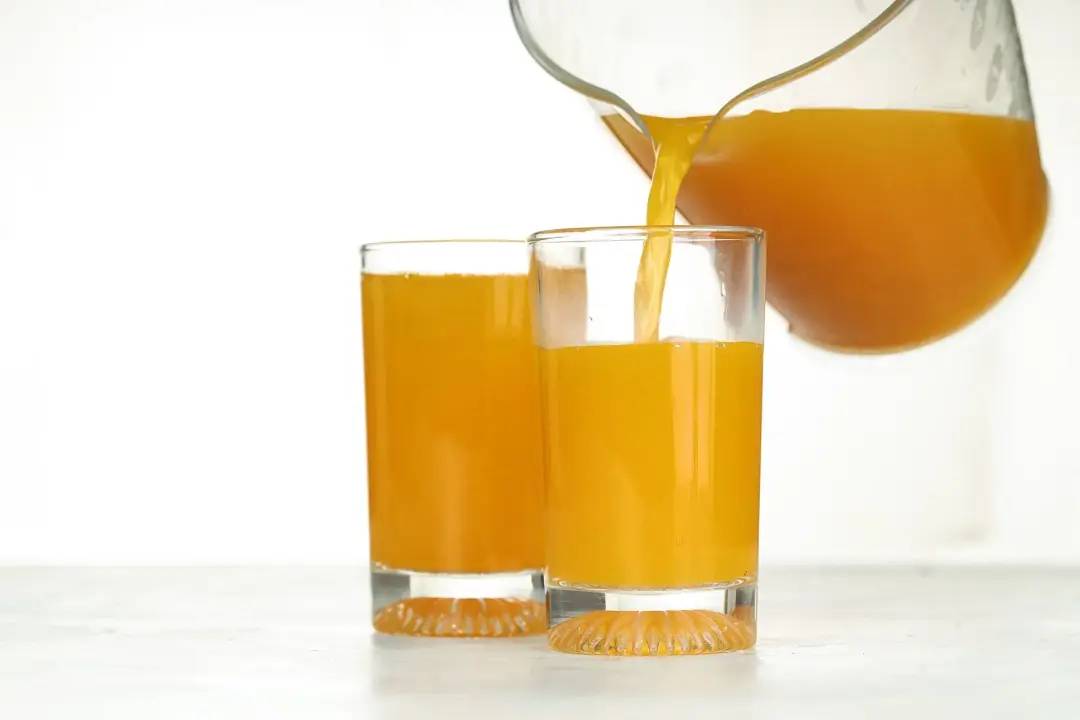 Pour into glasses.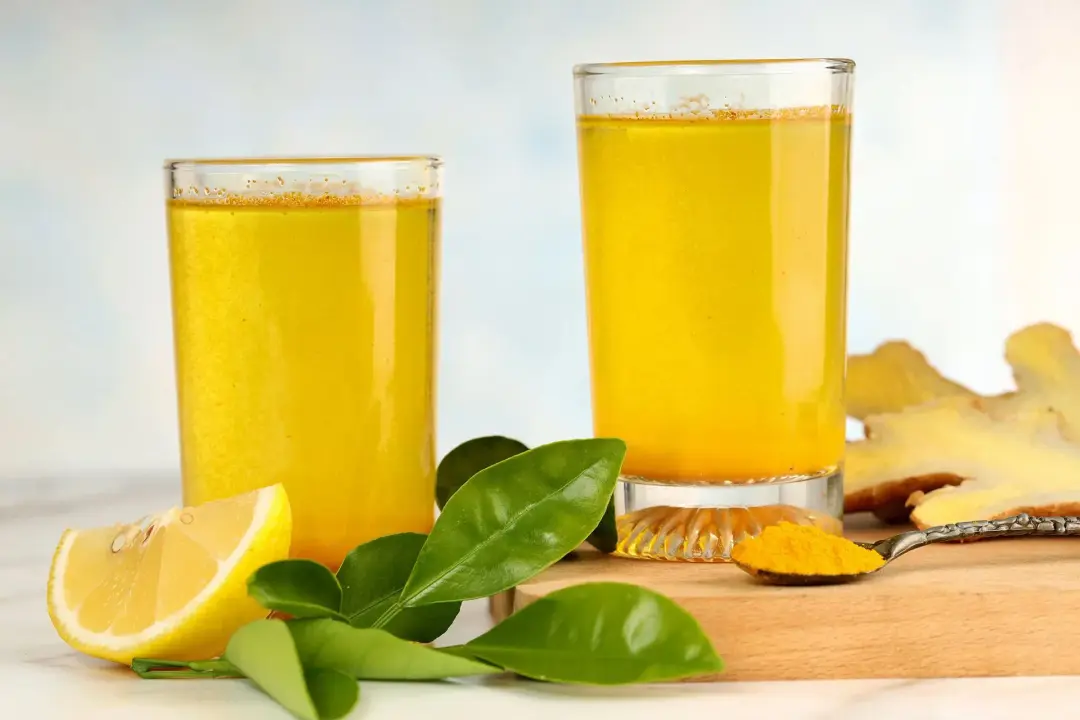 Serve warm.
For the optimal taste, refer to our turmeric and ginger juice recipe at the bottom of this article.
Storage and Freezing the Leftover
Many people believe that turmeric and ginger can't be spoiled by bacteria, but it's quite the opposite. If you've made a large batch, you can store it either in the fridge or the freezer. In the fridge, it will keep for about 5 days, while in the freezer it will last for up to 3 months.
If you're putting the drink in the fridge, consider using glass bottles for convenient use. Whenever you want a drink, pour out a decent amount, heat in the microwave for 1 minute, and drink away.
If you're freezing the drink, portion them out into small Ziploc bags. It'll be easier to remove and use.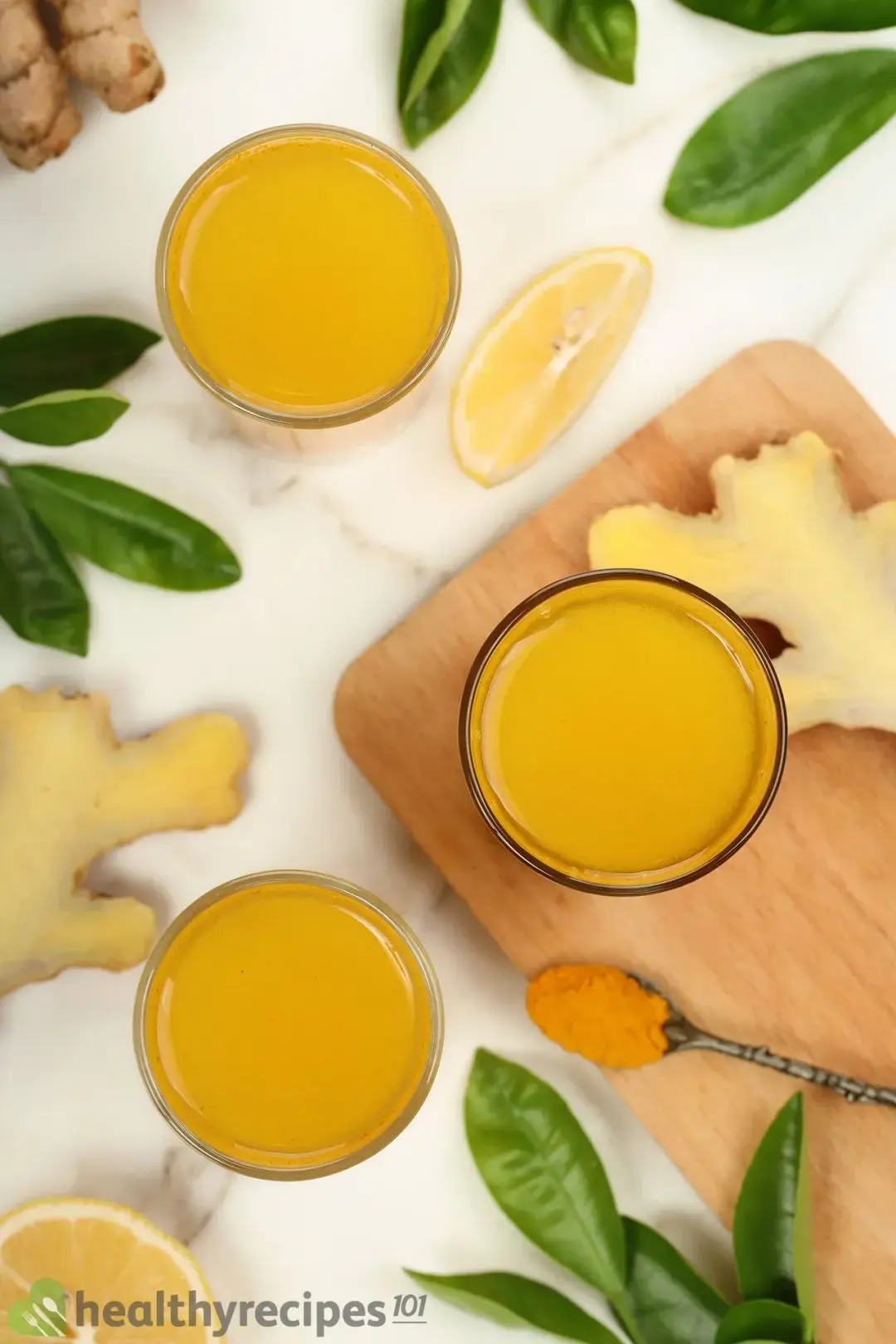 More Juice Recipes to Try
Turmeric and Ginger Juice Recipe
This turmeric and ginger juice recipe is a quick, easy way to combine these ingredients into a tasty health boost. It's best served warm.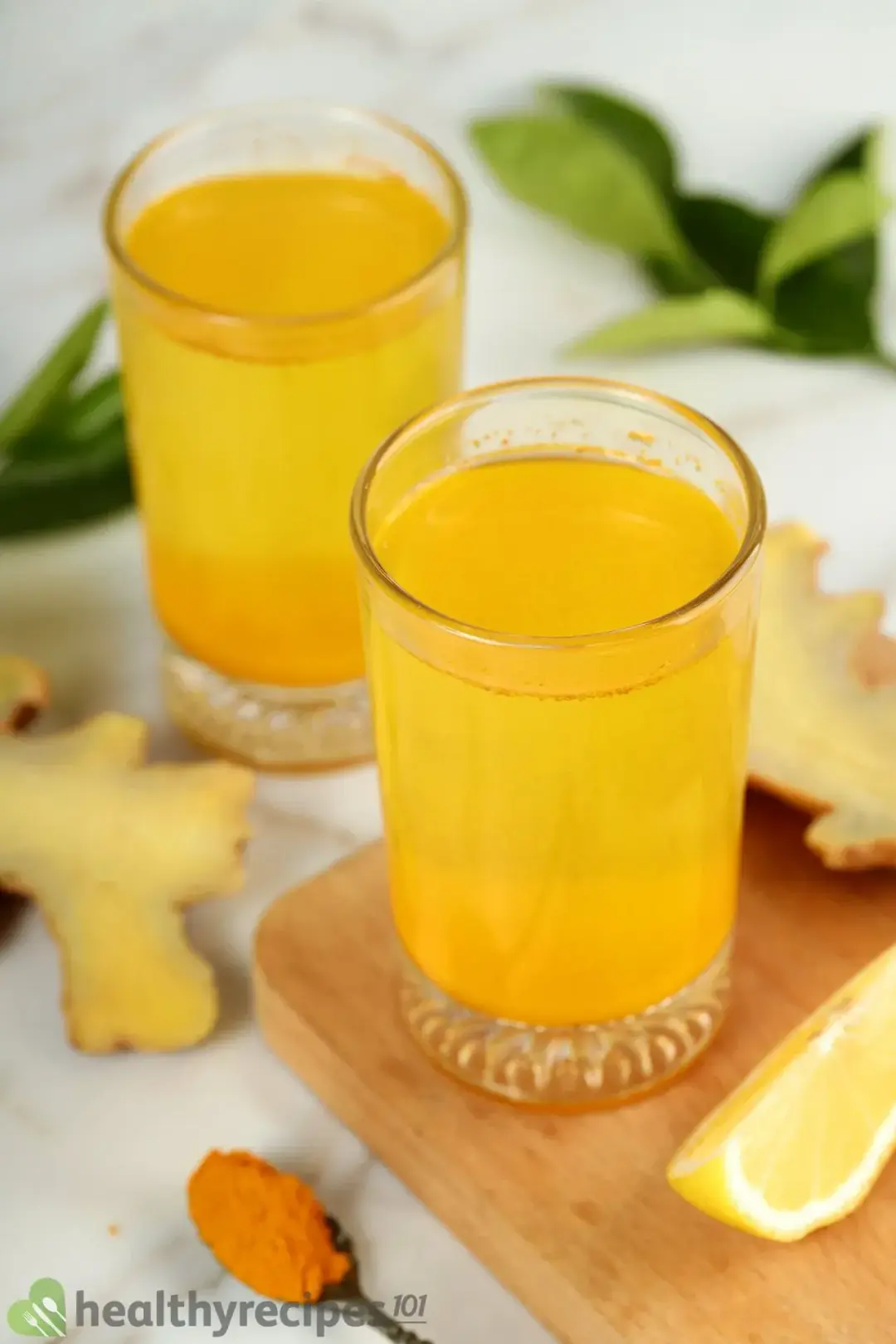 prep TIME

5 mins

total TIME

5 mins
COURSE

Beverage

CUISINE

Global

SERVINGS

servings

CALORIES

47 kcal
INGREDIENTS
1.5 tsp

turmeric concentrate

1 tsp

ginger juice from 0.5 oz ginger

2 tsp

lemon juice

2.5 cups

warm water

2.5 tbsp

honey
INSTRUCTIONS
1
Stir all ingredients together.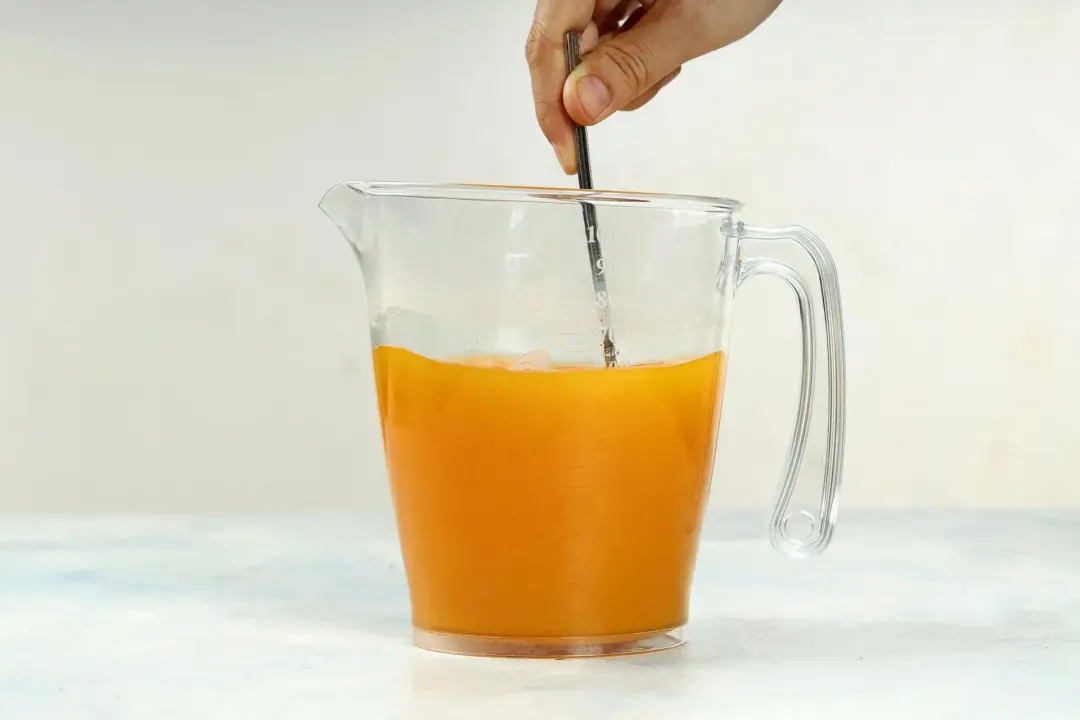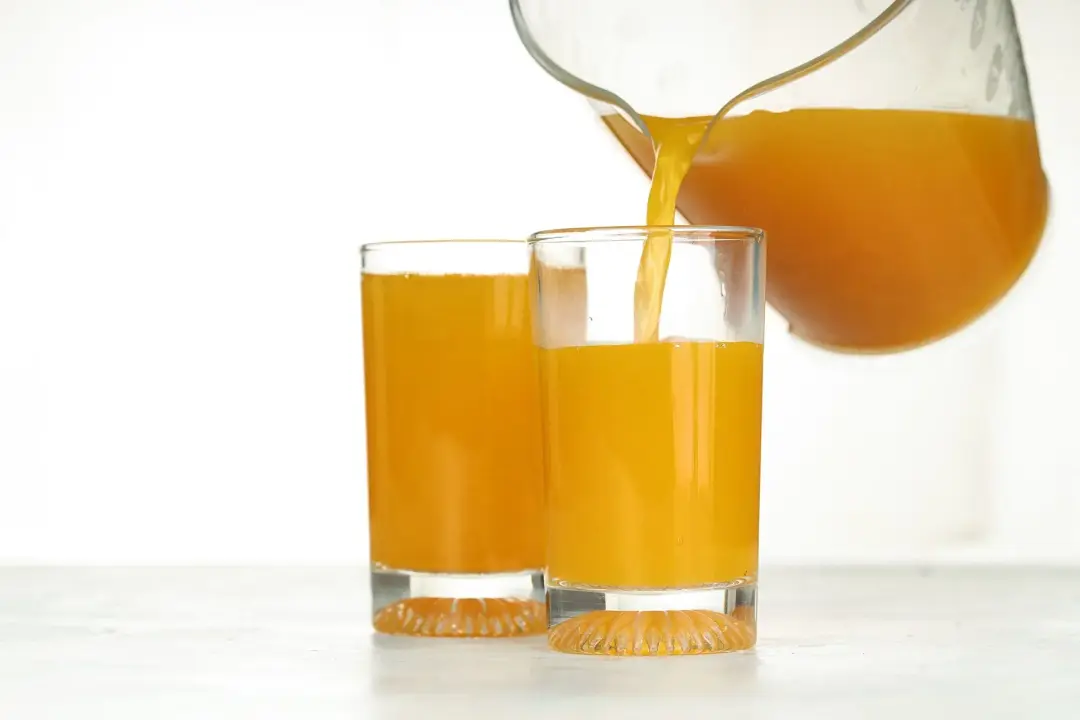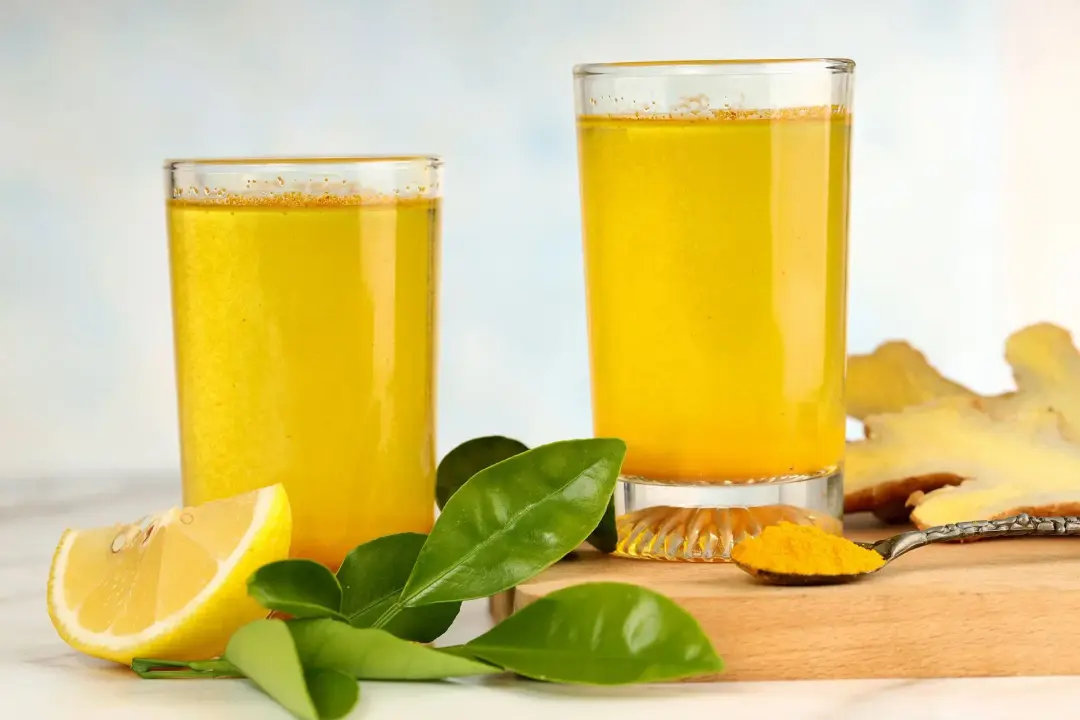 NUTRITION
Nutrition Facts
Turmeric and Ginger Juice Recipe
Amount Per Serving (1 serving)
Calories 47
Calories from FDA
% Daily Value*
* Percent Daily Values are based on a 2000 calorie diet.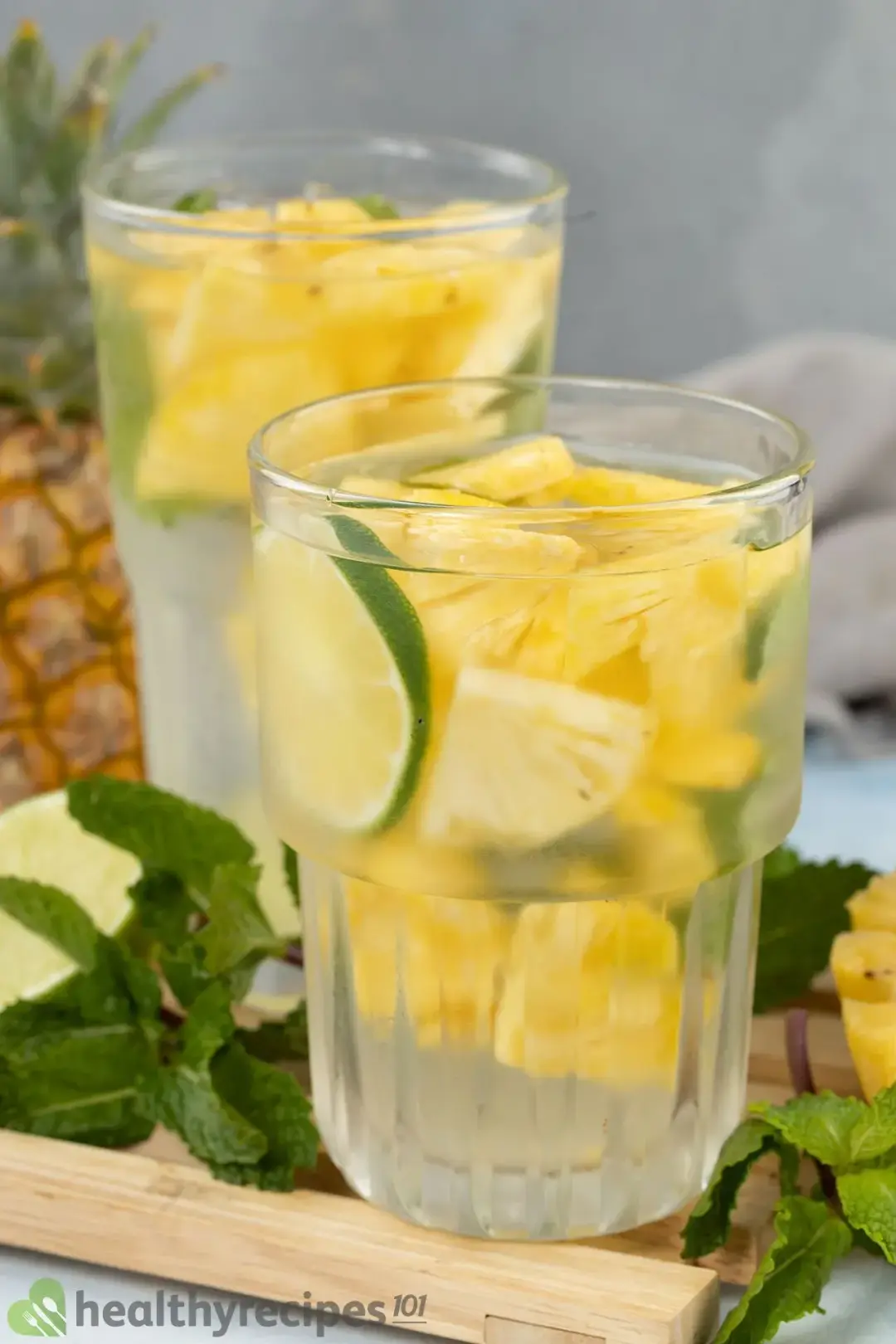 Previous Recipe
Pineapple Water
Pineapple Water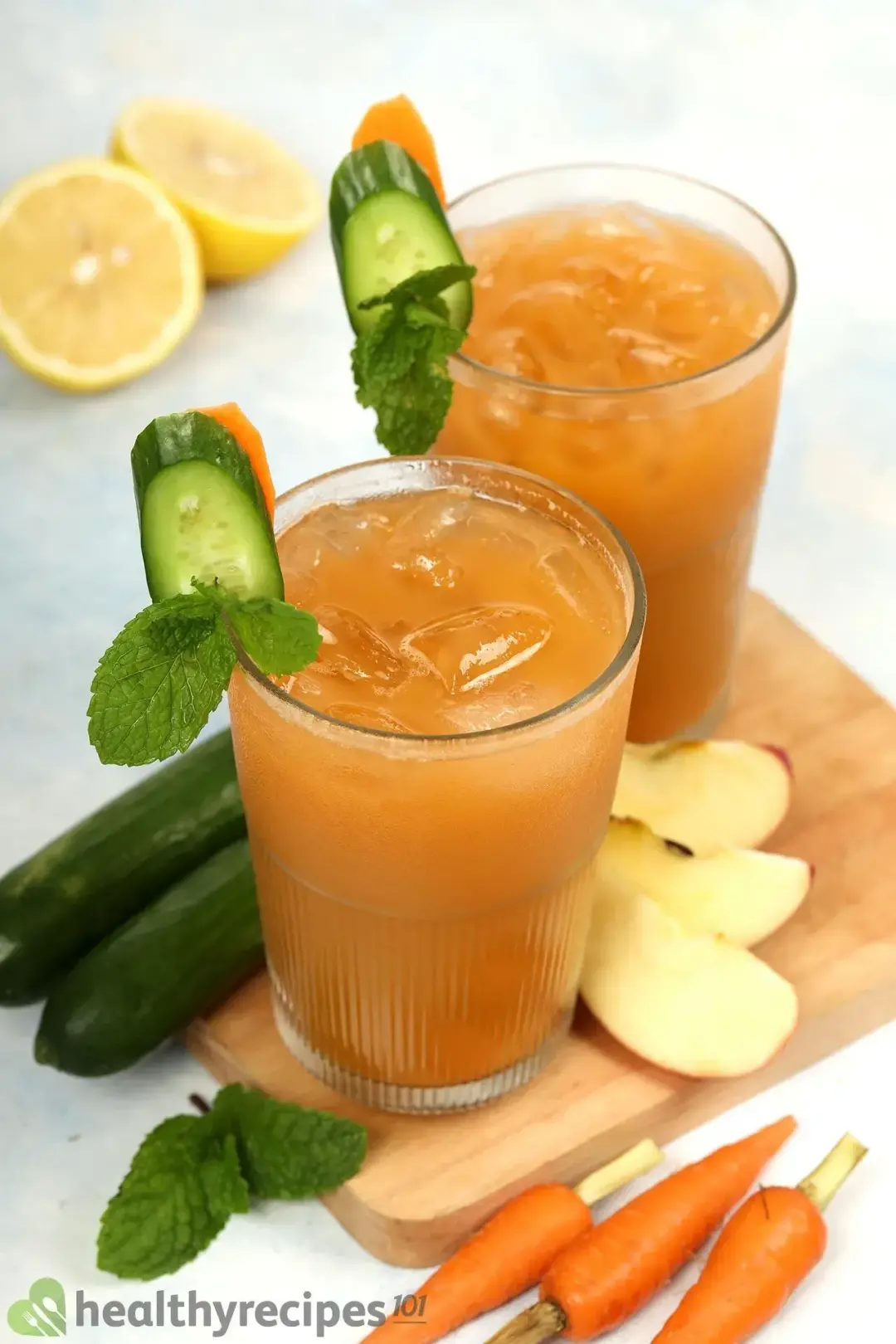 Next Recipe
Cucumber Carrot Juice
Cucumber Carrot Juice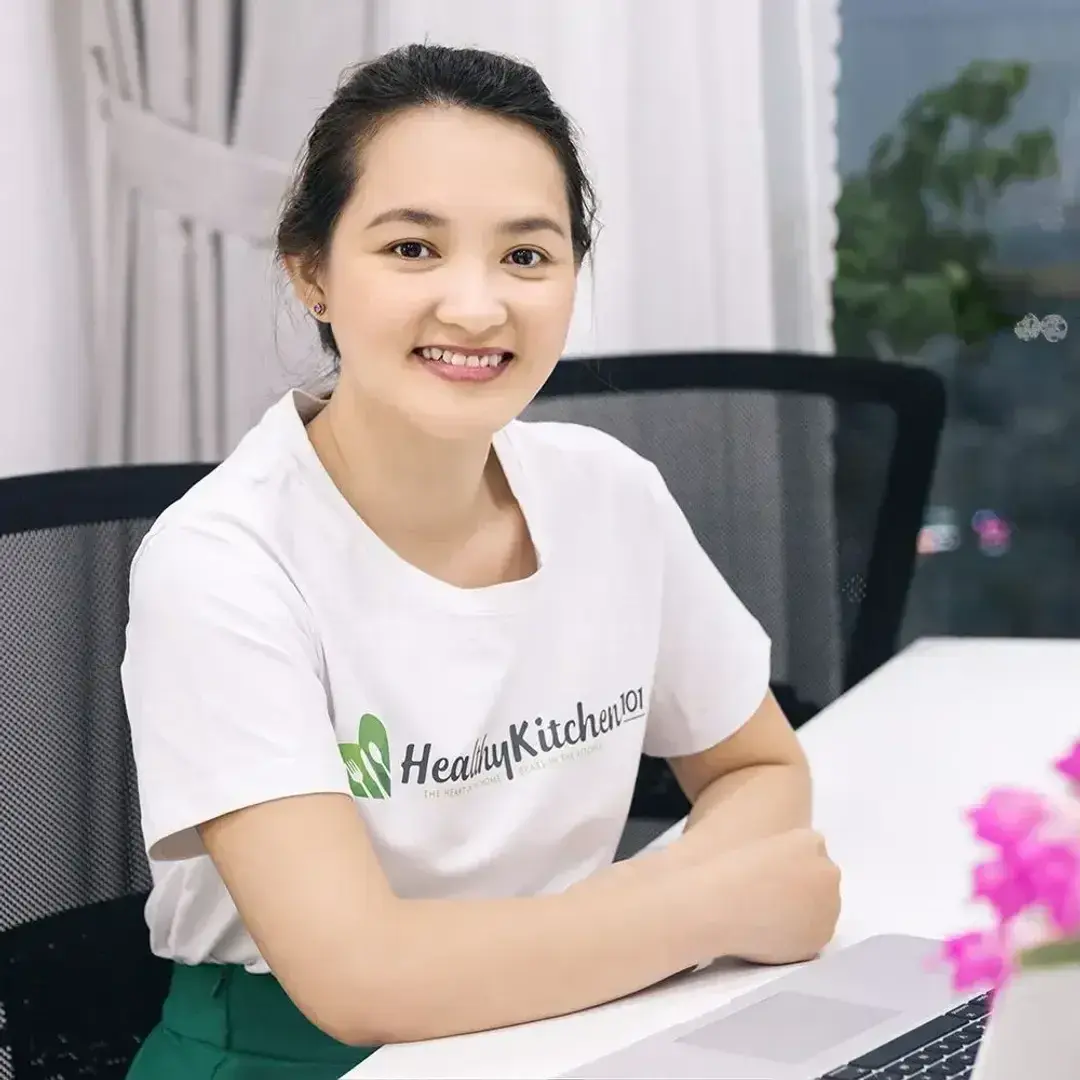 Luna Regina
Luna is the founder and chief recipe developer of Healthy Recipes 101. Apart from cooking, she also loves reading, programming, exploring the outdoors, and collecting useless facts about everything.