This lemon water recipe makes a healthy replacement for plain water! It has zero added sugar and almost no calories.
Lemon water is water with lemon slices steeped in it. Left to sit long enough, the water becomes super fragrant and tastes amazing, better than plain water.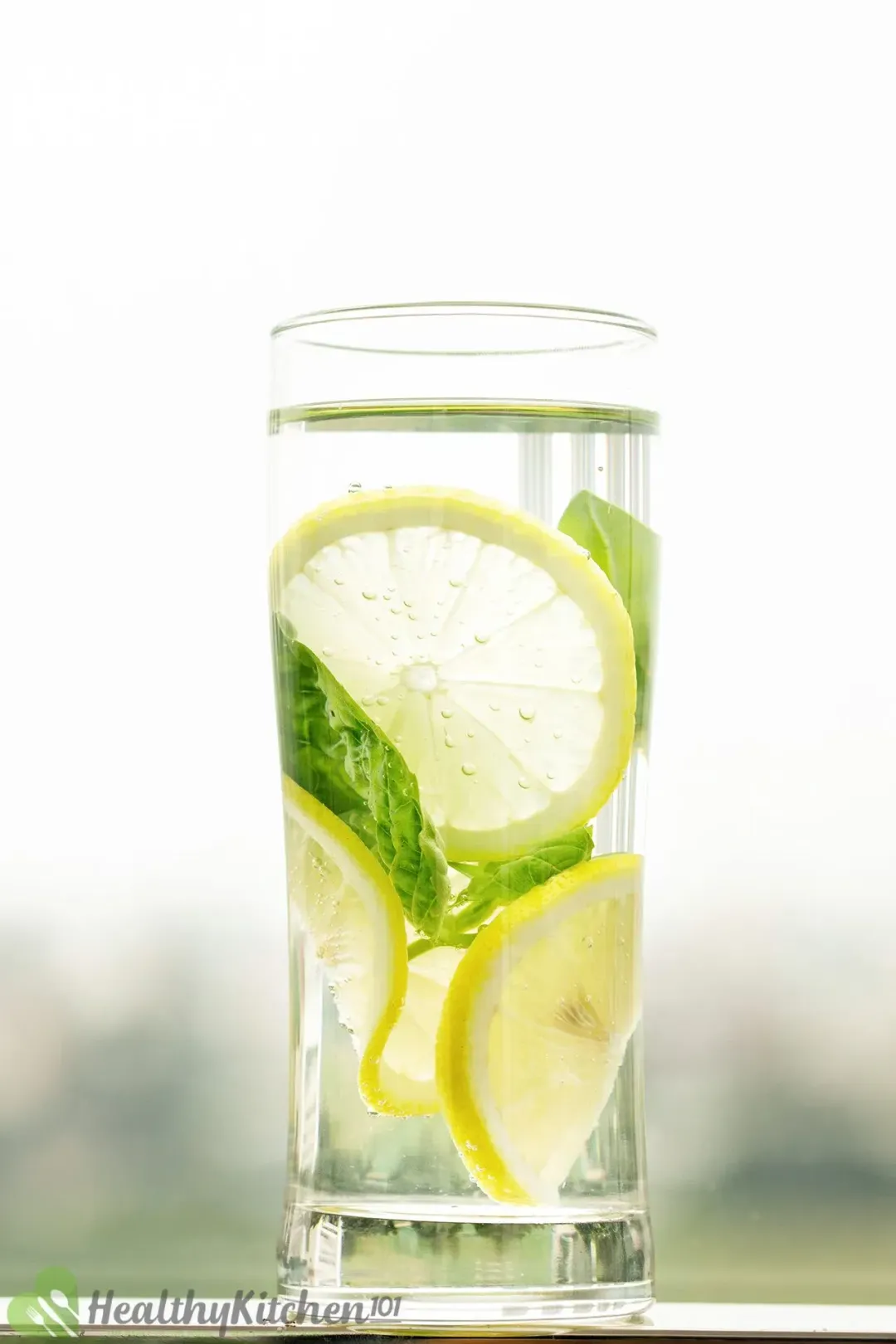 You can make a large pitcher of lemon water to place in the fridge and drink throughout the day. For convenience, make several large bottles of it to carry to work!
Is Lemon Water Good for You?
Yes, it is.
After doing some research, we found a great deal of false information about the benefits of this detox water. Let us start by saying that lemon water receives none of the benefits from lemon juice.
For starters, there is not much lemon juice present in the water. The water might taste sour, but that is nothing compared to the amount of juice in lemonade.
Plus, lemon juice itself isn't that abundant in vitamin C, considering there's only 5.9 mg for each tablespoon. An adult needs around 75-90 mg of vitamin C daily, which equates to ¾-1 cup of lemon juice.
Despite the lower nutritional profile, lemon water should still be included in your healthy diet.

—
For a legitimate reason, water with fragrance and flavor can stimulate drinking much more than plain water. This is especially true for people who don't enjoy the taste of water and keep looking for alternatives.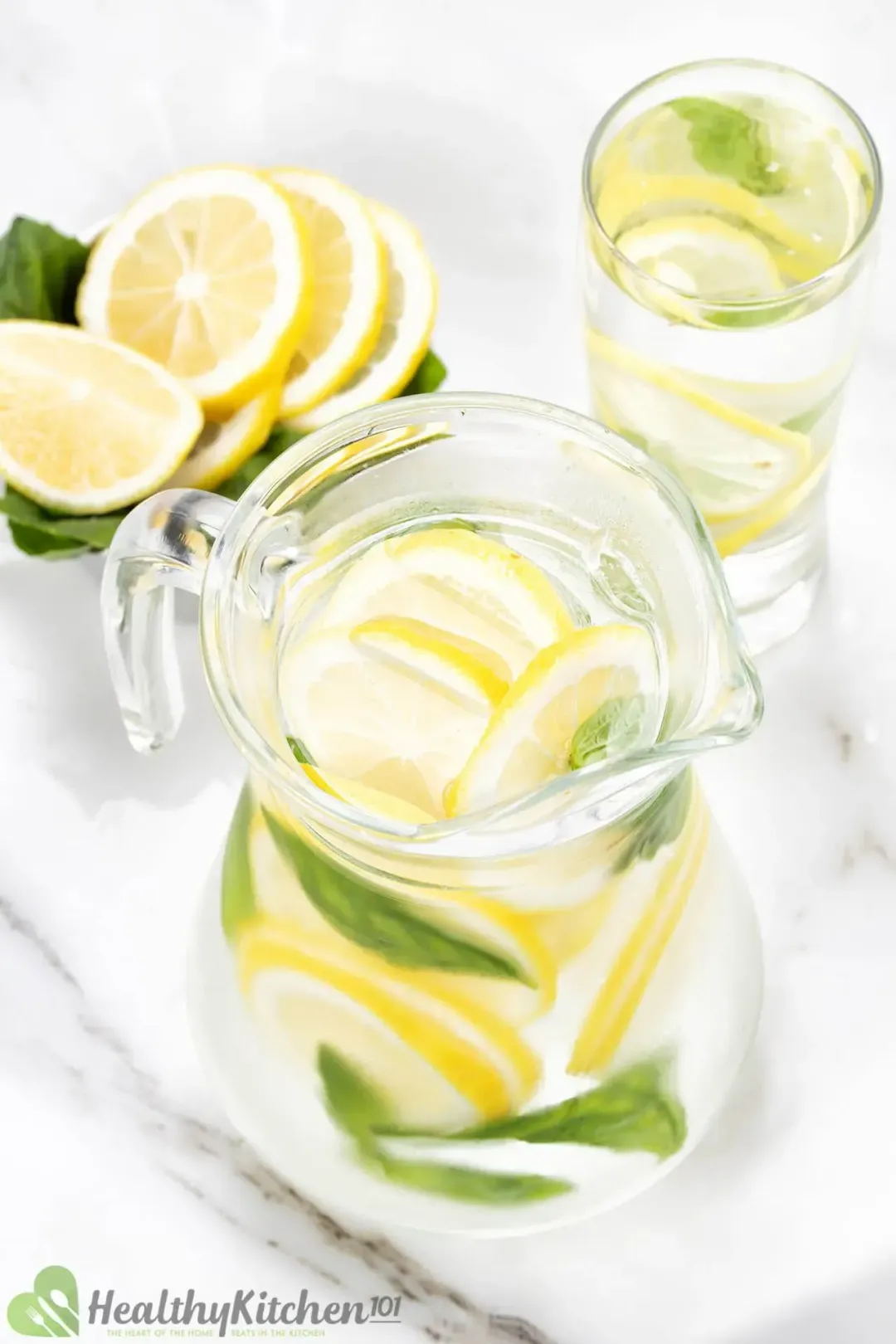 Plus, different sources of water have different tastes, and some of them might be really bad. By adding lemon/fruit slices, their natural flavor can mask the taste of plain water, making the duty more enjoyable.
Benefits of Hot Lemon Water
While our recipe calls for ice, this take on lemon water calls for hot water.
Hot lemon water is prepared by adding lemon juice to a cup of hot/lukewarm water. This is NOT a drink meant to be consumed as a substitution for plain water.
Unlike lemon water, hot water is kind of like lemonade without sugar. It can help you meet part of the nutrient's daily intake.
Hot water, specifically, has several positive impacts on our health.
Before drinking, you can inhale the steam coming off of the hot. The steam can help loosen clogged sinuses, making it especially handy in cold weather.
Plus, although the benefits of hot water are yet to be proven, it does bring a pleasant sensation. If you have a soft spot for hot water, it surely is beneficial for your mental health.
Can You Drink too much Lemon Water?
If you're worried about harming your stomach, fear not, if you follow our recipe. Our recipe is safe to drink in large quantities, as the acid from the lemon juice is diluted.
Plus, there's nothing but water and fragrance of lemon juice, peel, and basil leaves; it won't gain you any pounds at all.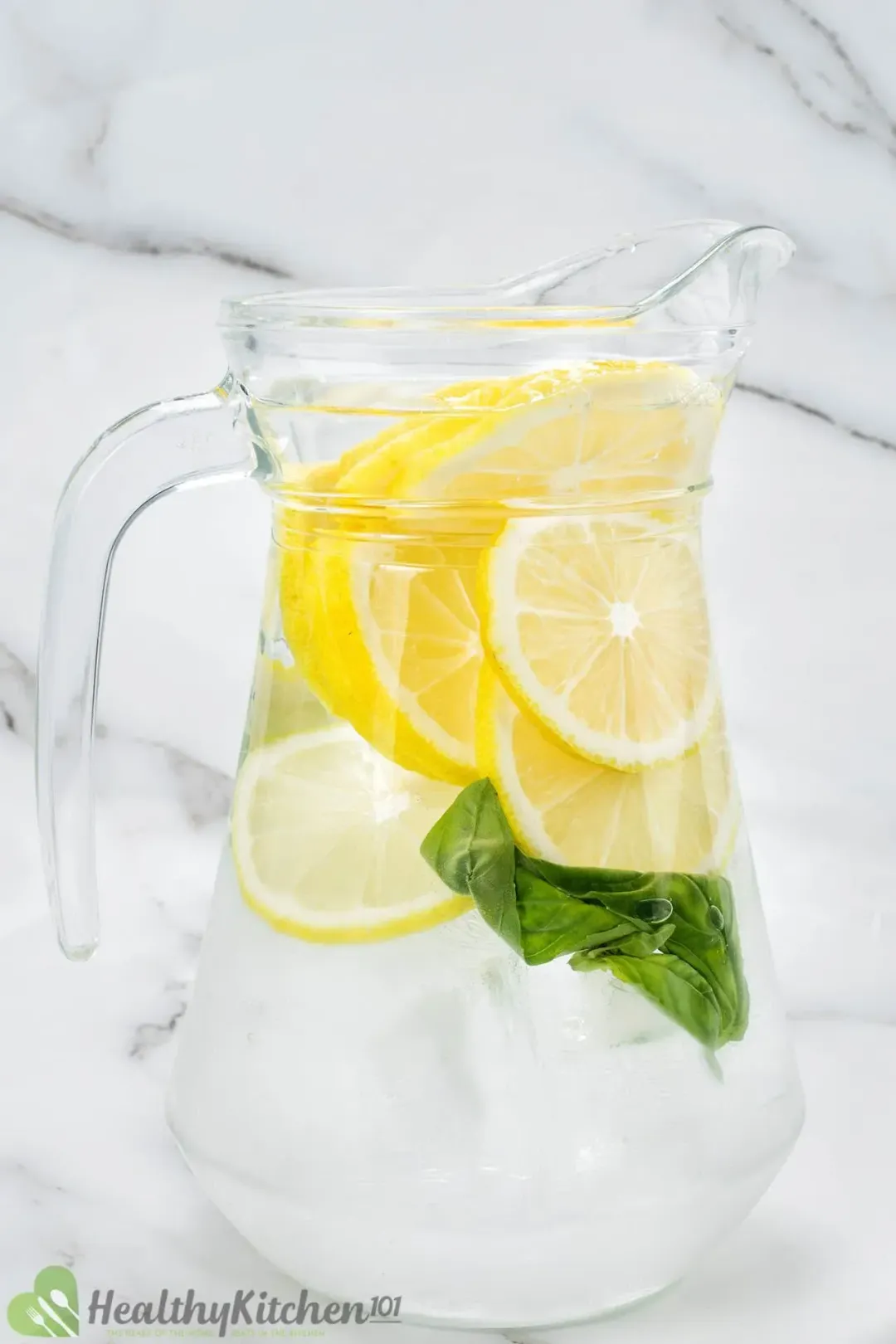 One thing to note is that lemon water, like many fruit juices, is bad for your teeth in the long run. Citric acid in lemon, although in low concentration, can potentially erode the enamel of your teeth.
You can easily prevent this by drinking this water with a straw. Or, simply rinse your mouth with plain water after drinking.
Bottom line is, lemon water can keep you hydrated with pleasure. You can have this on a daily basis.
When Is the Best Time to Drink Lemon Water?
Like its benefits, there are myths surrounding the best time of day to drink lemon water. In this article, we're glad to shed some light on this matter.
1. In the Morning
It's assumed that a hot cup of lemon water in the morning can cleanse the digestive system. It does so by dissolving foods that your body had trouble digesting the day before.
Although it's quite intuitive to the ears, there has yet to be a study that makes such a claim. Healthline agrees with us, and so does our nutritionist.
We do know that in cold and dry weather, our throats can become really dry and cold during the night. Warm lemon water does not improve your health much, but it definitely can make you feel better after waking up.
So, if you prefer to have a hot cup of this water in the morning, do so. It's a healthy habit to have a glass of water in the morning, and lemon water is no exception.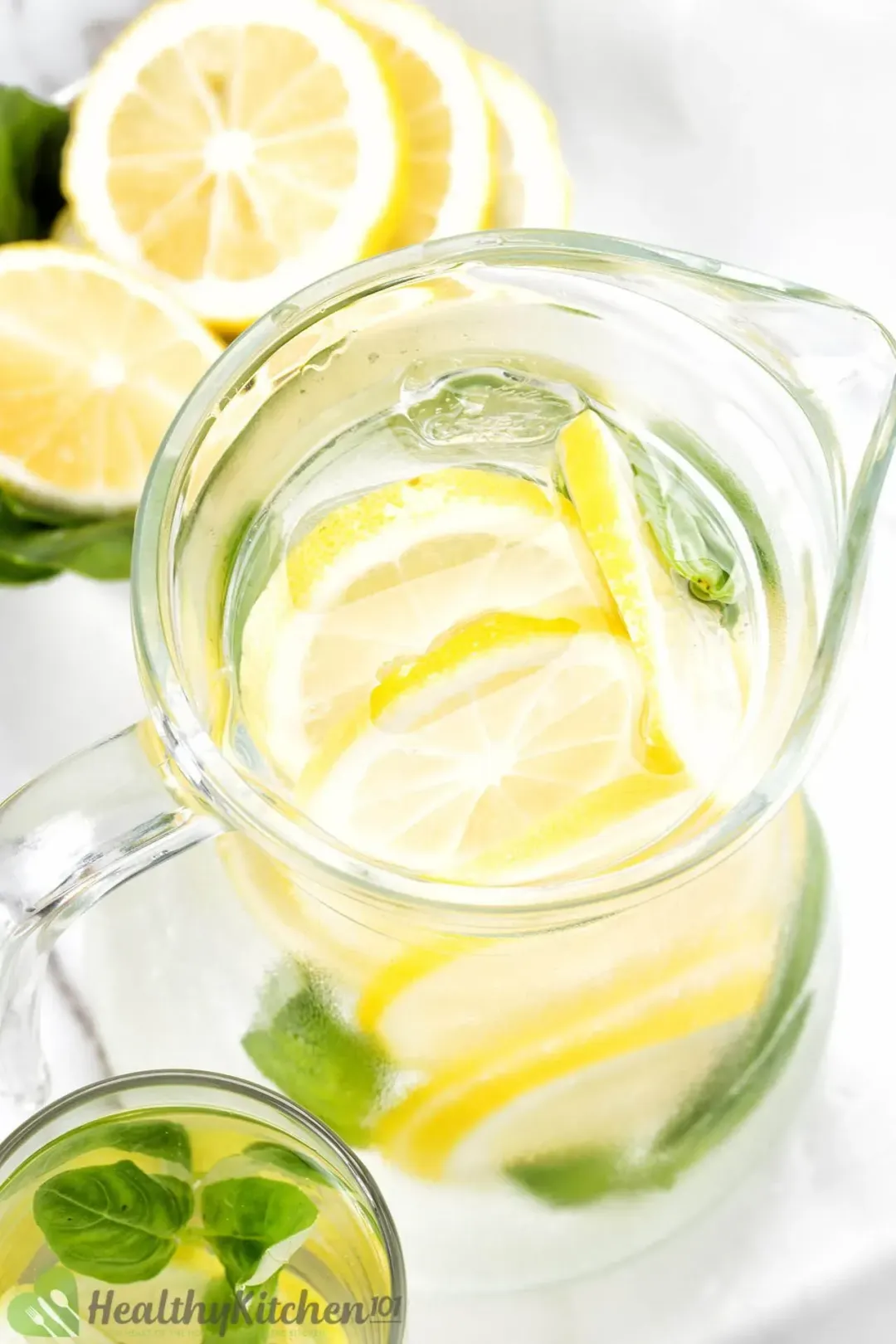 2. Before Bed
Rumor has it that a glass of water before bed helps to detox the body. Except for the vague term "detox the body," this claim is partly true.
First of all, drinking water throughout the day is a must for a healthy, hydrated body. By drinking water before bed, we're making up for the water our body can't get during sleep.
However, it's also really important not to drink too much water before bed. You don't want to break the sleep cycle during the night.
Aside from this, there is no study that says lemon water in particular is better than regular water. It's purely a choice, and it's a good one for some people.
The bottomline is, you can have hot or cold, whenever you feel like it. If you enjoy the drink, it's more likely to be included in your routine.
How to Make Lemon Water
This is a short version of our lemon water recipe. The full recipe is listed below in the recipe card.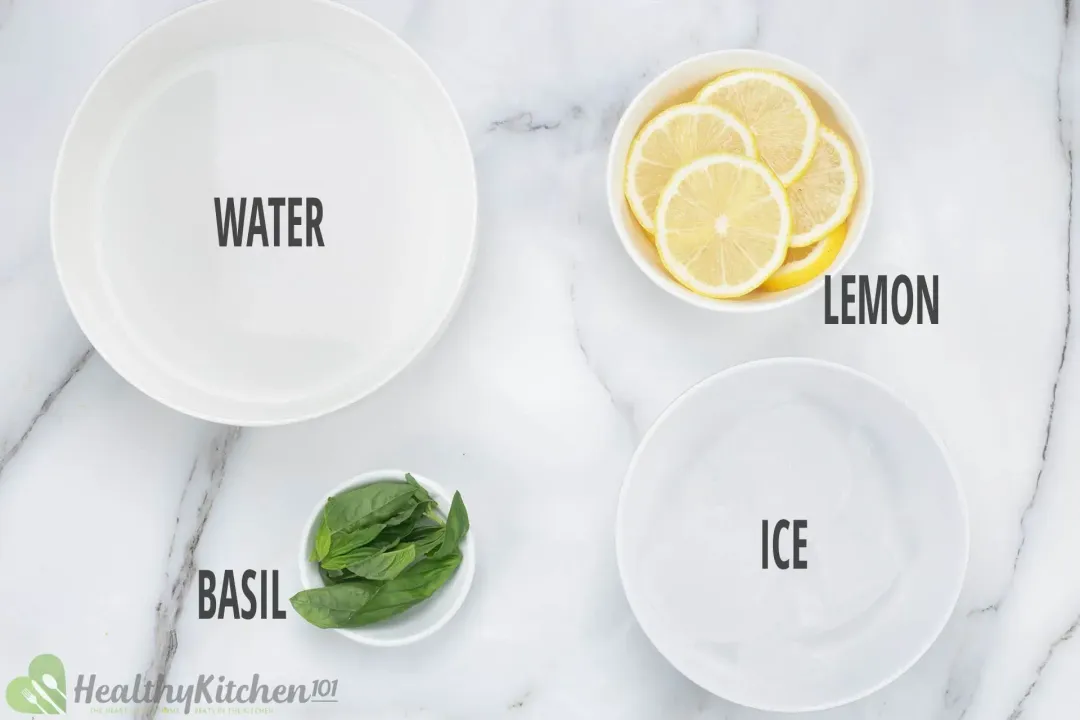 Step 1: Add ice to a pitcher or serving glasses.
Step 2: Add basil.
Step 3: Add sliced lemon.
Step 4: Add water.
If you have time, allow the water to sit in the fridge for at least an hour. The longer it sits, the more flavorful it will be.
What to Add to Lemon Water
There are many things you can add to this detox water to make its flavor profile more diverse:
1. Cucumber
Cucumber and lemon is a perfect combo for a refreshing sensation. I often store this drink in the fridge, and occasionally, I chew on the ice-cold cucumber because it's so crunchy and cool.
Making it is a piece of cake, too: slice cucumbers and add to this water. The slices of cucumber should be equal to the lemons in size and quantity.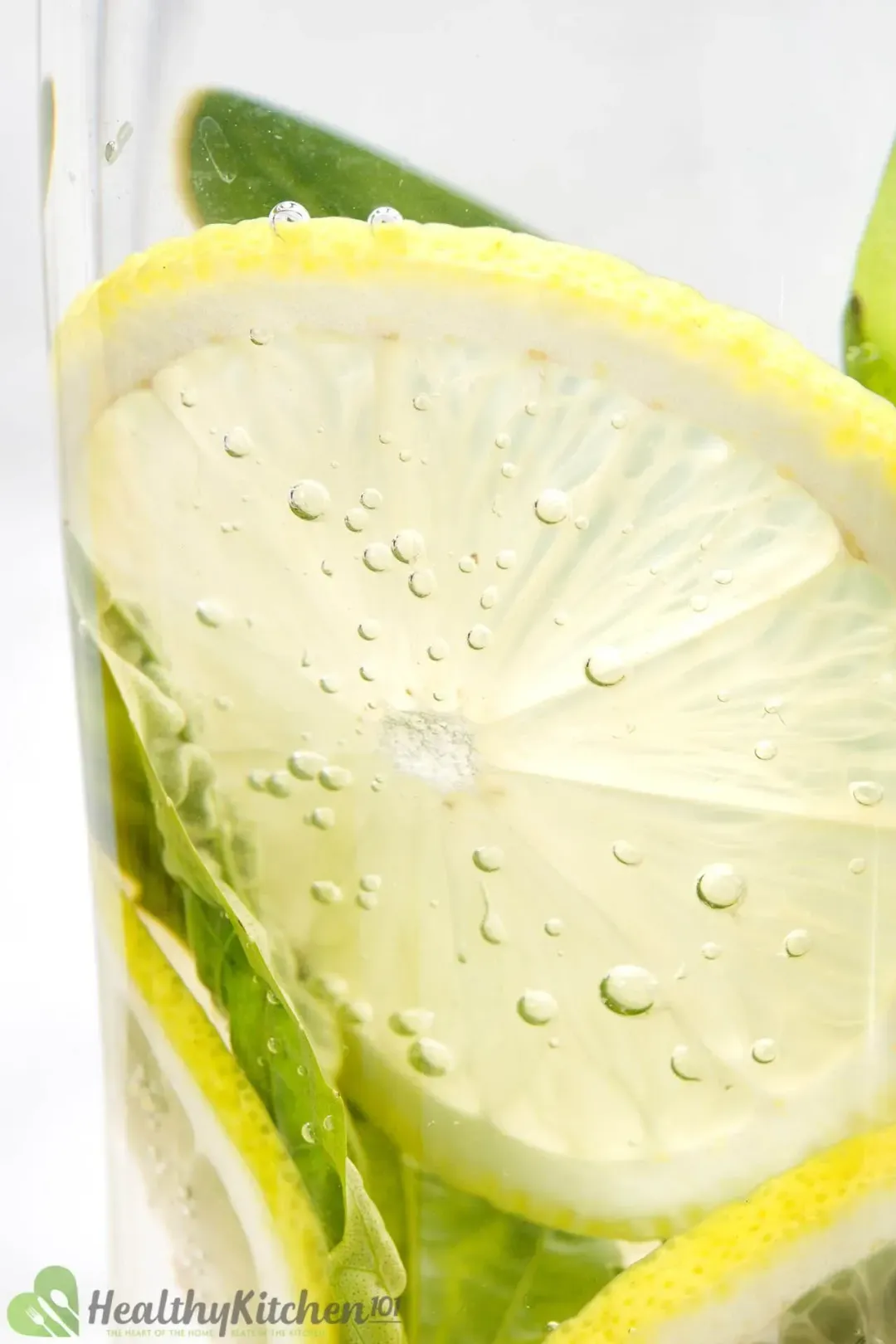 2. Orange
Lime, orange, or whatever fruit in the citrus family goes great with lemon water. It will enhance the fragrance of the water, making it more appealing than it already is.
If you have the correct ratio, the flavor will become a balance between tanginess and sweetness. I'd say equal amounts of the citruses will serve you well.
In case your tastes tilt toward the sour end of the spectrum, check out our lime water recipe. It's got the fragrance of both citruses and is tangier than this one.
3. Ginger
When using ginger, it's better to make warm water than cold. Ginger's nature fits a hot beverage more than a cold one.
If you want hot ginger lemon water to start the day, pour hot water over some sliced lemon and ginger. You can slice them the day before, refrigerate them, then simply take them out and use them the next morning.
How Long Does Lemon Water Last?
Due to lemon's acidic nature, the drink can be safe to consume up to a week, refrigerated. However, the lemon slices will be softened and wilted after 3 days, potentially making the drink less appealing.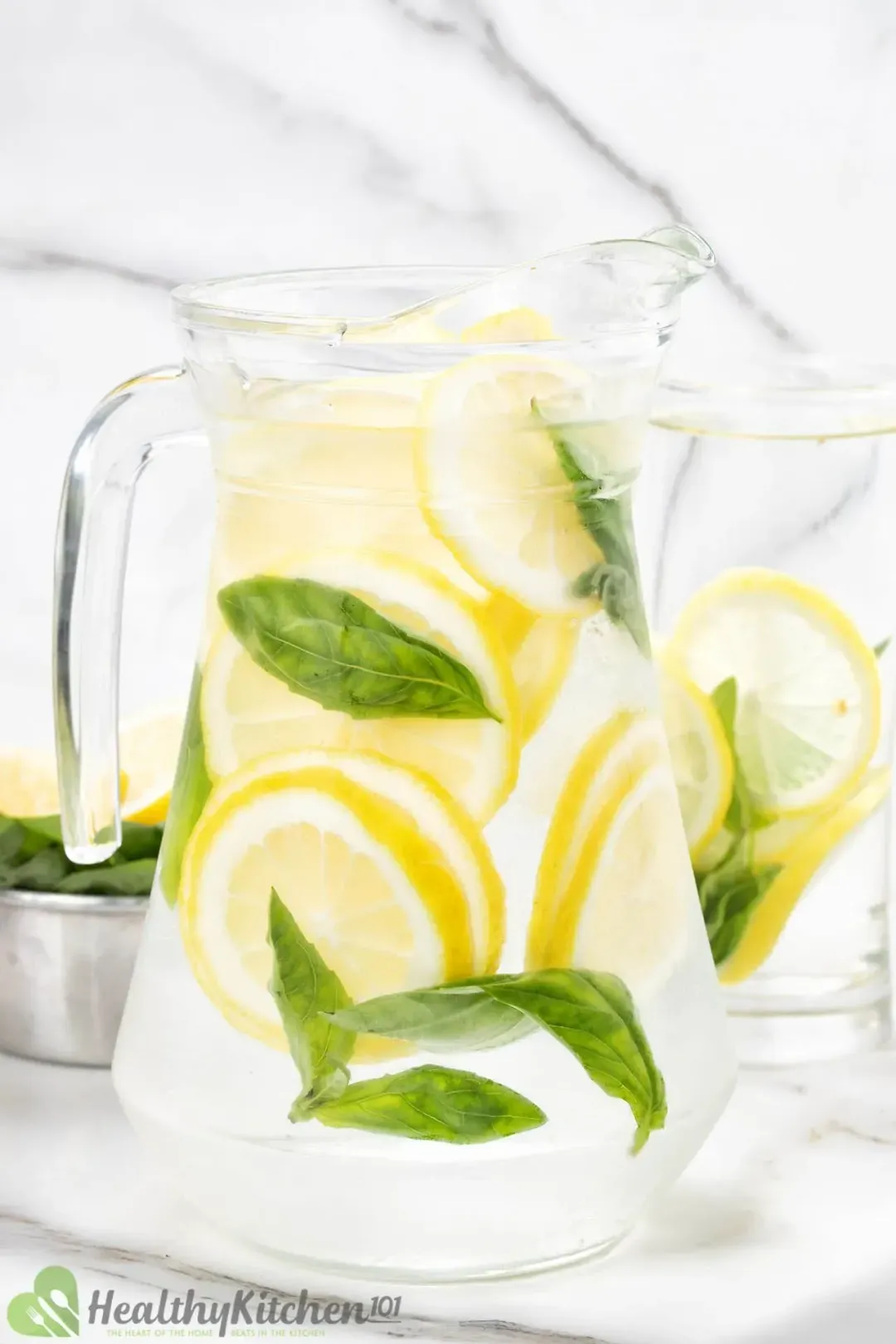 Lemon Water
This lemon water recipe is a great beverage, served hot or cold. It's simple, and you can make a large batch to drink every single day.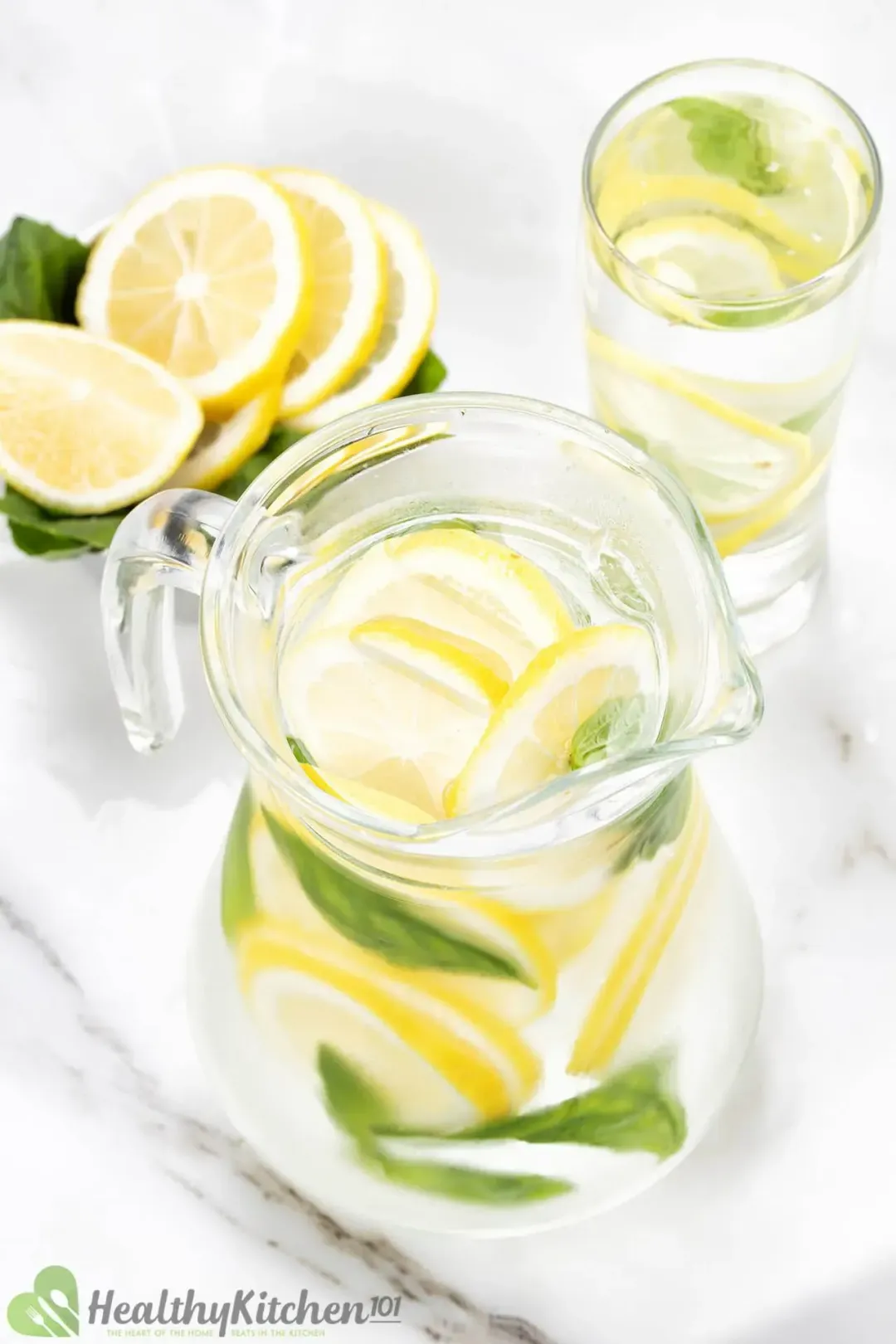 prep TIME

5 mins

total TIME

5 mins
COURSE

Beverage

CUISINE

Global

SERVINGS

CALORIES

8 kcal
INSTRUCTIONS
1
Add ice to a pitcher/serving glasses. If you plan to make a large batch to refrigerate, skip the ice.
2
Add the leaves. You can use a muddler to crush it slightly to release more fragrance.
3
Add lemon slices. Don't crush them as this can make your drink too sour.
4
Add water and serve. The longer this water sits, the better it will taste.
NUTRITION
Nutrition Facts
Lemon Water
Amount Per Serving (1 serving)
Calories 8
% Daily Value*
* Percent Daily Values are based on a 2000 calorie diet.
Keywords: How to make lemon water, Lemon Water Recipe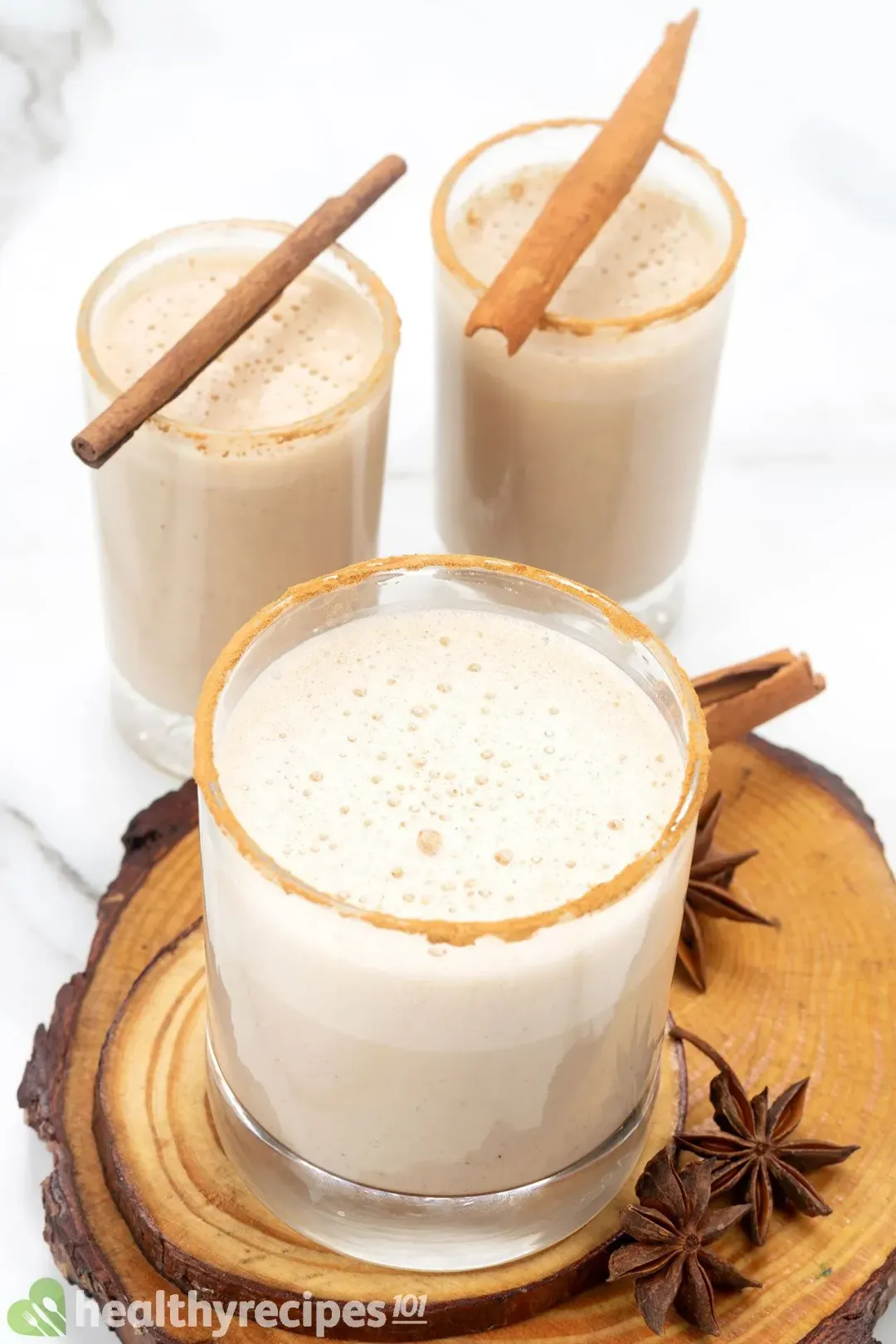 Eggnog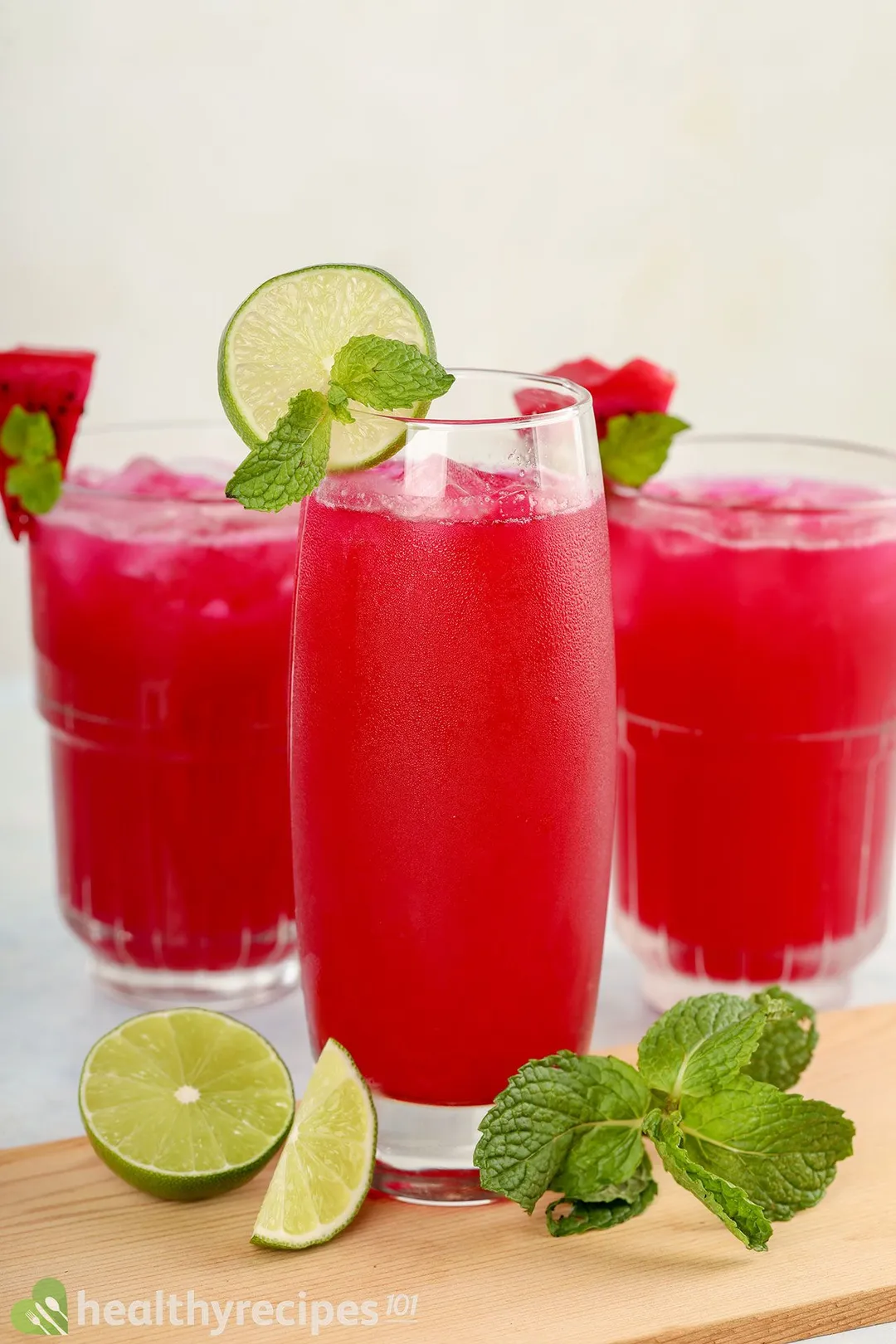 Next Recipe
Dragon Fruit Juice
Dragon Fruit Juice
Head Chef, Culinary Consultant
Tuyet Pham is an award-winning Saigonese chef who believes that joy is the secret ingredient to delicious food. At Healthy Recipes 101, Tuyet personally tests and simplifies every recipe, ensuring maximum flavor with minimal effort. With a background at prestigious French restaurants P'TI Saigon and Le Corto, Tuyet knows how to make every dish exceptional.
Writer, Author
Luna Regina is an accomplished writer and author who dedicates her career to empowering home cooks and making cooking effortless for everyone. She is the founder of HealthyKitchen101.com and HealthyRecipes101.com, where she works with her team to develop easy, nutritious recipes and help aspiring cooks choose the right kitchen appliances.
Nutrition Reviewer
Lizzie Streit is a Minneapolis-based dietitian and founder of It's a Veg World After All. She completed her MS in Human Nutrition from Drexel University, and is an expert in culinary nutrition, recipe development, and nutrition communications. Lizzie's philosophy is centered around making nutrition recommendations, and especially the advice to eat more vegetables, approachable and realistic. She is excited to be working with the team at Healthy Recipes 101 to ensure that their recipes are both nutritious and delicious.
This lemon water is a great way to start the day! It's so refreshing, and it's packed with vitamin C and antioxidants. Plus, it's super easy to make.