Thyme leaves and cinnamon: these are some of the elements we love about this gin and grapefruit juice recipe. They highlight the essence of the drink, which combines spices and herbs to create a unique summer cocktail.
What Is Gin and Grapefruit Juice Called?
A cocktail consisting of gin and grapefruit juice is typically called a greyhound.
Salty Dog vs. Greyhound
The salty dog is a cocktail similar to the greyhound. It starts out as the same mix of grapefruit juice and gin. Then, however, it's poured into a salt-rimmed glass.
Thus, the salty dog lives up to its name and gives you a slightly different taste compared to the greyhound.
Is Gin and Grapefruit Juice Good for You?
So, is this greyhound a healthy drink? It certainly doesn't pass as our version of a "healthy" beverage, but few alcoholic drinks can.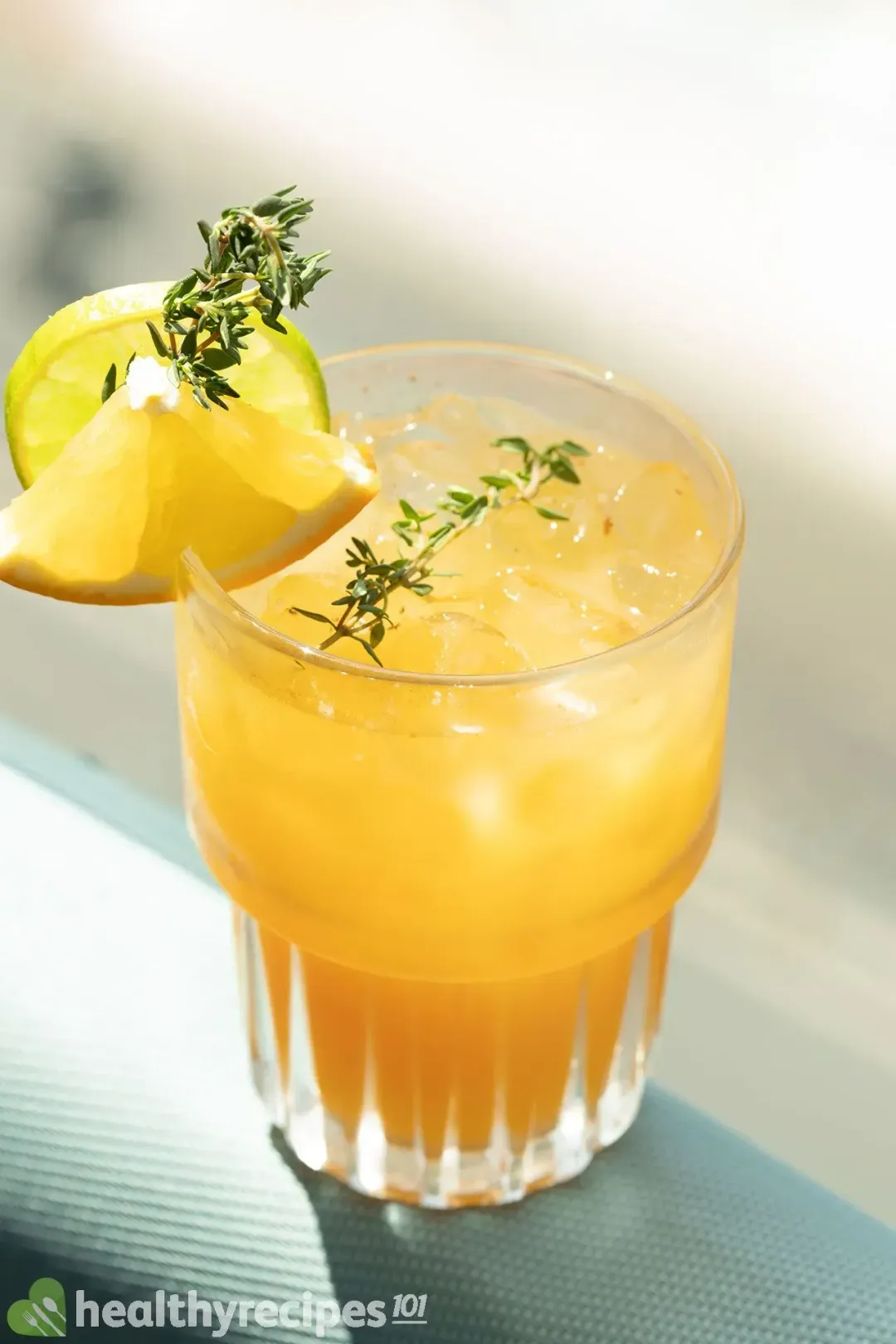 The good news is you can still enjoy a moderate amount and maintain a healthy diet.
According to the USDA, a moderate amount is a serving of 1.5 fl oz of liquor a day.
This drink contains 1 fl oz of gin per serving. That means you can enjoy it from time to time without risking a hangover or long-term effects like liver disease.
Benefits of Grapefruit
Grapefruit is a low-calorie fruit rich in nutrients. A 200g grapefruit contains 64 calories and provides vitamins C and A which have been proven to better the immune system.
It also sits low on the glycemic index (GI), with a score of 25.
Low-GI foods raise your blood sugar levels but do so slowly, a fact which is excellent for managing weight. So, you can munch on grapefruit and enjoy its flavor while simultaneously obtaining weight and immune-related benefits.
How to Make Gin and Grapefruit Juice
Here are the basic steps to making this drink: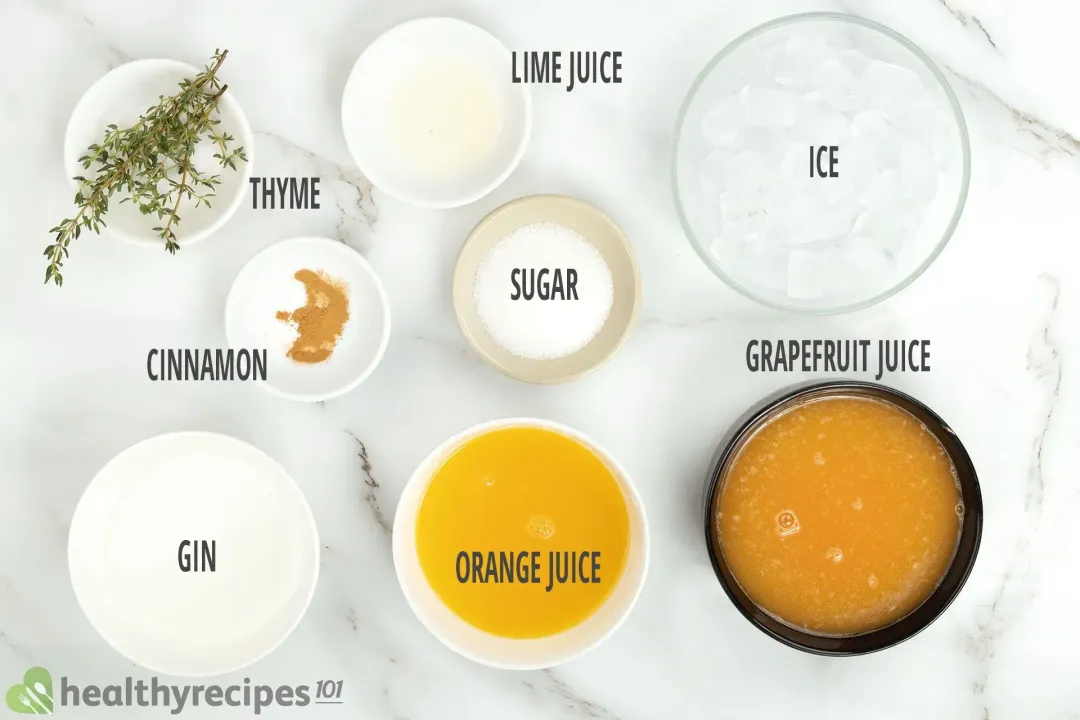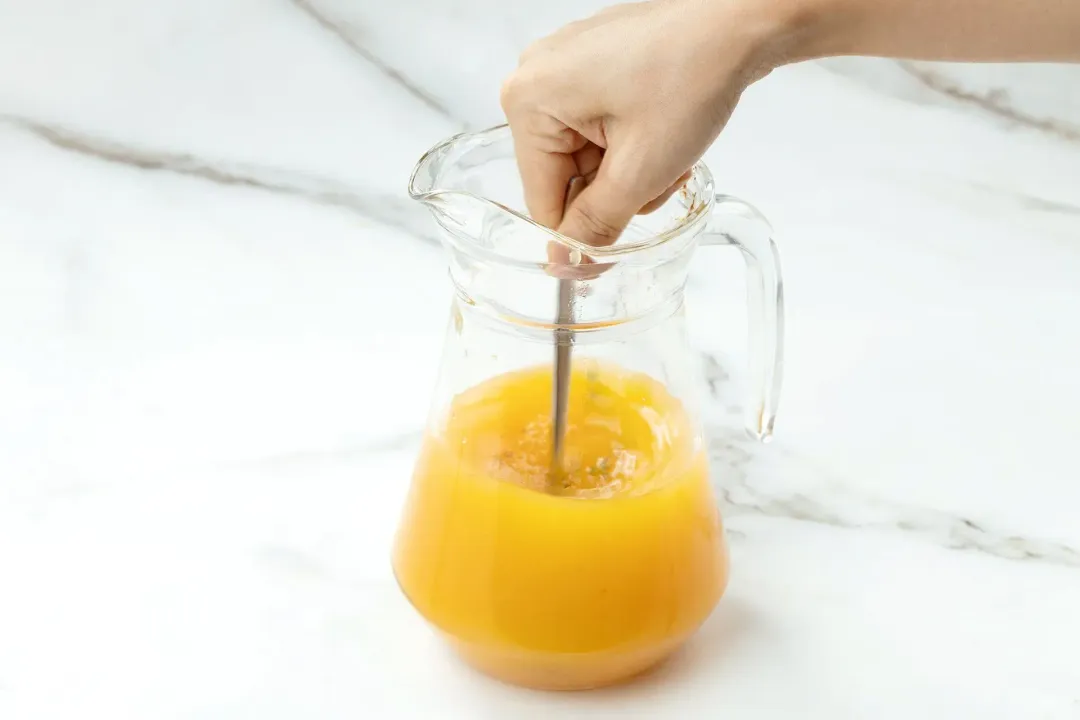 Combine juices, sugar, and cinnamon; stir to dissolve.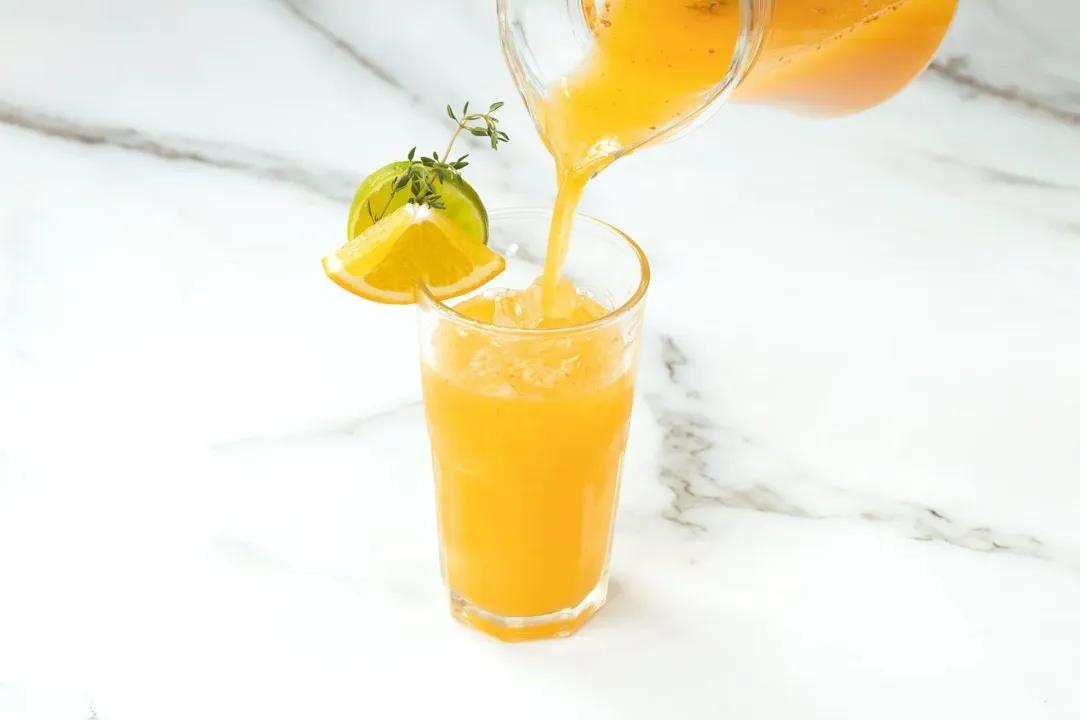 Pour, garnish, and serve.
What Juice Mixes Well with Gin?
There's no denying gin with grapefruit juice is a winning combination. However, you can make all sorts of delicious cocktails by swapping out grapefruit juice for something else.
Here are a few combos we love:
Lemon juice: Ever heard of a whiskey sour? The typical mix is whiskey and lemon juice. This time, exchange the bourbon for gin to create another bright combination. Try it!
Orange juice: Gin and orange juice is better known as an orange blossom cocktail. It's bright, it's beautiful, and delivers fresh summer flavors no matter the season.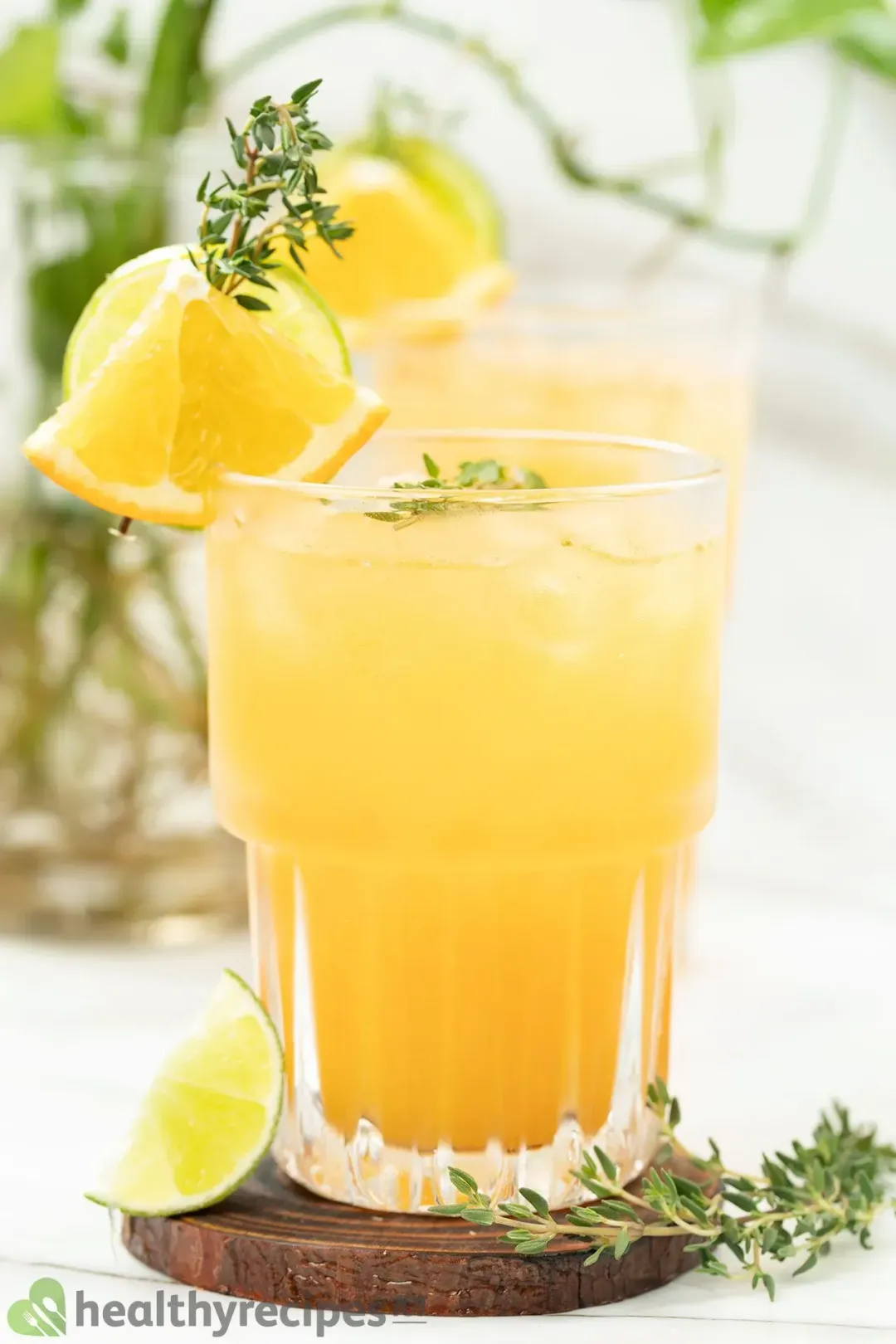 Tonic: Gin and tonic is a simple cocktail with zesty flavors. The sweeter tonic water neatly complements gin's bitter taste.
You can also see our apple cider vinegar grapefruit juice with honey recipe and this vodka and grapefruit juice recipe for some mouthwatering combinations.
Substitutes for Gin
If you can't find gin or simply don't want it, a few alternatives to try are vodka, tequila, or rum. Like gin, they're all distilled liquors that instantly become smooth-tasting delights with the help of grapefruit juice.
How Long Does Gin and Grapefruit Juice Last?
This drink can last about 2 days in the fridge. We recommend keeping it in an airtight container like a mason jar or a bottle to keep it fresh.
Keep in mind that leaving this drink at room temperature for more than 2 hours can make it less safe to consume. We advise that you store it in the refrigerator at all times.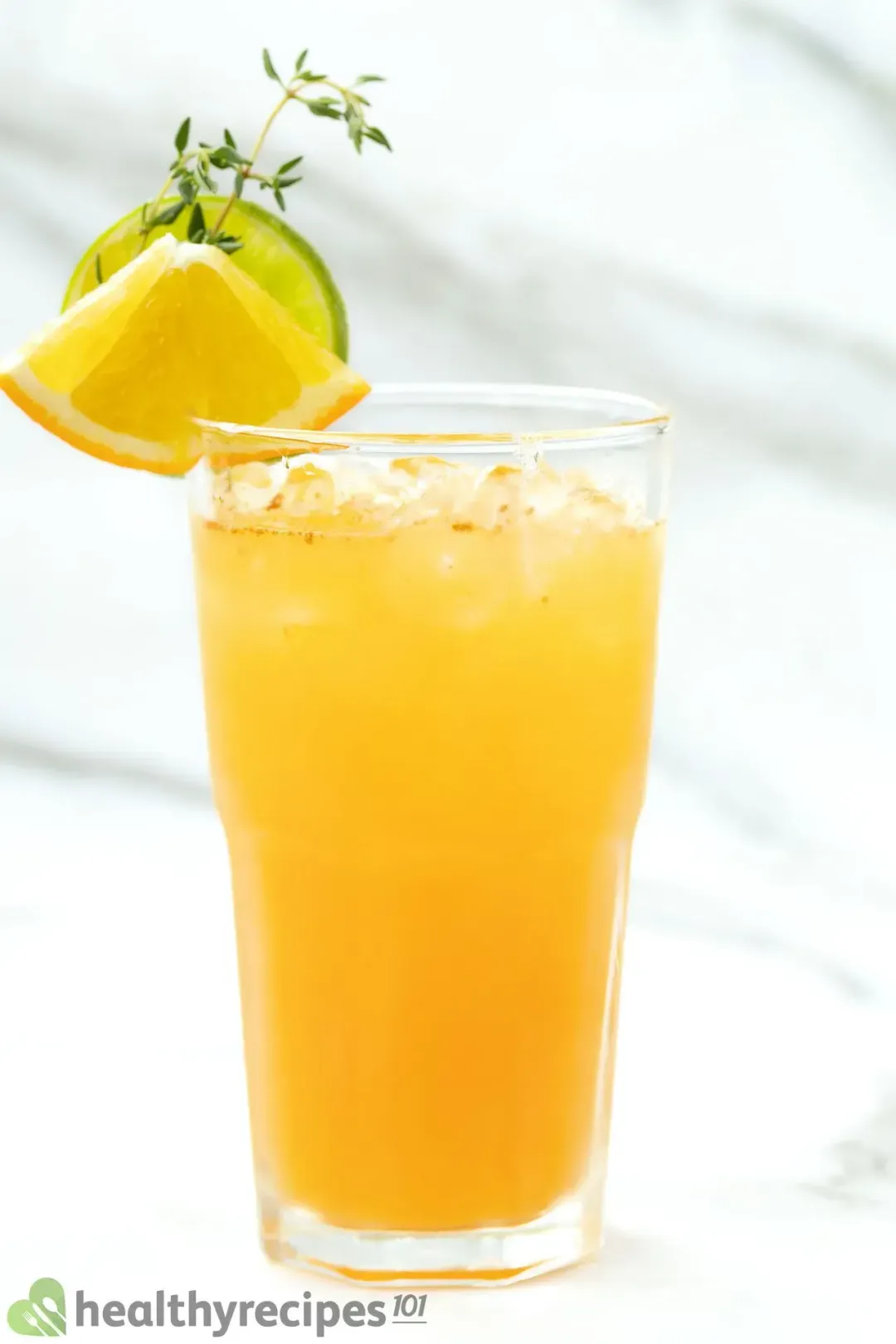 Can You Freeze Gin and Grapefruit Juice?
Yes, you can. Store the cocktail in a freezer-safe container, leaving an inch of space to allow for expansion.
It can last about a month at sub-zero temperatures.
When you're ready for a drink, leave it to defrost slowly in the refrigerator overnight or on the counter for a couple of hours. Have a taste to make sure the flavors are still present before serving it cold.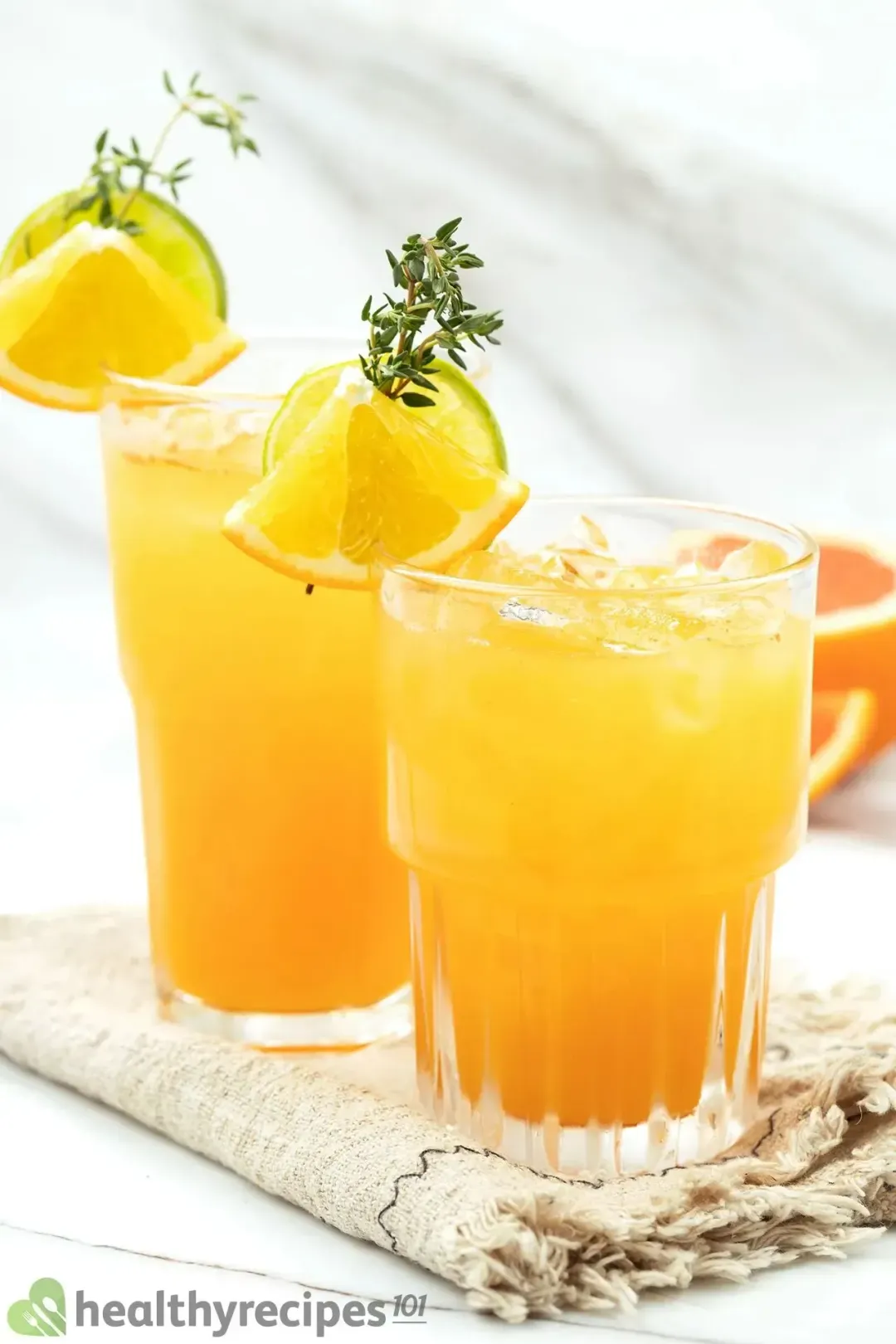 For more delicious juice recipes, check out delicious juice recipes. Or if you're a big fan of grapefruit, this healthy grapefruit juice roundup might be of help.
Gin and Grapefruit Juice Recipe
This gin and grapefruit juice recipe makes a tart, refreshing beverage. It's the perfect pink drink to deliver fun, tropical aromas!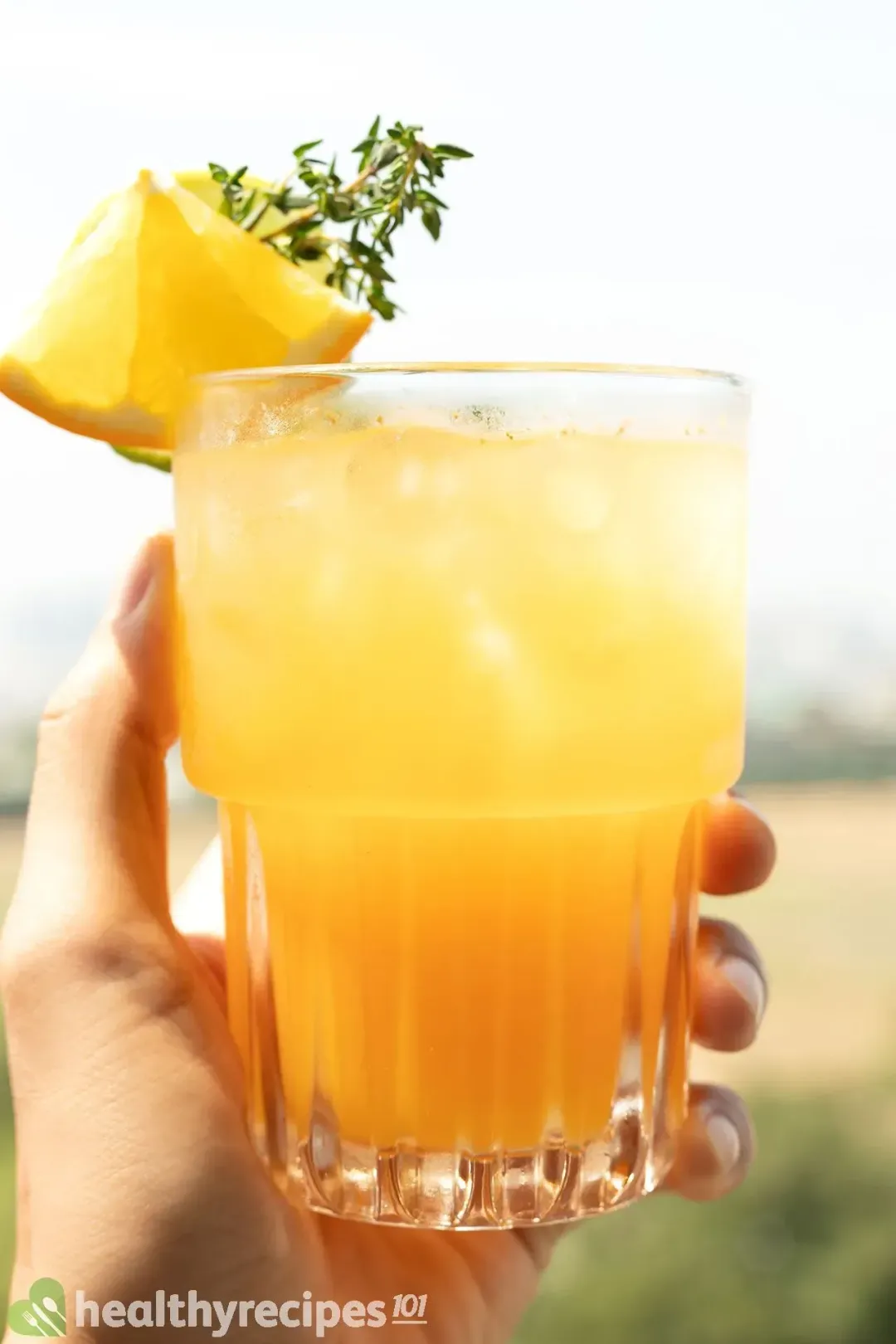 prep TIME

10 mins

total TIME

10 mins
COURSE

Beverage

CUISINE

Global

SERVINGS

servings

CALORIES

143 kcal
INGREDIENTS
12 fl oz

grapefruit juice
INSTRUCTIONS
1
Combine grapefruit juice, gin, orange juice, lime juice, sugar, and cinnamon in a large pitcher. Stir until the sugar dissolves.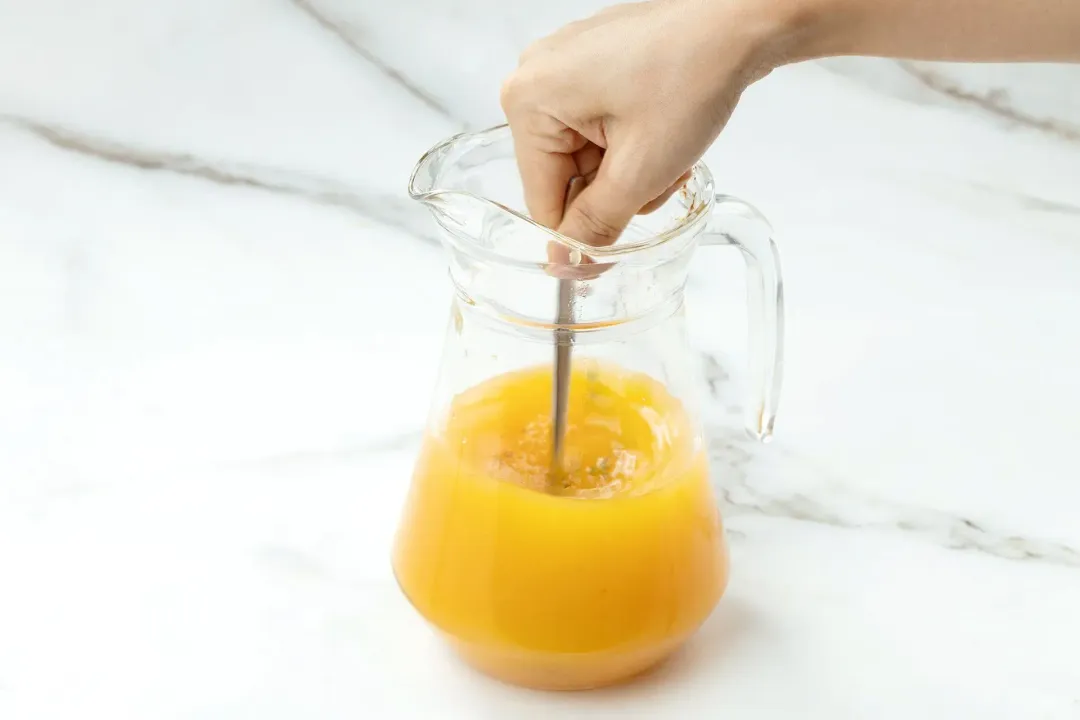 2
Divide the ice into four glasses and pour your gin mixture over the ice. Garnish with thyme leaves and serve.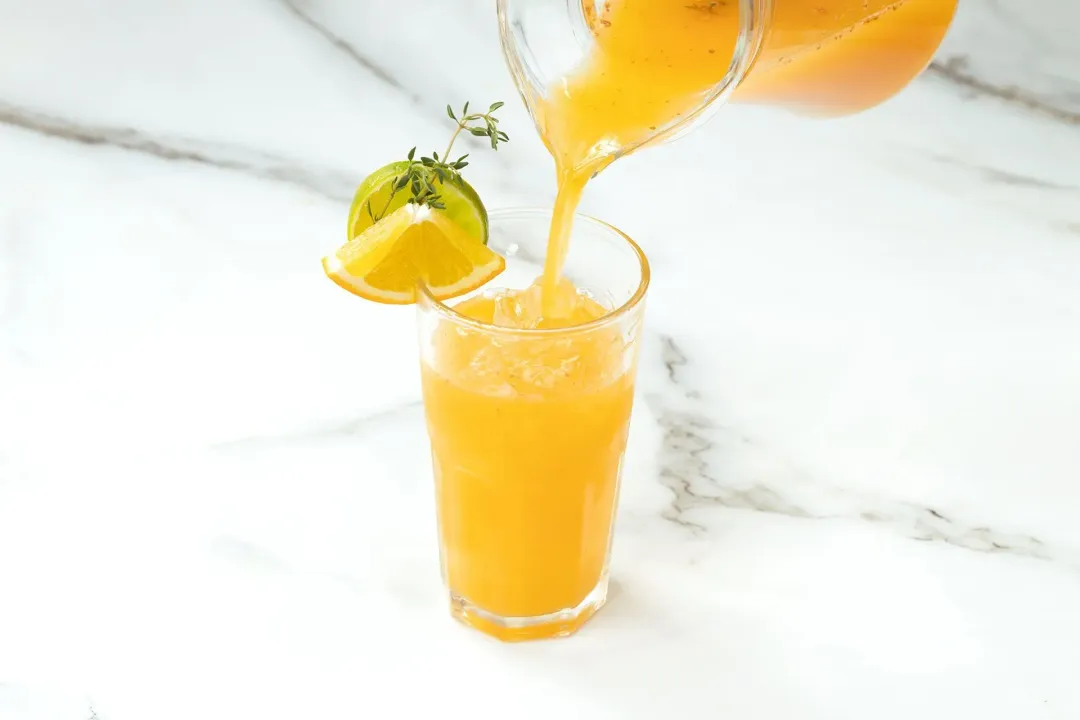 NUTRITION
Nutrition Facts
Gin and Grapefruit Juice Recipe
Amount Per Serving (1 serving)
Calories 143
Calories from FDA
% Daily Value*
* Percent Daily Values are based on a 2000 calorie diet.
Keywords: Gin and Grapefruit Juice, Gin and Grapefruit Juice Recipe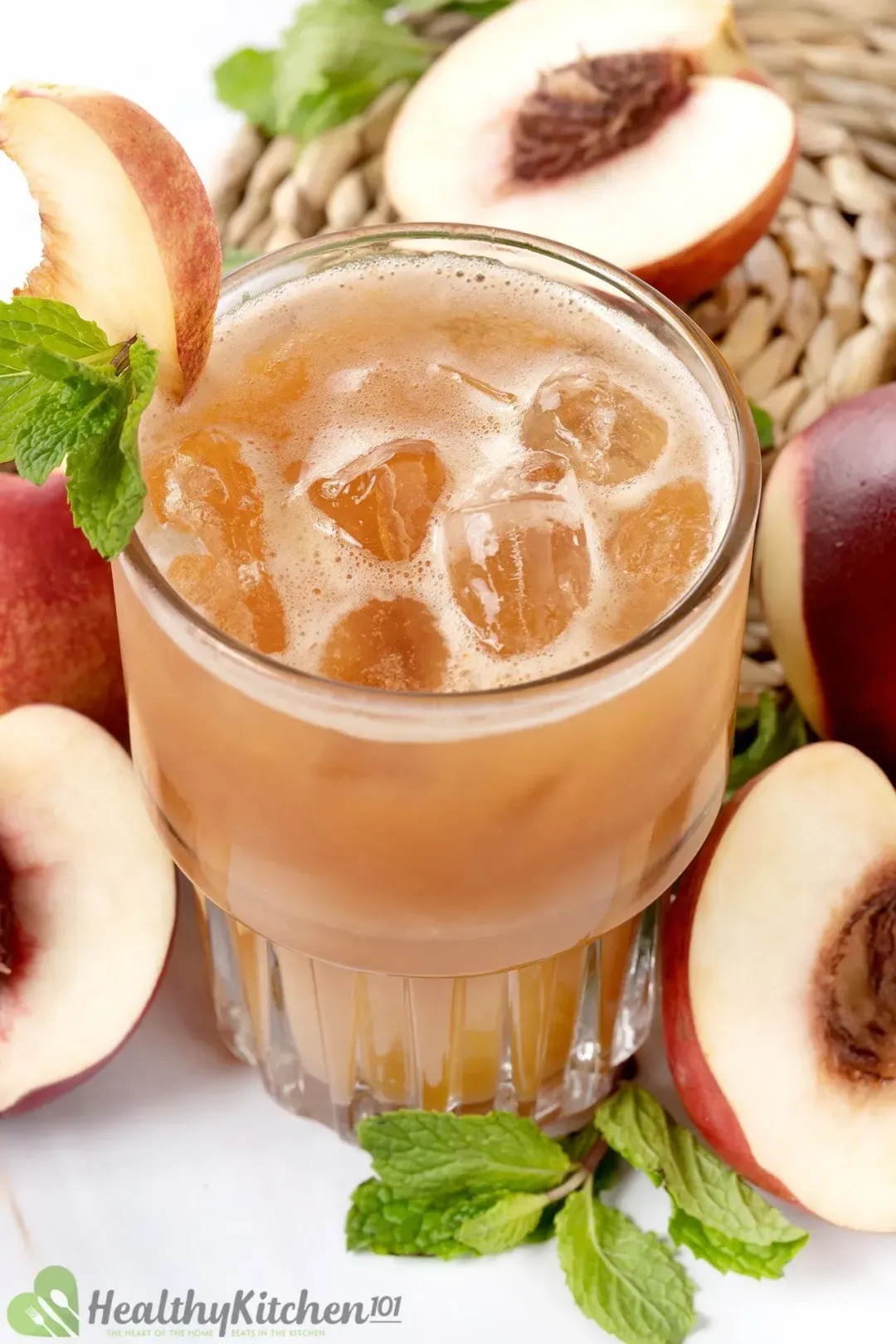 Previous Recipe
Peach Juice
Peach Juice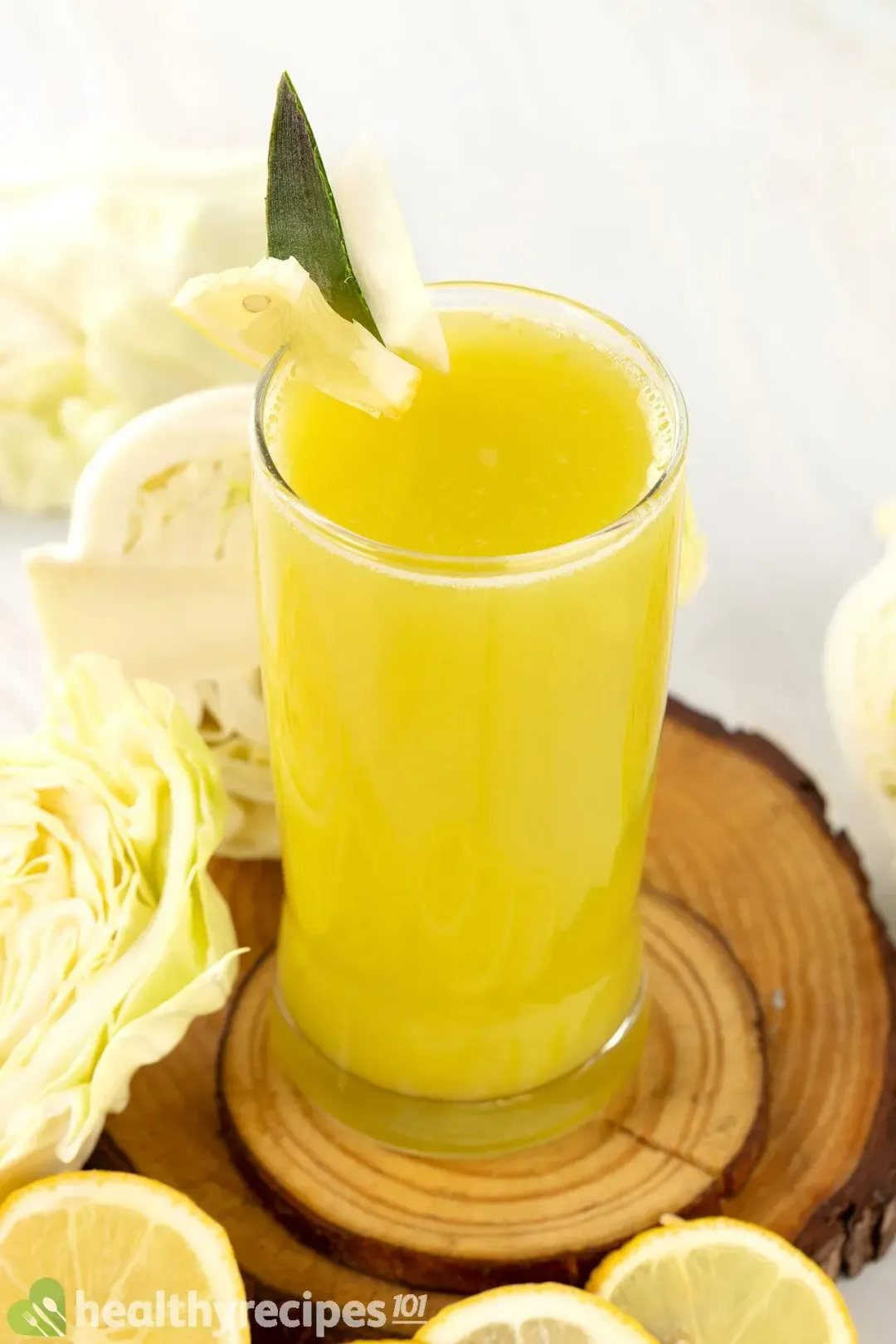 Cabbage Juice
Comments/ Reviews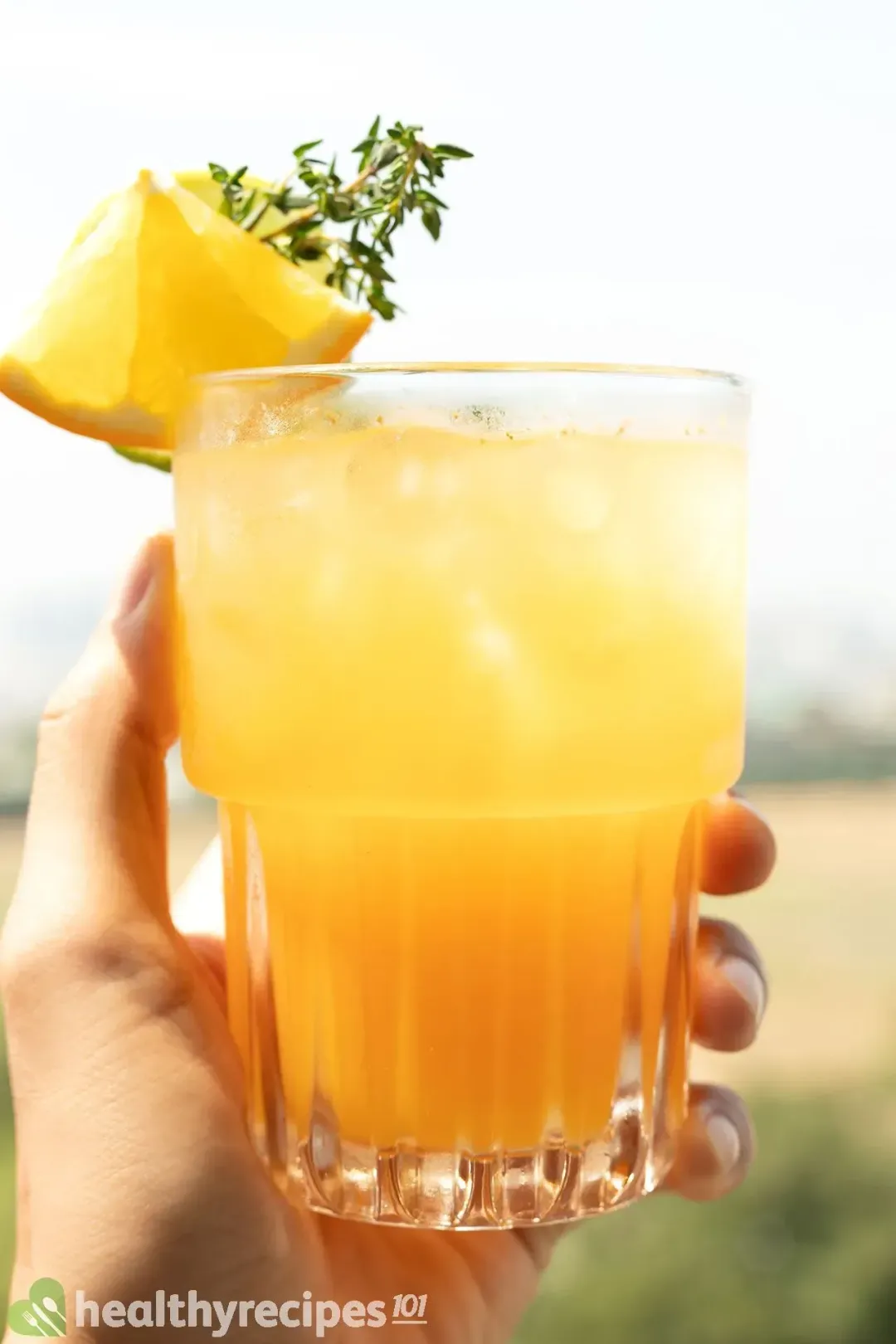 Michael

August 29, 2021 at 4:32 PM

can u add garlic juice to these recipes?

Luna Regina

August 29, 2021 at 9:03 PM

Hi Michael, we've never tried this with garlic juice. You may want to add it in small amounts if you're experimenting. Good luck!