Today's pear juice recipe introduces a quick and refreshing way to boost your daily vitamins and minerals. The recipe requires no more than four ingredients, but creates an aromatic and delicately-flavored drink that offers a boost of energy that you need to start the day.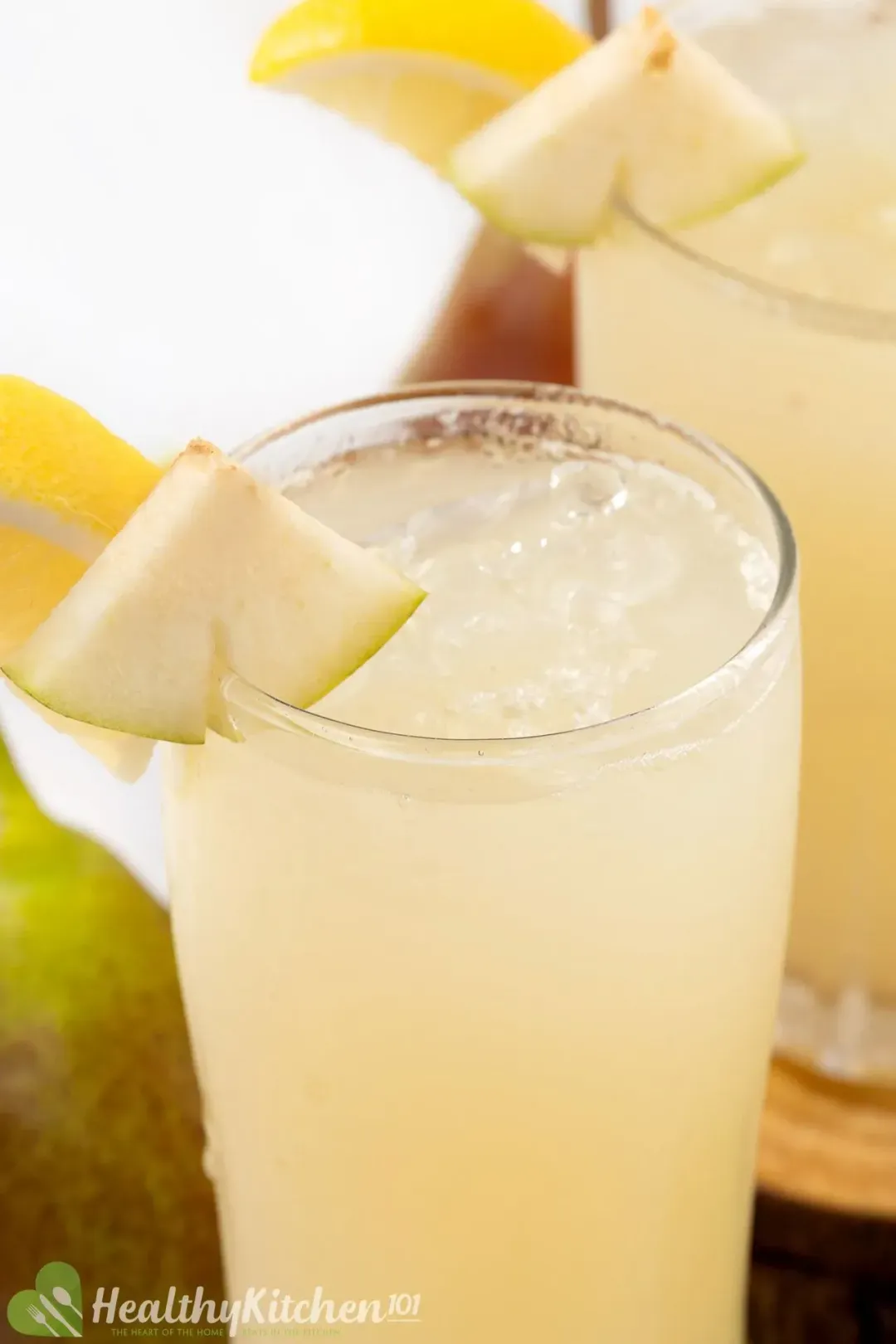 Types of Pear
There exist about 3000 – 4000 types of pears around the world, but only a few are edible and cultivated. All the ones you find in the market can be divided into two simple categories: Asian and European.
Most Asian pears are rounded, yellowish in color, and shaped more like apples. These pears have firm, crispy flesh with a surprisingly subtle sweetness, especially in the part closer to the core.
European cultivars vary in color and texture but often come in more stereotypical heavy-bottom shapes. The fruit has a smoother and mellower flavor than its Asian counterpart.
Benefits of Pear Juice
Juicing pears means that you extract as much of the juice as possible while eliminating fibrous materials. While this process makes for a less filling treat, it still offers most of the nutrients and benefits you would get by consuming a full pear fruit.
1. Reduce Inflammation
Inflammation is the root cause of many diseases including asthma, sinusitis, and arthritis. A study in 2015 found that a higher pear intake is linked with lower inflammation due to the anthocyanins and flavonol content in the fruit.
2. Boost Immune System
Pears are great sources of antioxidants and vitamins such as A, B1, B2, and K. These vitamins are essential for immune function as they stimulate white cell production and activity. The antioxidants in pears fight free radicals and decrease your risk of diseases.
3. Improve Heart Health
Among fruits, pears contain some of the highest amounts of potassium. This mineral can help lower blood pressure, keep your heart rhythm steady, and strengthen the blood vessels. 
This all results in increased blood flow providing oxygen to organs in all parts of the body and promoting their effective function.
4. Maintain Healthy Skin
Pear juice can aid you in achieving flawless, glowing skin. A high capacity of vitamins, minerals, antioxidants, and phytonutrients from this drink will nourish your skin. Plus, antioxidants protect skin from oxidative damage, keeping it smooth and soft.
Now that you know some important background about pears, it's time to learn how to prepare this lip-smacking juice.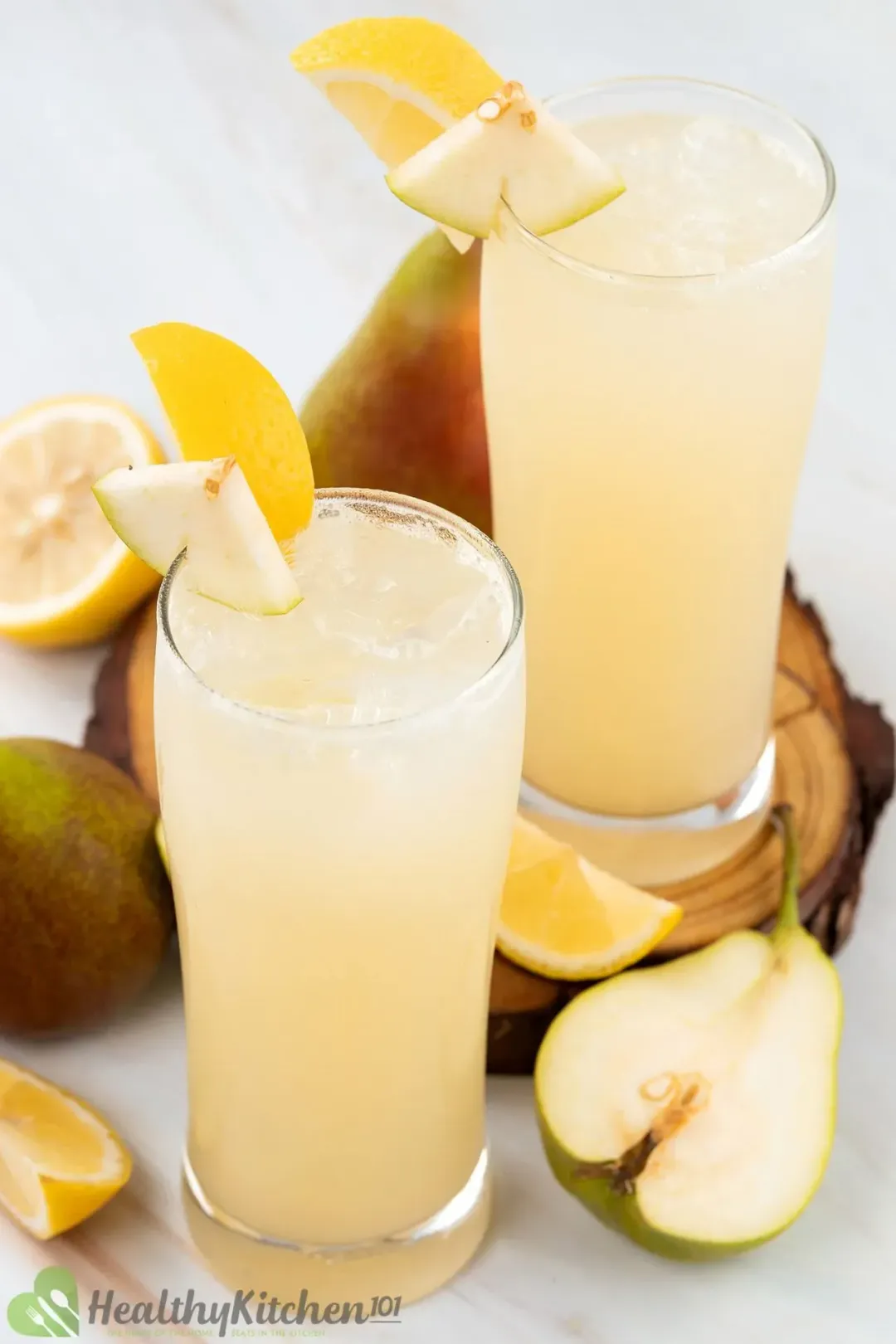 How to Cut a Pear for Juicing
We start by washing your pears carefully under running water. Then peel each one with a vegetable peeler.
You should lay the pear on its side and make 4 – 6 vertical cuts around the core to get all the flesh from the core. The flesh then can be chopped down into a size that fits your juicer's feed chute.
If you happen to have an apple corer on hand, it can also be used to prep your pears. A small tip is to cut the fruit from the base because that makes the core come out easier.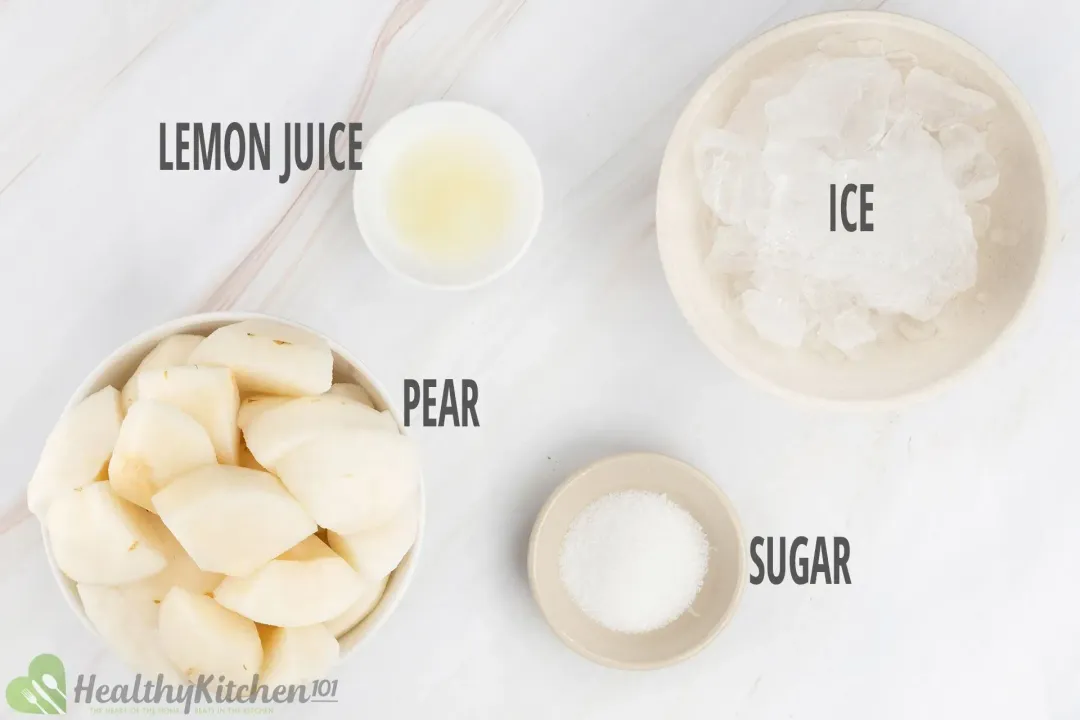 How to Make Pear Juice
Our pear juice recipe is pretty straightforward; here is a brief breakdown on how to make the drink. If you want to read the detailed how-to, please go to the recipe card at the bottom of this article.
Step 1: Juice the pear. Combine the juice with sugar and lemon juice.
Step 2: Serve over ice.
What Fruits Can Be Added to Pear Juice
Pear juice is quite simple to make, requiring nothing more than a juicer, some pears, and whatever other ingredients you want to add for more nutrients and to make the juice unique. The taste of pear is mild, making it an ideal juice to "pair" with other fruits.
1. Apple
Multiple types of apples can be used for juicing. The red, soft ones have a sweet taste in general and the green are more pungent and acidic.
The combination of pear and apple juice is deliciously simple. The best part, the drink provides you health benefits from both fruits.
You surely can pick the sweet or sour apple variety to suit your taste buds. And if you happen to be in love with apple juice, check out our other apple juice recipes for more information and inspiration.
2. Orange
Orange juice adds a slightly tangy flavor, creating a natural balance for the sweet pear juice. Plus, all oranges are high in vitamins A and C, so just a glass of pear orange juice will fulfill your body's daily requirement of those vitamins.
How to Tell if a Pear is Ripe
The first thing to know is that the pear is one of the few fruits that don't ripen on the tree. They are picked after reaching full size but they need a little more time for their sugars to develop. 
Pears ripen from the inside out and most varieties don't change skin color when they get ripen either. So how do you tell if the pear is ripe?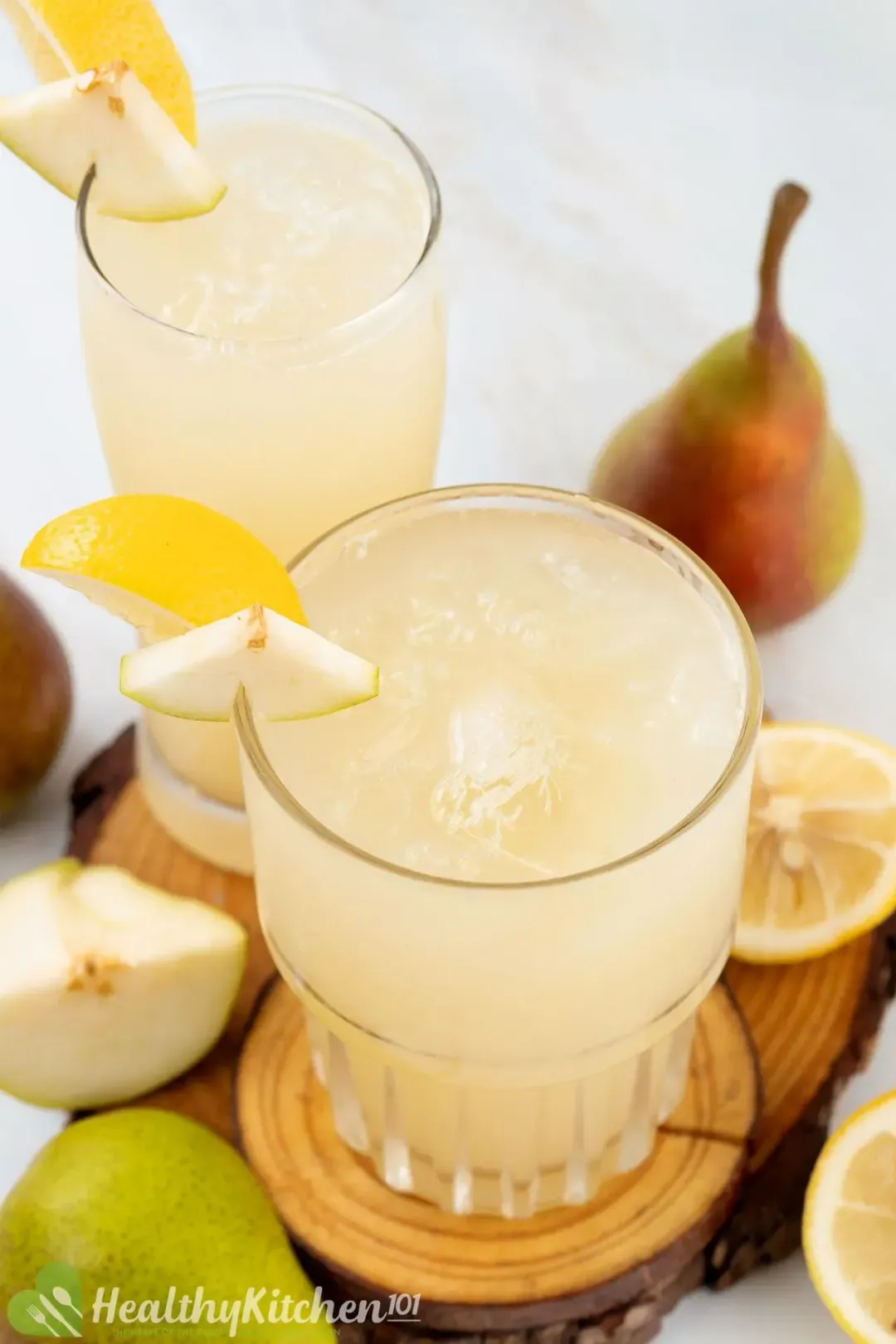 Checking the pear's ripeness isn't a complicated process. You can test it by feel. 
The technique is quite simple: squeeze the "neck" — the part close to the stem and press down to see how much it gives. If it squeezes down a bit, your pear is ripe and ready to eat.
If not only the neck but the whole pear is soft, it's probably overripe. When it's too soft, the fruit is likely mushy and sour-smelling inside.
We don't encourage the use of overripe pears since by that point they will have already lost much of their juice and flavor content.
How Long Does Pear Juice Last?
Like any other fresh fruit juice, pear juice should be consumed within 2 hours since the oxidation will reduce the nutrient content and taste with time.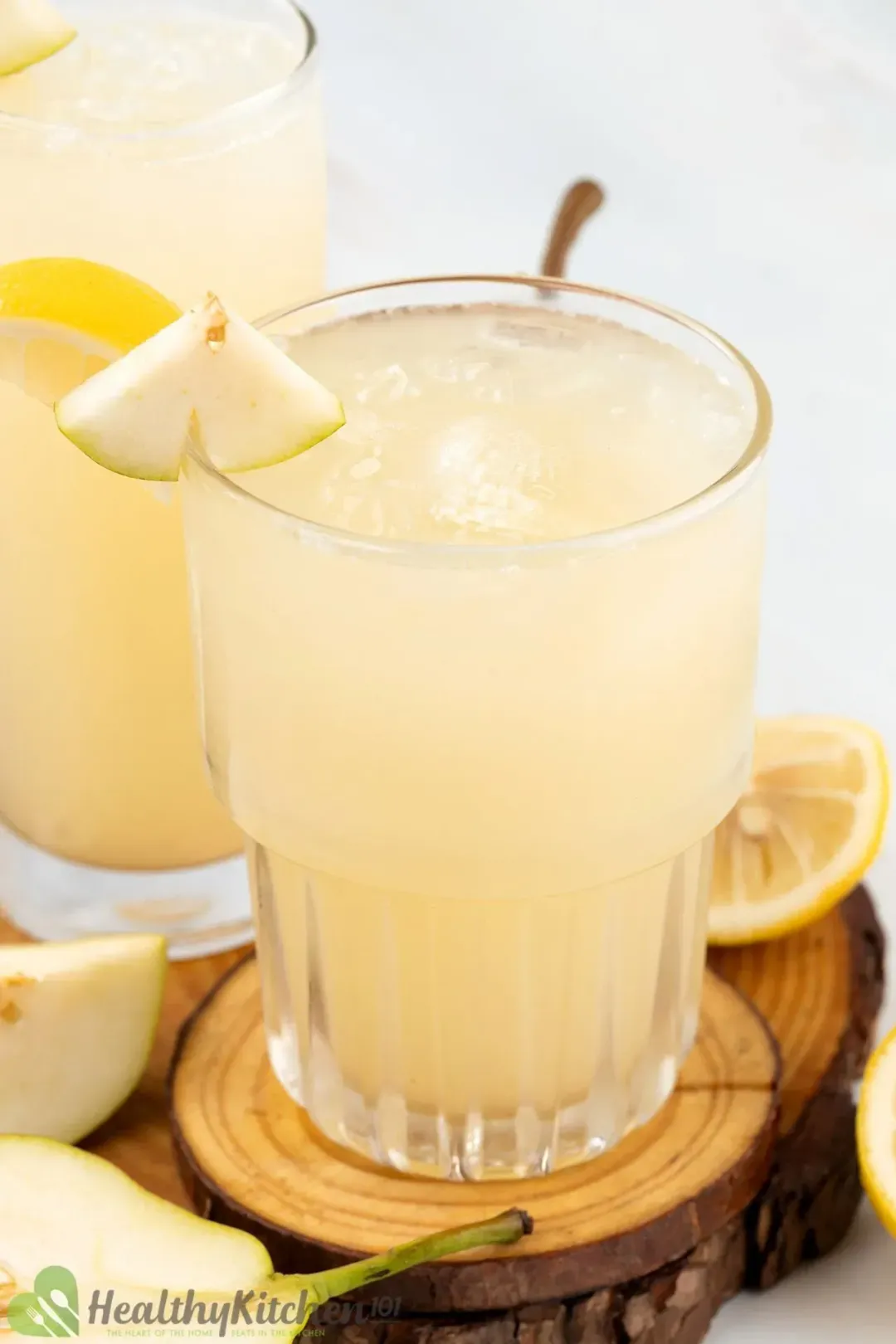 The best way to store fresh juice is in a glass jar with a lid. Place it in the refrigerator for no more than 2 days. If you want to store the juice for longer, divide it into individual containers or Ziplock bags and freeze it right away.
Pear Juice
This heart-healthy pear juice recipe extracts most of the fruit's benefits in liquid form. The drink gives you a much-needed boost to kick-start your day.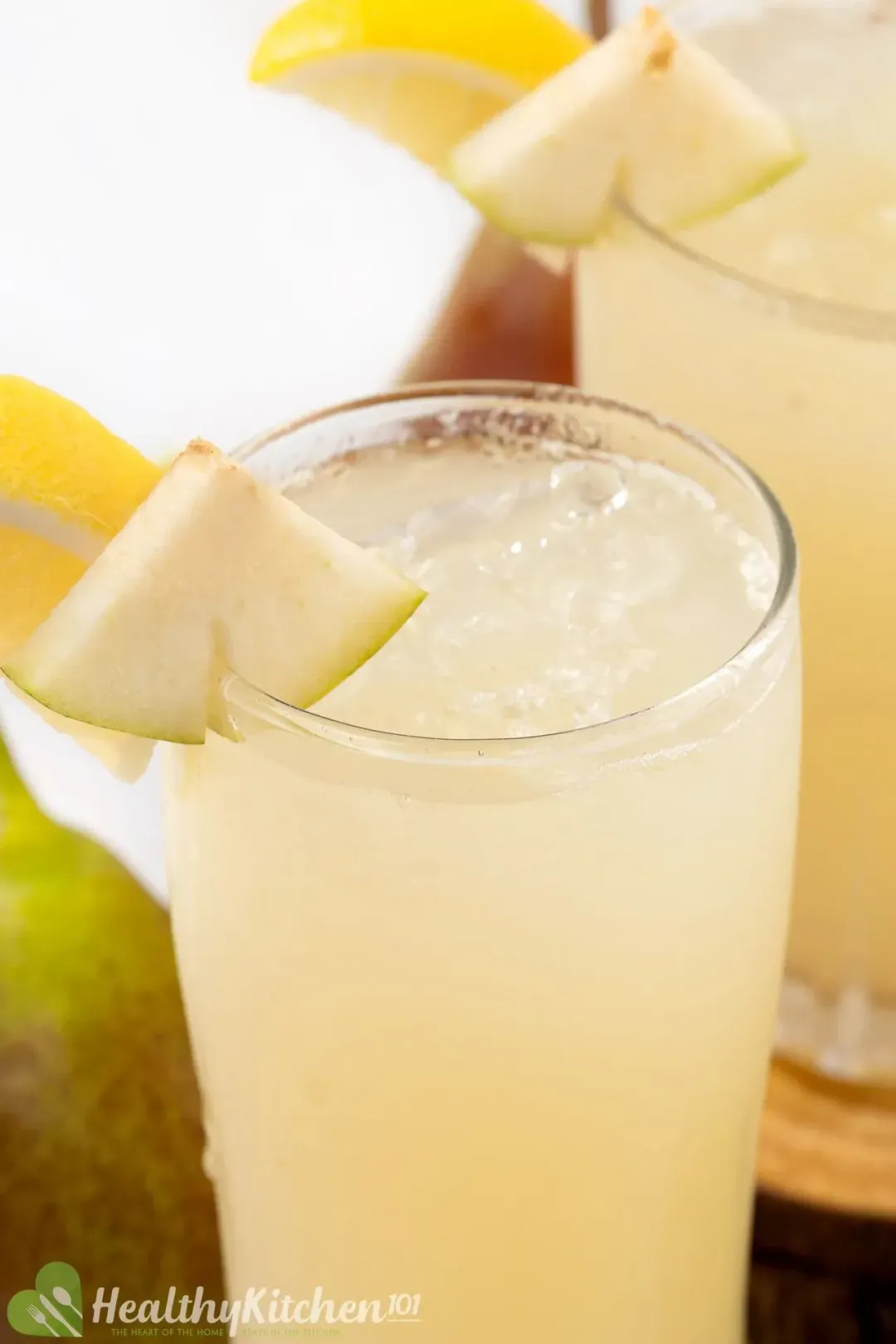 prep TIME

10 mins

total TIME

10 mins
COURSE

Beverage

CUISINE

Global

SERVINGS

CALORIES

110 kcal
INSTRUCTIONS
1
Wash, peel, and cut pears into quarters. Remove the cores. Juice the pears.
2
Pour pear juice, lemon juice, and sugar into a large pitcher. Use a wooden spoon to stir until sugar is dissolved.
3
Serve pear juice fresh over ice.
NUTRITION
Nutrition Facts
Pear Juice
Amount Per Serving (1 serving)
Calories 110
% Daily Value*
* Percent Daily Values are based on a 2000 calorie diet.
Keywords: benefits of pear juice, how to make pear juice, pear juice, pear juice recipe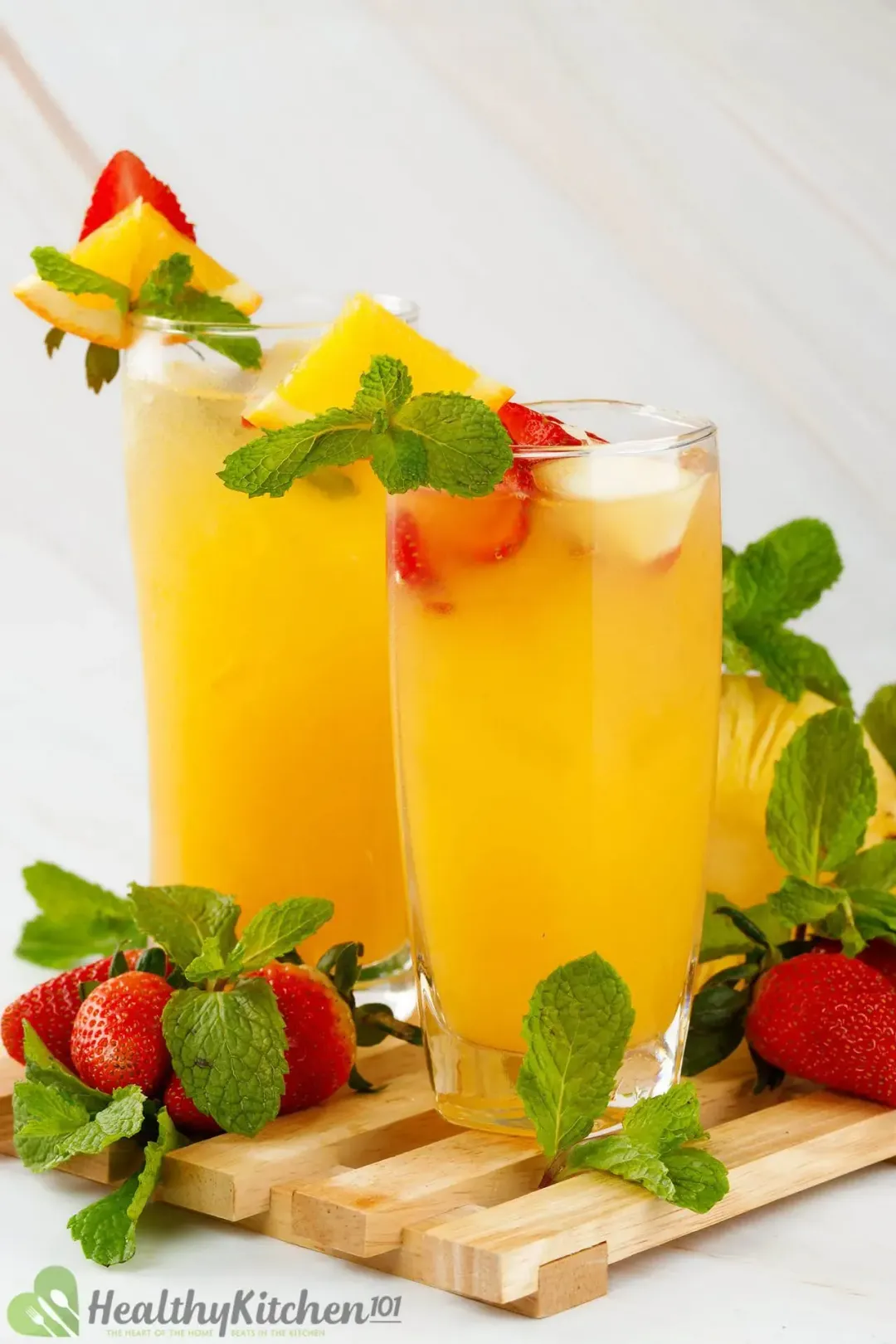 Previous Recipe
Halloween Jungle Juice
Halloween Jungle Juice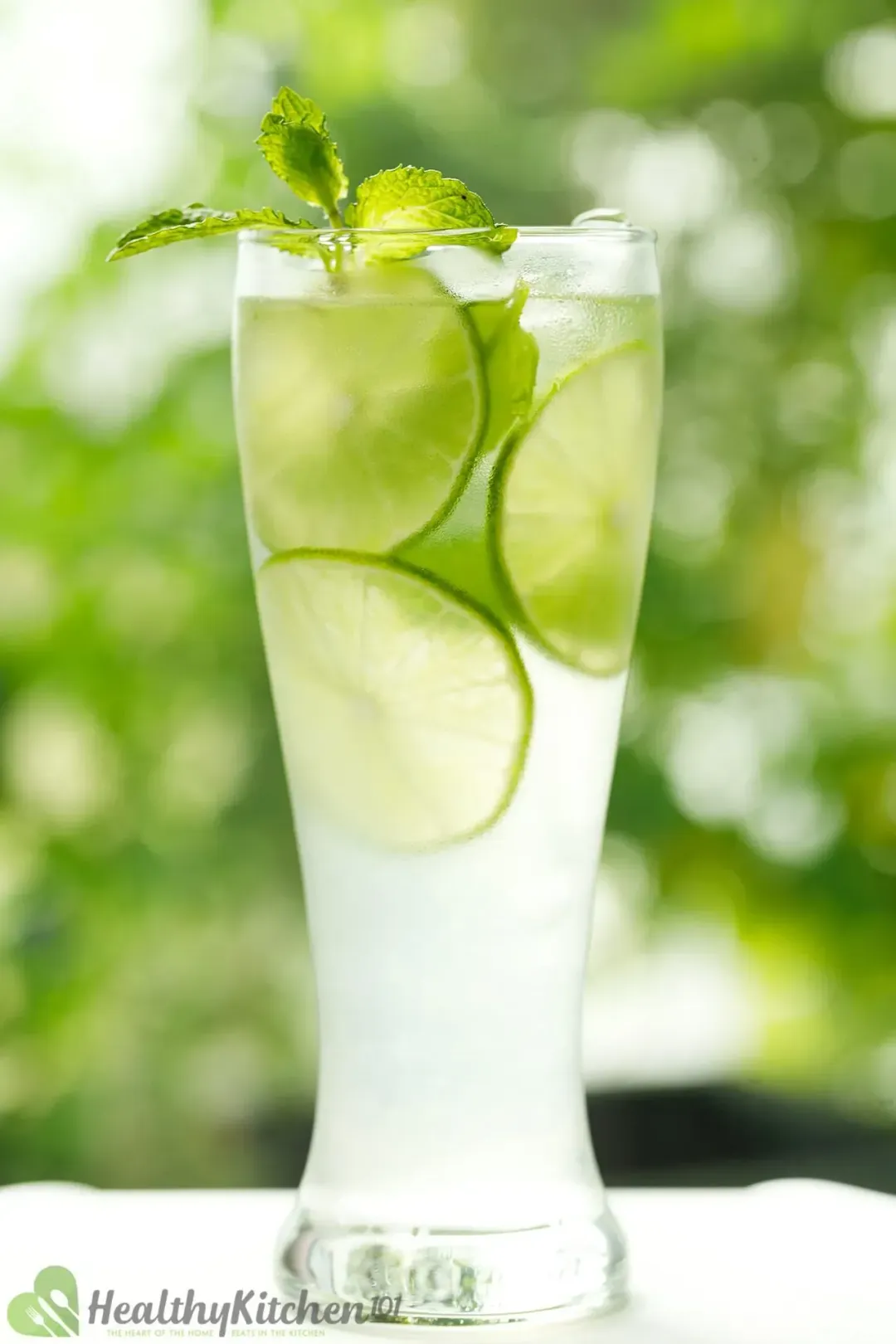 Next Recipe
Fresh Lime Juice
Fresh Lime Juice
Head Chef, Culinary Consultant
Tuyet Pham is an award-winning Saigonese chef who believes that joy is the secret ingredient to delicious food. At Healthy Recipes 101, Tuyet personally tests and simplifies every recipe, ensuring maximum flavor with minimal effort. With a background at prestigious French restaurants P'TI Saigon and Le Corto, Tuyet knows how to make every dish exceptional.
Writer, Author
Luna Regina is an accomplished writer and author who dedicates her career to empowering home cooks and making cooking effortless for everyone. She is the founder of HealthyKitchen101.com and HealthyRecipes101.com, where she works with her team to develop easy, nutritious recipes and help aspiring cooks choose the right kitchen appliances.
Nutrition Reviewer
Lizzie Streit is a Minneapolis-based dietitian and founder of It's a Veg World After All. She completed her MS in Human Nutrition from Drexel University, and is an expert in culinary nutrition, recipe development, and nutrition communications. Lizzie's philosophy is centered around making nutrition recommendations, and especially the advice to eat more vegetables, approachable and realistic. She is excited to be working with the team at Healthy Recipes 101 to ensure that their recipes are both nutritious and delicious.
I was making this in batches to share and it's perfect.