Besides introducing the best apple juice recipes, today's article is meant to cover some of the health aspects of consuming apple juice— both the good and the bad.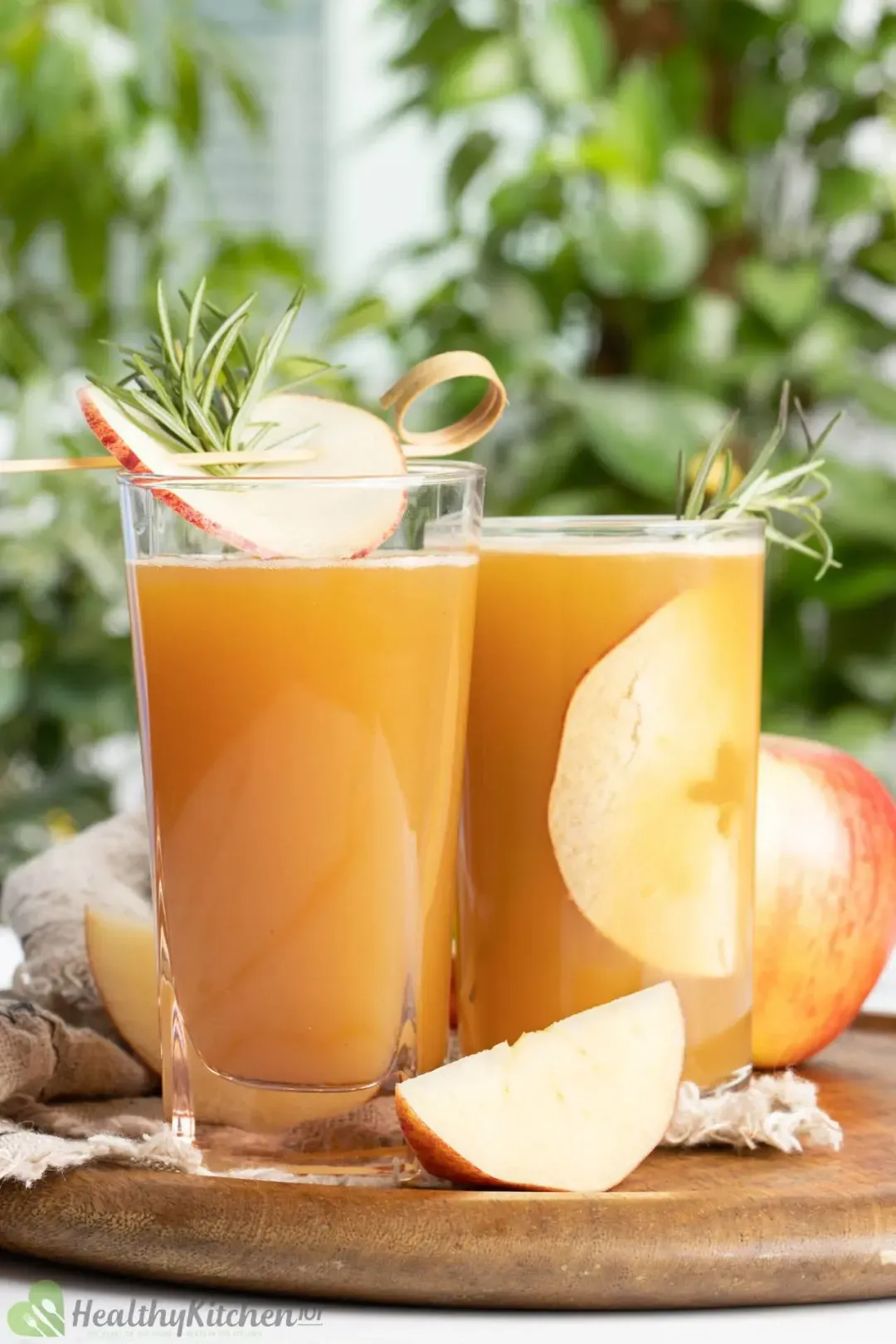 Nowadays, apple juice is one of the most common fruit juices on the market. With the right equipment, it's also super easy to make for yourself! 
Your momma always said, "An apple a day keeps the doctor away." Chances are you're mature enough now to know health isn't quite so simple, but sayings like that usually have a kernel of truth.
The question then becomes: Are apples the fruit you should focus your juicing efforts on? Is it worthwhile, or are you better off making other juices?
Today's article will give you some pointers on how to make it, and also round up some tasty recipes for you to try!
Apple Cider vs Apple Juice
"What's the difference between apple juice and apple cider?"
Don't be embarrassed if you've asked yourself this when staring at the mass of options at the supermarket. It's actually a common question. 
If you're British or Australian, "cider" may call to mind the image of your favorite pub. But alcohol doesn't define cider, and non-alcoholic apple cider is far more common in the US than the boozy kind.
Cider is made by slicing and grinding the apple into a mash that resembles applesauce. Then, it's pressed through a fine-mesh strainer or cloth to remove the bulk of the pulp (but not all of it).
For apple cider, sometimes, the apples are cooked before mashing, but not always. The main takeaway is that there's still a bit of pulp.
Apple juice, on the other hand, is filtered to a much more significant degree— all the pulp is removed. The stuff you find at the supermarket is also pasteurized so it will keep much longer than cider.
Additionally, cider's association with alcohol is not only due to pub drinks. Since it's unpasteurized, cider can begin to ferment if left long enough.
Intriguing as that may sound, it's not a good way to reduce your booze bill. Fermentation must be done in a controlled manner to result in alcohol that's safe to drink.
In sum, cider that's been sitting too long is more likely to poison you than offer a pleasant buzz. While for this juice, you'll likely lose almost all the insoluble fiber from the juicing process.
You might have realized by now that the fresh apple juice you make at home is technically apple cider by definition. However, for homemade recipes, the distinction doesn't really matter, especially if you intend to drink it right away.
Focus on the style you enjoy and don't fret over the semantics.
Apple Juice Benefits
The pros and cons of apple juice run the gamut. It offers more downsides than most juices, but there's certainly a lot of good that can come from a glass of apple juice.
1. For Weight Loss
The topic of weight loss is a complicated one. First of all, because of their nature, fruit juices contain a lot of sugar.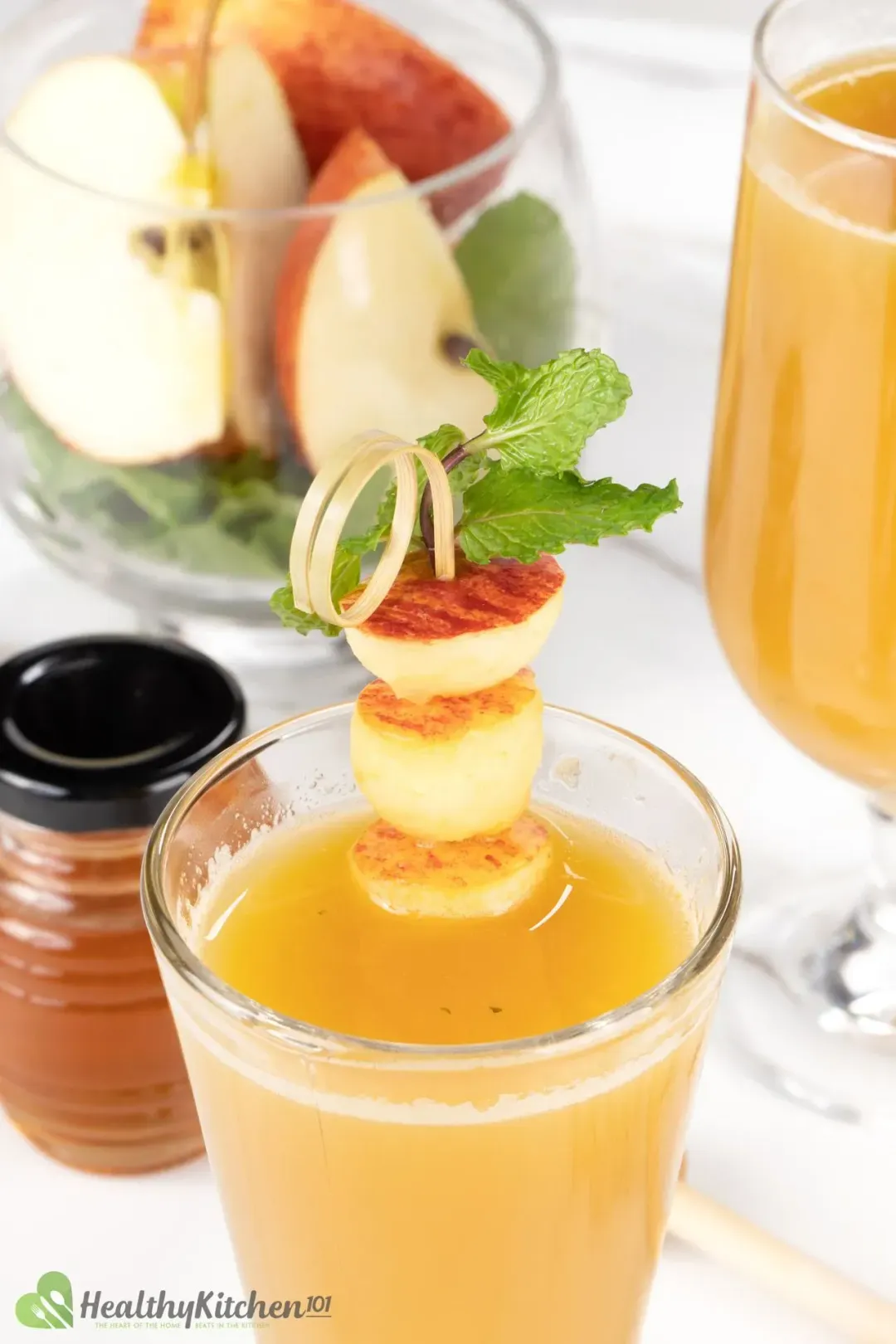 Even though it's not the high-fructose corn syrup found in soda, your digestive tract still processes it the same. Drinking lots of fruit juice means drinking lots of sugar.
Not only that, but some store-bought juices add more sweeteners to keep up with Americans' ever-expanding demand for sweetness. Liquids also don't fill you up the way foods do, so it's easy to drink too much.
There are a few ways to make your juice habits good for your weight-loss plan. The first is to make it yourself so you can have full control over the ingredients.
The other is to water it down.
Hydration is critical to losing weight. There are those of us, though, who aren't wild about plain water.
Therefore, using juice to flavor your daily water ration can be a great incentive to keep drinking. This also has the benefit of limiting the amount of sugar you drink at any given time.
2. For Skin
A few websites tout apple juice as a miracle elixir for vibrant skin. Unfortunately, it's not nearly so simple.
What they get right, though, is the fact that apples are a good source of vitamins and nutrients. These include vitamin C and other antioxidants, which are good for your skin, ligaments, and blood vessels' healing ability.
In fact, your body cannot store vitamin C long-term— it must be replenished constantly. And drinking juice is a quick and easy way to maintain the consumption of vitamin C for your body.
How to Make Apple Juice
As we mentioned above, apple juice (or apple cider) can be made by both methods. You can either run the fruits through a juicer or boil and run them through a straining medium.
Among all juicing methods, the juicer is the simplest. All you need to do is toss in the apple slices and let the machine do its job.
A more conventional, yet complex way to make apple juice (or, more accurately, cider) is to boil the apples. Simply throw the apples into the saucepan with just enough water to cover, then boil and simmer until they disintegrate.
As long as the apples thicken and form a purée, you're good to go. Put a coffee filter or cheesecloth in a fine-mesh strainer and ladle it through.
Next, use a spatula to mash the apple chunks gently to extract most of the juice. Note that the leftover pulp can still be used to make applesauce later.
If the flavor is too strong, simply water it down a bit until you like it.
Some people also suggest cooking the apples together with spices like cinnamon or cloves. Others prefer adding them to the purée after cooking.
Remember that however you make it, your apple juice will spoil after a while. Store it in the fridge and finish it within a week.
Apple Juice Nutrition 
While apple juice is not as vitamin-rich as other juices, it's still got some good stuff. 
Like we mentioned before, apples are a good source of vitamin C and other antioxidants as well as potassium. These are critical nutrients that show healthful effects on your body if consumed on a regular basis.
1. Calories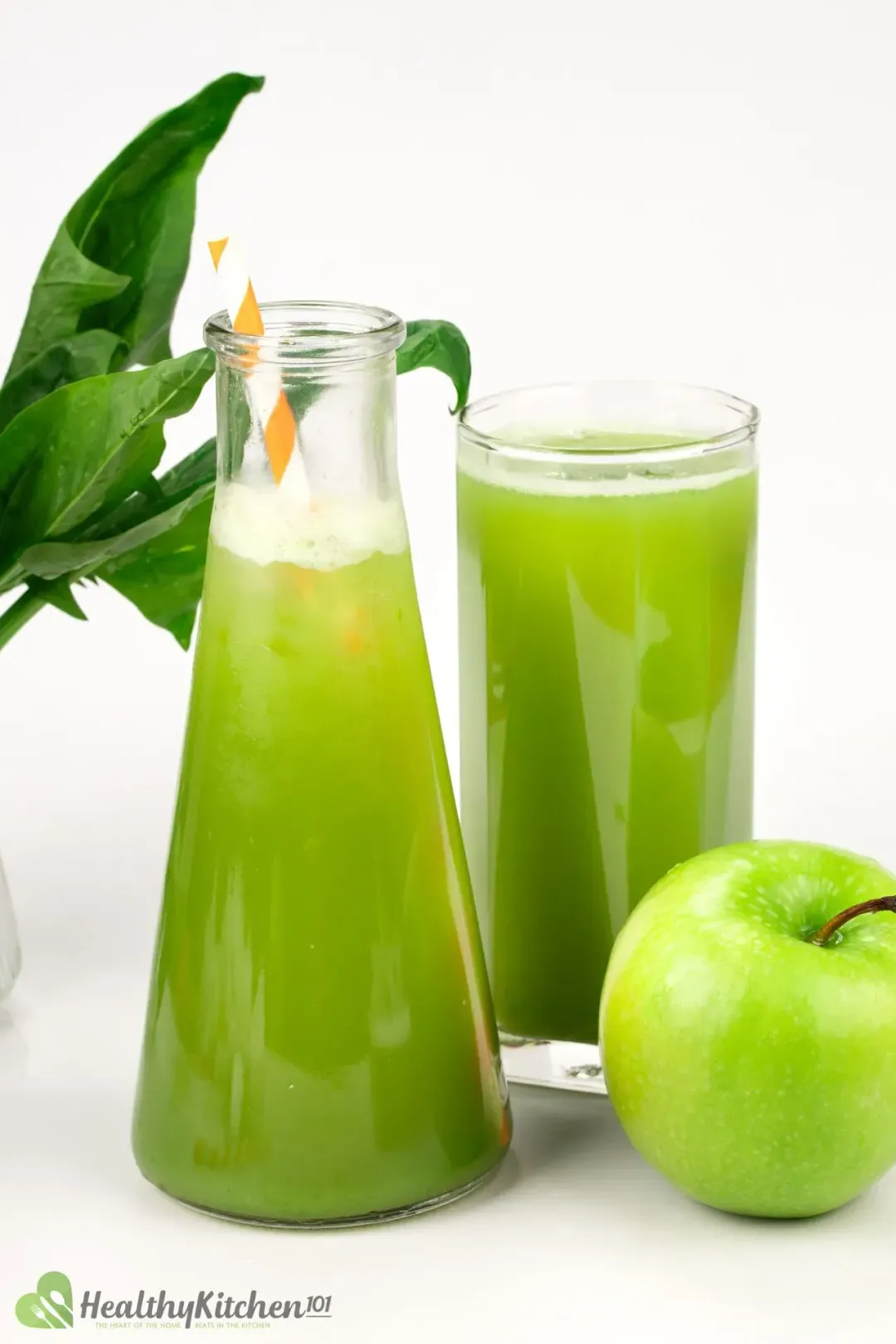 From a medium raw apple, you get roughly 77 calories, nearly all of which come from sugars and fiber. Unsweetened store-bought apple juice, meanwhile, will run about 46 calories. Unfortunately, most of that reduction in calories comes from the reduction in fiber.
Again, it's worth noting the difference in perception, too. 250 grams of juice is equal to one measuring cup's worth of liquid— not what most of us would consider a large amount to drink.
However, in whole form, 250 grams equals two medium-large apples. Both your eyes and your stomach will consider eating the apples to be a more filling experience.
2. Fiber
The other major benefit apples offer is fiber. By now, we're all probably aware that fiber is critical to a healthy diet and that Americans tend to get too little. Eating a single apple can give you as much as 17% of your daily requirement.
Unfortunately, this is one major point where juice can let you down. Juicing removes the majority of insoluble fiber, which keeps you feeling full and promotes healthy digestion.
Blending, on the other hand, can help retain it in your drinks. But of course, consuming fresh fruit is always the best recommendation.
3. Ph of Apple Juice
Apple juice (and apples in general) are slightly acidic. They come in with pH values between 3.3 and 4. 
Foods are not inherently healthy or unhealthy because of a pH value, as long as your liver and kidneys are functioning correctly. If you aren't suffering from severe acid reflux, you won't be harmed by the pH levels of ordinary foods like these.
4. Carbs
Since apples' calories come almost exclusively from carbohydrates, the juice is similar. 250 grams (1 cup) of extensively strained, pasteurized juice contains about 24 grams of sugar and 0.5 grams of fiber. That is compared to 26 grams of sugar and 6 grams of fiber in the same mass of whole apple. Your homemade juices will likely fall somewhere in the middle.
Is Apple Juice Good for You?
The answer to the million-dollar question is, "Yes, but…" Apple juice is not inherently unhealthy, but it's definitely not as healthy as eating an apple.
Maintaining healthy habits regarding apple juice means striking the right balance. Drinking lots of apple juice will overload your body with sugars, and the result won't be much different than drinking soda.
However, apple juice (and other juice) is a good way to supplement your intake of vitamin C and potassium. Plus, the pleasant flavor helps some people meet their hydration needs.
Like so much in the realm of nutrition, we recommend moderation. A little juice is a good thing, but you shouldn't try to get more than one of your daily fruit servings in juice form.
In sum, let's experiment with recipes and flavors, but don't go overboard in terms of consumption.
Easy And Delicious Apple Juice Recipes
1. Best Recipe: Apple Juice (4 servings)
This three-ingredient apple juice recipe is a wholesome beverage to keep you hydrated while receiving essential nutrients at the same time.
In this recipe, we added mint, ginger, and apple juice to the blend to create a sweet and slightly spicy drink. Don't forget to serve it cold for a refreshing experience!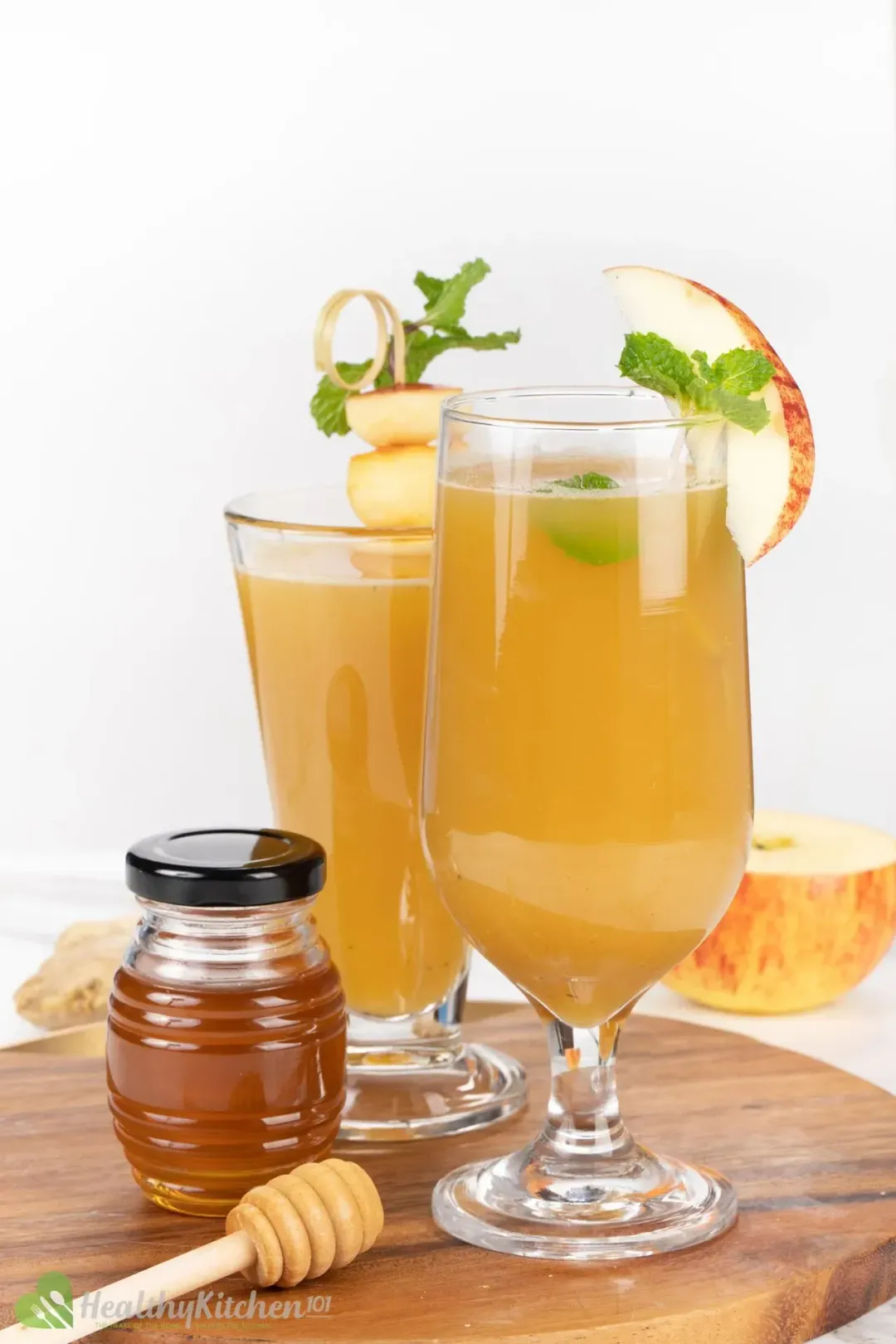 2. Green Apple Juice (4 servings)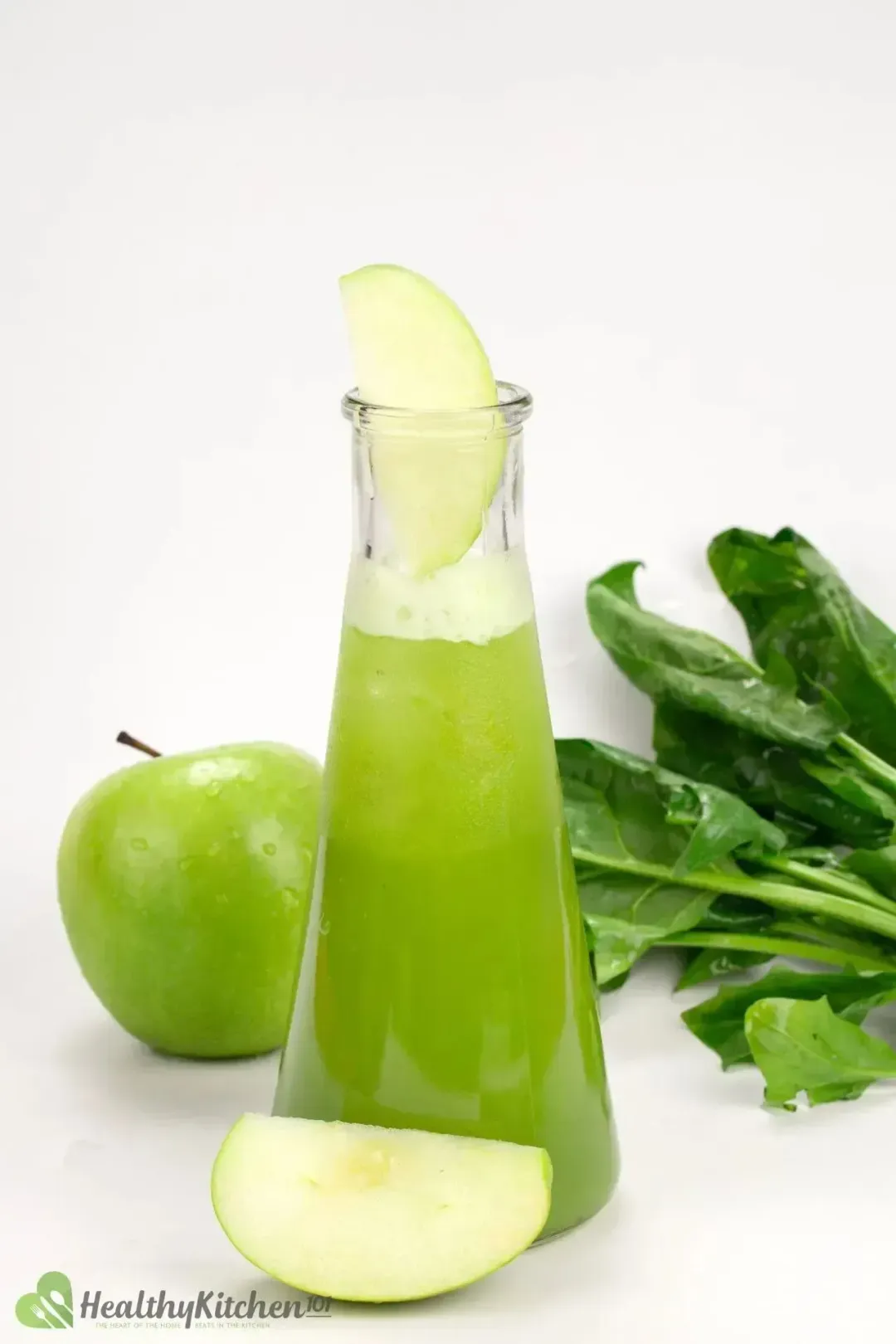 This green apple juice recipe gives you a basic formula to develop similar recipes with extra add-ins of your choice. A serving of this drink also provides you essential nutrients, lots of vitamin C, vitamin A, and other strong antioxidants.
It also sparks a vibrant deep green color— purely intriguing!
Ingredients:
2 oz spinach
3 cups apple juice
2 tbsp honey
Instructions:
Juice the spinach. Add water to thin out the consistency if desired.
Whisk spinach juice together with apple juice and honey.
Serve immediately, add ice, or refrigerate as you wish.
3. Carrot Apple Juice (4 servings)
Carrot apple juice is a super simple juice packed with nutrients but requires a short ingredient list. This drink celebrates flavors from three fruits and vegetables: carrots, apples, and oranges.
Carrot apple juice is undoubtedly a refreshing drink suitable for kids and adults. Serve it cold for a satisfying treat!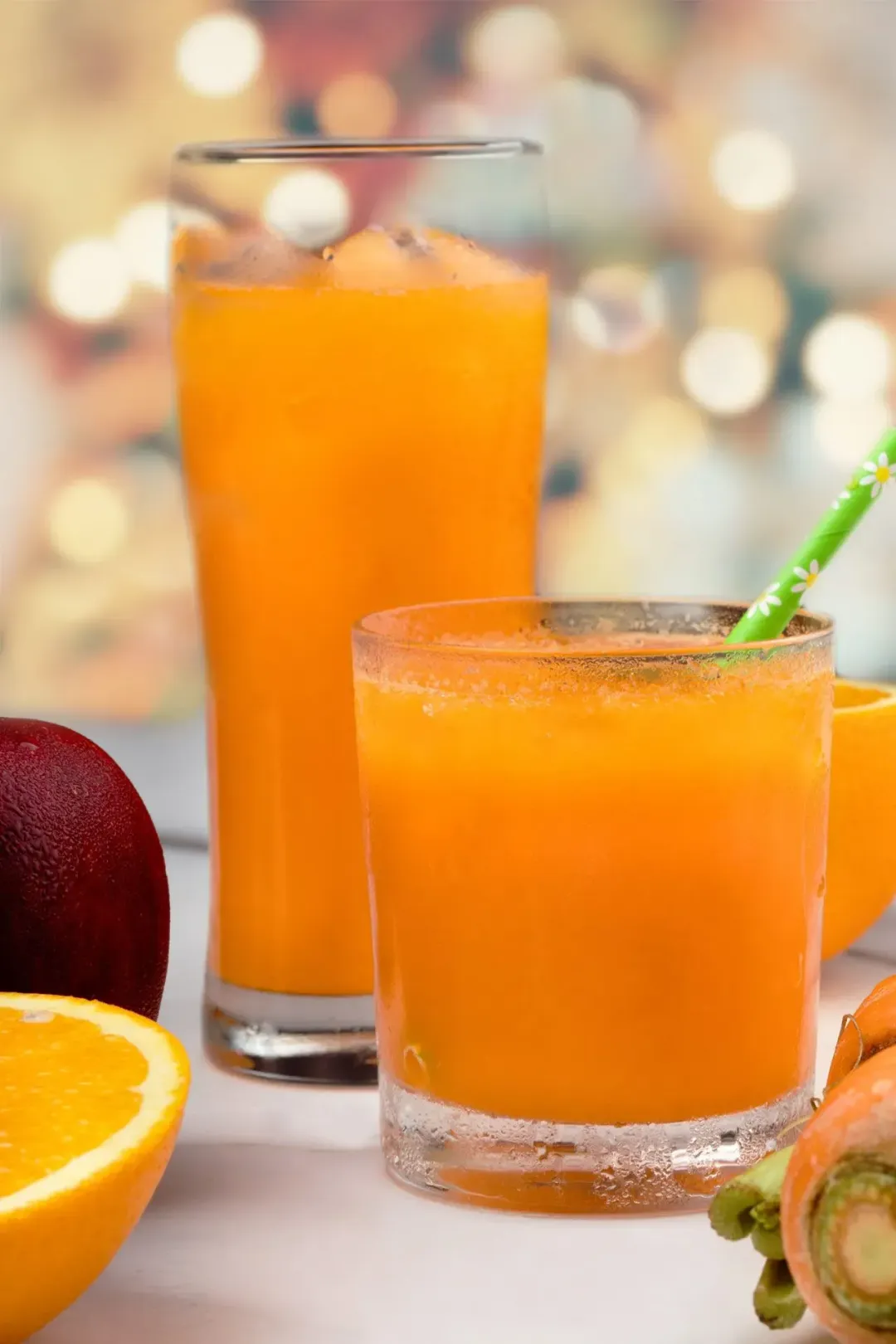 Ingredients:
12 fl oz carrot juice, from 26 oz carrots
12 fl oz apple juice, from 16 oz apples
8 fl oz orange juice, from 14 oz oranges
1 tsp ginger
2 cups ice
Instructions:
Wash all ingredients thoroughly. Peel carrots, oranges, and ginger.
Remove ends and slice carrots into circles. Cut apples into wedges and oranges into quarters. Remove seeds (optional).
Switch on the juicer and pass all ingredients through the feed chute.
Once all the juice is collected, stir it to mix, add 1/2 a cup of ice to each glass and pour in the fruit and vegetable juice.
Serve cool.
4. Apple Juice And Vodka (4 servings)
This apple juice and vodka is a simple drink that you can make in 5 minutes with just a few ingredients!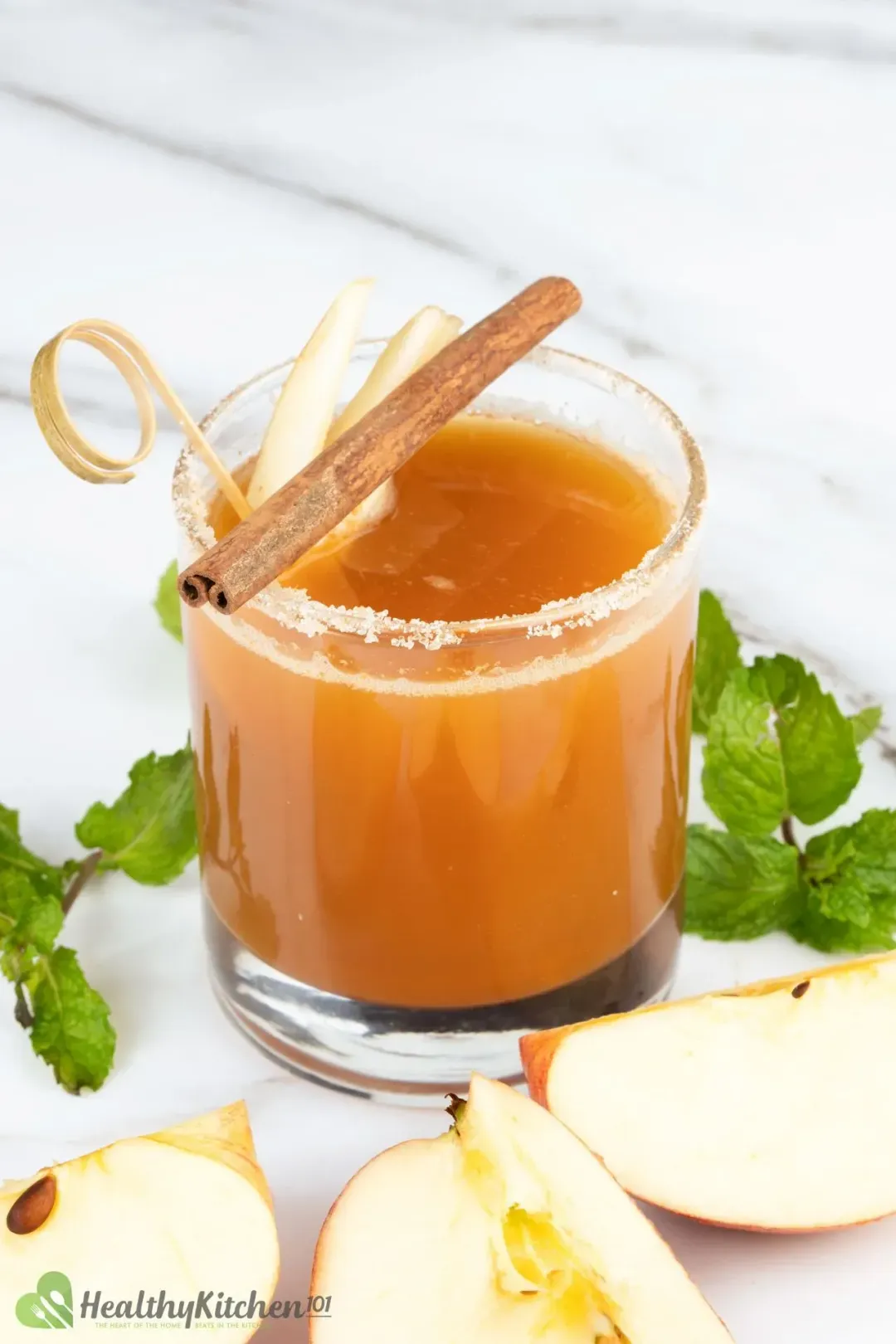 The soft and clean notes of vodka pair exceptionally well with the fresh, delightful flavors of apple. Together with lemon juice, this blend imparts a notably sweet, tart, and vibrant flavor.
Ingredients:
16 fl oz apple juice
4 fl oz 80-proof vodka
1 tbsp lemon juice
1 tbsp sugar
1/4 tsp cinnamon, ground
2 cups ice, crushed
Instructions:
Add apple juice, vodka, lemon juice, and sugar into a large pitcher. Stir until sugar dissolves.
Add cinnamon and stir until well-mixed.
Serve over ice.
5. Sugar Free Apple Juice (4 servings)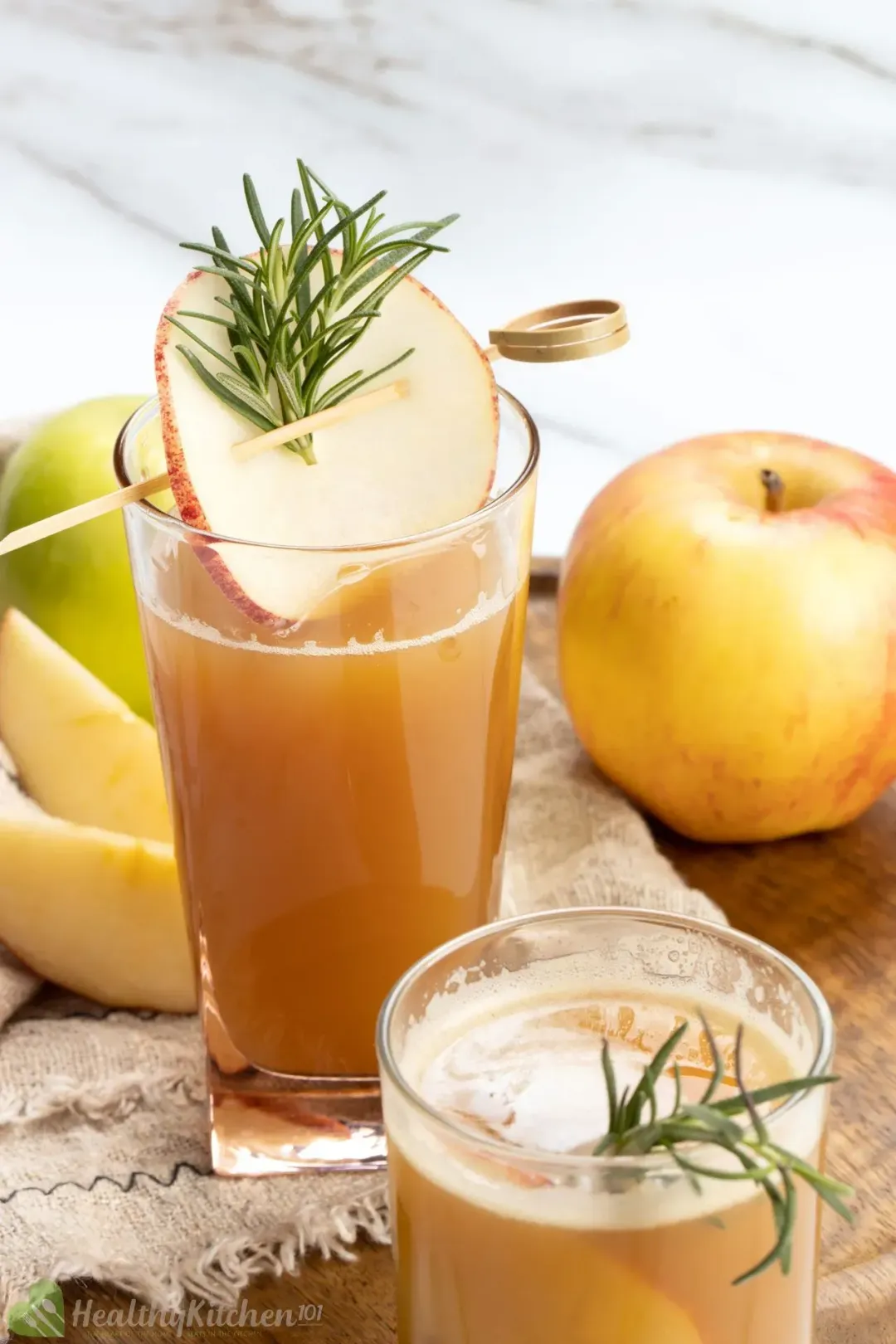 This sugar free apple juice will make you never want to come back store-bought packages of apple juice ever again!
Ingredients:
2 cups ice
24 fl oz apple juice (20 oz red apple, 4 oz green apple)
1 tsp rosemary
Instructions:
Peel and cut the apples into small chunks.
Run the apple chunks through a juicer one by one.
Pour the apple juice into serving glasses.
Add ice cubes and rosemary for garnish. Enjoy.
6. Carrot Apple Beet Juice (4 servings)
If you're looking for a simple, healthy drink, this carrot apple beet juice recipe is just the one for you. It's a healthy and nutritious beverage for you to sip on hot days.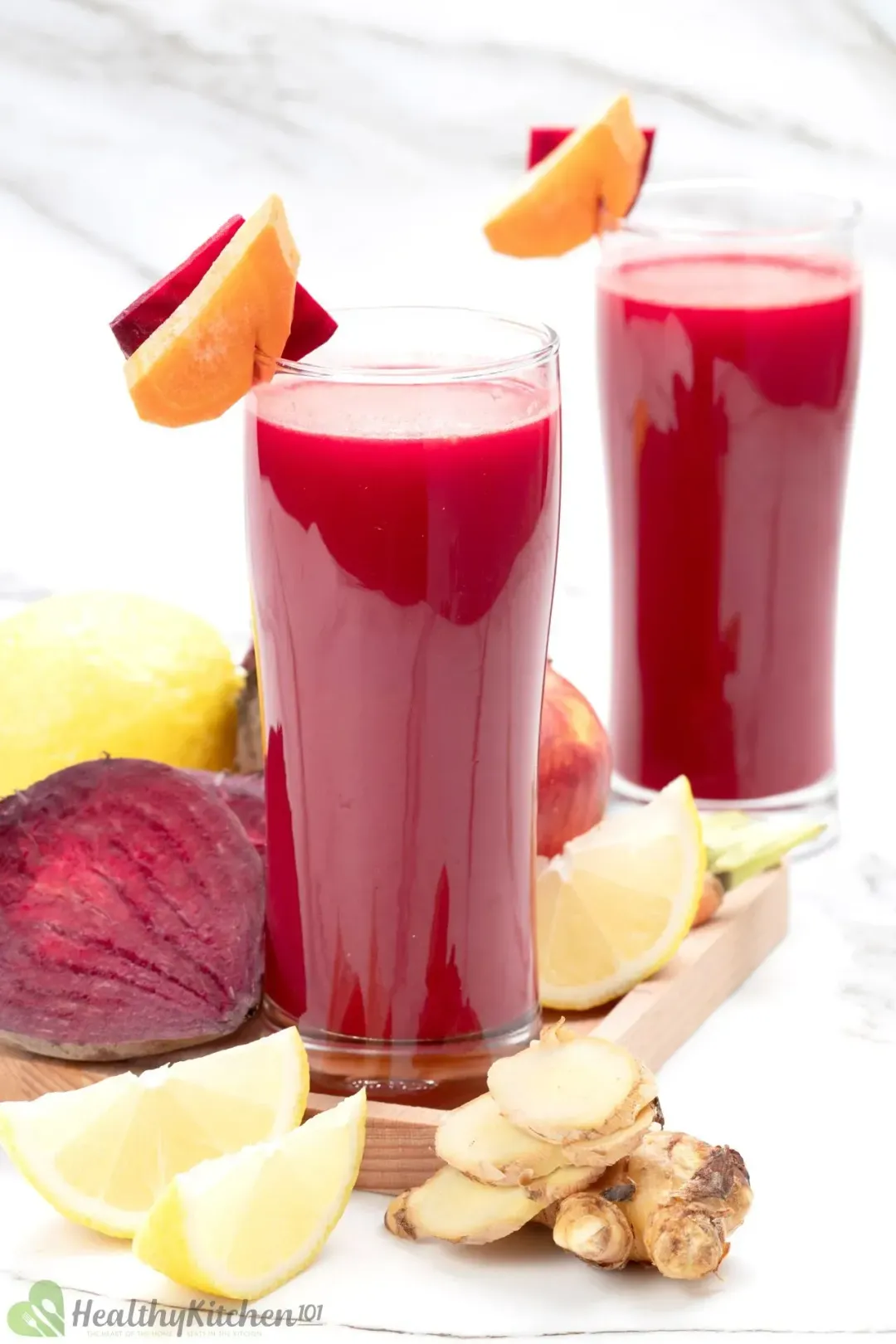 Carrot apple beet juice is also an easy way to consume various types of fruits and vegetables after big meals. Don't forget to lend a spicy kick to it by putting a small amount of grated ginger into the juicer.
Ingredients:
8 oz beets
1/4 oz ginger, grated
1 1/2 cup apple, chopped
1 cup carrots, chopped
2 tbsp honey
2 tbsp lemon juice
Instructions:
Juice the apples, carrots, ginger, and beets together.
Whisk the mixture with lemon juice and honey until dissolved.
Pour into small serving glasses. Chill in the fridge for a couple of minutes or serve right away.
7. Carrot Apple Ginger Juice (4 servings)
This healthy carrot apple ginger juice recipe mainly focuses on the balanced ratio between ginger, apple, and carrot. It makes a pure and crisp beverage enriched with natural flavors of carrot, apple, ginger, and absolutely no refined sugar.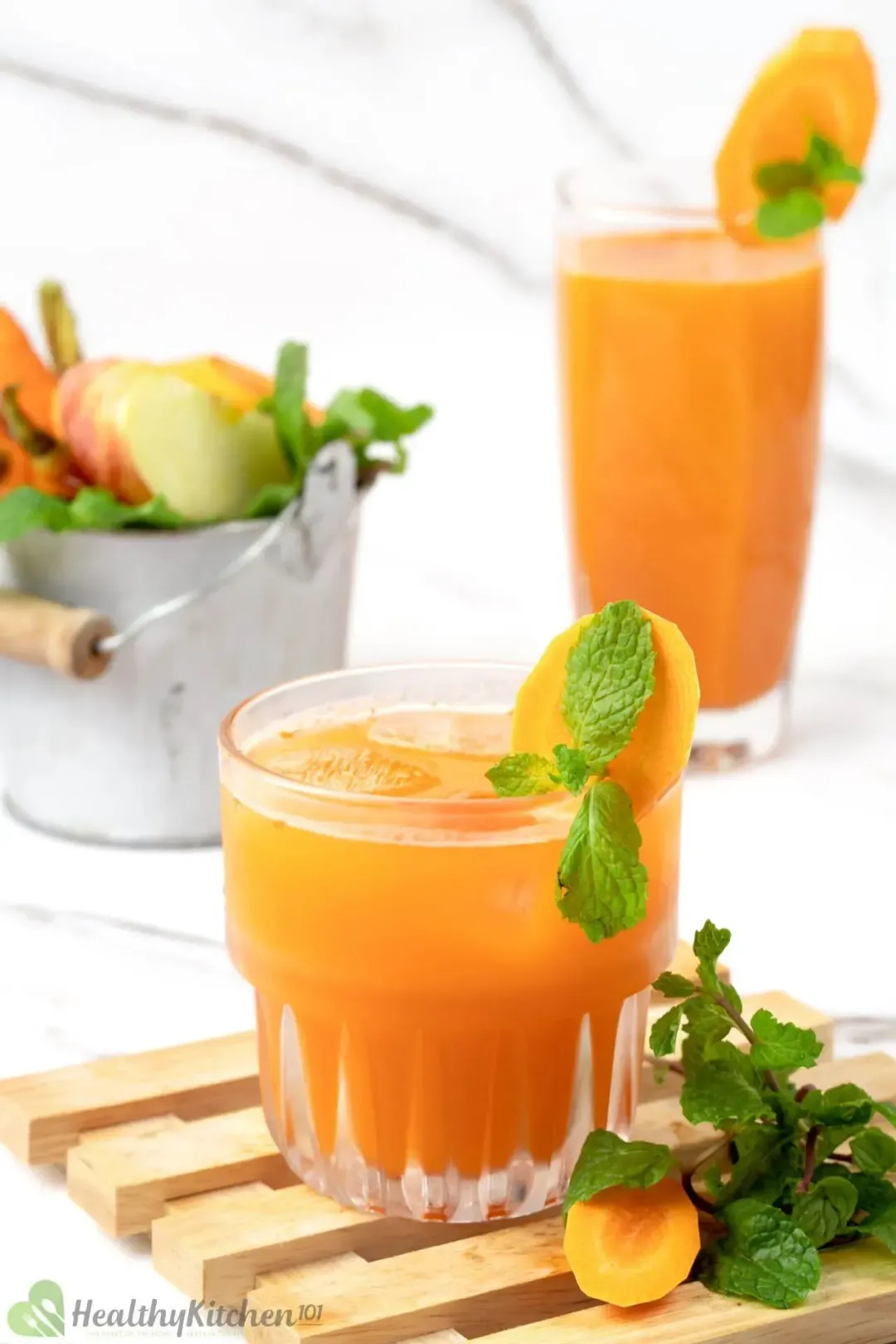 Ingredients:
16 oz apple juice, from 20 oz fresh gala apples
0.5 oz ginger, about 1-inch knob
8 oz carrot juice, from about 18 oz carrots
3 tbsp fresh mint leaves
2 cups ice
Instructions:
Rinse carrots and apples. Drain well and pat dry with a kitchen towel. Remove apple cores and cut into wedges. Peel the carrots and cut into sticks.
Run all apples, carrots, and ginger through a juicer.
Divide into 4 glasses. Add ice, garnish with mint leaves, and enjoy.
8. Apple Cinnamon Rum (1 serving)
This apple cinnamon rum is engaging and mood-lifting. Warm, spicy notes of cinnamon compliment the contrasting flavors of apple and rum.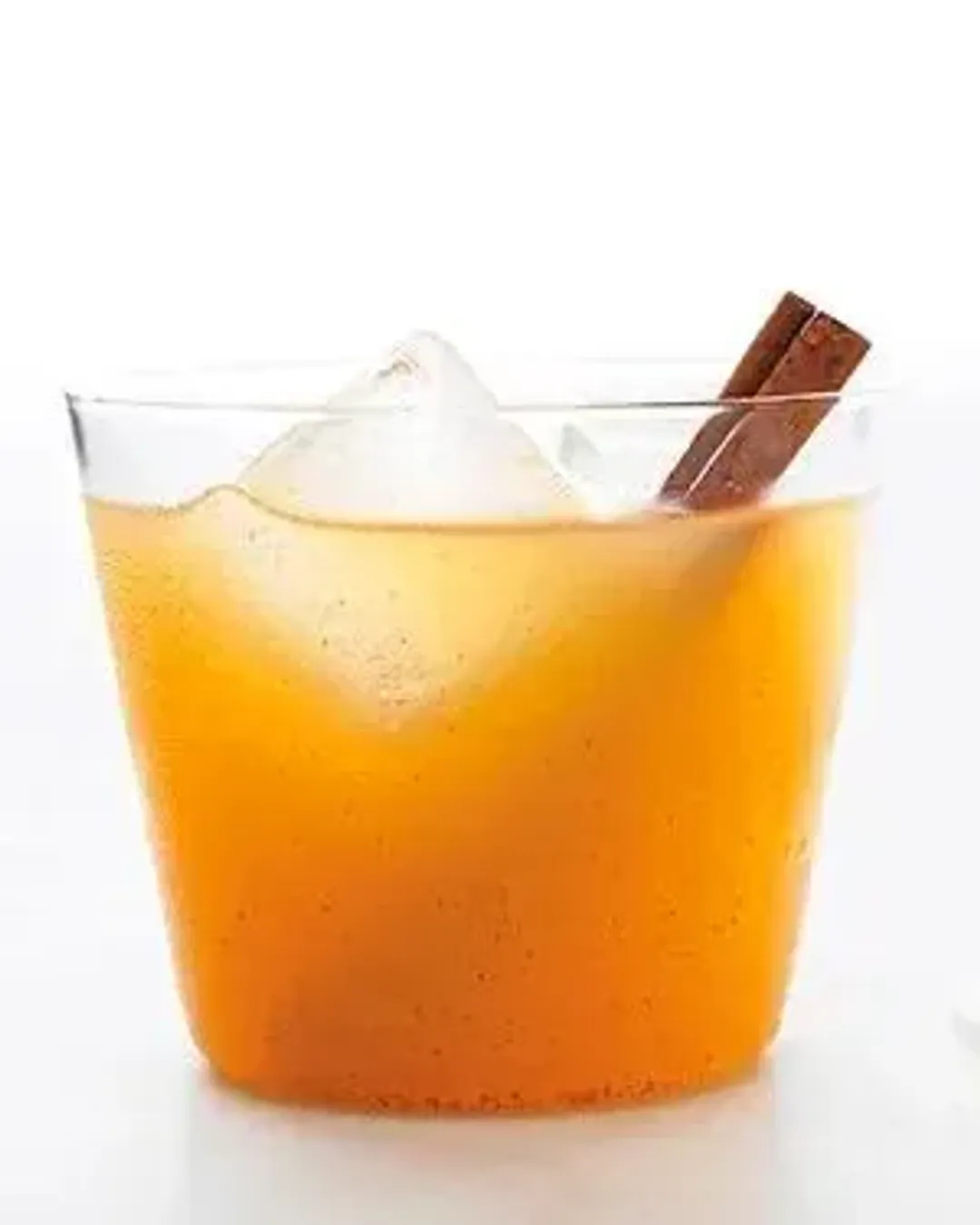 For this recipe, you can also adjust the amount of rum, apple, or any extra mixers you want to add to the blend.
Ingredients:
1 1/2 oz rum
3 oz organic apple juice, chilled
3/4 oz applejack
Ground cinnamon
Cinnamon stick
Instructions:
Fill a cocktail glass with ice cubes.
Add rum, apple juice, and applejack.
Sprinkle cinnamon. Stir everything.
Garnish with a cinnamon stick. Serve immediately.
9. Apple Juice and Whiskey (1 serving)
There's hardly any drink that sparks the autumn vibe better than apple juice and whiskey. It's simply a must-try beverage for apple cider fans.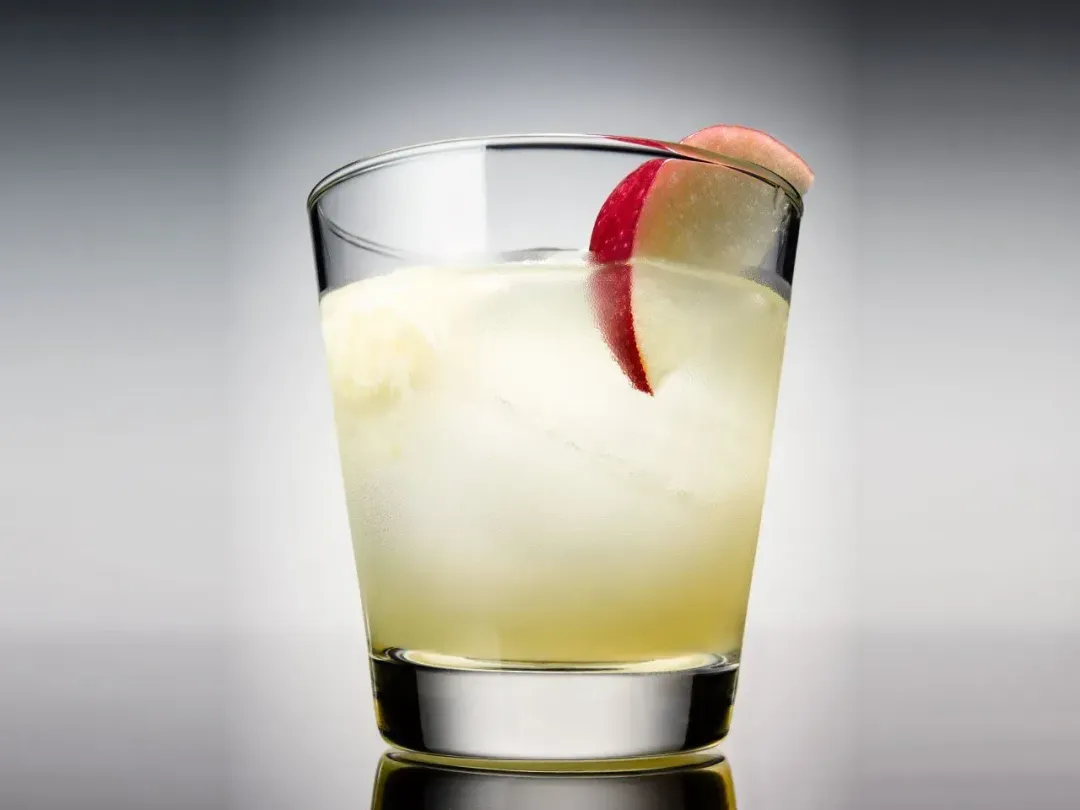 Scotch whiskey adds a special kick through the refreshingly sweetness of apples. Together, they create a lovely boozy summer drinks that could rival any local apple cider brand.
Ingredients:
2 fl oz scotch whiskey
2 oz fresh apple juice
Fresh horseradish
Instructions:
Stir apple juice into whiskey.
Add ice cubes.
Shave fresh horseradish over the ice. Enjoy.
10. Cranberry Apple Juice (1 serving)
Last, but not least, a popular and refreshing juice with cranberries and apples as the main ingredients. Here comes the delicious cranberry apple juice for summer crowds!
This recipe is not only convenient and adjustable, but it also presents an energizing and tasty drink to enjoy at the beach. The amount of each ingredient can be altered to your taste, so you're free to create a salubrious beverage with your favorite fruits.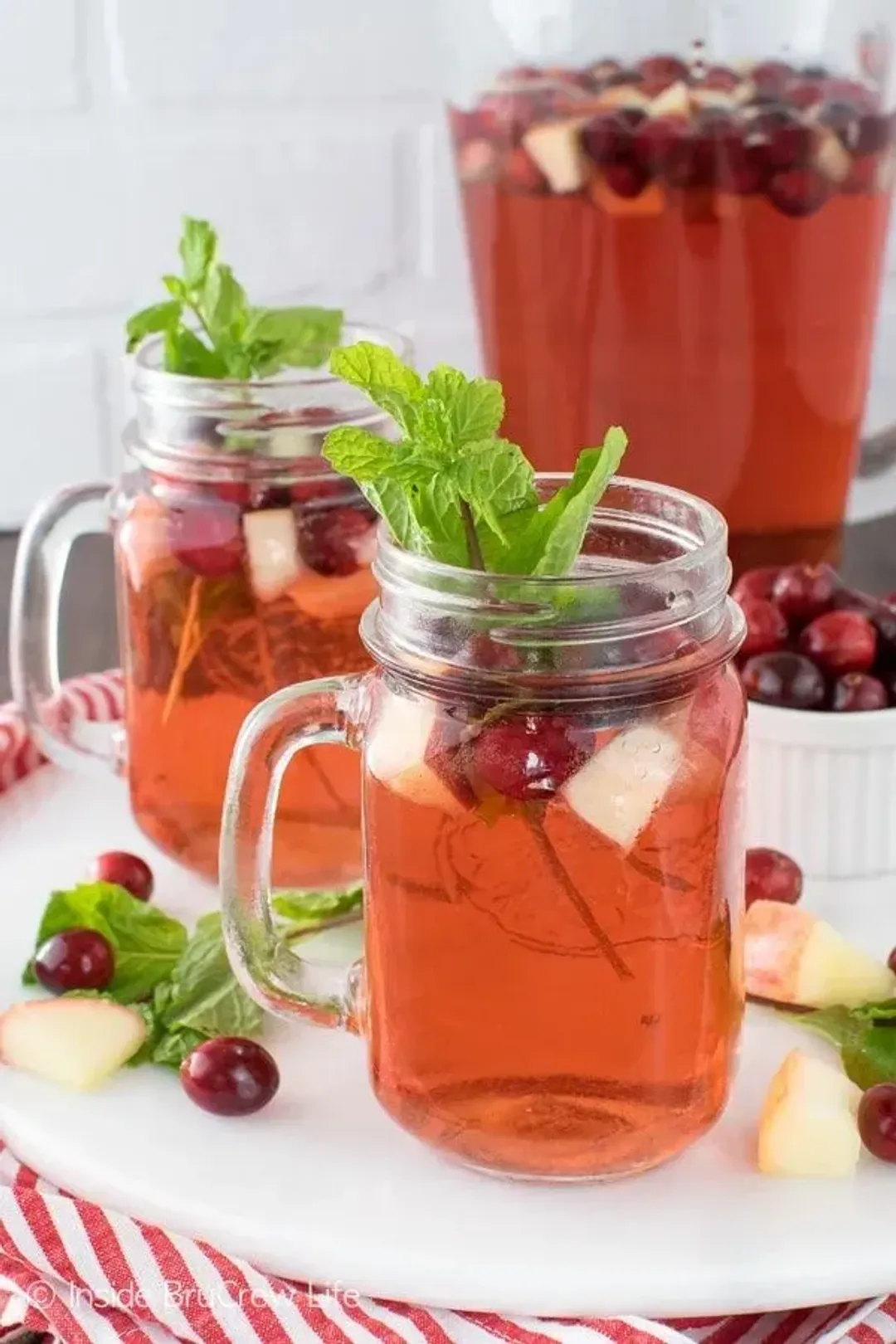 Ingredients:
2 1/2 cups cranberry juice
2 1/2 cups apple juice
1 1/2 cups 7UP cranberry
Fresh cranberries
Apple chunks
Mint springs
Instructions:
Whisk cranberry juice and apple juice together. Refrigerate for a couple of minutes.
After removing from the fridge, continue to stir in the 7UP cranberry.
Add fresh cranberries and apple chunks.
Pour into serving glasses, garnish with a sprig of mint. Serve cold.
FAQ
1. Does Apple Juice Make You Poop?
Apple juice is sometimes put forward as a home remedy for constipation. Though not in the same league as prune juice, apple juice can help you out there, at least a little. 
Again, it's important not to overindulge, though.
2. Is Apple Juice Acidic?
Apples, and thus their juice, are acidic, with a pH value between 3.3 and 4. That's less acidic than lemons but more so than tomatoes.
It's not a threat to your health, though unless you have severe acid reflux or malfunctioning liver and kidneys.
3. Does Apple Juice Have Vitamin C?
Apples are good sources of vitamin C (as well as some other antioxidants). You get far less vitamin C out of processed juice than whole apples, though. 250 grams of highly-strained juice can supply about 4% of your daily needs. The same mass of whole apple (with the skin) gives you about 20%! 
4. How Much Sugar Is in Apple Juice?
Most of the caloric content of apples comes from naturally-occuring sugars. For instance, a medium-sized apple delivers 16.3 grams of sugar.
So even without adding sugar to the juice and with most of the pulp removed, you'll still receive a certain amount of fruit sugar. This is one of the main reasons moderation is important.
5. Is Apple Juice Bad for You?
The answer is related to the previous questions.
Drinking large amounts of this juice per day can be almost as bad as the same volume of soda. The massive influx of sugar far offsets the benefit from vitamins and minerals.
In smaller quantities, though, the benefits can still keep up with the sugar intake. Just make sure you're not buying juice with lots of added sugar!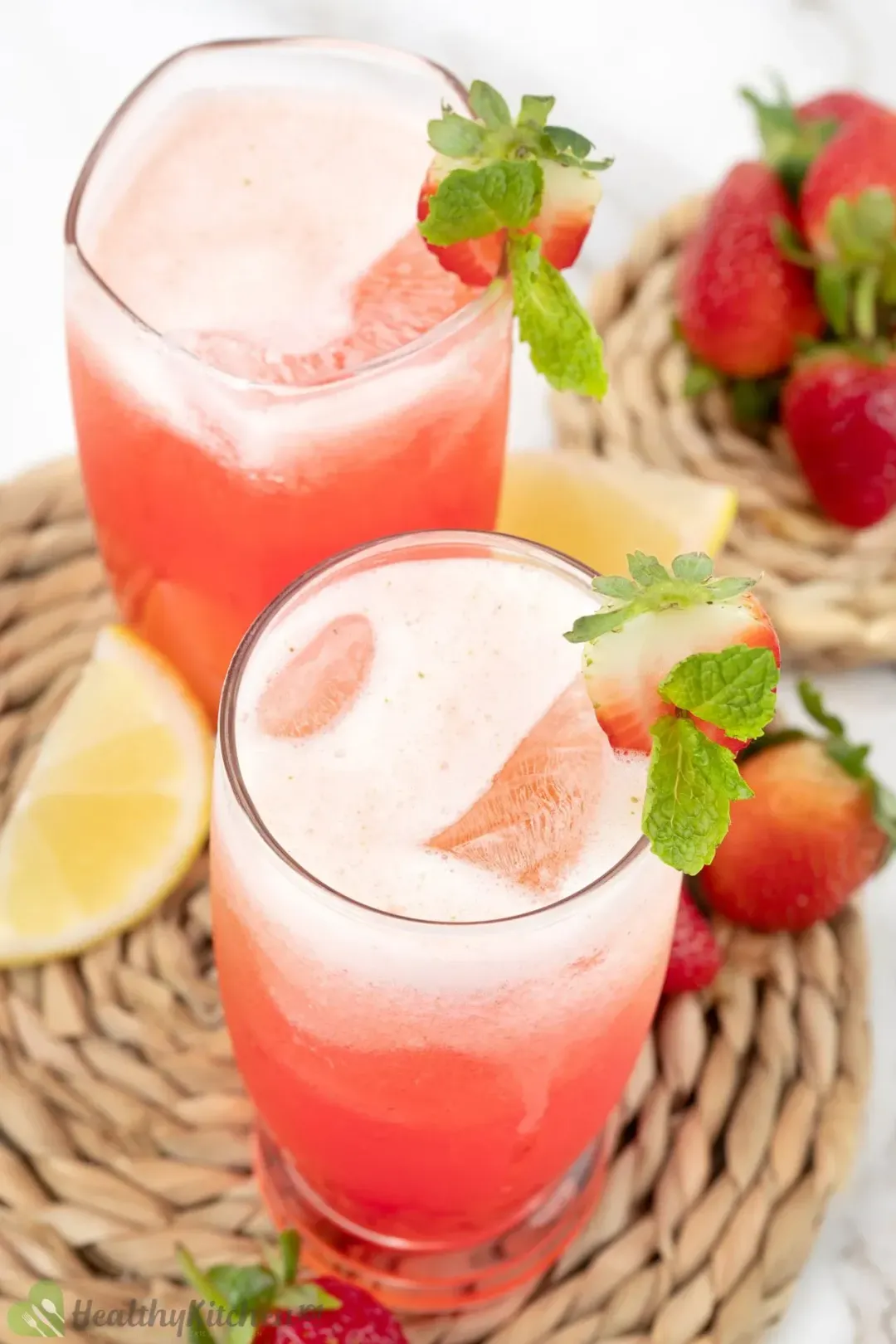 Previous Recipe
Summer Drinks Recipes
Summer Drinks Recipes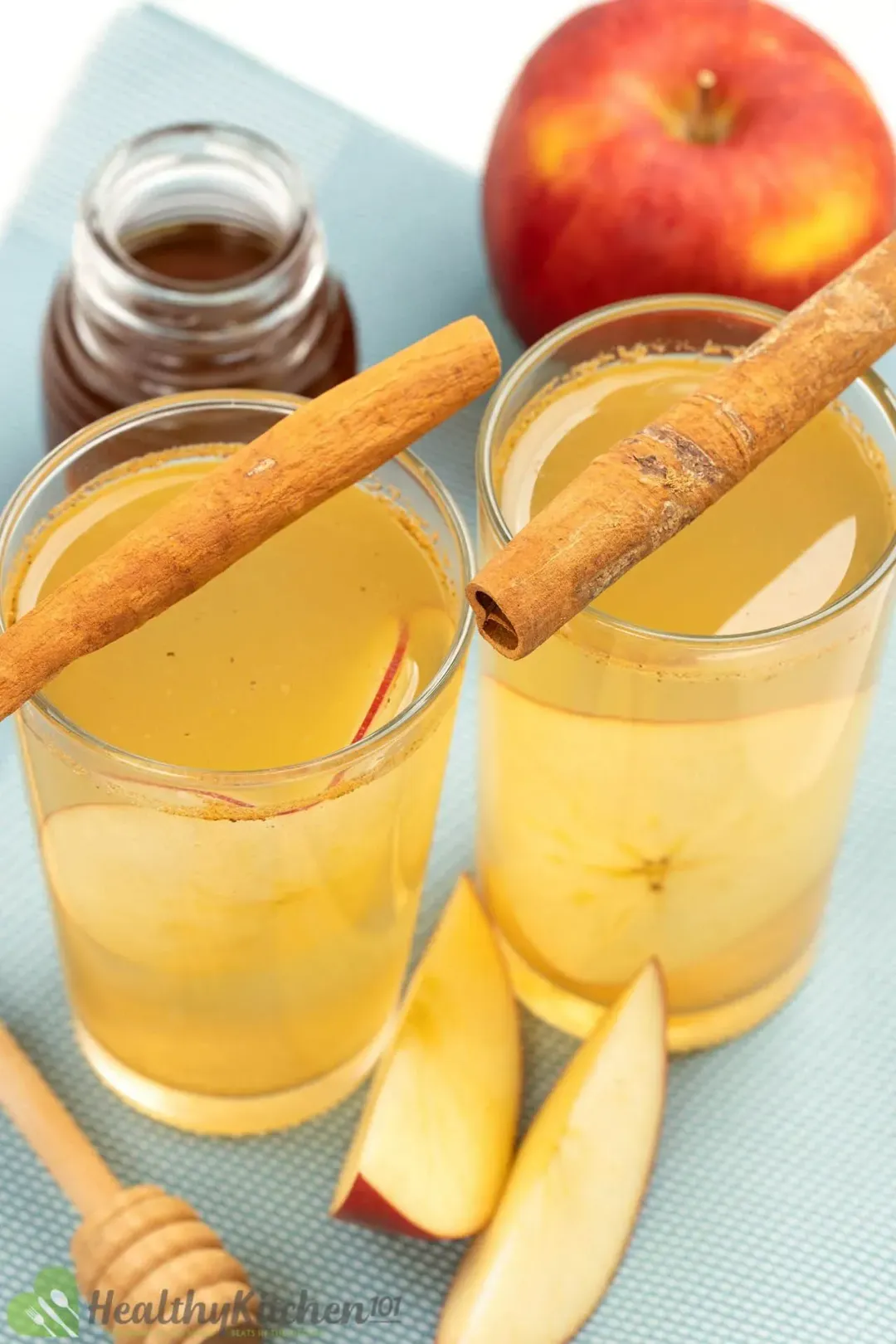 Next Recipe
Apple Cider Vinegar Drink Recipes
Apple Cider Vinegar Drink Recipes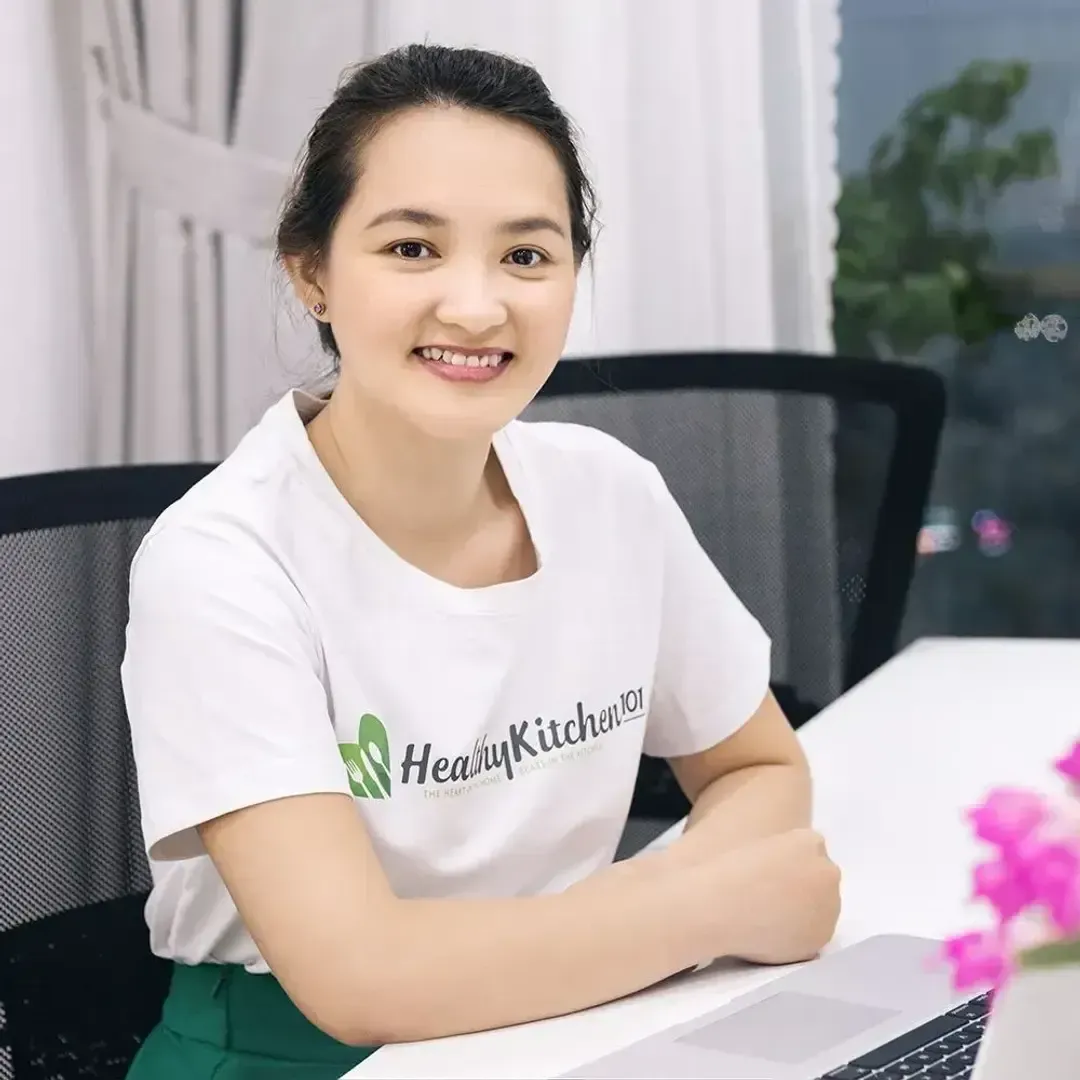 Writer, Author
Luna Regina is an accomplished writer and author who dedicates her career to empowering home cooks and making cooking effortless for everyone. She is the founder of HealthyKitchen101.com and HealthyRecipes101.com, where she works with her team to develop easy, nutritious recipes and help aspiring cooks choose the right kitchen appliances.
Comments/ Reviews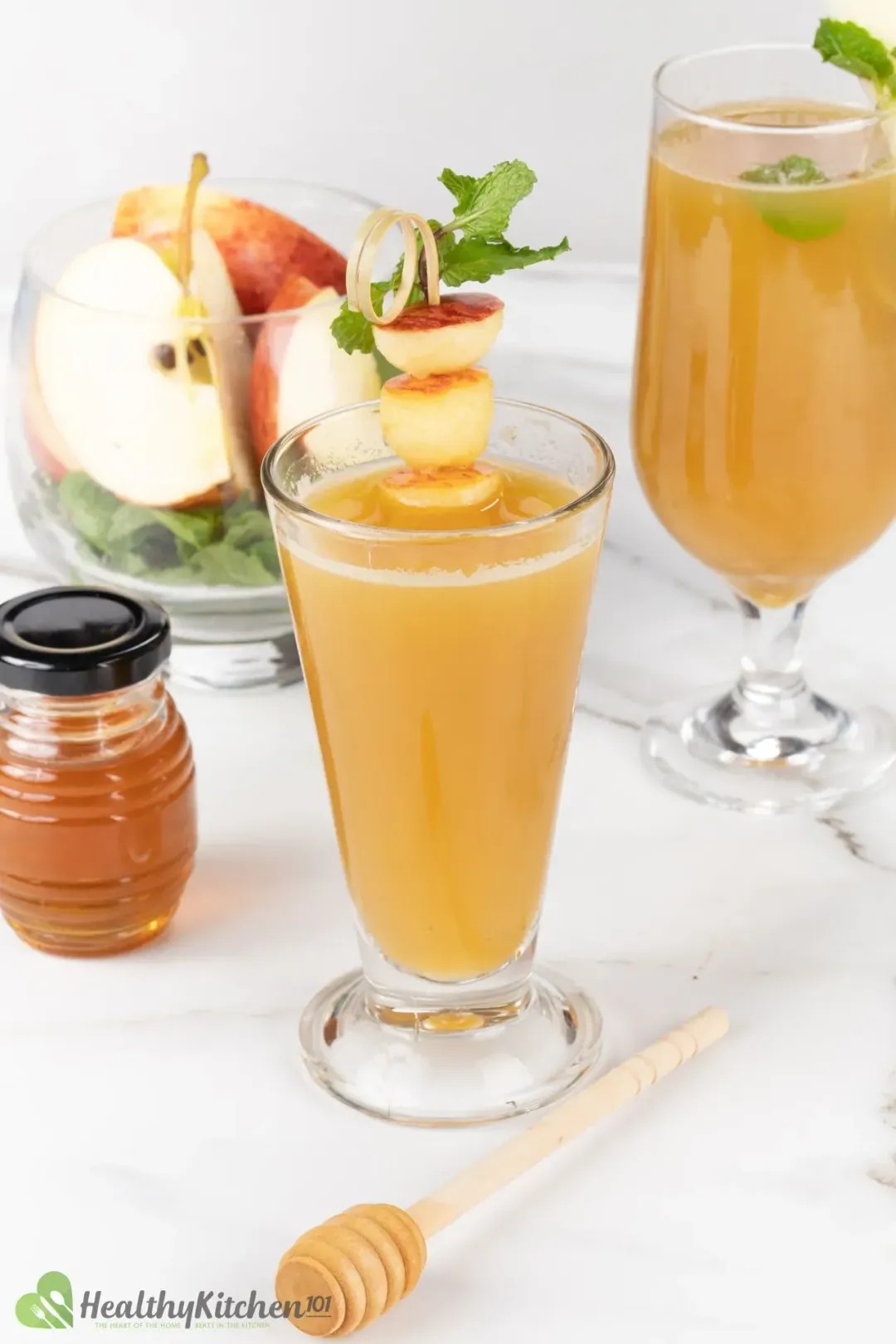 Amanda J.B

February 9, 2023 at 4:29 AM

Love your juice recipes, and my kids loved them.

Susie

June 6, 2023 at 3:33 AM

sweet and refreshing drink that's perfect for a healthy and tasty way to start your day.