From classic and comforting to festive and invigorating, these apple juice recipes will awaken your taste buds and fill your senses with pure joy. Whether you're a fan of apples or seeking a refreshing twist with unique flavor combinations, we have something for everyone. So, roll up your sleeves, and get ready to experience the sheer delight of homemade apple juice like never before.
Moreover, we'll also be introducing some of the health aspects of consuming apple juice— both the good and the bad, so you can learn not only about how to transform apples into mouthwatering beverages but also all the ways this fruit can benefit you.
Easy and Delicious Apple Juice Recipes
1. Sugar-Free Apple Juice
Say goodbye to artificial sweeteners and hello to the pure, unadulterated taste of apples. If you're looking for a healthier alternative to store-bought apple juice that doesn't compromise on flavor, this recipe is the one to try out. It requires only four simple ingredients and won't take any longer than five minutes to put together.
Go to Recipe
2. Apple Juice Recipe
This one-ingredient, four-step apple juice recipe makes a wholesome beverage to keep you hydrated while also providing essential nutrients. With this simple drink, you can work towards better health and a better diet. It's low-calorie with a mildly sweet and tart flavor. Add a few ice cubes and you've got a real sunshiney drink to kick off the day.
Go to Recipe
3. Carrot Apple Juice
Carrot apple juice is a super simple juice packed with nutrients but requires a short ingredient list. This drink celebrates a colorful amalgamation of flavors from three fruits and vegetables: carrots, apples, and oranges. If the bright, vibrant orange hue isn't enough to convince you it's good, take a sip and taste the sunshine glimmer on your taste buds.
Go to Recipe
4. Fresh Green Apple, Cucumber, Kale, and Ginger Juice
 Made entirely of nutrient-dense ingredients, this juice is a nourishing choice for giving your body a much-needed daily health boost. A serving of this drink also provides you with essential nutrients—lots of vitamin C, vitamin A, and other strong antioxidants.
It also sports a vibrant green color and imparts a wide variety of sweet, tart, and grassy flavors with subtle hints of spice and citrus—a surprisingly refreshing and delicious mixture!
Go to Recipe
5. Apple Juice and Vodka
This apple juice and vodka is a simple drink that you can make in 5 minutes with just a few ingredients! The soft and clean notes of vodka pair exceptionally well with the fresh, delightful flavors of apple. Together with lemon juice, this blend imparts a notably sweet, tart, and vibrant flavor. Whip up this drink whenever the occasion calls for a celebration with a simple yet flavorful cocktail.
Go to Recipe
6. Carrot Apple Beet Juice
If you're looking for a simple and healthy drink that still delivers extraordinary flavors, this carrot apple beet juice is just the one for you. This vibrant fuschia drink is also an easy way to consume various types of fruits and vegetables after big meals. Don't forget to lend a spicy kick to it by putting a small amount of grated ginger into the juicer.
Go to Recipe
7. Carrot Apple Ginger Juice
This healthy carrot apple ginger juice mainly focuses on the balanced ratio between ginger, apples, and carrots. It makes a pure and crisp beverage enriched with natural flavors of carrot, apple, and ginger, with absolutely no refined sugar. The crisp tart taste and delicate, earthly sweetness get a subtle kick from the spicy ginger, giving you a vivid mixture of flavors that rejuvenate your senses from the very first sip.
Go to Recipe
8. Green Apple Juice
This emerald elixir captivates both the eyes and the palate. It's a symphony of flavors, balancing the tanginess of the apples with a subtle hint of sweetness. Whether enjoyed as a morning pick-me-up, a midday refresher, or a post-workout revitalizer, you can always count on this gorgeous beverage to be a mood-lifting cure for all your daily blues.
Go to Recipe
9. Spinach-Apple Juice
Drinking green juice doesn't always have to be a chore, and with this recipe, you can find out exactly how. Grassy, fresh spinach and subtly bitter celery meet apple's sweet-tart taste and grapefruit's citrus zest in a beautiful harmony of flavors that perfectly balance each other out. These ingredients are also incredibly nutrient-dense, so not only will they delight your taste buds they will also nourish your body from the inside out—truly is the best of both worlds!
Go to Recipe
10. Apple Celery Juice
This vibrant green elixir is a testament to the power of nature's bounty. Packed with essential vitamins, minerals, and antioxidants, it nourishes your body from within, promoting overall well-being. The high water content of celery helps to hydrate, while the natural sugars in apples provide a gentle energy boost. Whether you choose to start your morning with this or sip it as a midday refresher to invigorate your body and mind, this concoction is sure to leave you feeling rejuvenated and energized.
Go to Recipe
Apple Cider vs. Apple Juice
"What's the difference between apple juice and apple cider?"
Don't be embarrassed if you've asked yourself this when staring at the mass of options at the supermarket. It's actually a common question. Here are some of the main characteristics about these two to help you distinguish them.
If you're British or Australian, "cider" may call to mind the image of your favorite pub. But alcohol doesn't define cider, and non-alcoholic apple cider is far more common in the US than the boozy kind. However, cider's association with alcohol is not only due to pub drinks. Since it's unpasteurized, cider can begin to ferment if left long enough. Intriguing as that may sound, it's not a good way to reduce your booze bill. Fermentation must be done in a controlled manner to result in alcohol that's safe to drink.
Cider is made by slicing and grinding the apple into a mash that resembles applesauce. Then, it's pressed through a fine-mesh strainer or cloth to remove the bulk of the pulp (but not all of it). For apple cider, sometimes, the apples are cooked before mashing, but not always. The main takeaway is that there's still a bit of pulp.
Apple juice, on the other hand, is filtered to a much more significant degree— all the pulp is removed. The stuff you find at the supermarket is also pasteurized so it will keep much longer than cider.
In sum, cider that's been sitting too long is more likely to poison you than offer a pleasant buzz. While for apple juice, you'll likely lose almost all the insoluble fiber from the juicing process.
You might have realized by now that the fresh apple juice you make at home is technically apple cider by definition. However, for homemade recipes, the distinction doesn't really matter, especially if you intend to drink it right away. Focus on the flavors you enjoy and don't fret over the semantics.
Health Benefits
The pros and cons of apple juice run the gamut. It offers more downsides than most juices, but there's certainly a lot of good that can come from a glass of apple juice.
For Weight Loss
The topic of weight loss is a complicated one. First of all, because of their nature, fruit juices contain a lot of sugar. Even though it's not the high-fructose corn syrup found in soda, your digestive tract still processes it the same. Drinking lots of fruit juice means drinking lots of sugar.
Not only that, but some store-bought juices add more sweeteners to keep up with Americans' ever-expanding demand for sweetness. Liquids also don't fill you up the way foods do, so it's easy to drink too much.
There are a few ways to make your juice habits good for your weight-loss plan. Making juice at home is a good start because it gives you full control over the ingredients and their portions. With the sugar amount kept to a minimum, you can enjoy the juice to a fuller extent and use it to keep yourself hydrated. Therefore, using juice to flavor your daily water ration can be a great incentive to keep drinking. This also has the benefit of limiting the amount of sugar you drink at any given time.
For Skin
Apples are a good source of vitamins and nutrients. These include vitamin C and other antioxidants, which are good for your skin, ligaments, and blood vessels' healing ability.
In fact, your body cannot store vitamin C long-term— it must be replenished constantly. And drinking juice is a quick and easy way to maintain the consumption of vitamin C for your body.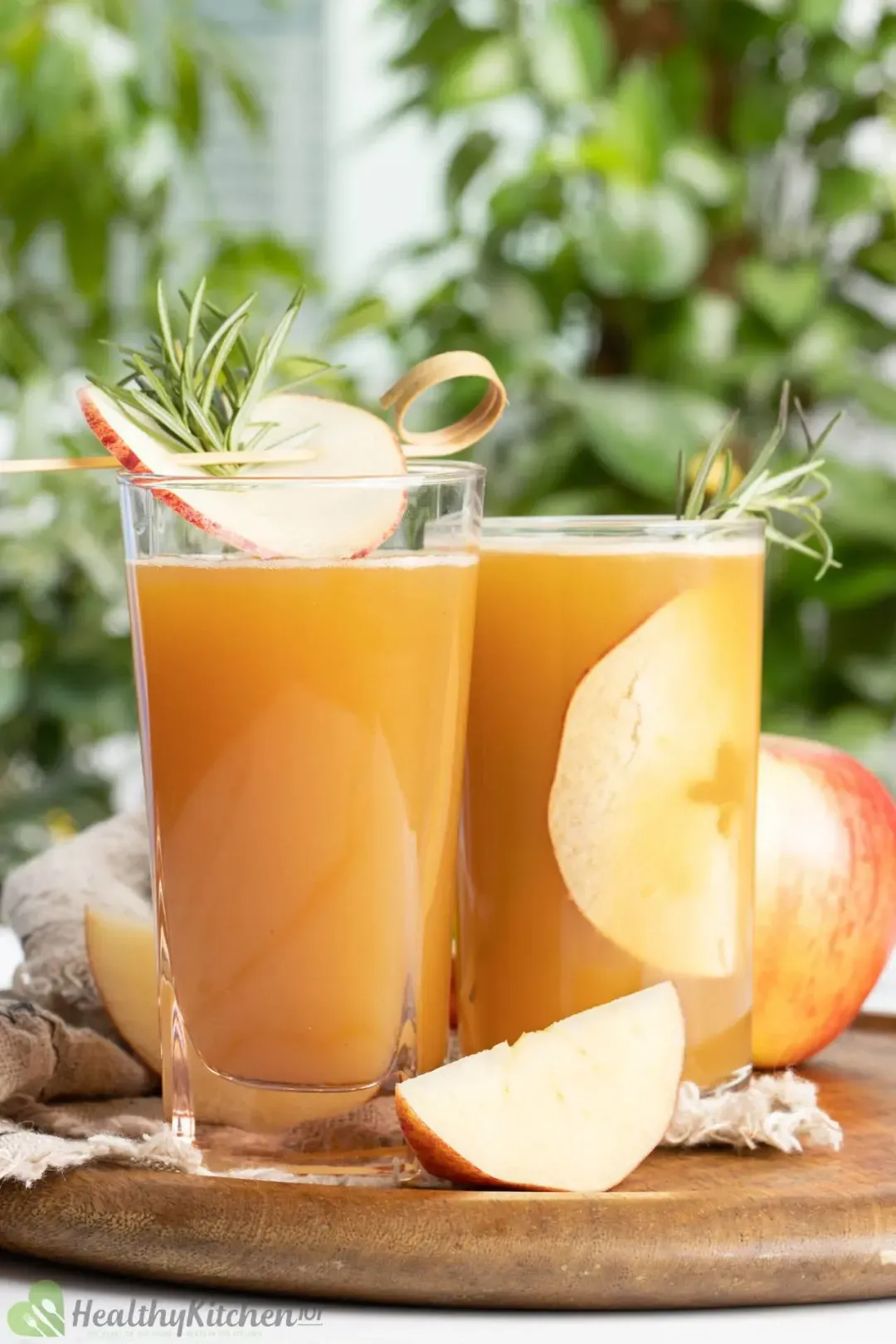 How to Make
Among all juicing methods, the juicer is the simplest. All you need to do is toss in the apple slices and let the machine do its job.
A more conventional, yet complex way to make apple juice (or, more accurately, cider) is to boil the apples. Simply throw the apples into the saucepan with just enough water to cover, then boil and simmer until they disintegrate. You can also add additional ingredients like spices and herbs to infuse the juice with a subtle aroma.
As long as the apples thicken and form a purée, you're good to go. If the flavor is too strong, simply water it down a bit until you like it. Put a coffee filter or cheesecloth in a fine-mesh strainer and ladle it through. Next, use a spatula to mash the apple chunks gently to extract most of the juice. Note that the leftover pulp can still be used to make applesauce later.
Remember that however you make it, your apple juice will spoil after a while. Store it in the fridge and finish it within a week.
Nutrition Facts
While apple juice is not as vitamin-rich as other juices, it's still got some good stuff. 
As we mentioned before, apples are a good source of vitamin C and other antioxidants as well as potassium. These are critical nutrients that show healthful effects on your body if consumed on a regular basis.
From a medium raw apple, you get roughly 77 calories, nearly all of which come from sugars and fiber. Unsweetened store-bought apple juice, meanwhile, will run about 46 calories. Unfortunately, most of that reduction in calories comes from the reduction in fiber.
Again, it's worth noting the difference in perception, too. 250 grams of juice is equal to one measuring cup's worth of liquid— not what most of us would consider a large amount to drink. However, in the whole form, 250 grams equals two medium-large apples. Both your eyes and your stomach will consider eating the apples to be a more filling experience.
The other major benefit apples offer is fiber. By now, we're all probably aware that fiber is critical to a healthy diet and that Americans tend to get too little. Eating a single apple can give you as much as 17% of your daily requirement.
Unfortunately, this is one major point where juice can let you down. Juicing removes the majority of insoluble fiber, which keeps you feeling full and promotes healthy digestion. Blending, on the other hand, can help retain it in your drinks. But of course, consuming fresh fruit is always the best recommendation.
Apple juice (and apples in general) are slightly acidic. They come in with pH values between 3.3 and 4. Foods are not inherently healthy or unhealthy because of a pH value, as long as your liver and kidneys are functioning correctly. If you aren't suffering from severe acid reflux, you won't be harmed by the pH levels of ordinary foods like these.
Since apples' calories come almost exclusively from carbohydrates, the juice is similar. 250 grams (1 cup) of extensively strained, pasteurized juice contains about 24 grams of sugar and 0.5 grams of fiber. That is compared to 26 grams of sugar and 6 grams of fiber in the same mass of a whole apple. Your homemade juices will likely fall somewhere in the middle.
Is This Juice Good for You?
The answer to the million-dollar question is, "Yes, but…" Apple juice is not inherently unhealthy, but it's definitely not as healthy as eating an apple.
Maintaining healthy habits regarding apple juice means striking the right balance. Drinking lots of apple juice will overload your body with sugars, and the result won't be much different than drinking soda. However, apple juice (and other juice) is a good way to supplement your intake of vitamin C and potassium. Plus, the pleasant flavor helps some people meet their hydration needs.
Like so much in the realm of nutrition, we recommend moderation. A little juice is a good thing, but you shouldn't try to get more than one of your daily fruit servings in juice form.
FAQ
Does This Juice Make You Poop?
Apple juice is sometimes put forward as a home remedy for constipation. Though not in the same league as prune juice, apple juice can help you out there, at least a little. Again, it's important not to overindulge, though.
Is Apple Juice Acidic?
Apples, and thus their juice, are acidic, with a pH value between 3.3 and 4. That's less acidic than lemons, but more so than tomatoes. It's not a threat to your health, though, unless you have severe acid reflux or malfunctioning liver and kidneys.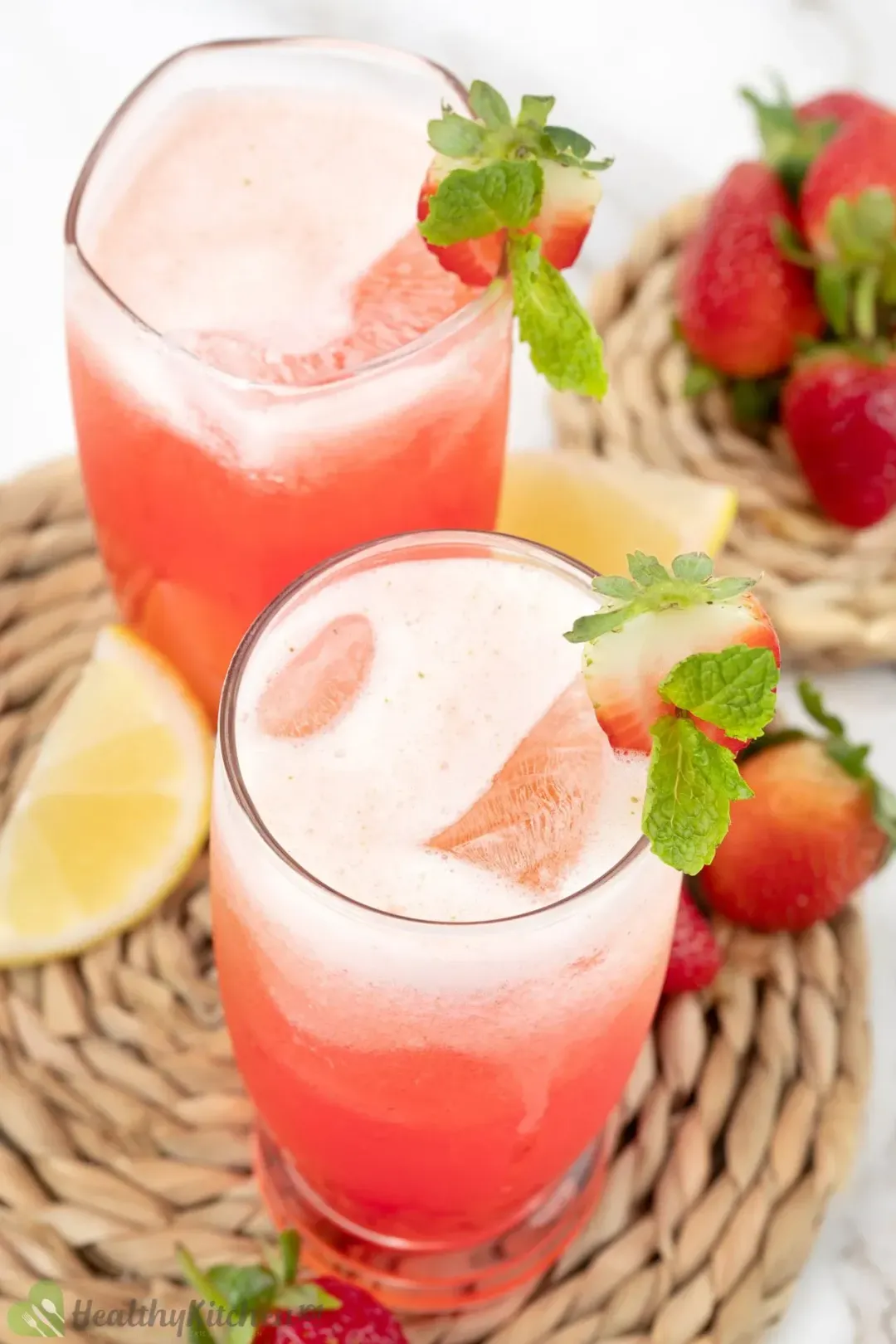 Previous Recipe
Summer Drinks Recipes
Summer Drinks Recipes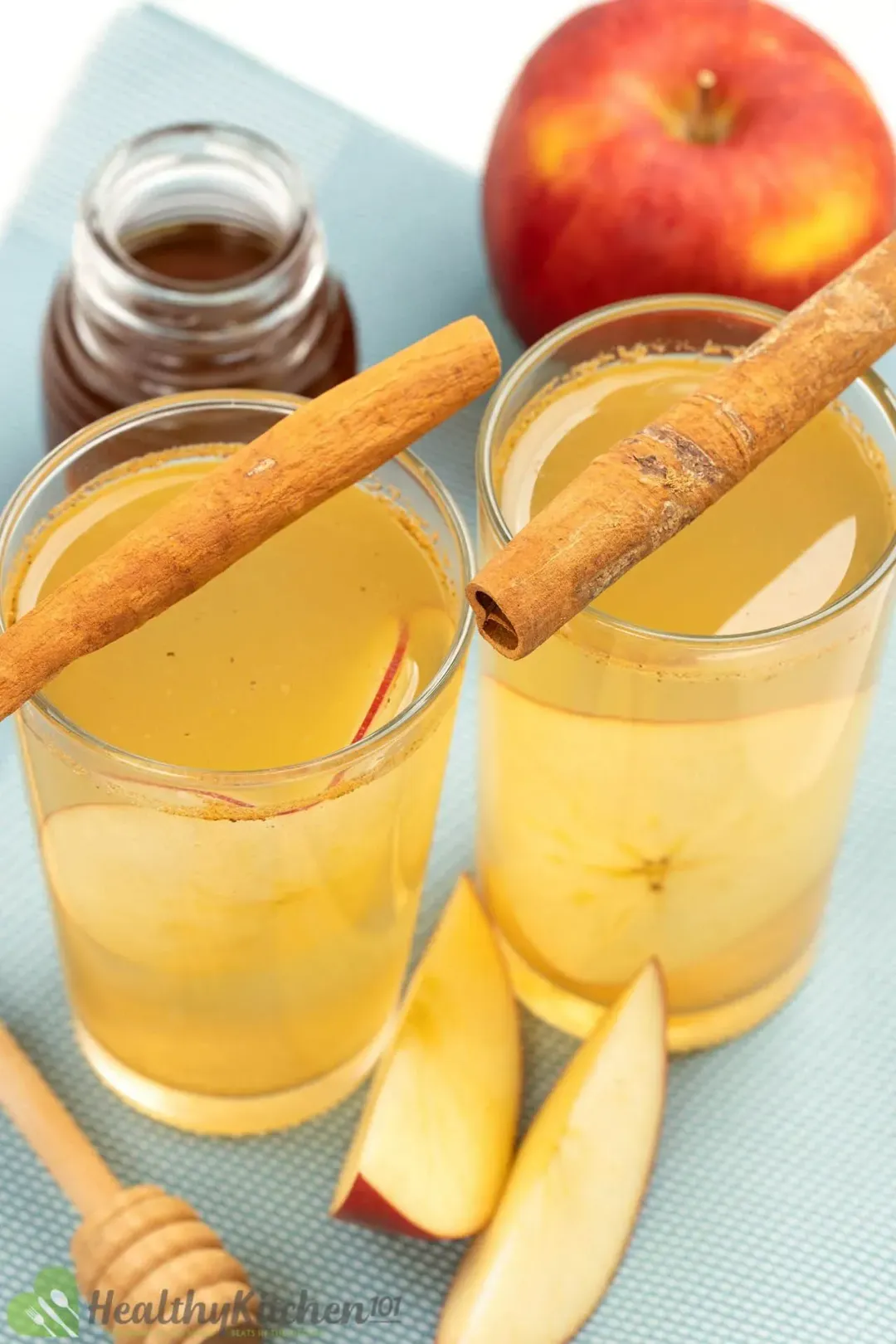 Next Recipe
Apple Cider Vinegar Drink Recipes
Apple Cider Vinegar Drink Recipes
Writer, Author
Luna Regina is an accomplished writer and author who dedicates her career to empowering home cooks and making cooking effortless for everyone. She is the founder of HealthyKitchen101.com and HealthyRecipes101.com, where she works with her team to develop easy, nutritious recipes and help aspiring cooks choose the right kitchen appliances.
Comments/ Reviews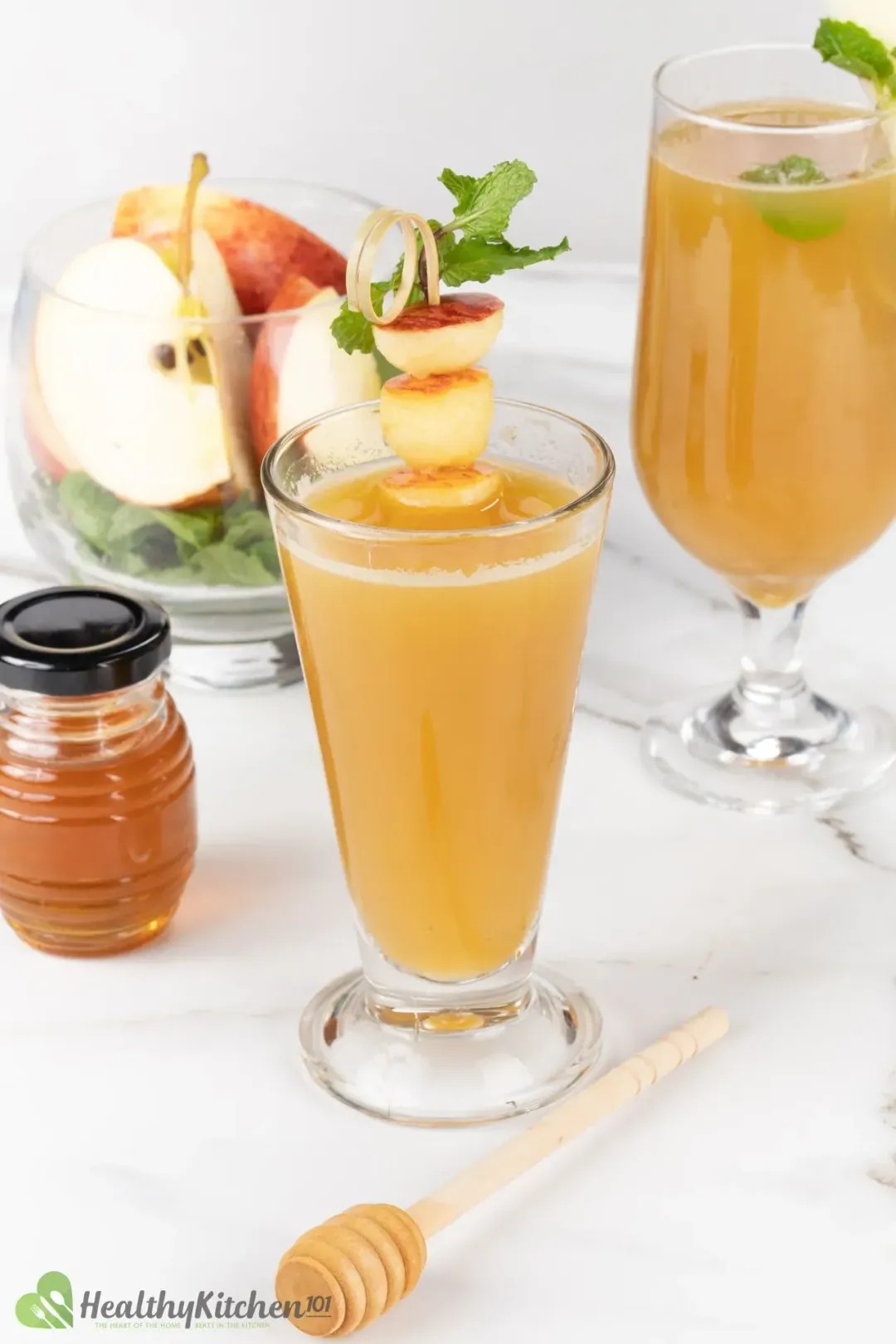 Love your juice recipes, and my kids loved them.

sweet and refreshing drink that's perfect for a healthy and tasty way to start your day.

Crisp and delicious juices.