It's summertime, and this strawberry lemonade recipe is going to be your best bet for combatting those sweltering hot days and conquering National Strawberry Day (February 27). It's a 5-ingredient recipe, counting water and ice, so it's quite minimal!
Our strawberry lemonade packs a vitamin C punch and restricts added sugar to moderate amounts. You can incorporate it into your diet with its low calories, excellent taste, and high nutrition.
Read on to learn the health benefits of strawberry lemonade and how to prepare your own drink at home.
Is Our Recipe Healthy?
Our strawberry lemonade recipe makes a healthy drink. Drinking fruit juice helps you down nutrients much quicker and easier.
1. Vitamin C
An 8 ounce serving of strawberry juice contains 36% of your vitamin C Daily Value on a 2000-calorie diet. That's enough to give you a morning boost!
Vitamin C is essential for building a robust immune system. Our bodies can't produce it, so it's vital to consume it via food and drinks.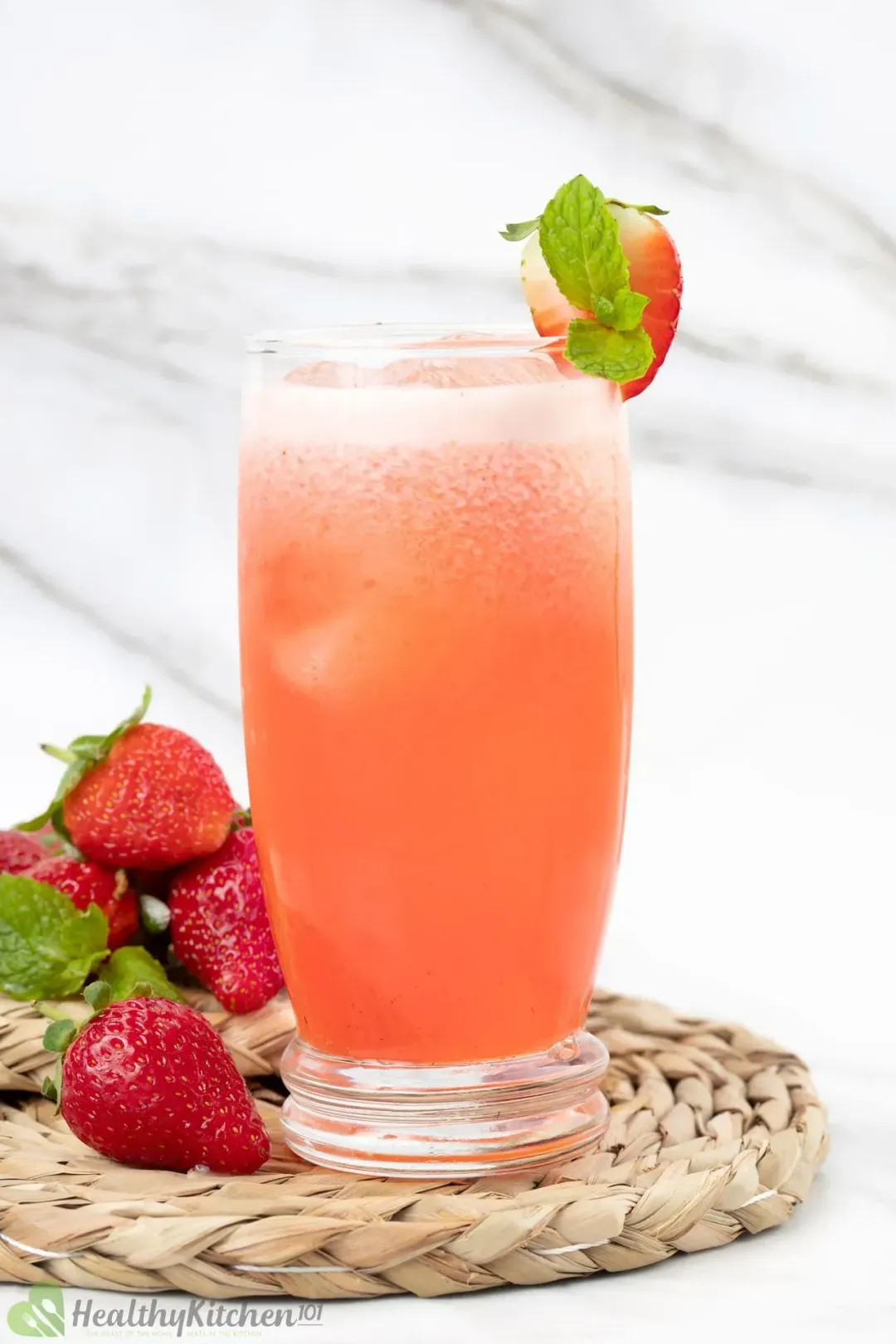 The vitamin C in this drink has antioxidant properties to help ward off various infections and conditions like anemia.
Lemon juice is also a great source of vitamin C. It's potent enough to prevent scurvy, caused by vitamin C deficiency.
Including it in your beverages and water can help you achieve higher amounts of the vitamin C Recommended Dietary Allowance.
2. Less Sugar
But what about that added sugar? Added sugar can pose a risk in any diet, so the best way to enjoy it is in moderation.
The USDA guidelines recommend a daily limit of six teaspoons for women and nine teaspoons for men. Our recipe contains 4.5 teaspoons of added sugar per serving.
It's quite a lot of sugar in one beverage. And we encourage you to reduce it if it's too much for your preferred diet.
We like the balance of sweet and tart this amount gives. But you can reduce it by one or two teaspoons to lower sugar intake while still maintaining a sweet flavor.
Main Ingredients
Below are the ingredients for our strawberry lemonade recipe:
1. Strawberry and Lemon
Our lemonade consists of two main fruits; lemon and strawberry. So try using the freshest ingredients to end up with a refreshing drink.
Choose fresh, ripe strawberries. And use freshly-squeezed lemon juice instead of bottled varieties.
2. Sugar
Sugar helps to balance the natural tartness from the strawberry and lemon juices. So you'll want to maintain this sweet element.
You can, however, reduce the amount of added sugar for a healthier beverage. Or you can replace it with natural sweeteners like honey or maple syrup.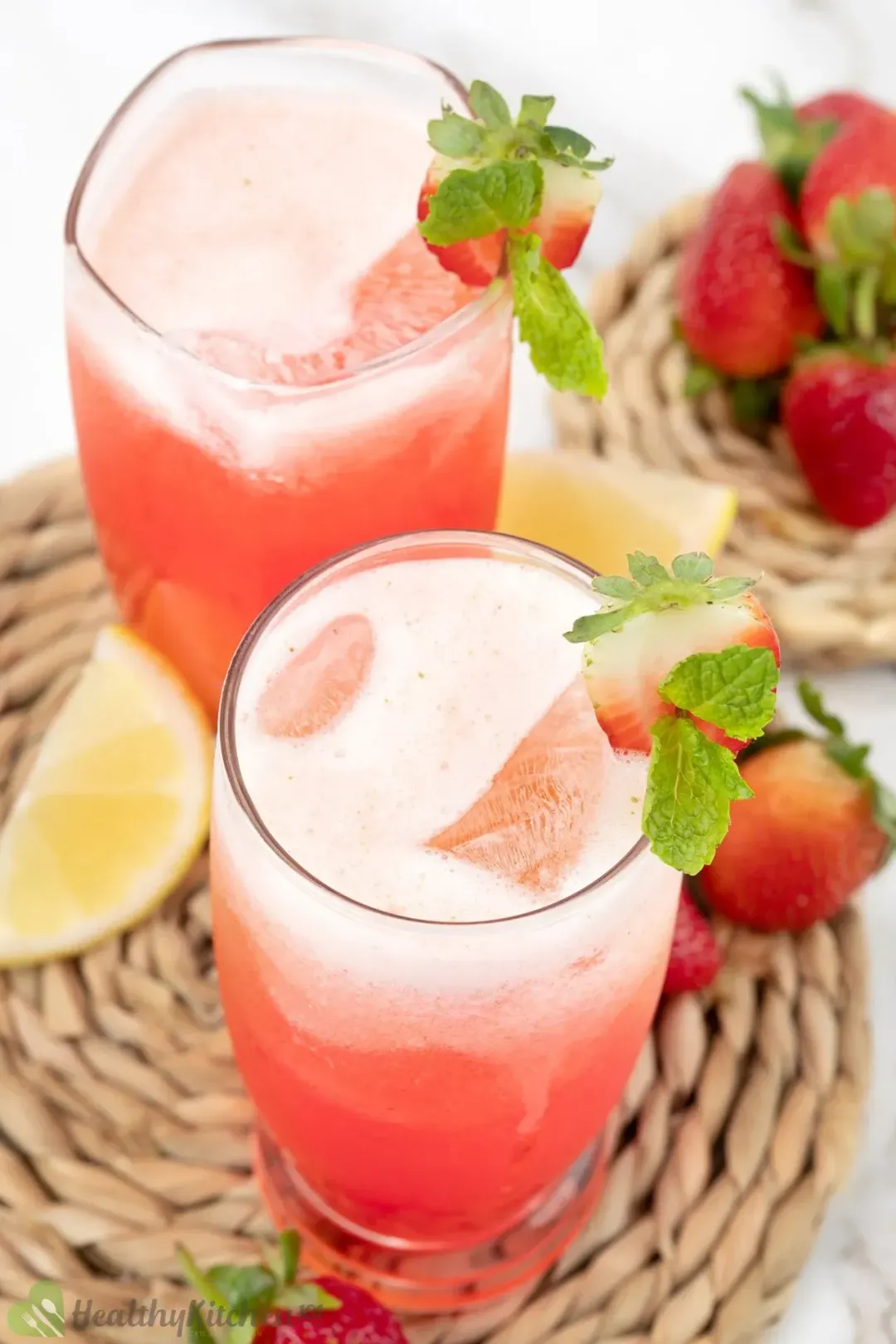 3. Water
Adding water helps to dilute fruit juices. Instead of a concentrated, overly sweet beverage, you can achieve a less intense and more refreshing drink.
How to Make
Start with some red-ripe strawberries. Remove the stems, wash them clean, and add them to a blender.
Then, pulse until a liquid consistency forms.
To extract the juice, set a cheesecloth over a bowl and pour in the puree. Strain it and collect the liquid.
Discard the residue (or you can use it for baking tasty strawberry muffins!)
If you'd like to omit strawberries, you can make a plain lemonade using our healthy Lemonade Recipe or you can check out our Strawberry Watermelon Juice. It's similarly delicious and easier to prepare.
Next, pour the liquid into a pitcher and add lemon juice, water, and sugar. Use a wooden spoon to stir the mixture until the sugar dissolves.
Fill some glasses with ice and pour in the strawberry lemonade. To finish, garnish with a lemon wedge for an appealing look.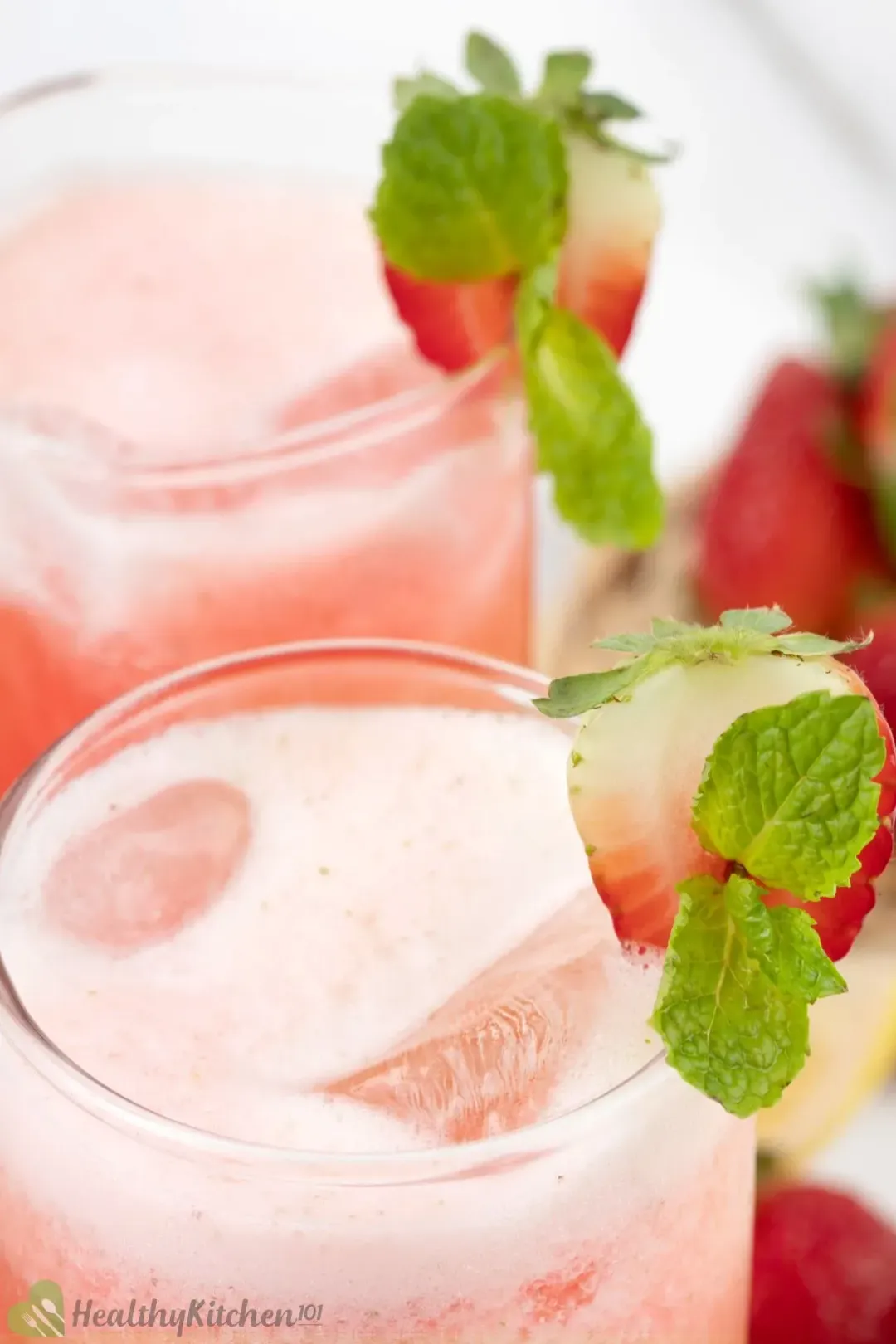 Alcohol for This Recipe
Turning your lemonade into a cocktail can create a fun experience. It's not as healthy, though, so make sure you add a moderate amount of alcohol.
Try to drink plenty of water, too, to replenish your hydration levels. This especially helps when drinking alcohol and prevents the onset of headaches.
1. Vodka
To make a strawberry lemonade with vodka, follow our above guide on how to make strawberry lemonade. After combining all the ingredients, pour in the vodka.
Limit vodka to 1.5 oz/day for women and 3 oz/day for men. This adheres to USDA guidelines that ensure moderate drinking to help limit adverse health effects.
For this recipe, you can add 2-4 fl oz of vodka to the lemonade. Add ice to some fancy cocktail glasses, pour your drink, and enjoy!
2. Beer
Adding beer is going to give this drink a refreshing buzz. You can add 2 (12 ounce) bottles of beer to this strawberry lemonade.
This ensures a moderate serving within the daily limit of 12 fluid ounces for women and 24 fluid ounces for men.
Frozen Strawberry Lemonade
Frozen strawberry lemonade is an exciting take on plain lemonade. It's texture and nutrition packed into one delicious drink.
You'll need the same ingredients used in this strawberry lemonade recipe, replacing fresh strawberries with frozen ones.
Start by adding all the ingredients into a blender. Then, blend until smooth and serve it immediately.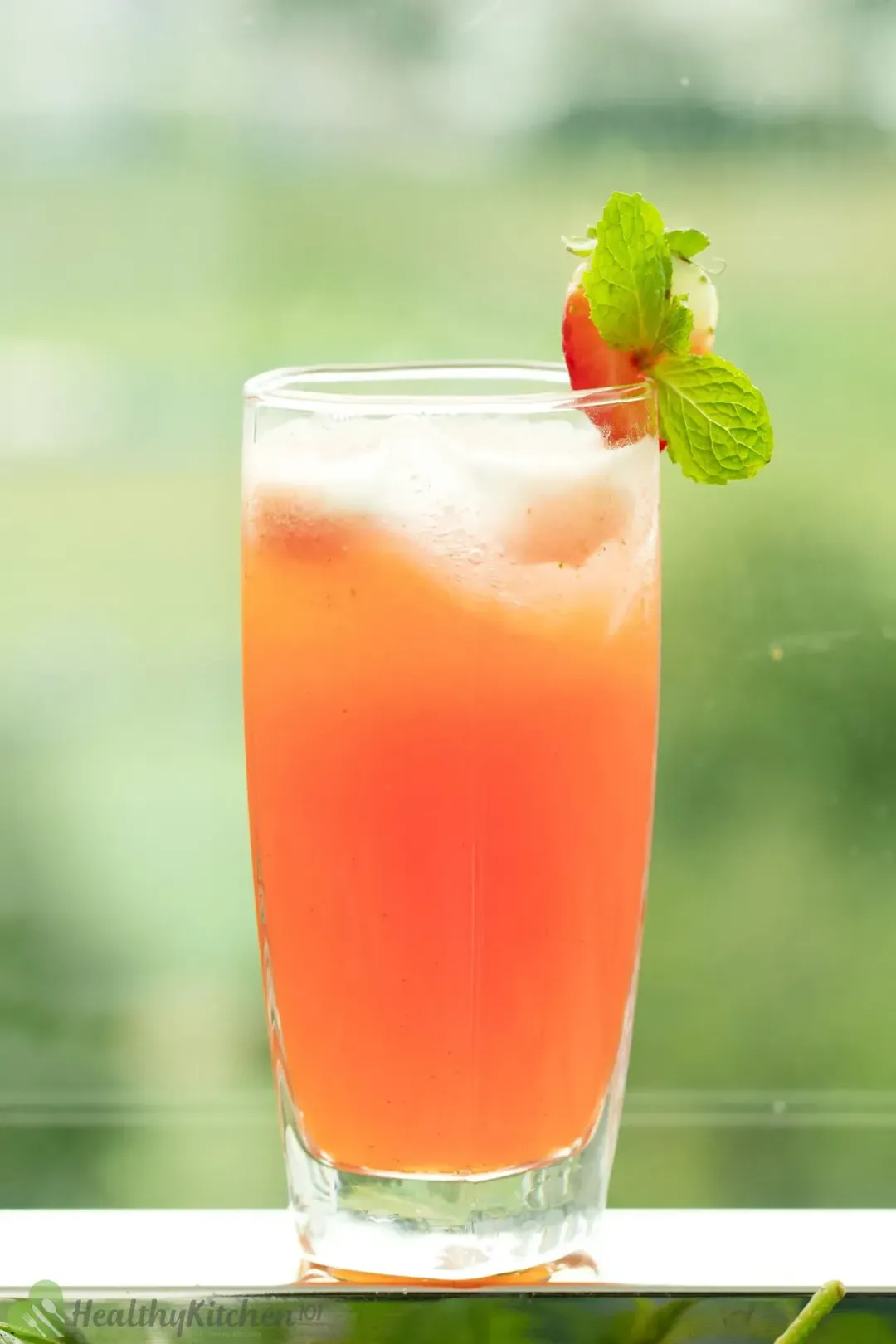 FAQ
1. How Long Does It Last?
Homemade strawberry lemonade has a shorter shelf life compared to store-bought lemonade. It can last for up to three days in the refrigerator while still retaining some nutrients.
2. How Many Calories?
This strawberry lemonade recipe contains 99 calories per serving- a very small amount.
You can further reduce the calories by reducing the amount of sugar. For example, one tablespoon less (for the whole recipe) will reduce the calories per serving by roughly ten calories.
This makes it more suitable for low-carb and low-calorie diets and for restricting your daily calories.
Strawberry Lemonade
This strawberry lemonade recipe is a zesty summer drink with a red-orange hue for both taste and visual appeal. Serve it with ice for a refreshing experience.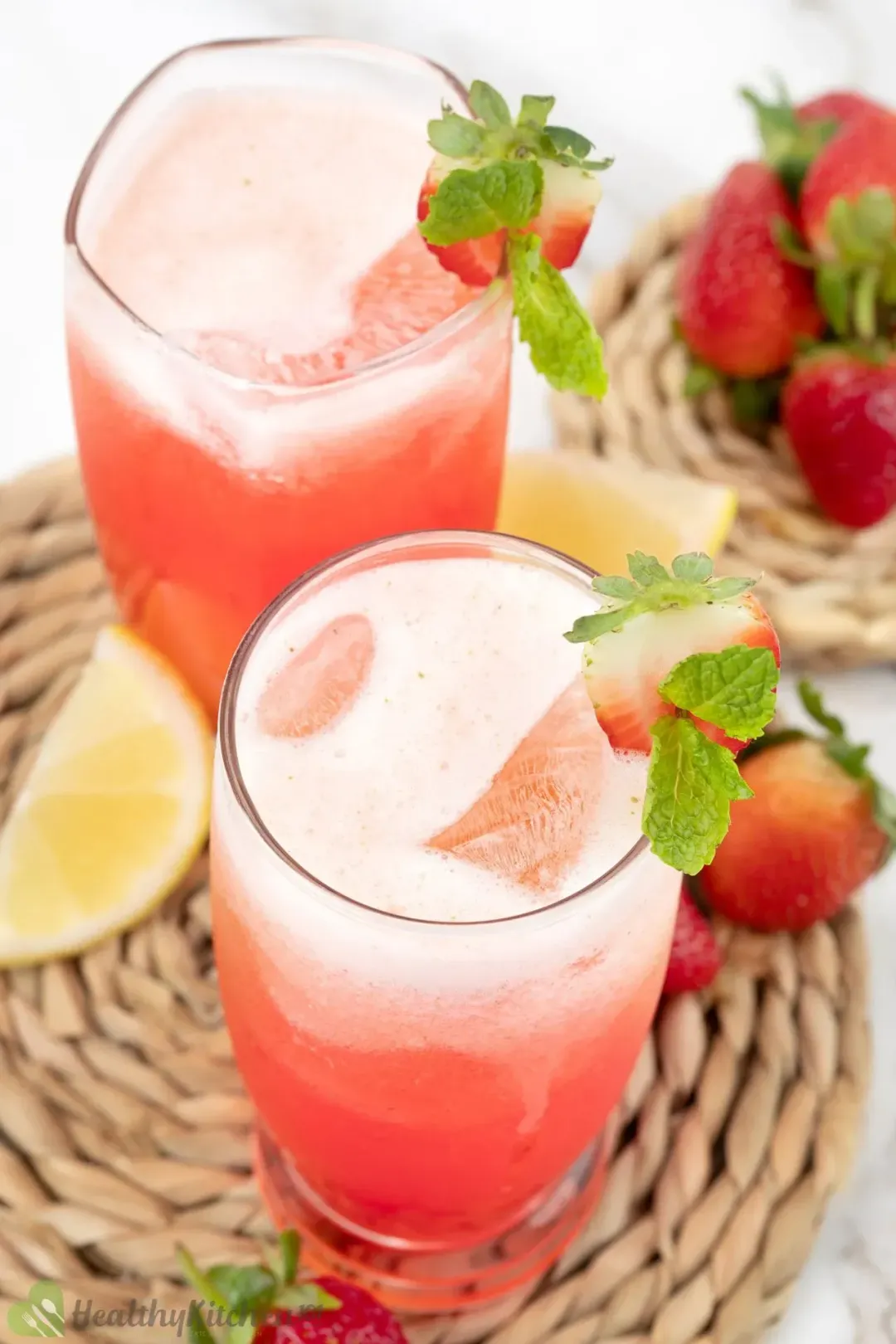 prep TIME

7 mins

total TIME

7 mins
COURSE

Beverage

CUISINE

American

SERVINGS

CALORIES

73 kcal
INGREDIENTS
2 tbsp

lemon juice

(fresh)
INSTRUCTIONS
1
Wash and remove stems from strawberries. Add 10 oz strawberries and 5 mint leaves into a blender and pulse to a smooth consistency.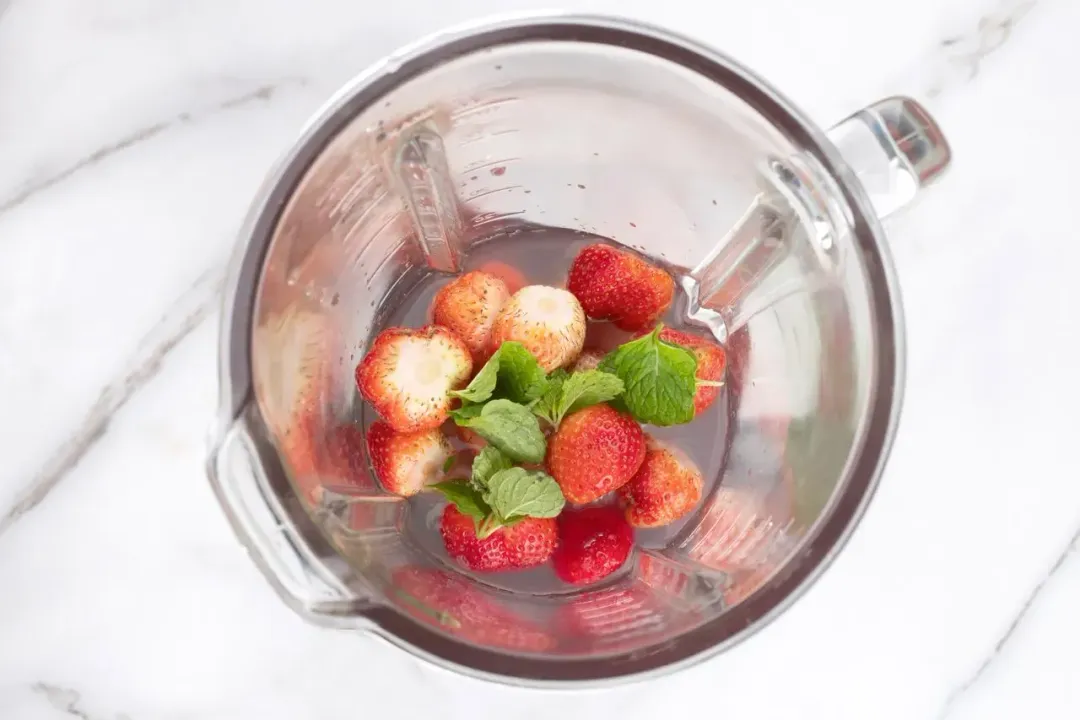 2
Place a cheesecloth over a bowl. Pour in the strawberry puree and squeeze the liquid into the bowl.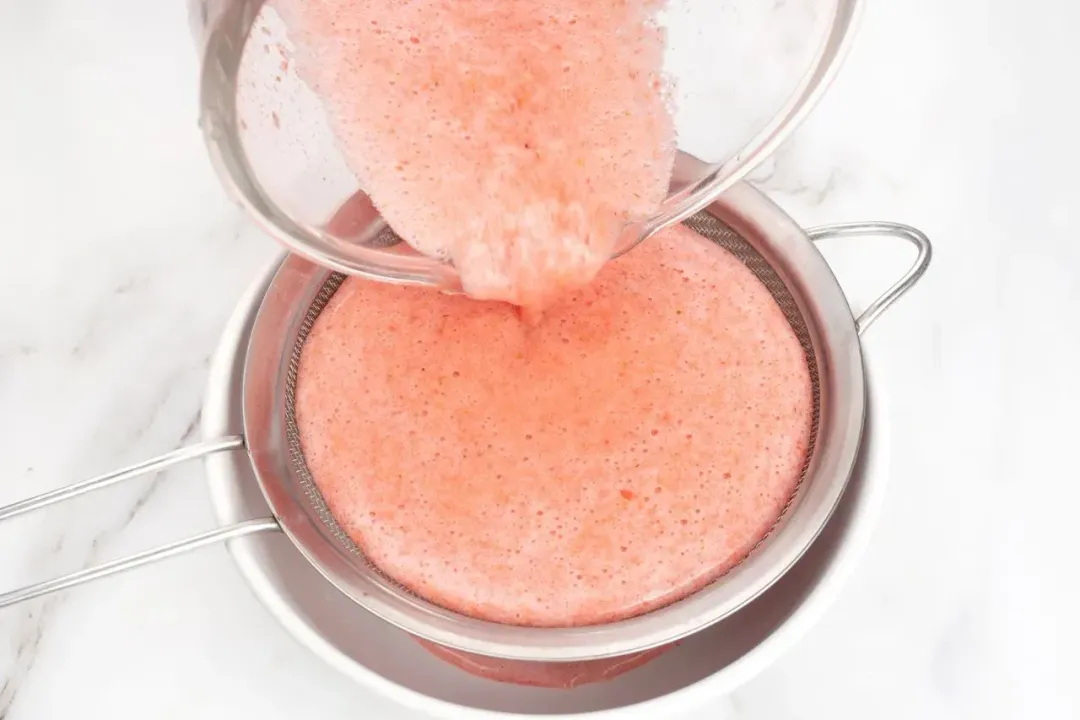 3
Pour strawberry juice into a pitcher. Add 2 tbsp lemon juice, 2 cups water, and 4 tbsp sugar. Stir until sugar dissolves.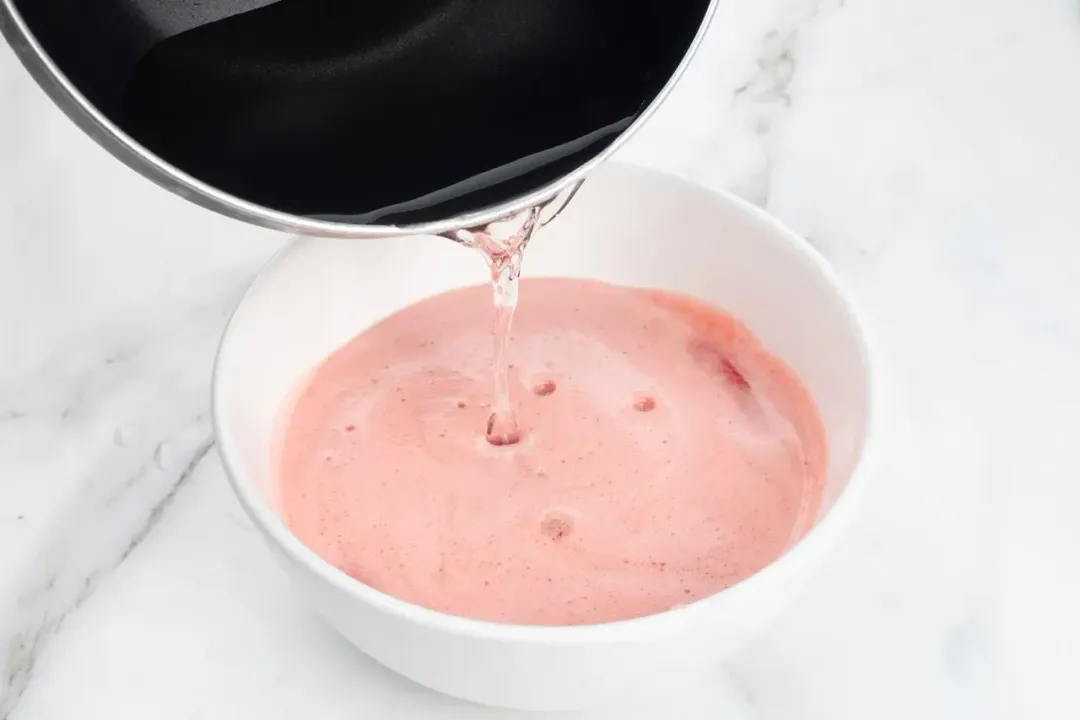 4
Fill glasses with ice. Pour strawberry lemonade into glasses and serve.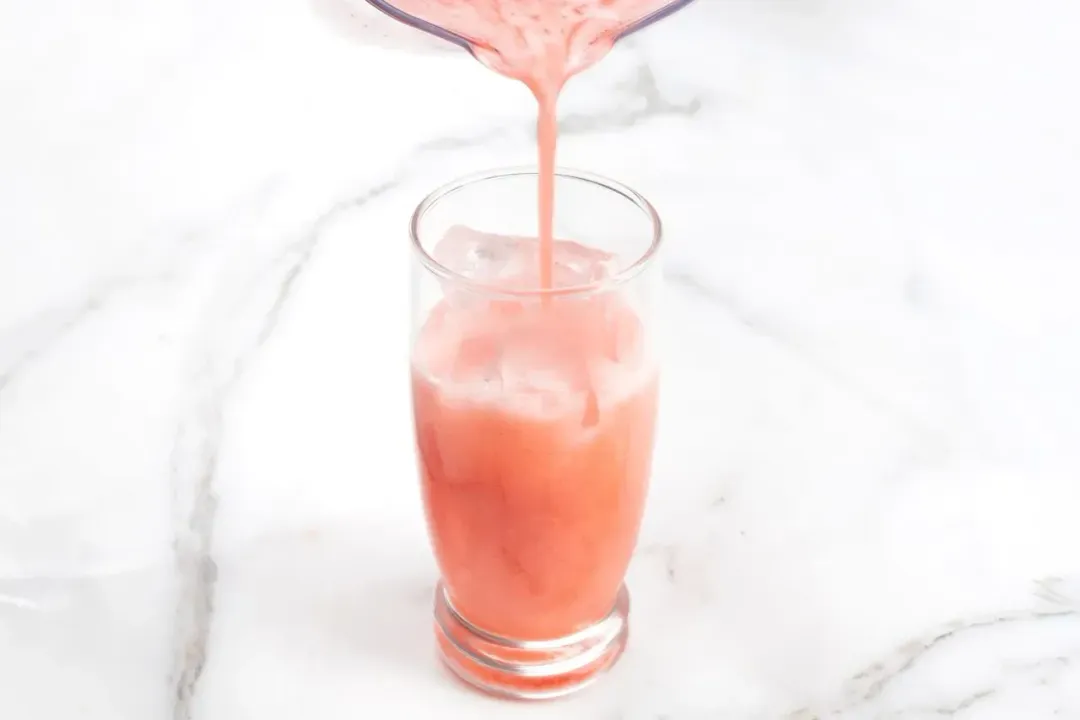 NUTRITION
Nutrition Facts
Strawberry Lemonade
Amount Per Serving (1 serving)
Calories 73
% Daily Value*
* Percent Daily Values are based on a 2000 calorie diet.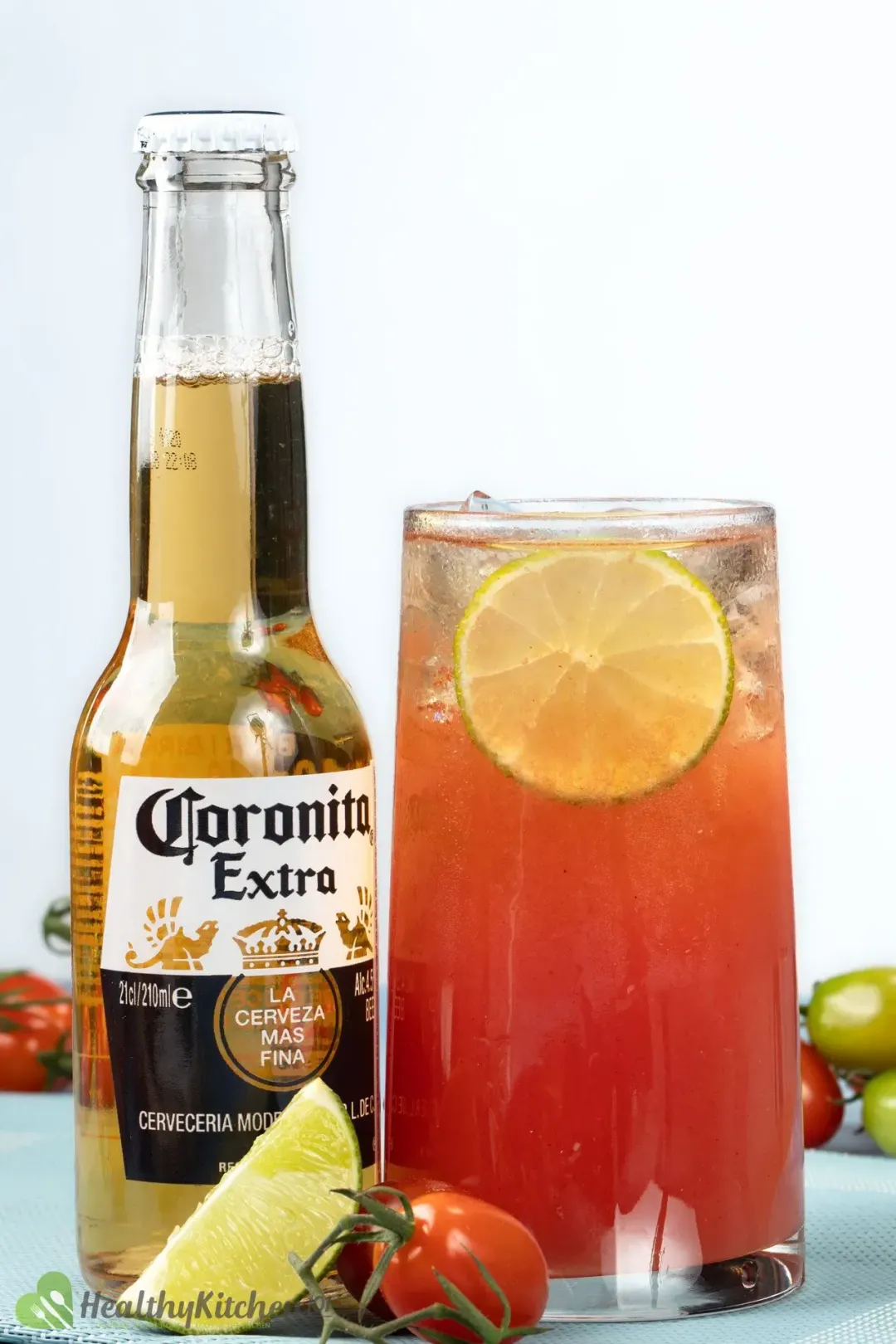 Previous Recipe
Beer and Tomato Juice
Beer and Tomato Juice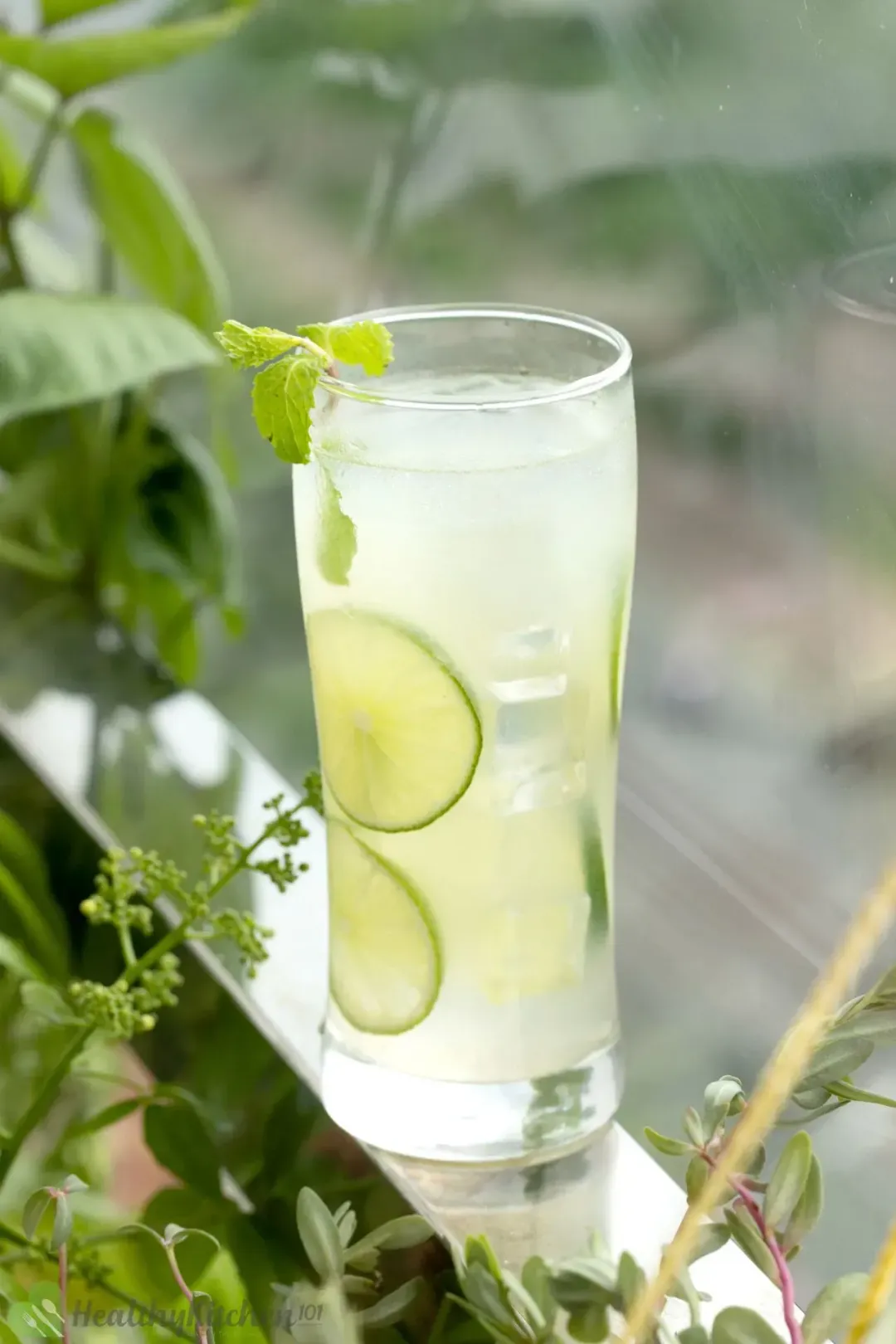 Next Recipe
Vodka Gimlet (Vodka and Lime Juice)
Vodka Gimlet (Vodka and Lime Juice)
Refreshing and sweet strawberry lemonade.