If you're looking for a way to stay refreshed during summer, this cucumber lime juice recipe is the answer. It's a healthy drink that will help keep you hydrated while delivering essential nutrients.
So many fruit juices just provide empty liquid calories. But you can enjoy your diet even more when you monitor and know what you're consuming.
This recipe makes a nourishing drink and gives you the option to adjust it to your liking. Also, it's easy to prepare, making it handy for those busy, active days.
Is This Juice Good for You?
Yes, it definitely is. Here are some reasons why:
1. Electrolytes
The juice of one cucumber yields 433mg of potassium, the same amount as in one banana!
That's great since you can use cucumber's liquid calories to help get your daily essential nutrients.
Potassium is a type of electrolyte. It's present in all body tissue and promotes normal cell function.
Consuming potassium in cucumber juice may help to regulate salt sensitivity. It does this by counteracting sodium, the chief nutrient for salt volume regulation.
When you eat more potassium, you flush more sodium out from your body. This helps to achieve lower blood pressure and a decreased risk of stroke, which makes it great for the DASH diet too.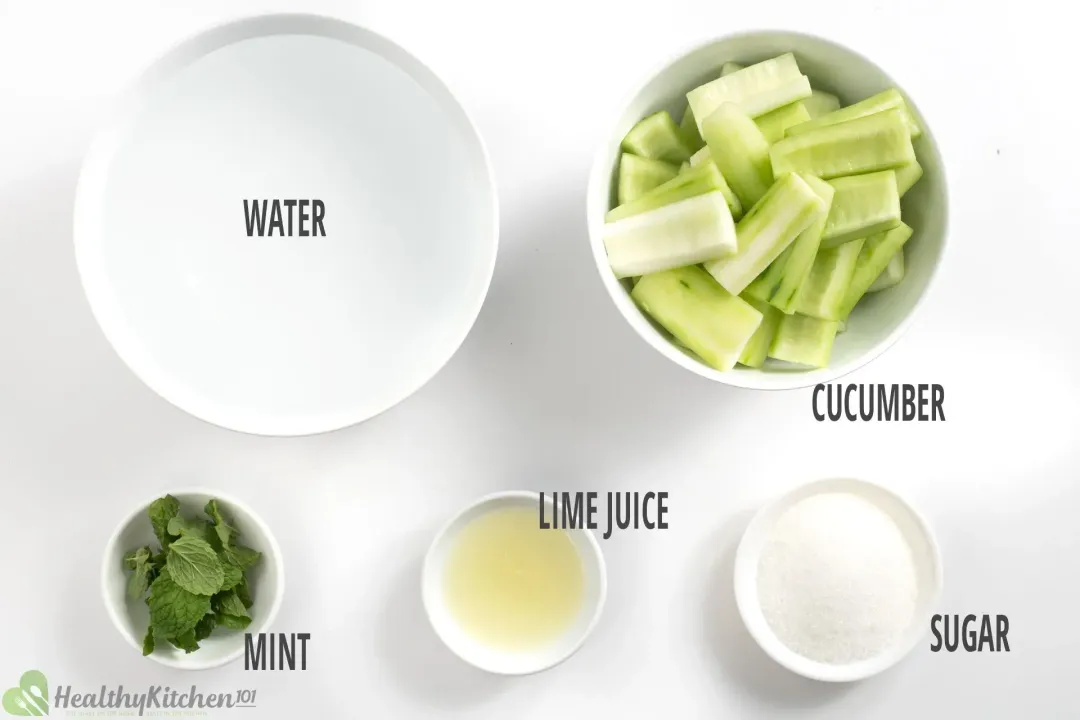 2. Anti-Cancer
Lime juice also has chemopreventive effects.
Studies show that high concentrations of lime juice extract inhibit the growth of pancreatic and breast cancer cells. It's a great idea to incorporate it even in small doses as those too may contribute to your overall health.
3. Gut Health
Cucumber lime juice incorporates mint, an antimicrobial herb with gut-healing properties. Peppermint has been proven to improve symptoms of Irritable Bowel Syndrome in patients.
You can try implementing it in other recipes too, like salads to attain minor health benefits.
4. Sugar
Lastly, according to the USDA guidelines, our recipe takes 38% of the daily sugar limit per serving. Even though it's a small amount, it would require that you carefully monitor your sugar intake from the rest of your meals.
This will ensure that you don't exceed the sugar limit.
Added sugar is infamous for piling empty calories. Unlike most fruit juices, you can indeed have this one in moderation and still maintain a healthy diet.
And while on the topic of fruits, it may be difficult to tell whether ours is a fruit/vegetable juice. Most people may not know how to classify a cucumber.
So let's take a look at the cucumber and its characteristics.
Is a Cucumber a Fruit or a Vegetable?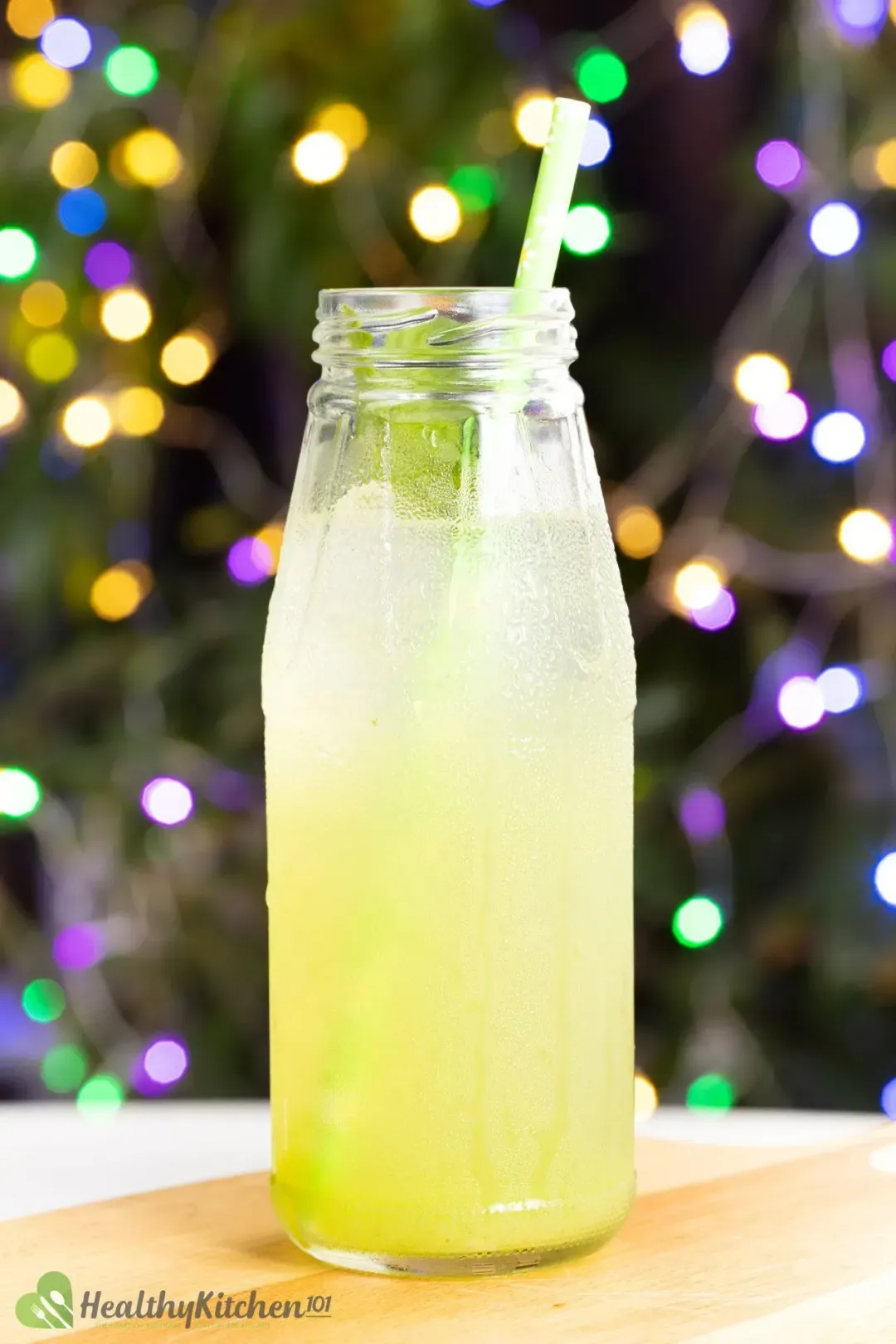 To truly understand the classification of cucumbers, we can assess their composition and evaluate what constitutes a fruit/vegetable.
Those who specialize in studying plants (botanists) would define fruits as having a fleshy substance surrounding the seeds. Produce like eggplants, tomatoes, and zucchinis fall under the fruits group.
So botanically speaking, yes, cucumbers are fruits.
For culinary purposes, however, nutritionists consider a food's nutrient content, taste, and use in meals. Cucumbers are used as a vegetable because they're not sweet or tart.
Thus, nutritionally, they're vegetables.
It explains the confusion around defining tomatoes or cucumbers. Strictly speaking, both are fruits.
How to Make
To make cucumber lime juice, start with the freshest produce you can find. Fresh lime is always vital to make a very refreshing drink. Fresher produce makes for fresher flavors, so in this way, cucumbers, lime, and mint leaves will deliver cooling flavors.
Begin by thoroughly washing all produce. Peel the cucumbers before cutting them into chunks.
Then run the cucumber chunks and mint leaves through a juicer, and collect the juice in a jar. You can use any variety of mint (spearmint, peppermint) to achieve similar flavors and health benefits.
Next, in a large pitcher, mix the water, sugar, and lime juice and stir until the sugar dissolves. Pour the cucumber-mint liquid into the pitcher.
You can keep it simple as we did with this delicious and refreshing drink, limeade recipe, or add in vodka to make a basic cocktail with lime juice.
You can juice and add more fruits for more flavor like in this Pineapple Celery Juice.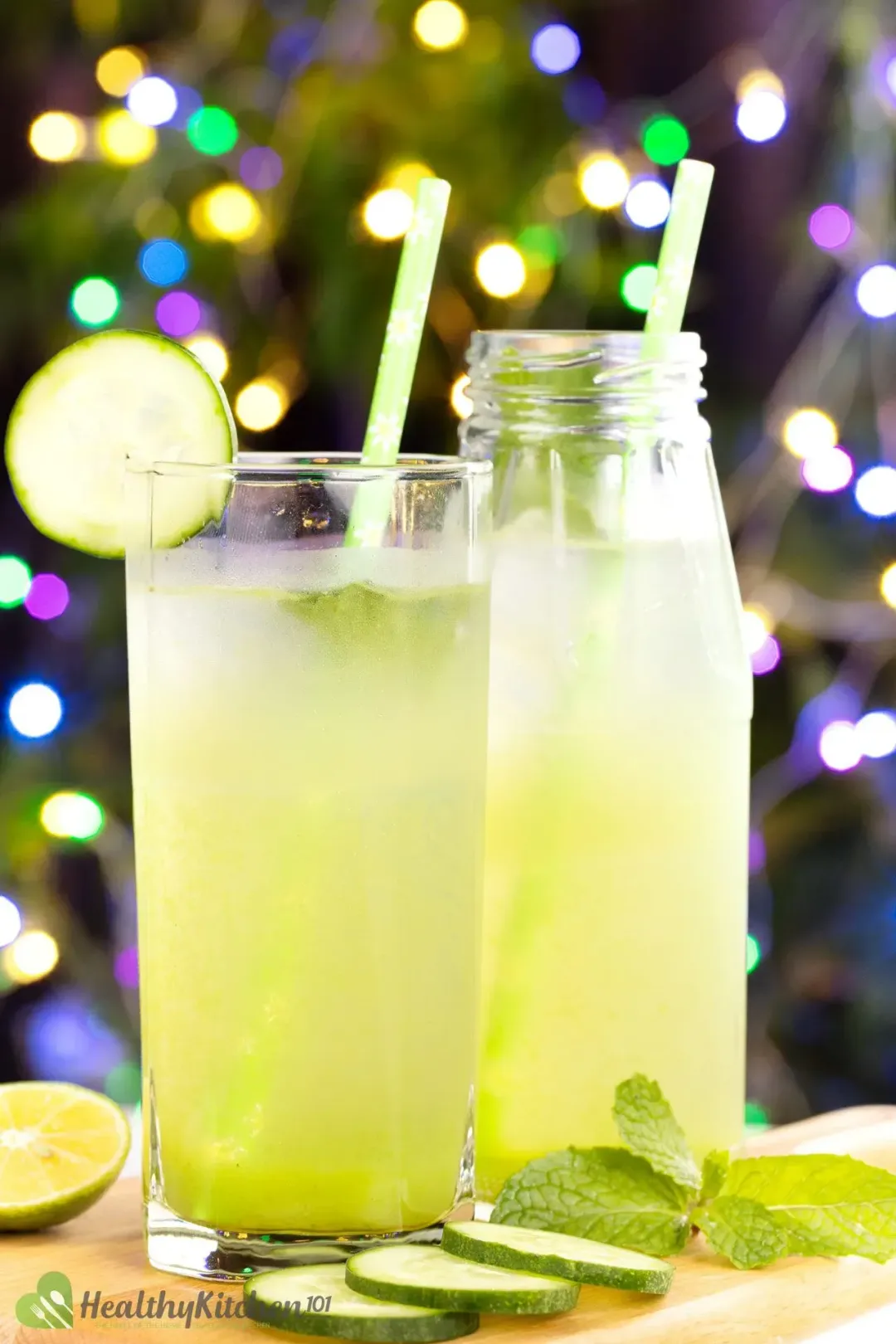 Note that you can also replace sugar with more nutritious options like honey or maple syrup. Stir and serve the drink over ice cubes for the ultimate summer drink.
Can You Substitute Lemon Juice for Lime Juice?
Limes vs. lemons has long been discussed but leaves us frequently substituting one for the other.
That's because the fruits are similar taste-wise.
We usually drizzle lemon juice on top of salads to add vibrancy and smack to the platter. Equally, lime juice delivers zest to any dish.
The same tangy flavors present in lime juice are also present in lemon juice due to their citric acid content. That leads us to address their nutrition profiles.
Both lime and lemon juices contain high amounts of vitamin C, flavonoids, and antioxidants. And the total calories in a serving of lime juice resemble those in a serving of lemon juice.
Aside from the fact that lime juice tends to be slightly more acidic than lemon juice, the differences are negligible. So you can definitely substitute lemon juice for lime juice (see our healthy cucumber drinks for more ideas.)
Calories
This cucumber lime juice recipe contains 55 calories per serving. A small portion of these is from proteins and carbohydrates in the form of sugars and fibers.
A great way to increase fiber is to use a blender in place of a juicer. Leave the pulp in, and you'll not only get more roughage along with your calories but more nutrients too.
Overall, it's a decent amount of calories. So you can incorporate it into your daily regimen without the risk of too many excess calories.
To try out more drinks, check out our replica of a Tequila Lime Mojitarita Cocktail or the complete list of juicing recipes with lime and amazing juice recipes.
Cucumber Lime Juice
This cucumber lime juice recipe is a quick, easy, and extremely low-calorie beverage. It's mixed with mint to finish a cooling and refreshing summer drink.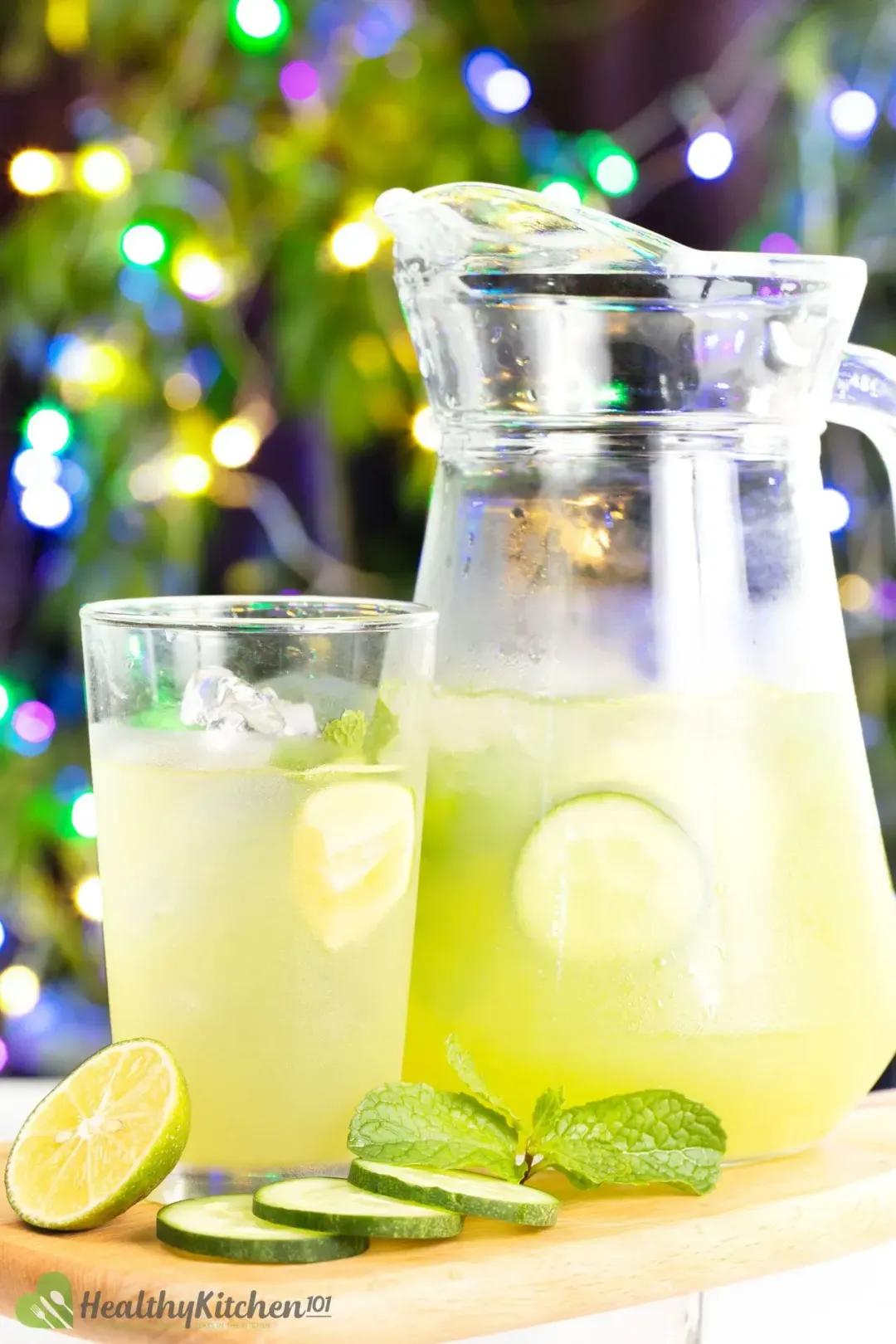 prep TIME

4 mins

total TIME

4 mins
COURSE

Beverage

CUISINE

American

SERVINGS

CALORIES

55 kcal
INGREDIENTS
16 oz

cucumber chunks

(seedless)

2 tbsp

lime juice

(freshly squeezed)
INSTRUCTIONS
1
Add 16 oz cucumber chunks and 1/4 tbsp mint leaves to the juicer.
2
In a large pitcher, stir together 1 cup water, 2 tbsp lime juice, and 3 tbsp sugar.
3
Fill large glasses with ice and pour in the cucumber lime juice. Garnish with remaining mint leaves and serve.
NUTRITION
Nutrition Facts
Cucumber Lime Juice
Amount Per Serving (1 serving)
Calories 55
% Daily Value*
* Percent Daily Values are based on a 2000 calorie diet.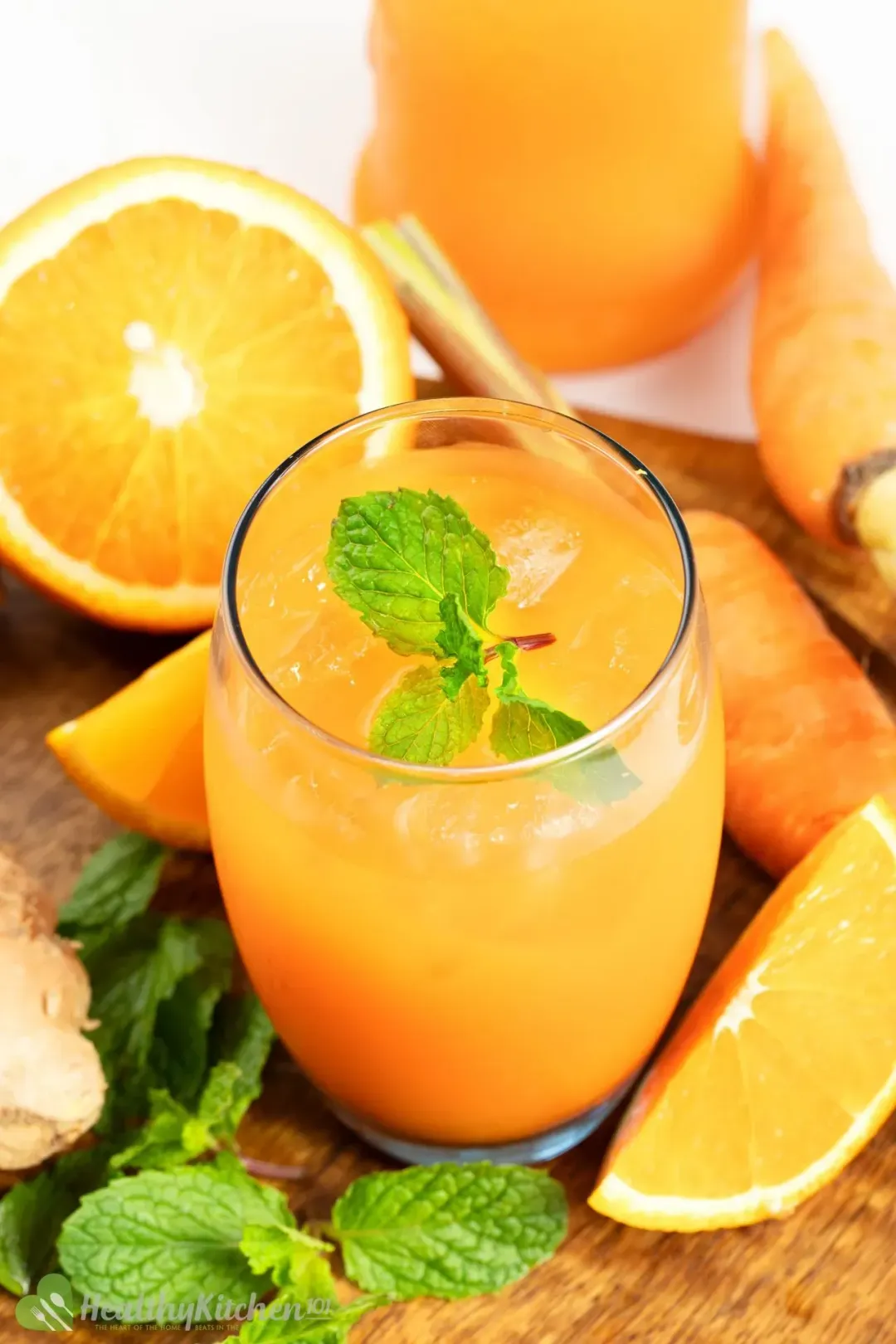 Previous Recipe
Carrot Orange Ginger Juice
Carrot Orange Ginger Juice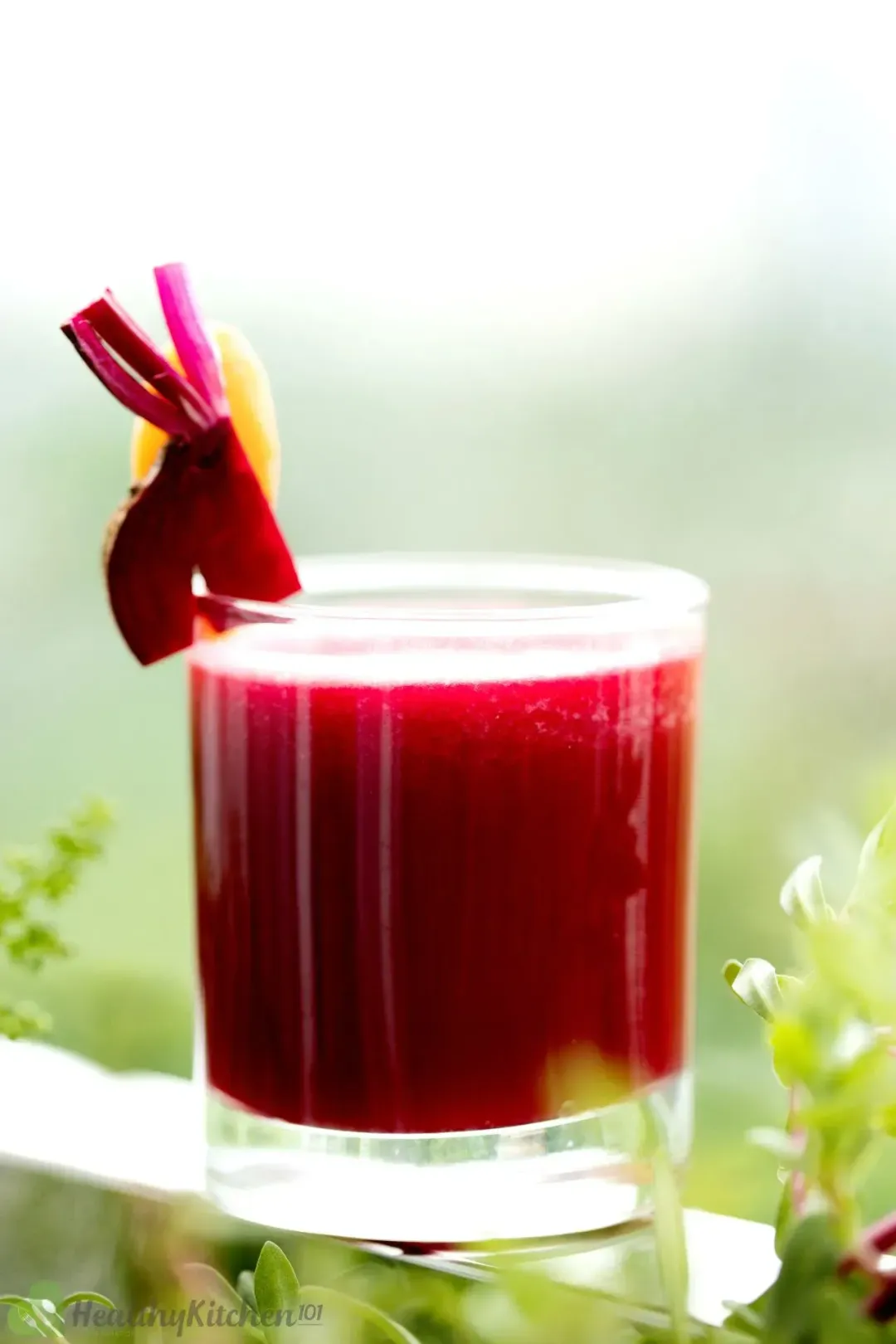 Next Recipe
Carrot Apple Beet Juice
Carrot Apple Beet Juice
I tried this yesterday 23/11/2022 & it was delicious and refreshing… definitely something I'll be making continuously.. Thank you for this drink😁

so glad you loved it, Samantha.

I recently tried this juice and it was so refreshing and delectable! Such a unique combination of flavors from the cucumber and lime juice - perfect for any summer day. Highly recommended for everyone who loves something fresh and aromatic!