Have you ever attempted a pineapple cucumber juice recipe? Few people have, but you can be a part of this exclusive group.
With the help of a juicer, it takes less than 10 minutes to make this drink. Once you have the handful of readily available ingredients you need, including lemon and mint, you can get started right away.
Read on to learn the benefits of pineapple cucumber juice and how to make your own. First, is this a fruit, vegetable, or fruit and veggie drink?
Are Pineapple and Cucumber Fruits?
Yes. Both pineapple and cucumber are fruits.
Almost everyone would agree that pineapple is a fruit. But when it comes to cucumber there is some confusion about whether it's a fruit or vegetable.
Botanists (scientists who study plants) define fruits as the fleshy substance surrounding seeds, like oranges, mangoes, and tomatoes. They also classify them as the reproducing part of a flowering plant (ovary), while vegetables are roots, stems, and leaves.
Cucumber's meaty texture and seeded center fit with the description of fruit. So why do chefs (and most people) still group them as vegetables?
The answer is coherence; it's easier to group sweeter produce as fruits and savory ones as vegetables because it adds clarity to what to put together in dishes. 
But pineapples don't have seeds, so what makes them fruit?
It's their reproductive features; the crown flowers to produce a pineapple, fulfilling the description of a botanical fruit. Now that we know it's a fruit drink, let's take a look at the health benefits it offers.
What Is Pineapple and Cucumber Juice Good For?
The benefits of pineapple and cucumber juice span from immune-boosting properties to antihypertensive capabilities.
1. Less Sugar
Compared with store-bought juice, coffee, and adulterated teas, our beverage has less sugar and no preservatives.
A serving of Starbucks latte can include up to 42 grams of sugar, exceeding the daily sugar limit by 68%. Ours only contains 18 grams of sugar per serving, which is within the recommended guidelines.
2. Anti-Inflammatory
A top feature in our pineapple cucumber juice is the bromelain enzyme found in pineapple juice. Bromelain has been shown to exert anti-inflammatory functions, and among these is its ability to inhibit cancer cell growth that could lead to colon cancer.
Colon cancer is the third-leading cause of cancer-related deaths in the US. Though it typically affects older people, you can get it at any age.
Including bromelain-rich beverages like this one in your diet is one way to help lower the risk of getting it.
3. Fights High Blood Pressure
Cucumber juice also provides benefits as a source of minerals like potassium, phosphorus, and magnesium. A 2015 study showed how drinking it helped reduce sodium levels in the body and lowered blood pressure.
High fat/salt diets can lead to hypertension, and almost 50% of people in the US get this condition by age 60. But you don't have to wait that long to incorporate this pineapple and cucumber juice into your diet.
Let us show you how.
Types of Cucumbers for Juicing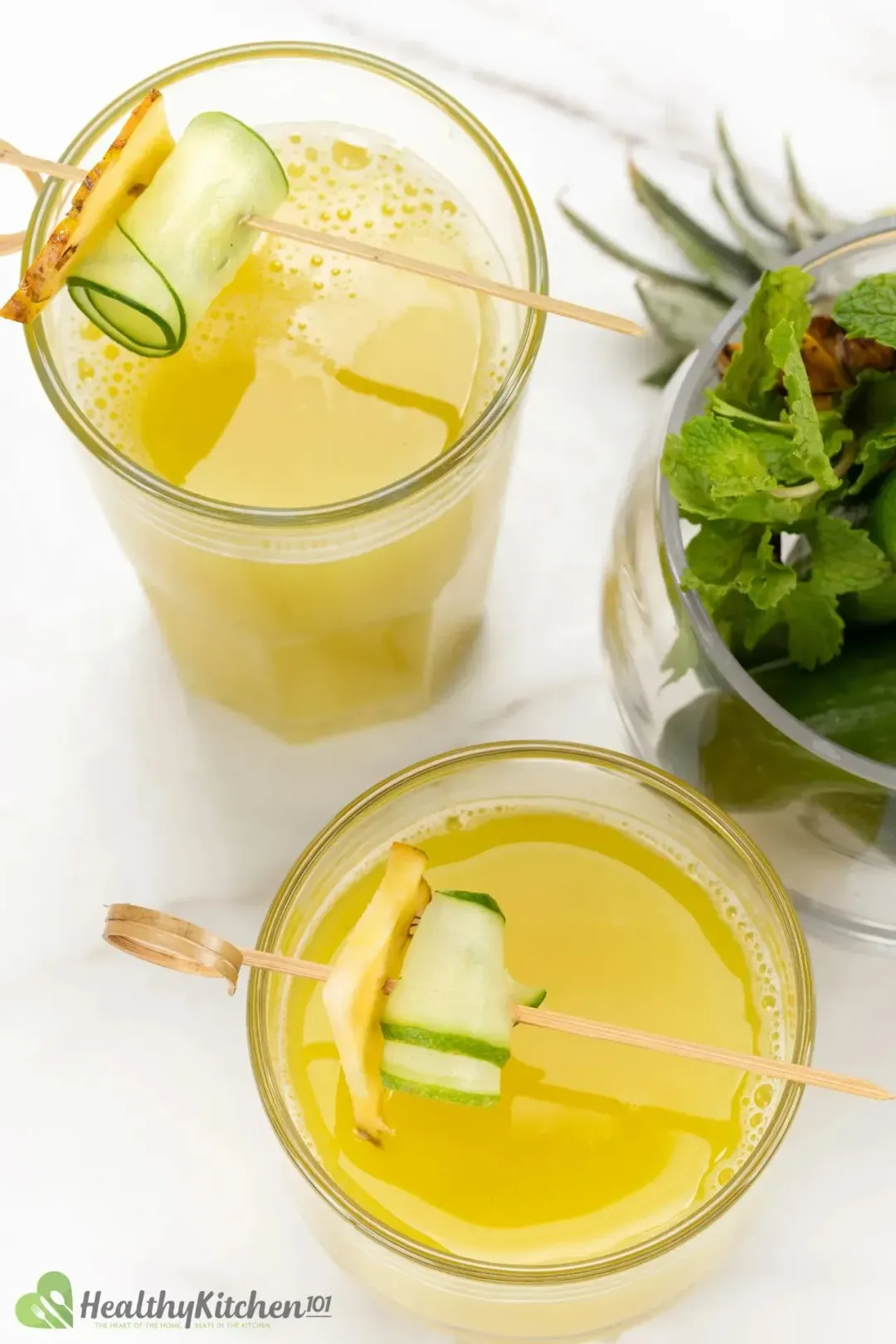 There are over 30 varieties of cucumbers, but they fall under two main types: slicing and pickling. As the names imply, one is better for slicing to add to dishes like salads. The other is more suitable for pickling, as its drier flesh effectively soaks up pickle brine.
You can use both, but the slicing type has softer flesh which makes them the best cucumbers for juicing.
When selecting slicing cucumbers, look for a seedless variety like English or hothouse grown. They're typically long and narrow with a thin skin that will make them easier to peel and juice.
In for more cucumber tips? Check out ways to use cucumbers to stay refreshed during summer.
How to Make Pineapple Cucumber Juice
Start with fresh pineapples and cucumbers. Bottled juice won't cut it in this pineapple cucumber juice recipe in terms of refreshment.
Cut off the pineapple's top and bottom ends and use a sharp knife to peel its skin. There's no need to discard the pineapple core as it also contains juice and nutrients.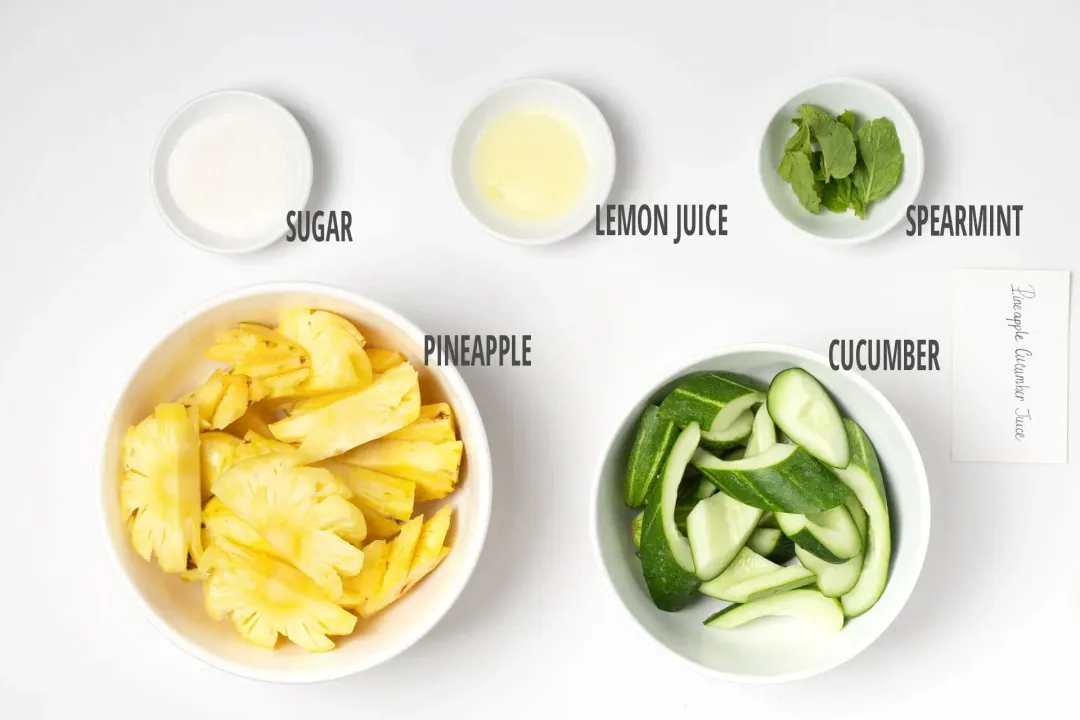 Cut pineapple and cucumber into medium chunks. Then run the pieces through a juicer and collect the liquid in a large pitcher.
Next, add lemon juice and sugar, and stir until the sugar dissolves.
Fill your glasses with ice cubes and pour in the pineapple cucumber juice.
Serve it garnished with fresh pineapple and mint leaves, and enjoy a cold, refreshing beverage.
With a few tweaks, you can achieve a pineapple juice with no added sugar or a basic cocktail using vodka.
Can I Drink Pineapple Cucumber Juice at Night?
Yes. It might even be better to have pineapple cucumber juice at night and enjoy more calorie-dense beverages in the morning.
By replacing high-calorie foods with a healthier filler, you can avoid munching on excess calories after dinner.
Some have it in the morning before having any other food. They believe this increases effectiveness since there will be no other food to disrupt the cleansing process.
However, there's no scientific research to support this theory.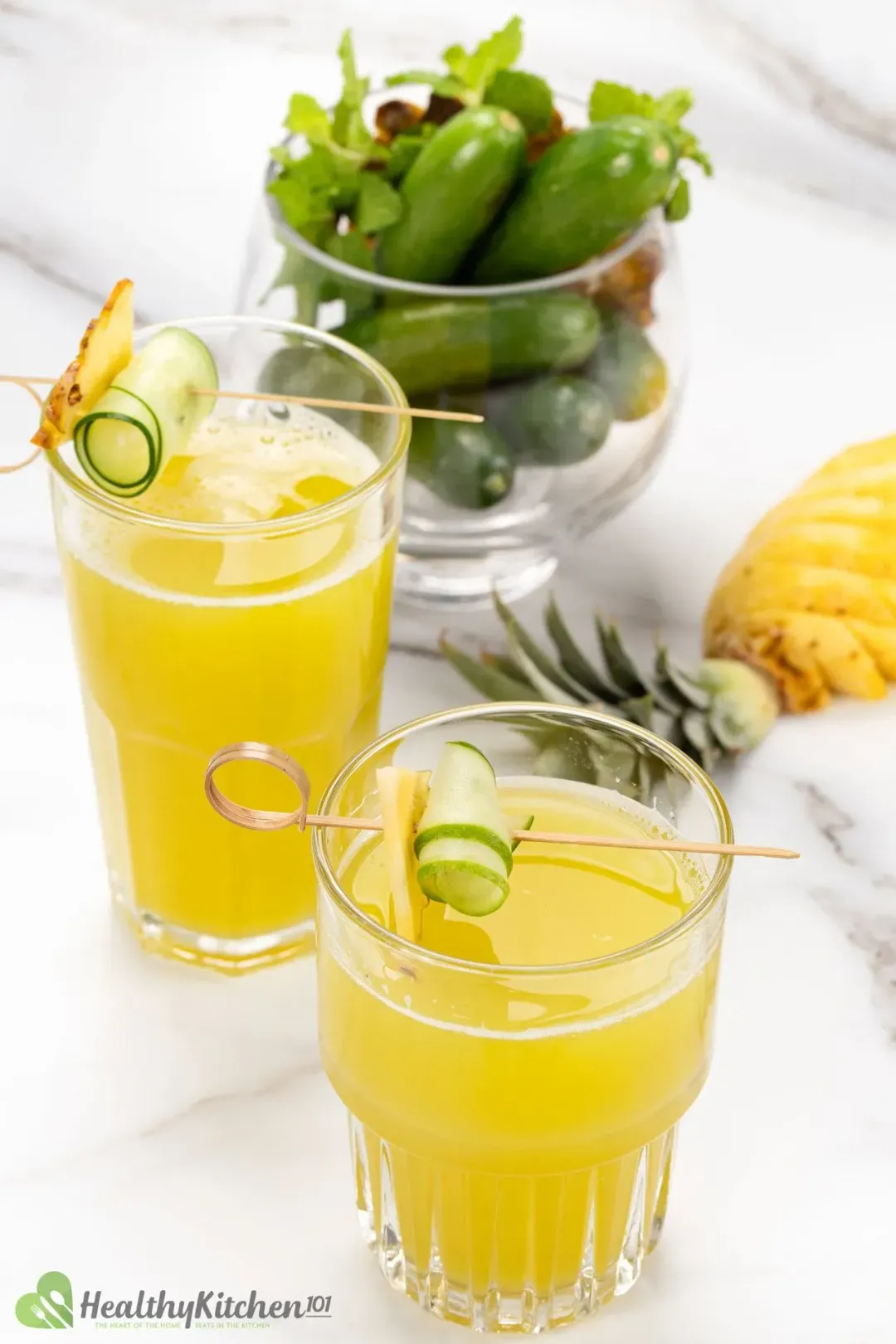 If you choose to have it in the morning, experiment to see what works best for you. You can prepare it the night before and store in the refrigerator for the morning.
On that note, here's another pineapple drink to try on a cleansing diet with ginger for added benefits.
How Long Does Pineapple Cucumber Juice Last?
Pineapple cucumber juice only lasts up to 3 days in the refrigerator. But that's the only advantage store-bought varieties have over it.
If you store your leftover juice in an air-tight container, you can prevent oxidation and delay nutrient depletion. Or, you can keep it in the freezer.
In which case, swap your container for a freezer-safe jar. Leave an inch of space to allow for expansion, and store for up to 3 months.
You save on prep time when you make and store large batches and leftovers. They come in handy for busy days, helping you to swap store-bought varieties for a fresher, healthier choice.
To try our more delicious drinks, check out this rum cocktail using pineapple juice or see our list of homemade pineapple juice recipes.
Pineapple Cucumber Juice
This pineapple cucumber juice is a delicious fruit blend that will help you stay nourished. Serve it as a cold refreshment morning or evening.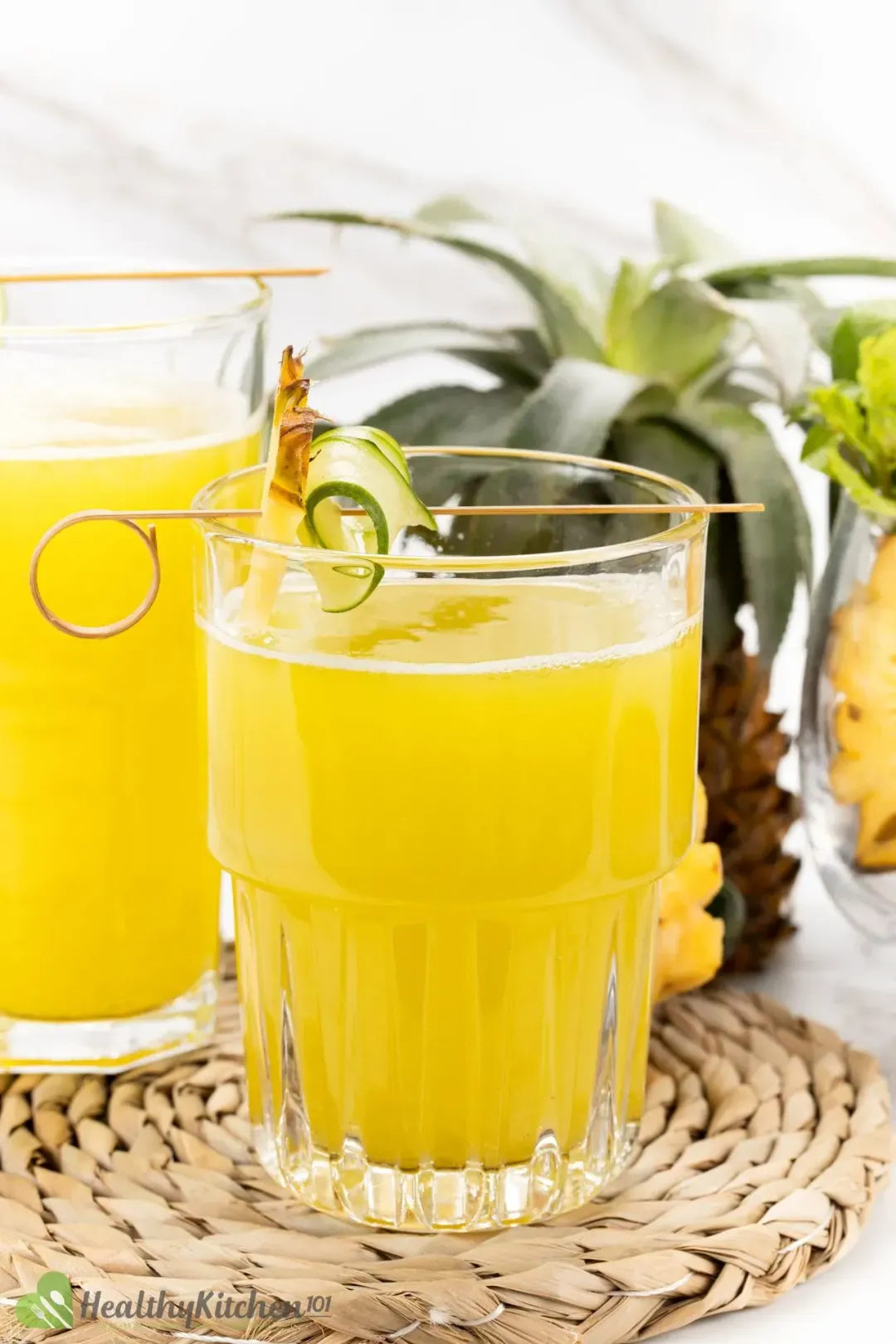 prep TIME

6 mins

total TIME

6 mins
COURSE

Beverage

CUISINE

American

SERVINGS

CALORIES

83 kcal
INGREDIENTS
7 1/2 fl oz

cucumber juice

(from 8 oz seedless cucumber)

16 fl oz

pineapple juice

(from 18 oz fresh pineapple)

6

spearmint leaves

(fresh)
INSTRUCTIONS
1
Wash cucumbers and pineapple. Remove the top, bottom, and skin of the pineapple. Cut the flesh and core into medium chunks, along with the cucumber.
2
Run pineapple and cucumber chunks through a juicer. Collect the juice in a large pitcher.
3
Add lemon juice and sugar. Use a spoon to stir until sugar dissolves.
4
Pour the juice into serving glasses filled with ice cubes. Garnish with fresh pineapple slices and mint leaves.
NUTRITION
Nutrition Facts
Pineapple Cucumber Juice
Amount Per Serving (1 serving)
Calories 83
% Daily Value*
* Percent Daily Values are based on a 2000 calorie diet.
Keywords: How to make Pineapple Cucumber Juice, Pineapple Cucumber Juice, Pineapple Cucumber Juice Recipe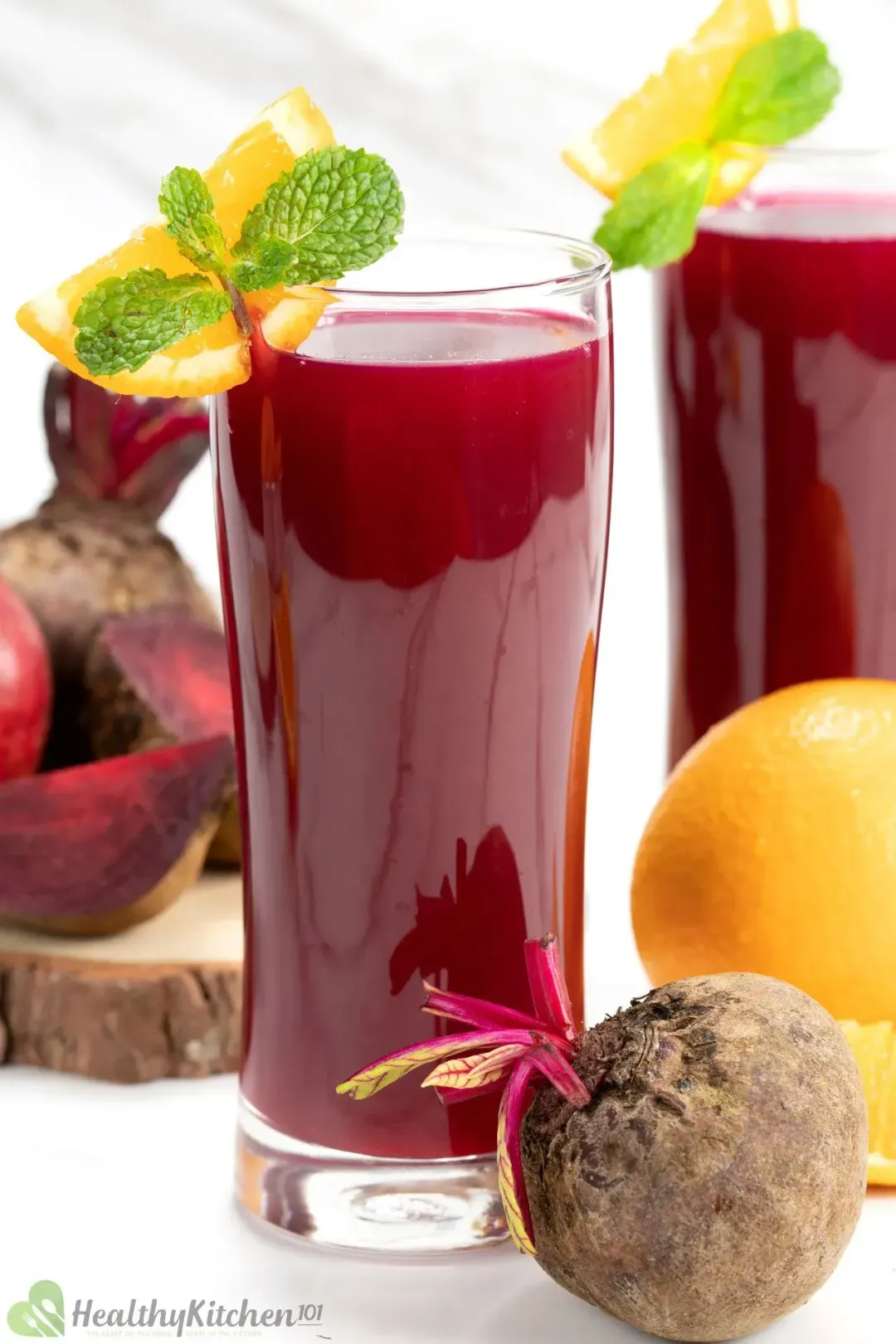 Previous Recipe
Orange Beet Juice
Orange Beet Juice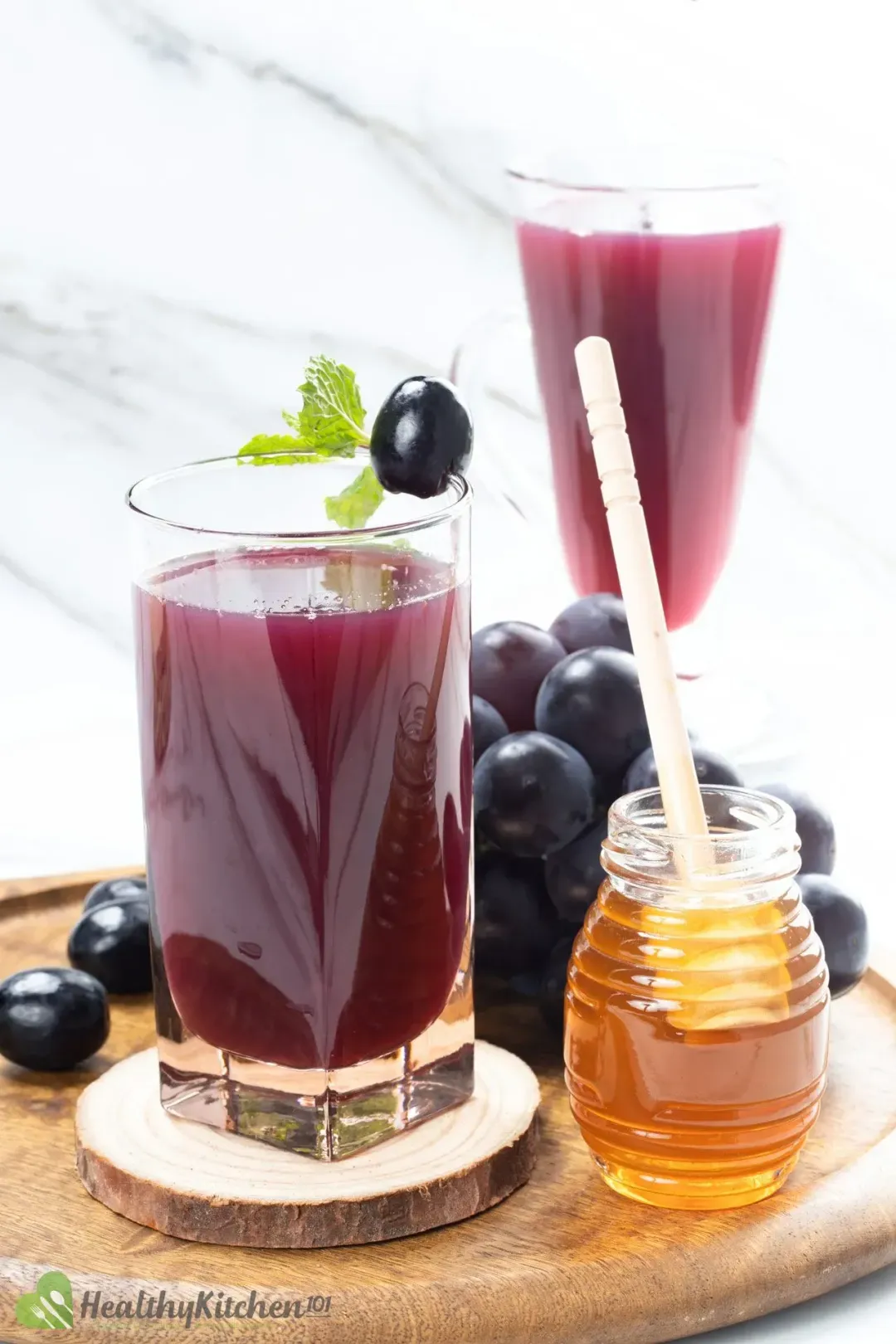 Next Recipe
Apple Cider Vinegar and Grape Juice
Apple Cider Vinegar and Grape Juice
Better than I expected! I love how refreshing and simple this is. Thanks, Luna!

Delicious refreshing juice

So glad you enjoyed it, Sheila! 🙂

I'm going to try this I just wish I would've read the recipe before buying the pineapple & cucumber oh I'll try it without thanks

Nice, let me know how it goes!

Sure! But you'll need to pass the blended mixture through a nut milk bag in order to extract the juice.

I tried the recipe without the lemon and sugar I still found it to be tasty and good.