Welcome to today's top 10 green juice recipes! As promised, this juice collection is going to focus on keeping you on the lighter side of your eating routine.
The best part of these recipes is that they're not only convenient, but also super tasty and doesn't taste bland or savorless at all. They strike a balance of the vegetables and the fruits going into the juicer, bringing you hearty, nourishing, pick-me-up drinks in every meal.
These green juices can be made in bulk at once and consumed for a whole week. Prepare your favourite green juice to serve with your lunch at the workplace or have big bottles of it ready at home in your fridge so you can have small sips for whenever you're thirsty or just finish a heavy meal.
Rich sources of vitamins, minerals, and antioxidants delivered in the yummy way!
Green Juice Benefits
1. For Weight Loss
Generally speaking, homemade juices won't ever do you harm. But if losing weight is your most priority by any means, let's opt for juices that are low in sugar. 
Not all juices are calorie-low. The serving size you make and the ingredients you put to grind decide whether the juice is light enough— worst-case scenario, they can (inconsistently) give you a serious boost in both calories and carbs.
So how can we make green juice that's light and clean? Simple question asked— you need to go heavy on the vegetables and at the same time, cut down on the fruits going into your juice.
Green juice is worth an aid in weight loss when it's packed leafy greens and with only a small amount of fruits working at the background for aroma and better taste. In other words, vegetables are the drink base. It would make no sense to jack up fruits to make it a tasty desirable juice of your favorite, because this means a real sugar crash later. Also, please don't try to add a lot of carrots or beets to make it a finer juice that it already is— sweet vegetables bring more sugar to the party, too.
For these all-purpose ingredients, we will get to know them better in the below section. For now, here's a few to put to your grocery list: cucumber, spinach, celery, wheatgrass, parsley, mint, and kale. 
For the best weight loss results, it is important to combine green juices with diets that focus on lean protein foods and healthy fats to keep you full without experiencing blood sugar spike, rather than regular diets with a whole lot of refined carbohydrate sources.
2. On Your Skin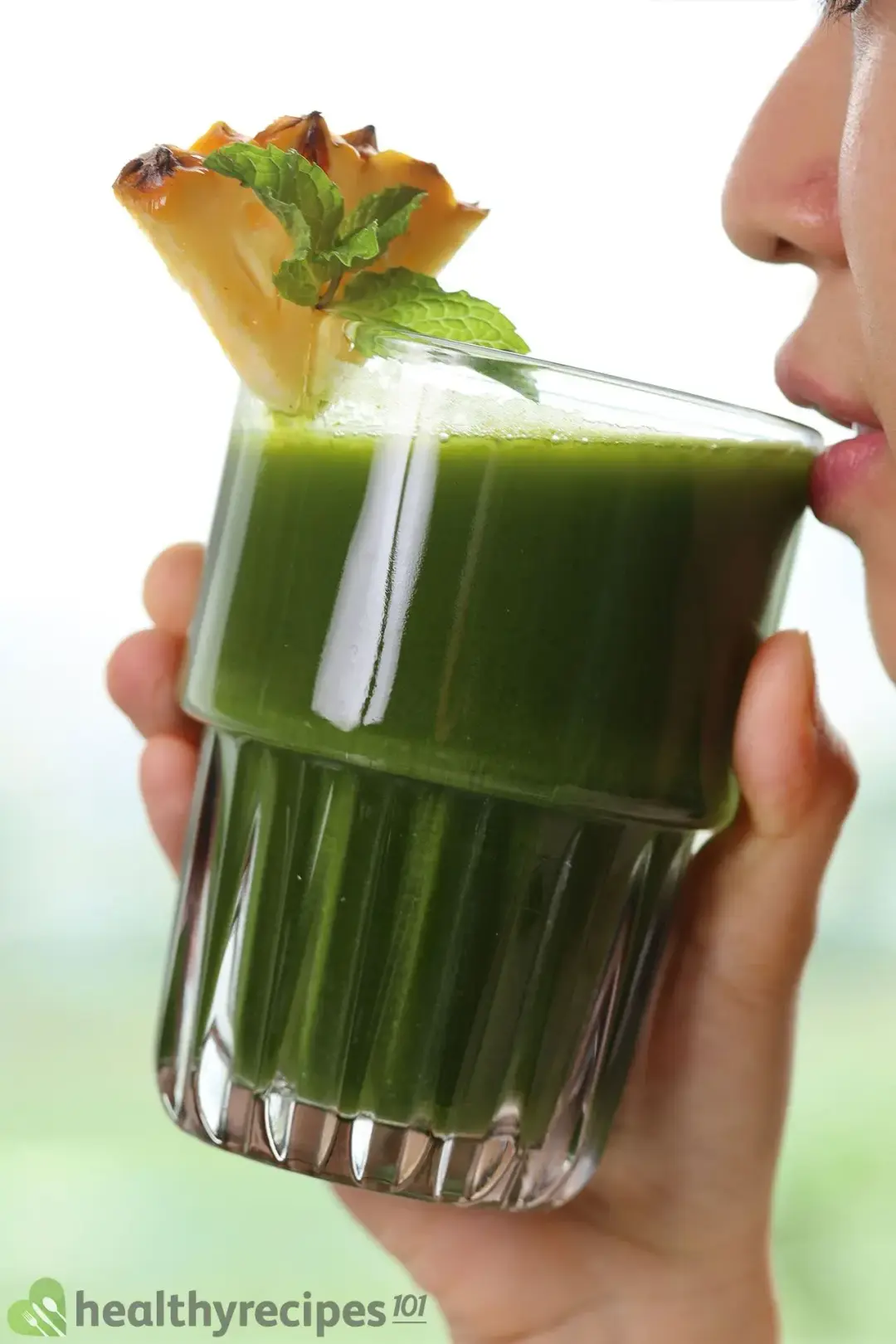 There is this common saying that if you're not eating enough veggies, drinking green juice is an easier way to consume legumes. We believe it's a need to stress that juice cannot replace whole foods, as you've had a fair amount of fiber lost from the greens during the juicing process.
Nevertheless, green juice still shows its great power in anti-aging and detoxification.
The base of green juice often includes cruciferous vegetables and herbs, they are packed with vitamins A B, C, E, and K— all skin-supportive nutrients. A compound called sulforaphane found in leafy greens is also known as an anti-cancer agent. High amounts of folate and iron in dark leafy greens also assist cell synthesis and body function repair.
Consumption of important nutrients in leafy greens is proved to prevent skin aging. They can also help get rid of visible signs such as eye wrinkles, smile lines, discolored skin patches, and dark spots. By juicing them, you'll not only get the vitamins and minerals but unwanted toxins in your body will also get flushed out easily, eventually result in better skin. Include green juice in your organic skincare routine and you'll see flying colors in no time.
3. Benefits of This Juice in the Morning
It is important to keep in mind that juices can only take the role of a healthy addition and will never be an ideal meal substitute. You should not replace either your breakfast, lunch, or dinner with a bucket of green juice and presuming that you've made progress in any eat-clean or weight-loss journey.
A single-serving cup of green juice will work best as a pair for the main dish or a light and simple brunch at your workplace. Adding it to your breakfast can also do the trick of making you feel full longer and not sweating it out waiting for the next meal to come.
How to Make Green Juice
Most of the time, a masticating juicer might be the first to come to your mind when someone mentions juices. Apparently, that's not the one and only approach to green juice.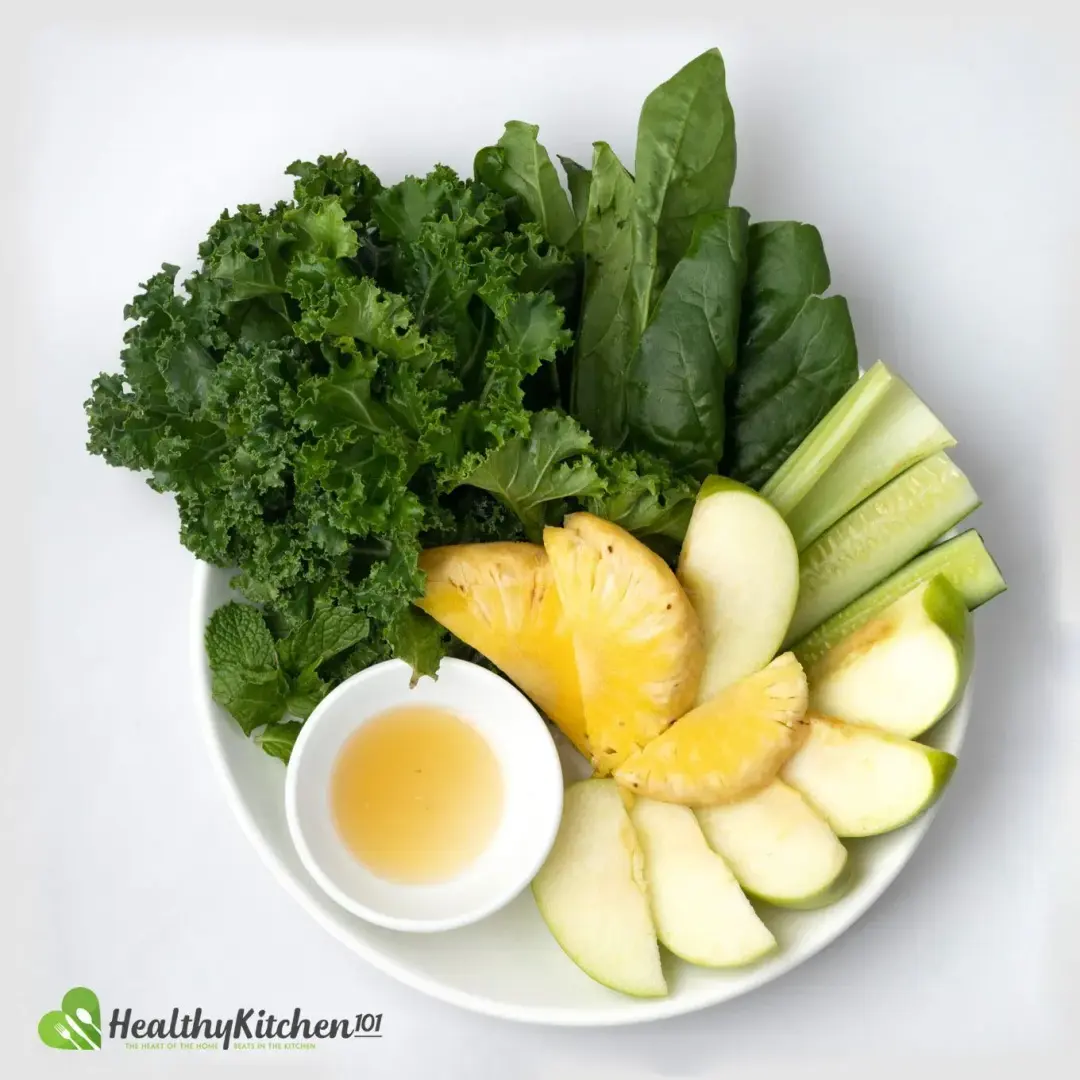 Both masticating juicer and centrifugal juicer can do the work. But for leafy greens, the best one you should use to properly juice it is masticating juicer. If you're using centrifugal juicer, try stacking the smaller leaves together and wrap around the stack with a larger leaf when putting them to the juicer. Doing this, you'll be able to prevent the chance the pulp collector skips the small greens and result in those leaves be left unshredded.
Another creative way to juice leafy greens is use a blender together with a little maneuver. Simply pulverize the leaves in a blender and run the green purée through a fine mess or cheesecloth to extract the juice. This method helps you control on the level of consistency you want your juice to be— thick or watery, it depends on how much strength you use to squeeze out the liquid. 
Green Juice Ingredients
Kale: Kale is rich in B-complex vitamins and minerals, vitamins A, C, K, as well as antioxidants such as lutein and beta-carotene that are known to preventing and repairing damages caused by oxidative stress.
Spinach: Spinach is a great source of folate, which plays an important role in preventing neural tube defects and producing red blood cells in pregnancy. 
Celery: Celery is a good source of important antioxidants, natural organic sodium, vitamins, and minerals. These show effects in reducing inflammations and neutralizing effect on acidic foods.
Easy And Delicious Green Juice Recipes
1. Best Green Juice: Cucumber, Celery, Spinach, & Kale
This best green juice recipe is a combination of cucumber, celery, spinach, kale, and mint— a whole bunch of greens! With the addition of pineapple, apple, and lemon juice, the juice gets even better in taste and will surely make you want to come back again for another gulp. Ready to take this vitamin-rich drink in?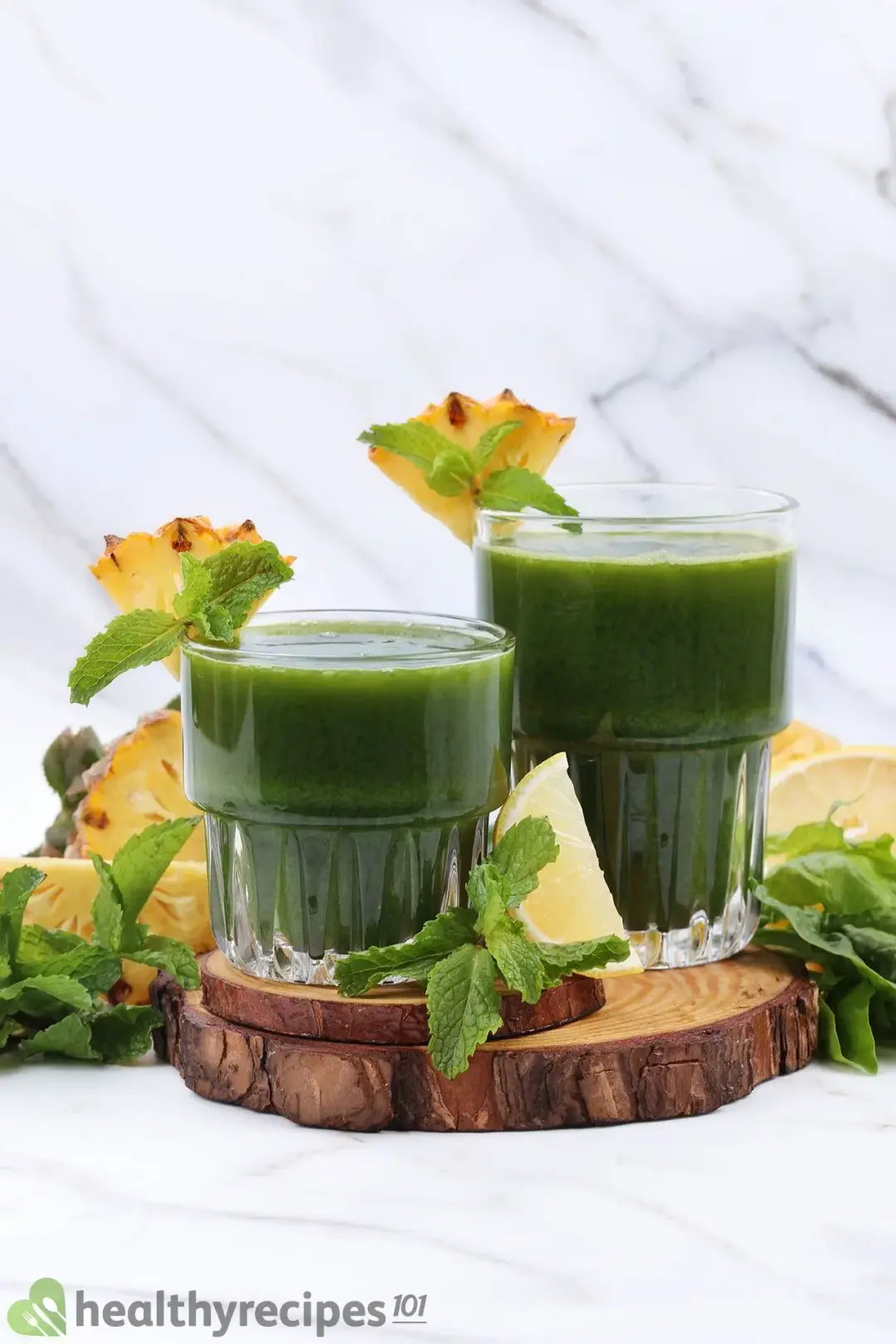 2. Mean Green Juice (1 serving)
The mean green juice recipe from Healthyrecipes101 is the "it" juice as it strikes a perfect balance between veggies and fruit, making it not only a great detoxifying juice but also a tasty, flavorful drink to enjoy after heavy meals.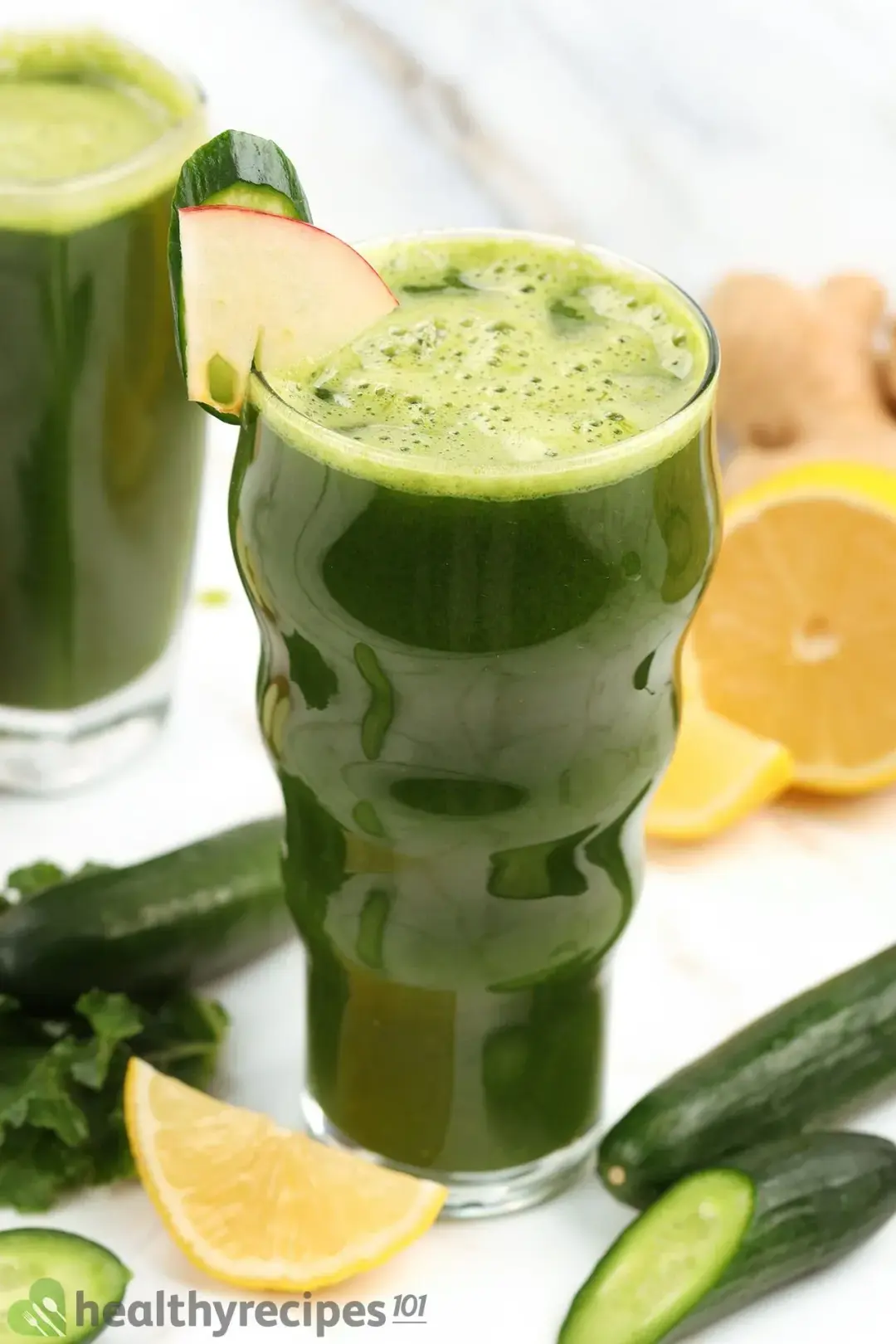 Ingredients:
1 fl oz kale juice, from 2 oz kale
2 fl oz cucumber juice, from 2 oz cucumber
4 fl oz celery juice, from 3 oz celery stalks
24 fl oz apple juice, from 32 oz apples
1/4 oz ginger
3 tbsp lemon juice
1/2 tbsp sugar
Instructions:
Wash kale, cucumber, celery, and apples. Peel and core apples and cut them into pieces that fit into your juicer. Cut celery into similar size pieces and slice cucumbers and ginger.
Run kale, cucumber, celery, apple, and ginger through the juicer. Collect the juice in a pitcher.
Add lemon juice and sugar. Stir until sugar dissolves.
Pour into glasses/mason jars. Serve.
3. Green Machine Juice (2 servings)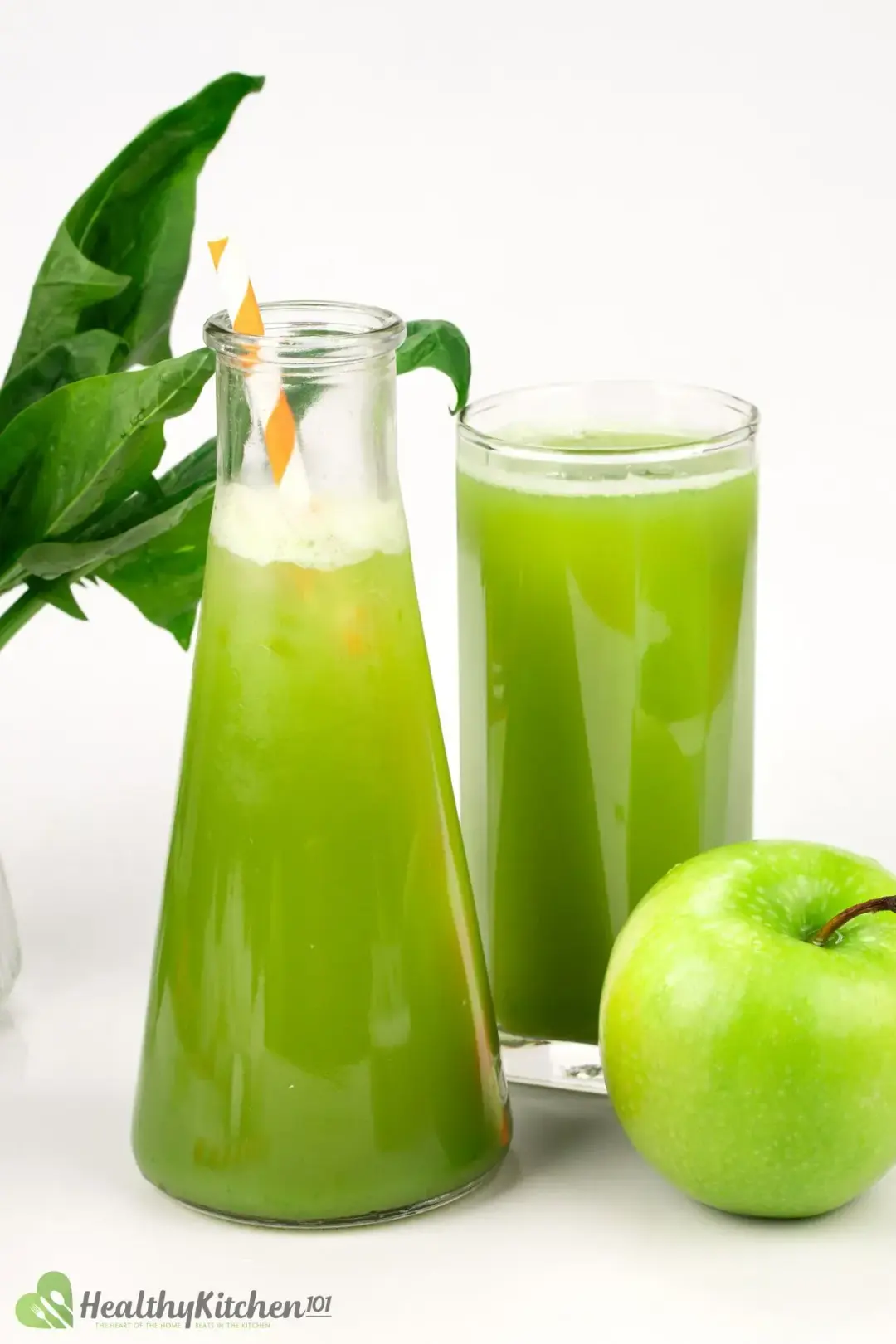 This simple green machine juice recipe only includes 6 ingredients in the list and takes you only 15 minutes working with a juicer for a healthy and nutritious drink. So refreshing!
Ingredients
1 cup baby kale leaves 
1 cup romaine lettuce 
1 large chard leaf
1 cucumber 
1 stalk of celery
1 apple, core and seeds removed, chunked
1 lemon, skinned
1 lime, skinned
1 inch fresh ginger, peeled
1 cup coconut water (optional)
Instructions:
Add all the ingredients to a juicer.
Divide the juice into portions. Served chilled or over ice.
4. Green Vegetable Juice (2 servings)
For this green vegetable juice recipe, we decided to go heavier on the green side and pack it with vegetables of many kinds. At last, we pop in half an apple to give it a nice sweet-sour after taste. Yummy it is!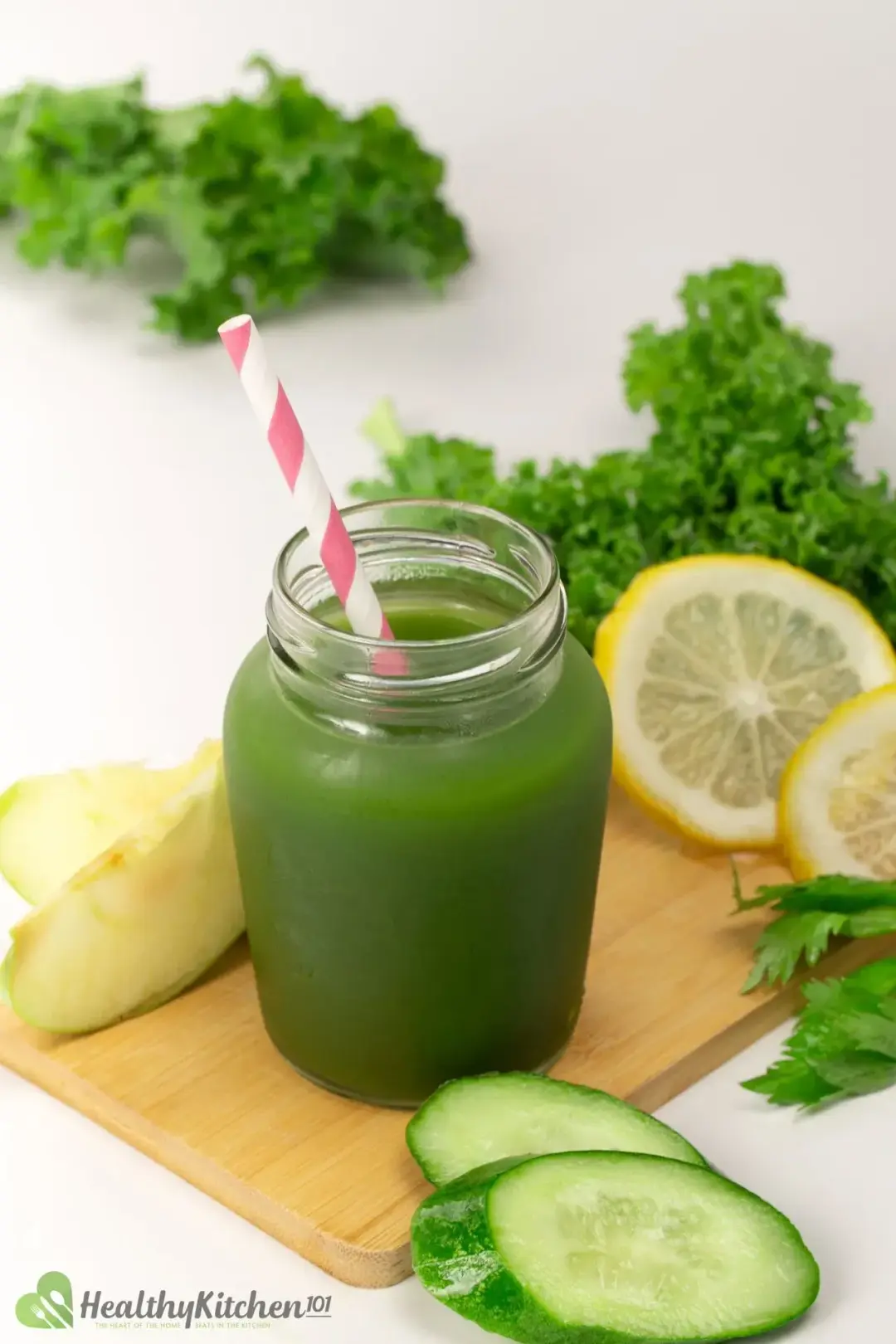 Ingredients:
1/2 cucumber
2 stalks of celery
2 large kale leaves (or 1 cup spinach)
1/2 large apple
Juice from 1/2 lemon
1/4 inch fresh ginger, optional
1 cup water
Instruction:
Wash and rinse cucumber, celery, kale, and apple. Remove stems from the kale leaves, cut them into small pieces.
Roughly chop cucumber, celery, and apple.
Blend cucumber, celery, apple, and ginger with 1 cup of water using a blender until smooth.
Add kale leaves and lemon juice to the purée. Pulse again until perfectly smooth. 
Serve.
5. Spinach Juice (4 servings)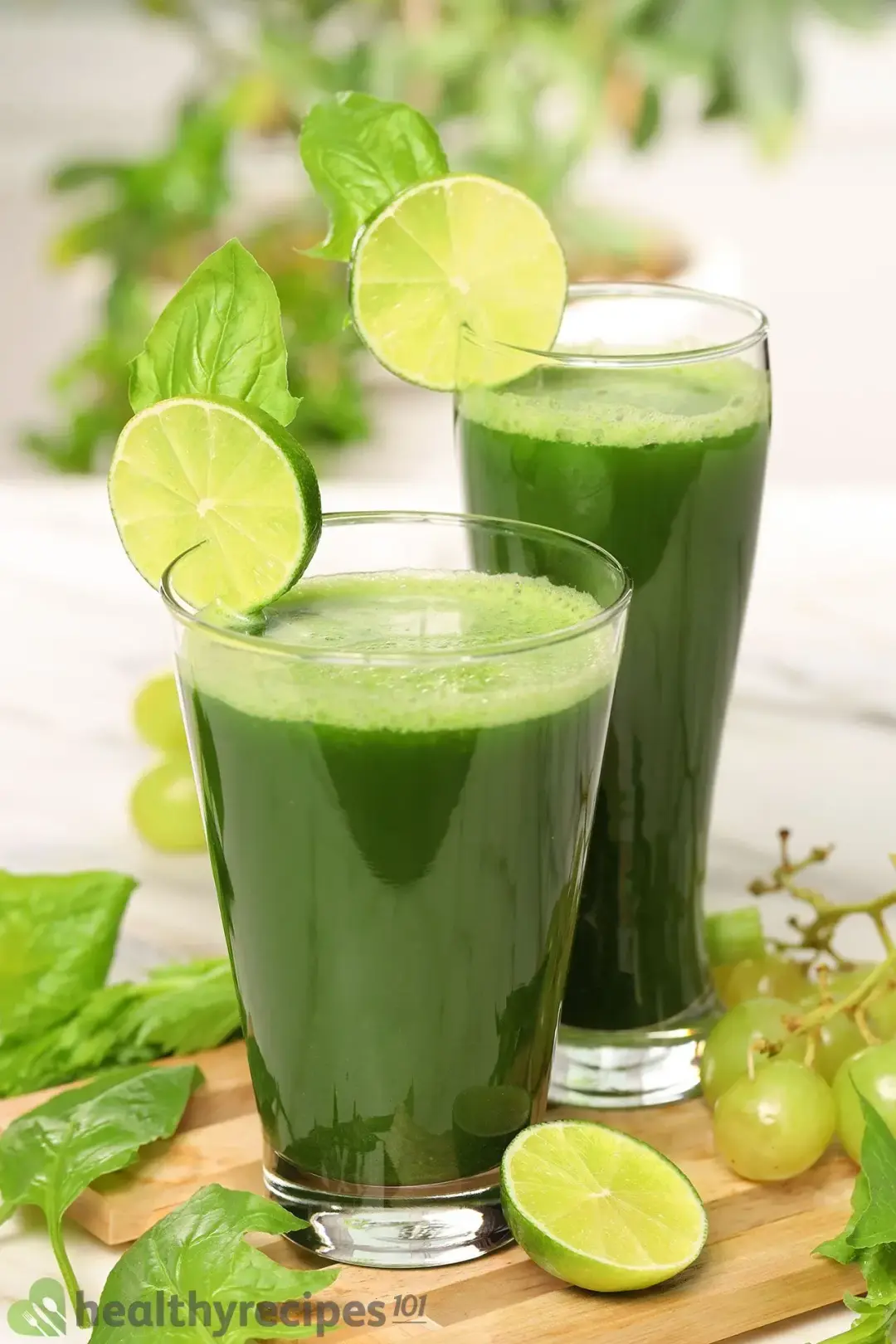 Making this spinach juice recipe is a quick way to get lots of vitamins and nutrients into your body. This veggie-packed drink with mild flavors and an impressive nutritional profile can be added to any of your meals throughout the week.
Ingredients:
4 oz spinach
8 oz green grapes
10 oz pineapple
2 oz celery
1 tbsp lemon juice
1 cup water
1 tbsp sugar
Instructions:
Run the spinach, celery, pineapple, and green grapes through a juicer.
Whisk lemon juice, sugar, and water in the spinach juice until well combined.
Divide into serving glasses without ice cubes. Serve chilled if desired.
6. Celery Cucumber Juice (4 servings)
This celery cucumber juice recipe makes a delicious drink to start your day. It's nutritious, tasty, refreshing, and takes only a few minutes to make.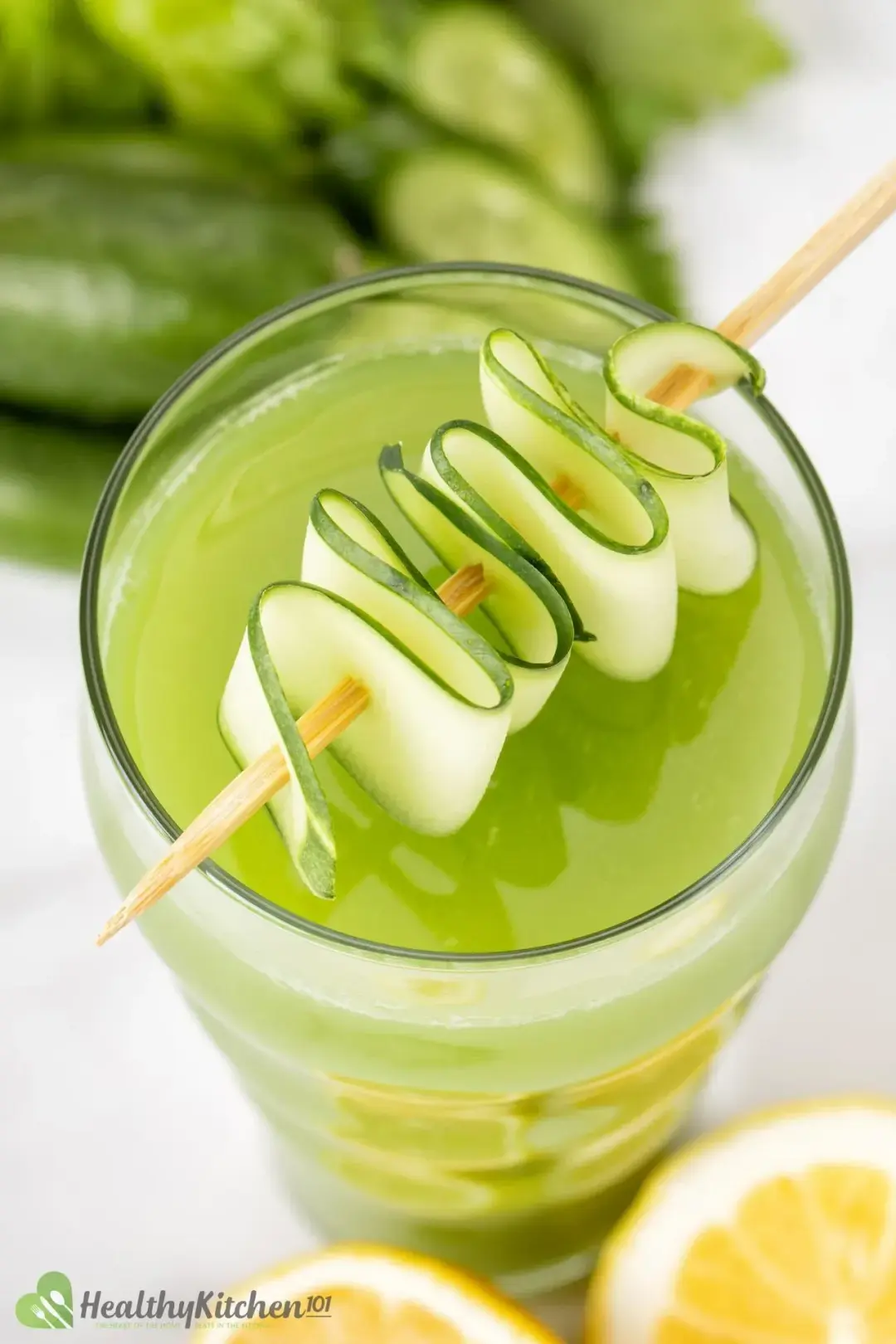 Ingredients
4 fl oz green apple juice, from about 5 oz apples
26 oz cucumber, cut into sticks
2 oz celery, cut into sticks
0.5 oz ginger, skin removed
6 mint leaves
3 tbsp sugar
2 cups ice
1 1/2 tbsp lemon juice
Instructions:
Juice the vegetables and fruits: Since we already had apple juice on hand, we only needed to feed cucumbers and celery into the running juicer along with the ginger knob. If you don't have apple juice, prep around 5 oz of green apples and add them to the juicer as well.
Mix: After juicing the cucumbers, celery, apples, and ginger, transfer the juice into a large pitcher. Add lemon juice and sugar, and stir for around 1-2 minutes or until all of the sugar is dissolved.
Serve: Add ice to the pitcher and serve in four tall glasses. Add mint leaves to the pitcher to decorate and to add a refreshing aroma.
7. Kale Green Juice (2 servings)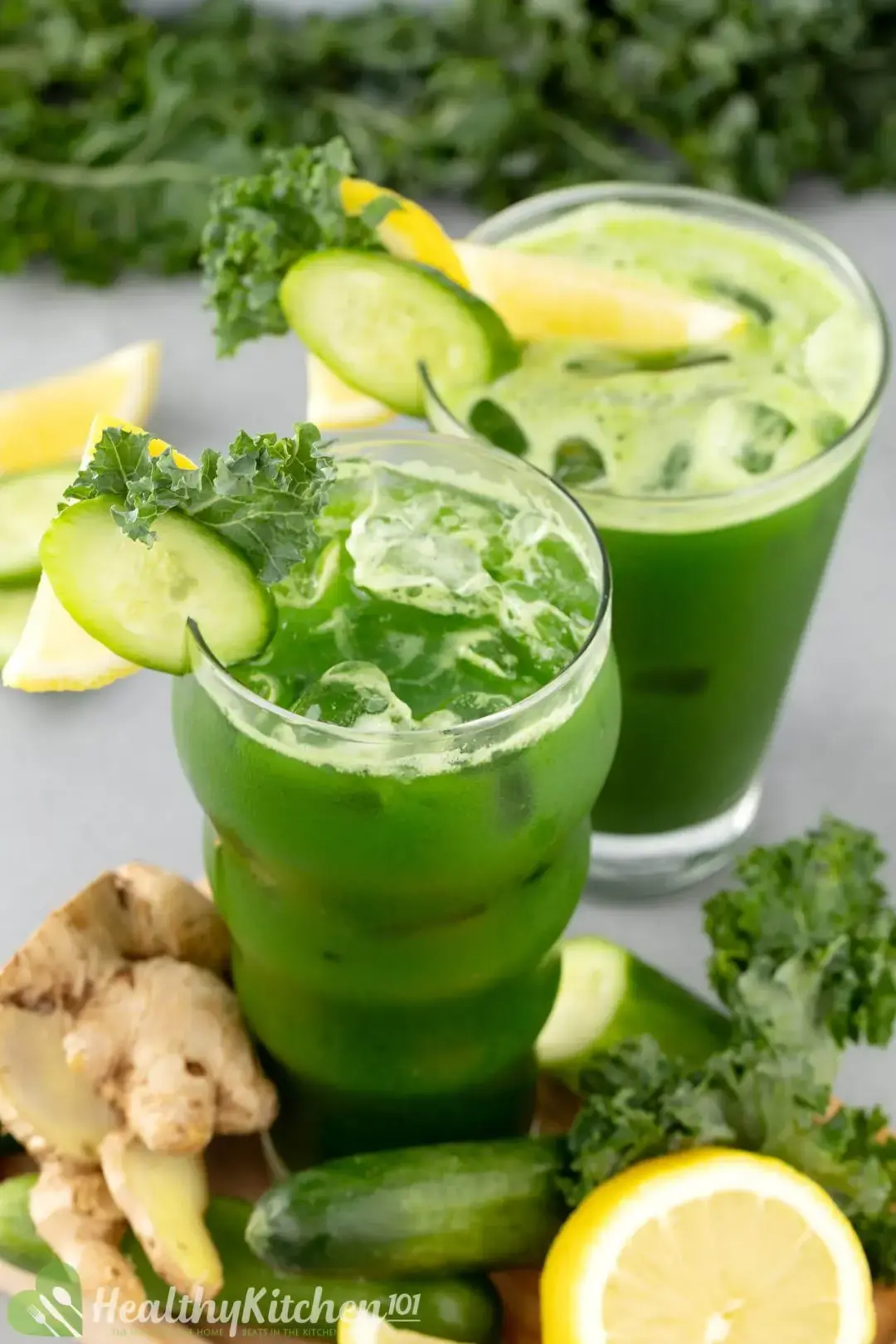 This kale juice recipe turns organic produce into a fresh health boost. It packs flavors and nutrients, an ideal option for a healthy diet.
Ingredients:
16 oz cucumber, cut into sticks
0.5 oz ginger, peeled and sliced
4 oz kale, chopped
1 tbsp lemon juice
2 tbsp sugar
2 fl oz celery juice, from 3-4 oz celery
2 cups ice
Instructions:
Turn on your juicer and add your vegetables to it. If you don't have celery juice on hand like we do, feed about 3-4 oz cut-up celery through the machine along with other vegetables. Collect the juice in the container your juicer came with.
To this juice add lemon juice and sugar. Stir well to incorporate, then serve, refrigerate, or freeze.
8. Pineapple Celery Juice (4 servings)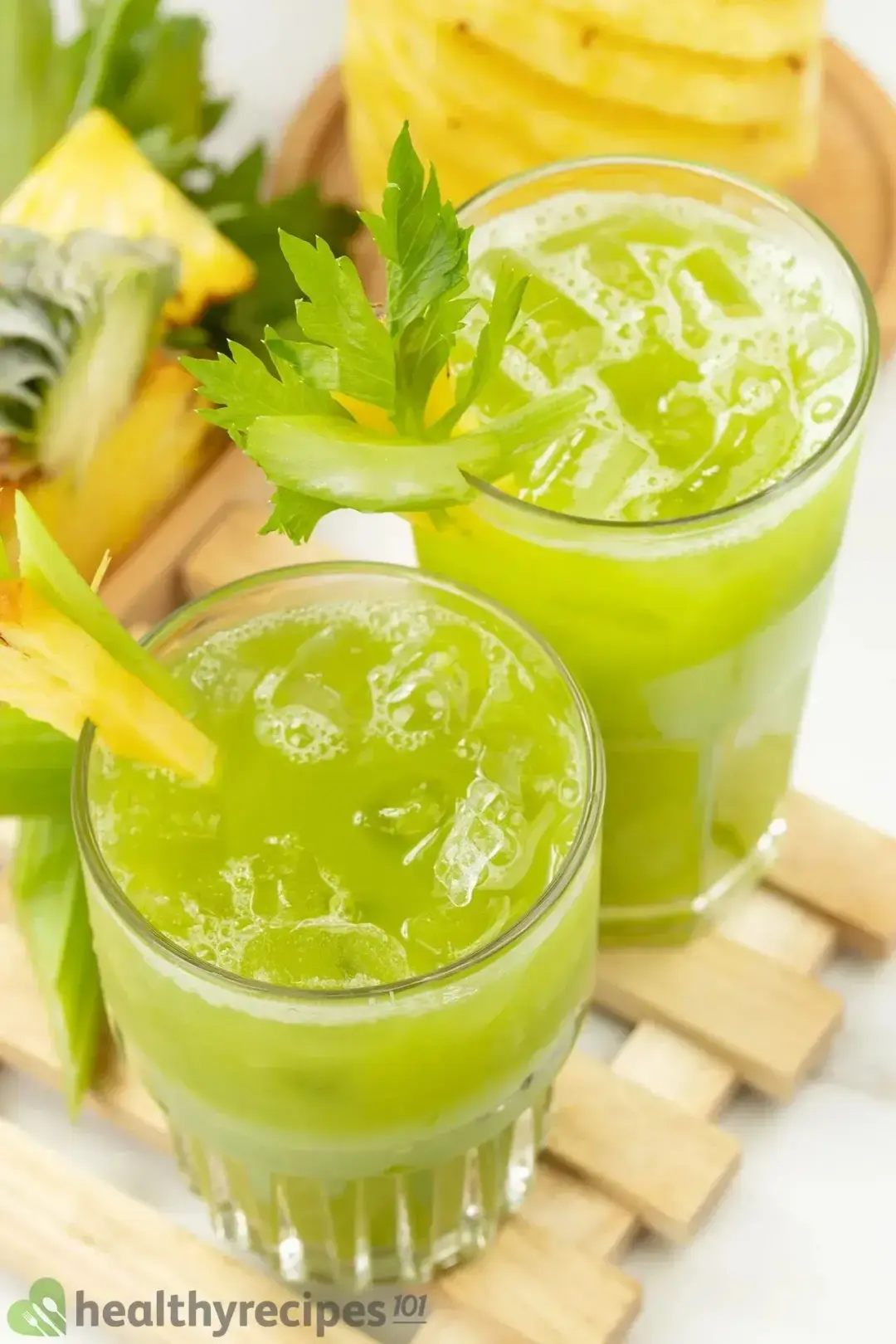 This pineapple celery juice is a low-calorie beverage that you can incorporate into your diet daily to increase vitamin and mineral intake. Make it with fresh ingredients and serve it warm or cold.
Ingredients:
10 oz cucumbers, deseeded, medium-sliced
12 fl oz pineapple juice
2 fl oz celery juice, from about 1.5 oz celery stalks
1 tbsp lime juice
2 tbsp sugar
2 cups ice cubes
Instructions:
Run cucumbers through a juicer and collect the juice in a pitcher.
Add pineapple juice, celery juice, lime juice, and sugar.
Stir until sugar dissolves.
Pour the drink into 4 glasses over ice and serve.
9. Cucumber and Lemon Juice (2 servings)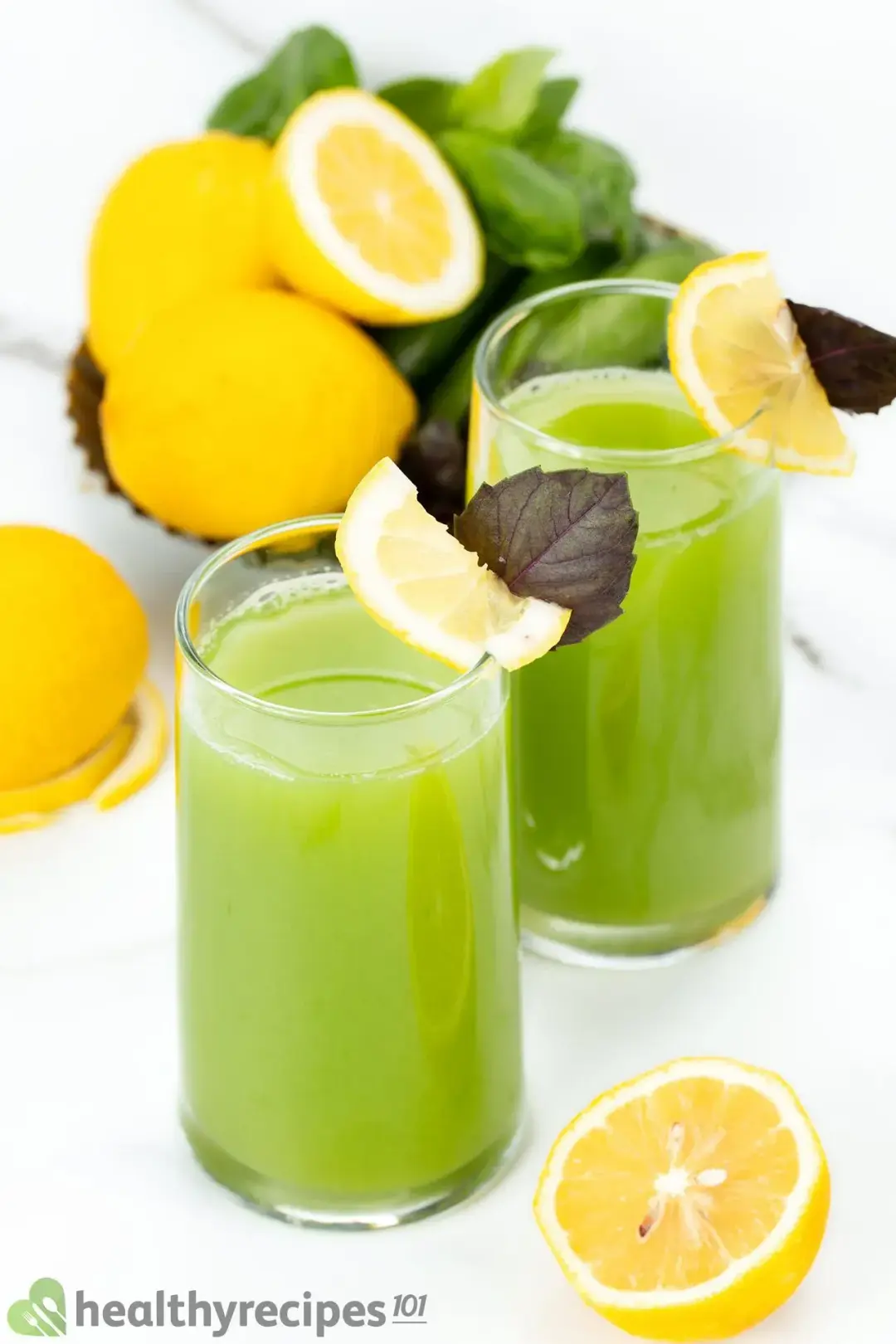 This cucumber and lemon juice recipe makes a perfect drink to start your day or end your meal. It requires only four ingredients and three simple steps.
Ingredients:
30 oz cucumbers, halved and deseeded
6 basil leaves
3 tbsp sugar
2 1/2 tbsp lemon juice
Instructions:
Juice: Feed prepped cucumbers and basil leaves into a running juicer. Collect the juice in a large pitcher.
Add other ingredients: Add lemon juice and sugar to the pitcher and stir to dissolve.
Pour and serve: Pour the juice into serving glasses and serve.
10. Apple Celery Juice (3 servings)
This apple celery juice is a low-calorie, low-sugar beverage that's excellent for both kids and adults. Make it in under ten minutes and serve it cold for the best summer experience.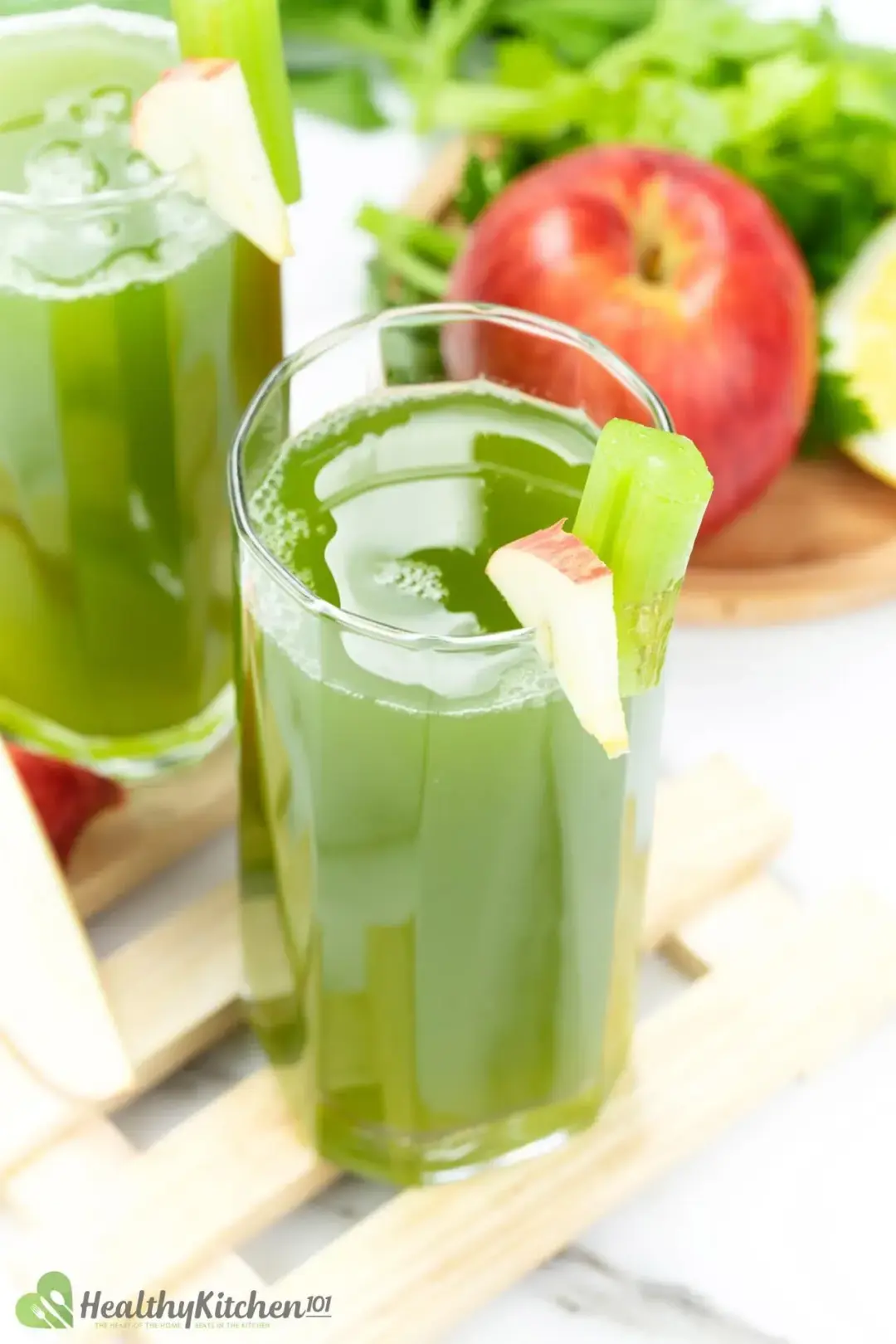 Ingredients:
4 fl oz celery juice, from about 3 oz celery stalks
8 fl oz green apple juice, from about 10 oz apples
12 fl oz red apple juice, from about 15 oz apples
1 tbsp lemon juice
1 tbsp sugar
6 spearmint leaves, fresh
2 cups ice cubes
Instructions:
Rinse vegetables and fruits. Drain well.
Core apples and cut into chunks. Run apple pieces through a juicer to extract apple juice.
Pour apple juice through a fine-mesh strainer to get a clear juice.
Run celery through the juicer to extract celery juice. In a pitcher, combine apple juice, celery juice, lemon juice, and sugar. Stir until sugar dissolves.
Pour the drink into 4 glasses over ice. Garnish with mint leaves. Serve.
FAQs
1. What Is Green Juice?
Green juice is a type of drink made by having leafy green vegetables and fruits (if any) processed through a juicer. Green juice is usually served with extra ice cubes and work as an accompaniment to main dishes and big meals to create a balanced flavor combination.
2. Is Green Juice Good for You?
Yes, it is.
Green juice can offer you great sources of essential vitamins and minerals and is proved to prevent inflammation, risks of cardiovascular disease and age-related mental decline, and at the same time support your immune function and weight maintenance. Drinking green juice is an efficient way to consume valuable nutrients more easily.
3. Can I Drink This Juice Every Day?
Yes you can consume green juice daily, but of course with moderation. 
4. How Much Juice Should You Drink a Day?
According to the USDA, the recommended amount of vegetables for an adult daily is 2½ cup-equivalents of vegetables. Therefore, green juice consumption should not exceed 8 ounces a day per serving for an adult.
Since a major amount of fiber has lost through the juicing process, so no matter how much green juice you try to incorporate into your meals, it obviously can't help you make up for not eating fresh vegetables.
Many studies also found that ovedosing on green juice may lead to serious side effects, including kidney failure.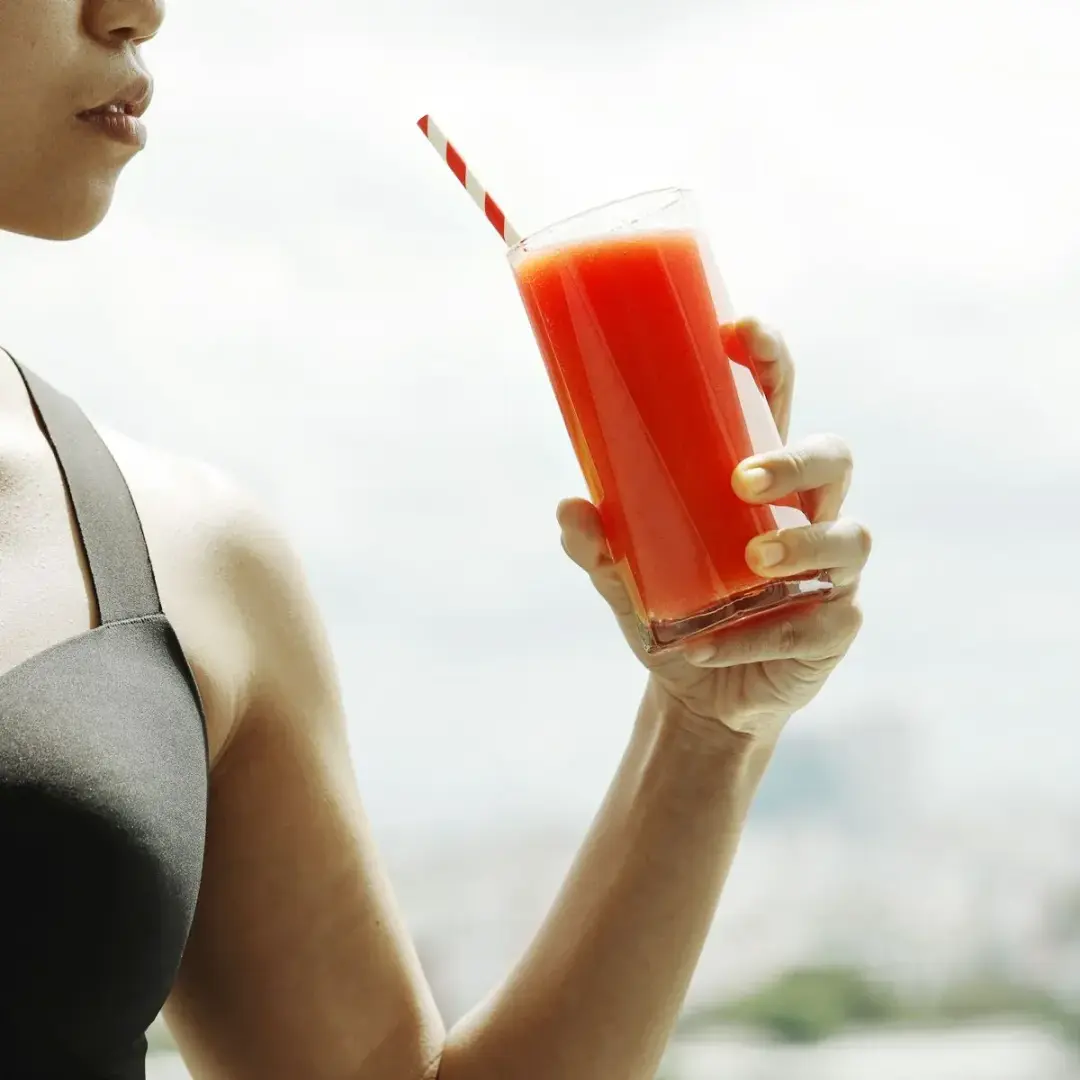 Previous Recipe
Top 10 Tomato Juice Recipes
Top 10 Tomato Juice Recipes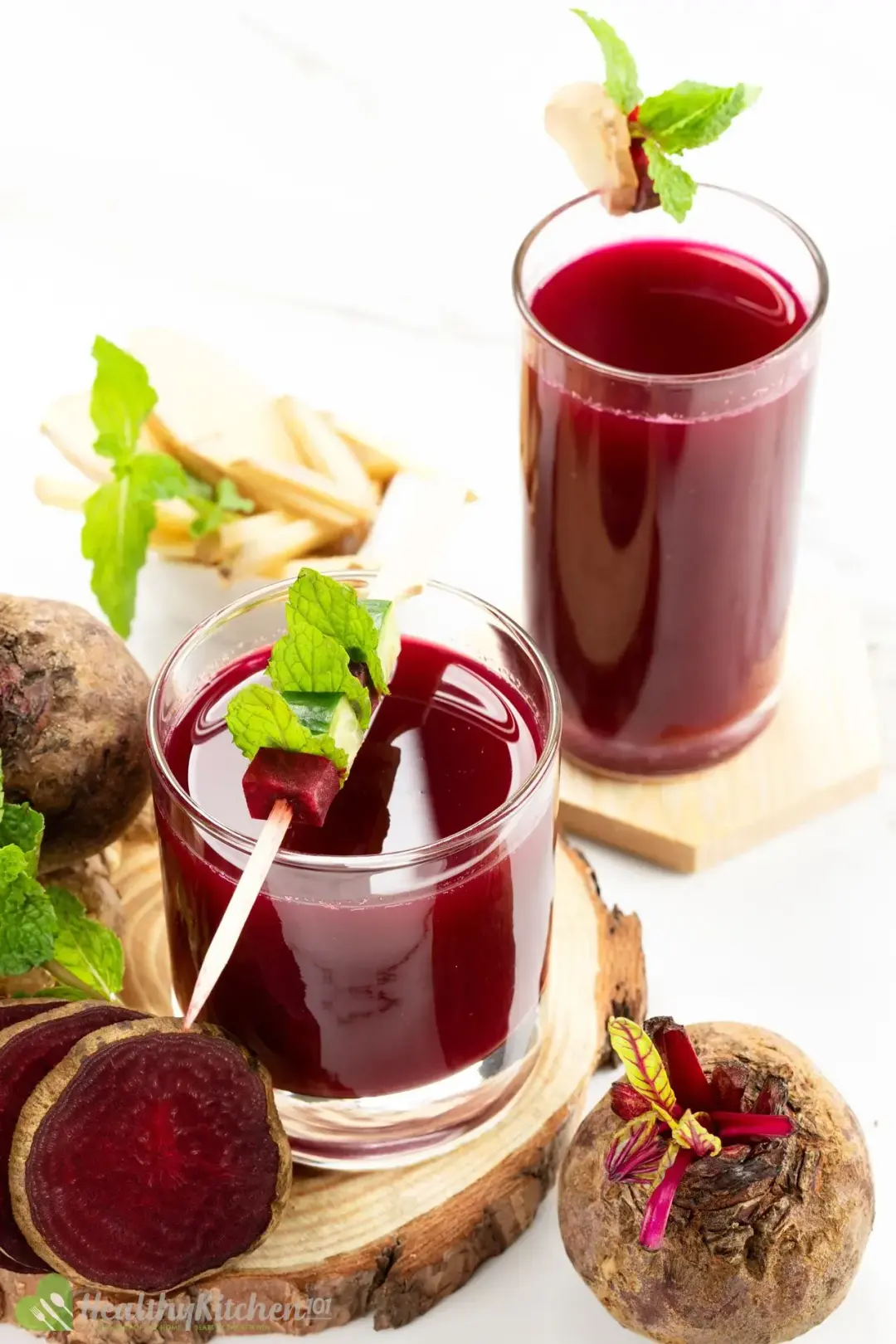 Next Recipe
Top 10 Beet Juice Recipes
Top 10 Beet Juice Recipes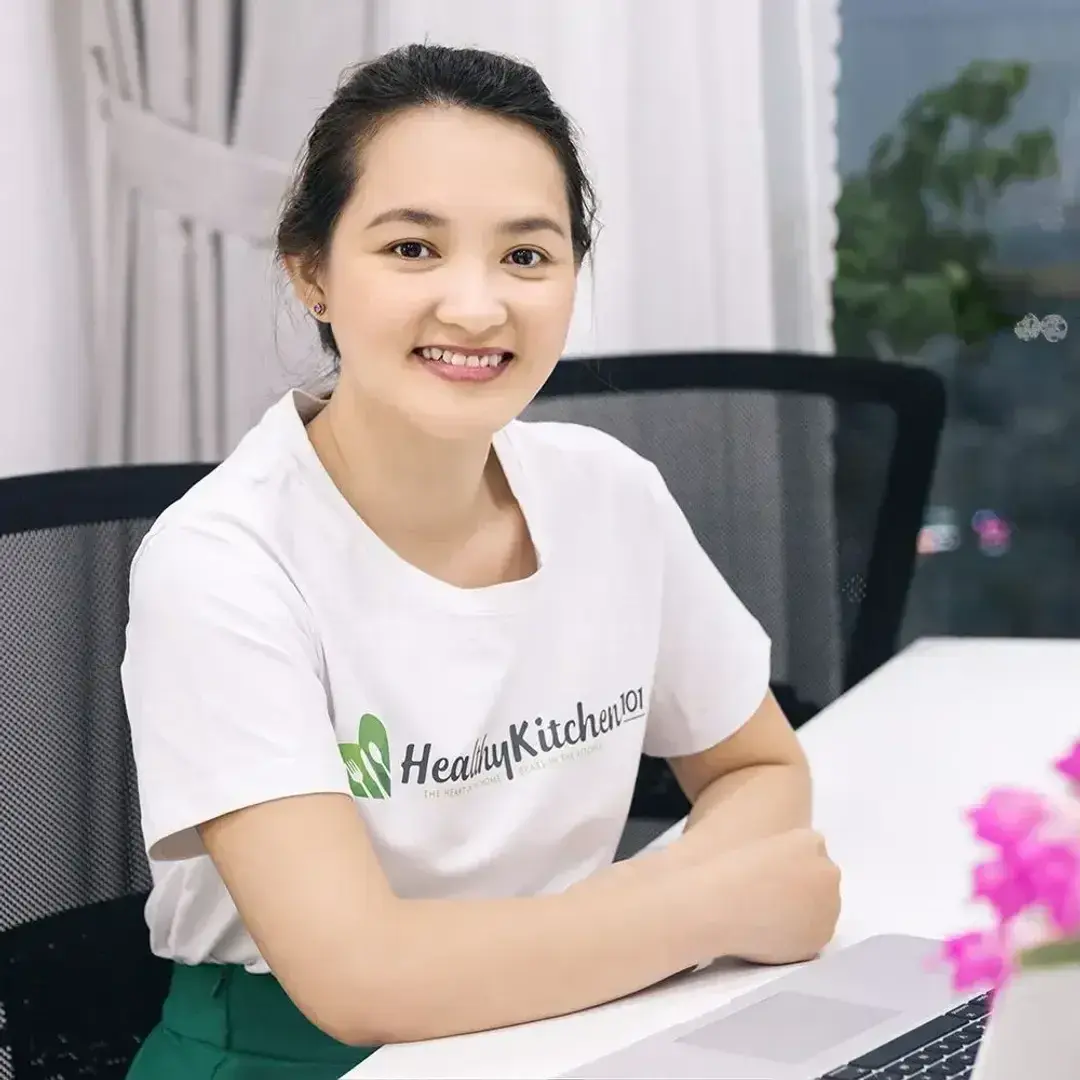 Luna Regina
Luna is the founder and chief recipe developer of Healthy Recipes 101. Apart from cooking, she also loves reading, programming, exploring the outdoors, and collecting useless facts about everything.