Our pan fried salmon recipe can help you whip up a delicious, nutritious meal in under 15 minutes.
Do you crave a fine-dining experience but the typical small portions get in the way? We can help you recreate the experience right at home, guaranteeing a fulfilled belly and a satisfied palate.
In less than 15 minutes, you'll have a tender, flaky salmon with crispy skin, and piled underneath a fresh mix of green bundles. It is a pleasing experience that asks for nothing in return.
If you're in a hurry, click "jump to recipe" to see how this recipe unfolds in detail. Or, take your time reading on to learn about:
How healthy salmon is;
What to season salmon with;
Tips to fry and serve salmon;
All about storing salmons.
Is Pan Fried Salmon Healthy?
Yes, it is. Salmon is an all-time healthy food, and pan-frying is a cooking method that uses very little grease.
Different from other fish, salmon is the richest source of omega 3. This is a rare kind of good fat with scientifically proven health impacts, one of which is lower risks of heart disease.
Check our other salmon recipes to include more salmon into your diet:
But the benefits of this dish doesn't stop here, as we don't serve the fish alone like most recipes may. We're whipping up a quick accompaniment with arugula, fennel bulbs and chickpeas, nutritious ingredients packed with vitamins, minerals, and fiber.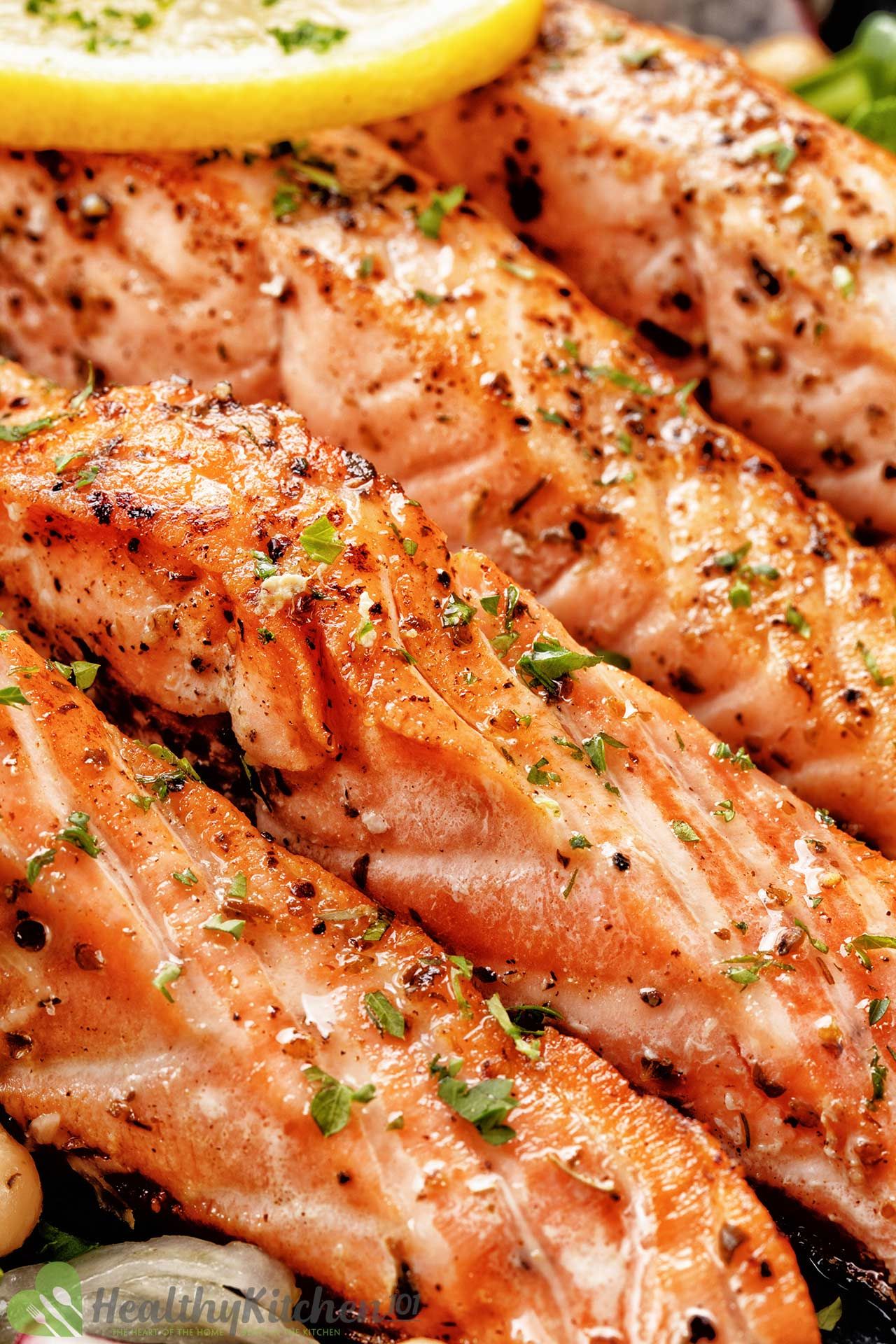 This is not our first rodeo either, as we have a habit of serving delicious accompaniments with salmon. You can check out our baked salmon with mustard and honey, easy poached salmon, and this crispy garlic parmesan salmon for more ideas.
How Many Calories Are in Pan Fried Salmon?
As mentioned earlier, the "fried" part may give an impression of a greasy, unhealthy dish, but it does not. The fish alone requires little oil to fry, and only yields around 250 calories.
It is the salad that brings the meal's total calories to more than 450. The added calories come from olive oil, a little bit of butter, dressing, chickpeas, and veggies.
Pan Fried Salmon Seasoning
The rule of thumb when it comes to seasoning delicate fish (like salmon) is not to overdo it. The herbs and spices shouldn't be overwhelming, but complementary.
Regarding what herbs to use, it's a matter of experience really. Thyme is typically used, but we found oregano to be a lighter alternative, allowing other fragrances to shine through.
For that reason, our seasoning mix for this pan fried salmon recipe is just salt, pepper, and oregano. We keep it simple so the fish can pair with the aromatic salad of buttery chickpeas, fresh arugula, earthy fennel, and pungent dressing.
"It seems a lot, but a little bit of everything comes together nicely as a Michellin delicacy"— our team agreed. And indeed, it does.
Let's move on by looking at some practical points.
How to Thaw Salmon Properly
If you forgot to thaw the fillets in the refrigerator, wrap them up and submerge them in cold water. Change the water every 10 minutes until the fillets are no longer frozen.
It's important to keep the fillets cold and not at room temperature. This creates the perfect environment for bacteria to grow and ruin your food.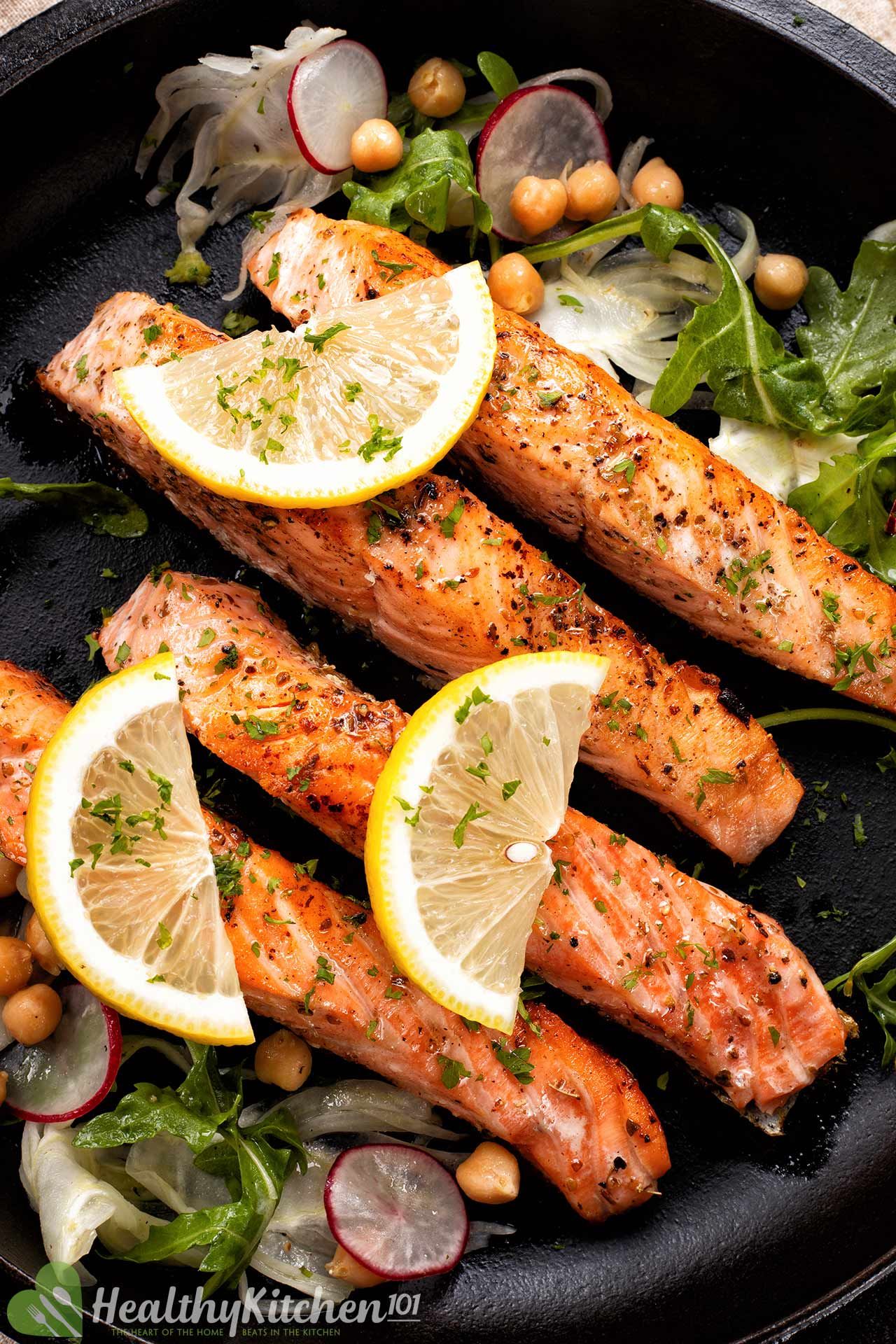 If you have a microwave, have it do the job for you. Be sure to set it to the lowest setting/thawing setting to avoid cooking the fish inside out.
How to Cook Frozen Salmon
If you don't have time to wait, you can place the fish fillet in a baking dish, foil it, and bake in the oven. This brings its temperature up slowly, which allows it to cook evenly inside out.
There's another cooking method called sous vide, where the food is wrapped, airtight-sealed, cooked in a warm, unchanging-temperature water bath. A special device keeps track of the water temperature, so your food is cooked evenly with just a tap of a button.
After cooking sous vide, you can take out your fish to sear it, which assures beautifully cooked salmon every time.
But again, if you don't own a sous-vide cooking device, baking the fish in foil works just as well.
That said, here's how to turn raw salmon into a delicious, restaurant-level dish with the best texture.
How to Get Crispy Skin Salmon
If a pan-fried salmon doesn't come out with a golden, crisp salmon skin, it's not done correctly. This pan fried salmon recipe will show you how to do it right, and it's really easy.
Make sure the oil is heated over medium heat. When the oil gets all hot and shimmers, slowly place the fillet into the pan, skin-side down.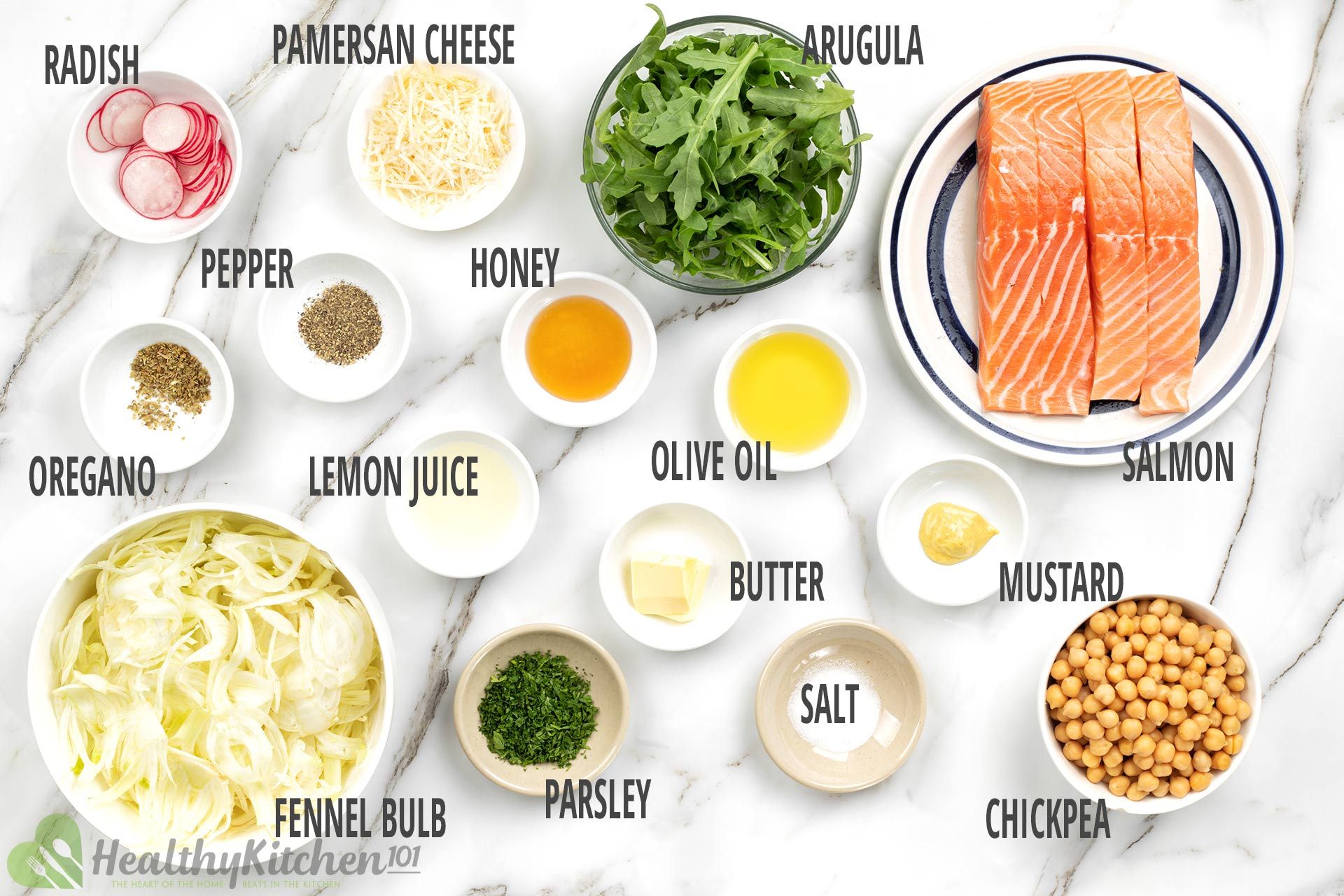 You'll notice that the skin will shrink a little, and the salmon will turn from translucent to opaque from the bottom up. You'll be tempted to flip it, but don't; wait for 5 minutes and it should be cooked thoroughly without flipping.
To be sure the skin is crispy, run the tip of a knife over the skin, sort of lightly scraping it. You should hear a nice crisp sound; if not, give the skin some searing action until it's crisp and golden.
When it's time to plate up, you'll want the salad to be ready so the fillet can be served right away. The skin loses crispness as it sits.
Can You Eat Salmon Skin?
Crisp salmon skin is not just edible, but also a tantalizing experience. We did not understand why many people asked this question, until we came across this Healthline article.
It's said that salmon skin may contain contaminants depending on where the fish has been. PCBs, methylmercury for instance, are harmful to pregnant or nursing women.
In other words, pregnant or nursing women should be cautious when consuming salmon skin. Other than that, it is a delicious part of the fish and should not ever be left out.
For more delicious salmon recipes, check out our top salmon recipes.
How to Make Pan Fried Salmon
Here is an overview of our pan fried salmon recipe, with pictures and short descriptions. You can refer to our recipe card below for the more detailed version of the steps.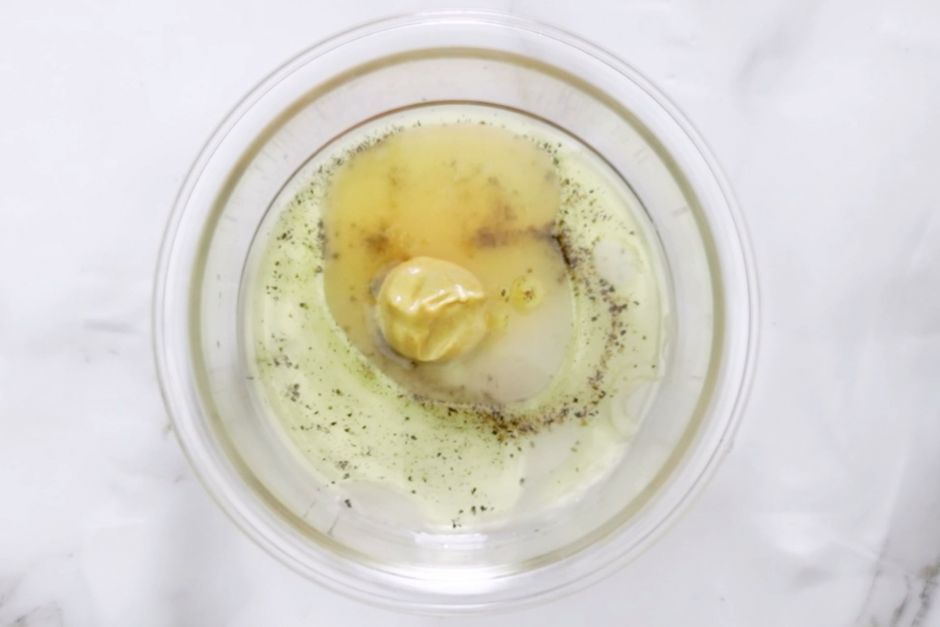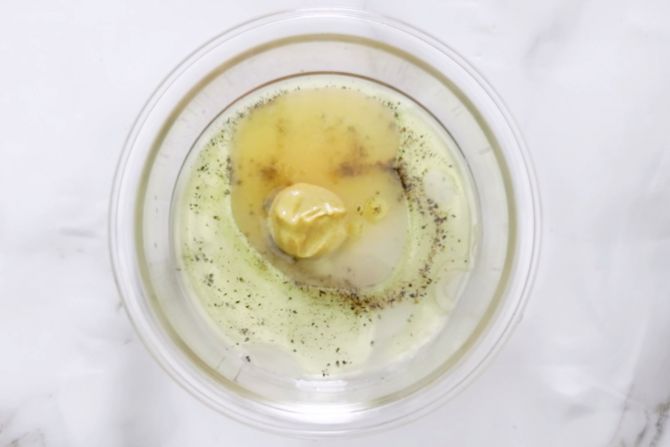 Make the dressing.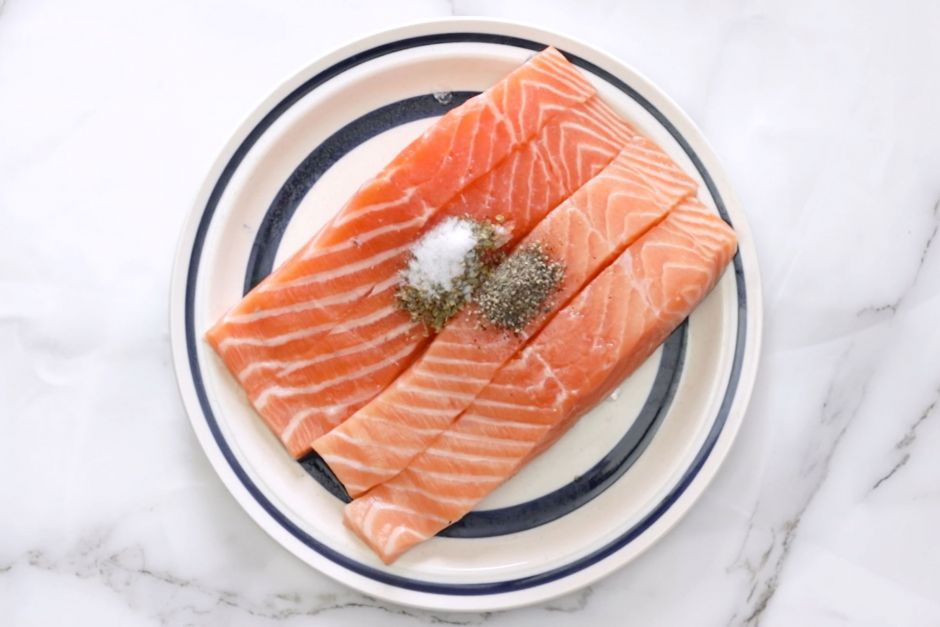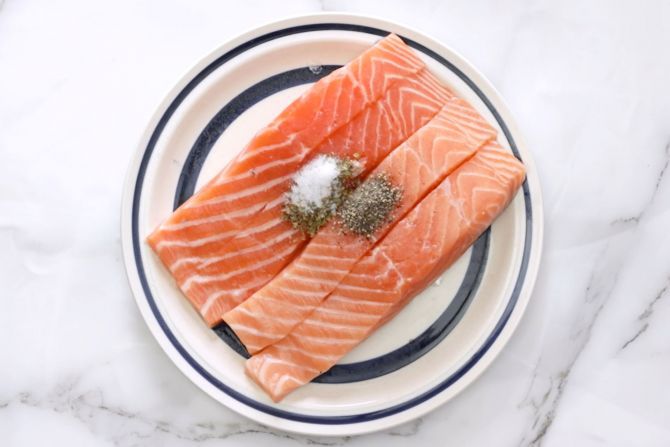 Season the fillets.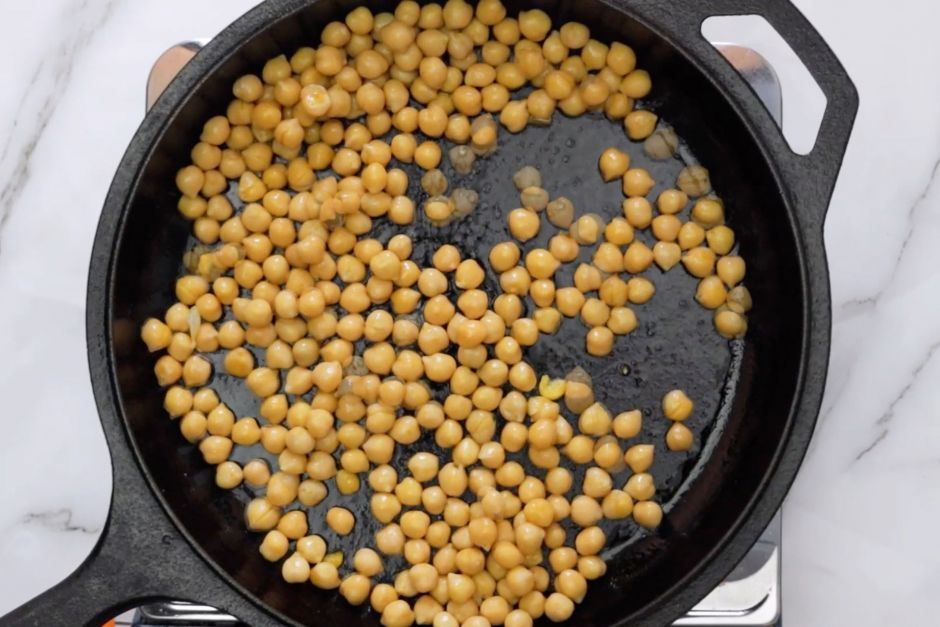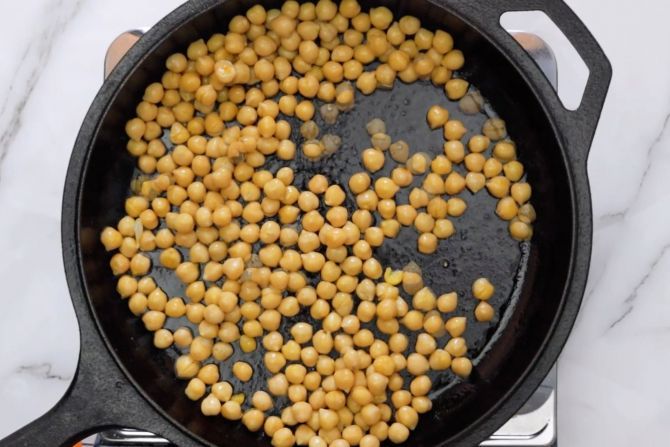 Cook the chickpeas.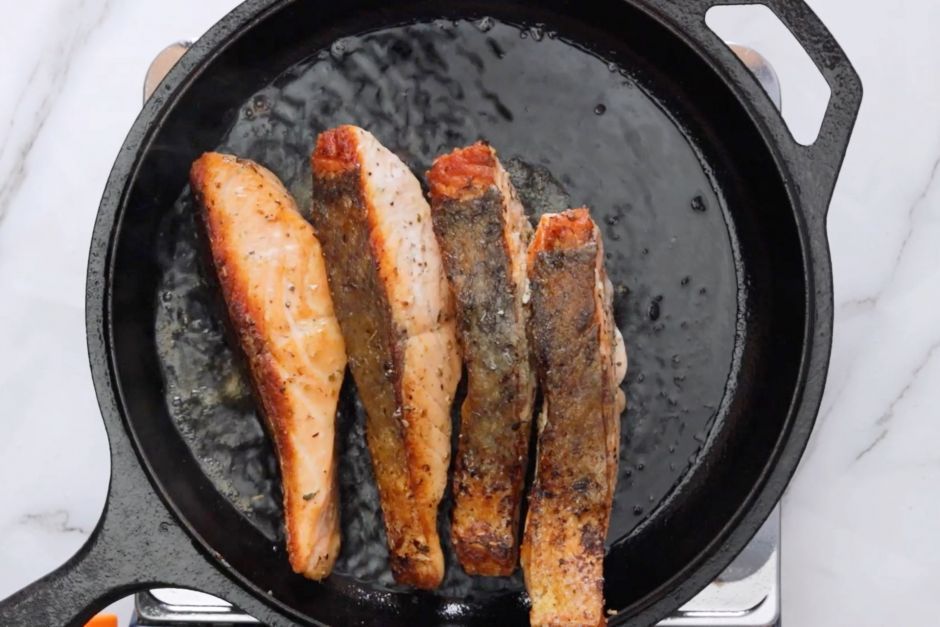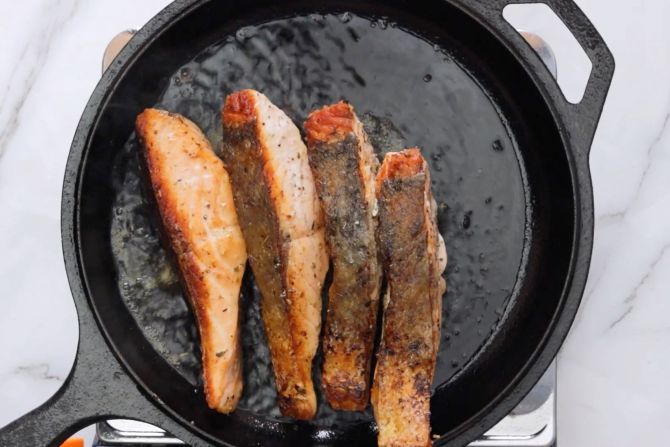 Fry the salmon.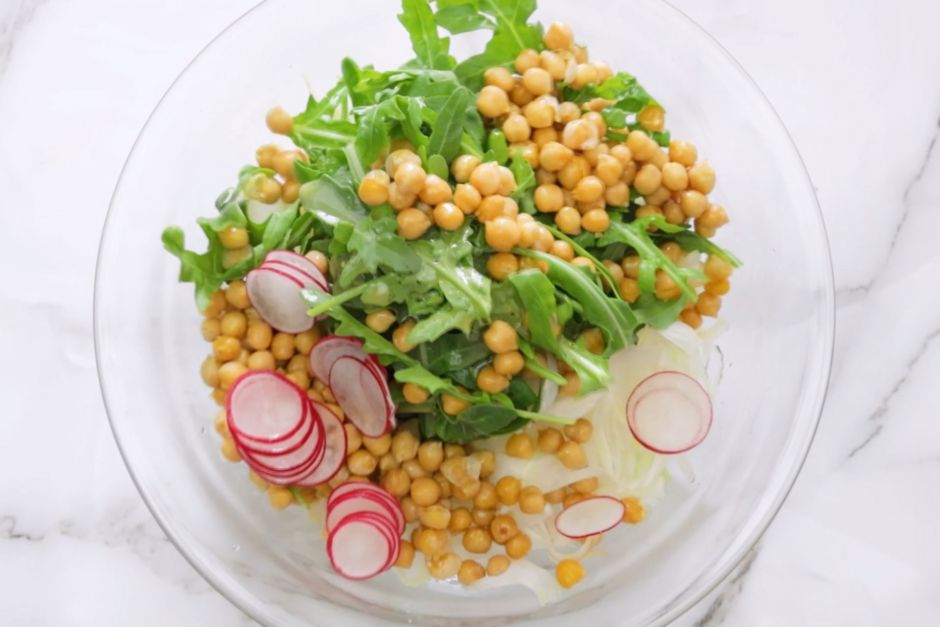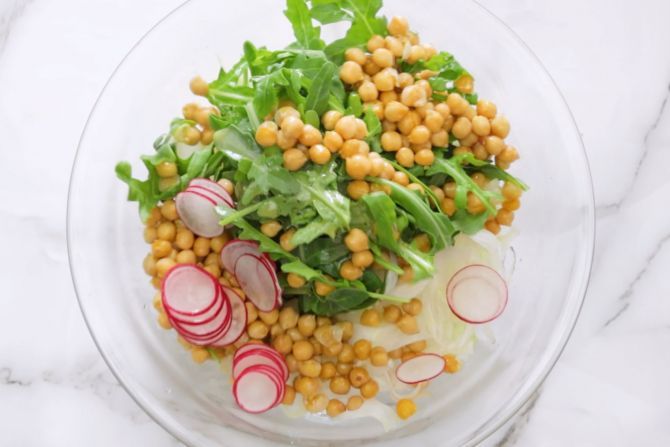 Mix the salad.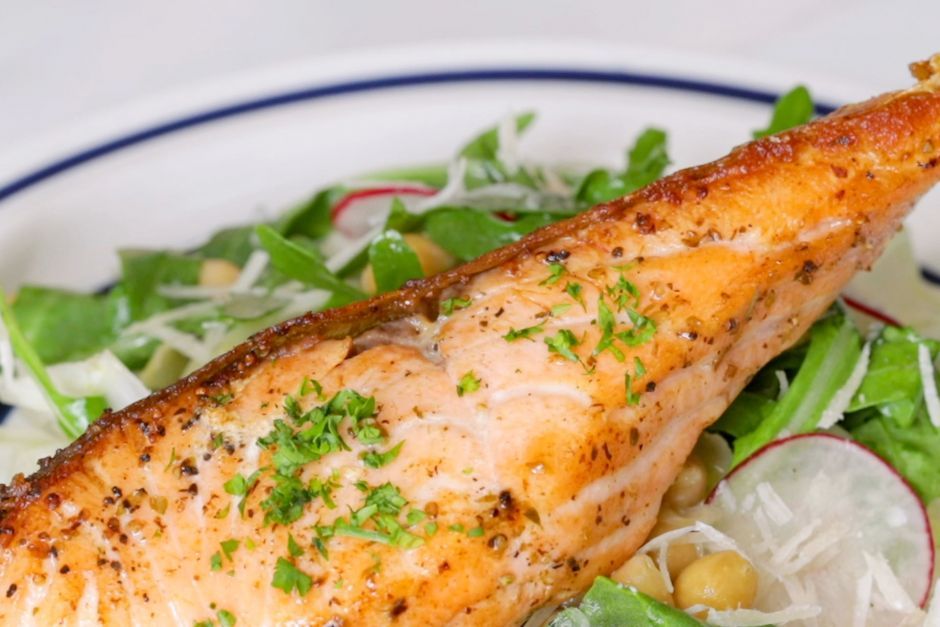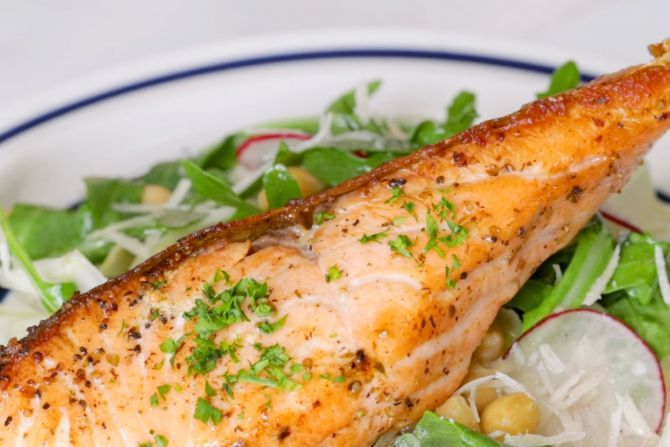 Assemble and dig in.
Other variations that include baking and searing include our salmon teriyaki marinade, hawaiian lomi lomi salmon recipe and this cooked salmon steak that are just as easy and detailed.
What to Serve with Pan Fried Salmon
The dish already has protein and greens, so it's only natural to pair it with a side of carbs, like pasta. Here's what we have to recommend:
Among the pasta sides, we found sweet potato gnocchi to be a great fit. It's tender, flavorful and slightly chewy, adding not only flavors to the table but a fun texture as well.
And to round off the meal, a refreshing juice that adds another layer of color/flavor is perfect. Our strawberry watermelon juice satisfies all of the criteria— an easy juice with a ruby hue that's better than canned juices health-and-taste-wise.
Looking for other salmon dishes? There's more fish to fry with these tasty salmon recipes featuring an authentic salmon piccata recipe, a salmon with maple syrup and soy sauce, and our miso marinade for salmon.
Nutritional values in this table vary somewhat to those below due to different app calculations. Read more...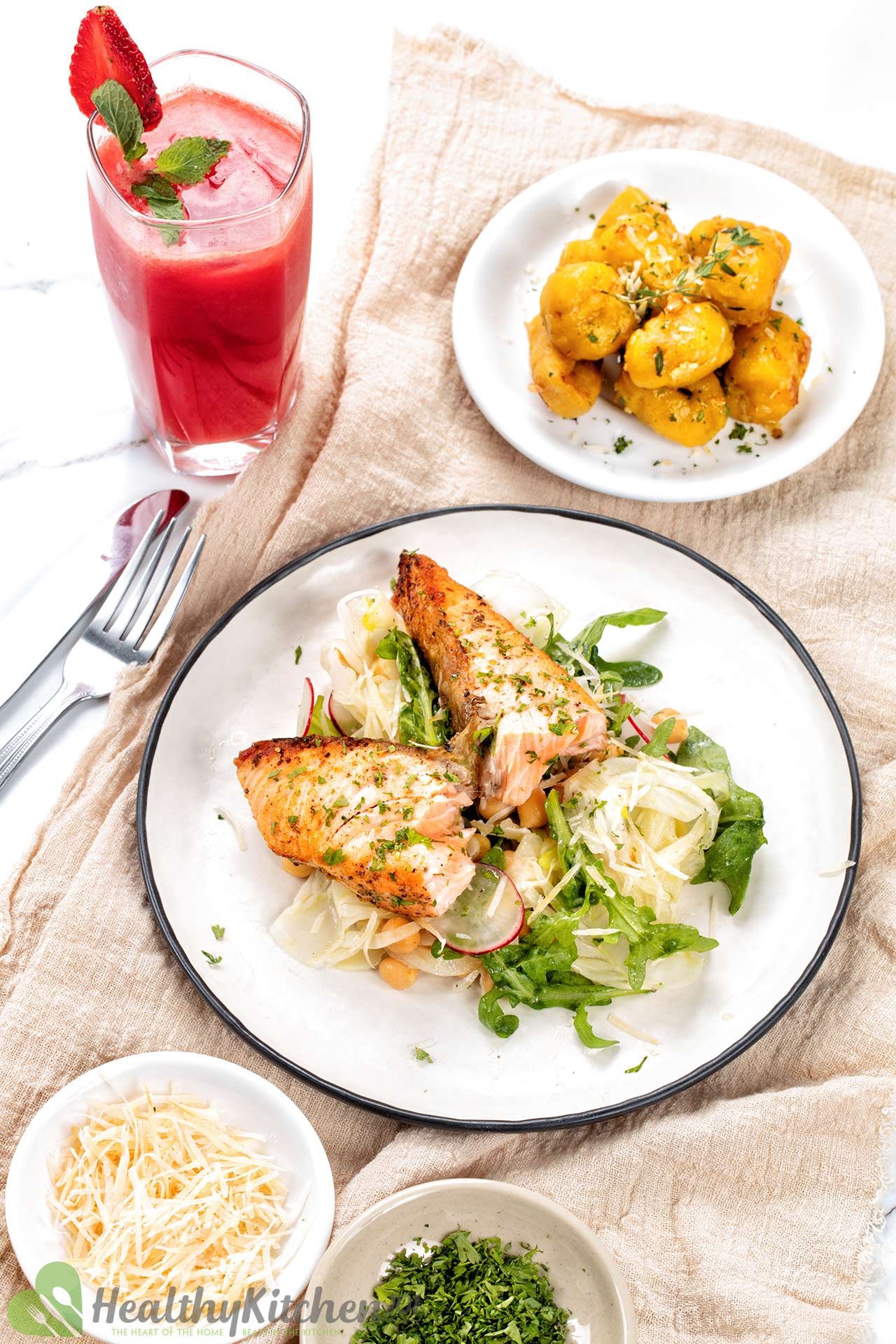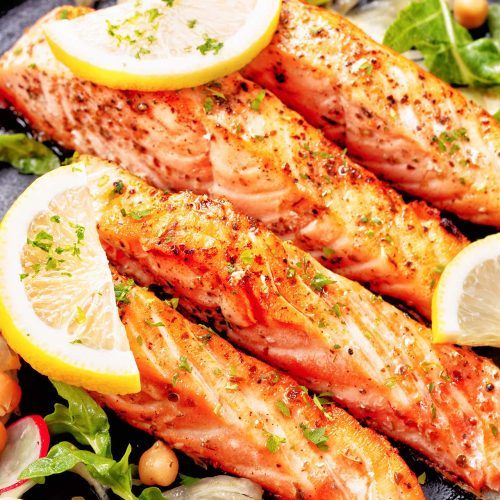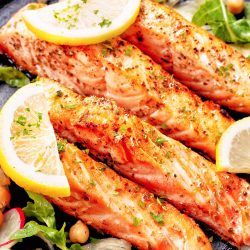 Pan Fried Salmon Recipe
Here is our pan fried salmon recipe unfolding in detail. You need nothing but a good heart to recreate this divine dish at home.
Ingredients
26

oz

boneless salmon

cut into 4 fillets, thawed

1/2

tsp

salt

divided into 2 equal portions

1/2

tsp

pepper

divided into 2 equal portions

3

tbsp

olive oil

divided into 2 and 1 (to make dressing and sear salmon)

1/2

tbsp

honey

1/2

tsp

traditional Dijon mustard

1

tbsp

lemon juice

1/2

tsp

dried oregano

1

tbsp

unsalted butter

8

oz

canned chickpeas

1

oz

arugula

washed

0.5

oz

radish

sliced

8

oz

fennel bulb

sliced

0.5

oz

grated parmesan cheese

2

tbsp

parsley

chopped
Instructions
Combine 1/4 tsp salt, 1/4 tsp black pepper, 2 tbsp olive oil, 1/2 tbsp honey, 1/2 tsp mustard, and 1 tbsp lemon juice in a bowl.

Season 26 oz boneless salmon with 1/4 tsp salt, 1/4 tsp black pepper, and 1/2 tsp oregano and let sit for 5 minutes.

While it's marinating, melt 1 tbsp butter in a pan over medium heat and stir in 8 oz chickpeas. Cook them for 2 minutes or until they're tender and fragrant.

Place the chickpeas aside and in that same pan, heat 1 tbsp olive oil over low heat until it's hot. Place the salmon skin side down and cook for 5 minutes or until the skin is crisp and golden brown. It helps to keep the slices close to each other so they don't fall on their side. When it's golden, turn off the heat and allow the residual heat to cook the fish thoroughly.

In a large bowl, toss 1 oz arugula, 0.5 oz radish, 8 oz fennel, and chickpeas with the prepared dressing.

Plate by placing a measured amount of salad in the middle of a serving dish. Grate 0.5 oz parmesan on top of the salad. Place one salmon fillet on top and garnish with parsley. Serve hot and enjoy.
Nutrition
Nutrition Facts
Pan Fried Salmon Recipe
Amount Per Serving (1 serving)
Calories 452
Calories from Fat 216
% Daily Value*
Fat 24g37%
Cholesterol 105mg35%
Sodium 602mg26%
Potassium 990mg28%
Carbohydrates 16g5%
Protein 46g92%
Vitamin A 720IU14%
Vitamin C 13mg16%
Calcium 94mg9%
Iron 2mg11%
* Percent Daily Values are based on a 2000 calorie diet.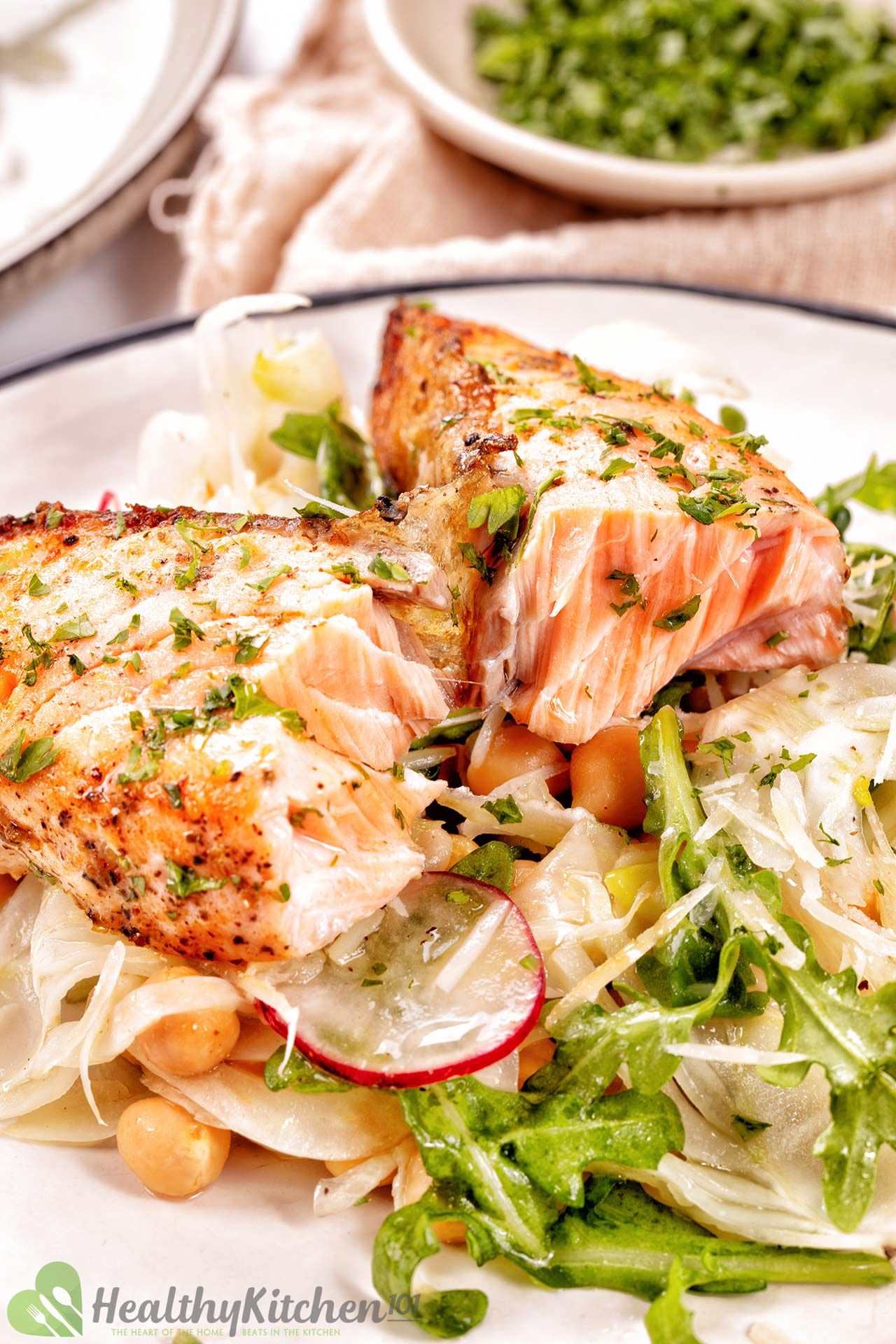 Storing FAQ
Eating freshly cooked food is the best experience, but sometimes it's just impossible to do so. We'll show you the best way to store this pan fried salmon.
First of all, leaving your food out at room temperature is a big no-no. Bacteria in the air can cling on to the food and spoil it, and they multiply fast in hot weather.
To optimize the lifespan of cooked salmon, you should store it in an air-tight container, and either freeze it or refrigerate it. "Cooked salmon can be stored up to 4-6 months in the fridge, and 3-4 days in the fridge", says the USDA storage chart.
To reheat the fillet, place the fillet in the microwave or oven. If the fillet is frozen, it's best to foil the fillet and bake it for around 30 minutes.
It's also a good idea to cook chickpeas beforehand and store them along with arugula, sliced fennels, and dressing in the fridge. You'll save a lot of time doing so.