Today's Parmesan crusted salmon recipe promises to give you an easy how-to for a delicious and healthy dinner. The dish could be your next to-die-for dinner, even after the first try.
The moist and rich salmon is seasoned with salt and pepper before coating in a blend of bread crumbs and Parmesan cheese, then baked until golden brown. The result is tender, rich fillets wrapped in a crunchy crust, making each bite a satisfying experience.
Is Parmesan Crusted Salmon Healthy?
Yes, our Parmesan crusted salmon is relatively healthy.
Salmon— the star of this recipe— is replete with omega-3 fatty acids, which are recognized as essential compounds for human health. Part of the reason is that it's a type of fat that the human body can't produce, and so must absorb from food.
The most impressive benefit of omega-3 is linked to heart diseases. Including fish in a daily diet, especially those rich in omega-3, can reduce the risk of heart attacks and strokes.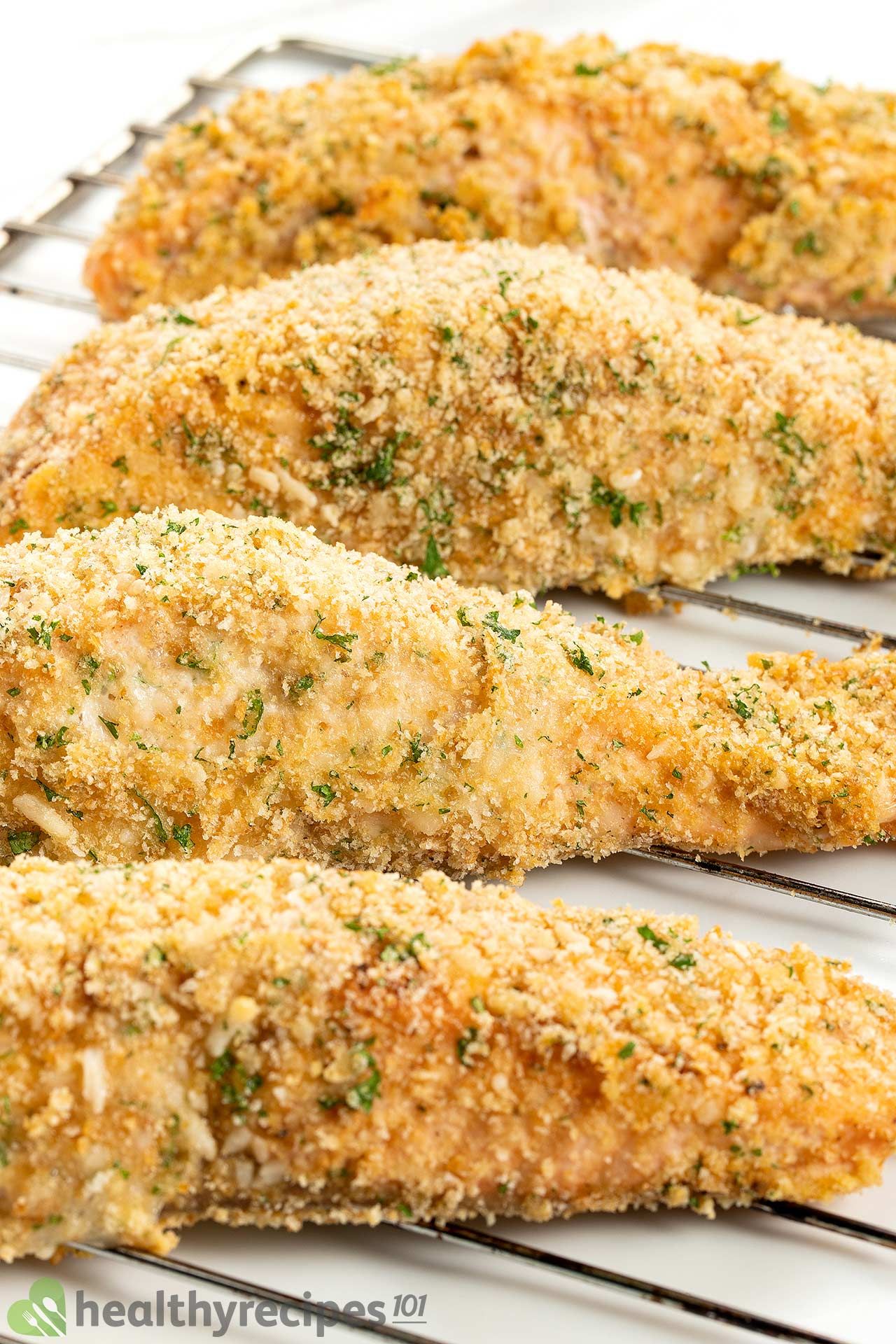 In this recipe, we minimize the amount of salt to ¼ teaspoon. This helps keep the sodium level in line with the US dietary guidelines while still ensuring the dish is delicious.
Salmon can be cooked and seasoned in a multitude of ways. Our perfect salmon burgers, this salmon croquettes breakfast, and these pan seared salmon filets are excellent examples of how to flavor your fish.
The only rule is the seasonings should complement, not overpower the salmon's natural flavor.
Good Seasoning for Salmon
Salmon can hold many different seasonings and herbs due to its mild flavor and buttery texture. So, the decision on seasonings for salmon will depend on the cooking methods and personal preference.
Because our salmon is baked in the oven, we came up with a blend that can bring out the seafood's goodness while still holding a pleasant sour note. To make this blend, simply combine salt, ground pepper, garlic powder, and lemon juice in a small bowl.
It's a flavor-packed blend that perfectly complements the buttery fish and cheese. You can store this seasoning in an airtight container in your pantry for up to a week and use it whenever you crave a baked seafood dish.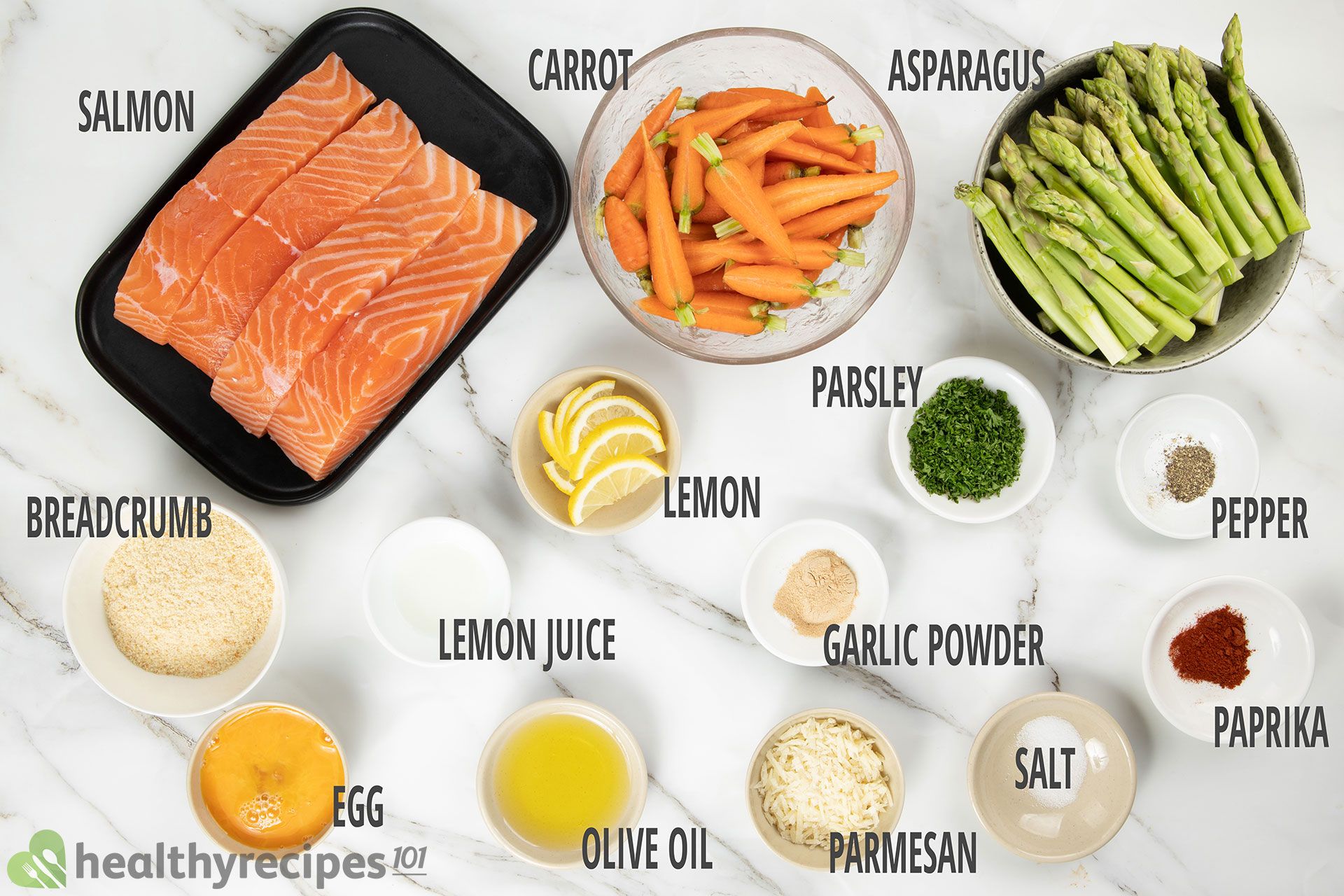 Here's a short list of salmon recipes with various seasonings:
Crispy Pan Fried Salmon. A boneless filet lightly seasoned with mustard and oregano and sitting atop a bed of fennel and arugula.
Japanese Salmon Teriyaki. A mirin and sesame seasoning adorn a buttery filet that's baked and served with asparagus.
Salmon with Capers and Lemon. It's a perfectly seasoned dish that rings with vibrant flavors of lemon, capers, and wine to complement salmon.
How to Make Parmesan Crusted Salmon with Asparagus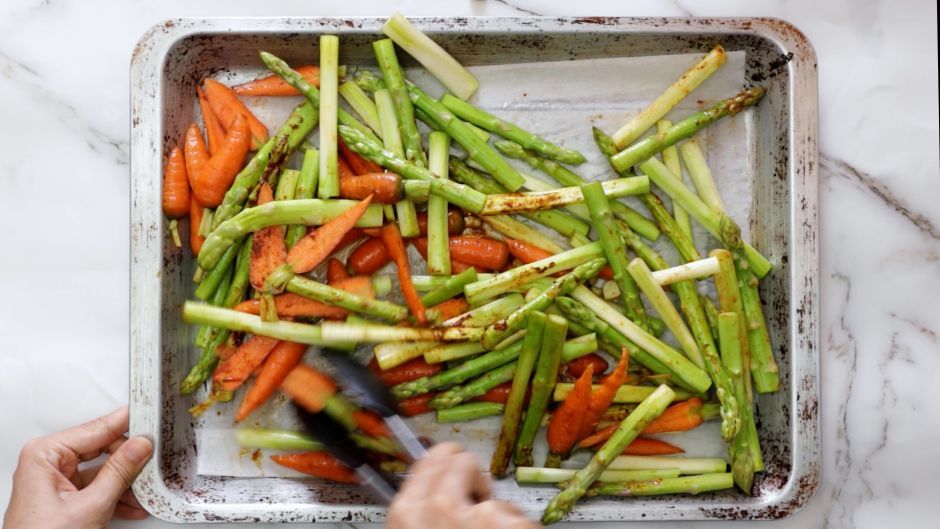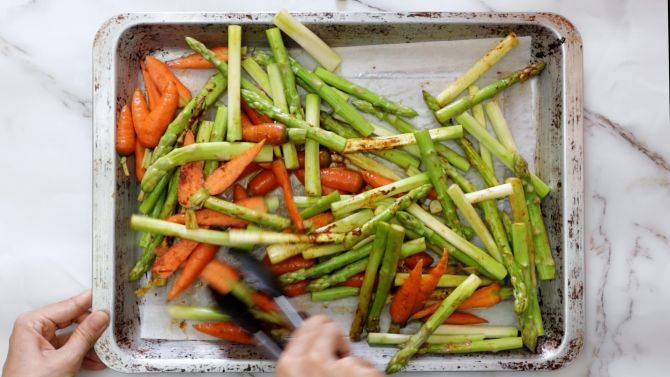 Bake the vegetables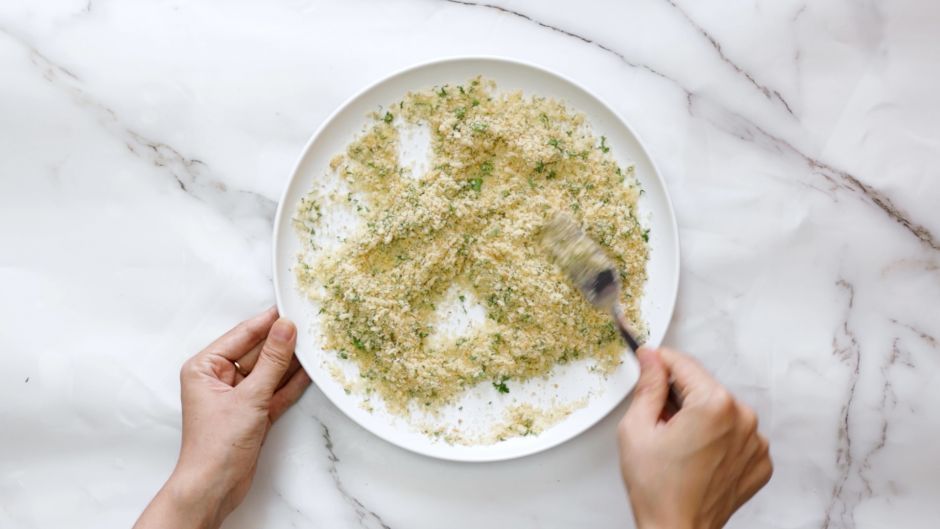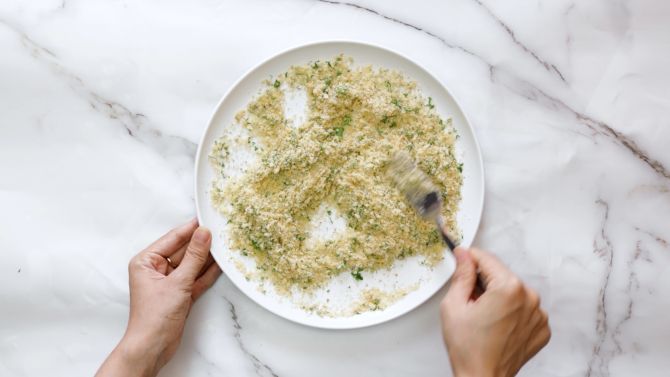 Make the coating mixture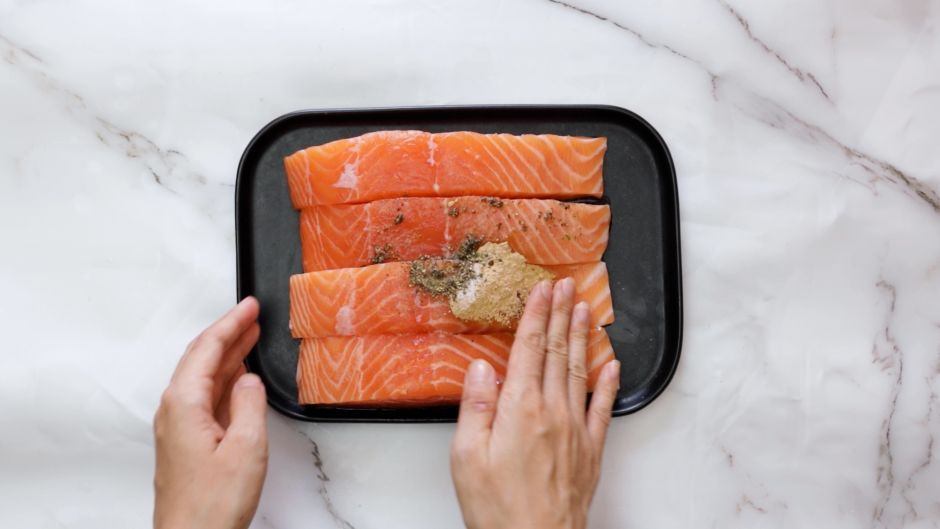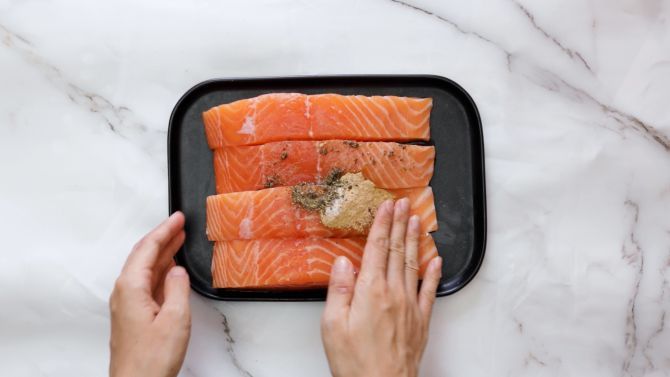 Season the salmon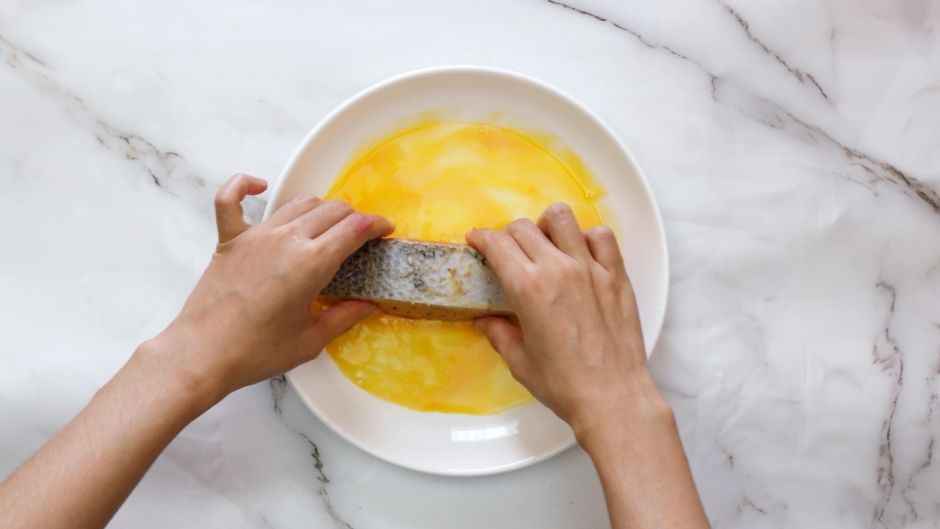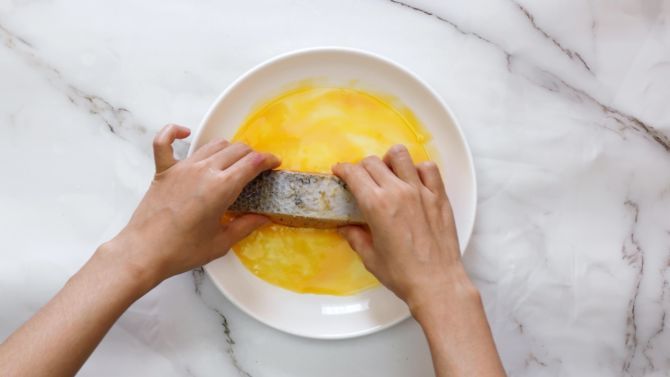 Coat the salmon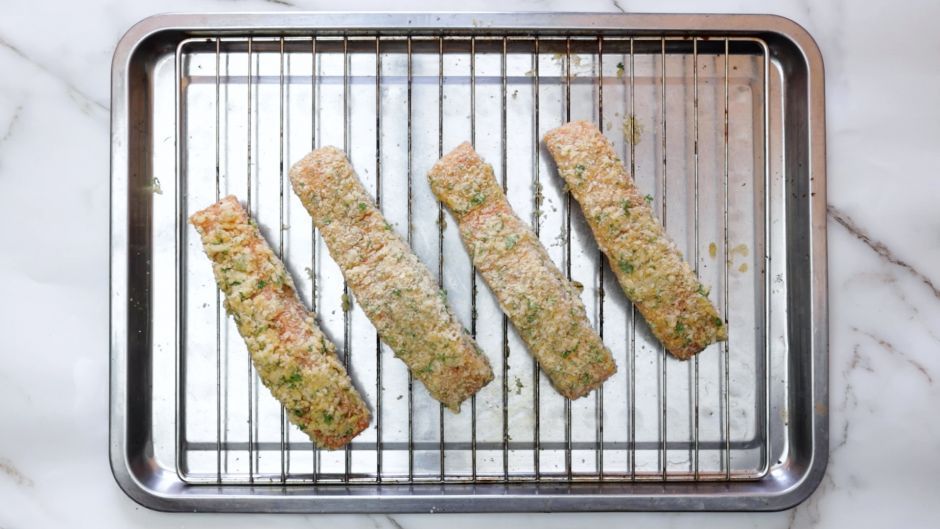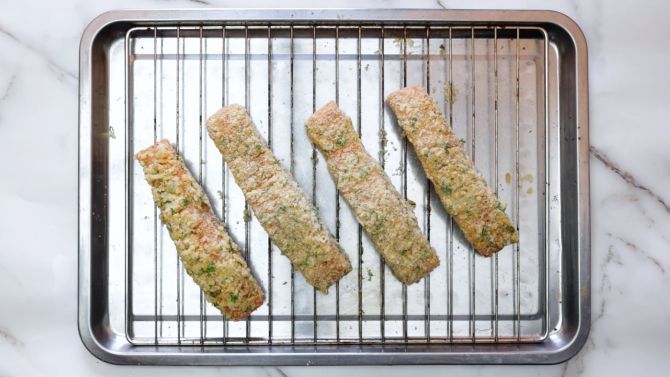 Bake the salmon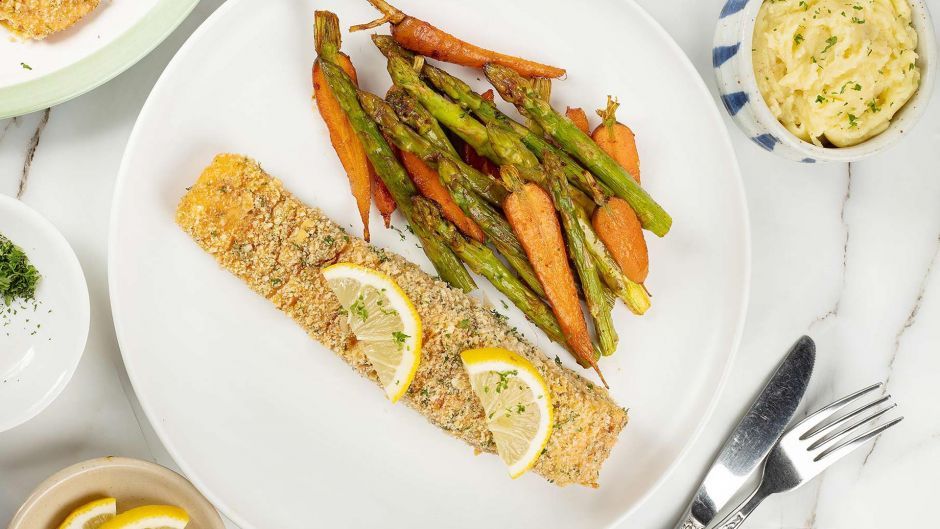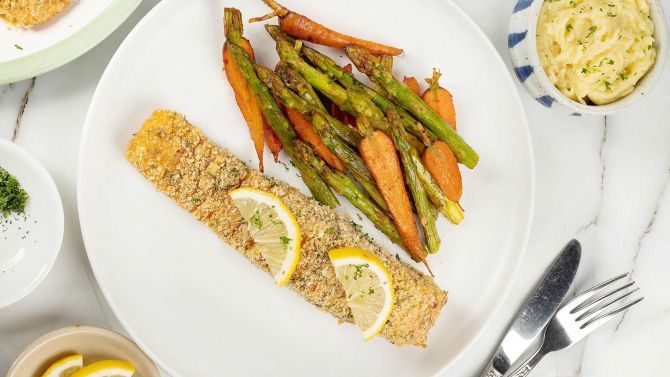 Serve
If you are interested in more salmon recipes, check out one of our favorite salmon recipes, this recipe that gives you perfect, flavorful salmon, or this quick and easy dinner option. They are all palatable and nutritionally balanced too.
How Long Baked Parmesan Crusted Salmon
Depending on the thickness and size of your salmon fillets, the baking time varies from 12-15 minutes at 350°F. This amount of time ensures the fish is cooked, but still pink, tender, and juicy in the middle.
The rule of thumb is to cook 10 minutes per inch of thickness of the fillet. Our salmon is about 1.5 inches, which requires 15 minutes in the oven.
If you prefer well-done salmon, leave it in the oven for 15 minutes or longer. Don't forget to check the salmon regularly so they don't end up tough and dry.
For more tips on baking filets, check out our simple and tasty salmon baked along with vegetables, and this delightfully delicious salmon recipe.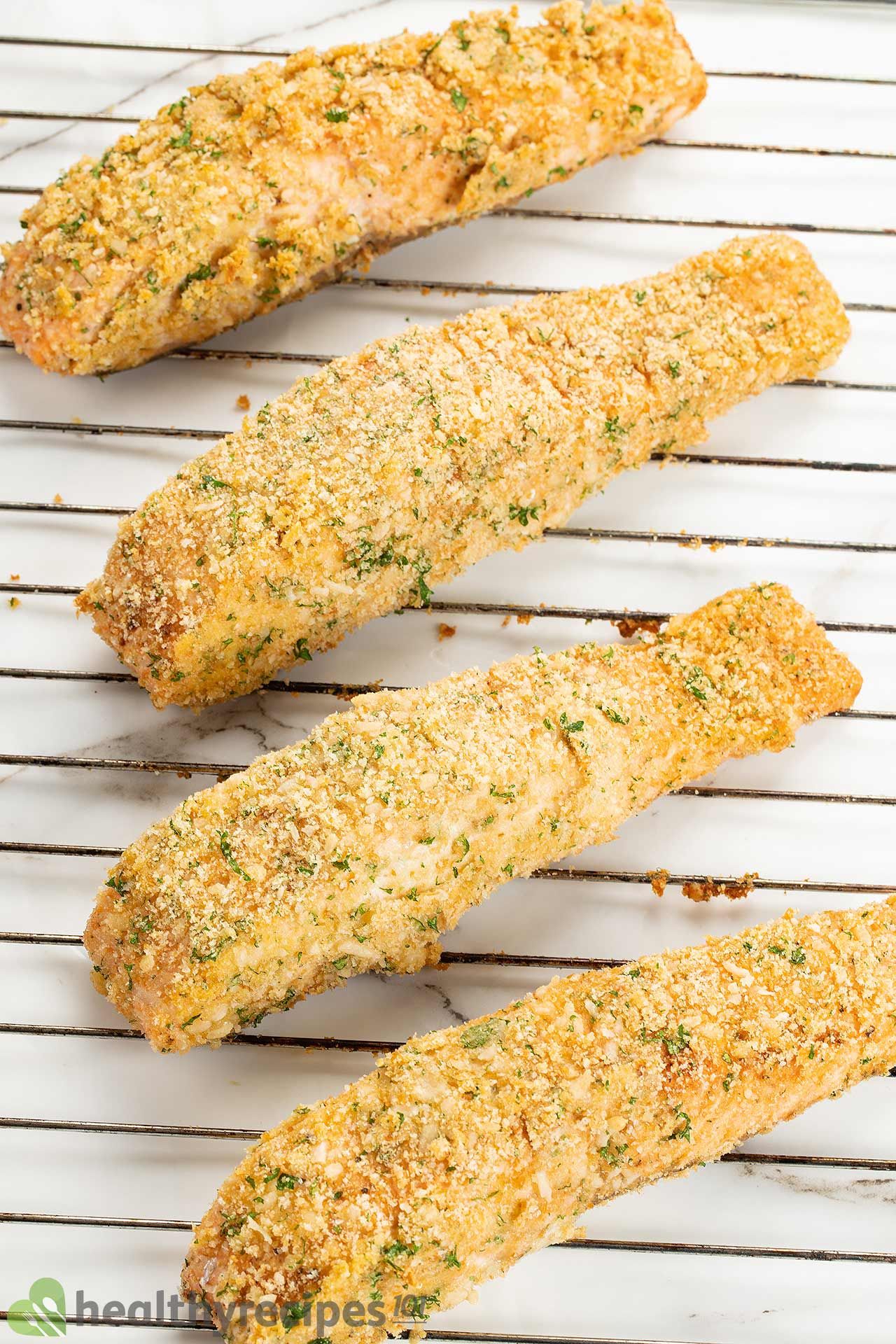 Make-Ahead and Storage Tips
To make this Parmesan crusted salmon ahead of time, you can prepare the Parmesan mixture the night before and spread it on the fillet just before baking.
An important tip is that salmon is not the best ingredient to cook ahead of time. Unlike chicken or pork, salmon is best eaten slightly undercooked. That way, when you reheat it later, it won't be overcooked, or worse, dry and crumbly.
In case you couldn't finish the salmon in one sitting, place it in an airtight container in the refrigerator for up to 2 weeks. When ready to use, cover your fish with foil and rebake. The foil acts as a protection against smell and prevents the salmon from drying out.
Side Dish for Parmesan Crusted Salmon with Asparagus
Parmesan crusted salmon with asparagus is a great way to feed your family a delicious and healthy meal. To create a fulfilling dinner of 750 calories, consider our below suggestions:
1. Mashed Potatoes
If you want a nice carb to go with salmon, nothing can beat a big batch of buttery mashed potatoes. Potatoes are boiled and mashed before combining with milk, butter, heavy cream, and seasonings to make a savory, creamy dish.
Potatoes that are crisp can also make a recipe for delicious salmon, and you can find more ways to incorporate them using another one of our delicious dishes.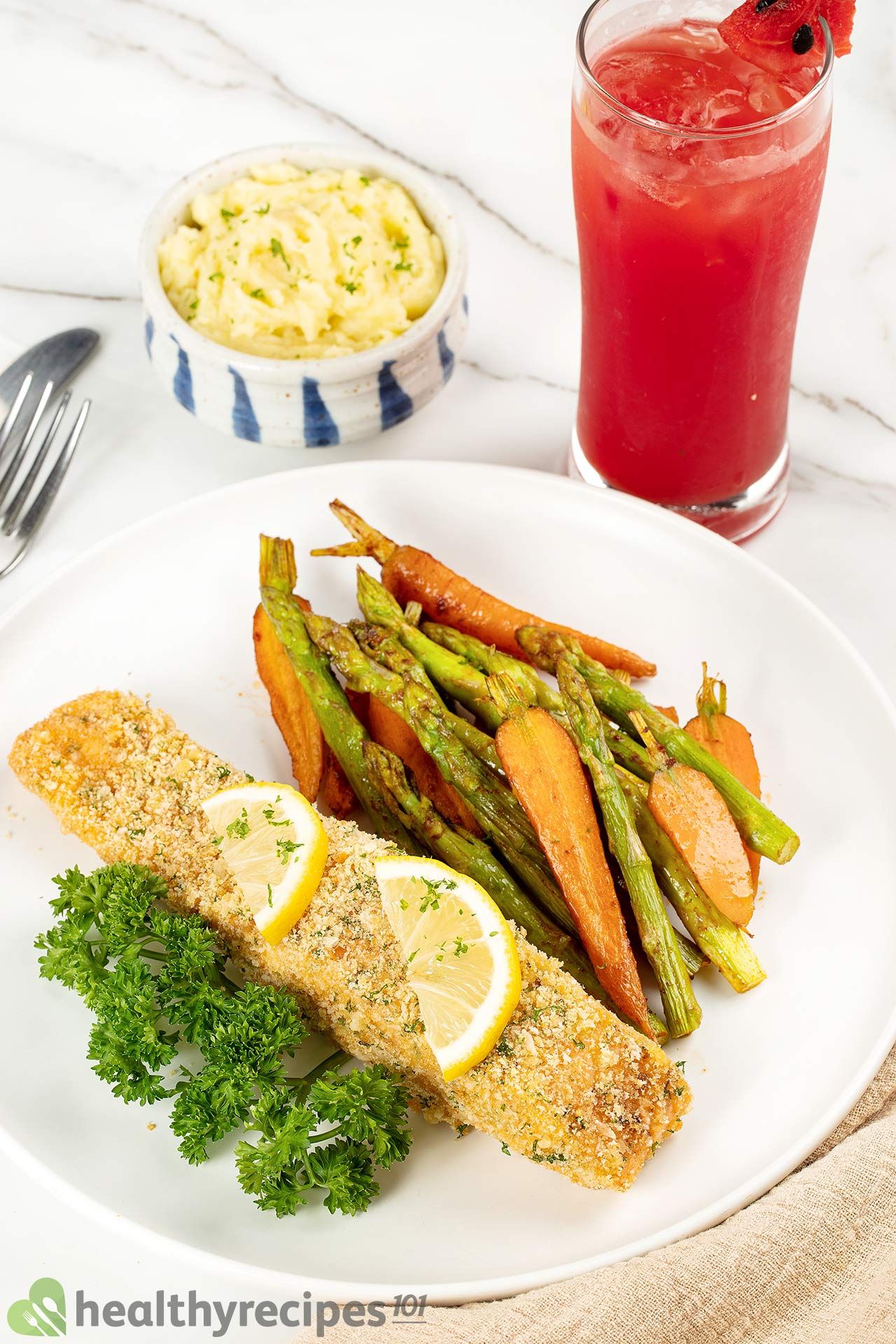 2. Lemon Watermelon Juice
We suggest having a refreshing juice to reset your taste buds after those strong flavors. Lemon watermelon juice is easy to make.
Plus, it's full of vitamins and minerals, and is a great way to support your immune system.
Here's how it adds up nutritionally:
Nutritional values in this table vary somewhat to those below due to different app calculations. Read more...
Other Salmon Recipes You May Like: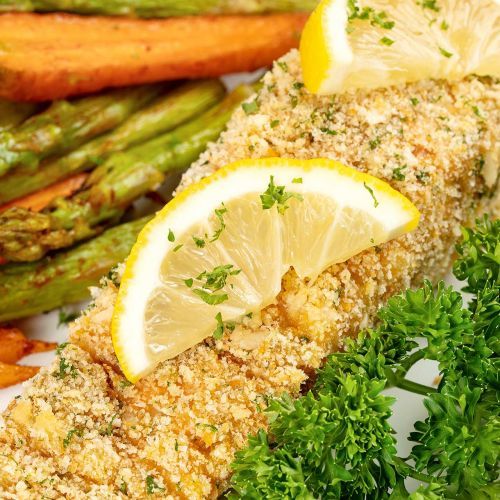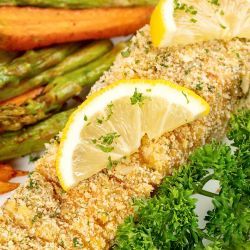 Parmesan Crusted Salmon Recipe With Asparagus
This Parmesan crusted salmon recipe with asparagus is quick and easy to make. Whip up some fresh salmon and your favorite vegetables of choice, and a wholesome dinner will be ready on your table in less than 45 minutes.
Ingredients
26

oz

boneless salmon fillets

2

tbsp

parsley

chopped

1

tsp

garlic powder

divided

1/4

tsp

salt

1/4

tsp

black pepper

3

tbsp

olive oil

divided

1

medium egg

4

lemon slices

16

oz

asparagus

10

oz

baby carrots

1/2

tsp

paprika

1/4

cup

shredded Parmesan cheese

1

tsp

lemon juice

1/2

cup

Panko bread crumbs
Instructions
Toss the baby carrots and asparagus with paprika, ½ teaspoon garlic powder, and 2 tablespoons of olive oil. Transfer to a lined baking sheet, place it on the middle rack of the oven, and bake at 400℉ for 15 minutes.

Make the coating mixture: In a small bowl, stir together 1 tablespoon of parsley, 1 tablespoon of olive oil, the bread crumbs, and the Parmesan cheese.

Season the salmon with salt, pepper, lemon juice, and ½ teaspoon garlic powder.

Crack the egg into a separate bowl. Dip the fillets into the egg and then coat with the bread crumb mixture.

Place the salmon fillets on a broil rack. Bake at 350°F for 15 minutes.

Remove the salmon from the oven. Serve with baked carrots and asparagus. Decorate with chopped parsley and lemon slices.
Nutrition
Nutrition Facts
Parmesan Crusted Salmon Recipe With Asparagus
Amount Per Serving (1 serving)
Calories 451
Calories from Fat 198
% Daily Value*
Fat 22g34%
Cholesterol 139mg46%
Sodium 463mg20%
Potassium 1157mg33%
Carbohydrates 19g6%
Protein 48g96%
Vitamin A 11328IU227%
Vitamin C 21mg25%
Calcium 145mg15%
Iron 4mg22%
* Percent Daily Values are based on a 2000 calorie diet.