Today's salmon piccata recipe is going to introduce a take on the classic chicken piccata. The cooking method is simple: all you need to do is lightly dust the juicy flaky salmon in flour and pan-sear them in butter.
The buttered salmon fillets are grilled until golden brown, then finally coated with a deliciously creamy and rich piccata sauce. Seasoned with salted capers and fresh herbs, the piccata sauce brings a burst of flavors from the lemon and white wine that promises to be a crowd-pleaser.
Read on to unfold the recipe.
Is Salmon Piccata Healthy?
Yes, this salmon piccata is packed with healthy fats and protein from the sockeye salmon. Omega-3 fatty acids in salmon help lower the risk of heart disease.
With this salmon piccata recipe, we try to keep the sodium low by using unsalted butter and chicken broth. We also purposely opt for whole wheat flour.
Whole wheat flour is a well-known counterpart of regular all-purpose flour. Although there isn't any caloric difference between them, whole wheat flour is considerably more nutrient-dense than white flour.
In whole wheat flour, most of its nutrients haven't been stripped off during manufacturing. Therefore, it's also richer in B vitamins, calcium, protein, and fiber.
Salmon in general is very healthy. Whether you incorporate a french style of cooking or go for a simple pan seared salmon, you're almost guaranteed a highly nutritious dish.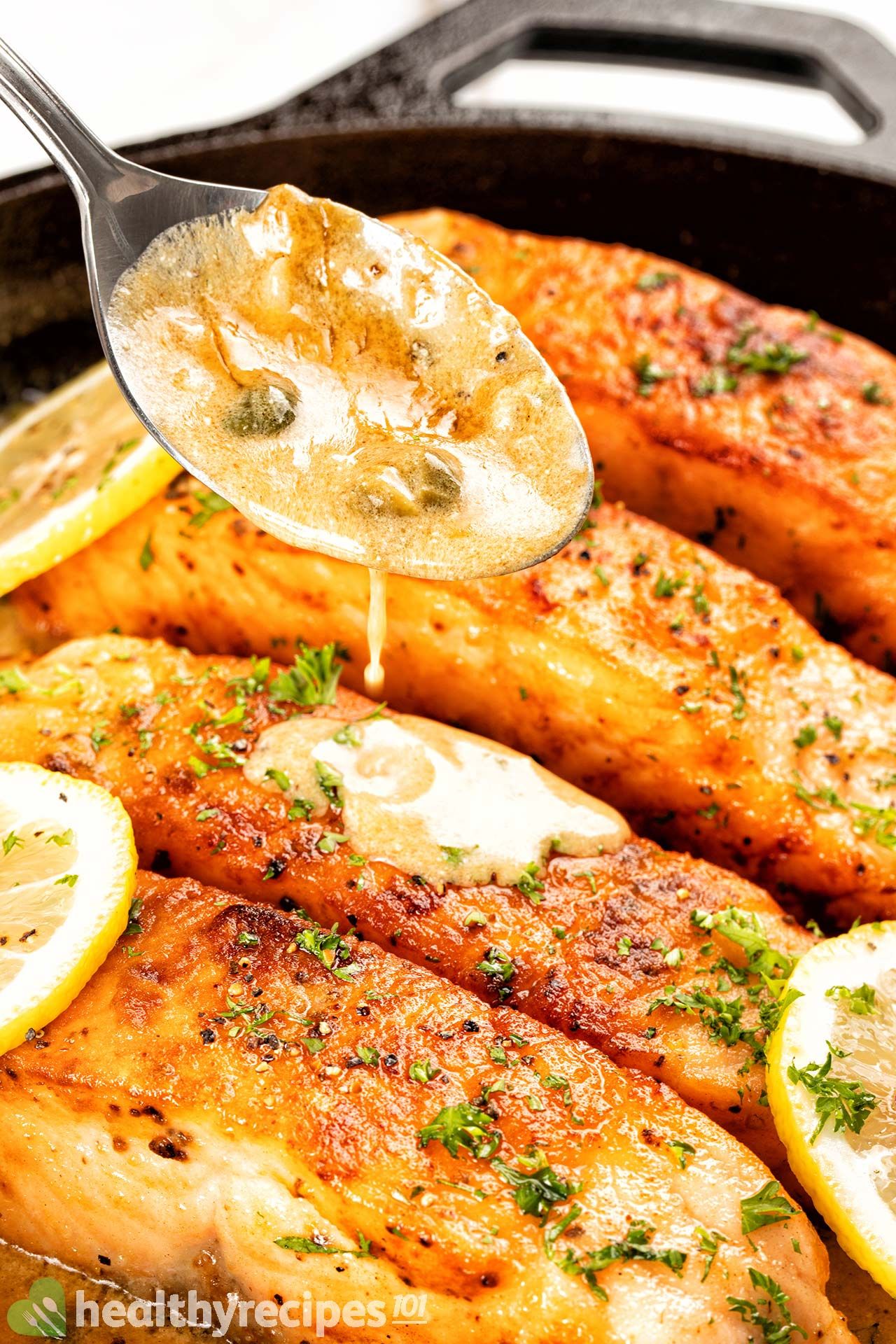 Calories
One serving of this salmon piccata provides 483 calories. This also includes a portion of cooked pasta and steamed asparagus.
Piccata Sauce for Salmon Piccata
Basically, the piccata sauce is mostly used to baste the cooked fish, poultry, or meat you choose to lend a creamy, rich aftertaste to the dish.
Our piccata sauce is made from simmering lemon juice, capers, butter, white wine, heavy cream, and chicken broth. After seasoning with black pepper, salt, and garlic, you can pour the piccata sauce over the juicy pan-seared salmon fillets and enjoy.
To this point, the piccata sauce seems to be so hassle-free; all you need to do is throw everything in a saucepan and simmer together. However, it's important to be careful when working with butter.
When making the piccata sauce, it's important to always keep the heat low. Add one tablespoon of butter at a time, be patient, and let the butter slowly swirl in the pan and melt into the sauce.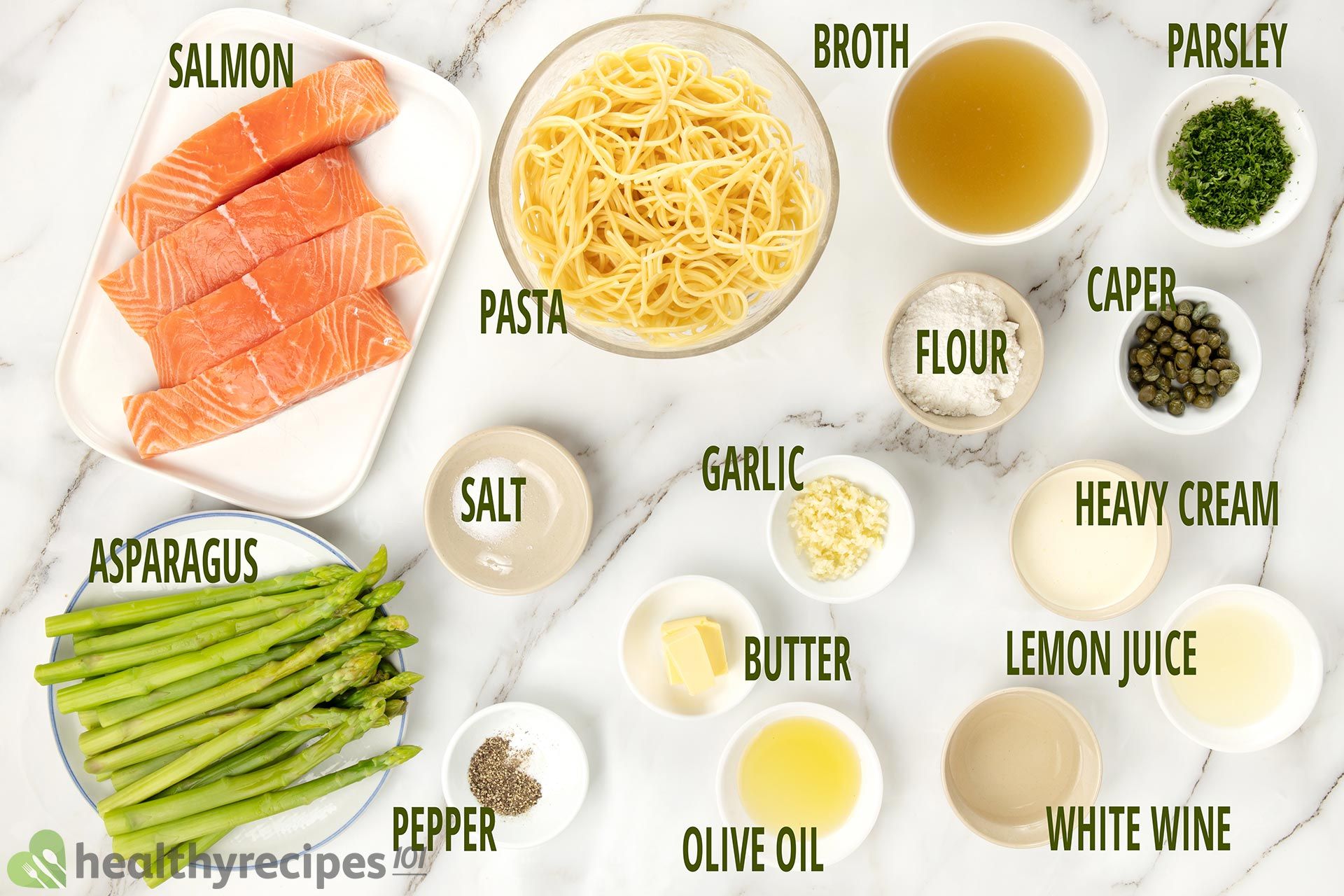 Either adding the butter too quickly or heating it too fast will break the sauce. Letting the piccata sauce warm for too long is also not recommended. After the melted butter is incorporated into the sauce, remove the pan from the heat immediately without letting the sauce boil.
In short, do not let the butter boil and separate. Once the fat molecules can no longer remain linked to the liquid molecules, the piccata sauce will either break or congeal into blobs, which equals failure.
To have perfectly cooked salmon every time, check out our delicious salmon roundup.
How to Make Salmon Piccata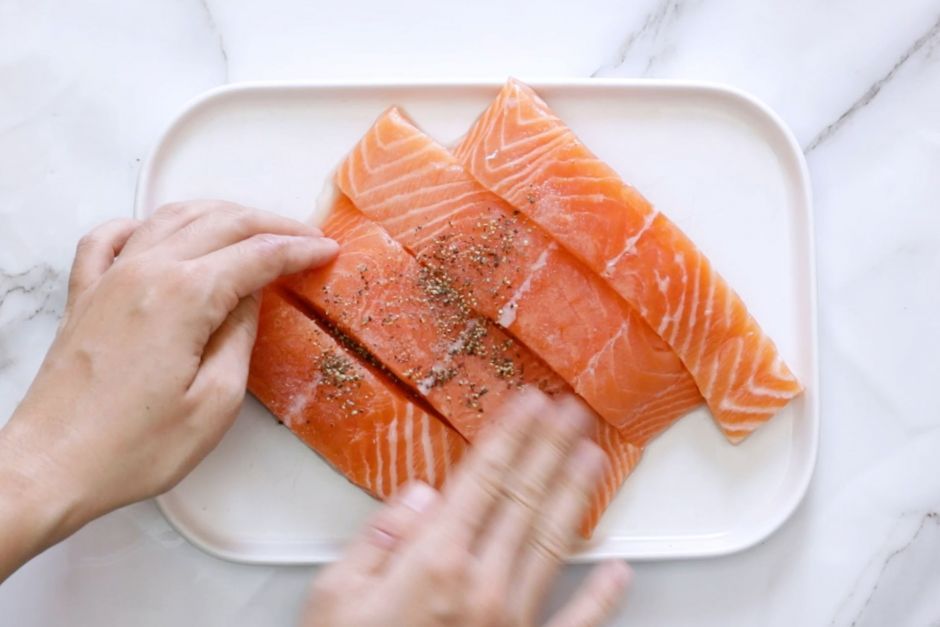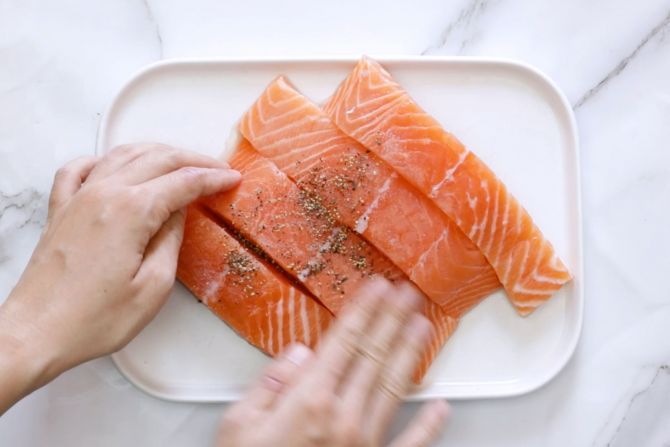 Rub the salmon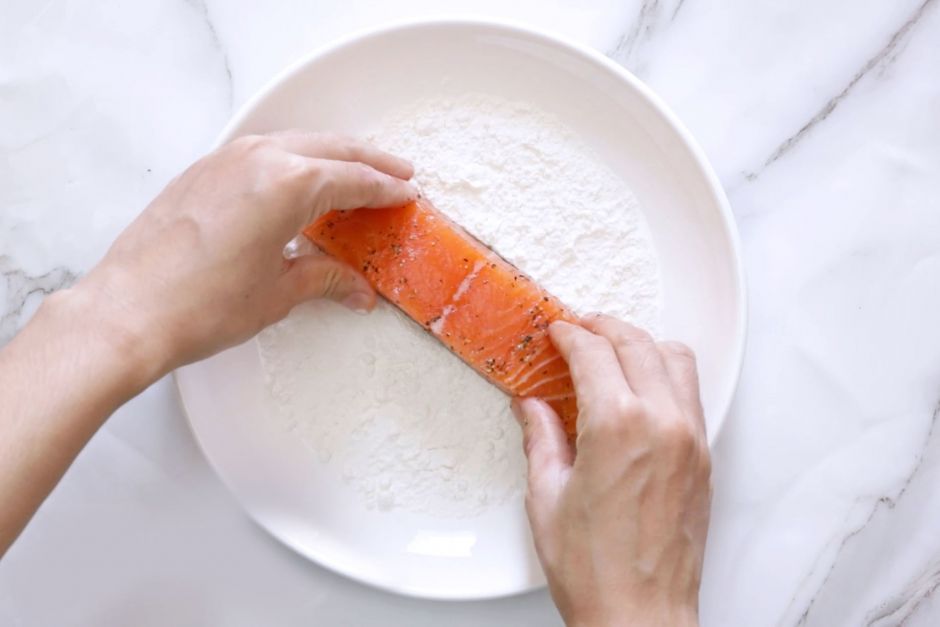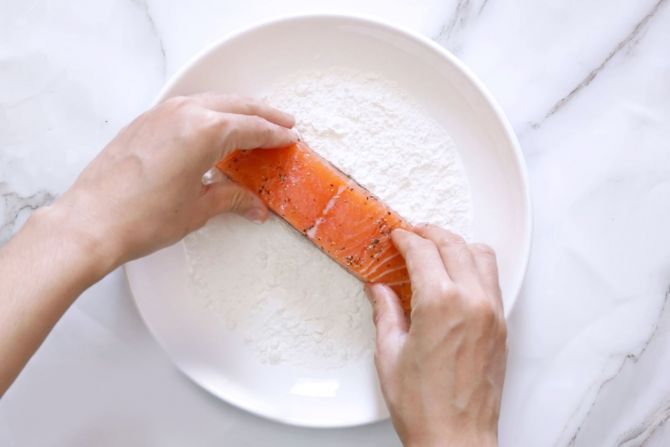 Flour coat the salmon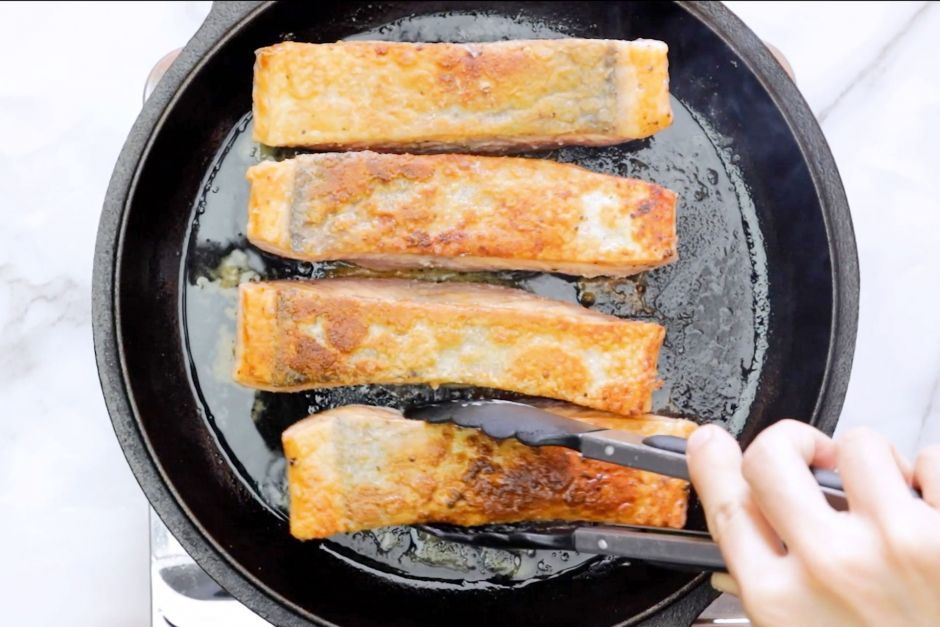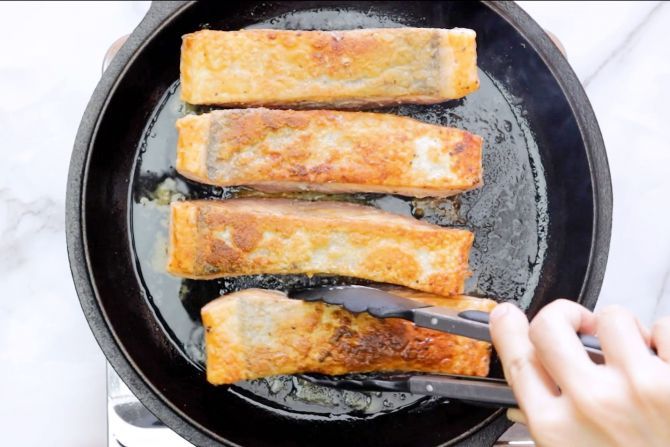 Pan-sear the salmon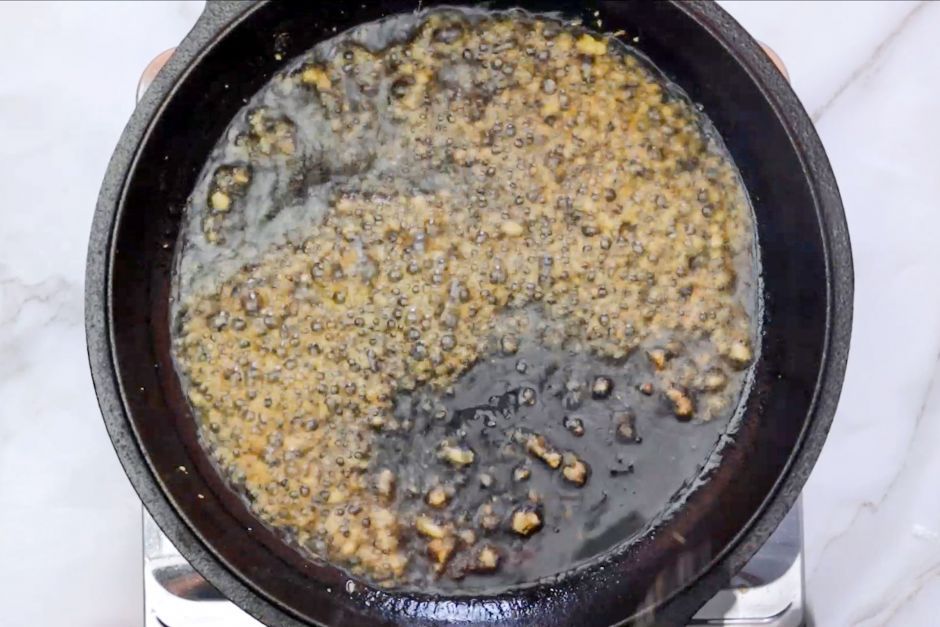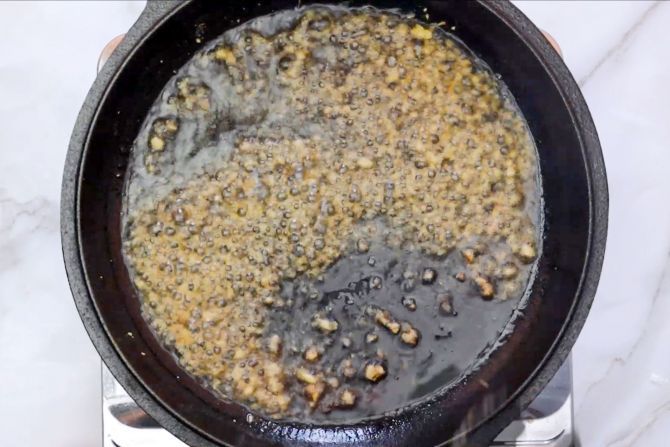 Make the piccata sauce (1)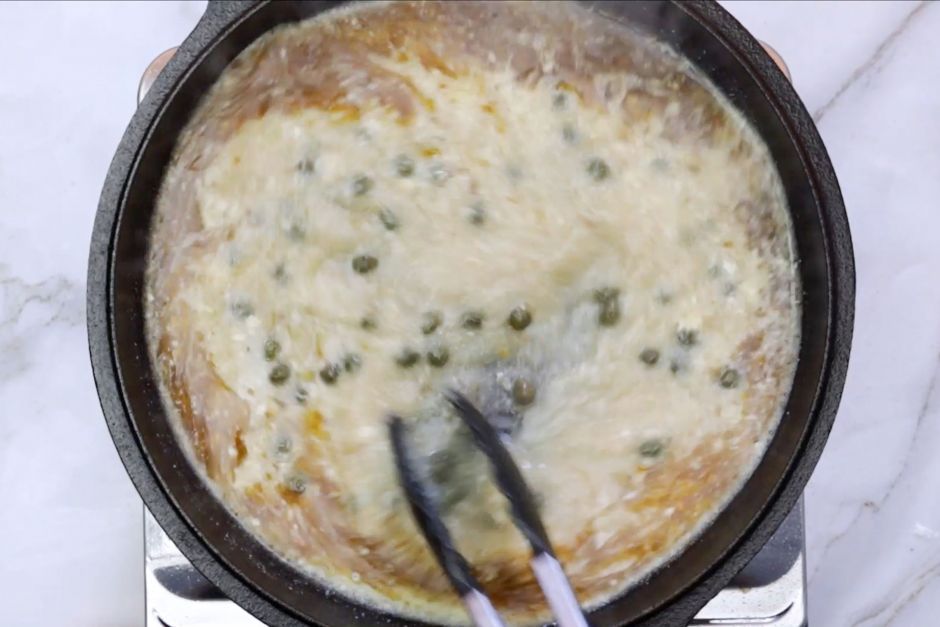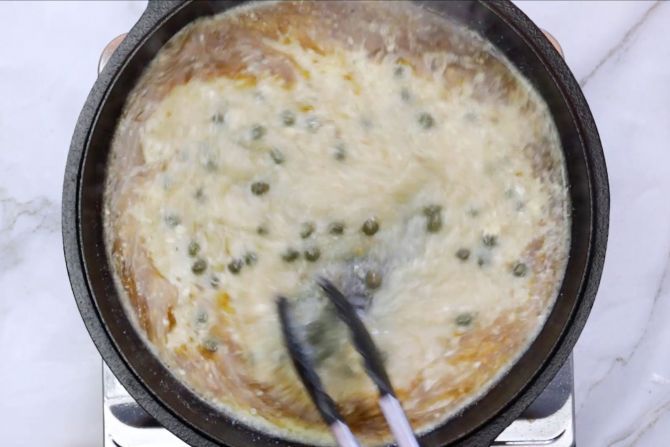 Make the piccata sauce (2)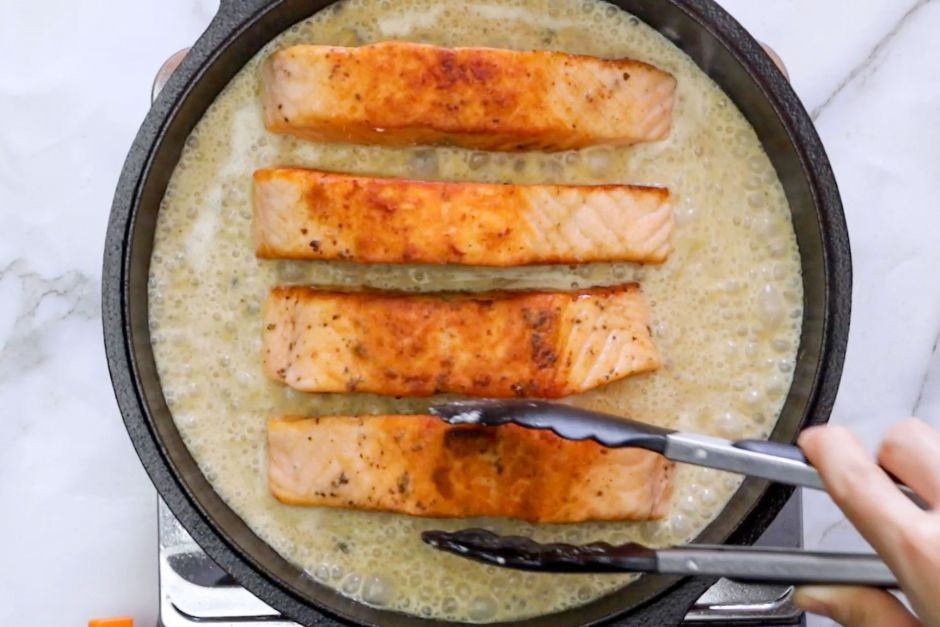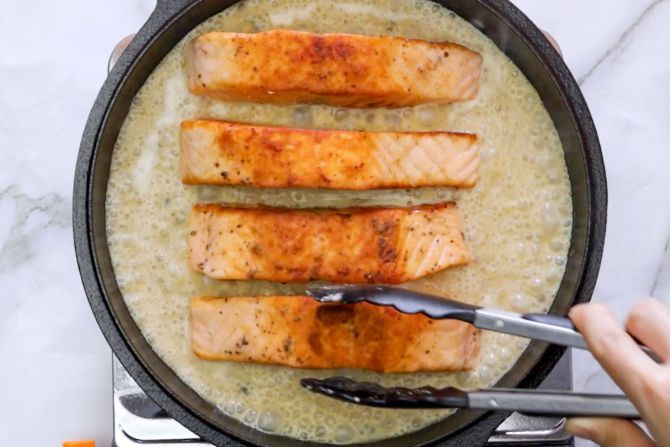 Add salmon back to the saucepan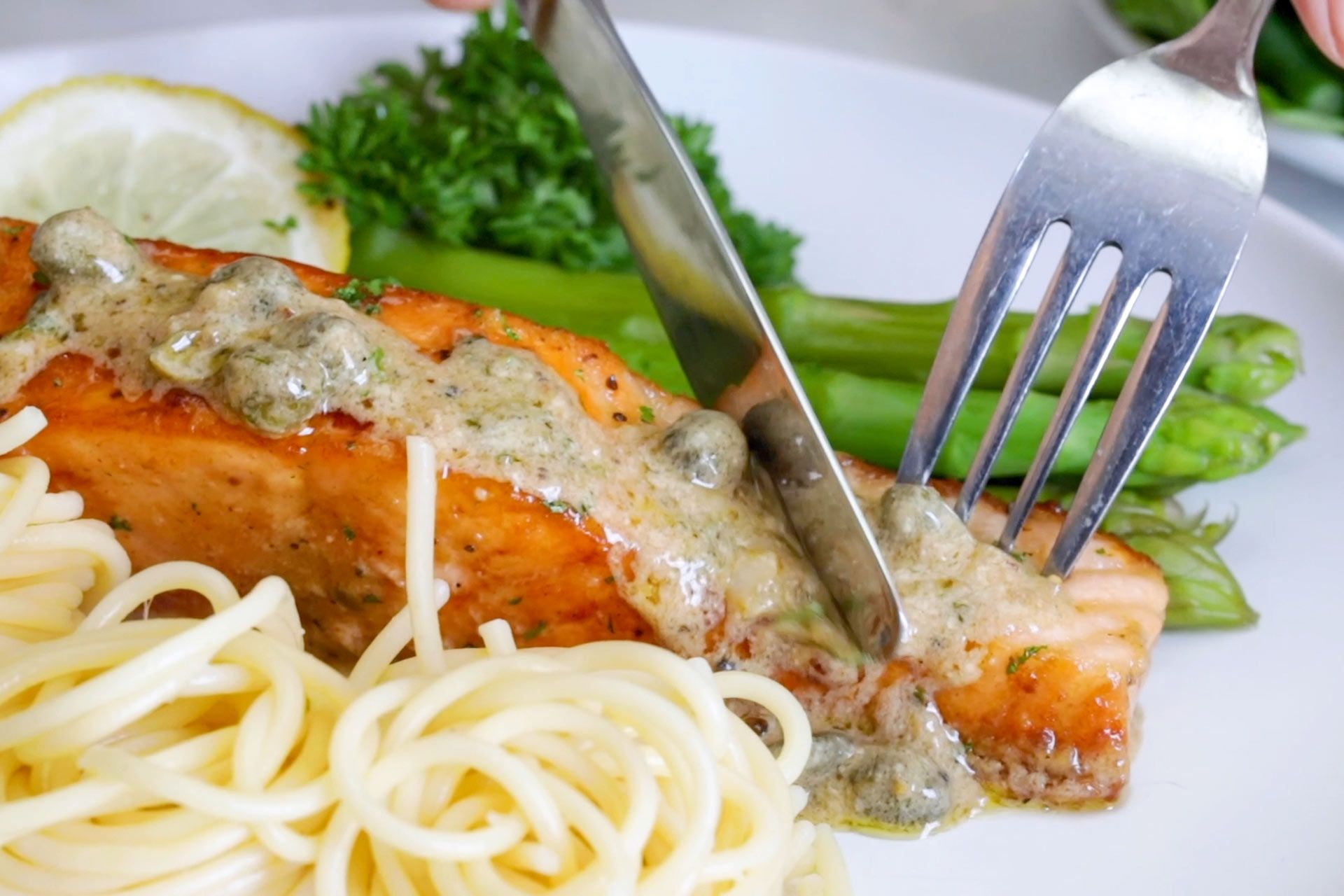 Serve
Tips for Making
To create perfectly crispy pan-seared salmon piccata, we've provided a few tricks of the trade.
First and foremost, always pat the salmon fillets dry with a clean paper towel. Preheat the frying oil in the pan until tiny oil bubbles appear on the surface, and only after that can you add the salmon.
It's recommended to reheat any leftover salmon piccata in the oven rather than trying to do a second fry in the pan. This is to prevent the crispy outer from soaking up too much oil.
When putting it in the oven, consider covering the salmon loosely with aluminum foil to help retain moisture.
If you prefer cooking salmon in the oven without the need for a skillet, consider this broiled salmon recipe or this way of cooking salmon croquettes. The leftover salmon can also be made into salmon patties— take this salmon burger recipe for example.
What Else Goes Well with Salmon Piccata
For such a bright and fulfilling dish like salmon piccata, the options for additional ingredients are endless. All that we can say is, feel free to opt for a veggie mix of your choice.
1. Capers
Blended in the buttery piccata sauce, capers deliver a zesty, lemony flavor that compliments the salmon beautifully.
These tiny green buds are mostly seen in sauces, seasonings, and marinades. They're also garnished on many side salads.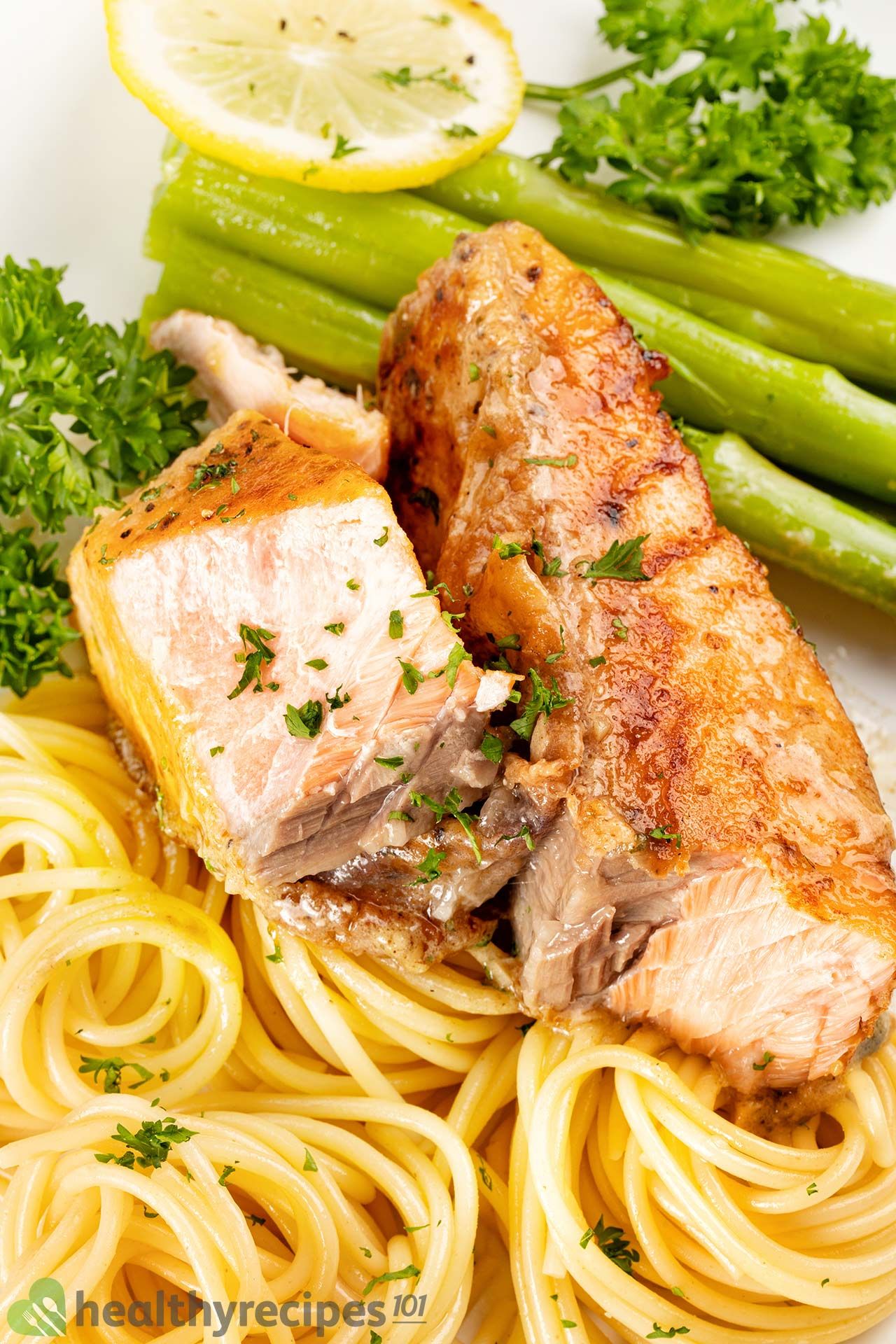 2. Pasta
Salmon piccata is great over any type of pasta, as it always absorbs the sauce wonderfully. In fact, salmon piccata is usually seen with a simple serving of hot steamed pasta.
Here's another salmon recipe that incorporates pasta as a side dish and an easy way to cook salmon and pair it with a pesto salad.
3. Vegetables
Roasted asparagus is the ideal choice to serve with salmon piccata, our herb crusted salmon recipe. But green beans, artichokes, or broccoli are also second to none. Instead of steaming or par-boiling the veggies, you can also season them with spices and herbs and roast until tender, if preferred.
What to Serve with Salmon Piccata
We don't know how you usually handle salmon, but we always prefer adding it to cold salads. Of course, it's different when it's salmon piccata, however, we couldn't help but seek out a side salad for it.
Nicoise Salad
French-style Nicoise salad is our choice to wrap up a convenient meal with this salmon piccata.
For a delicious and colorful side salad, Nicoise salad is versatile, time-saving, and easy to make. You'll have black olives, tomatoes, anchovies, and a tangy vinaigrette all on one plate, quickly prepared in 15 minutes.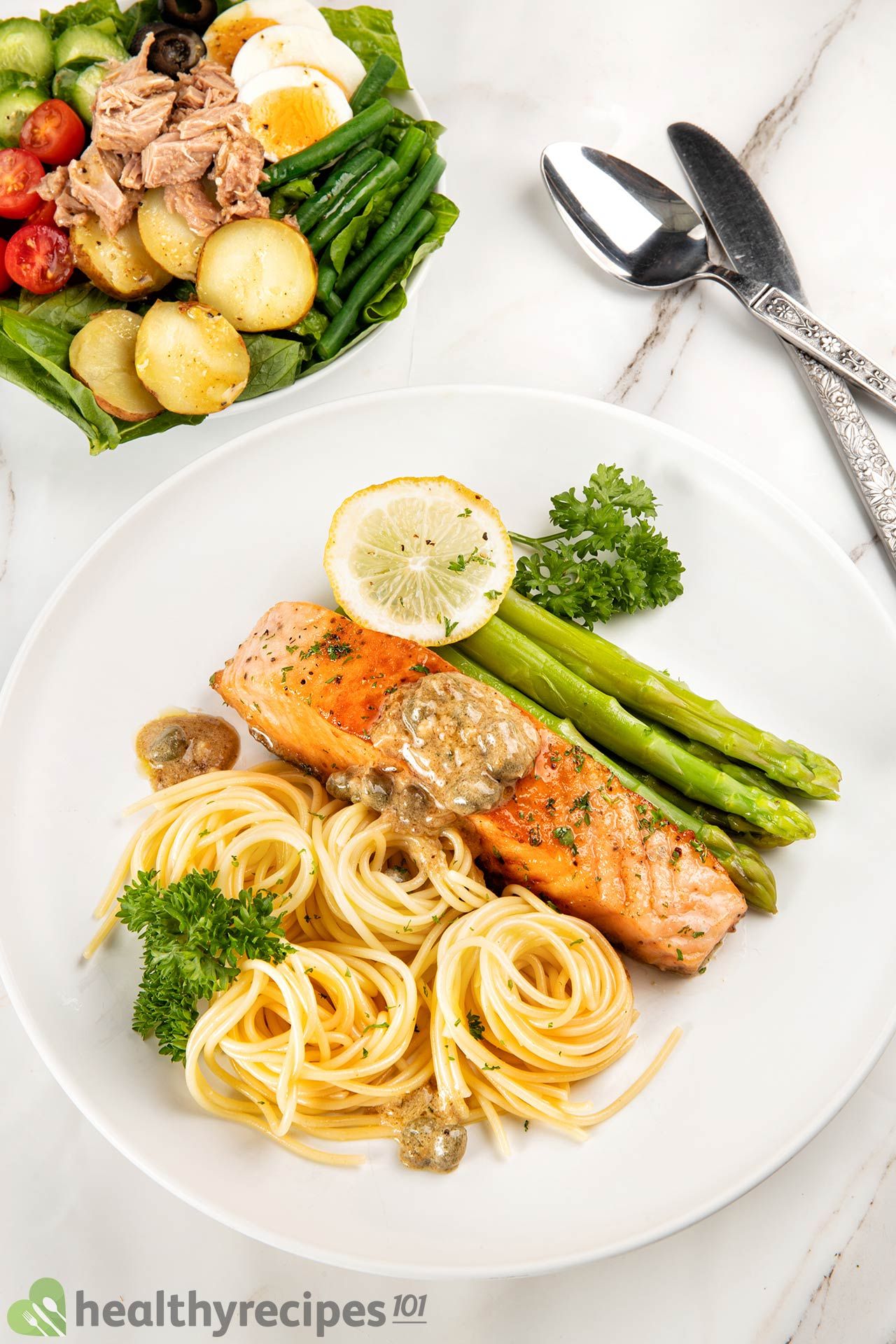 We'll be super glad to hear your thoughts on this combination!
Recipes
Course
Calories
Saturated fat
Sodium
Salmon Piccata
Main Dish
496
6.8 g
519 mg
Nicoise Salad
Side Dish
252
3.2 g
259 mg
Total
748
10.0 g
778 mg
Nutritional values in this table vary somewhat to those below due to different app calculations. Read more...
You could also try a greek salad to end up with a simple, incredible dinner recipe. Or, go with an easy watermelon arugula salad for a quick salmon dinner cook!
That said, it's very easy to make salmon and there are plenty of other ways to prepare it. Check out this perfect salmon recipe for busy weeknights, our best recipe for pan fried salmon, and a fantastic dinner for a centerpiece.
Other Favorite Salmon Recipes to Try: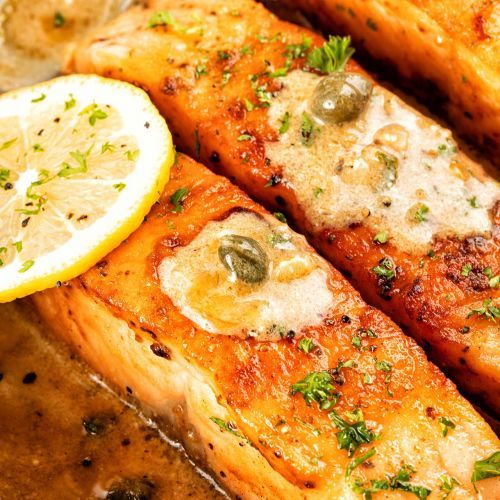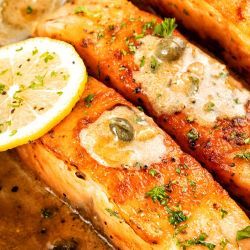 Salmon Piccata Recipe
Today's salmon piccata recipe is going to introduce a different take on the classic chicken piccata. Using the basic method of dusting salmon in flour and pan-searing it in butter, the result is a crowd-pleaser that bursts with creamy and lemony flavors.
Ingredients
20

oz

boneless salmon

1/2

tsp

ground black pepper

divided

2

tbsp

olive oil

2

tbsp

brined capers

drained

2

tbsp

parsley

chopped

3

tbsp

white wine

1

tbsp

garlic

minced

1/4

cup

heavy cream

1

cup

whole wheat flour

*

1/2

tsp

salt

divided

10.5

oz

asparagus

boiled

1

tbsp

unsalted butter

1

cup

unsalted chicken broth

2

tbsp

lemon juice

10

oz

cooked pasta

4

lemon slices

for garnish
Instructions
Rub both sides of 20 oz boneless salmon with 1/4 teaspoon of salt and 1/4 teaspoon of ground black pepper.

Add 1 cup whole wheat flour to a shallow dish, and dredge the salmon fillets in the flour to coat. Shake off excess flour.

In a nonstick skillet, heat 2 tbsp olive oil over medium heat, add the coated salmon and sear both sides for 10 minutes. Drain excess oil and set it aside.

Melt the 1 tbsp unsalted butter in a nonstick saucepan over medium heat. Add 1 tbsp garlic, and swirl it through the butter until golden.

Continue to add 3 tbsp white wine to the saucepan. Reduce to low heat and let simmer. Add 1 cup unsalted chicken broth, 2 tbsp lemon juice, 1/4 cup heavy cream, 1/4 teaspoon of salt, 1/4 teaspoon of ground black pepper, and 2 tbsp brined capers to the saucepan. Bring everything to a boil.

Transfer the pan-seared salmon back to the saucepan for a minute, then sprinkle 2 tbsp parsley and put 4 lemon slices on top. Remove from heat.

Enjoy the salmon piccata with cooked pasta and steamed asparagus.
Nutrition
Nutrition Facts
Salmon Piccata Recipe
Amount Per Serving (1 serving)
Calories 497
Calories from Fat 207
% Daily Value*
Fat 23g35%
Cholesterol 97mg32%
Sodium 521mg23%
Potassium 780mg22%
Carbohydrates 33g11%
Protein 40g80%
Vitamin A 967IU19%
Vitamin C 11mg13%
Calcium 53mg5%
Iron 3mg17%
* Percent Daily Values are based on a 2000 calorie diet.