Our honey soy salmon recipe is a delicious and simple way to enjoy this tender fish.
There are many ways to make salmon even more delicious and glazing it with a sweet soy-based sauce is one easy method. It's even better when you use a Japanese or Chinese brand soy sauce — they possess an intense floral aroma that complements the fish nicely.
Today, we'll show you exactly how to make it, with poached vegetables and cooked rice served alongside.

Is Honey Soy Salmon Healthy?
Honey is high in sugar and soy sauce is high in sodium, so we don't always think of them as healthy ingredients. However, when used in smaller quantities and combined with extra healthy foods (like salmon) they are brilliant. Salmon is packed with proteins and chock-full of brain-healthy fats, like omega-3.
To make the meal more fulfilling, we serve it with nutrient-dense veggies and some rice.
As we were crafting this recipe, we tried to keep its calorie, sodium, and added sugar content within suggested limits. This means our honey soy salmon recipe has a healthy nutritional profile:
491 calories
545 mg sodium
4.25 g added sugar (honey, that is)
If you're interested in other salmon recipes as healthy as this one, we've got some seriously delectable ones:
Honey Mustard Salmon Recipe: after discovering how divine salmon tastes with a sweet sauce, we continued to experiment, and this is our absolute favorite. The pungent flavor from the mustard enhances the sweetness from the honey.
Maple Glazed Salmon Recipe: this sweet condiment doesn't just work for sweet treats. The maple combined with soy sauce, mustard, and a fresh squeeze of citrus, make a surprisingly addictive salmon glaze.

Ingredients for Honey Soy Salmon
Built on simplicity, our honey soy salmon recipe calls for salmon, rice, some veg, honey, soy sauce, some cornstarch, and several optional ingredients.
1. Salmon
The fillets we picked were boneless and skin-on, because seared salmon skin tastes awesome, and it also helps keep the fish juicier. When cooking, the skin shrinks, becomes crispy and chewy, and adds a nice bit of texture to your dish.
If you're not into salmon skin, you can choose skinless fillets instead.
2. Cooked Rice
If you happen to have some cooked rice already in the fridge, you can just reheat it to coincide with when the salmon is done. If you don't, put the rice on to cook before you deal with the salmon. That way they can be ready at the same time.
For added convenience, you can grab precooked rice or instant rice at the store.
3. Vegetables
The ones we're serving with salmon today are broccoli and carrots. Leafy greens are also a great option as they are highly nutritious but aren't usually packed with calories.
The vegetables are blanched. To cook the carrots more quickly, we thinly sliced them and poached them for 2 minutes. Broccoli, on the other hand, needs just 1 minute. Afterwards, we rinsed them under cold water to preserve both their vibrant colors and crispness.
4. Sauce for Salmon
Our sauce mainly consists of soy sauce, honey, some Sriracha and paprika for a kick, and is thickened with cornstarch.
The sauce is made extra fragrant with garlic, so we used both fresh garlic and garlicpowder. The fresh garlic is sautéed briefly right after the salmon's seared, and the powder goes into the sauce. You can use either but both will give you the greatest impact.
To finish things off, we squeezed some lemon juice onto the fish to give the flavors a lift. This dish is that simple.

How to Make Honey Soy Salmon
Once the rice is taken care of and ingredients are gathered, here's what you need to do:
Poach the vegetables and shock in cold water.
Mix the sauce ingredients together.
Sear the salmon fillets.
Add the garlic to sauté.
Add the sauce and reduce.
Sprinkle chopped scallion and sesame seeds on top and enjoy.
We suggest that you follow our honey soy salmon recipe strictly for the best results. It also helps guarantee that your daily intake of certain nutrients stay within our careful calculations.

How Long Is Cooked Salmon Good for in the Fridge?
As with many seafoods, cooked salmon keeps for a maximum of 4 days in the fridge and should not be frozen. Its texture won't be as appetizing once thawed.
The Best Way to Reheat Salmon
The fish is easy to cook, but if you reheat it the same way, you'll probably end up with a dry fillet. To retain most of its moisture, warm it up slowly, ideally in an oven at 275°F for 15 minutes.

What to Serve With Honey Soy Salmon
For such a flavorful main, a warm, easy soup like our cabbage soup is the best accompaniment. A chilled sweet, tangy beverage can also be added to round everything off nicely:
These other recipes can be found if you scroll past our honey soy salmon recipe card below.
Of course, these are just some of our suggestions. You can browse our many flavorful recipes and build your own healthy meal plans.
Honey Soy Salmon Recipe
Our honey soy salmon recipe takes just 20 minutes to turn out a wholesome, delicious meal of rice, cooked fish, and poached veg.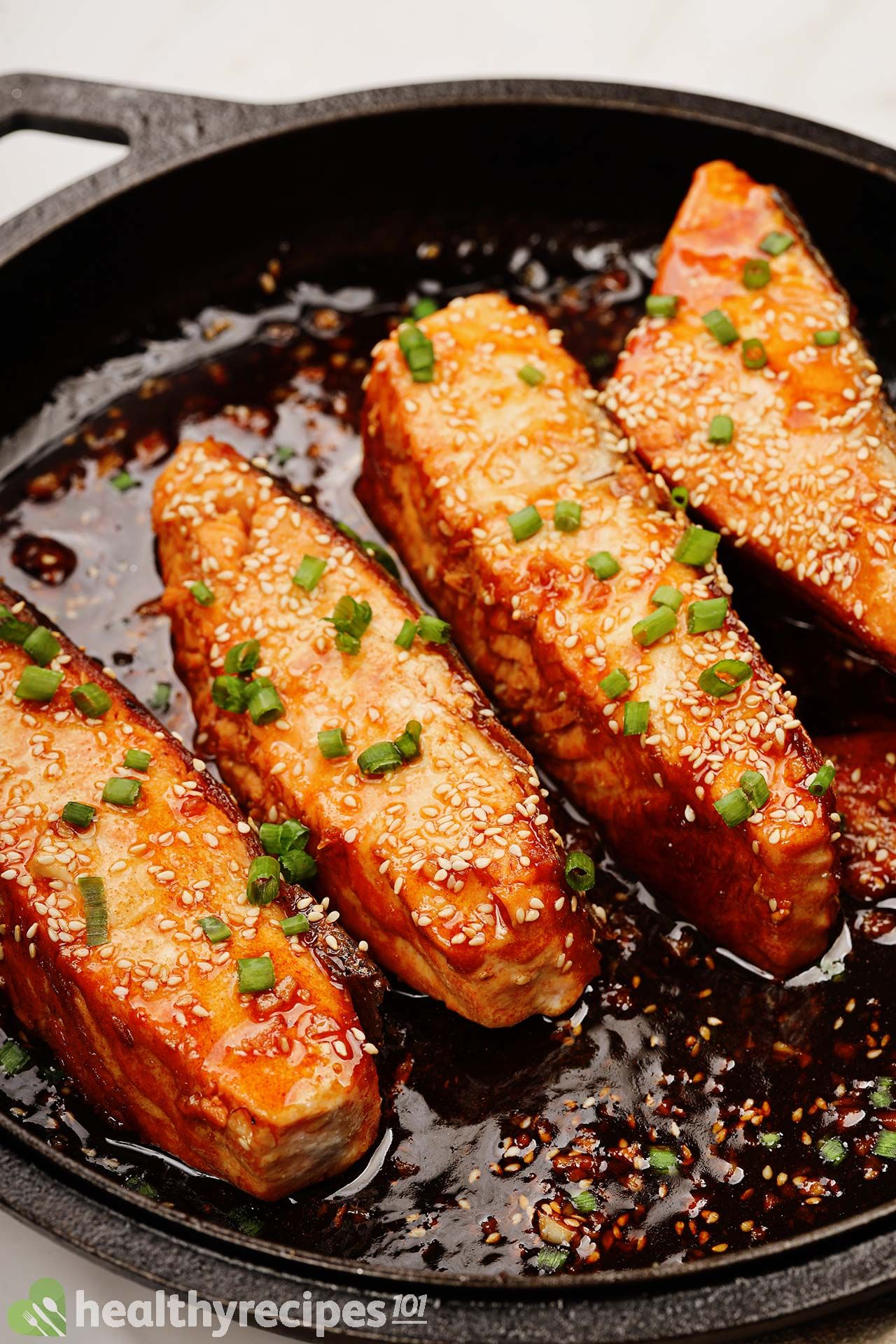 PREP TIME

5 mins

COOK TIME

15 mins

TOTAL TIME

20 mins
COURSE

Main Course

CUISINE

Global

SERVINGS

servings

CALORIES

491 kcal
INGREDIENTS
22 oz

boneless salmon with skin

4 oz

carrots halved then sliced

8 oz

broccoli cut into florets

2.5 tbsp

reduced-sodium soy sauce

2 tbsp

water

1 tbsp

honey

1 tsp

lemon juice

1 tsp

Sriracha

0.5 tsp

paprika

0.5 tsp

cornstarch

0.5 tsp

garlic powder

1 tbsp

olive oil

1 tbsp

garlic from 3 cloves, minced

1 tbsp

white sesame seeds toasted

2 tbsp

scallion finely chopped

3 cups

cooked medium-grain rice
INSTRUCTIONS
1
Bring a pot of water to a boil and cook 4 oz carrots for 1 minute. Add 8 oz broccoli and cook for another 1 minute. Drain and rinse under cold water to preserve color and crispness.
2
Mix together the sauce components: 2 1/2 tbsp soy sauce, 2 tbsp water, 1 tbsp honey, 1 tsp lemon juice, 1 tsp Sriracha, 1/2 tsp paprika, 1/2 tsp cornstarch, and 1/2 tsp garlic powder.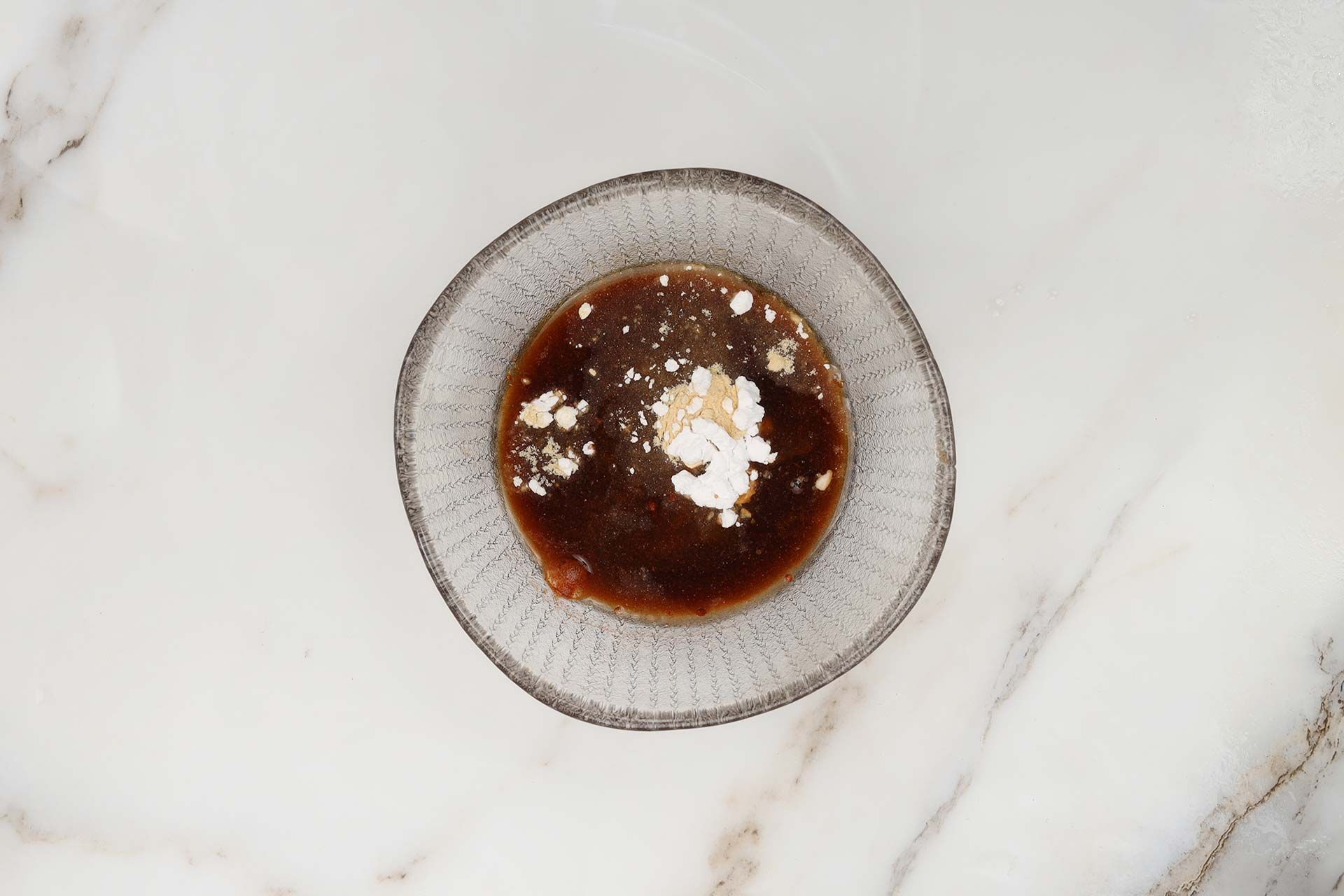 3
Heat 1 tbsp olive oil in a non-stick skillet over medium heat. Place 22 oz salmon fillets, skin-side down, into the heated oil to cook for 5 minutes, then flip and cook for another 2 minutes.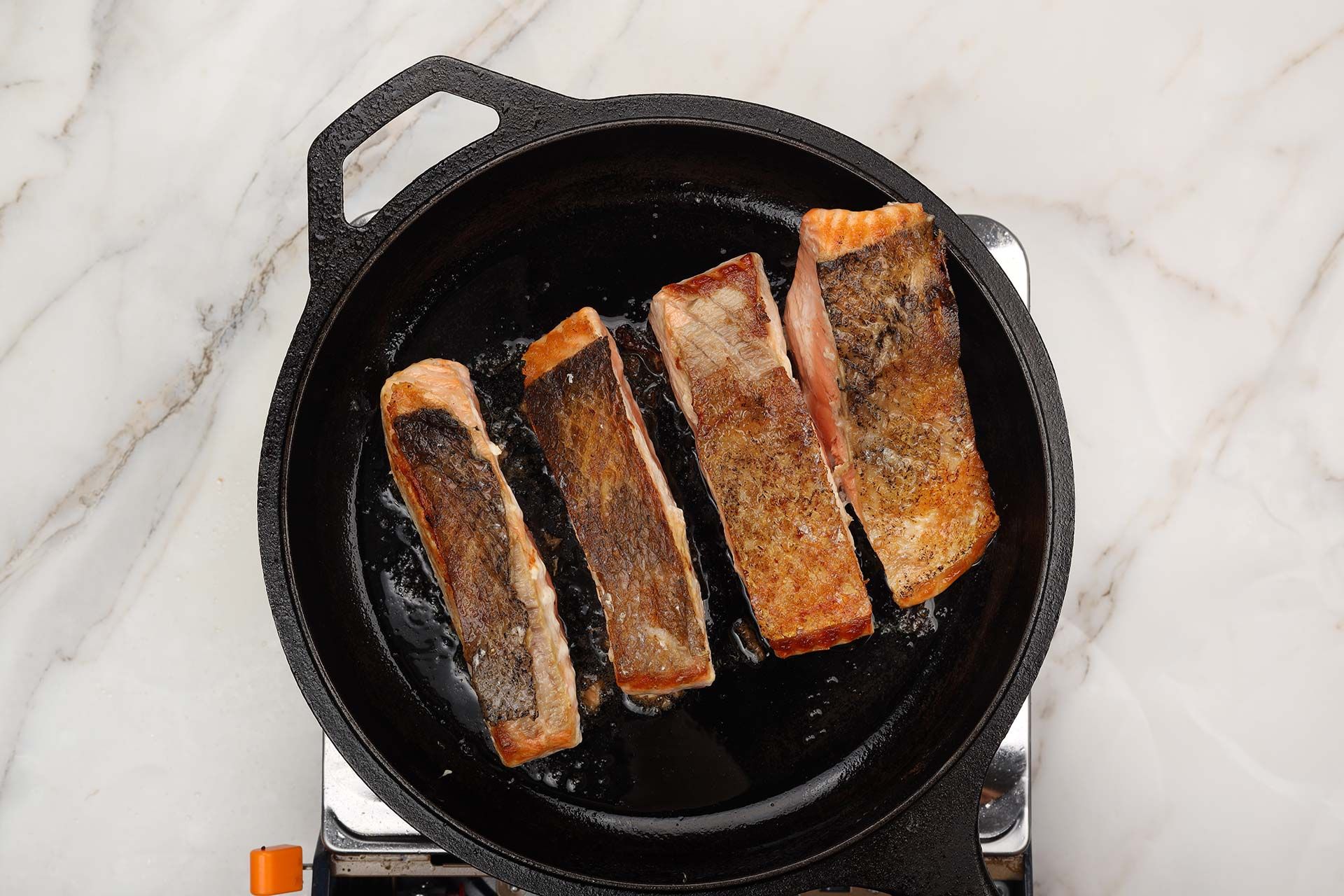 4
Gently move the fillets to the side and sauté 1 tbsp garlic in the middle for 30 seconds.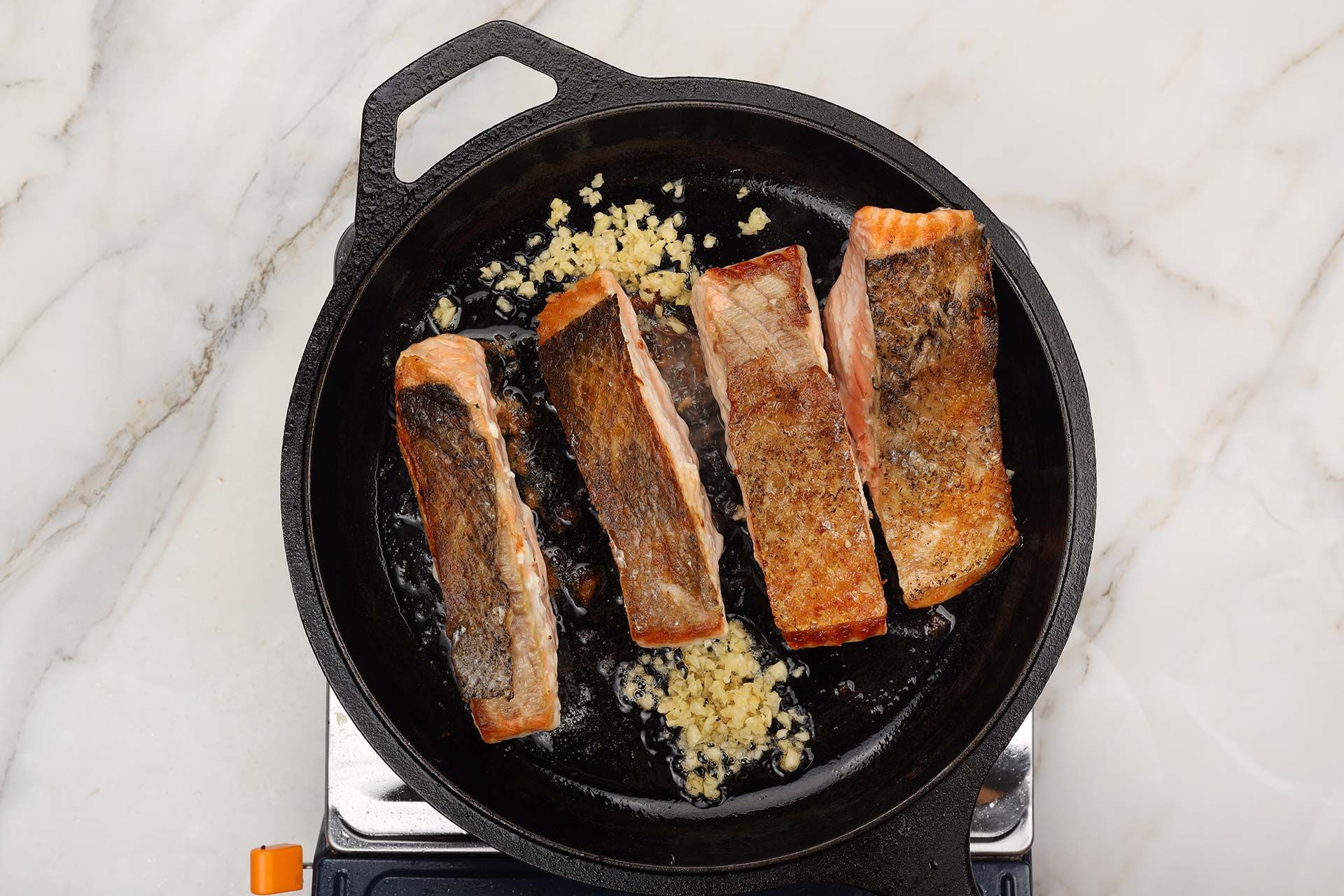 5
Add the sauce components and cook for 30 seconds to reduce.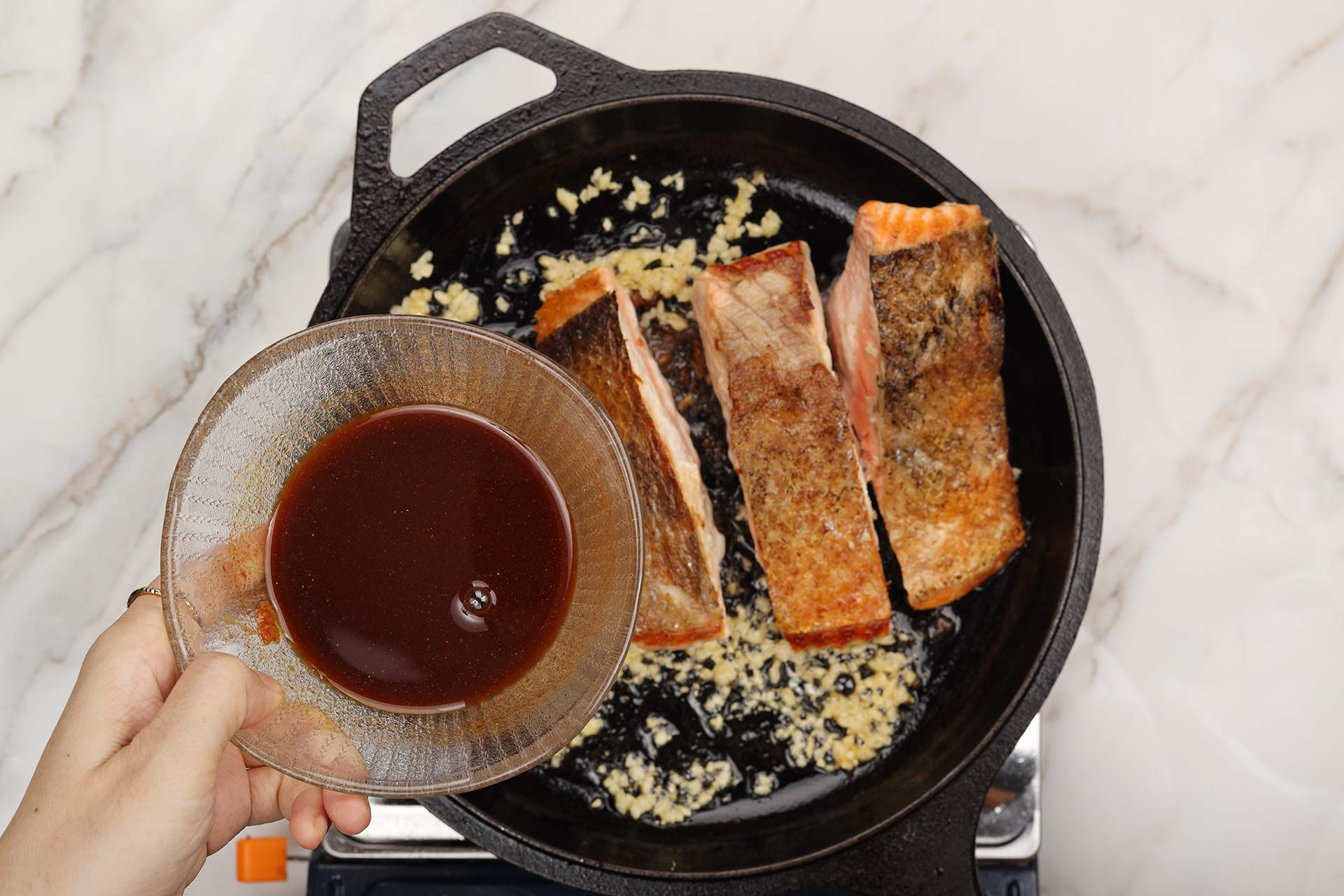 6
Sprinkle 1 tbsp toasted sesame seeds and 2 tbsp chopped scallion on top. Enjoy with 3 cups of cooked rice.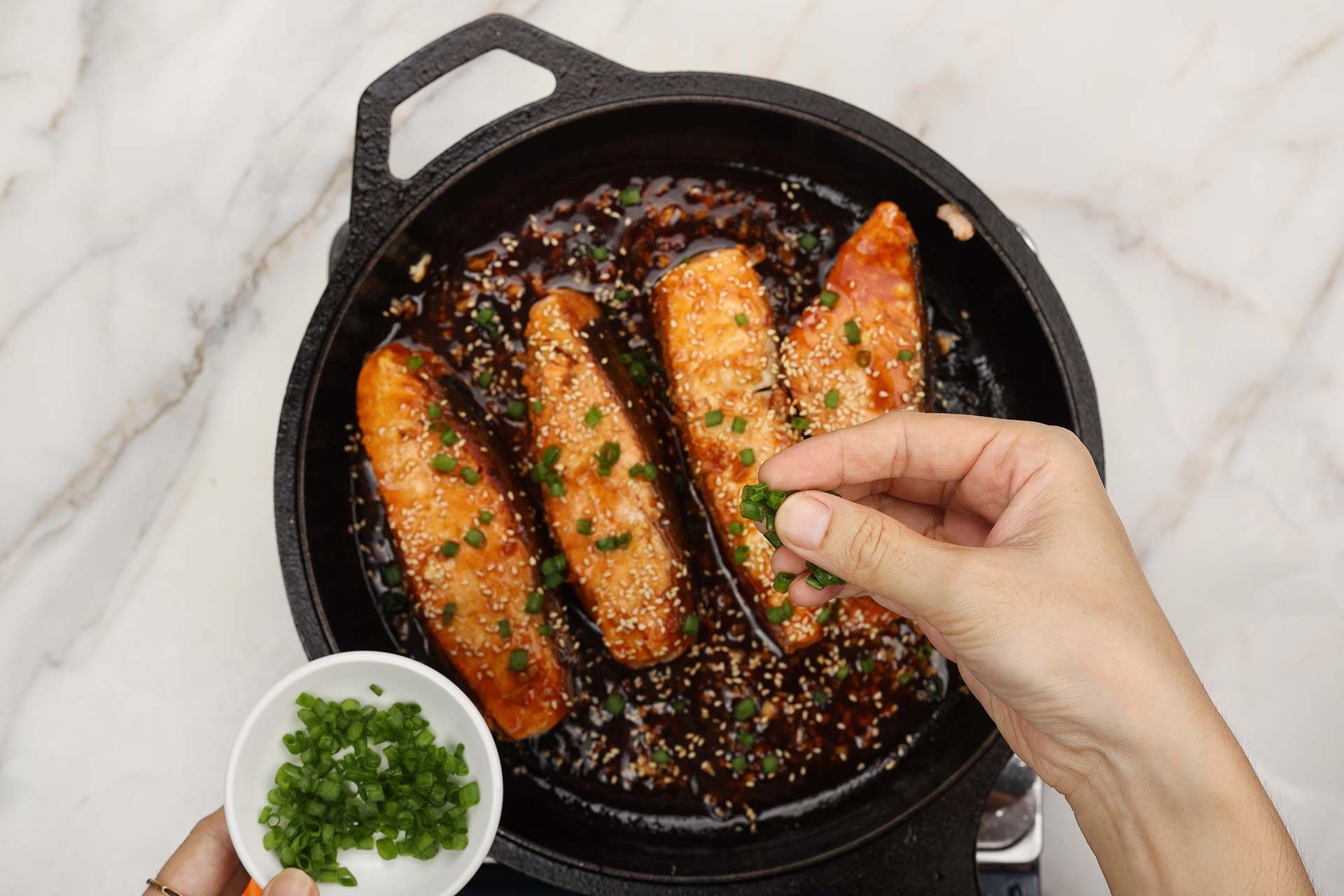 NUTRITION
Nutrition Facts
Honey Soy Salmon Recipe
Amount Per Serving (1 serving)
Calories 491
Calories from FDA
% Daily Value*
Fat 12g15%
Trans Fat g
Polyunsaturated Fat 3g
Monounsaturated Fat 5g
Cholesterol 80mg27%
Sodium 541mg24%
Potassium 922mg20%
Carbohydrates 54g20%
Protein 41g82%
Vitamin A 5495IU110%
Vitamin C 54mg60%
Calcium 81mg6%
Iron 4mg22%
* Percent Daily Values are based on a 2000 calorie diet.
Previous Recipe
Air Fryer Salmon Sticks
Air Fryer Salmon Sticks
Next Recipe
Salmon Casserole
Salmon Casserole
Luna Regina
A writer and entrepreneur, Luna's day doesn't start at the computer keyboard, but in the kitchen.
Half of her working hours are spent on mixing ingredients for her recipes. The other half involve working with the tech team to research and test the tools and appliances that promise to make kitchen work effortless and mess-free. From a kitchen knife or water filter to the Instant Pot, if it can help save time and effort for the home cook, Luna and her team are on it.
Luna's extracurricular pastimes include camping, travel, and photography.