This oven-baked salmon recipe is easy, takes 30 minutes, and cooks you a wholesome, delicious meal.

Is Baked Salmon Healthy?
Salmon is a relatively healthy fish with good proteins and fats, and baking is a good way to cook it compared to grilling or deep-frying. When baked and served alongside nutrient-dense vegetables like in today's recipe, it all adds up to a very healthy meal.
Complied with our guidelines, each serving of our baked salmon recipe contains:
494 calories
6.2 g saturated fats
546.3 mg sodium
If you're into salmon, we have a range of healthy recipes you can try:

Ingredients for Baked Salmon
For this oven-baked salmon recipe, you'll need salmon, olive oil, butter, potatoes, asparagus, and some basic seasonings.
1. Salmon
We used salmon with skin for its gorgeous texture and delectable flavors, but skinned salmon should do just as fine.
It doesn't have to be the expensive 'sushi-grade' salmon either. For this recipe, regular salmon sold in plastic wrap in the frozen section is good enough.
As portioning is so important to healthy eating, we recommend that you take the weight of each fish fillet seriously. Each serving requires an 8.5-ounce fillet, so try to either find something similar in weight and do some trimmings or divide a very large fillet into small ones.
2. Vegetables
Besides asparagus, our all-time favorite veg to serve with salmon, we also picked something more fulfilling, in this case, potatoes. Their fluffy, tender texture makes them an ultimate side for any meat or fish.
We precooked the vegetables so we could later bake them along with the salmon. First, we microwaved the potatoes for 5 minutes, then added the asparagus and seasonings and microwave for another 3 minutes. You can also steam or boil them instead, for the same amount of time.
The veg was pre-cooked so we could later bake them along with the salmon.
3. Seasonings
Right off the bat, we seasoned the vegetables with butter and oregano.
Salt and pepper were sprinkled onto the fillets, and for a spicy kick we added a combination of Cajun and paprika powders.
Salmon also goes great with garlic, so we added some garlic powder, but not so much that it overpowers the flavor.
Coming next is a variety of herbs for a complex mix of aromas. We're using Italian seasoning and some additional fresh thyme. Feel free to use your own favorite herbs instead, but it's best not to leave them out.
Finally, we gently rubbed some olive oil into the fish to help things cook evenly, and some lemon juice to rid the seafood aroma.

How to Make Baked Salmon in the Oven
You can scroll to the bottom for the detailed instructions now, or look at this summary to see how it all comes together:
Microwave the potatoes and preheat the oven as well.
Mix the dry seasonings.
Season the salmon fillets.
Add asparagus and seasonings and microwave some more.
Line the baking tray and arrange the fish onto it.
Arrange the cooked veg around it and bake.
Garnish with parsley and enjoy.
Make sure that you follow our oven-baked salmon recipe card strictly to achieve the best results.
How to Tell if Baked Salmon Is Done
A cold (but not frozen) fillet an inch thick and however big in size should turn out moist, soft, and done in 15 minutes at 400°F. For any extra inch in thickness, add 2 minutes to the cooking time.
The above time and temperature apply to cooking with the oven only, not with an air fryer. It circulates heat faster and cooks food more quickly, so your fish will dry out instead of being perfectly cooked.
To cook fish fillets from frozen, you need to let them soften first using these methods.

Can You Freeze Baked Salmon?
Physically, you can do so and reheat it, but seeing how its texture turns dry and rubbery, that's not something we would recommend. When working with salmon, you want to freeze it fresh, then defrost it properly before you cook it.
How to Reheat Baked Salmon
If you have leftovers, wrap them carefully and refrigerate within 4 days. Reheat it as you would cook it, but in just 5 minutes.
As for the veg, they will survive for up to 5 days in the fridge and reheat the same way as the fish. We don't recommend freezing roasted vegetables.

What to Serve With Baked Salmon
Although we have already included potatoes and asparagus in our recipe, it doesn't hurt to have a crisp, fresh salad on the side. We went for a Greek salad; simple and easy to throw together.
To round off the meal, we made some celery cucumber juice and served it with ice. This cool refresher packs tons of micronutrients and brings the meal's nutritional profile to healthy amounts:
Of course, these are just a few of our suggestions. If you're into shaping your own meal plan, have a look at our guidelines then scroll through our website for recipes with precise nutritional profiles.
Oven-Baked Salmon Recipe
Our oven-baked salmon recipe is one of the easiest ways to turn salmon and veg into a wholesome meal. It works every single time.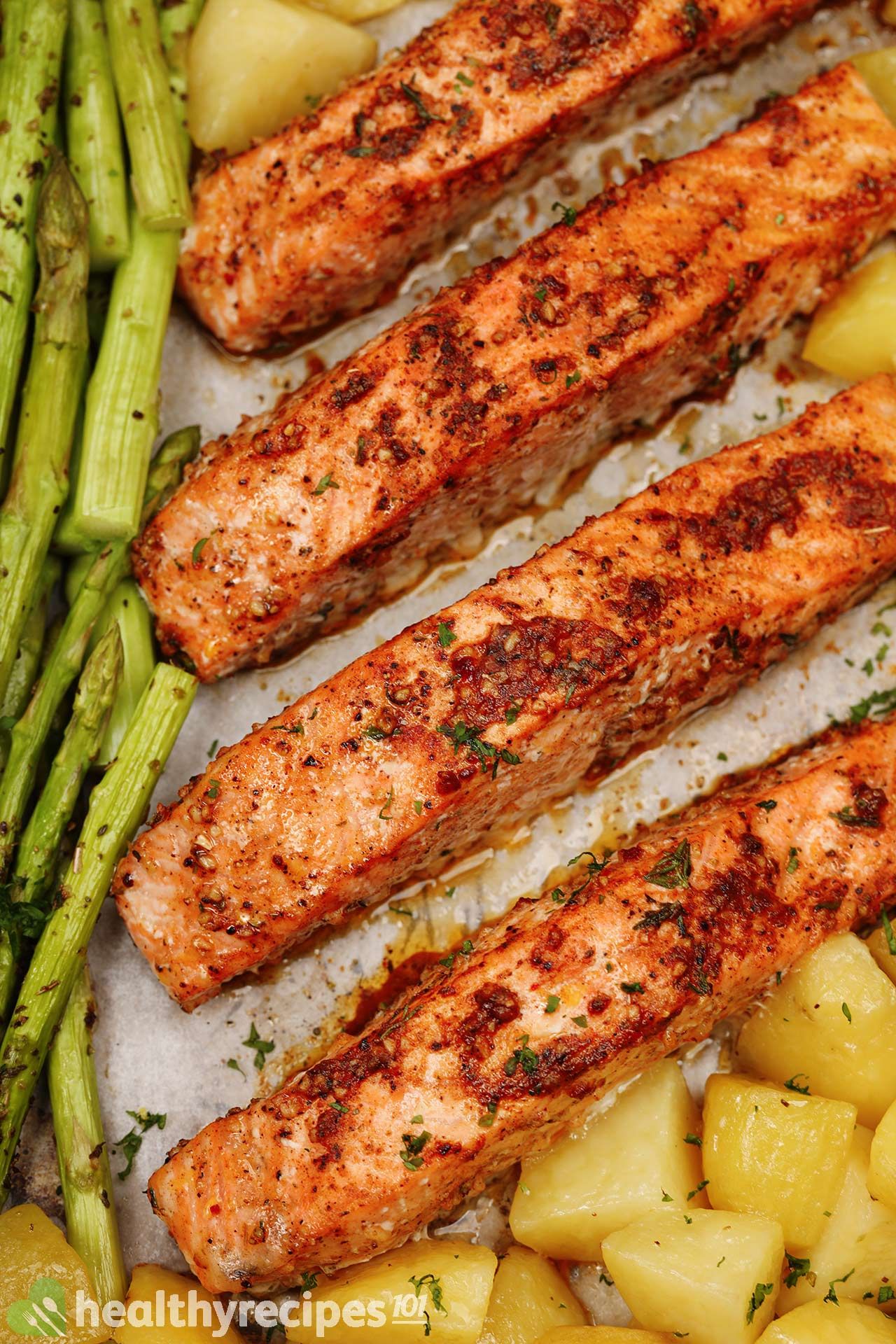 PREP TIME

7 mins

COOK TIME

23 mins

TOTAL TIME

30 mins
COURSE

Main Course

CUISINE

Global

SERVINGS

servings

CALORIES

494 kcal
INGREDIENTS
26 oz

boneless salmon skin-on

24 oz

potatoes cut into chunks

12 oz

asparagus tough, woody ends trimmed

0.5 tbsp

Italian seasoning

1 tsp

fresh thyme

1 tsp

Cajun seasoning

0.5 tsp

paprika

0.5 tsp

garlic powder

0.5 tsp

salt

0.5 tsp

ground black pepper

2 tbsp

olive oil

1 tsp

lemon juice

1 tsp

dried oregano

2 tbsp

unsalted butter about 1 oz

2 tbsp

parsley chopped
INSTRUCTIONS
1
Place 24 oz potatoes into a large bowl that will also fit 12 oz asparagus (we'll place them into the bowl later) and cover with plastic wrap. Microwave on medium for 5 minutes. Preheat the oven to 400°F.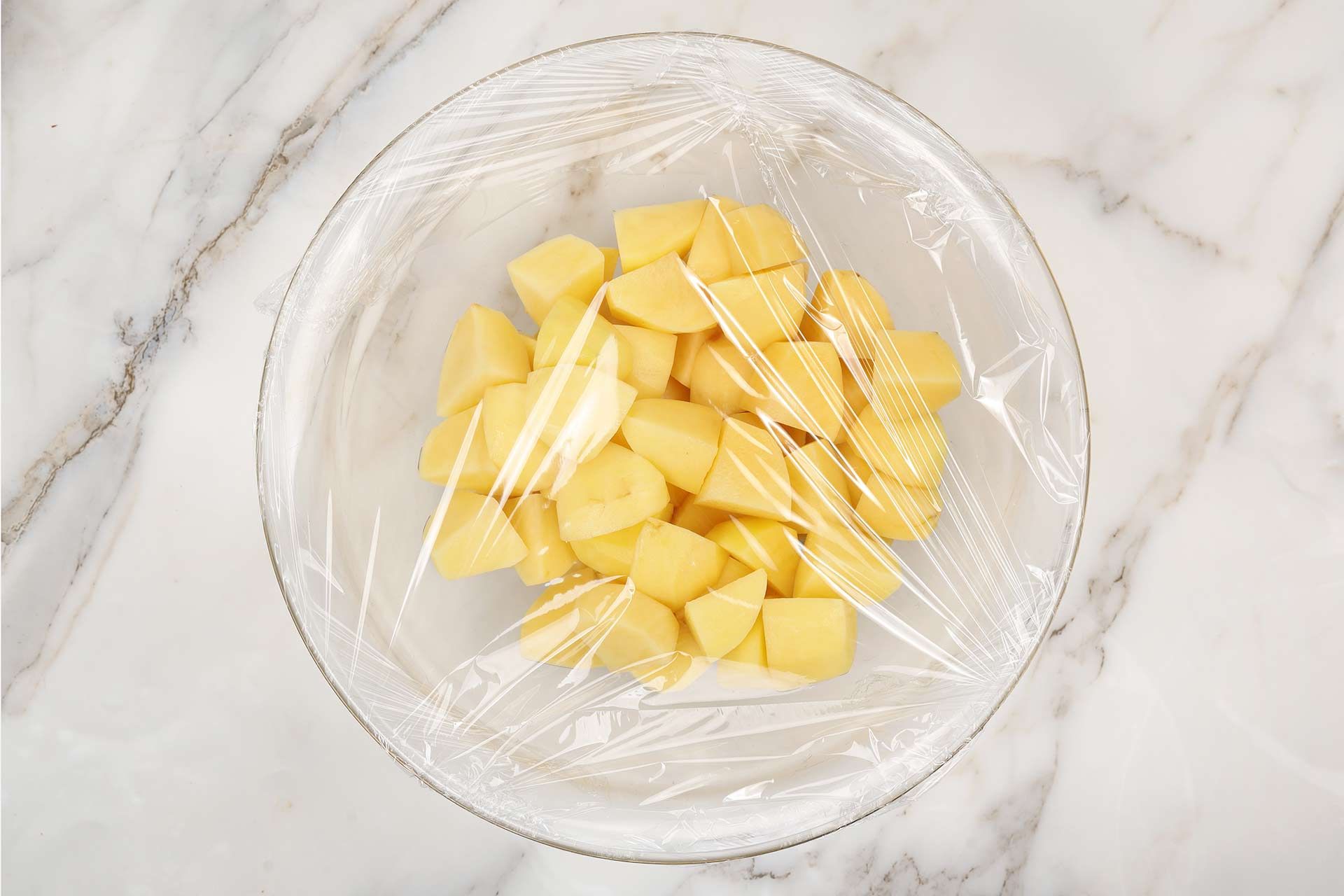 2
Meanwhile, mix the dry seasonings together: 1/2 tbsp Italian seasoning, 1 tsp thyme, 1 tsp Cajun seasoning, 1/2 tsp paprika, 1/2 tsp garlic powder, 1/2 tsp salt, and 1/2 tsp pepper.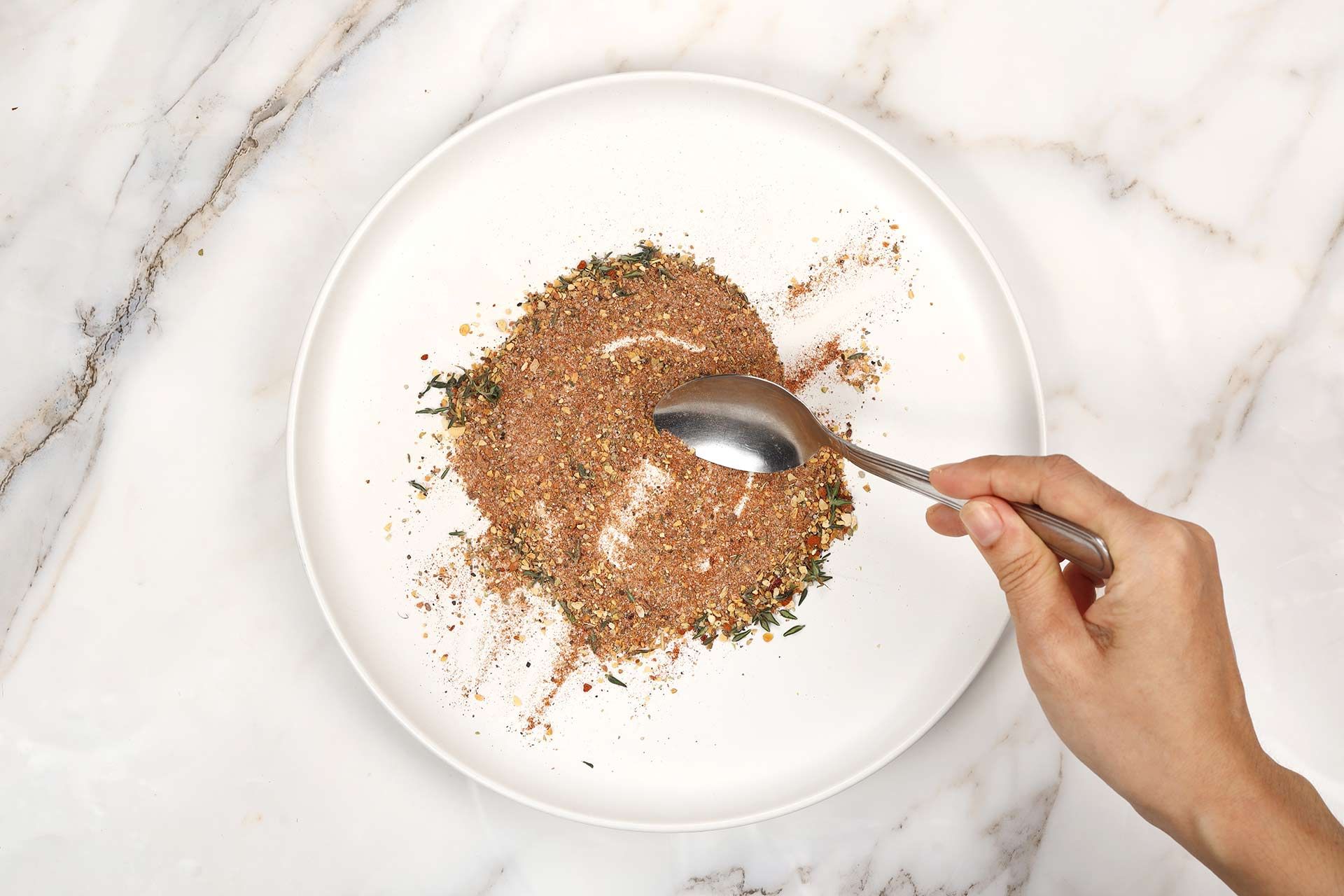 3
Gently rub 26 oz salmon with the seasoning mix, 2 tbsp olive oil, 1 tsp lemon juice. Set aside.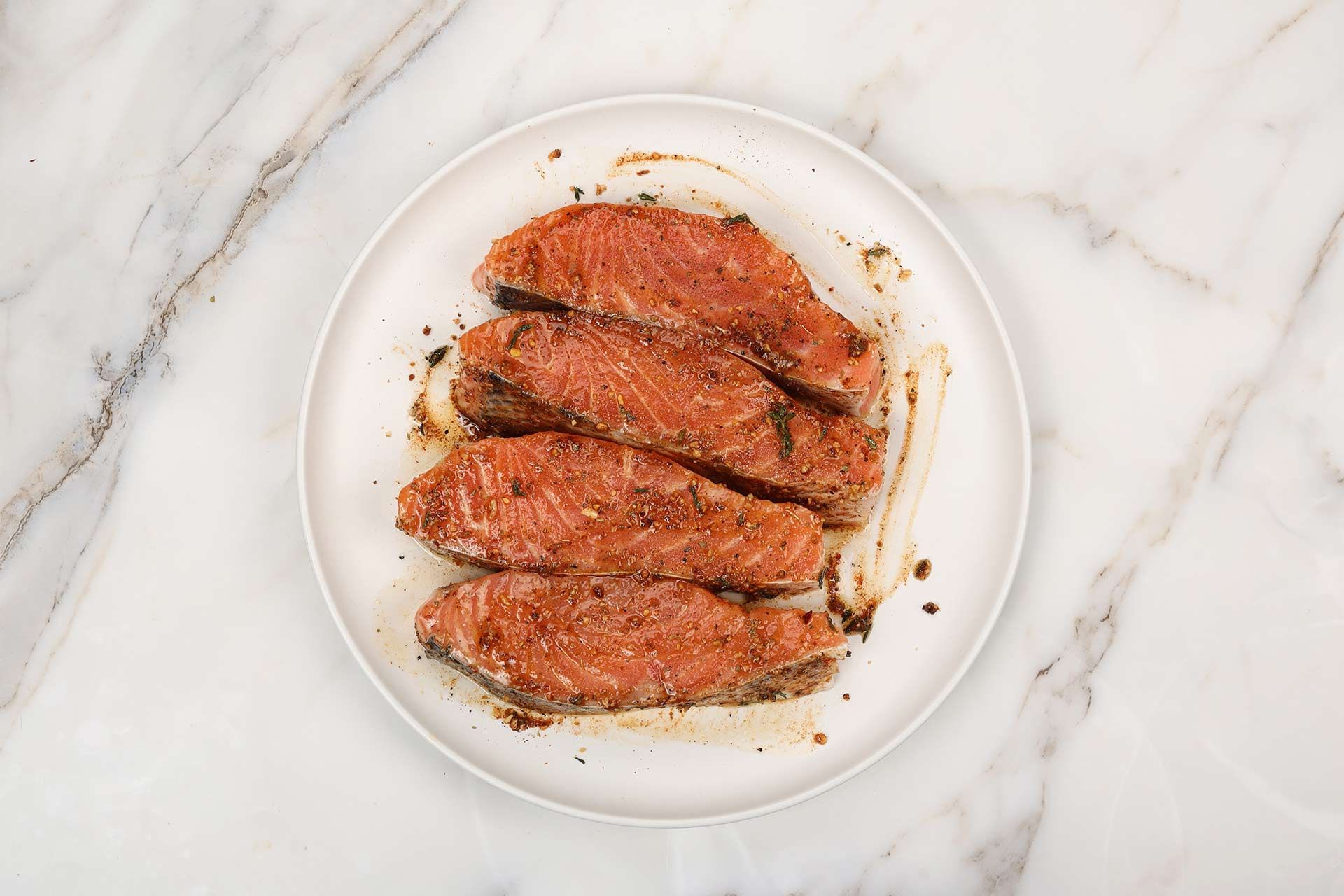 4
When the potatoes are done, gently uncover the wrap, add 12 oz asparagus, 1 tsp dried oregano, and 2 tbsp unsalted butter, and cover it again. Microwave on medium for 3 more minutes.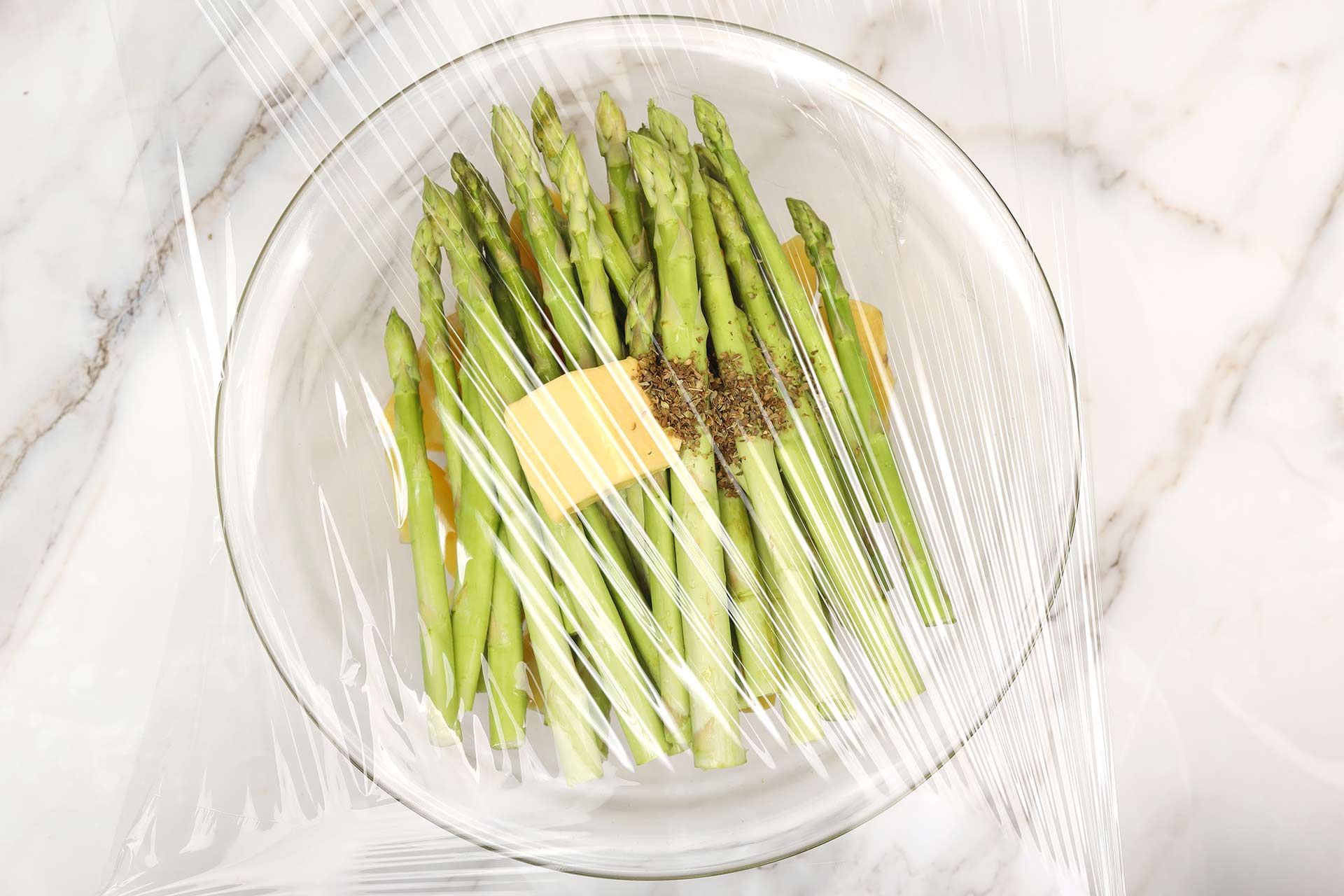 5
Meanwhile, line a baking tray with parchment and arrange the salmon in the middle.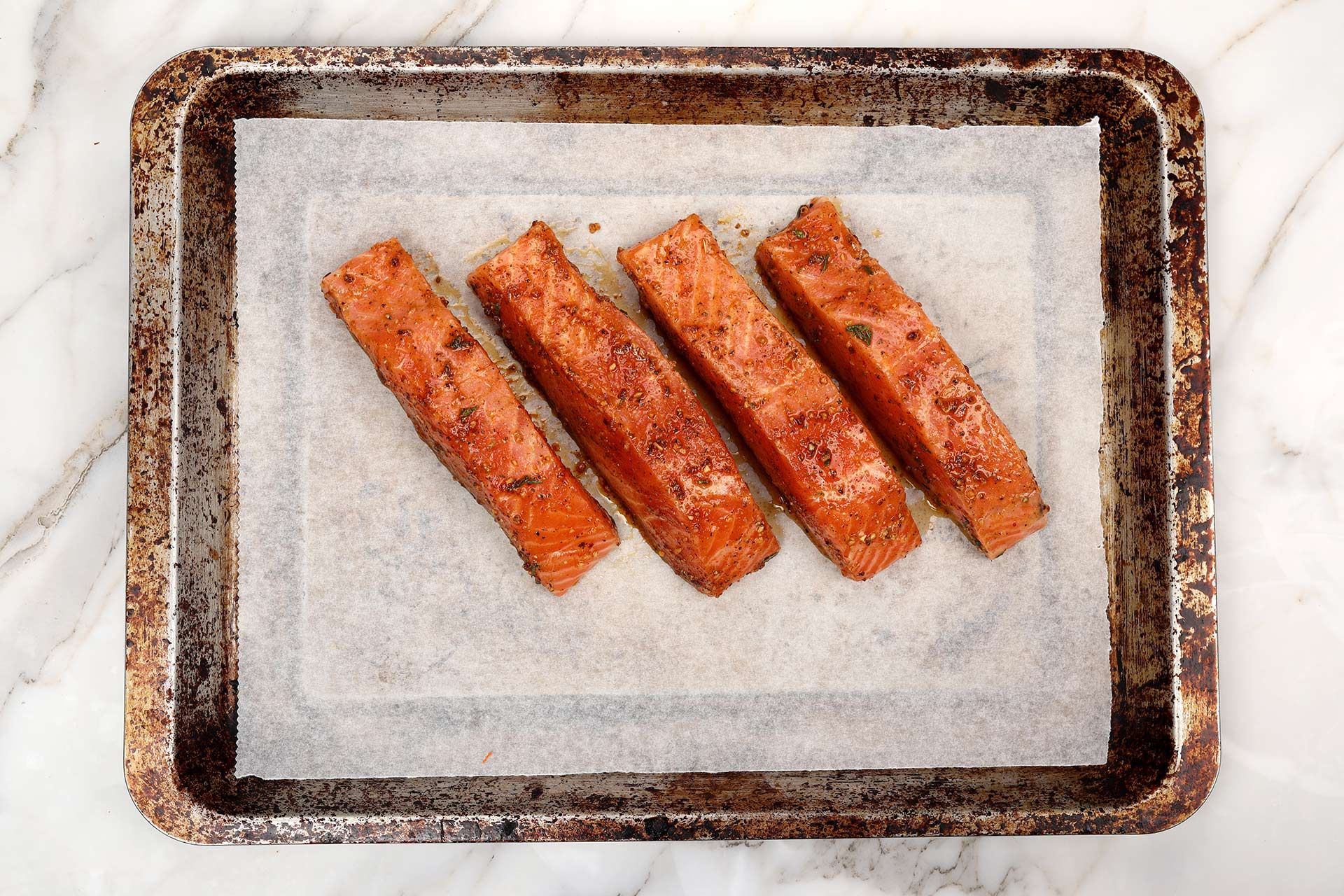 6
When the veggies are done, remove the wrap carefully, give it all a toss, and place them around the salmon like so. Bake in the preheated oven for 15 minutes. You can prepare the sides in the meantime — scroll past this recipe card to reveal their recipes.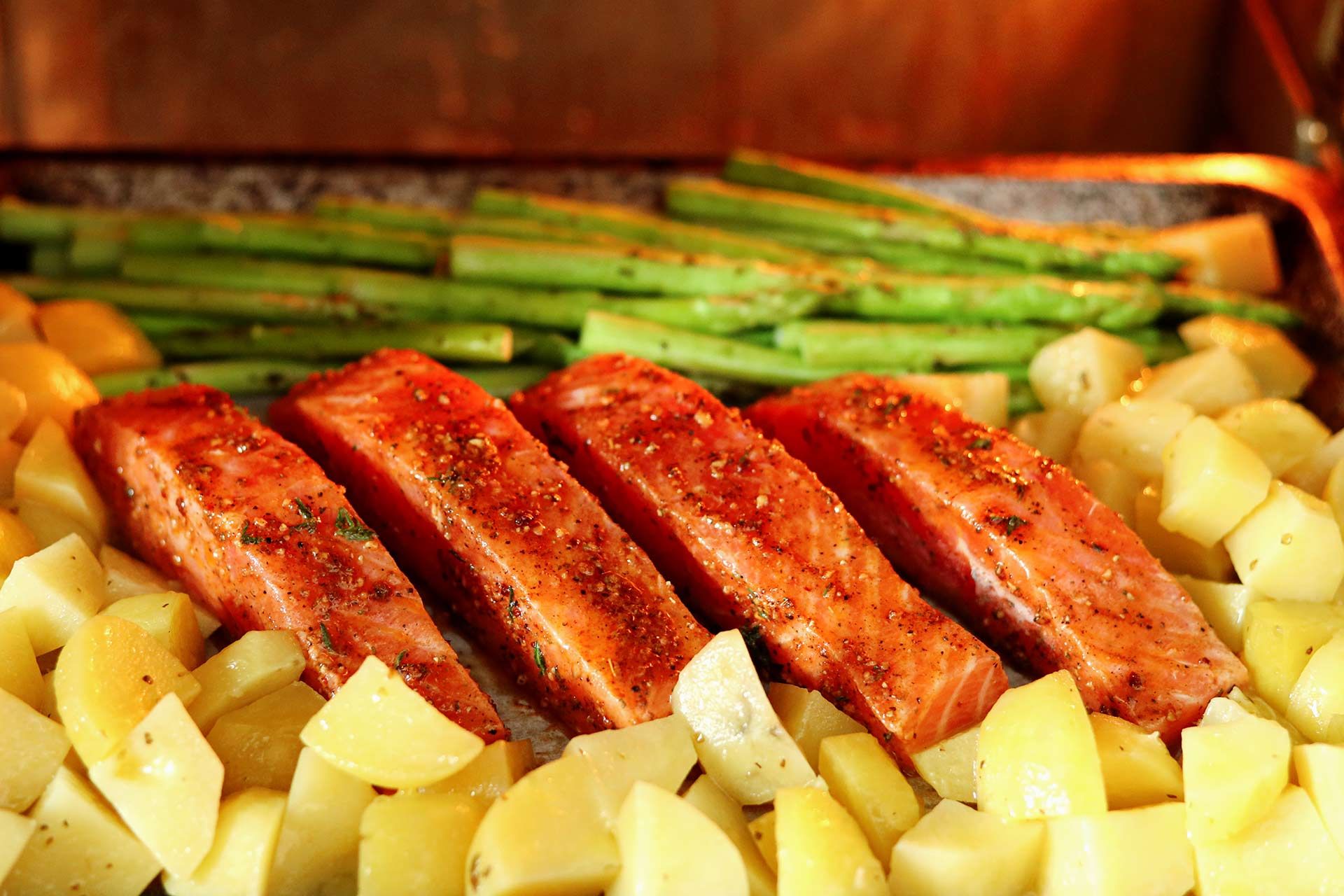 7
Garnish with 2 tbsp parsley on top and serve.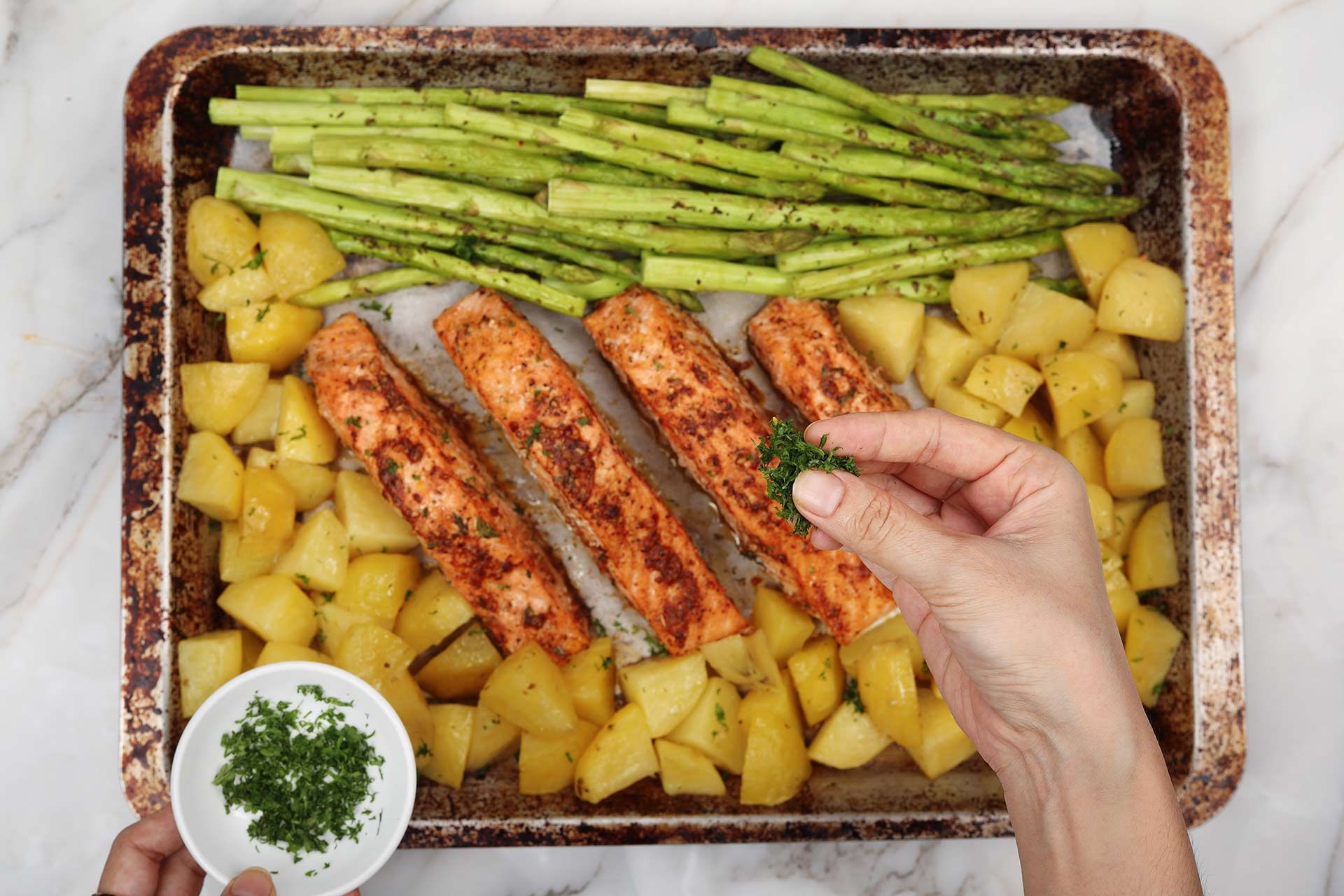 NUTRITION
Nutrition Facts
Oven-Baked Salmon Recipe
Amount Per Serving (1 serving)
Calories 494
Calories from FDA
% Daily Value*
Fat 22g28%
Trans Fat g
Polyunsaturated Fat 3g
Monounsaturated Fat 9g
Cholesterol 110mg37%
Sodium 546mg24%
Potassium 1585mg34%
Carbohydrates 32g12%
Protein 46g92%
Vitamin A 1291IU26%
Vitamin C 24mg27%
Calcium 79mg6%
Iron 4mg22%
* Percent Daily Values are based on a 2000 calorie diet.
Previous Recipe
Salmon Sushi Roll
Salmon Sushi Roll
Next Recipe
Salmon Fried Rice
Salmon Fried Rice
Luna Regina
A writer and entrepreneur, Luna's day doesn't start at the computer keyboard, but in the kitchen.
Half of her working hours are spent on mixing ingredients for her recipes. The other half involve working with the tech team to research and test the tools and appliances that promise to make kitchen work effortless and mess-free. From a kitchen knife or water filter to the Instant Pot, if it can help save time and effort for the home cook, Luna and her team are on it.
Luna's extracurricular pastimes include camping, travel, and photography.