Our salmon soup recipe is simple to make, calls for easy-to-buy ingredients, and makes a meal that's both comforting and healthy. This soup is rich and bursting with flavors thanks to creamy, melt-in-your-mouth chunks of salmon bathed in a flavorful broth with a bunch of vegetables.

Is This Salmon Soup Recipe Healthy?
The short answer is yes, this salmon soup recipe is healthy.
To begin with, salmon is a good source of DHA, an omega-3 fatty acid that can only be absorbed through food. Consuming salmon will benefit your heart, eyes, skin, and cognitive wellness.
Our salmon soup contains 494 calories per serving — around 18-24% of the daily calorie needs of an average adult. It is derived from salmon, dairy, and an abundance of veggies, meaning you get a good balance of protein, vitamins, minerals, and fiber. 
We did have concerns about the sodium and saturated fat content from the milk, cream, and added salt used in the dish. Luckily, we were able to adjust these ingredients such that the soup contains only 8.5 g saturated fat and 590 mg sodium while remaining creamy and tasty.
If you're looking for a healthy soup recipe, try our Miso Soup. It's yet another delectable recipe that takes only 30 minutes to prepare from start to finish!

Ingredients for Salmon Soup
Though salmon soup may taste like a complex, sophisticated recipe, this soup actually gives you a lot of flavor with little effort.
1. Salmon
Convenience is important when it comes to home cooking, so we recommend that you buy salmon filets instead of the whole bone-in type. You can find them easily in the frozen foods section, all packaged and ready to cook by the time you get home.
If you're going for skin-on, bone-in salmon, though, aim for larger options as they take less time to skin and debone. We prefer to cut the fish into 1-inch chunks — they're usually pleasant to chew and present better in the soup.
2. Vegetables
Our soup starts by sautéing chopped onions with butter and olive oil. We cooked this just enough to infuse the soup with a hint of onion. The onion is then incorporated into the soup while simmering, leaving a touch of sweetness.
We then chose hearty veggies such as potatoes, carrots, and celery to make the meal more robust. You can alter this recipe with other things like spinach or even chewy mushrooms if you like.
3. Dairy
When it comes to dairy, you are not required to use the ones we recommend (milk and heavy cream). Experiment with the flavor profile to determine what you prefer. Sometimes plain yogurt or plant-based milk can be great — just be sure it's unsweetened.
4. Herbs
Fresh dill is a fantastic herb, adding a unique aroma to the soup and also functioning as vibrant garnishing. Reduce the amount of fresh dill if it is too intense for you.

How to Make Salmon Soup
Our simple homemade salmon soup recipe will provide you with a hearty dinner for the upcoming fall and winter months. When the salmon is simmered for a long time, it infuses into the delicious broth alongside the robust flavor of potatoes and bright vegetables. This creates a rich, well-balanced dish.
The steps are quite straightforward:
Step 1: Sauté the onions in olive oil and butter.
Step 2: Stir in potatoes, carrots, and celery.
Step 3: Season the veggie mixture.
Step 4: Add the dairy, water, and salmon to the pot. Simmer.
Step 5: Serve hot.
If you prefer the soup chunky, serve it as is. For a smooth and velvety consistency, you can run it through the blender after it cooks.
Tips to Thicken the Soup
To give the salmon soup a creamy and thick consistency, you simply melt the butter, add all-purpose flour, and then combine with your dairy of choice — milk or heavy cream. Cook it over low heat and you'll see the mixture thicken.

How to Store and Reheat Salmon Soup
If you're going to finish your leftovers within the next week, simply refrigerate the soup in an airtight container. Also note that the soup should be allowed to cool completely before transferring it to that storage container. 
If you're storing a large amount of soup for consumption over the course of a month, it's best to freeze it. Divide the soup into separate Ziploc bags and keep frozen until ready to serve. 
To reheat the salmon soup, bring it to a boil just before serving. Alternatively, you can simply reheat the soup for a few minutes in the microwave. While reheating the soup, pause and stir occasionally to prevent it from curdling.

What to Serve With Salmon Soup
Our favorite way to enjoy this creamy salmon soup is with crispy garlic bread. Its toasted, garlicky flavor pairs perfectly with our hearty soup broth. Nothing comforts the spirit like dipping these bread slices in a creamy bowl of salmon soup on cold winter evenings!
While bread is always an obvious choice for this salmon soup, savory scones, muffins, or dampers are also excellent alternatives. 
We rounded off the meal with homemade carrot orange ginger juice, a tangy beverage with warm, floral notes of ginger. The meal combines a whole variety of flavors and textures, making it an excellent dinner to enliven your senses.
Salmon Soup Recipe
This salmon soup recipe is one of our favorites for cold winter days. It's creamy, comforting, and packed with tons of healthy ingredients.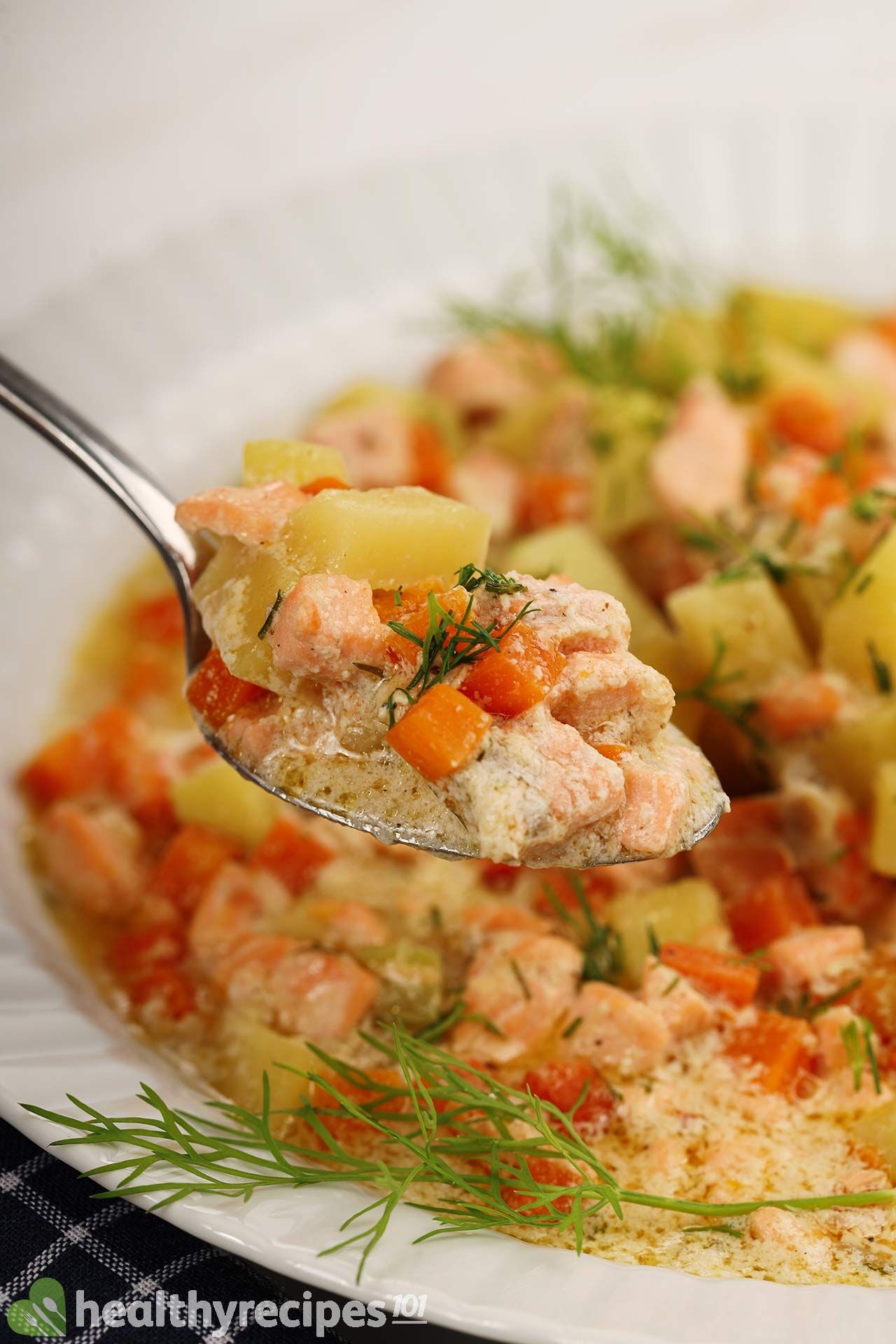 PREP TIME

10 mins

COOK TIME

30 mins

TOTAL TIME

40 mins
COURSE

Main Course

CUISINE

Global

SERVINGS

servings

CALORIES

494 kcal
INGREDIENTS
21 oz

skinless boneless salmon cubed

2 tbsp

olive oil

1.5 tbsp

unsalted butter

2 oz

onion chopped

16 oz

potatoes cubed

10 oz

carrots cubed

2 oz

celery chopped

0.5 tsp

salt

0.5 tsp

black pepper

2.5 tsp

brown gravy mix

2 tbsp

all-purpose flour

1 cup

milk

1.5 cup

water

3 tbsp

heavy cream

2 tbsp

dill minced
INSTRUCTIONS
1
Heat 2 tbsp olive oil in a soup pot over medium heat. Add 1 1/2 tbsp unsalted butter and 2 oz onion and sauté for 2 minutes.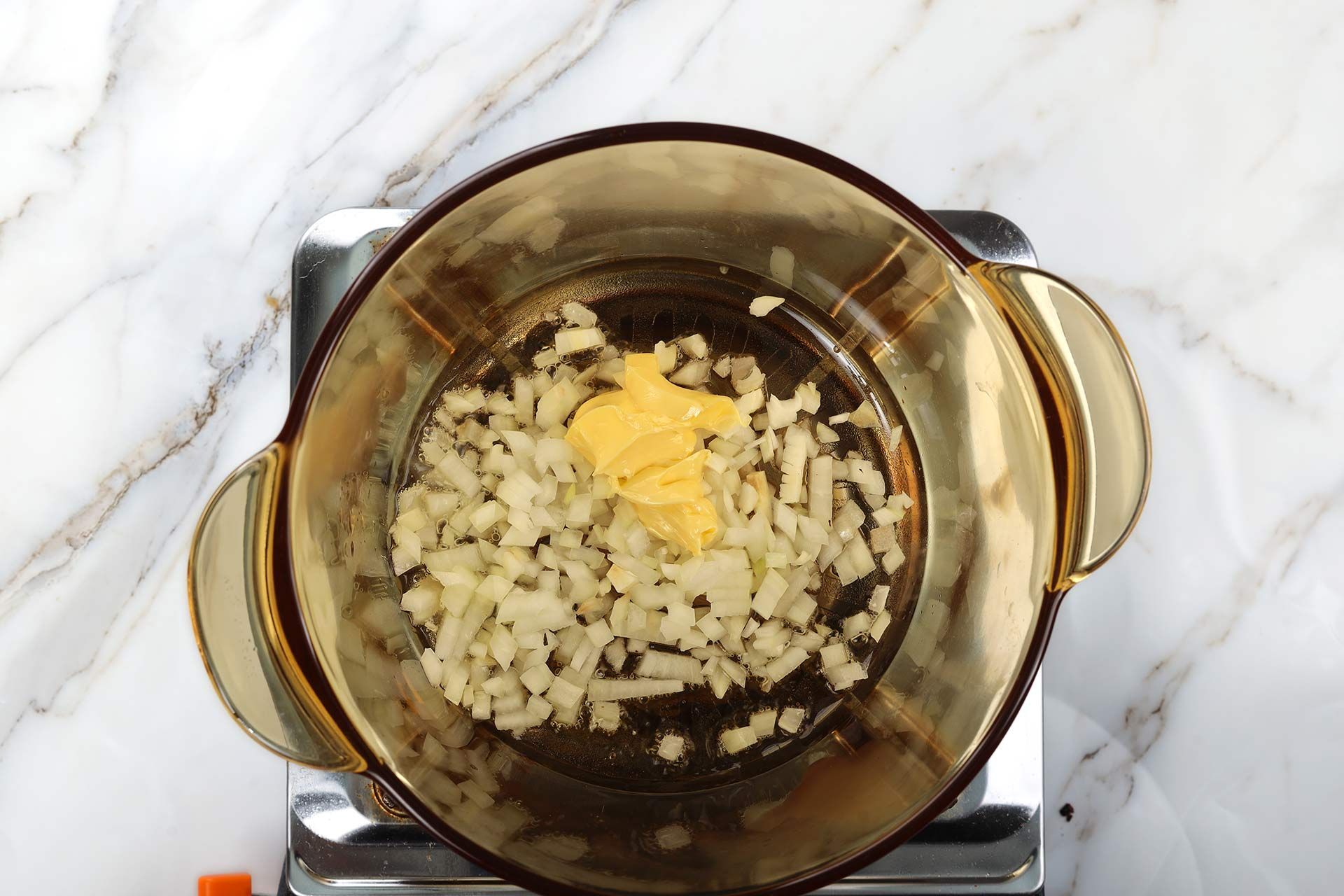 2
Stir in 16 oz potatoes, 10 oz carrots, and 2 oz celery and cook for another 5 minutes.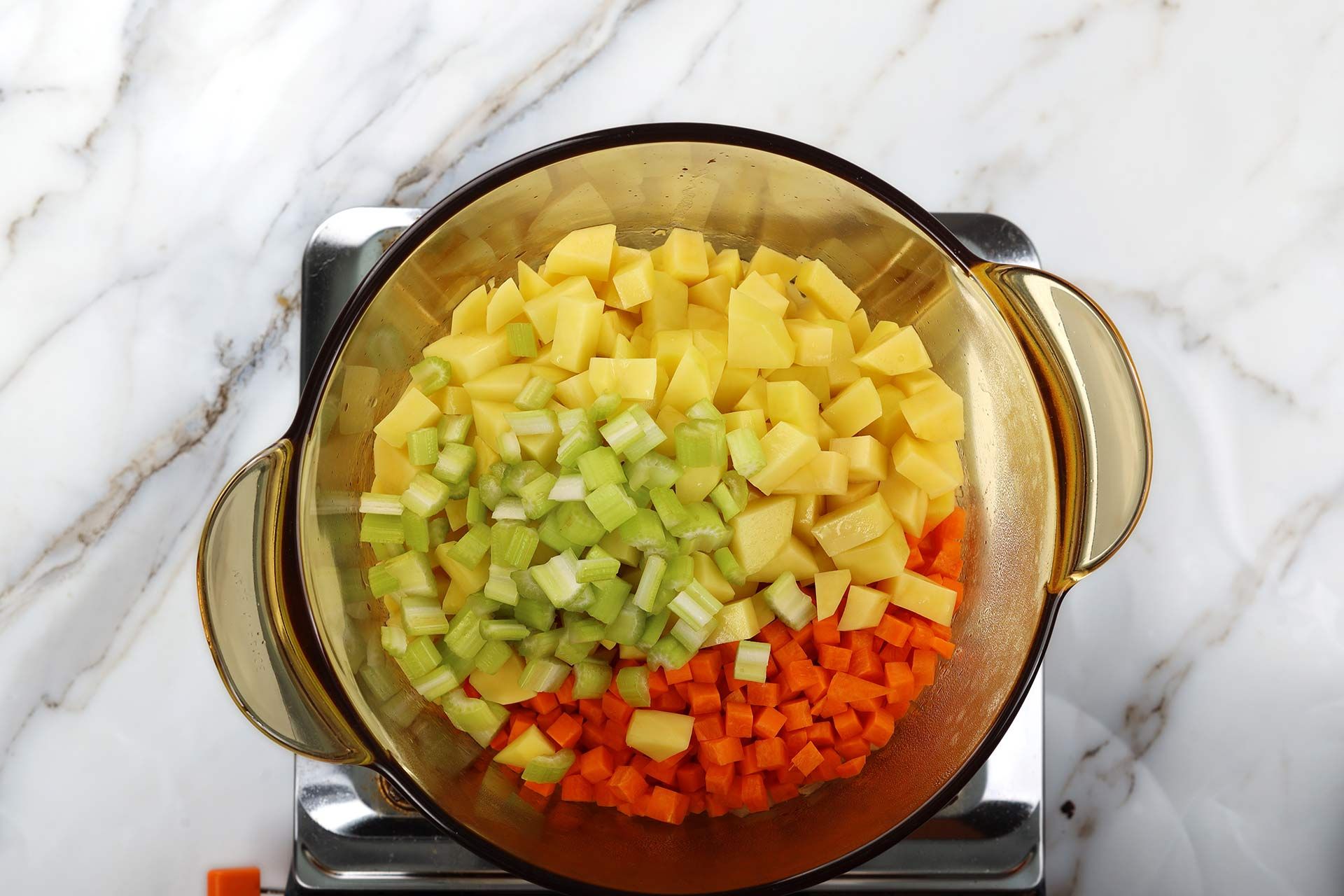 3
Season the vegetable mixture with 1/2 tsp salt, 1/2 tsp black pepper, 2 1/2 tsp gravy mix, and then add 2 tbsp all-purpose flour to thicken. Stir occasionally and continue to cook for 2 minutes.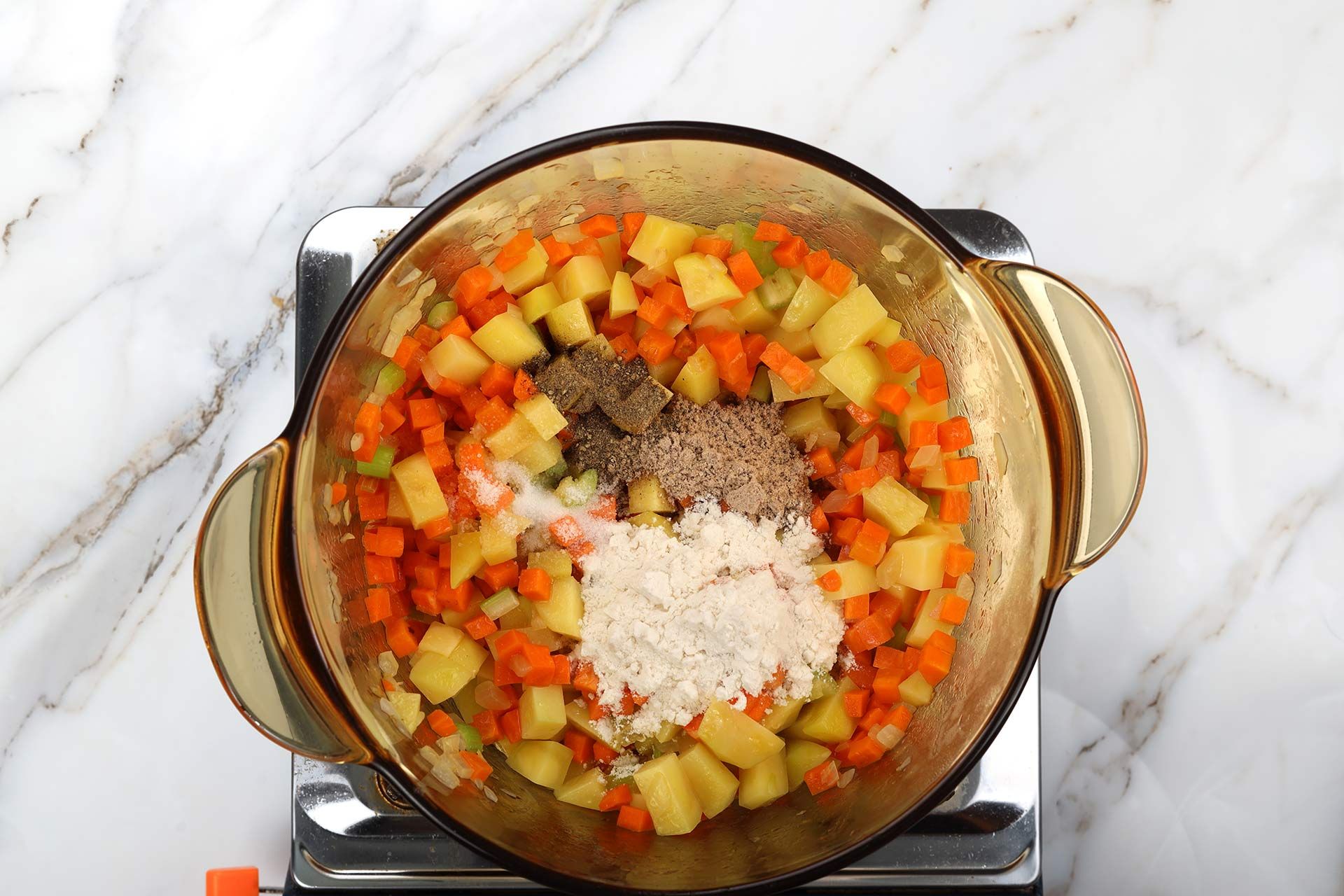 4
Add 1 cup milk, 1 1/2 cup water, 3 tbsp heavy cream, 2 tbsp dill, and 21 oz salmon to the pot and bring the soup to a boil. Then lower the heat to medium-low and simmer the soup for 20 minutes until the potatoes and carrots are tender.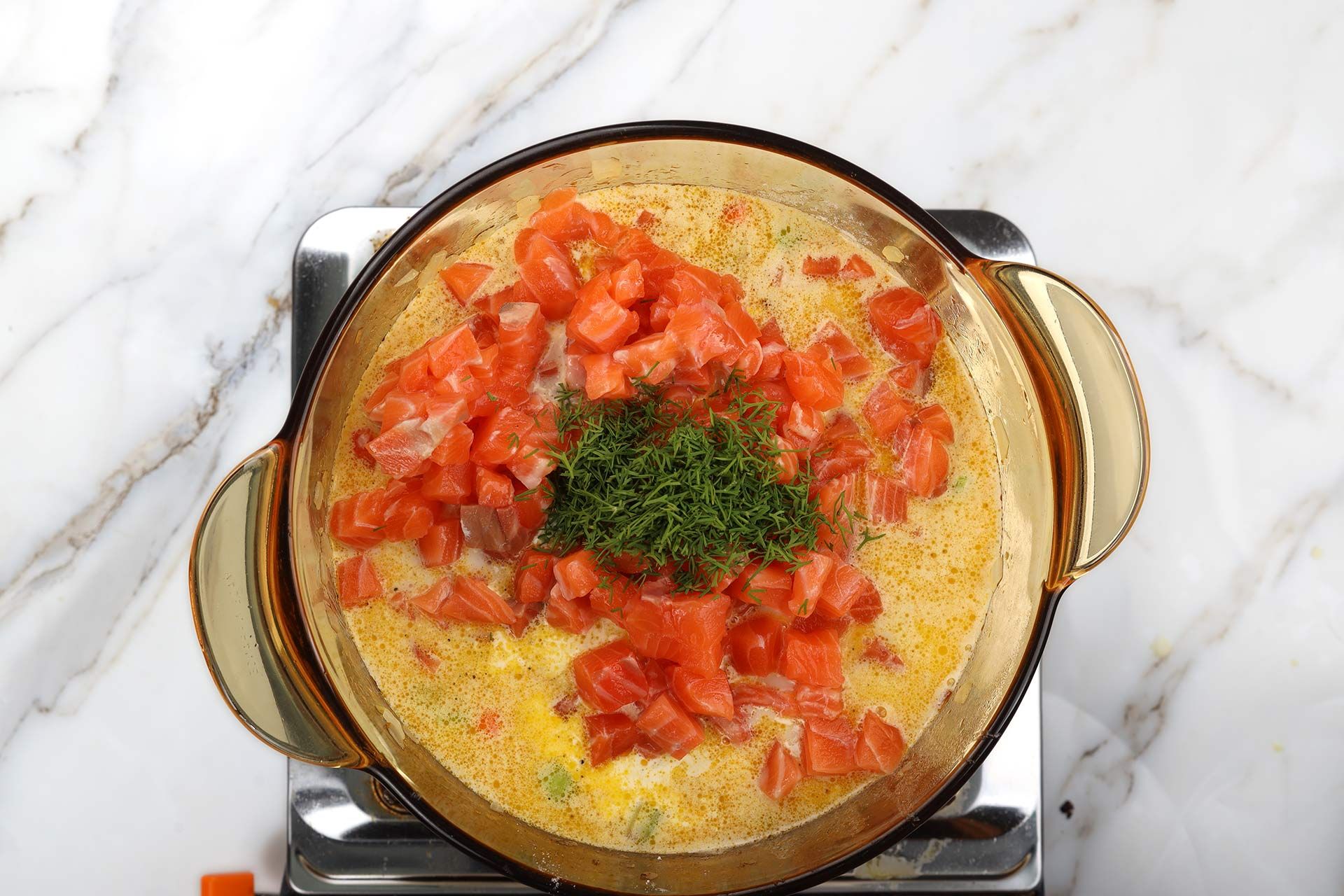 5
Transfer the salmon soup to serving bowls and serve immediately.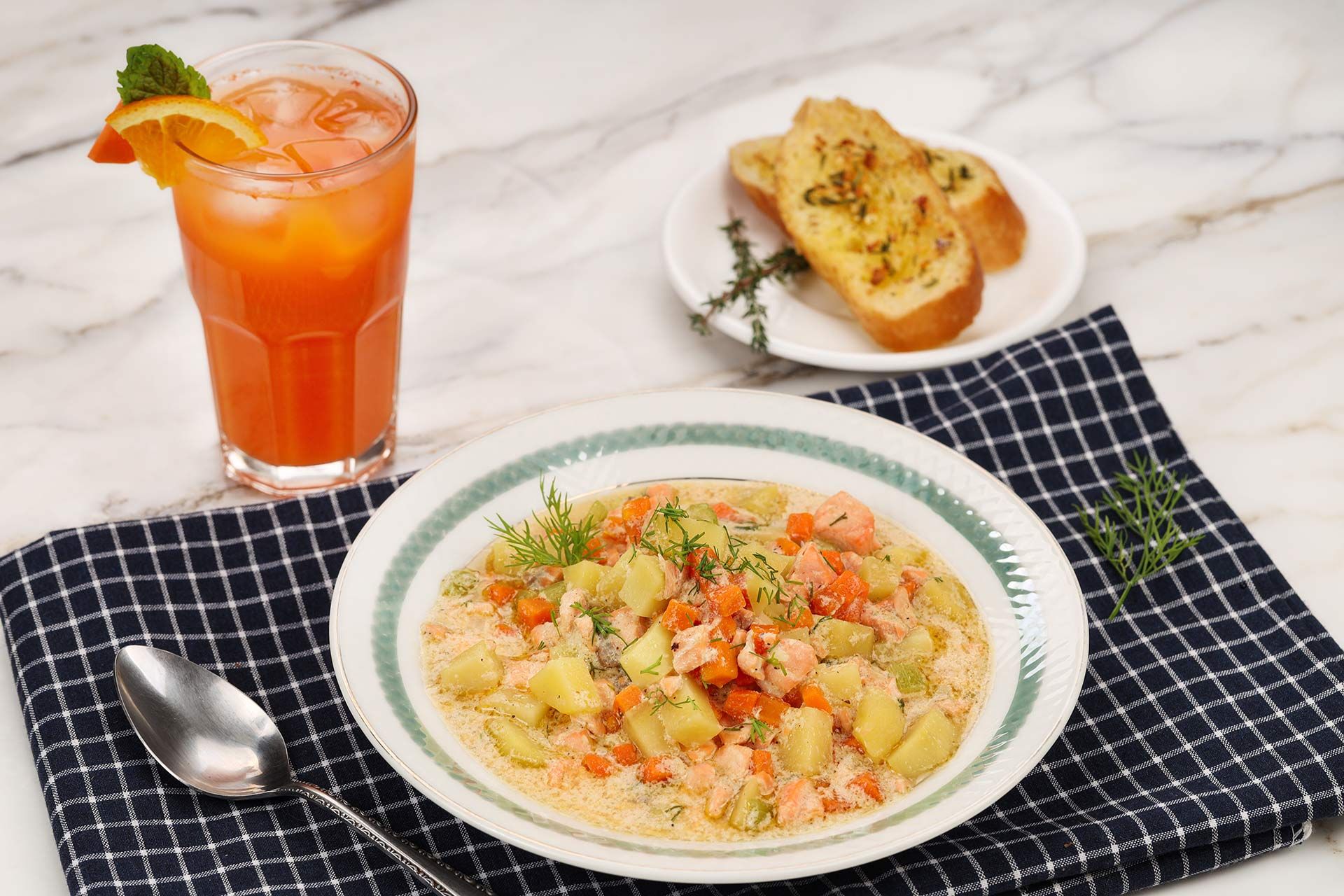 NUTRITION
Nutrition Facts
Salmon Soup Recipe
Amount Per Serving (1 serving)
Calories 494
Calories from FDA
% Daily Value*
Fat 23g29%
Trans Fat g
Polyunsaturated Fat 3g
Monounsaturated Fat 10g
Cholesterol 142mg47%
Sodium 583mg25%
Potassium 1498mg32%
Carbohydrates 34g12%
Protein 36g72%
Vitamin A 12029IU241%
Vitamin C 16mg18%
Calcium 152mg12%
Iron 2mg11%
* Percent Daily Values are based on a 2000 calorie diet.
Previous Recipe
Air Fryer Salmon
Air Fryer Salmon
Next Recipe
Salmon Pasta
Salmon Pasta
Luna Regina
A writer and entrepreneur, Luna's day doesn't start at the computer keyboard, but in the kitchen.
Half of her working hours are spent on mixing ingredients for her recipes. The other half involve working with the tech team to research and test the tools and appliances that promise to make kitchen work effortless and mess-free. From a kitchen knife or water filter to the Instant Pot, if it can help save time and effort for the home cook, Luna and her team are on it.
Luna's extracurricular pastimes include camping, travel, and photography.