Whether you're looking for a tasty appetizer or a satisfying main dish, our bacon wrapped shrimp recipe is a must-try.
The well-seasoned shrimp are wrapped in bacon and baked until golden-brown and bursting with flavor. The bacon is baked to crispy perfection, while the shrimp stay succulent and juicy.
These delectable bites are super simple to prepare ahead of time and ideal for serving as an appetizer at parties or any special occasion.

Is This Bacon Wrapped Shrimp Recipe Healthy?
The short answer is yes, our bacon wrapped shrimp recipe is healthy.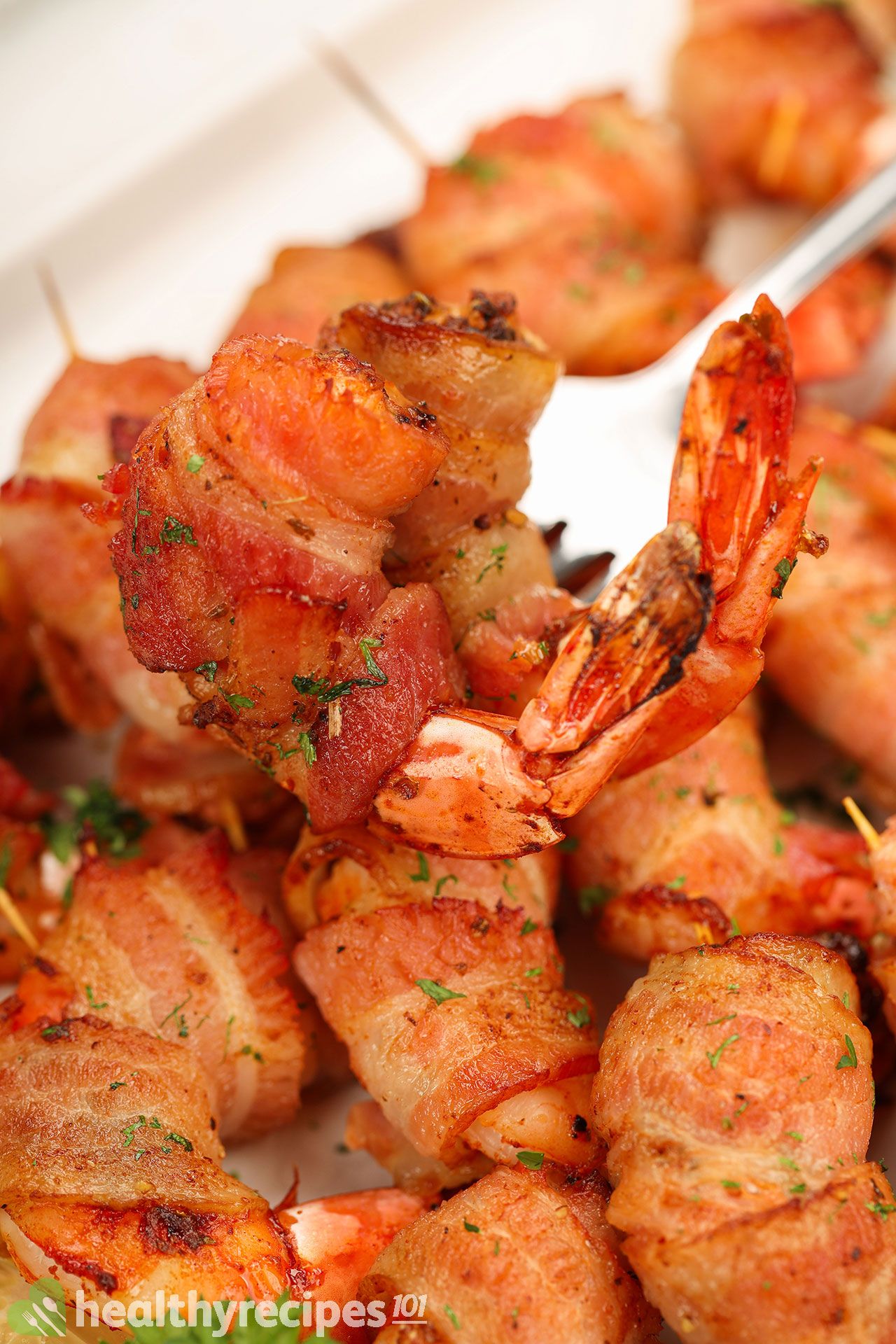 Right off the bat, with shrimp as the main ingredient, our bacon wrapped shrimp is high in DHA, EPA, and other healthy omega-3 fatty acids. Each serving provides around 41 g of protein, which accounts for up to 80% of the USDA's daily recommended requirement. 
Second, due to the extra veggies in the recipe, the dish is also high in fiber, vitamins, and minerals. All of these nutrients are necessary for maintaining physical and mental wellness.
Finally, we try to make this version even healthier by using just the right amount of bacon and olive oil without added salt. This contributes to the low saturated fat and salt content of 9 g and 575 mg, respectively. These are within the USDA's Dietary Guidelines' recommended healthy limits.

Ingredients for Bacon Wrapped Shrimp
When we serve seafood such as shrimp or fish, we love to prepare them simply, using only ingredients that enhance their original flavors.
1. Shrimp
We recommend using large shrimp (16-20 per pound) for this recipe. Jumbo shrimp are succulent and meaty, ensuring that the shrimp are thick enough to allow the bacon to crisp up and that the shrimp are not overcooked.
Additionally, the shrimp give a lovely, light contrast to the bacon's richness while still tasting luscious and juicy when bit into.
2. Bacon
You can get bacon in a range of flavors, from hickory-smoked to maple. Bacon offers a crispy texture and a smokey flavor that balances out the shrimp's sweetness.
The best size is regular cut; thick-cut bacon does not have enough time to crisp up in this recipe. If using thick-cut bacon, precook it part way before wrapping the shrimp.
3.Seasoning
Numerous recipes instruct you to season the shrimp strongly with spices or sauces, but in this recipe, simplicity is best. Shrimp wrapped in bacon needs only easy-to-buy condiments such as olive oil, paprika, lemon juice, pepper, oregano, and Cajun seasoning to be incredibly scrumptious.
Lemon juice is our secret weapon in the marinade as it degrades fibers tenderizing whatever is marinating. The process should only last a few minutes, which is just enough for the flavors to penetrate but not too long for the shrimp to begin breaking down or cooking.
Can I Use Frozen Shrimp in This Recipe?
Yes, you can. A foil-lined baking dish should be ready before you add the frozen shrimp. Then, put the dish under the broiler for about two minutes on each side.

How to Make Bacon Wrapped Shrimp
They're ready in less than 40 minutes, which means you can serve your guests quickly and easily and enjoy their excellent company without being confined to the kitchen. 
Step 1: Season the shrimp with seasoning and spices.
Step 2: Preheat the oven.
Step 3: Wrap the shrimp in bacon using a toothpick to secure.
Step 4: Bake the shrimp.
Step 5: Make the mashed potatoes using the microwave.
Step 6: Microwave the asparagus.
Step 7: Serve the bacon wrapped shrimp with mashed potatoes and asparagus.
For the detailed instructions and ingredient measurements, please refer to the recipe card below.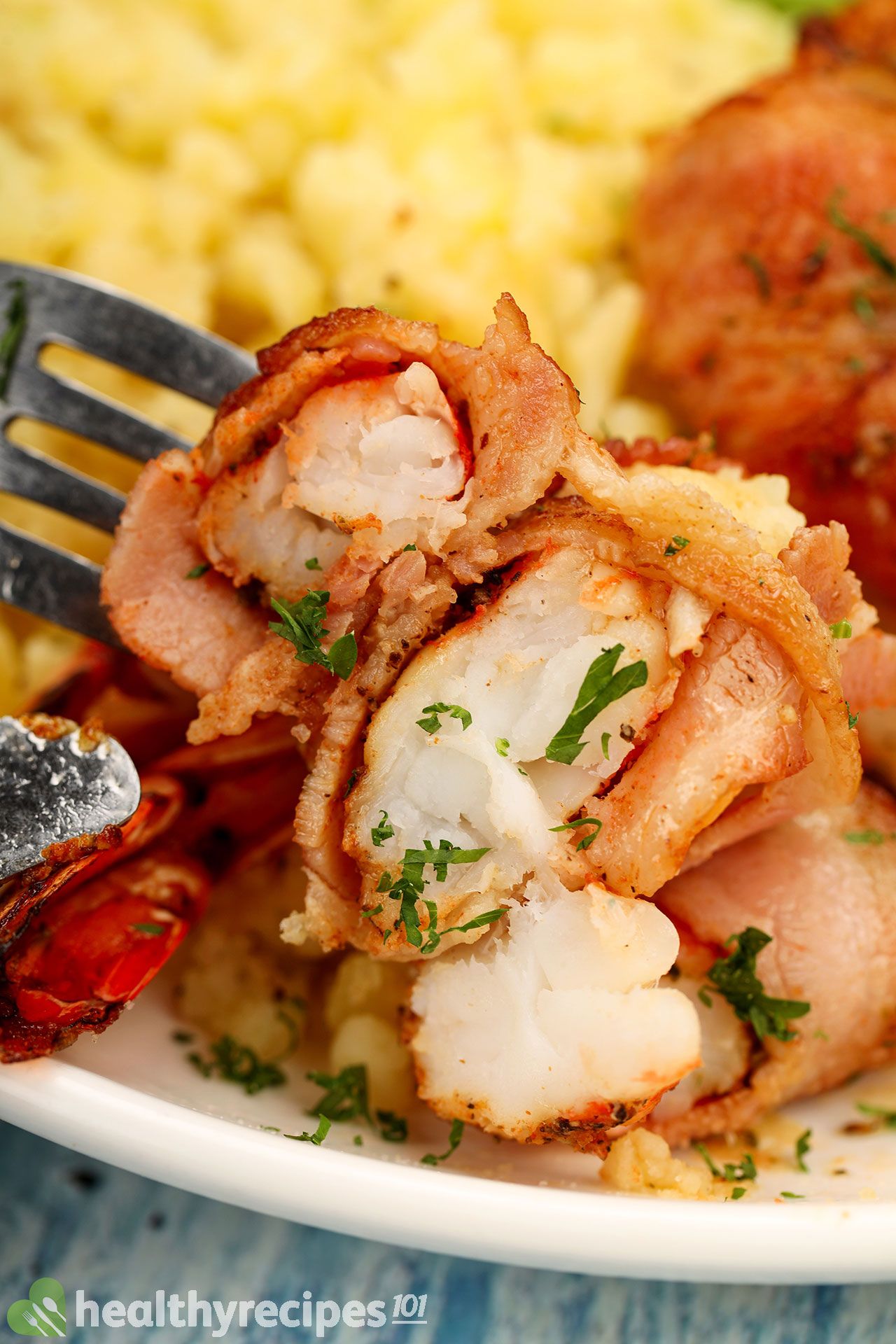 Tips
Place the bacon wrapped shrimp in a single layer in the oven. This allows enough space for the bite-sized shrimp to crisp up and turn brown beautifully. 
This recipe can be done in the oven, but shrimp all wrapped up in a slice of bacon are also delicious grilled, and besides that - it's perfect for the air fryer.
Store and Reheat Bacon Wrapped Shrimp
Once prepared, it's best to store the bacon wrapped shrimp in a sealed container and place them in the refrigerator for 2 - 3 days. To maximize the shelf life of the dish, you can freeze the shrimp in Ziploc bags and defrost them as needed.
To reheat, wrap the shrimp with aluminum foil or bake them in a covered pan at 300℉ for a few minutes until heated through. You may stir halfway through if desired.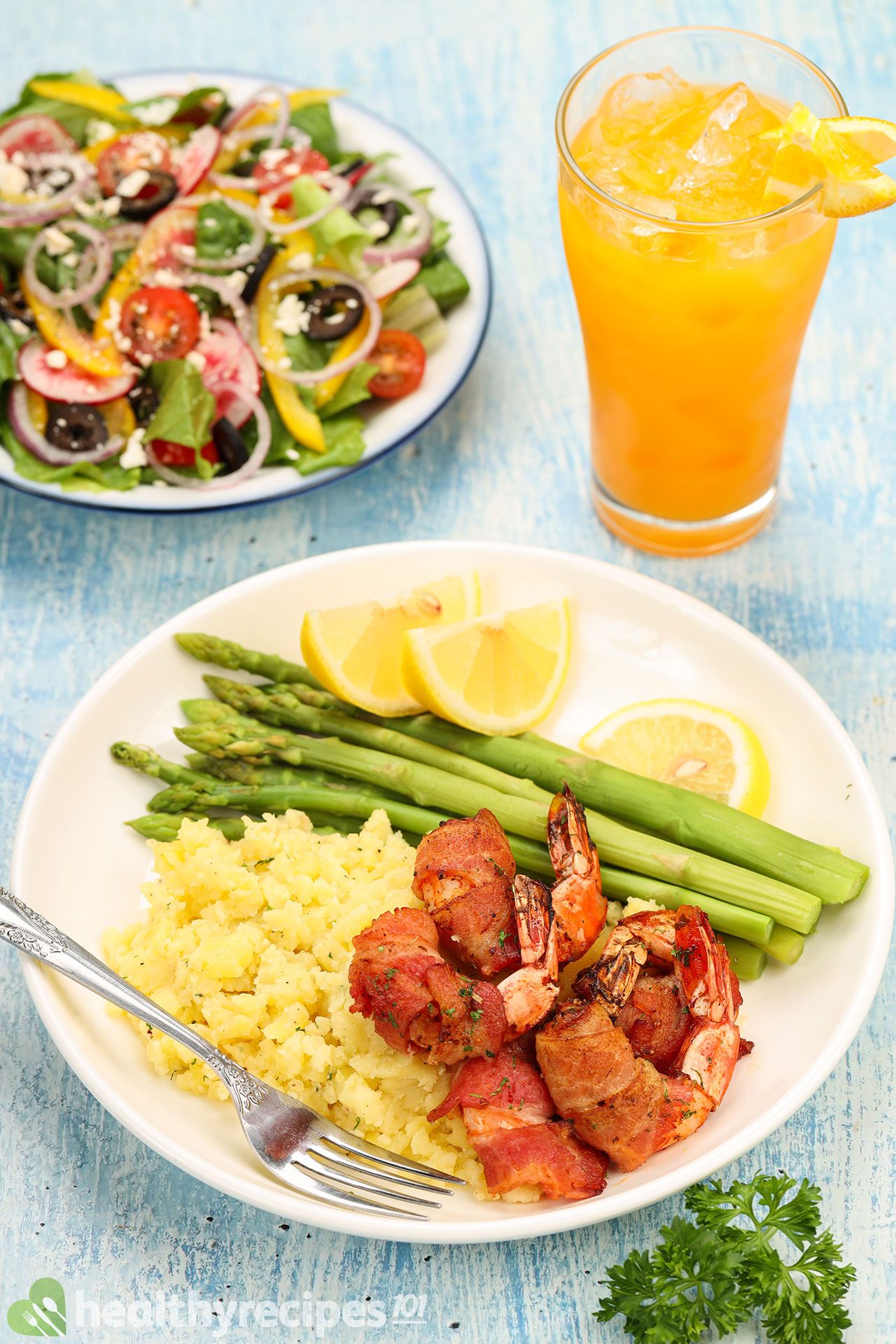 What to Serve With Bacon Wrapped Shrimp
Bacon-wrapped shrimp are prepared by wrapping plump marinated shrimp in smoky, salty bacon and baking until lusciously juicy on the inside and wonderfully crisp on the outside. We serve the dish as part of a main dish with mashed potatoes and vegetables.
To perfectly balance out the palate, we suggest having the shrimp with a Greek salad and a simple orange juice. These dishes can be made for any type of occasion, and they're full of vibrant and fresh ingredients that are sure to impress even the pickiest eaters.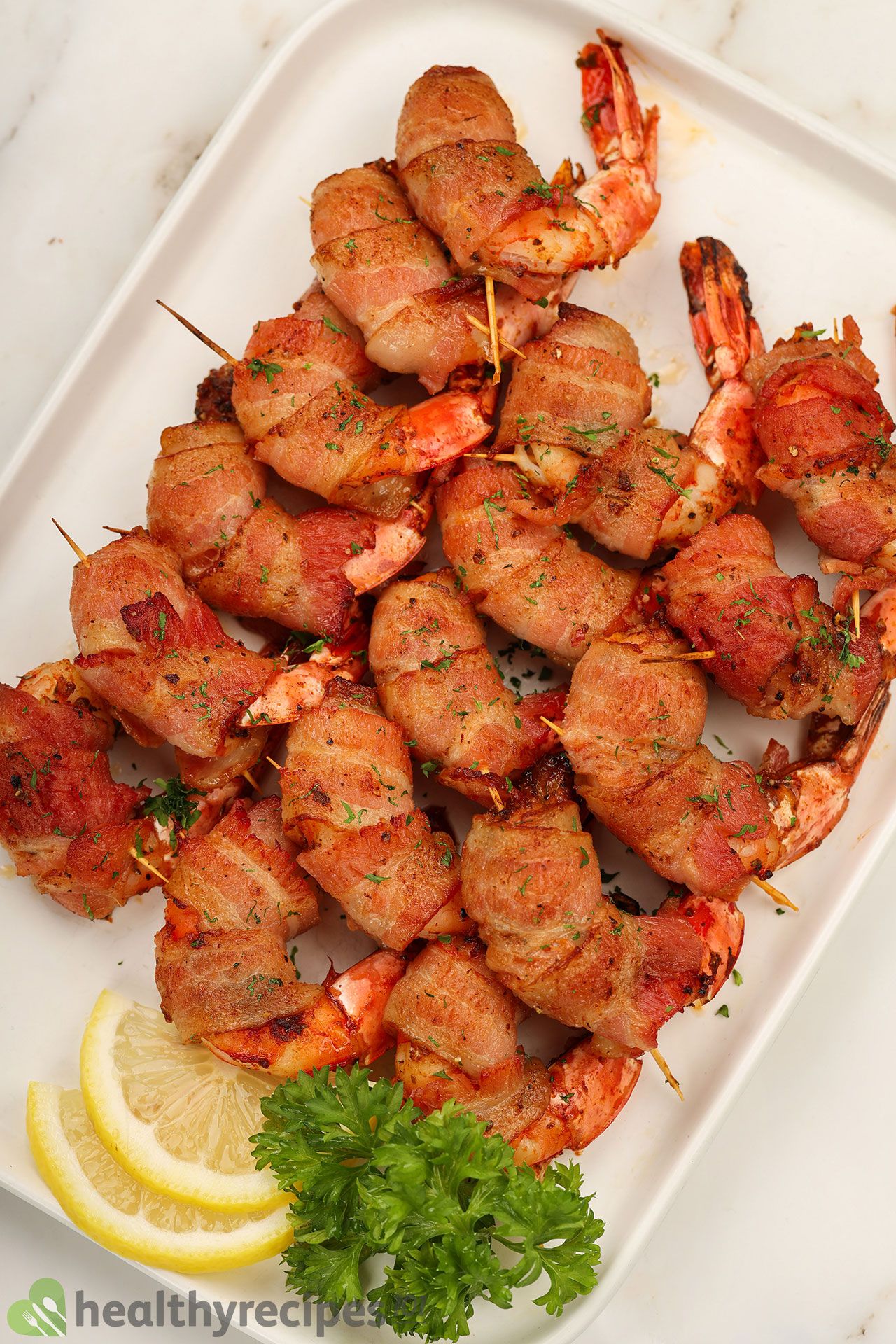 Previous Recipe
Shrimp Tacos
Shrimp Tacos
Next Recipe
Shrimp Risotto
Shrimp Risotto
Luna Regina
A writer and entrepreneur, Luna's day doesn't start at the computer keyboard, but in the kitchen.
Half of her working hours are spent on mixing ingredients for her recipes. The other half involve working with the tech team to research and test the tools and appliances that promise to make kitchen work effortless and mess-free. From a kitchen knife or water filter to the Instant Pot, if it can help save time and effort for the home cook, Luna and her team are on it.
Luna's extracurricular pastimes include camping, travel, and photography.