Today's shrimp quesadilla recipe combines tender shrimp and melty cheese inside a crispy tortilla for a hearty Mexican-style dish that's ready in less than 20 minutes. Let's dive in!

Are Shrimp Quesadillas Healthy?
Our shrimp quesadillas are relatively healthy. Here's why: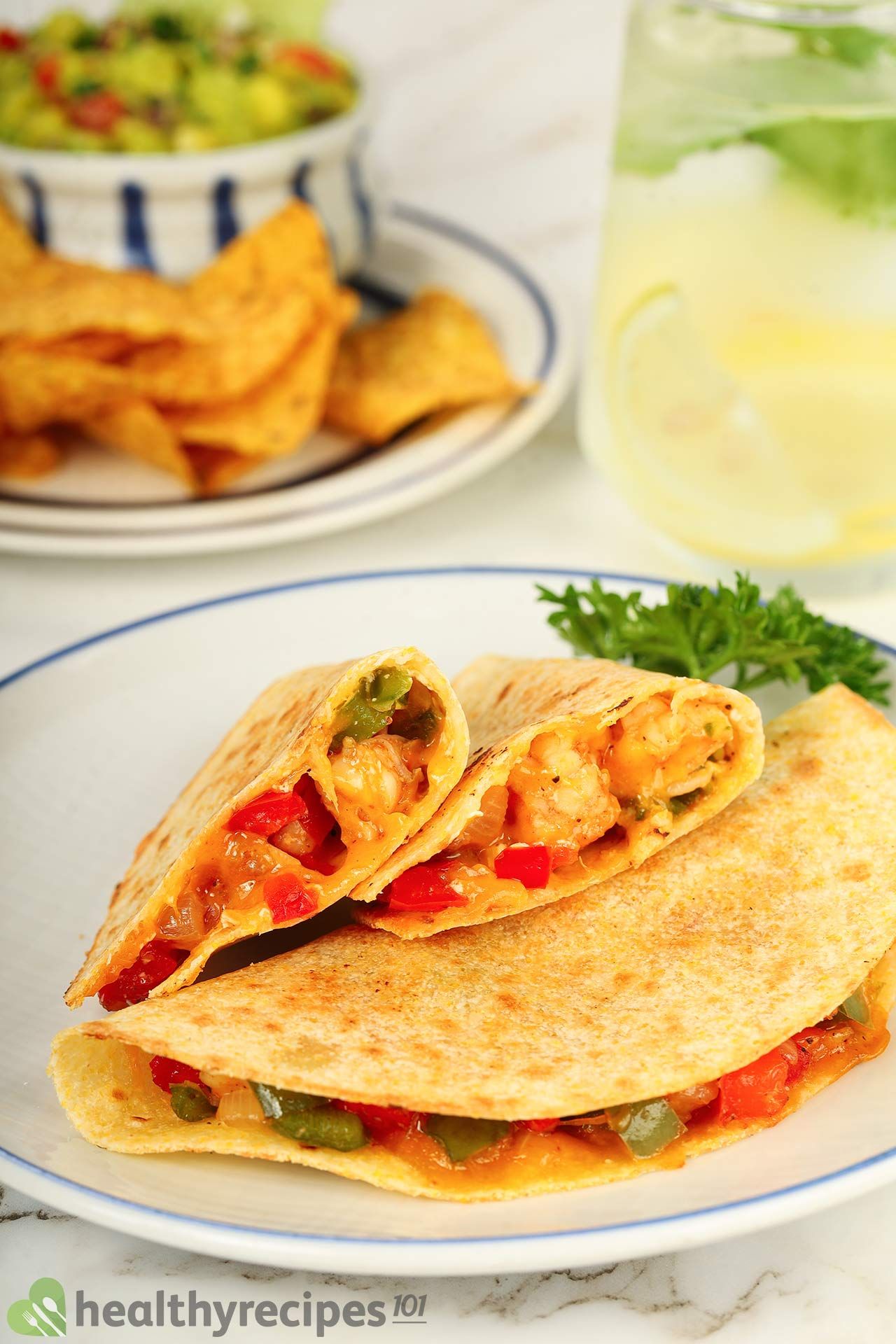 Firstly, one serving contains 44.3 g of protein, a remarkable amount. This is thanks to the presence of shrimp and Greek yogurt, as both foods are a great source of protein.
If you are concerned about the high cholesterol content of shrimp, we've been researching. It turns out that it's actually the saturated fats we consume that raise the cholesterol level in your blood, not the cholesterol in your food. 
Secondly, because we include bell peppers, our dish is extremely rich in vitamin C. Each serving provides you with 91% of your recommended daily vitamin C intake. 
As for the unsaturated fats, we have carefully moderated them to stay at a reasonable amount, just 6.8 grams. Just remember not to add way too much cheese, as it will add significantly more fat.

Ingredients for Shrimp Quesadillas
1. For the Filling
Shrimp: Juicy plump shrimp are an awesome source of protein and a delicious addition to the classic quesadilla, bringing along the briny flavor of the ocean to awaken your taste buds.
Bell peppers: The mild flavor and crunchy texture of bell peppers work beautifully in our quesadilla filling. While red bell peppers are sweeter in taste, green bell peppers are grassy and slightly bitter. Together, they increase the range of flavor and add color to make the dish more visually appealing.
Onion: Onion adds more flavor and aroma to our mix. You can leave this out if you don't quite like the taste of onions or stir fry them for longer for a richer, sweeter taste.
Cheddar cheese: Cheddar cheese is loved for its uniquely sharp and tangy taste. When heated, the cheese melts inside the quesadilla, binding the shrimp and other ingredients into a delicious cheesy mix. You can use other types of cheese and we have some suggestions below.
Seasoning: We use cold-pressed, extra virgin olive oil to cook the shrimp filling and then season it with salt, garlic, pepper, and paprika.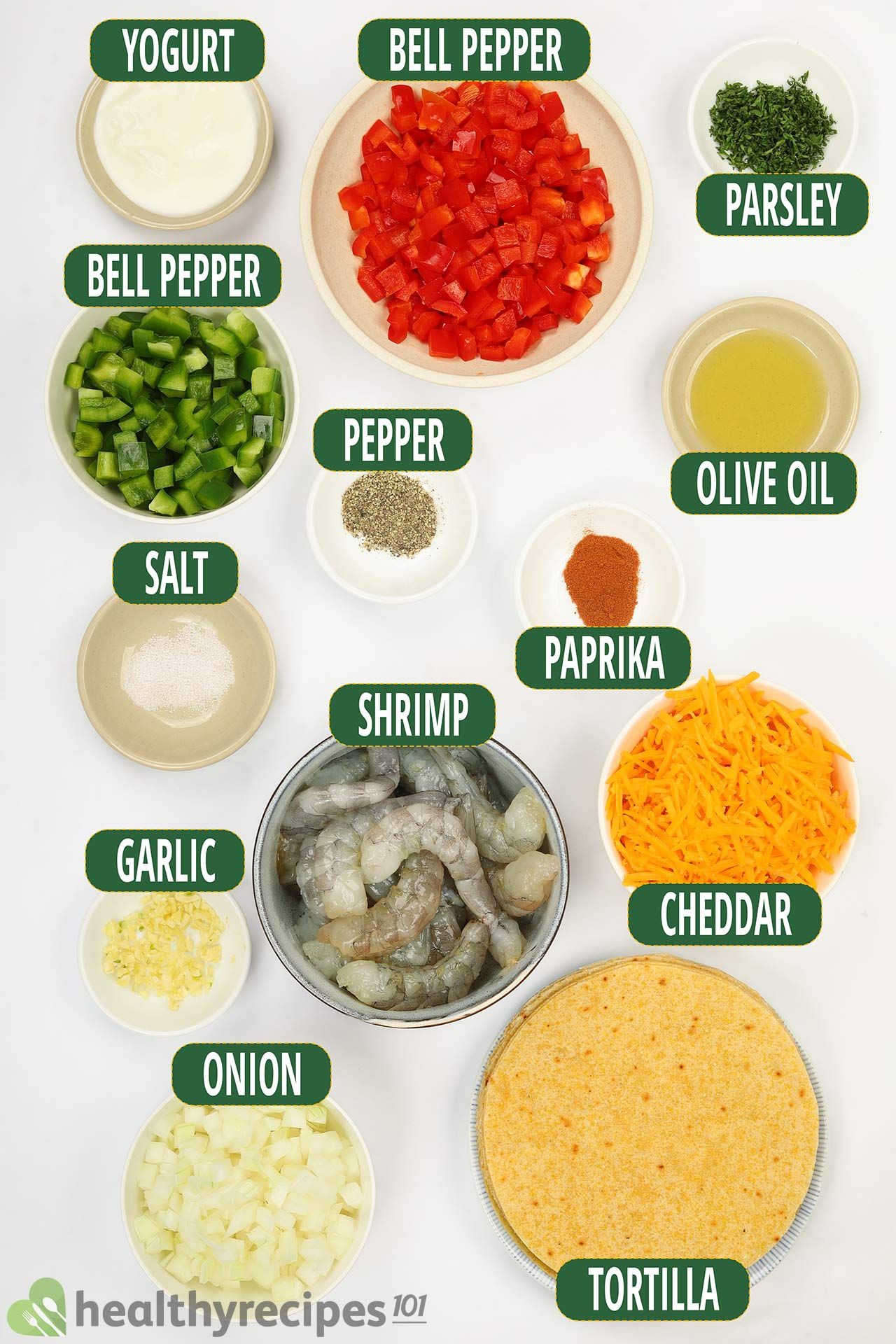 2. For the Tortillas
For this shrimp quesadilla recipe, we use corn tortillas, which are the most popular type in Mexican cuisine.
They have a thin and coarse texture with a slightly sweet taste and a lovely corn fragrance. When cooked, they offer a nice crispiness and pair perfectly with our cheesy shrimp filling.
What Kind of Cheese Is Best for Quesadillas?
There are a variety of choices when it comes to what cheese to use for quesadillas.
In the end, it all comes down to your preferred taste and texture, but here are some excellent cheese options that you can choose from:
Mozzarella cheese: Mozzarella is mild in flavor and has an amazing stretchiness when heated, which makes it a perfect choice for quesadillas.
Cheddar cheese: Cheddar cheese is usually known for its sharp, salty, and tangy taste. However, for quesadillas, most people prefer medium cheddar cheese for a milder and creamier flavor.
Monterey Jack cheese: Monterey Jack is another wonderful choice, thanks to its mild and buttery taste. When melted, Monterey Jack has a gooey texture that complements the other ingredients.
Oaxaca cheese: This cheese is loved for its milky and mellow flavor with a tangy note and a slight hint of saltiness. 
Gouda cheese: Gouda cheese is creamy and buttery with a sweet, butterscotch taste. Having this cheese in your quesadilla is simply delicious.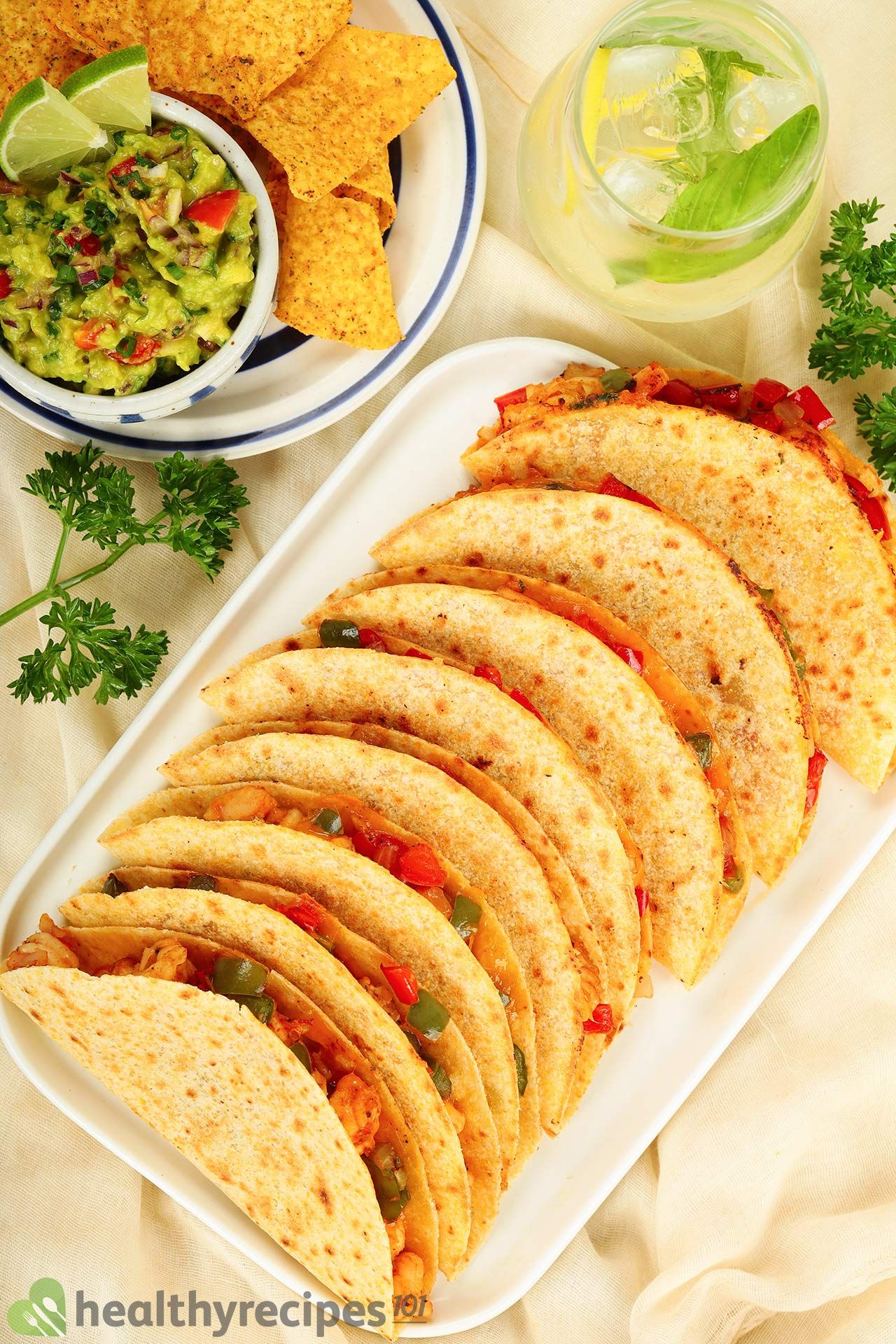 How to Make Shrimp Quesadillas
It's time to whip up some shrimp quesadillas with these easy steps. You can also check our detailed instructions at the end of the article.
Chop up the shrimp (already peeled and deveined).
Make the filling.
Make a quesadilla.
Repeat with the remaining tortillas and filling.
Plate up and garnish with parsley, then serve.

What to Serve With Shrimp Quesadillas
Here are our recommended dishes to serve alongside these shrimp quesadillas for a more rounded eating experience: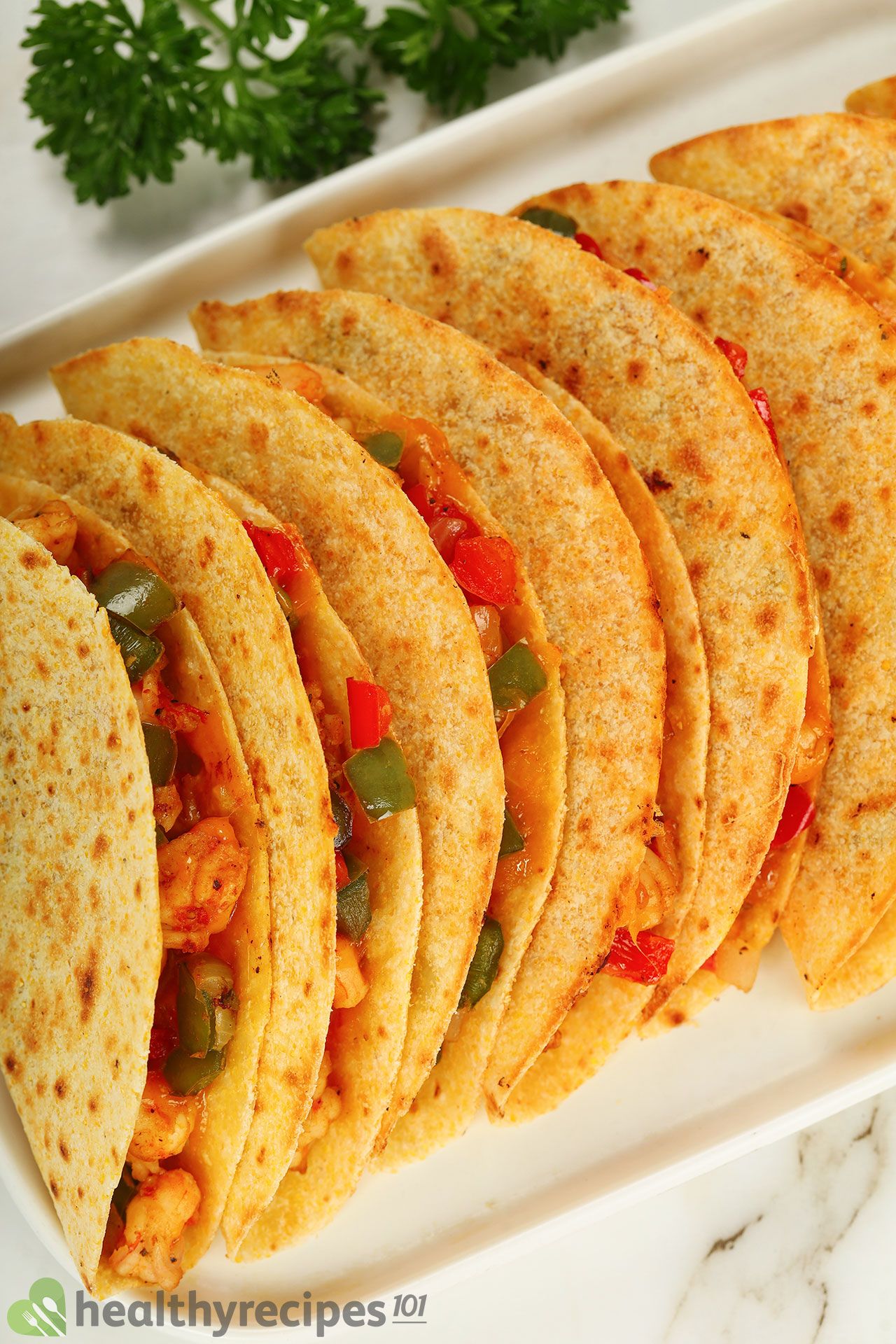 Previous Recipe
Jerk Shrimp
Jerk Shrimp
Next Recipe
Shrimp Curry
Shrimp Curry
Luna Regina
A writer and entrepreneur, Luna's day doesn't start at the computer keyboard, but in the kitchen.
Half of her working hours are spent on mixing ingredients for her recipes. The other half involve working with the tech team to research and test the tools and appliances that promise to make kitchen work effortless and mess-free. From a kitchen knife or water filter to the Instant Pot, if it can help save time and effort for the home cook, Luna and her team are on it.
Luna's extracurricular pastimes include camping, travel, and photography.