In today's shrimp curry recipe, the shrimp are lightly cooked before being simmered in a creamy Thai coconut sauce infused with fresh herbs and spices.
It's packed with big and bold flavors, and that special Thai fragrance. A brilliant way to warm both the heart and the belly!
What Is Shrimp Curry?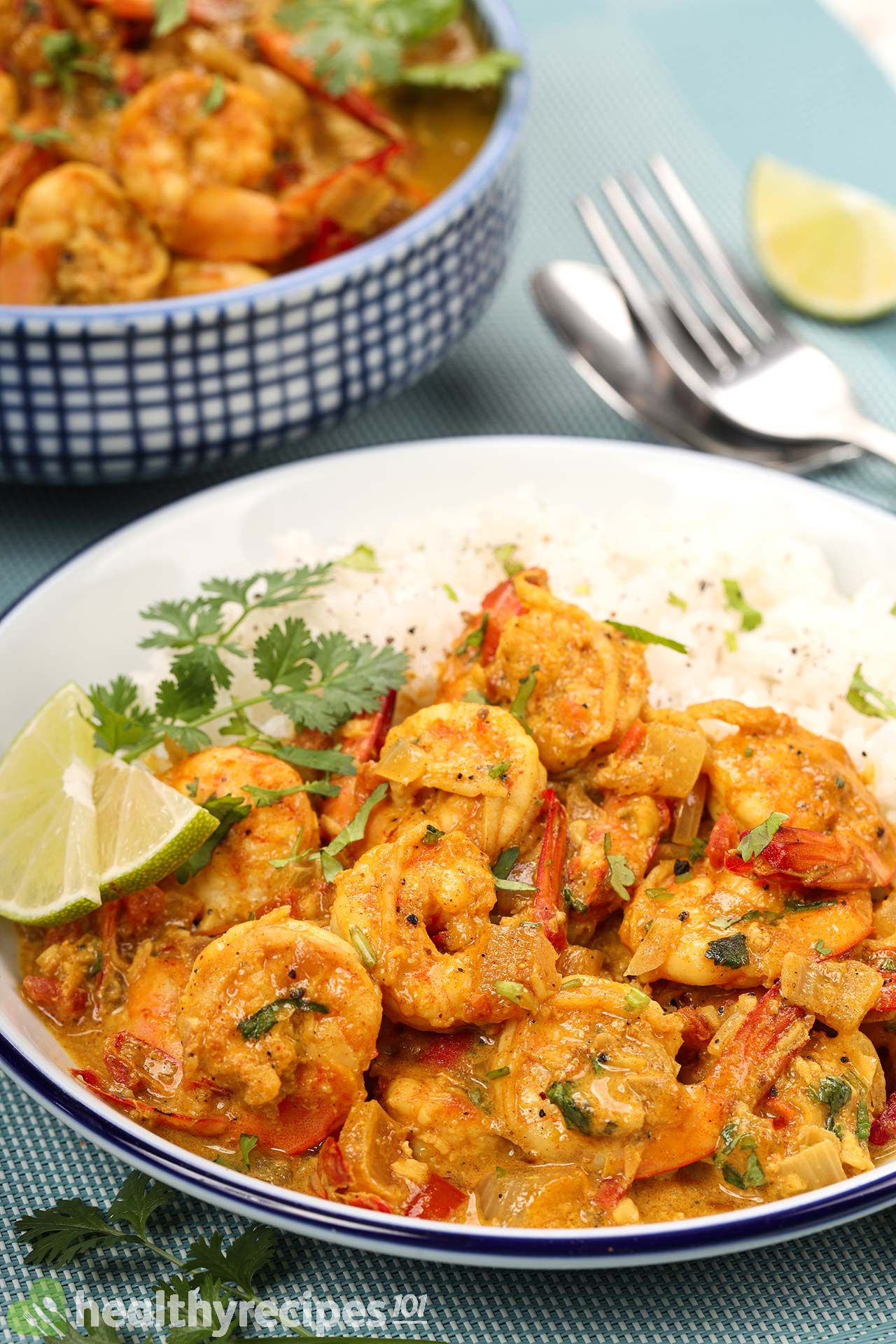 Thai shrimp curry is made by sautéeing plump shrimp in a rich and fragrant coconut sauce with green chilies and fresh herbs. This dish is made with several Thai essentials such as coconut milk, green curry paste, and fish sauce.

Is Shrimp Curry Healthy?
We made sure the nutrient content of this shrimp curry comes in the right amount, including the dairy components so the total fat content isn't raised too high. Providing 497 calories per serving, we believe this shrimp curry is a healthy choice to make for weeknight dinners.

Main Ingredients for Shrimp Curry
Any size shrimp can work well in this recipe, although you might have to adjust the cooking time accordingly. You can either keep or remove the tails, either way works well in this dish.
Also, consider adding a minute or two to the cooking time to get crisp edges for the spice-coated shrimp and a thicker sauce if preferred.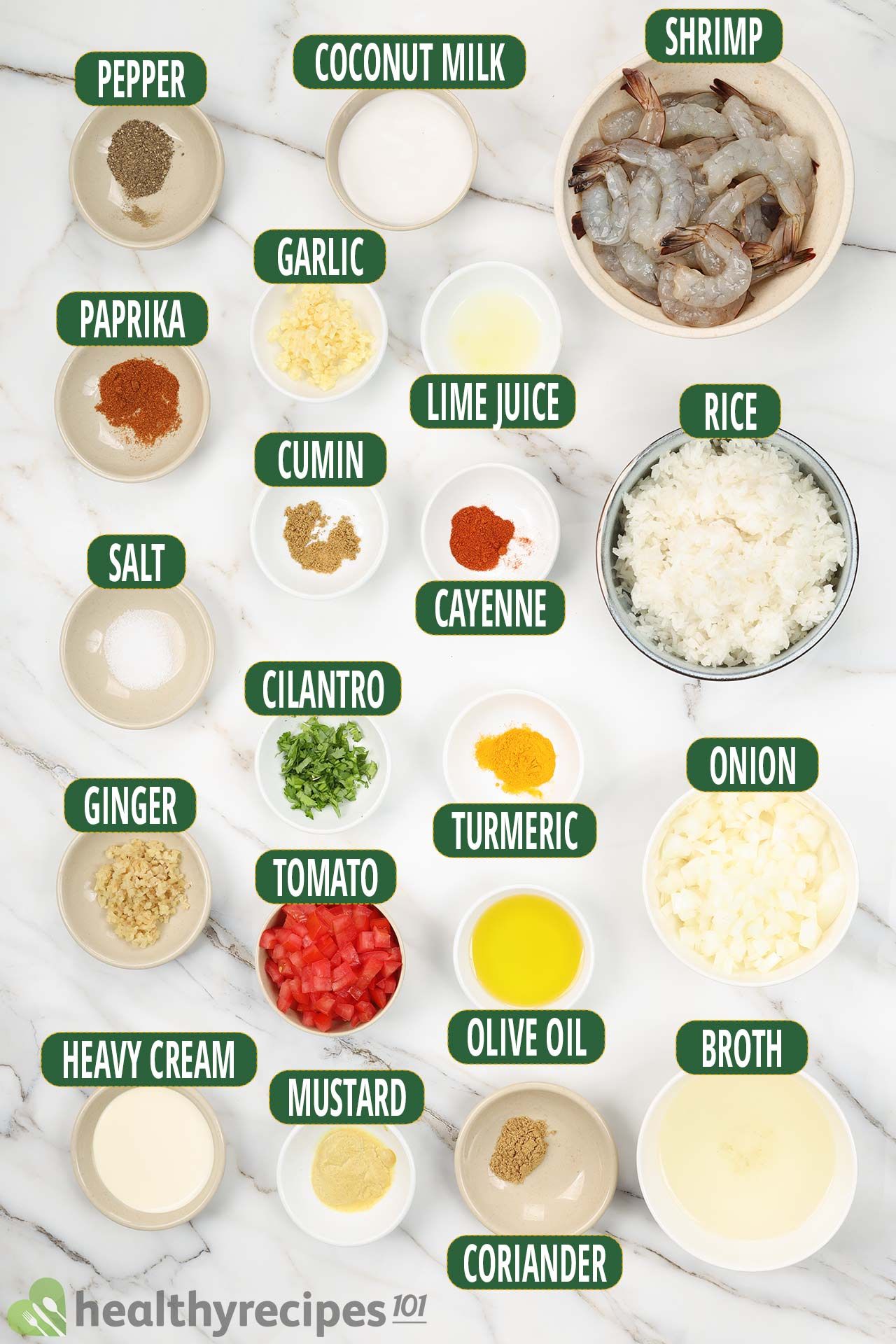 Coconut milk is a classic Thai ingredient. Chicken broth, and heavy cream are added to it to create a rich and creamy sauce that carries every note of this dish. You can substitute the coconut milk easily with evaporated milk, or just whole milk if you don't have it on hand.
The right combination of spices and aromatics is essential for a good curry sauce. Garlic, ginger and onion start the flavors off, then the combination of pepper, cayenne pepper, turmeric, cumin, paprika, and coriander gives the dish an irresistible curry flavor.
Finally, lime juice and Dijon mustard work together to add a pleasant tang and pungent aftertaste that cuts through the richness of the sauce.
Can I Use Cooked Shrimp in Curry Recipes?
Yes, of course you can. This recipe is a great chance for you to use up the leftover shrimp in your fridge.
You can skip the whole process of frying the raw shrimp and simply add the cooked shrimp directly at the end. Remove the sauce from the heat before adding them to avoid overcooking, then let them sit in the sauce for a few minutes to fully absorb the flavors.
How to Thicken the Curry Sauce
For a thicker curry, simply add some cornstarch slurry to the curry. Stir the slurry into the sauce and let it simmer. Go slowly and add a little bit at a time while stirring constantly until it reaches your desired consistency.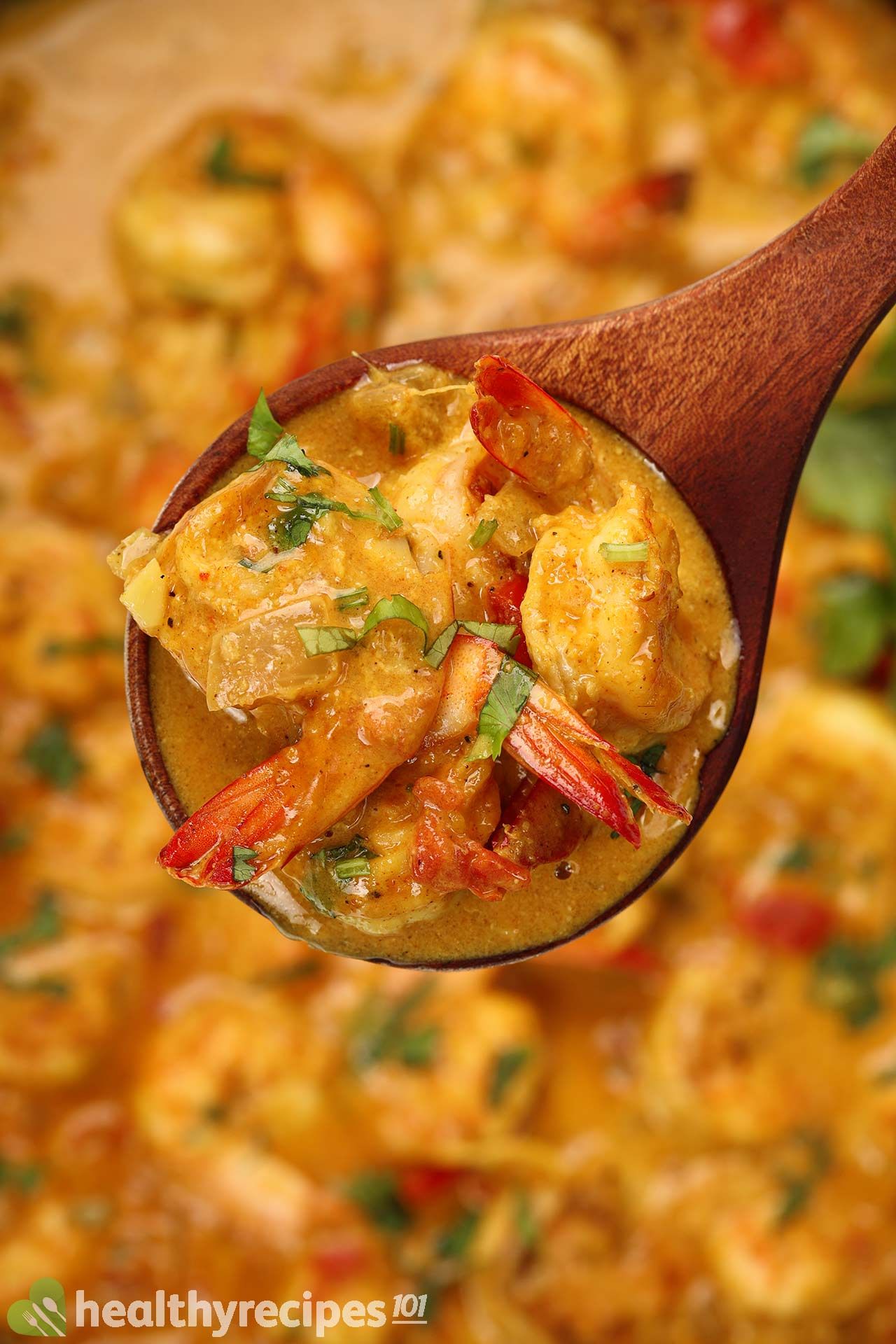 How Long Does Shrimp Curry Last in the Fridge?
Shrimp curry can last for 3 days if stored in an airtight container and put in the fridge.
Freeze the leftover portions to make them last for up to 3 months. Make sure that your food has cooled down completely before storing.
To reheat, thaw the frozen portions in the fridge overnight. When you are ready to eat, simply pop them in the microwave or on the stovetop until warmed through. You may want to stir a little broth through the curry while reheating to thin it out a bit.

What to Serve with Shrimp Curry
Most curries are versatile and go very well with various types of dishes, with this shrimp curry being no exception. To make it simple, serve this shrimp curry with fluffy hot rice or soft naan to wipe up that delicious sauce.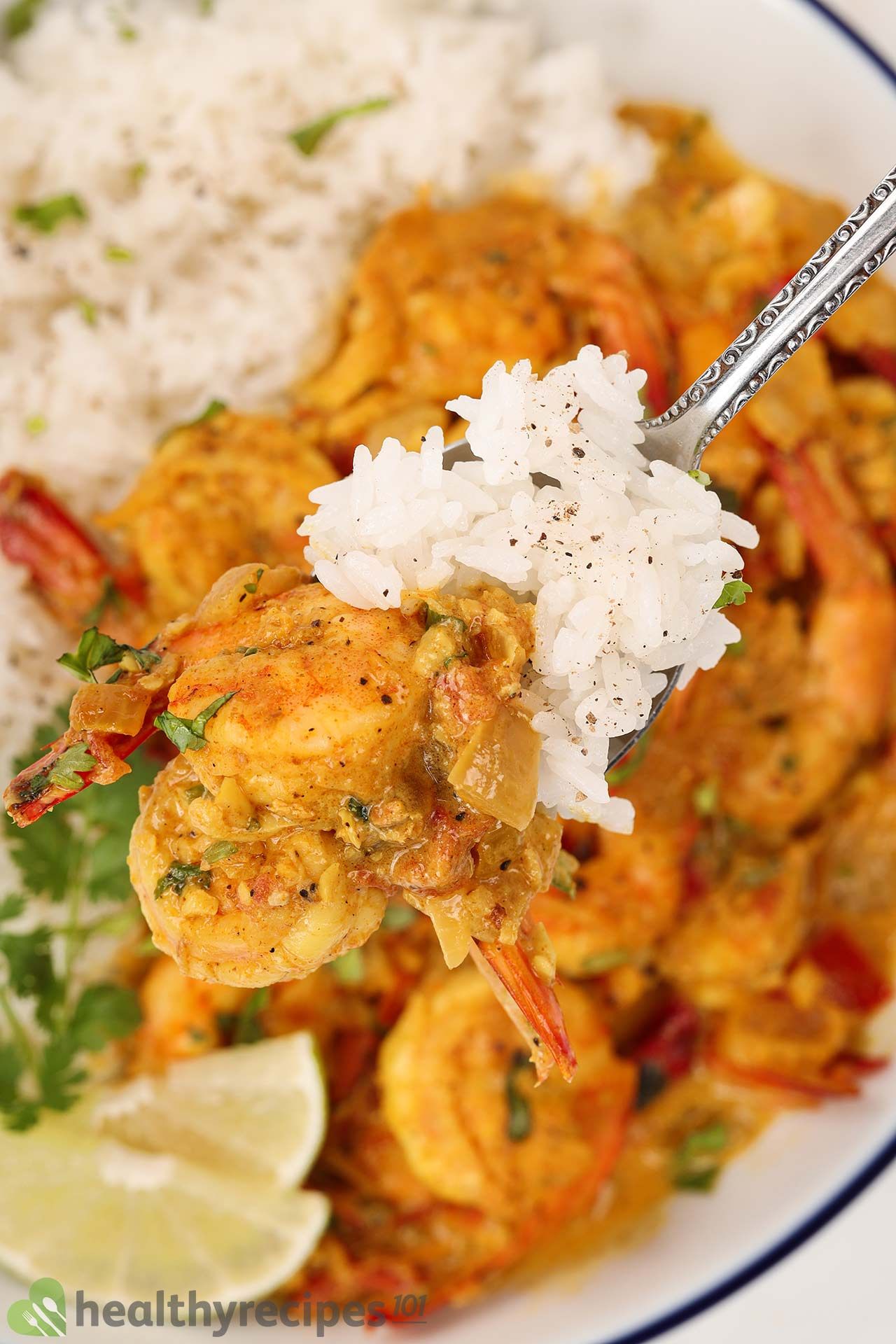 You can also enjoy your curry on French fries or other vegetable options. Roasted veggies such as broccoli, carrots, or steamed broccoli (or cauliflower) could also make a great pair.
Our scotch eggs are a healthy take on the beloved British snack. It's delicious, simple, and takes only 20 minutes to make.
Calling for soft- or hard-boiled eggs, ground meat, breadcrumbs, and served with a sauce for dipping, scotch eggs make a wonderful choice either as a side dish, a snack, or an appetizer. As you bite into it, you get to experience many layers of different textures and flavors: the crispy exterior, the savory sausage, and the soft, rich egg. Delicious!
We chose this refreshing sweet-tart lemonade to round off our meal for today. It's a healthy drink that can both freshen up your palate and help you handle the hot summer days. Plus, it's loaded with vitamin C, a powerful anti-aging agent for your skin and body.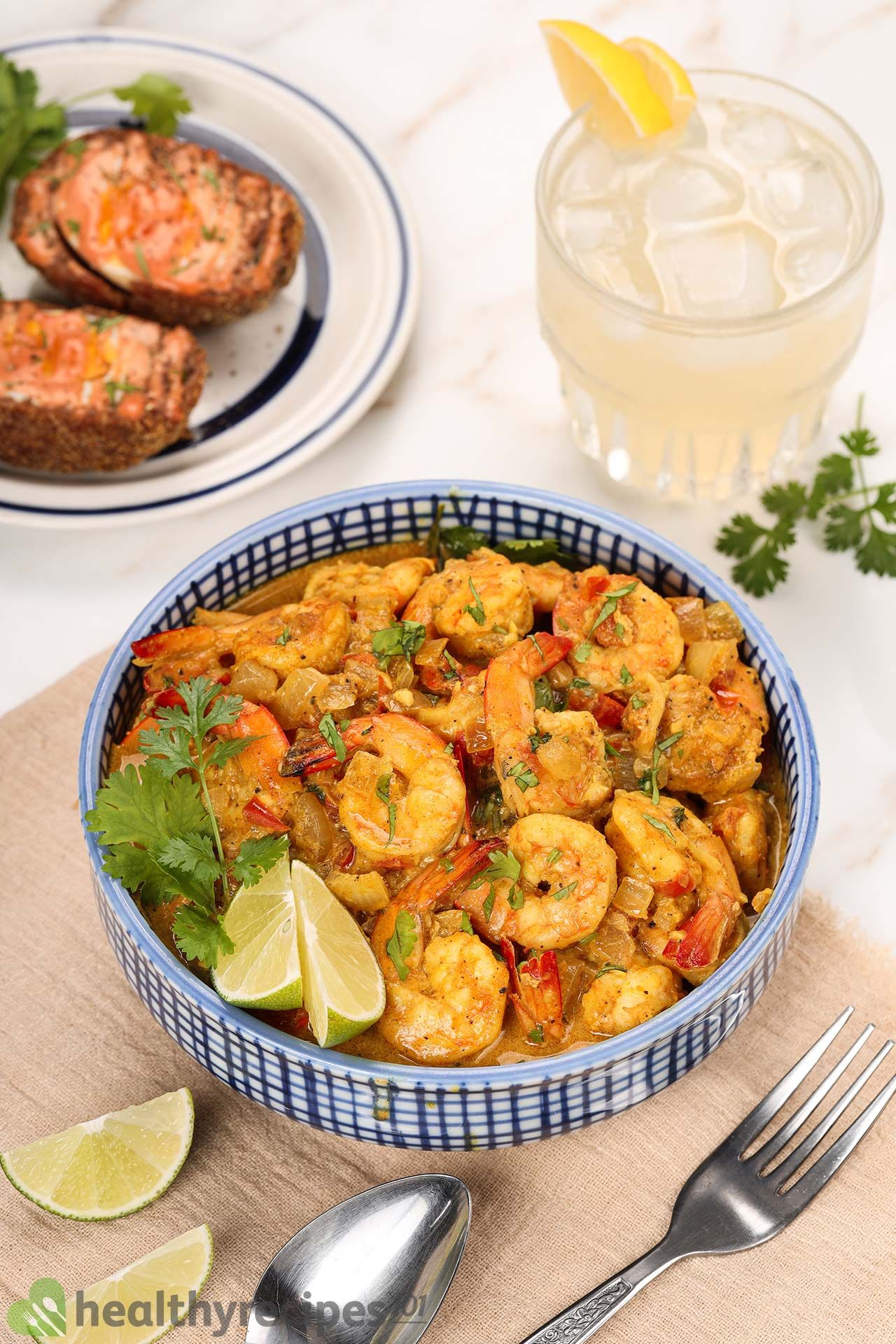 Previous Recipe
Shrimp Quesadilla
Shrimp Quesadilla
Next Recipe
Shrimp Pasta
Shrimp Pasta
Luna Regina
A writer and entrepreneur, Luna's day doesn't start at the computer keyboard, but in the kitchen.
Half of her working hours are spent on mixing ingredients for her recipes. The other half involve working with the tech team to research and test the tools and appliances that promise to make kitchen work effortless and mess-free. From a kitchen knife or water filter to the Instant Pot, if it can help save time and effort for the home cook, Luna and her team are on it.
Luna's extracurricular pastimes include camping, travel, and photography.