Because shrimp cook quickly, they're perfect for last-minute meals like shrimp scampi. Our shrimp scampi recipes will help you to make delicious and elegant dishes that don't require any expensive ingredients.
What Is Shrimp Scampi Sauce Made of?
The sauce for shrimp scampi is composed of garlic, butter, white wine, and parsley for garnish. Sometimes, we like to supplement the butter with extra virgin olive oil or lemon juice. The citrus note adds complexity to the dish and complements the seafood flavor.
As with all cherished classics, there are numerous variations and additions to this scampi sauce. Some may add a sprinkle of parmesan, while others may thicken the sauce with a little cream or cornstarch.
1. Best Wine for Shrimp Scampi
If you are looking for a white wine to use in cooking, the best option is Sauvignon Blanc. Other excellent alternatives include Pinot Grigio and Muscadet.
They are the most versatile white wines for marinades, seafood, and vegetables because of their strong acidity and herbaceous aromas. These white wines give pasta and vegetables depth while enhancing the dish's overall flavor, elevating it to the next level. 
During simmering, the wine's alcohol cooks out and evaporates, making it totally safe for children and individuals who abstain. If you choose to omit the wine, replace it with a mixture of half chicken broth and half water.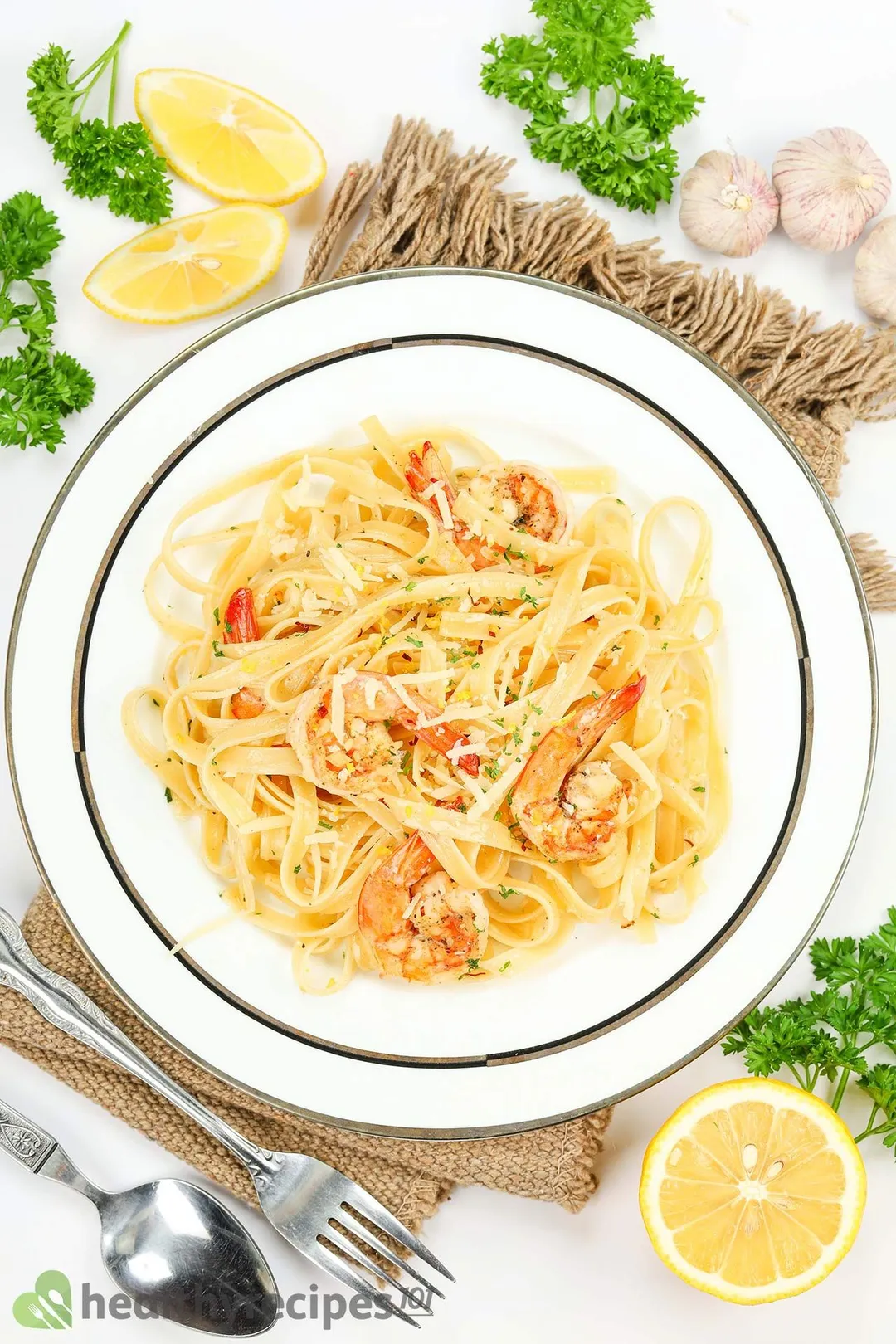 2. How Do You Thicken Scampi Sauce?
Incorporating cold butter into a warm sauce emulsifies and thickens the sauce as the butter melts. It is a French method similar to the original 'beurre blanc' which makes a sauce with a smooth, satin-like texture.
Another way you can thicken the sauce is to combine one tablespoon of cornstarch with the same amount of water. Add the mixture to the saucepan, continuously whisk and simmer the sauce until it thickens.
Best Healthy Shrimp Scampi Recipes
1 of 2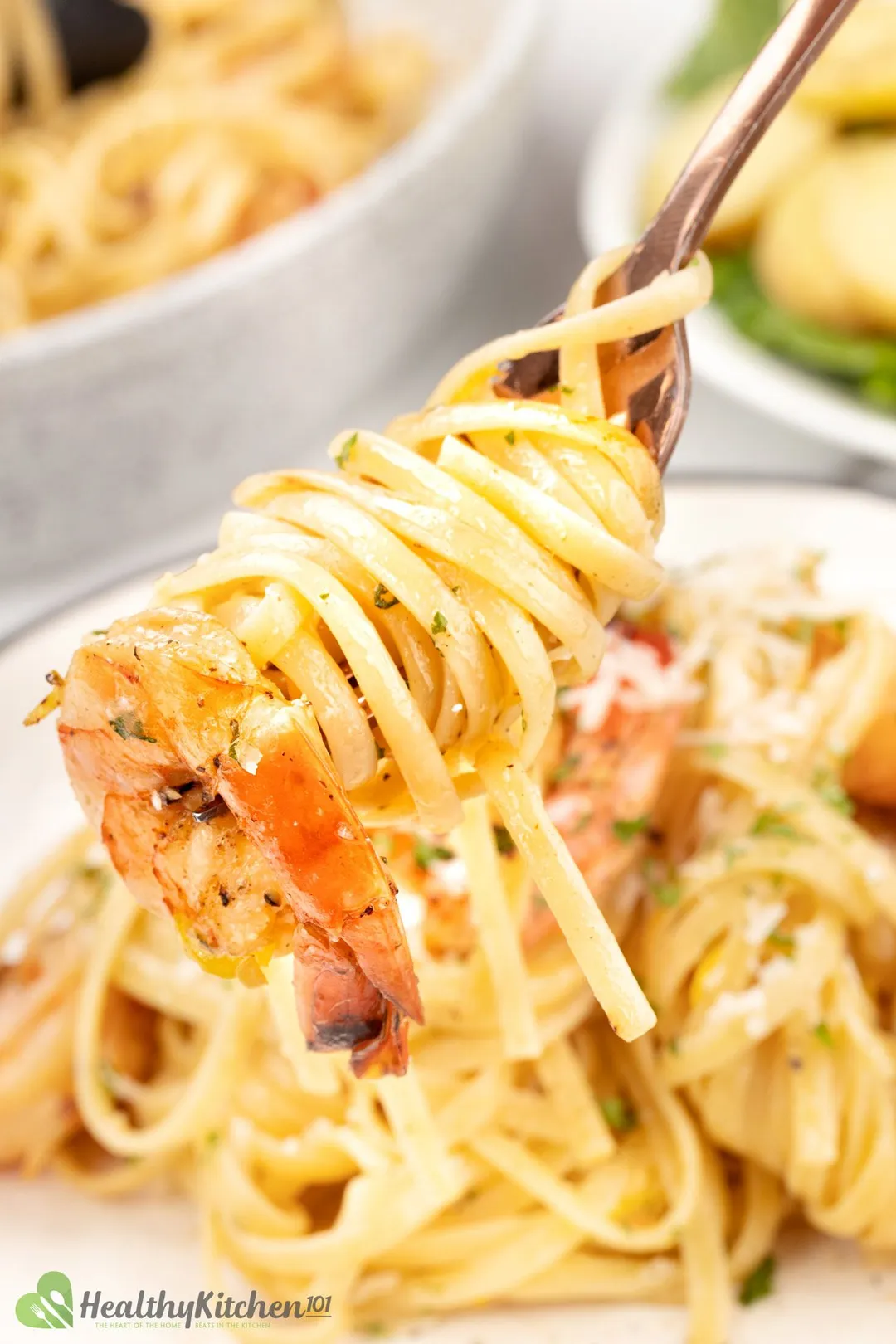 1 of 2
Shrimp Scampi Recipe
Fettuccine pasta and parmesan cheese find their perfect pair in this healthy shrimp scampi dish. A true comfort feast that hails from Italian cuisine.
Get the
recipe
.
2 of 2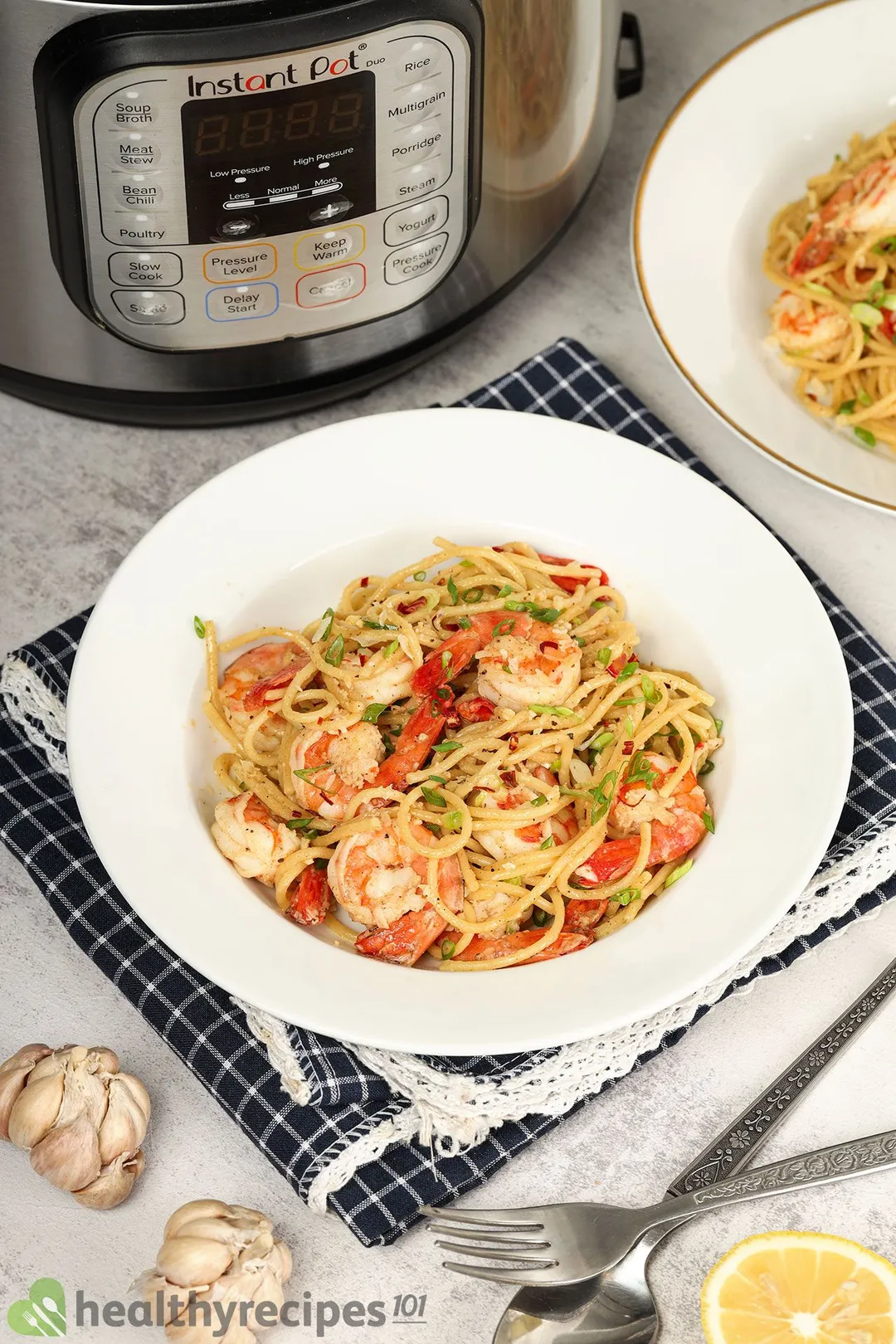 1 of 2
Instant Pot Shrimp Scampi Recipe
This one-pot meal is only 25 minutes away. Add the spaghetti, garlic seasoning, and shrimp one after another into the instant pot and leave it to do the rest.
Get the
recipe
.
Types of Pasta for Shrimp Scampi
For creamy pasta dishes like shrimp scampi, we usually use thin, long noodles, such as spaghetti, angel hair, capellini, or spaghettini. They are light but strong enough to hold their shape when tossed with the sauce.
Plus, their delicate, thin strands match beautifully with the light garlic and butter sauce, which will coat them without weighing them down excessively.
For low-carb options, you can easily serve shrimp with garlic and butter over zucchini noodles or cauliflower rice.
Side Dishes for Shrimp Scampi
When selecting a side dish for shrimp scampi, it is best to go with something simple yet flavorful to compliment this shellfish-based protein-rich main dish. All of our suggested sides pair well with shrimp scampi and any other shrimp, shellfish, or seafood dish.
Salad: It may be a basic side dish but a fresh salad is all you need to turn scampi into an amazingly delicious meal. With their pungency, bitter greens such as spinach, kale, and arugula cut through the richness of the scampi. Alternatively, you may dress the greens with a light vinaigrette and olive oil. Add tomatoes, grapes, cucumber, orange, or grapefruit for juiciness. 
Colorful Vegetables: Steamed or roasted vegetables give fiber, nutrition, and visual contrast to shrimp scampi main courses. These vegetables, which are crisp on the outside and delicate on the inside, will provide contrast of texture on the plate and balance the richness of the scampi. In addition, they will enhance the aesthetic appeal of your dish.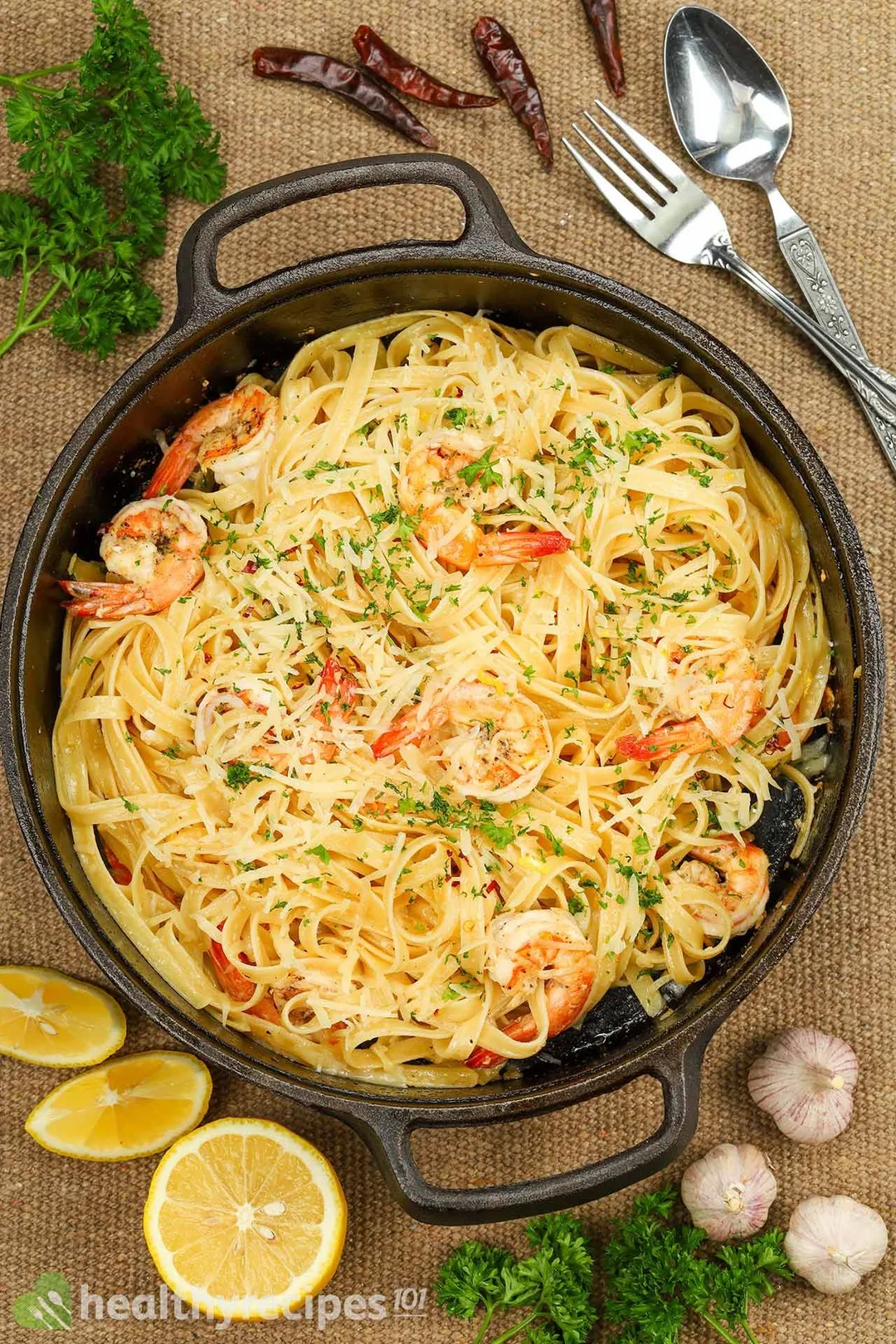 Shrimp Scampi Recipes
Most of our shrimp scampi recipes can be prepared in under 30 minutes with only a few simple, affordable ingredients.
Ingredients
Directions
Choose a recipe that you like.
Assemble all the essential ingredients.
Follow the instructions to give you incredibly tasty shrimp scampi recipe in less than 40 minutes!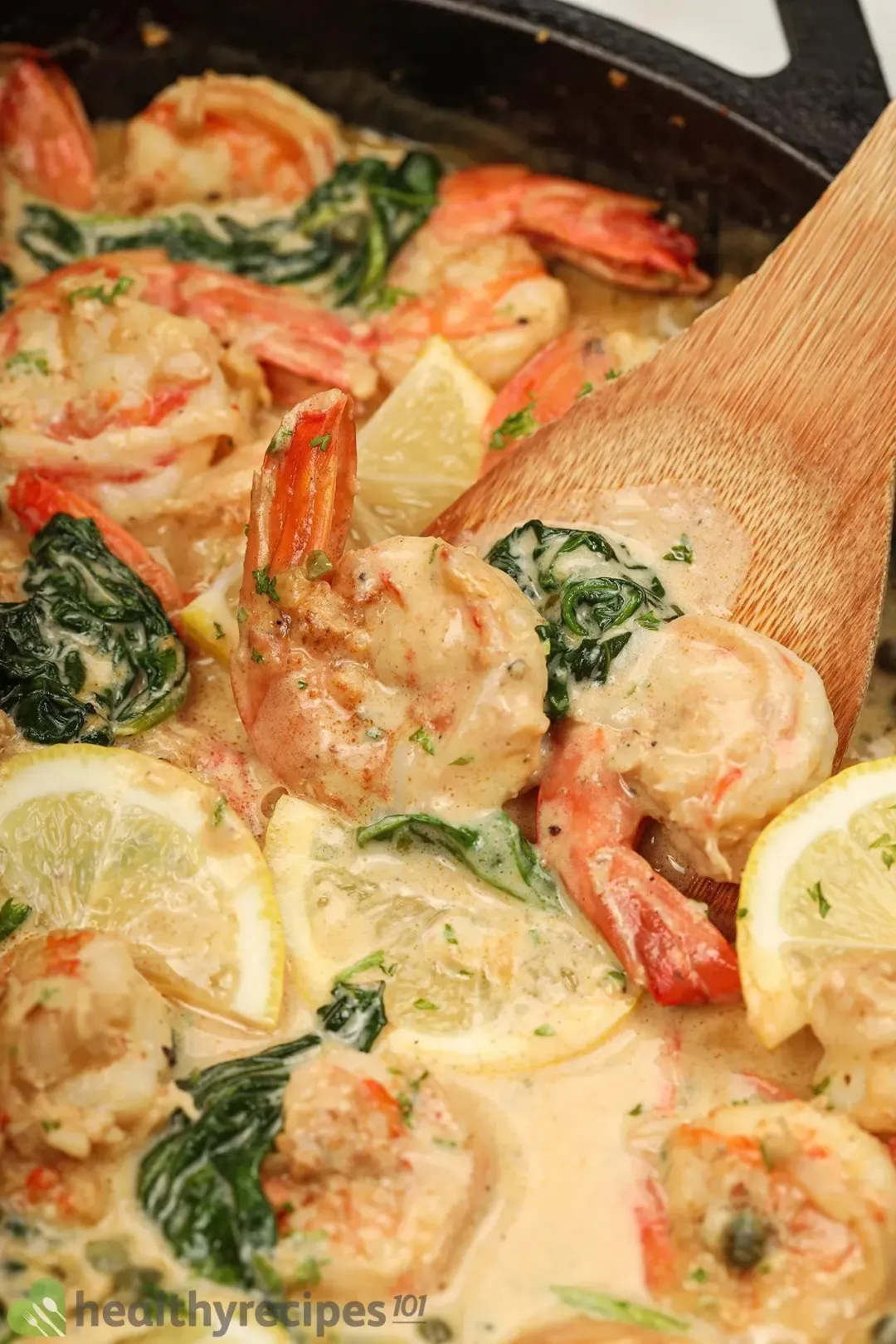 Previous Recipe
Shrimp And Spinach Recipes
Shrimp And Spinach Recipes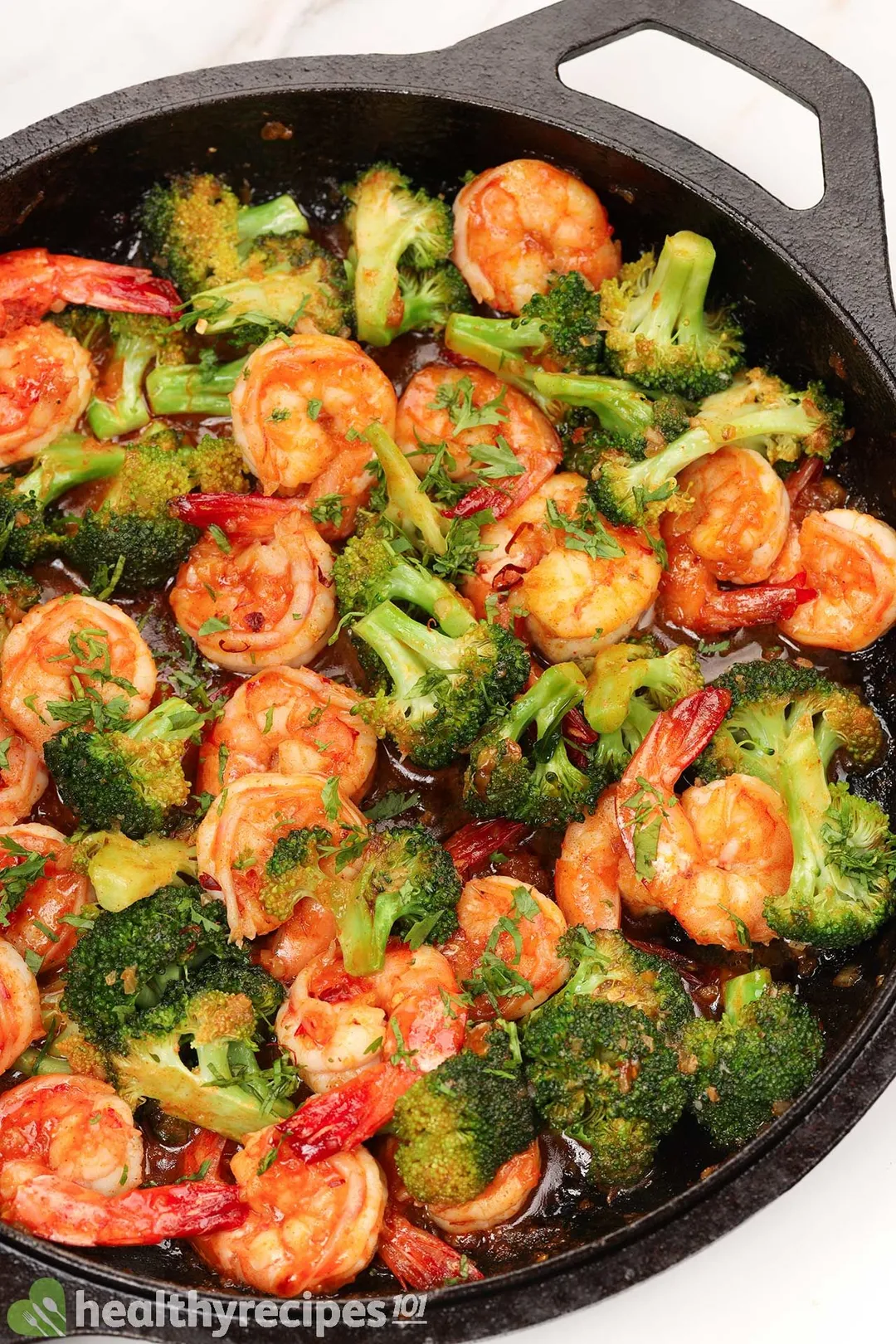 Next Recipe
Simple Shrimp Recipes
Simple Shrimp Recipes
Writer, Author
Luna Regina is an accomplished writer and author who dedicates her career to empowering home cooks and making cooking effortless for everyone. She is the founder of HealthyKitchen101.com and HealthyRecipes101.com, where she works with her team to develop easy, nutritious recipes and help aspiring cooks choose the right kitchen appliances.
Comments/ Reviews