The delicate shrimp scampi with a creamy wine sauce can be prepared in less than 30 minutes in the Instant Pot. The shrimp and spaghetti are tossed in the creamy, garlicky white wine sauce with lemon juice, red pepper flakes, and cheese, just as they are in the traditional version.
You will have everything on the plate: succulent seafood, chewy pasta, a rich sauce with a bright note from acidic fruit. Those layers of diverse flavors are derived from exquisite yet simple ingredients that are easy to buy and prepare.

How Healthy Is Our Shrimp Scampi?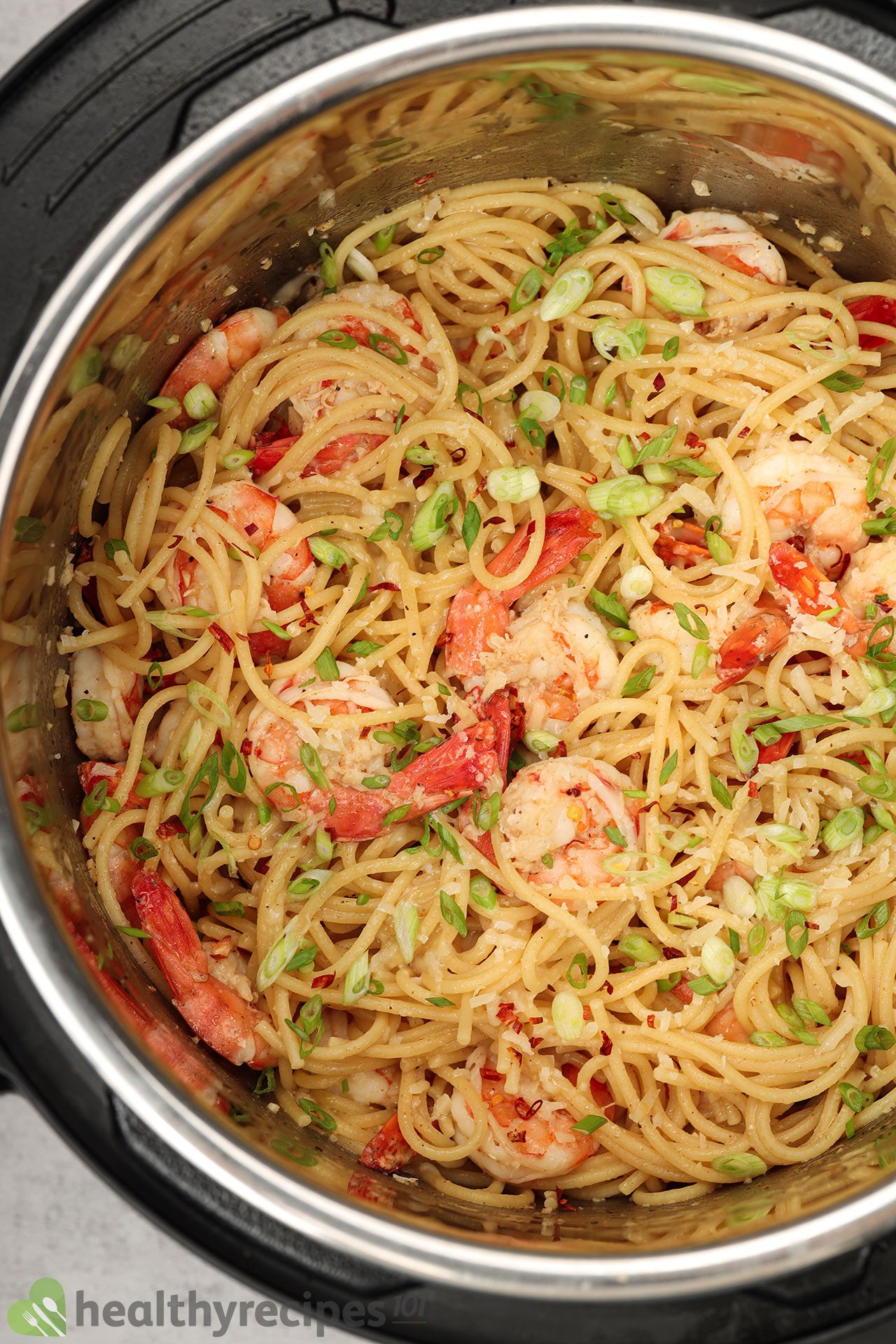 Shrimp scampi is a creamy, protein-rich dish. One serving of our version has 44 g of protein, which is 80–90% of the daily amount recommended by the USDA.
Plus, shrimp is a great source of healthy fat: omega-3. It is known to have a beneficial effect on the cardiovascular system.
Our shrimp scampi is far lower in fat and sodium than other recipes because it contains less cheese and uses unsalted chicken broth. This, together with the proper amount of butter, greatly reduces the calorie value of the dish. There are only 484 calories, 6.7 g of saturated fat, and 567 mg of sodium per serving.
To make the shrimp scampi more filling, we serve it with a side salad of fresh veggies, fruits, nuts, and cheese, and a glass of lemonade. They give the body vitamins and fiber, both of which are important for one's growth.

Ingredients for Shrimp Scampi
Shrimp scampi, the elegant restaurant dish you love to order, is now much simpler to prepare at home. With an Instant Pot, the dish cooks in a mere 25 minutes.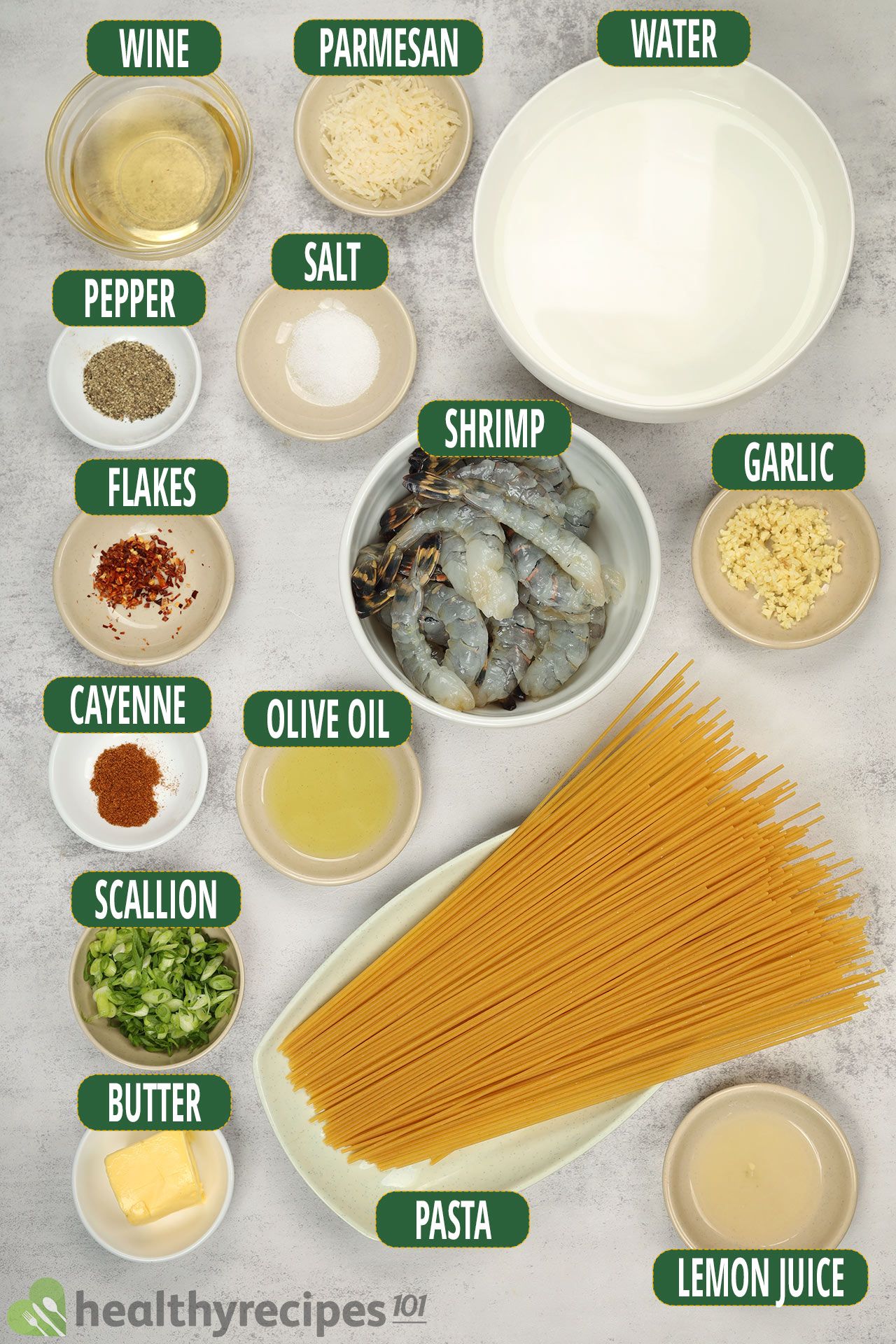 Shrimp: Shrimp is the star in the dish, so we recommend using fresh shrimp, medium or large size. This Instant Pot recipe is quite versatile that you can go with the frozen type. Because shrimp cooks so quickly, there is no need to defrost it before adding it to the Instant Pot.
Protip: A combination of butter and olive oil for sauteing makes your seafood next-level good. Try it next time you cook shrimp at home!
White Wine: For a classic flavor, we love to use a crisp white wine with a high acidity level, such as pinot grigio, sauvignon blanc, or chardonnay. If you don't want to cook with wine, substitute alcohol for fresh lemon juice or broth.
Lemon Juice: A dash of lemon juice compliments the seafood and keeps the butter-garlic sauce light on its feet. The tastiest lemon is freshly squeezed, but you can also use store-bought juice.
Pasta: Long, thin shaped pasta like spaghetti or angel hair cooks quickly and is frequently served with shrimp scampi.
Parmesan Cheese: Finely shredded cheese enhances the richness. If possible, use high-quality Parmesan cheese.
Spices and Herbs: When it comes to aromatics for shrimp scampi, garlic is a must, and onions are a lovely addition if you have them. 
While fresh garlic imparts plenty of flavor, onions contribute sweetness and melt into the garlic-butter sauce. In addition, we added red pepper flakes for a touch of heat. Finally, scallions on top add color and a pop of fresh flavor.

How to Make Shrimp Scampi in the Instant Pot
This shrimp scampi Instant Pot dish calls for readily available, simple ingredients. If you're seeking to explore new dishes and expand your culinary horizons, this is an excellent start. Here's how we made the dish: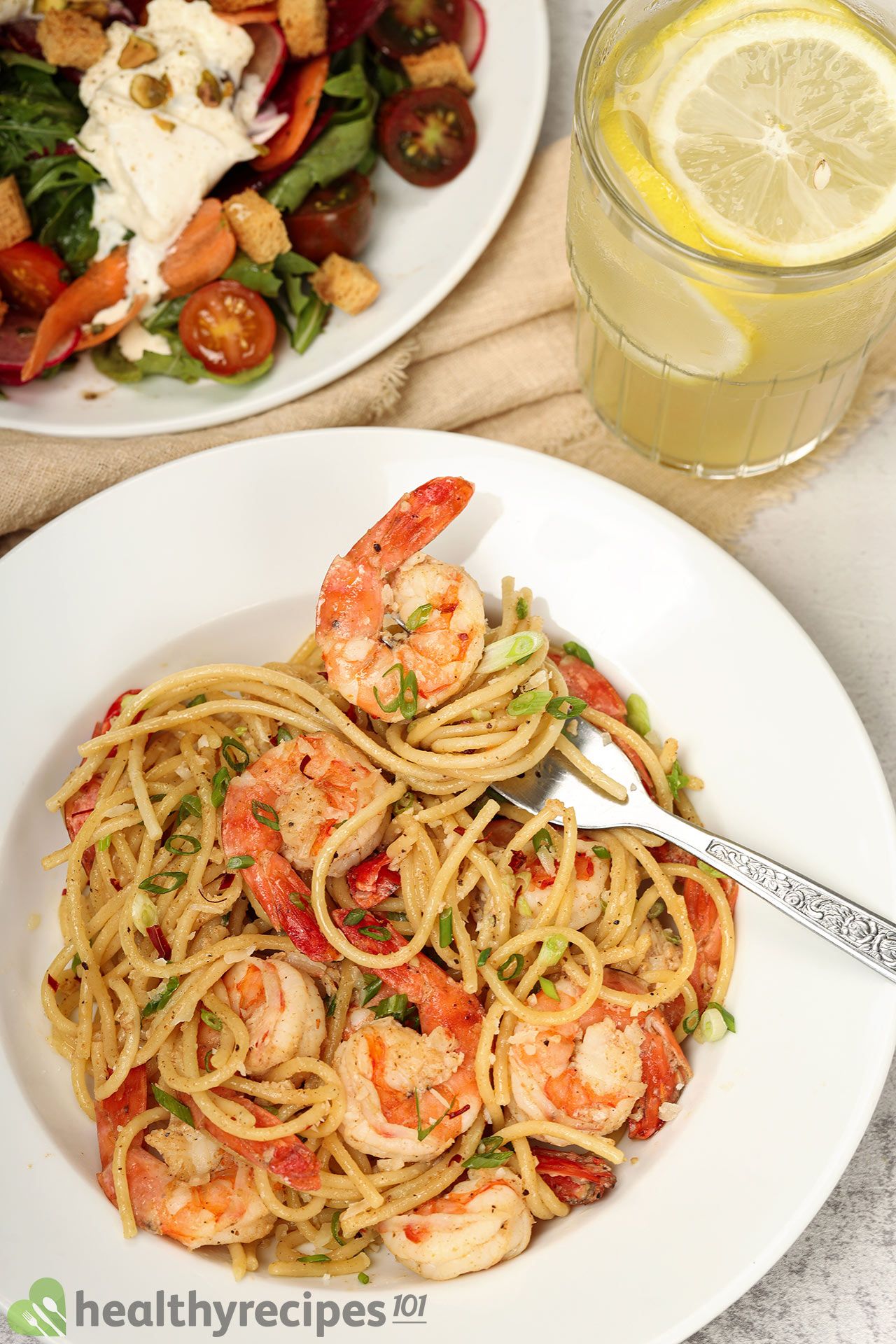 Step 1: Boil the spaghetti to al dente using the Sauté mode. Transfer the pasta to a bowl and set aside.
Step 2: Sauté the spice in butter until fragrant.
Step 3: Add the shrimp and stir fry to opaque.
Step 4: Pour in the white wine.
Step 5: Stir in the boiled pasta to coat it evenly with the sauce.
Step 6: Turn off the Instant Pot. Sprinkle it with cheese and herbs.
Step 7: Serve the dish.
Storage and Reheating
This shrimp scampi is best served immediately after the Instant Pot has been opened. Your noodles will have absorbed nearly all of the sauce.
For any leftovers, we recommend placing them in an airtight container and refrigerating the food for up to three days. Additionally, this shrimp scampi can be frozen for up to three months. 
When you want to reheat the food, microwave it with a drizzle of olive oil or a tablespoon of broth. This will liven up the noodles, make the sauces stand out, and help keep the original flavor of the dish.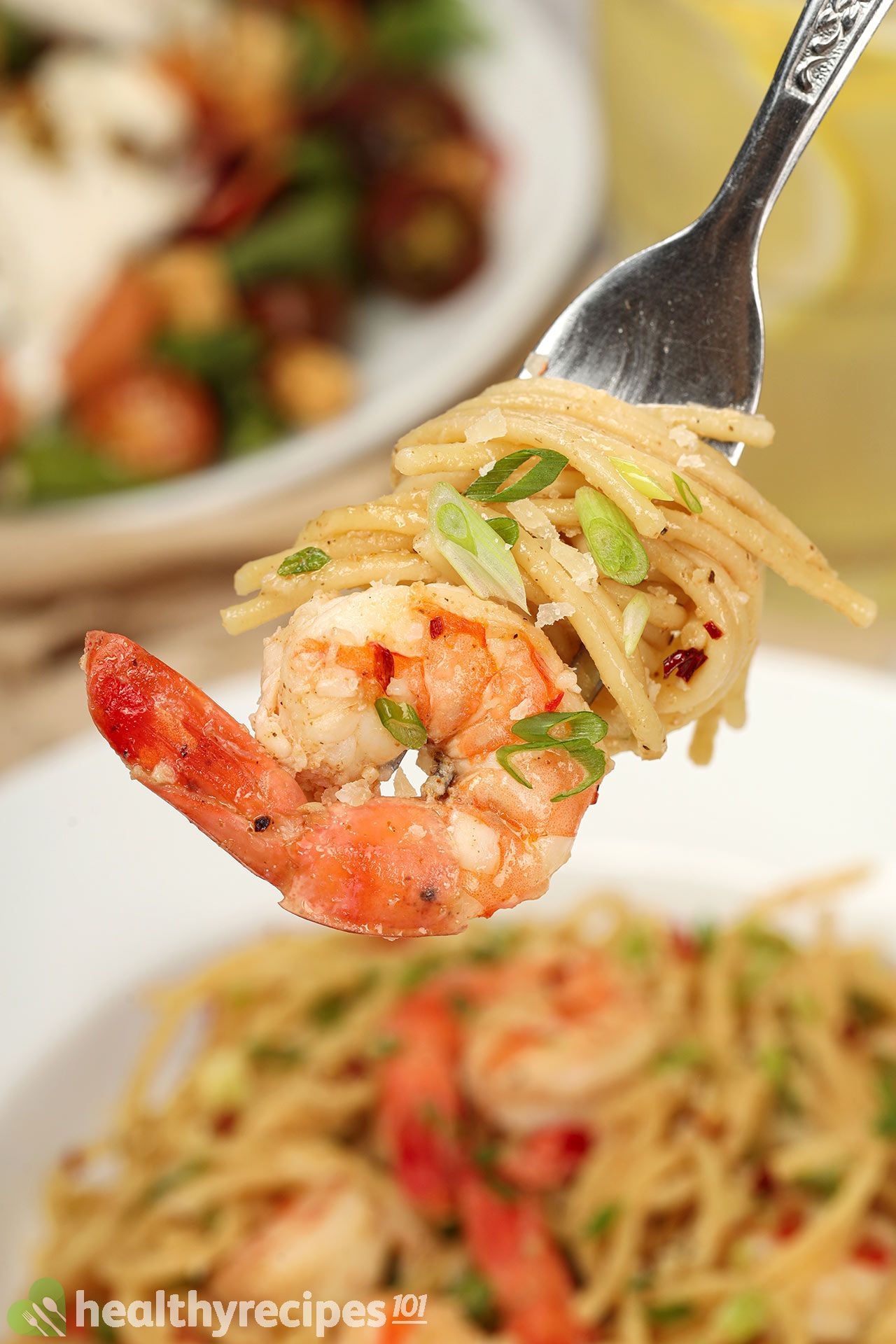 Side Dishes for Shrimp Scampi
This Instant Pot shrimp scampi is a creamy, satisfying dish, and you might prefer something lighter to cut the richness. Our recommendation is burrata salad and lemonade. These side dishes come together with just simple ingredients yet burst with flavor to round out your pasta night.
Previous Recipe
Shrimp Chowder
Shrimp Chowder
Next Recipe
Jerk Shrimp
Jerk Shrimp
Luna Regina
A writer and entrepreneur, Luna's day doesn't start at the computer keyboard, but in the kitchen.
Half of her working hours are spent on mixing ingredients for her recipes. The other half involve working with the tech team to research and test the tools and appliances that promise to make kitchen work effortless and mess-free. From a kitchen knife or water filter to the Instant Pot, if it can help save time and effort for the home cook, Luna and her team are on it.
Luna's extracurricular pastimes include camping, travel, and photography.