Our cantaloupe smoothie recipe offers you a fresh beverage that provides a variety of vitamins and minerals, helps you fight off the heat of summer, and keeps you hydrated.
Cantaloupe is a type of melon with a thick rind and sweet, juicy, orange flesh on the inside. Compared to other melons, cantaloupe's exterior is not as thick as watermelon's, and the texture and flavor of the flesh are similar to honeydew.
And like other types of melon, cantaloupe is also packed with micronutrients, which will power up today's smoothie.
Benefits of Cantaloupe Smoothie
Like many other yellow-orange fruits and vegetables, cantaloupes are high in beta-carotene.
Beta-carotene is a carotenoid compound. Carotenoids are pigments that contribute to the vibrant colors of fruits and vegetables. Once consumed, beta-carotene is converted to vitamin A or acts as a powerful antioxidant, assisting the body's cells in fighting free radicals.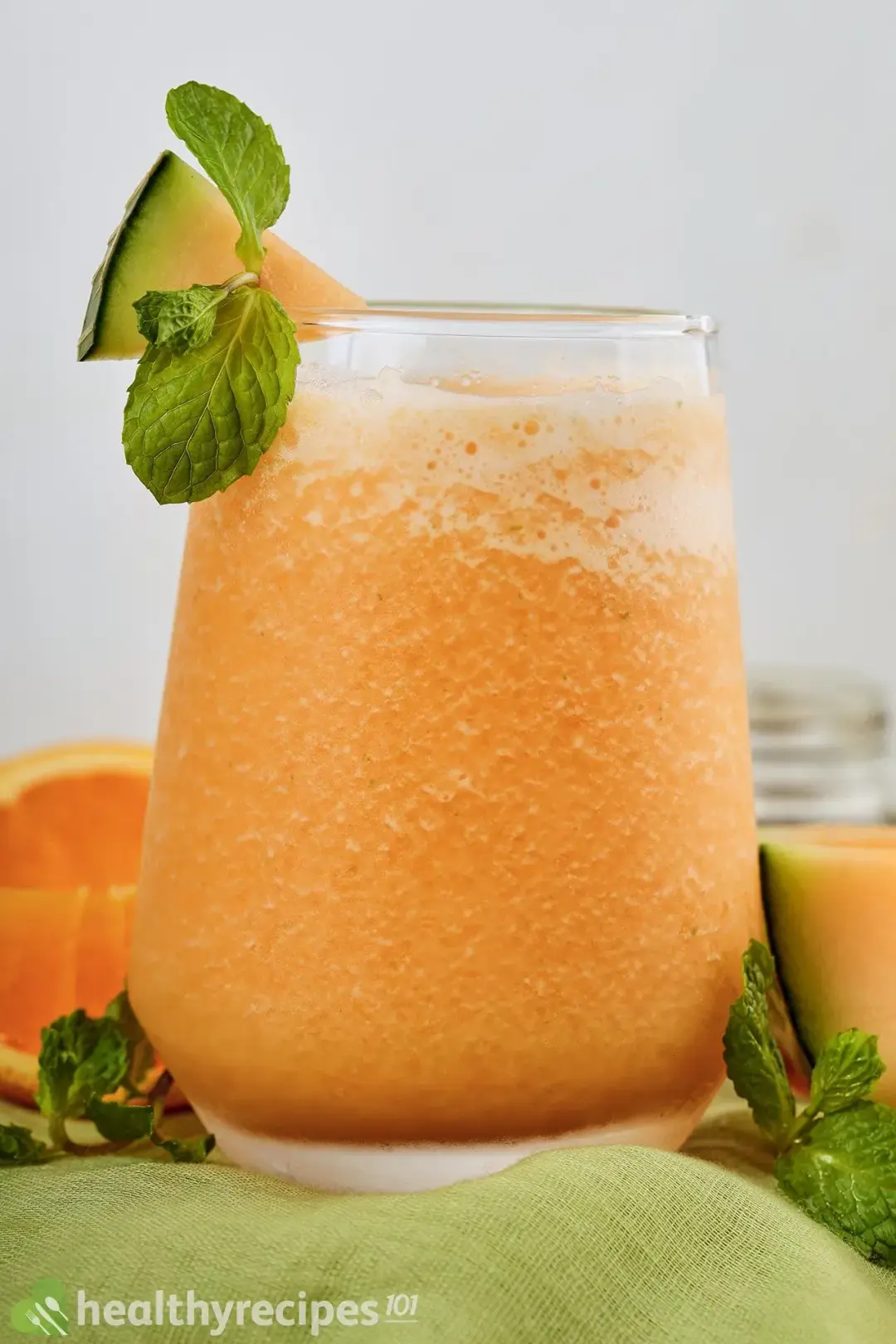 Ingredients for Cantaloupe Smoothie
You will need the following ingredients for today's cantaloupe smoothie recipe:
Cantaloupe: Fresh cantaloupe chunks are packed in plastic containers and found at the supermarket. In the next section, we will give you a few tips on how to pick a ripe and delicious cantaloupe if you want to buy a whole fruit. Stay tuned!
Citrus juice: Lemon and orange juice will give the smoothie a bright and refreshing taste. Combined with the cantaloupe, they will have a sweet and sour flavor profile that is satisfying and addictive.
Honey: This will be the main sweetener in today's recipe.
Mint: As usual, we like to use mint to garnish our smoothies. You can leave the herb out if you don't have any.
And ice.
Should Cantaloupe Be Frozen for Smoothies?
You can opt for frozen or fresh cantaloupe. The advantage of using frozen cantaloupe is that it cools your smoothie immediately during the blending process.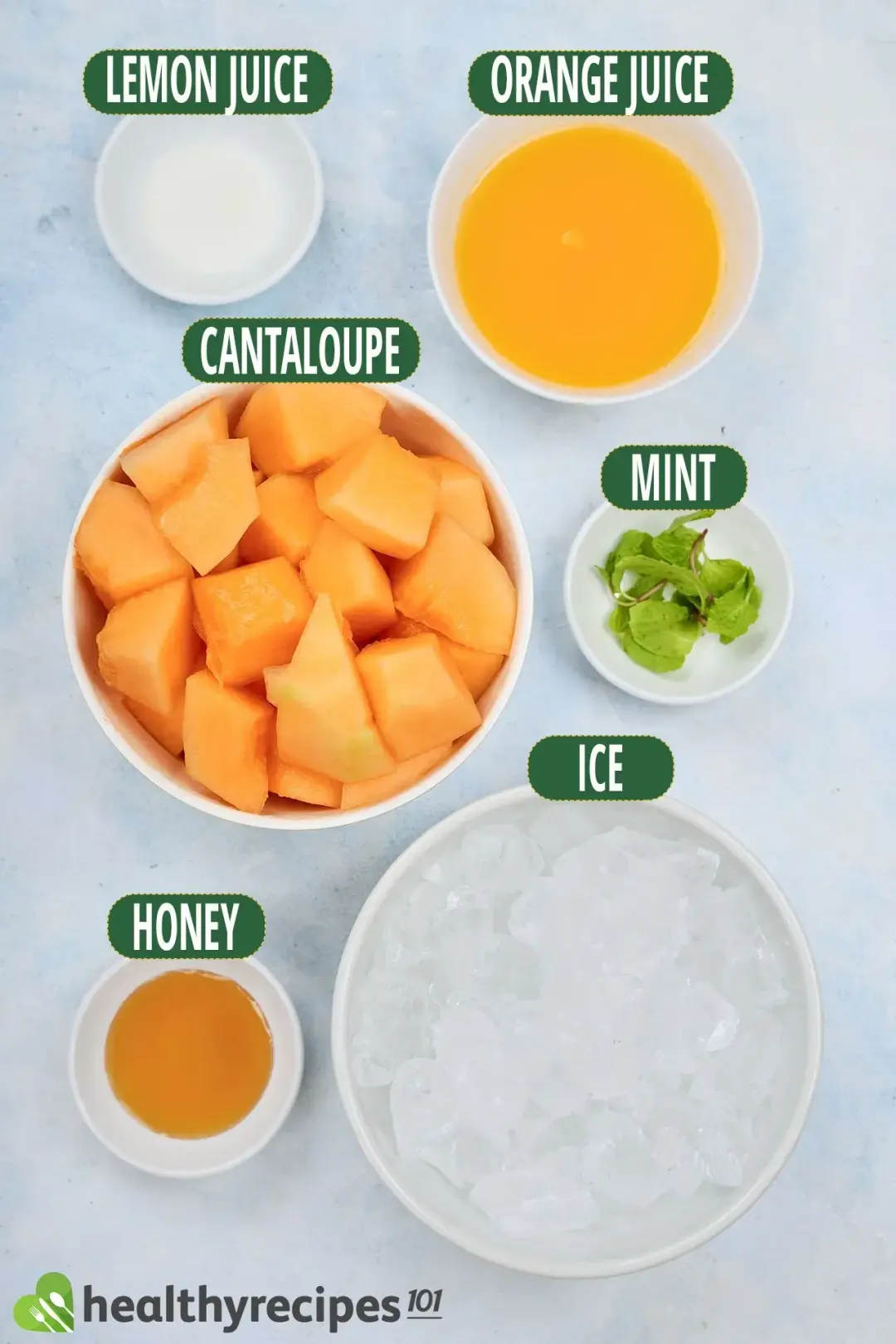 How to Prepare a Cantaloupe for Smoothies
1. How to Peel a Cantaloupe
Place the melon on its side on a chopping board. Using a sharp knife, cut a half-inch off the top and bottom of the melon.
Position the melon up on one of the sliced sides.
Begin at the top and work your way down the melon's curve, gently slicing the rind off with a knife, about a quarter-inch deep. Use the inner rind's green hue as a guide to know how deep you're cutting.
Continue peeling the melon, removing two- to three-inch-wide sections of the rind.
Once peeled, cut the melon in half lengthwise.
Scoop out the seeds with a spoon.
Continue to cut the cantaloupe into chunks or any other desired shape.
2. How to Cut a Cantaloupe
When you're about to put the melon into a blender, cut it into small chunks so that they can fit in the pitcher. It doesn't matter what shape, but each chunk should be about the same size.
We cut our cantaloupe into 2-inch-thick chunks and found that they blend smoothly in the blender.
3. How to Tell If a Cantaloupe Is Ripe
The appearance is usually indicative of a fully ripe fruit.
Your ideal, ripe cantaloupe should be beige or sandy-gold in hue. Make every effort to avoid those that are still green. This indicates that they are unripe and hence unfit for consumption.
The stem is also a clear indicator of a delectable cantaloupe.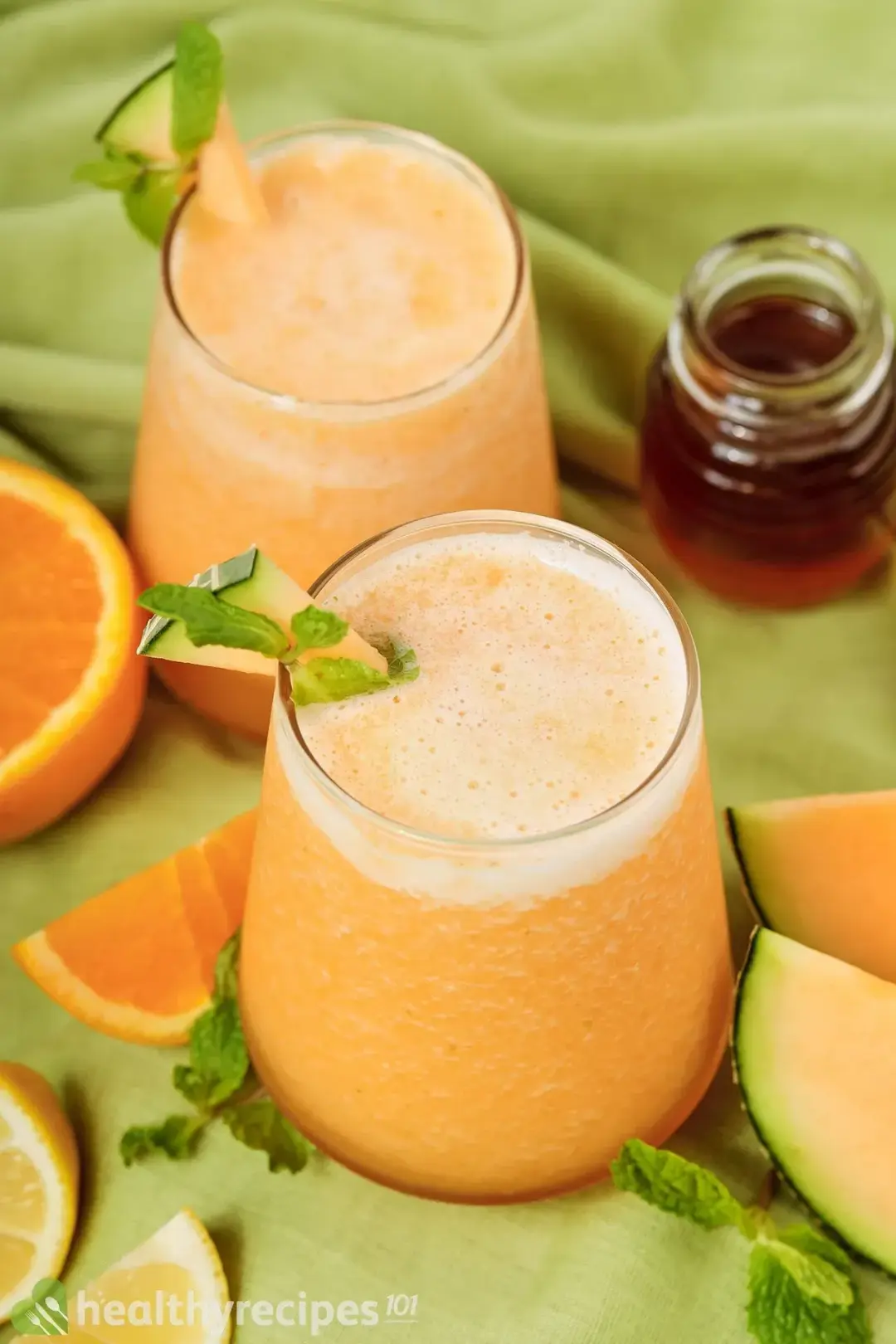 The cantaloupe stem can provide additional information about the quality of the fruit. In an ideal world, you should seek a cantaloupe with an inverted stem (similar to a belly button).
A melon with the stem still connected or rough edges where the stem was attached indicates premature harvesting. As such, this will impact the melon's taste. 
Besides the stem, as with watermelon or any other variety of melon, the "tap test" may be used.
Tap the outside of your cantaloupe with the palm of your hand and listen for a quiet, steady sound. If you hear a hollow sound, this might be an indication of trouble.
Last, but certainly not least; the smell test.
Pick up and sniff the blossom end of the cantaloupe (the end opposite the stem end). You should detect a pleasant aroma. If you discover a musty or acidic scent, your melon is overripe and unfit for ingestion.
How to Make a Cantaloupe Smoothie
Once your cantaloupe is peeled and cut, measure the rest of the ingredients and proceed with today's recipe: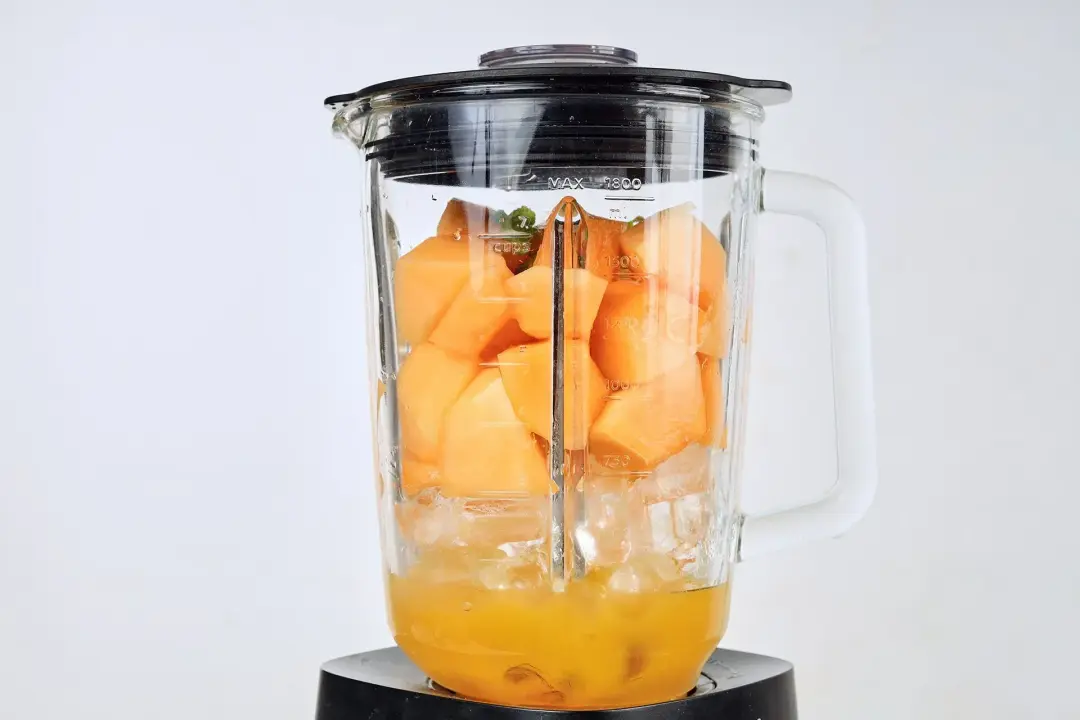 Blend all the ingredients.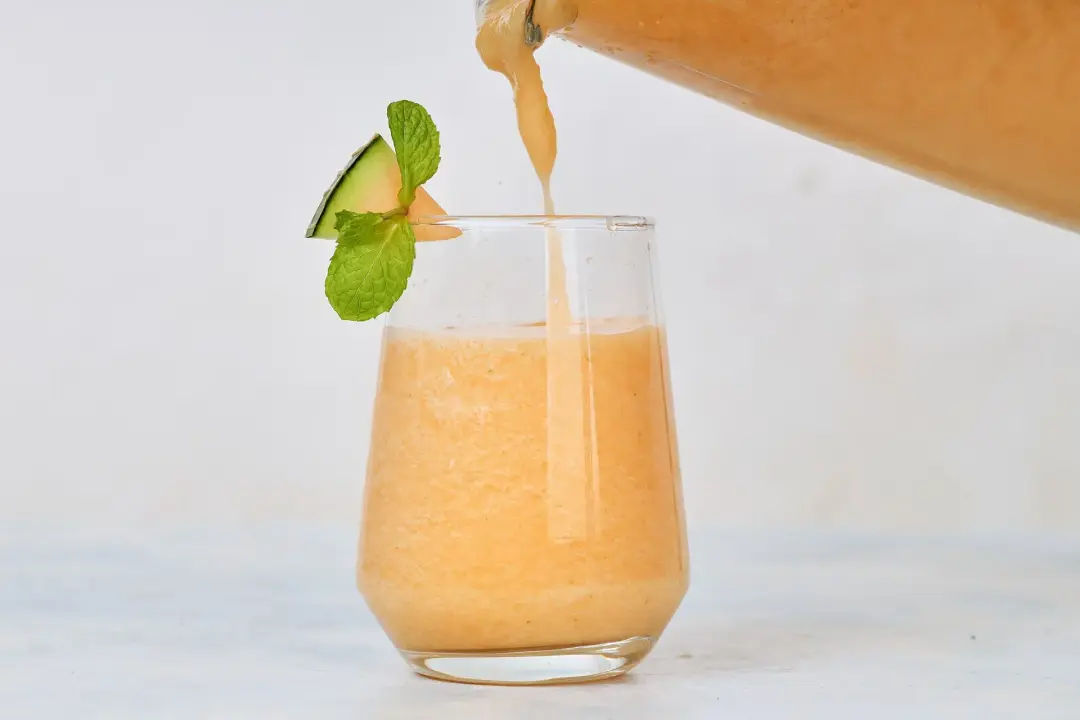 Pour into serving glasses.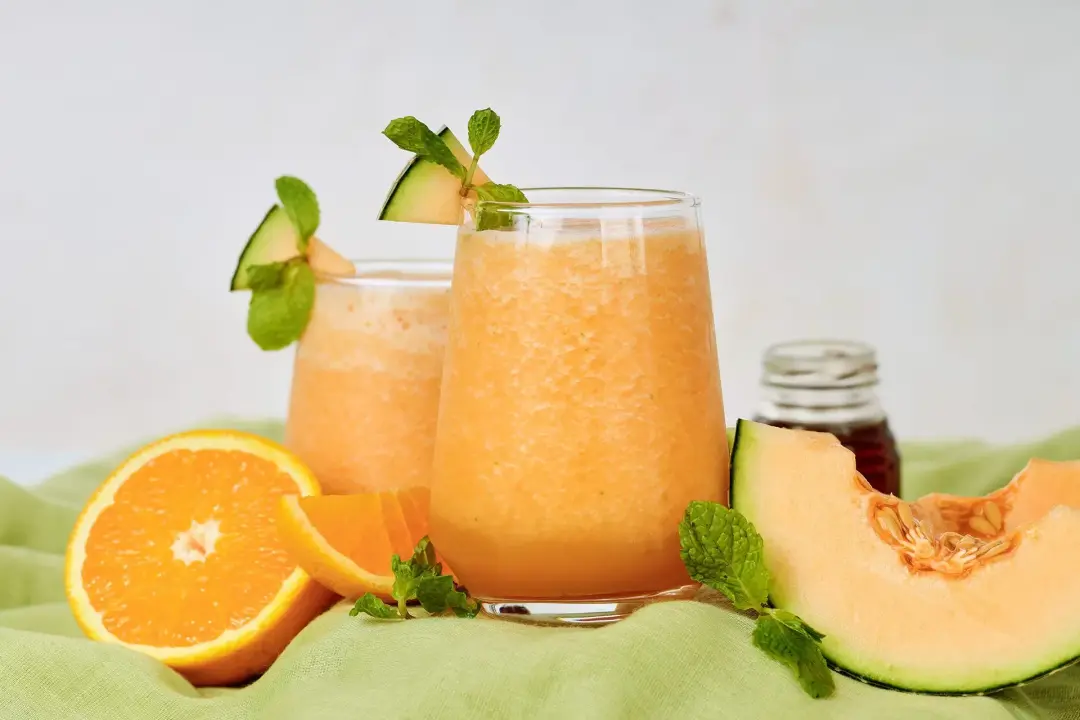 Garnish and serve.
Tips on How to Garnish a Cantaloupe Smoothie
The classic sprig of mint
It may seem cliché, but you have to admit, the vibrant green of the mint contrasts so well with the orange hue of the smoothie.
A trick we learned from our chefs is to slap the sprig of mint gently against the palm of your hand. Doing so will release the fresh and aromatic scent of the mint.
When you place the mint on the smoothie and take a sip, you can also enjoy a whiff of the minty perfume.
We garnish our drinks with the leftover ingredients used in our cantaloupe smoothie recipe, including the cantaloupe itself.
Another trick from our chefs is that you can put the sprig of mint into the piece of fruit and use it to garnish the glass. Here's how they do it:
Cut a small, triangular piece of fruit about ⅛ or ¼-inch thick.
Depending on the size of the fruit piece, cut about ¼ or ½ inch into the flesh, creating a slit. Avoid cutting it more than ¾ of the way through, as the piece may easily break later.
Pierce the stem of the mint into the slit.
Gently place the piece of fruit on the edge of the glass to garnish, positioning it right at the slit.
The perk of garnishing the smoothie with a piece of fruit is that you get to have a small snack to munch on while enjoying the drink.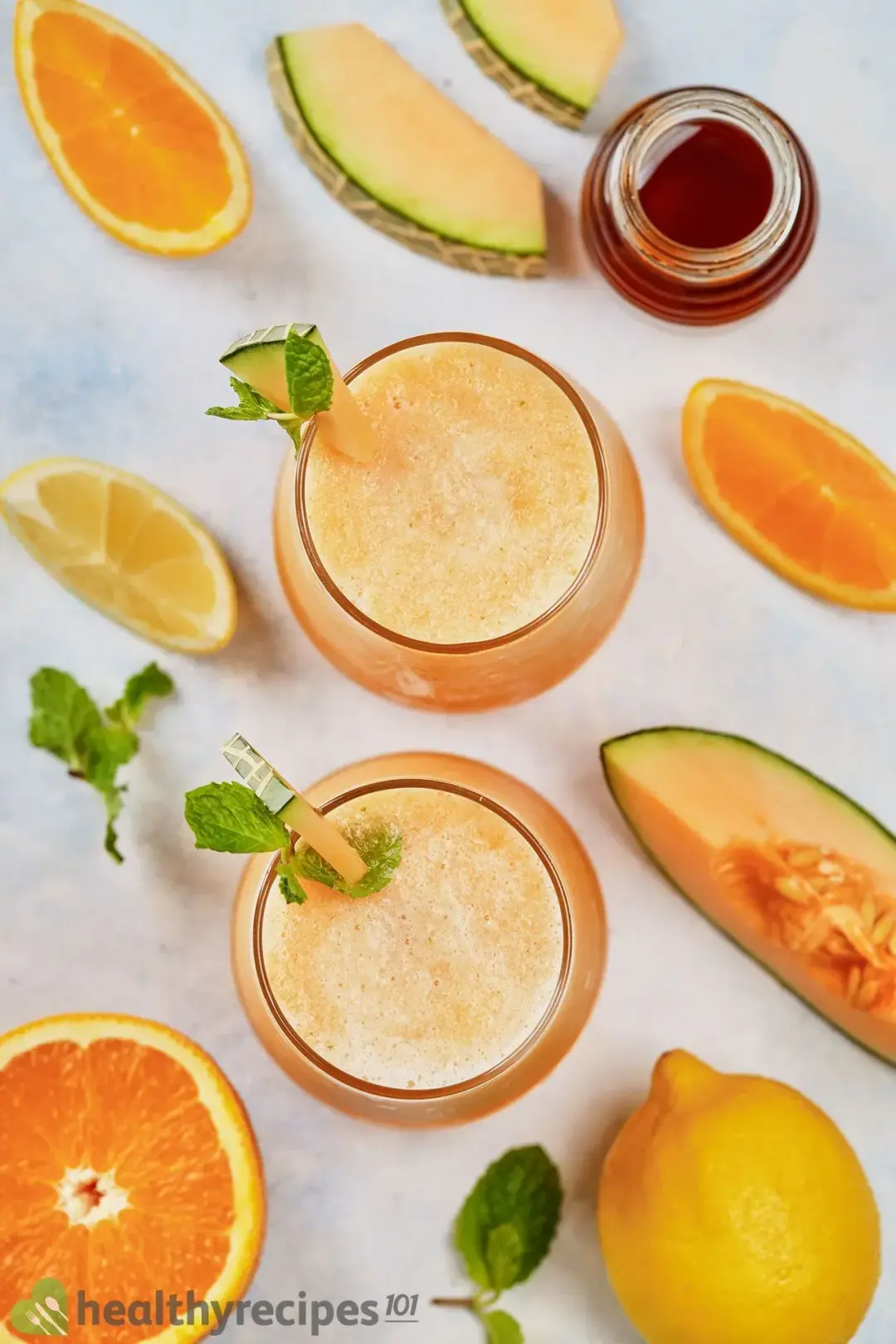 What Fruits Go Well with Cantaloupes?
You can elevate your cantaloupe smoothie recipe by adding other fruits to give it a more complex flavor profile.
Since cantaloupe is a sweet fruit, it should match perfectly with tangy, tart, or sour fruits. Here are some of our favorite combinations:
Assorted berries: While they are generally lightly sweet, berries can also be rather tart at the same time, which makes them the perfect match for sweet fruits like cantaloupes. In our opinion, you can try adding strawberries or raspberries as they are more tart than blackberries or blueberries. 
Citrus fruits: We used both orange and lemon juice for this recipe. This will give the drink a fresh, zesty scent and a sweet and sour taste. You can also experiment with lime, grapefruit, kumquat, etc.
Storing and Freezing Cantaloupe Smoothie
Enjoy this refreshing and hydrating beverage within the first two hours of preparation. After two hours, it begins to lose its freshness and will spoil quickly.
If you do not intend to consume your smoothie immediately, remove it from the blender and transfer it to an airtight bottle or similar container. Refrigerate the container as soon as possible to preserve the freshness of the smoothie.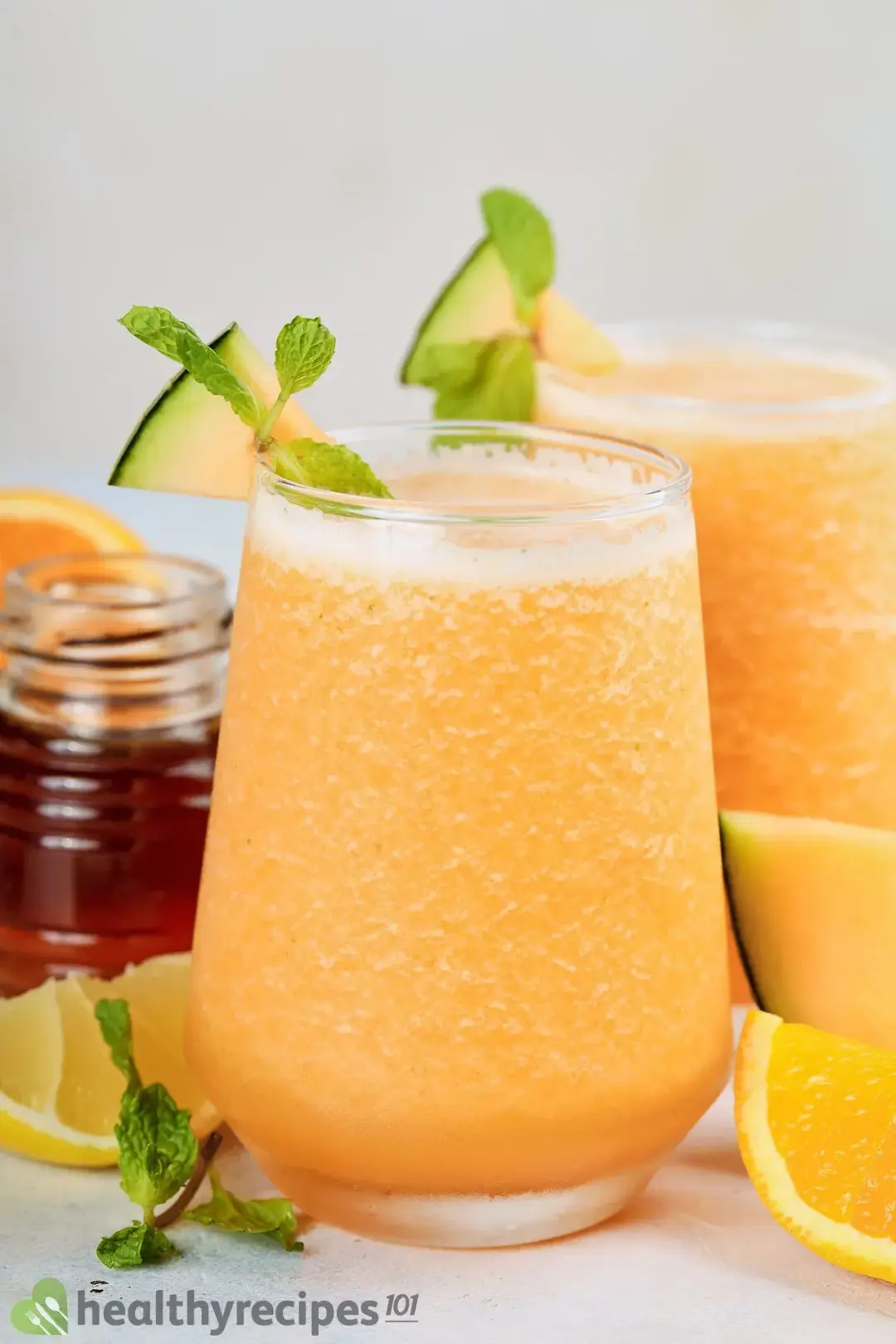 The drink will keep for up to two days if refrigerated. You may notice some separation, but this is normal for fresh fruit juices or smoothies. It will be ready to drink after a simple stir.
Additionally, you can freeze the beverage to extend its shelf life and ensure that it remains safe and edible for approximately a month.
In the meantime, you can treat yourself to a refreshing, fruity ice cream that is low in calories and fat-free.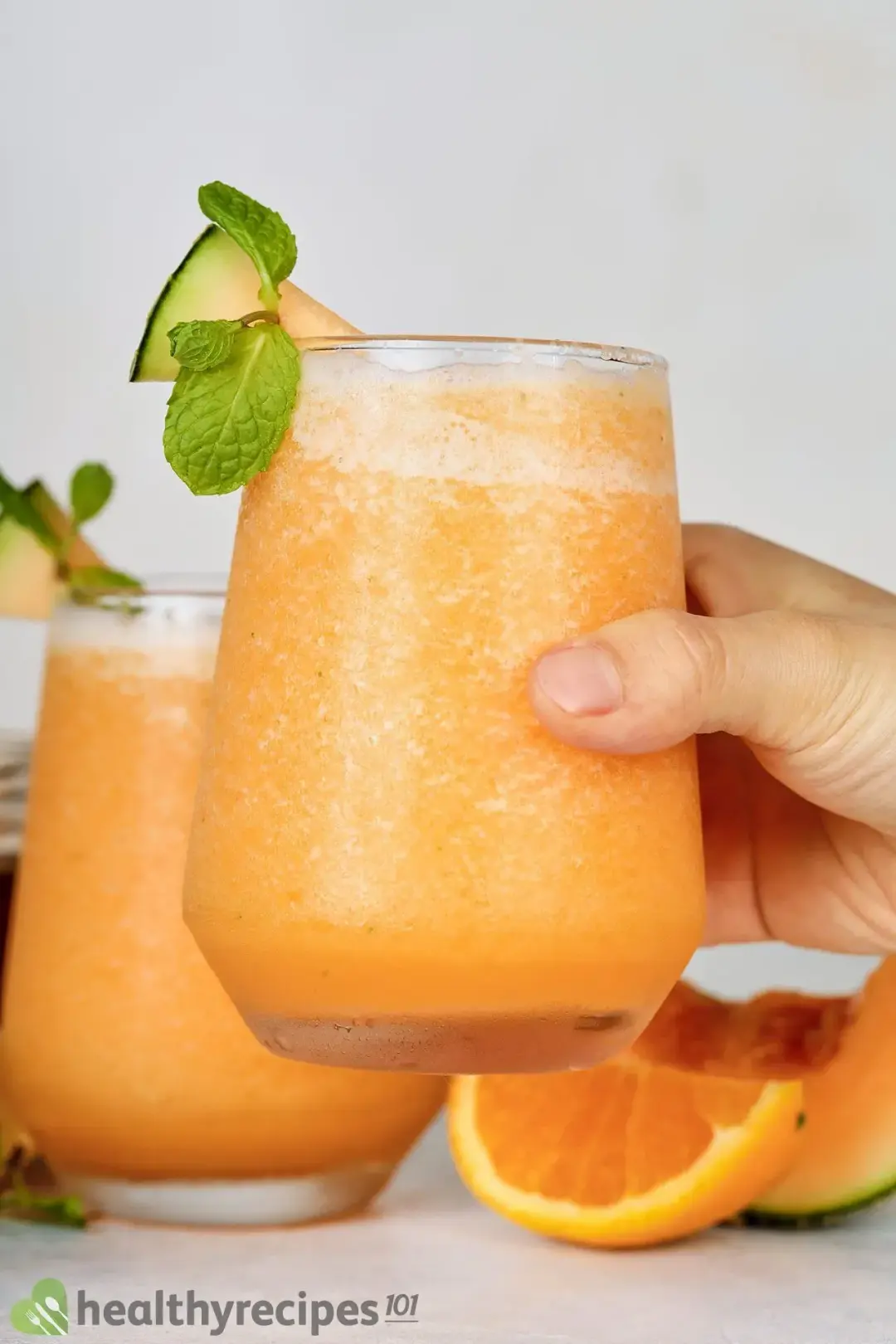 Cantaloupe Smoothie Recipe
Today's cantaloupe smoothie recipe will show you how to make a refreshing drink using sweet and juicy summer melon.
prep TIME

10 mins

total TIME

10 mins
COURSE

Beverage

CUISINE

Global

SERVINGS

servings

CALORIES

95 kcal
INGREDIENTS
20 oz

cantaloupe peeled, deseeded, and cut into chunks

0.5 cup

orange juice

1 tsp

lemon juice

2 tbsp

honey

2 cups

ice

8

mint leaves we used spearmint
INSTRUCTIONS
1
Blend all the ingredients: In a blender, combine 20 oz cantaloupes, 1/2 cup orange juice, 1 tsp lemon juice, 2 tbsp honey, 2 cups ice, and 4 mint leaves. Blend until smooth.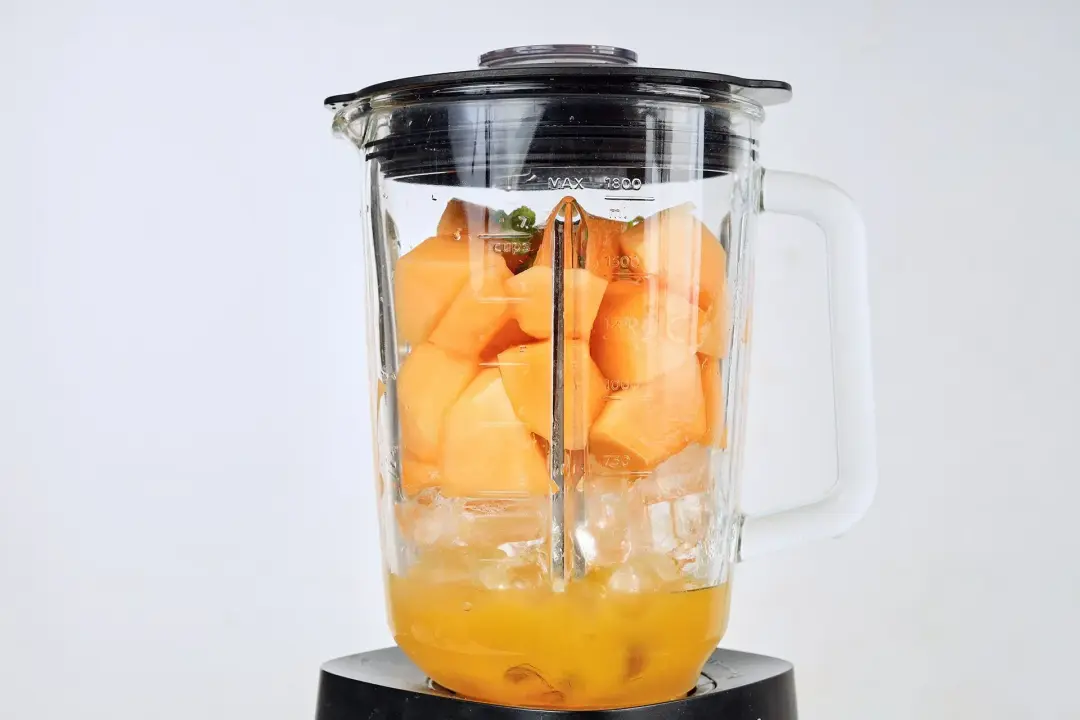 2
Pour into serving glasses.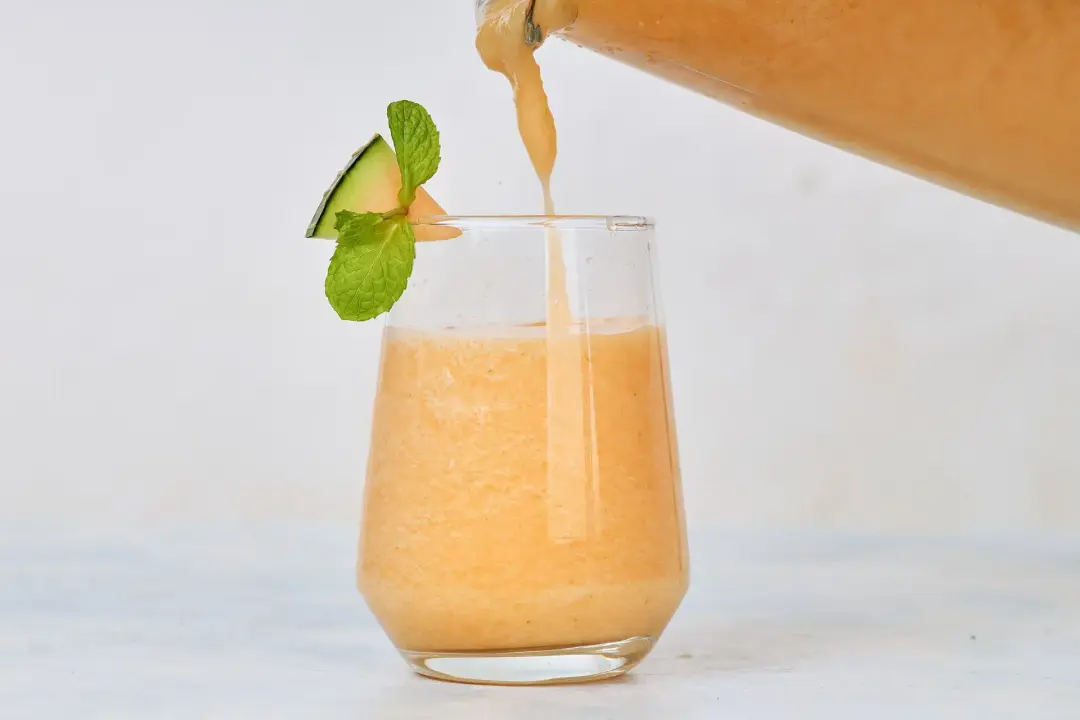 3
Garnish and serve: Divide the drink into four serving glasses and garnish with the mint leaves. Enjoy your fresh smoothie.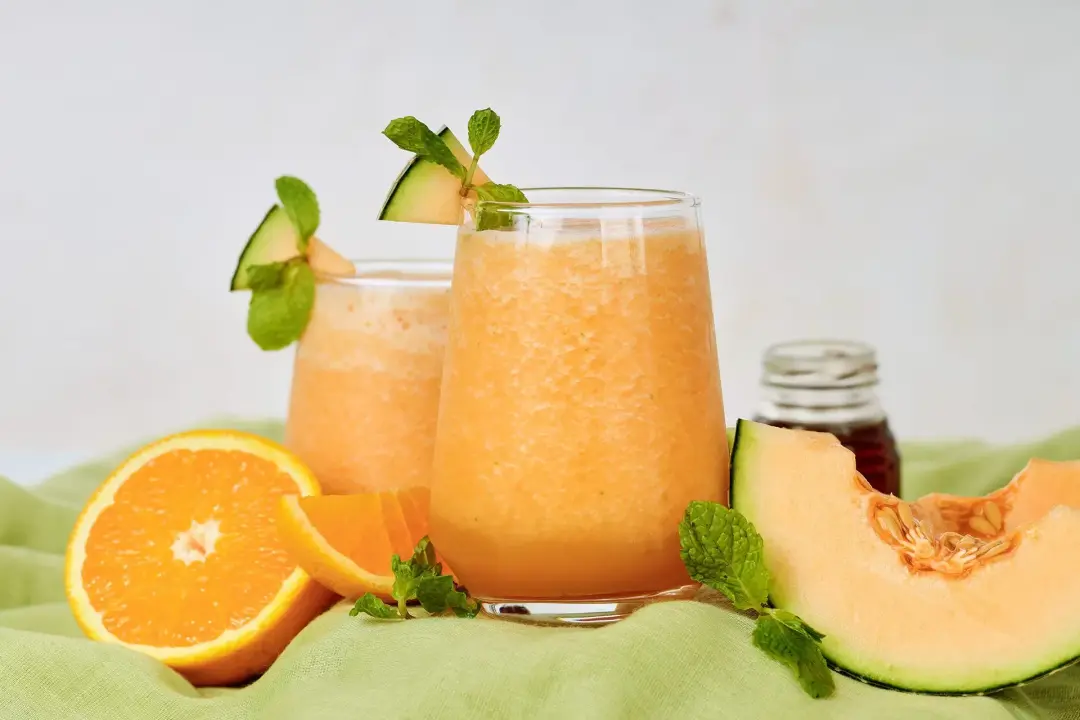 NUTRITION
Nutrition Facts
Cantaloupe Smoothie Recipe
Amount Per Serving (1 serving)
Calories 95
Calories from FDA
% Daily Value*
* Percent Daily Values are based on a 2000 calorie diet.
Previous Recipe
Apple Pie Smoothie
Apple Pie Smoothie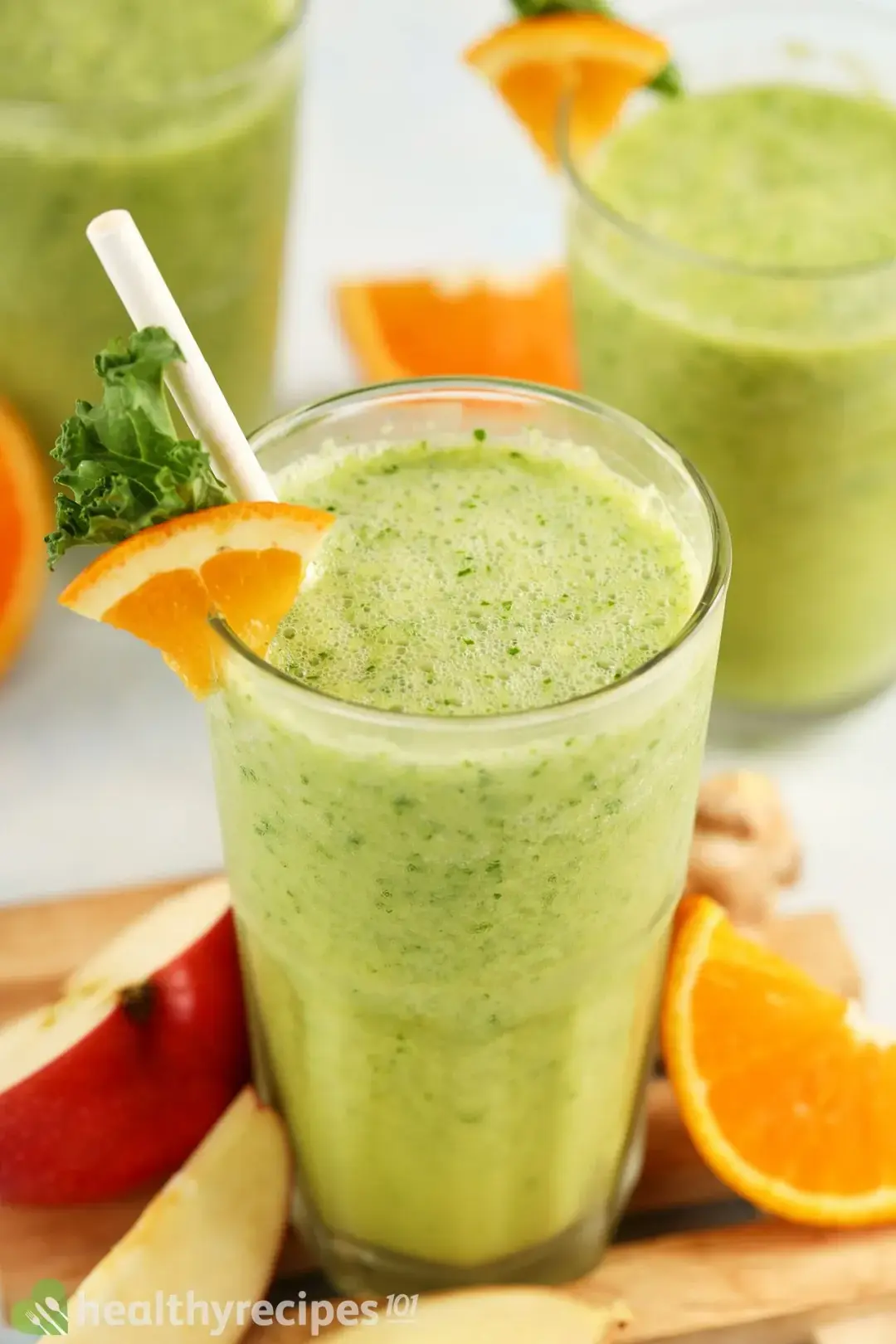 Next Recipe
Kale Apple Smoothie
Kale Apple Smoothie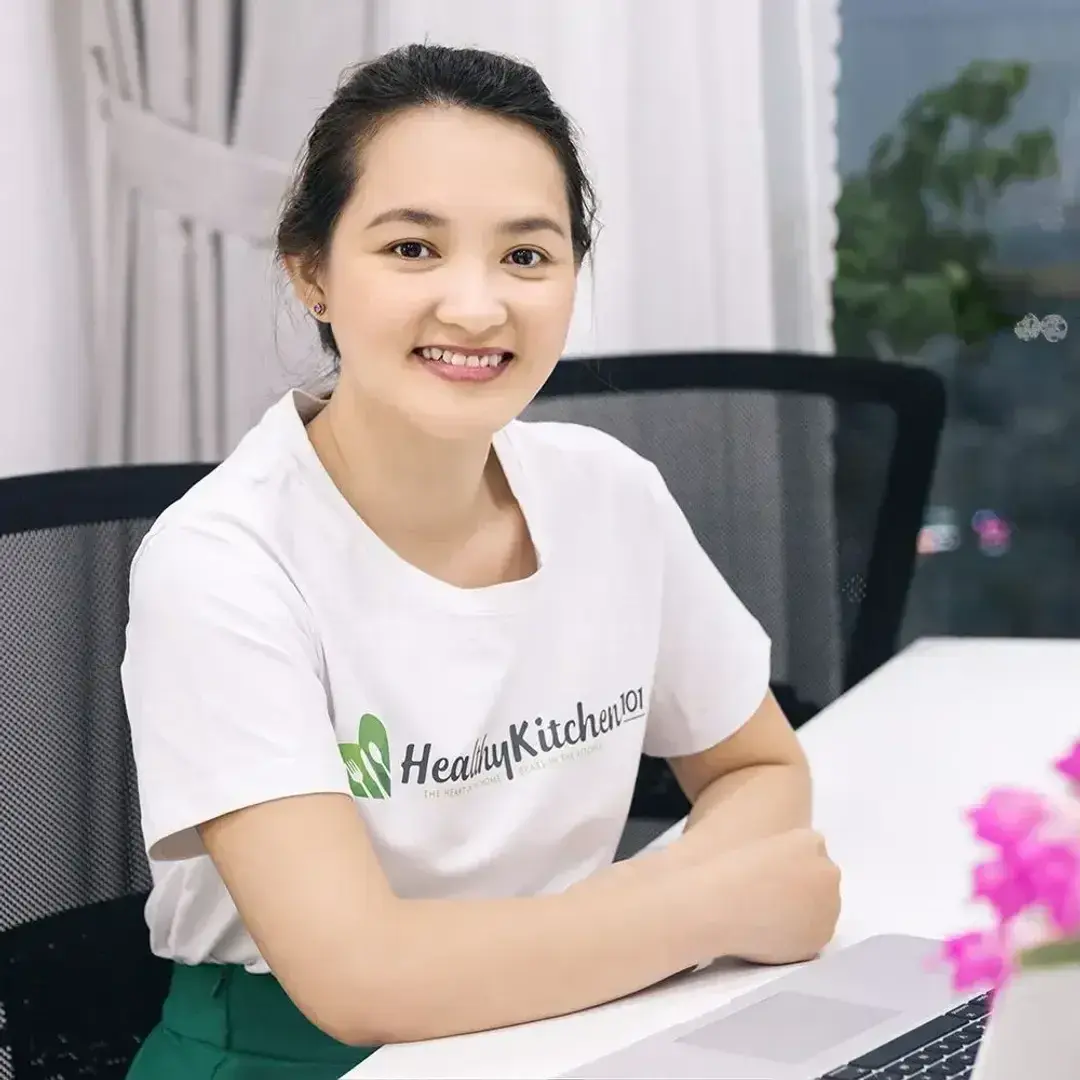 Luna Regina
Luna is the founder and chief recipe developer of Healthy Recipes 101. Apart from cooking, she also loves reading, programming, exploring the outdoors, and collecting useless facts about everything.