Today's coffee banana smoothie recipe will liven up your morning. We blend together bananas and coffee and enrich it with cocoa powder and some dark chocolate. It's one of the tastiest ways to start your morning routine, and it's also healthy.
Is Coffee Banana Smoothie Healthy?
Coffee is often associated with heavily sweetened beverages that may or may not contain lots of cream. Ours, however, is naturally sweet and enriched with a small amount of dark chocolate, hence containing low levels of added sugar and saturated fat.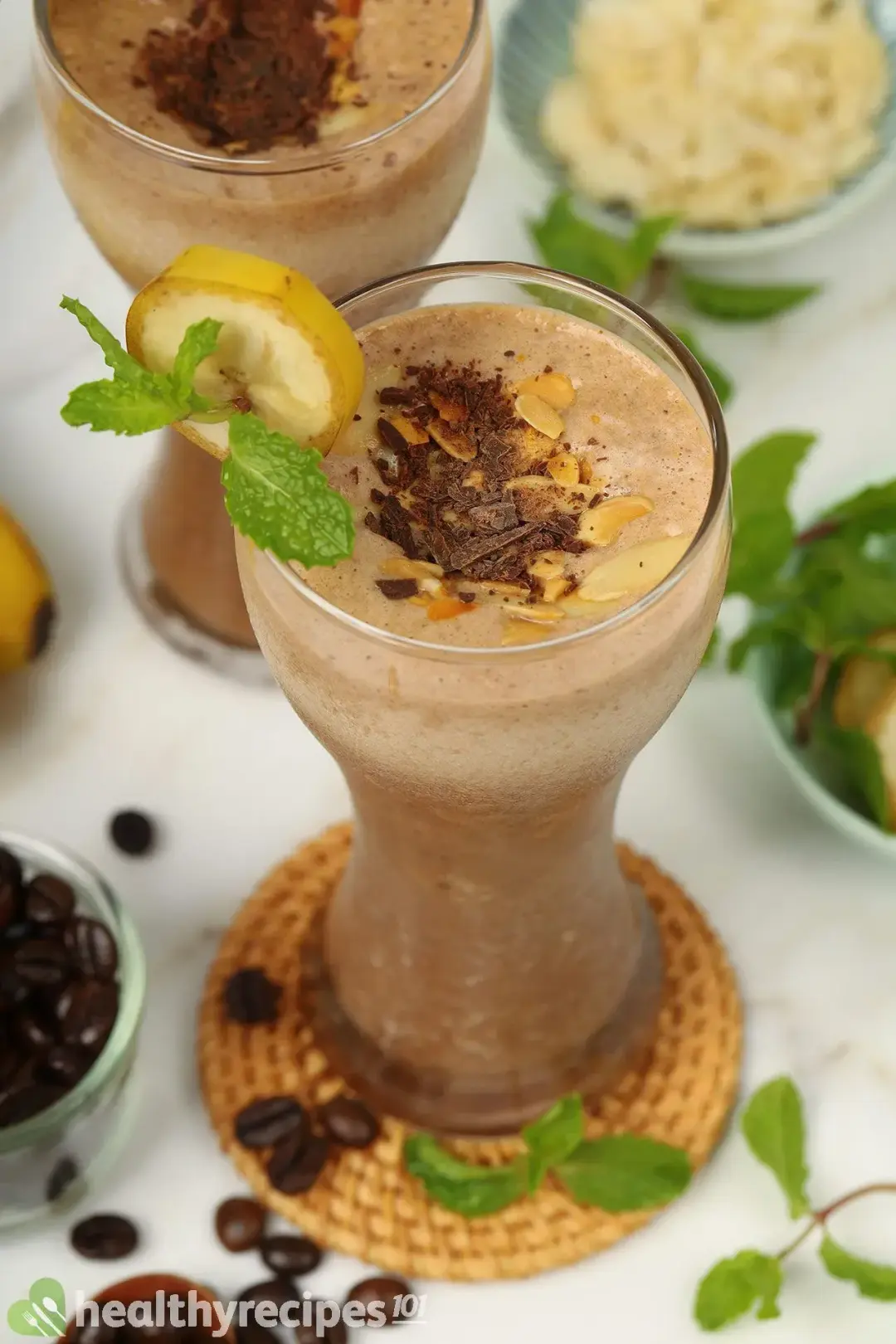 We also used very little coffee (1/2 tbsp of instant coffee for 4 servings), so the caffeine content is low as well. While harmless in small amounts, an overdose of caffeine can cause nausea and anxiety.
Making up most of the drink is bananas, which are abundant in micronutrients. There are potassium, vitamin C, B vitamins, and many more, keeping the drink nutrient-dense.
Can You Mix Bananas and Coffee Together?
Yes, you can. No harmful substance is known to be created after mixing these two together. In fact, it's a pretty delicious mix, too.
Ingredients for This Coffee Banana Smoothie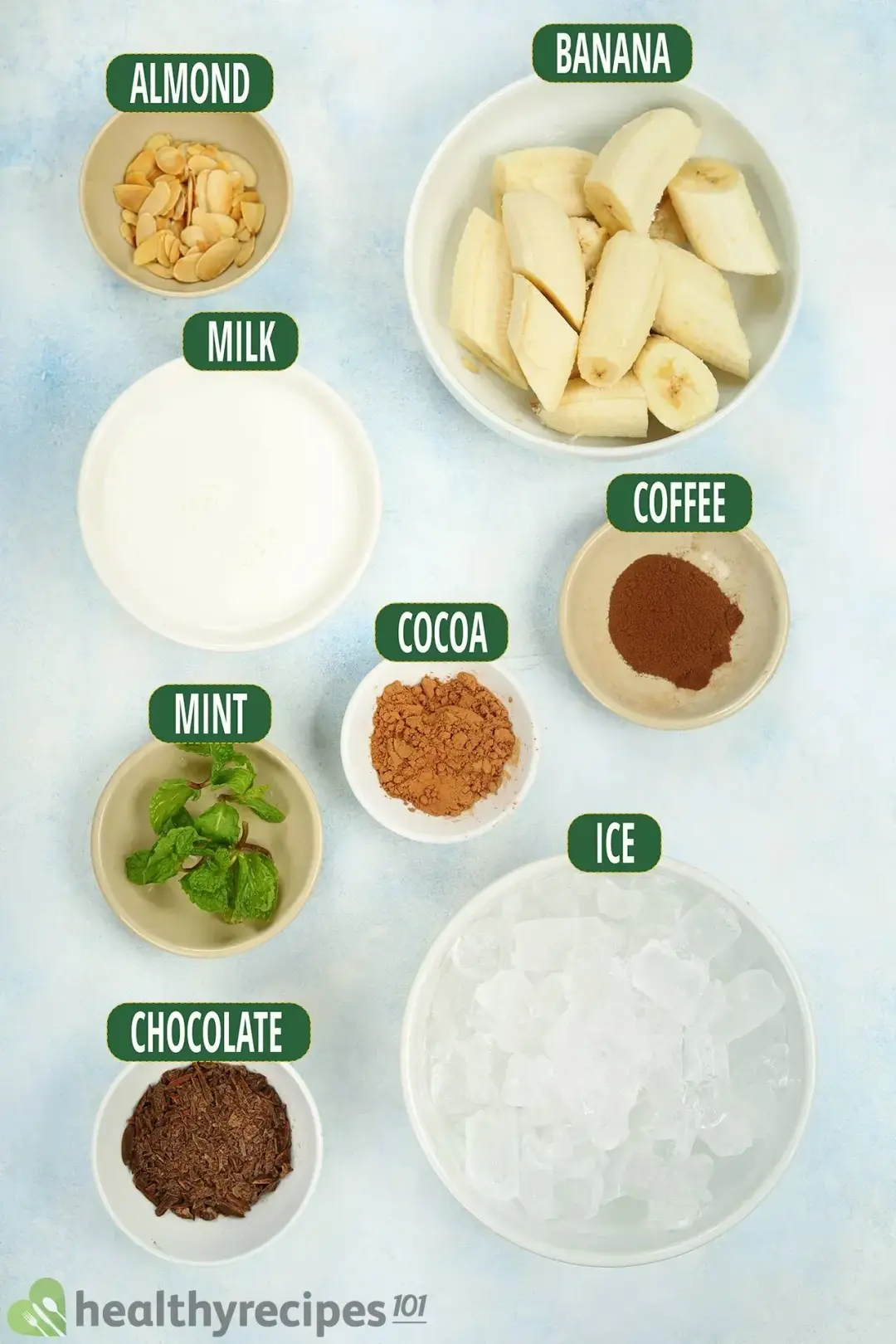 Bananas, ripe or really ripe
Instant coffee powder, regular or decaf but not enriched or sweetened
Milk, whole milk, or half and half
Cocoa powder
Dark chocolate
Ice, soft ice, like ice nuggets to avoid a chunky smoothie
Sliced almonds lightly toasted in a pan, to give the smoothie a nutty texture
Mint leaves for garnish
Can You Put Ground Coffee in a Smoothie?
We suggest not to. Not only does it have a grainy texture that doesn't work well in smoothies, but experts also suggest that we filter our coffee.
If ground coffee is all you have, we suggest brewing your own coffee, either the regular way or this simple, machine-free way.
In a bowl, steep one part coffee ground with one part hot water for 5 minutes. Meanwhile, place a sieve onto a clean bowl and line the sieve with a piece of coffee filter. Add another part of water to the mixture, strain everything through the sieve, and wait for your coffee.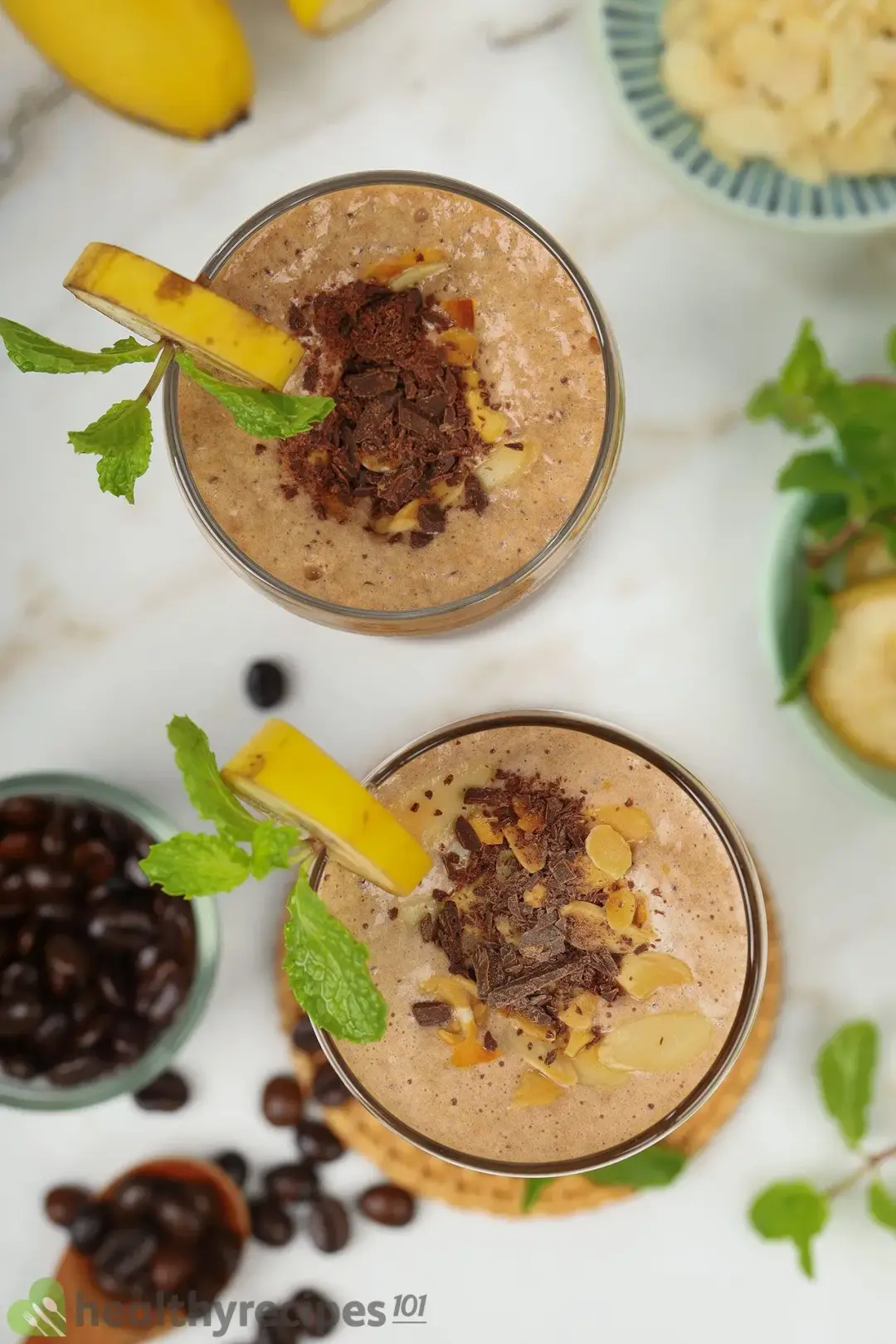 Should the Bananas Be Frozen?
If you're aiming for a much thicker smoothie, you should use frozen bananas. Don't slice the bananas and put them all into one large container if you don't want to deal with a large chunk of frozen bananas. Here's what we usually do instead.
First, we line a baking tray that fits our freezer with parchment paper, then we slice our bananas and place them on the tray. We keep the pieces separate, so they don't meld together during freezing.
Once frozen, we peel them off the parchment, transfer them to a Ziploc bag, and they're ready for smoothie-making.
Storing the Ingredients
If you want to prepare the ingredients the night before:
Freeze the bananas, as we mentioned earlier.
Measure out the cocoa powder and coffee powder and place them in a bowl. Cover with plastic wrap and refrigerate.
Grate some dark chocolate, measure out the required amount, and refrigerate it as well.
Make sure there's ice and milk in your fridge. You can measure and add them to your blender the next morning.
Toast some sliced almonds the night before and cover them with plastic wrap. It can be kept on the counter, at room temperature, or in your fridge.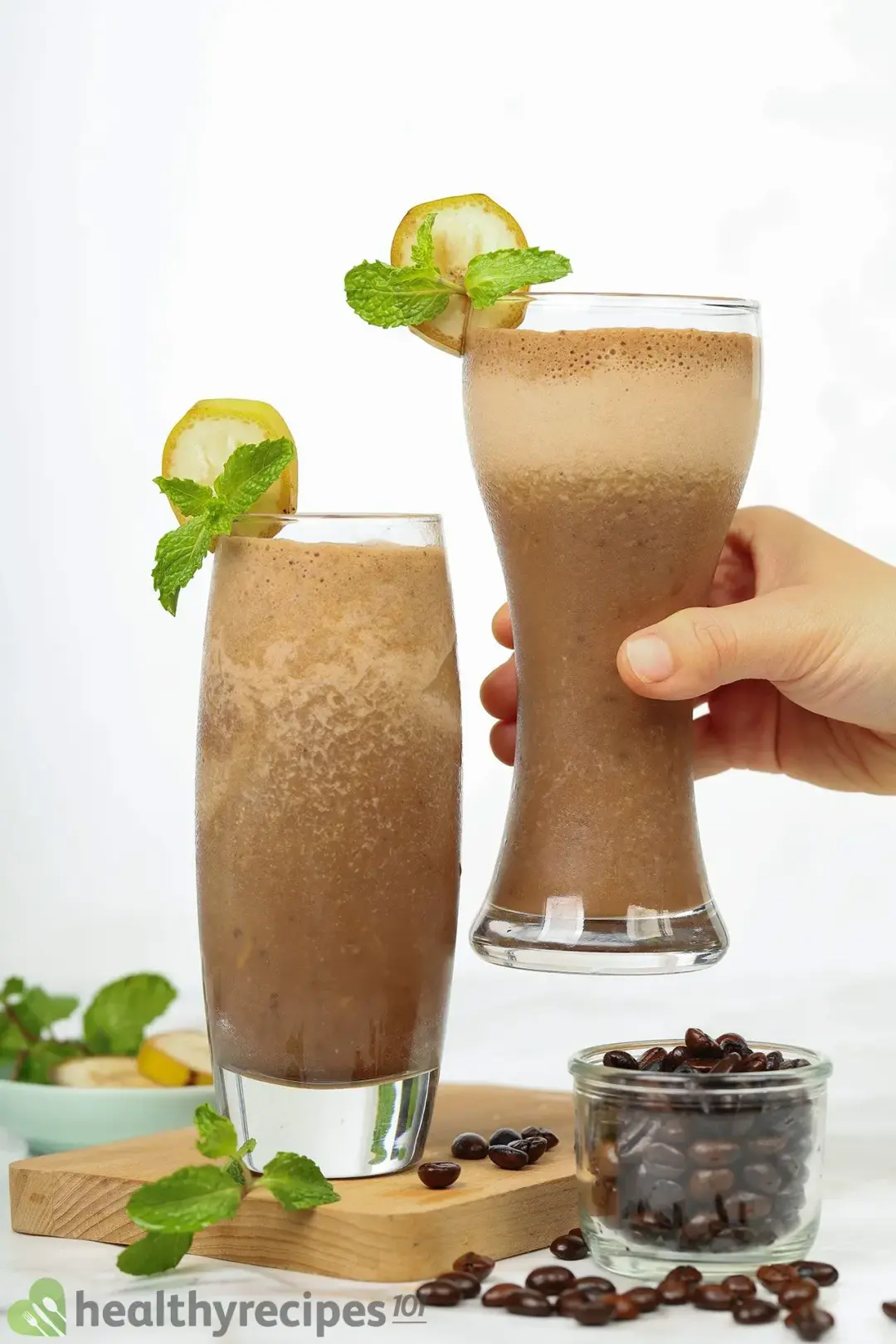 How to Make Coffee Banana Smoothie
Today's coffee banana smoothie recipe is an ideal breakfast beverage with nutrient-dense calories from bananas to keep you energized. It is simple and quick.
prep TIME

5 mins

total TIME

5 mins
COURSE

Beverage, Smoothie

CUISINE

Global

SERVINGS

servings

CALORIES

157 kcal
INGREDIENTS
12 oz

bananas

0.5 oz

sliced almonds toasted

2 cups

ice

1 tbsp

unsweetened cocoa powder

1 cup

whole milk

0.5 oz

dark chocolate 60-69% cacao solids

5

sprigs of mint

0.5 tbsp

instant coffee
INSTRUCTIONS
Prep:
2
Toast 0.5 oz sliced almonds in a non-stick pan over low heat until they turn golden brown. Be sure to stir constantly or they will burn.
Cook:
1
Add all to a blender. Close the lid and blend. (except for the mint leaves).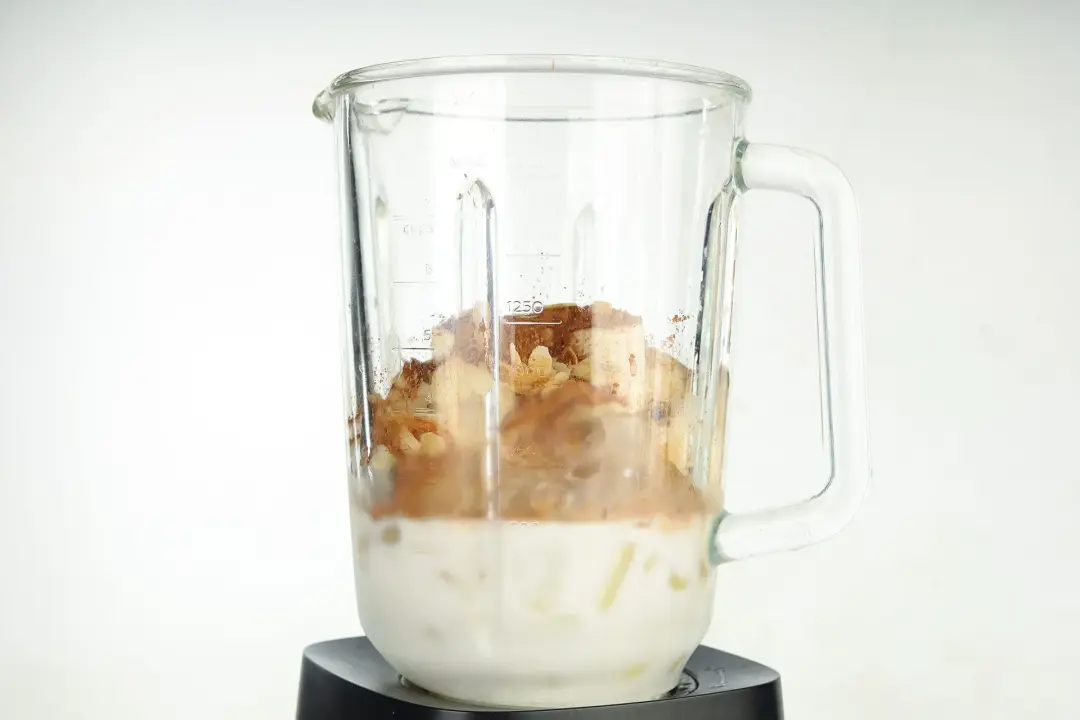 2
Pour into serving glasses.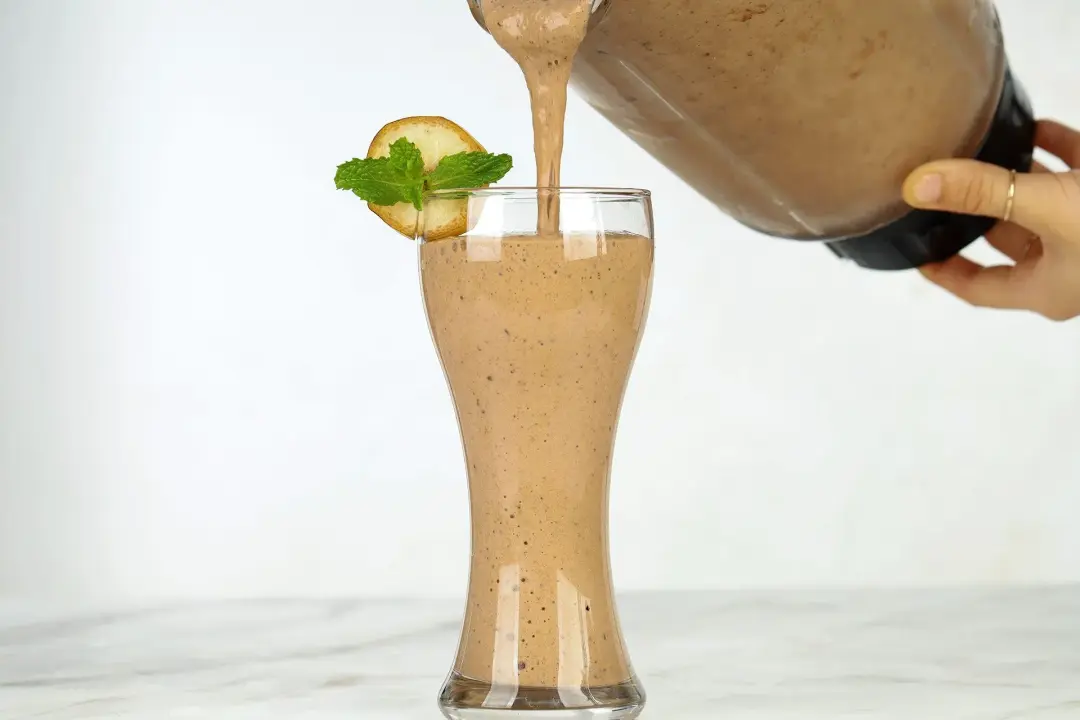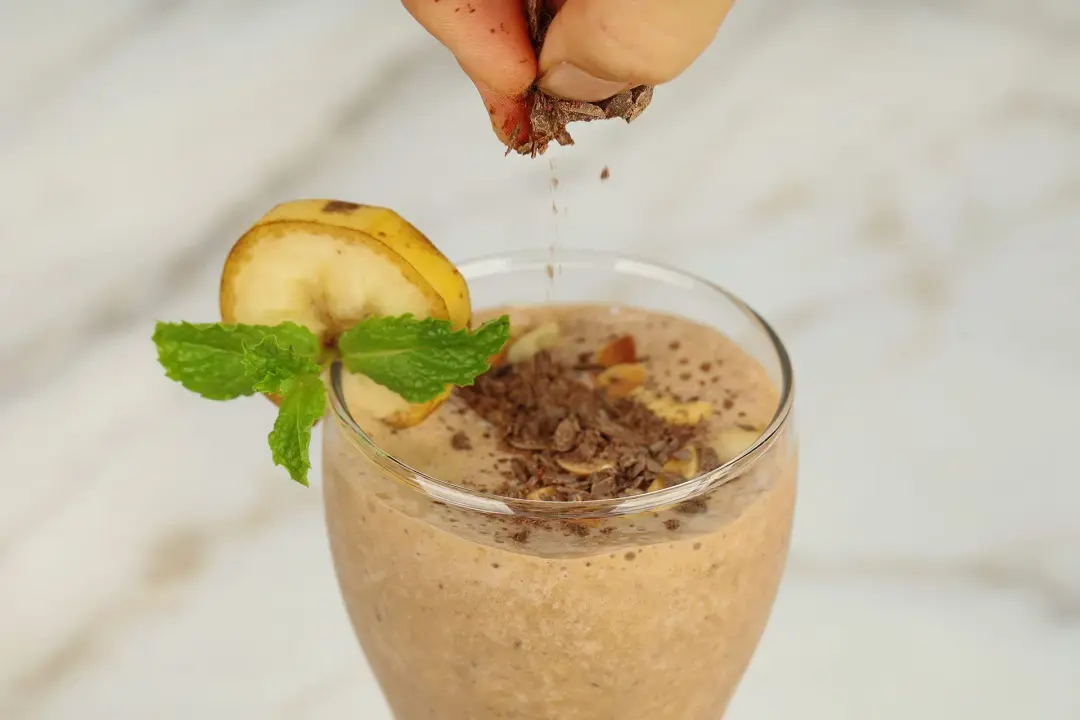 NUTRITION
Nutrition Facts
How to Make Coffee Banana Smoothie
Amount Per Serving (1 serving)
Calories 157
Calories from FDA
% Daily Value*
* Percent Daily Values are based on a 2000 calorie diet.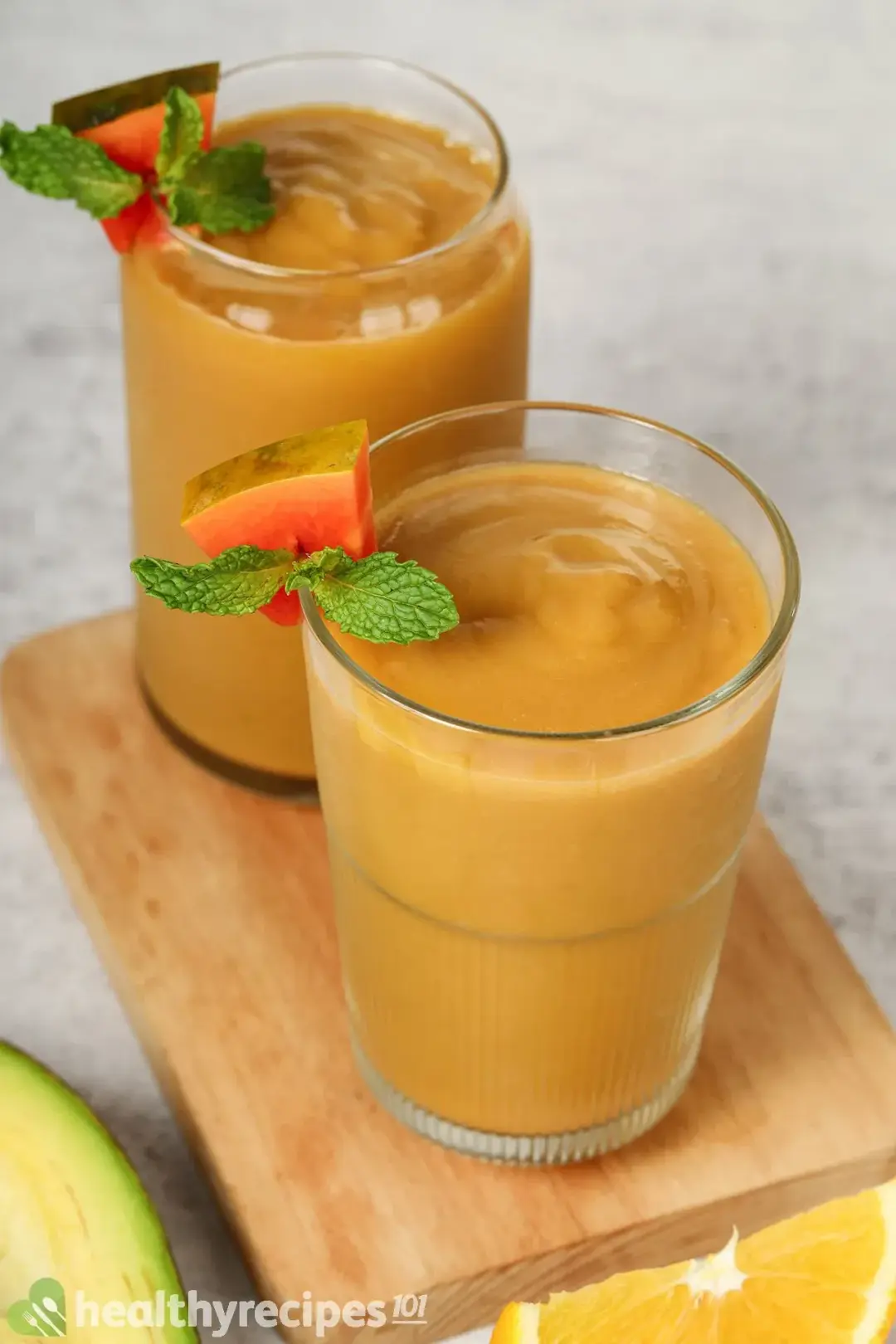 Previous Recipe
Avocado Papaya Smoothie
Avocado Papaya Smoothie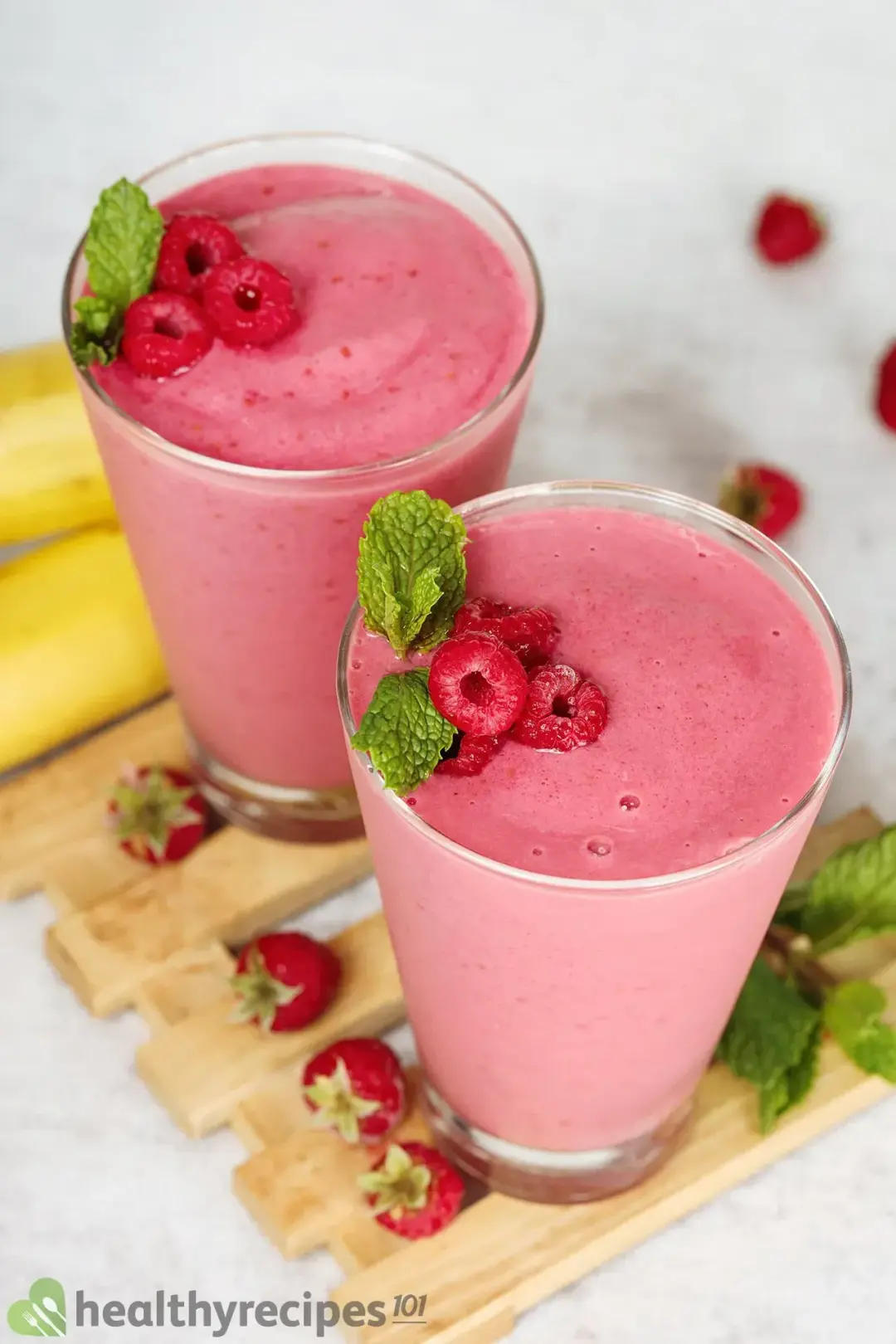 Next Recipe
Raspberry Smoothie
Raspberry Smoothie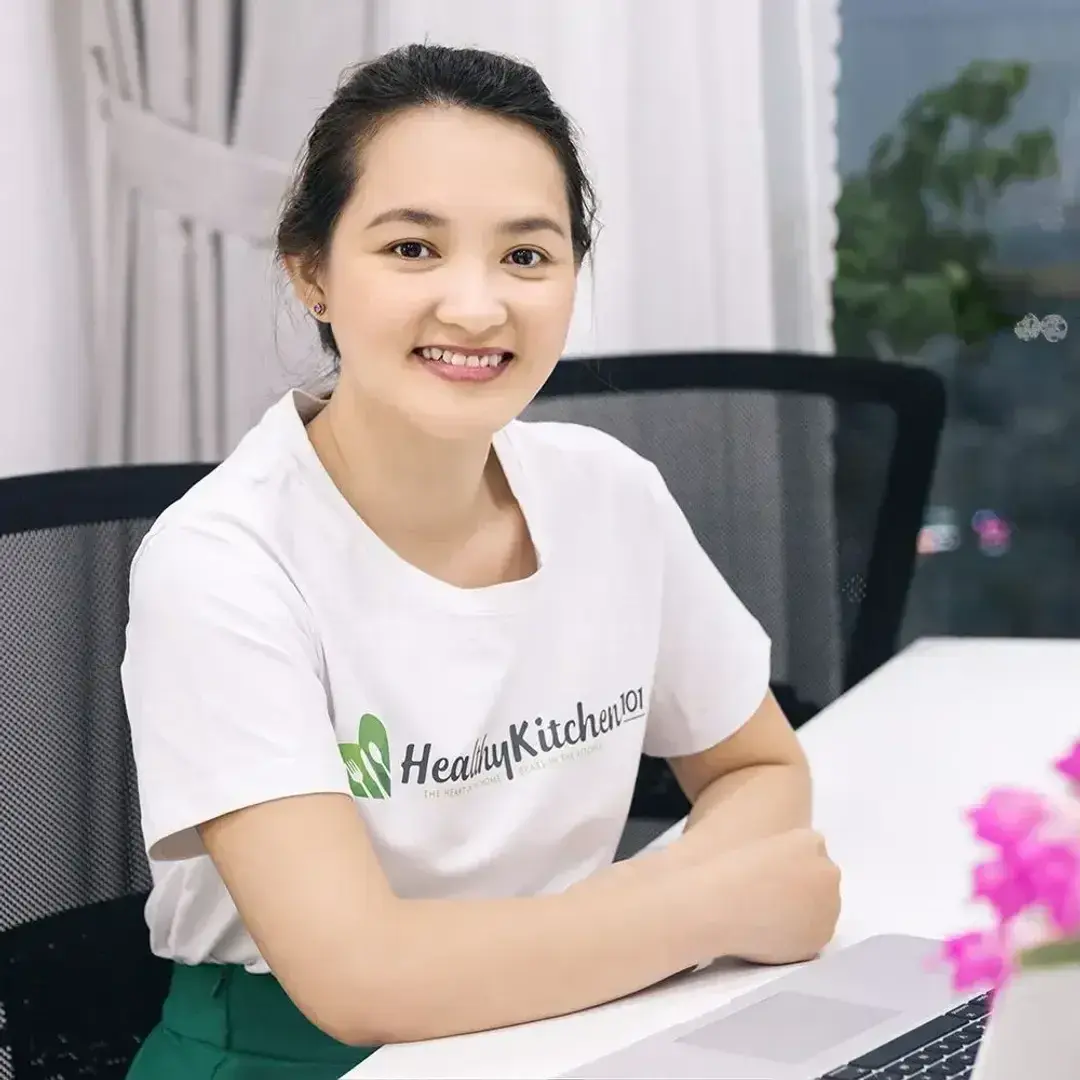 Luna Regina
Luna is the founder and chief recipe developer of Healthy Recipes 101. Apart from cooking, she also loves reading, programming, exploring the outdoors, and collecting useless facts about everything.