Today's taco pie recipe is the easiest way to turn ground beef and tortillas into a restaurant-quality dinner.
The pie is made with a tortilla crust piled high with a delicious filling of stir-fried beef mixture. It is topped with cheese, crisp vegetables, and yogurt dressing. Savory and comforting, this wholesome taco pie will please any Tex-Mex lover.
Is Our Taco Pie Recipe Healthy?
Yes, our taco pie is a wholesome yet healthful recipe. However, it is preferable to serve it as referenced below and in modest portions.
To begin with, we avoided using excessive salt and creamy dressing, which are both major sources of sodium and saturated fat. These are naturally occurring nutrients found in a variety of our foods which experts recommend we limit.
Because our definition of a balanced diet also involves control, we ensured that each serving is neither too large nor too small. The dish should be a fulfilling meal while sticking to our guidelines.
As a result, each serving of this taco pie recipe contains 468 calories, 8.3 g saturated fat, and 583 mg sodium; all of which are below the recommended range for a healthy main dish.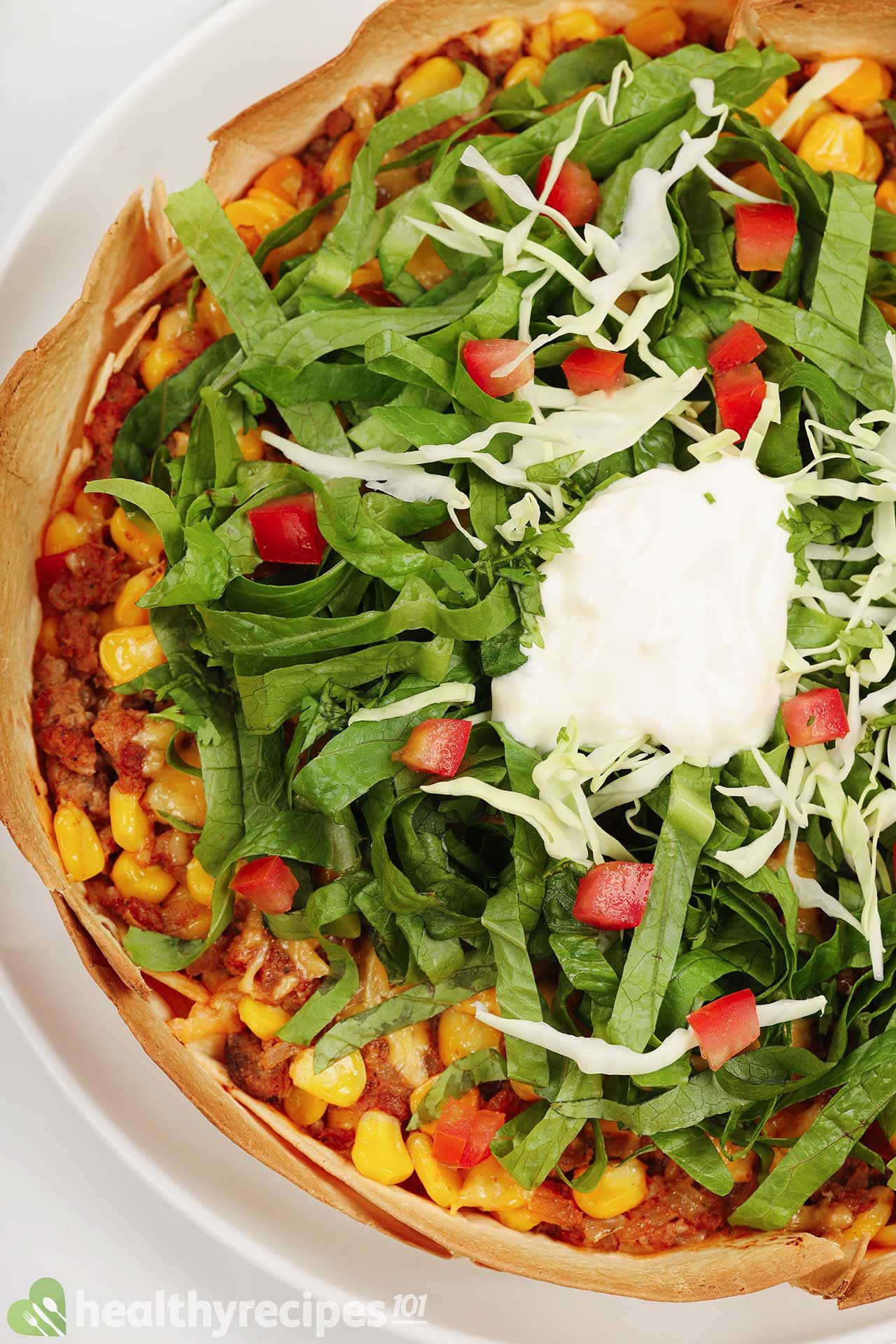 Ingredients for Taco Pie
1. Beef
Ground beef with 15 % fat is the simplest way to make a delectable taco pie. Not only is it inexpensive and simple to prepare, but it also cooks quickly and absorbs the spices beautifully.
This recipe can be made with pork, chicken, or any other ground-meat variety. All you have to do is briefly brown the protein of choice with the spice mix and tomatoes until tender and fragrant.
2. Tortillas
The tortillas are partially baked before forming the base of the pie. Then fill the crust with your favorite taco toppings and bake until perfection.
We went with flour tortillas since they work best in this recipe. As flour tortillas contain gluten, this gives them a chewier texture and helps them hold a large amount of filling. However, if you only have corn tortillas, you can certainly switch them out.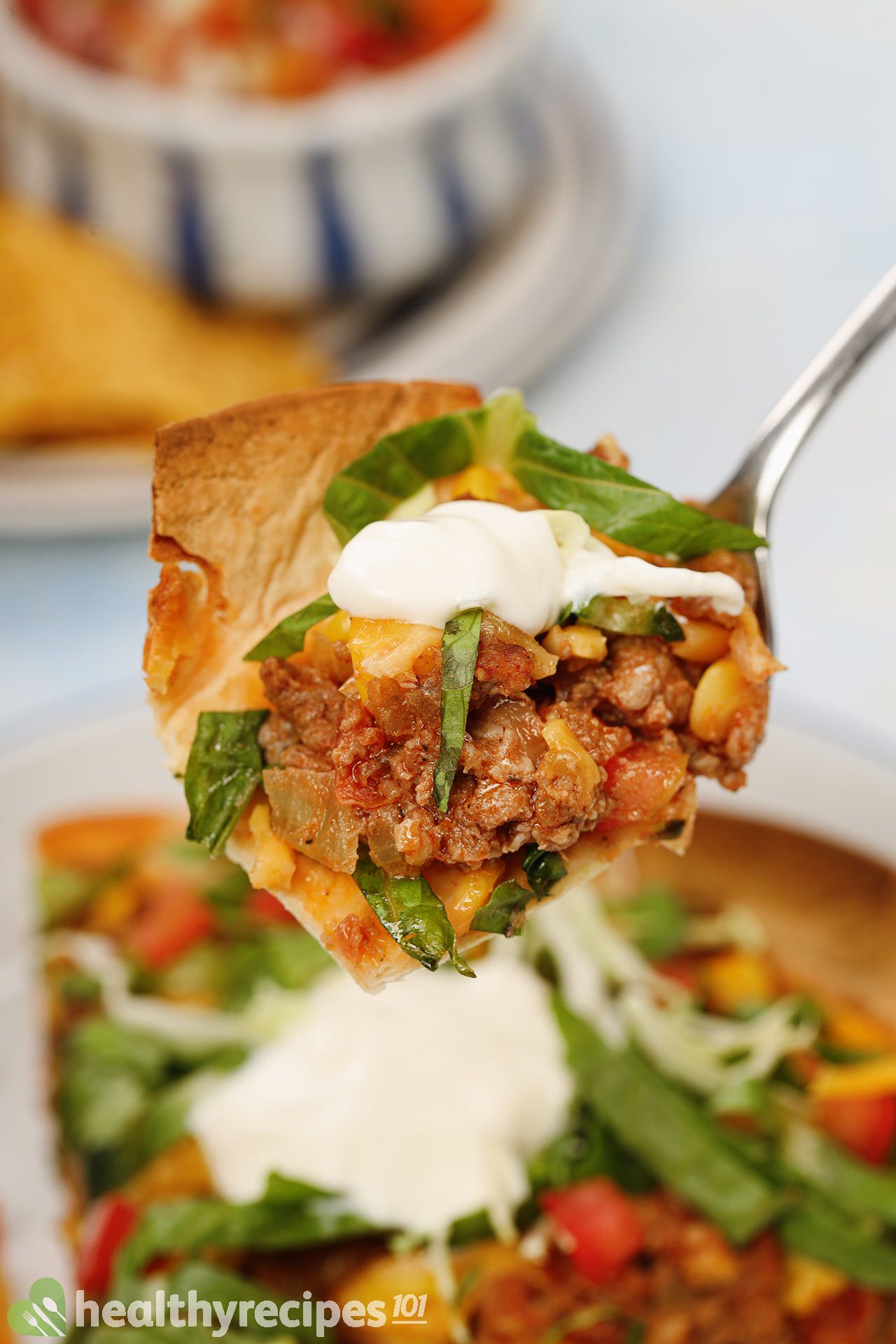 3. Spices
Our spice blend binds all the components together and imparts Tex-Mex flavors to the taco pie. Though it looks a bit complicated at first glance, the spice blend is extremely simple to prepare and customize to your taste.
Our spice blend would not be possible without the incredible combination of these condiments:
Salt: Our recipe's primary taste enhancer. Salt lends flavor and complements the protein in any stir-fry recipe.
Cumin and oregano: To infuse our recipe with a hint of Mexican flavor. Additionally, they enhance the smell of the taco pie.
All-purpose flour: Help to thicken the beef mixture.
Chili, peppers, and paprika: Chili and peppers lend spice to the dish, while paprika is much milder and adds a hint of smokiness.
4. Vegetables
To balance out the meaty-filling, we topped the pie with fresh veggies. Feel free to incorporate more of your favorite vegetables to add vibrancy to the dish (as well as more nutrients). Some of the go-to choices are romaine, cabbage, olives, tomatoes, and avocado.
5. Dressing
Our genius-hack and beyond-simple dressing is made with one ingredient: Greek yogurt. The tangy, creamy dressing enlivens the taco pie with no effort at all.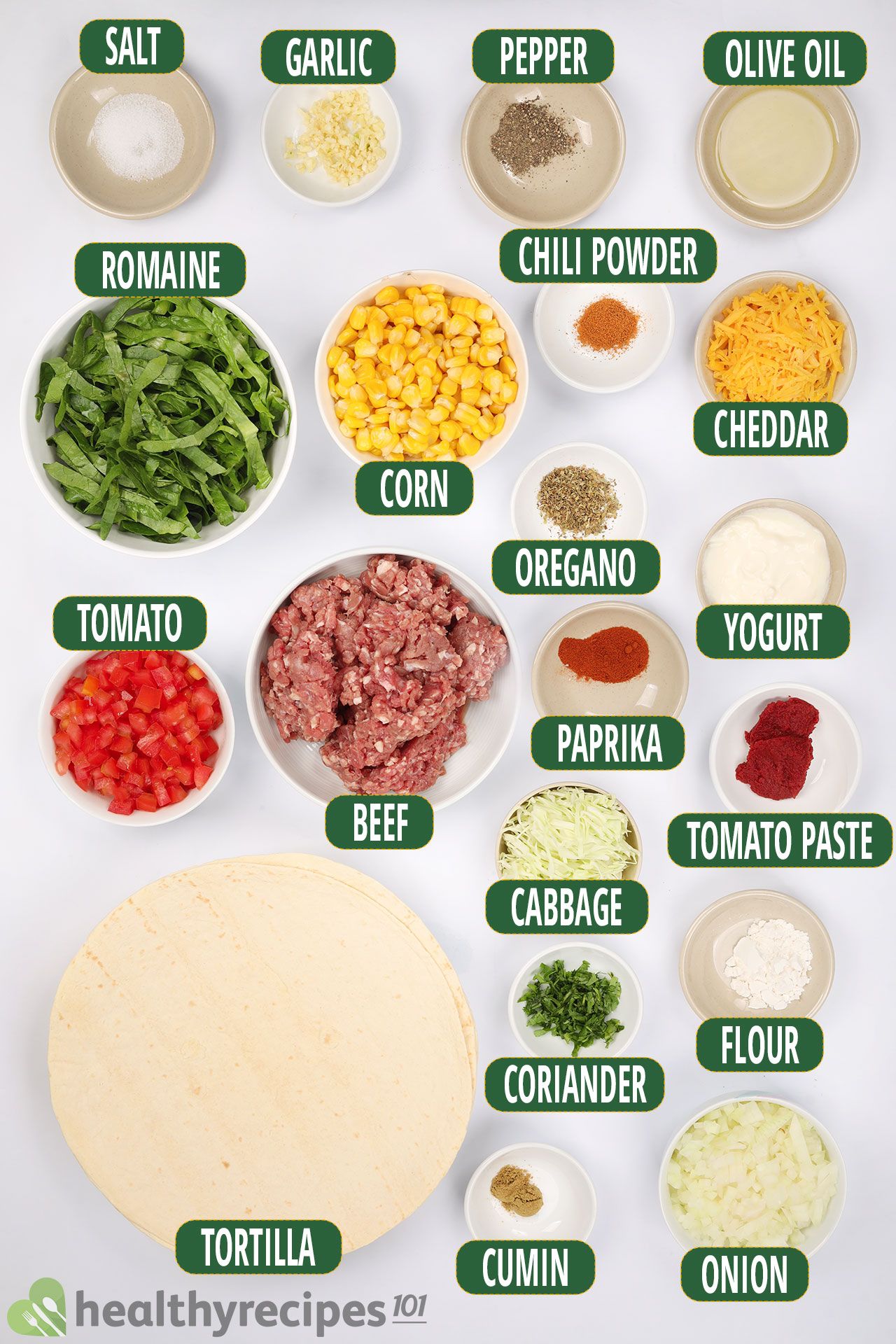 How to Make Taco Pie
You'll be amazed at how simple it is to bring this taco pie to your table in less than an hour. With juicy ground beef stir fry, crunchy crust, fresh veggies, and creamy dressing, it's surprisingly straightforward to make: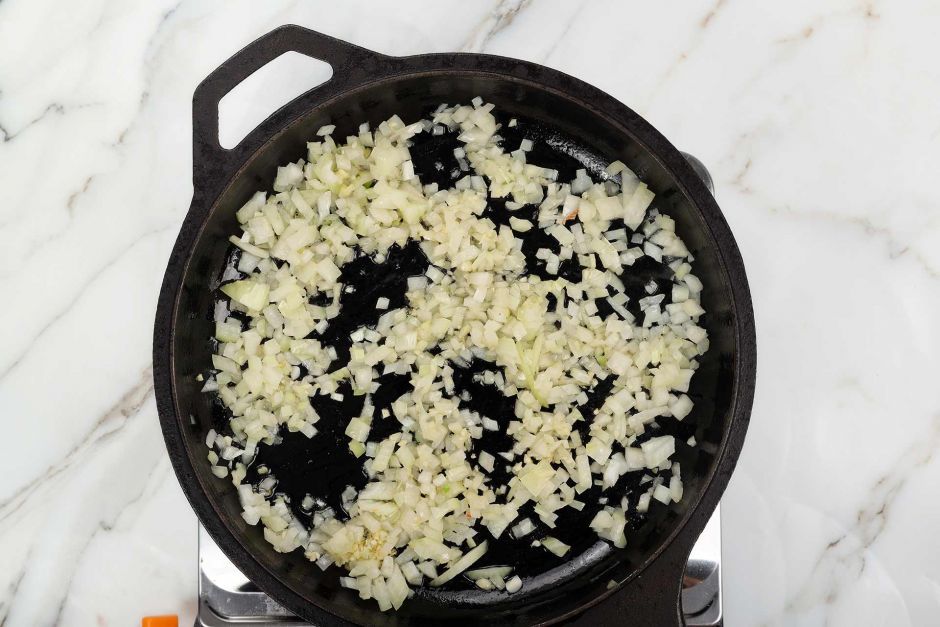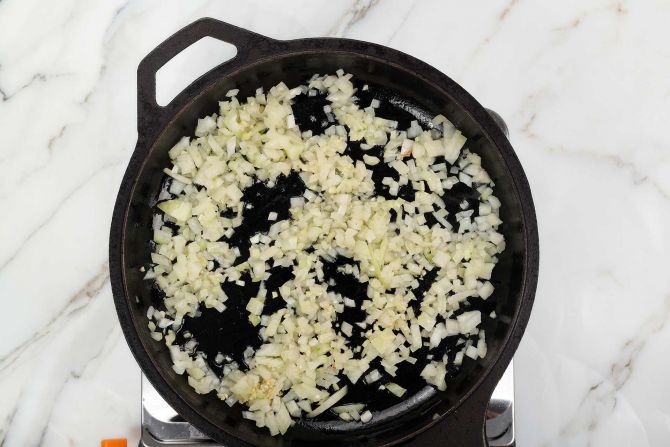 Sauté the onions.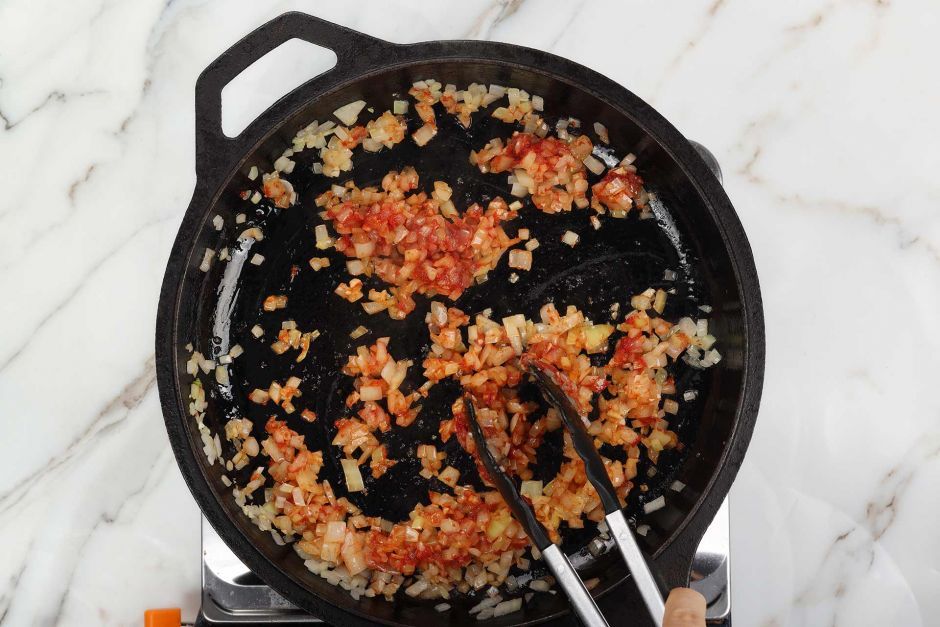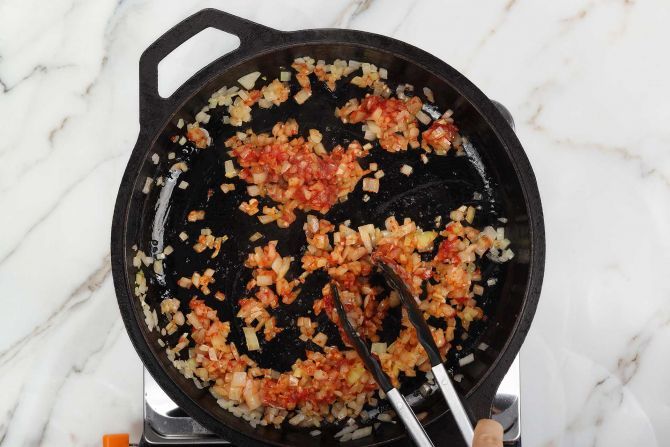 Add the tomato paste.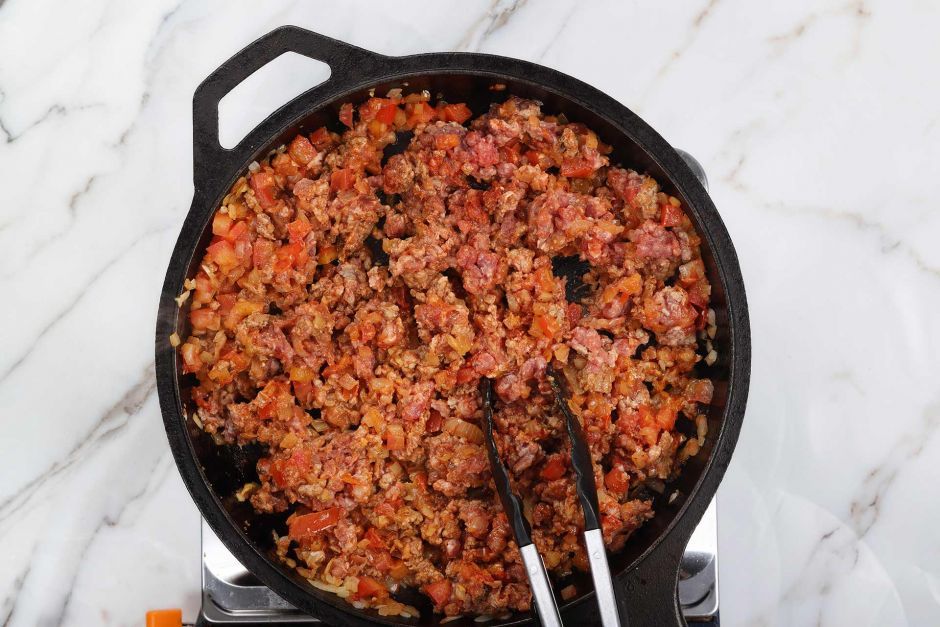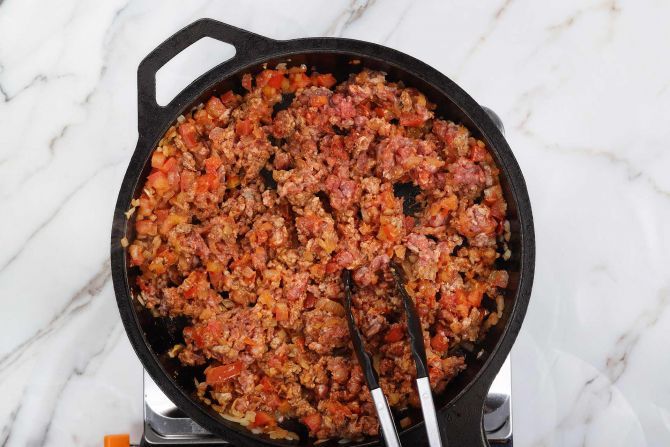 Stir in the ground beef and spices.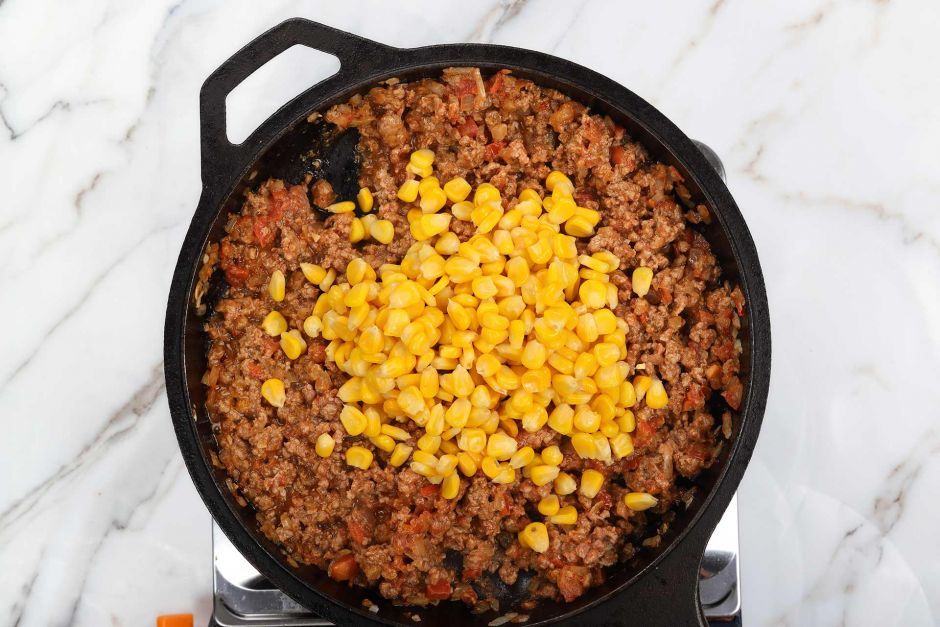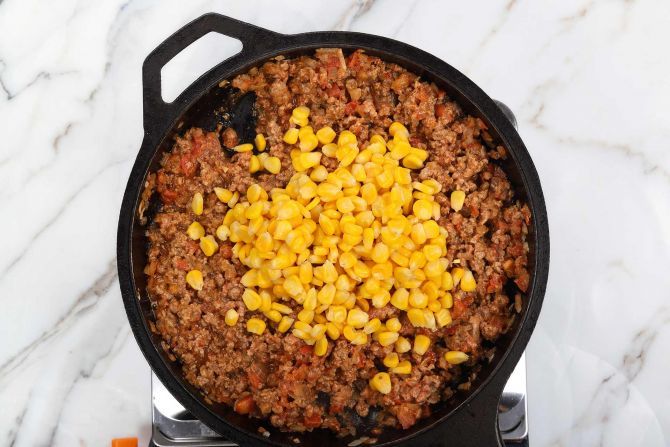 Add corn.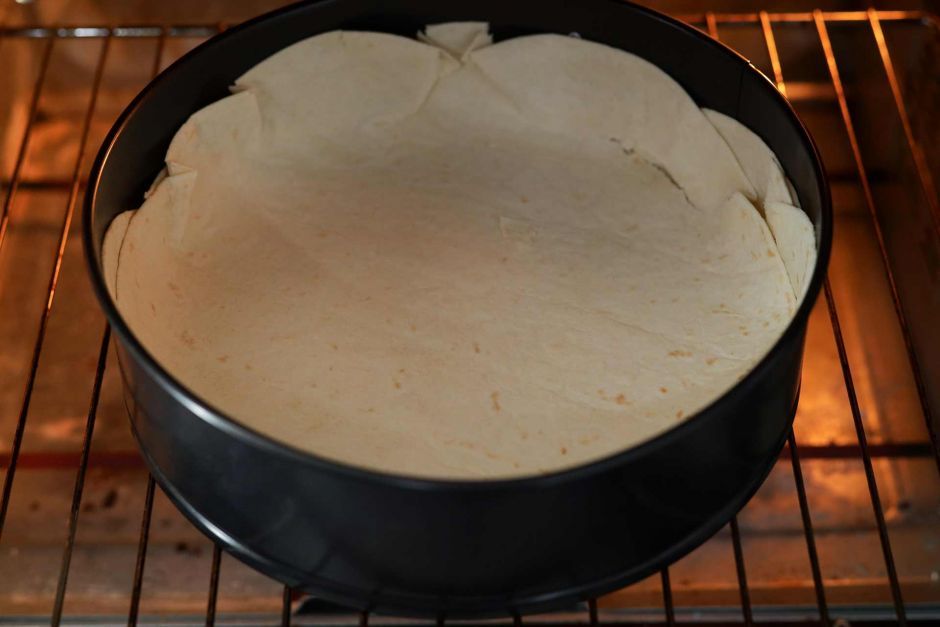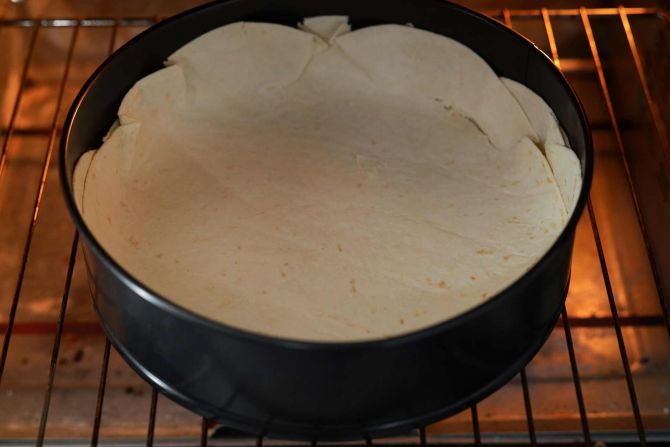 Assemble and bake tortillas to form the pie.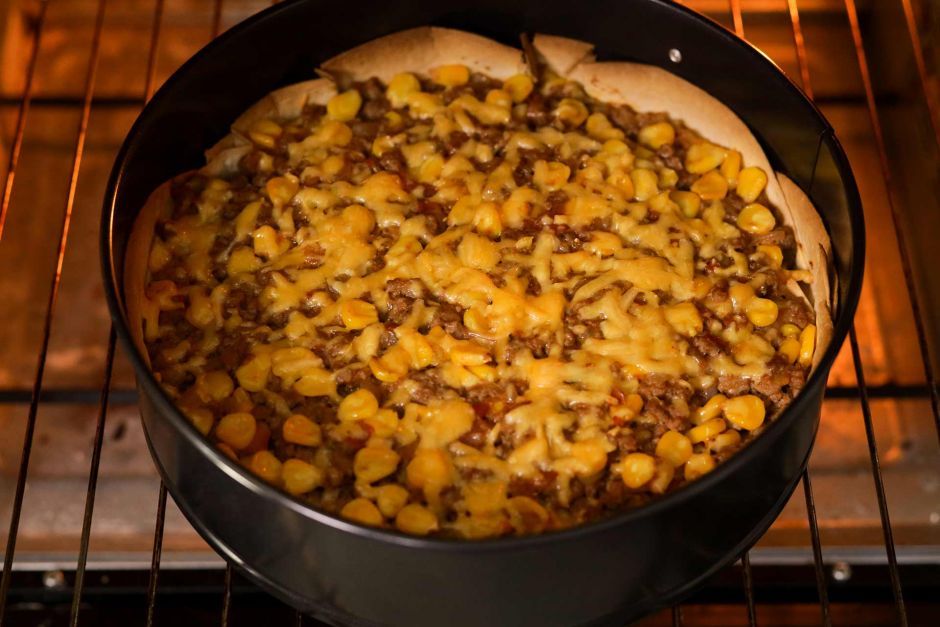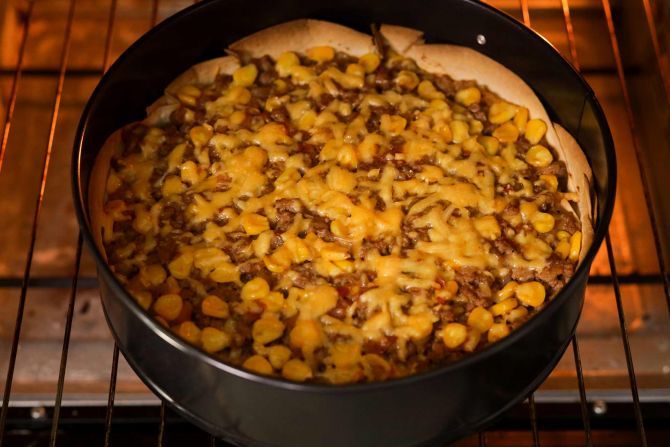 Spoon the beef mixture into the crust and bake the pie.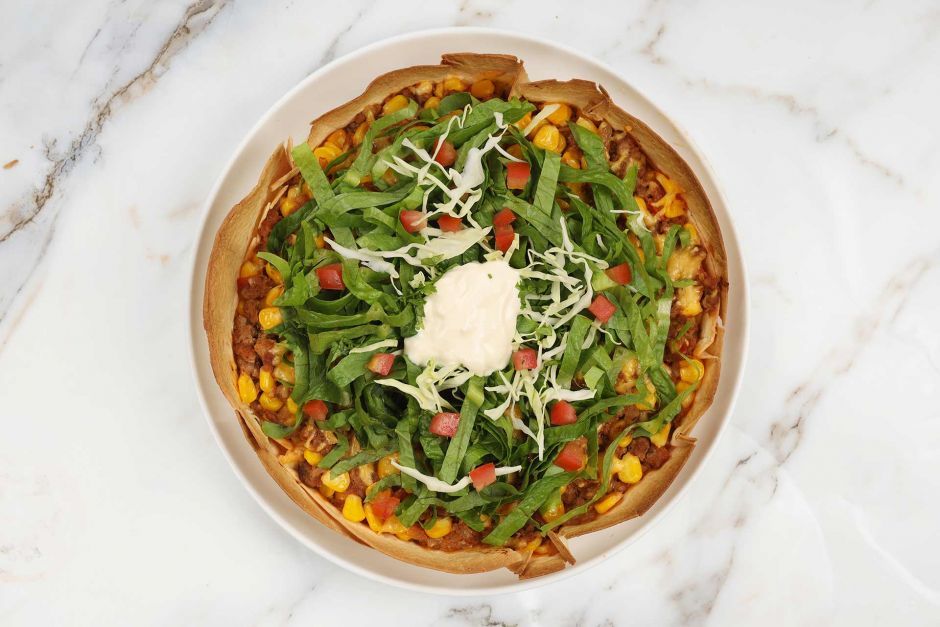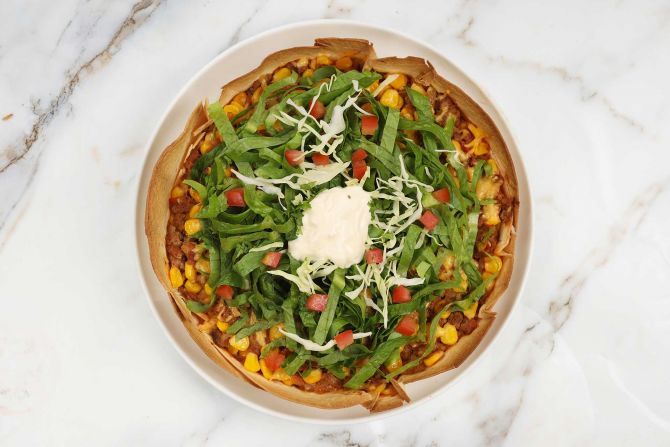 Top the pie with fresh veggies and the yogurt sauce.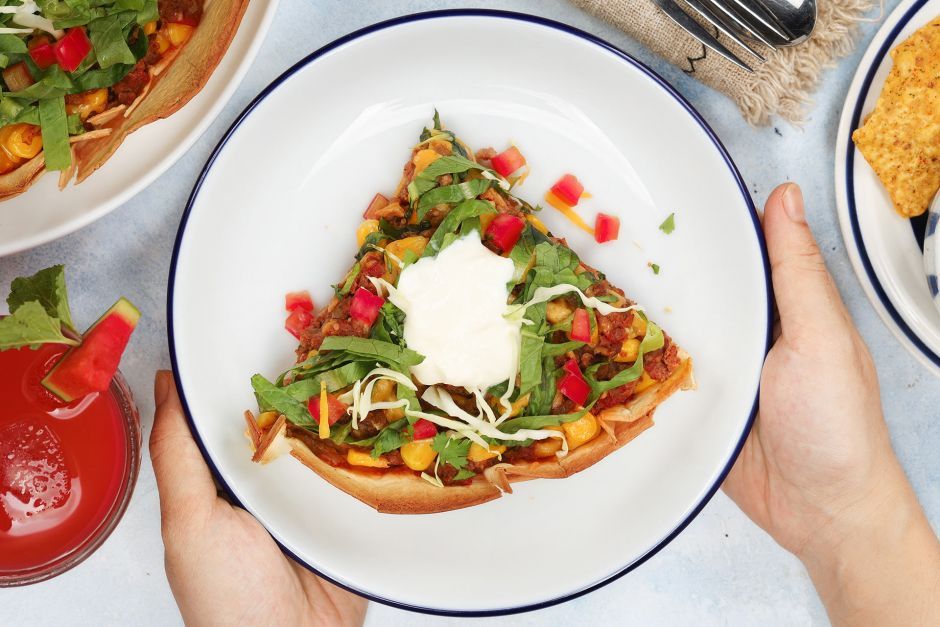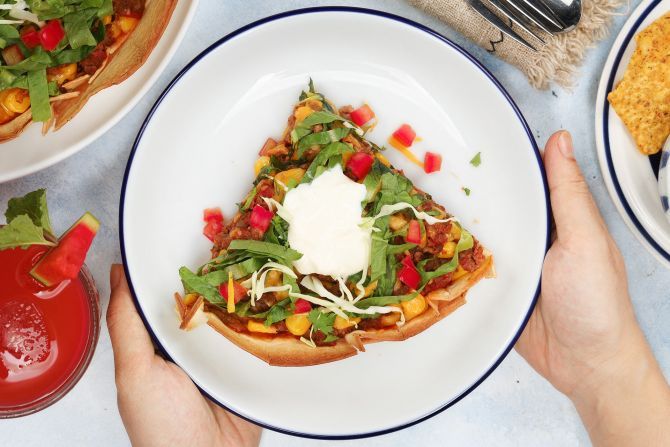 Serve hot.
Full ingredient measurements and detailed instructions are available below.
Jump to Recipe
Store and Reheat Leftover Taco Pie
1. To Store
The stir-fried meat and fresh veggies in our tacos may become soggy quickly. If you have leftover taco pie, it's best to keep it in an airtight container or transfer it to a Ziploc bag to prevent the crust from getting soggy.
Refrigerated taco pie can last for 2 to 3 days. If you want to freeze the pie, we recommend discarding the veggies on top, as they will turn mushy once thawed. The frozen pie can stay fresh for 2 – 3 months.
2. To Reheat
The great thing about this taco pie is that it reheats wonderfully; you can leave it in the pie pan and reheat it in the oven. It's almost as delectable on the second day.
To reheat the pie, place it in a preheated oven set to 360 ℉. Assure that the cookware is oven-proof. Cook for 10–20 minutes, or until the filling is hot and the crust is crisp.
What to Serve With Taco Pie
Our taco pie was paired with Pico de Gallo and crispy Doritos. The salad and chips can be served separately or included directly in the pie for an extra topping layer.
Nutritional values in this table vary somewhat to those below due to different app calculations. Read more...
Finally, we lightened the heavy and rich taco with our sweet-tangy lemon watermelon juice. It's very refreshing on hot days and tastes best when served over ice.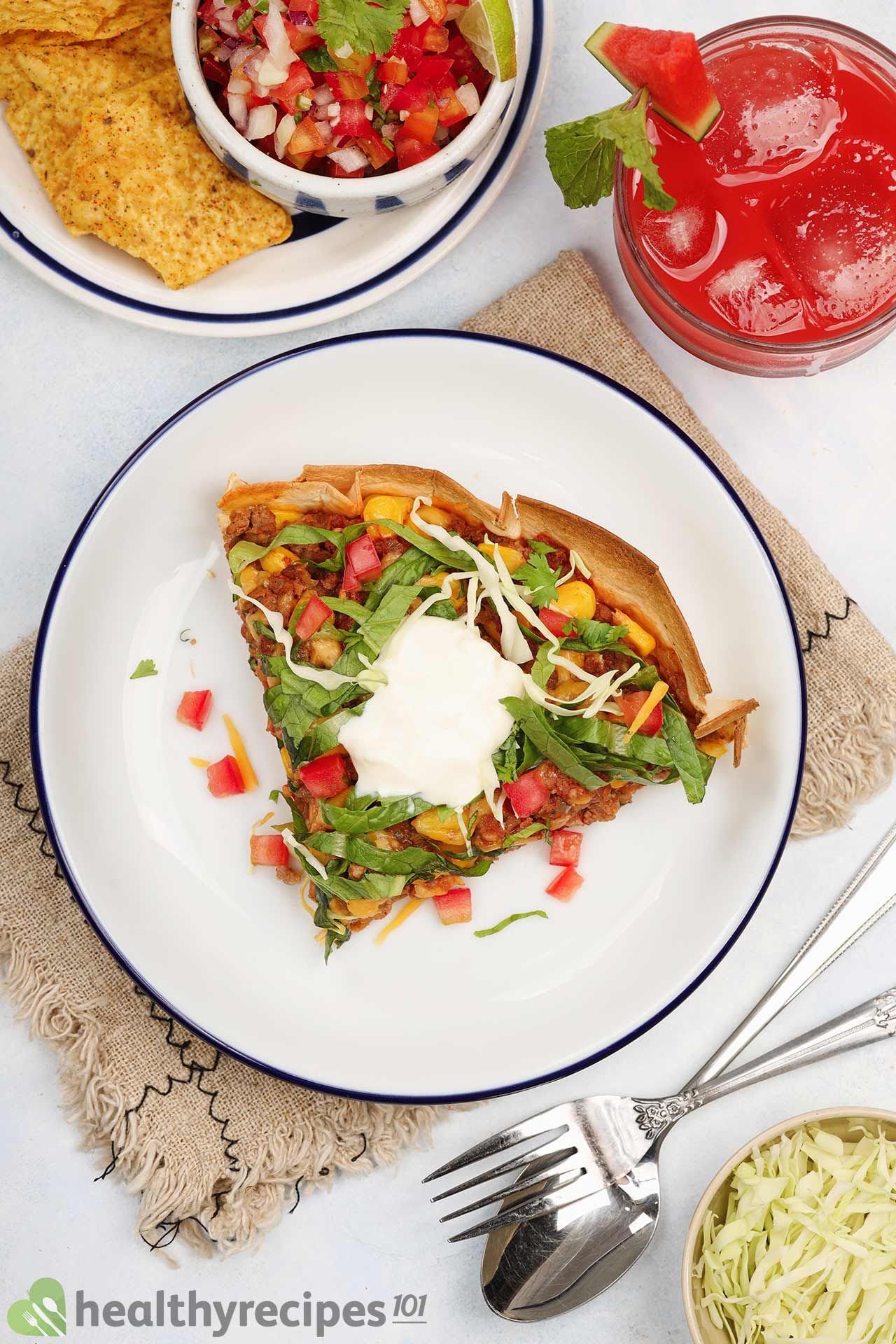 More Tortilla & Beef Recipes We Love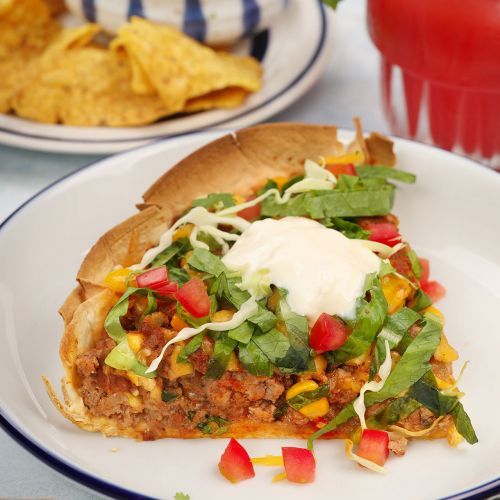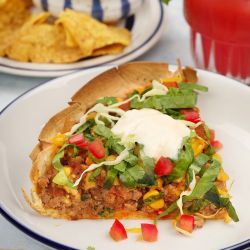 Taco Pie Recipe
Our taco pie recipe makes a delicious pie layered with ground beef, shredded cabbage, lettuce, tomatoes, cheese, and yogurt dressing.
Ingredients
13

oz

85% lean ground beef

2

tbsp

olive oil

1

tbsp

garlic

chopped

4

oz

onions

chopped

1

tbsp

Hunt's tomato paste

4

oz

tomatoes

chopped

1/2

tsp

cumin

1/4

tsp

chili powder

1/2

tsp

paprika

1/2

tsp

black pepper

1/2

tsp

oregano

1/2

tsp

salt

1

tbsp

all-purpose flour

4

oz

corn

3

10-inch flour tortilla

1

oz

cheddar

grated

2

oz

romaine

chopped

1

oz

cabbage

shredded

4

tbsp

plain Greek yogurt

2

tbsp

coriander

chopped
Instructions
Heat a skillet over medium heat. Add 2 tbsp olive oil, 1 tbsp garlic, and 4 oz onions. Sauté for 2 minutes until the spices are fragrant.

Add 1 tbsp tomato paste and continue to cook for 30 seconds.

Spoon 0.5 tomatoes and set aside for the topping. Stir in the remaining 3.5 oz tomatoes, 13 oz ground beef, 1/2 tsp cumin, 1/4 tsp chili powder, 1/2 tsp paprika, 1/2 tsp black pepper, 1/2 tsp oregano, 1/2 tsp salt, and 1 tbsp flour. Cook and stir the mixture frequently for 7 minutes, or until the beef is heated through.

Add 4 oz corn and stir fry for extra 2 minutes. Take off the heat.

Assemble 3 flour tortillas into a round cake pan, overlapping if necessary to fit in the dish. Bake at 360 ℉ for 5 minutes. Remove the baking pan from the oven.

Spoon the beef mixture into the tortilla crust. Sprinkle with 1 oz cheddar cheese. Return the pie to the oven and bake for 10 minutes.

Transfer the taco pie from the oven. Top with 2 oz romaine, 1 oz cabbage, 2 tbsp coriander, 0.5 oz tomatoes, and 4 tbsp Greek yogurt.
Nutrition
Nutrition Facts
Taco Pie Recipe
Amount Per Serving (1 serving)
Calories 468
Calories from Fat 252
% Daily Value*
Fat 28g43%
Cholesterol 72mg24%
Sodium 584mg25%
Potassium 359mg10%
Carbohydrates 32g11%
Protein 24g48%
Vitamin A 1728IU35%
Vitamin C 12mg15%
Calcium 80mg8%
Iron 2mg11%
* Percent Daily Values are based on a 2000 calorie diet.