Love pudding but haven't got the time? Our two-step chocolate avocado pudding recipe may help.
That dreamy creamy texture of a pudding looks easy to pull off, but it's usually a lot of work. Eggs must be whisked in a double boiler, gelatin must be soaked and then added to heated milk. These may be no-brainers for professionals but can be a lot for beginner home cooks.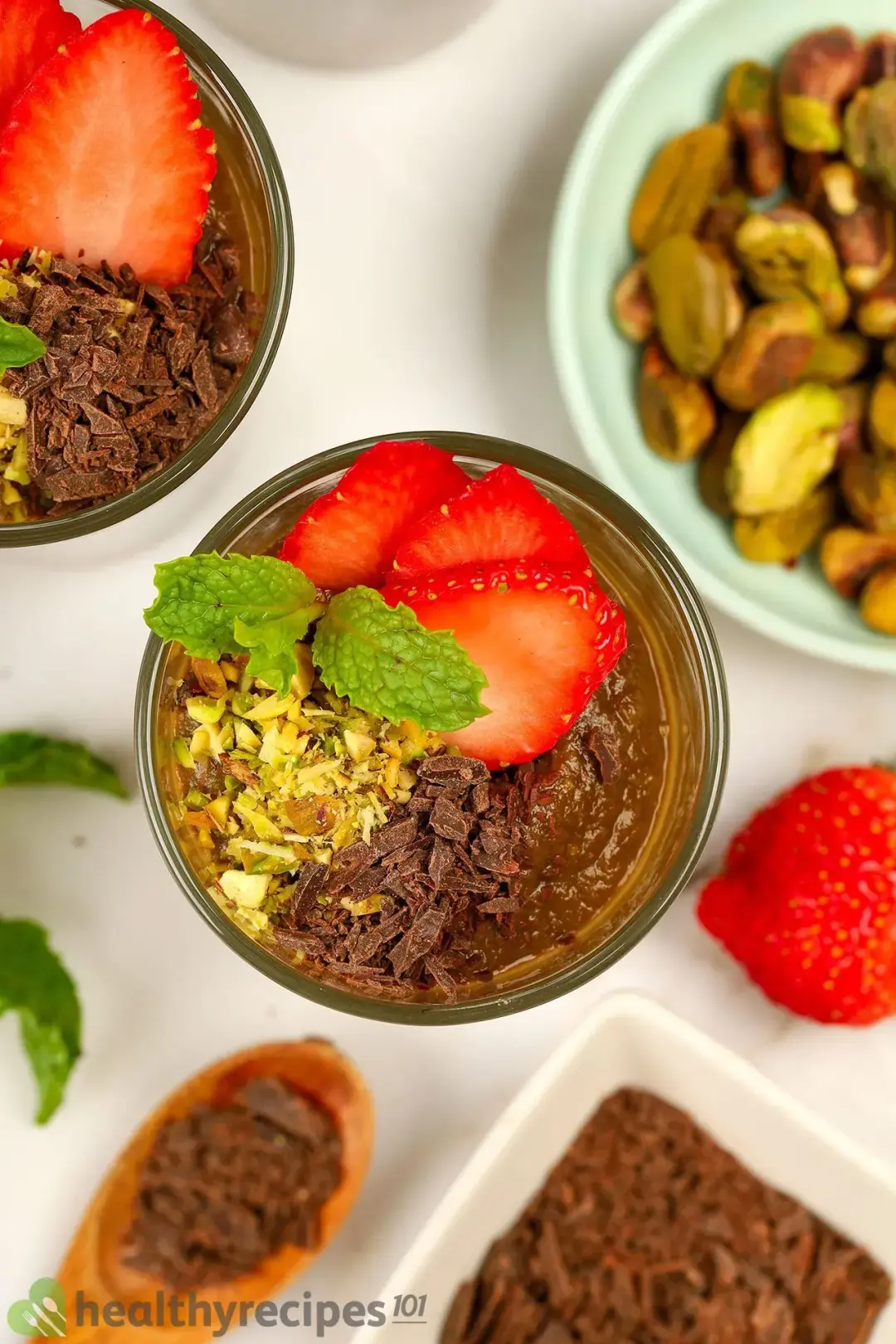 With an avocado pudding, all this hassle can be forgotten because it needs no eggs, no gelatin, and no cooking. All it requires is a quick blend and all you need is this recipe, which promises a rich, lusciously creamy dessert every single time.
If It's So Easy, Does It Taste Good?
We love it. Everyone we know loves it. It's rich, lightly sweet, and smells of chocolate and vanilla, so we guess it's pretty good.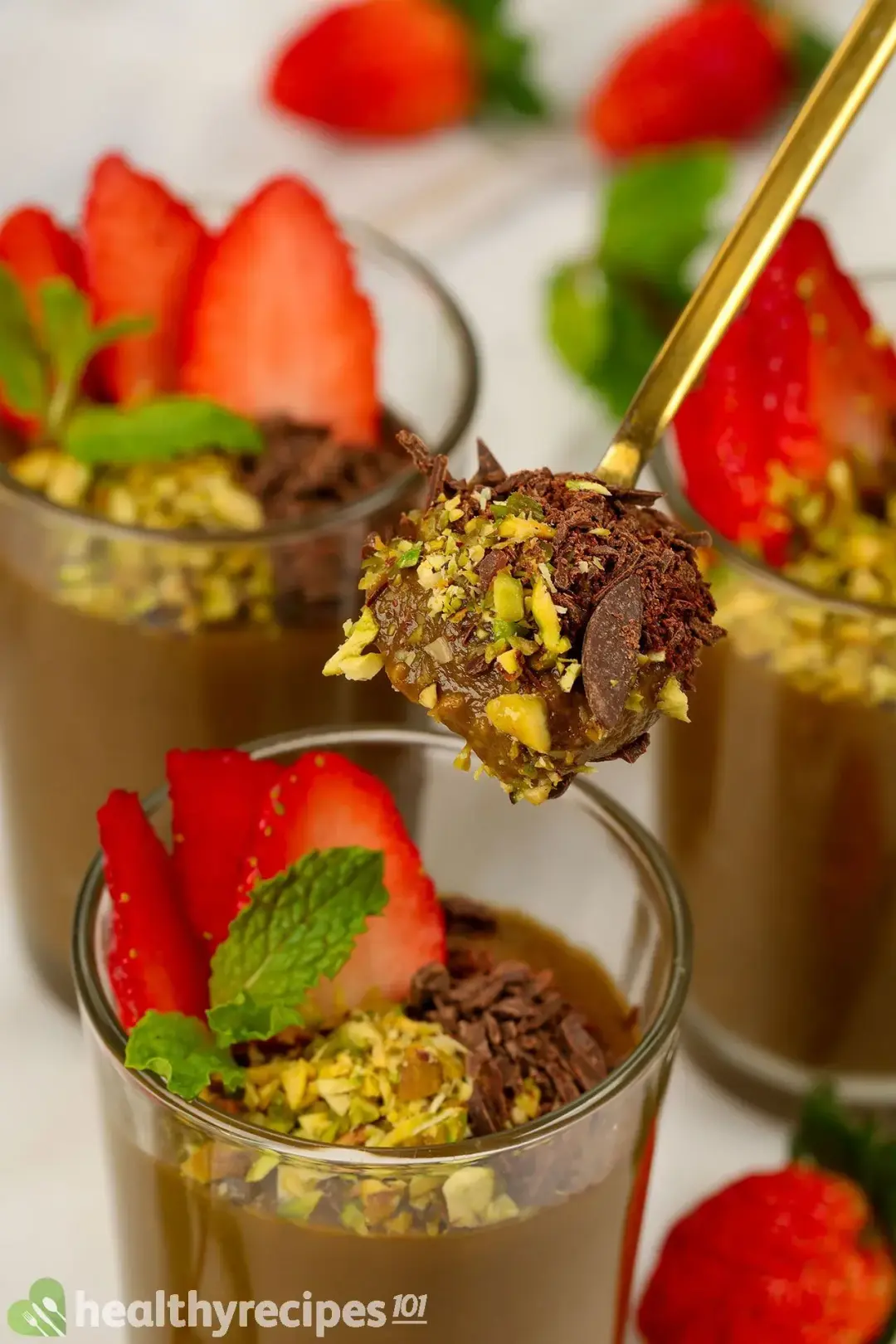 Now the creaminess, many argue, isn't quite 100% like a traditional chocolate pudding, and they're correct. It's not as light as if it's made with egg or gelatin, but avocado's creamier texture is pretty decent for something that comes together in just 30 seconds. We like to think of it more as a mousse, which we love just as much as a pudding.
Plus, toppings such as crushed pistachios, sliced strawberries, and even more chocolate crumbles on top, just add to the textures and flavors of this wonderful pudding.
How Healthy Is This Chocolate Avocado Pudding?
Compared to a typical dairy-based pudding, this one is lower in saturated fats (3.5 g per serving) and richer in healthy fats, or unsaturated fats (12.5 g per serving).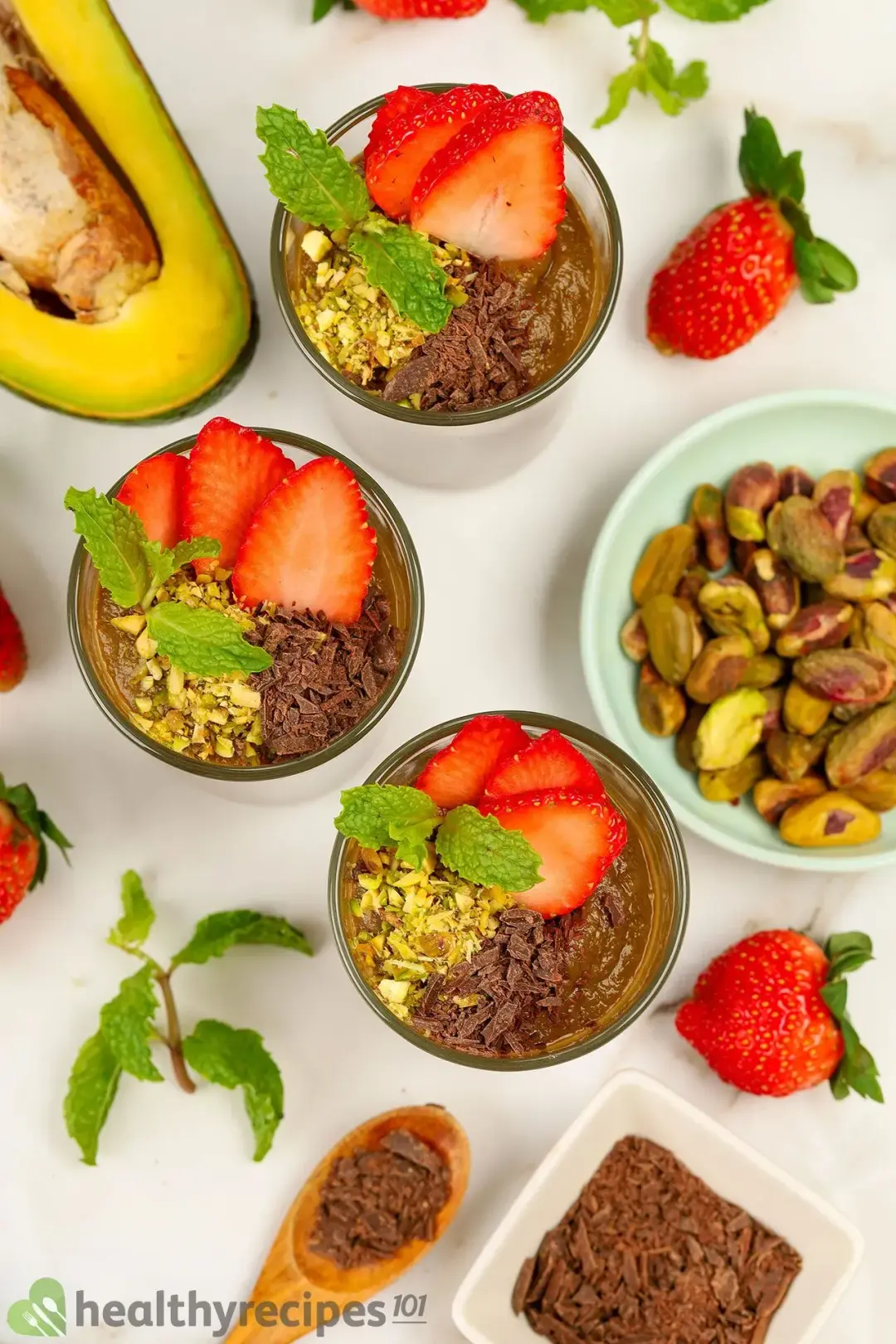 Avocado also contains various amounts of antioxidants and phytonutrients: vitamin E, vitamin A, vitamin K, B vitamins, etc.
Instead of sweetening the pudding with sugar, we used honey. Honey is actually sweeter than sugar, so we needn't use more than 1 tbsp. The pudding is sweet and contains 17.5 g added sugar only.
All of these come in a satiating portion size that delivers around 256 calories.
Ingredients for This Chocolate Avocado Pudding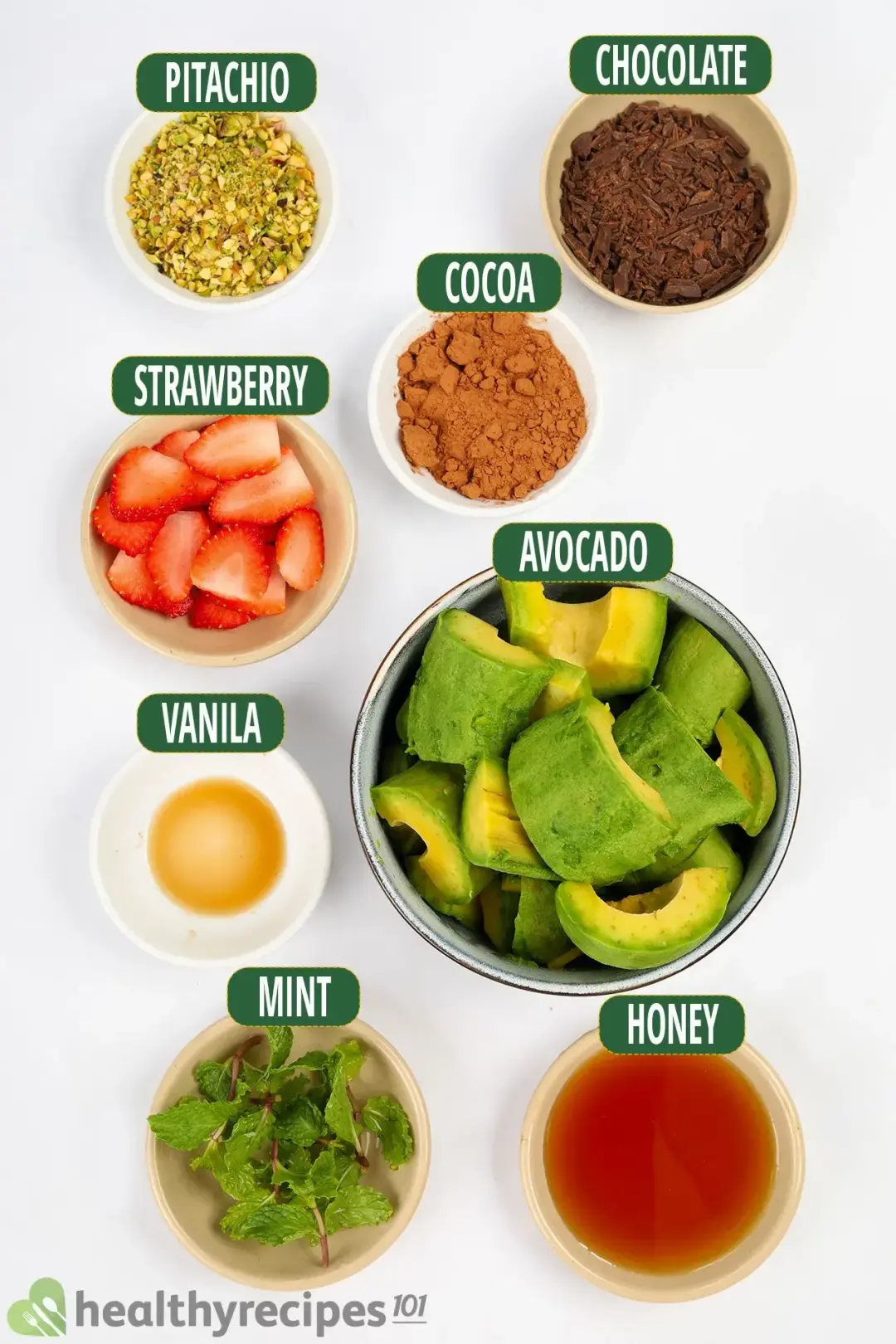 Avocado: very ripe avocados, even the ones with dark spots all over their flesh. It's the soft texture that matters since everything will turn chocolate brown eventually.
Chocolate: we use 68% dark chocolate. We also use cocoa powder, which intensifies the chocolate flavor without adding more unhealthy fats to the dessert.
Vanilla: vanilla extract. We don't recommend using vanilla seeds as they need to be cooked in warm milk.
Strawberries: select the ripest, reddest ones you can find. They should err more on the sweet side.
Honey.
Mint leaves: for garnish.
Pistachios: roughly chopped pistachios, substitutable with almonds.
Storing The Chocolate Avocado Pudding
The dessert should keep for 4 days in the fridge and is best covered with plastic wrap. Pre-portioning it into serving glasses makes serving it at gatherings more convenient.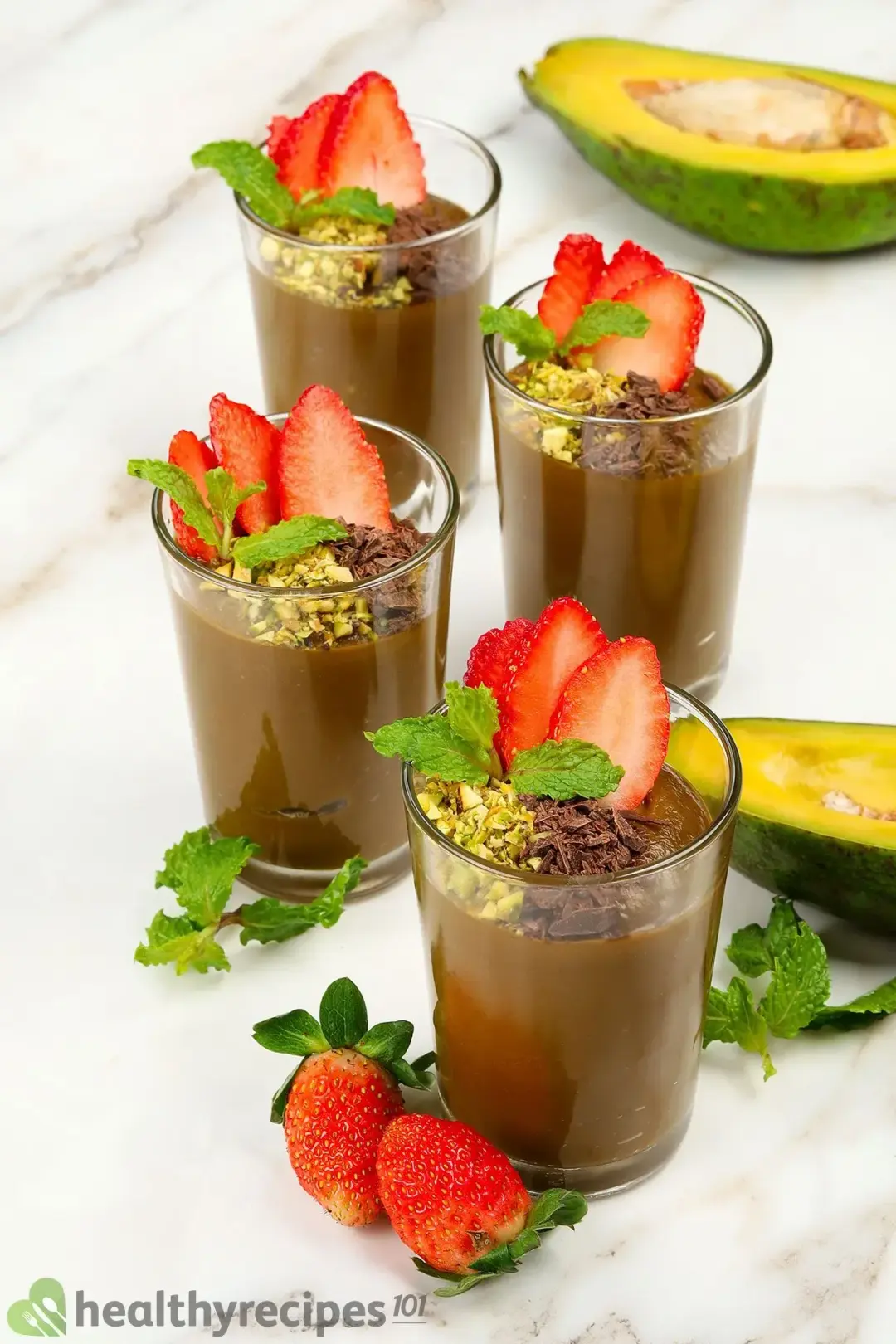 How to Make Chocolate Avocado Pudding
Our chocolate avocado pudding recipe takes literally 2 steps to make. It involves no double-boiling, no heating, basically no cooking.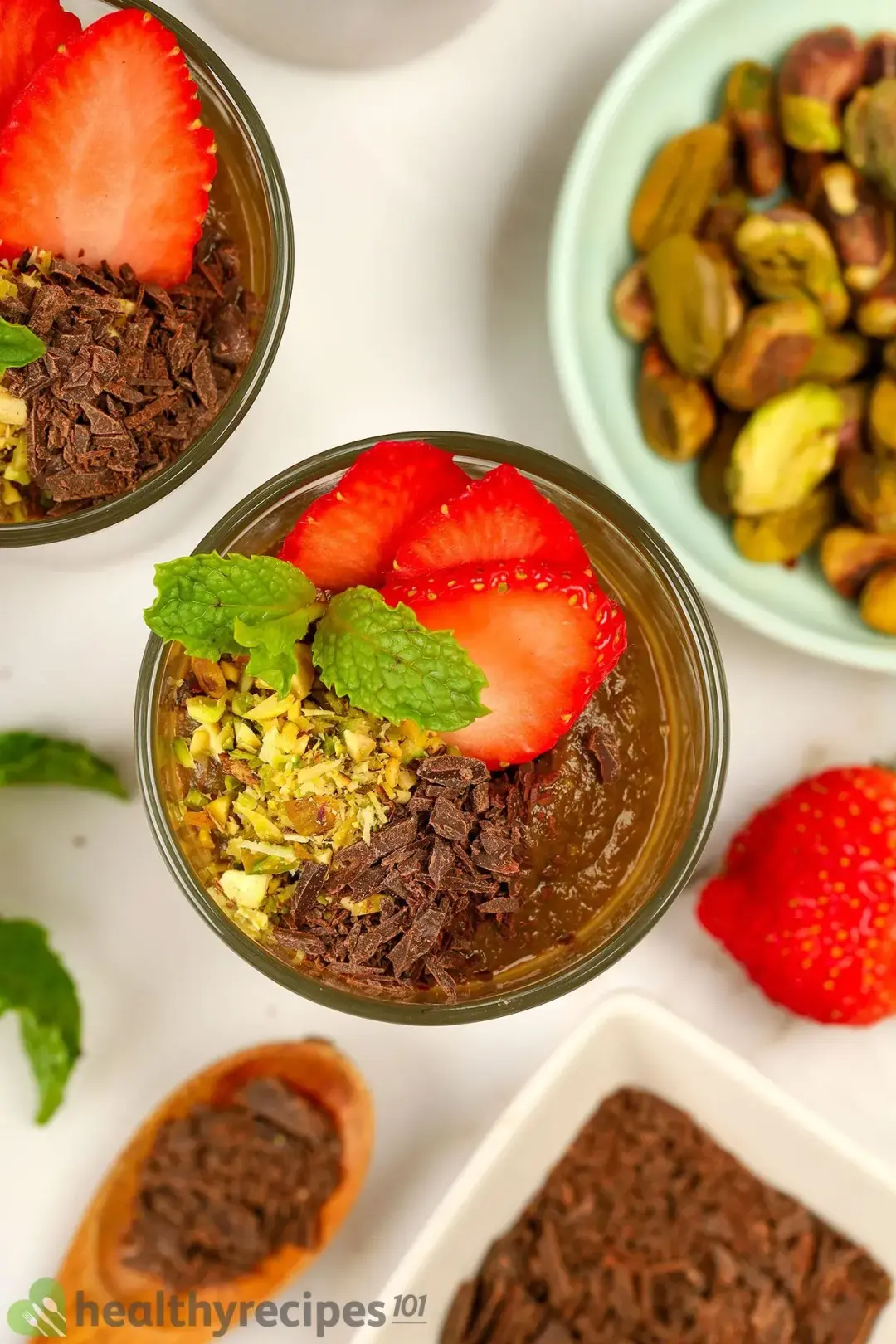 prep TIME

10 mins

total TIME

10 mins
COURSE

Dessert

CUISINE

Global

SERVINGS

servings

CALORIES

256 kcal
INGREDIENTS
11 oz

avocado

1 oz

dark chocolate chopped

2 tbsp

cocoa powder

0.1 tsp

vanilla extract

4 tbsp

honey

2 oz

strawberries sliced

0.3 oz

pistachio roughly chopped

8

mint leaves
INSTRUCTIONS
Preparation:
1
Cut the avocado: run the knife along the side of the fruit to cut it in half. Twist open the fruit and tap a knife into the seed to pull out. Scoop the flesh into a bowl and measure out 11 oz.
2
Finely chop 1 oz dark chocolate.
3
Hull 2 oz strawberries and thinly slice them.
4
Measure 0.25 oz pistachio and give them a rough chop.
Instructions:
1
Blend all ingredients together: 11 oz avocado, 1 oz dark chocolate, 2 tbsp cocoa powder, 1/8 tsp vanilla extract, and 4 tbsp honey.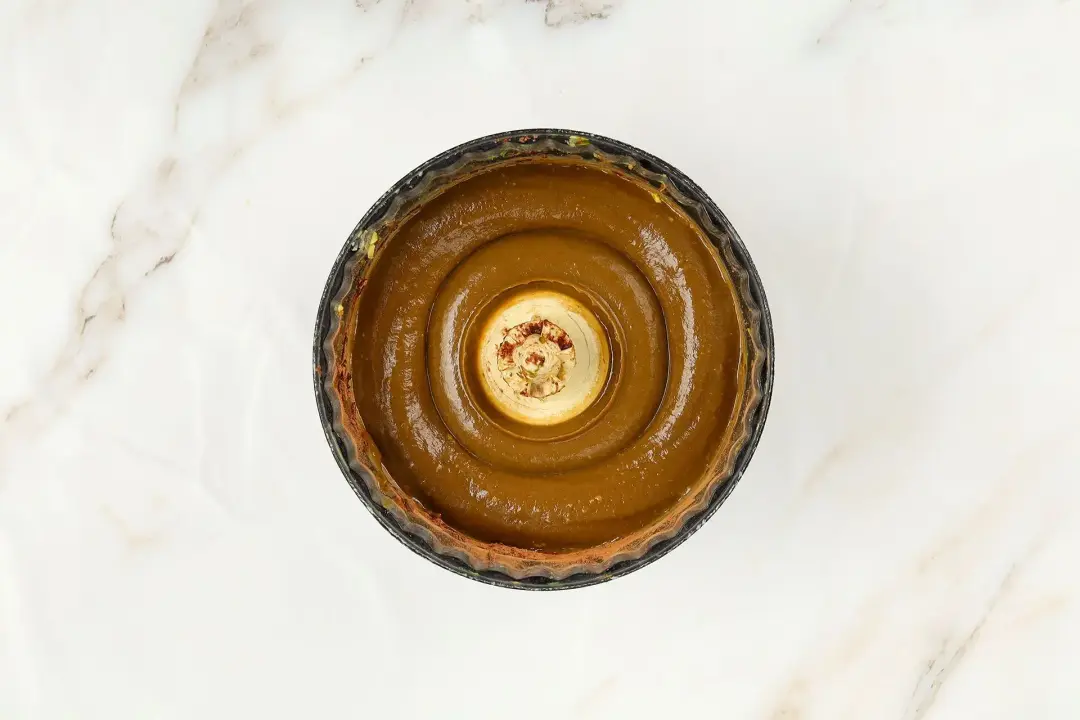 2
Divide the dessert evenly among 4 serving glasses.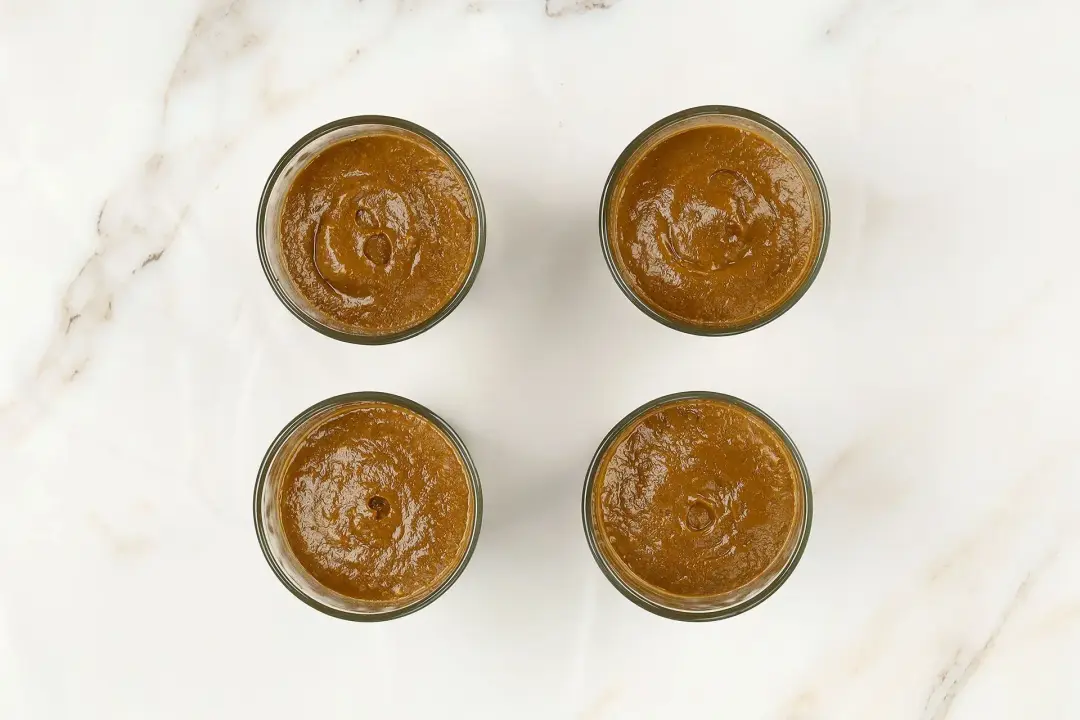 3
Garnish and enjoy: top each glass with strawberries, pistachio, and mint leaves. The dessert tastes better when refrigerated for at least 2 hours.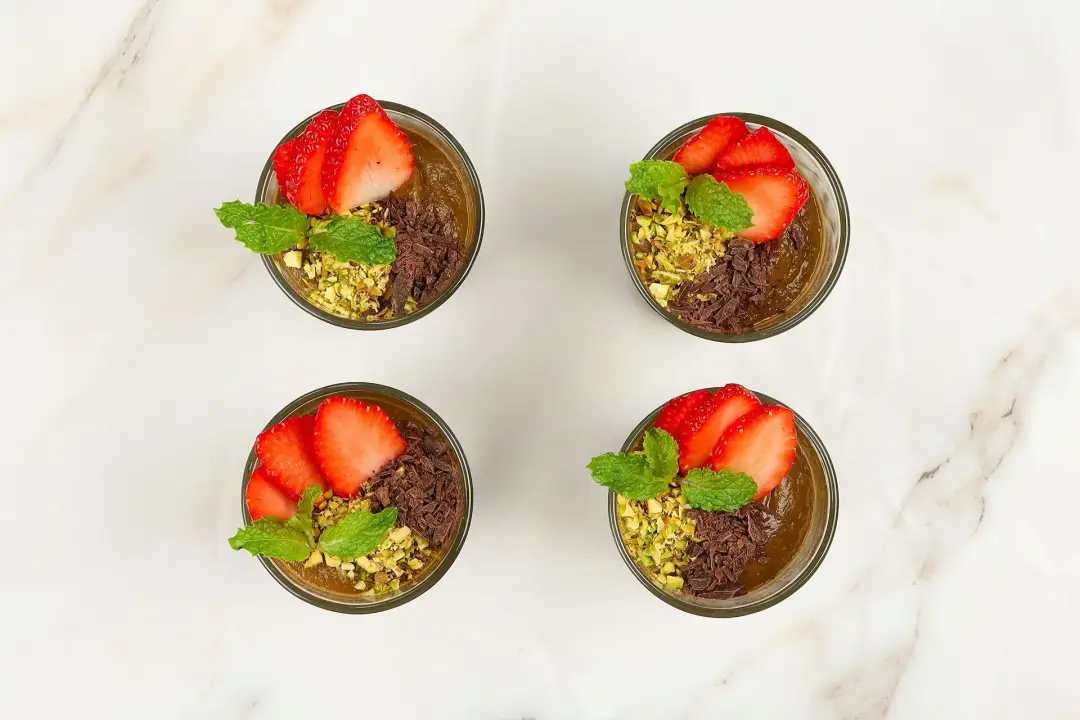 NUTRITION
Nutrition Facts
How to Make Chocolate Avocado Pudding
Amount Per Serving (1 serving)
Calories 256
Calories from FDA
% Daily Value*
* Percent Daily Values are based on a 2000 calorie diet.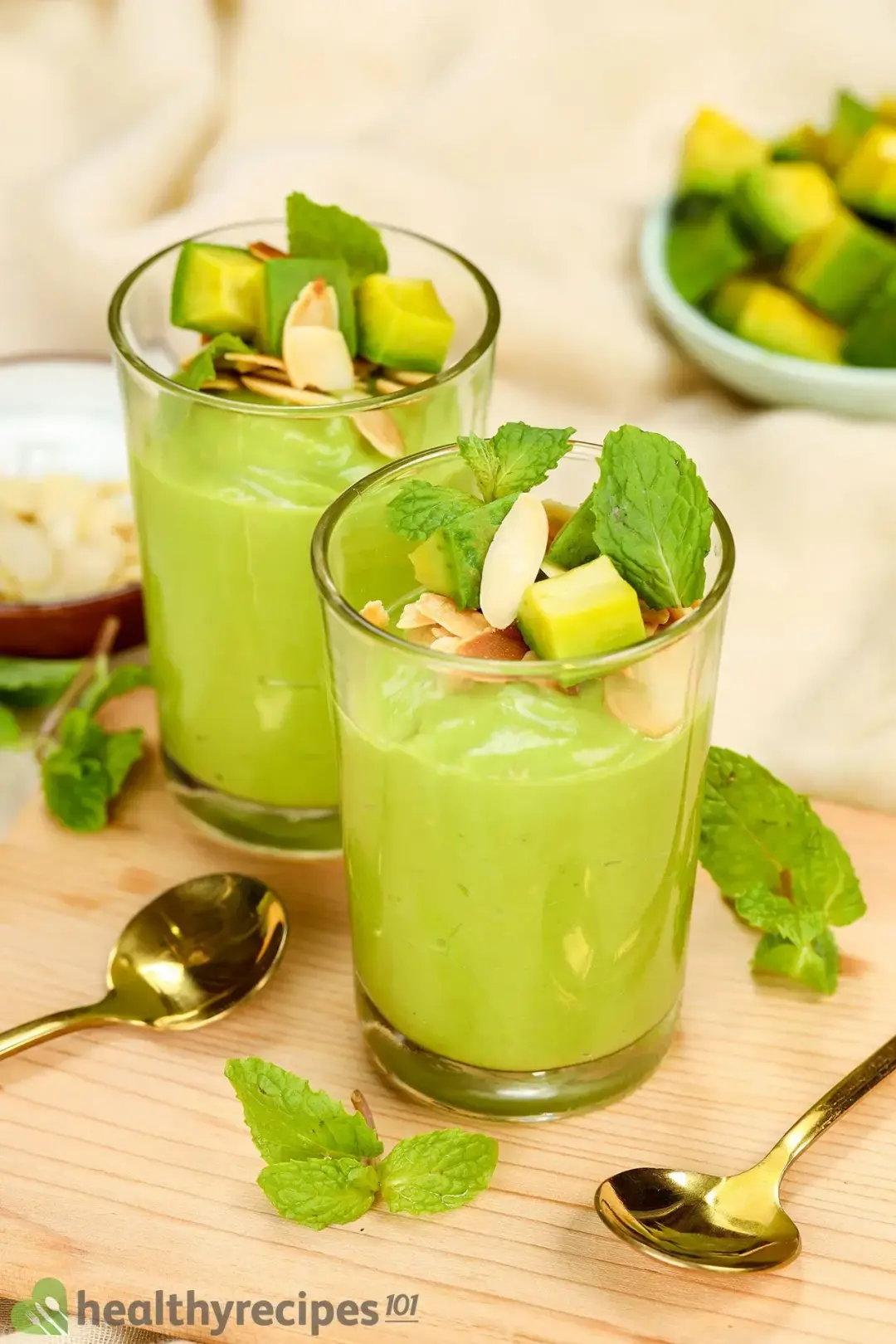 Previous Recipe
Avocado Mousse
Avocado Mousse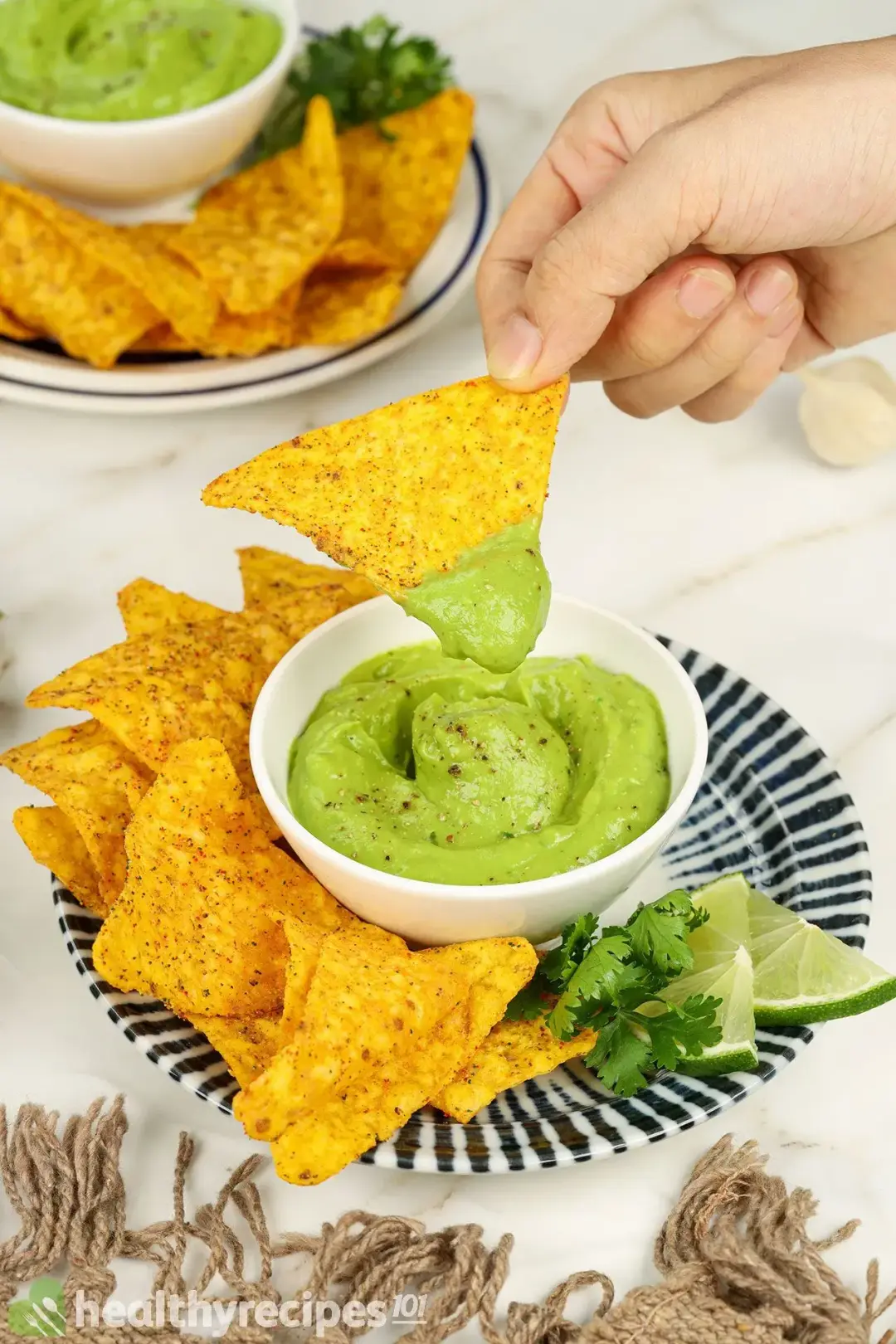 Avocado Crema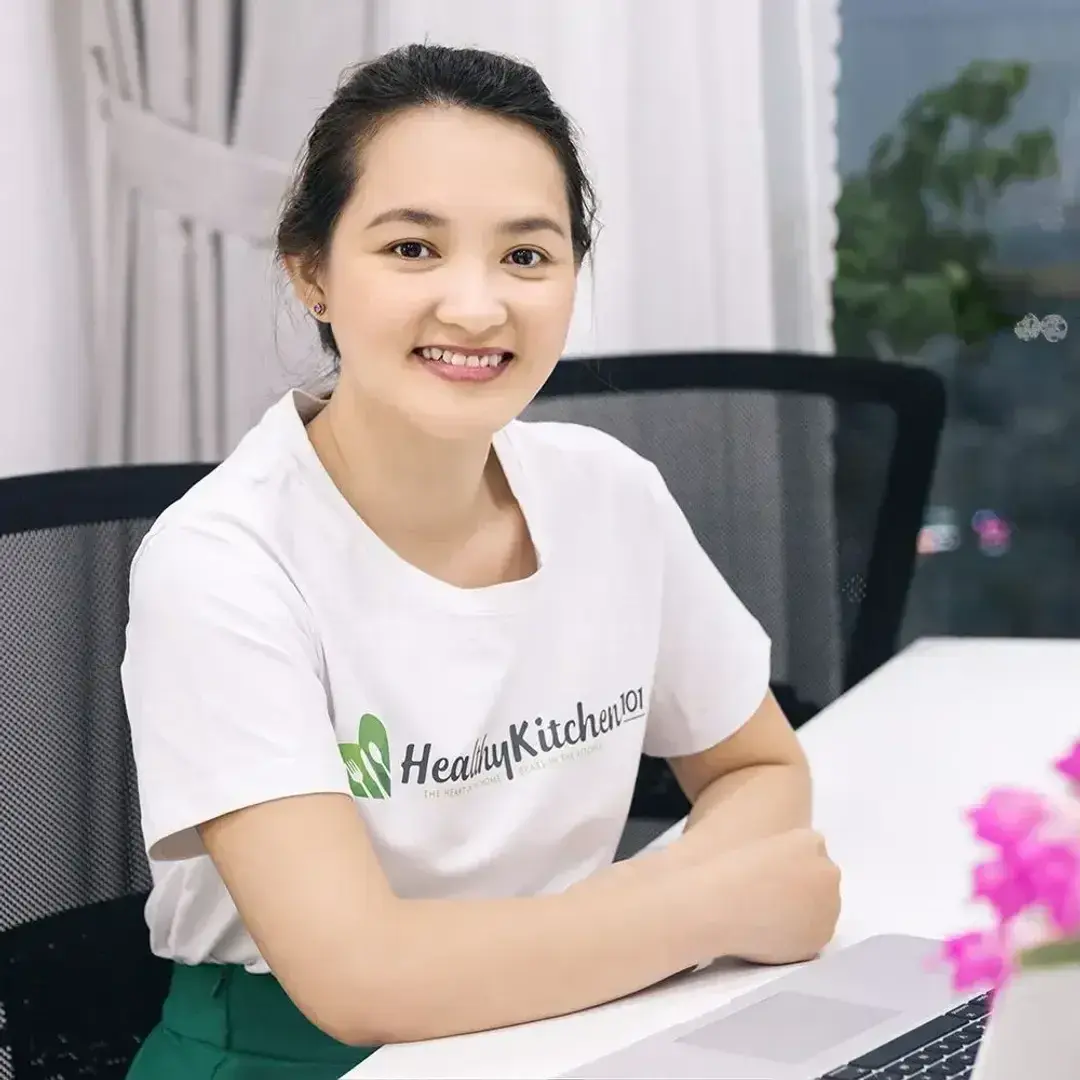 Luna Regina
Luna is the founder and chief recipe developer of Healthy Recipes 101. Apart from cooking, she also loves reading, programming, exploring the outdoors, and collecting useless facts about everything.